The majority of newspapers today covered the remarks made on Wednesday by the Leader of the Islamic Revolution, Ayatollah Seyed Ali Khamenei, against Saudi Arabia and the United States.
They also covered President Hassan Rouhani's comments on a recent plan by the Iranian police to utilize 7,000 plainclothes police and auxiliaries for "moral security".
Foreign policy was another prominent topic, with headlines about Foreign Minister Mohammad Javad Zarif's meeting with his US counterpart John Kerry in New York, as well as on another meeting in the Austrian capital of Vienna on the implementation of the nuclear deal between Iran and world powers (JCPOA).
There were also numerous articles on a recent US court ruling to seize Iran's assets and the reactions by the Iranian foreign ministry, as well as lots of commentary on US President Barack Obama's state visit to Saudi Arabia, where he urged Arab monarchies to avoid conflict with Iran.
Abrar:
1-Iran, Syria and Lebanon's Hezbollah on Israeli PM's Agenda for Moscow Visit
2-Iran and Russia to Expand Bilateral Economic Ties: Parliament Speaker
3-House Speaker Ryan Urges Obama to Prevent Iran's Access to US Dollar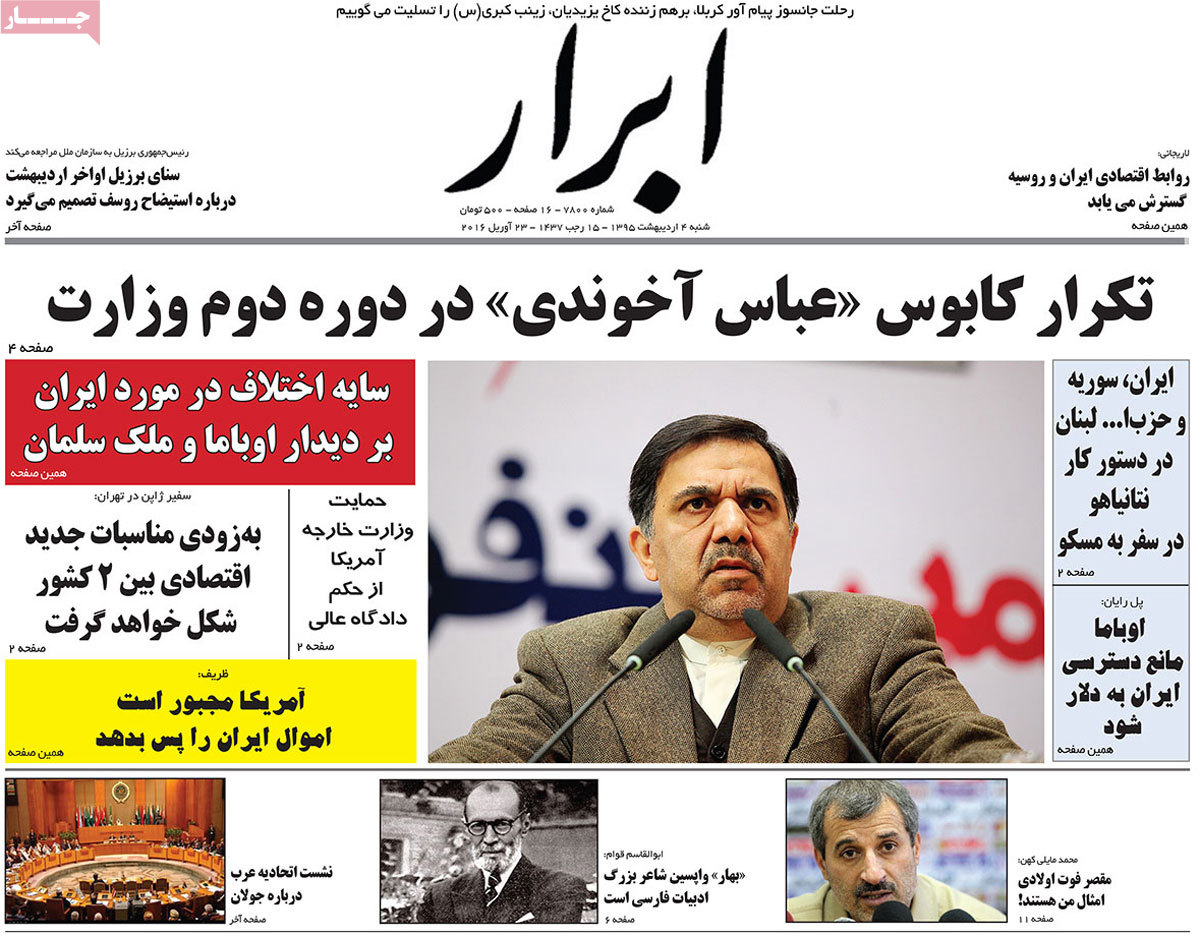 ---
Abrar-e Eqtesadi:
1-Iranian Businessmen in Russia, Britons in Iran: Positive Financial Talks with Britain
2-Iran Not Willing to Join US Monetary System: FM Zarif
3-European Insurance Companies Show Resistance in Cooperation with Iran
4-Iran and Denmark to Start Power Cooperation
5-Iran Ready to Export Petrochemical Products to Egypt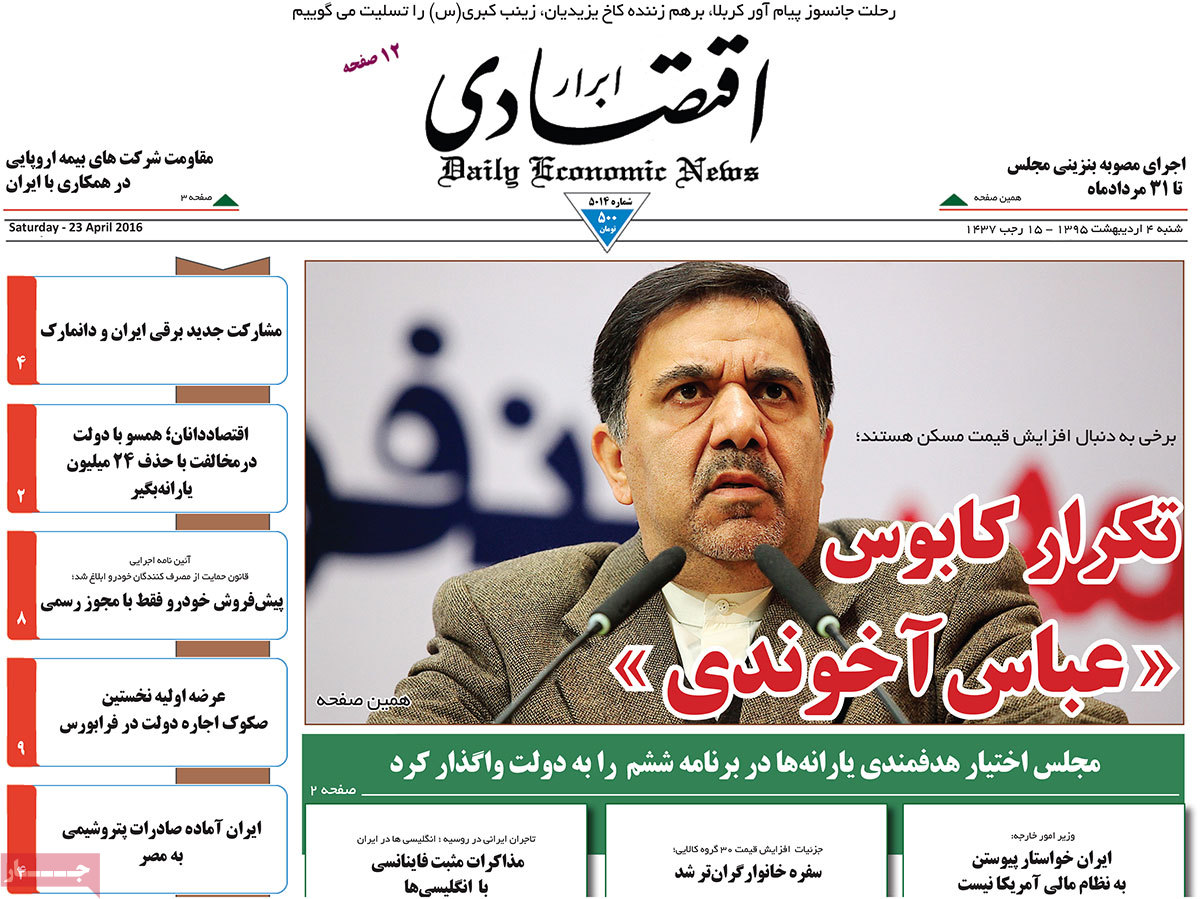 ---
Afkar:
1-US Court Ruling Is Appropriation of Iran's Property: Spokesman
2-Seven Killed in an Explosion in Baghdad's Imam Ali Mosque
3-US to Purchase Iran's Heavy Water: Wall Street Journal Reports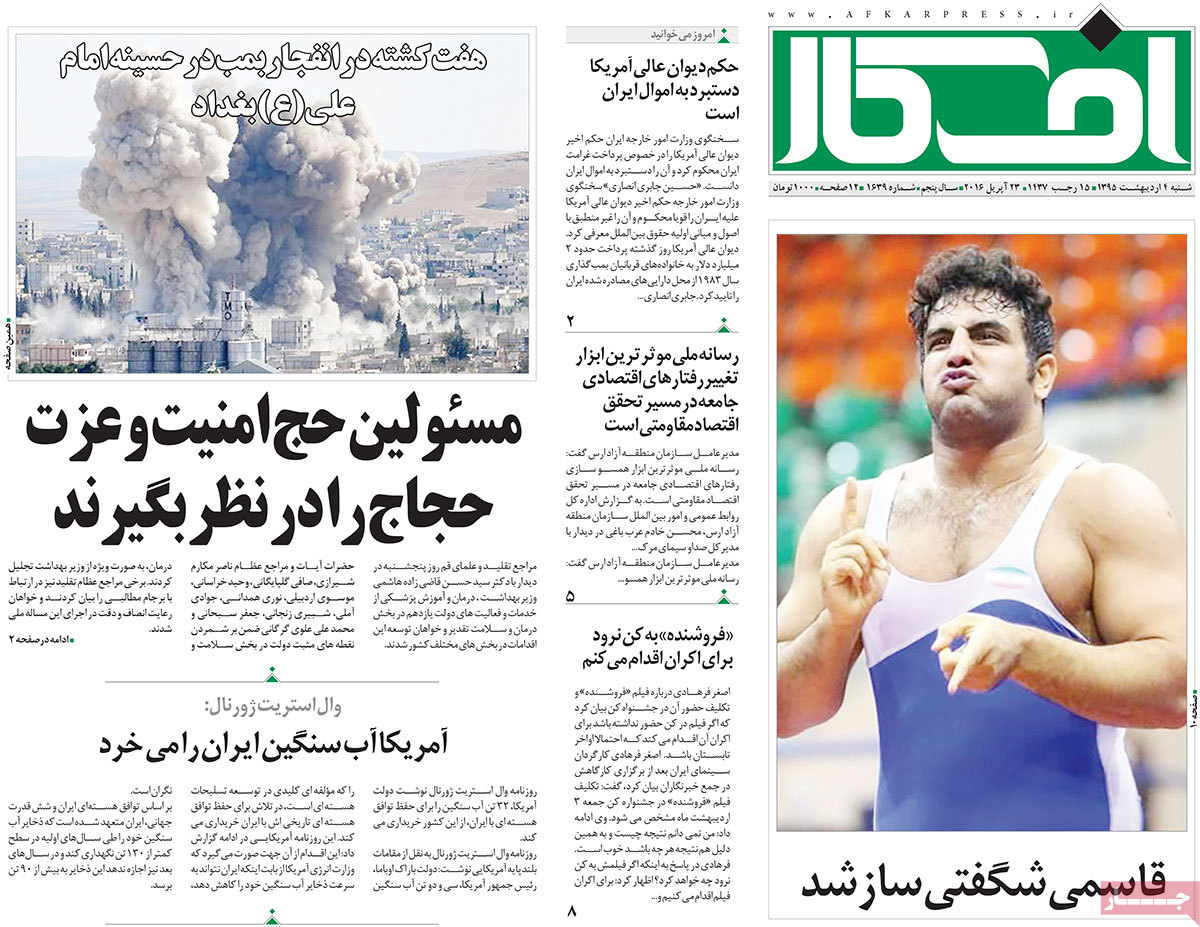 ---
Arman-e Emrooz:
1- Iran's President: We Have No Right to Interfere in People's Lives
2-Conflict with Iran Not in Anyone's Interest: Obama in Riyadh
3-Ayatollah Khamenei: Lebanon's Hezbollah Shining Like the Sun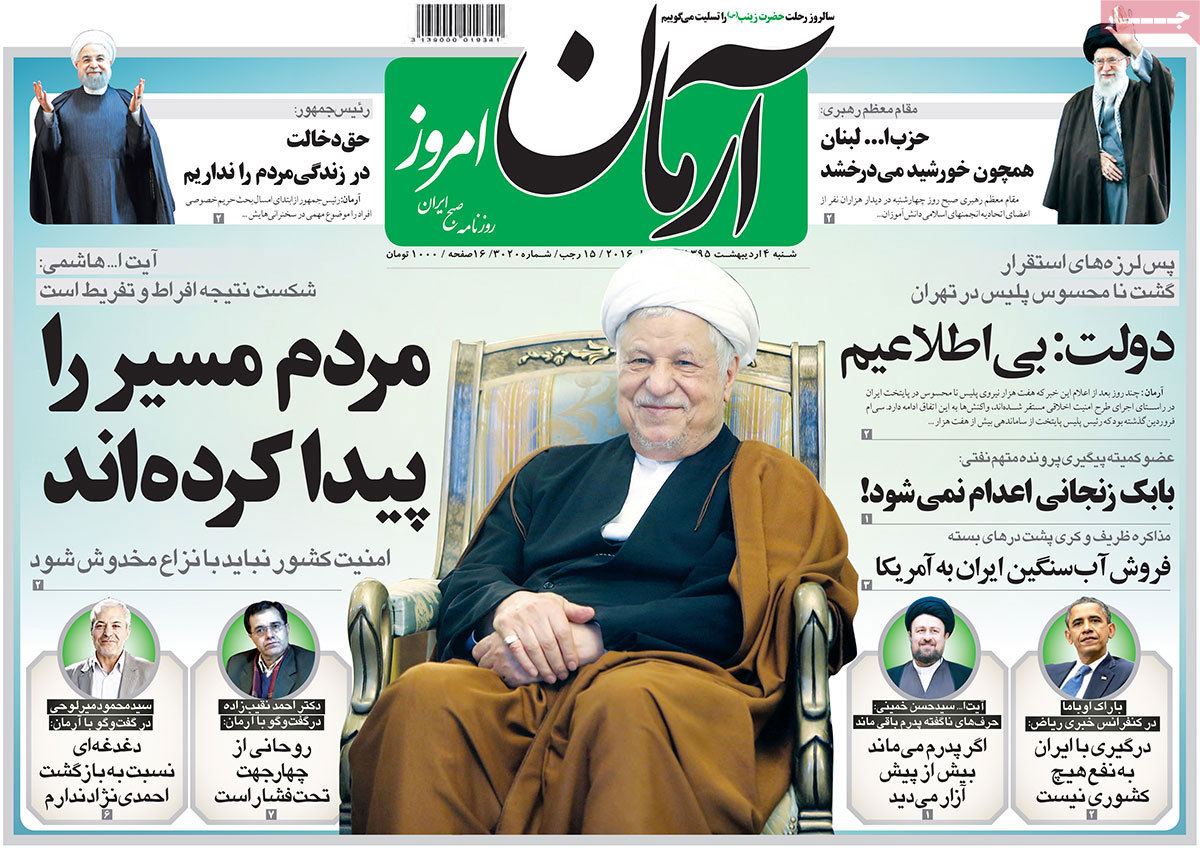 ---
Asrar:
1-Senior Cleric Makarem Shirazi Raps Unfair Treatment of JCPOA
2-5,000 Terrorists Arrive in Syria through Turkey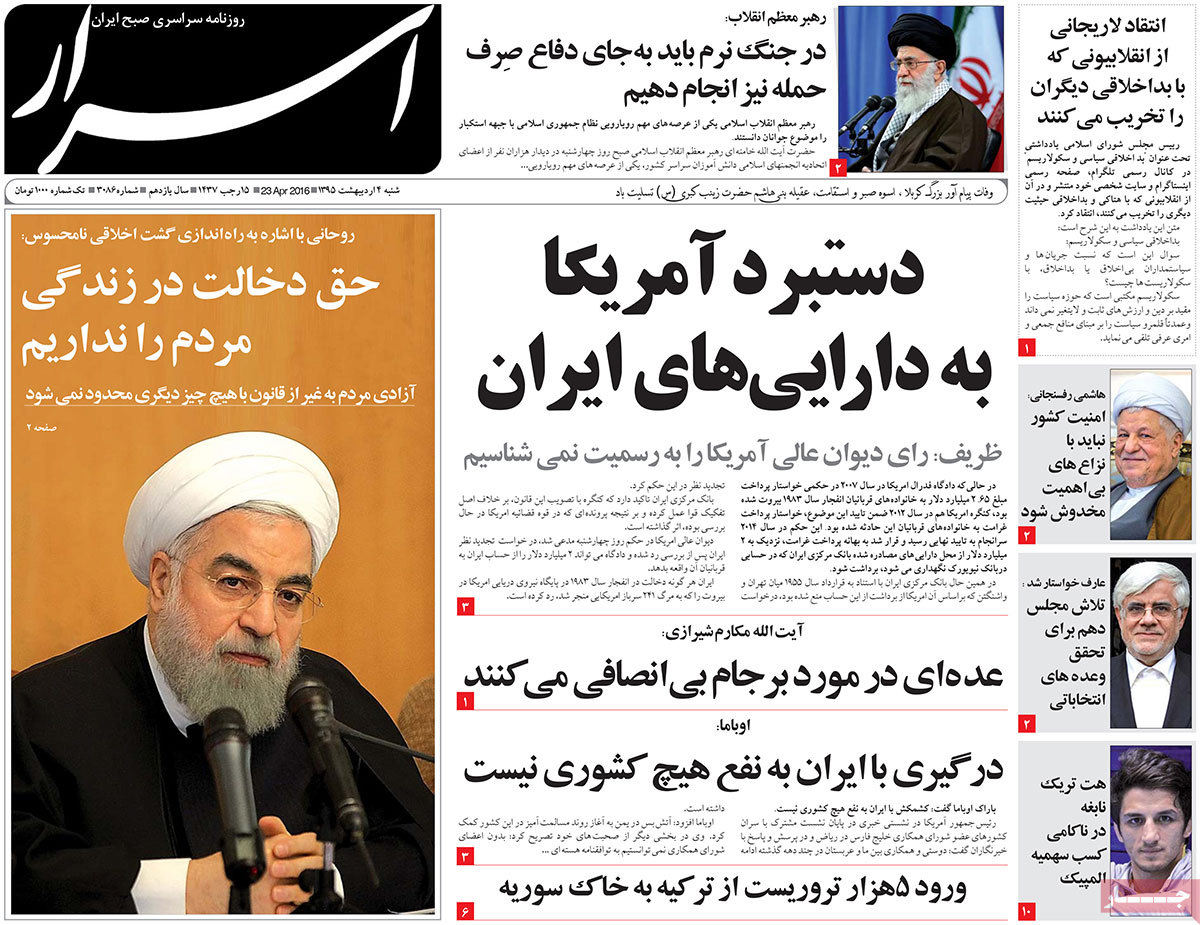 ---
Donyaye Eqtesad:

1- Saudi King Salman Refuses to Welcome US President: Obama Easing Tensions with Middle East Arabs?
2- JCPOA Implementation Pursued by Iranian Diplomats in Vienna and New York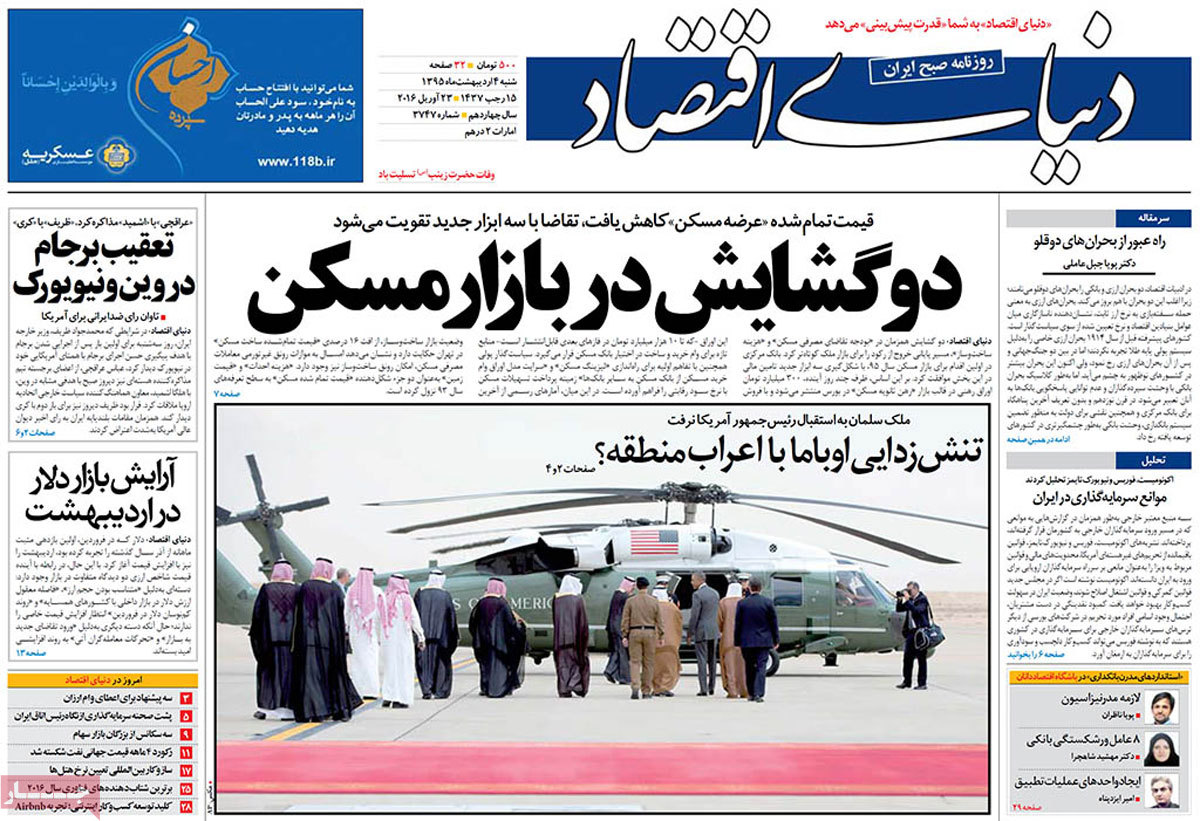 ---
Emtiaz:
1-Five Million Iranian People Diagnosed with Diabetes: Health Minister
2-Strokes and Heart Attacks Account for 50% of Deaths in Iran: Minister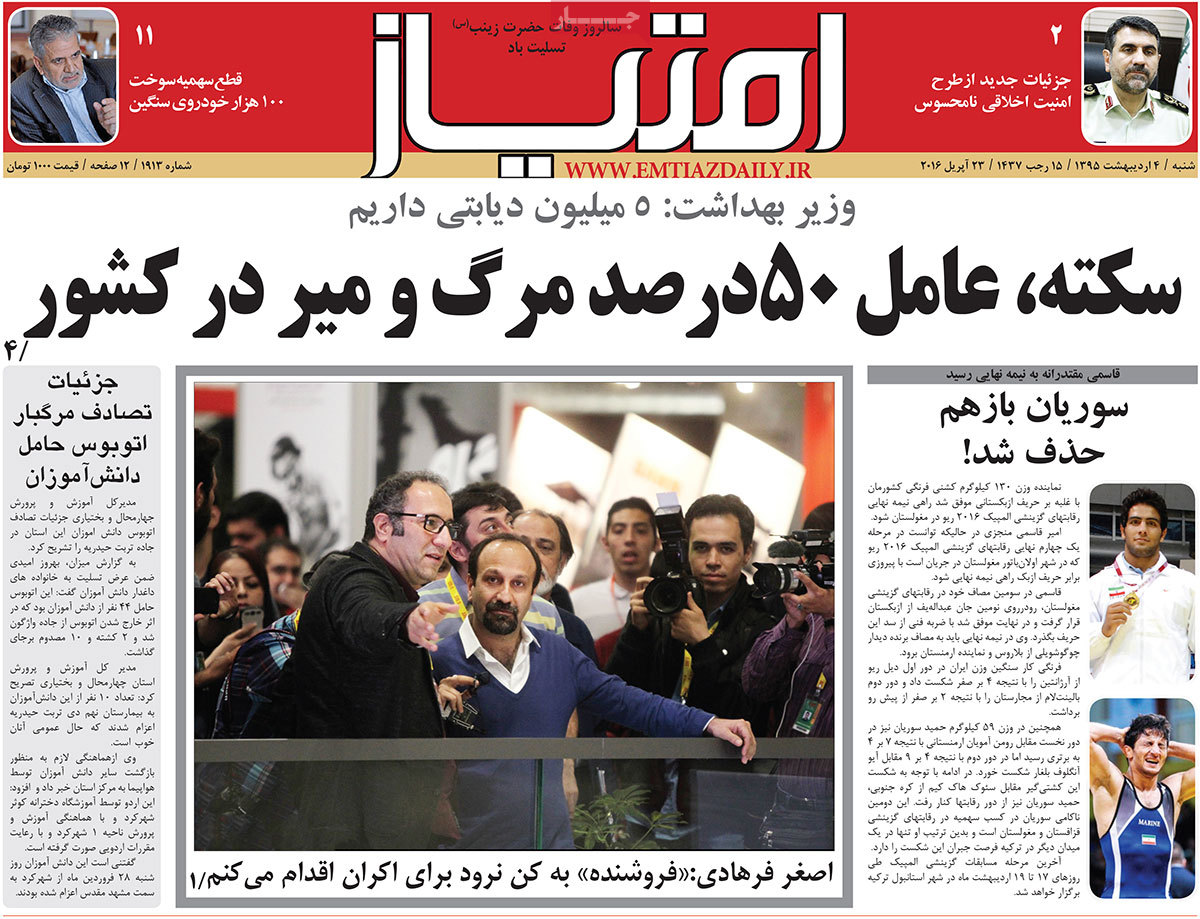 ---
Ettela'at:
1-Leader: Hegemonic Powers Failed to Prevent Iran's Regional Power
2- Inflation Rate Stands at 10.8% in Farvardin (Mar. 20-Apr. 19)
3-Top Iranian Clerics Praise Rouhani's Administration on Healthcare and Foreign Policy
4-Seizure of Iran's Assets against Int'l Laws and Even US Legal System: CBI
5-Progress Made in JCPOA Implementation Talks: Kerry and Zarif after Meeting in New York
6-Saudi Arabia Needs to Learn to Co-Exist with Iran: Obama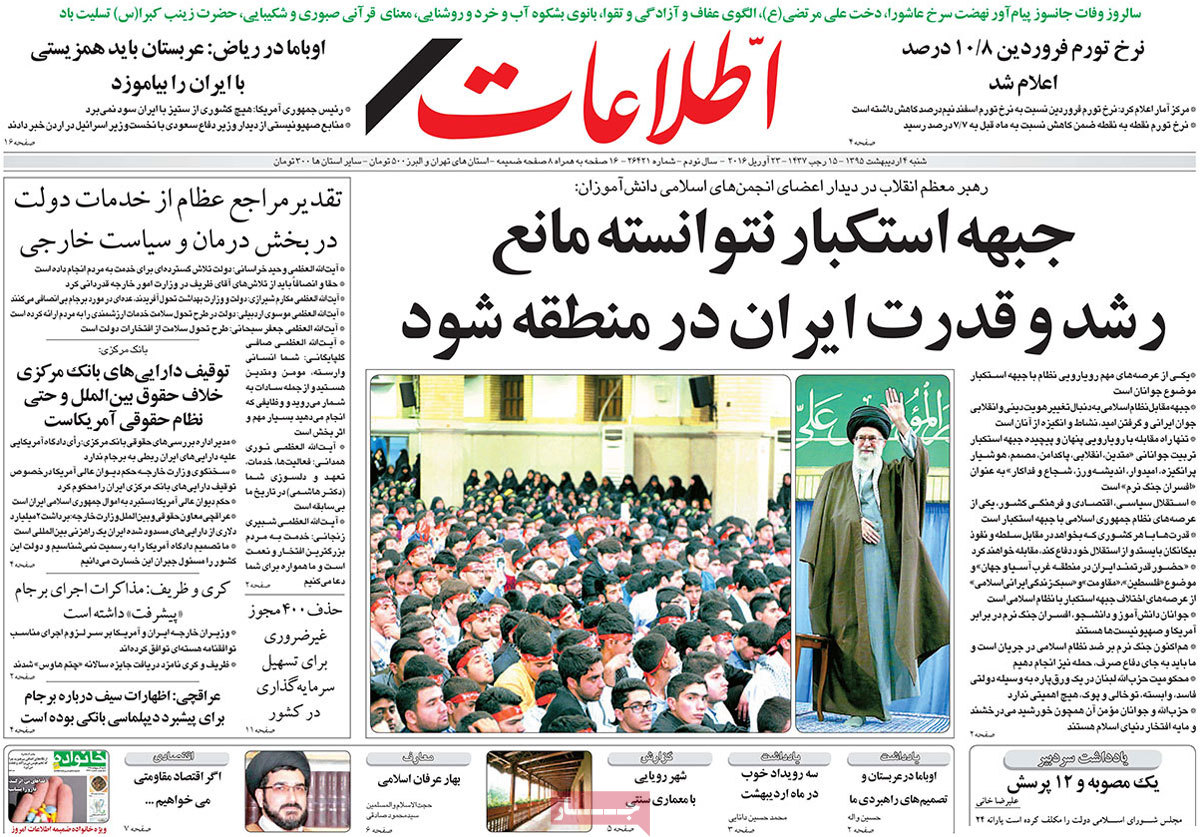 ---
Etemad:
1-Iranian Businessman Jazayeri to Sue US Administration over Iran Sanctions
2-Asghar Farhadi: I Enjoy Making Films, Not Being a Filmmaker
---
Hamshahri:
1-6 Months to 3 Years of Prison for Those Who Destroy Gardens in Iran
2-Links Revealed between Al Saud Royal Family and 9/11 Attacks
---
Iran:
1- Zarif Urges US to Remove Obstacles to Iran's Financial Ties with Europe
2-Int'l Fajr Film Festival Kicks Off in Tehran: Iranian "Simorghs" Flown in Global Festival
---
Javan:
1-A Hollow and Corrupt Gov't's Anti-Hezbollah Statements Do Not Matter: Leader
2-Saudi King Salman Waiting for Post-Obama Era
3-Why Foreigners Do Not Pay Enough Attention to Iran's Private Sector
---
Jomhouri Eslami:
1-Iran's Grand Ayatollahs Strongly Support JCPOA
2- 95% of Int'l Shipping Lines Back to Normal Ties with Iran
3-Candidates Start Campaigns for Parliamentary Election Run-Off
4- FM Zarif: US Has to Return Iran's Assets
---
Kayhan:
1- Ayatollah Khamenei Harshly Rejects US Threats against Iran
2-Latest Outcome of JCPOA: US Seizes $2bn Iranian Assets
3- What US Expects of JCPOA Is to Force Iran's Capitulation
4- Fourfold Increase of Iran's Imports from US under Rouhani's Administration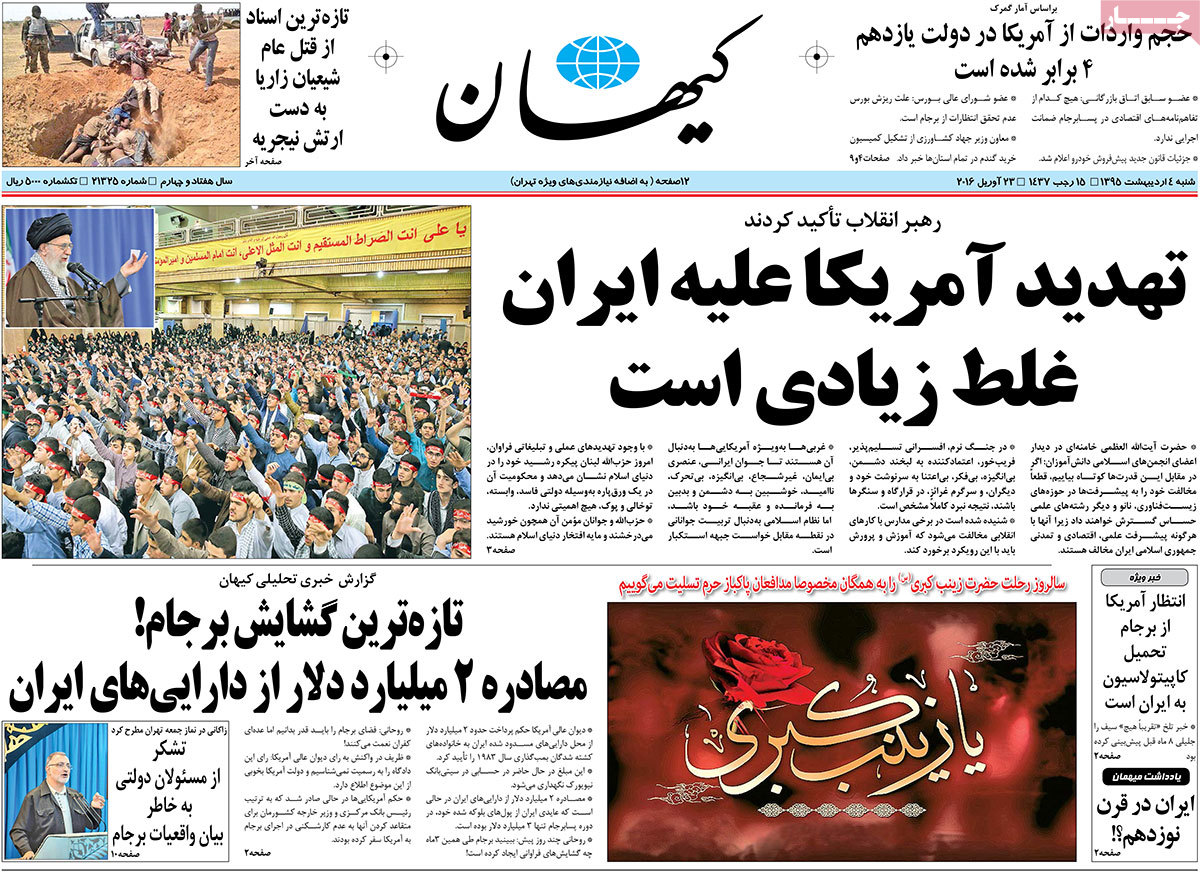 ---
Khorasan:
1-US against Iran: From $2bn Court Ruling to Riyadh Statement
2-Iran Arrests Man Who Brutally Tortured Wife and Daughters for 22 Days
3- Asghar Farhadi's "Salesman" to Represent Iran in Cannes Film Festival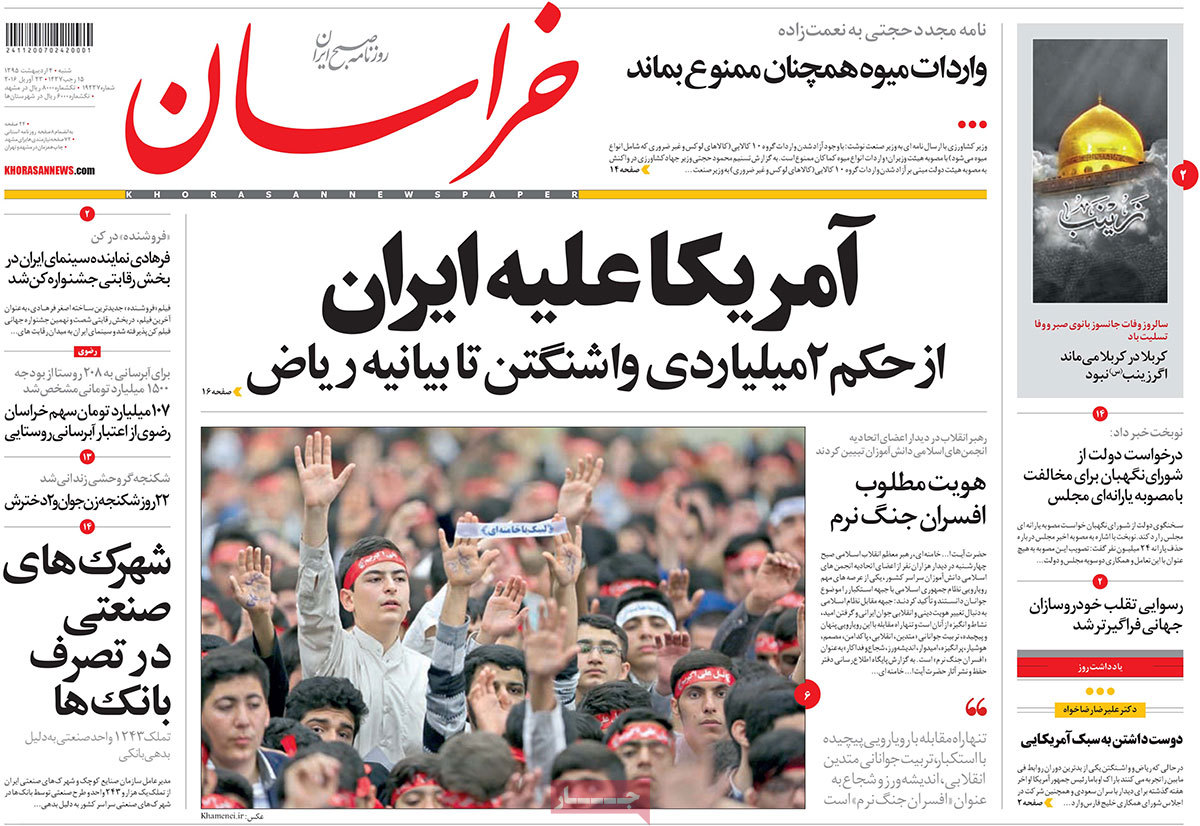 ---
Nasl-e Farda:
1-Return of Ahmadinejad: Analysis of Ex-President's Reappearance in Iran's Politics
2-Iranian People Consume 5% of World's Tea
3-Subsidy Reform to Create 300,000 Job Opportunities in Iran
4- Why Iran-EU Interactions Matter in Post-JCPOA Era
---
Quds:
1- Washington's Clear Message to Tehran in Post-JCPOA Era: US Congress and Gov't Plot to Loot Iran's Assets Once Again
2- Ghani-Abdullah Coalition Coming to an End: Afghan Gov't Faced with Challenges of Legitimacy and Taliban
---
Resalat:
1-Divine Vengeance Awaiting Al Saud Regime: Senior Iranian Cleric
2- Saudi Arabia's Preconditions for This Year's Hajj Not Acceptable: Iranian MP
3-Threats Have Become More Serious after JCPOA: IRGC Commander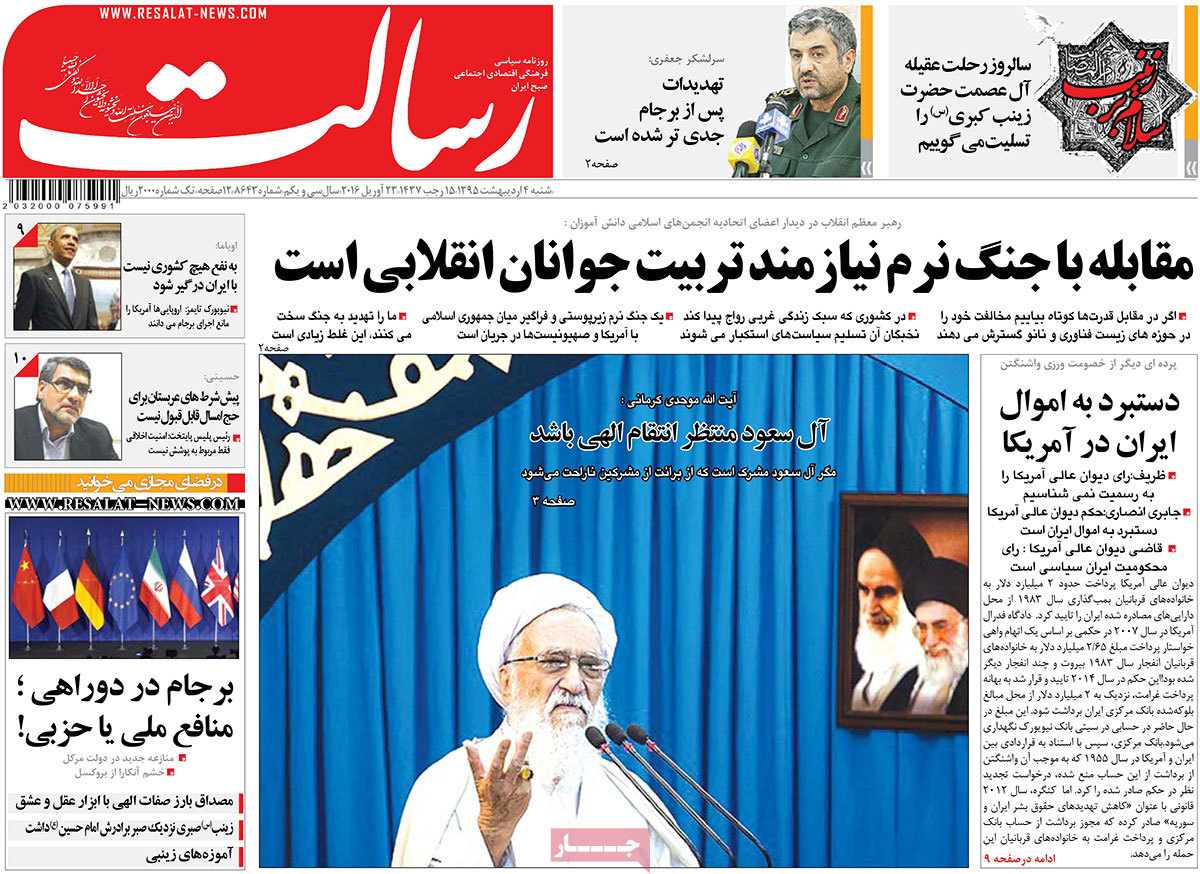 ---
Roozan:
1-US Supreme Court Ruling Unrelated to JCPOA: Iran's Central Bank
2-Good Old Days with Washington Over: Saudi Prince
---
Sharq:
1-Only Legislation Can Limit People's Freedom: Iran's President Emphasizes Rule of Law
2-Reformism and Moderation: Two Strategies, One Goal (Editorial)