Newspapers today covered the order by the Leader of the Islamic Revolution Ayatollah Seyyed Ali Khamenei to allocated $500m to the development of underdeveloped southeastern province Sistan and Baluchestan. The money will be provided by Iran's National Development Fund.
Another top story was the remarks made by President Hassan Rouhani about the country's self-sufficiency in wheat production. Rouhani made the remarks in a ceremony to celebrate the self-sufficiency in Tehran.
The imminent liberation of Syria's Aleppo also received great coverage, with some papers even declaring the full liberation.
The deal between Iran and the American plane manufacturer Boeing for the purchase of 80 planes was also a top story today.
The above issues, as well as many more, are highlighted in the following headlines:
19 Dey:
1- Don't Be Unfair! Israel Wore Black [Mourned] on Day of JCPOA Implementation: President Rouhani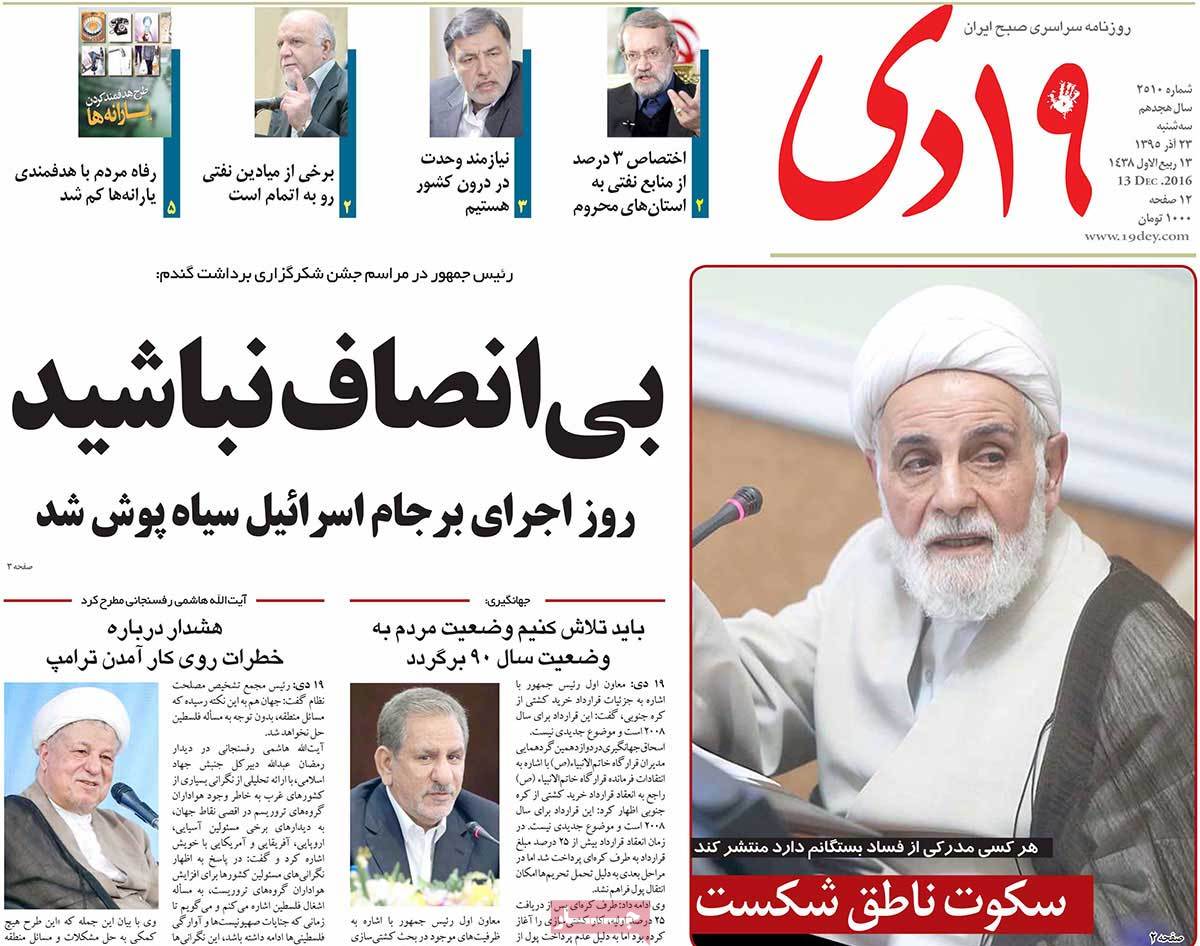 ---
Abrar:
1- UNICEF: 500,000 Children in Aleppo Need Psychological Support
2- Netanyahu: I'll Work with Trump to Destroy Nuclear Deal
3- MP: Level of Differences between Iran and Hamas Is Less than 5%
4- Japan Has Allocated €2m for Nuclear Cooperation with Iran
5- US President-Elect: I'm So Smart that I Don't Need Intelligence Reports
6- US Defence Minister Praises Victories of Iraqi Army and Peshmarga in Fight against ISIS
---
Abrar-e Eqtesadi:
1- 55% of New Oil Contracts Signed with Iranian Companies
2- Reuters: Airbus Planes Will Arrive in Iran Sooner than Boeing's
3- Possible US Violation of Its Commitments Prevented in Iran's Contract with Boeing
4- Iran-Russia Gas Talks to Sign Contract
---
Afkar:
1- Former US Ambassador to Croatia: Assad Is Winner of Syria War
2- Deputy Oil Minister: Iran's Oil Ministry Seeks to Support Pioneering Iranian Producers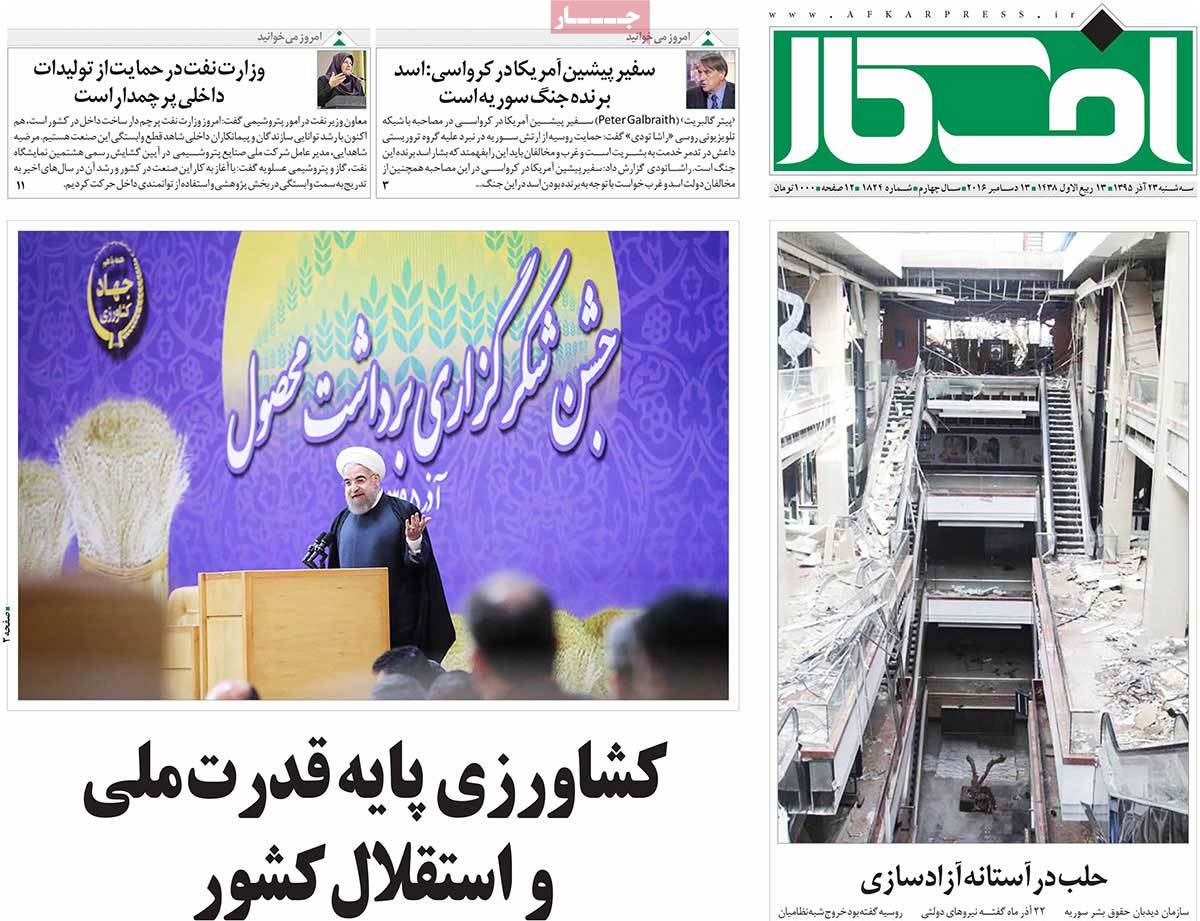 ---
Aftab-e Yazd:
1- Rouhani: In 2013, in Some Iranian Provinces, Wheat Reserves Were Enough for Just 3 Days
2- Jurist: Women Cannot Have the Divorce Right in Iran's Legal System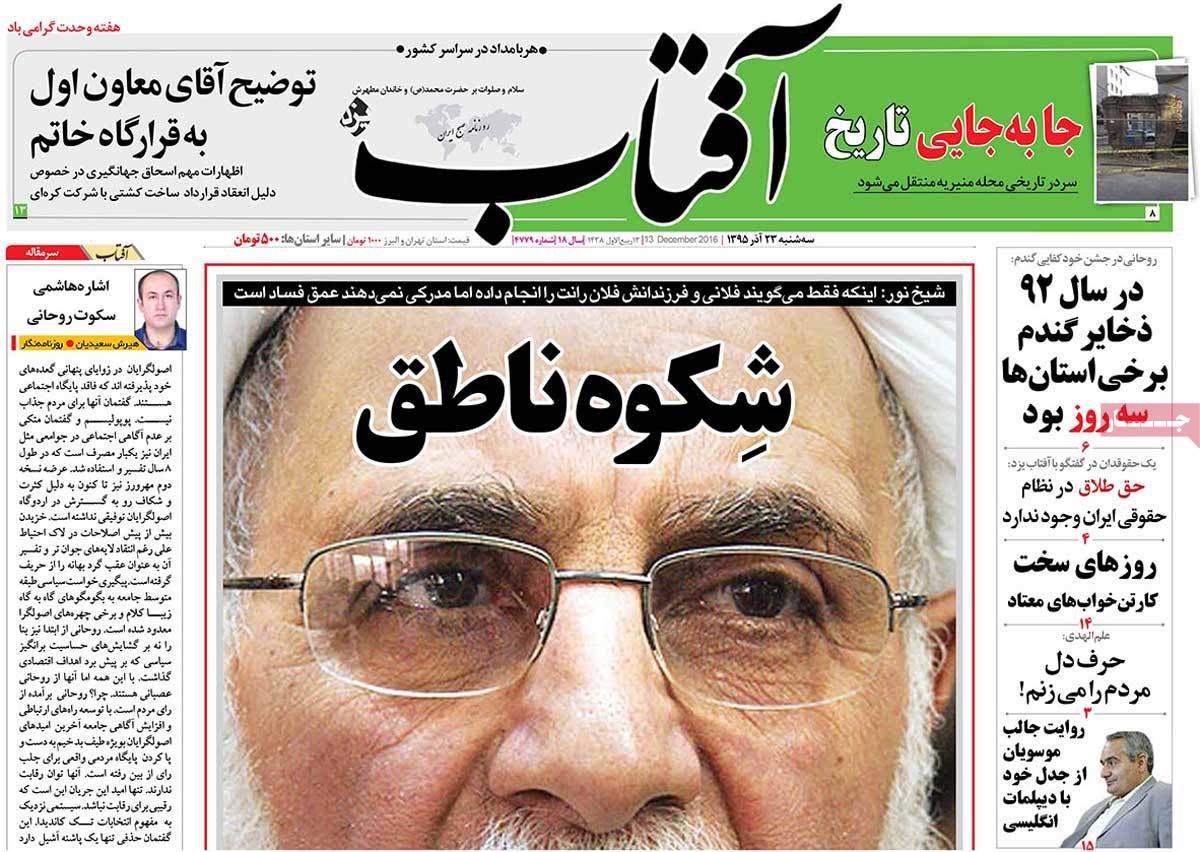 ---
Arman-e Emrooz:
1- Conservative Analyst: Rouhani to Benefit from Trump's Election; JCPOA Pressure on Rouhani Will Add to His Votes
2- 135,000 Girls in Iran Are Guardians of Themselves; 9 Divorces Registered Every Hour in Iran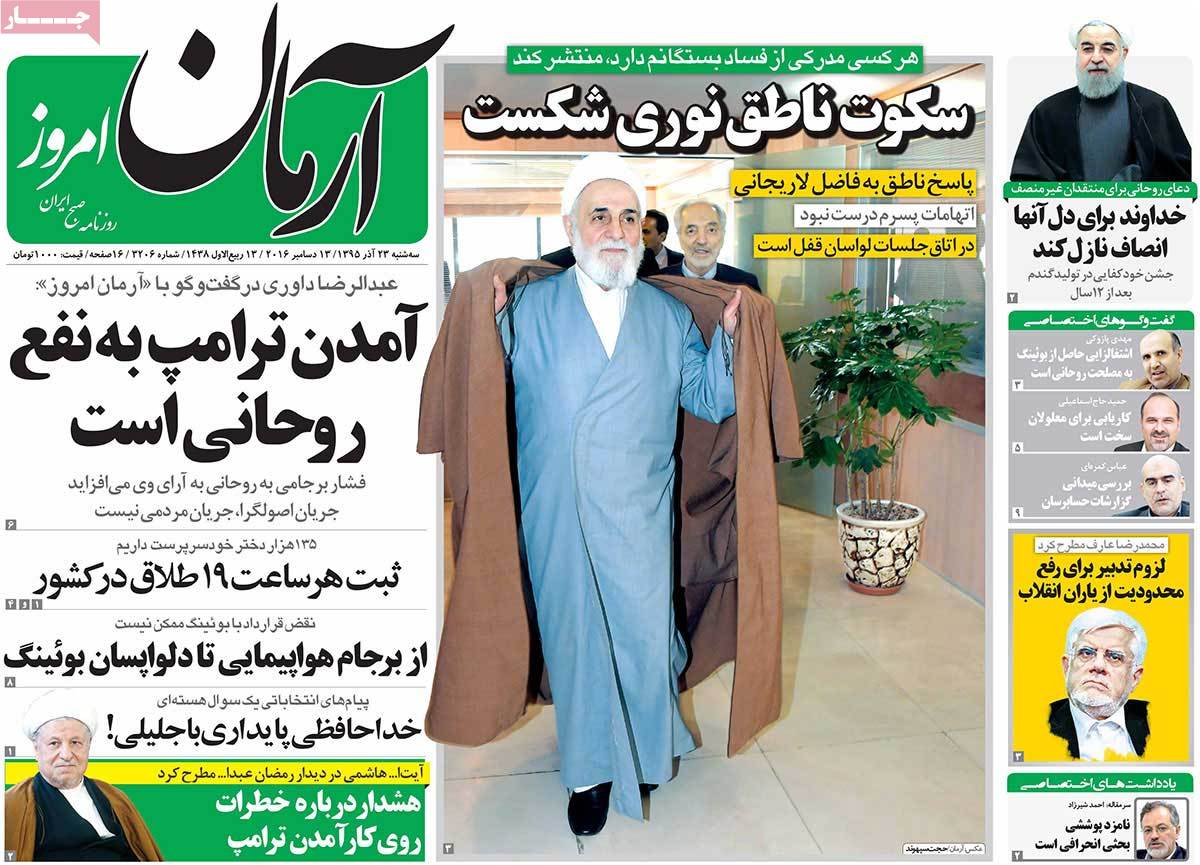 ---
Asrar:
1- Agriculture Minister: 4-Fold Increase in Purchase of Wheat [from Iranian Farmers]
2- Syrian Army 5km Away from Aleppo Liberation
3- Amir Abdollahian: Netanyahu's Trip to Baku Is Beginning of a New Sedition in Region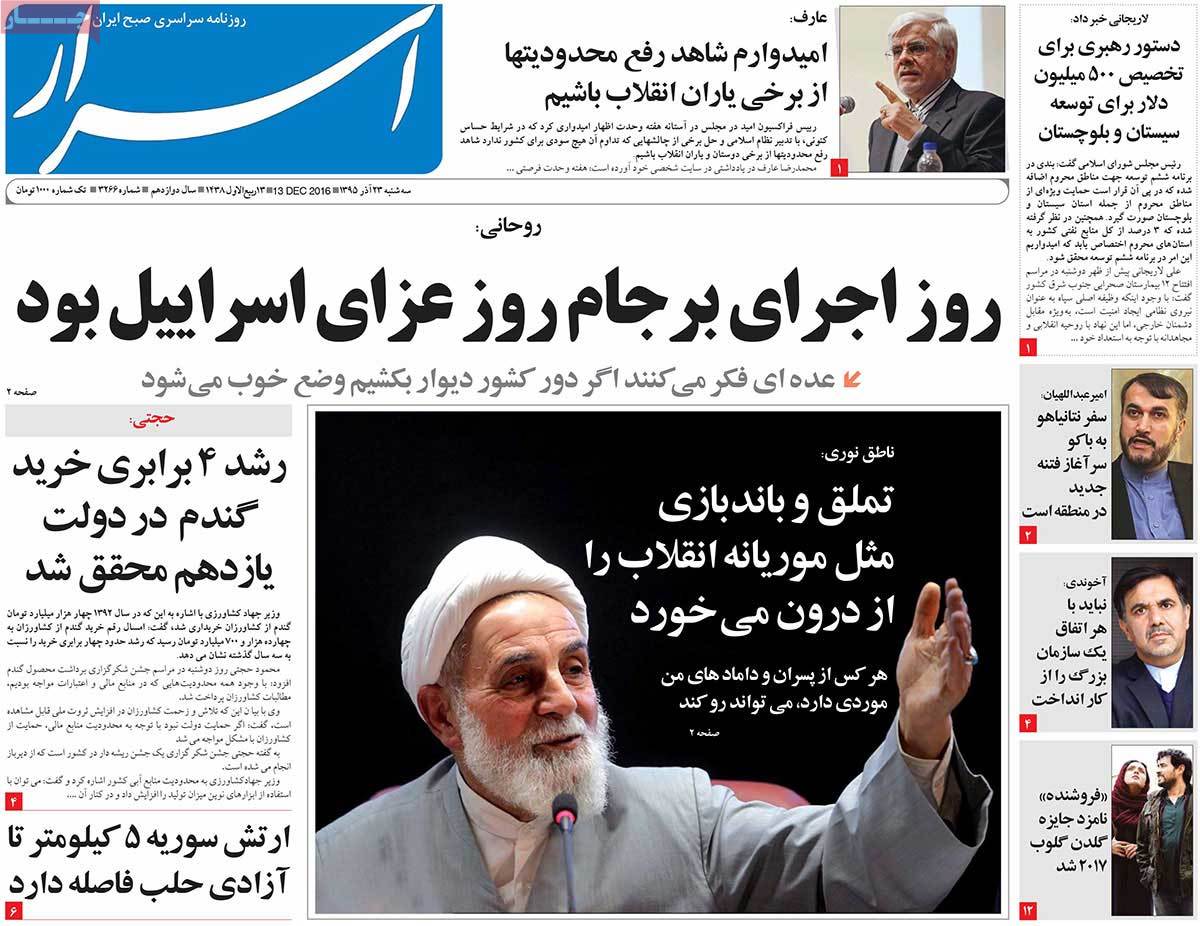 ---
Besharat-e Now:
1- UNESCO's Resolve to Develop Iran's Geoparks
---
Ebtekar:
1- Why Foreign Investors Are Unwilling to Make Investment in Iran: Fear of Corruption; Head of Tehran Chamber of Commerce Says Foreign Trade Delegations Are Worried about Corruption in Iran's Administrative System
2- Asghar Farhadi on Verge of Receiving Second Golden Globe: Nominees of 2017 Awards Announced
3- US Officials Question Presidential Elections: Trump in Russians' Trap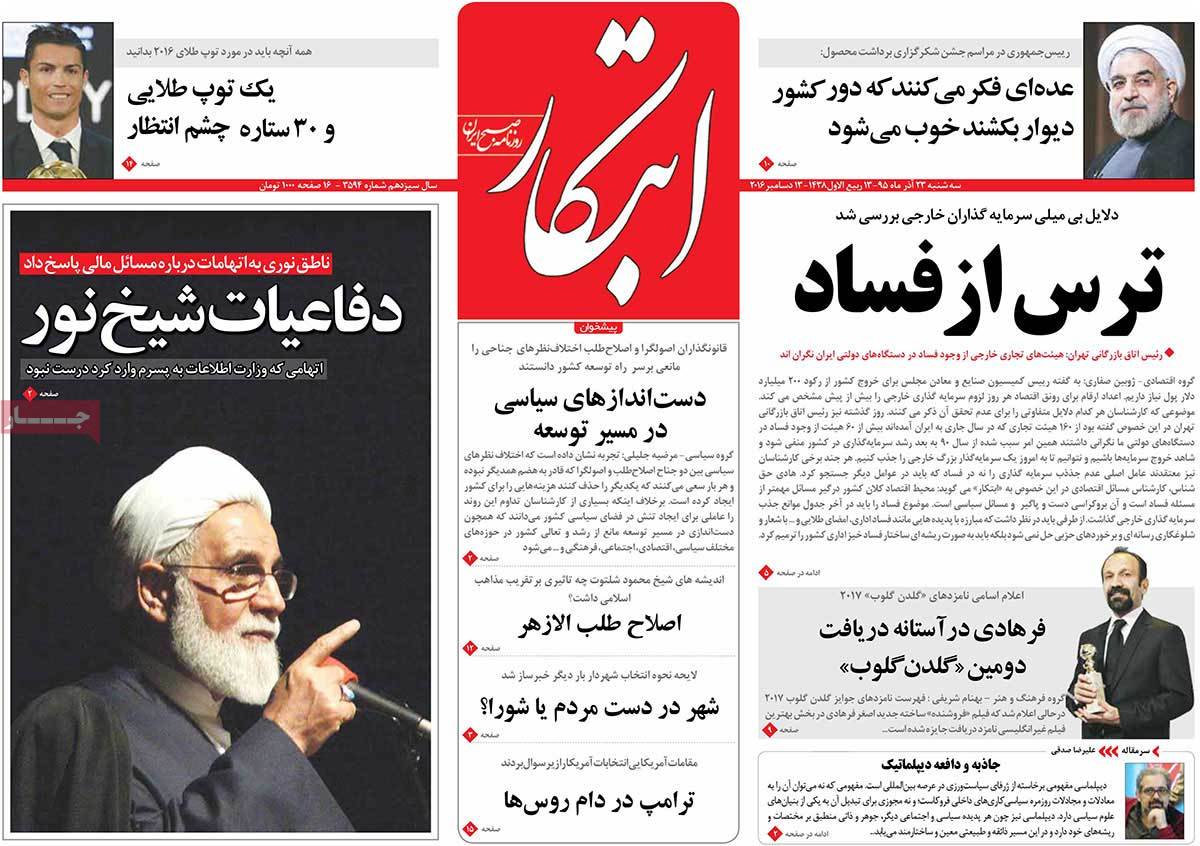 ---
Etemad:
1- Reformist Cleric: Week of [Muslim] Unity Is Not Formalities, It Is a Necessity for Survival of Islam
2- Senior Cleric Alamolhoda: I'm Not an Enemy of Rouhani
3- Mayor of Tehran Criticizes Rouhani's Government Once Again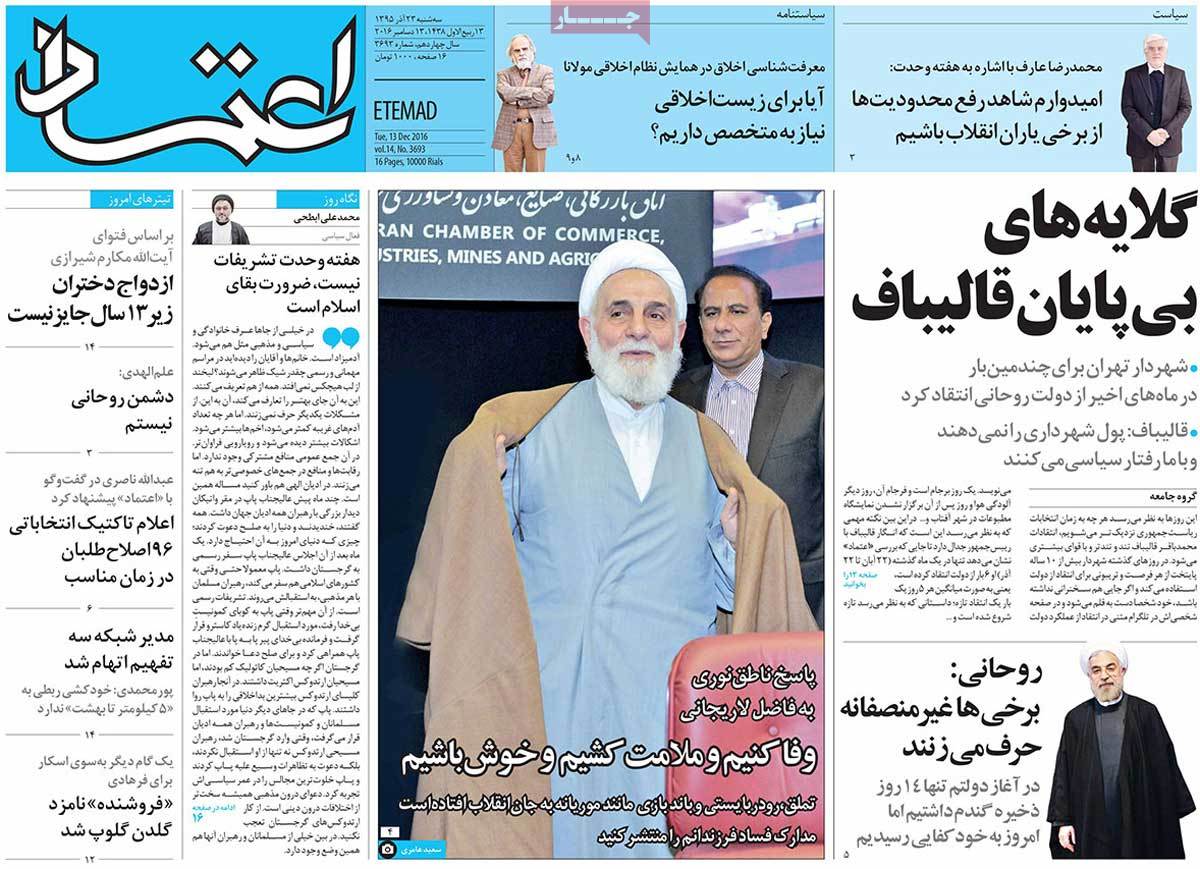 ---
Ettela'at:
1- President: Self-Sufficiency in Wheat Production Is Biggest Part of Resistance Economy
2- Pope's Letter to President Assad to Show Sympathy with Syrian People
3- First VP: Foreign Contracts Are Signed on the Condition of Using Domestic Capacities
4- Syrian Army Liberates 98% of Eastern Aleppo
---
Hemayat:
1- Great Victory of Aleppo: Terrorists Admit They Are Defeated by Resistance Forces
---
Iran:
1- We've Been Successful in Agriculture, Oil Diplomacy, and Plane Purchase: President
2- First VP: Deal with South Korea for Ship Building Belongs to 8 Years Ago
---
Javan:
1- Iran's Leader Allocates $500m to Development of Sistan and Baluchestan Province in Southeast Iran
2- 35 Days after Trump's Election: US in Whirlpool of Cheating
3- One Attack until Liberation of Aleppo
---
Jomhouri Eslami:
1- Aleppo Is Liberated
2- New Record in South Pars Gas Production
3- Foreign Ministry Spokesman: Saudi and British FMs' Anti-Iran Remarks Are a Cover for Their Destructive Role in Supporting Takfiri [Extremist] Terrorism
4- Arab League Admits Existence of Conflict between Member States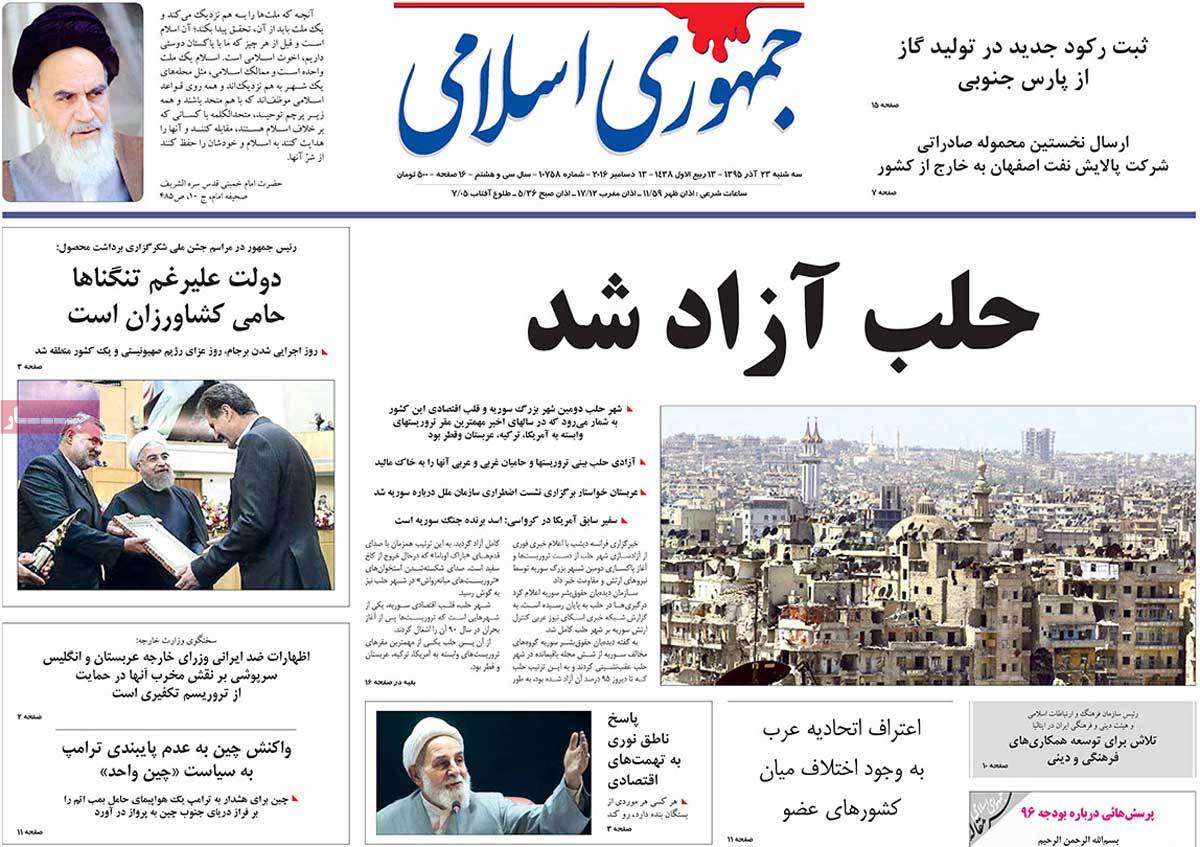 ---
Kayhan:
1- Flight of Paper Planes over Sky of Elections: Last Year Airbus, This Year Boeing!
2- Good News from Aleppo: 800 Terrorists Captured in Syria, 13,000 Civilians Rescued
3- Netanyahu: Close Ties between Arab States and Israel Are a Result of JCPOA
4- Planting, Using, and Importing Transgenic Products Are Banned by Iran's Parliament
5- Total and Shell's Investment in Iran Is a Shame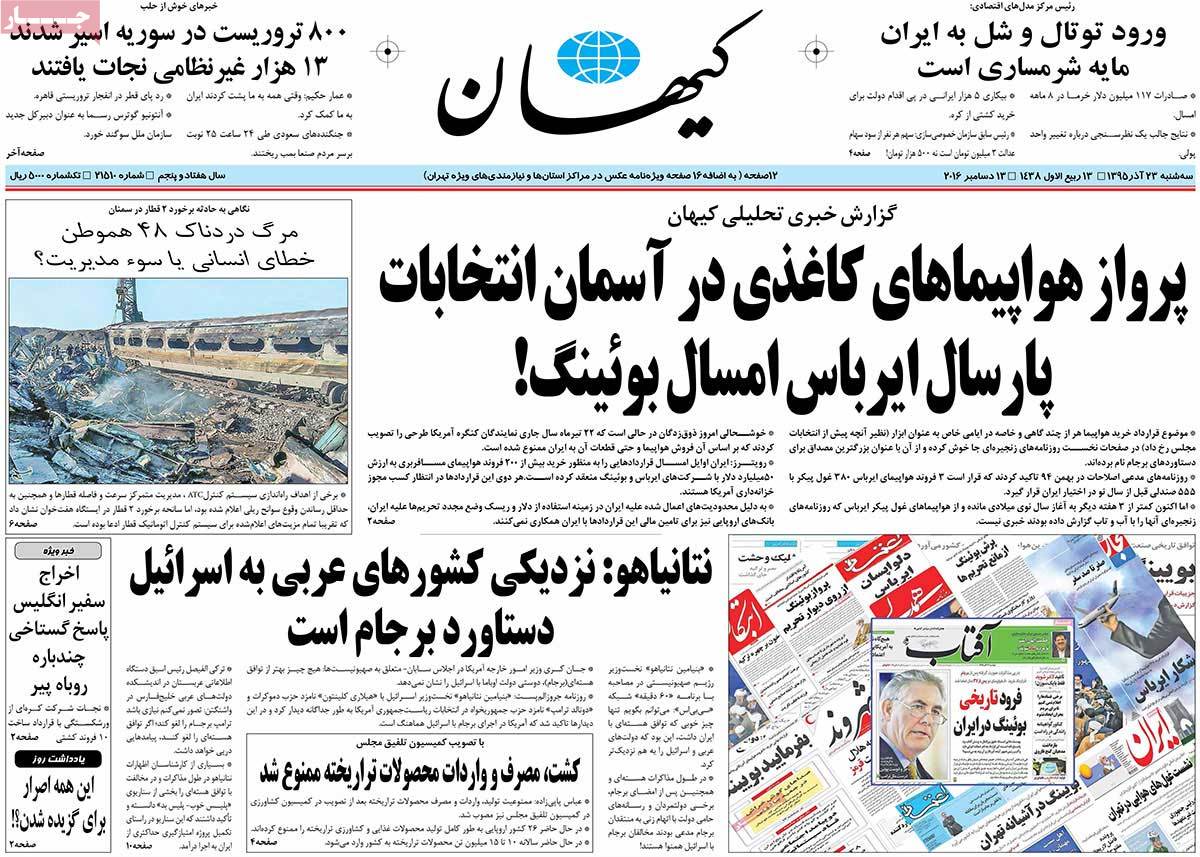 ---
Khorasan:
1- Syrian Army's Biggest Victory in Fight against Takfiris: Aleppo Is Recaptured
2- Market's Reaction to Major Oil Deal: Oil Price Surges to Highest Level in 18 Months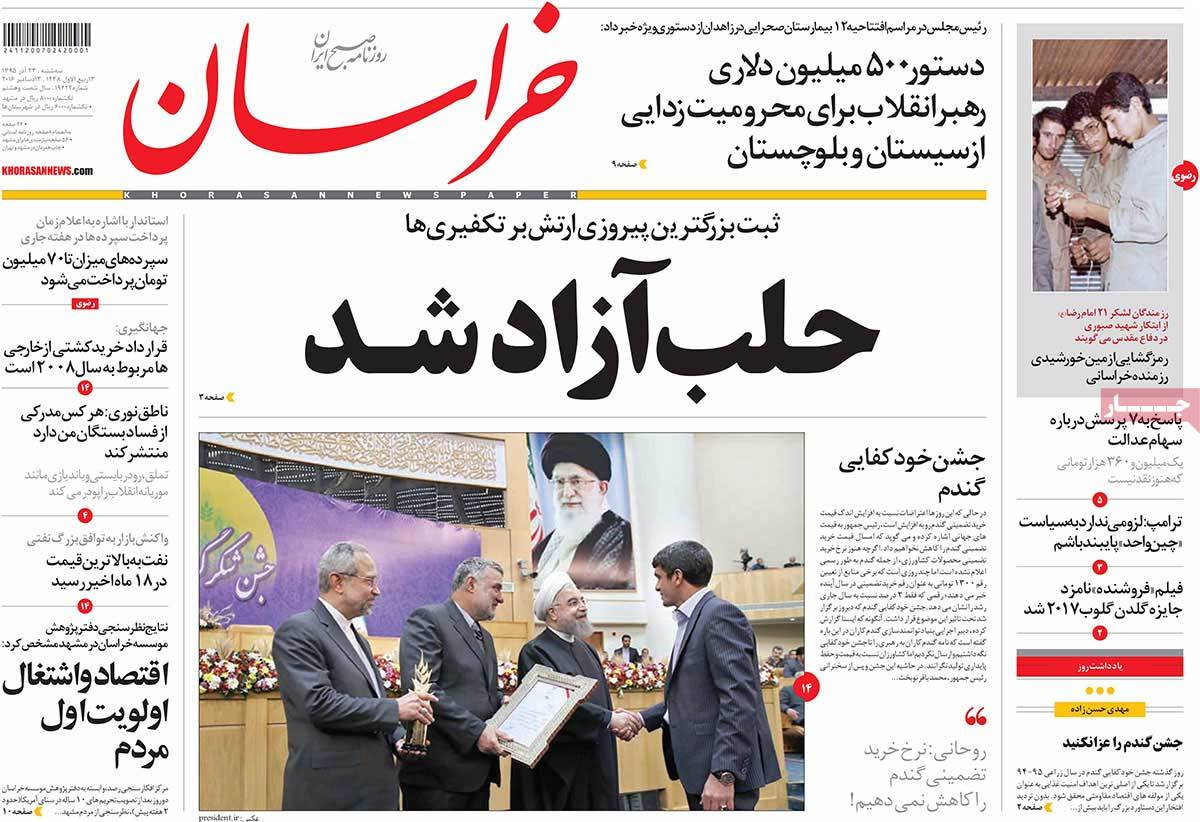 ---
Mardom Salari:
1- Angry Argument between Trump and Beijing: US Is in Conflict with China
---
Payam-e Zaman:
1- Gradual Death of Lake Urmia [in northeastern Iran]
---
Resalat:
1- West's Bones Broken in Syria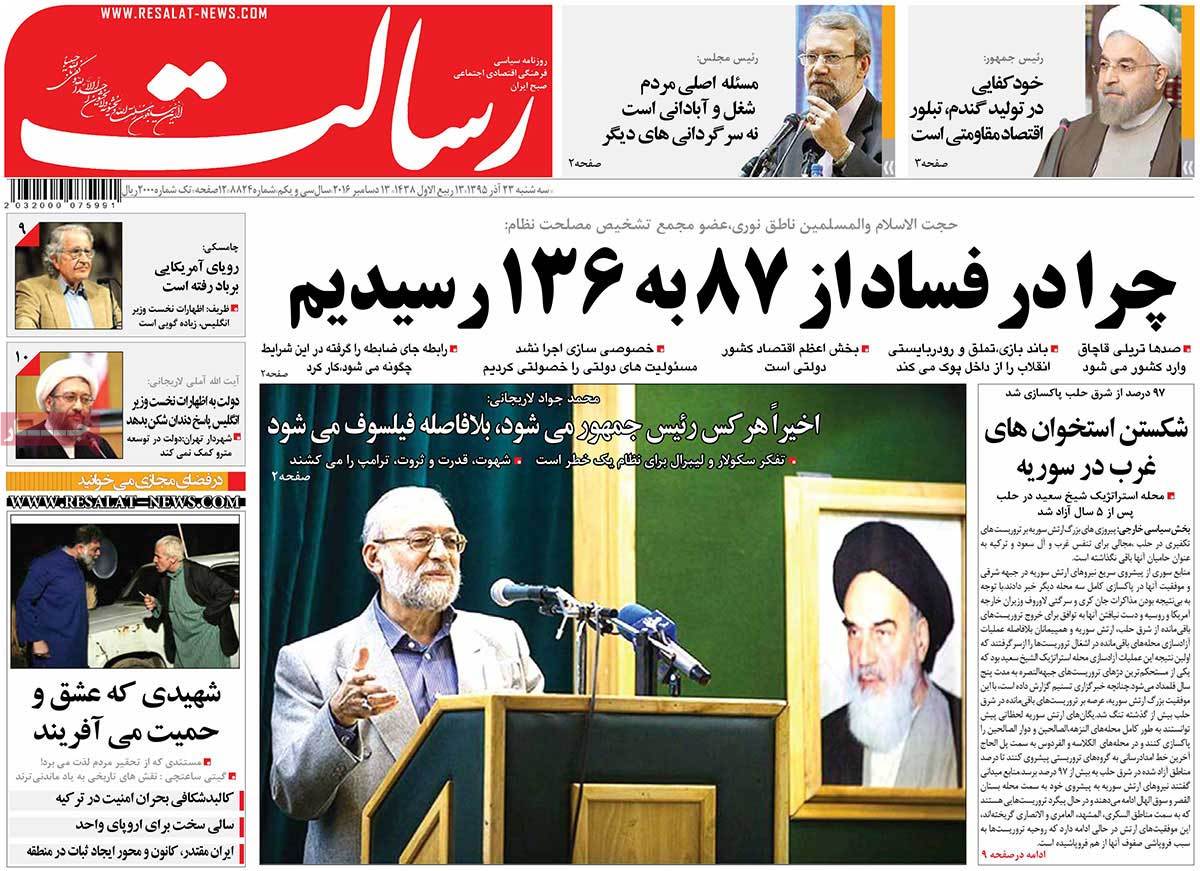 ---
Rooyesh-e Mellat:
1- Iran Leader's Int'l Advisor: Extension of Sanctions No Different from [Imposing New] Sanctions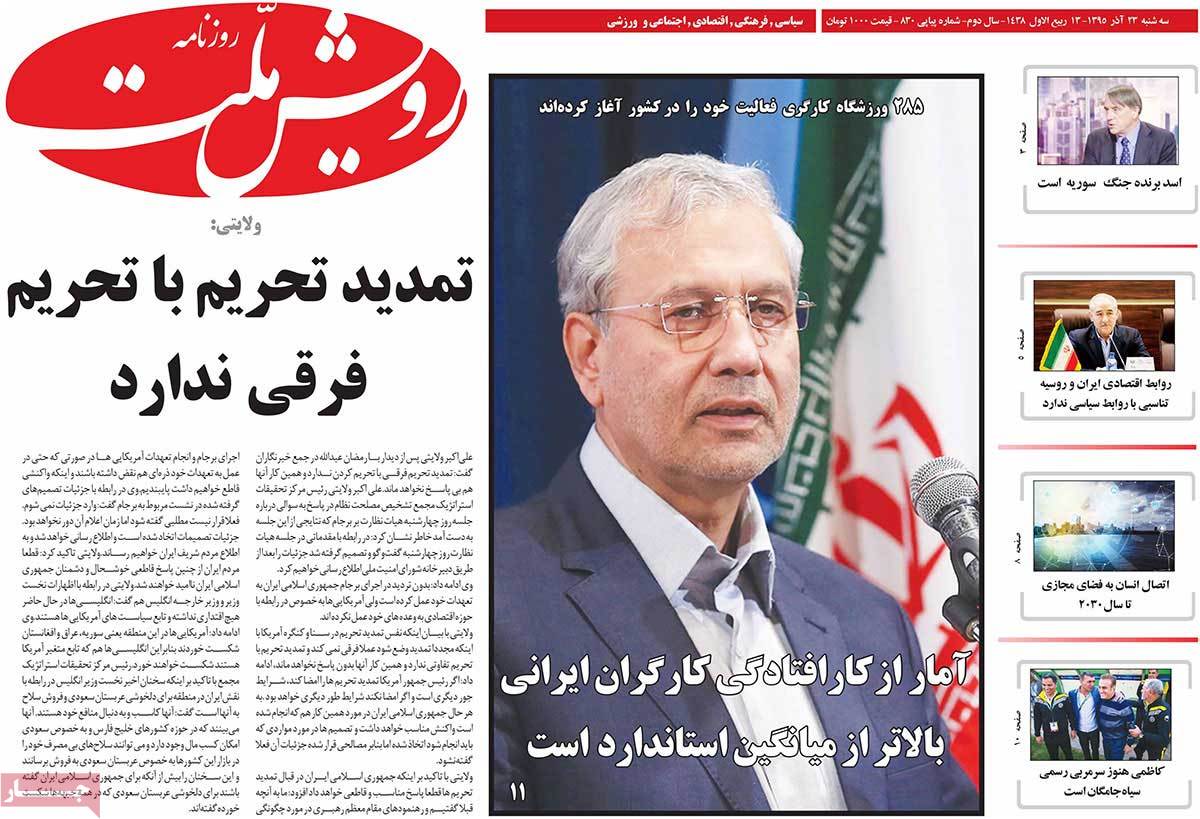 ---
Shargh:
1- First VP's Reaction to Criticisms of IRGC's Khatam al-Anbia Construction Base over Ship Deal with South Korea: We Just Revived the Money Frozen in Time of Ahmadinejad
2- Judiciary Chief Urges Government to Give a Crushing Response to British PM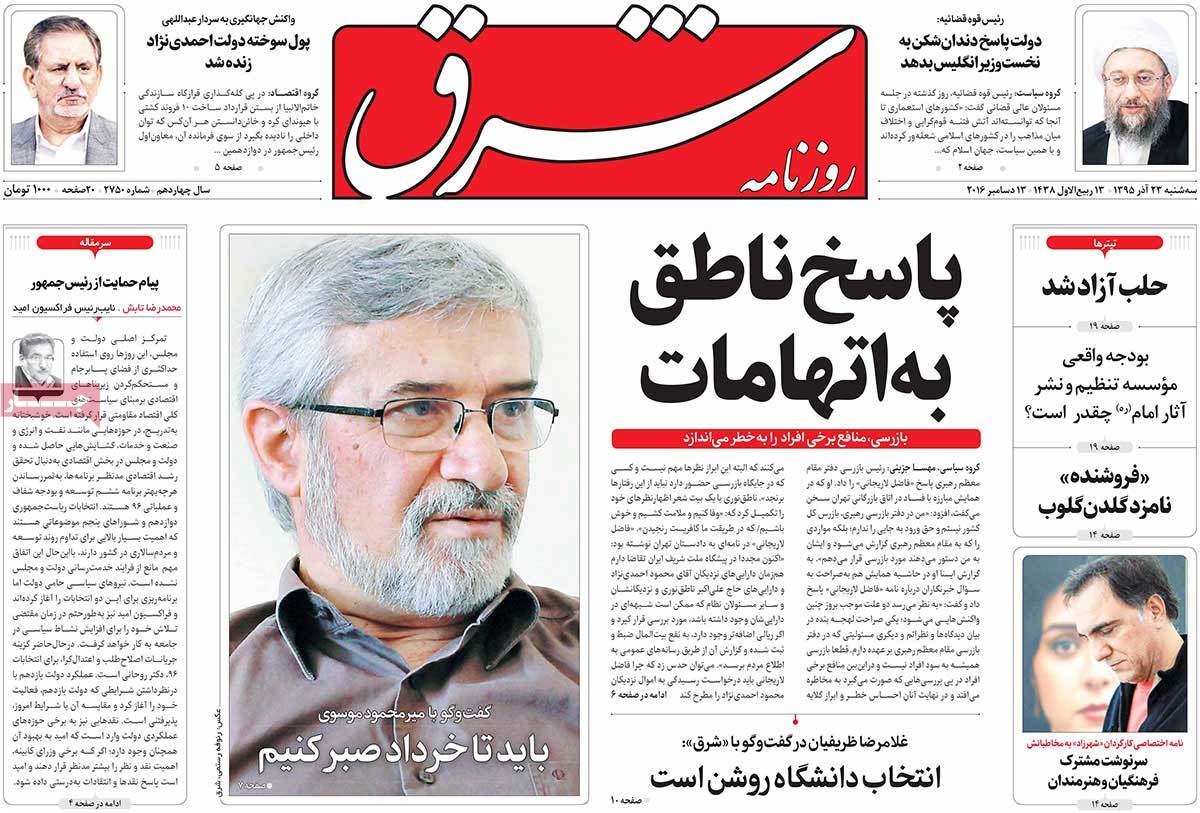 ---
Vaghaye Ettefaghieh:
1- They Kill the Birds: A Report on Migratory Birds in Iran's Sky and Their Ruthless Slaughter
2- Iran Is Winner, Saudi Arabia Is Frustrated, Turkey Is Alone: Great Victory in Aleppo and Change of Regional Equations Are in Favour of Iran and Syria