All papers today covered the speeches delivered by Iranian President Hassan Rouhani and US President Donald Trump at the 73rd gathering of the UN General Assembly in New York.
Also a top story today was the meeting of Iran and the P4+1 – Russia, China, Germany, France, the UK, and the EU Foreign Policy Chief – in New York, during which the EU vowed to create independent payment channels for maintaining trade with Iran and save the Iran nuclear deal.
The Iranian Parliament's approval of two bills related to Iran's adoption of the FATF standards also received great coverage today. The bills, which had been rejected by the Guardian Council, now need the ratification of the Expediency Council to be signed into law.
The above issues, as well as many more, are highlighted in the following headlines and top stories:
Afkar:
1- Iran-P4+1 Meeting Clearly Showed US' Isolation
2- Velayati: Trump, Pompeo's Dreams of Meeting Iran Officials Won't Come True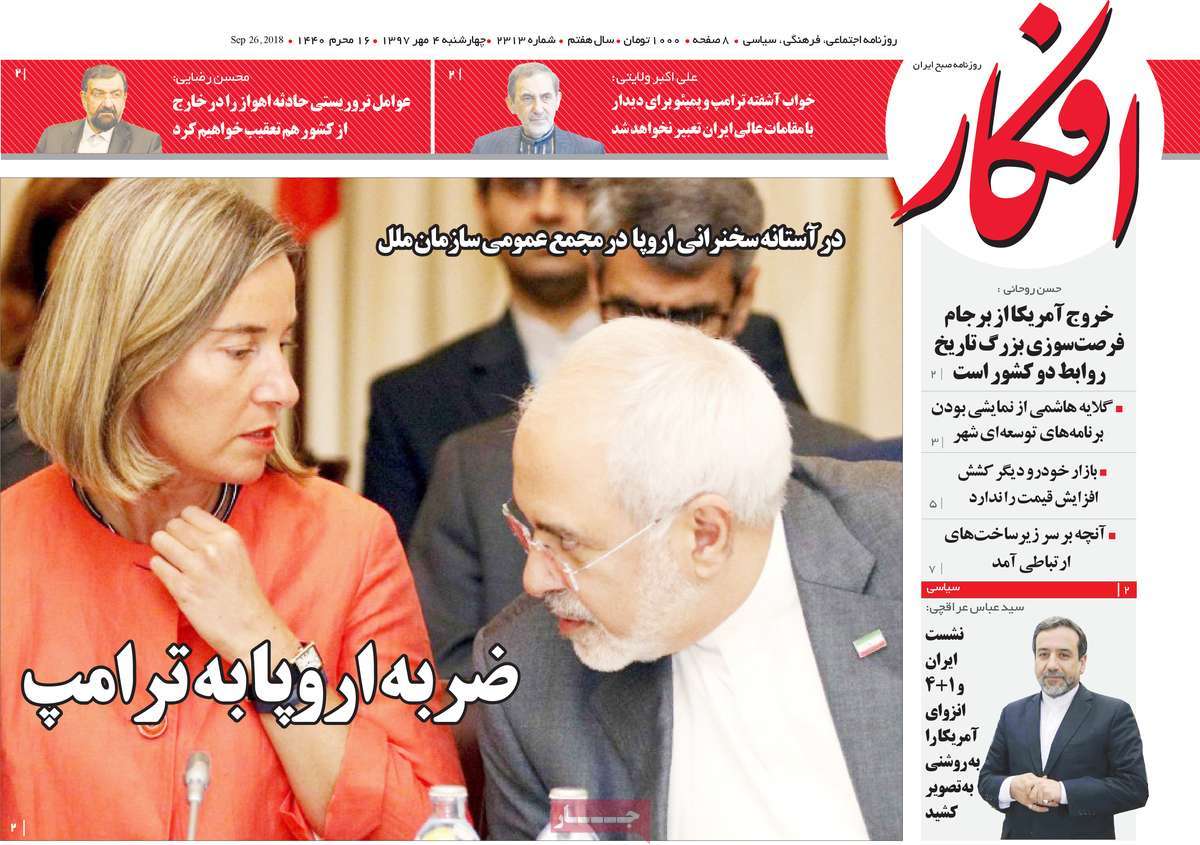 ---
Aftab-e Yazd:
1- Rouhani at UNGA: For Dialogue, There's No Need for Joint Photo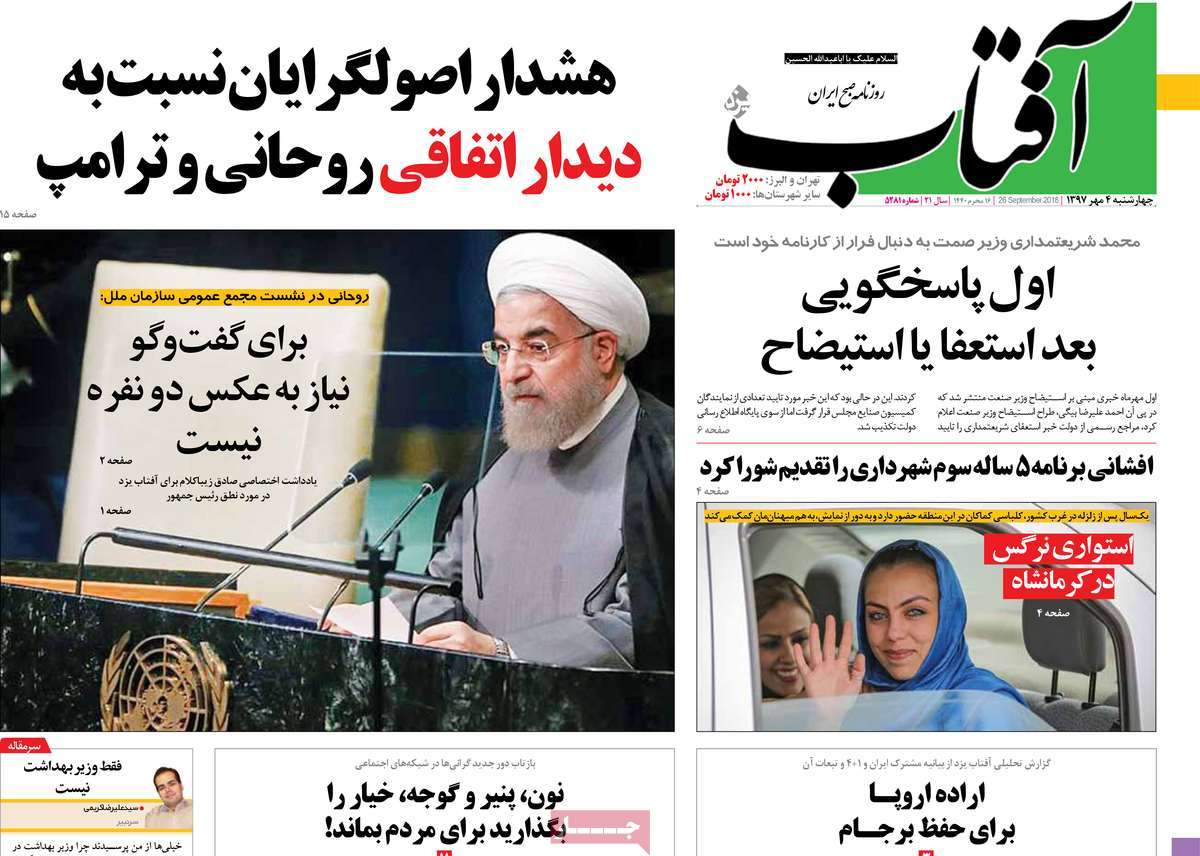 ---
Arman-e Emrooz:
1- Negotiation from This Point of Time
Rouhani: I Start Dialogue Right Now from Here
US Government Seeking to Overthrow a Regime It Wants to Hold Talks with
Iran's Policy Is Clear: No War, No Sanction, Just Adhering to Law
We Believe We Have to Hold Talks at End of the Day
We Invite US to Return to Negotiating Table It Left
US Sanctions Amount to Economic Terrorism
2- Cabinet to Be Strengthened after Rouhani's Return
---
Donya-ye Eqtesad:
1- Parliament's Counter-Attack on Economic War
MPs Unanimously Ratify Bills on Palermo Convention, Fight against Money Laundering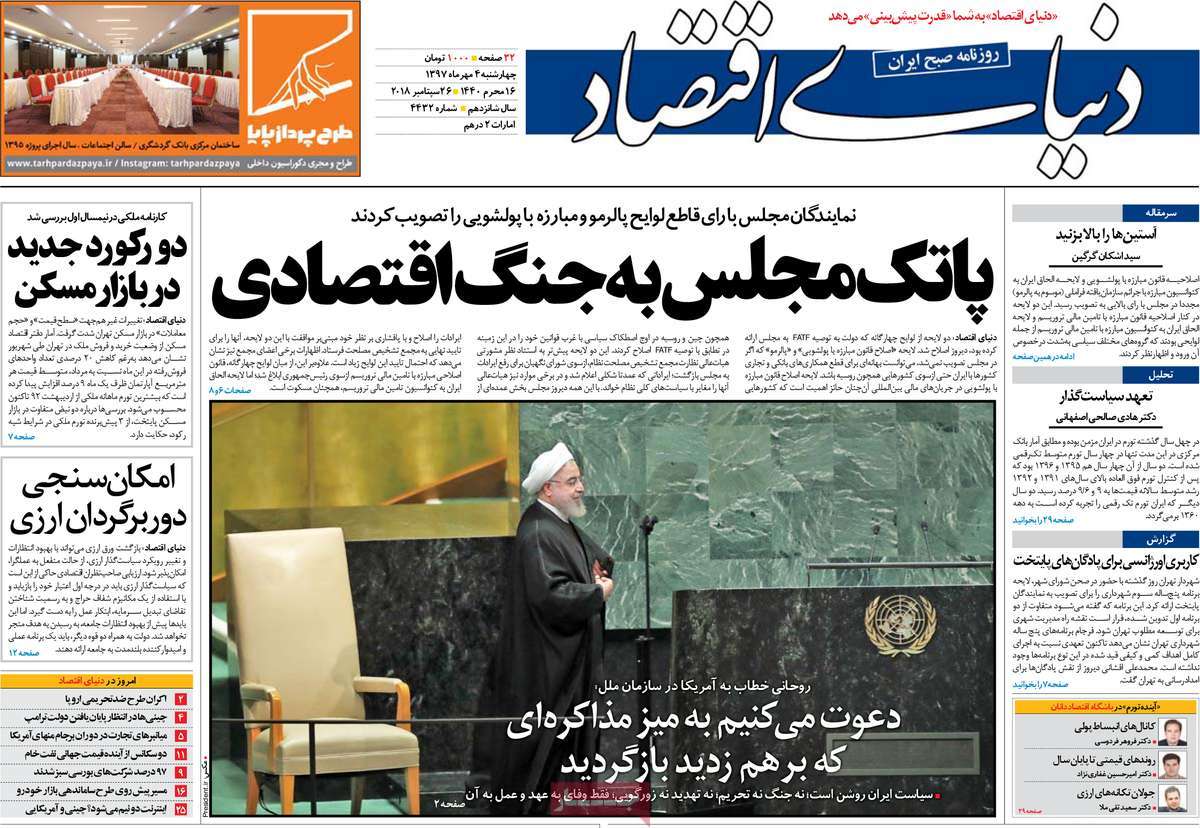 ---
Ebtekar:
1- UNGA Participants Laugh at Trump's Speech
2- Best Friend for the World; Rouhani Talked of Beginning of Talks with US at UNGA
3- Iran, US: Stopped at Zero Point [Editorial]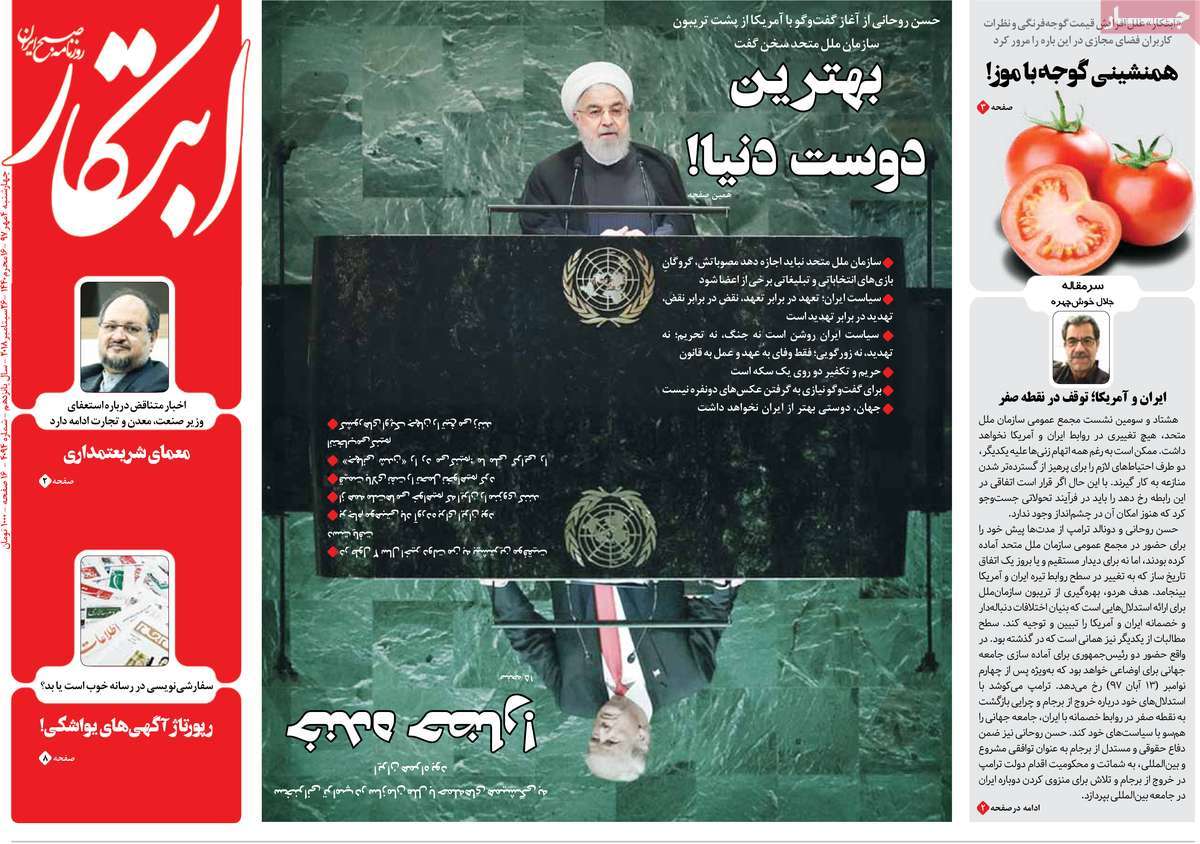 ---
Etemad:
1- Rouhani at UNGA: Stop Imposing Sanctions, Denouncing Others
2- Holding Talks in Honourable Way
3- Trump Makes People Laugh at UNGA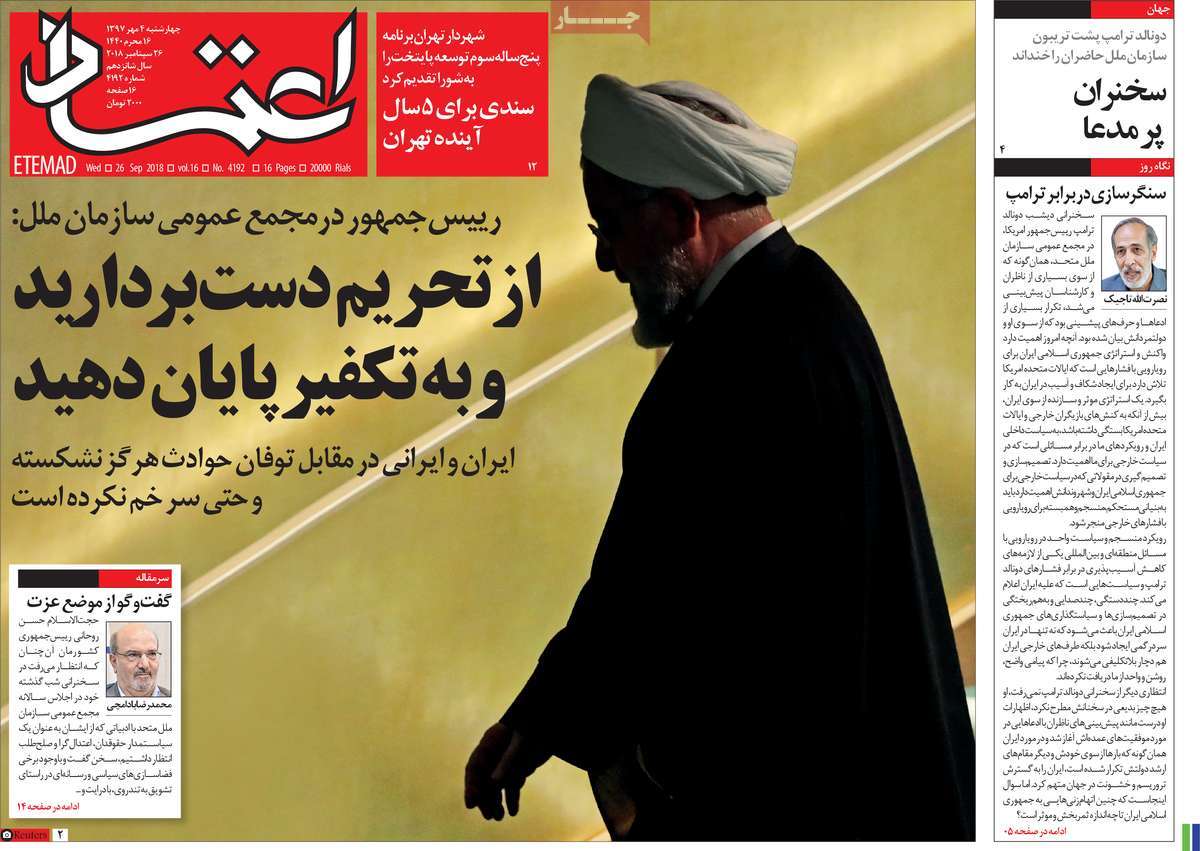 ---
Ettela'at:
1- UN Security Council Condemns Ahvaz Terror Attack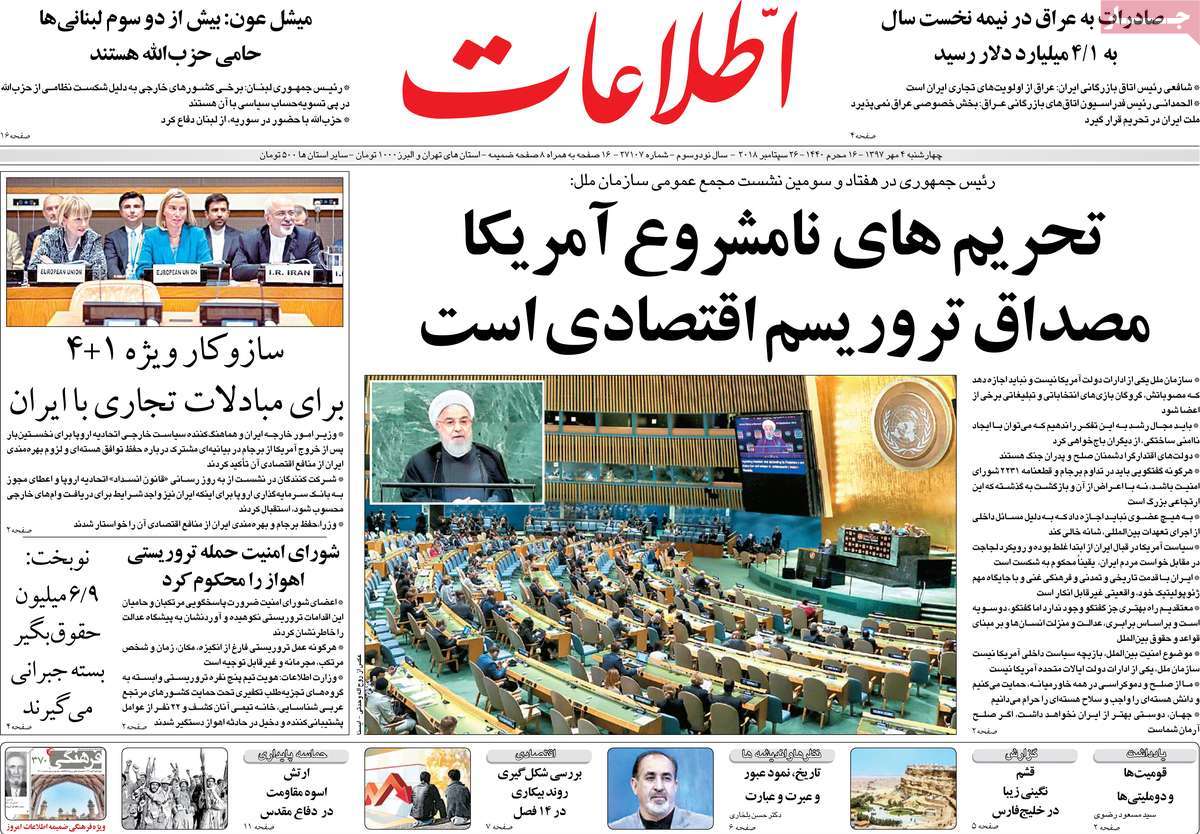 ---
Iran:
1- P4+1 Vows to Establish Independent Body to Facilitate Payment to/from Iran
2- Rouhani's Speech, Trump's Show [Editorial]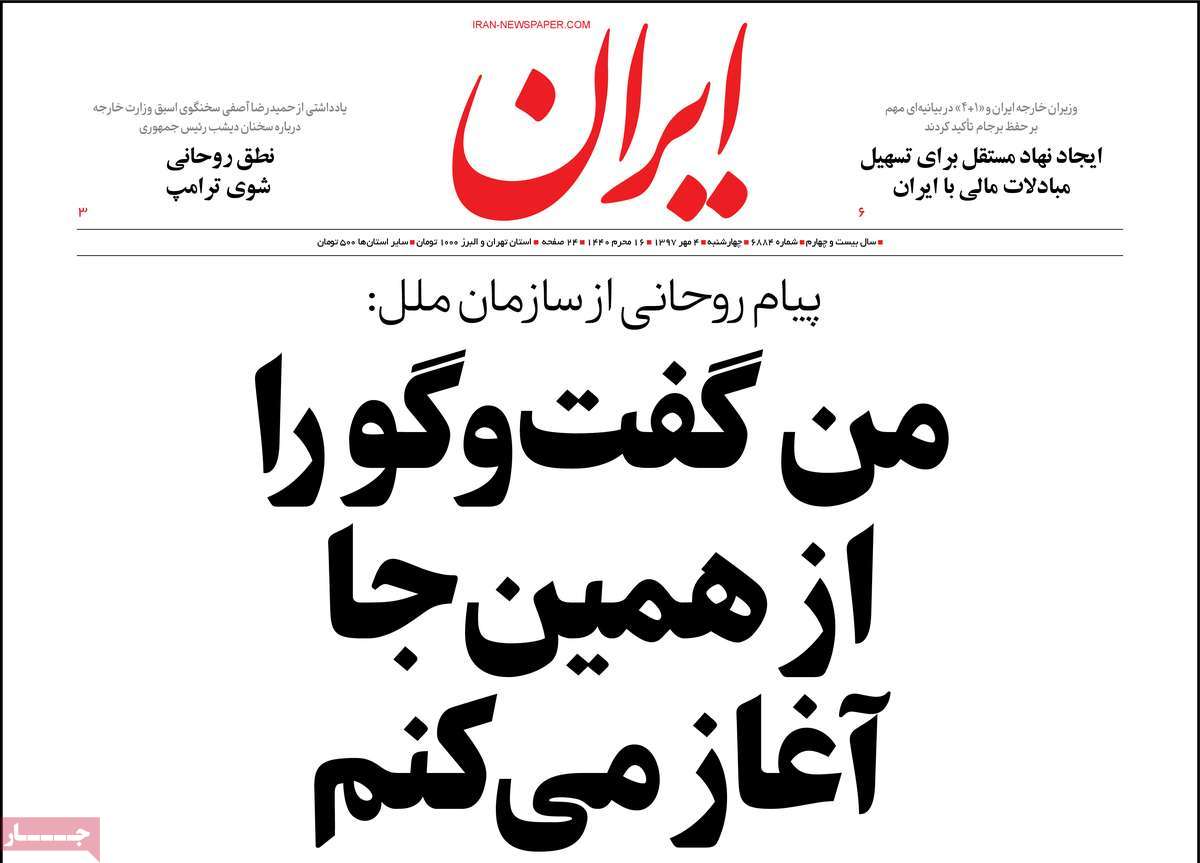 ---
Jame Jam:
1- Rouhani Declares Iran's Approach to US Violation at UNGA
2- US Dollar Rate Not Changed from Outside Iran
---
Javan:
1- Trump Backs Off from His Promise to Cut Down to Zero Iran's Oil Exports
World Laughs at Trump's Compliment on His Performance
2- JCPOA Survivors Once Again Express Regret: Iran Holds Meeting with P4+1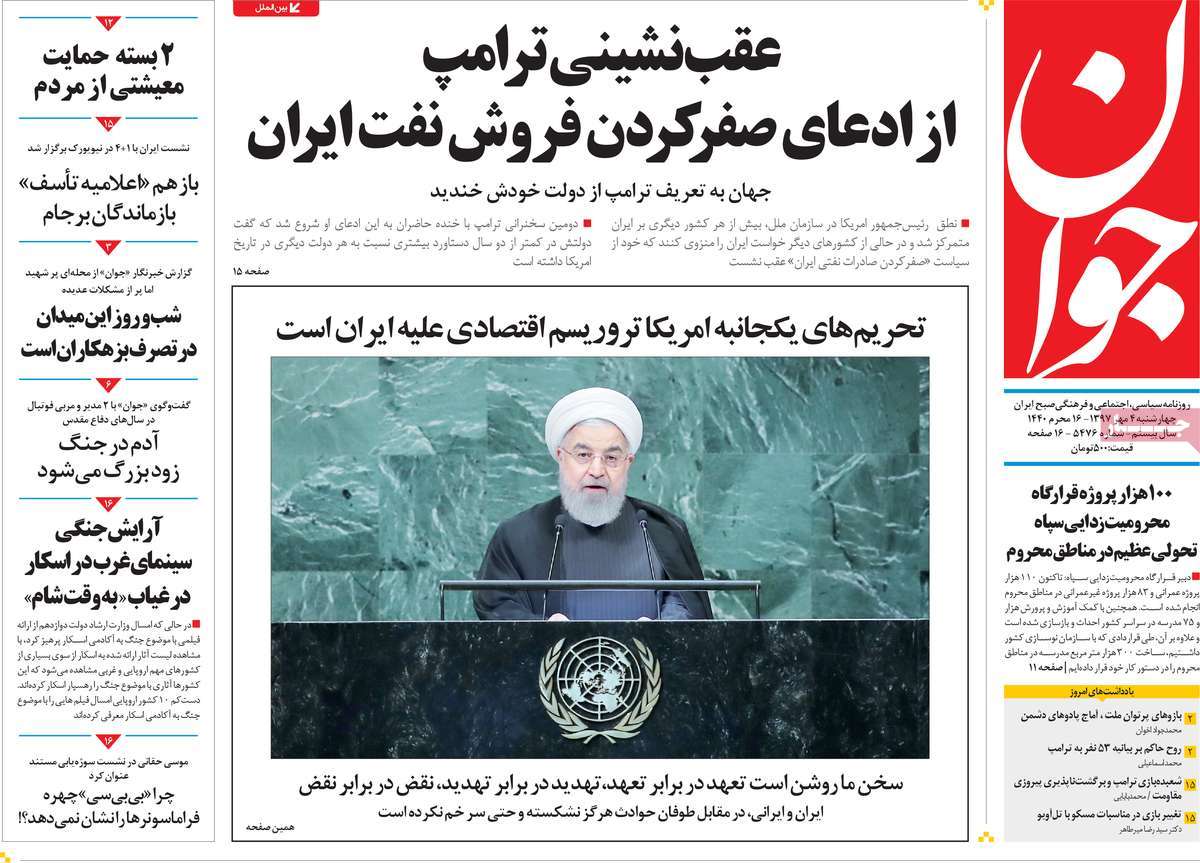 ---
Kayhan:
1- Intelligence Ministry: 22 People Arrested for Role in Ahvaz Attack
2- Iran Can Sell More Oil If Officials Give Permission
---
Khorasan:
1- Criticism of American Nazism; Rouhani at UNGA Blasts US Officials' Contradictory Stances
2- Trump against the World, World against Trump [Editorial]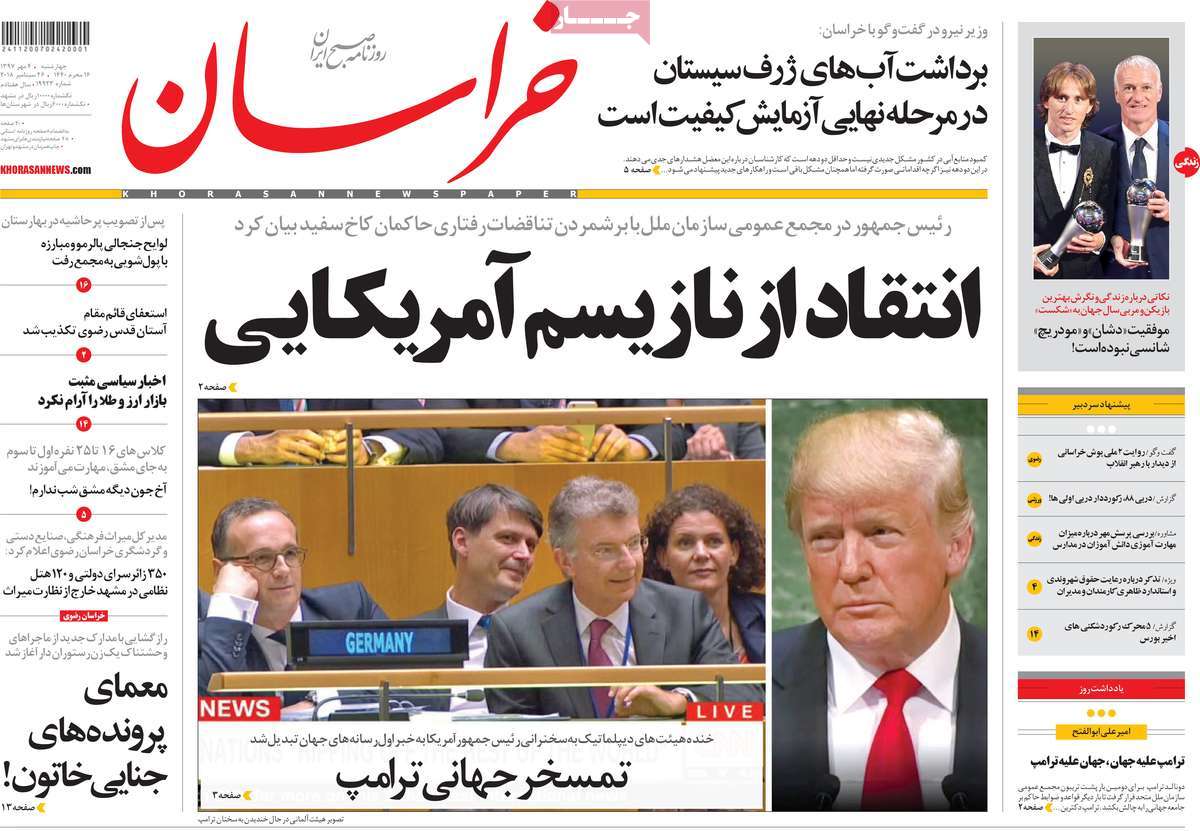 ---
Sazandegi:
1- US against the World: Trump Speaks Out against Socialism, Globalization
Trump: Poverty and Dictatorship Results of Socialism, Communism
I Follow Nationalism Doctrine, Opposed to Globalization Ideology
2- Trump Slams OPEC: US Opposed to Increased Oil Prices
3- Once Again FATF Needs Expediency Council's Vote
---
Shahrvand:
1- All Paths Lead to FATF
2- Global Determination to Save JCPOA
3- Who Was Fifth Terrorist?
Intelligence Ministry Reveals New Details about Saturday Terror Attack
---
Shargh:
1- Rouhani: Dialogue Must Be Mutual, Based on Justice, Equality
2- Iran Can Be Best Friend of the World If You Seek Peace: Rouhani
---
Sobh-e Now:
1- Superpower Mocked at UNGA [Editorial]
---
Vatan-e Emrooz:
1- Rouhani What Are Terrorists Doing in Western Capitals?
Iran President Blasts Western States for Hosting Terrorists behind Ahvaz Attack