The top story in today's newspapers was the train collision in Iran's Semnan province and the ISIS' terrorist attack on Shiite pilgrims in Iraq's Hilla.
Newspapers also criticized the mismanagement of executives that has led to serious problems for Iranian people following the heavy snowfall across the country.
The conflict between Turkish President Recep Tayyip Erdogan and Europe also received great coverage today.
The above issues, as well as many more, are highlighted in the following headlines:
Abrar:
1- Iran and Japan Considering Organization of Joint Nuclear Training Courses
2- Increasing Tendency to Drug Use among Teenagers Aged from 15 to 18
3- US Administration Condemns Terrorist Attack on Iraq
---
Abrar-e Eqtesadi:
1- Once Again Weak Management in Transport Ministry
2- Fierce Competition between Iranian Businessmen in Russia's Modern Market
3- Return of Danish Oil Giant to Iran
4- Fresh Round of Tehran-Geneva Trade Ties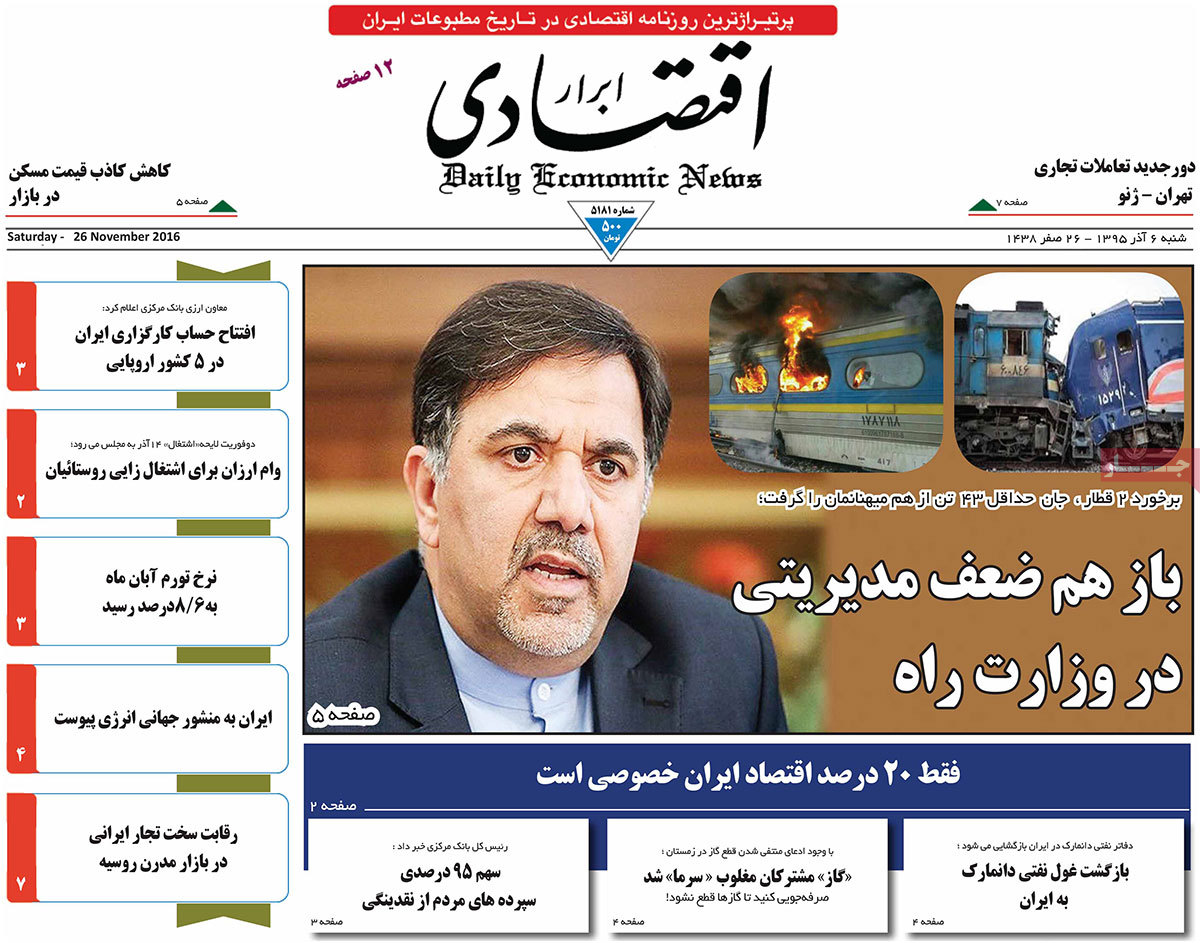 ---
Afkar:
1- How Iran Became Host of ICAAP Summit?
2- South Korean President Breaks Record of Popularity Decrease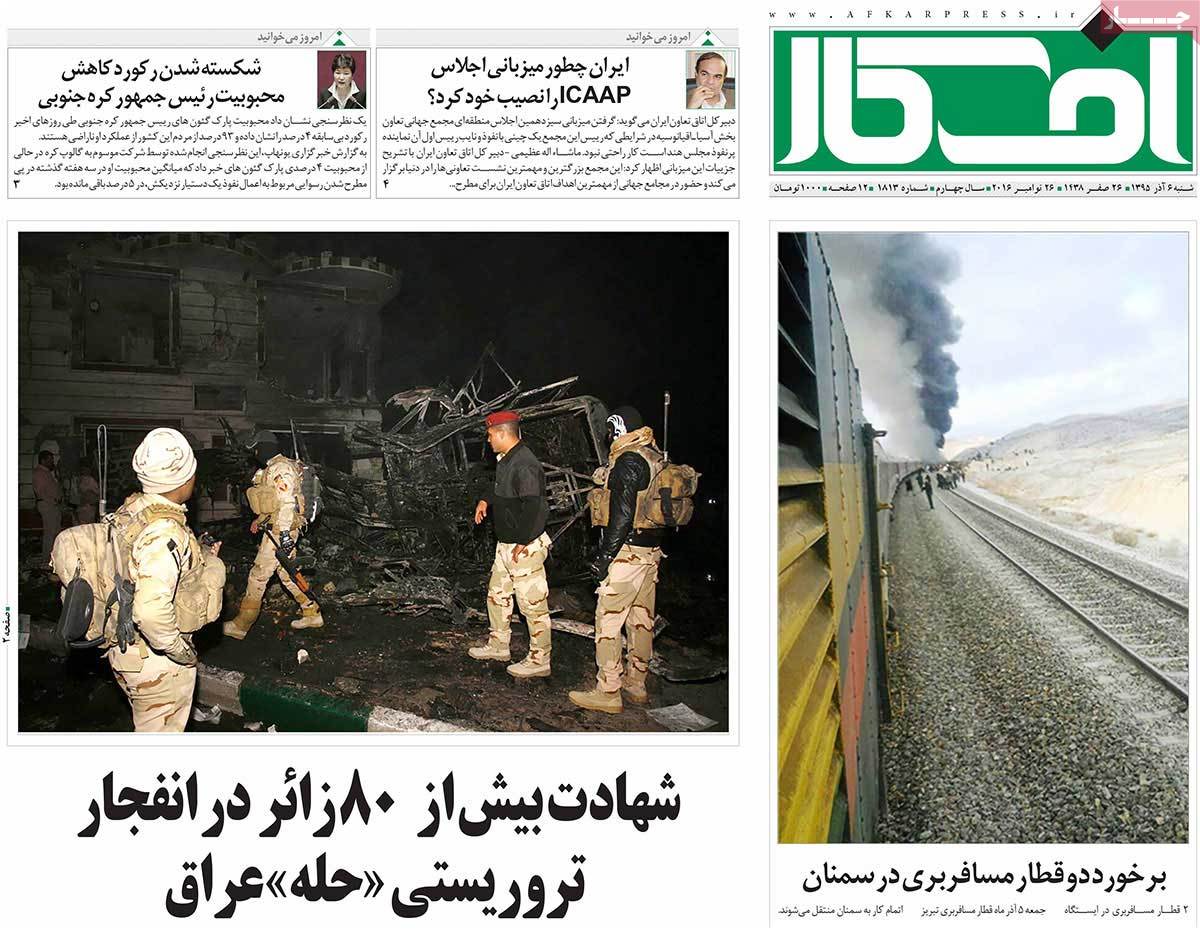 ---
Aftab-e Yazd:
1- Iran in Grief over Train Crash in Semnan and ISIS Attack on Pilgrims in Iraq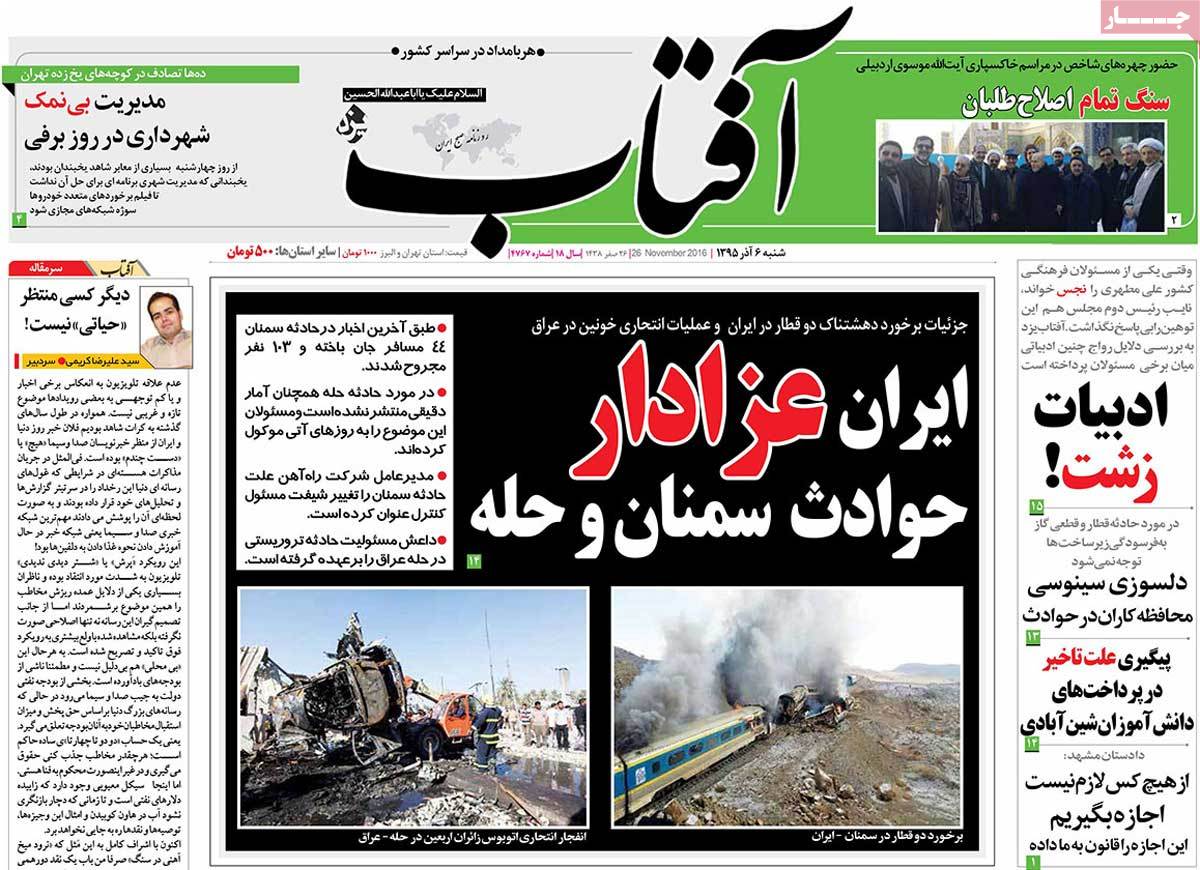 ---
Arman-e Emrooz:
1- Airbus Plane Ordered by Iran Flown in France's Sky: Time for Delivery of Airbus Planes Still Unclear
2- Iranian Parliament Vice-Speaker Motahari's Reaction to the Cleric Who Called Him 'Dirty': Rest Assured, I Won't Hug You!
3- Senior Reformist Aref's Efforts to Negotiate with Conservatives for Upcoming Presidential Votes
---
Asrar:
1- President Rouhani Highlights Iran's Resolve for All-Out Fight against Terrorists and Extremists
2- Foreign Ministry Spokesman: We've Had No Talks on Revision of JCPOA
3- Iran Joins Int'l Energy Charter
4- Cold Weather Inflicts Millions of Damage to Gardeners
---
Besharat-e Now:
1- Iranian Month of Azar [November-December] Starts Sadly with Lots of Accidents: Deadly Train Crash, ISIS Attack on Pilgrims, Snow and Blizzard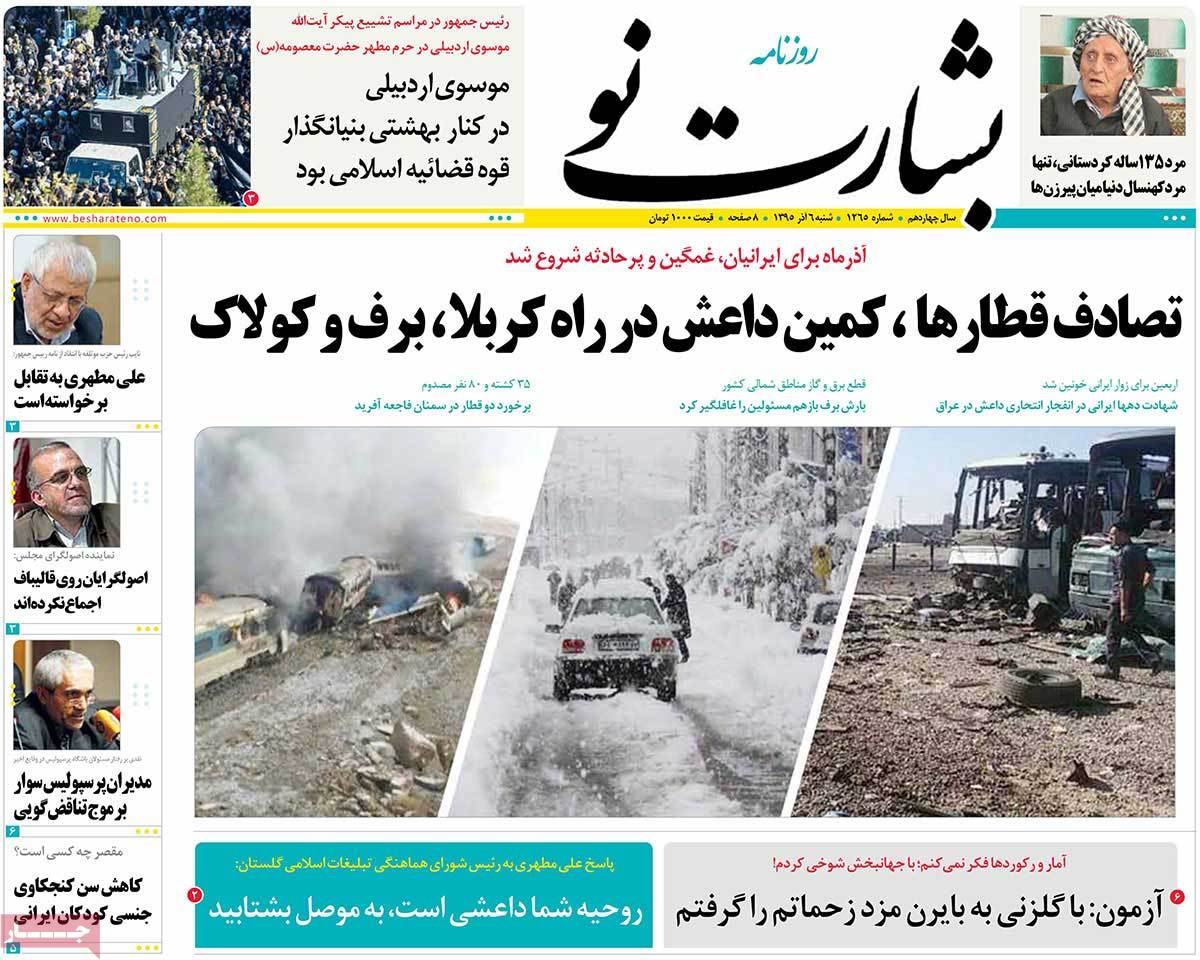 ---
Ebtekar:
1- Days of Fire and Smoke: Explosion in Iraq, Train Collision in Semnan
---
Etemad:
1- ISIS' Crime
2- Train of Death
3- Erdogan's Threatening Response to European Parliament's Resolution: I'll Tear Apart the Deal and Let the Flood of Refugees Overwhelm Europe
4- Rouhani Calls for Identification of Culprits behind Deadly Train Crash in Semnan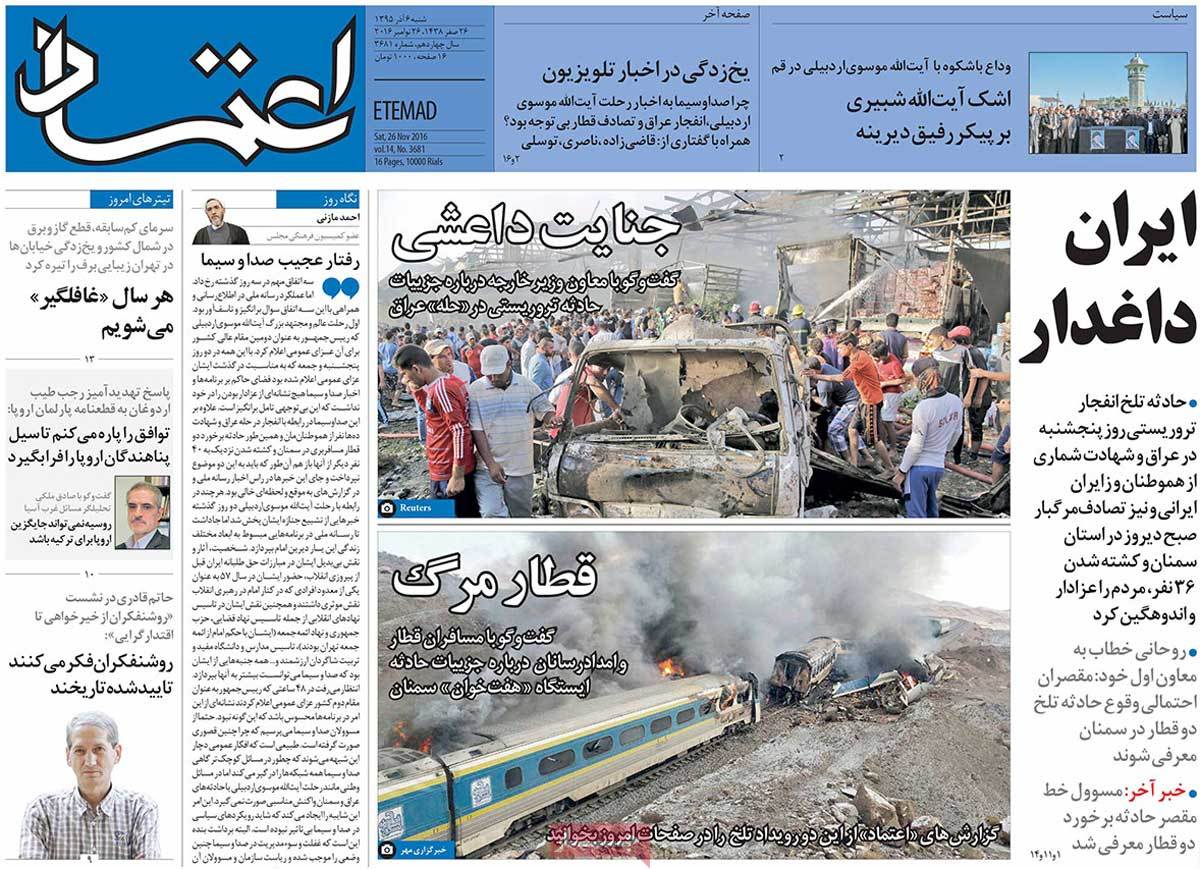 ---
Ettela'at:
1- In a Glorious Ceremony, People Bid Farewell to Senior Cleric Ayatollah Mousavi Ardabili
2- Iran's Ambassador to Germany: Iran Is Middle East's Top Talent for Investment
3- Russian Officers in Aleppo Meet Lebanese Hezbollah Commanders
---
Haft-e Sobh:
1- We Don't Want Metro and Airbus, We Want Managers: 36 Killed in Tragic Train Crash, 72 Hours of Power and Gas Cut in Mazandaran Province, Repetition of Horrific Traffic Jam in Recent Snowfall
---
Hemayat:
1- OPEC Replaces Previous Freeze Plans with Oil Output Cut after Russia's Request
2- Iran-Bas 150 Platform: New Iranian Satellite with Airbus' Technology
3- Emergency Evacuation of 90,000 Zionists after Haifa Fire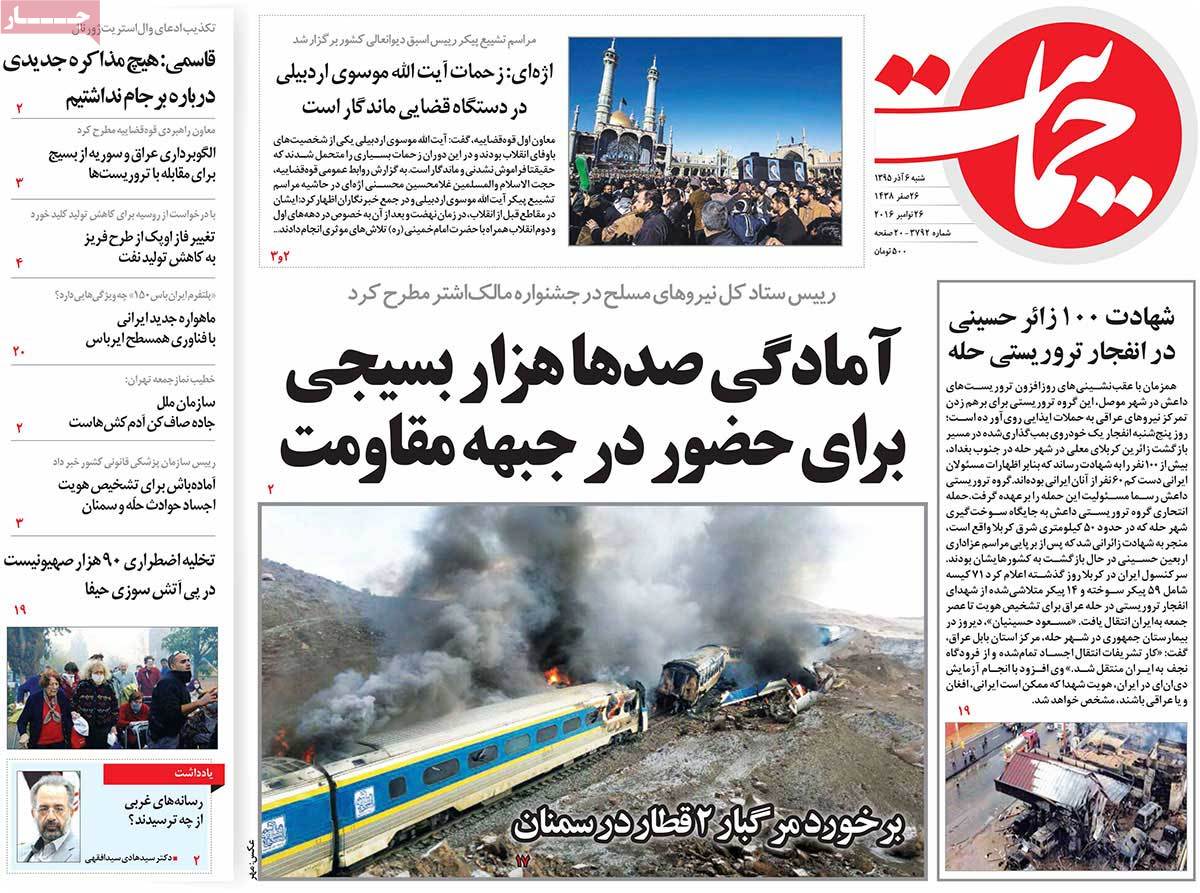 ---
Iran:
1- Commander: IRGC Will Act Based on Opinion of Leader, Government, and Parliament
2- Bloody Morning: Two Trains Collide in Semnan-Damghan Route; Public Mourning Declared in East Azarbaijan Province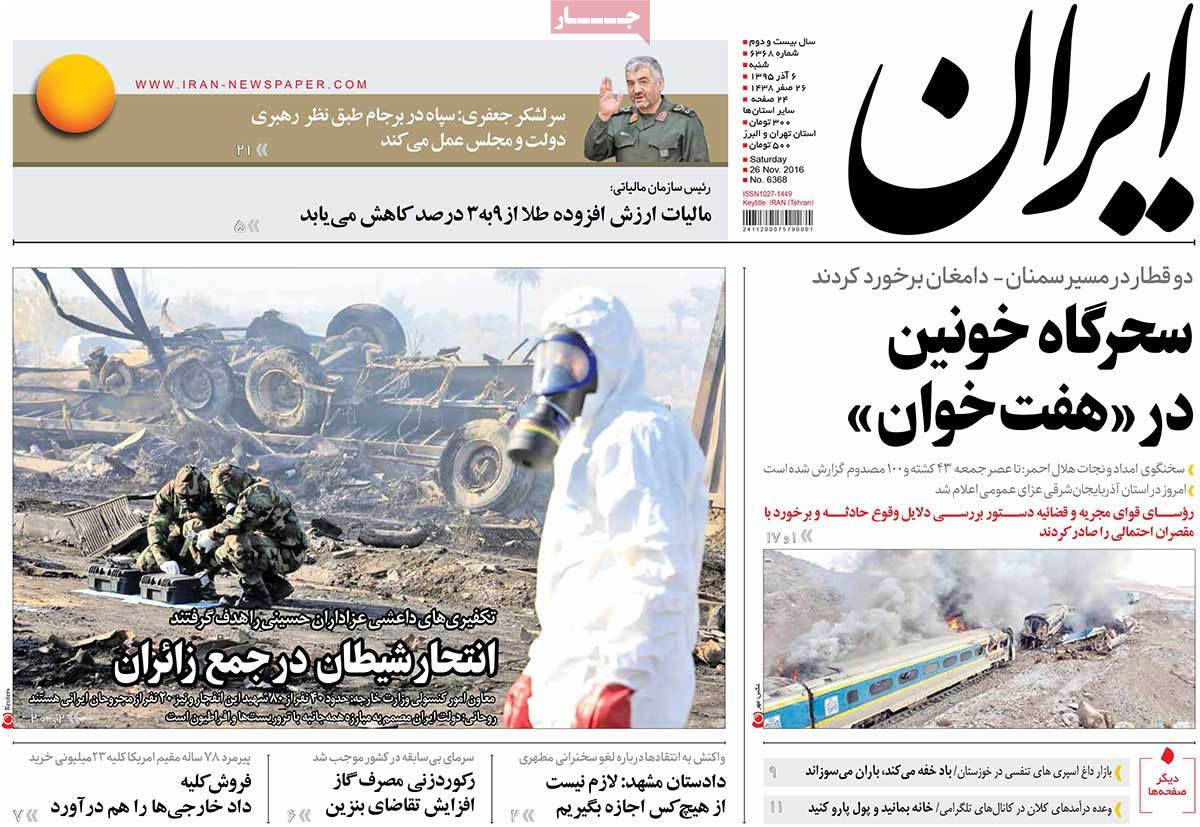 ---
Jame Jam:
1- Terrorists Take Revenge: ISIS' Attack in Hilla Shows Their Frustration after Consecutive Defeats
2- Iranian Filmmaker Majid Majidi Slams Al Saud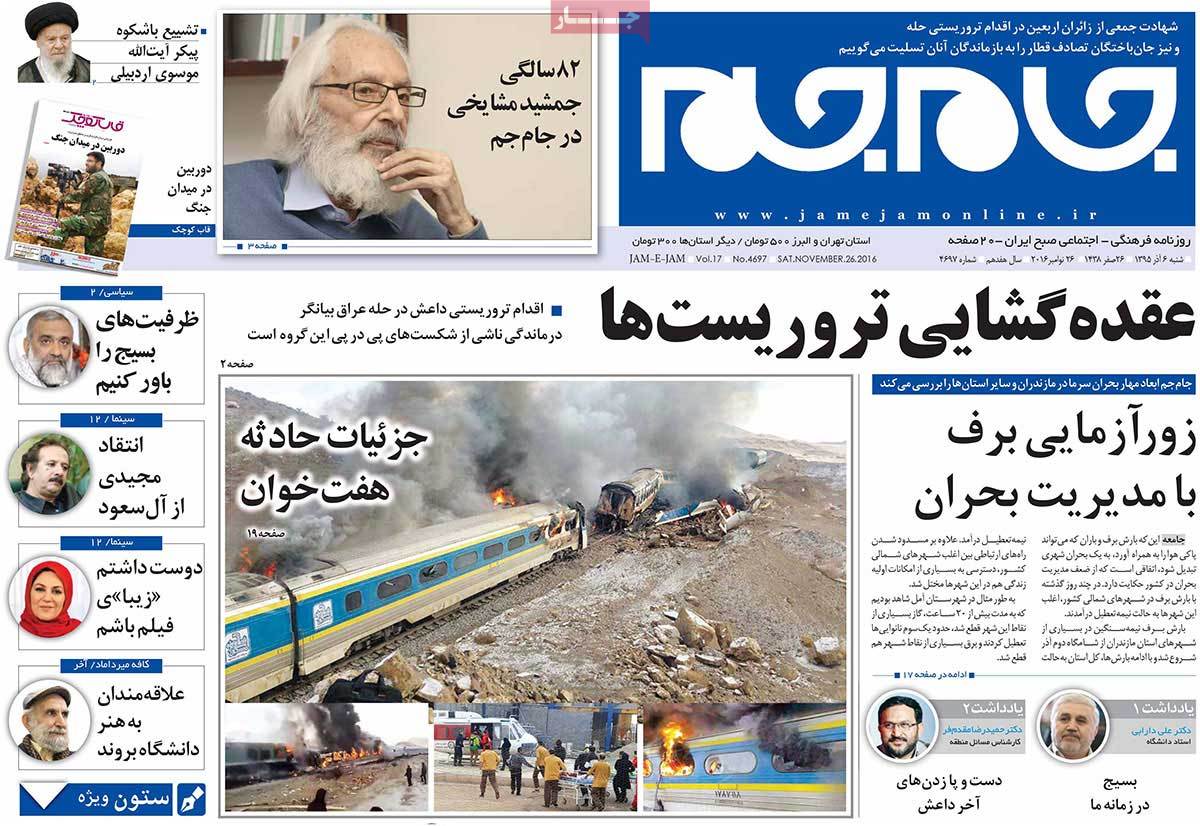 ---
Javan:
1- ISIS' Suicide Attack in Response to Arbaeen's Glory
2- World's Top Universities Studying Arbaeen Processions: MIT Uses the Pilgrimage as a University Lesson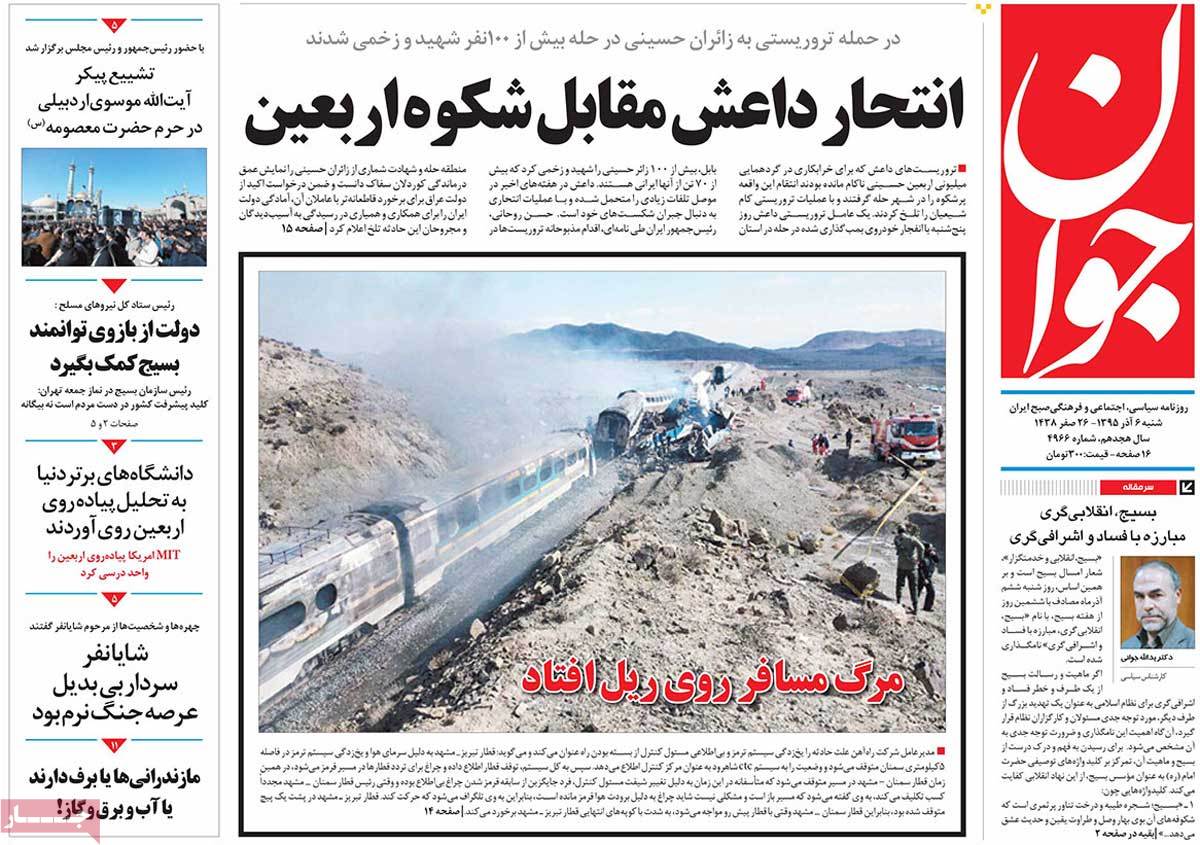 ---
Jomhouri Eslami:
1- Contradictory Reports about Egyptian Army's Joining Syria War against Terrorists; President Sisi: Cairo Doesn't Follow Saudi Arabia
2- Iran Has Opened Brokerage Accounts in 5 European Countries: Central Bank Official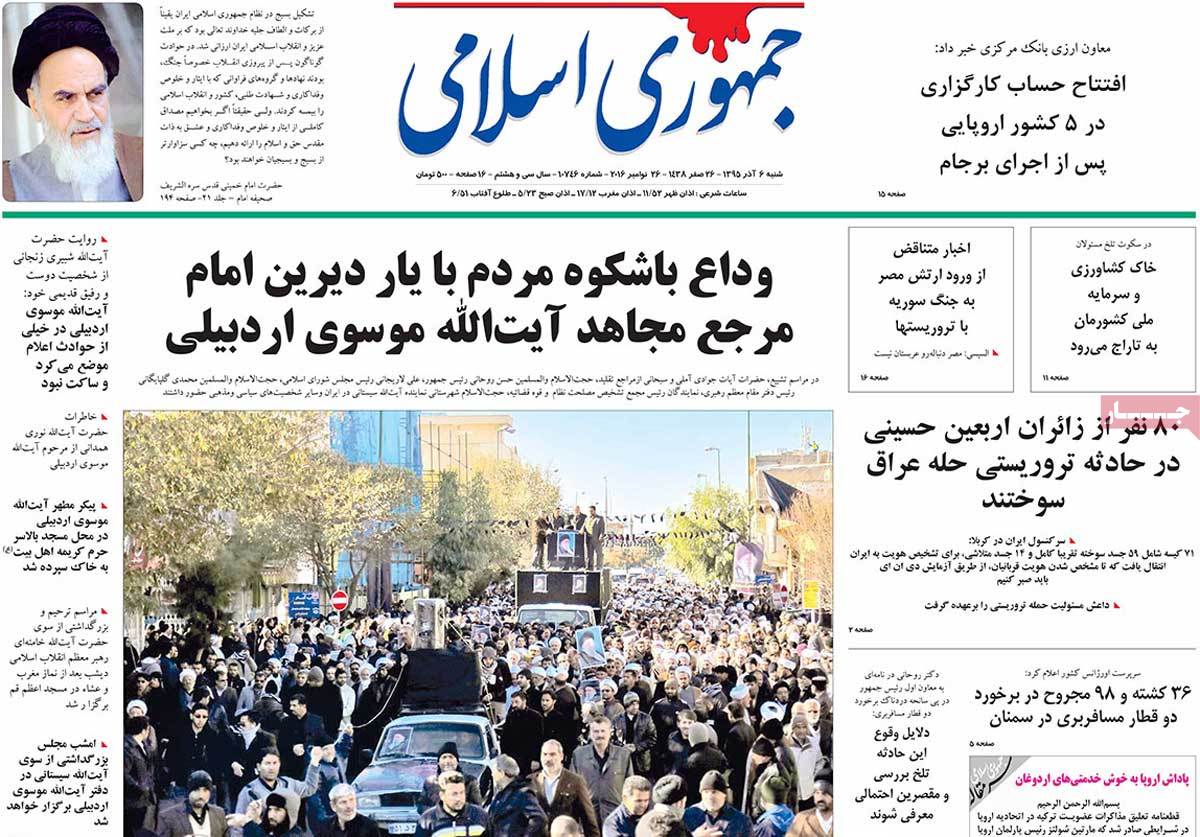 ---
Ka'enat:
1- Black Thursday, Unfortunate Friday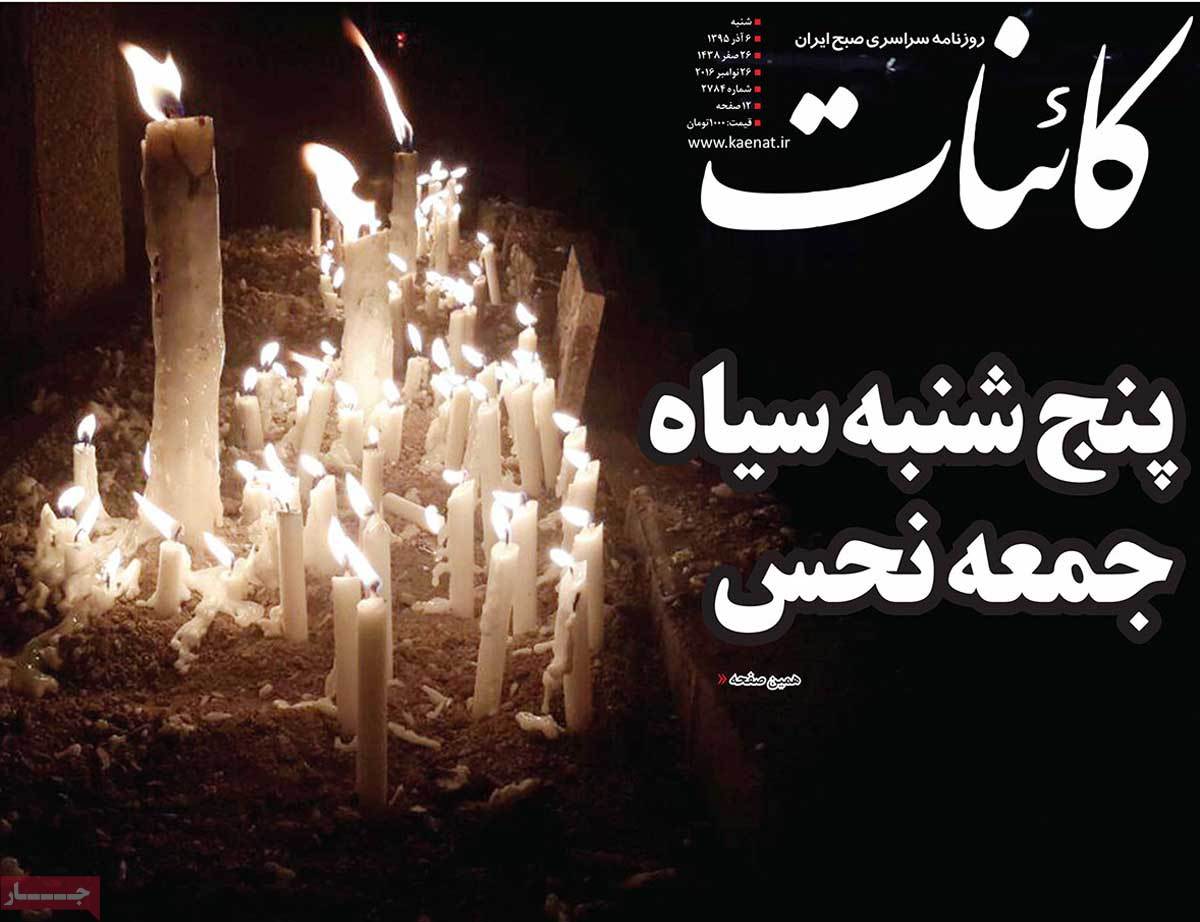 ---
Kayhan:
1- Iran in Grief: Blast in Hilla and Train Crash in Semnan
2- Friday Prayers Imam: We Can Hear the Sound of Liberal Democracy's Bones Getting Broken
3- Syrian Jet Fighters Pound Turkish Army's Positions in Al-Bab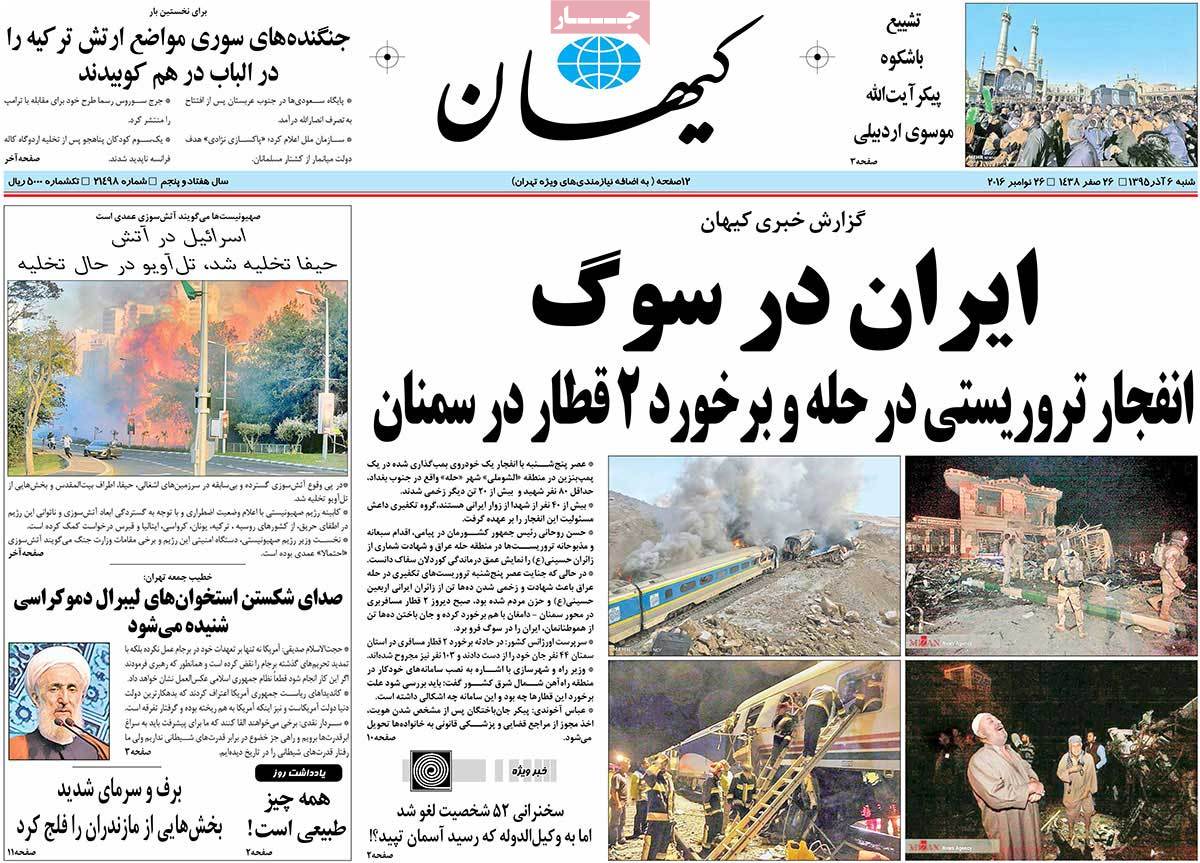 ---
Mardom Salari:
1- Iranian Ambassador to Russia: Corridor that Connects Persian Gulf to Caspian Sea Will Become Operational
2- Pilgrims Burn in Iraq's Hilla
3- Americans Are Looking for Someone like Trump in Tehran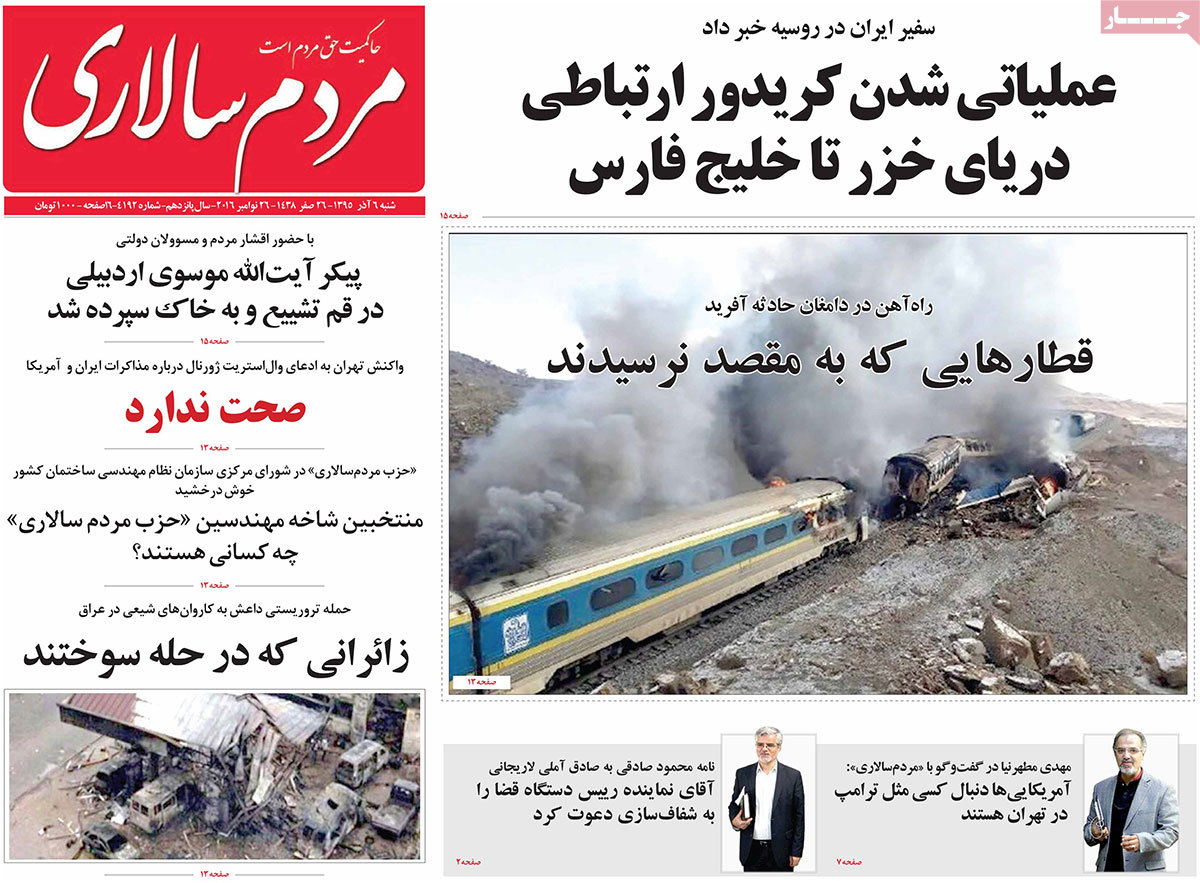 ---
Rah-e Mardom:
1- Will Hotel Owners Go Bankrupt? A Report on Hoteling Industry in Iran
2- Russian Defence Ministry to US: Don't Disturb Us in Syria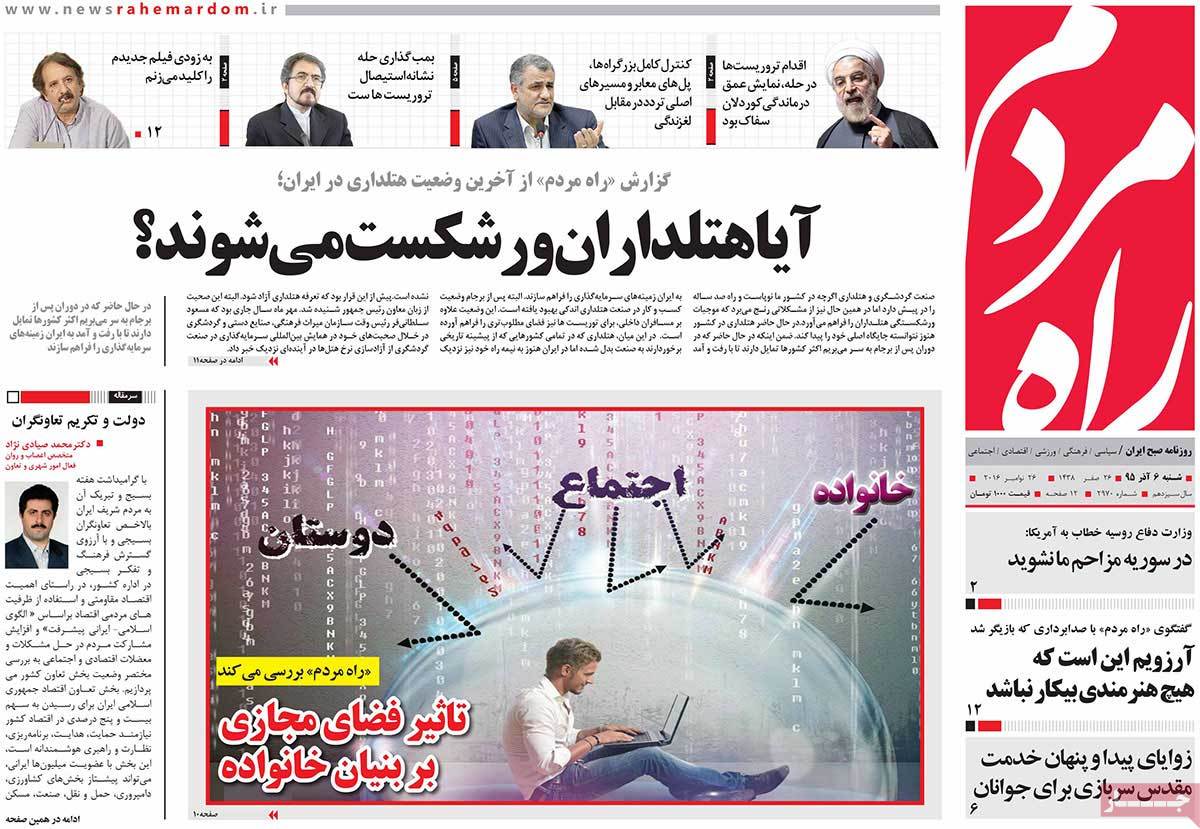 ---
Rooyesh-e Mellat:
1- Terrorists' Use of Mustard Gas in Aleppo Is Confirmed
---
Setareh Sobh:
1- Former British PMs against Brexit
2- Turkey's EU Membership Is Suspended; EP President: We Won't Back Off on Democracy and Human Rights
3- Erdogan: I'll Open Europe's Borders to Refugees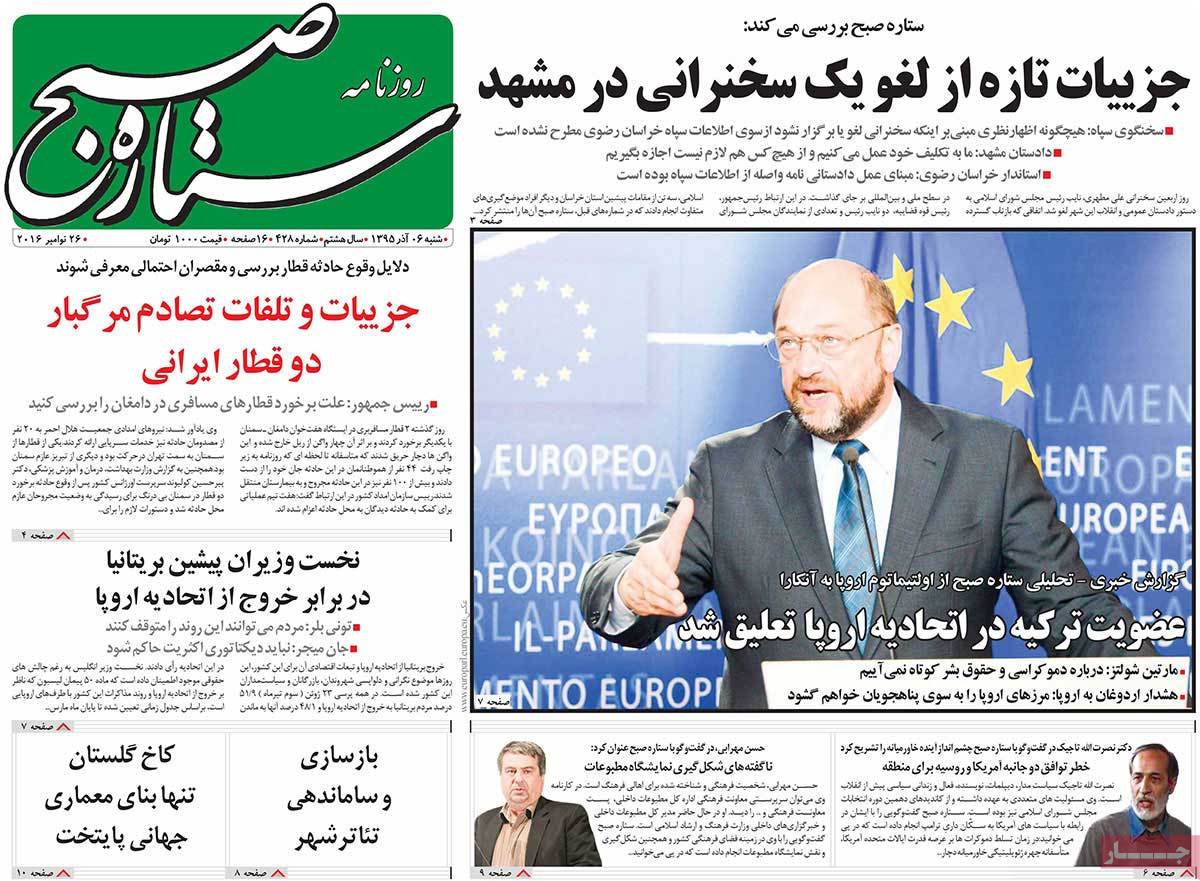 ---
Shargh:
1- Snow Came in, Gas and Power Went Out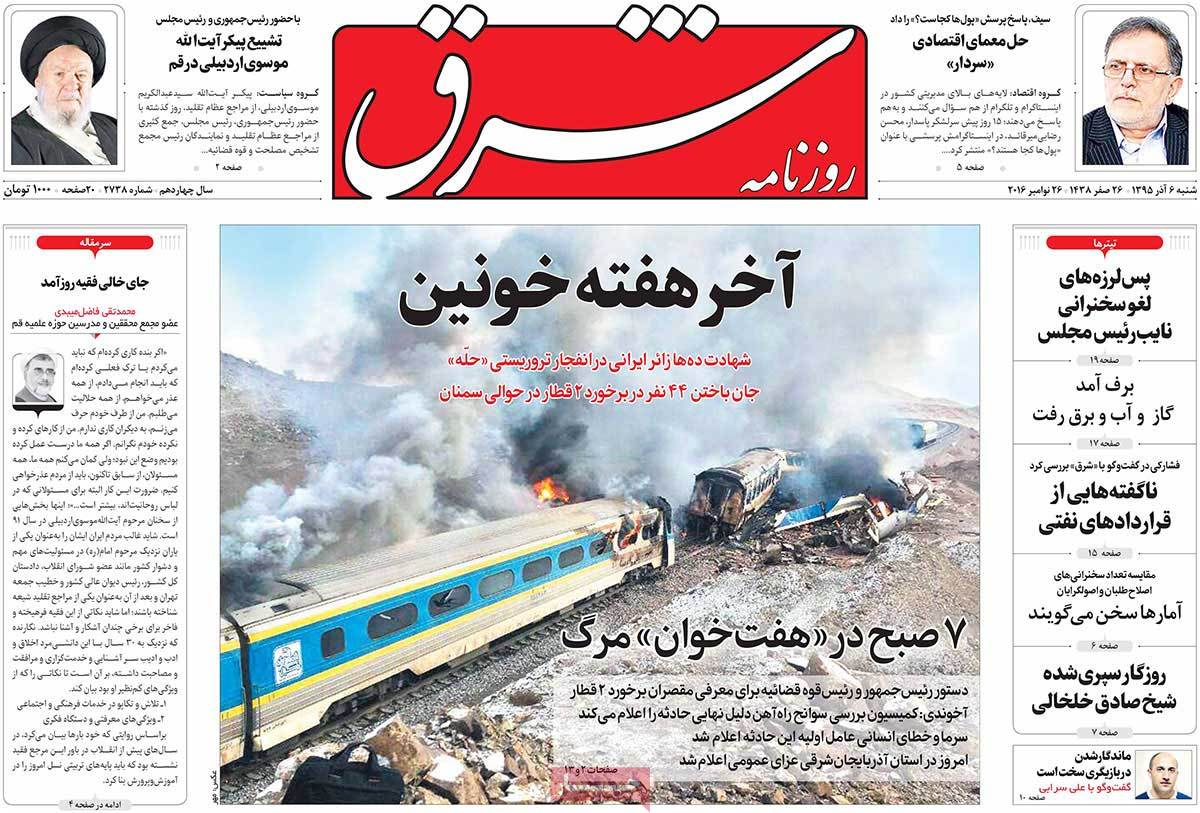 ---
Sobh-e Now:
1- Train of Embarrassment: Passengers of 7:47 [the time of collision] Fall Victim to Purchasers of 747 [planes that Iranian government wants to buy]
---
Vaghaye Ettefaghieh:
1- Mourning after Mourning
2- World Condemns Brutality: Martyrdom of Tens of Arbaeen Pilgrims in Hilla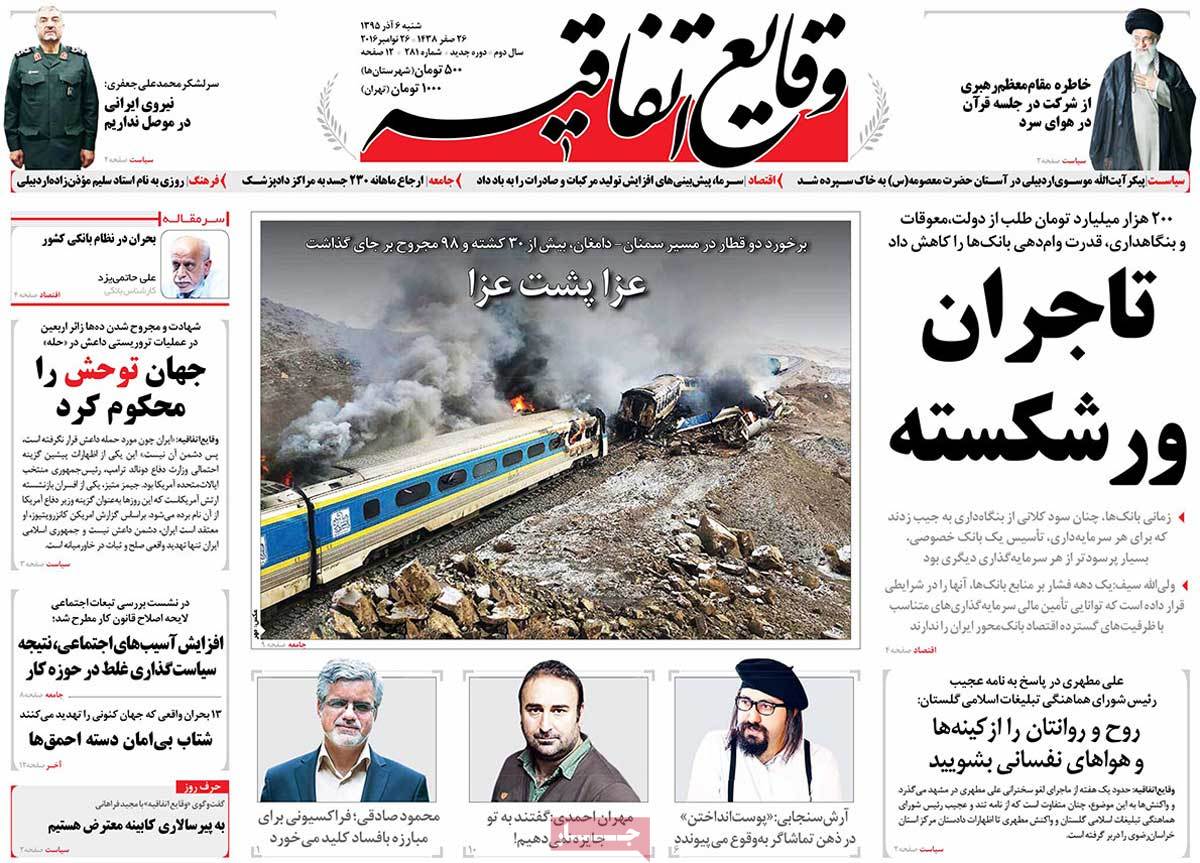 ---
Vatan-e Emrooz:
1- Egypt's Military Support for Syria