Iranian newspapers on Tuesday covered the important message by the Leader of the Islamic Revolution Ayatollah Seyyed Ali Khamenei to the Muslim people all around the world. The Leader in this letter called on Muslim people to do something about the management of Hajj pilgrimage, and harshly criticized the Saudi rulers for their brutal crimes.
Papers also continued to cover the ongoing debates about Iran's accession to FATF (Financial Action Task Force). Today, the majority of reactions were made by government and Central Bank officials, rejecting the earlier claims about the FATF deal.
The resumption of ties at the level of ambassadors between Iran and Britain was also a top story.
The above issues, as well as many more, are highlighted in the following headlines:
Abrar:
1- Leader's Important Message to Muslims across the World: Remember Your Iranian Brothers and Sisters during This Year's Hajj Prayers
2- G20 Leaders Underline Need for Fight against Terrorism
3- Growing Trend of No-Fault Divorce in Tehran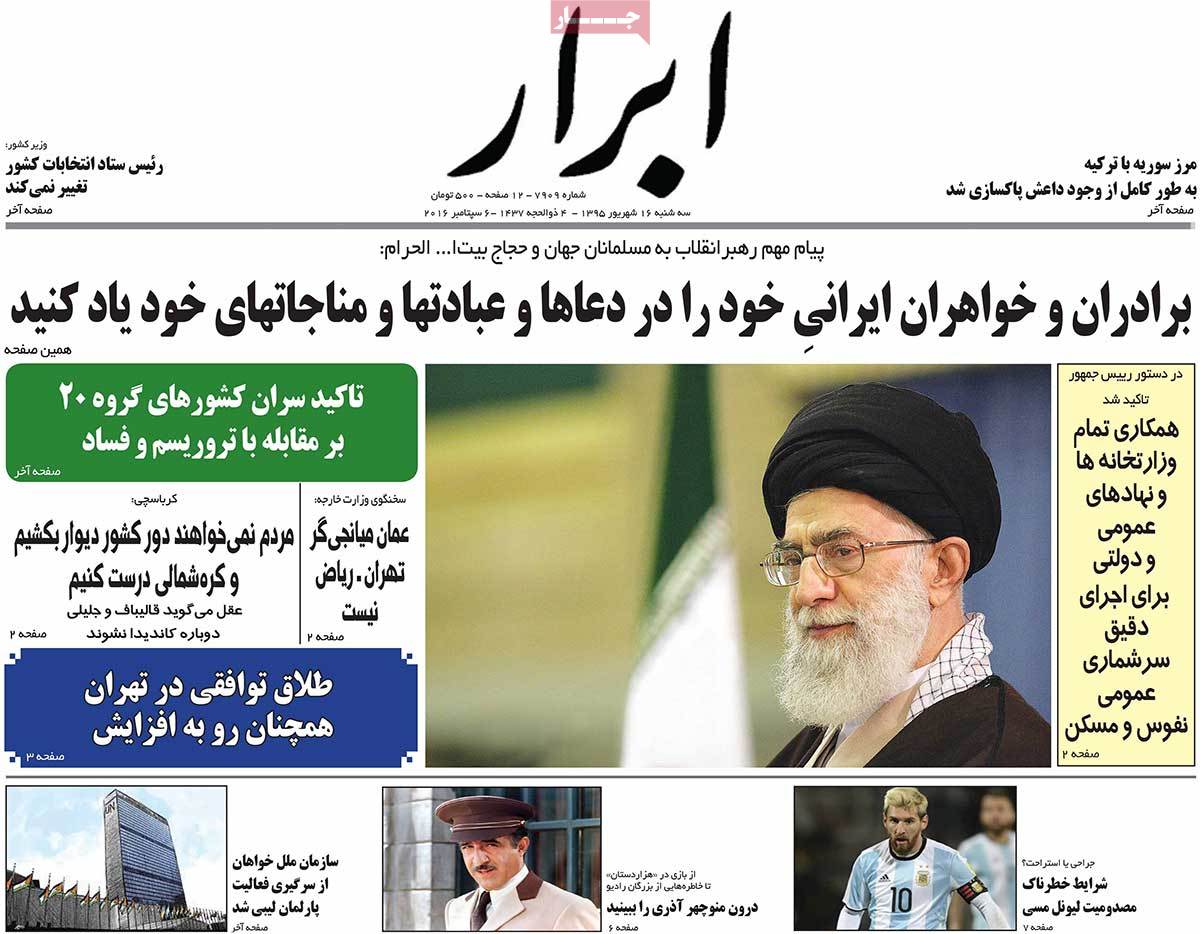 ---
Abrar-e Eqtesadi:
1- Government's Foreign Debts Stand at $7.5bn
2- Turks' $1bn Investment in Iran's Aras Free Trade Zone
3- 25% Increase in Iran-Germany Trade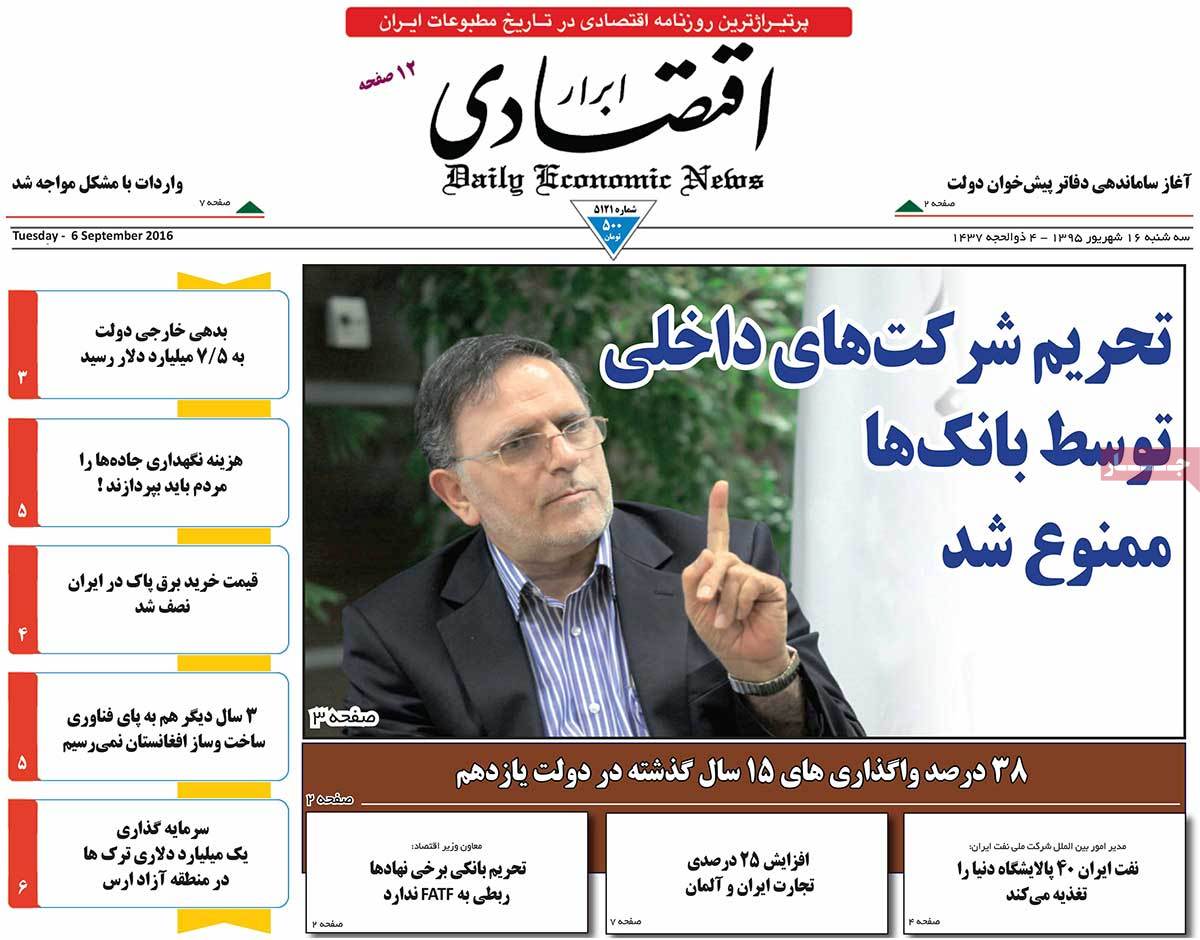 ---
Afarinesh:
1- Italian Military Delegation Meets with Iran's Armed Forces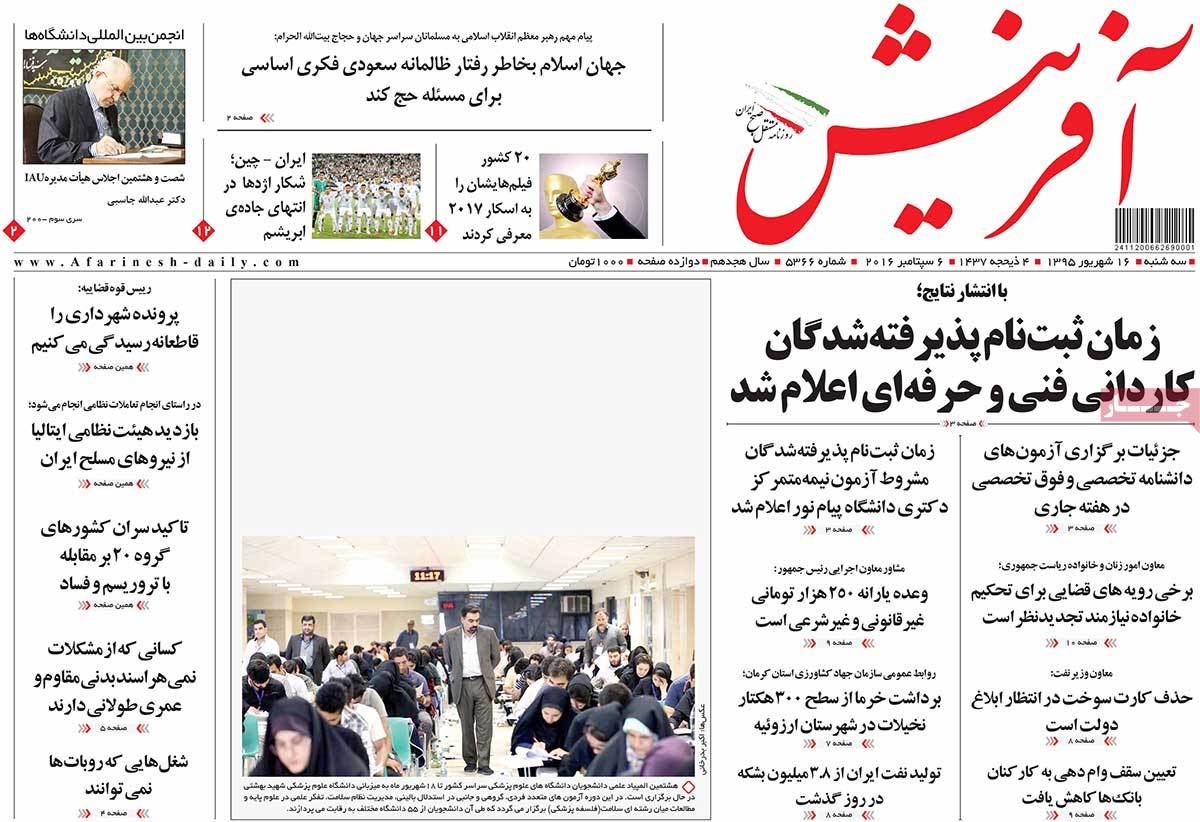 ---
Afkar:
1- Iran's Foreign Ministry Spokesman: We've Not Given Any Particular Concession to the US
2- Iran Denies Mediation between Kurds
3- Afghanistan Looking for Promotion of Cultural Ties with Iran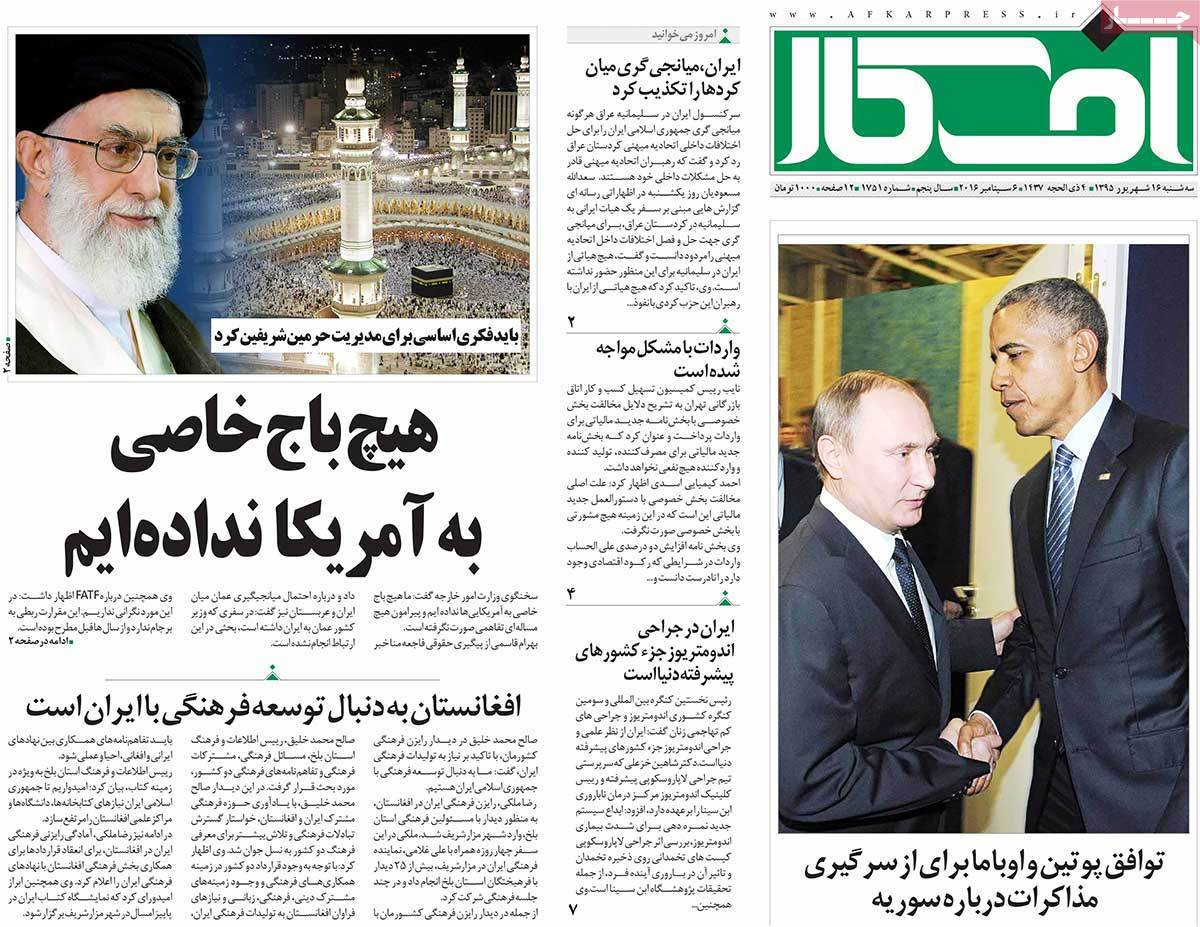 ---
Aftab-e Yazd:
1- Duels in 2017 Presidential Votes More Challenging than the Ones in 2013
2- Impact of Recent Developments on Next Year's Presidential Campaigns
3- AEOI Spokesman: Russians Say They Incurred Damage in Construction of Iran's Bushehr Nuclear Power Plant!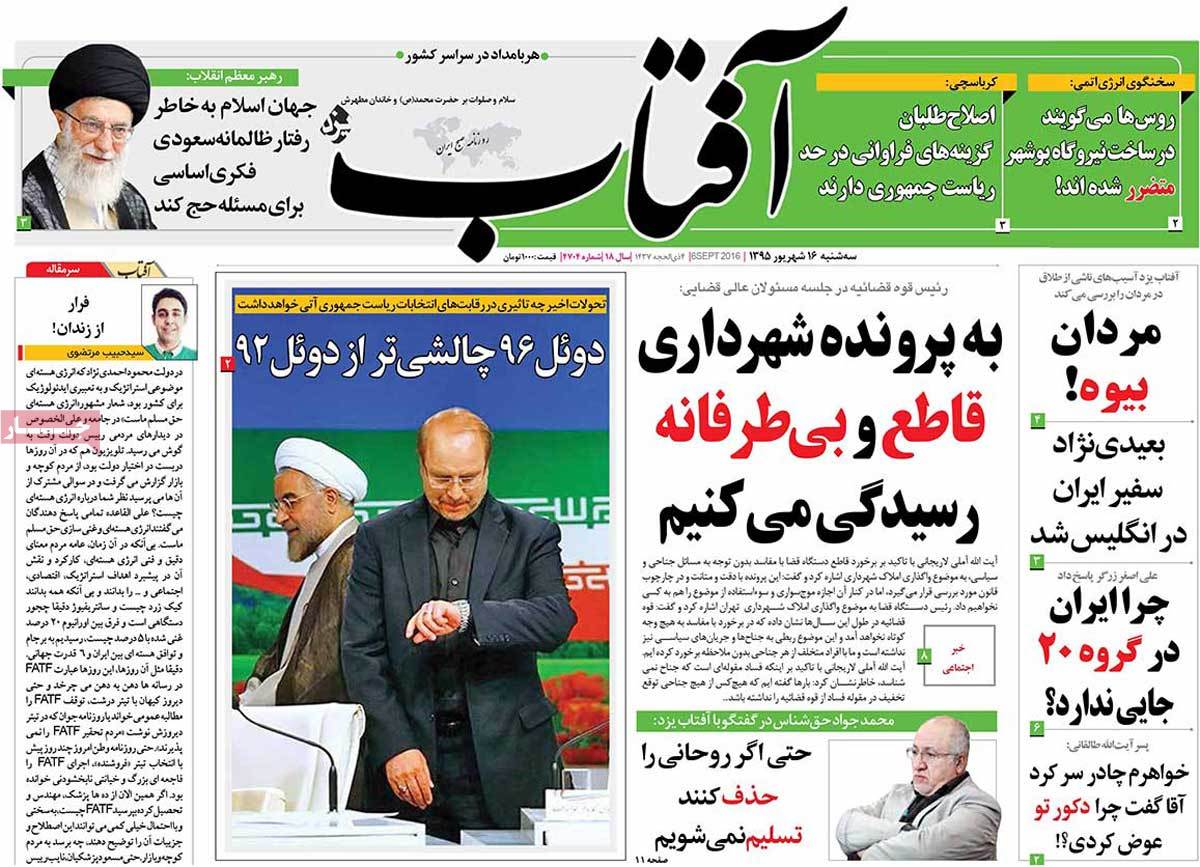 ---
Amin:
1- Rafsanjani: Rouhani Will Become Braver in His Second Term
2- Music Maestro Shahram Nazeri: If You Seek and Want Peace, No Sound Is Better than the Sound of Music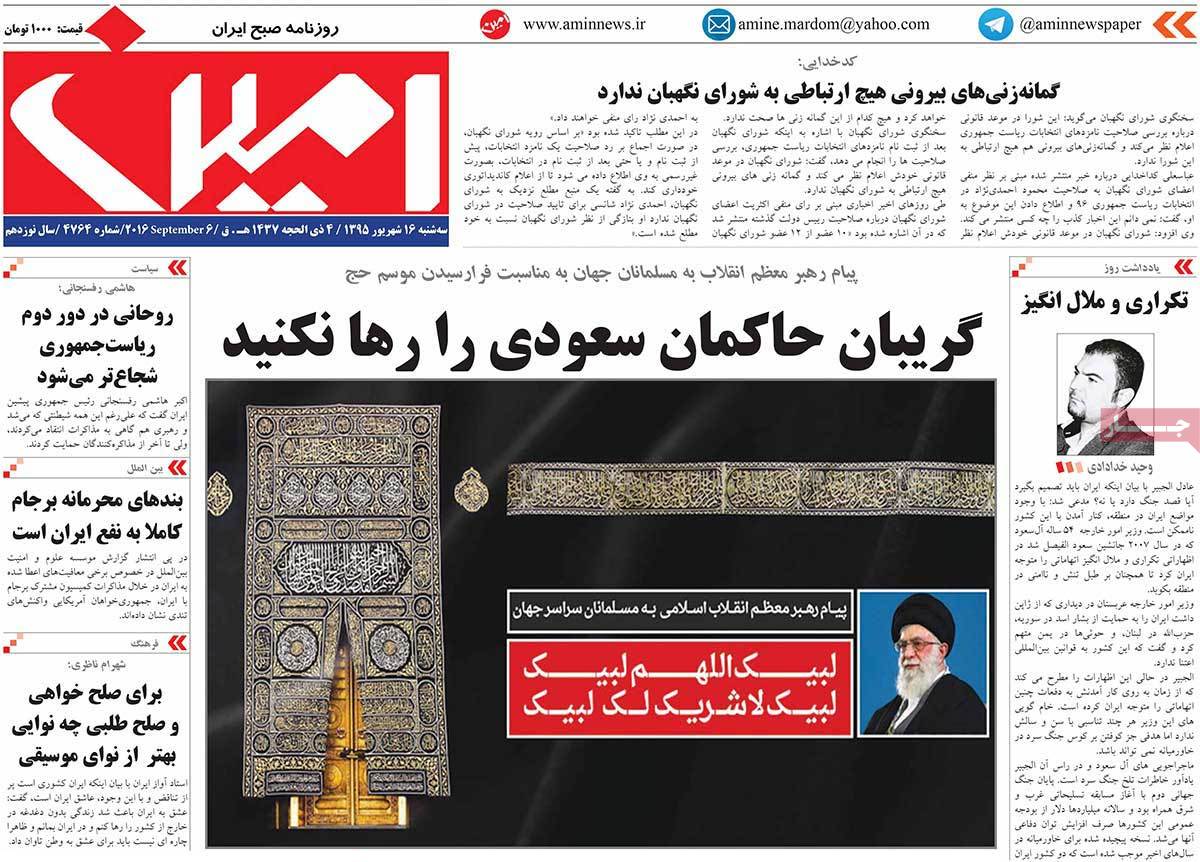 ---
Arman-e Emrooz:
1- Iran and Britain Resume Bilateral Ties: Baeidinejad Becomes Iran's Ambassador to London; British Ambassador to Tehran Meets with Zarif
2- CBI Governor: No Bank Allowed to Restrict Providing Banking Services
---
Asr-e Iranian:
1- MPs, Clerics, Elites, and Iranian Students Urge Parliament Not to Permit Implementation of FATF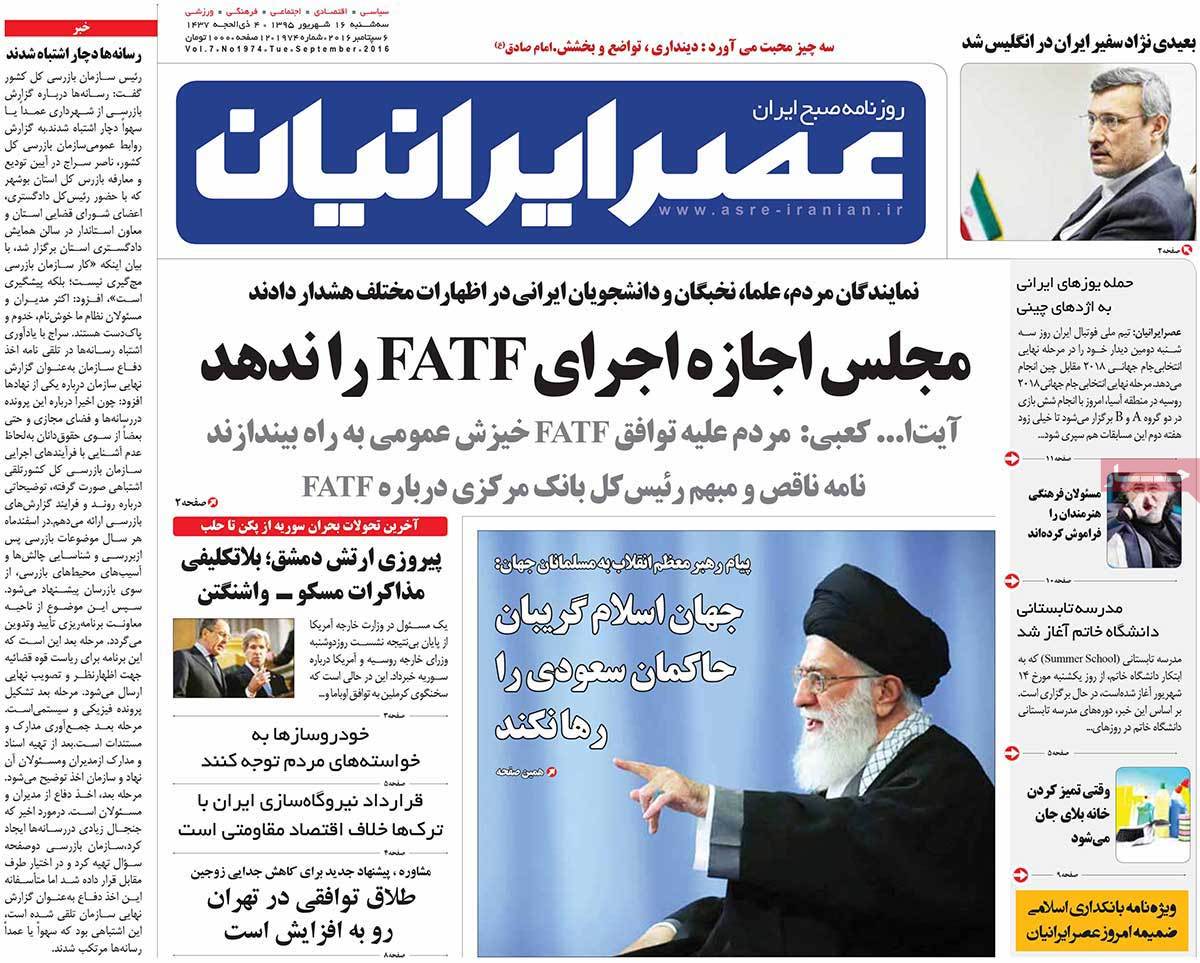 ---
Asrar:
1- First VP: Government's Priority Is to Support Creating Jobs
2- President's Aide: Conservatives Won't Risk Their Reputation for Ahmadinejad
3- Reformist Figure Karbaschi: No Reformist Has Raised the Issue of Ignoring Rouhani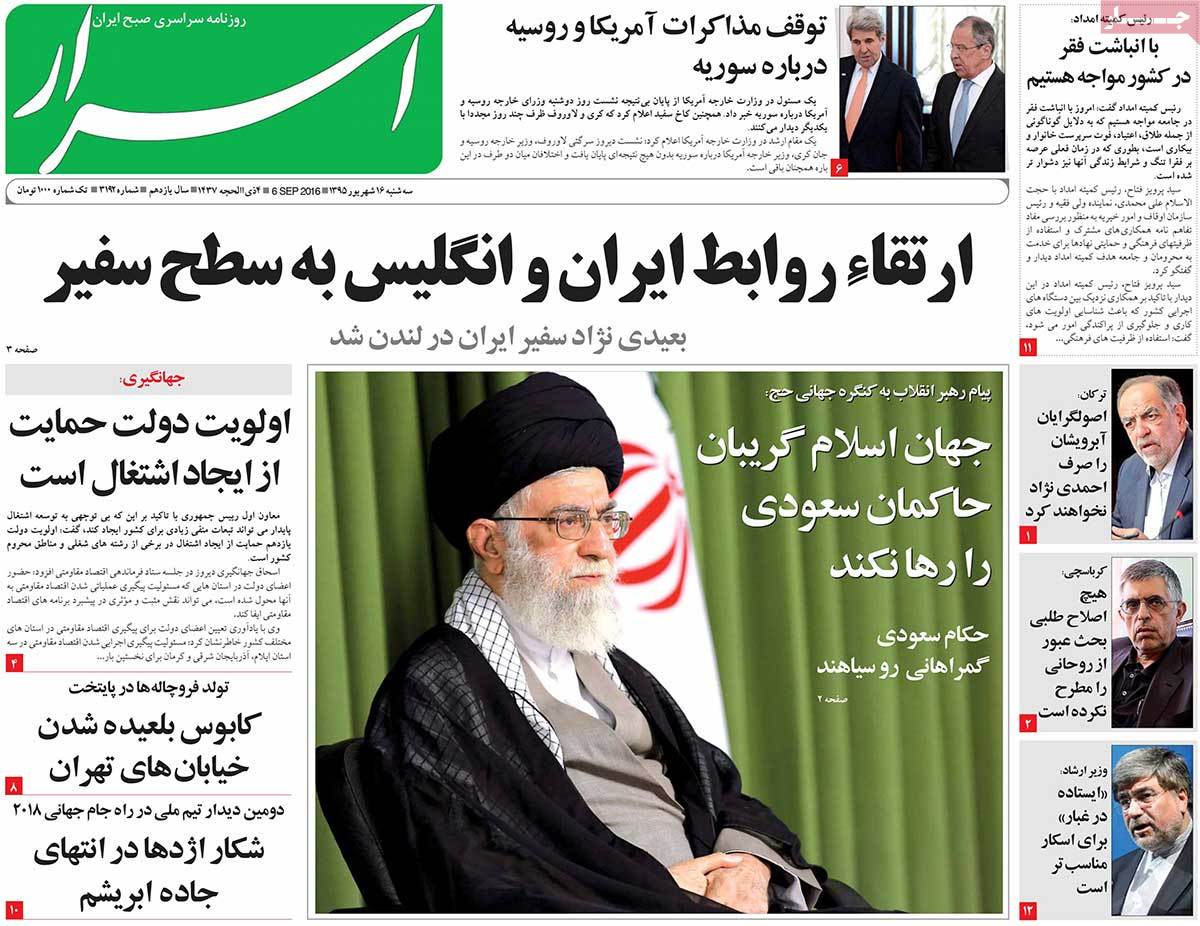 ---
Ebtekar:
1- Leader's Important Message to Muslim People on Anniversary of Mina Tragedy: Iranian Nation Is Still Sad and Angry
2- Iranian Diplomacy vs. Saudi Petrodollars: Expert Says Iran's Active Diplomacy Removed Barriers to Export of Crude Oil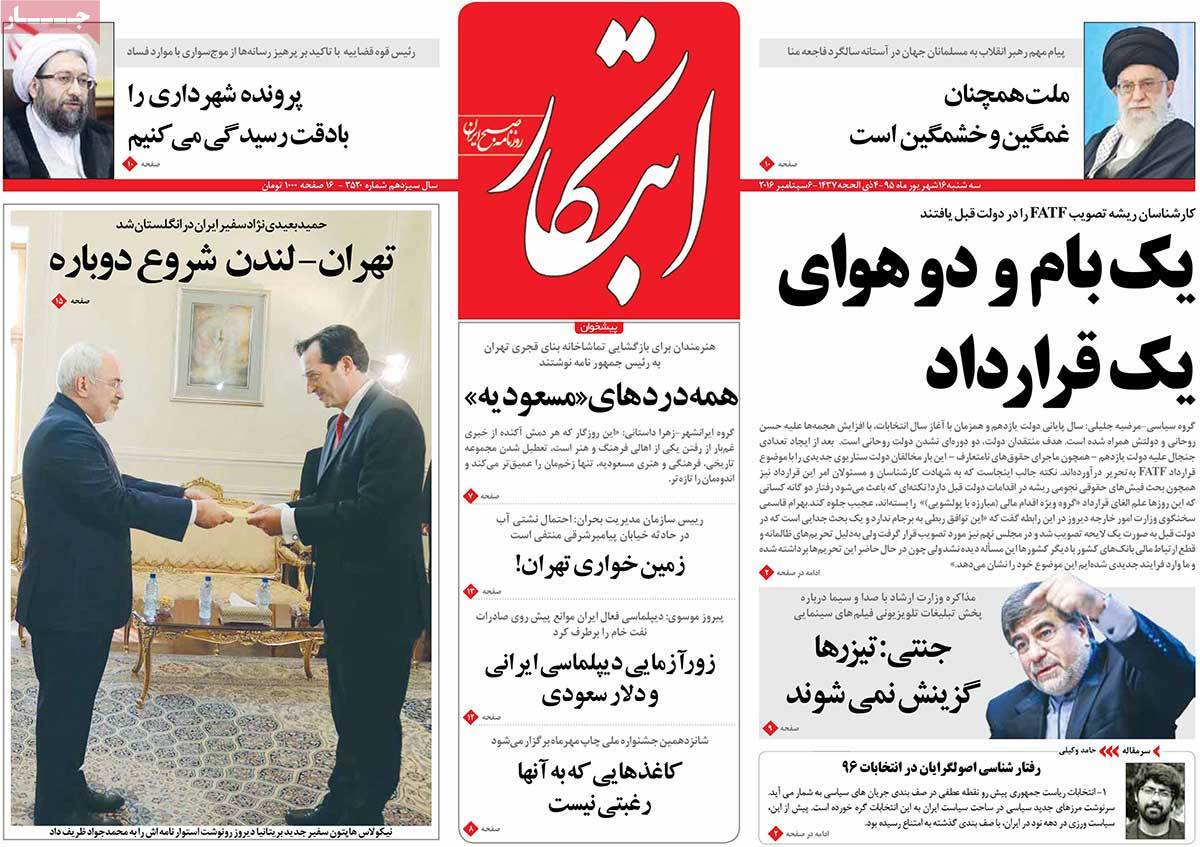 ---
Emtiaz:
1- Marriage Outnumbers Divorce (Based on a Report by Iran's Civil Services Organization)
2- Ebtekar: Fuel Oil to Be Removed from Iran's Consumption Cycle
3- For Iran's Academy Awards Submission, Culture Minister Favours Films that Pay Attention to Values of Islamic Republic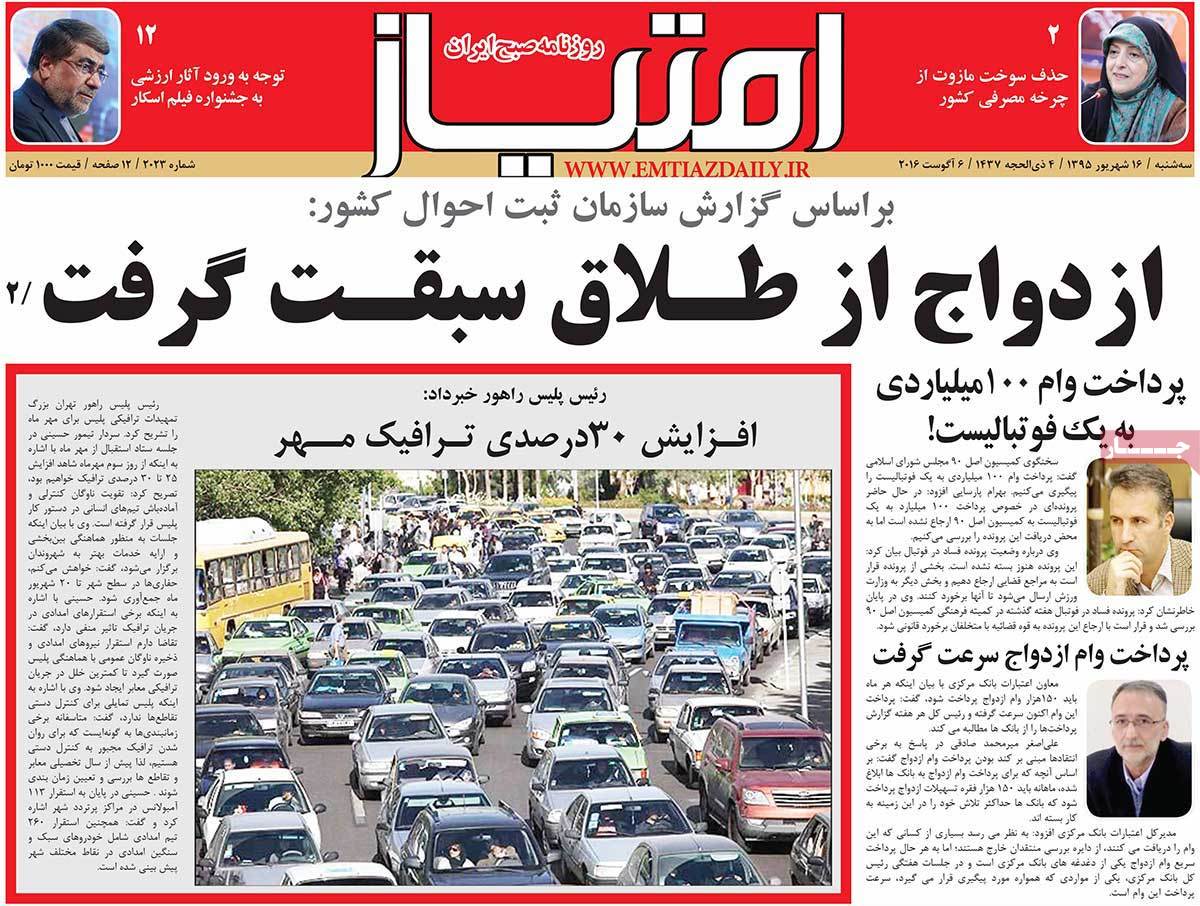 ---
Etemad:
1- Leader's Message to World's Muslims about Treasons of Saudi Rulers: Muslim World Should Take Some Action for Management of Hajj Pilgrimage
2- 2 Gold and 1 Bronze Medals for Mansourian Sisters: Iranian Wushu Players Come Second in Asian Championship
---
Ettela'at:
1- Cruel and Criminal Saudi Politicians Are Faithless and Unconscionable Rulers and Puny Satan: Leader
2- Central Bank: Iranian Banks Not Allowed to Avoid Giving Financial Services to Iranians Who Are under Sanctions
3- Foreign Ministry Spokesman: Plan for Iran's Accession to FATF Was Approved by Previous Gov't and Parliament
---
Iran:
1- Russia and US on Verge of a Deal on Syrian Crisis
2- "Aunt Leila", the Queen of Methamphetamine, Arrested in Southern Tehran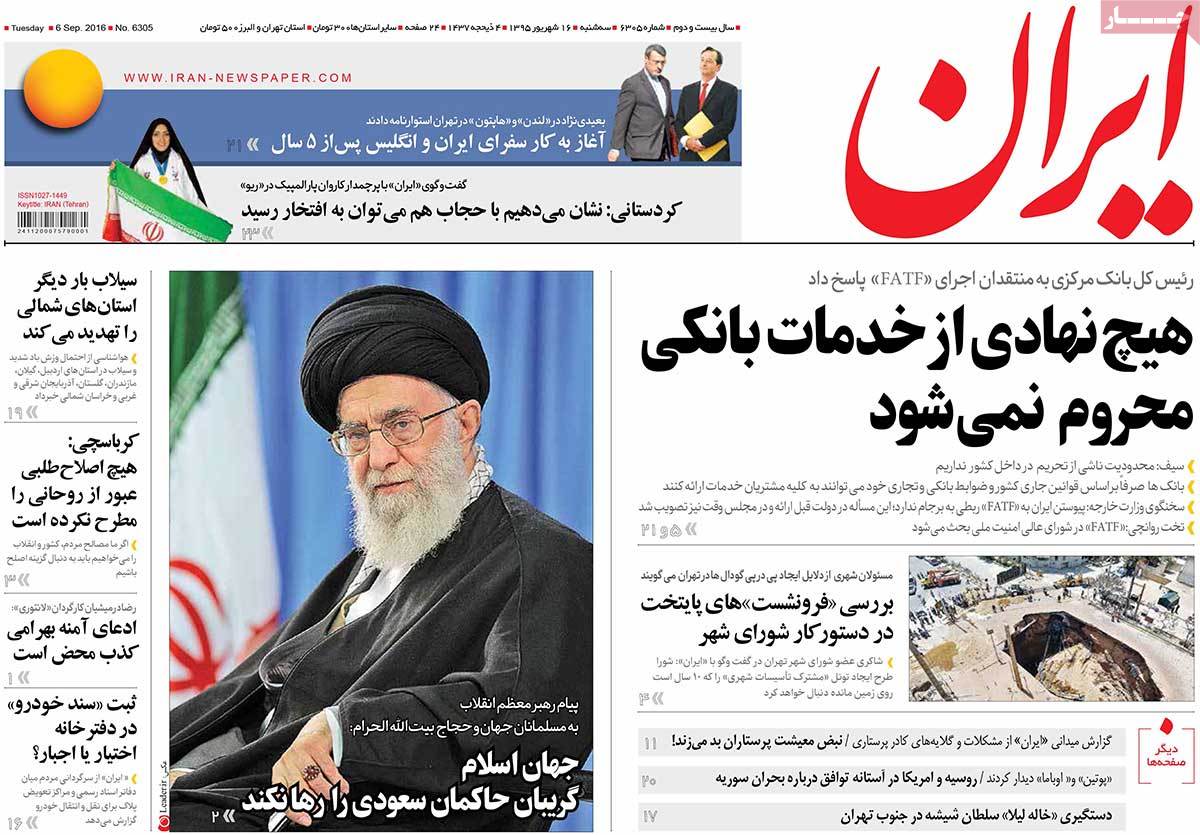 ---
Jame Jam:
1- Leader in Message on Hajj Pilgrimage: Muslim World Should Not Forget Saudi Rulers' Crimes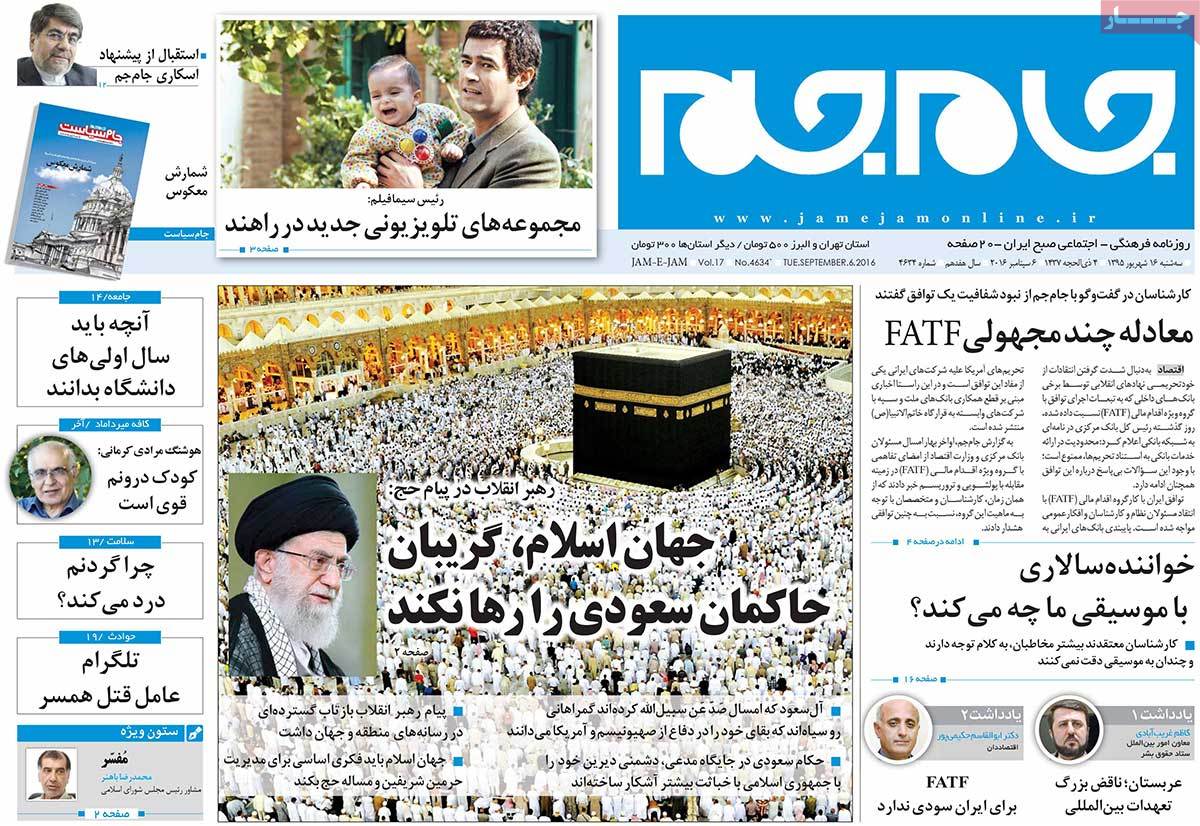 ---
Javan:
1- British Ambassador Returns to Iran 9 Months before Presidential Elections
2- Judiciary Chief: We'll Strictly Pursue Tehran Municipality Case
---
Jomhouri Eslami:
1- Rafsanjani: Saudi Arabia Is Humiliated in Yemen War
2- Iran's Oil Production Exceeds 3.8 Barrels per Day
3- Senior Al-Azhar University Sheikh: Salafis Are Presenting a New Religion, Different from that of Prophet Muhammad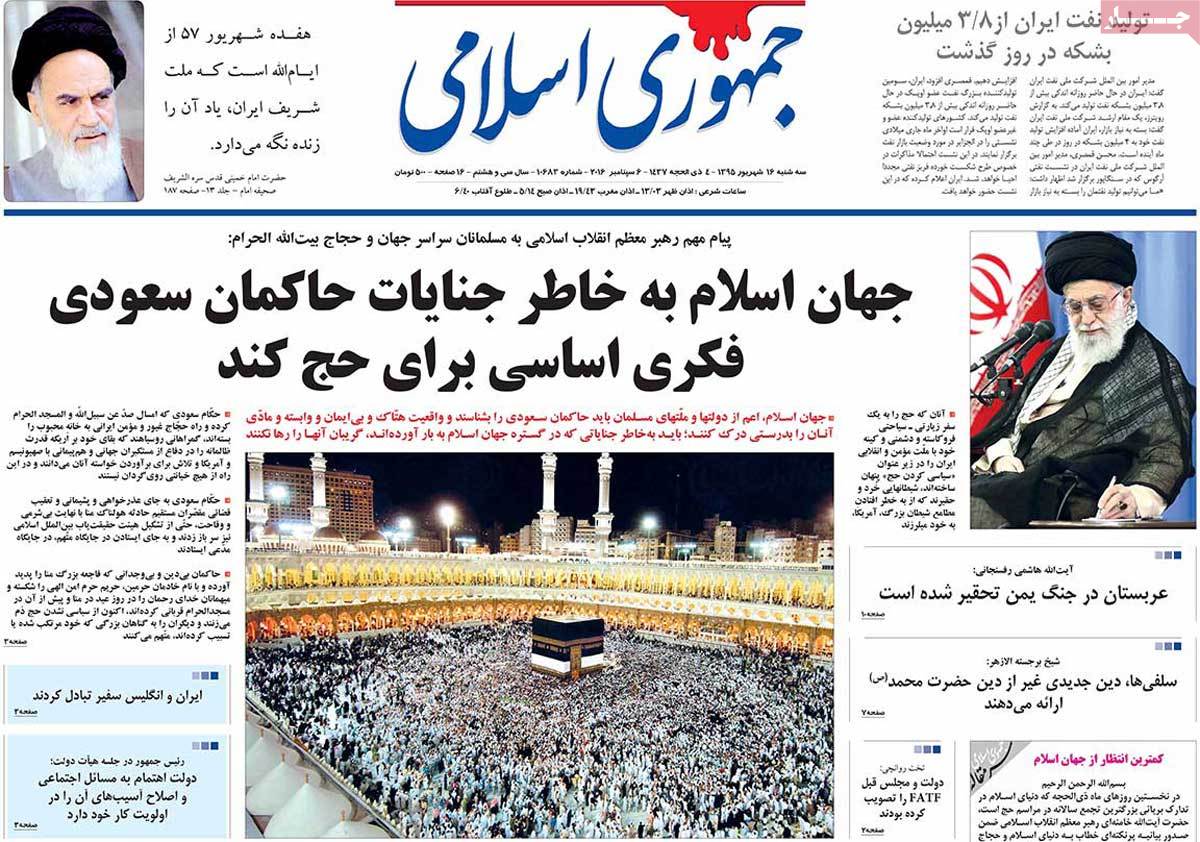 ---
Kayhan:
1- Saudis Use Israel's Help for Providing Hajj Pilgrims' Security
2- CIA Excited about Mistakes Made by Two Iranian Banks
3- Government's Commendable Move: No Bank Allowed to Implement Foreign Sanctions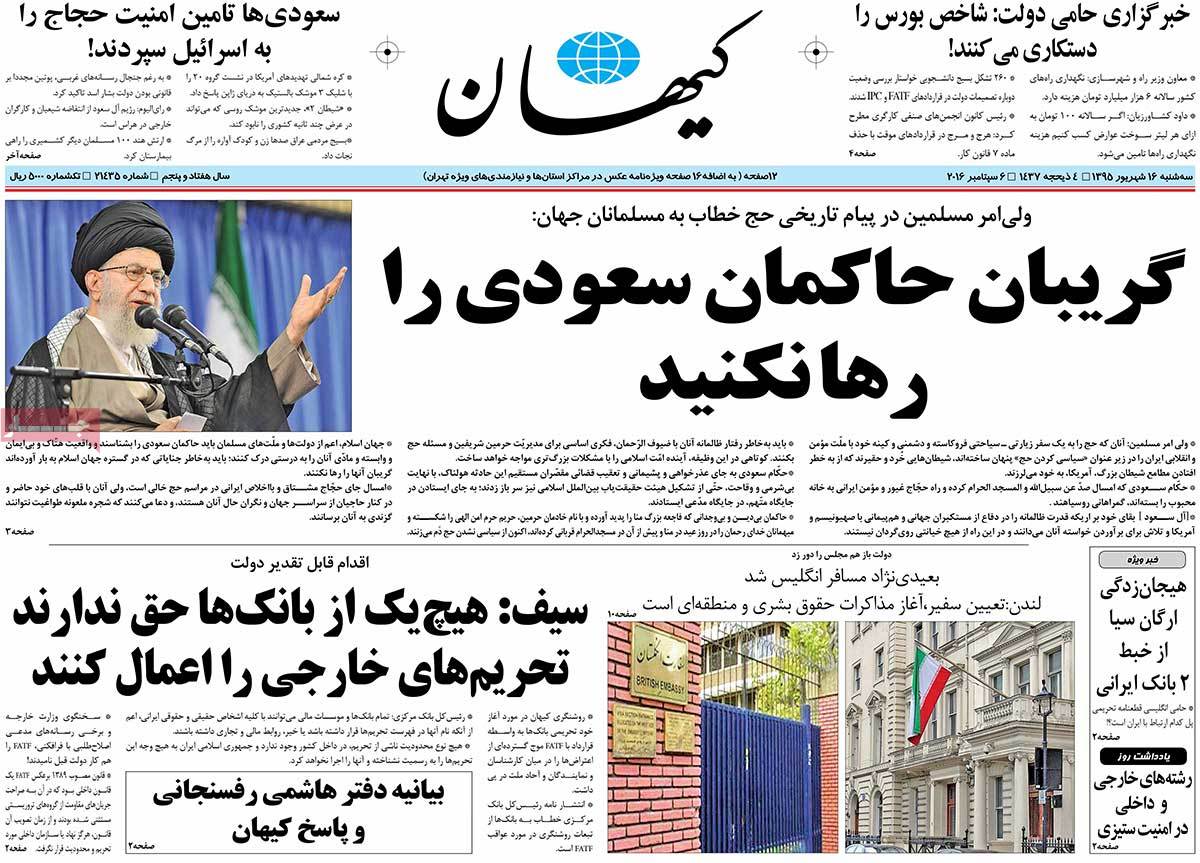 ---
Khorasan:
1- Iran Uses Railway as a Means to Counter Turkmenistan's Stonewalling: Increase of Exports to Central Asia through Railway
2- 110-Year-Old Historical House in Mashhad among Top 13 Asia-Pacific Plans: UNESCO Prize for Darougheh House
---
Payam-e Zaman:
1- Queiroz: We Are Going to Earn 3 Points from China
2- 40 Foreign Refineries Become Customers of Iran's Oil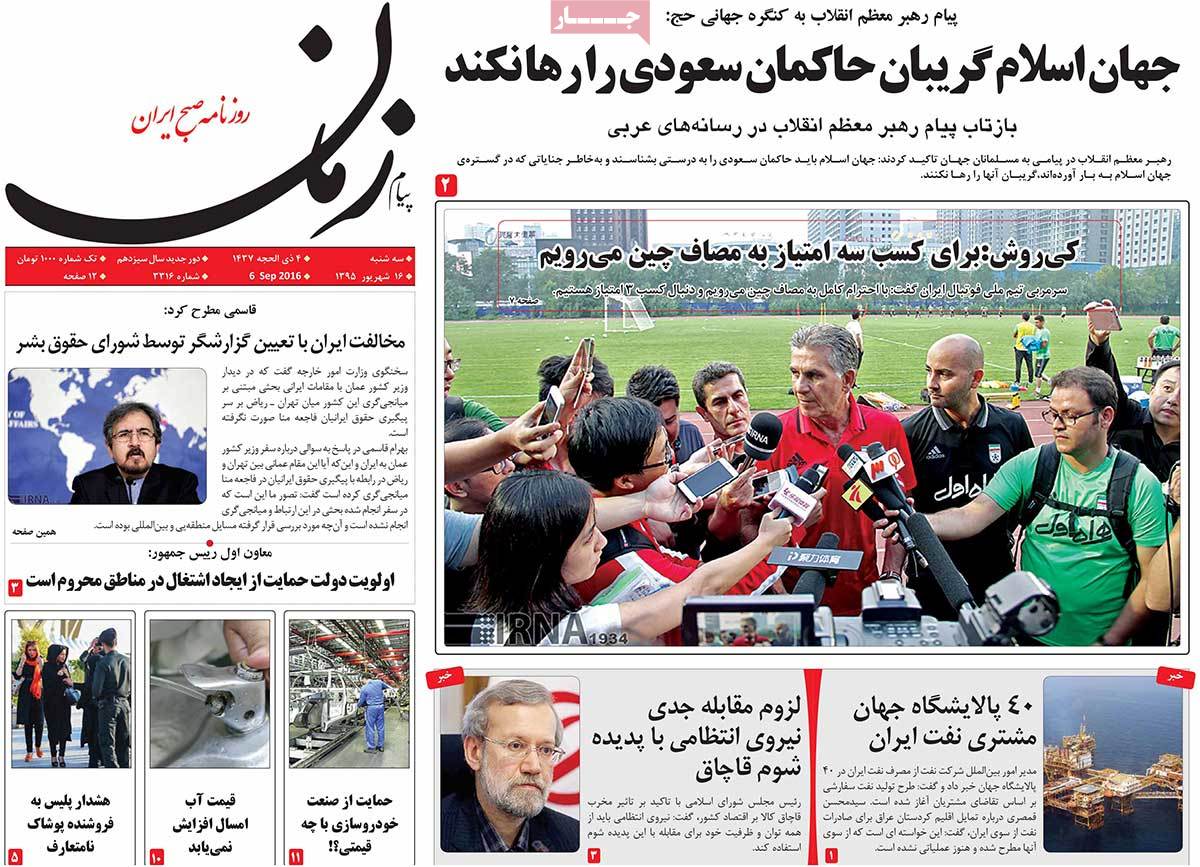 ---
Resalat:
1- President: Government Tries to Improve Social Ills
2- Foreign Ministry Spokesman: We Have No Concern about Implementing FATF Commitments
3- Those Who Claim to Be Front-Runners of Resolving Global Crises: Zero Score for G20; World's Security and Economy Crises Still in Place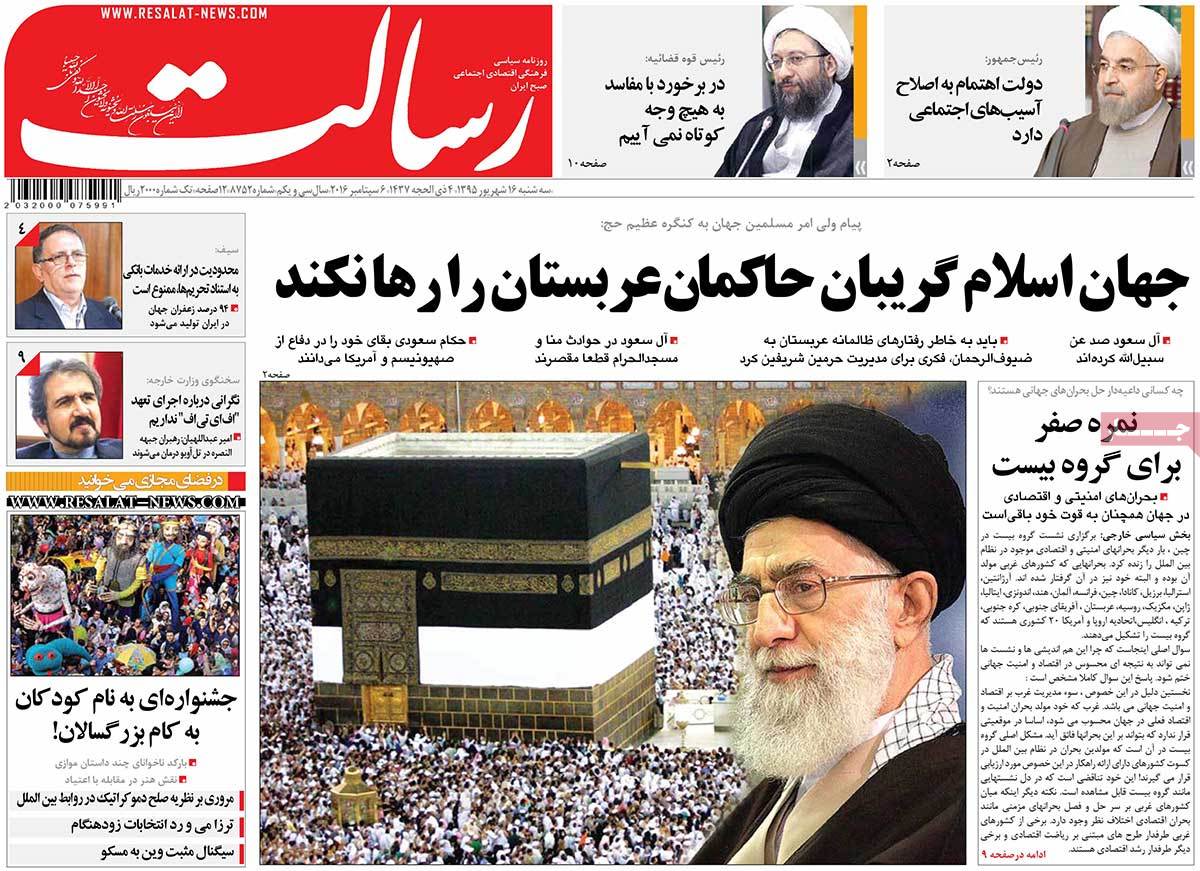 ---
Roozan:
1- CBI Governor's Counterattack on Critics of Gov't Who Claimed Iranian Banks Are Imposing Sanctions on Themselves: Seif Bans Restriction of Banking Services on Pretext of Sanctions
2- No One Gave Obama the Red Carpet Treatment
---
Setareh Sobh:
1- Leader: This Year, Iranian Pilgrims Will Be Missed in Hajj Rituals; They Are Standing by and Worried about Other Pilgrims
2- Medical Exports Up to $5bn
---
Shahrvand:
1- UN Deputy Secretary-General for Humanitarian Aid Affairs Meets Iran's Red Crescent Society Chief: IRCS Is a Very Strong Population
---
Shargh:
1- Opponents Are Worried about JCPOA Trend inside Iran: Expert
2- 3 Iranian Banks to Be Established in Germany
3- Karbaschi: Ahmadinejad May Have Rafsanjani's 2013 Model in Mind
---
Vaghaye Ettefaghieh:
1- Foreign Ministry Spokesman: FATF Deal Has Nothing to Do with JCPOA