Newspapers on Tuesday covered the German Economy Minister Sigmar Gabriel's visit to Tehran and the Memorandums of Understanding (MoUs) signed between the German and Iranian officials.
They also highlighted the issue of genetically-modified products being imported into Iran, and the lobbies to lift the ban in the Iranian Parliament.
A decision by Russian President Vladimir Putin to suspend a nuclear pact with the US also received great coverage today.
The above issues, as well as many more, are highlighted in the following headlines:
Abrar:
1- UN's Call for an End to Aleppo Hell
2- Fukushima Radiation Has Contaminated Entire Pacific Ocean
3- Over 500 ISIS Elements Killed in Mosul during September
4- Baghdad Condemns Erdogan's Remarks about Mosul
5- US and South Korea Hold Joint Military Drills to Counter North Korea's Threats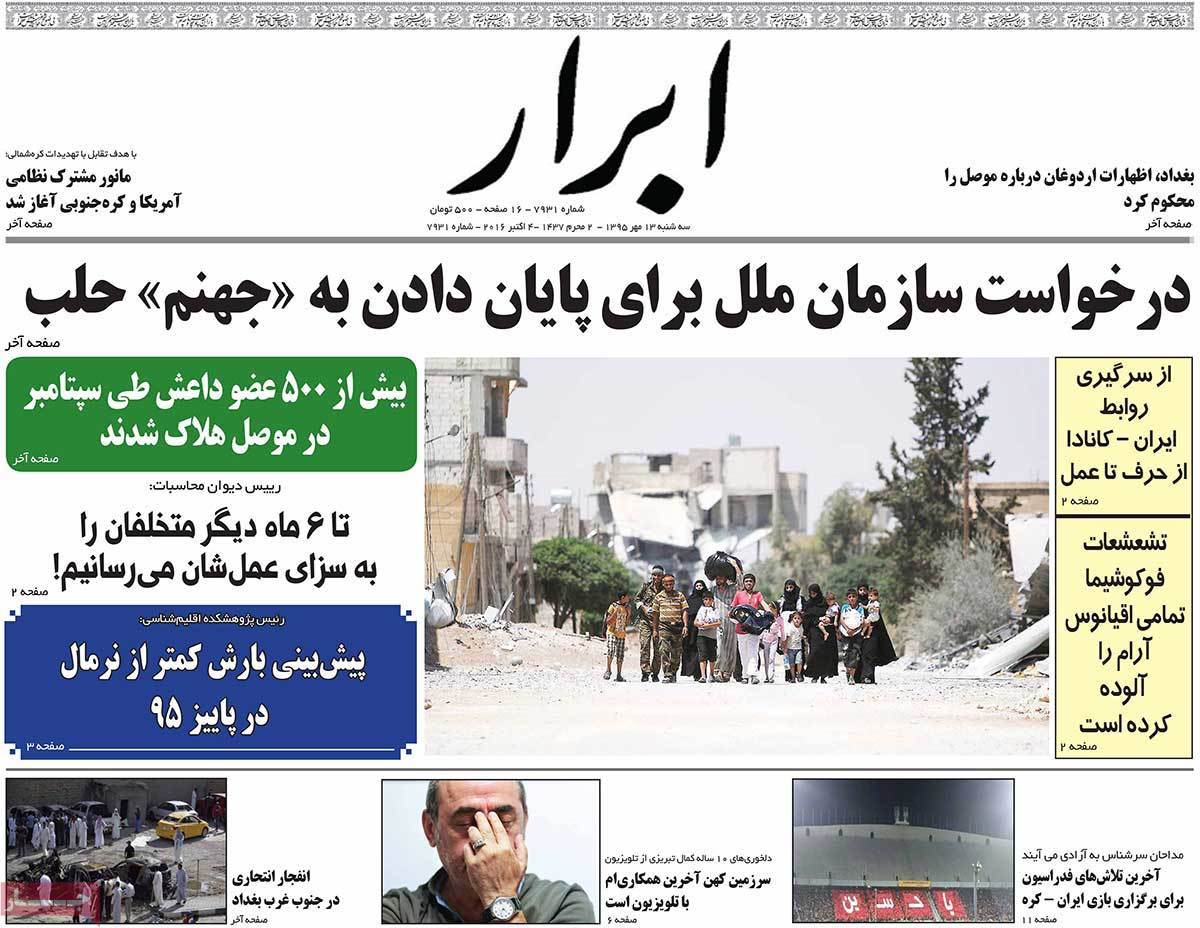 ---
Abrar-e Eqtesadi:
1- Iran's First New Oil Contact to Be Signed Today
2- Foreigners Banned from Possessing Lands in Iranian Free Zones
3- Iran's Hotel Industry Enters the Capital Market
4- Iran Interested in Expansion of Ties with Germany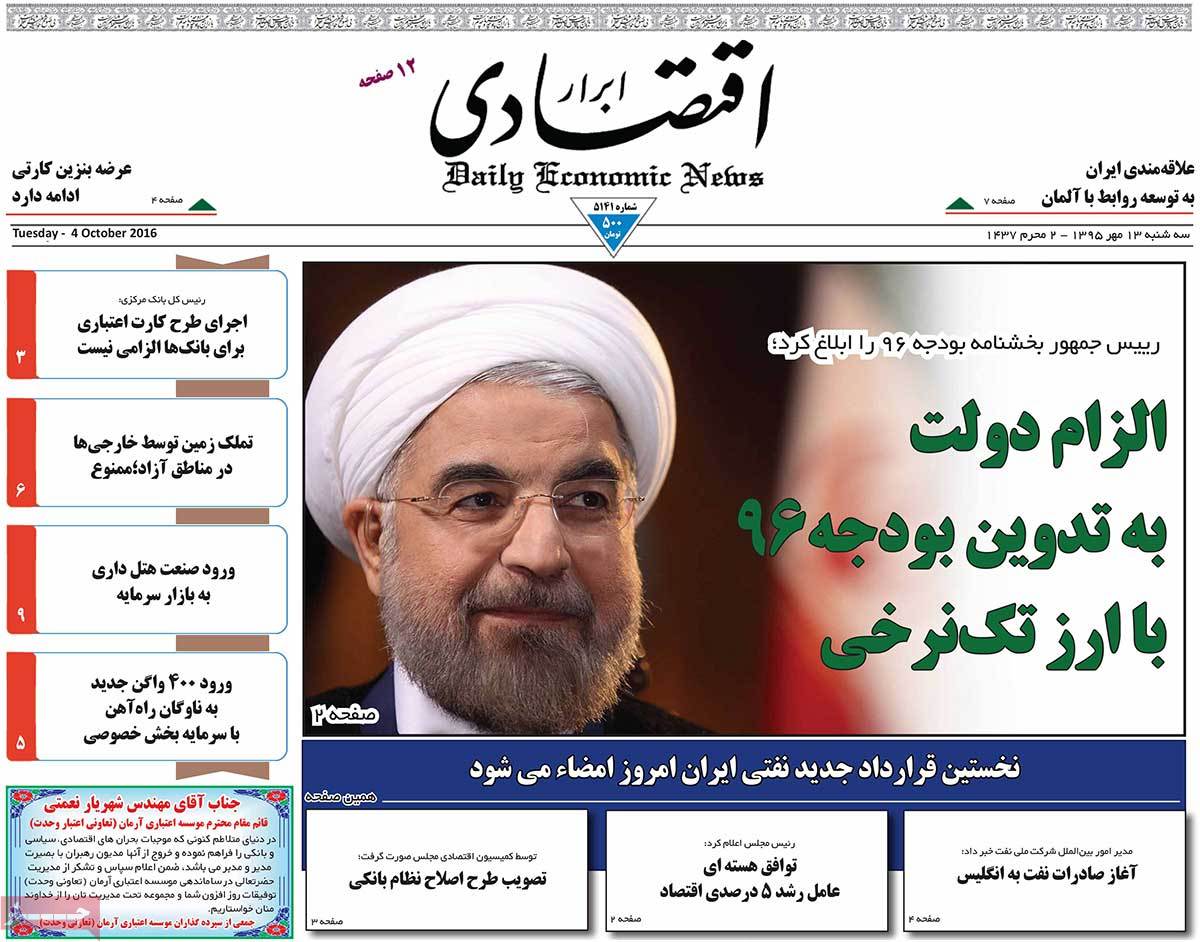 ---
Afarinesh:
1- Larijani: West Is Playing with Terrorism instead of Fighting It
2- Ex-PM of Sweden Meets with Zarif
3- Judiciary Chief: No One Likes and Defends Death Penalty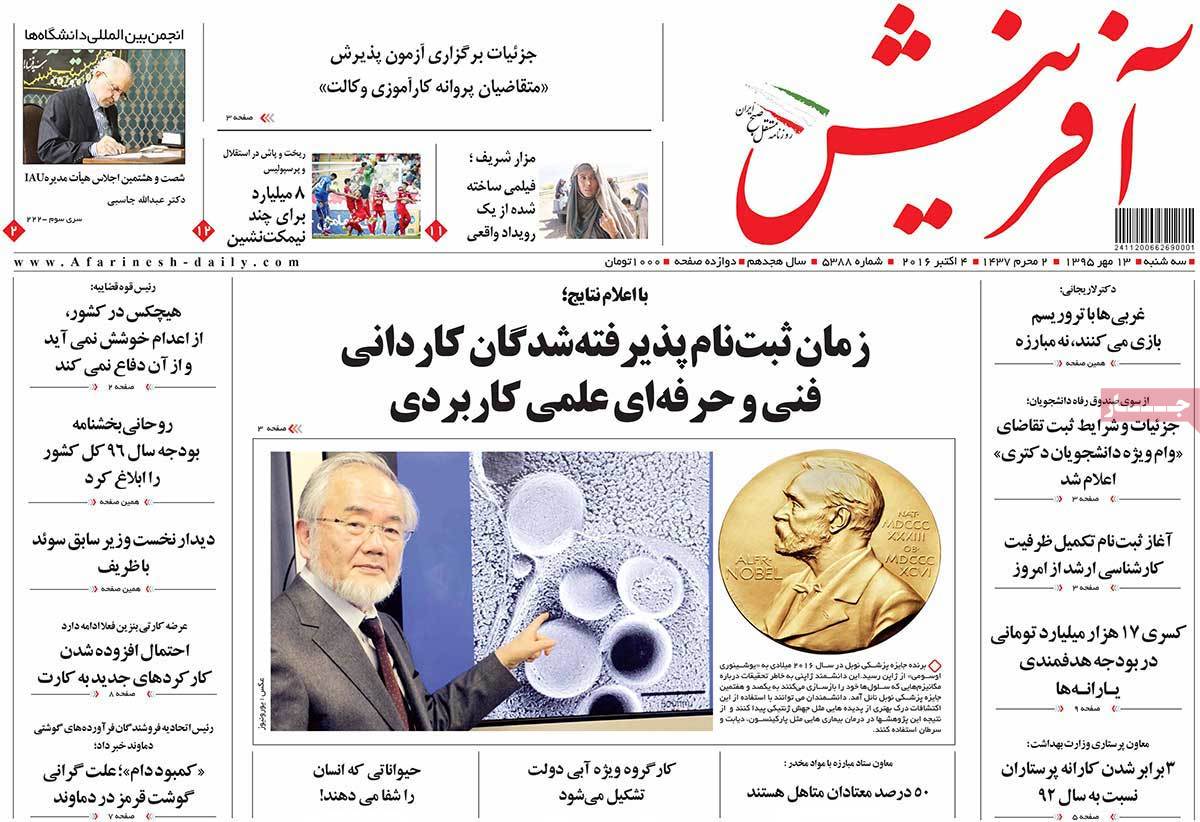 ---
Afkar:
1- Israel's Wishful Efforts Will Lead to Nowhere: Iran's Foreign Ministry Spokesman
---
Aftab-e Yazd:
1- Judiciary Chief: If I Were in Government's Shoes, I Wouldn't Let German Economy Minister Come to Iran
2- Taliban Seizes Afghanistan's Kunduz
3- Historic Agreement between Germany and Iran's Central Bank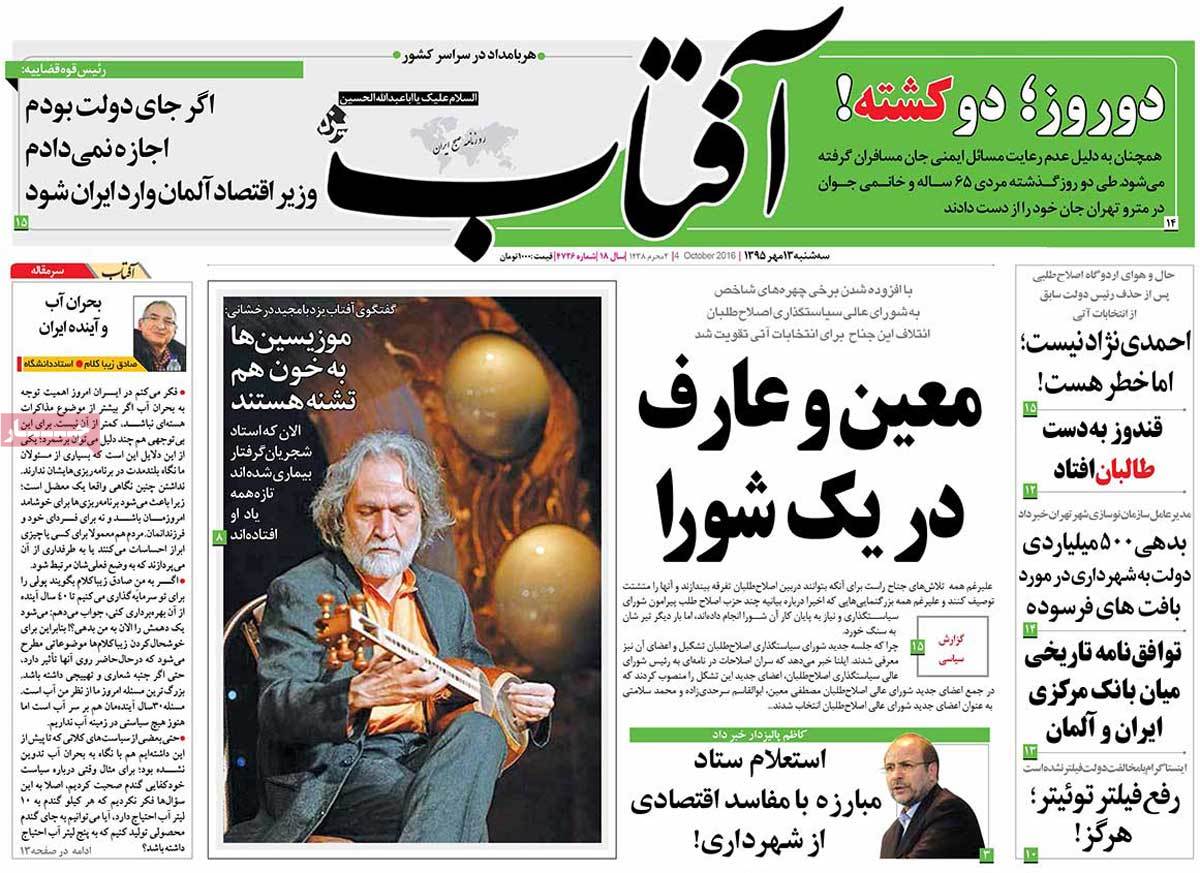 ---
Amin:
1- Al Monitor: Rouhani's Visit to New York Was Successful, But Why Was He Attacked by Opponents?
2- Major Reformist Parties Support Rouhani: Reformists' Unity Waiting for Khatami's Decision
---
Arman-e Emrooz:
1- Conservatives Should Appreciate that Ahmadinejad Won't Run for Presidential Elections: Conservative Figure
2- Analyst: Ahmadinejad Will Vote for Rouhani!
---
Asrar:
1- Larijani: Nuclear Deal Has Led to 5% Economic Growth for Iran
2- Iran Starts Oil Exports to Britain
3- Doctors' Renewed Hope for Curing AIDS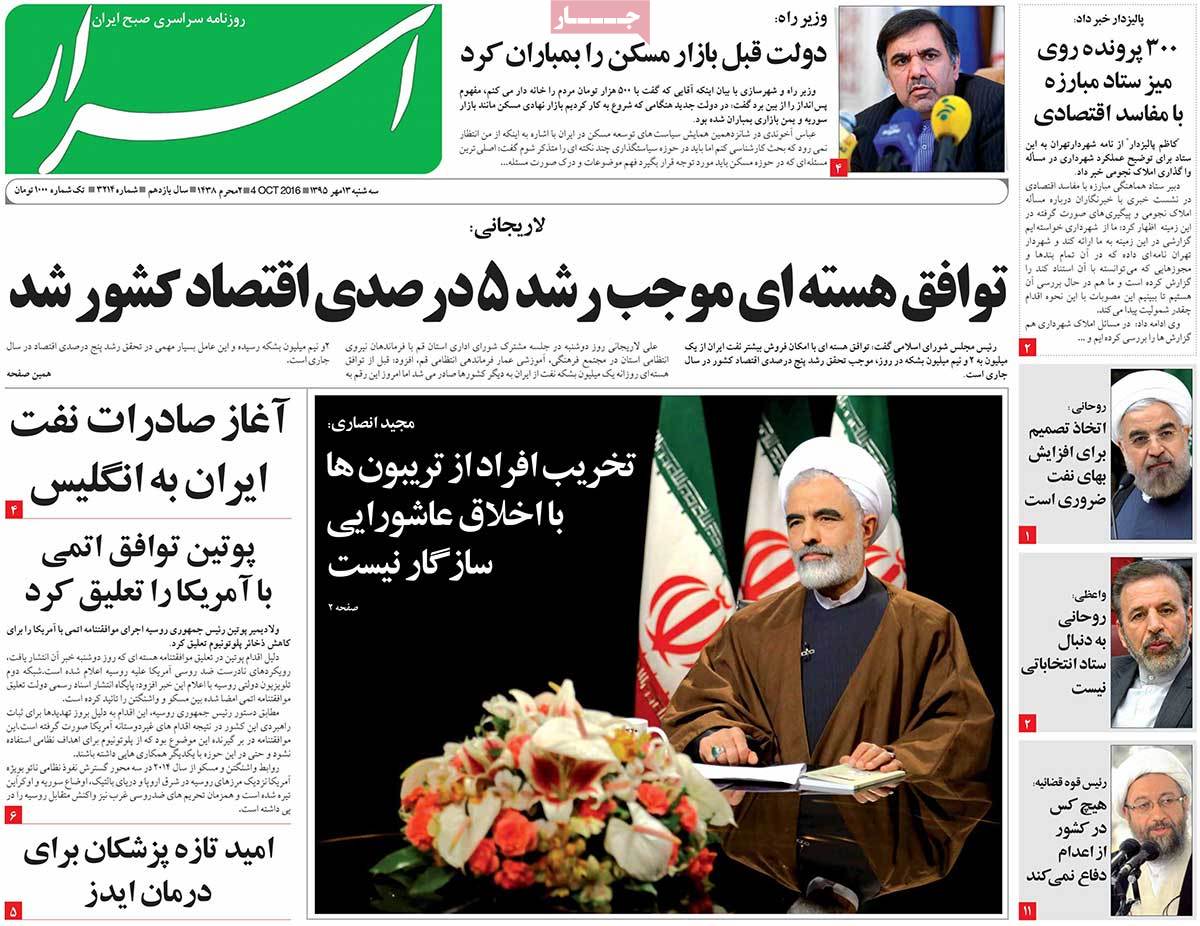 ---
Donya-ye Eqtesad:
1- 2 Euro Zone Powers' Economic Offer to Iran: Germans Arrive in Tehran, France Sends Message
---
Ebtekar:
1- Iranian Candidates of a Swedish Prize: Experts Discuss Possibility of Giving Noble Peace Prize to Iran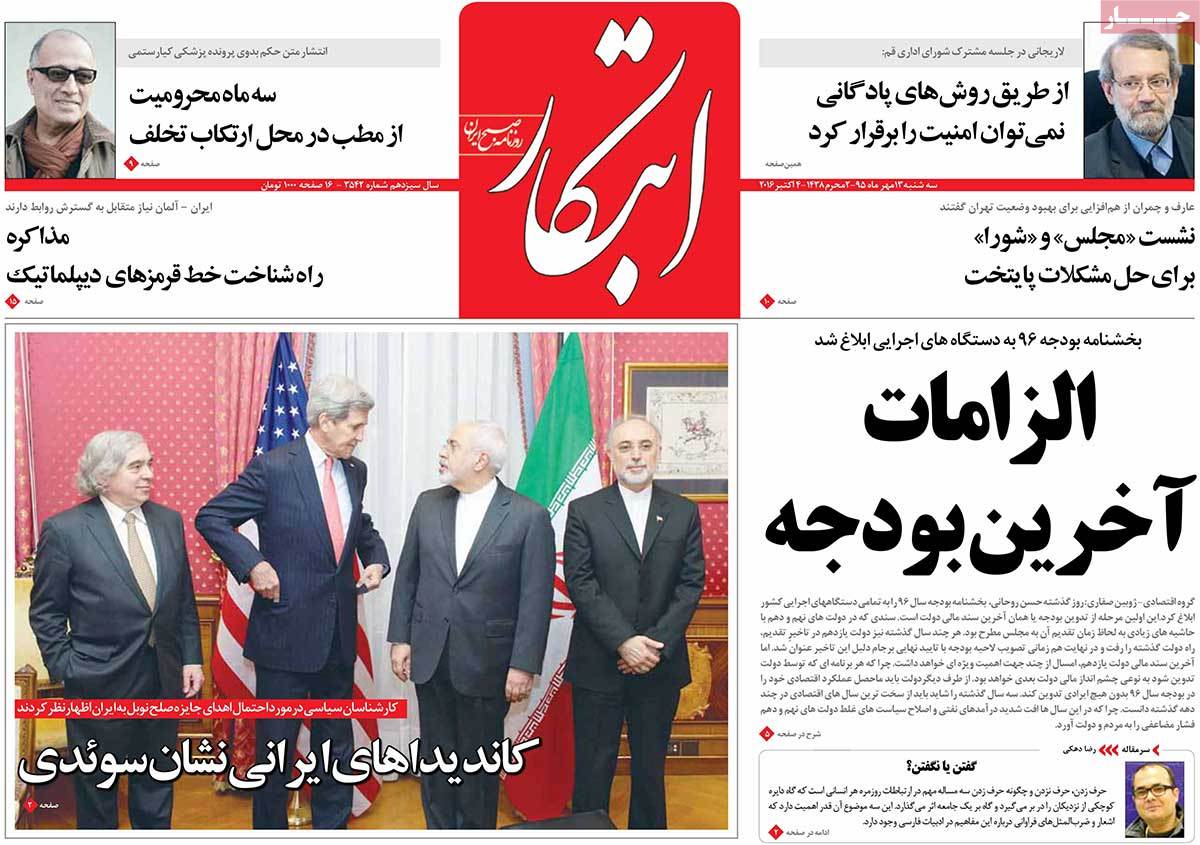 ---
Emtiaz:
1- Transport Minister: Immediate Sale of 17 Airbus Planes to Iran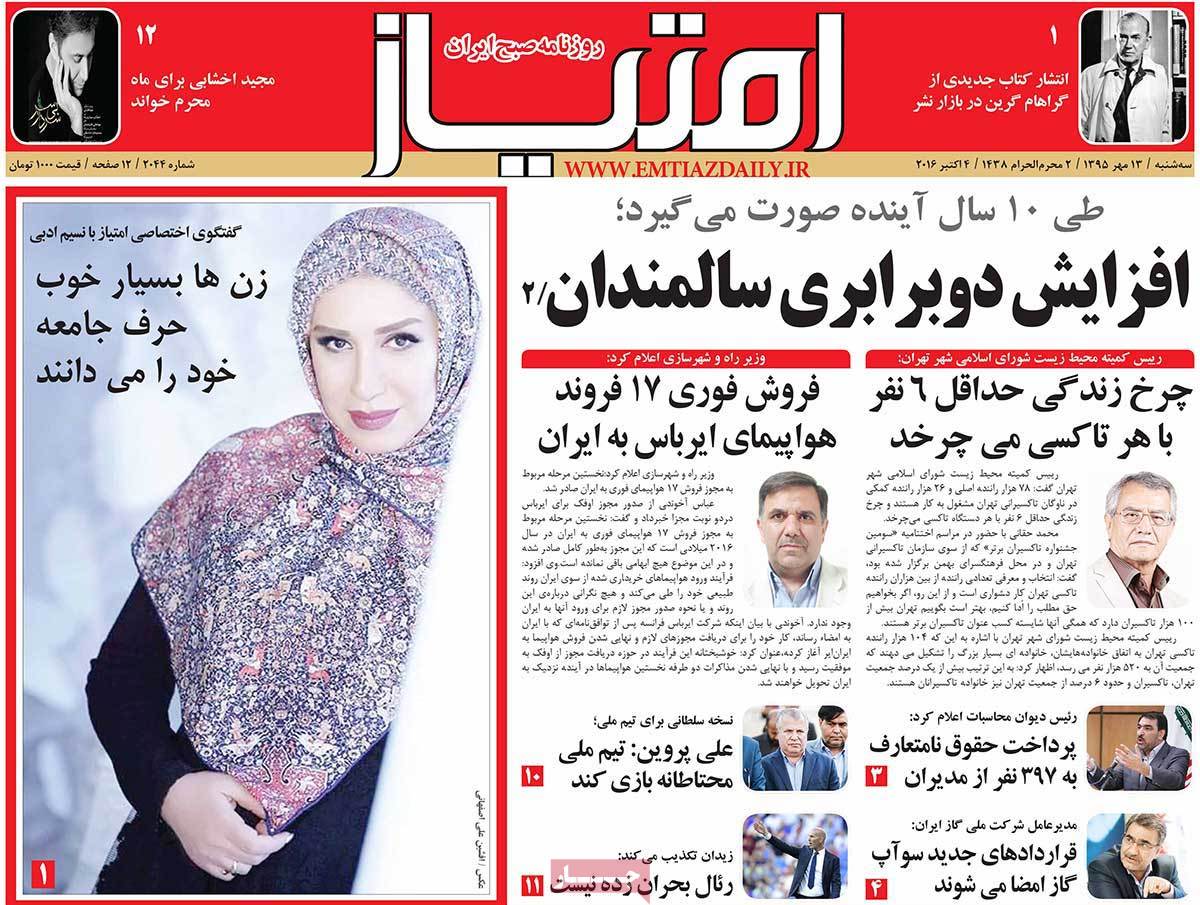 ---
Etemad:
1- Government Communicates Six Major Components of Next Year's Budget: Foreign Currencies with Single Rates, Increase in Salaries
2- Iran's Economy Waiting for German Partners: German Economy Minister Arrives in Tehran to Sign 10 MoUs
3- Etemad's Interview with Nicaraguan Ambassador to Tehran: We Have No Political Prisoner or Imprisoned Journalist
4- For His Medical Error, Kiarostami's Doctor Is Sentenced to 3 Months Deprivation of Visiting Patients His Own Office in the Hospital, and Nothing More!
---
Ettela'at:
1- Rouhani: It's Necessary to Make a Decision for Increase of Oil Price
2- 50 Civilians Killed in US Airstrike on Deir ez-Zor in Syria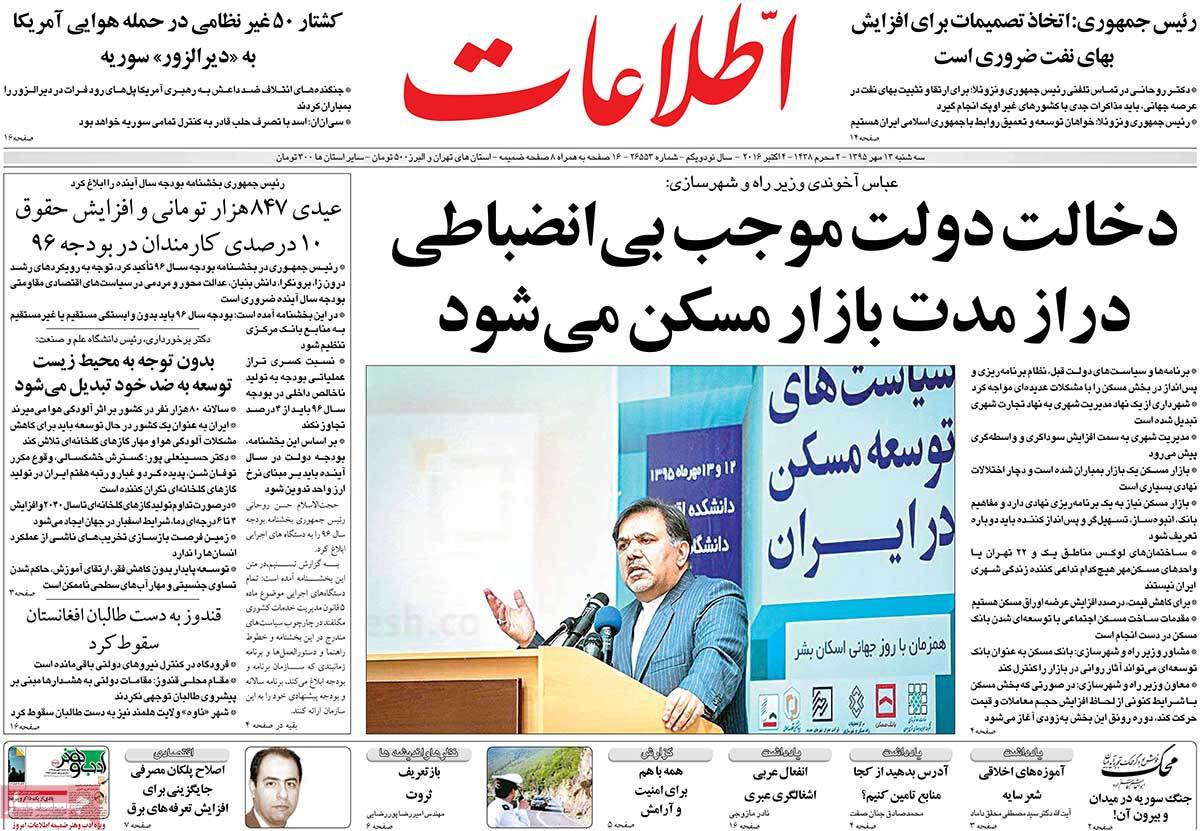 ---
Haft-e Sobh:
1- Goodbye Constantinople: In Separate Incidents in Istanbul and Pamukkale, Two Iranians Are Killed; Iran's Embassy Issues Warning against Iranians' Trip to Turkey
---
Hamshahri:
1- Ban on Genetically-Modified Products Waiting for Parliament's Decision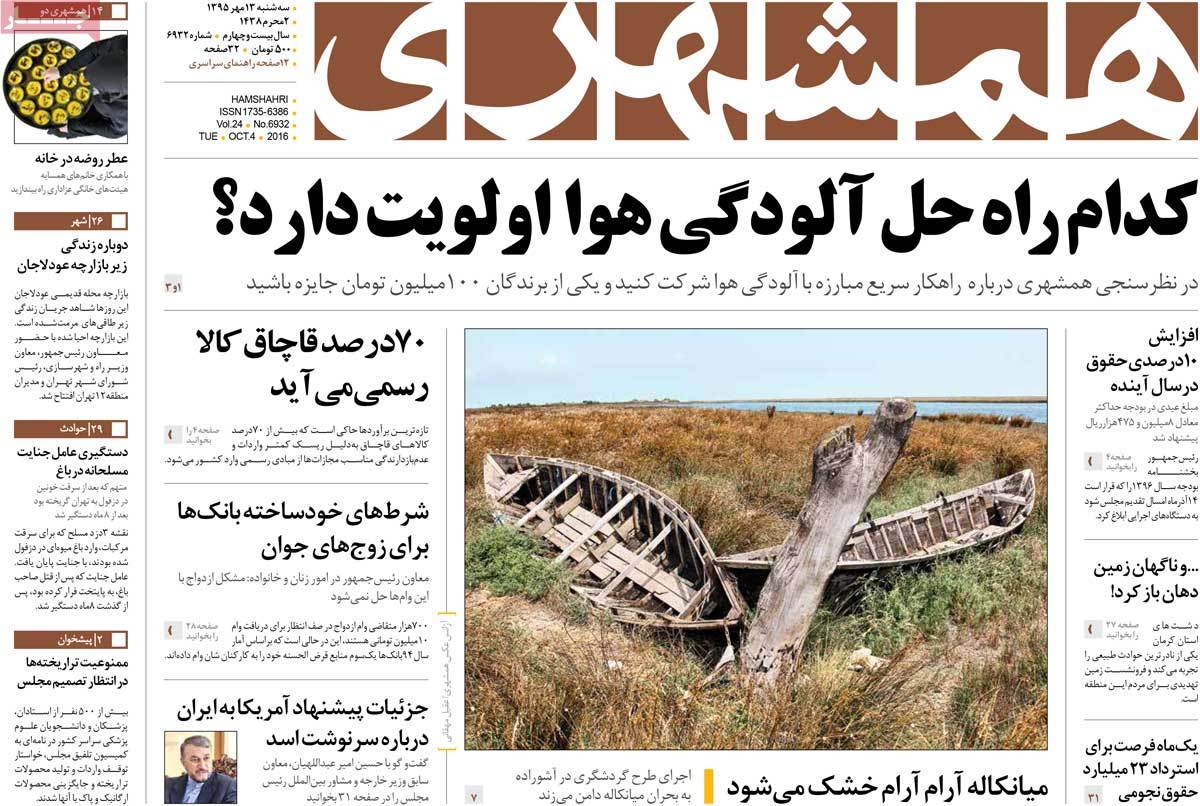 ---
Iran:
1- Deputy Prosecutor-General: Twitter Will in No Way Be Unblocked
2- Gradual Decrease of Dust Pollution in Khuzestan
3- German Economy Minister: Investment of German Banks in Iran Will Be Guaranteed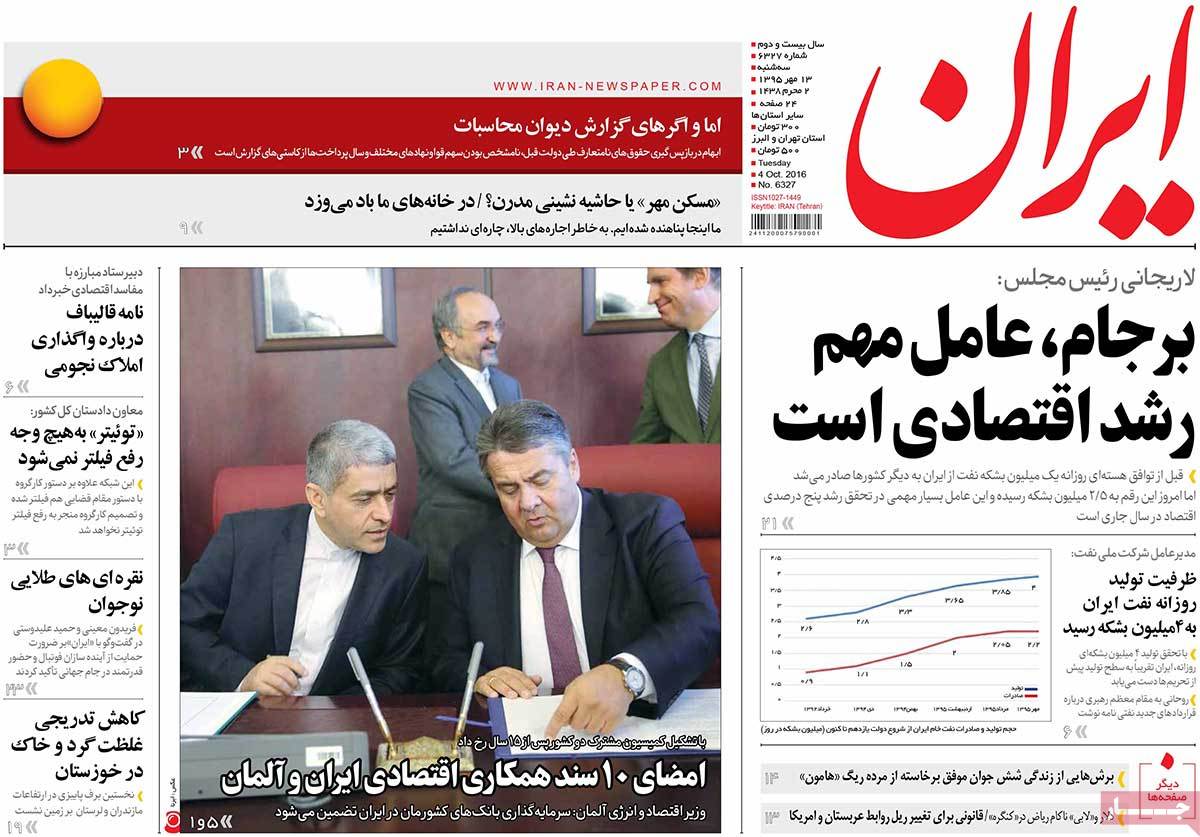 ---
Javan:
1- Putin's Order for Cessation of Nuclear Pact with US: Europe's Nuclear Diplomacy to Save Terrorists
2- After Failure of US-Russia Talks and Putin's Order for Termination of Nuclear Pact, EU Foreign Policy Chief Starts Talks with Zarif
3- Zionists to Make Iranian Society Infertile through Genetically-Modified Products: 500 Academics, Doctors, and Medical Students Write Letter to Parliament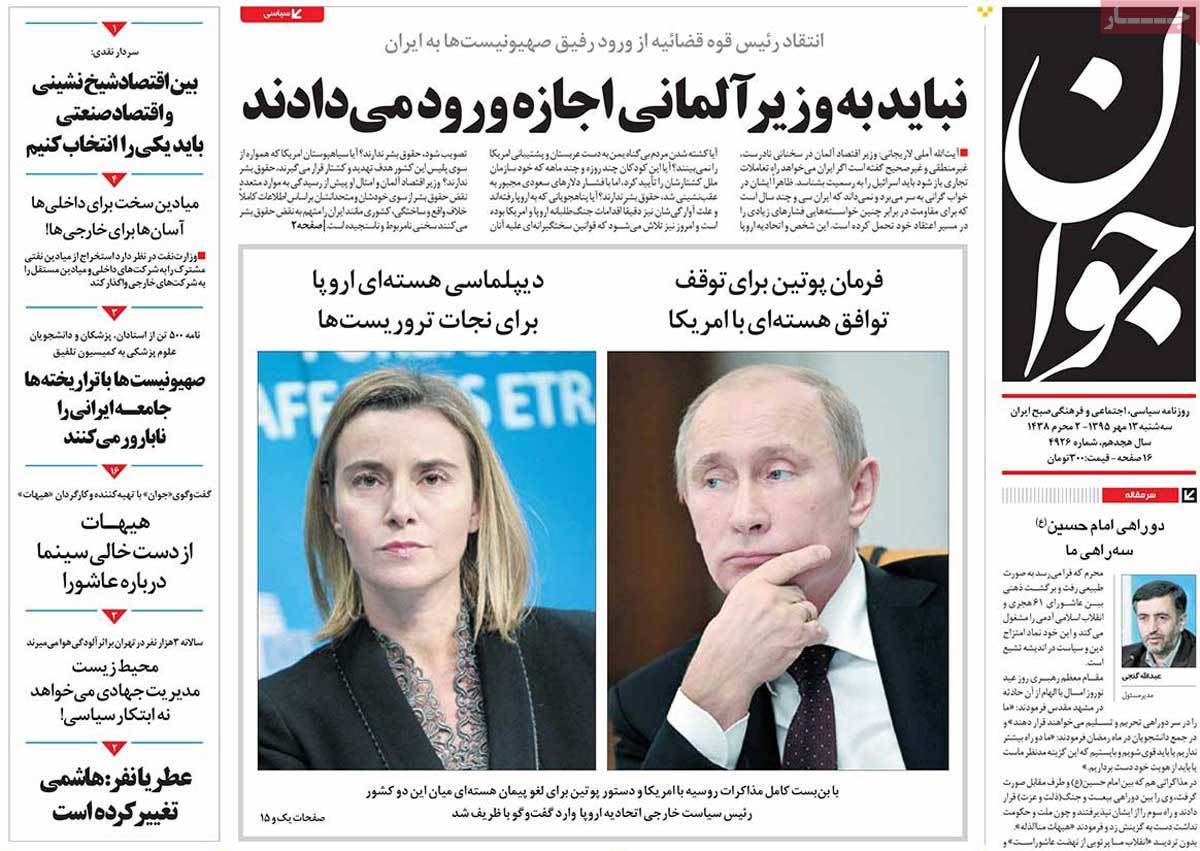 ---
Jomhouri Eslami:
1- Putin Suspends Nuclear Pact with US in Reaction to Washington's Wrong and Anti-Russia Policies
2- Syrian Army Gives Ultimatum for Terrorists' Exit from Aleppo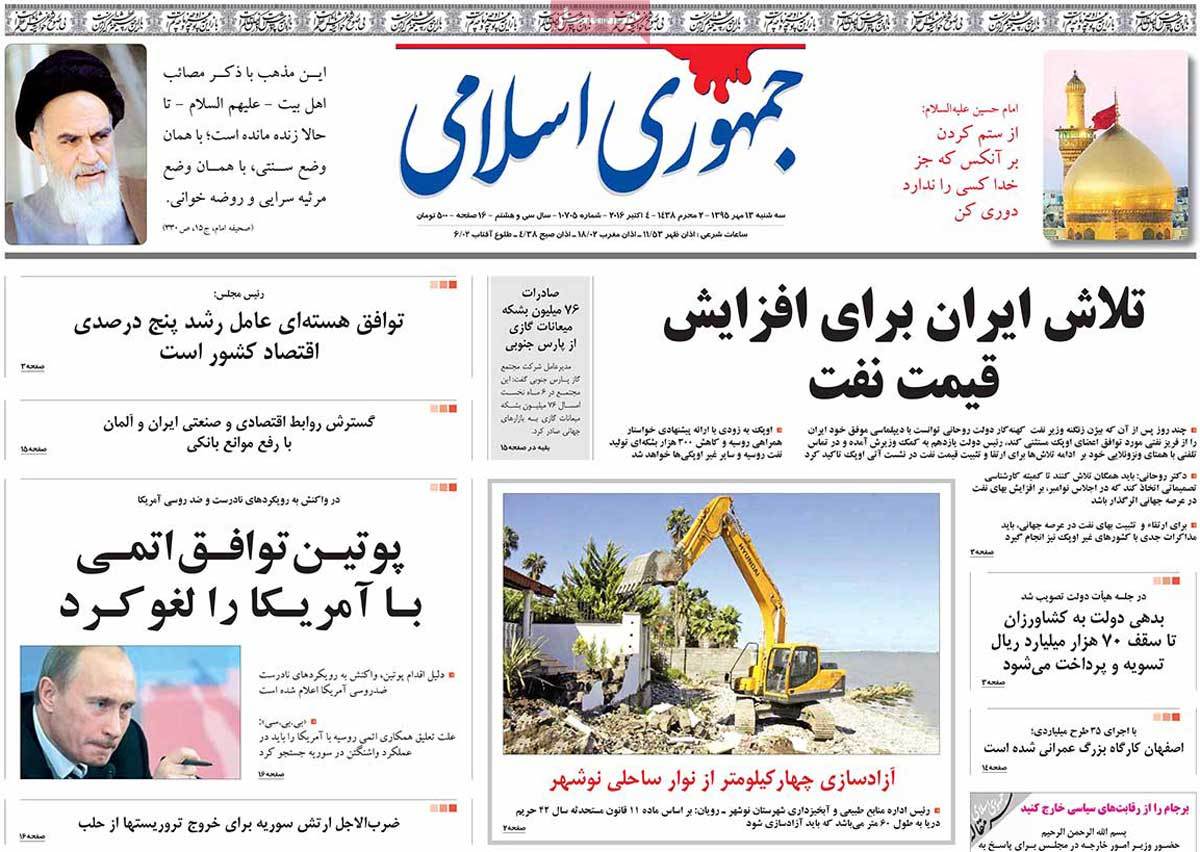 ---
Ka'enat:
1- New York Post's Strong Criticism of White House: Zarif Played with Us with a Simple Trick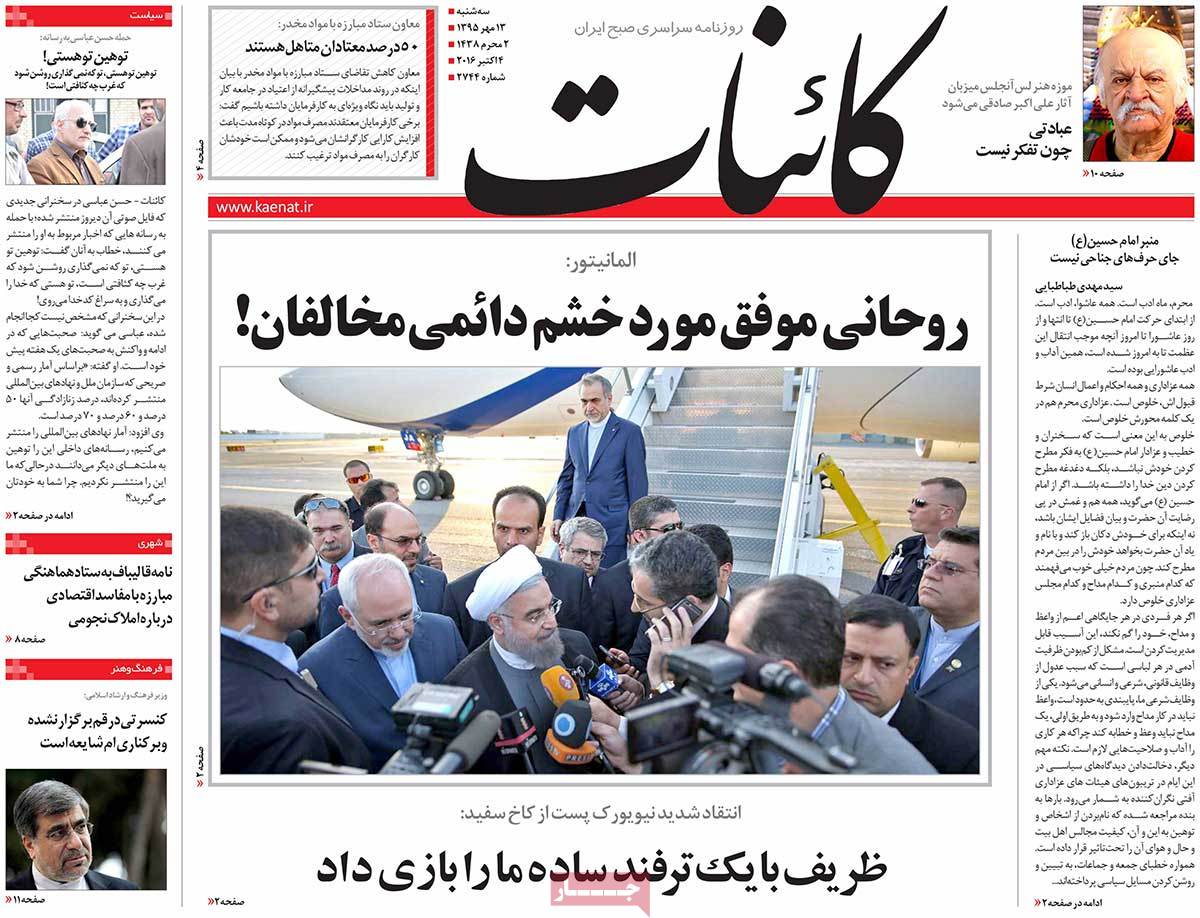 ---
Kayhan:
1- People's Food Security and Health, a Plaything for Dealers of Genetically-Modified Products: Suspicious People's Mass Lobby in Parliament for Lifting Ban on GM Products
2- Hassan Nasrallah: Such Takfiri Groups as ISIS Have Their Roots in Yazid I's Camp
3- Sunnis in a Pakistani City Take Responsibility for Ensuring Security of Shiite Mourners of Imam Hussein
---
Khorasan:
1- Return to Cold War: Putin Suspends Nuclear Pact with US over Washington's Hostile Moves
2- A 16-Year-Old Student Writes a Letter to FM Zarif and Receives a Response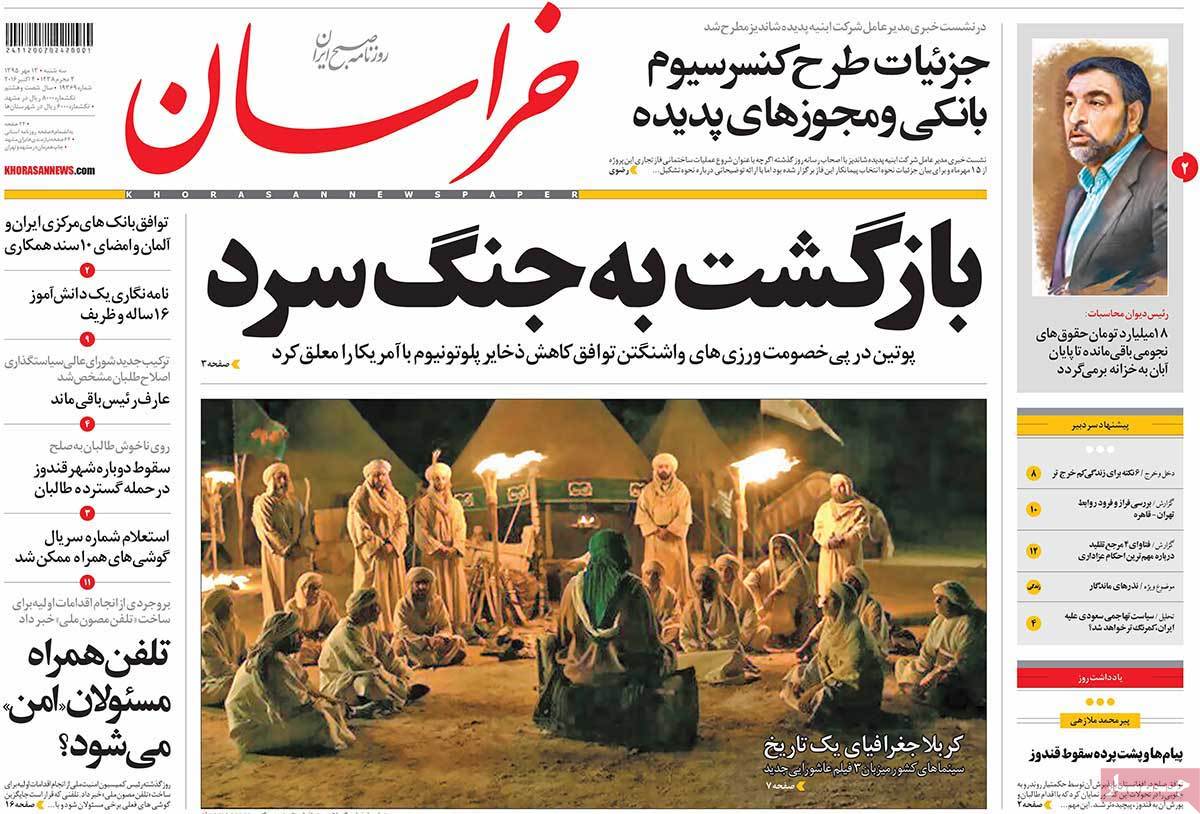 ---
Resalat:
1- Assembly of Experts Urges Government to Take Firm Stances against US Violation of Its Commitments
2- Transport Minister: We'll Never Sign a Conditional Plane Deal
3- IRGC General: Interaction with the World Should Not Bring Humiliation to Iran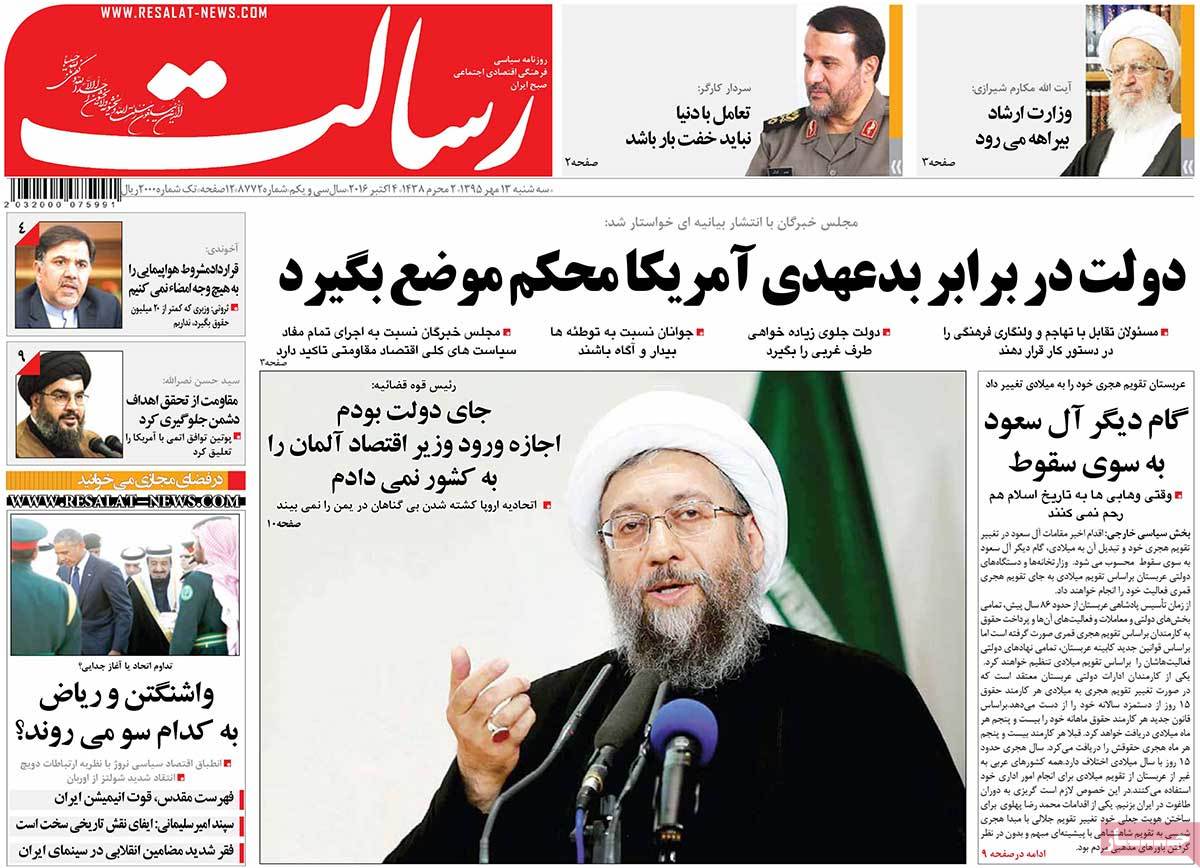 ---
Setareh Sobh:
1- US Strategist: Tradition vs. Modernism in US Presidential Competitions
2- Colombians Say No to Peace in a National Referendum
3- Ahmadinejad's Attempt to Defeat Conservatives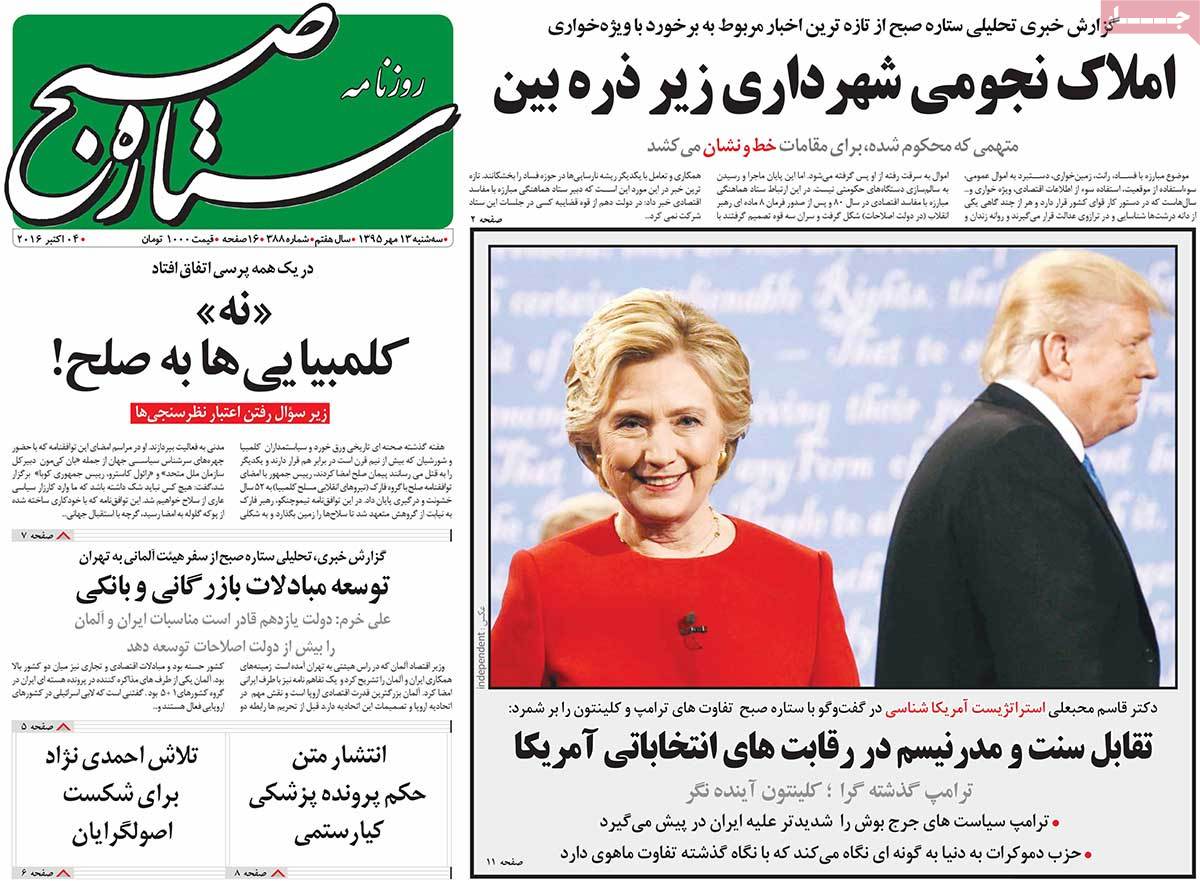 ---
Shargh:
1- Urban Development Minister: Previous Government Bombarded the Country's Housing
2- FIFA World Cup Qualifying Match between Iran and South Korea to Be Held at the Night before Anniversary of Imam Hussein's Martyrdom