Iranian newspapers on Thursday covered the ongoing terrorist attacks in different parts of the world including Syria's Qamishli.
They also highlighted the progress made by Syrian army in retaking and liberating ISIS-held cities.
Iranian Foreign Minister Mohammad Javad Zarif's ongoing tour of Africa was also a top story.
The above issues as well as many more are covered in the following headlines:
Note: Newspapers in Iran will not be published on Saturday, which is a holiday to mark the martyrdom anniversary of sixth Shiite Imam, Imam Ja'far al-Sadiq.
Abrar:
1- British Churches on the Alert
2- Saudi Arabia and Kuwait File Lawsuit against Iran at the UN
---
Aftab-e Yazd:
1- Online Campaign to Block Internet Abusers
2- Hillary Clinton Becomes Final Candidate of Democrats: 3 Challenges She Faces
3- Zarif's Smart Move to Choose Africa for His Diplomatic Trip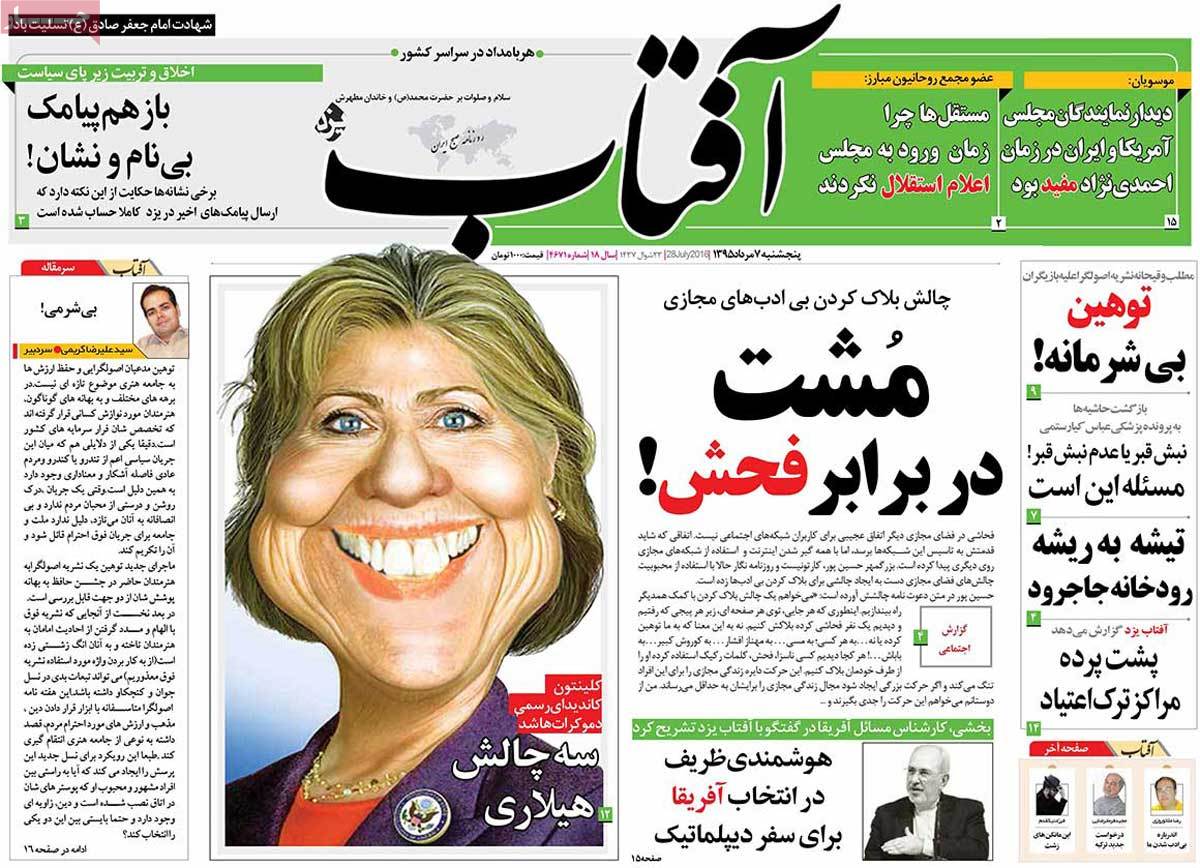 ---
Arman-e Emrooz:
1- Rafsanjani: Assigning Affairs to People Is an Original Islamic Thought
2- Suggestion for Exhumation of Kiarostami's Grave
---
Asrar:
1- Iran's Presidential Elections to Be Held on May 19, 2017
2- 150 Killed and Wounded in Blast in Northern Syria
3- US Democrat Party Officially Support Nuclear Deal with Iran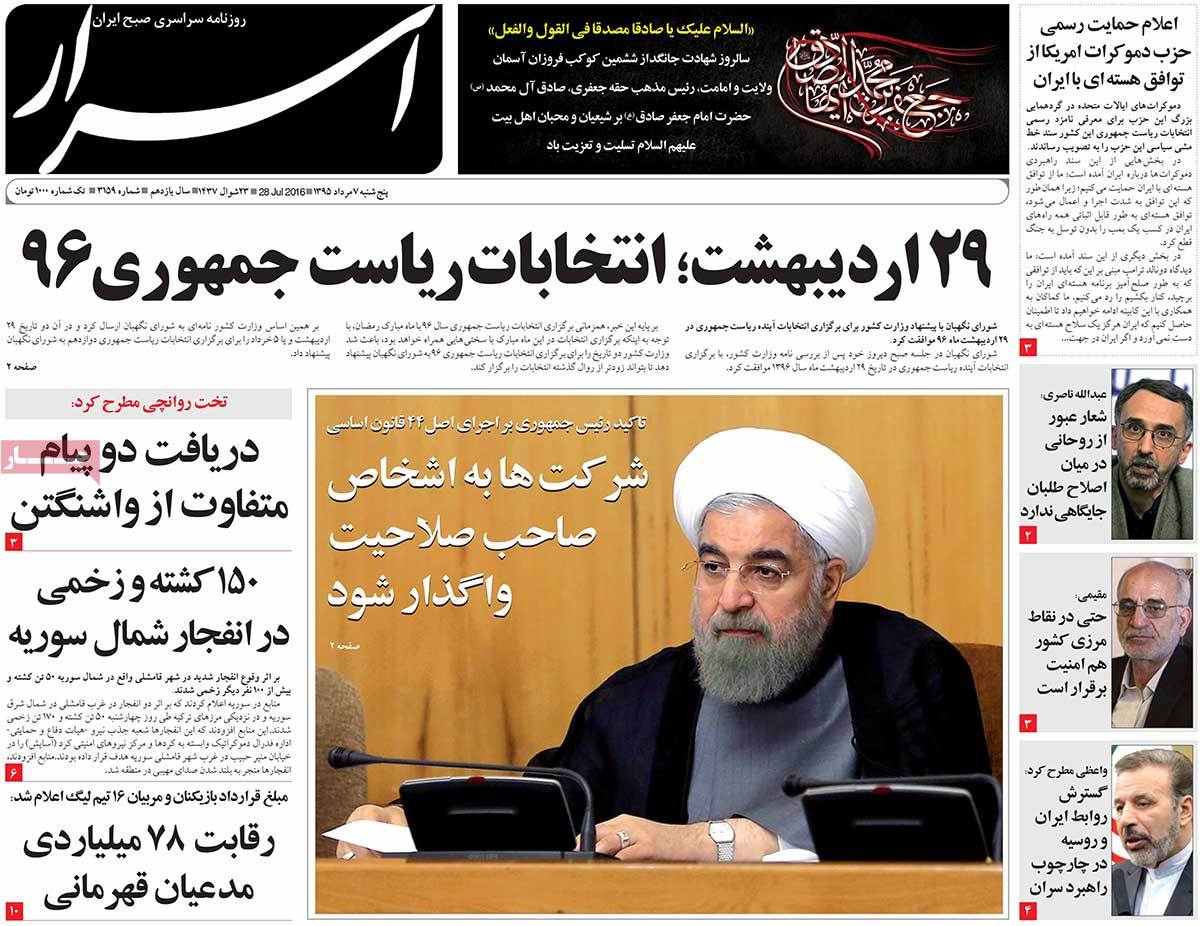 ---
Asr-e Rasaneh:
1- Iran's Foreign Assets Become Positive: Possibility of Attracting $30bn of Capital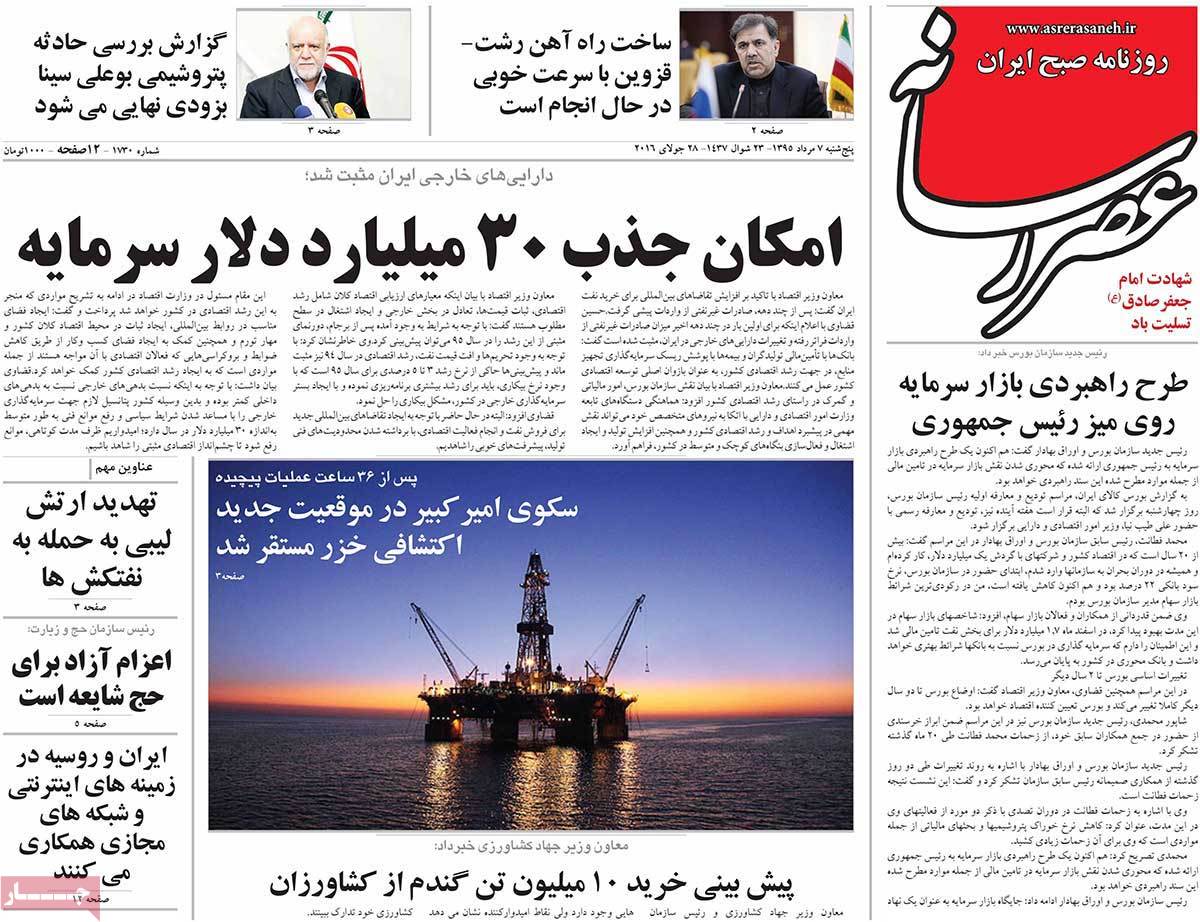 ---
Ebtekar:
1- Deputy FM: Two Different Messages Are Sent from Washington
2- Has Rouhani Started Reshuffling His Economic Team? Head of Stock Exchanges Market Changed
---
Emtiaz:
1- 170 Four and Five-Star Hotels to Be Constructed in Iran: Official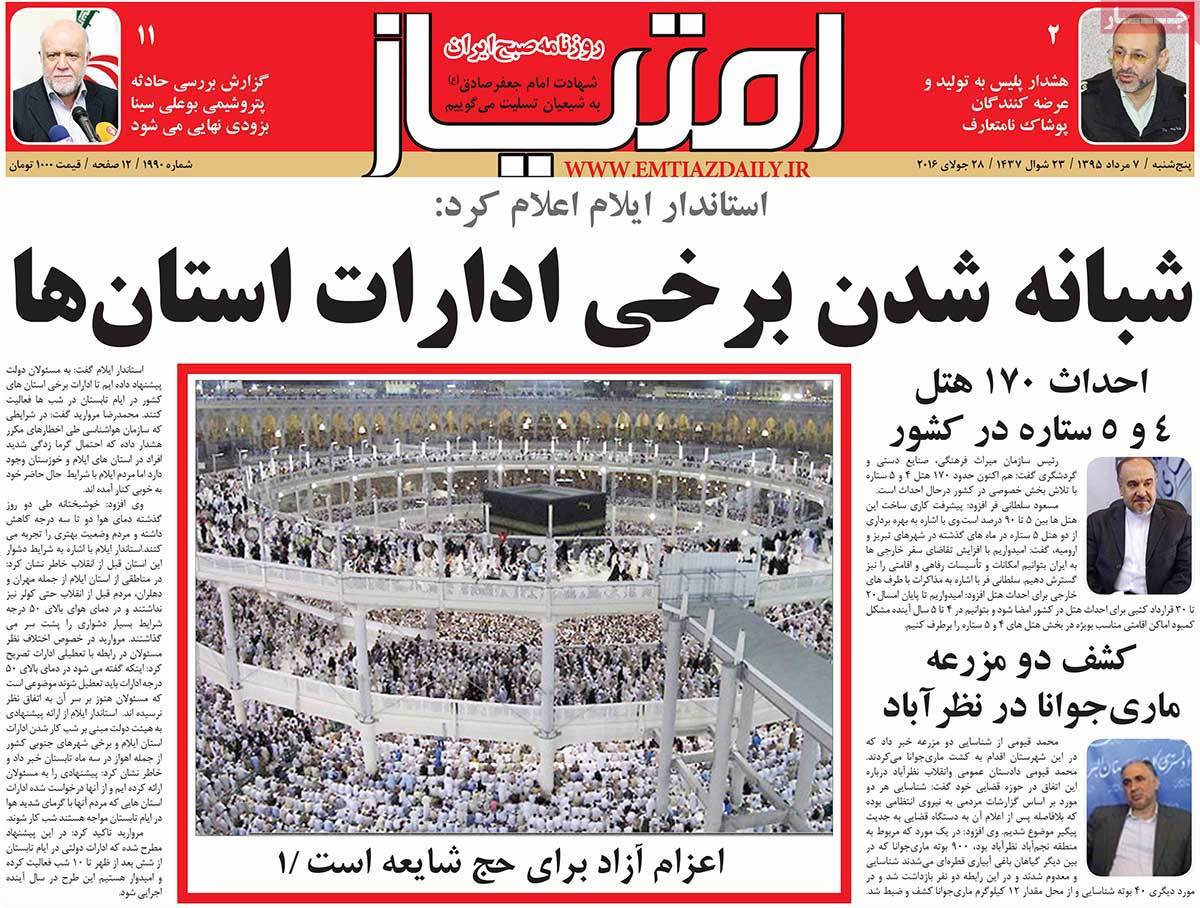 ---
Etemad:
1- A Woman's Turn: Will Clinton Become First US President?
---
Ettela'at:
1- Bahrain's Unprecedented Protests against Al Khalifa Regime: Any Move against Sheikh Qassim Will Open Doors of Hell to Al Khalifa Regime, Protesters Say
2- In a New Atrocity, Saudi Hirelings Mutilate 20 Yemeni Civilians
3- ISIS Terrorists' Attack on Syria's Qamishli Kill 50 and Wounds 170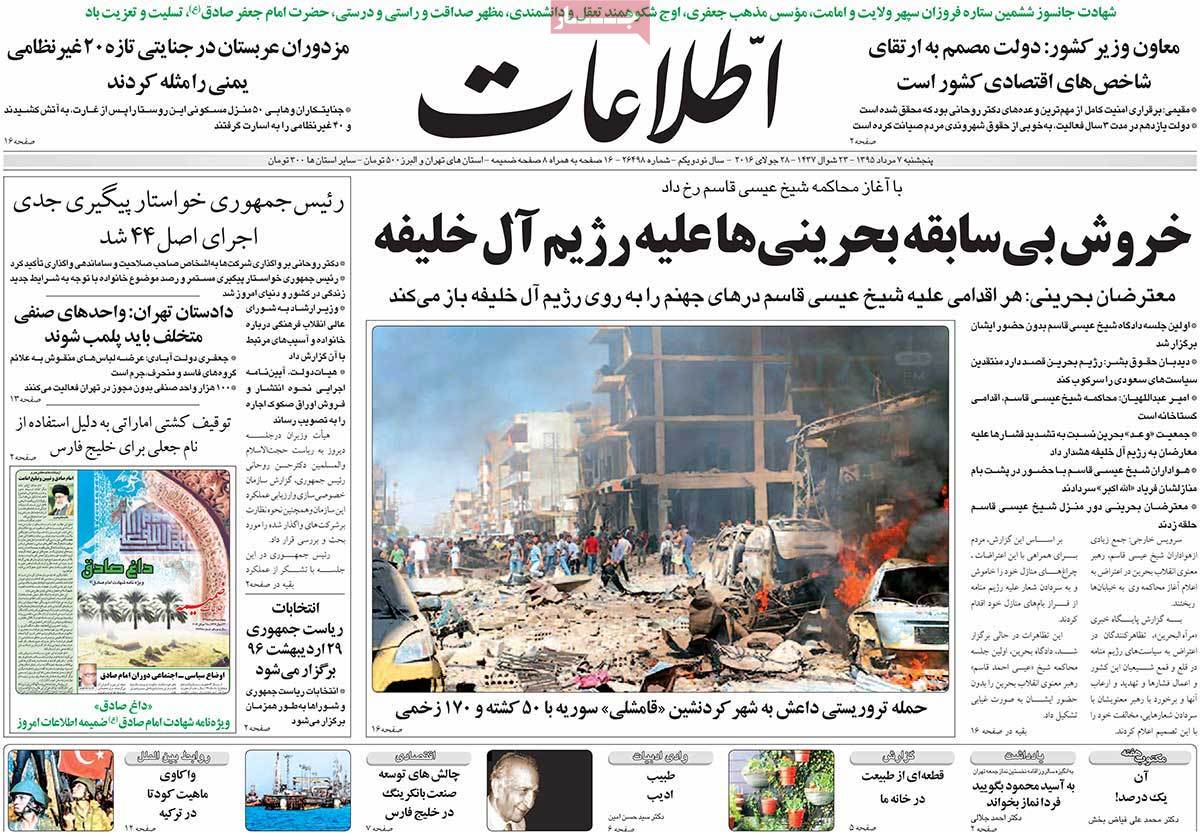 ---
Haft-e Sobh:
1- Astronomical Salaries: This Time in Football
2- Pokemon Go Is Filtered in Iran
---
Iran:
1- Hot Days of Tehran Stock Exchange Market: Constant Growth of Index Since Early July
2- No Need for Exhumation of Kiarostami's Grave
3- ISIS's Suicide Attack to Take Revenge from Syrian Kurds
4- Joint Measures to Reinforce Security of Iran-Pakistan Borders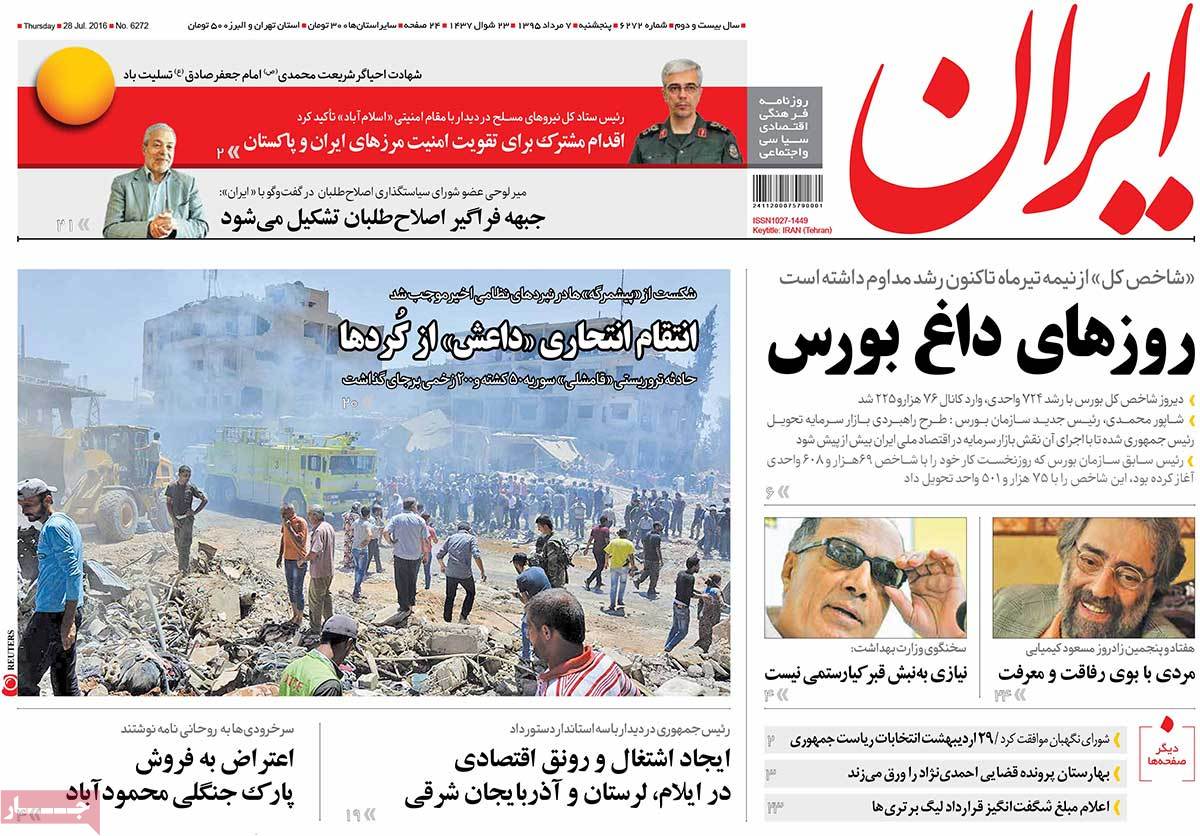 ---
Jame Jam:
1- Bahrain, the Biggest Prison in Western Asia
2- Smuggled Phones Sold in Cyberspace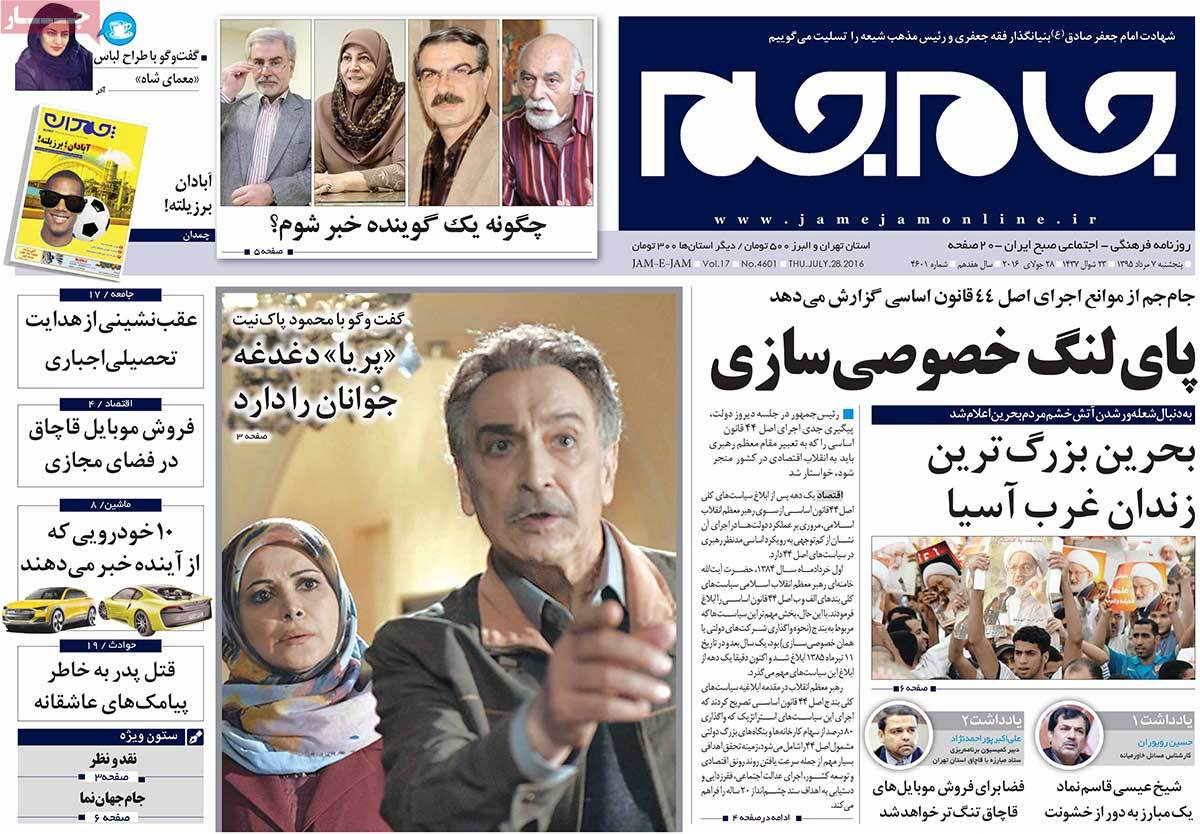 ---
Javan:
1- Order to Reconsider Deal with FATF: Transparency of Media Saves Iran's Banking System
2- Iraqi Basij (Voluntary Forces) Becomes Official: Iraqi PM Turns Hashid al-Shaabi into Official Forces under Prime Minister's Office
3- Sheikh Qassim's No to Bahraini Court: Trial Postponed
---
Jomhouri Eslami:
1- 21% Growth in Value of Iran's Non-Oil Export in Past 4 Months
2- Iranian and Foreign Analysts: JCPOA to Remain in Place Despite Change of Governments
3- Funeral Held for 127 Martyrs of Iran-Iraq War in 23 Provinces
4- Moscow: US No Longer Wants Overthrow of Assad
5- Bahraini People Pour into Streets in Protest at Trial of Sheikh Qassim
---
Ka'enat:
1- Syrian Army Approaches Nest of Terrorists in Aleppo
2- Huge Blast in Syria's Qamishli Kills and Wounds 214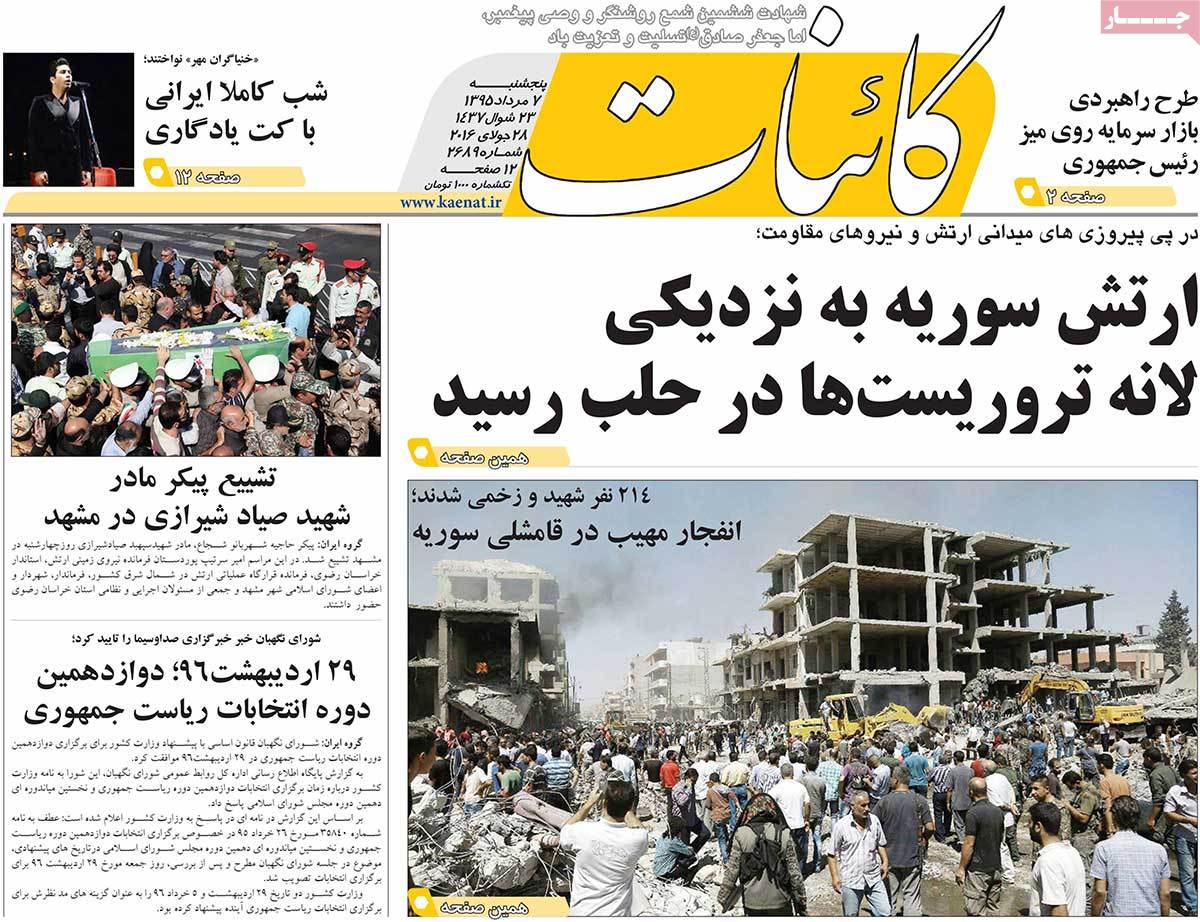 ---
Kayhan:
1- US Has No Position in Iraq, Popular Forces to Liberate Mosul: Iraqi Media Official Tells Kayhan
2- People Surround Sheikh Qassim's House: Al Khalifa Postpones Trial
3- Deputy FM: JCPOA Includes Balance and Termination of Sanctions, But Only on Paper!
4- Siege of Aleppo Is Completed; Syrian Army to Terrorists: Surrender!
---
Khorasan:
1- Increase in Non-Oil Exports after Months of Economic Downturn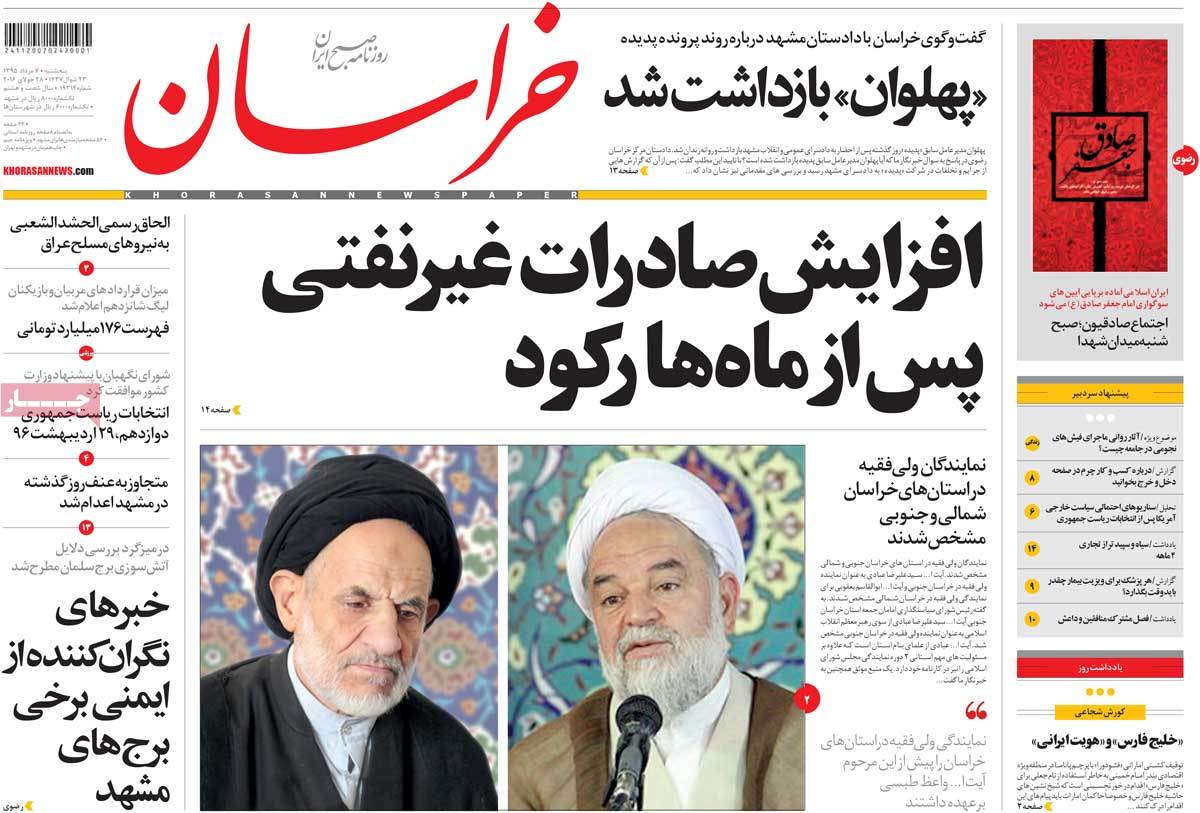 ---
Shahrvand:
1- Game of Billionaires: Disclosure of Money Iranian Football Players and Coaches Receive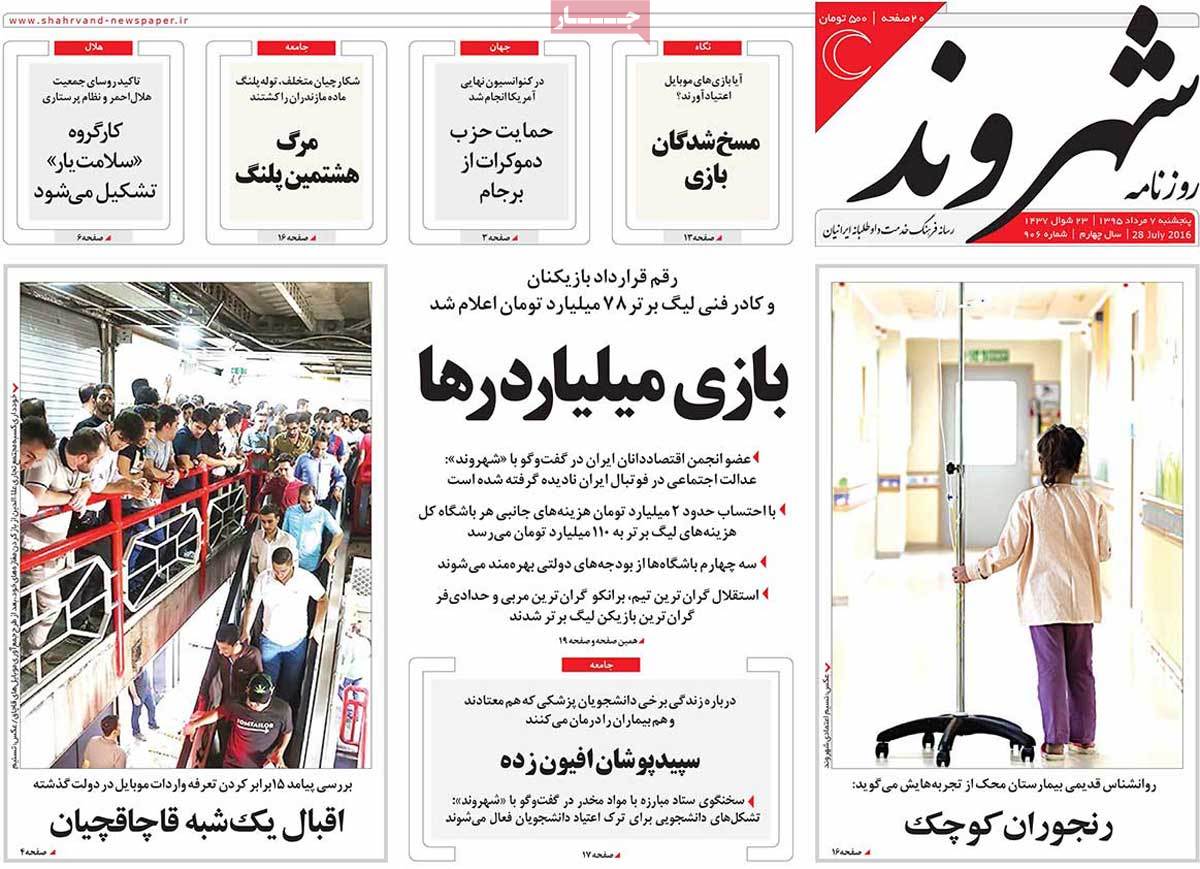 ---
Shargh:
1- Putin's Conspiracy for Trump's Victory
2- Zarif in Fourth Day of African Tour: It's Time for Expansion of Economic Cooperation
---
Vaghaye Ettefaghieh:
1- Fallujah, the City of Ghosts: The City Burnt by Terrorists
2- Fear of Hope in Iran's Parliament: A Report on Violation of Commitments by Certain Members of List of Hope