The oil tanker tragedy, in which 32 sailors lost their lives after their ship collided with a bulk freighter and sank in East China, remained the top story in all newspapers today.
Another top story these days is the extremely low precipitation in Iran and the dry year ahead of the country. Several papers covered a report about a group of people in Birjand, eastern Iran, who have started praying and offering sacrifice to ask God for rainfall.
The 13th conference of the Parliamentary Union of the Organization of Islamic Cooperation (OIC) Member States (PUIC), which got underway in Tehran on Tuesday morning, also received great coverage.
The above issues, as well as many more, are highlighted in the following headlines and top stories:
Abrar:
1- Iran Leader Offers Condolences over Death of Oil Tanker Workers
2- Herat Employee Arrested on Charge of Spying for Iran
3- Iran MP: China's Performance in Sanchi Incident Ambiguous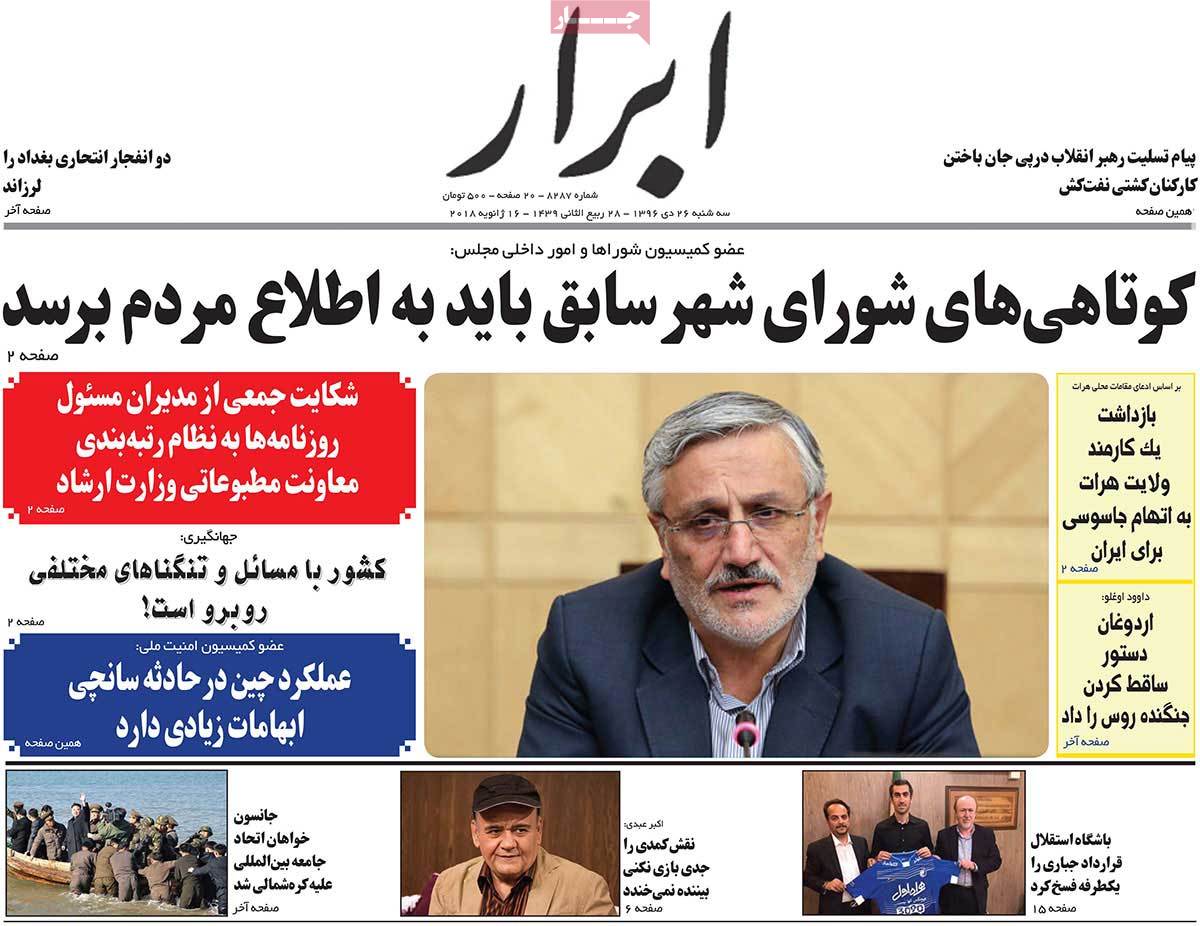 ---
Afkar:
1- Weak Operation, Weaker Diplomacy
MPs Slam Foreign Ministry's Negligence in Dealing with Oil Tanker Incident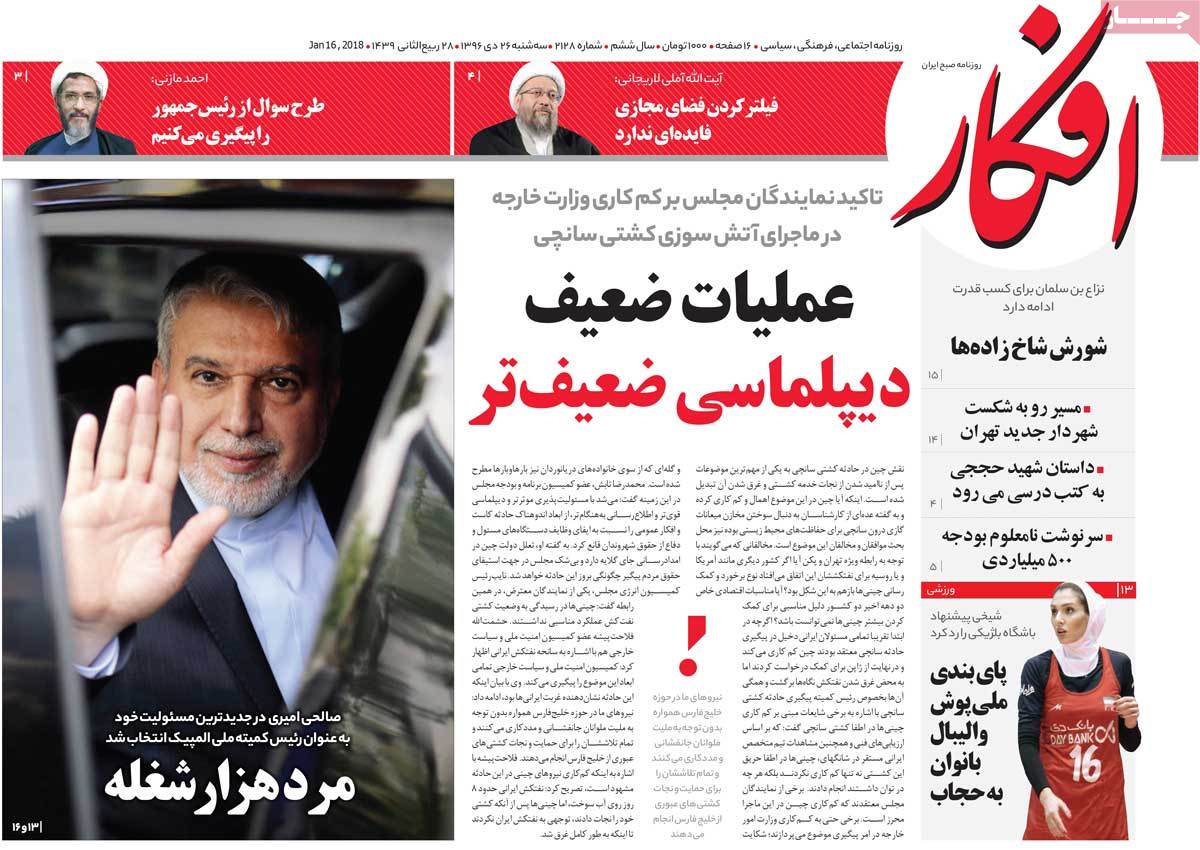 ---
Aftab-e Yazd:
1- Sailors Were Alive after Incident: Experts
2- It's Both Beautiful, Heartbreaking: People Pray for Rain in Birjand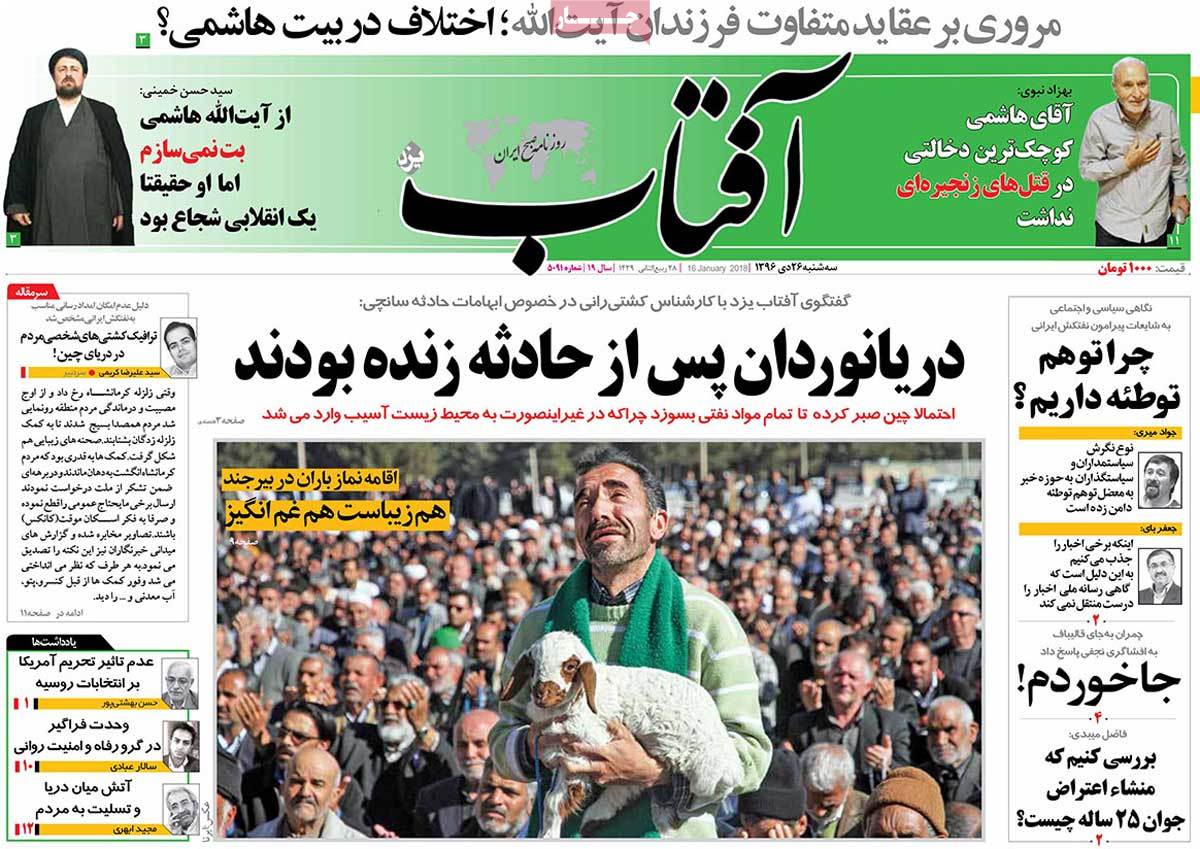 ---
Arman-e Emrooz:
1- Iran First VP: National Dialogue Only Way to Overcome Problems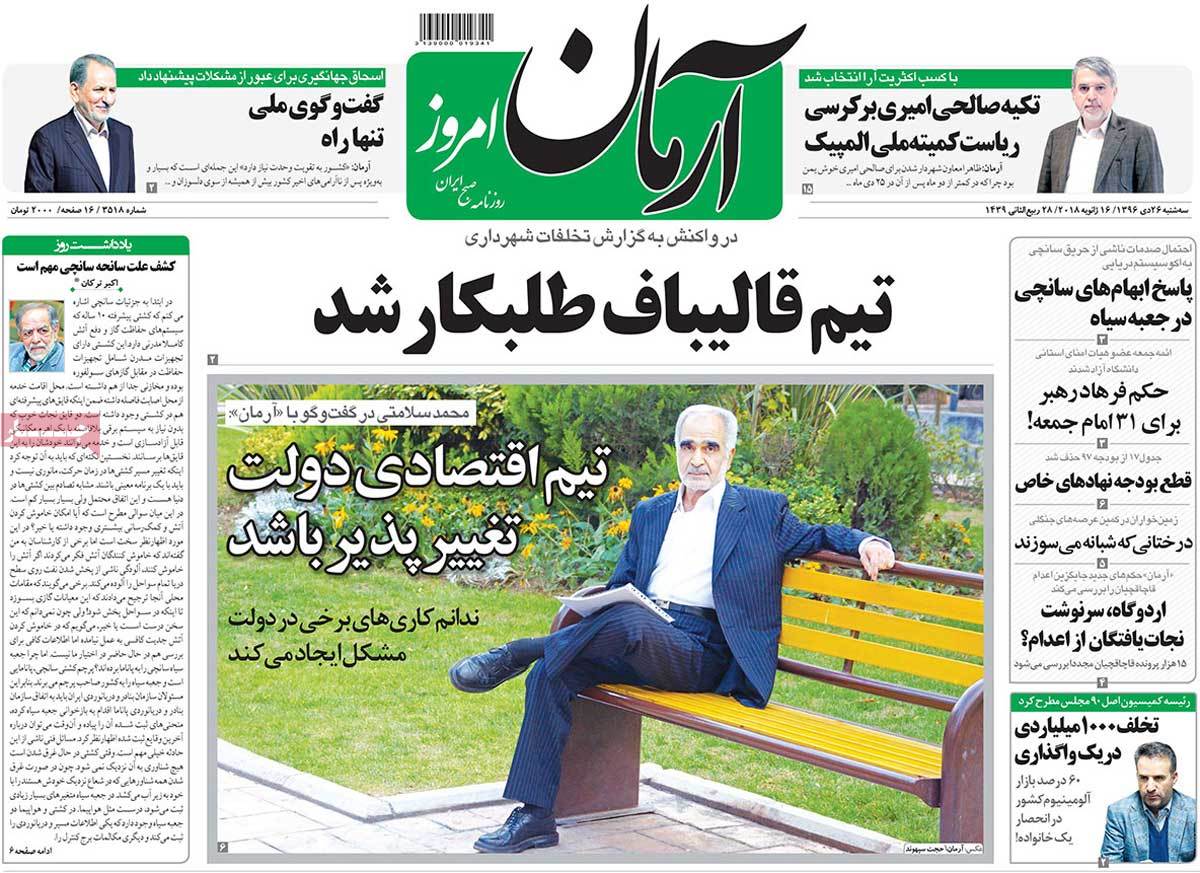 ---
Ebtekar:
1- Border Clash between India, Pakistan: Repetition of Crisis in Subcontinent
2- Tears of Rain, Sorrow of Snow on Faces of Iranians
A Report on Impacts of Low Precipitation on People's Souls
3- President Rouhani: Responsible or Critic? A Report on Rouhani's Critical Stances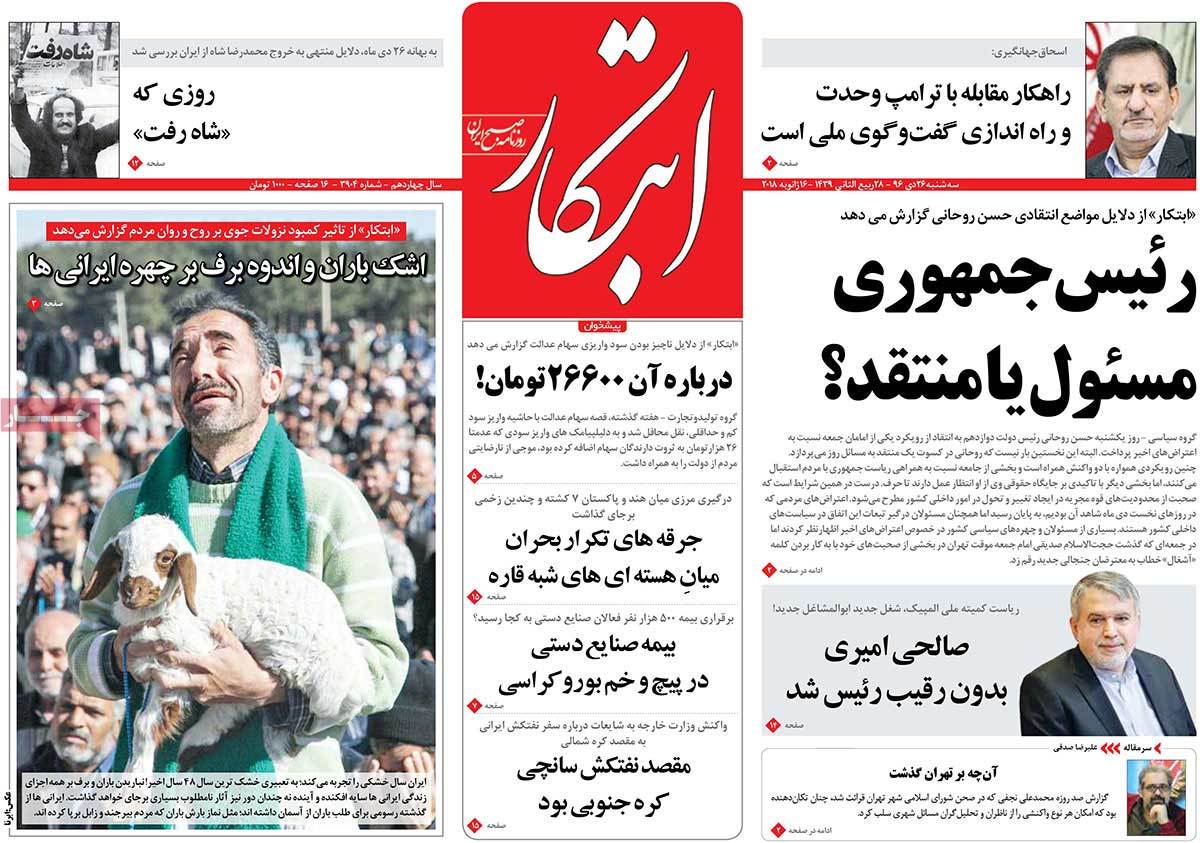 ---
Etemad:
1- Iran Nuclear Deal, Leverage for Progress
Implementation of JCPOA Enters Third Year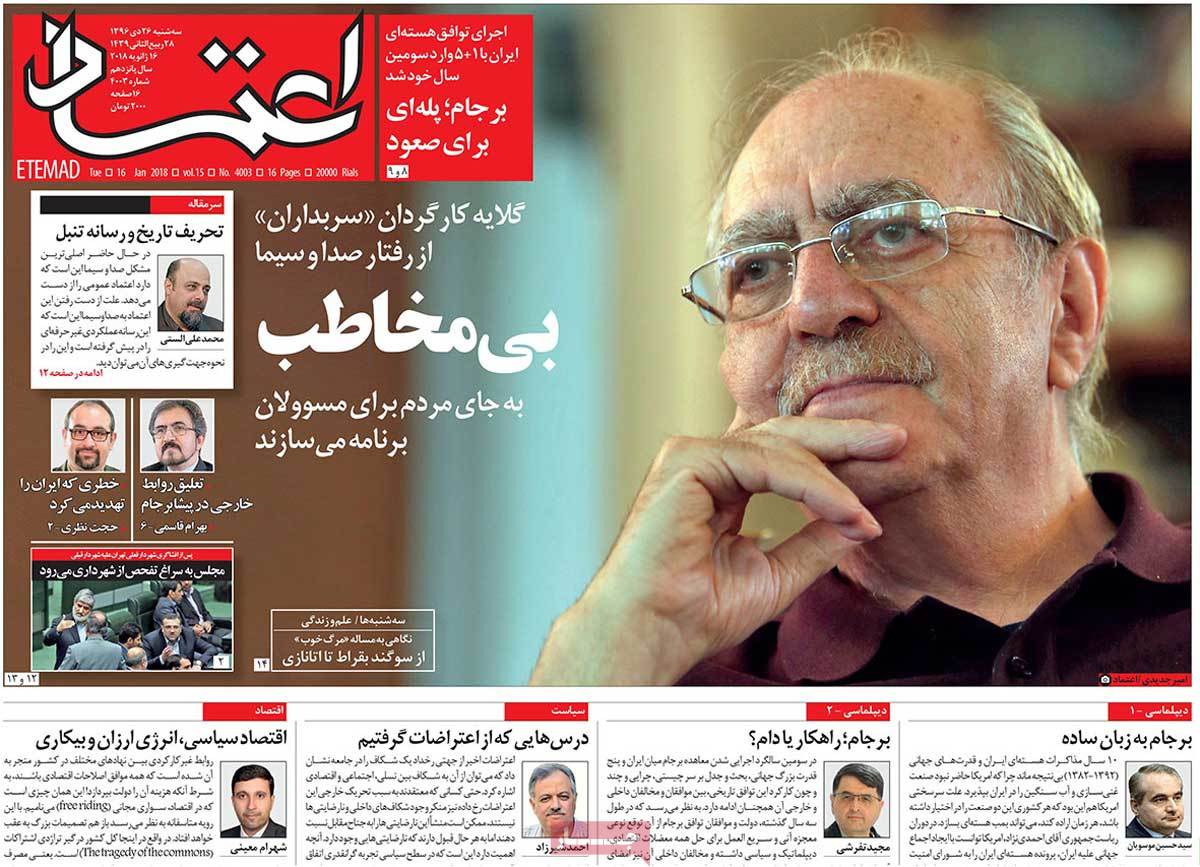 ---
Ettela'at:
1- Lavrov: Iran Nuclear Program Not Negotiable
2- Larijani: We Should Let Entire World Hear Voice of Palestinian People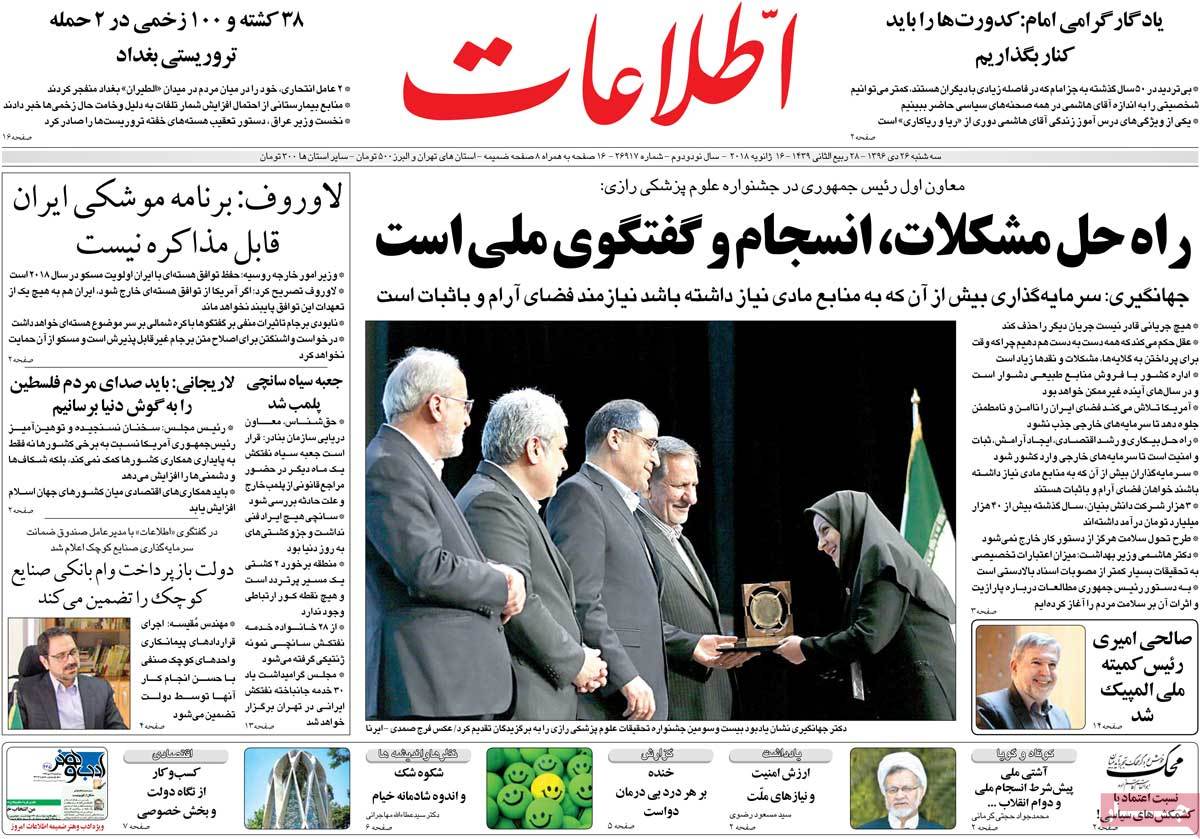 ---
Iran:
1- Everlasting Sorrow: People Mourn Deaths of Sanchi Sailors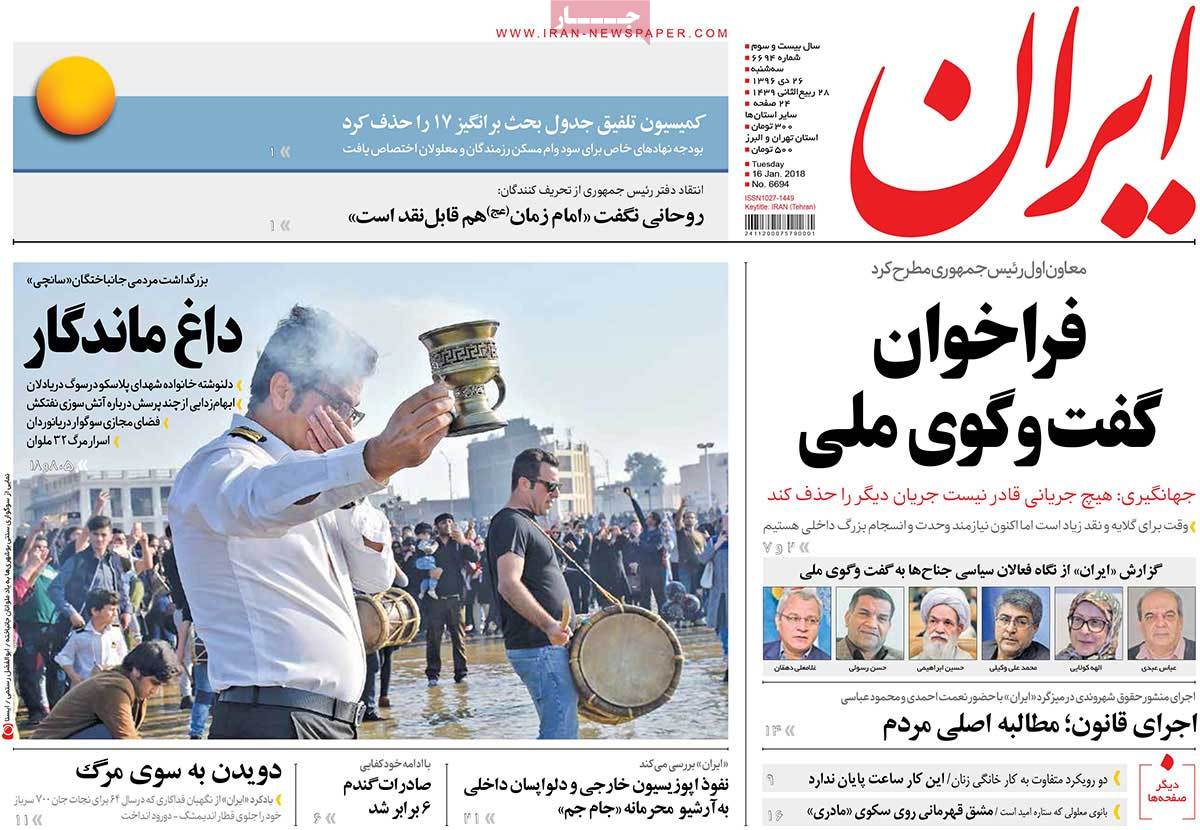 ---
Javan:
1- Europe Seems to Be Compromising with US over Iran Nuclear Deal
2- Decoding Oil Tanker's Black Box Postponed to 3 Months Later
3- Food Prices Dropping in World, Rising in Iran
FAO: Price of Food Products Dropped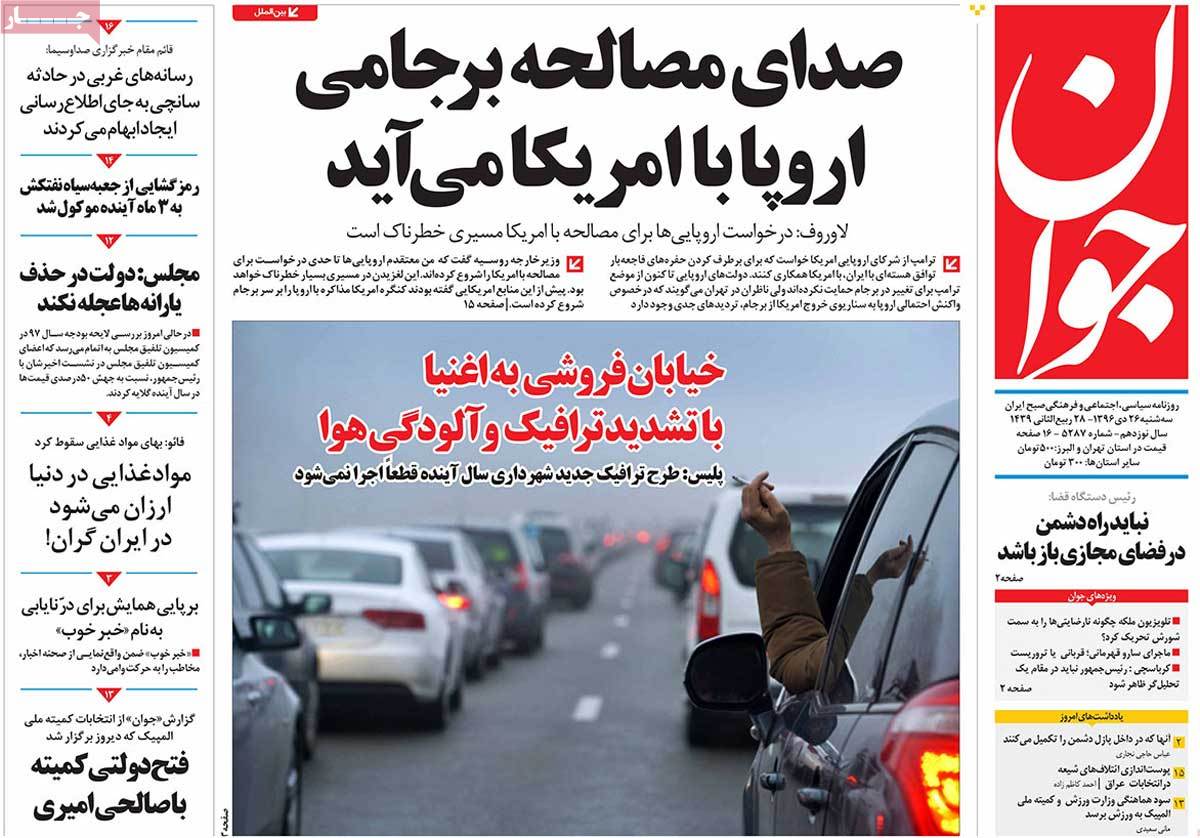 ---
Jomhouri Eslami:
1- 13th Conference of OIC's Parliament Speakers to Start in Tehran Today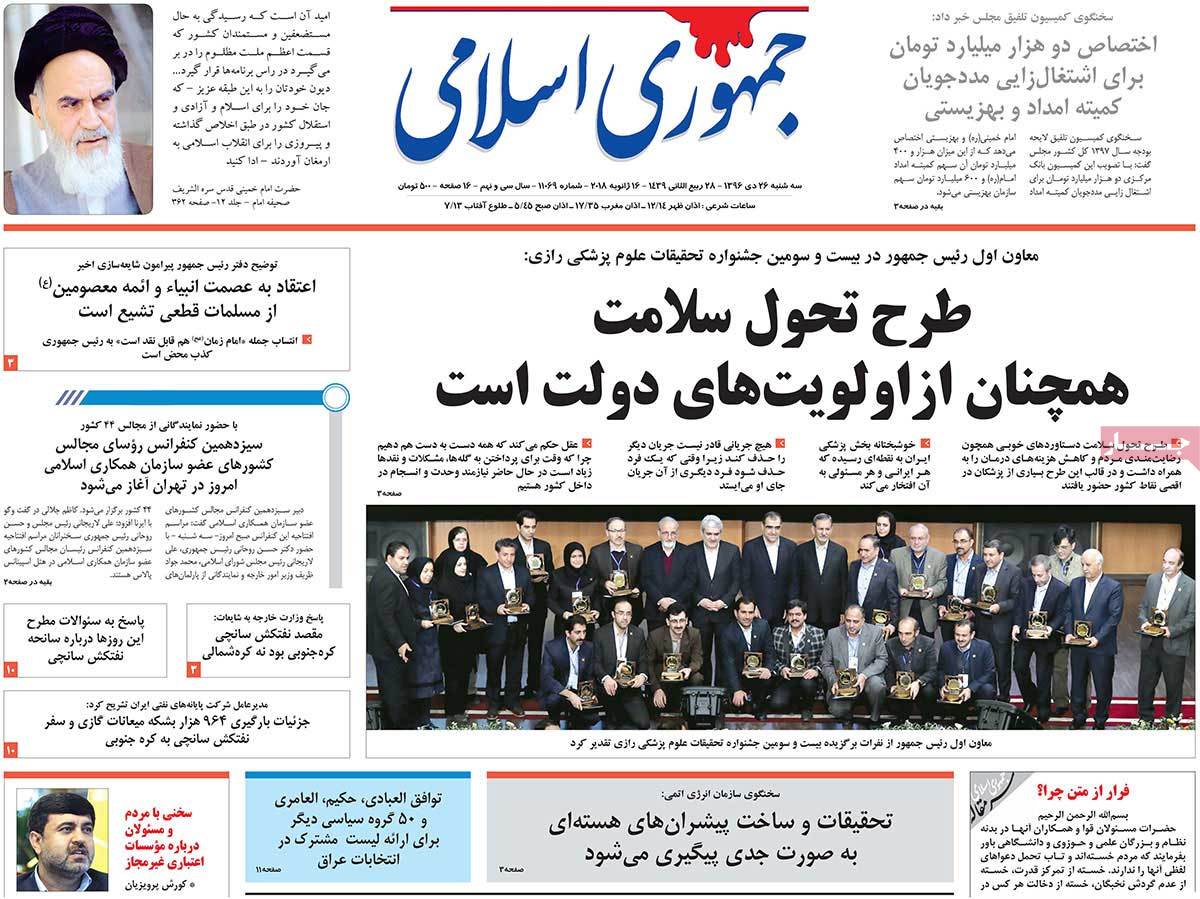 ---
Ka'enat:
1- Preserving Iran Nuclear Deal to Be Moscow's Top Priority in 2018: FM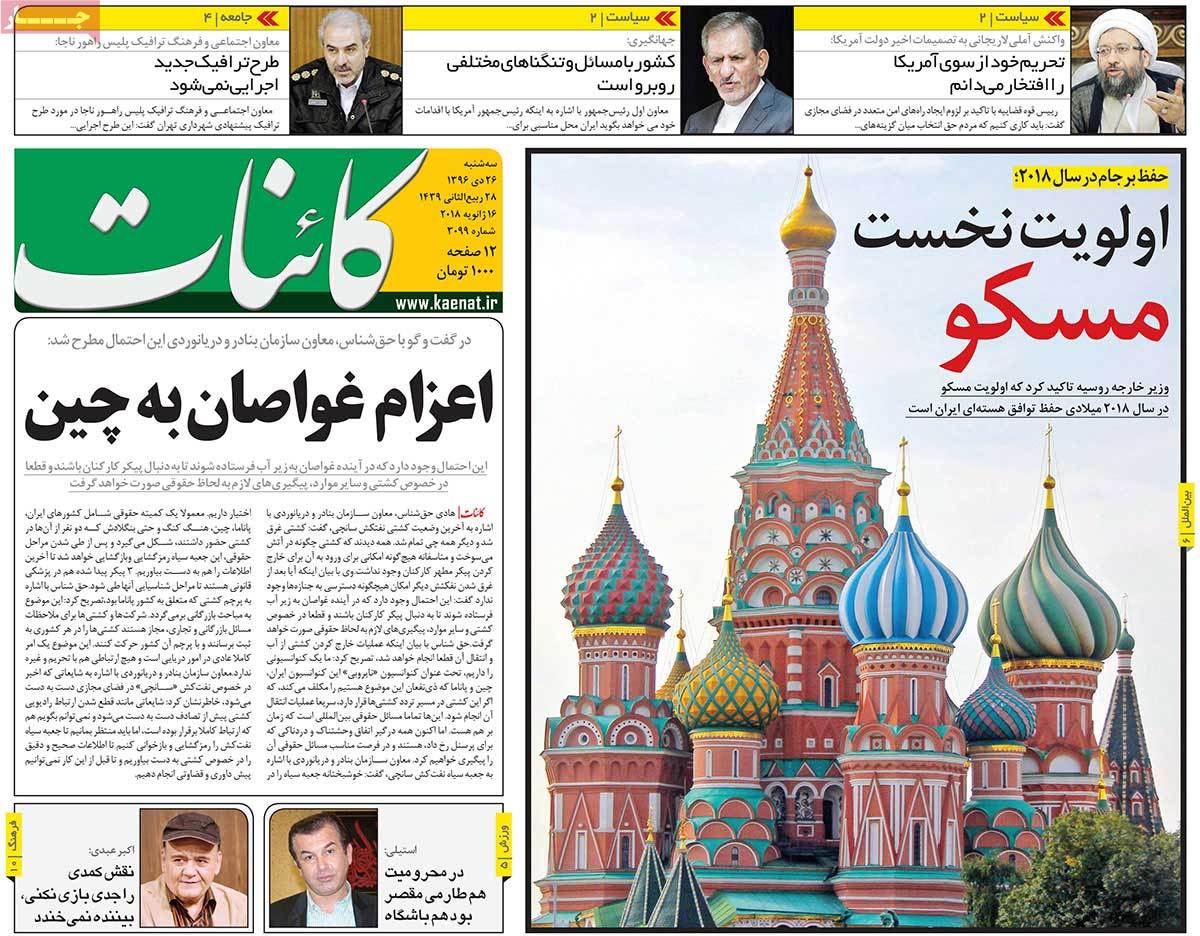 ---
Kayhan:
1- From China to US: Social Media Not Fully Open in Any Country
2- Power Struggle in Saudi Dynasty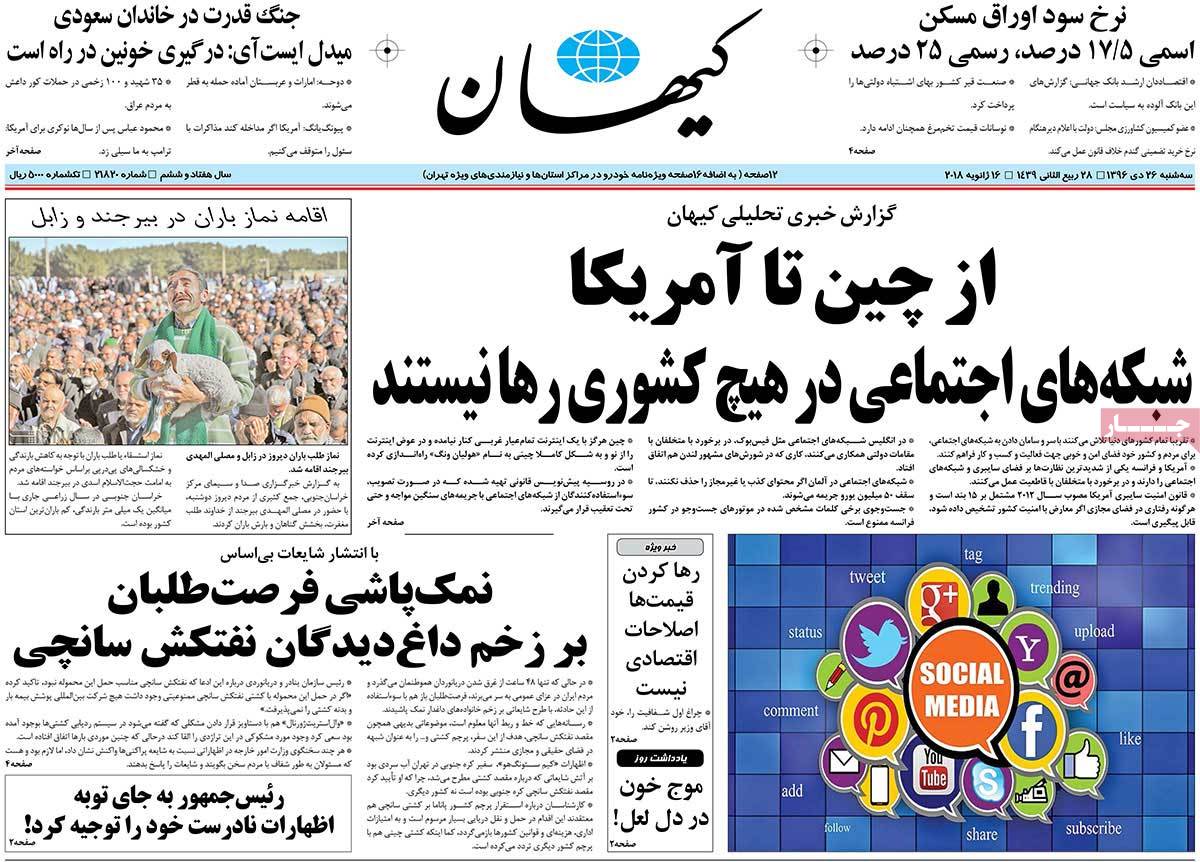 ---
Khorasan:
1- Wave of Rumours about Sanchi Tragedy: Ambiguities in Bitter Incident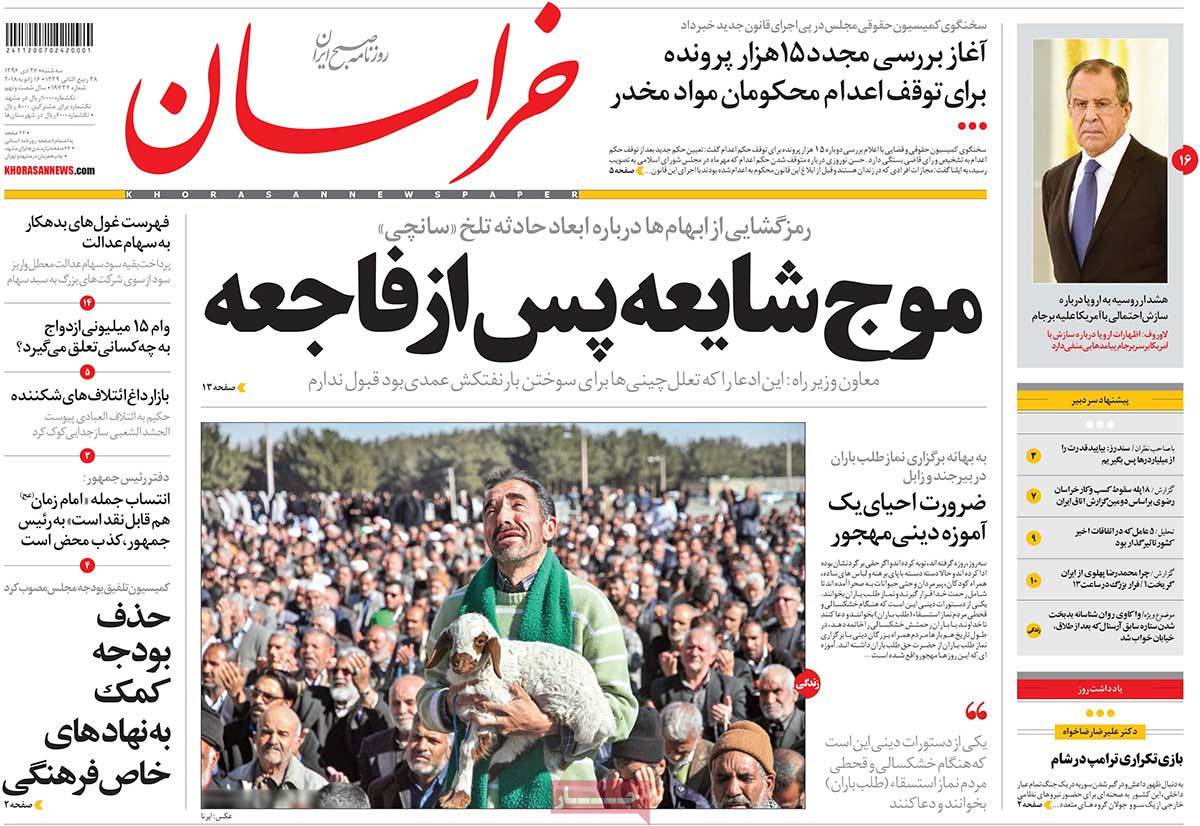 ---
Resalat:
1- Judiciary Chief: Iran Not to Remain Silent towards US Sanctions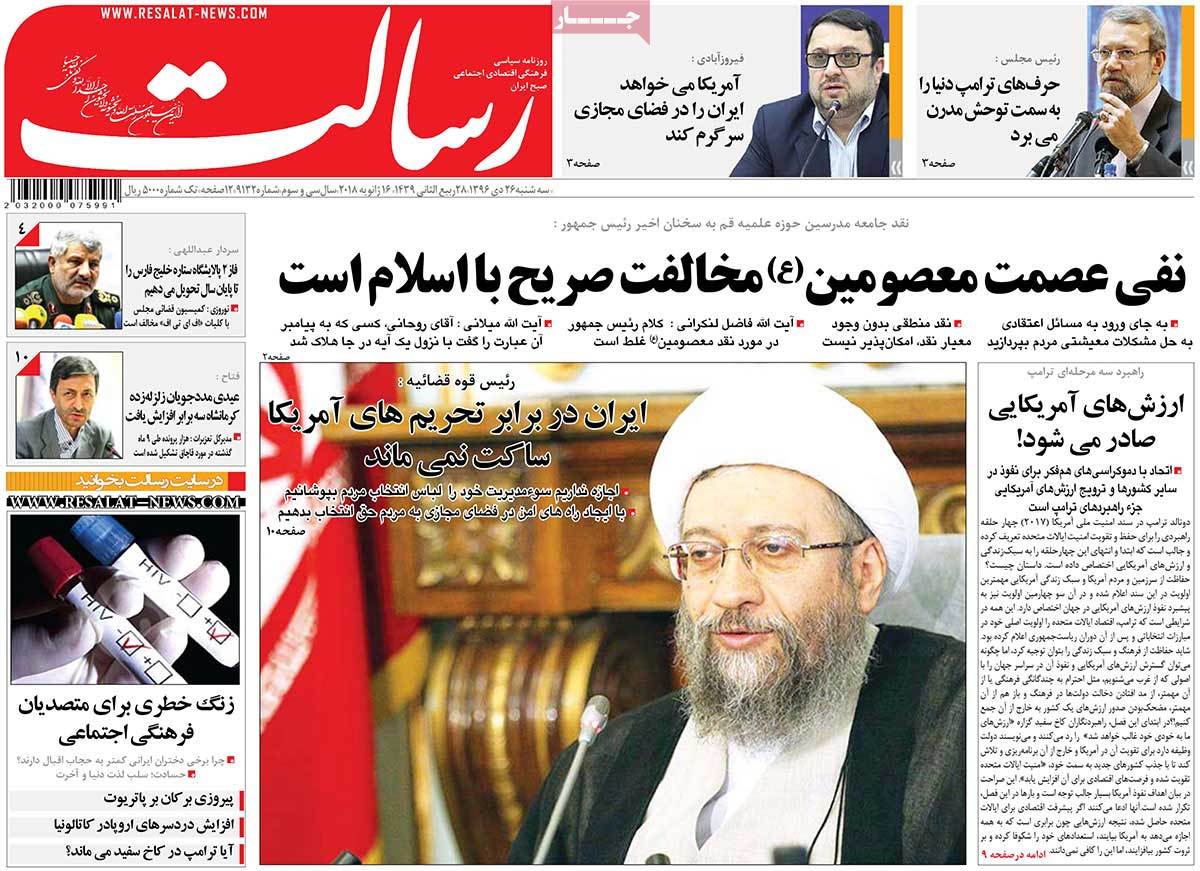 ---
Setareh Sobh:
1- Revolution against Revolution in Tunisia
2- German Green Party's Lawsuit against Shahroudi Was General: Politician
---
Shahrvand:
1- Mysterious Ship in China Waters
2- Humans Self-Flagellating by Destructing Their Own Environment in Extremely Fast Pace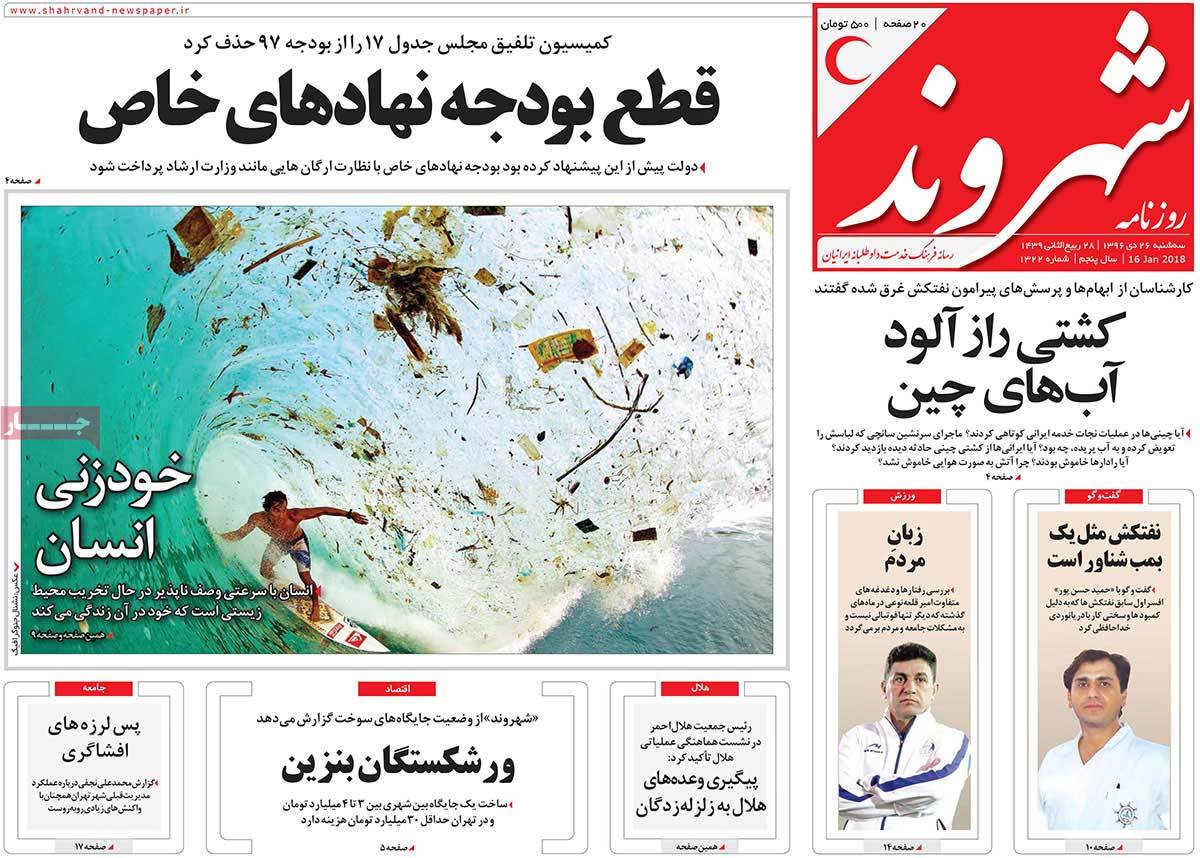 ---
Shargh:
1- Merkel Stands by Macron to Counter Trump