The majority of Iranian newspapers on Monday covered the inauguration of several mega projects in South Pars (SP) Gas Field in southern Iran, including the launch of SP Phases 17, 18, 19, 21 and 22 – with an investment of $20 billion – by Iranian President Hassan Rouhani, as a national historic victory and achievement.
Turkish President Recep Tayyip Erdogan's victory in the country's nationwide referendum on Sunday (April 16), winning 51.5 per cent of the votes, was also a main focus of the Iranian daily newspapers.
The deadly flood in northwestern Iran, which killed at least 41, and the criticisms raised against the government's aid delivery to the flood-hit people, also received wide coverage by Iranian newspapers.
Also in the limelight were Iran's May 19 presidential elections, candidate hopefuls' remarks as well as policies and strategies and the stances held by reformists and conservatives towards their nominees. One newspaper quoted a reformist analyst as saying that the conservative party's main candidate Seyyed Ebrahim Raisi has not been received very well by his fellow partisans as they know that he is not going to win the election.
International reactions to the brutal massacre of the Syrian children and women of the Shiite-populated villages of al-Foua and Kefraya while being transferred by buses to the city of Aleppo constituted the other major portion of the news stories in today's papers.
Among the other news stories were Russia's preconditions for selling Sukhoi airplanes to Iran, the ISIS' chemical attack on the western part of the northern Iraqi city of Mosul, the release of $37 billion worth of Iranian assets, the Iranian Foreign Ministry's submission of a three-month report about the implementation of the nuclear deal, US President Donald Trump's secret negotiations with North Korea, and the comments made by the Iranian judiciary spokesman, Gholam Hossein Mohseni-Ejei, concerning the  lawsuits filed against the country's former president, Mahmoud Ahmadinejad, and his vice president, Hamid Baqaei.
The above issues, as well as many more, are highlighted in the following headlines and top stories:
Abrar:
1- ISIS Launches Chemical Attack on Western Mosul
2- United Nations Condemns Attack on Civilians in on al-Foua, Kefraya
3- Turkey's Referendum, Constitutional Reform all to Benefit One Person
---
Afkar:
Victims of Azarbaijan Flood Need Immediate Help
---
Aftab-e Yazd:
1- Raisi Receives Cold Welcome from Conservatives
2- Russians' Excessive Expectations from Iran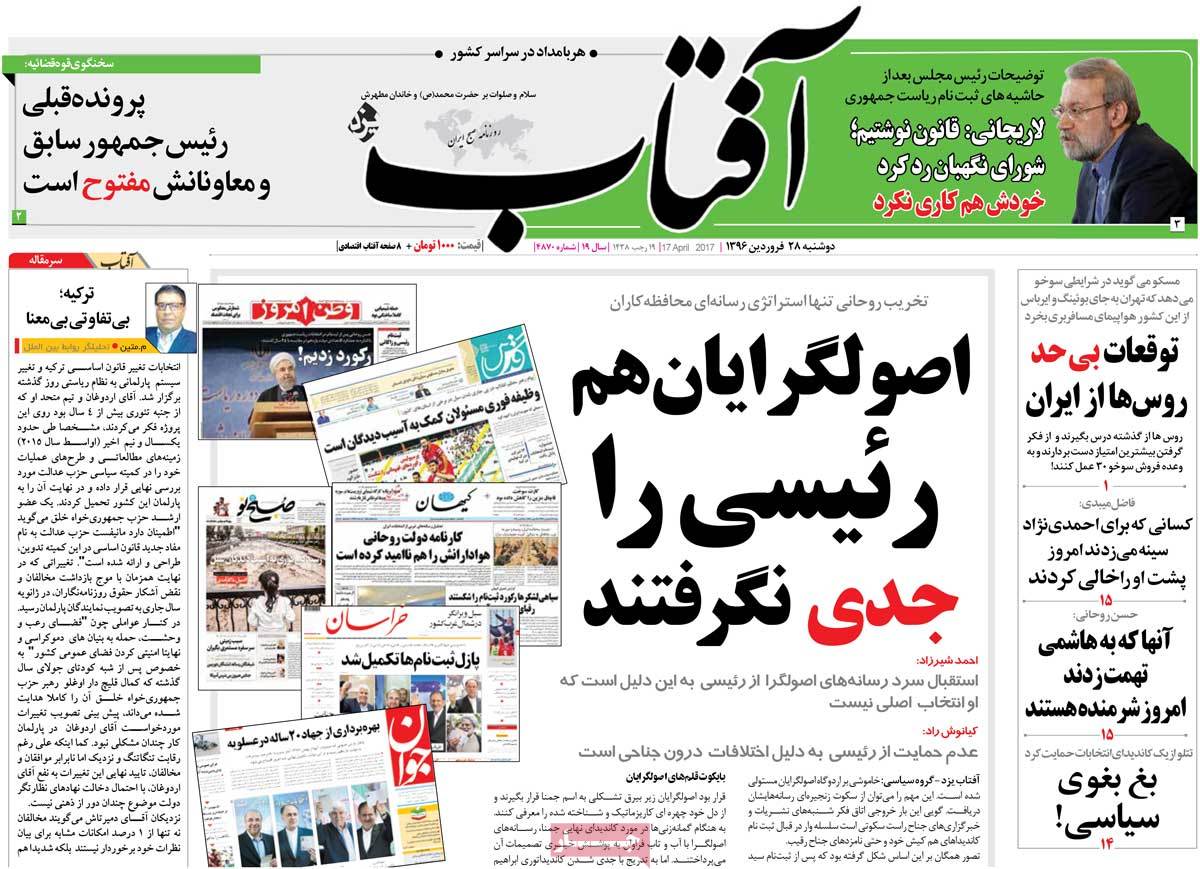 ---
Arman-e Emrooz:
1- Redemption in South Pars: President Inaugurates Six New Phases
2- Everybody Ready to Harangue Rouhani
3- 43 killed, Several Missing in Flood in East, West Azarbaijan Provinces
---
Ebtekar:
Iran Overcomes Qatar in South Pars Gas Field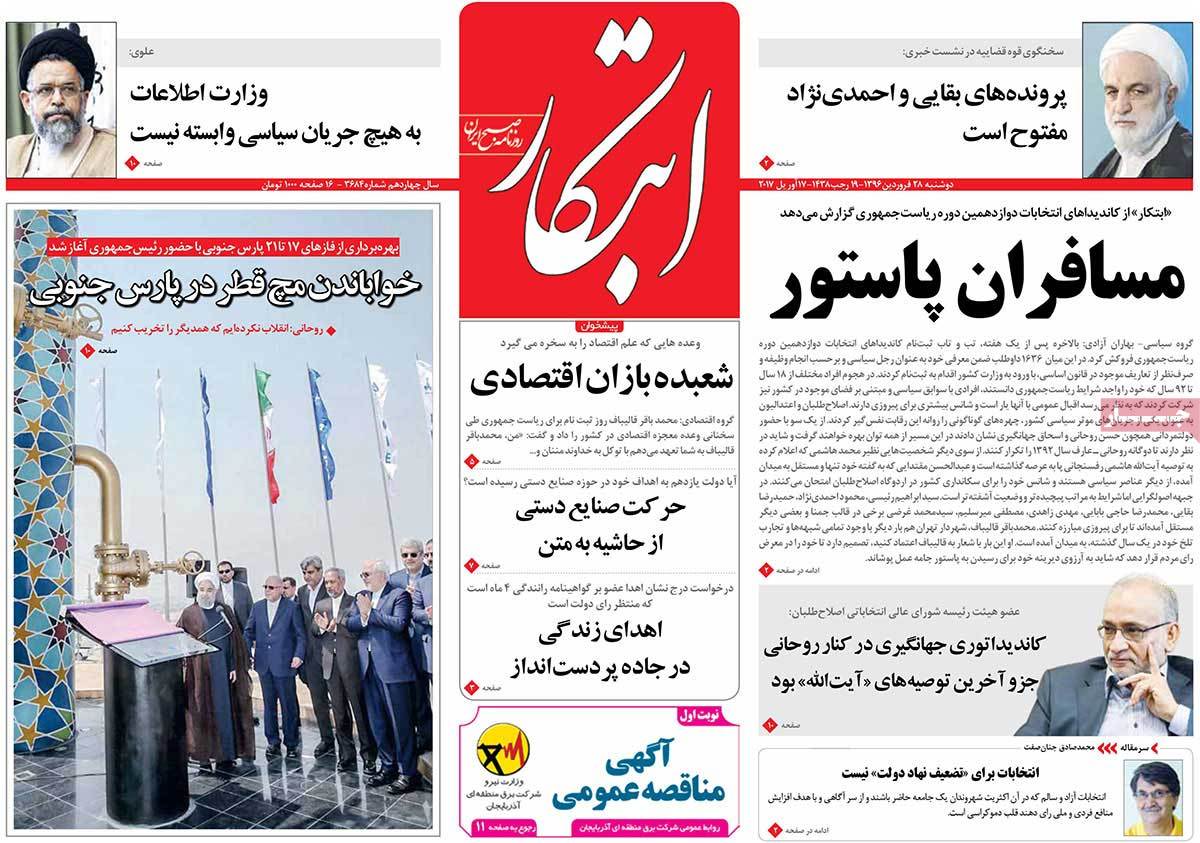 ---
Etemad:
1- Glorious Day: Iran Catches up With Qatar in SP Gas Extraction after 2 Decades
2- Erdogan Wins Turkey's Vote with Narrow Lead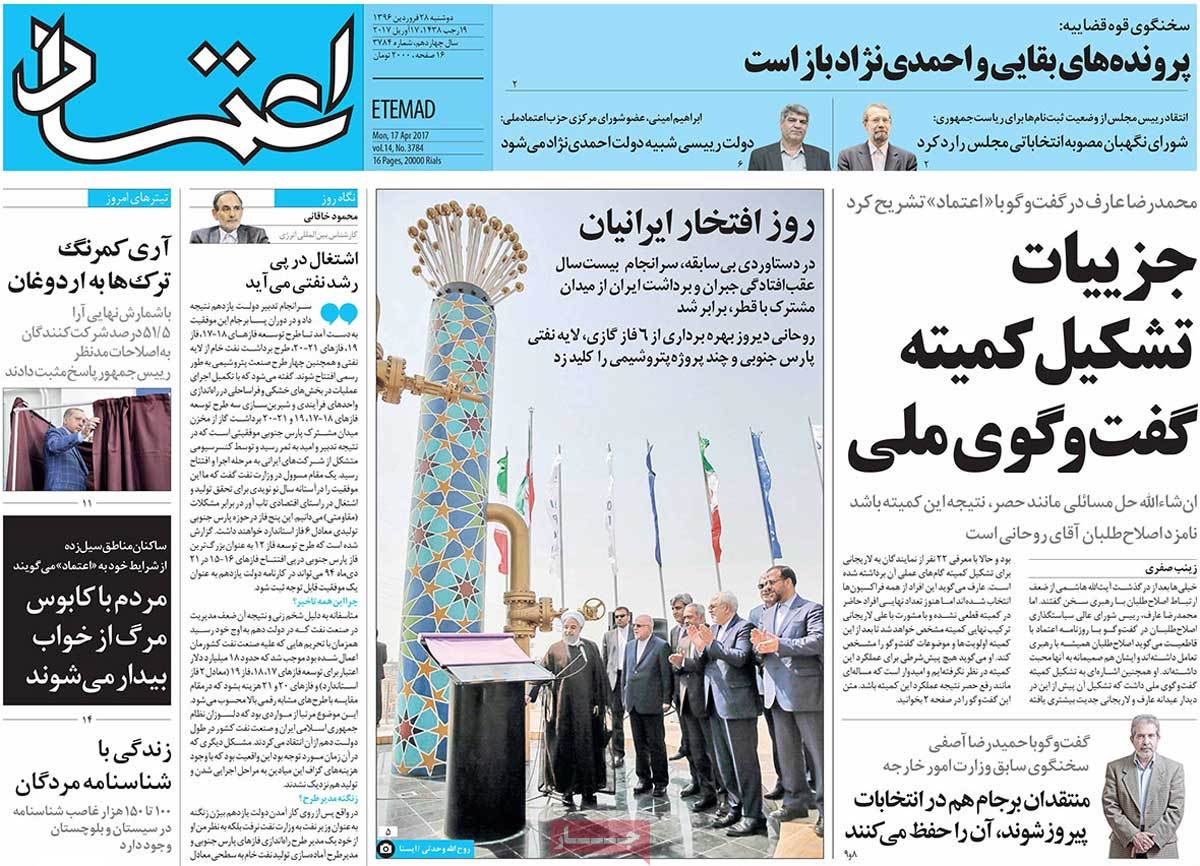 ---
Ettela'at:
1- 10 Mega Oil, Gas, Petchem Projects Launched in South Pars
2- International Community Widely Condemns Terrorist Attack on Shiites in Syria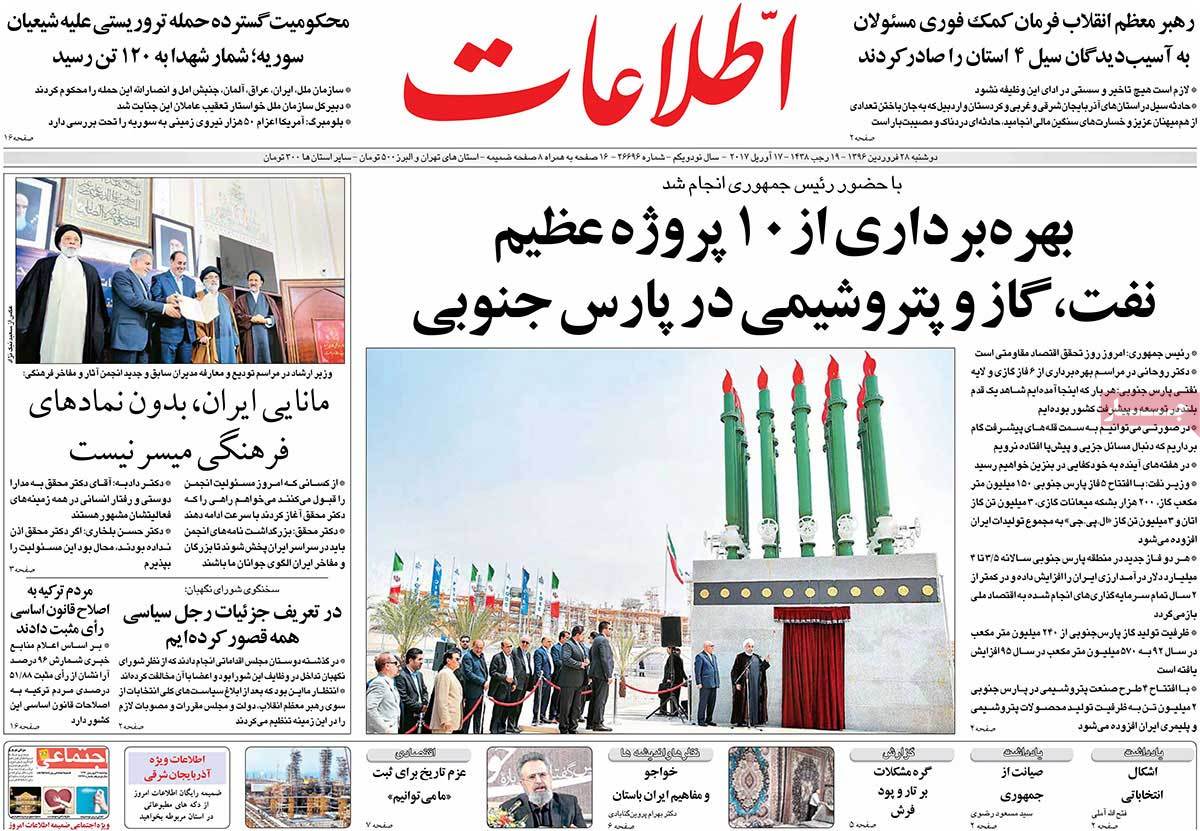 ---
Iran:
1- $37bn of Iranian Assets Released
2- Largest Projects in Iran's History Inaugurated in South Pars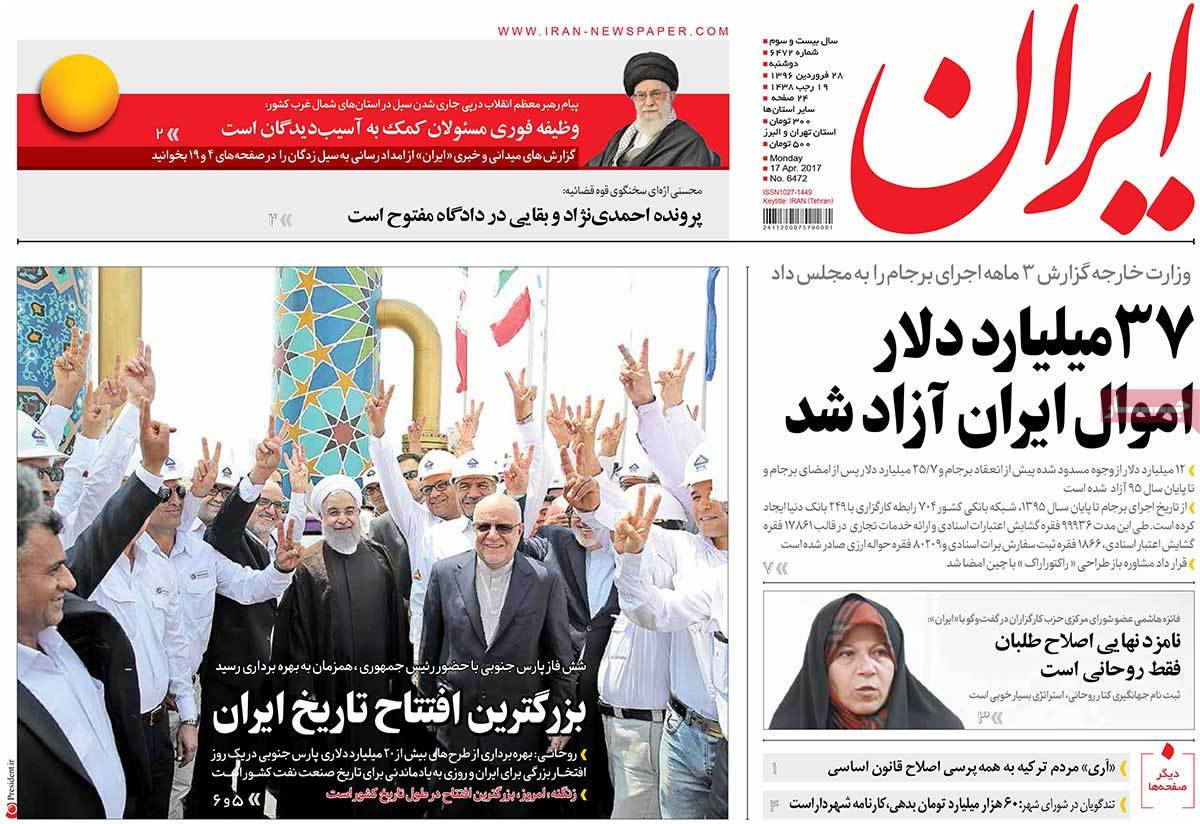 ---
Jame Jam:
Judiciary Spokesman: Electoral Offenders Will Be Punished
Iran Reclaims its Gas Share from Qatar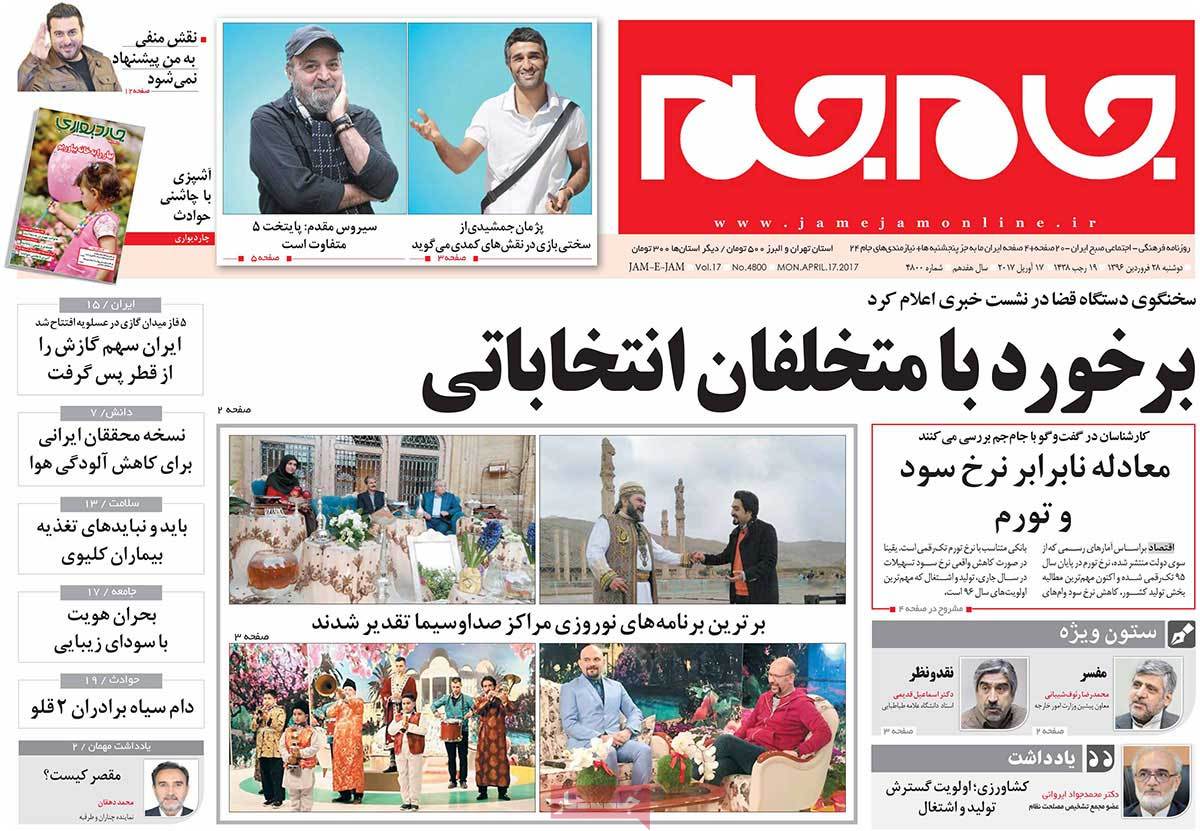 ---
Javan:
1- World Witnesses Bloodshed in Kefraya
2- Erdogan in Power until 2029
3- South Korean Sources: Trump Holds Secret Talks with Pyongyang amidst Tensions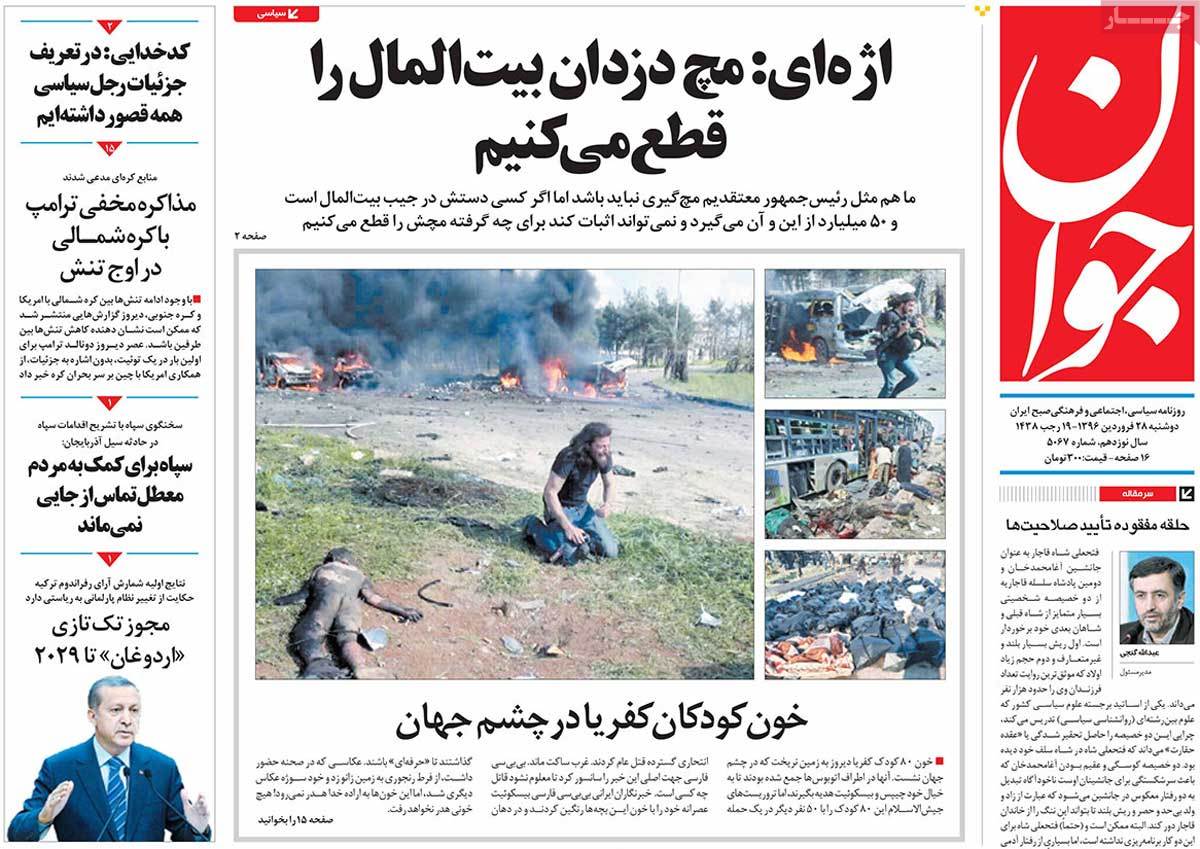 ---
Kelid:
1- Judiciary Spokesman Urges President to Take Action against Corruption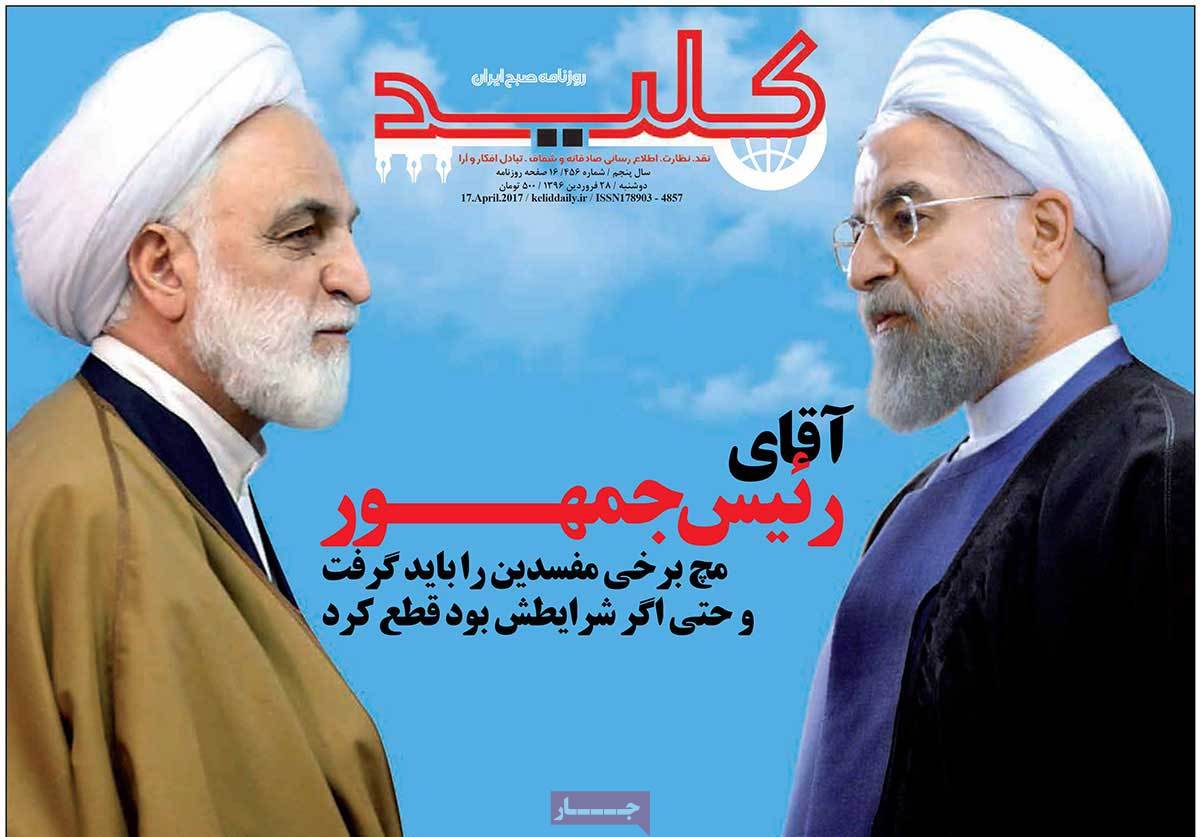 ---
Kayhan:
1- Selfie with Projects Others Have Implemented!
Over 90% of South Pars Projects Was Constructed before Rouhani's Presidency
2- Protest and Chaos in 150 US Cities: Trump Fans, Opponents Clash with Each Other
3- A Report on Reformists' Tactic for Election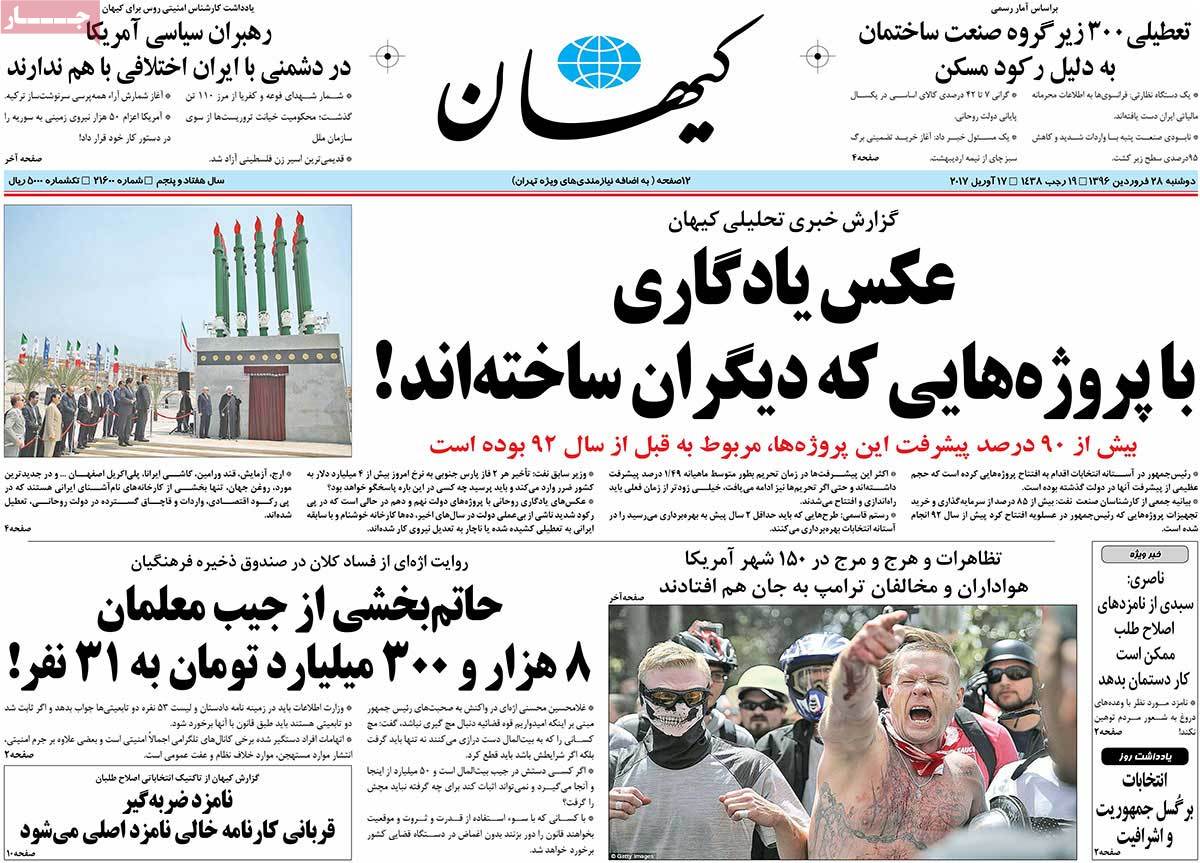 ---
Khorasan:
1- Erdogan Notches up Narrow Win in Referendum
2- Inauguration of Mega Projects Iran's South Pars Marks Historic Day for Iran
---
Resalat:
1- Gas Extraction from South Pars Begins
2- Guardian Council Head: Recognizing Enemies, Main Characteristic of Best Presidential Candidate
3- Americans, Takfiris Kill Children in Syria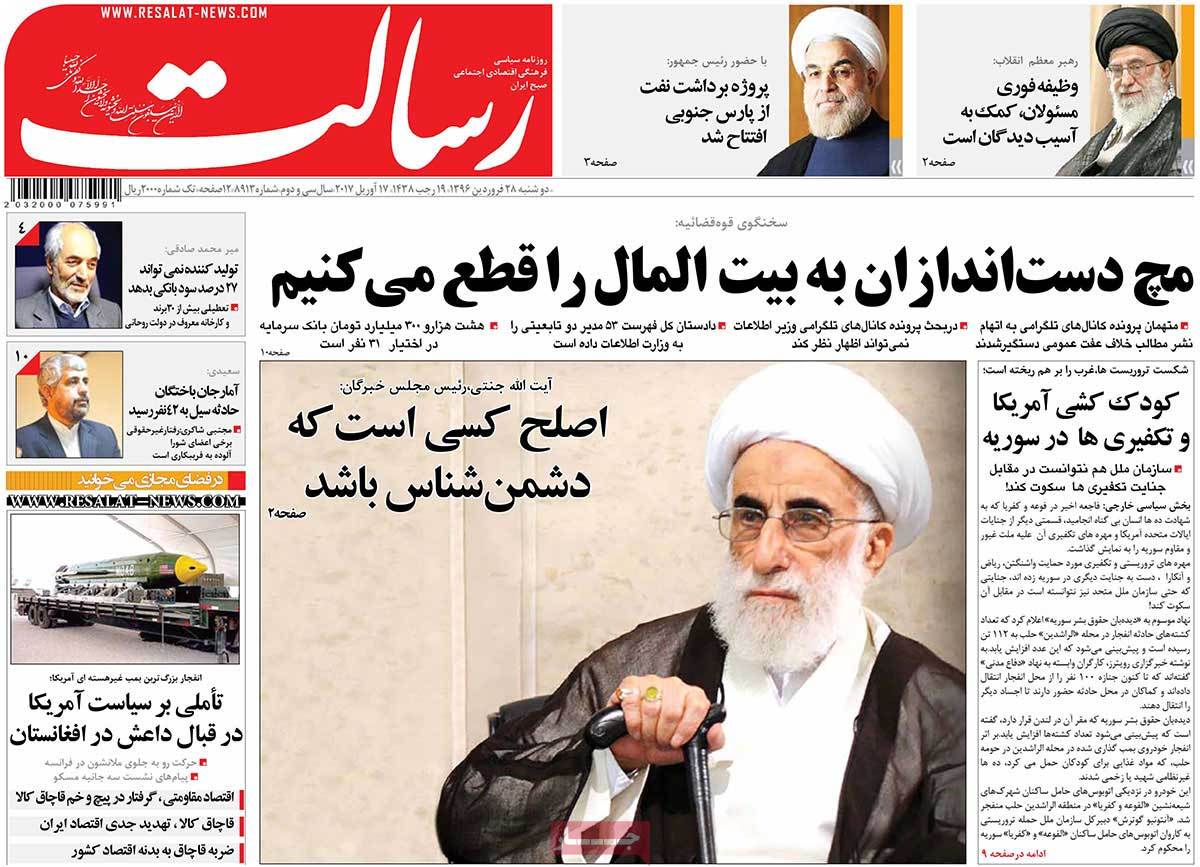 ---
Setareh Sobh:
1- Rouhani: Iran's Export of Oil, Gas Condensates Doubled in This Gov't
2- Oil Minister: 100,000 Jobs Created Thanks to New Oil Contracts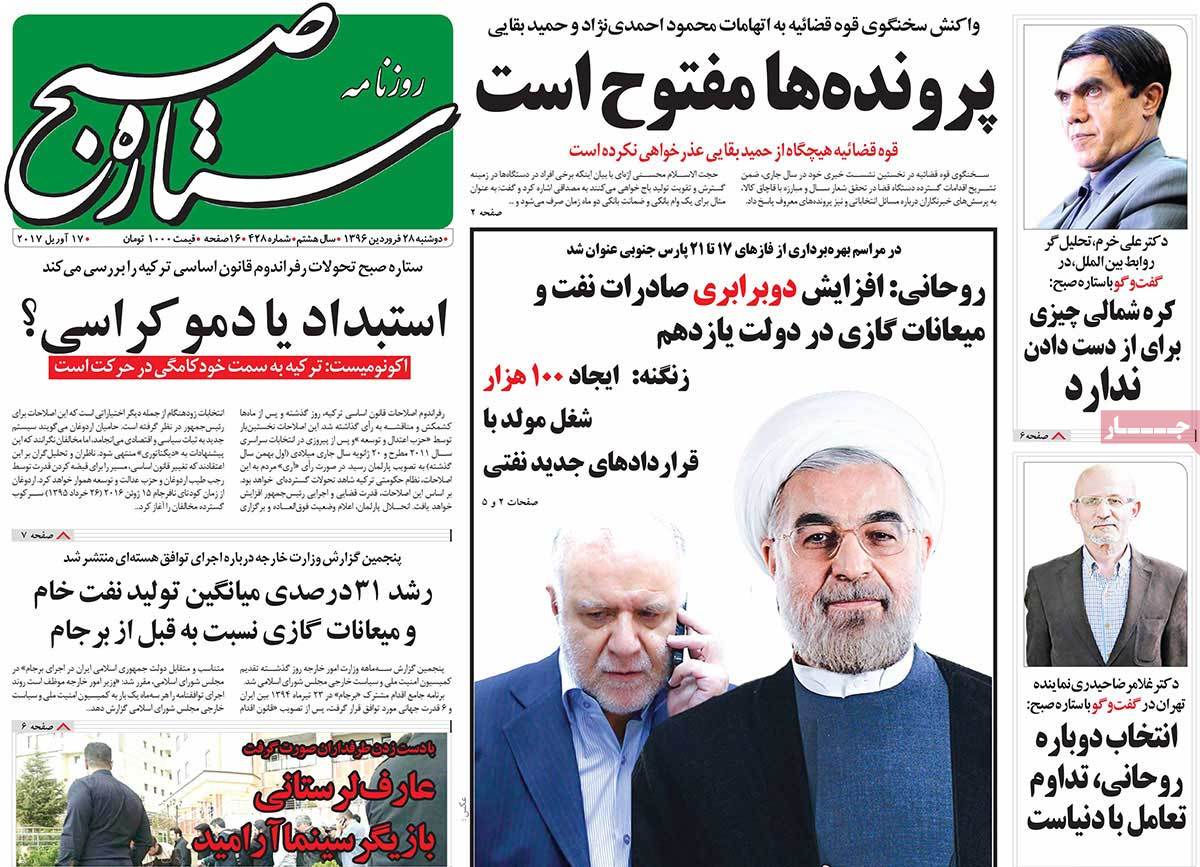 ---
Shahrvand:
1- Victory in Asalouyeh
2- Tangible Changes: People in Social Media Writing about Their Lives in Past 4 Years [under Rouhani's gov't]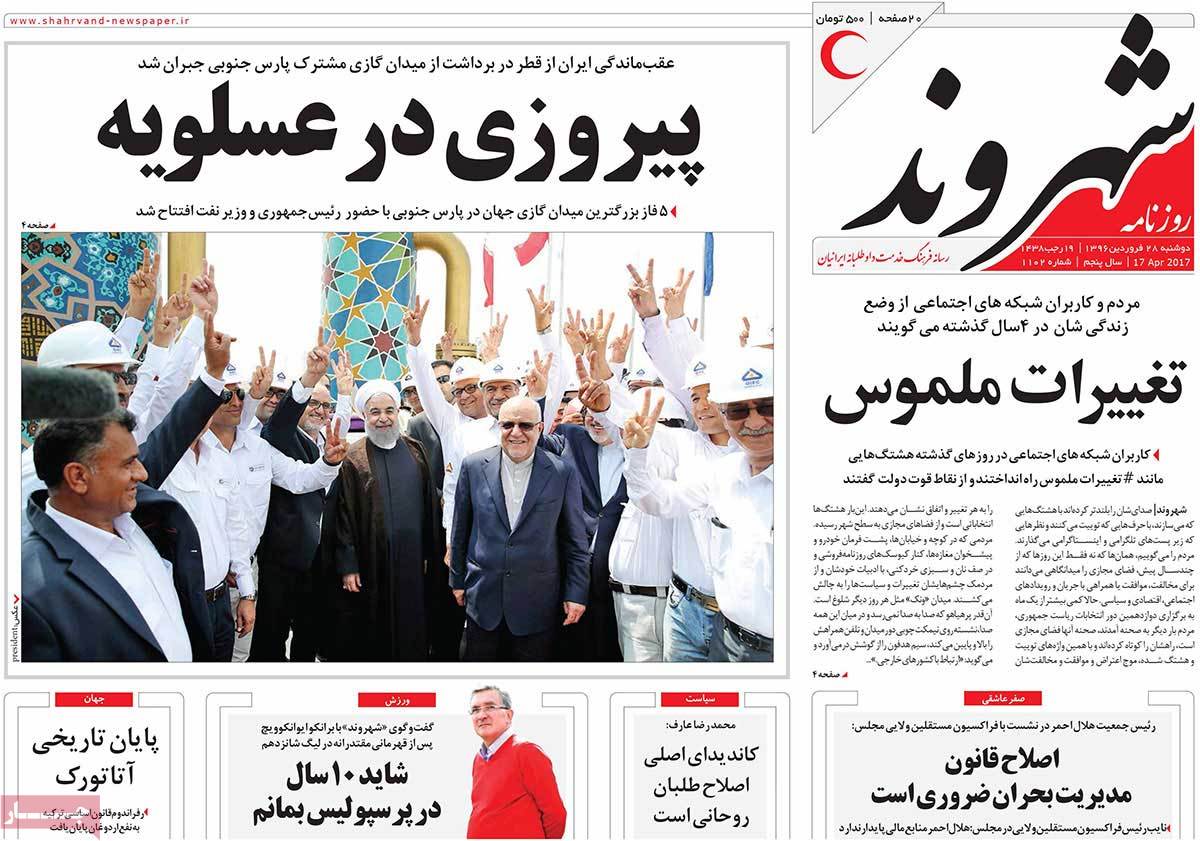 ---
Shargh:
1- Ahmadinejad, Baqaei's Cases Still Open: Judiciary Spokesman
2- Rouhani, Jahangiri Divide Labour in Presidential Debates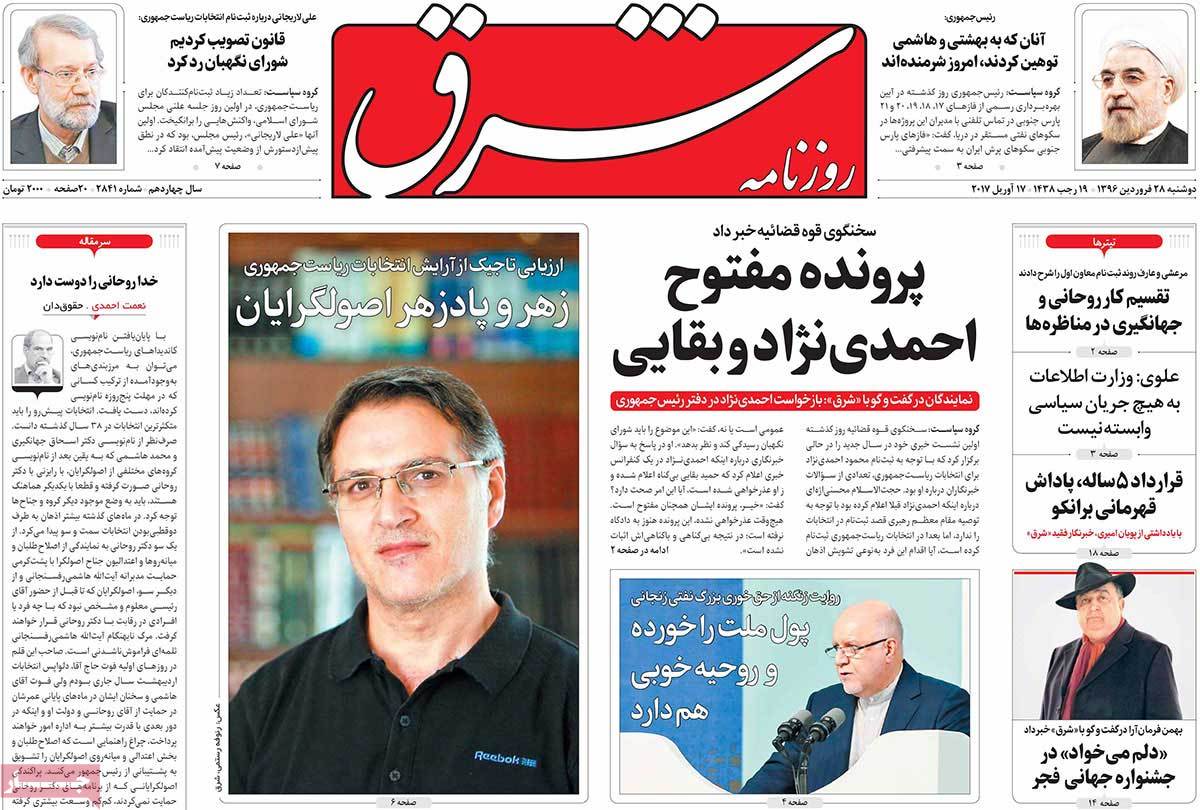 ---
Siasat-e Rooz:
1- South Pars, Symbol of Trusting Domestic Capabilities
2- Erdogan Following Ataturk's Path
3- MKO Terrorist Group Implementing US Scenarios in Region
4- Anti-Establishment Media Attacking Revolutionary Presidential Candidates