The top story in all papers today was the isolation of US President Donald Trump and the unanimous opposition of UN Security Council member states to his withdrawal from the Iran nuclear deal. They also joyfully reported his humiliation at the UN General Assembly, where all audiences laughed at him.
Also a top story was the gathering of regional national security advisors and senior officials at the Regional Security Dialogue held in Tehran on Wednesday. Remarks by Iran's top security official Ali Shamkhani at this meeting received great coverage in the papers today.
Several papers also covered the 88th football derby between arch-rivals Persepolis and Esteghlal of Tehran, which is to be held on Thursday afternoon in Azadi Stadium.
The above issues, as well as many more, are highlighted in the following headlines and top stories:
Aftab-e Yazd:
1- Rouhani, Don't Lose: Despite All Problems, He's Still Best Choice
2- Parliament Working on Plan to Ban Marriage for U-13 Girls
---
Ebtekar:
1- Totally Alone
2- Winner of Politics, Loser of Economy [Editorial]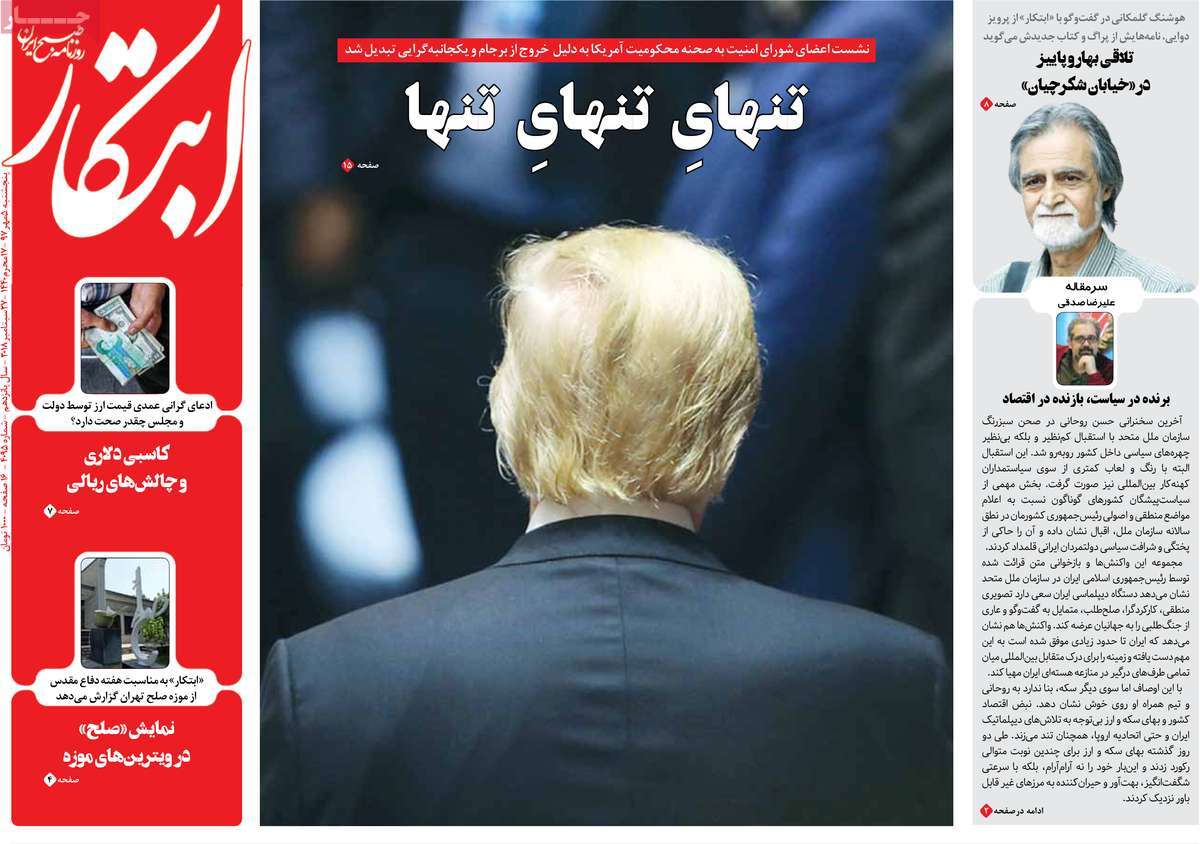 ---
Etemad:
1- Home Alone: UNSC Unanimously Disagrees with Trump over JCPOA
2- Trump's Isolation [Editorial]
3- No Sanction Left for Trump to Re-Impose in November: Rouhani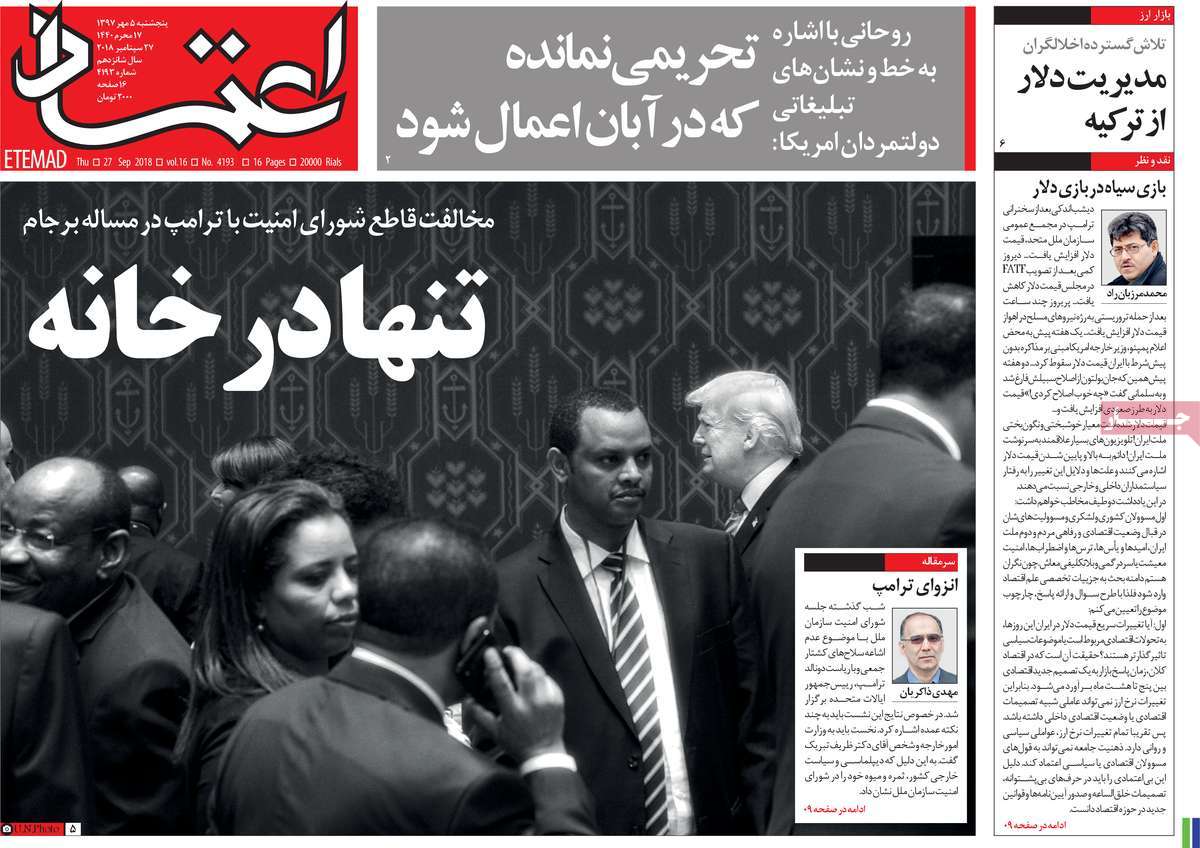 ---
Ettela'at:
1- UNSC Meeting Turns into Trump's Trial Session
2- Erdogan: We'll Continue Importing Gas from Iran despite US Ban
3- It's Necessary to Maintain All Aspects of JCPOA: May
---
Ghanoon:
1- Trump's Gavel Had No Sound
2- Children to Be Barred from Getting Married
---
Haft-e Sobh:
1- Who Wrote Rouhani's UNGA Speech?
---
Iran:
1- World Supports JCPOA; Trump Isolated
2- Tehran Derby Is Here: Song of Football
3- Shamkhani: Ways to Finance Terrorists Must Be Blocked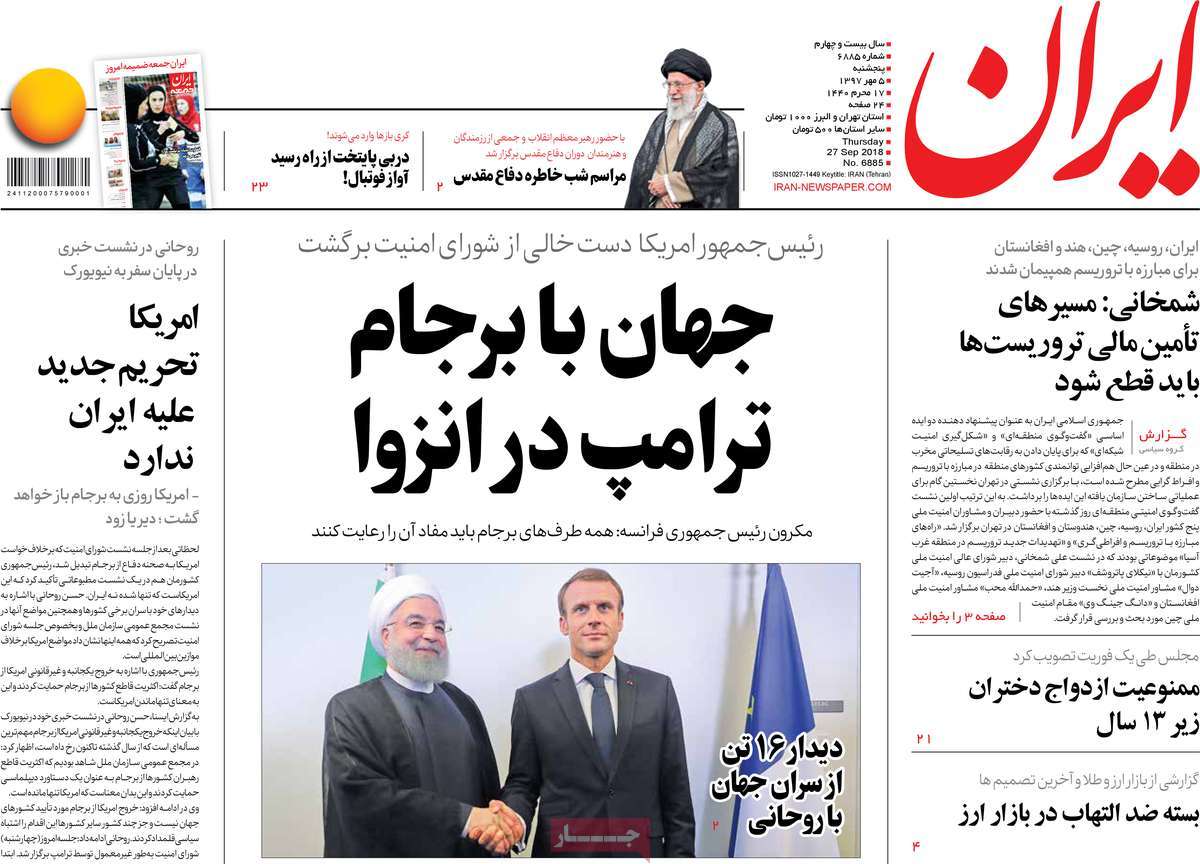 ---
Javan:
1- Morales' Revolutionary Attack on Trump in Defence of Iran
2- Shamkhani: US' Economic Terrorism Targeting People's Livelihood
---
Kayhan:
1- Forex Market, Hostage of Cyberspace
* Economic Terrorists outside Iran Controlling Forex Market
2- American Commander: N Korea Humiliated Us
3- US Dollar Rate IRR 33,000 without UNSC Resolution, IRR 180,000 with the Resolution!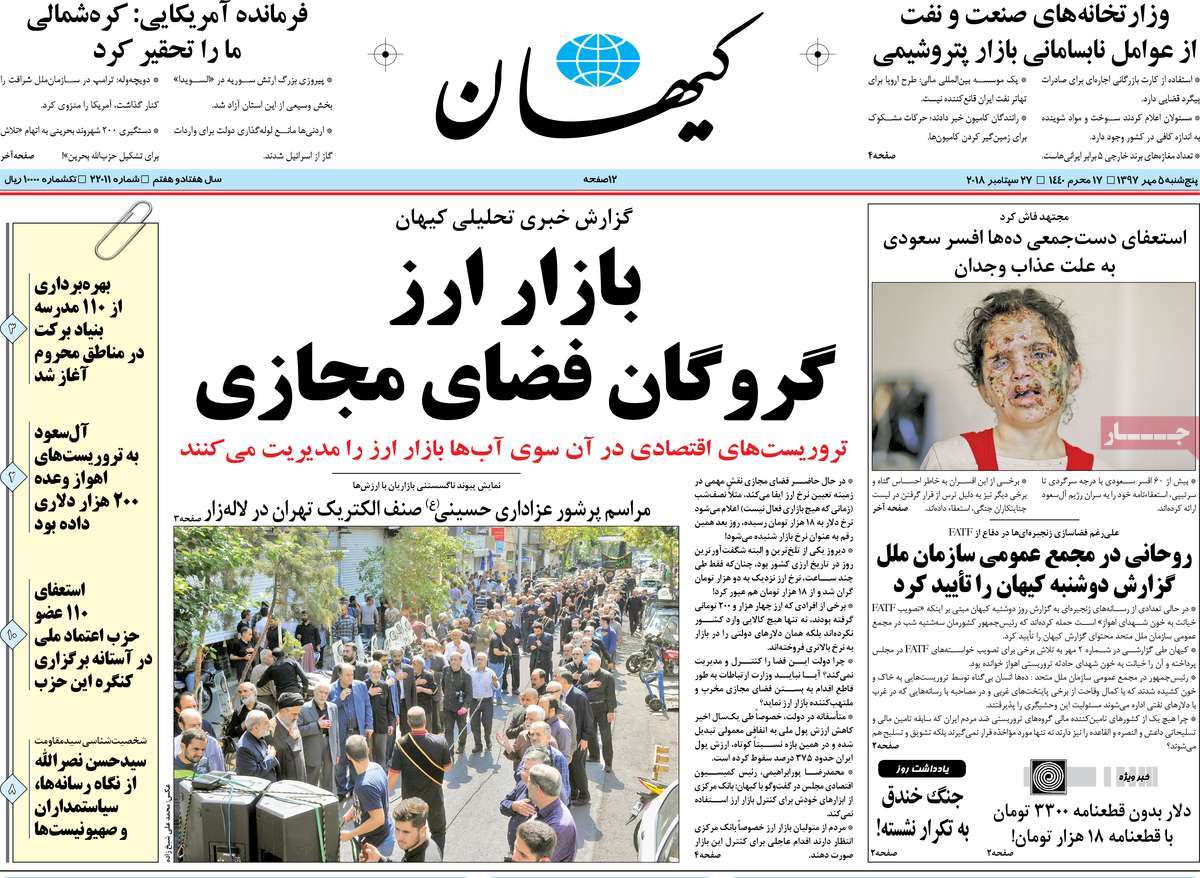 ---
Khorasan:
1- Isolation after Being Mocked by Entire World
* All UNSC Member States Criticize US Withdrawal from JCPOA
---
Resalat:
1- We're Worried about the Country's Economic Conditions: Ayatollah Makarem Shirazi
2- UNSC Meeting Showed US Alone: Rouhani
3- Mocked by Everyone [Editorial]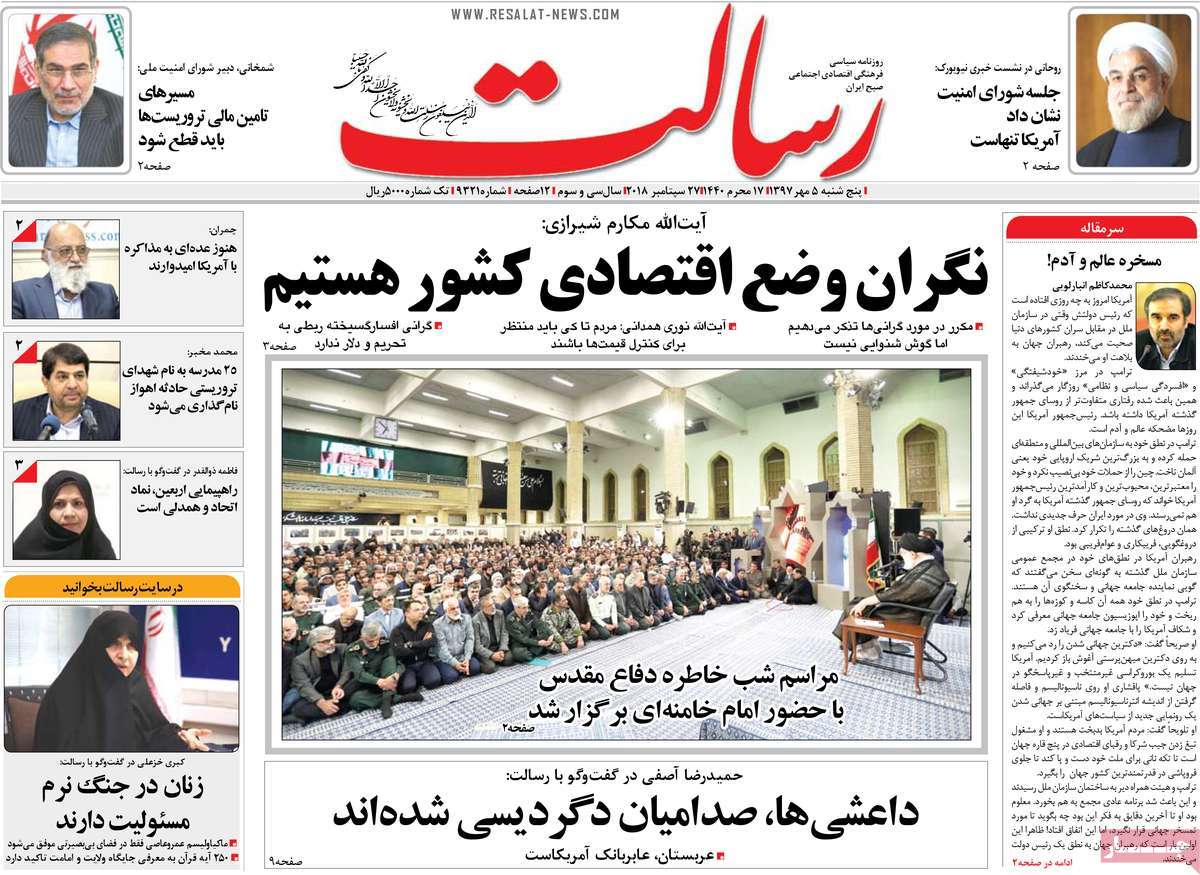 ---
Sazandegi:
1- Broken Frame: Iranians Think Rouhani Gave Best Answer to Trump
---
Shahrvand:
1- Let's Stop Thinking about Anything Else, Focus on Tehran Derby
2- UK May Hold another Referendum on Brexit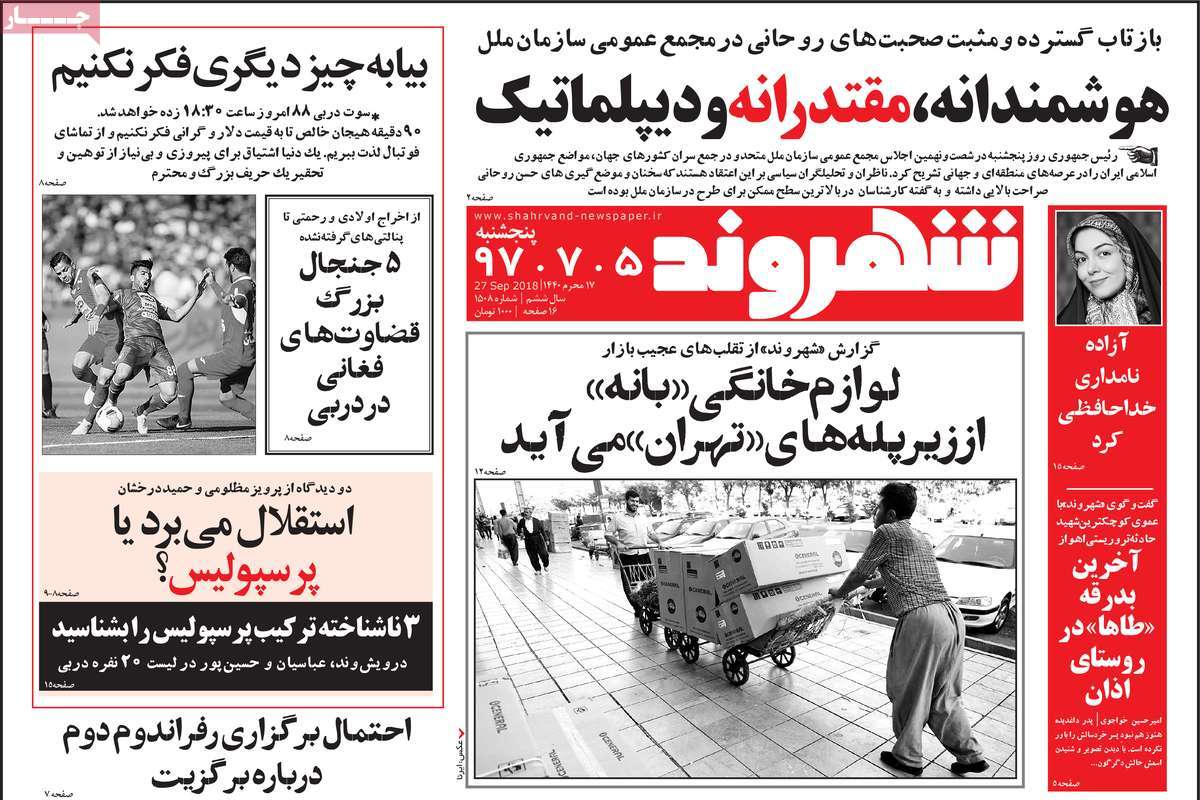 ---
Shargh:
1- Outspoken Critics of Trump
* US Attempt to Isolate Iran at UNSC Fails
2- Rouhani: We're Grateful to UNSC
3- Americans Repeatedly Saved ISIS Leaders from Siege: Shamkhani
---
Vatan-e Emrooz:
1- Europe, Zoo of Terrorists
* Despite Interpol's Order, European Governments Refuse to Extradite Terrorists to Iran
2- Iran Axis of Security in Asia: Tehran Hosts Regional Security Dialogue