Iranian newspapers today covered a controversial ceremony held on the International Workers' Day in Tehran. A group of workers used the ceremony, attended by President Hassan Rouhani, to raise their protests against the government, and this was widely used by Rouhani's opponents to attack the incumbent president.
What added fuel to the fire were the remarks by the ceremony's host who allegedly threatened to hit the opposing workers in the face and called them a group of mercenaries.
Parliament Speaker Ali Larijani's criticism of certain 'impractical' promises made by presidential candidates also received great coverage. Larijani says those who vow to double or triple the amount of monthly cash handouts are making false promises as the issue needs Parliament's approval, and under the current situation, Iranian lawmakers won't approve such a decision.
The above issues, as well as many more, are highlighted in the following headlines and top stories:
Abrar:
1- Qalibaf, Raisi May Withdraw from Candidacy in Favour of Each Other
2- Rouhani: We Created 2m Jobs in Our Term
3- Palestinian Official Urges Iran Not to Interfere in Its Domestic Affairs
---
Abrar-e Eqtesadi:
1- Increase in Iran's Banking Transactions with Russia, Turkey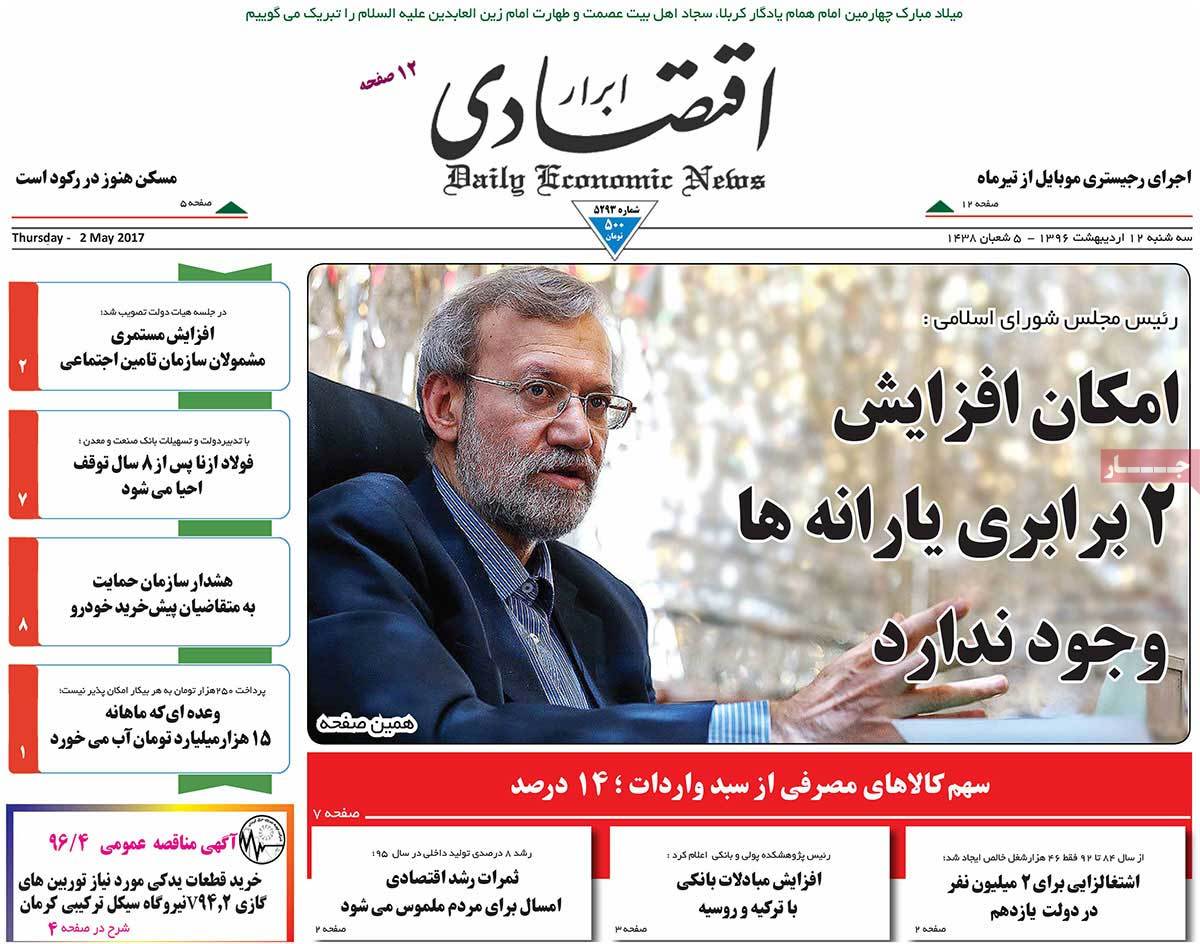 ---
Afkar:
1- Rise of Workers against Rouhani's Gov't: Labourers Interrupt Rouhani's Speech
---
Aftab-e Yazd:
1- Dirty Business Using Workers' Pain
Rouhani's opponents made political advantage of workers' day and used the protests raised by certain workers as a propaganda tool against Rouhani
2- Venezuela on Verge of 2,000-Percent Inflation Rate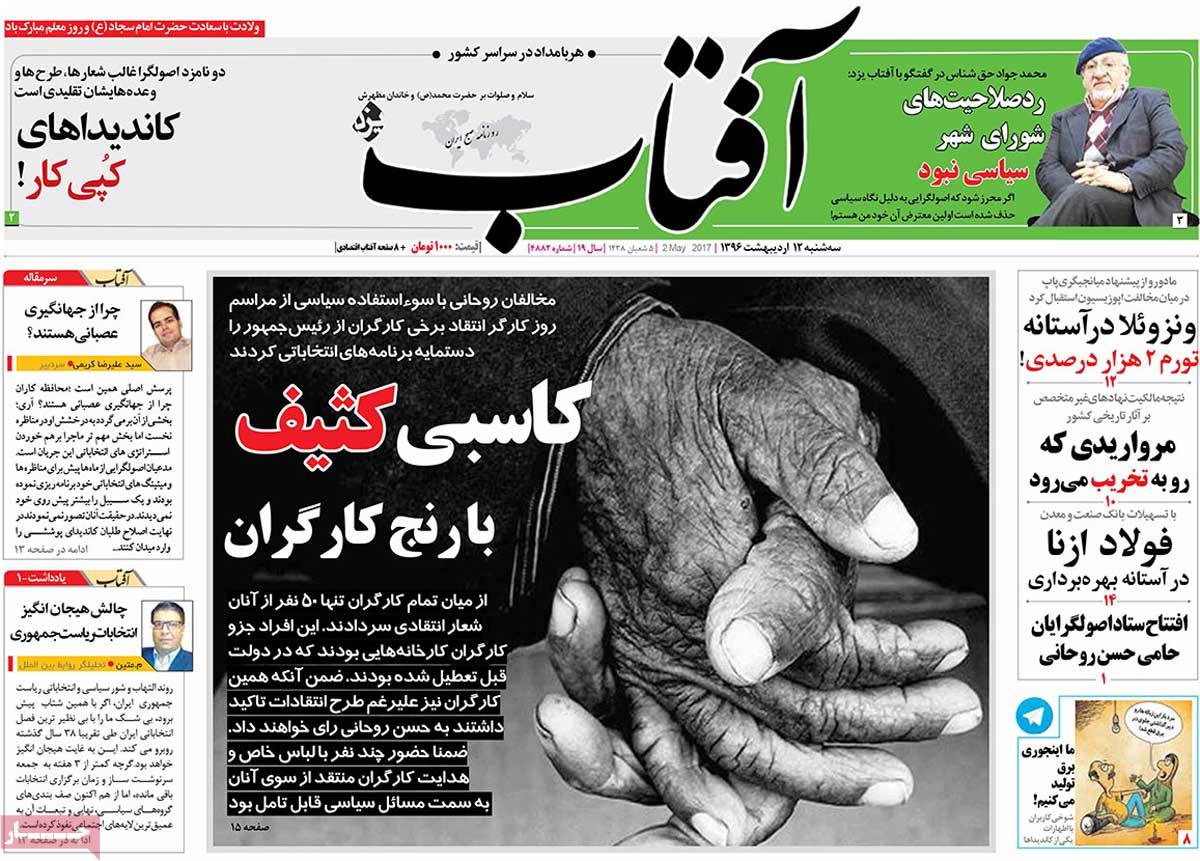 ---
Arman-e Emrooz:
1- Rouhani: Workers Need Action; Next Cabinet Will Get Younger
2- Conservatives Pledge Allegiance to Rouhani
---
Emtiaz:
1- Tehran in Danger of Flood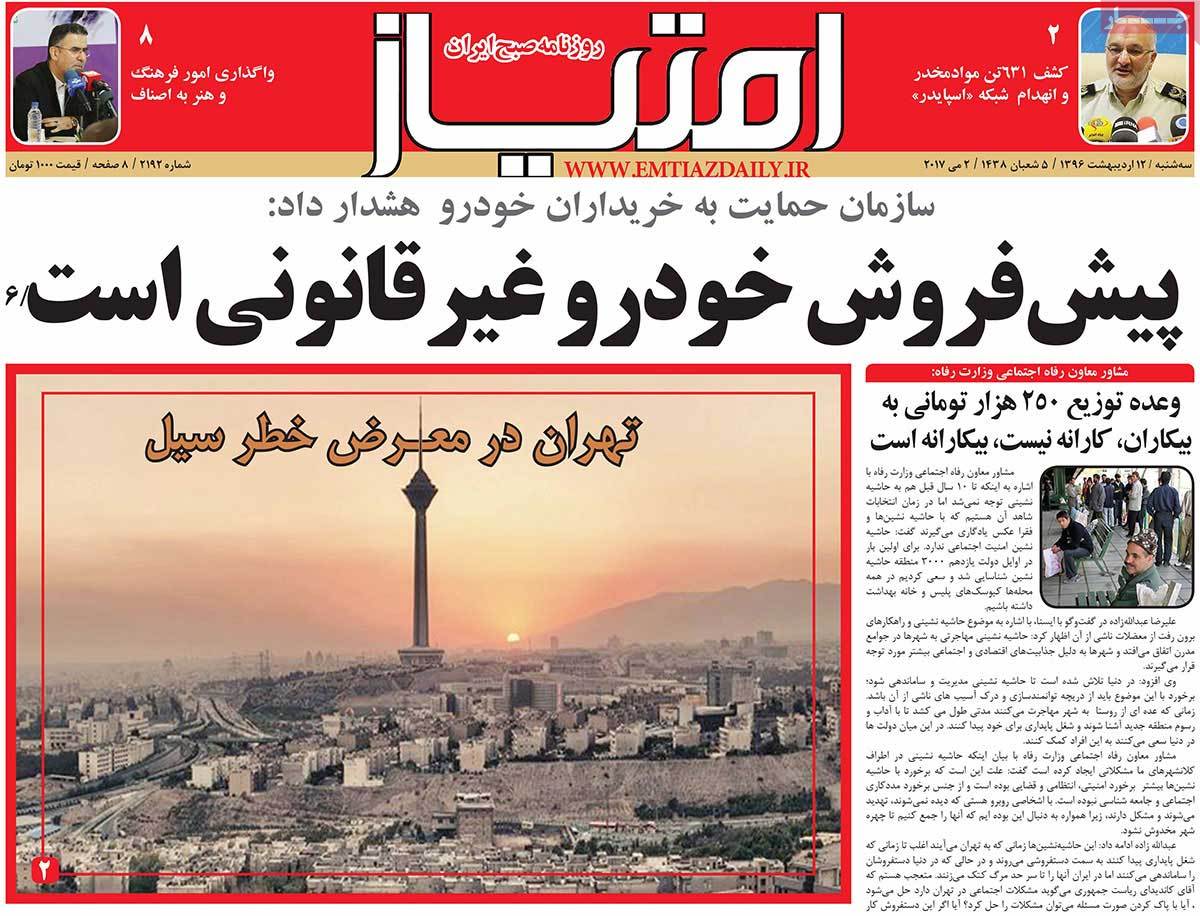 ---
Etemad:
1- All JCPOA Parties Responsible for Protecting Nuclear Deal: Iran
---
Ettela'at:
1- Parliament Speaker: It's Not Possible to Double or Triple Cash Handouts
2- Syrian Kurds Closer to ISIS Capital after Liberating al-Tabqah
---
Haft-e Sobh:
1- Cocaine Trade in Iran Managed by Bolivian Women
Five South American Women Are Major Smugglers of Cocaine to Iran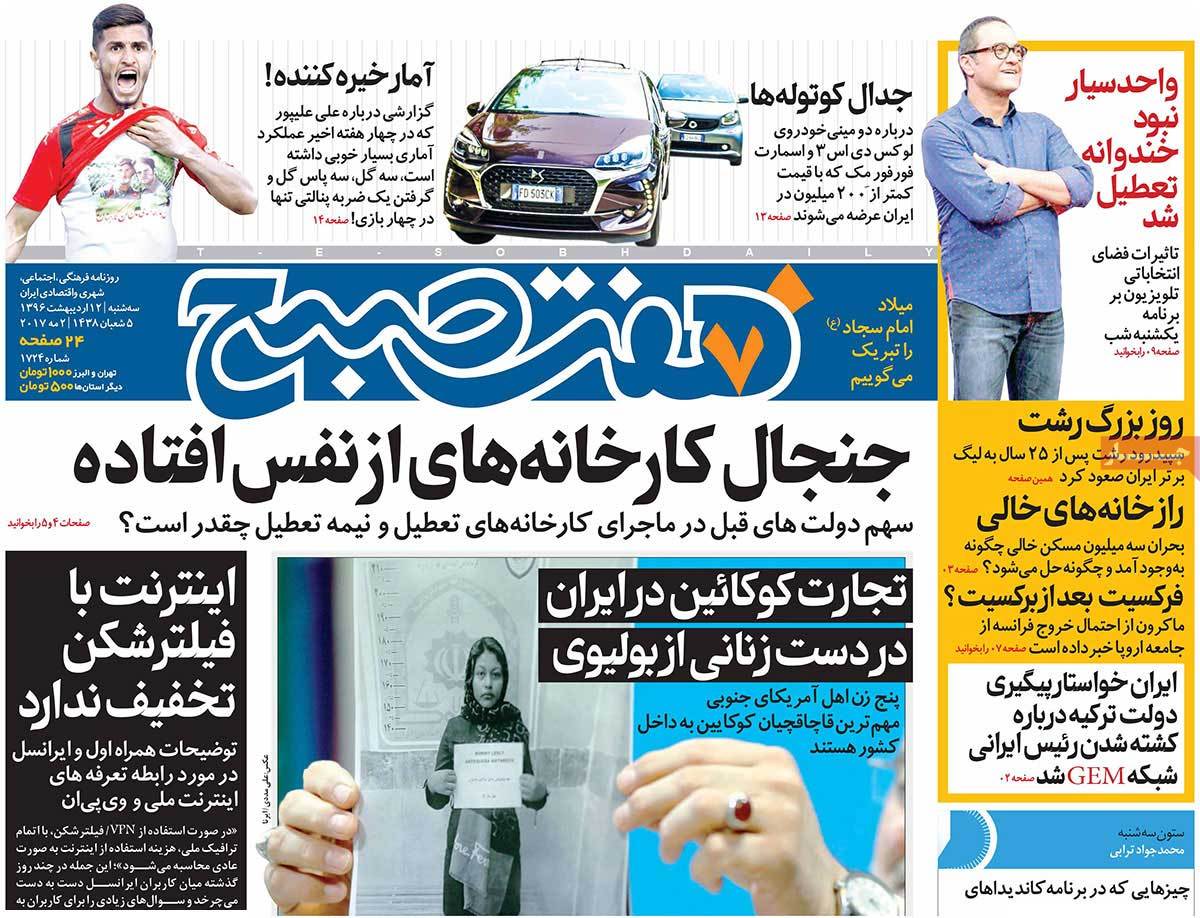 ---
Hemayat:
1- Judiciary Chief: Iran to Respond to Attack on Border Guards
2- Biggest Shiite Mosque in Sweden Set on Fire
3- Diplomacy Does Not Work in Fight against Terror: Iranian Spokesman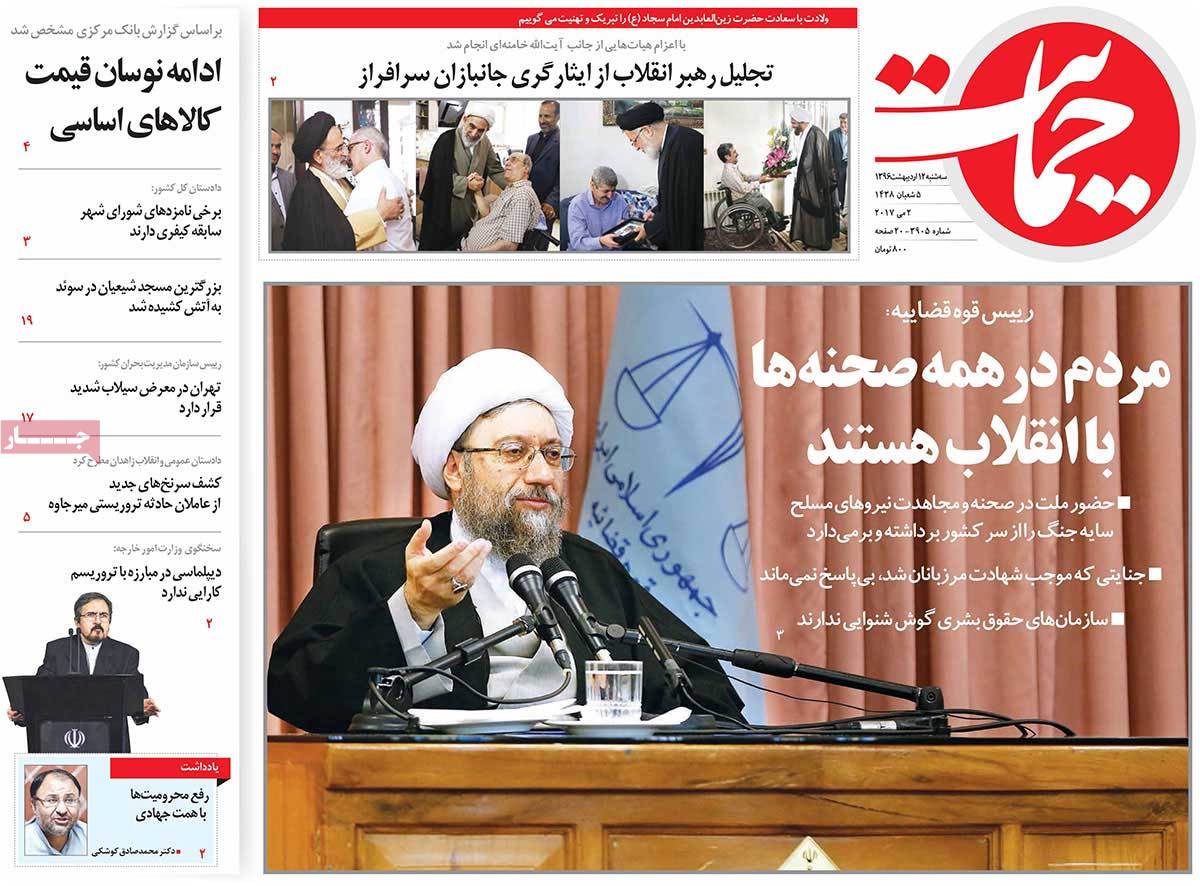 ---
Iran:
1- Rouhani: My Gov't Always Raised Workers' Wages more than Inflation Rate
2- President: We'll Take Back a Bill on Labour Law Protested by Workers
---
Javan:
1- Obama: Rouhani's Exaggerations to Kill Nuclear Deal
---
Jomhouri Eslami:
1- Parliament Speaker Blasts Certain Promises by Presidential Candidates
---
Kayhan:
1- Guardian: Saudi Petrodollars Helped It Chair UN's Women Rights Committee
2- Hitting Them in the Face Not a Good Response to Workers' Problems
Host of Rouhani's campaign ceremony threatened to hit angry workers in the face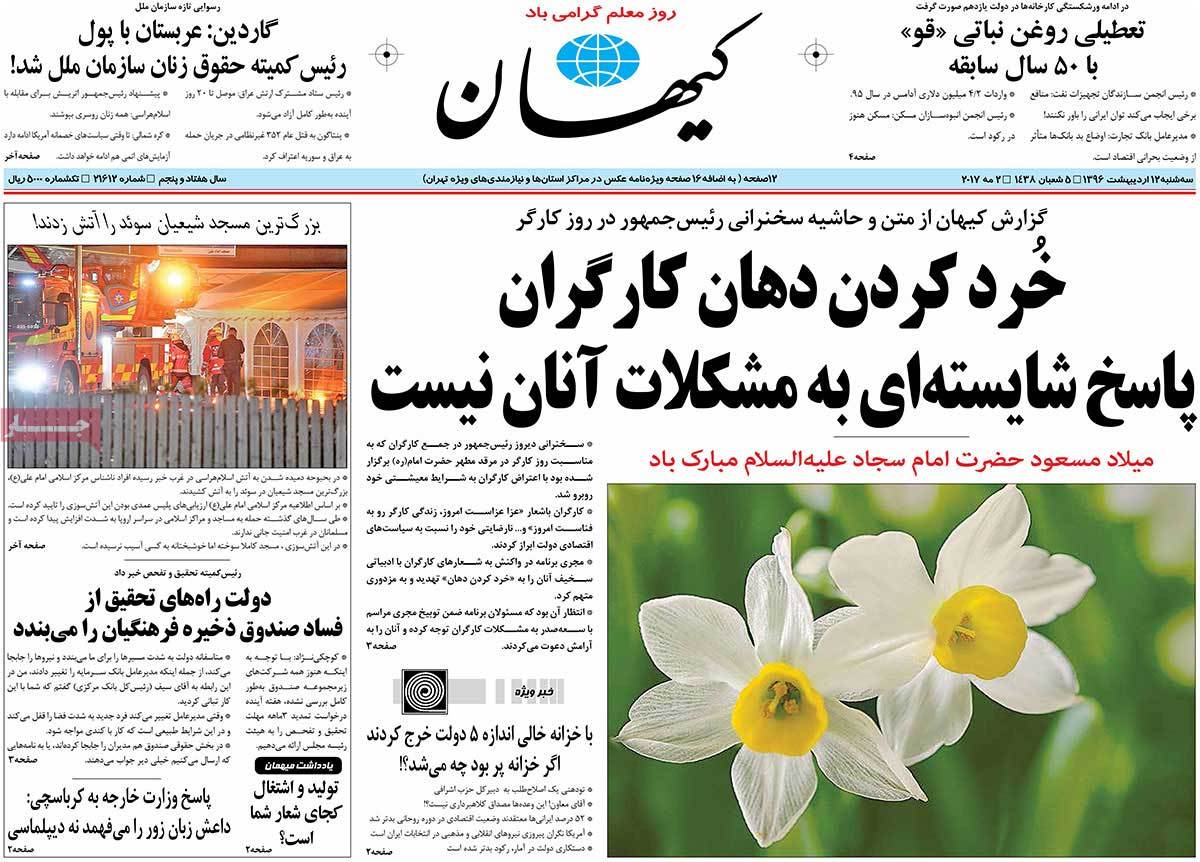 ---
Resalat:
1- Rouhani: Pains of 3m Workers Disturbing All of Us
2- Qalibaf Criticizes Officials for Labelling a Report on Unemployment Confidential
3- Americans Protest against Trump: 100 Days of Failure
---
Rooyesh-e Mellat:
1- Steinmeier: Democracy in Europe in Danger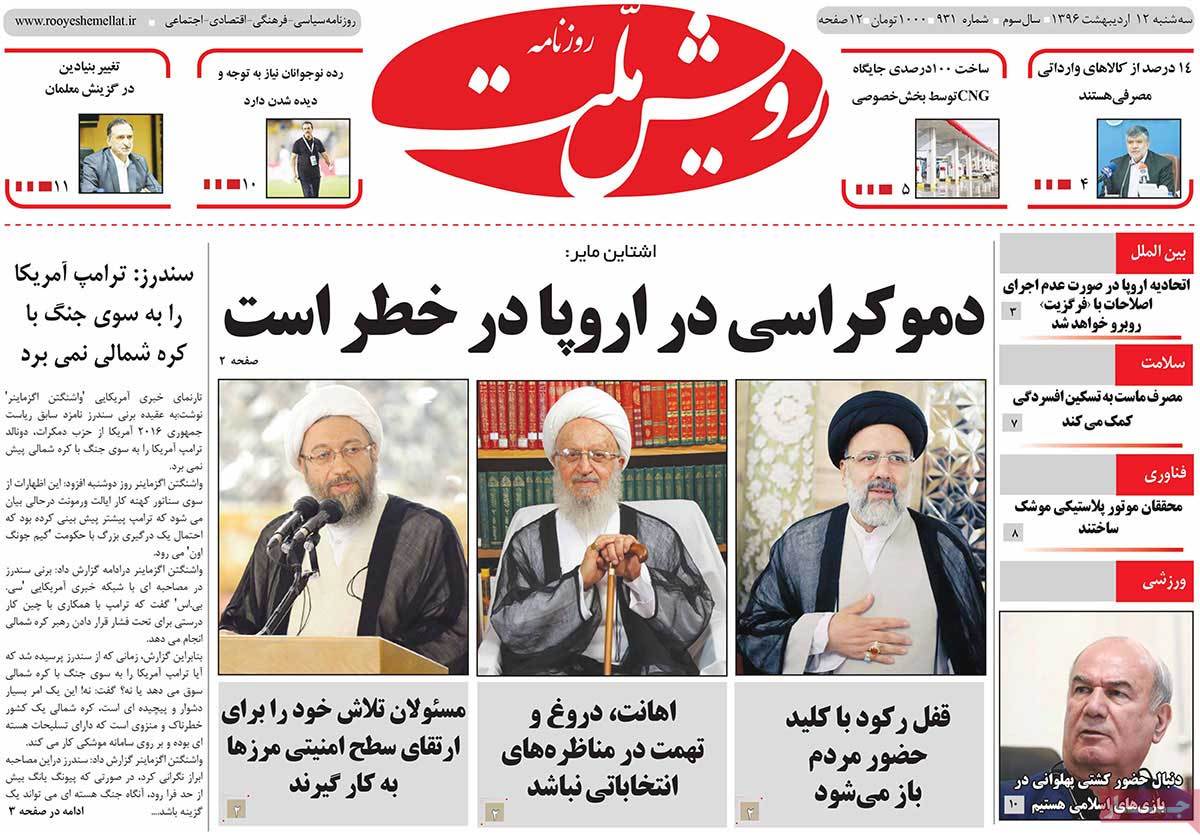 ---
Sepid:
1- Are Richer People Happier? UN Releases List of World's Happiest Countries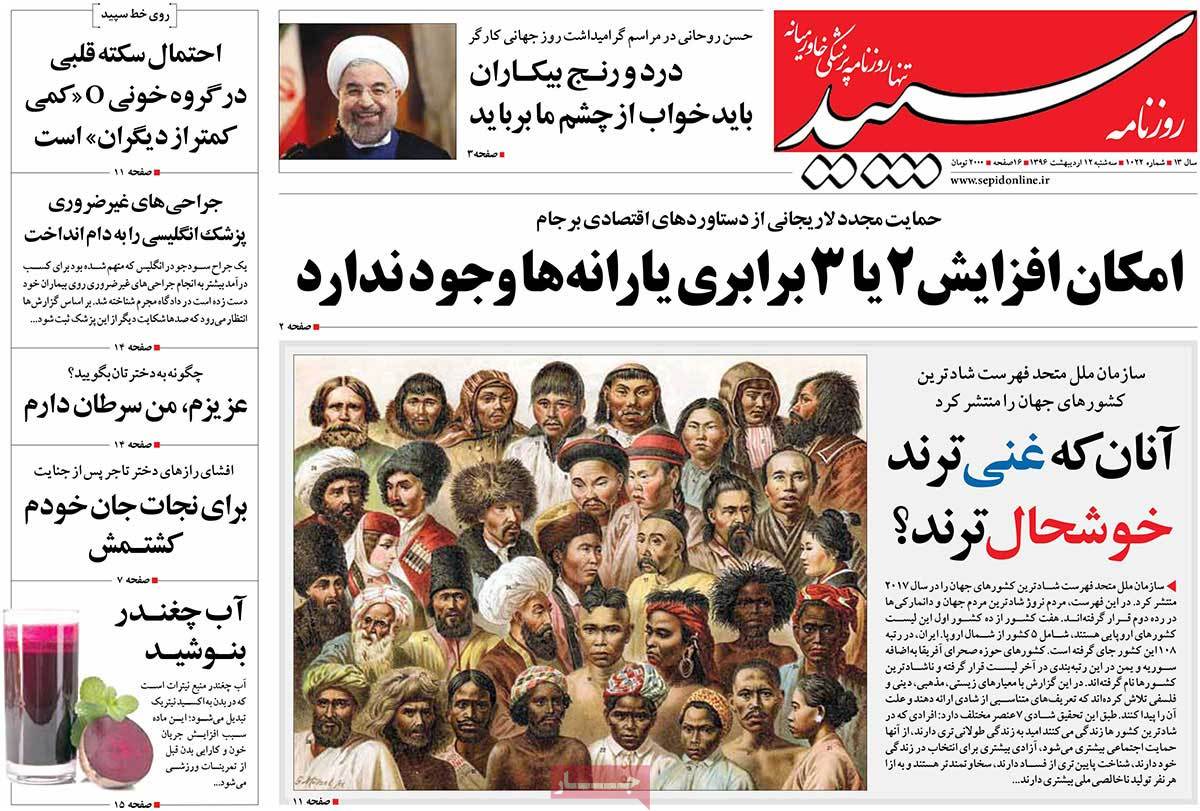 ---
Shargh:
1- HQ Established by Larijani Fans to Support Rouhani
2- Rouhani: We'll Remain Committed to Nuclear Deal as Long as Other Parties Do
3- The Worker Who Relieved My Fatigue [Editorial by Labour Minister Ali Rabiei]
---
Ta'adol:
1- Economy Minister Warns Presidential Candidates against Using Economy in Clashes
---
Vaghaye Ettefaghieh:
1- Conservatives Join Government Supporters
2- Jahangiri Becomes Trending Hashtag in Social Media
Increased Speculations about His Performance in Second Debate