Newspapers today mainly covered the Islamic Republic's reaction to a US warning against Syria over its alleged preparations for a chemical attack.
A number of newspapers also reacted to US claims about Syria by reminding Washington of its hypocrisy over Iraq's chemical attack on Iran's Sardasht as well as George W. Bush's false claims about Iraq's possession of Weapons of Mass Destruction.
Another top story today was the Achaemenid tablets, the Iranian cultural heritage, kept in the US. The US Supreme Court is going to decide whether the American victims of a suicide bombing can take the artefacts as compensation.
The above issues, as well as many more, are highlighted in the following headlines and top stories:
Afkar:
1- Love and Sanctions
From US Gov't Love for Sanctions to Iran Gov't Love for JCPOA
2- US Envoy to UN: We Love Anti-Iran Sanctions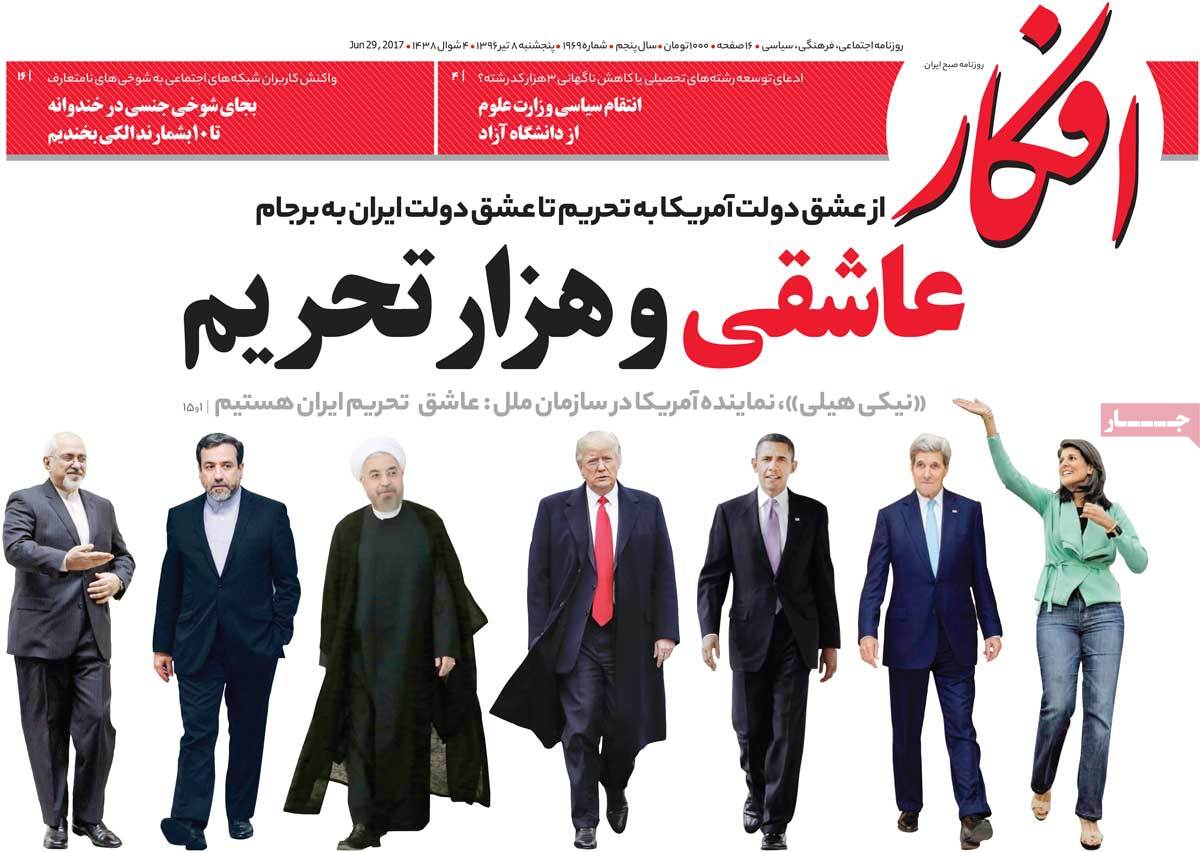 ---
Amin:
1- Iraq Scenario Repeated This Time in Syria
US, Britain Ready to Attack Syria
2- Muslim Ban Not to Make US Safer: Zarif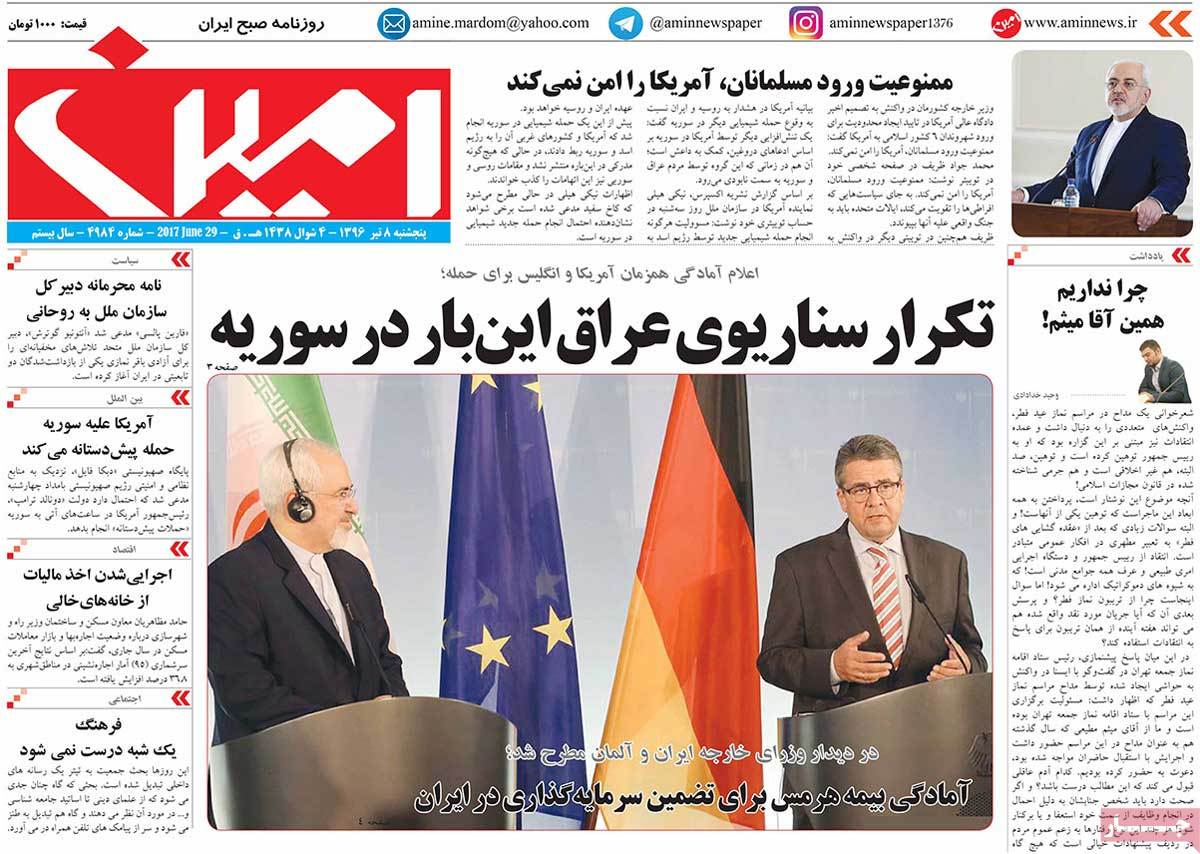 ---
Aftab-e Yazd:
1- Iran's Oil, Foreign Ministers Have Yet to Accept Rouhani's Offer for Second Term
Zanganeh, Zarif Upset about Massive Attacks against Them
2- Venezuela on Verge of Long-Term Civil War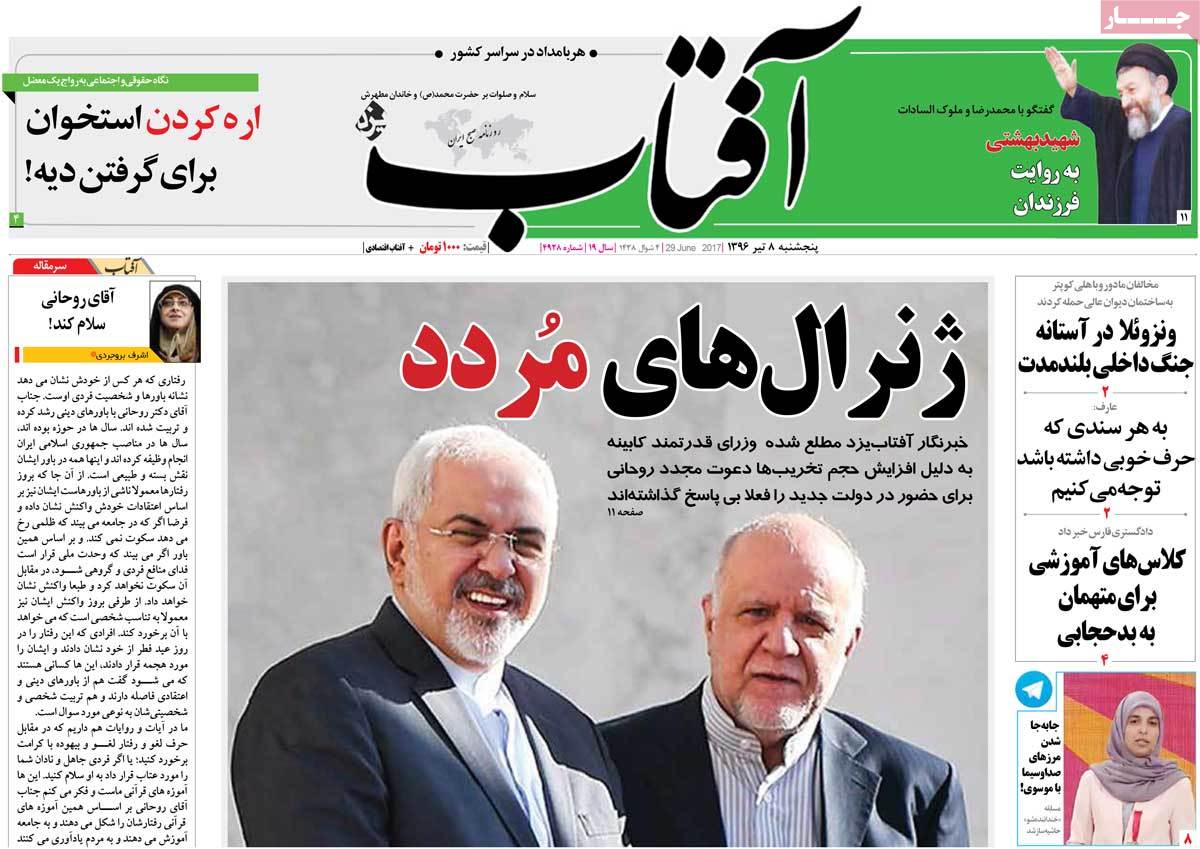 ---
Ebtekar:
1- Zarif to US
Join Real Fight against Terrorism instead of Adopting Policies that Empower Extremists
2- History Being Plundered under Shadow of Politics
30,000 Achaemenid Tablets Waiting for US Supreme Court's Decision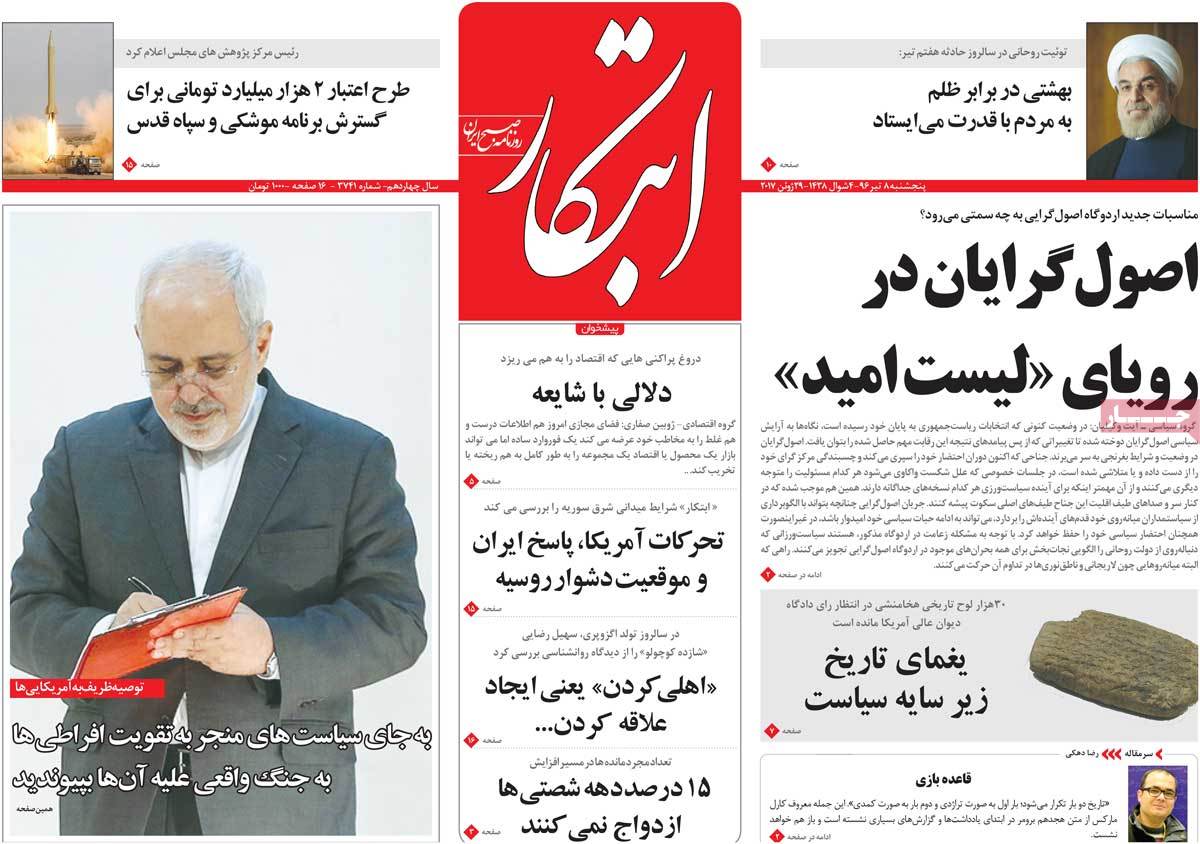 ---
Etemad:
1- Iran Warns against US Adventurism in Syria
2- Women to Have Stronger Role in Rouhani's Next Cabinet: Ebtekar
3- Iran Parliament against US
IRR 2 Trillion [$53m] to Be Approved for Expanding Missile Activities, IRGC Quds Force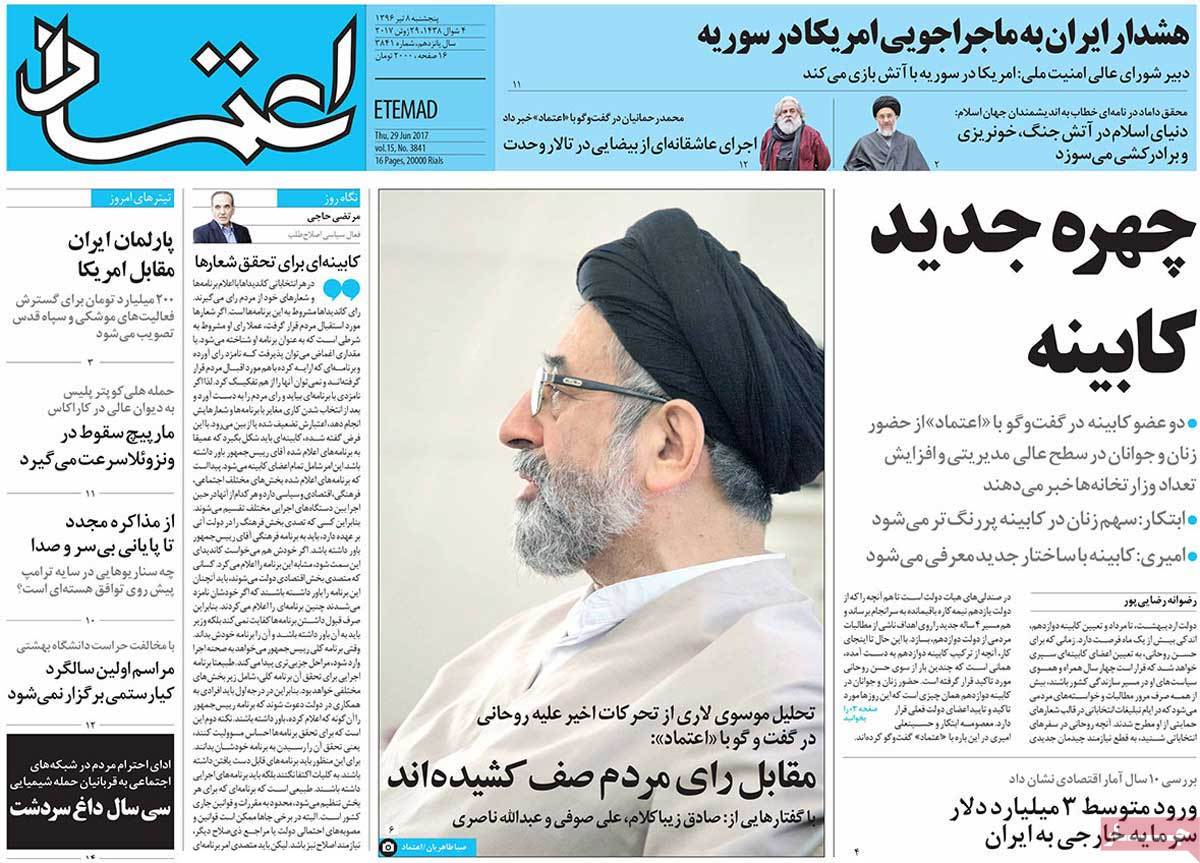 ---
Ettela'at:
1- Russia, Iran Warn US against Any Military Attack on Syria
2- Terror Groups Instruments Used by Certain Regional States: Iran Ex-FM
3- Escalation of Protesters' Street Wars against Police in Caracas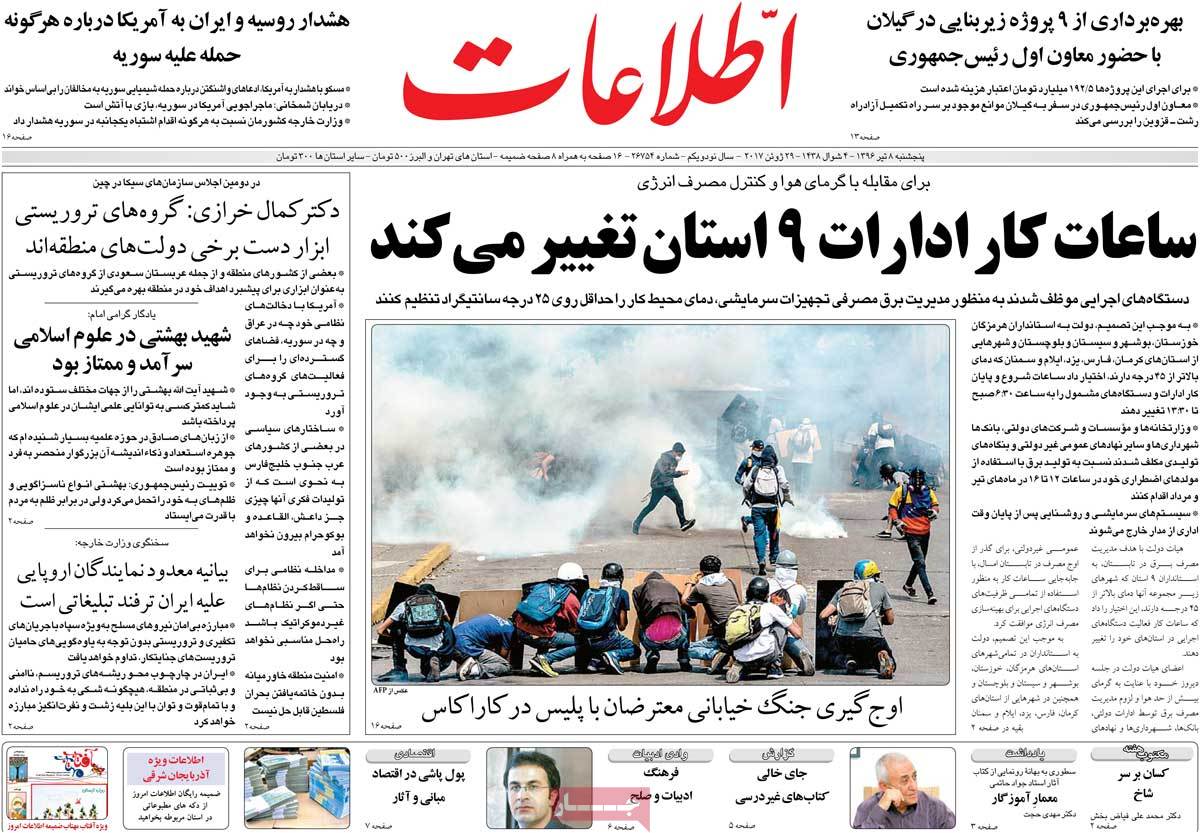 ---
Hemayat:
1- Iran Judiciary Official Urges West Not to Give Dual Nationality to Embezzlers
2- Doha Rejects Al Saud Offers
Qatari FM: Saudi Preconditions Illogical
3- Qatar Threatened to Be Expelled from (P)GCC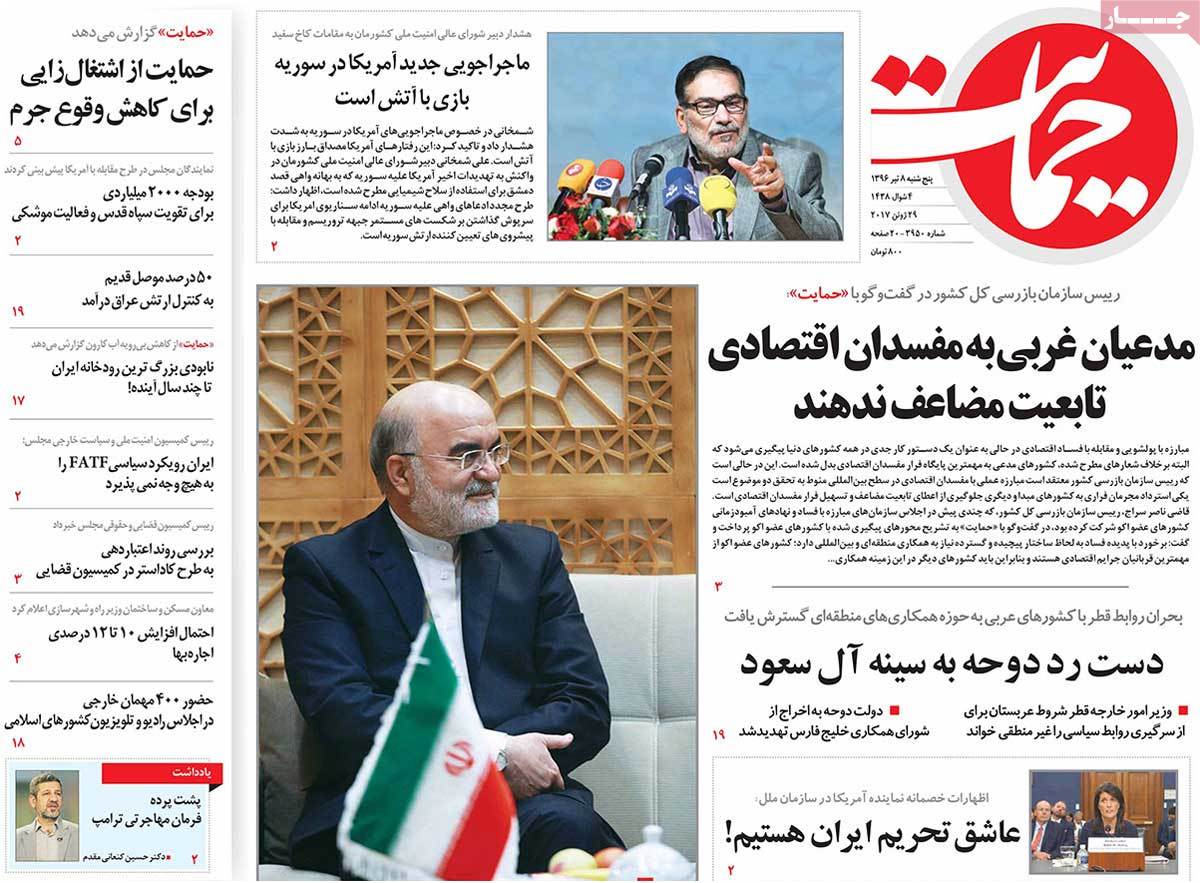 ---
Iran:
1- Zarif's Constructive Talks in Europe
2- US Unwise Behaviour in Syria Is Playing with Fire: Shamkhani
---
Jame Jam:
1- Al Saud Asking Help from Zionists
Saudi Arabia Economy Gripped by Huge Debts
2- Judiciary Trying to Decrease Prisoners, Fight Corruption
3- US Double Standards: From Sardasht [Chemical attack] to Syria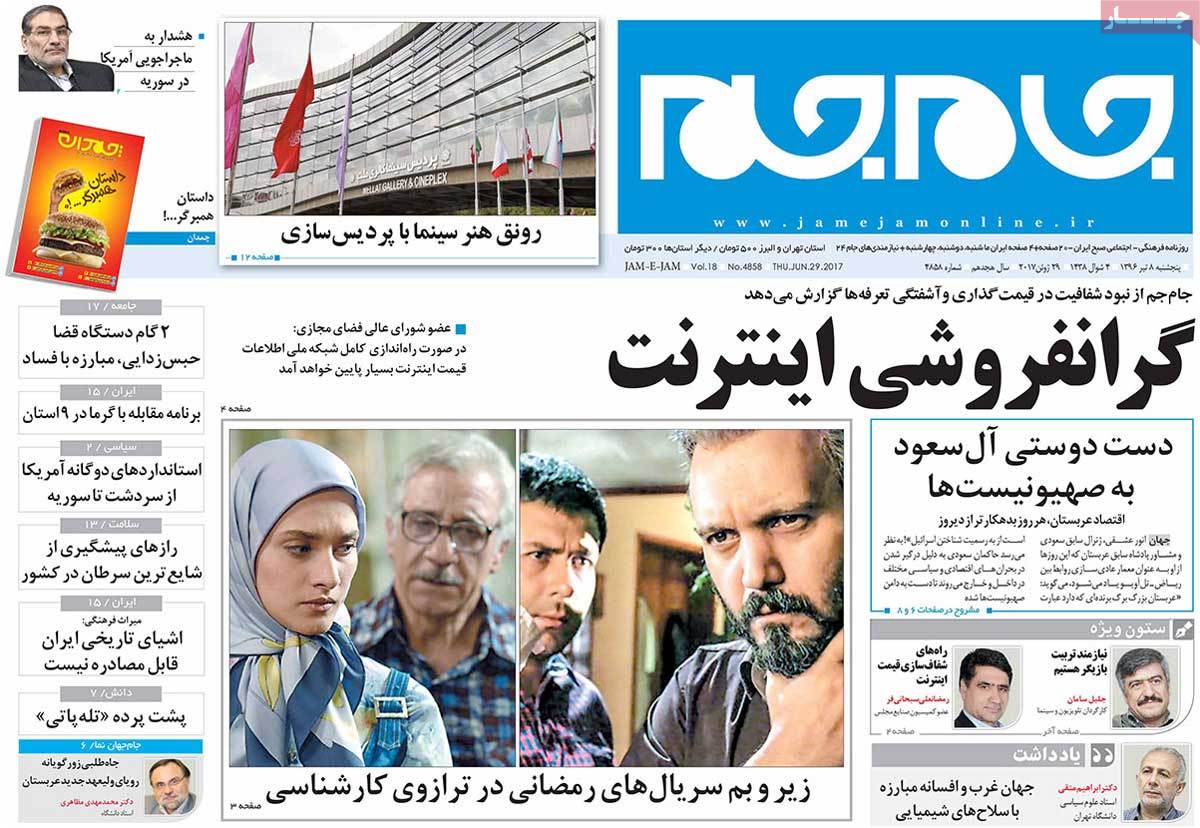 ---
Javan:
1- US to Put Iran's Cultural Heritage up for Auction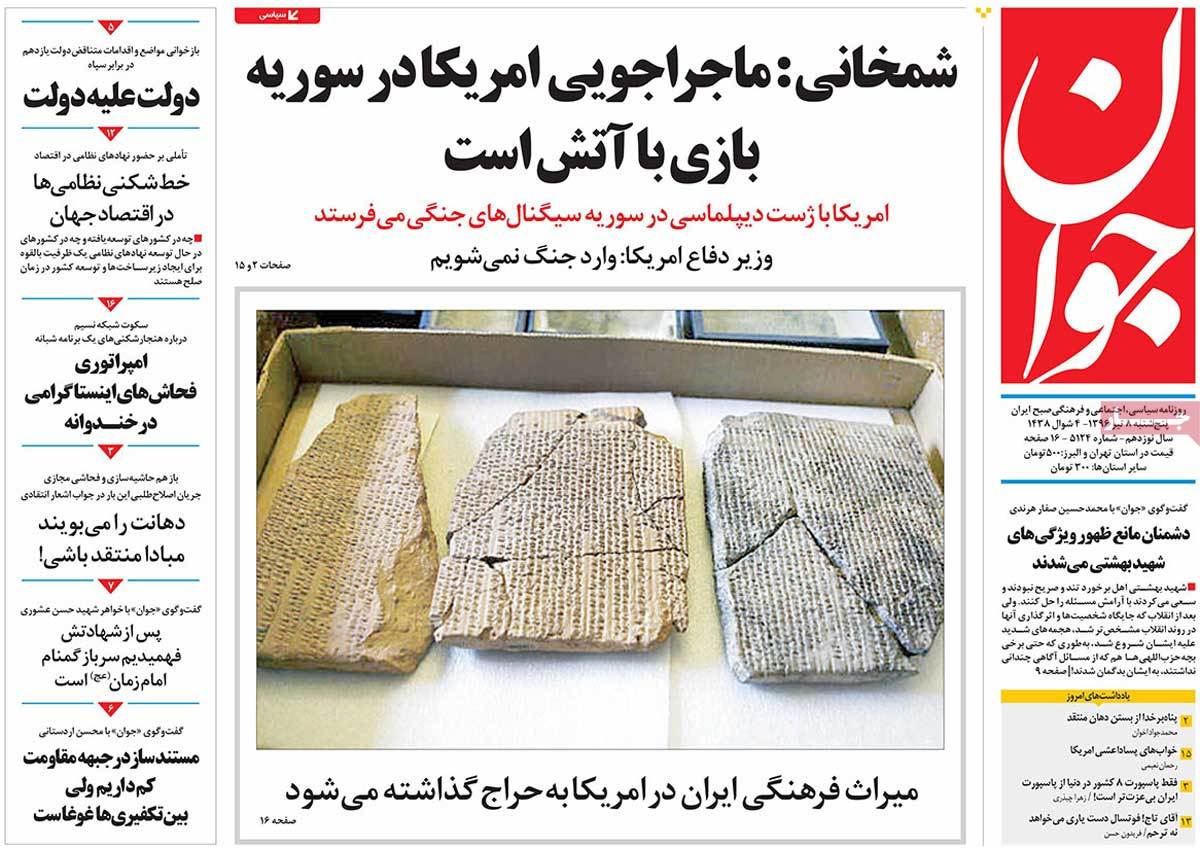 ---
---
Kayhan:
1- Assad's Unprecedented Meeting with Russian Military in Latakia
2- Sardasht Chemical Attack Shows US Hypocrisy on Chemical Weapons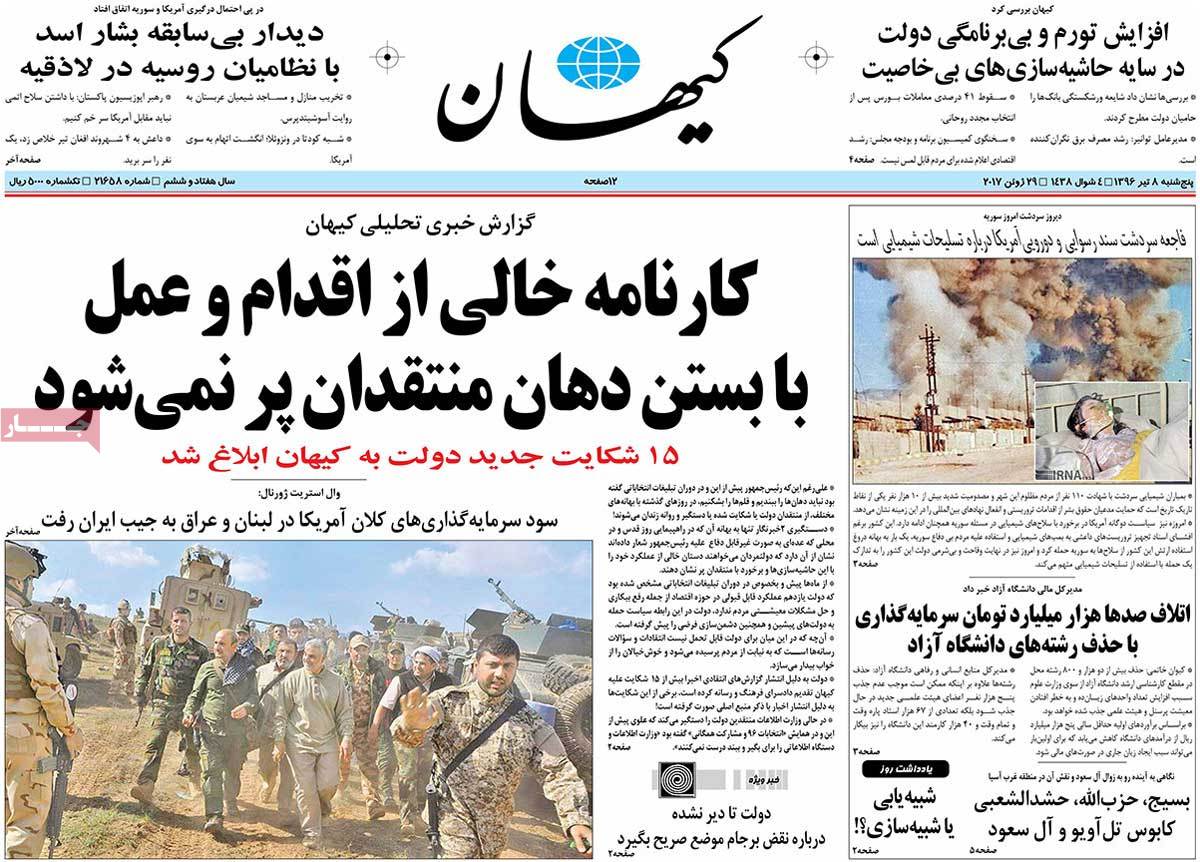 ---
Siasat-e Rooz:
1- Guterres' Pen Out of Ink for Innocent People of West Asia
2- Saudi Coup's Impact on Hajj Pilgrimage
Decision We Should Make to Ensure Dignity of Iran Pilgrims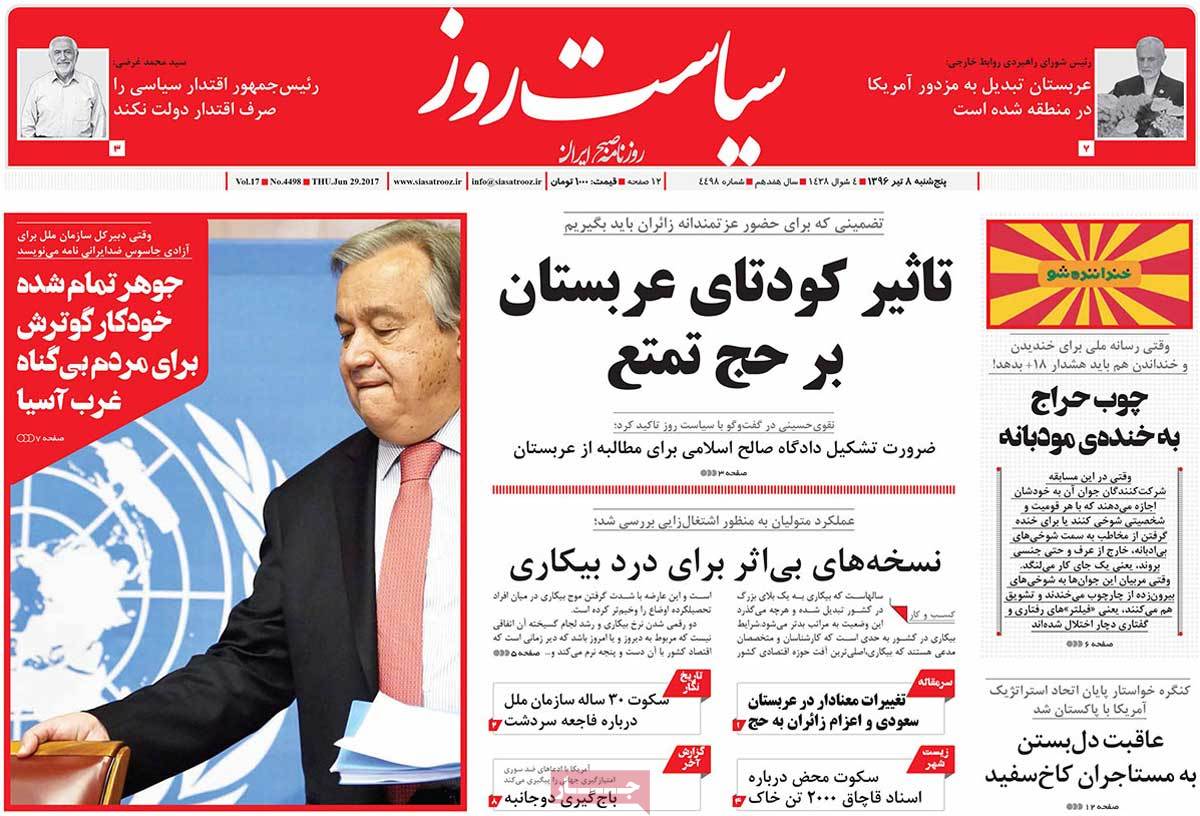 ---
Vatan-e Emrooz:
1- Iran Warns Trump
US Should Expect Reciprocal Military Action If Attacks Syria: Iran
2- Robbing Iran's Achaemenid Heritage in Post-JCPOA Era