Newspapers today covered the remarks made by First Vice-President Es'haq Jahangiri about the need for trusting and reinforcing the country's private sector.
The huge gas deal with Total also remained a top story after a week. Conservative newspapers criticized the secrecy of the deal, and pro-government papers covered Oil Minister Bijan Namdar Zanganeh's response to criticisms.
Another top story was the portal unveiled by Rouhani's administration to provide people with free access to the information of state institutions. The move is part of the government's efforts to promote Freedom of Information (FOI) and increase transparency.
The above issues, as well as many more, are highlighted in the following headlines and top stories:
Abrar:
1- Oil Minister: What Does It Mean 'That Country Is Our Brother'?
2- Iran to Take Reciprocal Measures against Indian Sailors of Trespassing Saudi Boat
---
Aftab-e Yazd:
1- The General's Thought-Provoking Remarks after Attacks on Total Deal [The General refers to Oil Minister Zanganeh]
---
Arman-e Emrooz:
1- 70-Year-Old Officials Should Leave Office: Hashemitaba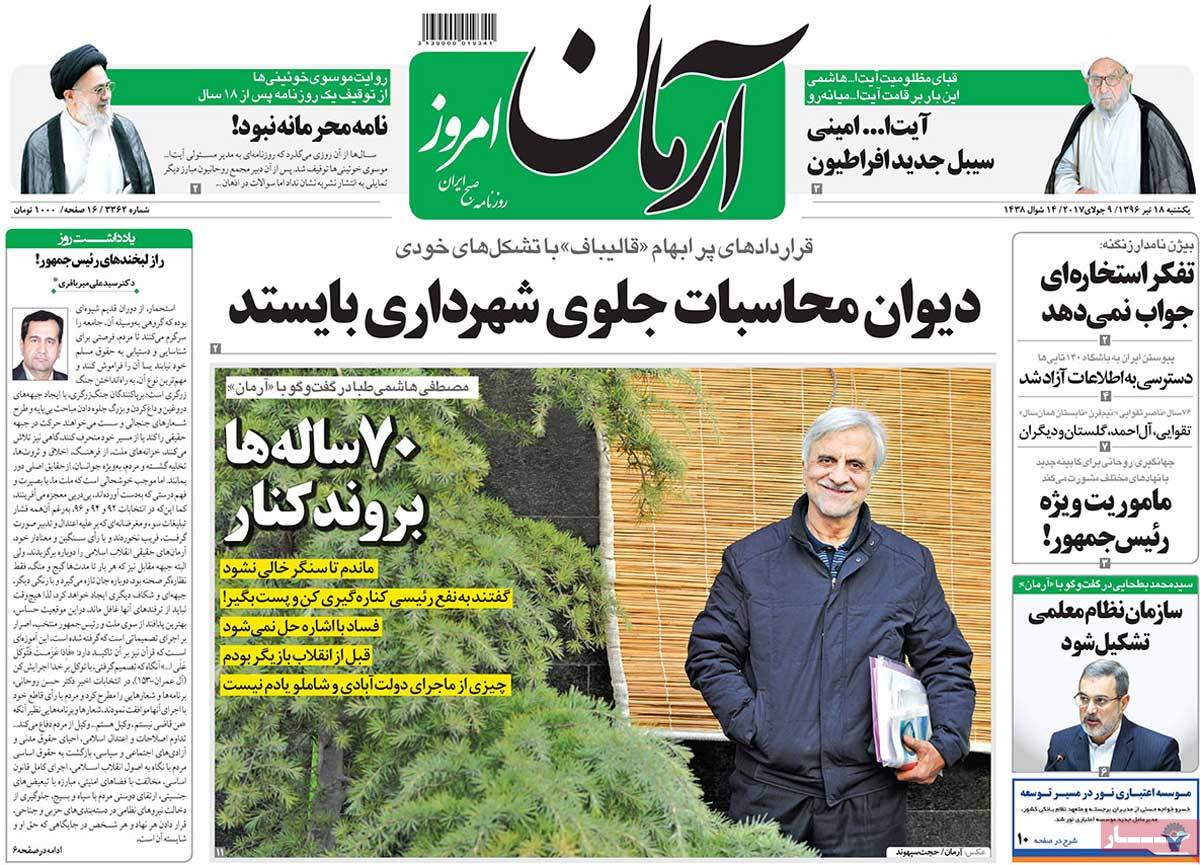 ---
Asrar:
1- Oil Minister: Logic, Not Intimidation and Threat, Is Language of Economic Ties
2- Culture Minister: People Should Have Right to Freely Access Information
3- First VP: Corruption Result of Gov't-Private Sector Collusion
4- Iran Envoy to UN: Those Who Created ISIS Cannot Form Coalition for Fighting It
---
Ettela'at:
1- Corruption Preventing Formation of Real Private Sector
2- Al-Hayat: Putin, Trump Agree on Assad's Remaining in Power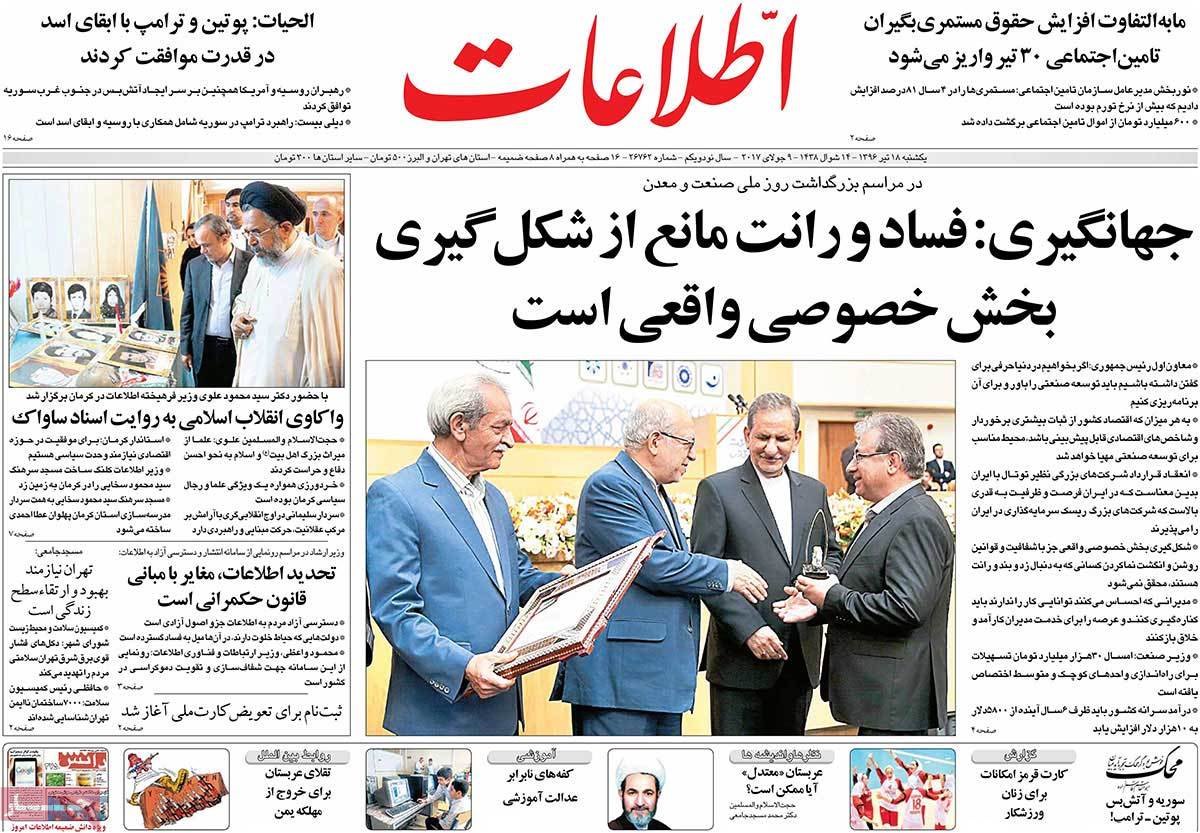 ---
Haft-e Sobh:
1- Interview with Young Man Who Rides 12-Metre Whale Shark in Persian Gulf
2- Era of Keeping Secrets Over: Portal Unveiled for People's Free Access to Information
All State Institutions Obliged to Respond to People's Requests within 10 Days


---
Iran:
1- Partners of Babak Zanjani Defend Him: 4 Ahmadinejad Ministers Approve of Him
2- Judge Moghiseh: Zanjani's Team Plundered Iran's Money
3- Reza Nasri: Iran-Total Deal Makes US Secondary Sanctions Ineffective
4- Iran's Art Market Breaks Records: 7 Million Dollars of Artworks Sold in Tehran Auction
---
Javan:
1- Rouhani's Gov't Trying to Pin Blames on Others Instead of Being Accountable
2- Hijab to Be Commemorated in 70 Countries
---
Jomhouri Eslami:
1- New York Times: US Isolated Power of Today's World
2- Deputy Oil Minister: Deal with Total, China Shows Wall of Sanctions Broken
---
Kayhan:
1- If Total Deal Isn't another Crescent, Why Does Gov't Hide Its Text?
2- GOP to Impeach Trump Once His Expiry Date Reached: US Pulitzer-Winning Journalist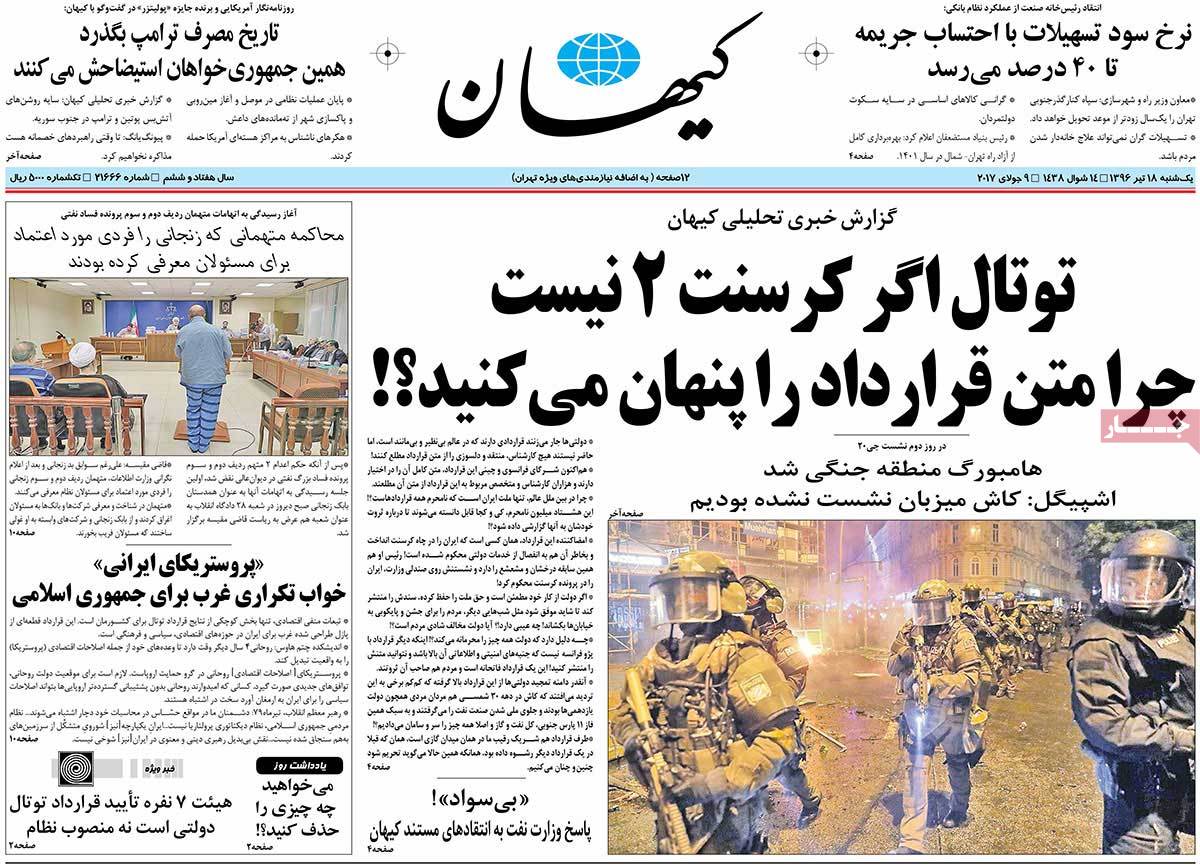 ---
Resalat:
1- Fire on G20 Camp: Hamburg Turns into War Zone
2- Tehran Mayor: Serious Management Crisis in Iran's Crisis Management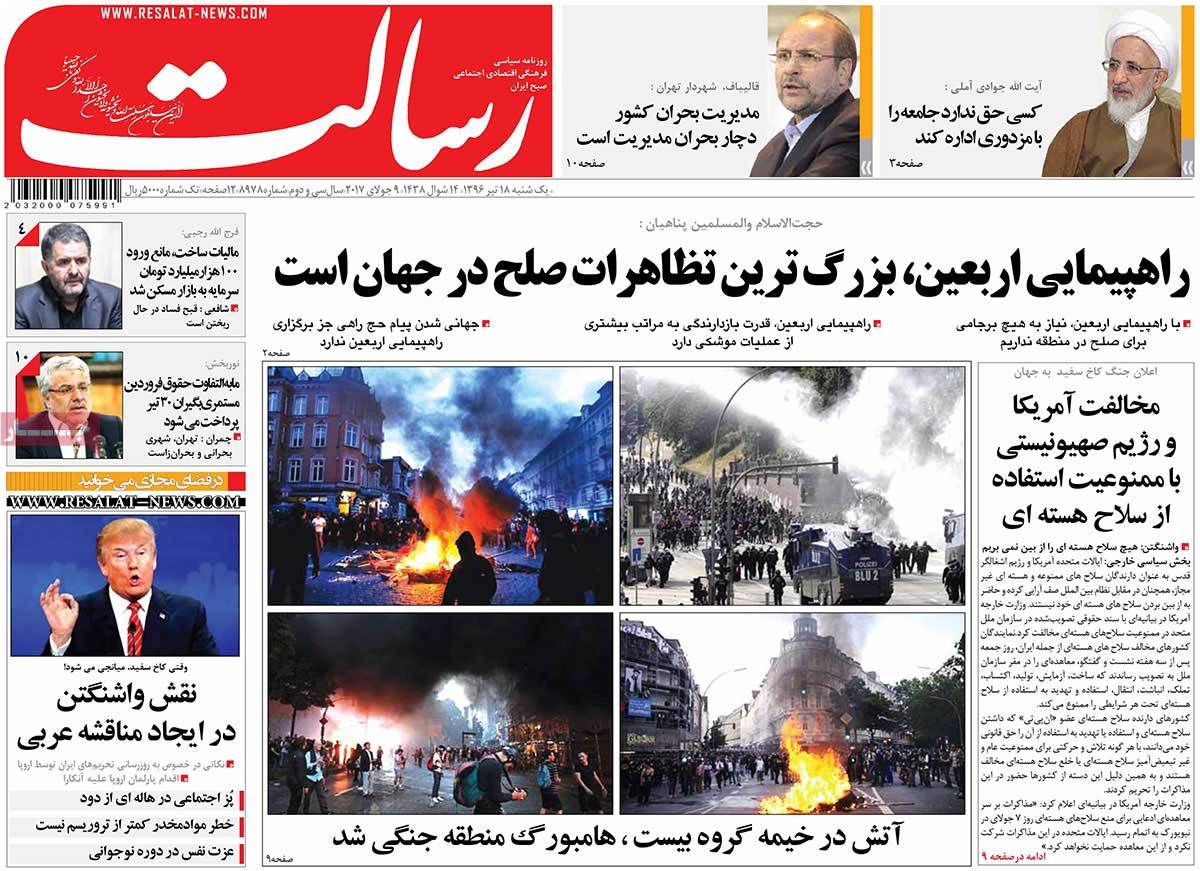 ---
Rooyesh-e Mellat:
1- Trade Minister: Iran Not to Become Industrial State by 2025
---
Shahrvand:
1- Middlemen Making Money by Selling, Buying Visa Appointments
---
Shargh:
1- Shadow of Oil Deals on National Day of Industry and Mine
2- First VP: Total Deal Not against Iran's Law