The top story in most newspapers today was the second report by the Iranian Parliament's National Security and Foreign Policy Commission on the implementation of the nuclear deal between Tehran and world powers. In this report, the lawmakers stressed that anti-Iran banking restrictions have not been fully removed despite what stipulated in the nuclear deal.
Meanwhile, another top story was Europe's expression of its all-out support for the nuclear deal. French President Emmanuel Macron and British Ambassador to Tehran Nicholas Hopton were among those whose pro-JCPOA remarks were widely covered today.
The remarks made by President Hassan Rouhani in his Tuesday night's live TV interview with the state TV also received great coverage.
The above issues, as well as many more, are highlighted in the following headlines and top stories:
Abrar:
1- Details of Hezbollah's Deal with ISIS to Receive Body of Iranian Martyr
2- Qatar: We're Ready to Hold Talks with Boycotting Countries
3- Hamas President in Gaza: Iran Is Our Biggest Supporter Today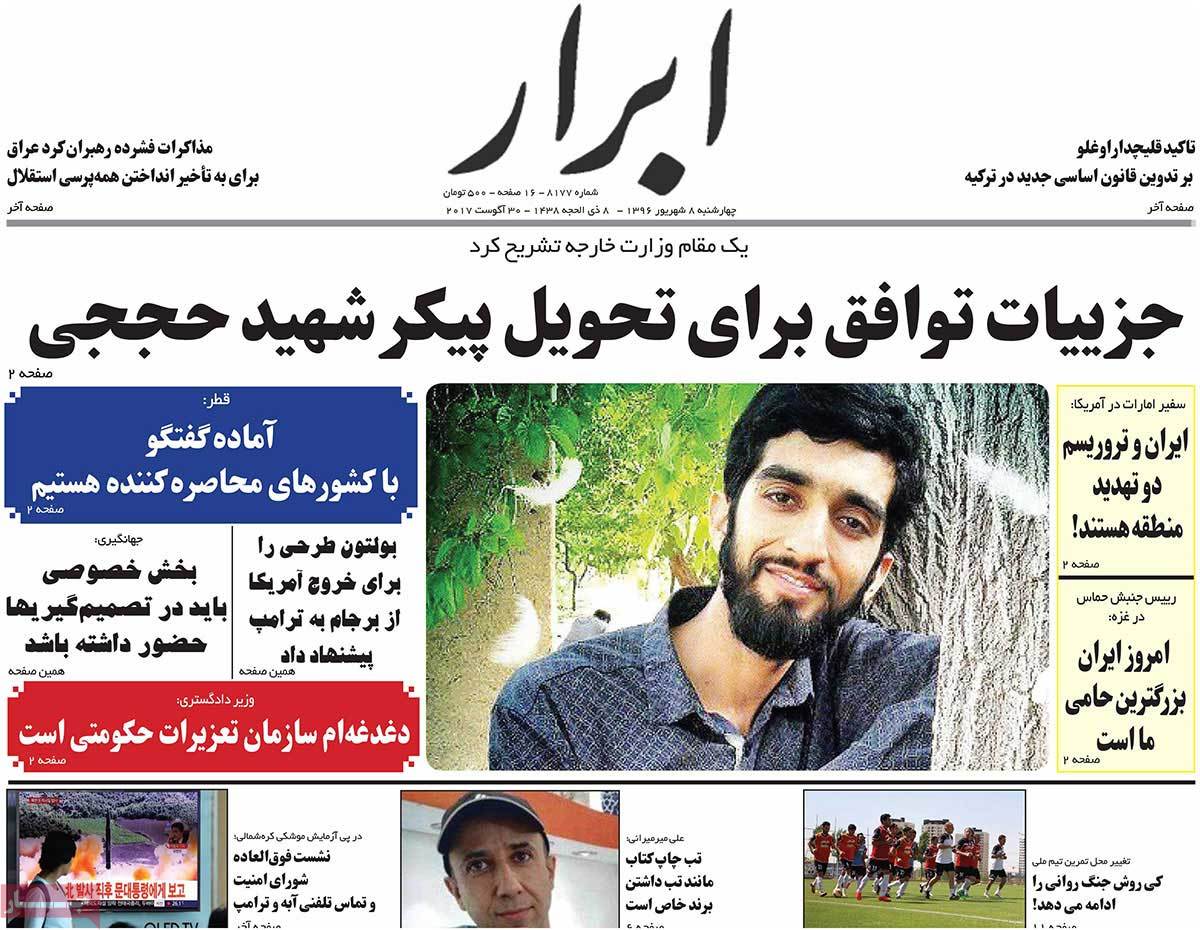 ---
Aftab-e Yazd:
1- Rouhani: You Can't Guide People Using Force; You Should Encourage Them
2- Oil Minister: I Don't Know Why Pakistan Not Serious in Gas Pipeline Project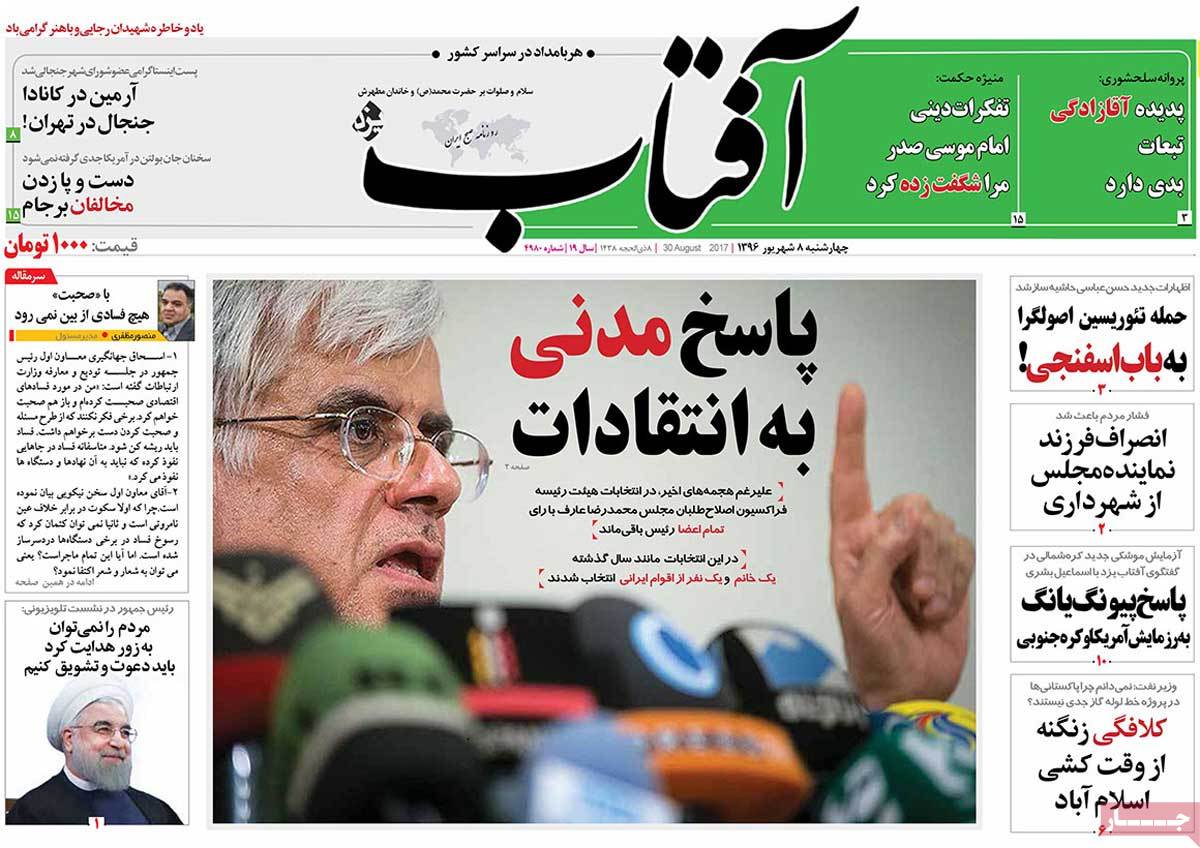 ---
Arman-e Emrooz:
1- Gov't Spokesman: Talks to Begin on Issue of Opposition Leaders' House Arrest
2- Promises and Questions: Rouhani Talks to People in Live TV Interview
It's Upon People to Choose Heaven or Hell
I'll Keep My Promises
---
Emtiaz:
1- Sale of Stationary with Obscene Images Prohibited: Official
2- Domestic Violence against Women, Children Very Widespread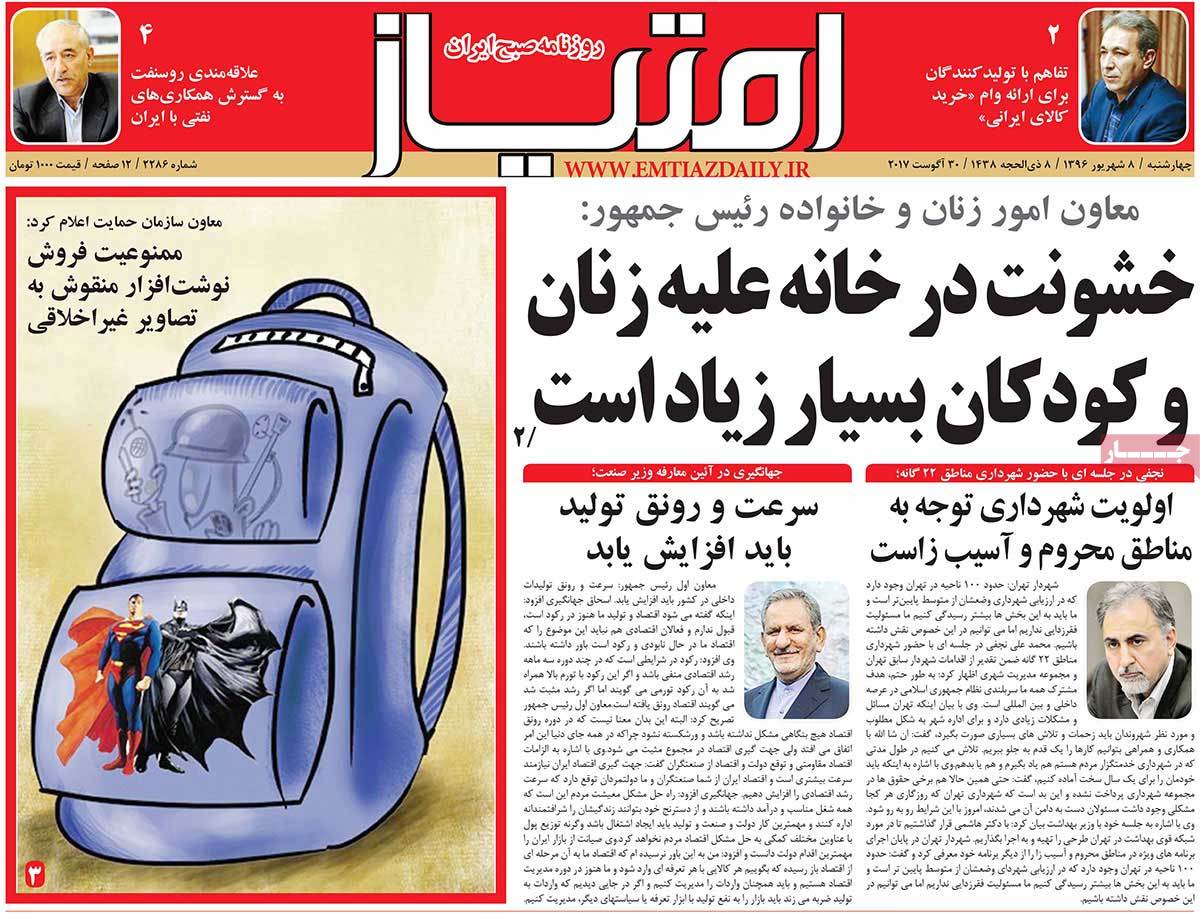 ---
Etemad:
1- Mogherini Repeats Her Warning to Trump: I Once Again Repeat JCPOA Is Int'l Deal
2- Analyst: Improvement of Ties with Tehran to Send Direct Signal to Riyadh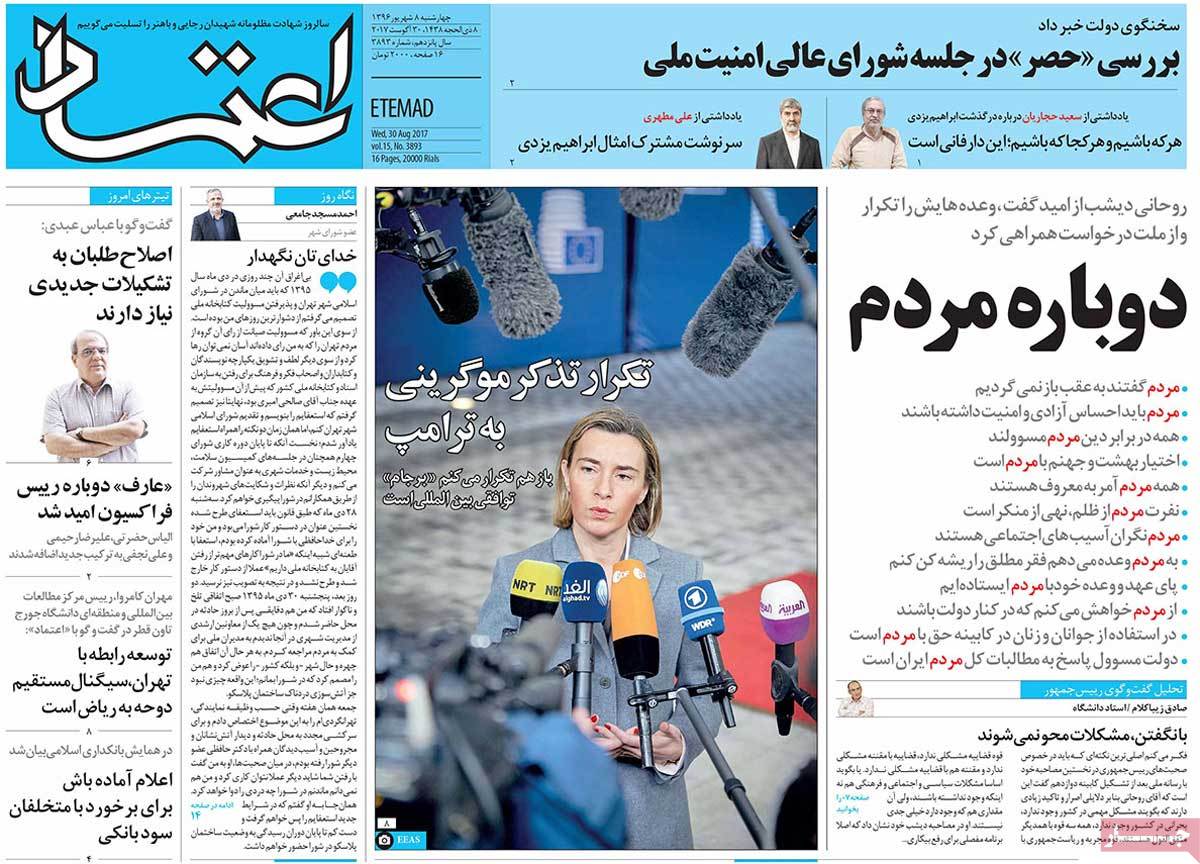 ---
Ettela'at:
1- Rouhani's Economic Deputy: Gov't Priority Is Economic Growth without Inflation
2- Flags of Syria, Lebanon's Hezbollah Raised in Qalamoun after Defeat of Terrorists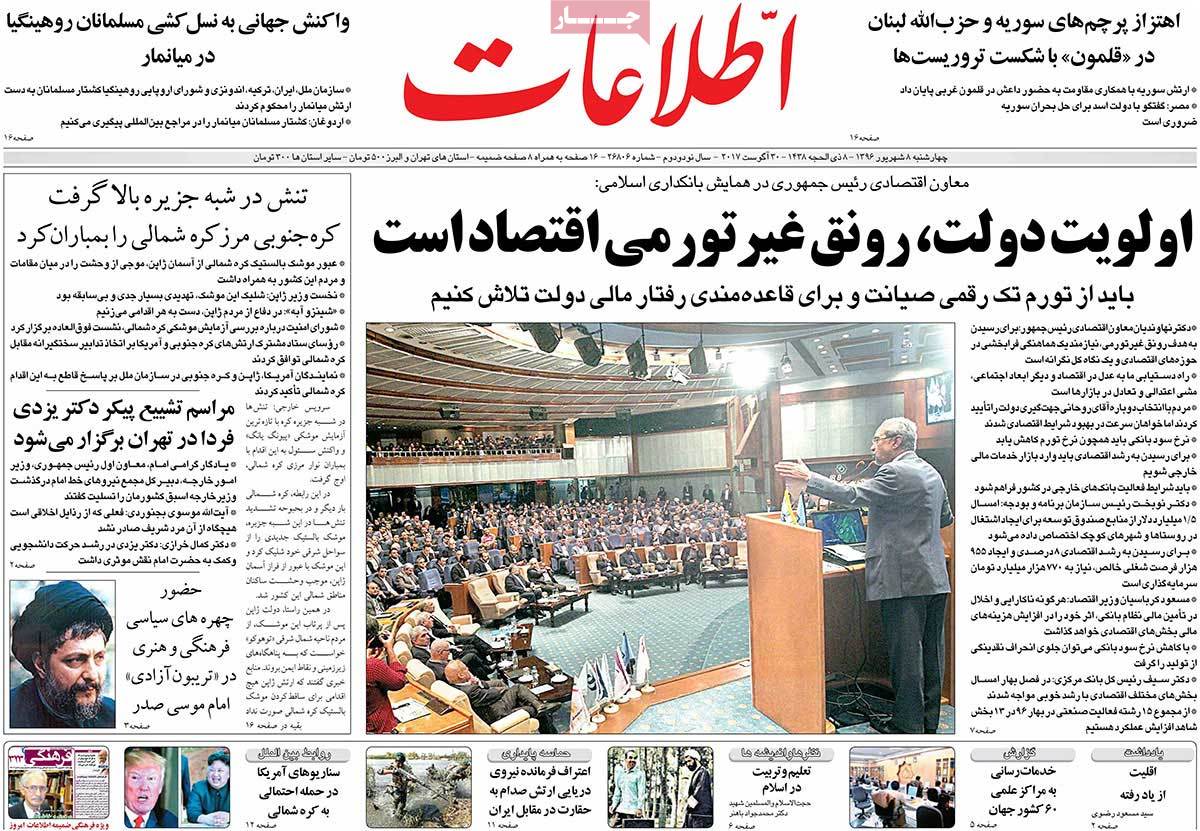 ---
Iran:
1- Rouhani in Live Interview: Ending Unemployment First Priority of Cabinet
---
Javan:
1- Creating Jobs for Young People, Ending Unemployment, People's Top Demands: Rouhani
2- Import of Shoe Wax, Gardening Shovel, Chinese Pumice in Year of Production, Employment!
Import of Legitimate, Legal Goods Is Free: Official
3- Parliament's Report on JCPOA: Almost No Banking Restriction Lifted!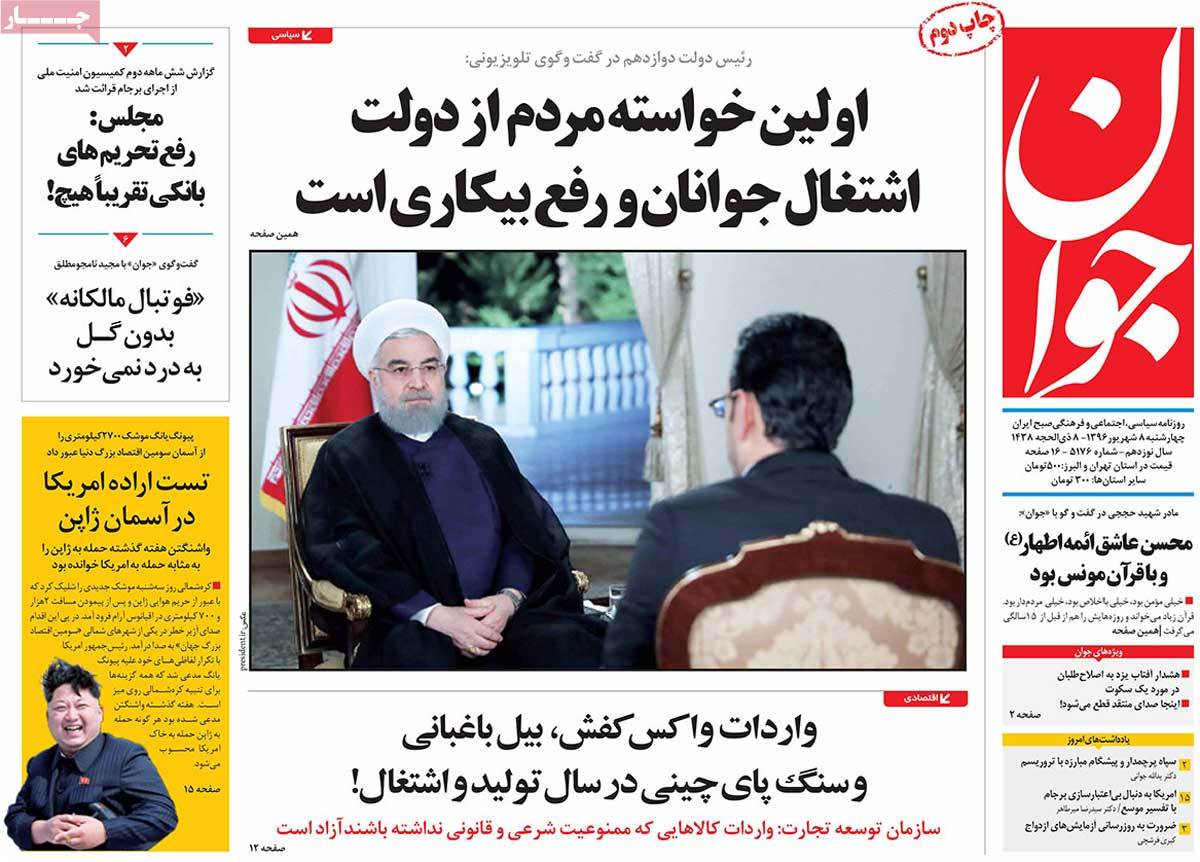 ---
Jomhouri Eslami:
1- Europe's Integrated Stance in Support for JCPOA
British Ambassador to Tehran: London Fully Committed to Nuclear Deal
French President: Paris Support Iran Deal, Because There's No Alternative
2- Official: $7 Billion worth of Foreign Investment Attracted in Industry, Mine, Trade after JCPOA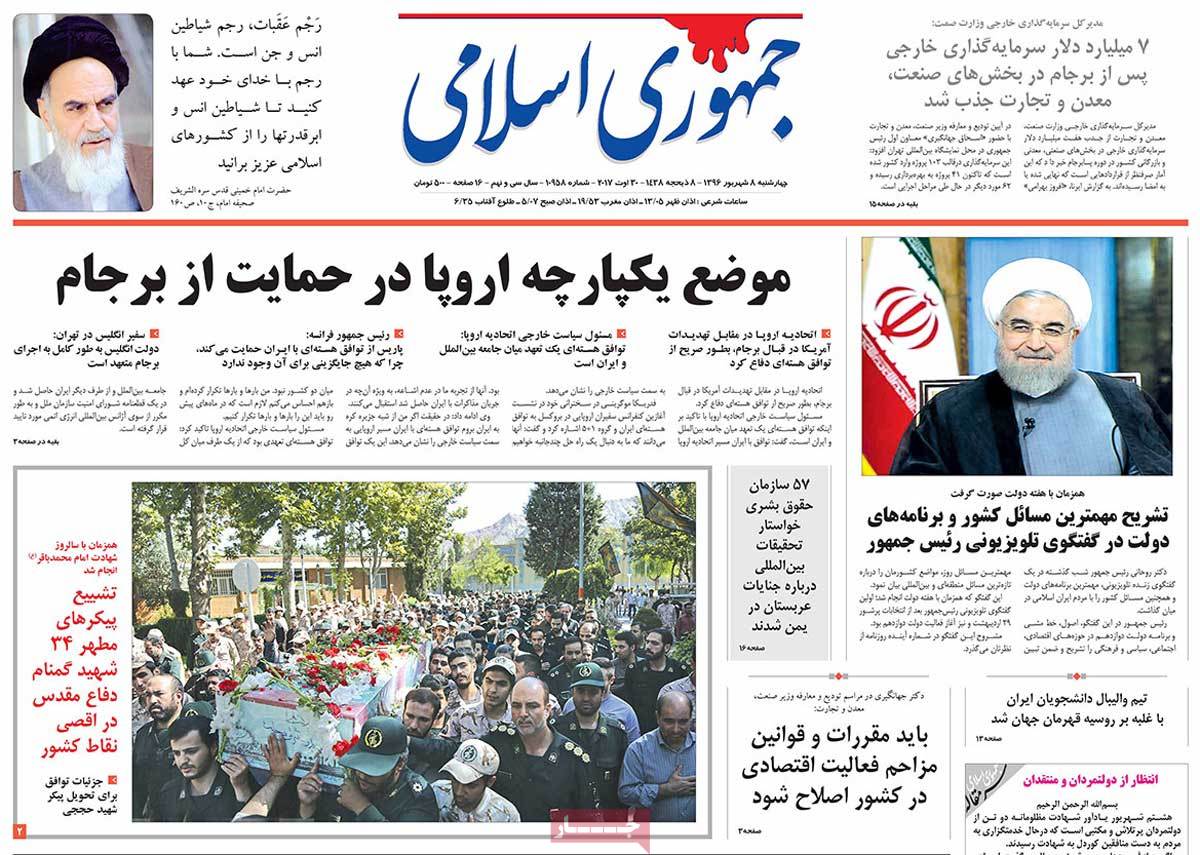 ---
Kayhan:
1- Parliament after 7-Month Delay: Sanctions Lifted Only on Paper
2- Former US Envoy to Syria: Victory of Assad, Iran Are Realities We Should Get Used to
---
Payam-e Zaman:
1- Iran Parliament: US Has No Choice but to Fulfil Its Commitments
2- Inspecting Iran's Military Sites against Spirit, Text of Nuclear Deal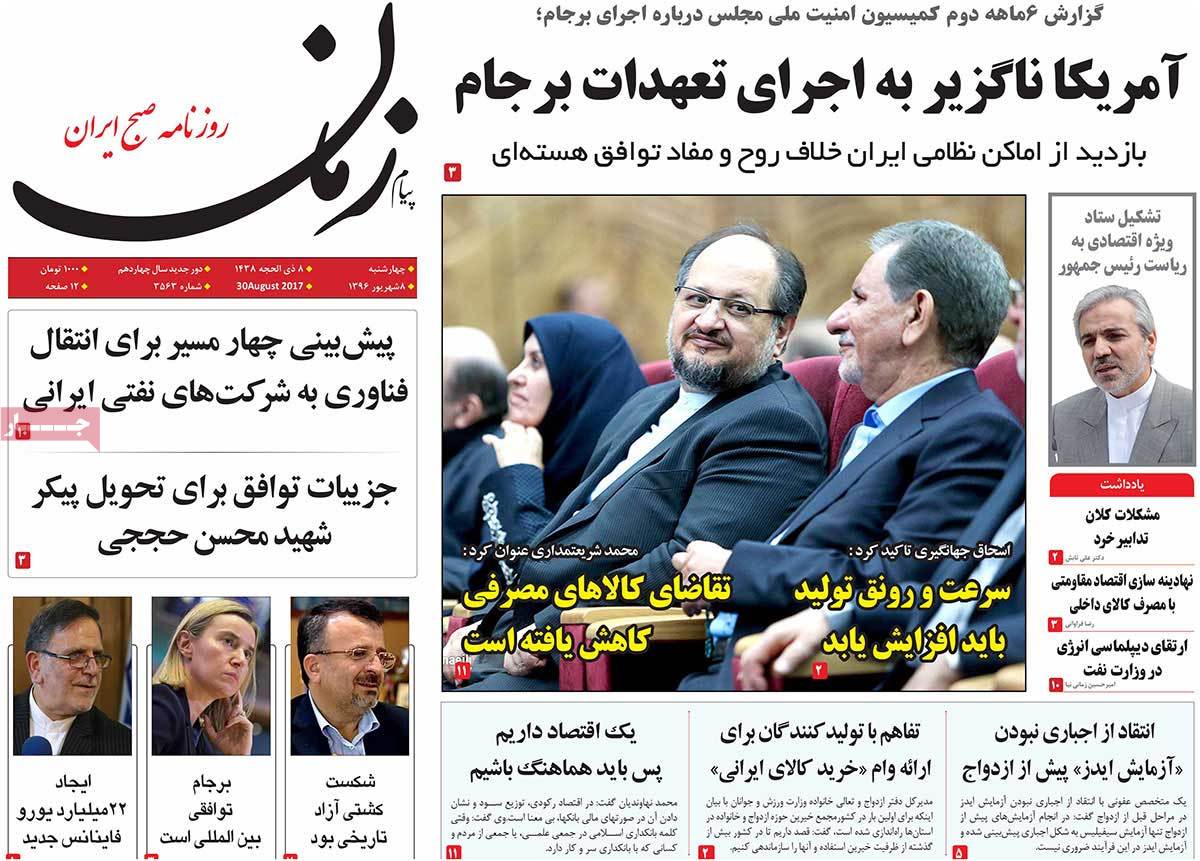 ---
Resalat:
1- Parliamentary Report on JCPOA Implementation: Banking Problems Still in Place
2- We Won't Accept University Professors Making Anti-Revolution Remarks
3- Industry Minister: People's Purchasing Power Decreased to 16 Years Ago
4- Nasrallah: Fight against Terror Continuation of Fight against Israel
---
Shargh:
1- Rouhani: Women to Have 30% Share in Government's Managerial Posts
2- Amir-Abdollahian: We Can't Say Imam Musa al-Sadr Is Dead
3- 22 Baluch Women Elected as Heads of Village Councils