The top story in all newspapers today was the remarks made by the Leader of Iran's Islamic Revolution, Ayatollah Seyyed Ali Khamenei, in a meeting with President Hassan Rouhani and his cabinet members.
The Leader gave the government several pieces of advice, urging them to tolerate their critics and resolve the Iranian people's economic problems as soon as possible.
The comments made in two ceremonies were also highlighted today: First, the ones in a ceremony to appreciate efforts made by former Tehran mayor Mohammad-Baqer Qalibaf, and second, those made in a ceremony to inaugurate new Culture Minister Seyyed Abbas Salehi.
The above issues, as well as many more, are highlighted in the following headlines and top stories:
Abrar:
1- Rouhani: We've Promised to Eradicate Absolute Poverty in 4 Years
2- Zarif: No Decision Made Yet on Rouhani's Trip to New York
3- Iran Top Officer: Leader Not Convinced by Level of Promotion in Armed Forces' Power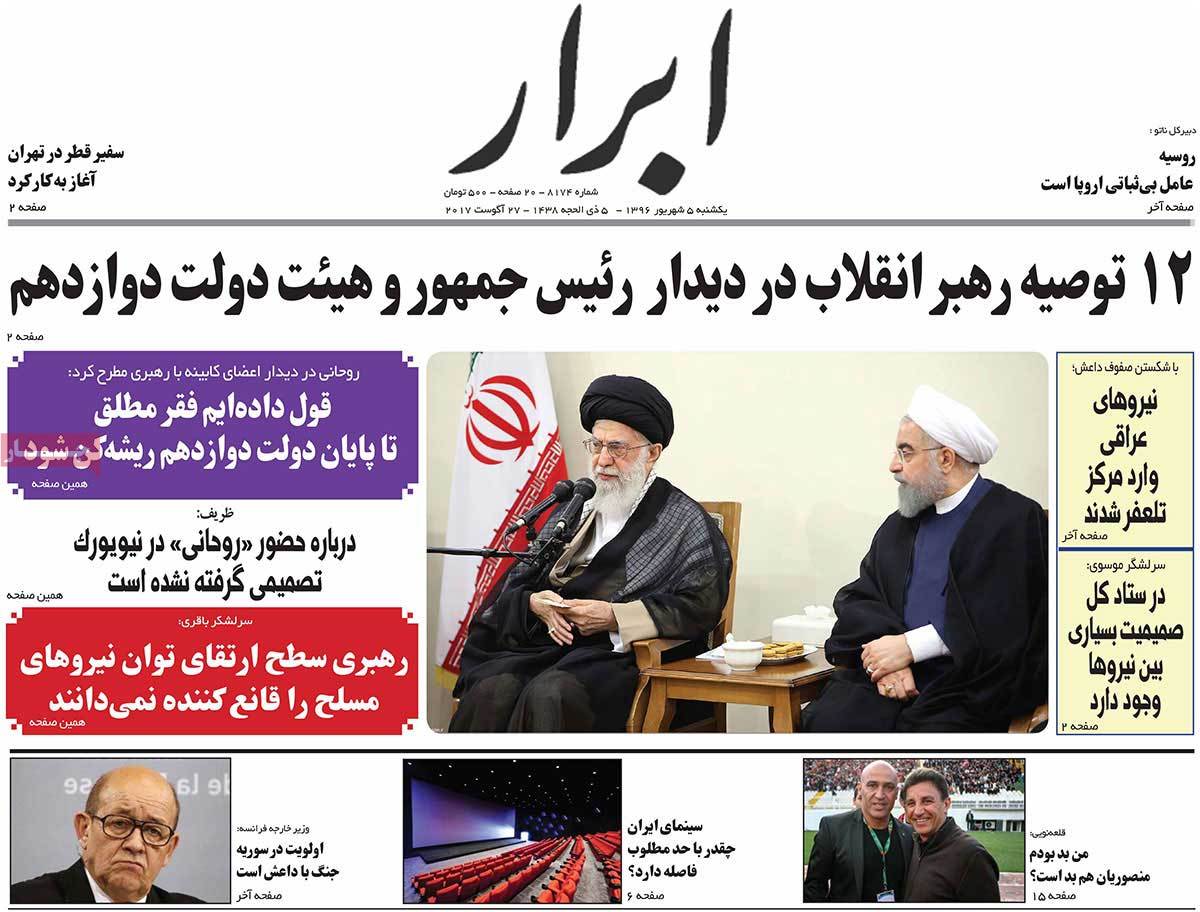 ---
Aftab-e Yazd:
1- Iran Leader Calls for Government's Nonstop Efforts to Resolve People's Economic Woes
2- Cabinet Overshadowed by Three Generals
Ministers of Foreign Affairs, Health, Oil Most Competent Ones in Rouhani's Cabinet
---
Arman-e Emrooz:
1- Iran Leader's 12 Key Advice for Government; Listen to Your Critics
2- Ex-MP Underlines Need for Free Media to Fight Corruption
Western Countries Reward Whistle-Blowers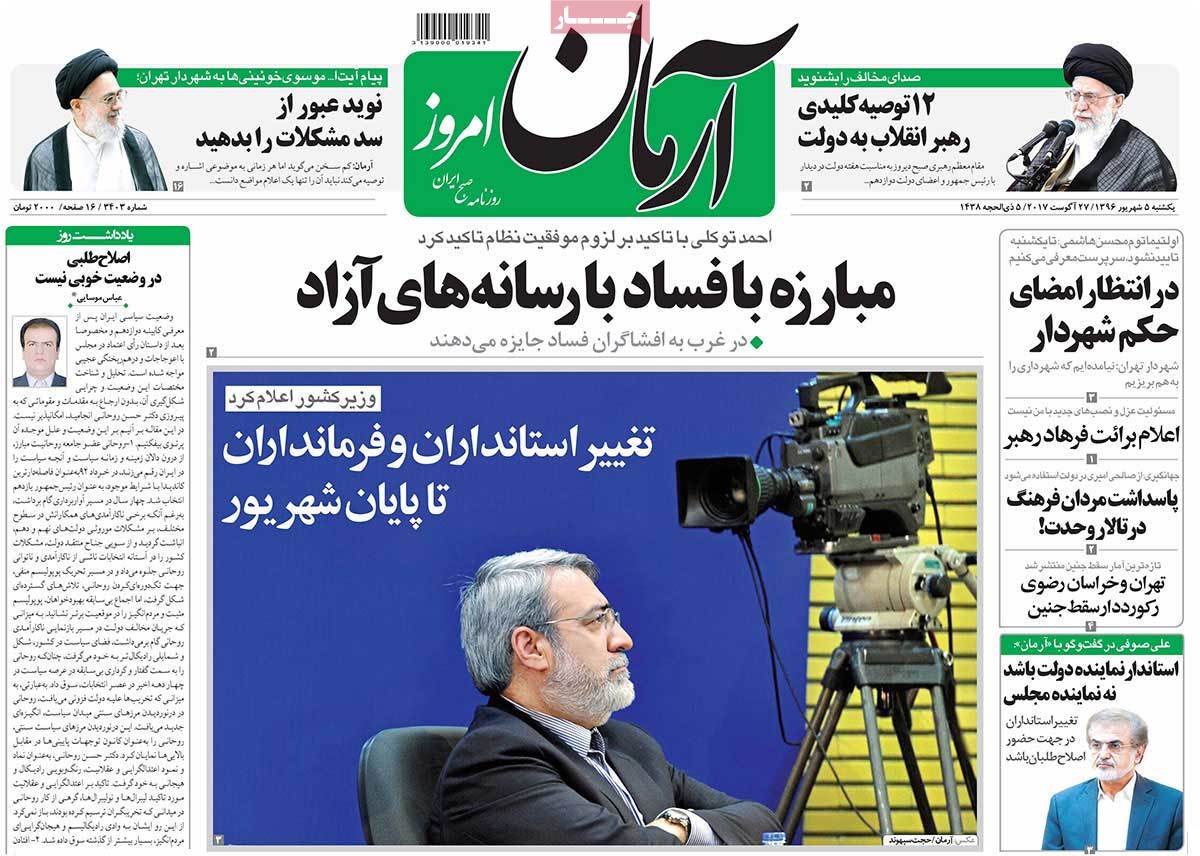 ---
Etemad:
1- New Culture Minister: I'll Try to Keep Atmosphere of Iran's Culture Breathable, Clean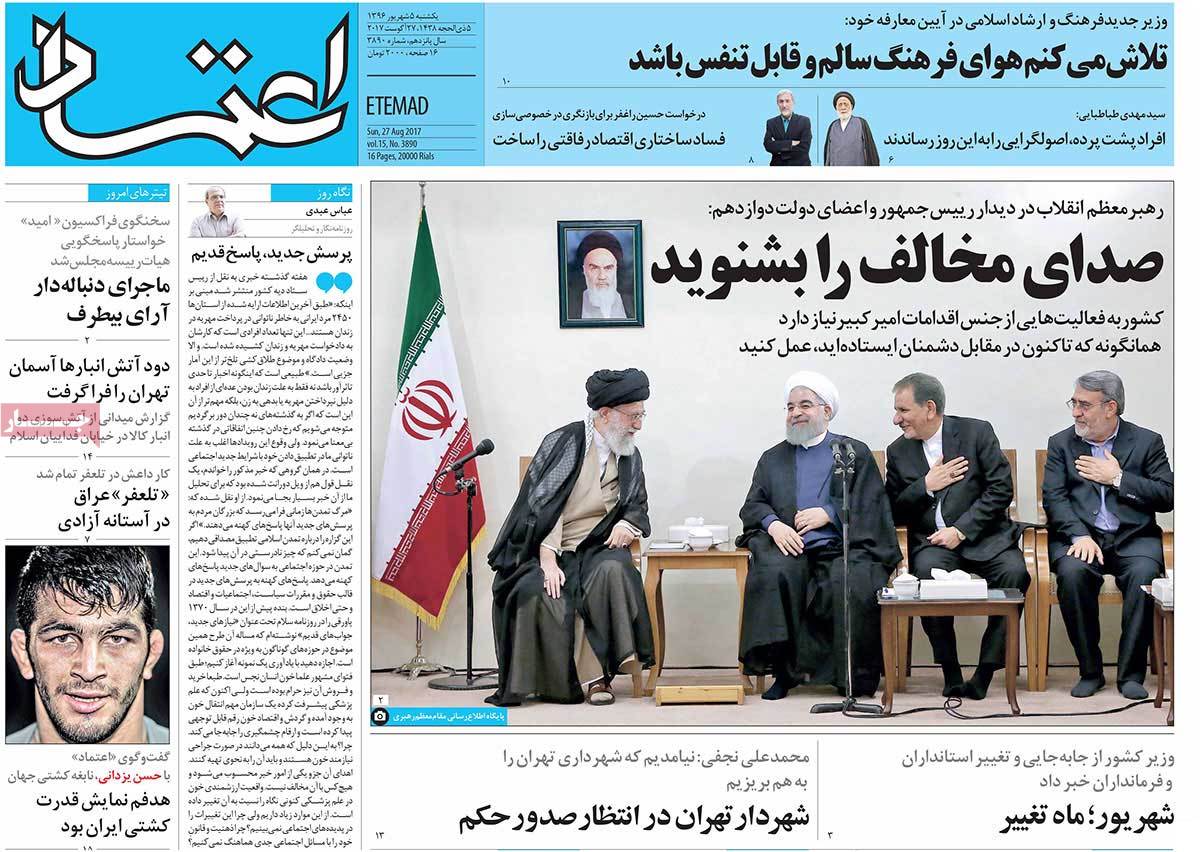 ---
Ettela'at:
1- Leader Calls for Decrease in Iranian Economy's Reliance on Oil
2- Iraq's Tal Afar Liberated from ISIS Occupation
---
Iran:
1- Iran Leader Underlines Necessity of Nonstop Work for People's Livelihood
2- Trade Minister: Government Won't Be Backyard for Quasi-Public Corporations
---
Javan:
1- Leader: Iran's Economy Should Become Productive, Popular
2- Western Countries in Riyadh Summit Urge Syrian Dissidents to Accept Assad
---
Jomhouri Eslami:
1- Iran Nuclear Chief: First Phase of New Nuclear Project in Fordow Inaugurated
2- Afghanistan's Shiites Warn Gov't: If You Don't Protect Us, We'll Do It Ourselves
3- 704 Broker Relations with 249 World Banks after Iran Nuclear Deal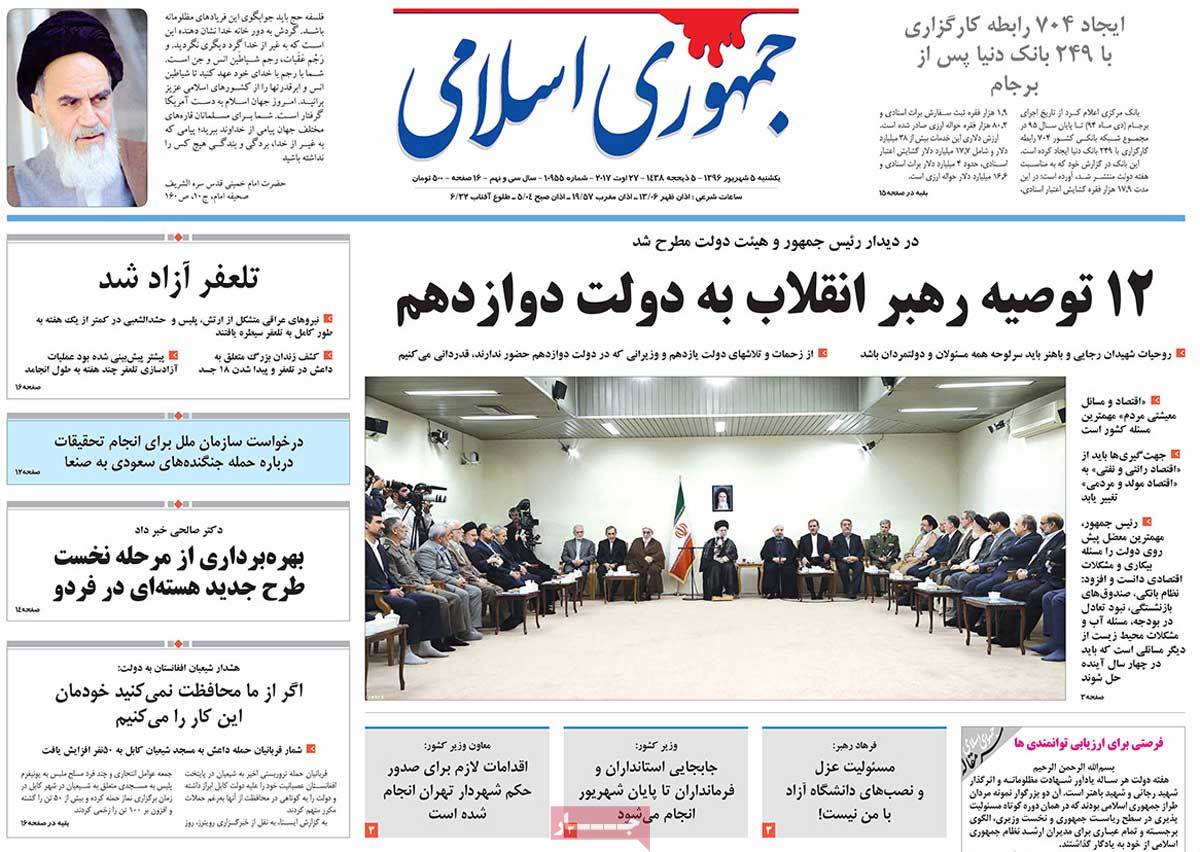 ---
Kayhan:
1- Iran Leader Urges Government to Refrain from Aristocracy
Economic Statistics Don't Fully Reflect People's Real Lives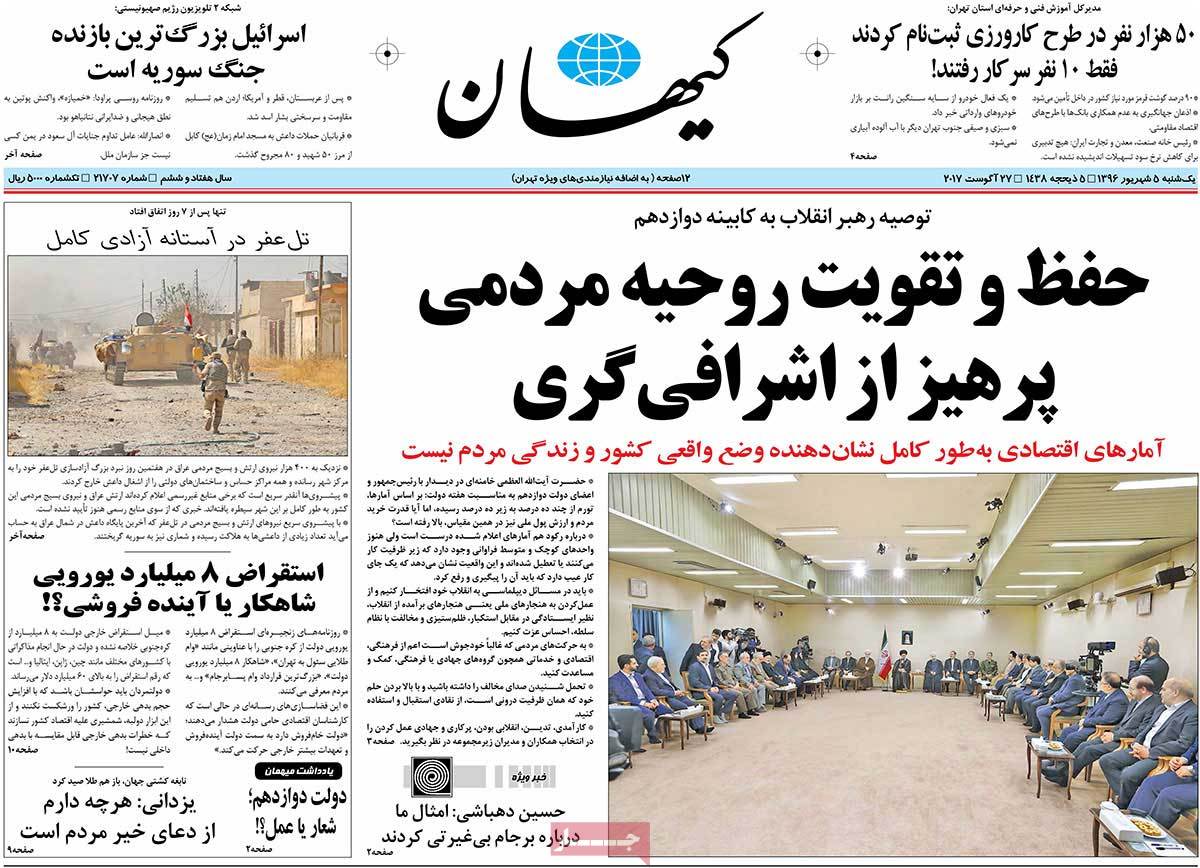 ---
Resalat:
1- It's Time for Rouhani, His Ministers to Start Action: Leader
2- Imam Khomeini's Grandson: Qalibaf Felt Society's Pains
3- Rouhani: Resolving Issue of Unemployment First Priority of Gov't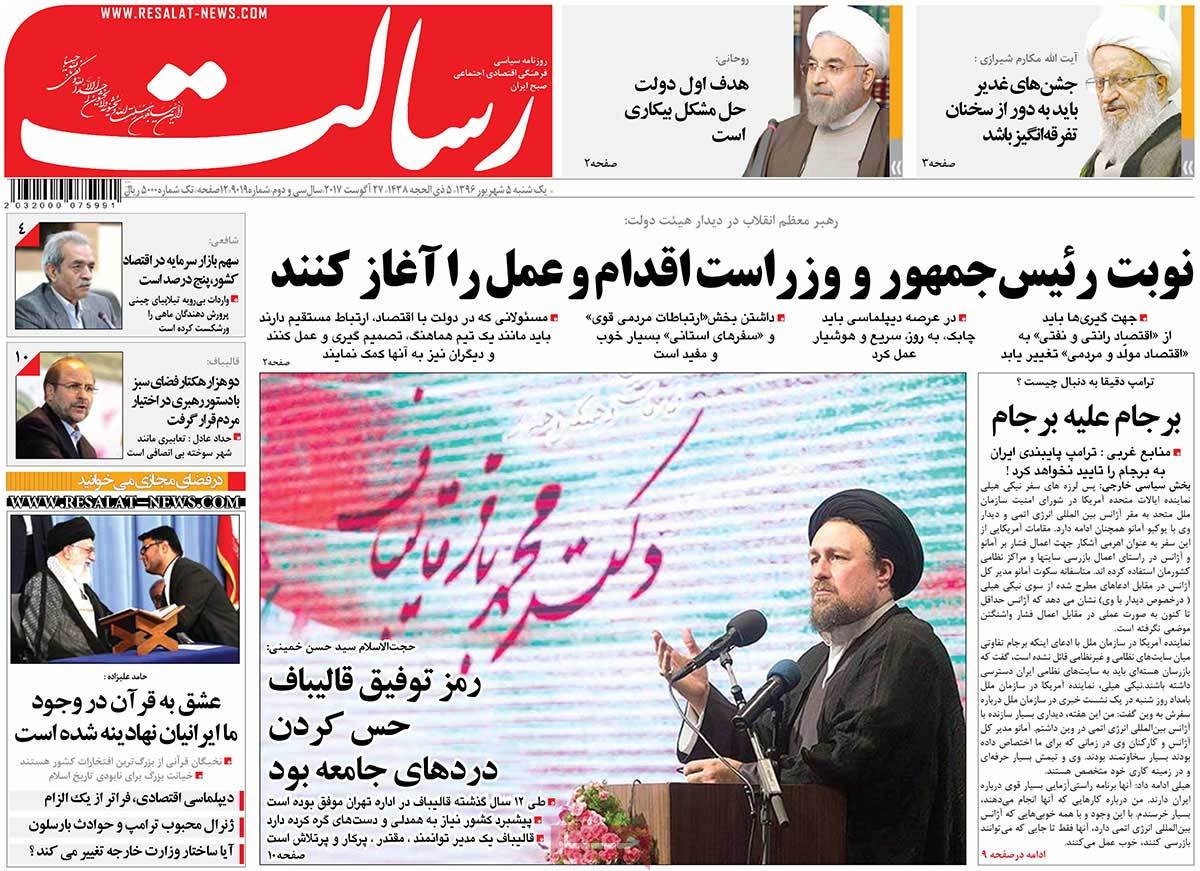 ---
Rooyesh-e Mellat:
1- Withdrawal from JCPOA to Isolate US: Ex-Secretary
2- Qassemi: Iran to Reciprocate US Moves
3- Average Age of Oil Deal Negotiators Decreased to 30
---
Shargh:
1- Iran Leader to Gov't: Tolerate Your Critics
2- First VP: No Change to Be Made to Iran's Cultural Policies