Many Iran newspapers covered the remarks made by the Leader of Iran's Islamic Revolution Ayatollah Seyyed Ali Khamenei in a meeting with a group of Quran reciters and organizers of an international Quran contest.
The top story, however, was the first live presidential debate between the six candidates on social issues.
The focus of reformist and pro-government newspapers was on Es'haq Jahangiri's attacks and counterattacks against Tehran Mayor Mohammad Baqer Qalibaf. Conservative media also referred to Hassan Rouhani's weak performance in the debate, and stressed that he has been the main loser.
The above issues, as well as many more, are highlighted in the following headlines and top stories:
Abrar:
1- Iran Leader: We're Proud that Iranian People Are Interested in Quran
2- Pakistani Envoy Summoned to Iran's Foreign Ministry
3- US State Department Calls on Iran to Release Two American Prisoners
4- Amano: IAEA to Continue Implementation of Safeguard in Iran
5- US Lawmaker: US Position Safer Thanks to JCPOA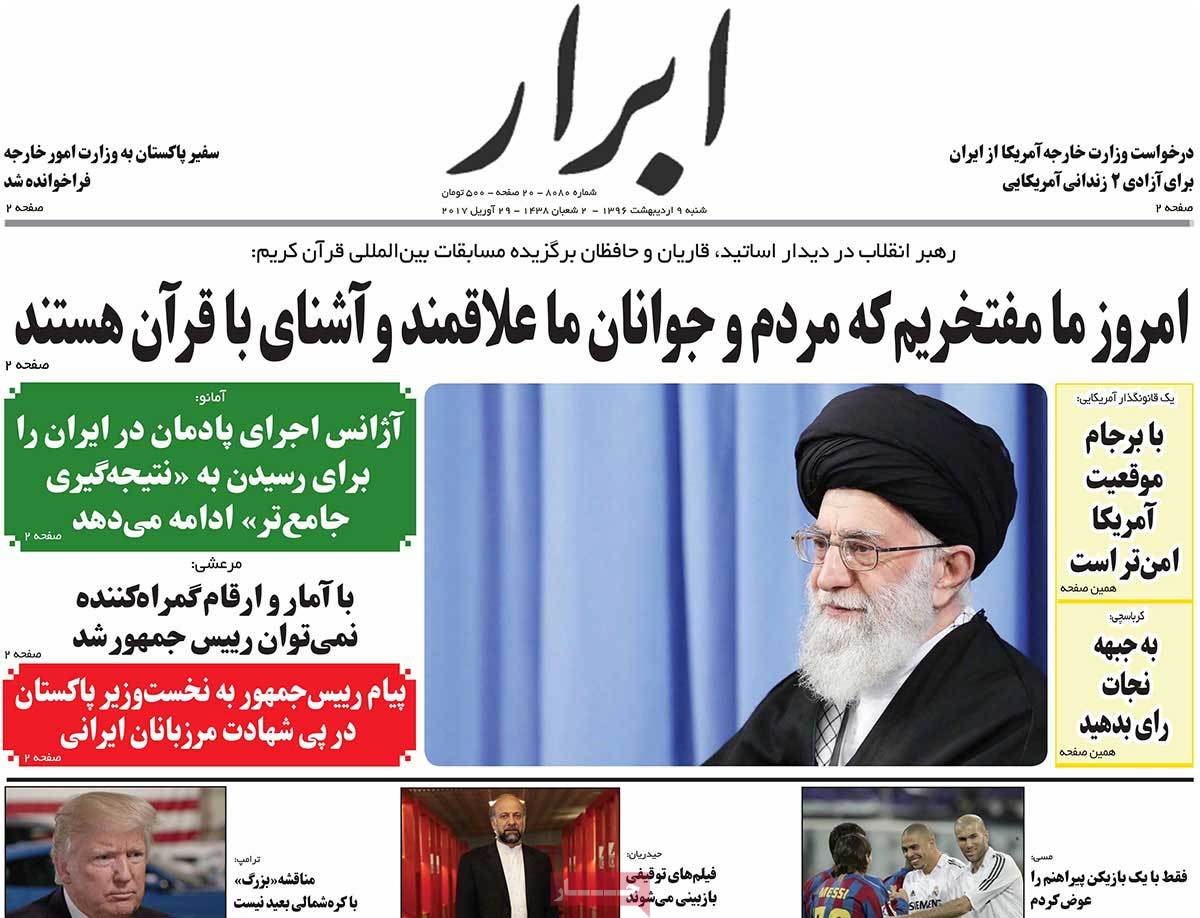 ---
Abrar-e Eqtesadi:
1- Repeating Ahmadinejad's Mistake: Promise to Triple Cash Handouts
2- Iran Ranked 120 in World Ranking of Ease of Doing Business
3- 22% Increase in Iran's Imports in Past Year
4- Iran Third Supplier of Commodities Iraq Needs
5- Germans Take Samples of Iran's Gas to Manufacture Cars
---
Afkar:
1- Brilliant Work of the 96%: The 4% Group Can No More Deny
2- IRIB Host Acts in Favour of Rouhani's Government
3- Rouhani Denied, Qalibaf Showed Document
4- Rouhani Was Biggest Loser of Debate: Conservative Naderan
---
Aftab-e Yazd:
1- Es'haq Beats Qalibaf
Qalibaf Seems to Be Main Rival of Rouhani
2- Rouhani Intentionally Refused to Get Engaged in Challenging Arguments
3- Iran Once Again in Grief of Its Soldiers
4- Iran Isn't US, Iranian President's Office Isn't White House
An Account of Attacks against Government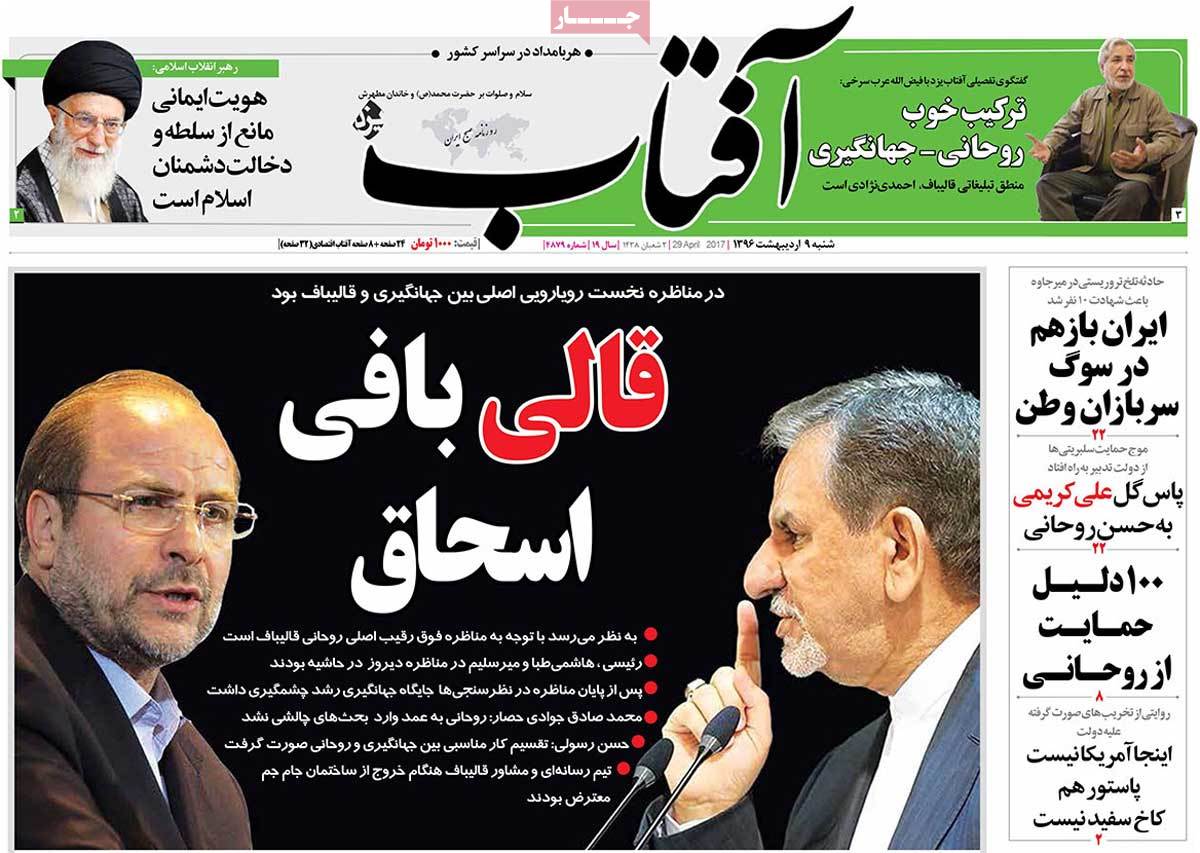 ---
Arman-e Emrooz:
1- Rouhani to Qalibaf: 3 of Your Claims Are Lie
2- Rouhani: If It Wasn't for My Gov't, Cyberspace Was Blocked Now
3- Reformist Figure: Even Conservatives Are Inclined towards Rouhani
Qalibaf Seeks to Receive Votes of Ahmadinejad Fans
4- Washington's Request from Iranian Officials: Iran-US Talks in Trump Era!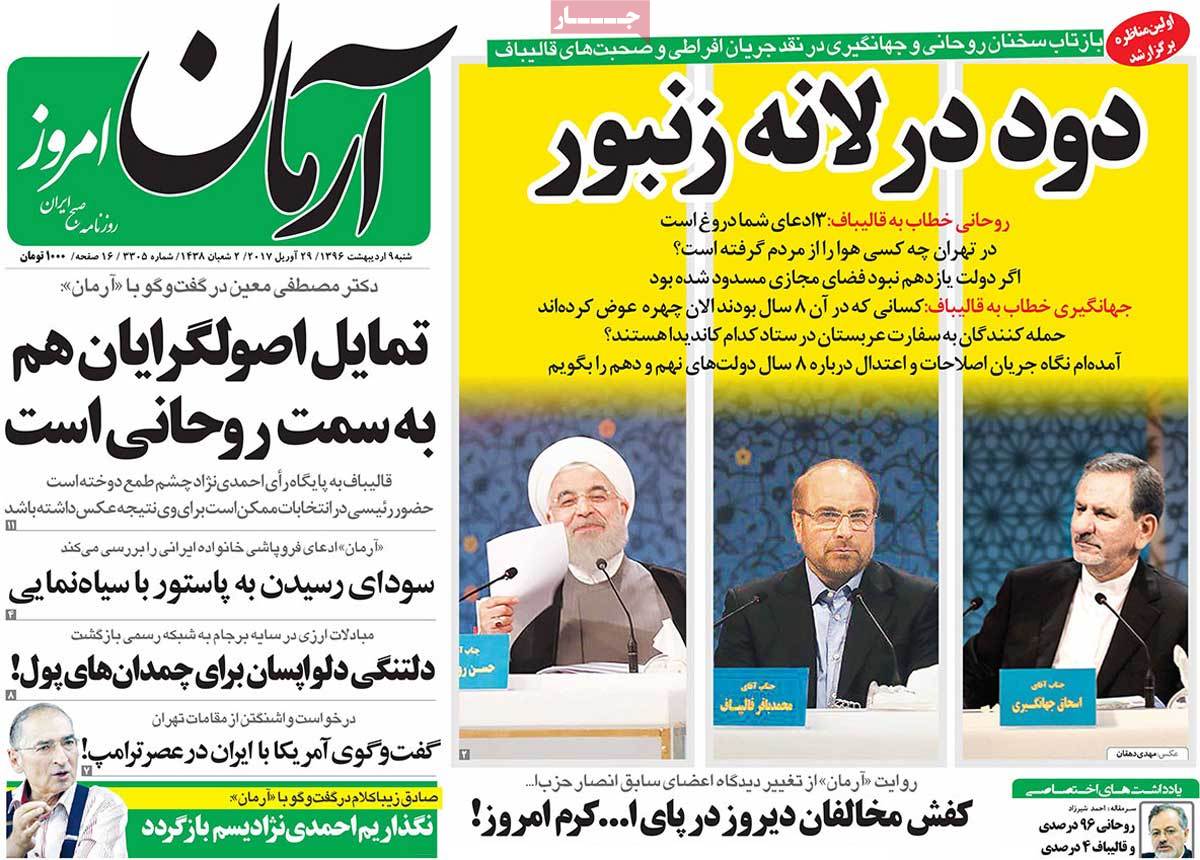 ---
Asr-e Iranian:
1- Qalibaf Single-Handedly Stands against Government's Attacks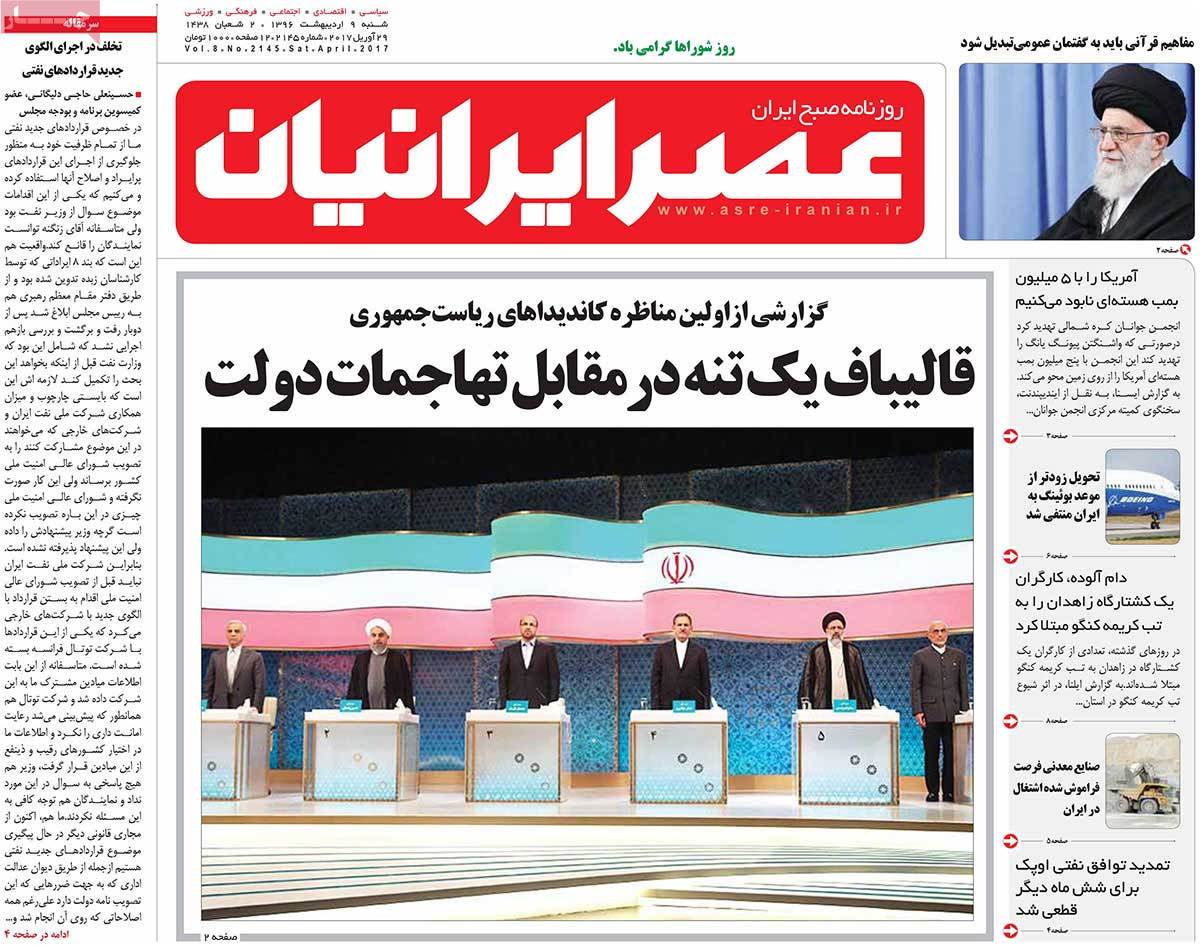 ---
Asrar:
1- Parliament Speaker Urges Candidates to Avoid Impractical Slogans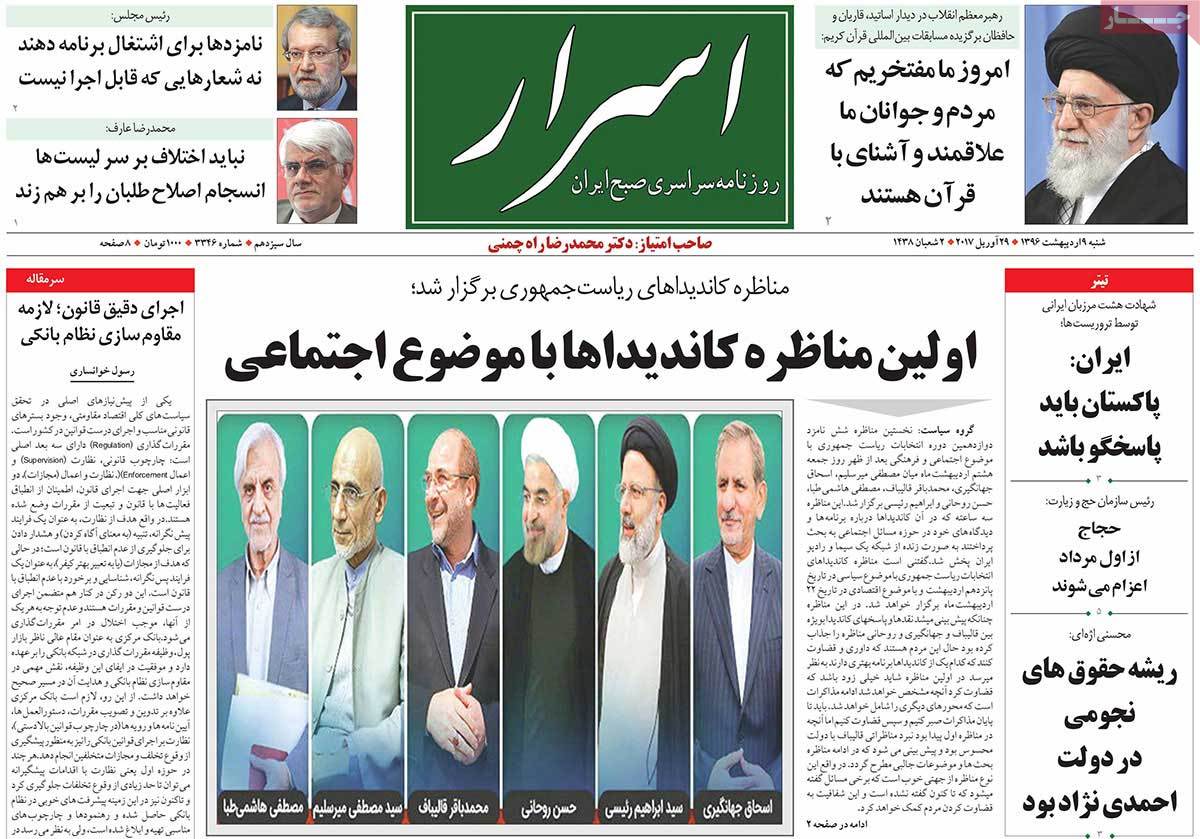 ---
Ebtekar:
1- Jahangiri's Prudence, Rouhani's Hope in First Live Presidential Debate
2- VP: People's Hope Should Not Be Destroyed in Elections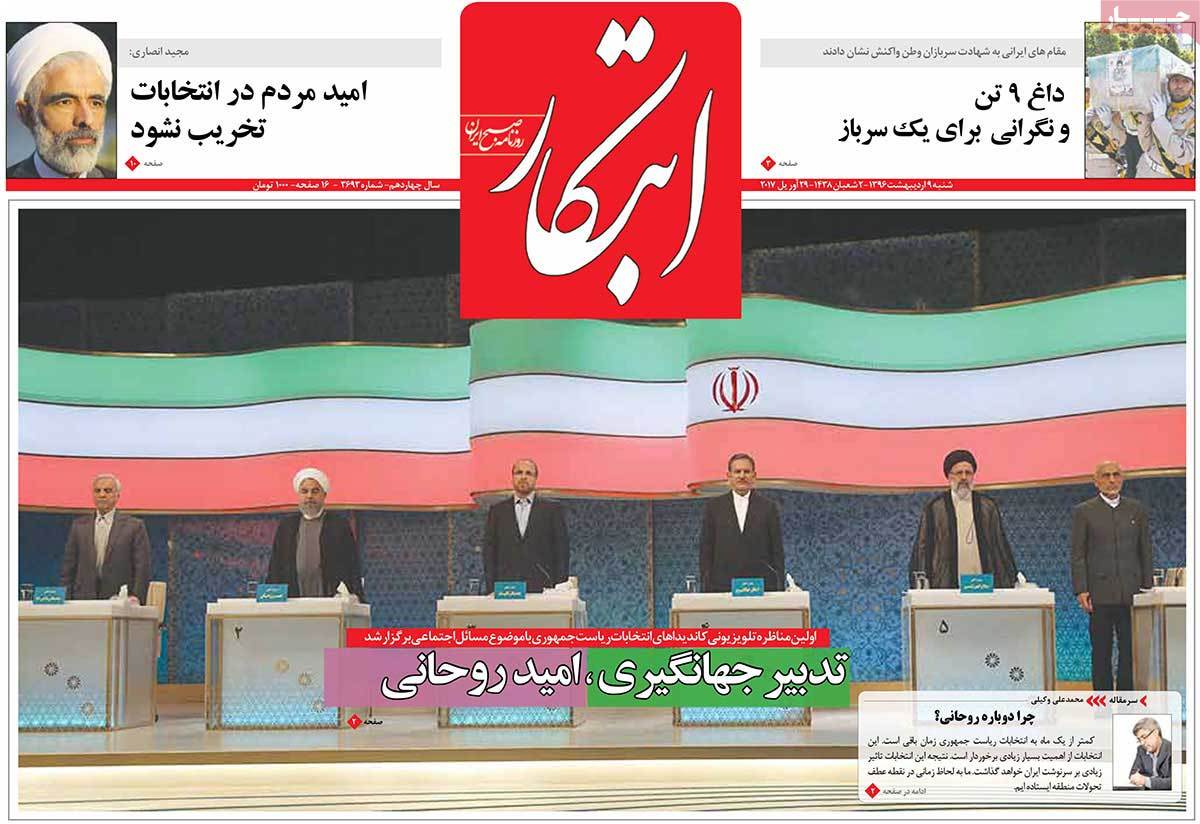 ---
Emtiaz:
1- Police Vows to Give Crushing Response to Terrorists Who Killed Iranian Border Guards
---
Etemad:
1- Jahangiri's Earthquake: Rouhani's Partner in Duel with Qalibaf
2- Hashtag on Iran's Presidential Debates Becomes Worldwide Trend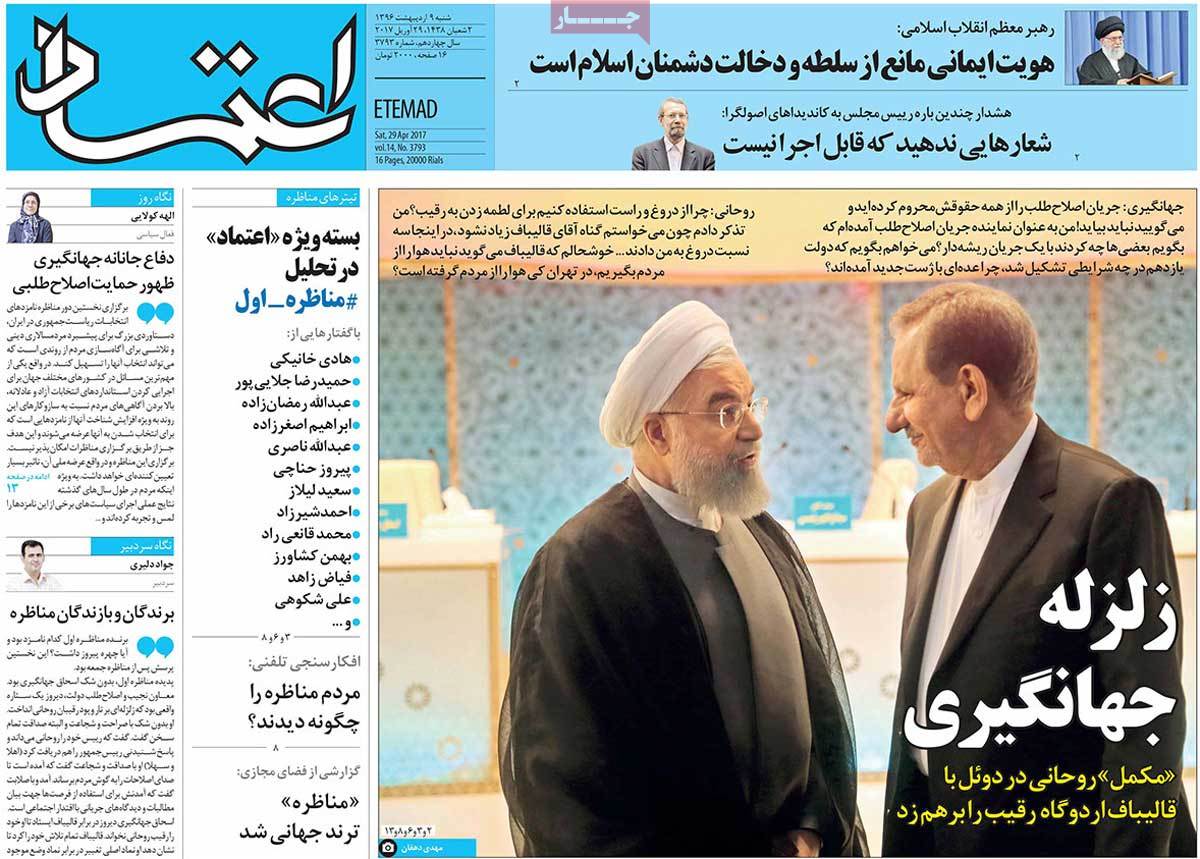 ---
Ettela'at:
1- Iran Leader: World of Unbelief Seeks to Destroy Islamic Identity
2- Parliament Speaker Describes Elections as Opportunity to Put off Enemy
3- President: Those behind Massacre of Iranian Border Guards Should Be Put on Trial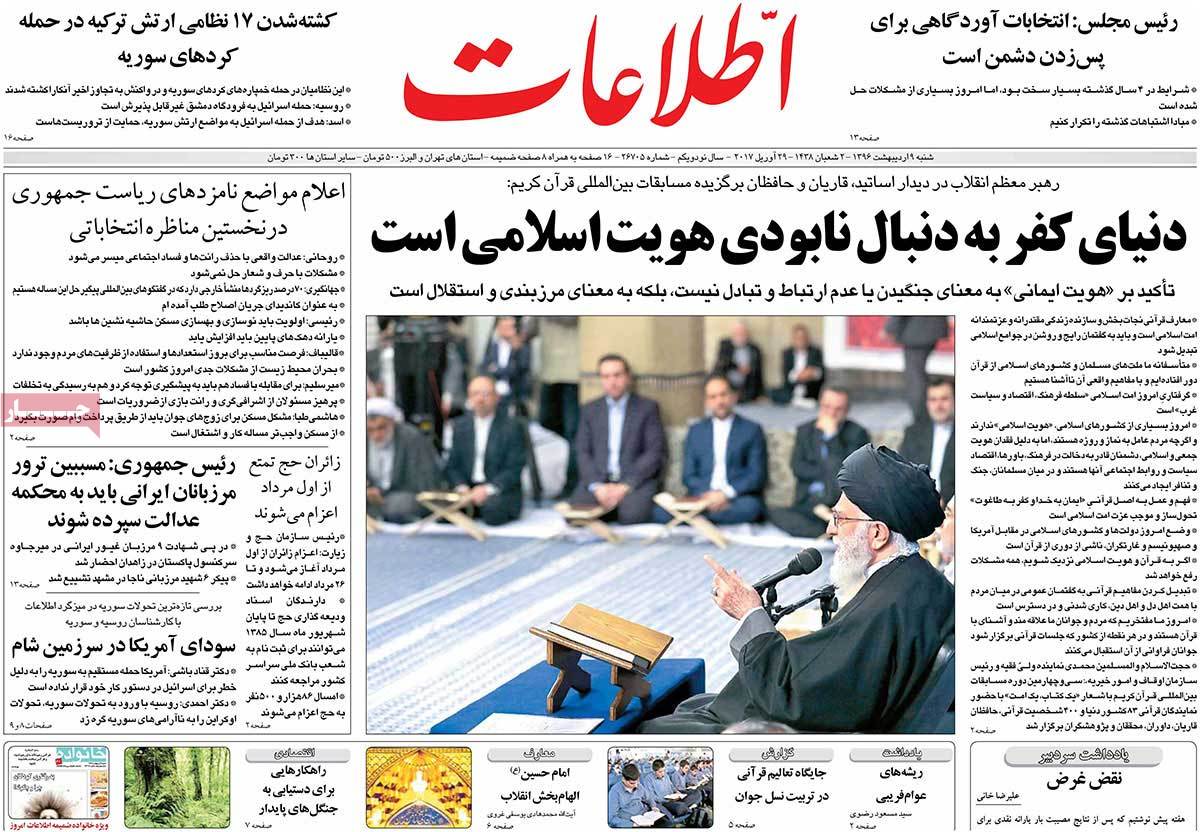 ---
Haft-e Sobh:
1- Jahangiri Surprisingly Becomes Star of First Presidential Debate
2- Blood of Iranian Soldiers near Pakistani Border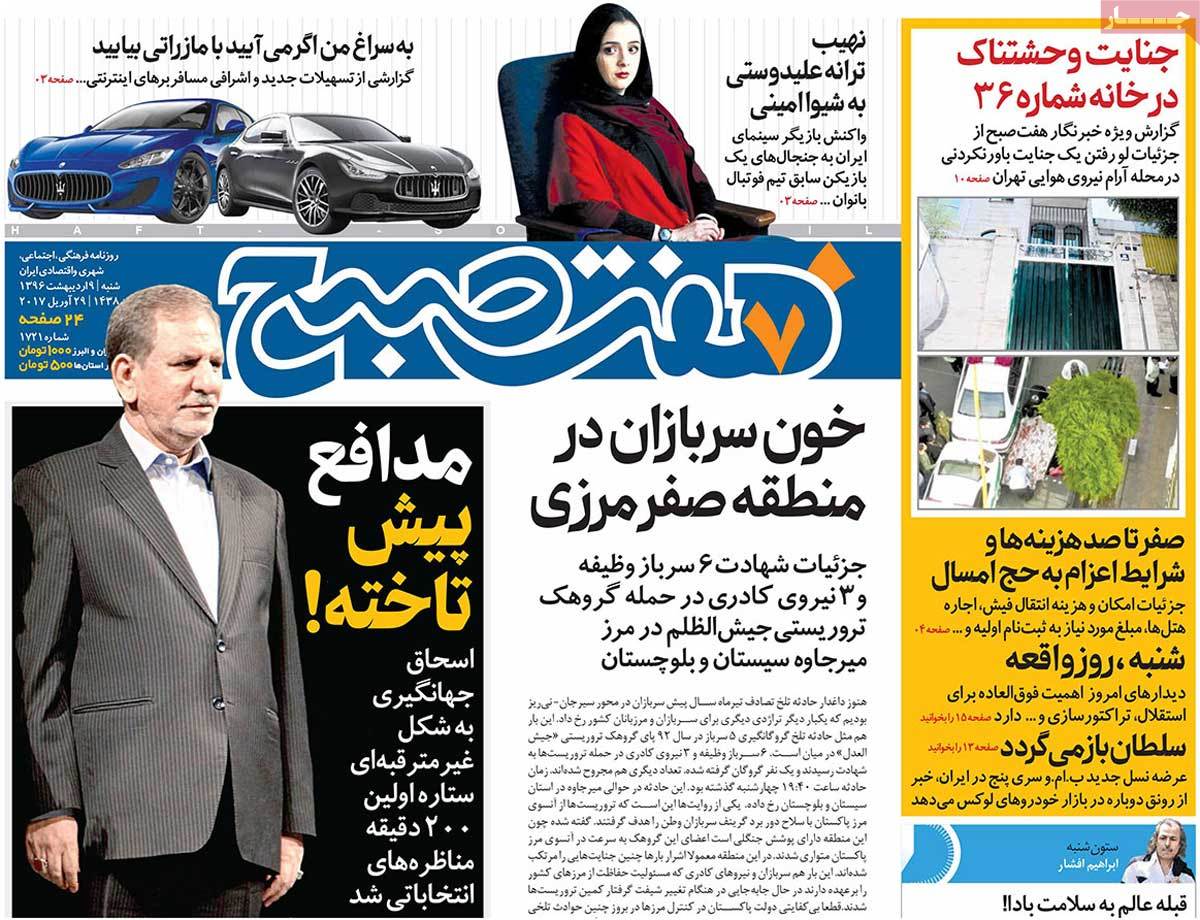 ---
Hamshahri:
1- Rouhani: I Didn't Say I'll Create 1m Jobs
Rouhani Denied His Words, but Qalibaf Showed Him Documents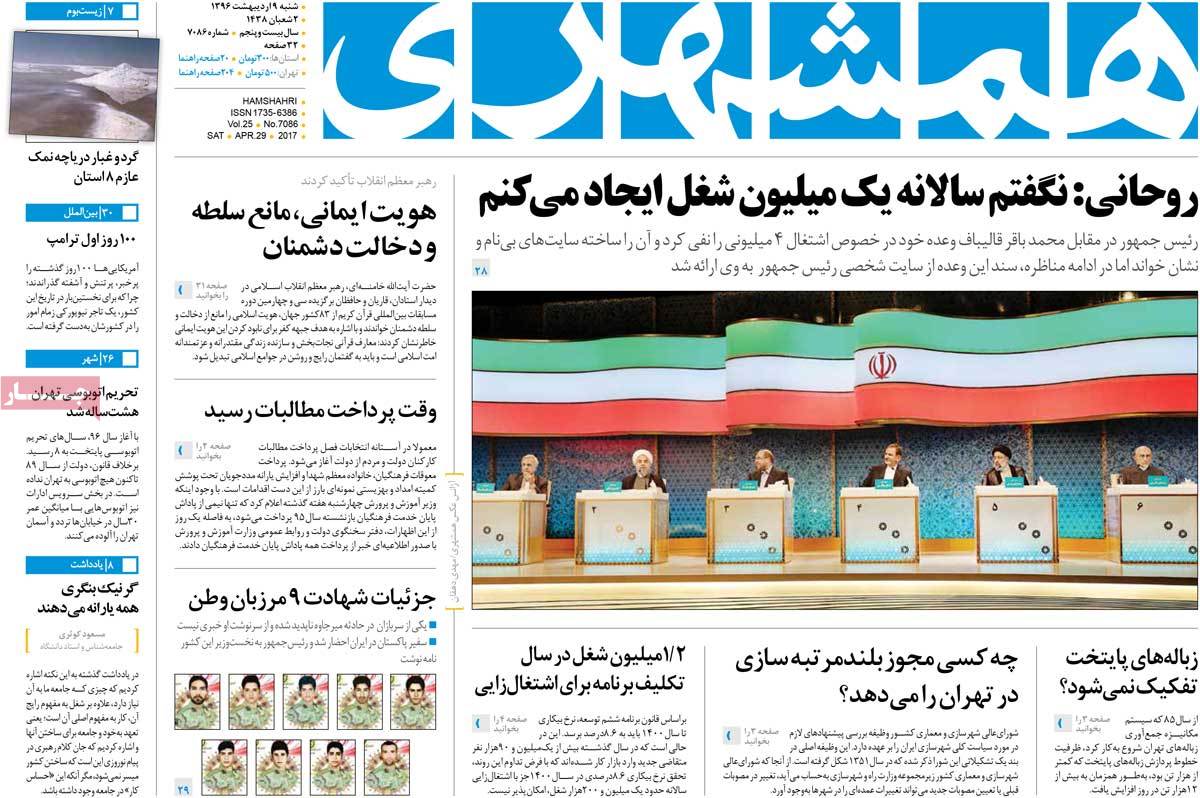 ---
Iran:
1- 3 Hours of Battle in Presidential Debate: Social Issues Discussed in First Live Encounter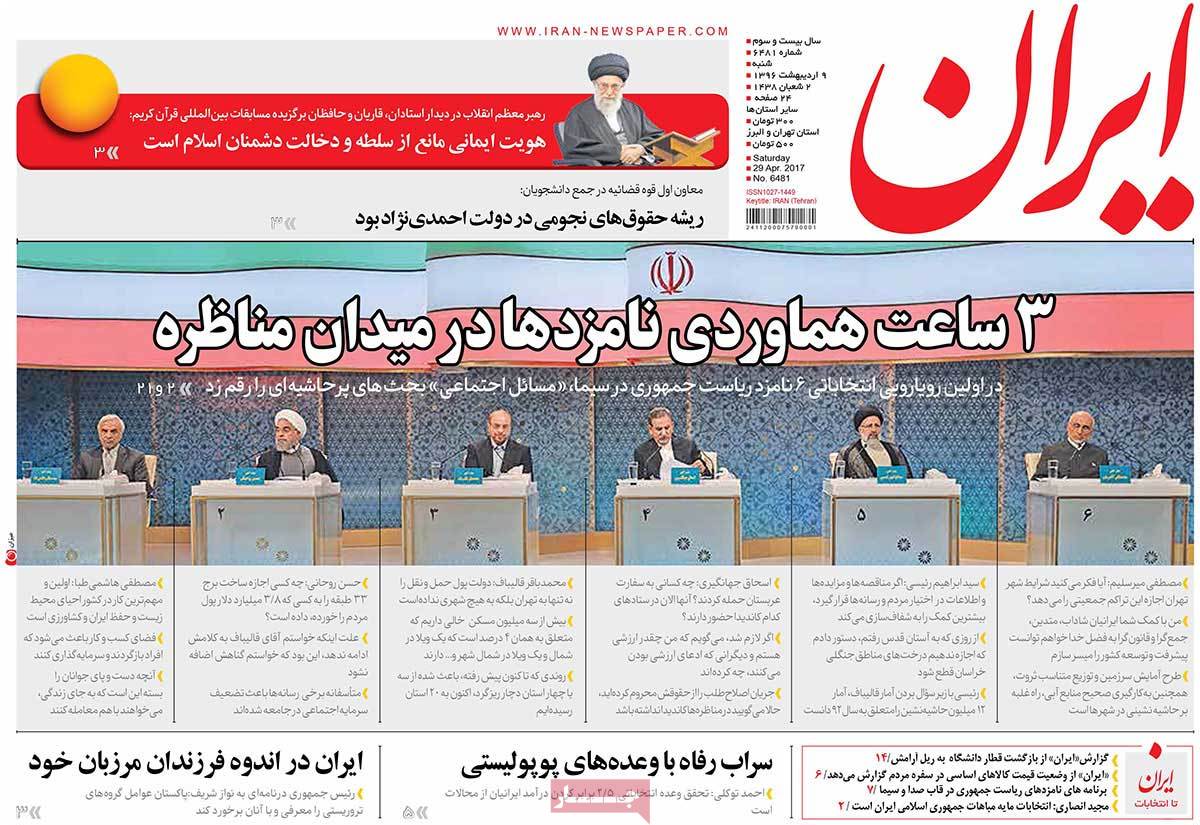 ---
Jame Jam:
1- Hot Competition in Presidential Debate
---
Javan:
1- Supporters, Critics of Status Quo Warm up Presidential Debate
2- Jahangiri: Feeling of Injustice Has Risen
3- Rouhani: Iran's Western Areas Better than Eastern Parts, We Need a Balance
4- Qalibaf: You're Government of the 4%
5- Raisi: You Shouldn't Act Like Opposition Figure after 4 Years of Presidency
---
Jomhouri Eslami:
1- Jahangiri, Rouhani Shine in First Presidential Debate
2- Saudi Arabia Isolated in GCC Summit in Riyadh: Members Divided over Iran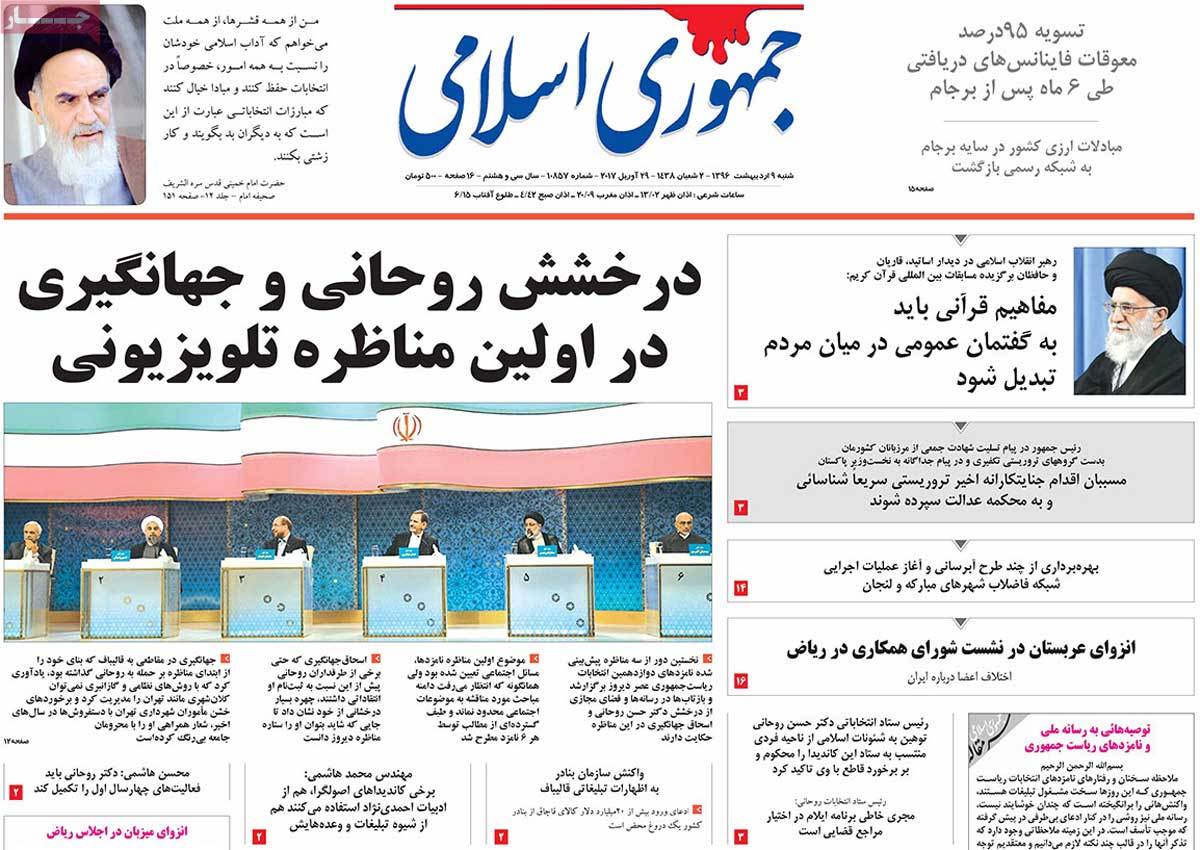 ---
Kayhan:
1- Government's Weak Performance Costs It Dearly
2- IMF: Rouhani's Gov't Breaks Records in Imports! 4th Rank between 175 Countries!
3- Turkey, Israel Simultaneously Attack Syria: Erdogan from North, Bibi from West!
---
Quds:
1- Political Clash in Social Debate: Government Officials Once Again Deny Their Promises
---
Resalat:
1- Presidential Candidates Discuss Various Issues in First Debate
2- IRGC General: We Have Father of All Bombs in Response to US MOAB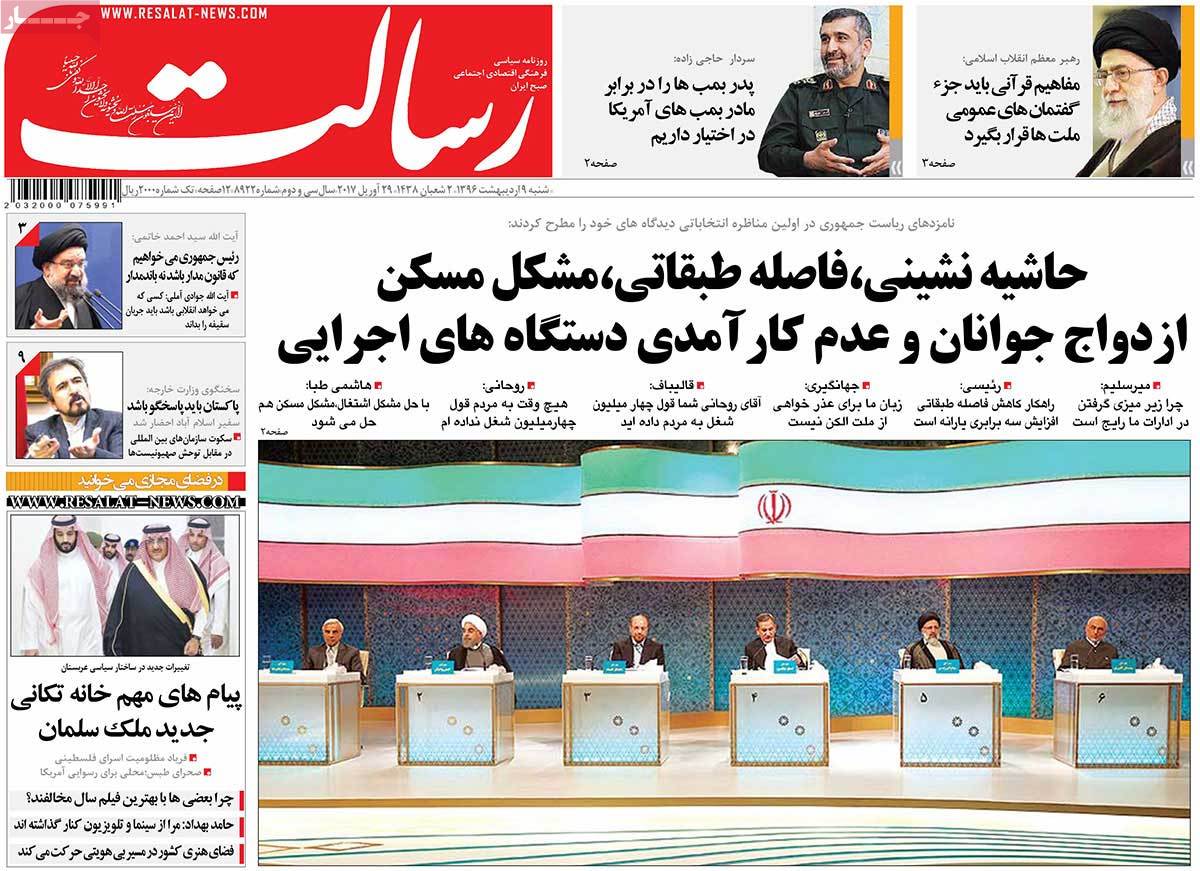 ---
Setareh Sobh:
1- Duel between Qalibaf-Raisi and Rouhani-Jahangiri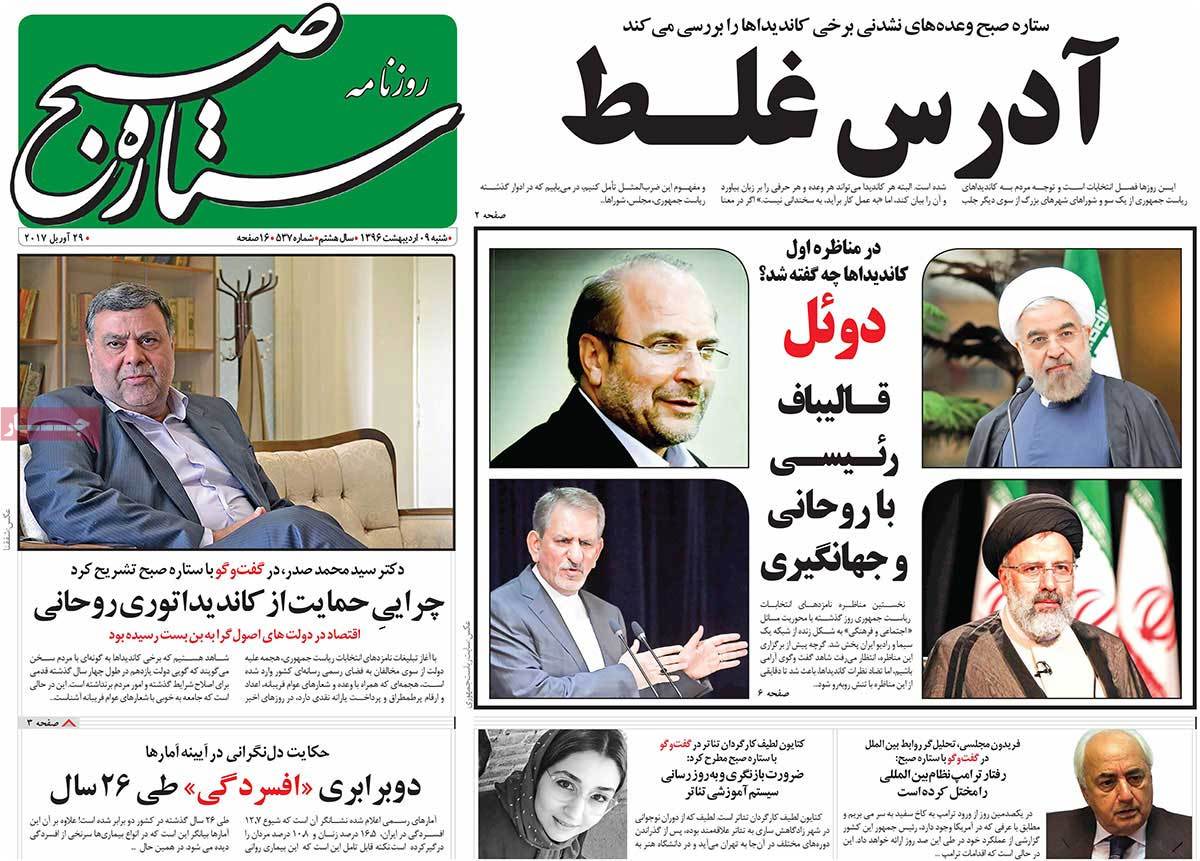 ---
Shahrvand:
1- Shadow of That Man
Social Media Users Found Many Similarities between Remarks by This Year's Candidates and Those by Candidates of Previous Elections
---
Shargh:
1- Jahangiri's Storm: Cultural Problems Cannot Be Resolved through Offensive Ways
---
Vaghaye Ettefaghieh:
1- First Response to Attack: Rouhani, Jahangiri Counterattack Rouhani's Criticisms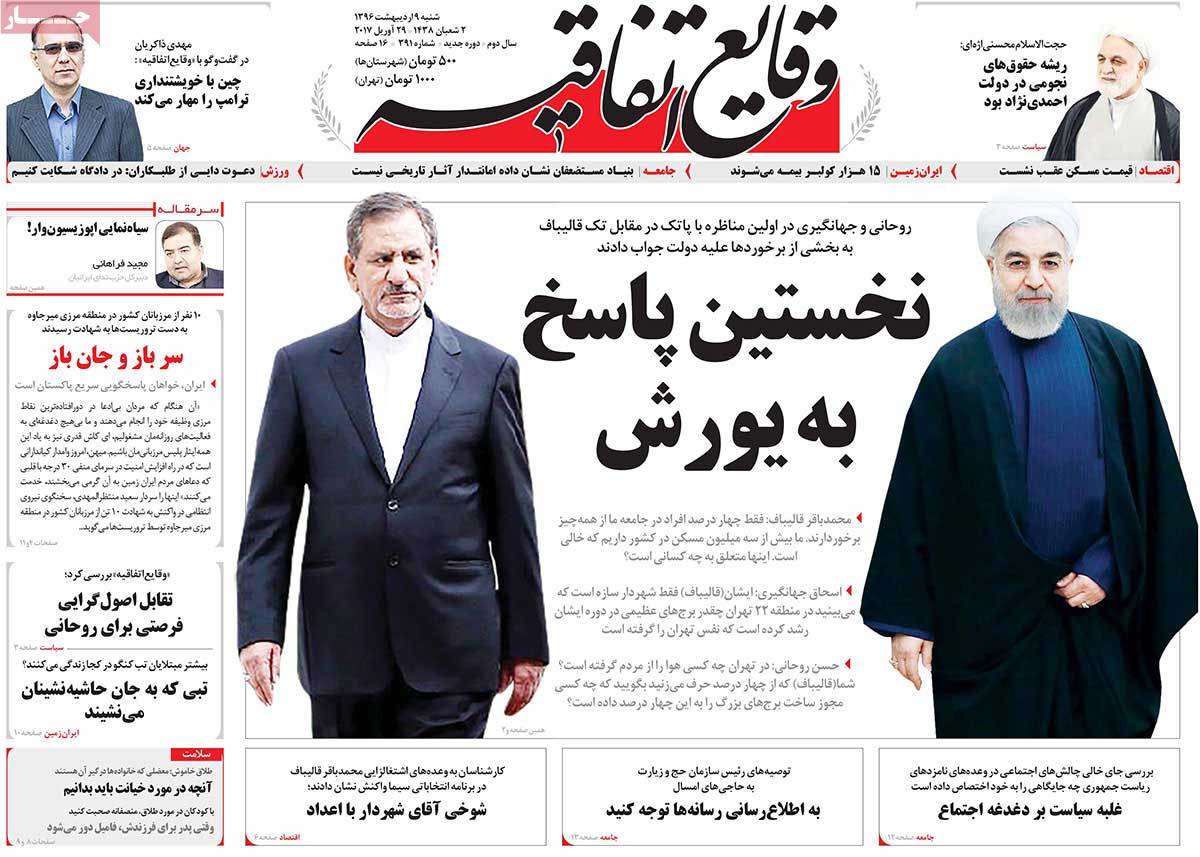 ---
Vatan-e Emrooz:
1- Lose-Lose Game for Rouhani
Plan to Introduce Jahangiri as Supportive Candidate Backfired