Iranian newspapers today covered the remarks made by the Leader of Iran's Islamic Revolution Ayatollah Seyyed Ali Khamenei in a meeting with top Iranian authorities.
They also highlighted the United Nations' warning over the disastrous situation of children in Yemen. The UN says one Yemeni child is dying every minute.
Another top story was the meeting between Iran and the P5+1 in Vienna to review the implementation of the nuclear deal between Tehran and world powers.
The above issues, as well as many more, are highlighted in the following headlines and top stories:
19 Dey:
1- Larijani Urges Presidential Candidates to Be Honest with People
---
Abrar:
1- Trump: We're Closely Reviewing Iran Nuclear Deal
2- UN: Yemeni Children Are in Disastrous Situation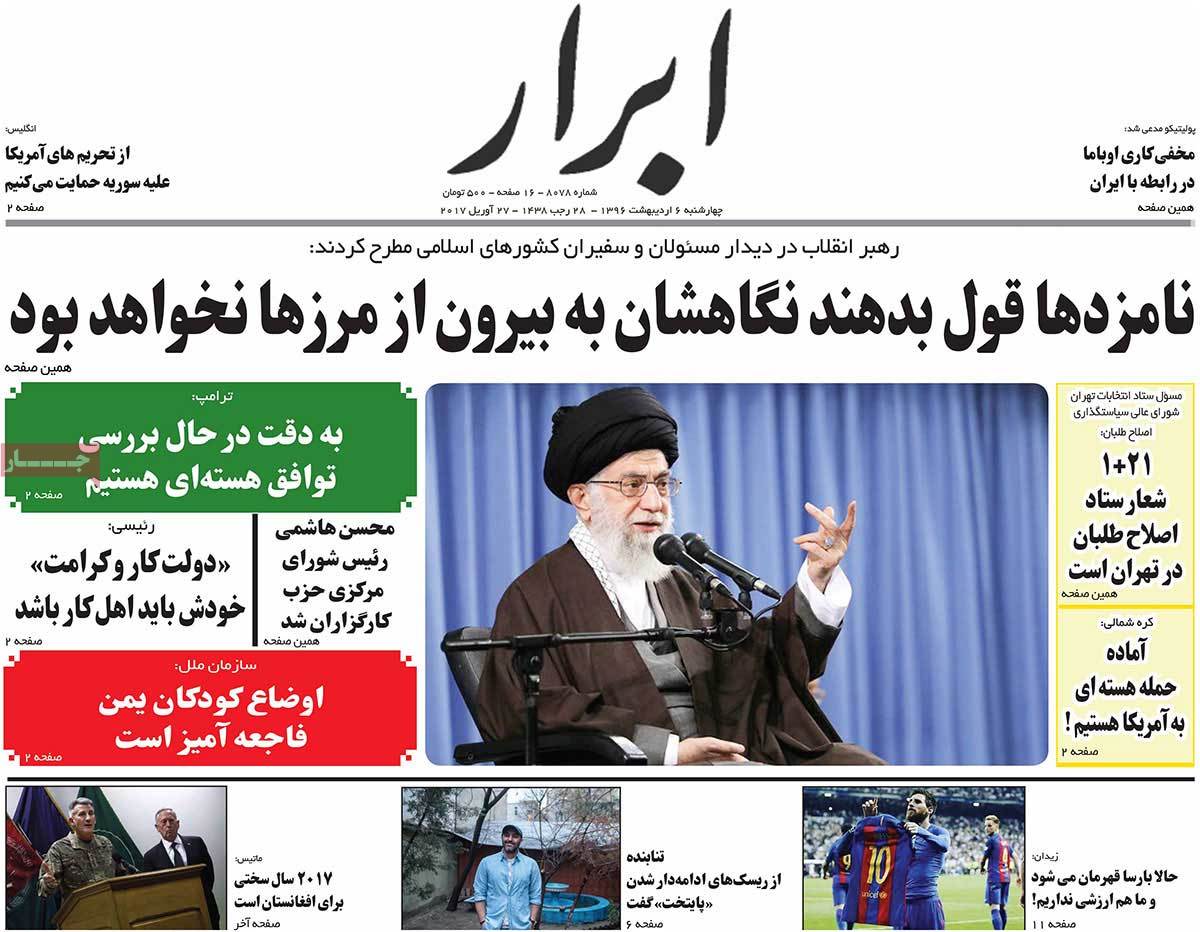 ---
Aftab-e Yazd:
1- Astronomical Promises!
Slogans, Promises by 2 Conservative Candidates Criticized, Protested by Right-Wingers
---
Arman-e Emrooz:
1- Iran Leader: Candidates Should Promise They Won't Rely on Foreigners
2- Health Ministry: 6 Million Iranians Are Depressed
---
Ettela'at:
1- UN Secretary General: One Child Dies in Yemen Every Minute
2- Iranian Children Call for All-Out Education against Disasters
---
Iran:
1- Iran's Exports to Europe up by 6.5 Times, to Africa by 2 Times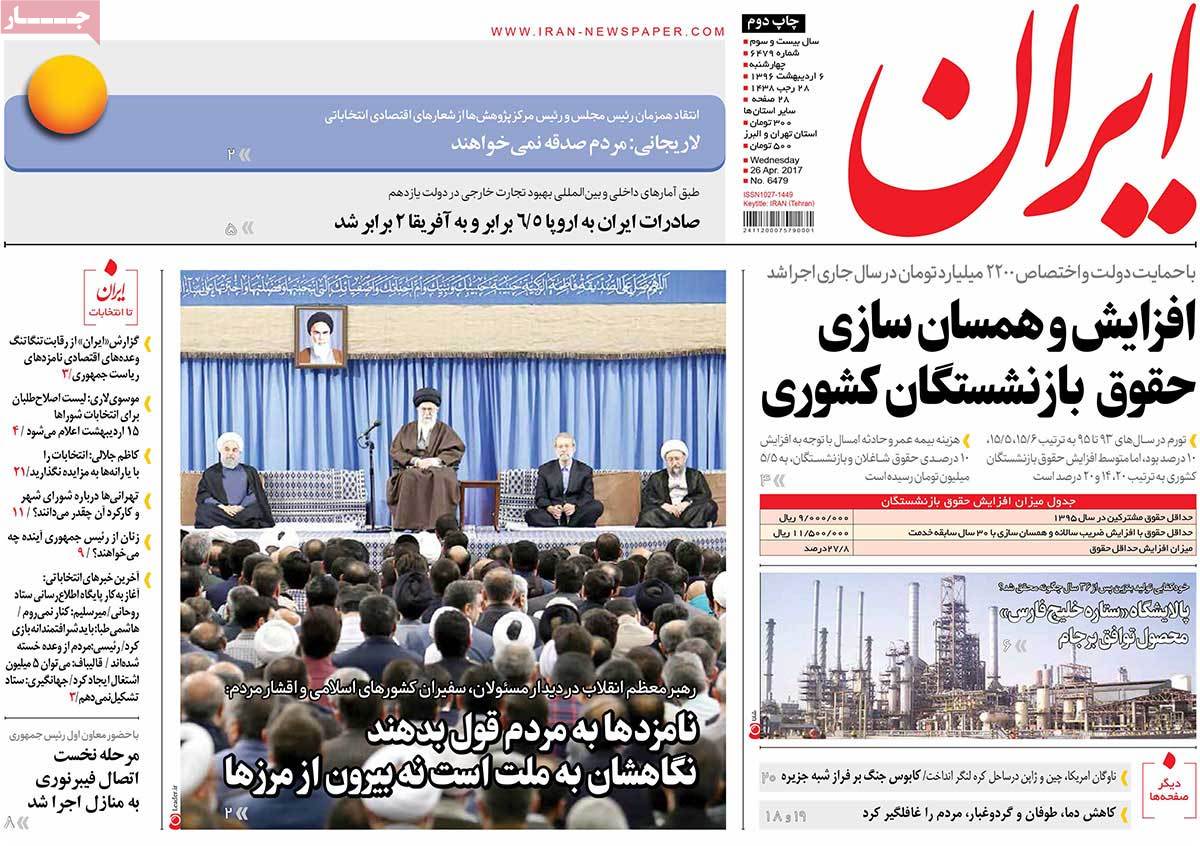 ---
Javan:
1- Candidates Are All Focused on Employment
Rouhani in 2013: I'll Create 4m Jobs Only in Tourism
Jahangiri in 2017: Candidates Who Promise to Create Millions of Jobs Are Deceiving People
Qalibaf in 2017: 5m Jobs Can Be Created by Relying on Domestic Capabilities
Raisi in 2017: We'll Decrease Unemployment Rate to 9%
2- Jahangiri's Candidacy Is Legally Questionable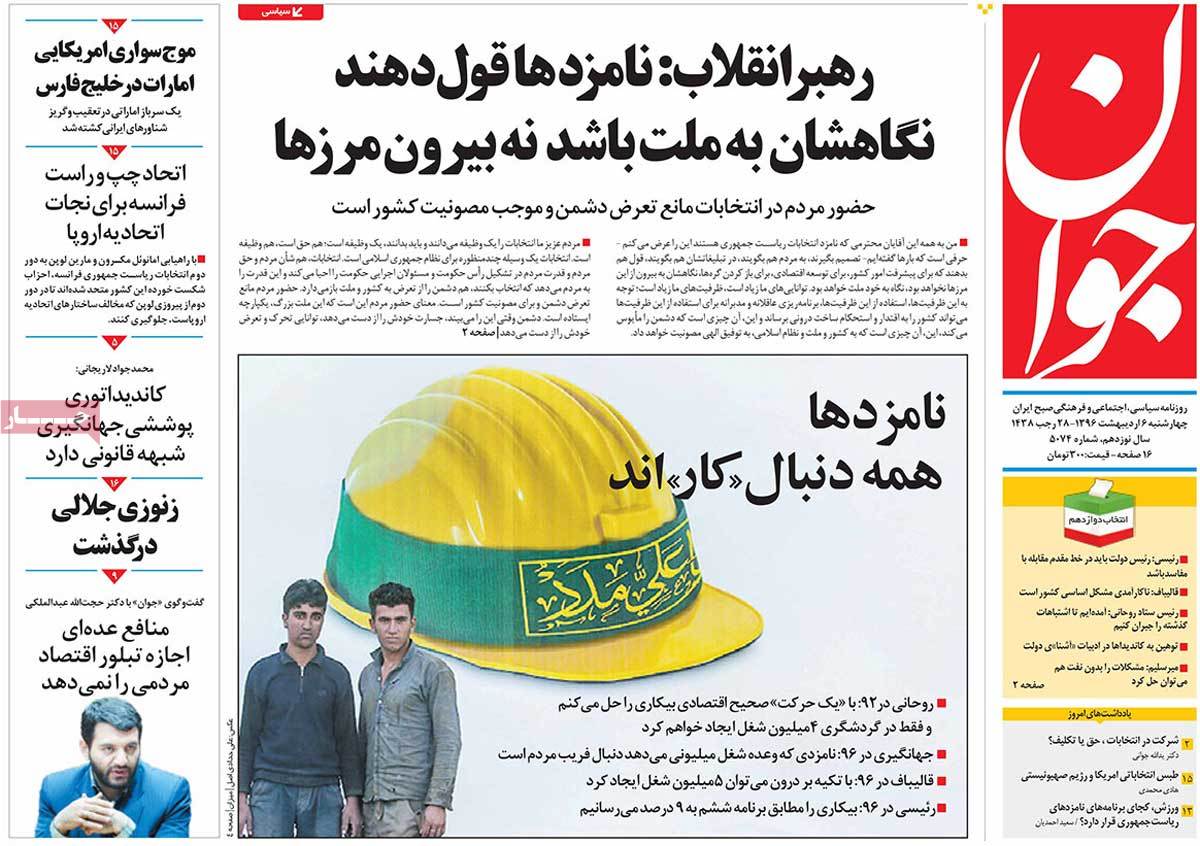 ---
Jomhouri Eslami:
1- Iran Leader: People to Disappoint Enemies through Huge Turnout in Elections
2- World Bank: Iran's Export Index Rank Improves in 2017
---
Kayhan:
1- Iraqi Army Makes Great Achievement in Mosul: 260,000 Civilians Freed from ISIS Siege
2- Rouhani: I Have a 100-Day Plan for My Next Term!
---
Noavaran:
1- Labour Minister: Those Who Claim They'll Pay $66 Cash Handouts Don't Know about Figures
2- Iran Air CEO: Iran to Receive 3 ATR Planes in 3 Weeks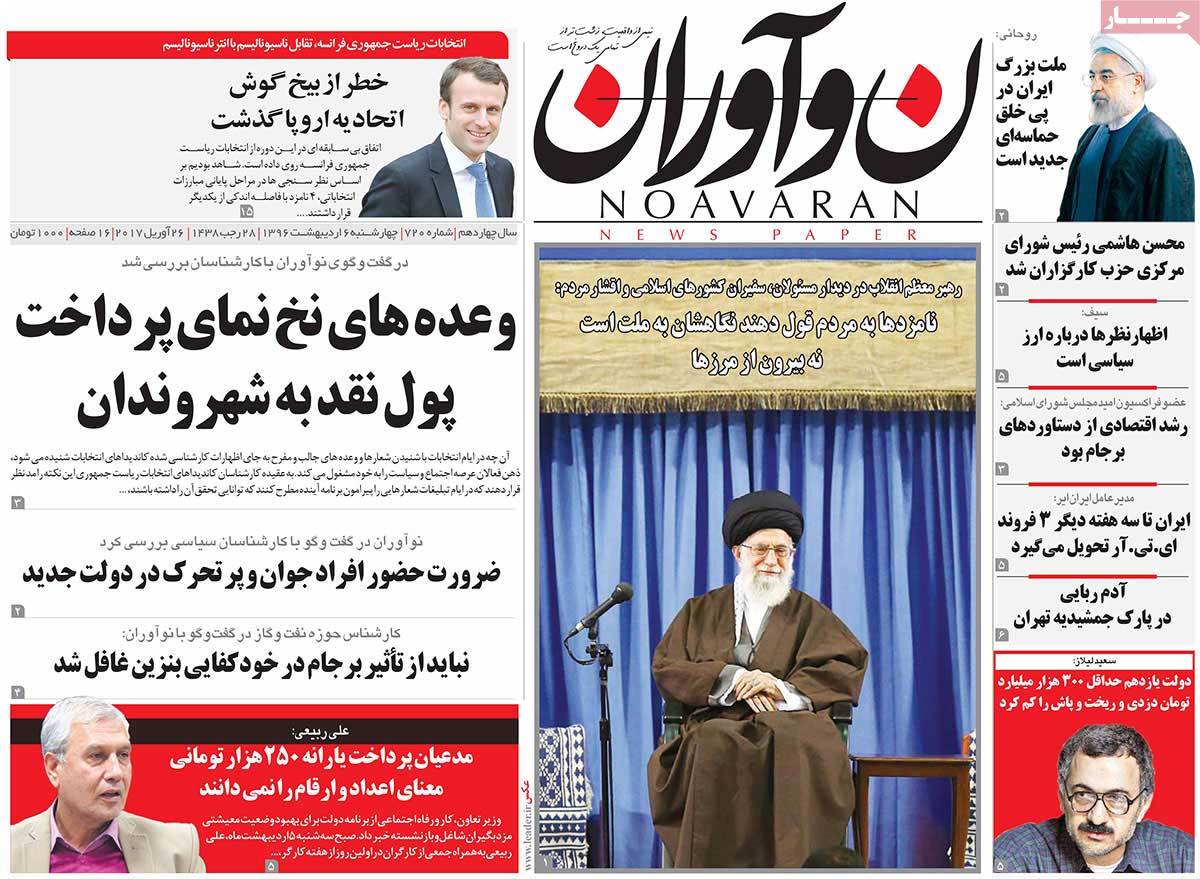 ---
Payam-e Zaman:
1- Iran Leader Urges Candidates to Rely on Iranian Nation's Capacities
2- End of 7th Joint Meeting between Iran, P5+1
3- Iran's Negotiator: Continued Consultations for Purchase of 950 Tonnes of Yellow Cake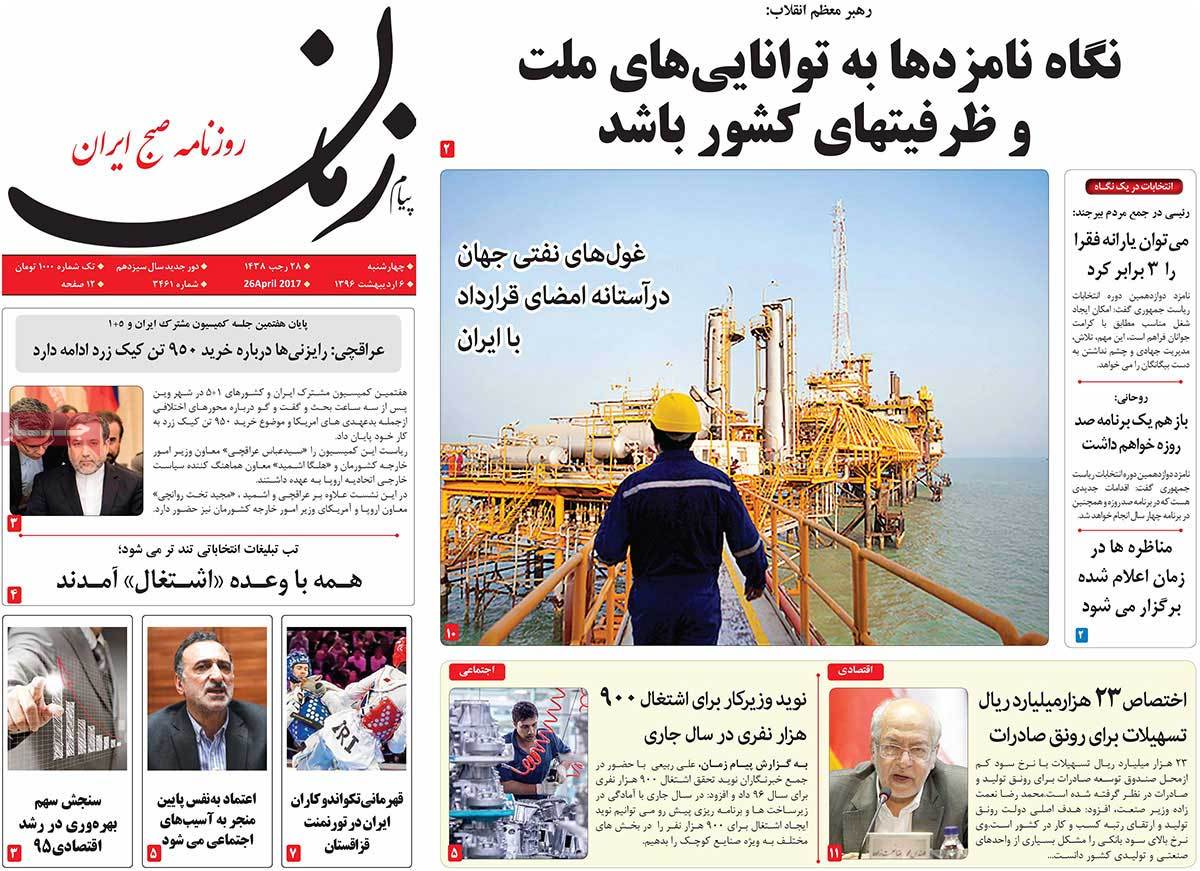 ---
Resalat:
1- MP: Saudi Arabia Has Not Given Legal Guarantee for Presence of Iranians
2- Raisi: Economic Growth Not Possible without Reforming Monetary System