IFP has taken a look at the front pages of Iranian newspapers on Sunday and picked headlines from 13 of them. IFP has simply translated the headlines and does not vouch for their accuracy.
Many Iranain newspapers today covered a decision by a committee tasked with monitoring the campaigns for Iran's presidential election to live broadcast the presidential debates despite an earlier decision not to do so.
The visit of Georgian prime minister to Tehran, his meetings with Iranian president and vice-president, and the MoUs signed between the two sides also received great coverage.
Newspapers also pointed to IRGC commander's remarks about the inauguration of the world's biggest refinery in southern Iran, which will make the country self-sufficient in the production of petroleum.
The above issues, as well as many more, are highlighted in the following headlines and top stories:
19 Dey:
1- Trump Lacks Correct Understanding of Int'l Relations: Shamkhani
2- Transport Minister: We've Implemented Biggest Railway Movement in Iran
---
Abrar:
1- Minister: Rouhani Called Me Twice to Protest against Recorded Broadcast of Presidential Debates
2- 8,981 Qualified to Run for Local Elections in Tehran Province
3- Lavrov: Iran, Russia, Turkey Preparing Mechanisms to Guarantee Implementation of Syria Truce
4- Hariri: Lebanon Looking for Permanent Ceasefire with Israel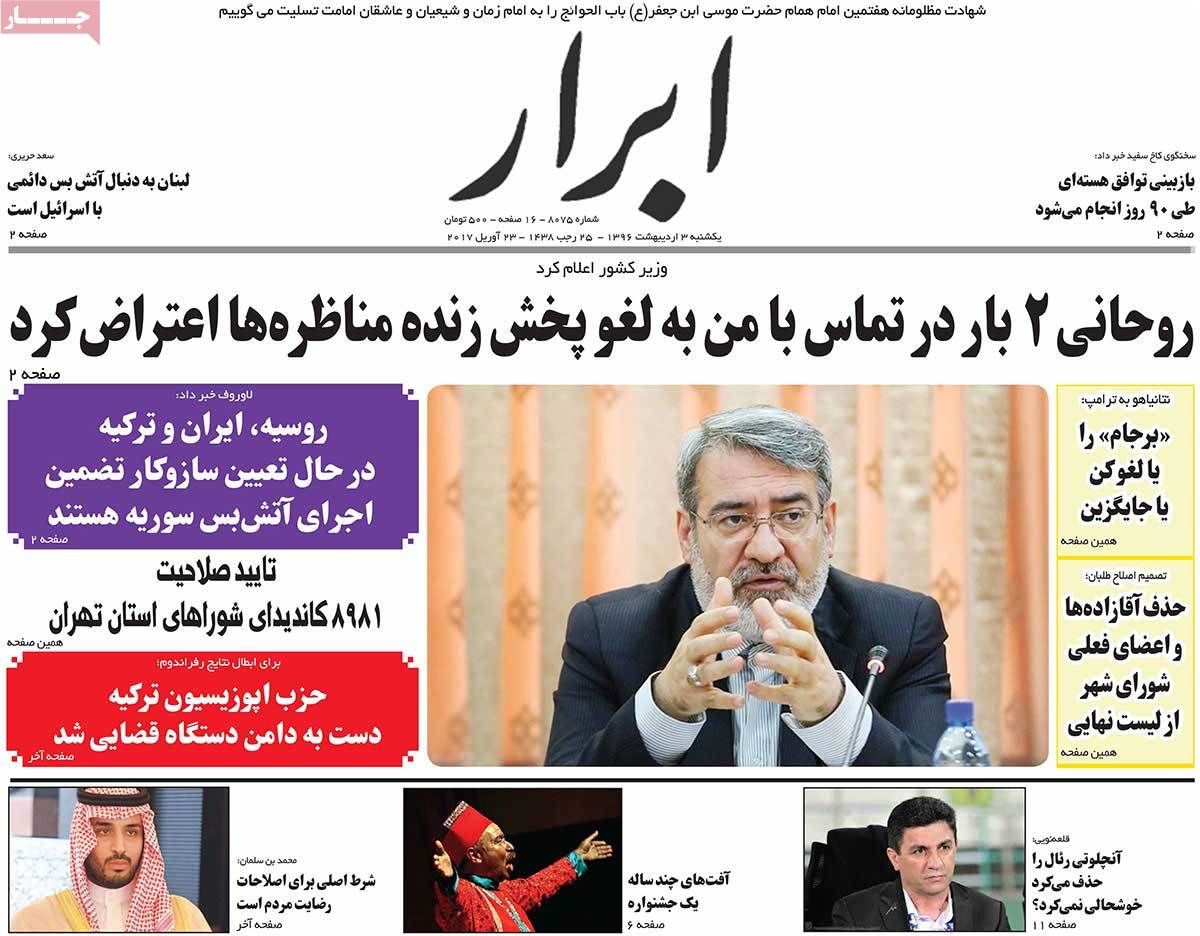 ---
Aftab-e Yazd:
1- President's Aide: Rouhani's Decisive Victory in Election Was Rafsanjani's Wish
2- MP Urges Foreign Ministry to Explain about Raisi's Meeting with Putin's Envoy
---
Arman-e Emrooz:
1- Presidential Debates to Go on Air Lie
2- Ayatollah Rafsanjani's House Will Become a Museum
---
Ebtekar:
1- Rouhani: Iran Welcomes Expansion of Cooperation with Georgia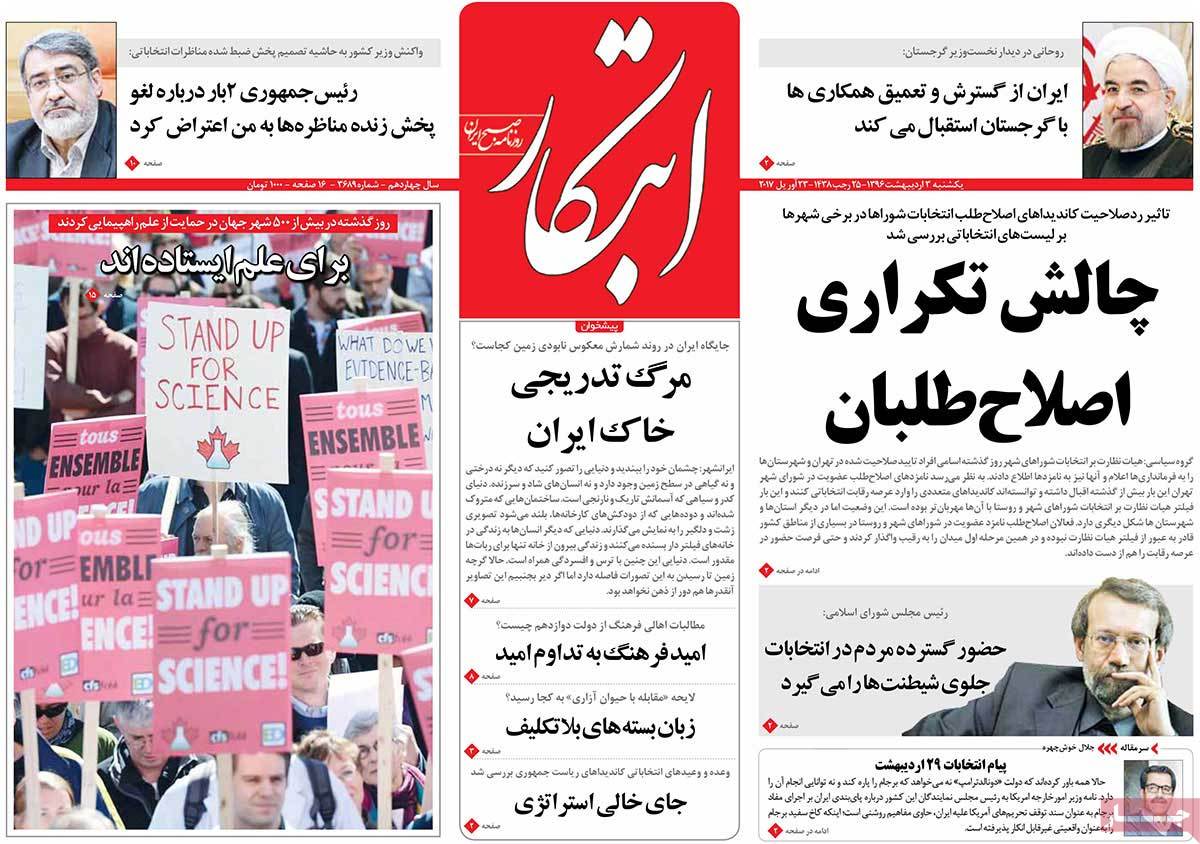 ---
Ettela'at:
1- Industry Minister Reveals Plots to Show Iranian Factories Are Being Shut Down
2- 6 Million Hours of Time Wasted in Tehran's Traffic Every Day
3- 150 Afghan Civilians Killed in Taliban's Deadliest Attack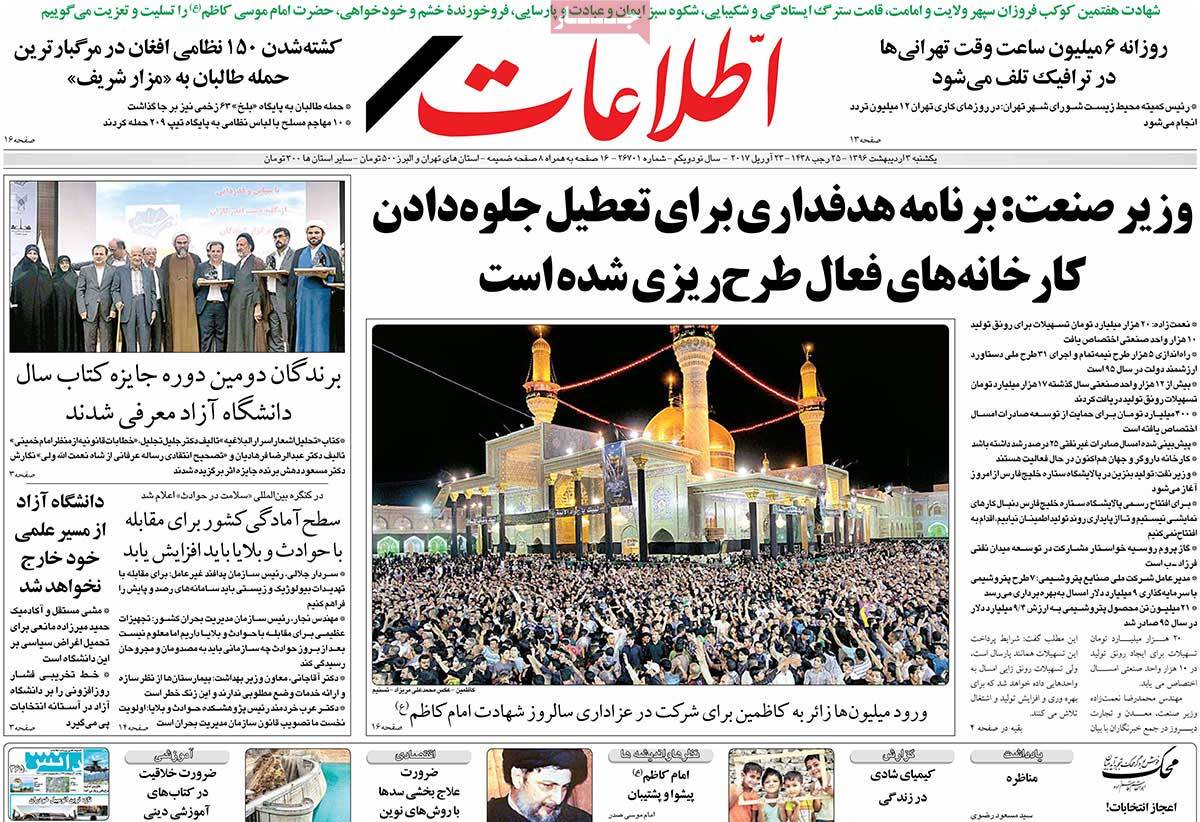 ---
Iran:
1- Spring of Tourism in Post-JCPOA Era: Growing Trend of Foreign Tourists Coming to Iran
2- Rouhani's Gov't Saves 30,000 Billion Tomans [$8 Billion] by Reducing Imports
---
Javan:
1- IRGC to Inaugurate First Phase of World's Biggest Refinery
2- Supervisory Board Rigging Local Elections by Disqualifying Candidates: Head of Tehran City Council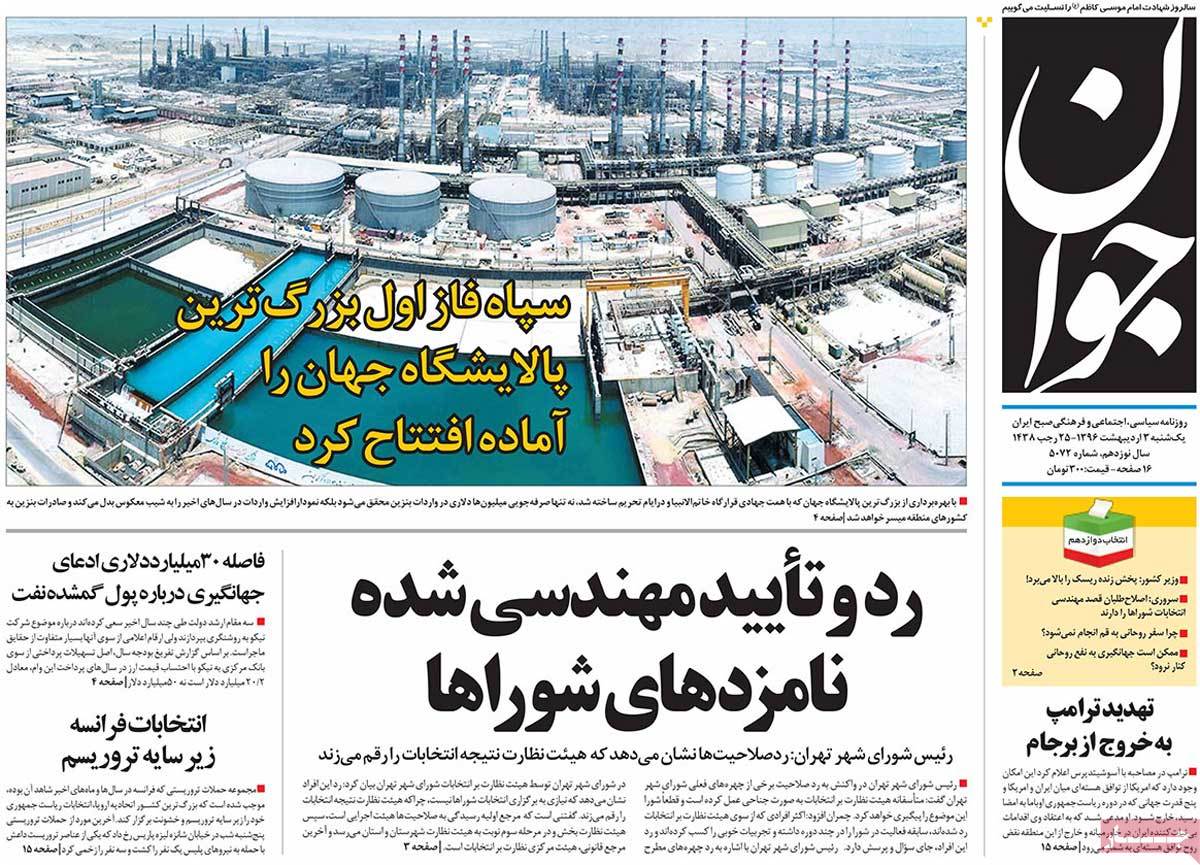 ---
Jomhouri Eslami:
1- Iran for First Time Saved 2,000 Billion Tomans [$533m] by Reducing Drug Imports
2- Oil Minister: People to Decide in Election Whether Foreign Companies Should Come to Iran
3- Iran, Georgia Sign 5 Documents of Cooperation, Issue Joint Statement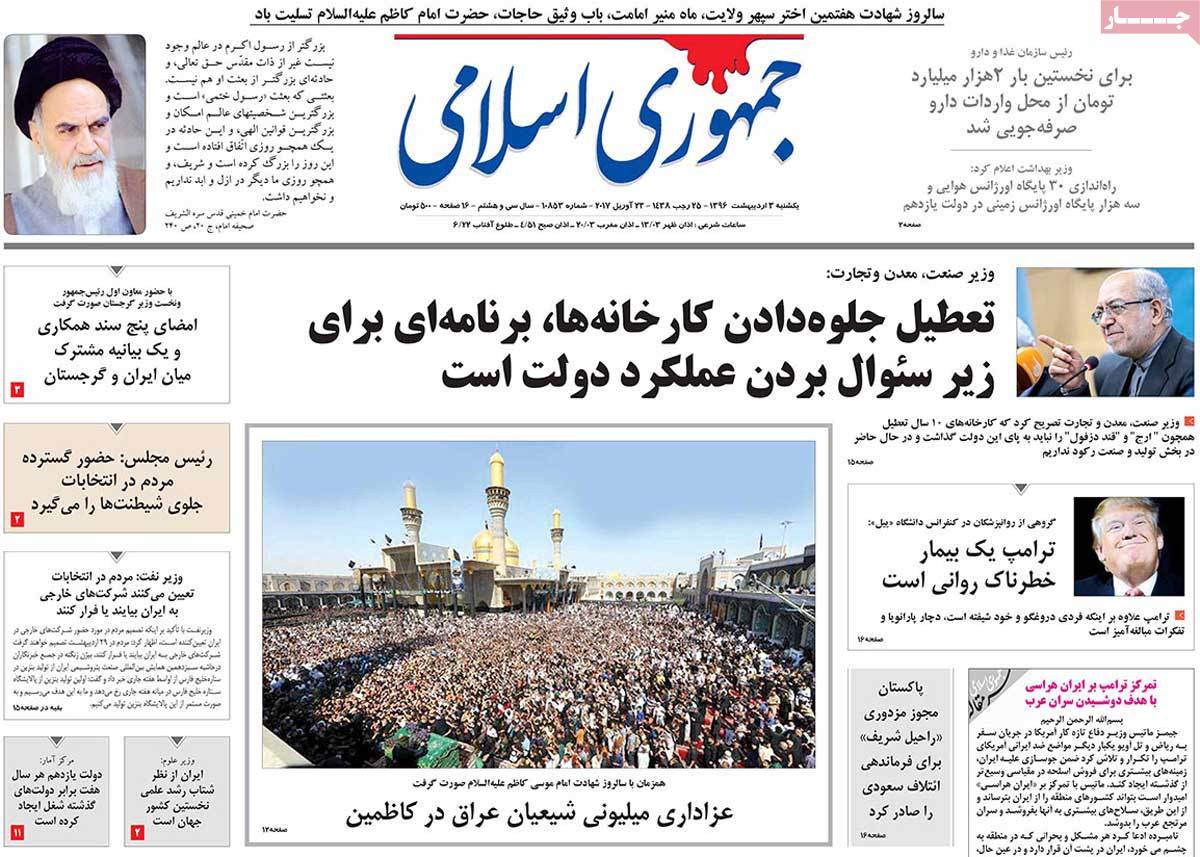 ---
Kayhan:
1- UN: US Attack on Syria Was Pointless as Those behind Khan Shaykhun Crime Were Not Identified
2- Iran Delivers New Anti-Ship Cruise Missile 'Nassir' to IRGC Navy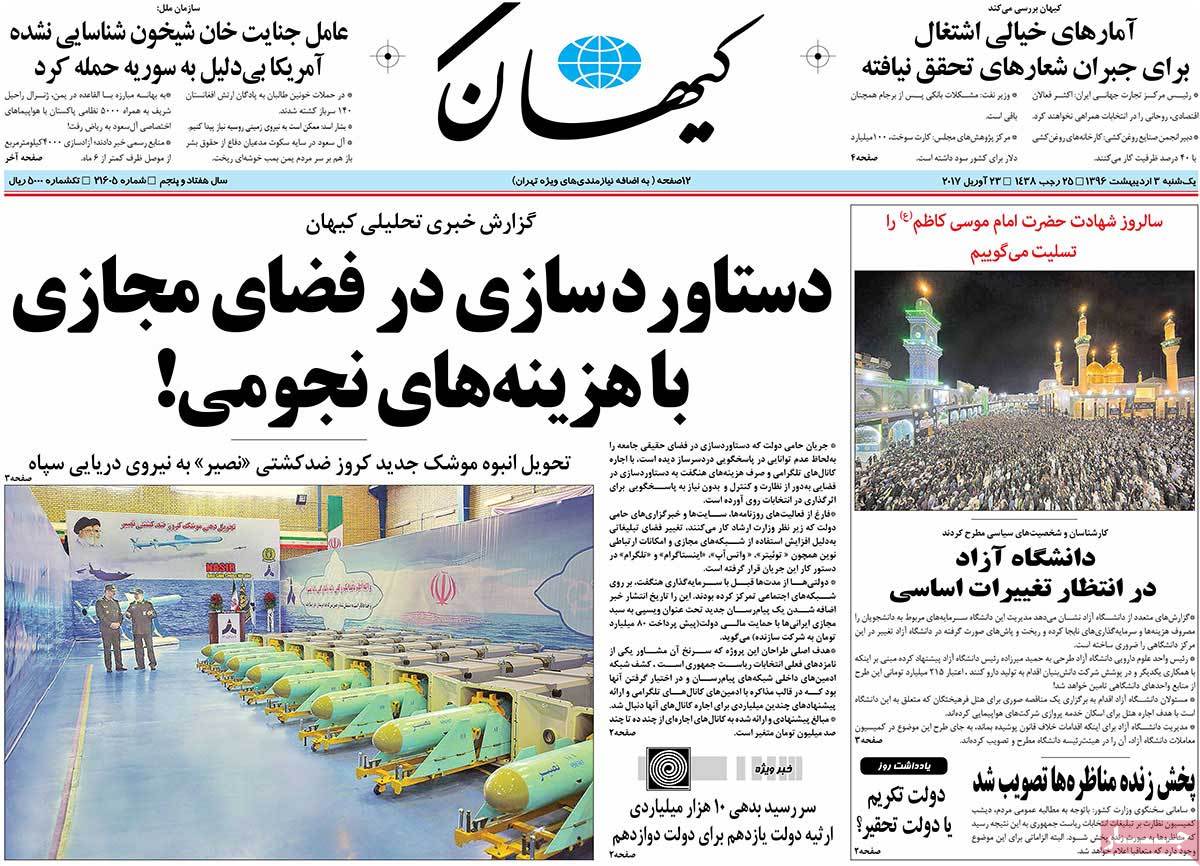 ---
Payam-e Zaman:
1- Iran Has World's First Rank in Pace of Scientific Growth: Science Minister
2- Larijani: Iran's Economic Growth Had an Increasing Trend in Past Year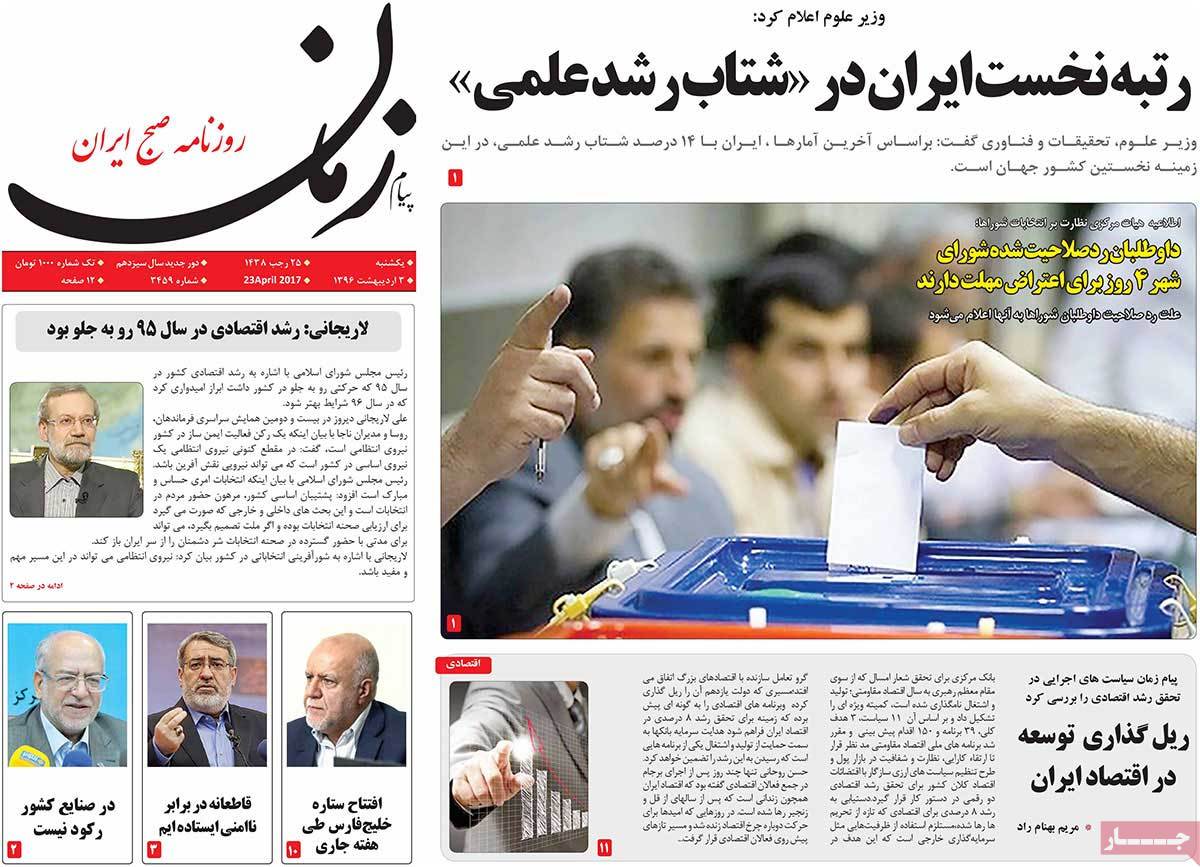 ---
Resalat:
1- Ayatollah Raisi: My Gov't Will Be Government of Economic Transparency
2- Zarif: US Has Not Been Committed to Text, Spirit of JCPOA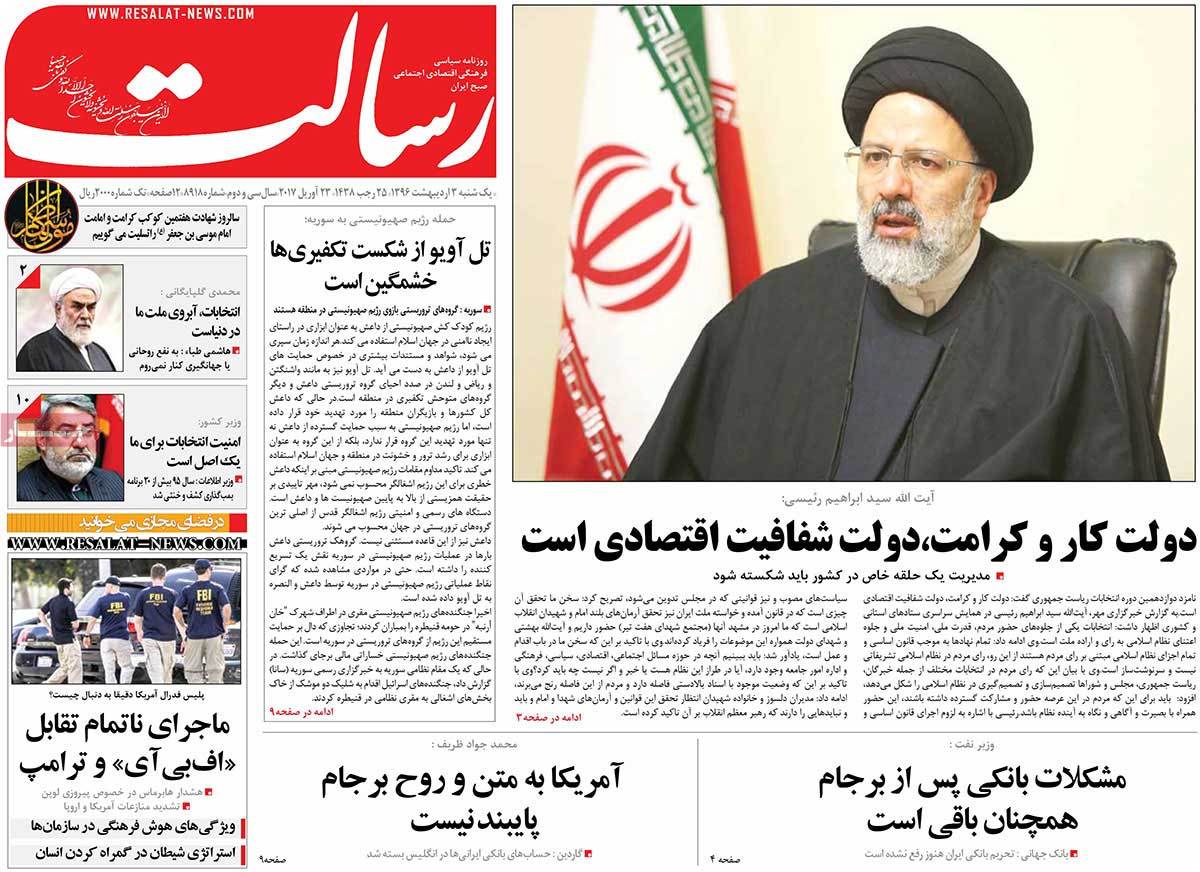 ---
Rooyesh-e Mellat:
1- IRGC Commander: Iran to Celebrate Petrol Self-Sufficiency in Coming Days