The controversial resignation of Iranian Foreign Minister Mohammad Javad Zarif, which was rejected by President Hassan Rouhani on Wednesday, grabbed headlines in Iran today.
Also a top story was the comments made by the Leader of Iran's Islamic Revolution Ayatollah Seyyed Ali Khamenei about the need for protecting the foundation of family.
The visit of Syrian President Bashar al-Assad to Tehran and his meetings with the Leader and president of Iran also received great coverage.
Several papers also highlighted the escalation of tension between India and Pakistan following the former's airstrikes against the latter.
The above issues, as well as many more, are highlighted in the following headlines and top stories:
Abrar:
1- In Rouhani's Views, Iran Only Has One Foreign Policy, One FM: Official
2- Iran Leader: One Shouldn't Be Afraid of Enemy, Make Calculation Mistake
3- Arab Media Widely Cover Assad's Visit to Iran
4- Zarif: I Hope My Resignation Would Bring Foreign Ministry Back to Its Real Position
5- Foreign Policy: Zarif's Resignation Opens New Door to Radicalism
6- Western Media's Reaction to Zarif's Resignation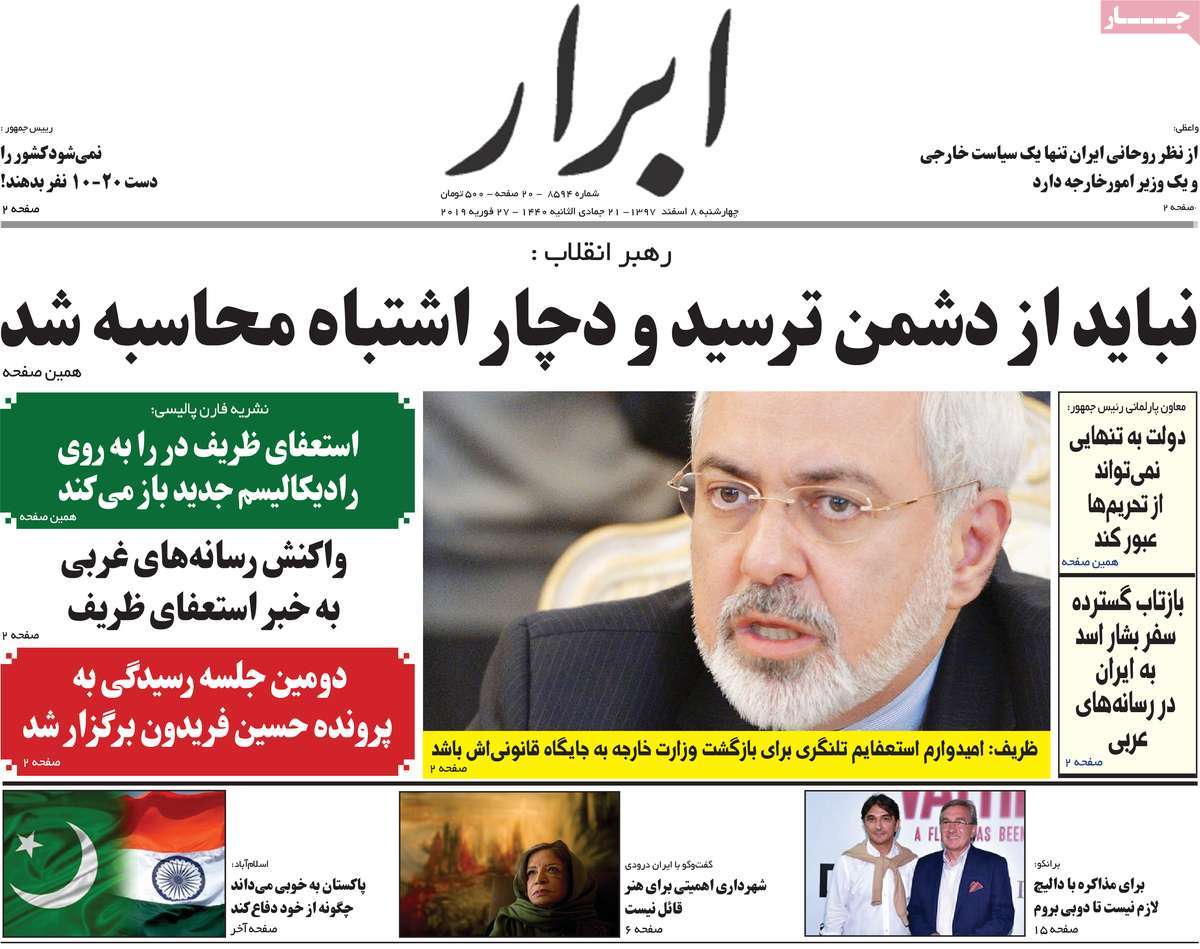 ---
Aftab-e Yazd:
1- Iran Leader: Iranian Nation Stronger than 40 Years Ago, Adversaries Weaker
2- A Resignation More Important than JCPOA [Editorial]
3- Those Who Were Excited, Those Who Were Saddened by Zarif Resignation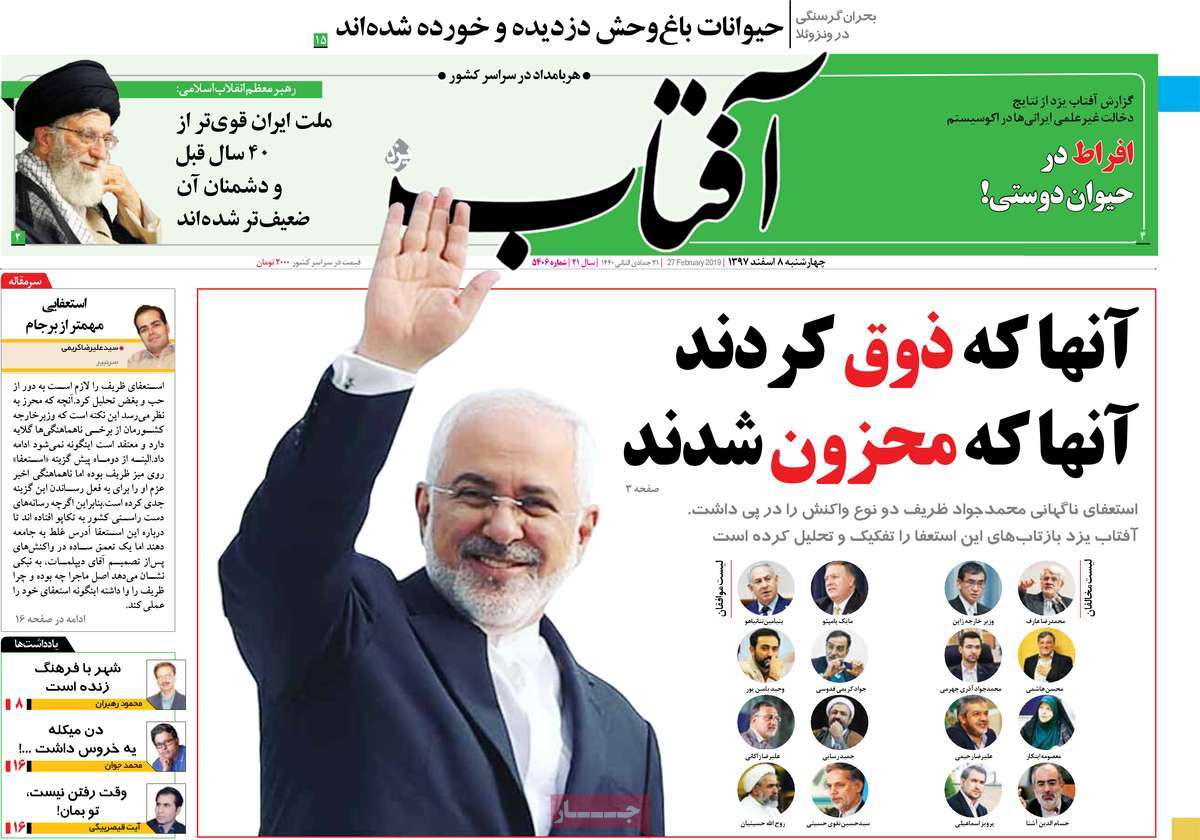 ---
Arman-e Emrooz:
1- Ambiguous Fate of FATF Accession
2- Zarif You Must Stay! Iran FM's Resignation Draws People, President's Massive Support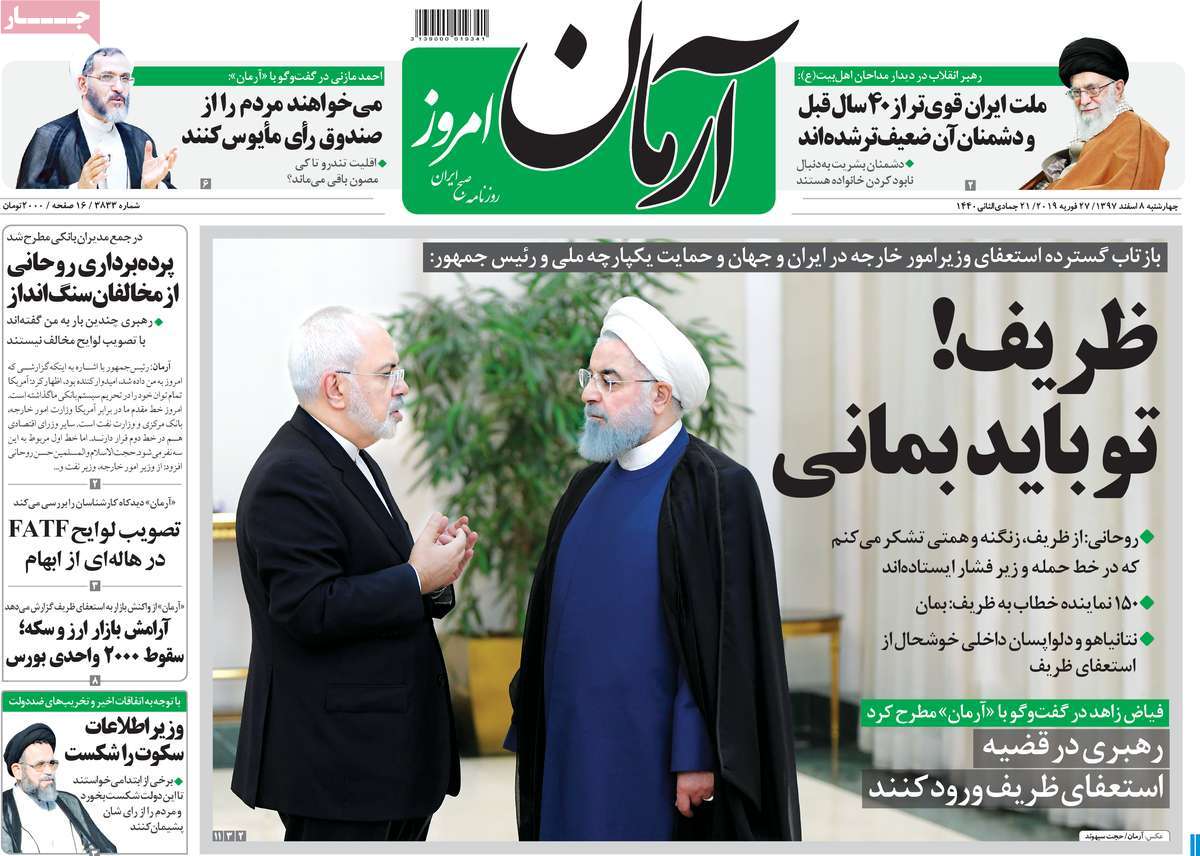 ---
Ebtekar:
1- Leader Not Opposed to Ratification of Four FATF Bills: Rouhani
2- Intelligence Minister: Our Economy, Security under Relentless Attacks of Enemies
3- Mr Diplomat's Shock: Brand of Iran's Foreign Policy Resigns
---
Etemad:
1- Hanoi Waiting for Trump-Kim Summit
2- Rouhani: Leader Not Opposed to FATF Bills
3- President: Zarif, Zanganeh, Hemmati at Forefront of War with US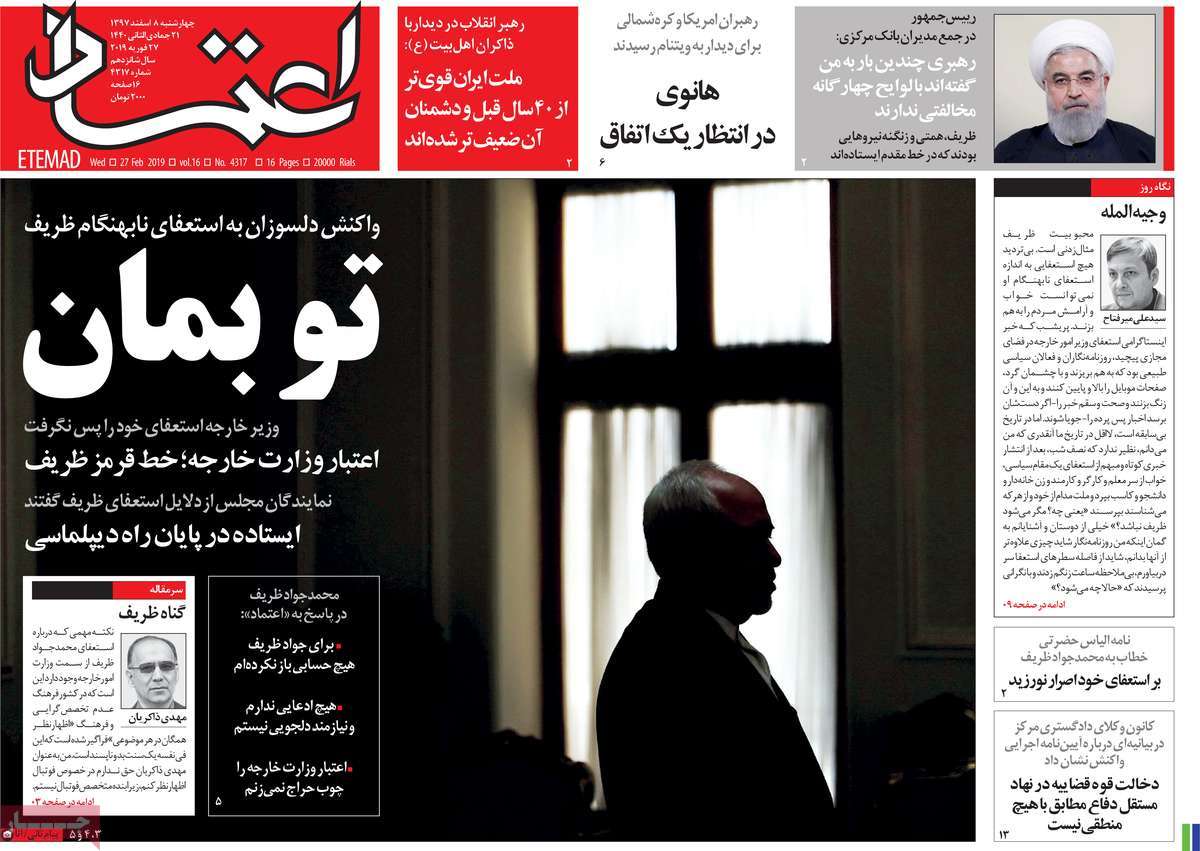 ---
Jame Jam:
1- Enemies of Mankind Seeking to Destroy Foundation of Family: Iran Leader
2- Danger of Atomic War: India's Airstrikes on Pakistan Escalate Tension in Region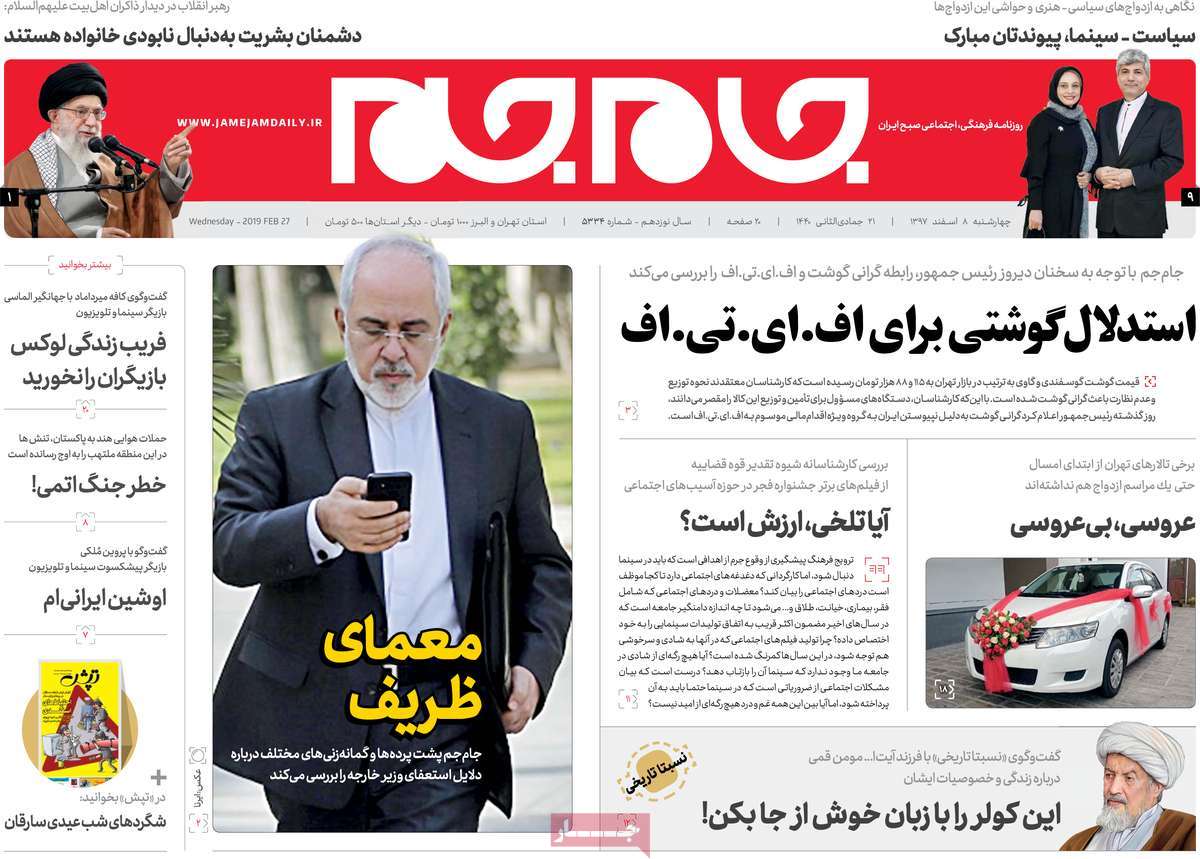 ---
Javan:
1- Assad's Visit to Iran Widely Reacted to by Western-Arab Media
2- The One Who Stays Becomes a Hero [Editorial]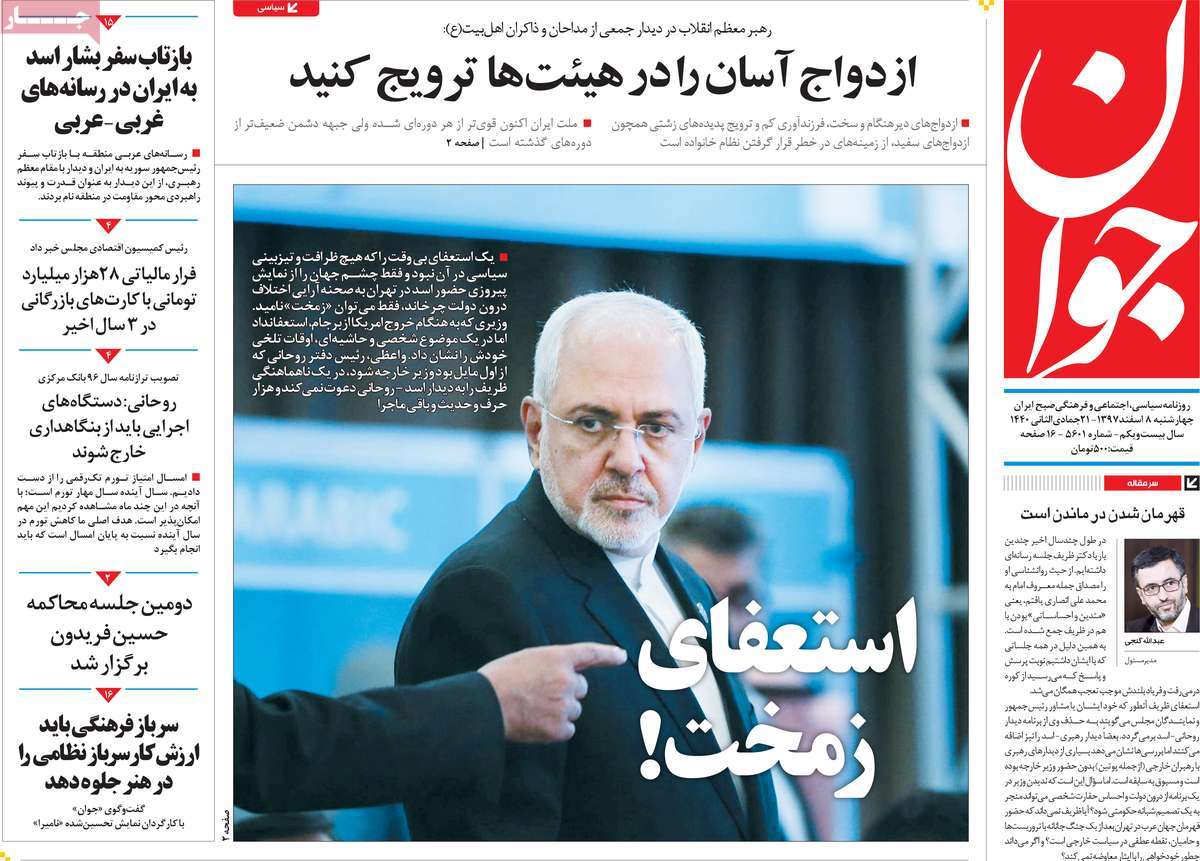 ---
Jomhouri Eslami:
1- Central Bank Chief: Iran's Forex Reserves at Best Condition
2- Rouhani: Gov't, Leader, Parliament Not Opposed to FATF Bills; Who Is?
3- Maduro: US Creating Crisis to Justify War
4- Tension Heightens between Islamabad, New Delhi
5- Europe Slams French Police's Brutal Crackdown on Protesters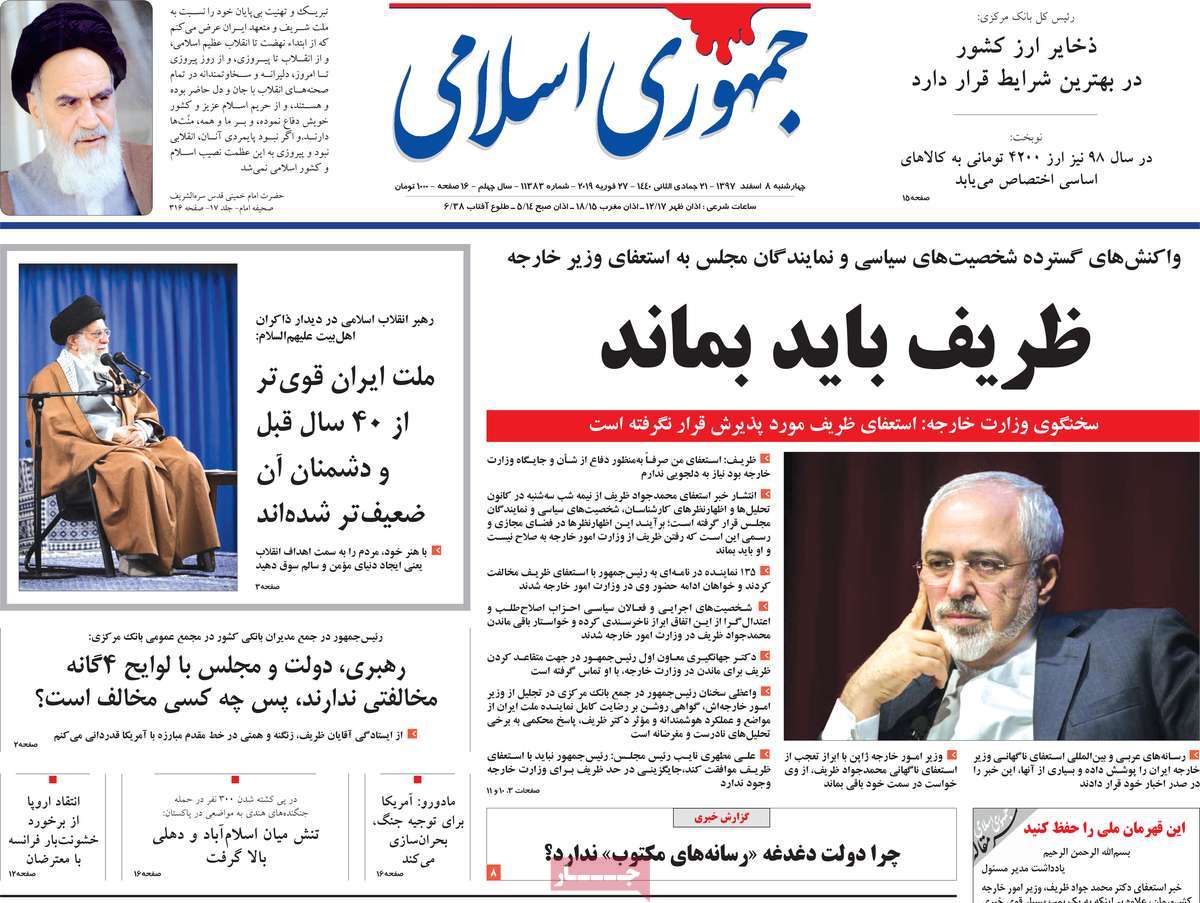 ---
Kayhan:
1- Don't Be Afraid of Enemy's Equipment, Propaganda; They're Doomed to Failure
2- Assad's Visit to Iran Final Blow to Hegemonic Powers' Plot
3- 300 Killed in India's Attack on Pakistan; Subcontinent in State of War
4- Mr Zarif! It Wasn't Time for Resignation; Resolve Differences Inside Gov't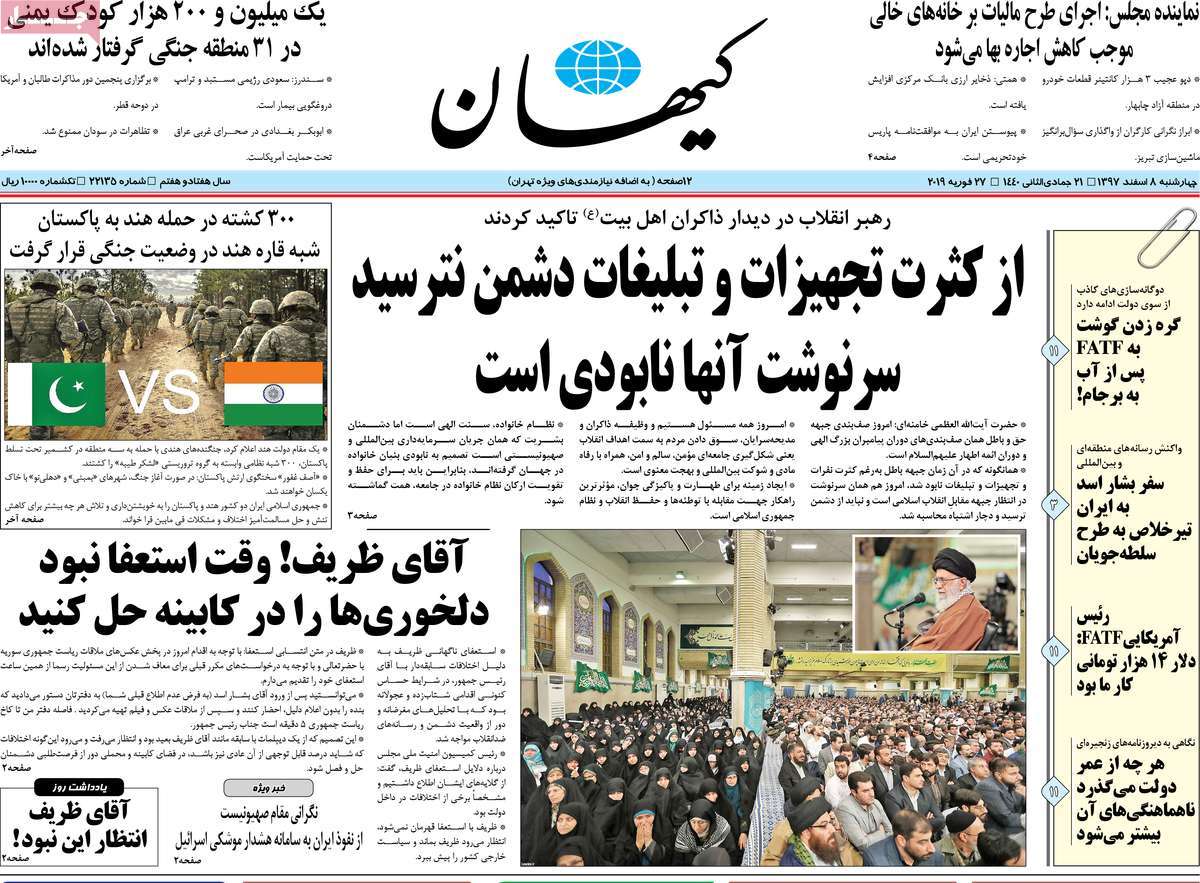 ---
Khorasan:
1- Unprecedented Tension between Two Atomic Powers: First India Attack on Pakistan after 48 Years
2- Red Carpet for World Investors in Chabahar: Int'l Conference on Chabahar Development Starts with 17 Countries in Attendance
3- Speculations on Reasons for Zarif's Resignation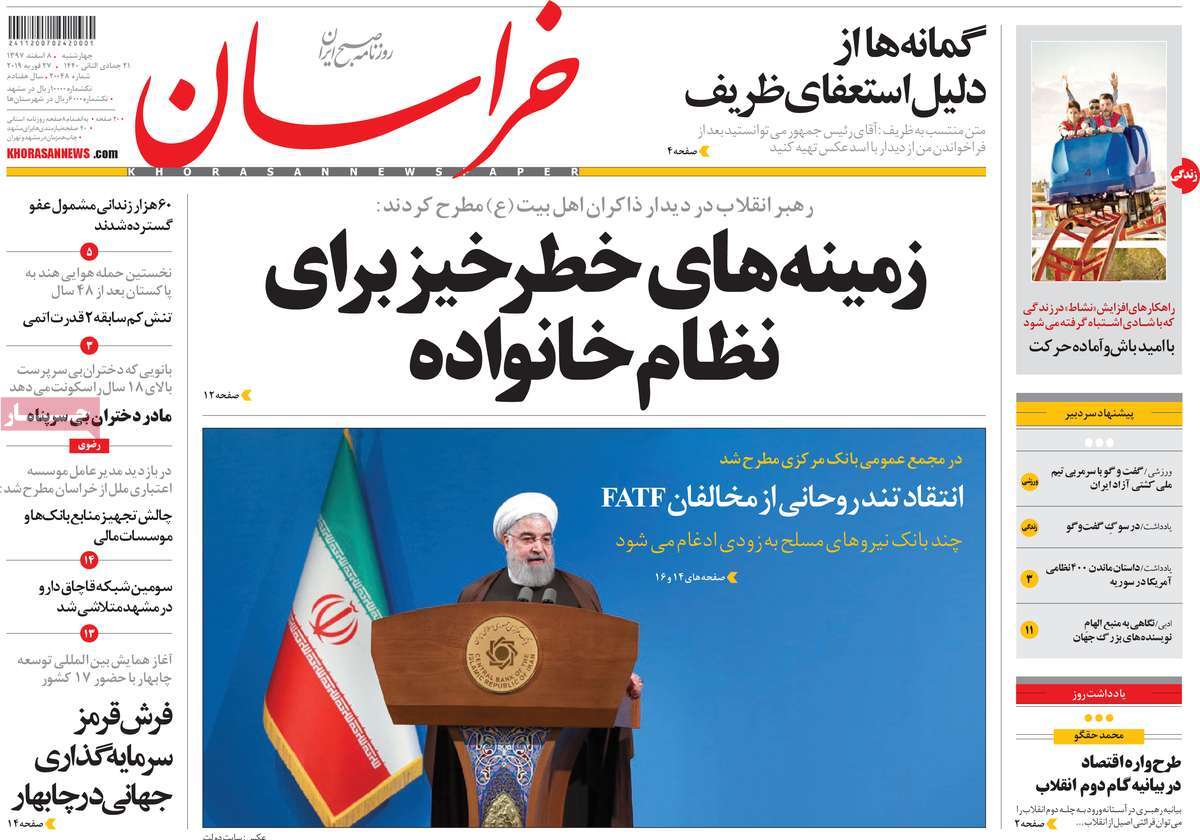 ---
Resalat:
1- Iran Leader Warns about Enemy's Plot against Family
2- Four of Eight Countries Exempted from US Sanctions Refuse to Buy Iran Oil
3- Europe, UK Joint Puzzles over Brexit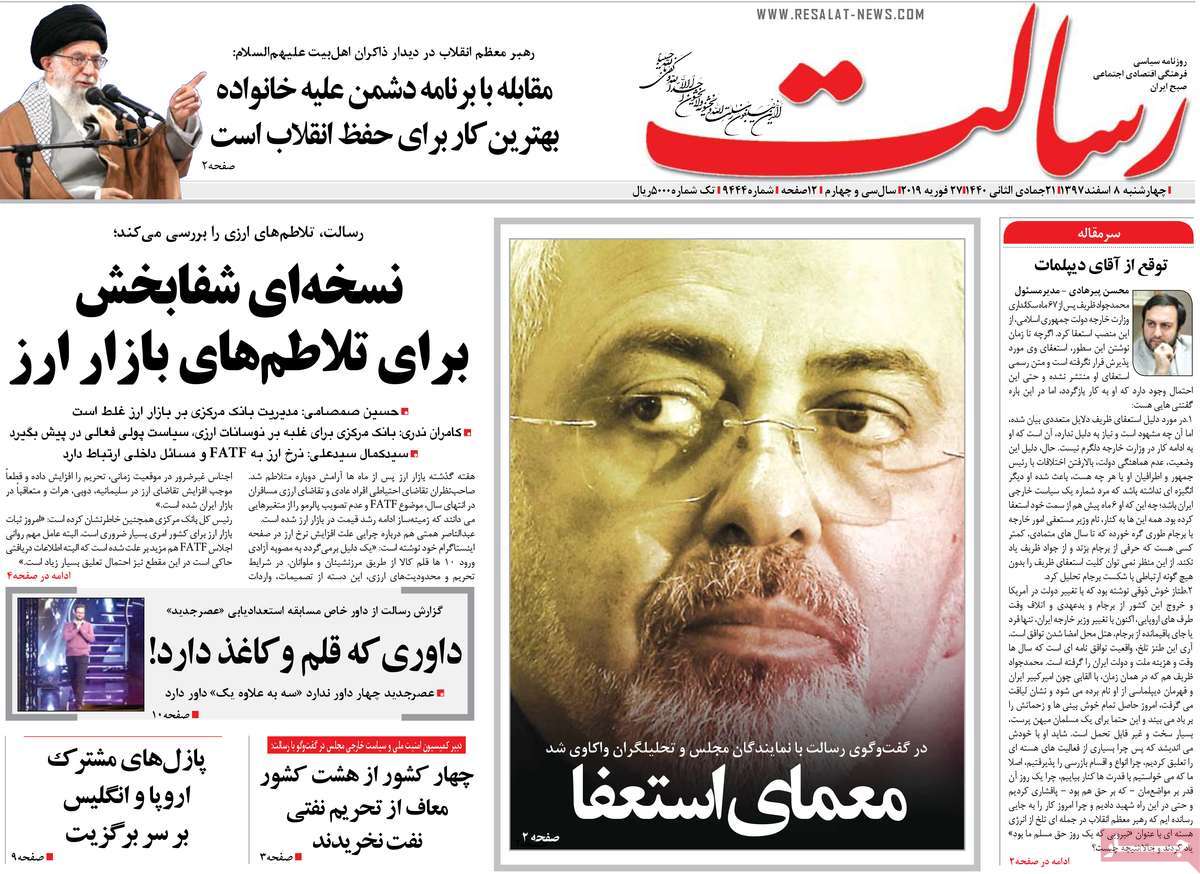 ---
Sazandegi:
1- Zarif's Shock: Reason for His Resignation Still Unclear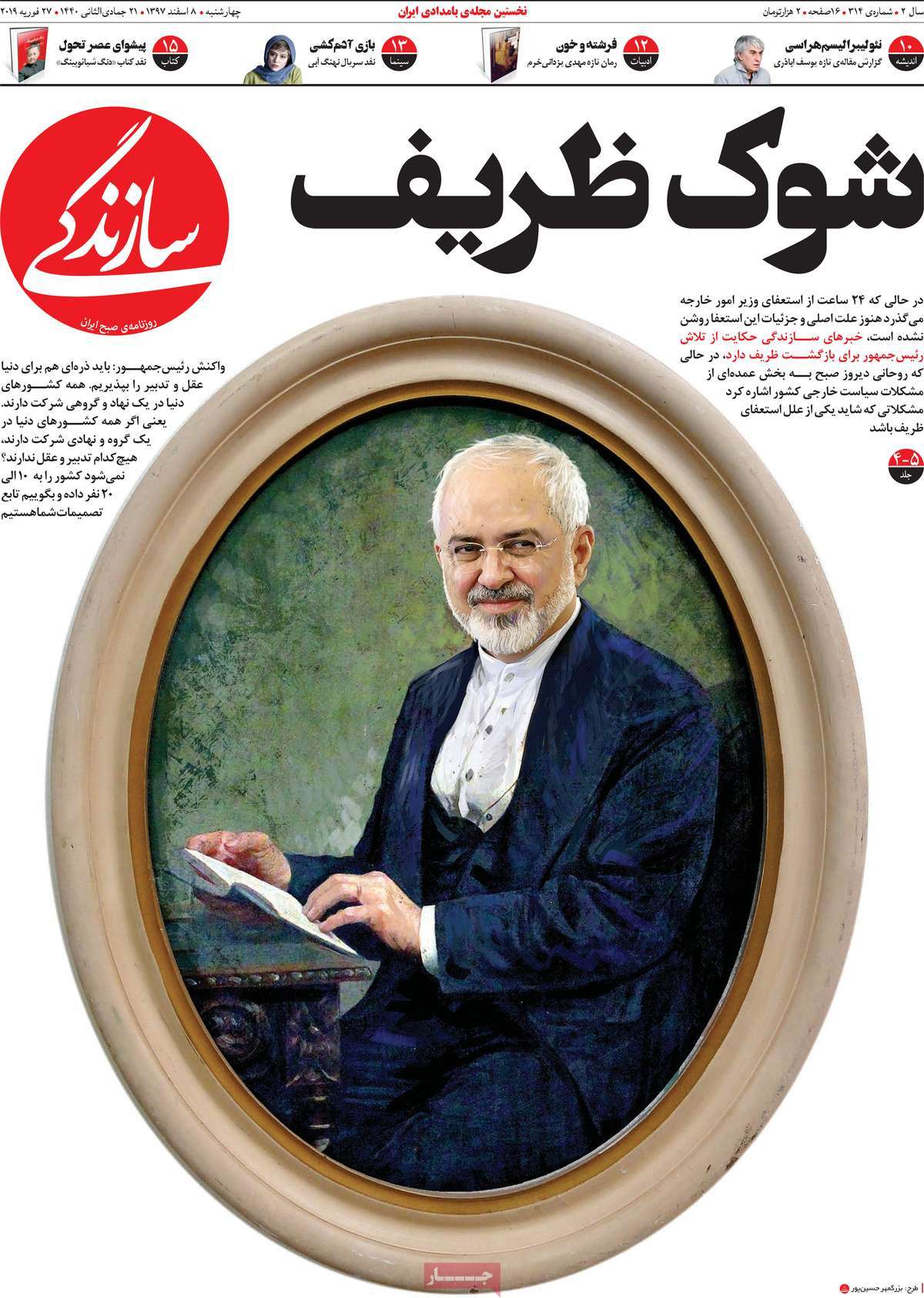 ---
Setareh Sobh:
1- Rouhani Warns Expediency Council over Consequences of Not Accepting FATF
2- Wave of Support for Iran's Int'l Diplomat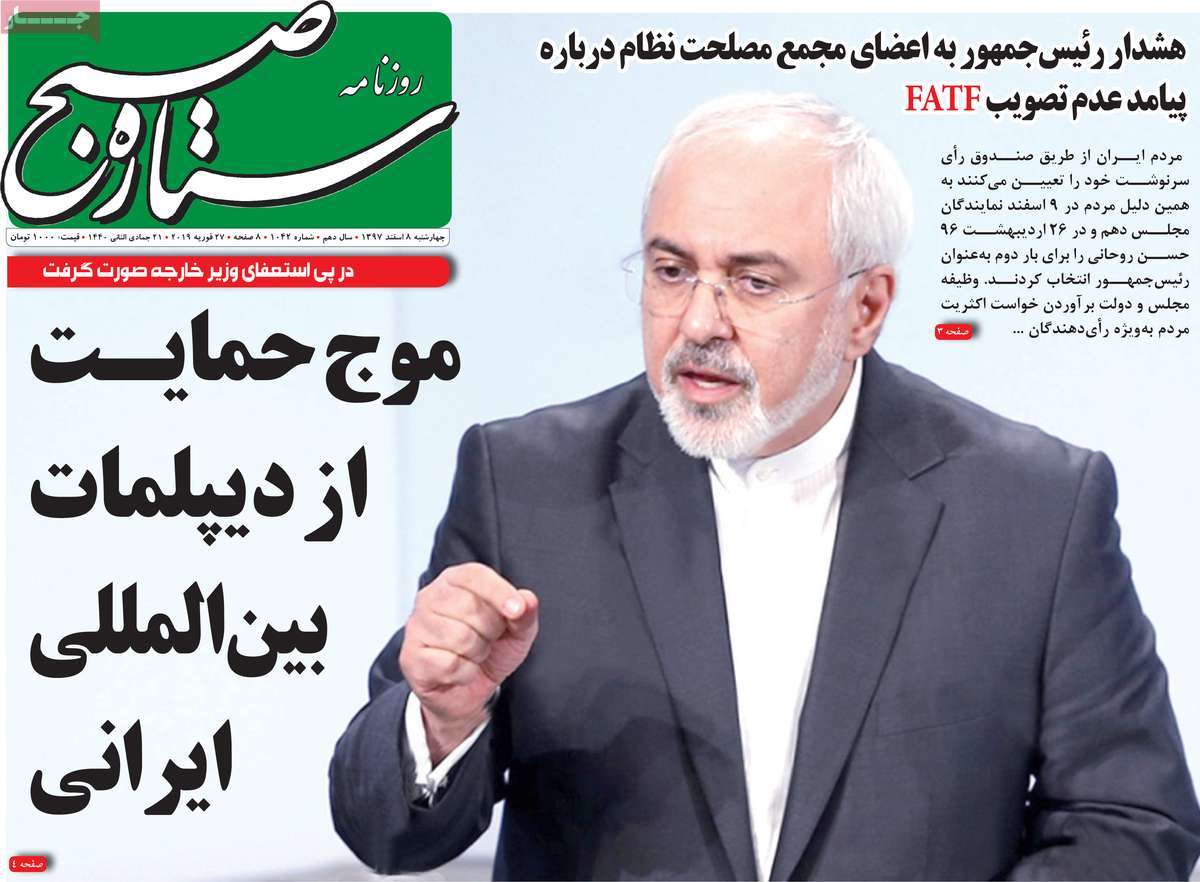 ---
Shargh:
1- Intelligence Minister: Rouhani Not Revealing Certain Issues
2- Rouhani: We Can't Let a Group of 10-20 People Take Control of Country
3- Chabahar Part of a Big Game: US-China Proxy War Takes 35 Countries to SE Iran