All papers today covered the Iranian Parliament's "historic" decision to pass a bill on the country's accession to Combating the Financing of Terrorism (CFT) despite fierce opposition by conservatives.
A top story was the impact of the Parliament's decision, which still needs to be ratified by the Guardian Council to be signed into law, on the Forex, gold coin, and stock exchange markets.
The reports of the alegged murder of Saudi journalist Jamal Khashoggi in the Saudi Arabian consulate in Istanbul also received great coverage
The above issues, as well as many more, are highlighted in the following headlines and top stories:
Abrar:
1- Conservative MP: Today Was Dark Day of Parliament
FATF Accession, Disgraceful Treaty Approved like Turkmenchay
2- Zarif Strongly Supports JCPOA, Underlines Need for Joining CFT
---
Aftab-e Yazd:
1- Controversial Victory: CFT Approved despite All Controversies Created by Hardliners
2- European SWIFT to Become Operational before November 4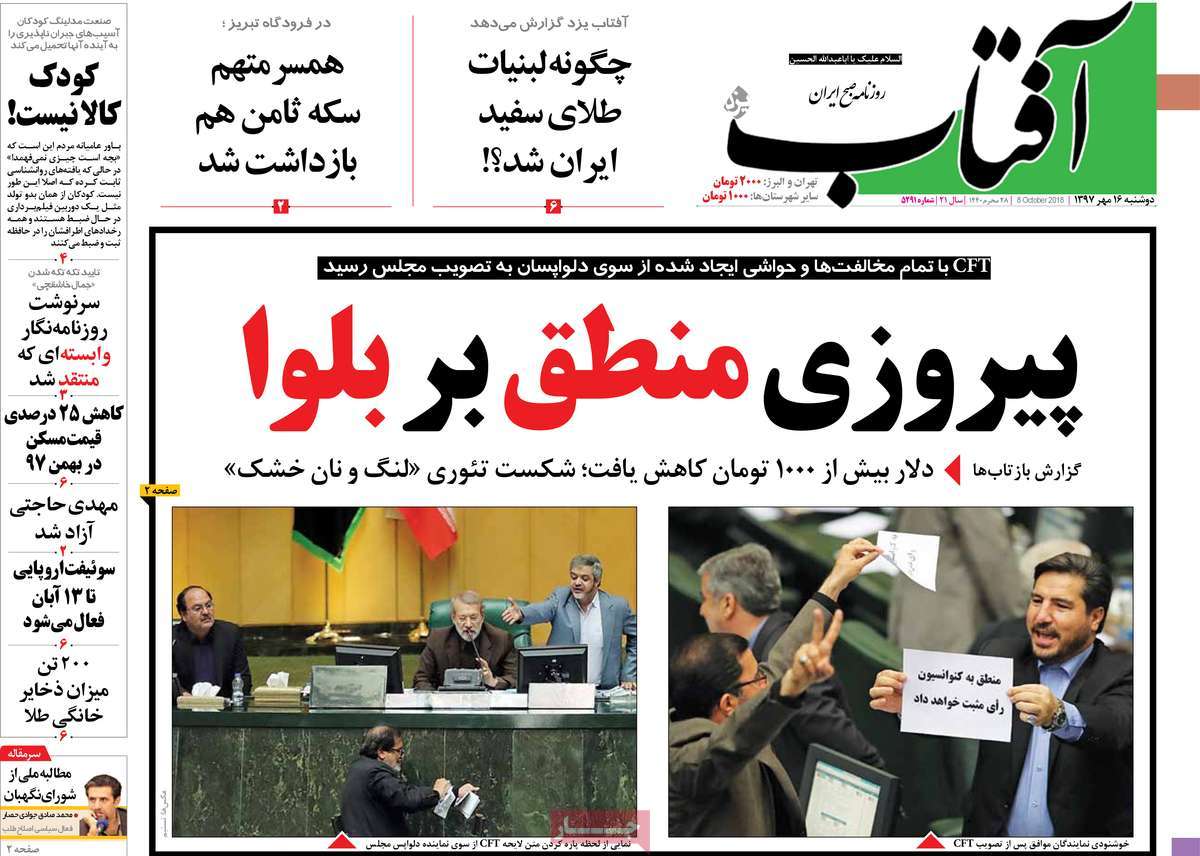 ---
Arman-e Emrooz:
1- World Welcomes Parliament's Vote
Euronews: CFT Accession Very Vital for Europe, Asian Partners of Iran
2- CFT Ratification Paves Way for Banking Ties with EU's SWIFT
---
Ebtekar:
1- Blood of Khashoggi in Saudi Consulate
2- Parliament Makes Its Decision on CFT despite Threatening Messages, Protest Gatherings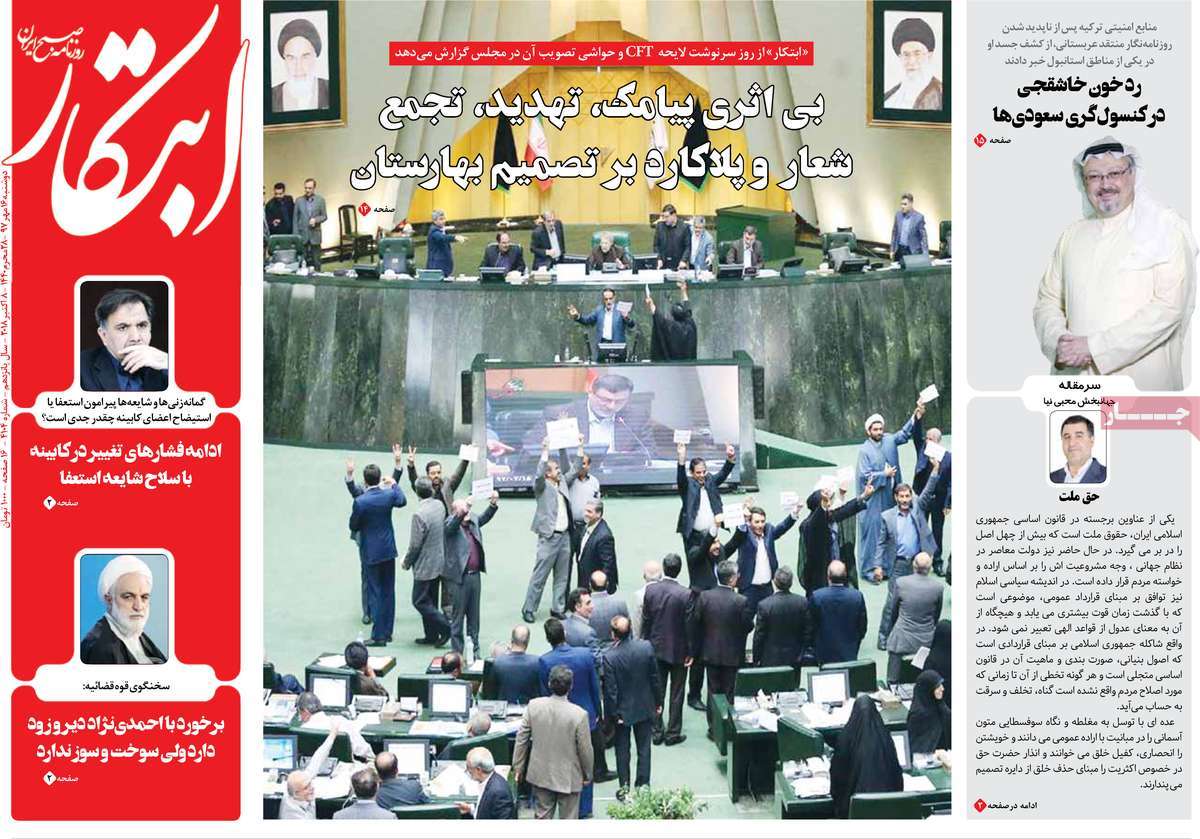 ---
Etemad:
1- Reforms in Bin Salman's Style
Media Reports Say Saudi Journalist Slain, Mutilated in Saudi Consulate in Istanbul
2- Transparent as Approval of CFT
3- Saudi Stupidity [Editorial]
---
Ettela'at:
1- Iran's Accession to Combating the Financing of Terrorism (CFT)
2- Achaemenid Relic, Returned to Iran from US, Unveiled in National Museum of Iran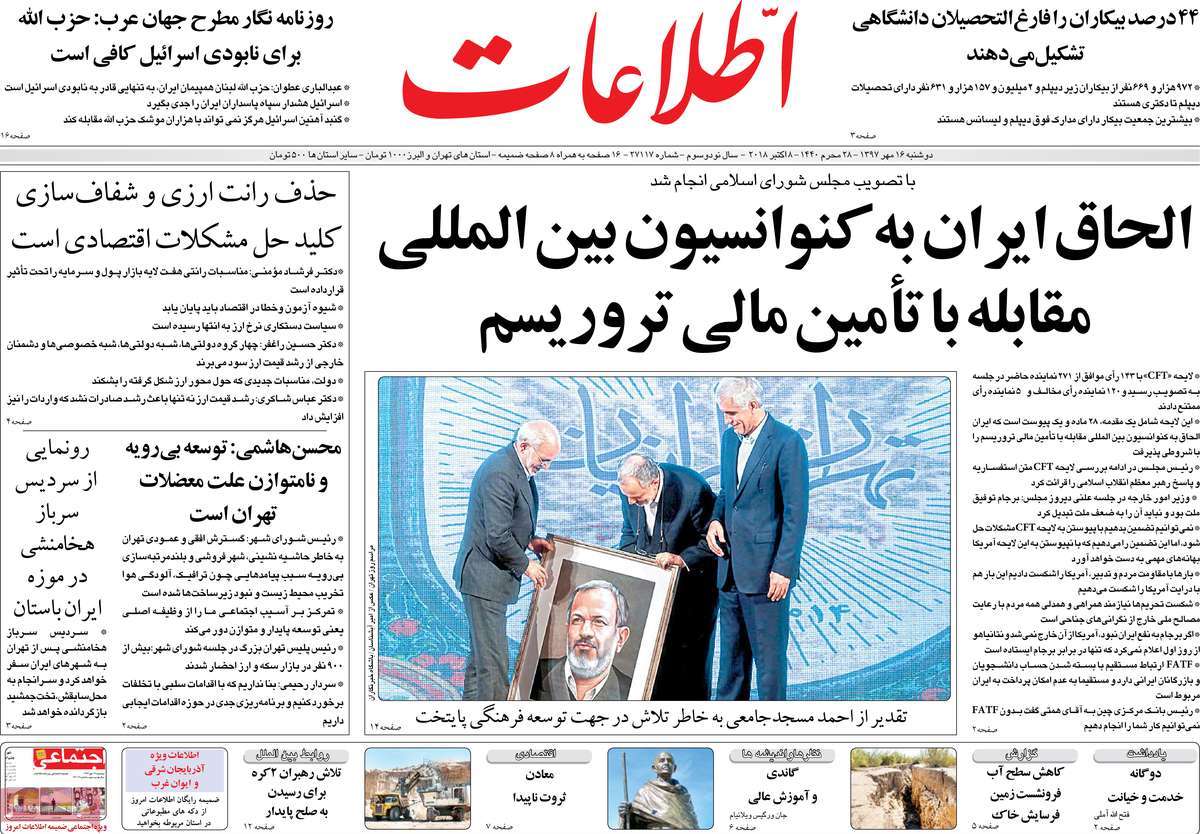 ---
Haft-e Sobh:
1- FATF Advances to Final Stage
2- Great Crime in Istanbul
---
Hamshahri:
1- Vote for Breaking Financial Siege: Parliament's Historic Decision
2- Rainbow Dream: A Report on International Children's Day
A Critique of Tehran's Five-Year Plans for Turning into Child-Friendly City
World War against Children: Different Aspects of Child Abuse in Iran, World
---
Iran:
1- Vote for Financial Transparency
2- CFT's Shock to Forex Market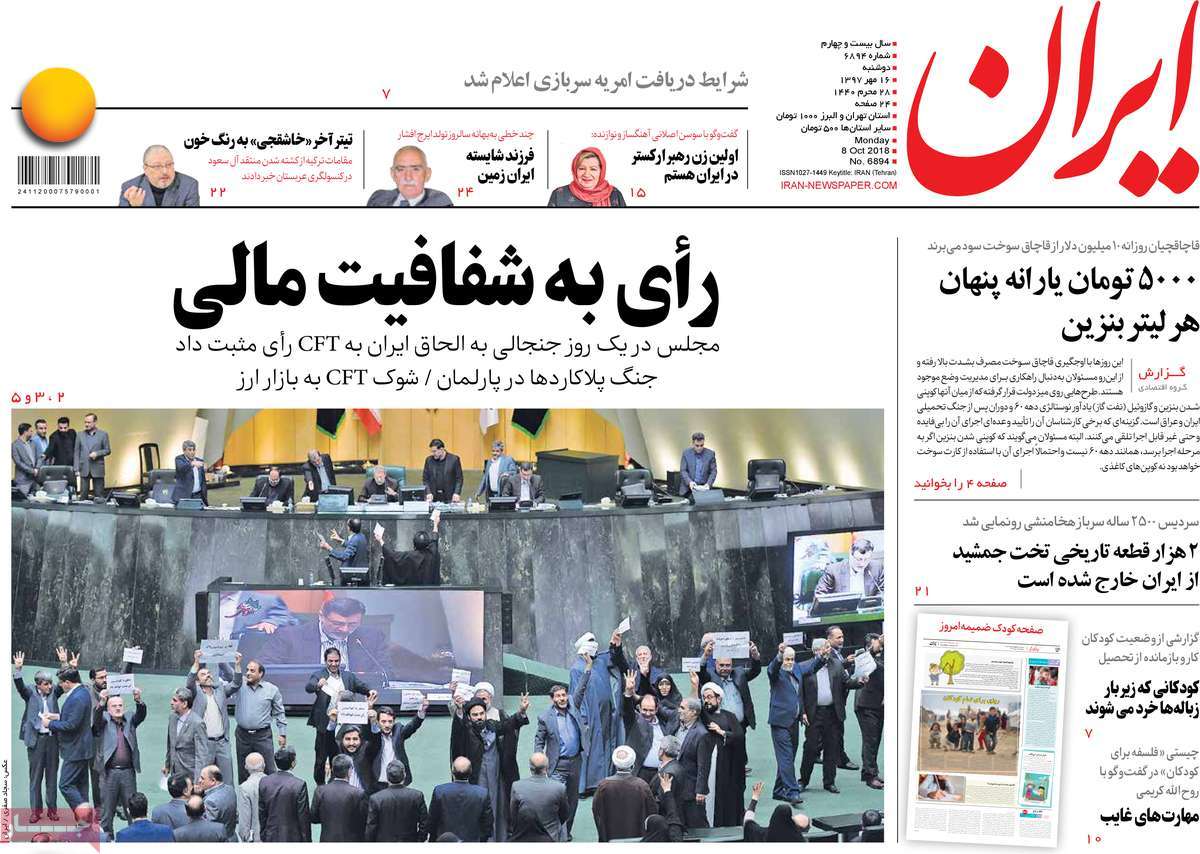 ---
Javan:
1- Butcher of Journalists
Reuters: Turkish Police Says Saudi Journalist Killed, Mutilated in Saudi Consulate
2- FATF Approved by Parliament Even Though Gov't Didn't Give Any Guarantee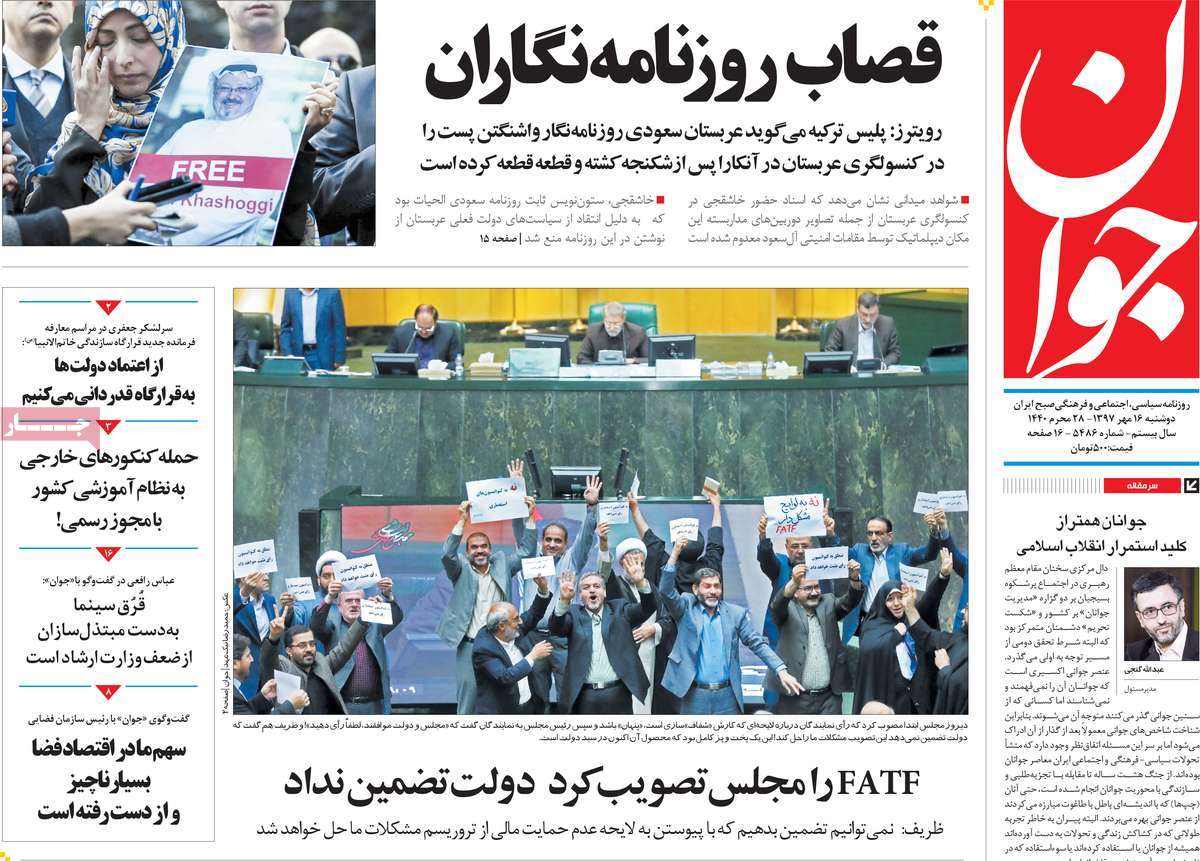 ---
Jomhouri Eslami:
1- US, Saudi Arabia, Zionist Regime Fail
Parliament Votes for Iran's Accession to CFT
2- Intelligence Ministry: Biggest Haul of Smuggled Heroin Seized in NW Iran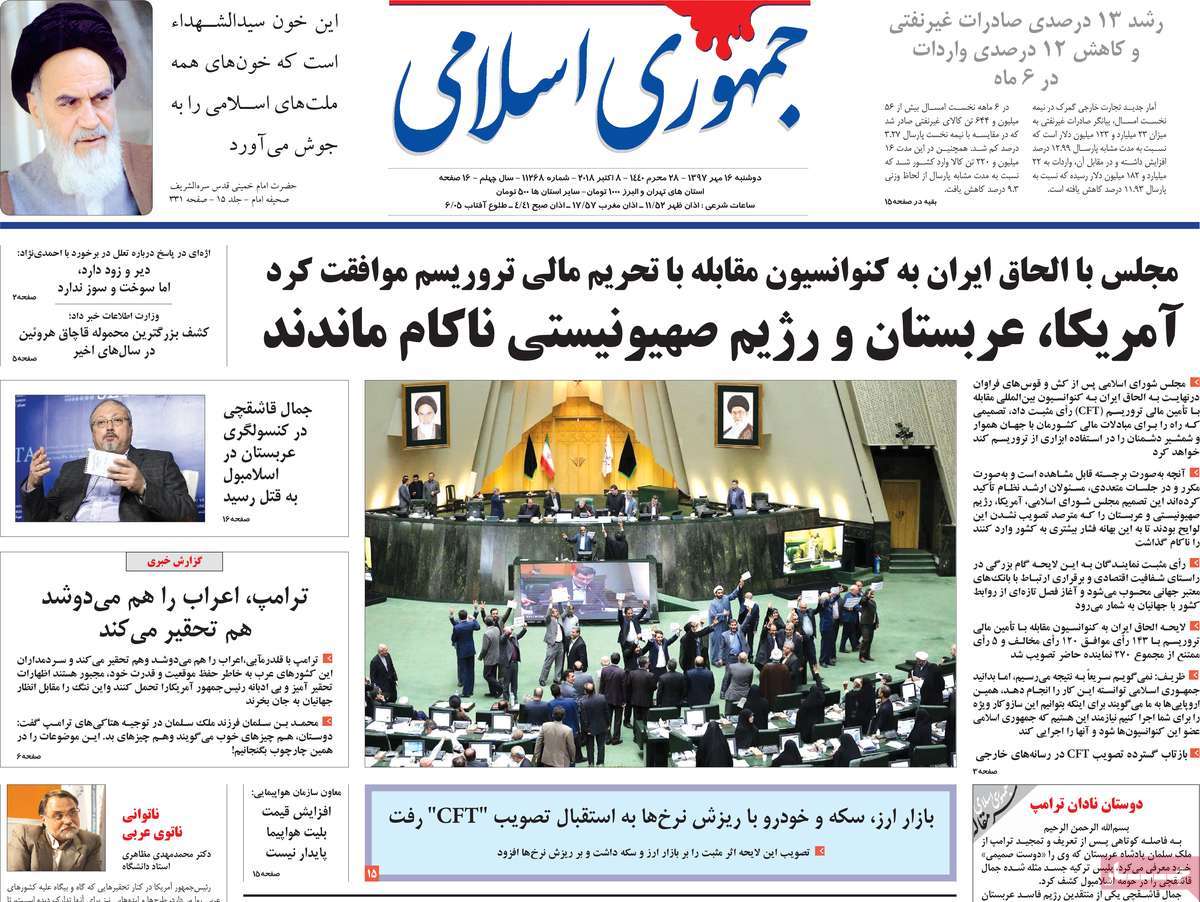 ---
Kayhan:
1- Vote in Darkness: Why Are CFT Proponents Afraid of Disclosing Their Names?
2- Trump's Corrupt Nominee Receives Vote of Confidence despite Protests
3- Bin Salman's Critic Mutilated in Istanbul Consulate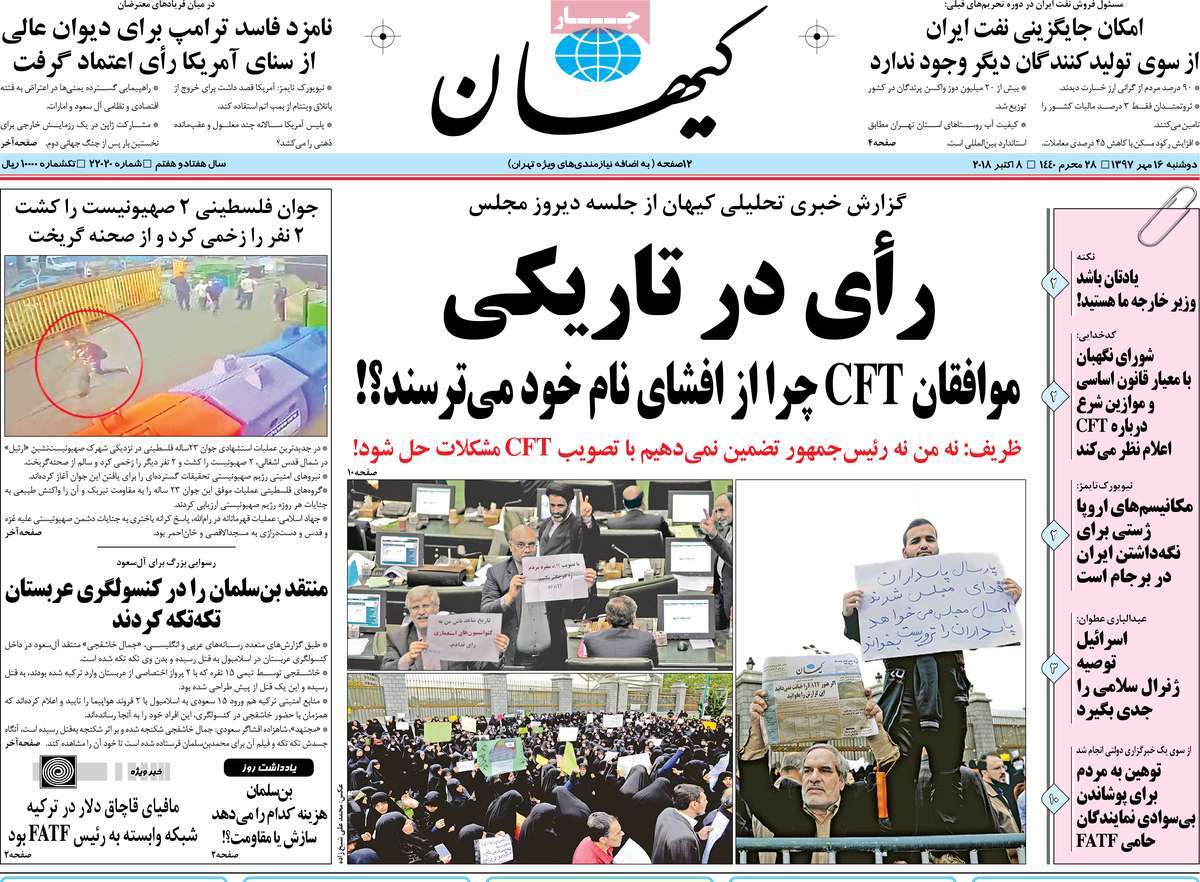 ---
Quds:
1- CFT Law Passed in Parliament Thanks to Secret Votes
2- Zarif Clearly Declared There's No Guarantee Problem Are Solved with FATF Adoption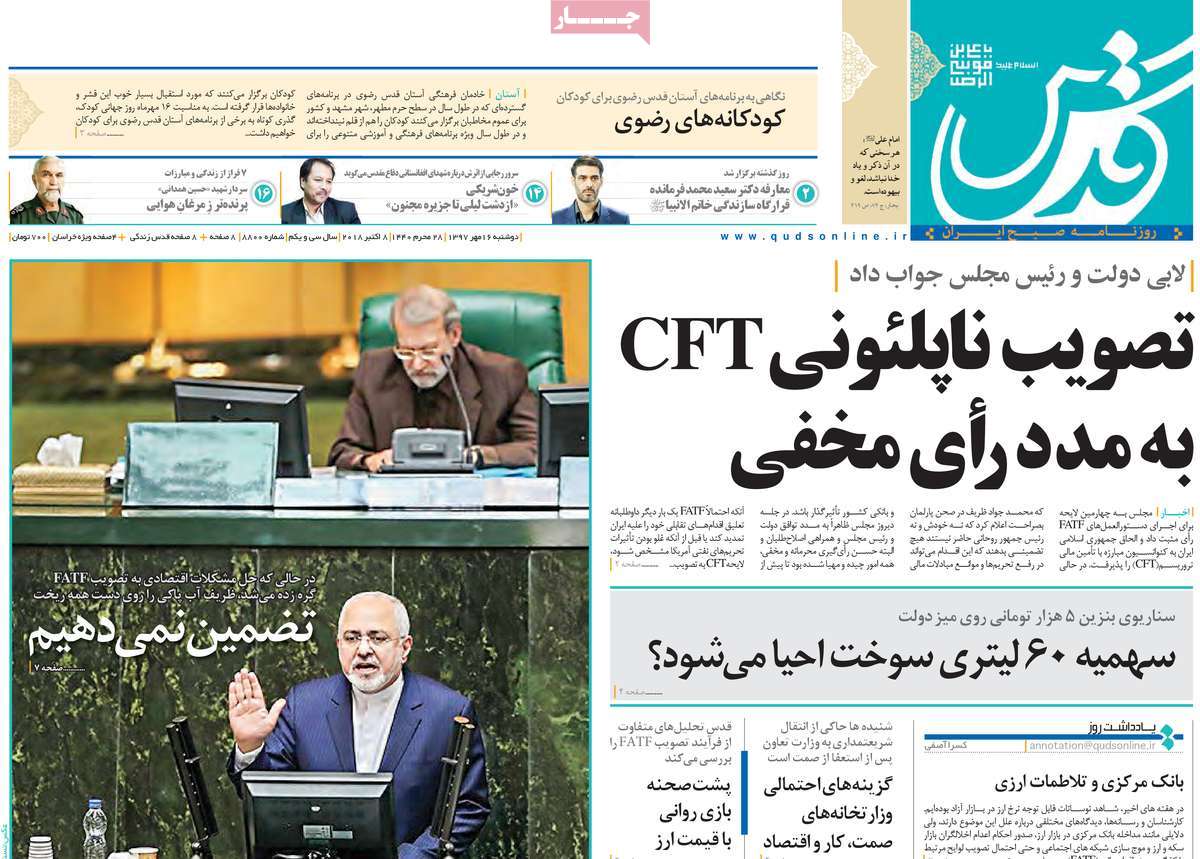 ---
Sazandegi:
1- First Peaceful Night: Dollar Rate in Unofficial Market Down to IRR 119,000
2- Day of Larijani: How Did Parliament Speaker Foil 7 Scenarios of CFT Opponents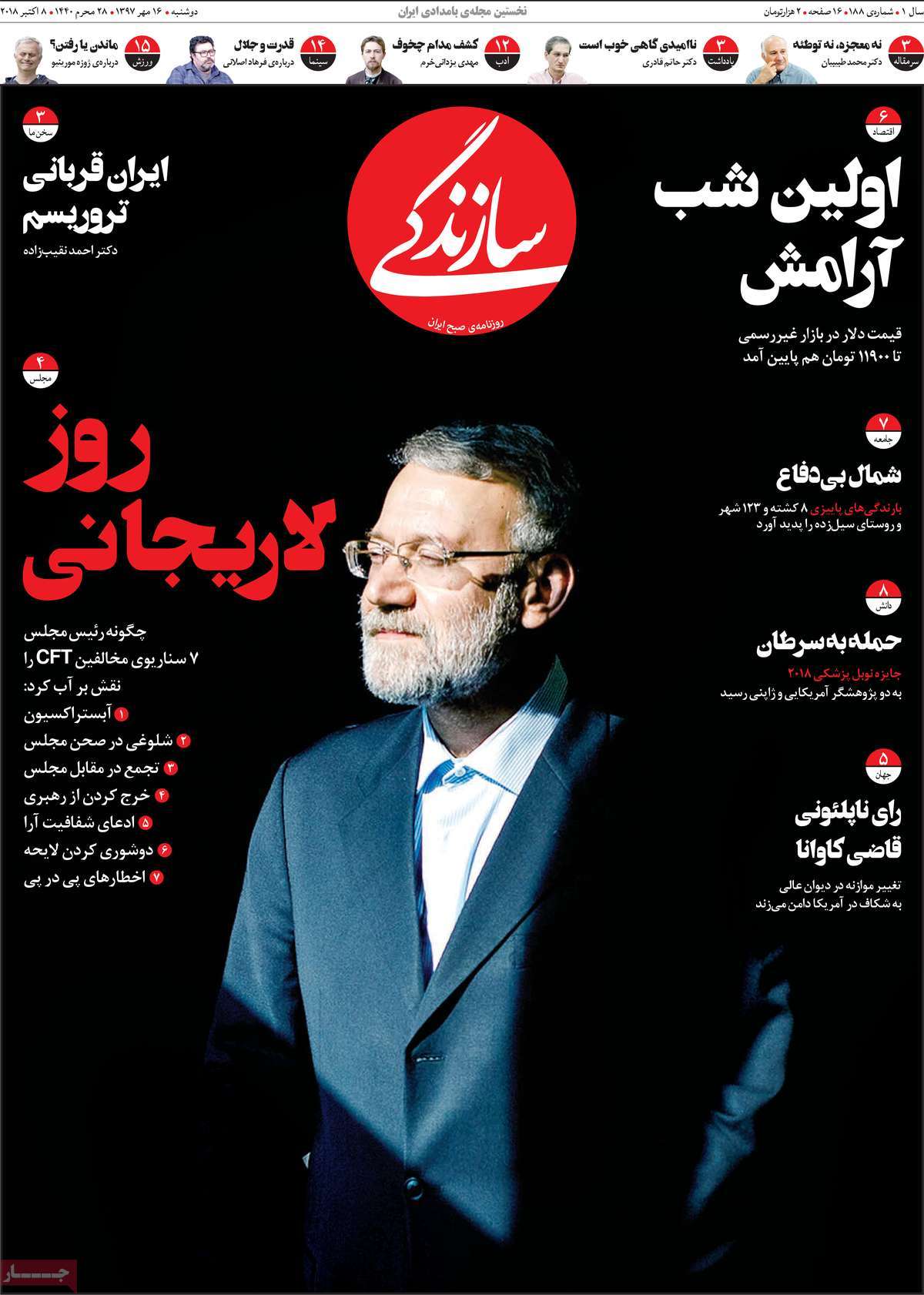 ---
Setareh Sobh:
1- Parliament Votes for What People Wanted
2- ICJ's Provisional Order to Decrease Iran-West Tension: Analyst
3- FATF's Impact: Balance in Forex, Gold Coin, Stock Exchange Markets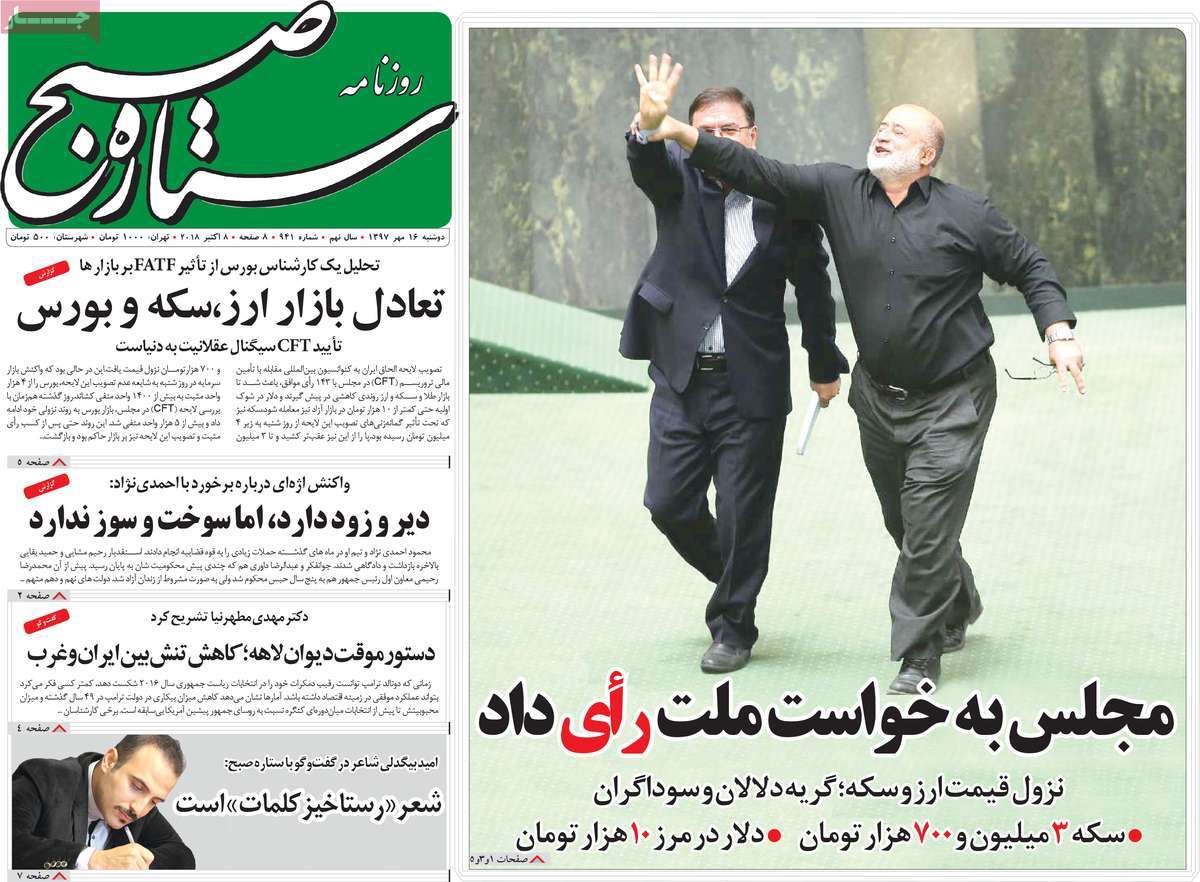 ---
Shargh:
1- FATF to Be Discussed by Guardian Council