All papers today covered the Parliament's Sunday session to discuss a bill proposed by the administration of President Hassan Rouhani to adopt the Combating the Financing of Terrorism (CFT).
Ratifying the bill is necessary for getting the country out of the Financial Action Task Force (FATF)'s blacklist; however, conservatives are strongly opposed to the efforts, arguing they would undermine the country's security and economy.
Also a top story was the heavy rainfall and floods in northern Iran, which have so far killed seven people and wounded many more, and destroying many houses and bridges.
Remarks by Saudi Crown Prince Mohammed bin Salman, in an interview with Bloomberg, about his country's ties with Iran and the US also received great coverage.
The above issues, as well as many more, are highlighted in the following headlines and top stories:
Abrar:
1- Saudi Crown Prince: We'll Sell Two Barrels for Each Iranian Barrel to Compensate for Deficit
2- France: Our Ties with Iran Have Nothing to Do with US
3- Zarif on Talks with US: Never Say 'Never' in Politics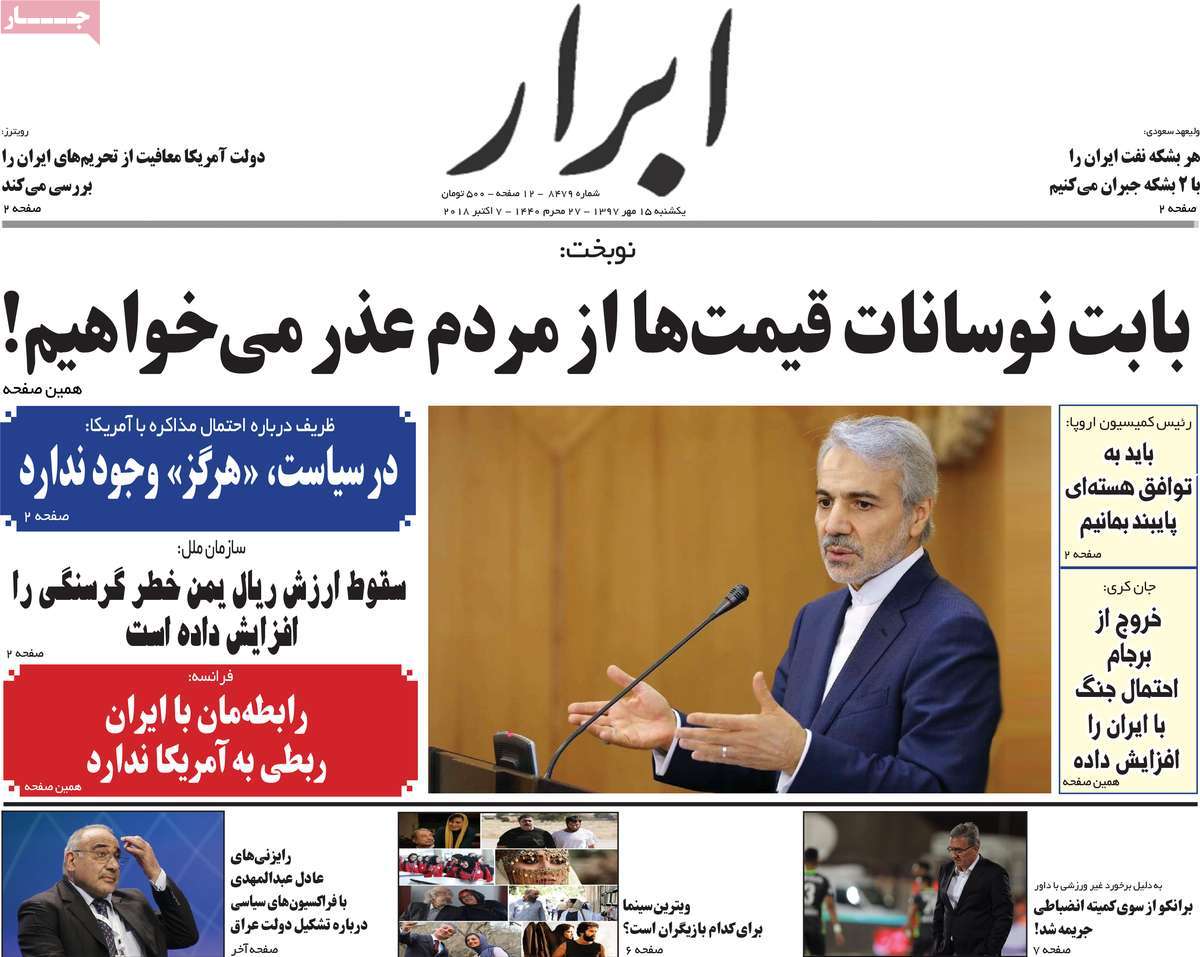 ---
Afkar:
1- Iran's Adoption of FATF Standards Not to Impact Economy: MP
2- Conservative Lawmakers Have Three Demands Regarding CFT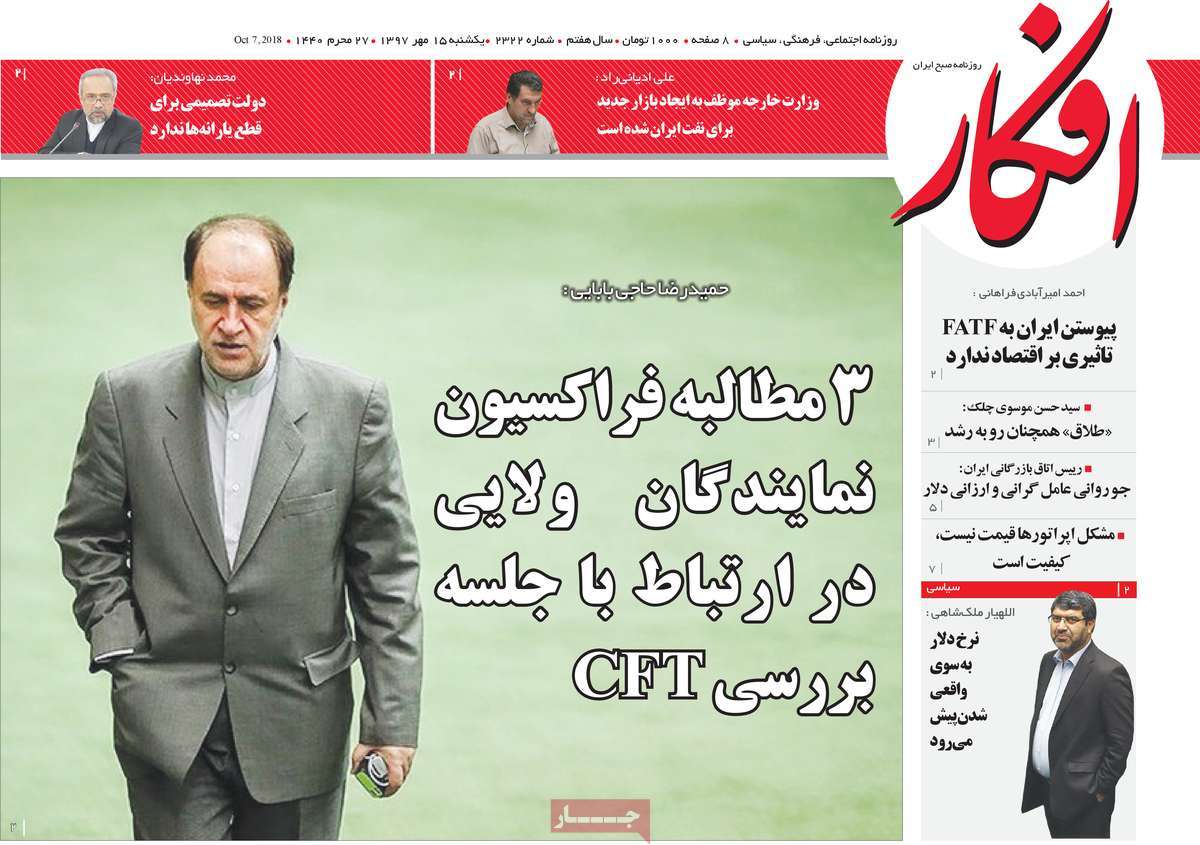 ---
Aftab-e Yazd:
1- Floods Won't Compensate for Water Shortage
Six Killed, 900 Rescued in Northern Provinces
2- Riyadh Declares Oil War against Tehran
Bin Salman Says Saudi Arabia Will Compensate for Lack of Iran's Oil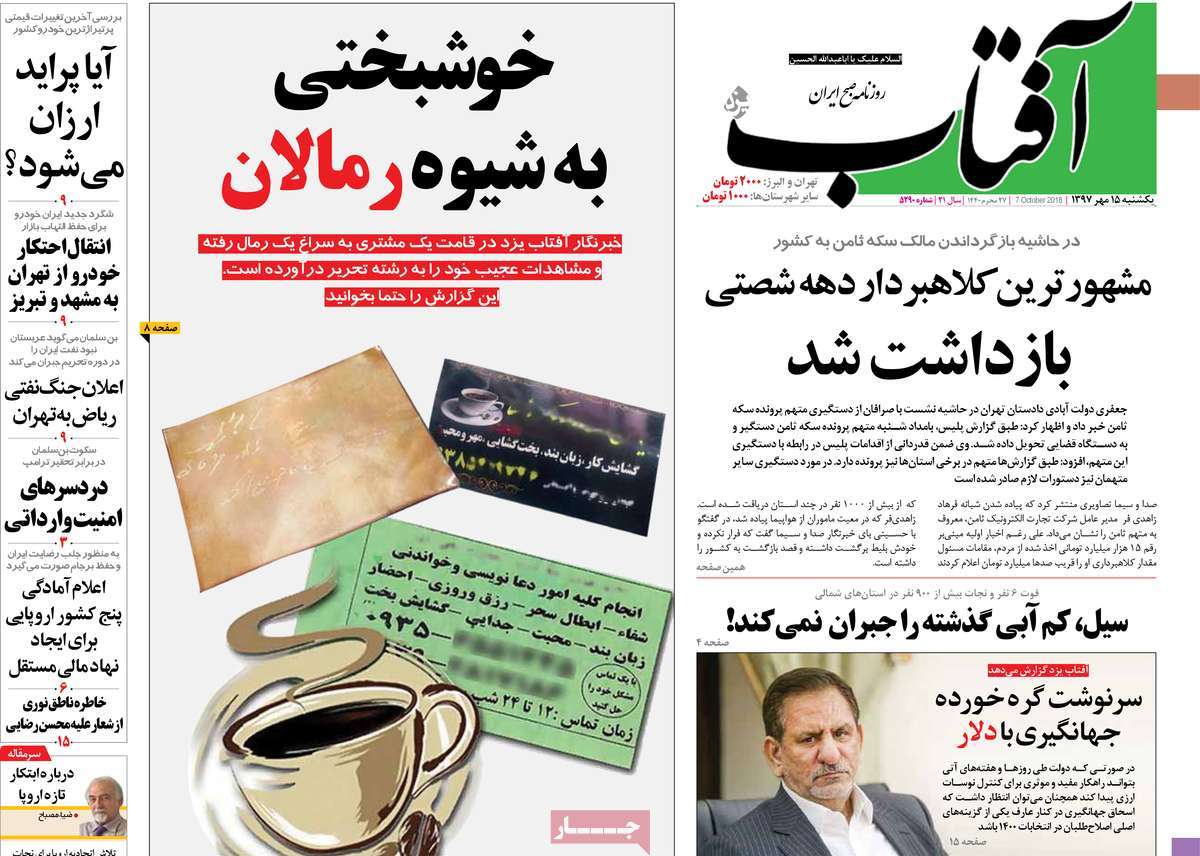 ---
Arman-e Emrooz:
1- World Bank Releases Positive Report on Future of Iran's Economy
2- CFT to Be Measured against National Interests
How Much Protests, Letters to Parliament Will Affect MPs' Vote?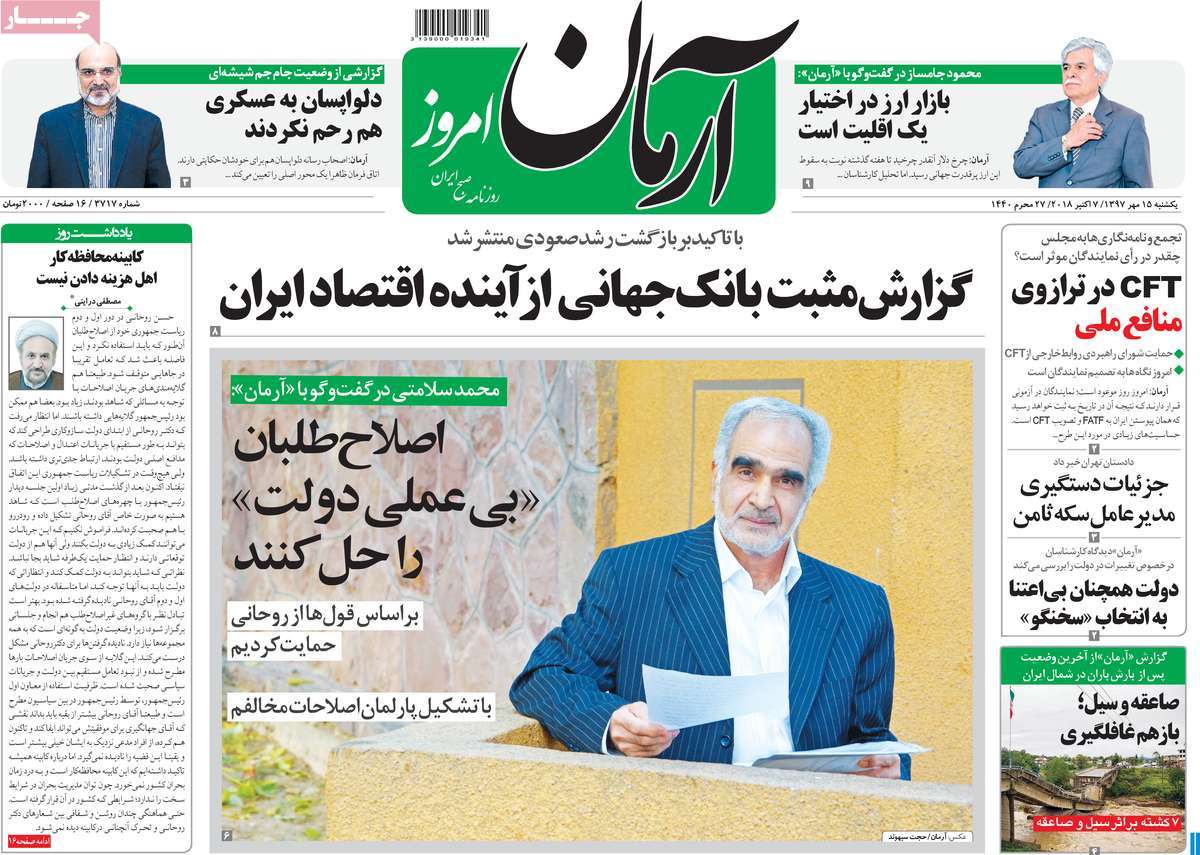 ---
Ebtekar:
1- Other Side of a Coin Called 'Rainfall': Flood Hits Northern Iran
2- Dollar Rates to Change after Parliament's Session on CFT Bill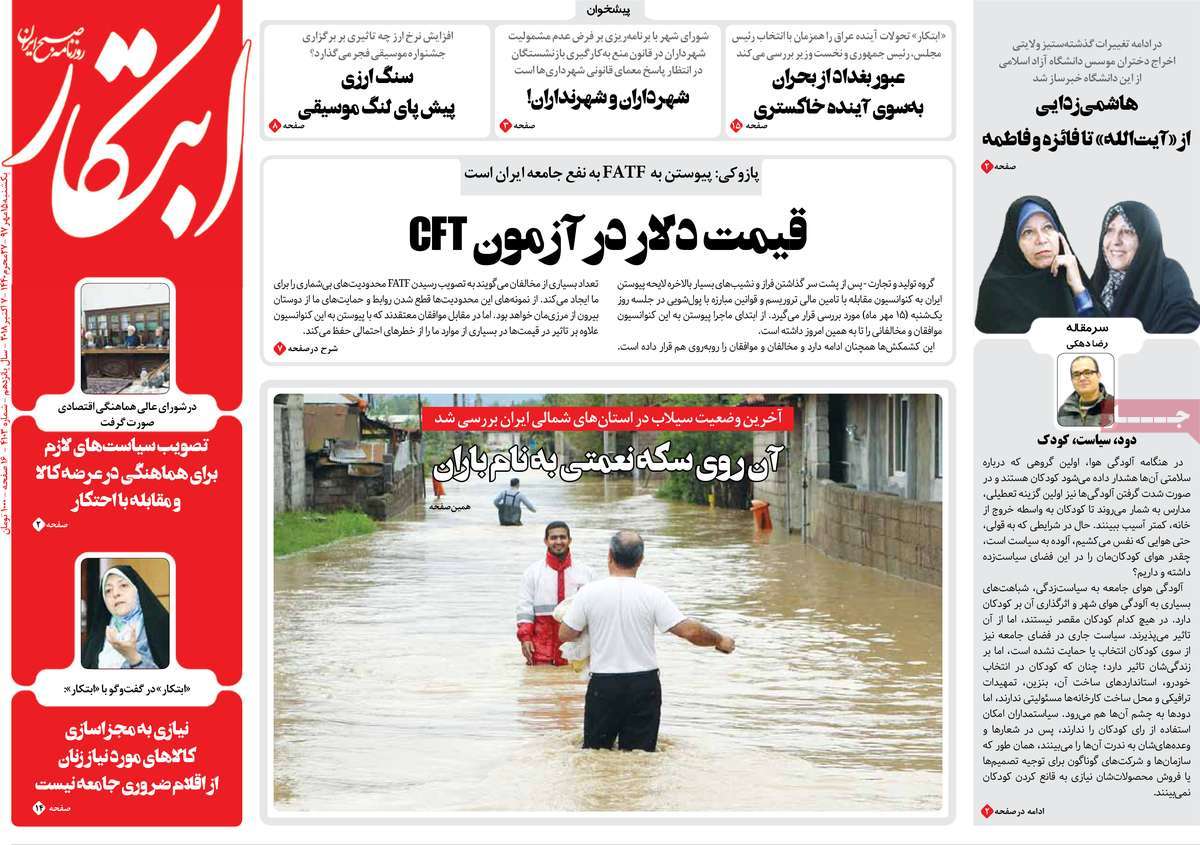 ---
Etemad:
1- Hard Day of CFT in Parliament
2- Roots of Opposition to FATF [Editorial]
3- Iraq Tired or Hopeful
---
Ettela'at:
1- Zarif to Al Jazeera: Dialogue Needs Mutual Trust, We Don't Trust US
2- Bin Salman: We Won't Pay Anything to US for Saudi Arabia's Security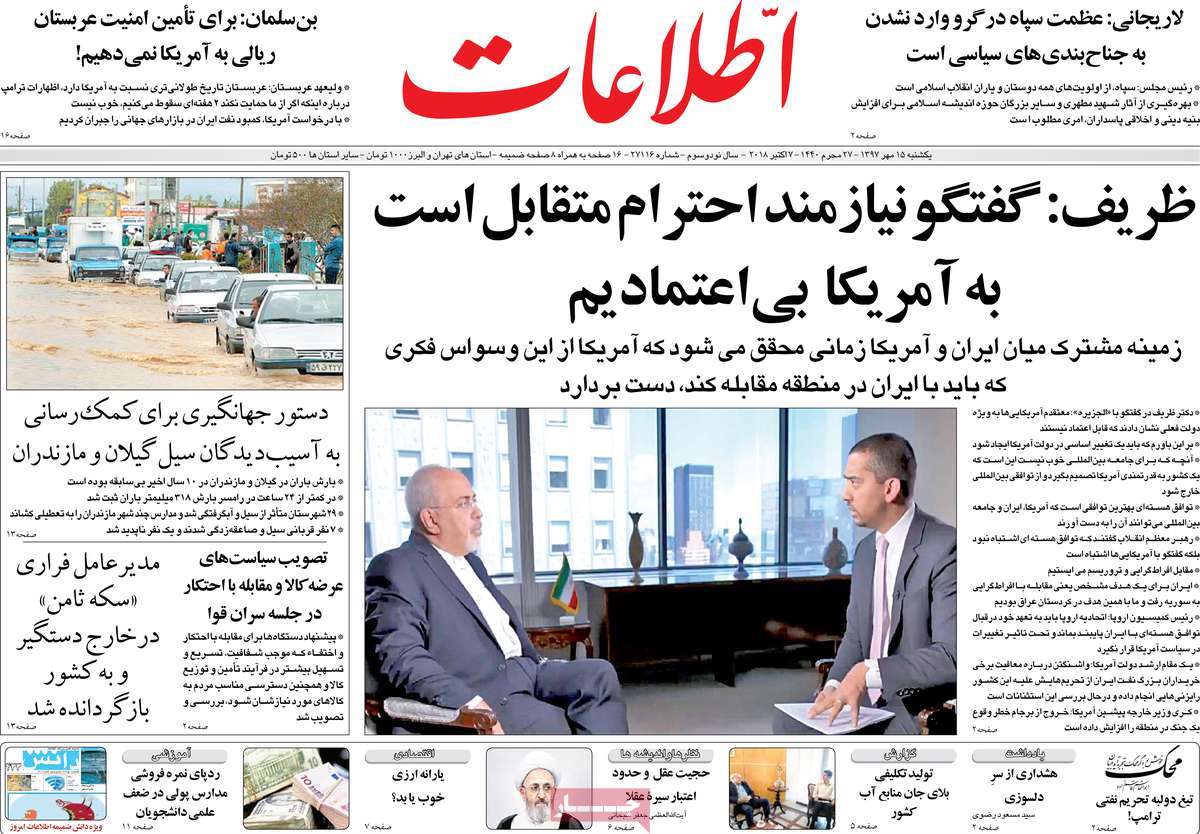 ---
Haft-e Sobh:
1- Heavy Rainfall Breaks All Records in History of Gilan, Mazandaran
2- Strong Counterattack against FATF: Tension High as Parliament Discusses CFT Bill
---
Iran:
1- People Waiting for Lawmakers' Decision on CFT Accession
2- Autumn Comes with Flood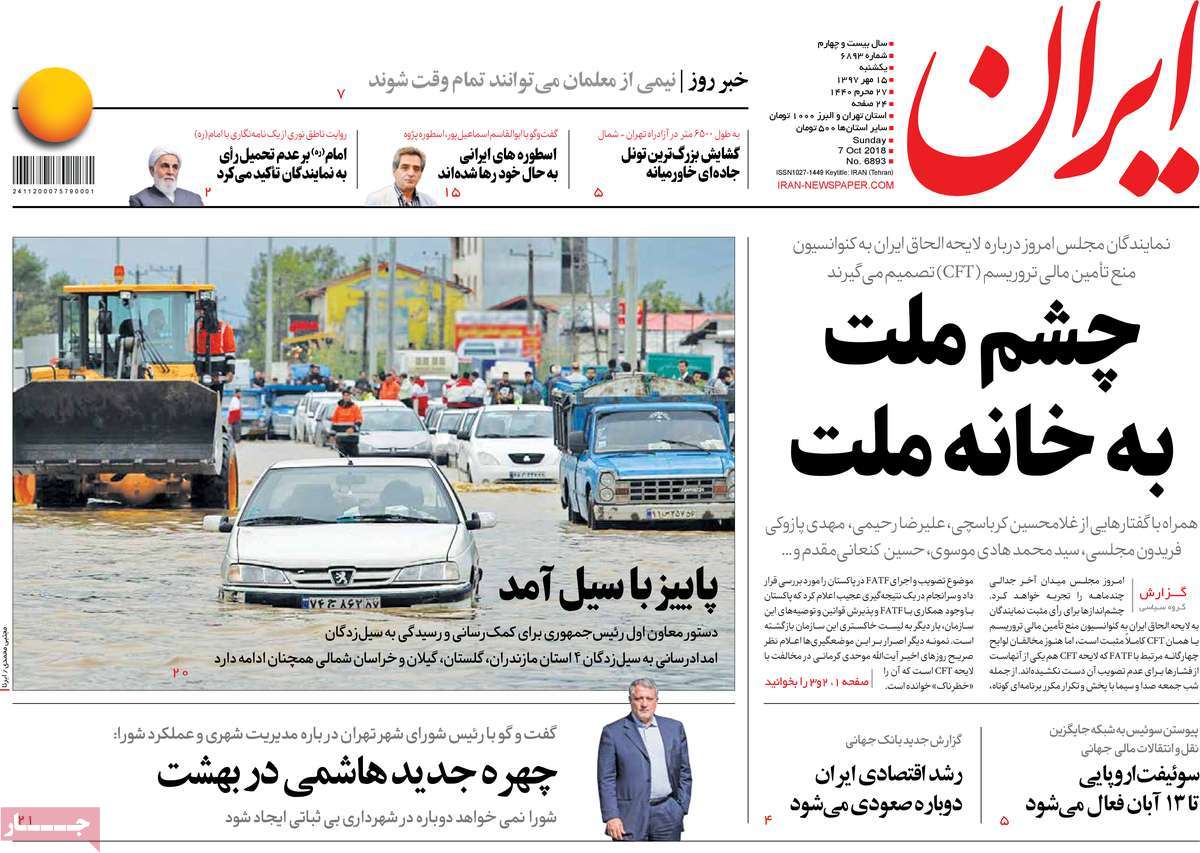 ---
Jame Jam:
1- Proponents of CFT: We Don't Give Any Guarantee!
---
Javan:
1- Reports Show Sanctions Failing across the World
2- Northern Provinces Flooded after Heavy Rainfall
3- FATF on the Table: MPs to Make Final Decision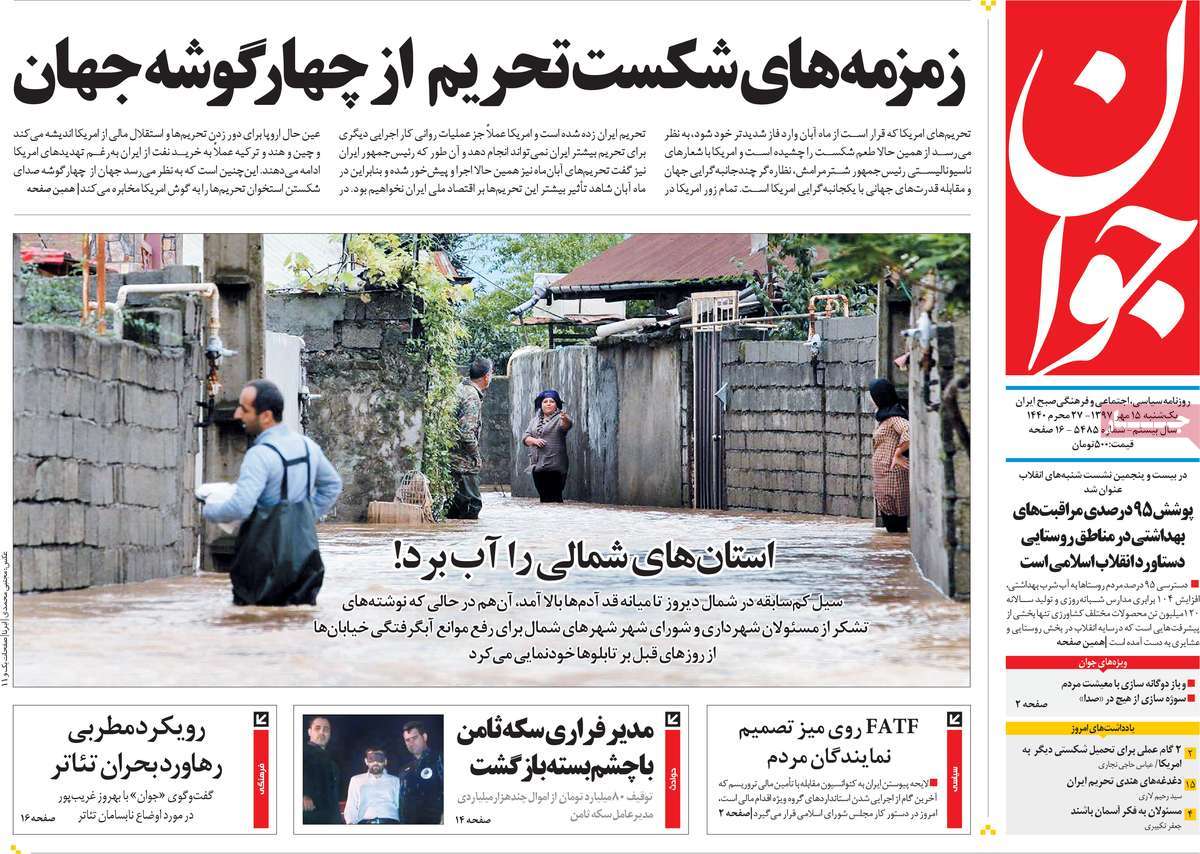 ---
Jomhouri Eslami:
1- France: Washington Has Not Right to Make Decision about EU's Ties with Iran
2- American Analyst: Trump's Bullying towards Iran Will Backfire
3- Rouhani's First VP Calls for Immediate Efforts to Help Flood-Hit People in Northern Iran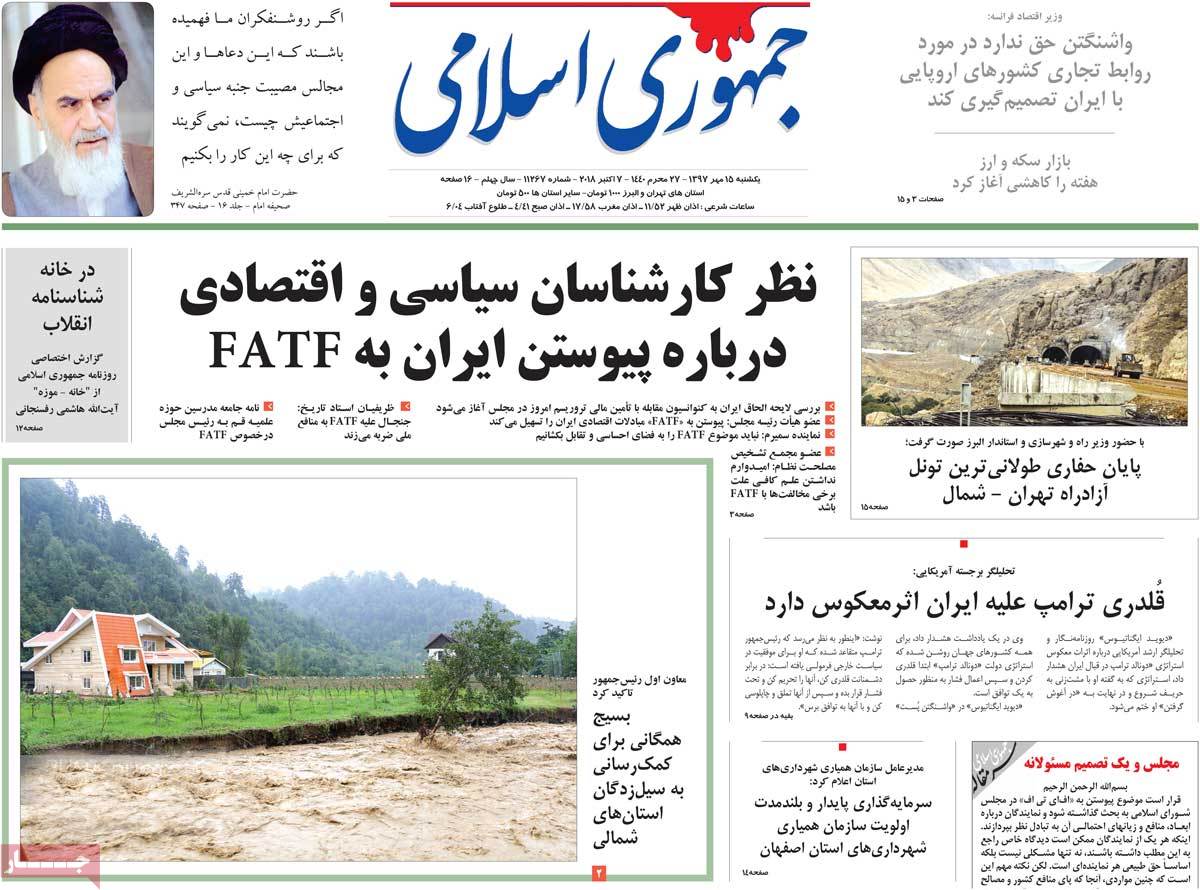 ---
Kayhan:
1- Read This Report If You Still Don't Consider FATF a Treason
2- Huge Decrease in Gold Coin Prices in One Week
3- Bin Salman's Submissive Response to Trump's Humiliating Comments
I Love Working with Trump!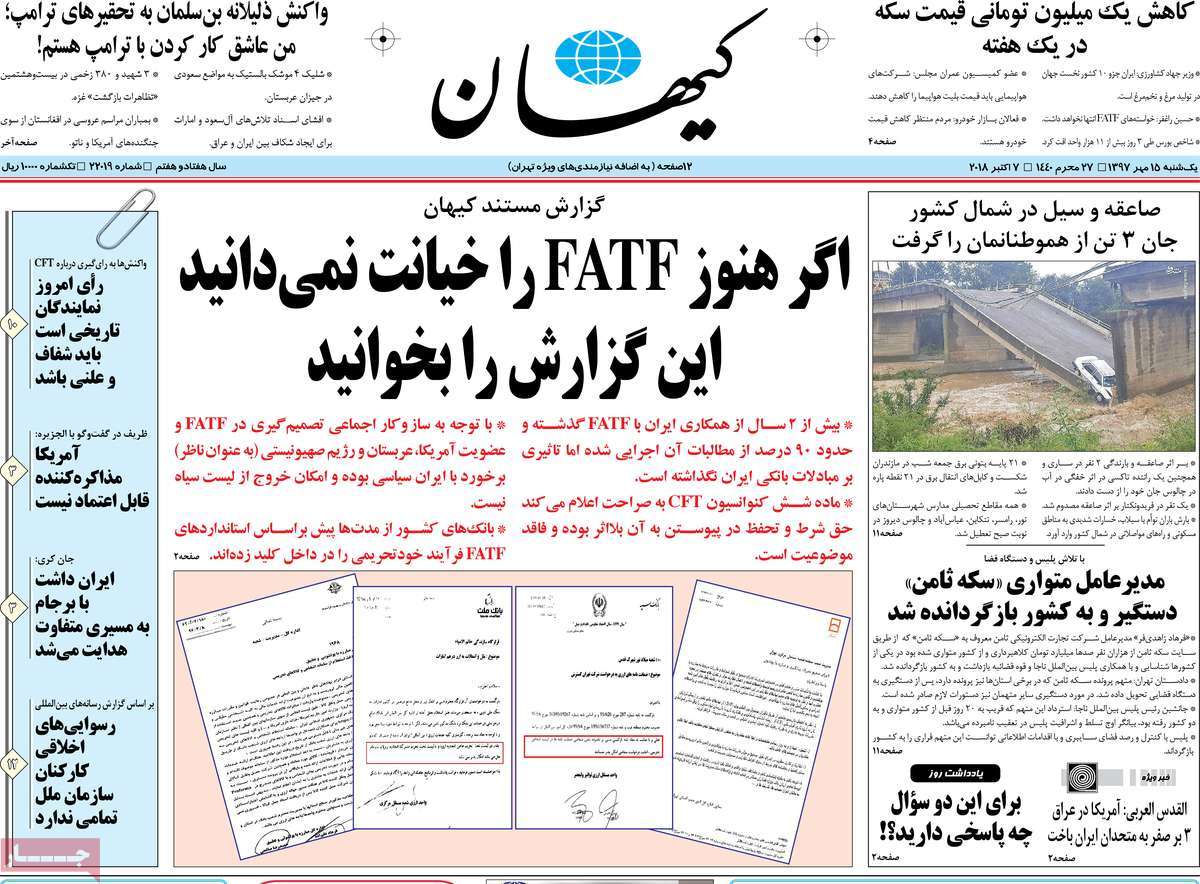 ---
Sazandegi:
1- Rouhani: Reformists Not Allies of Government, They're Our Partners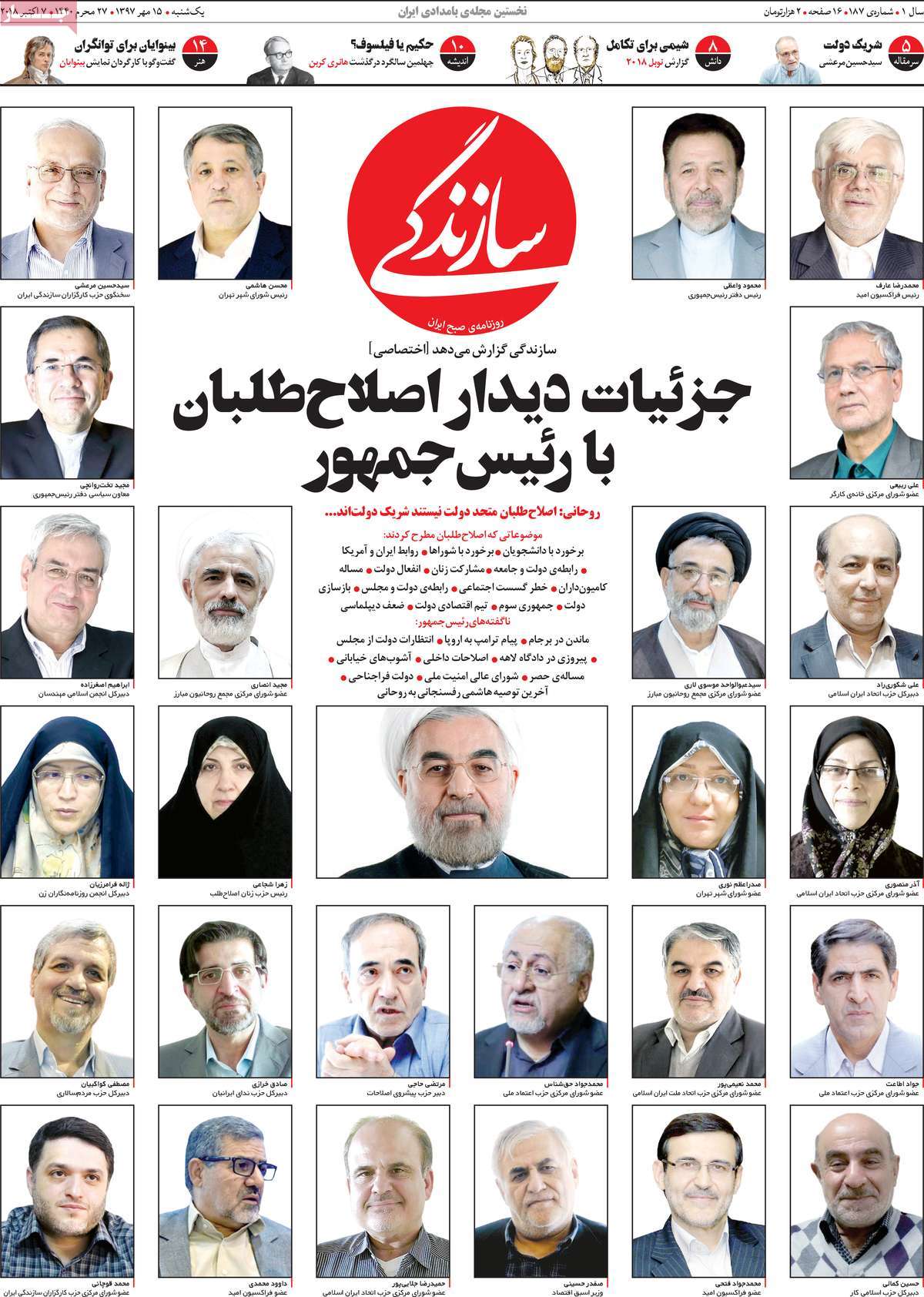 ---
Shahrvand:
1- Day of National Transparency
Political Analyst Explains Why It's Necessary to Join FATF
Vote for FATF to Keep Forex Rates from Rising [Editorial]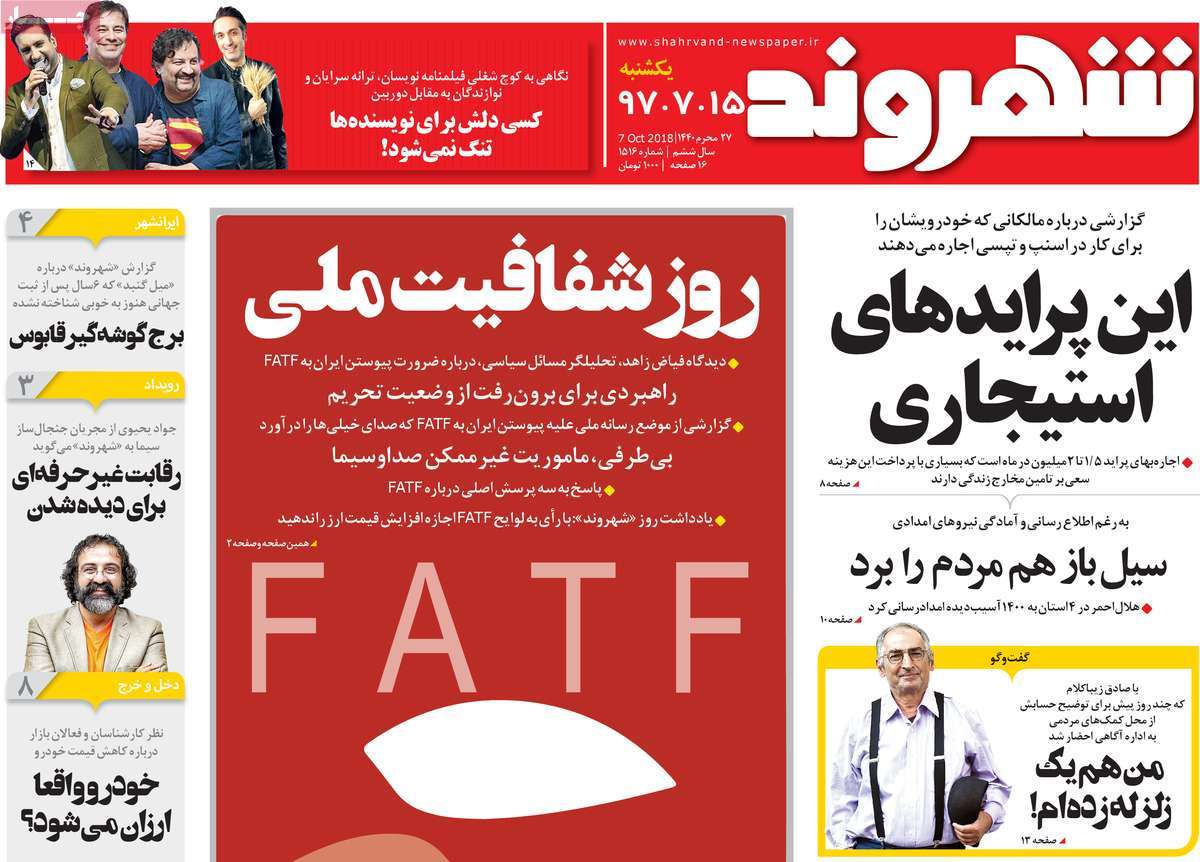 ---
Shargh:
1- Opponents of FATF Harming Themselves
2- Iran's State TV against FATF
3- Everyone Obliged to Observe the Law on FATF [Editorial]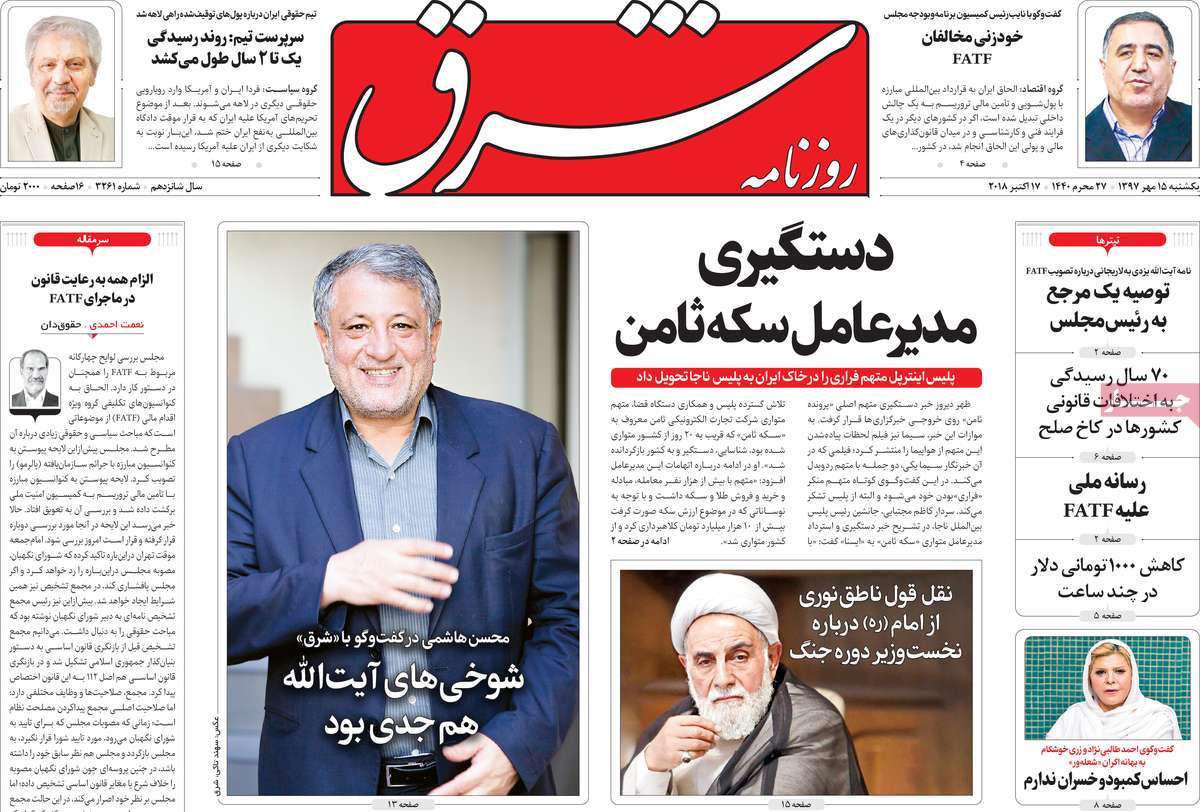 ---
Sobh-e Now:
1- Deceitful Article of 'Reservation': CFT Not to Accept Any Reservation on Definition of Terrorism