Iranian papers today widely covered the remarks made by Ayatollah Seyyed Ali Khamenei, the Leader of Iran's Islamic Revolution, in a gathering of 100,000 Basij forces in Tehran's Azadi stadium.
Also a top story as the Parliament's Sunday session to vote for or against a bill on the Combating the Financing of Terrorism (CFT), which is one of the four bills proposed by the government to take the country out of the blacklist of the Financial Action Task Force (FATF).
Comments by Foreign Minister Mohammad Javad Zarif in an interview with Al Jazeera also received great coverage.
The above issues, as well as many more, are highlighted in the following headlines and top stories:
Abrar:
1- Kerry: Our Policy in JCPOA Based on Verification, Not Trust
2- Turkish Parliament Extends Presence of Turkey's Military in Iraq, Syria
3- Israel Trying to Win Germany's Support for Anti-Iran Sanctions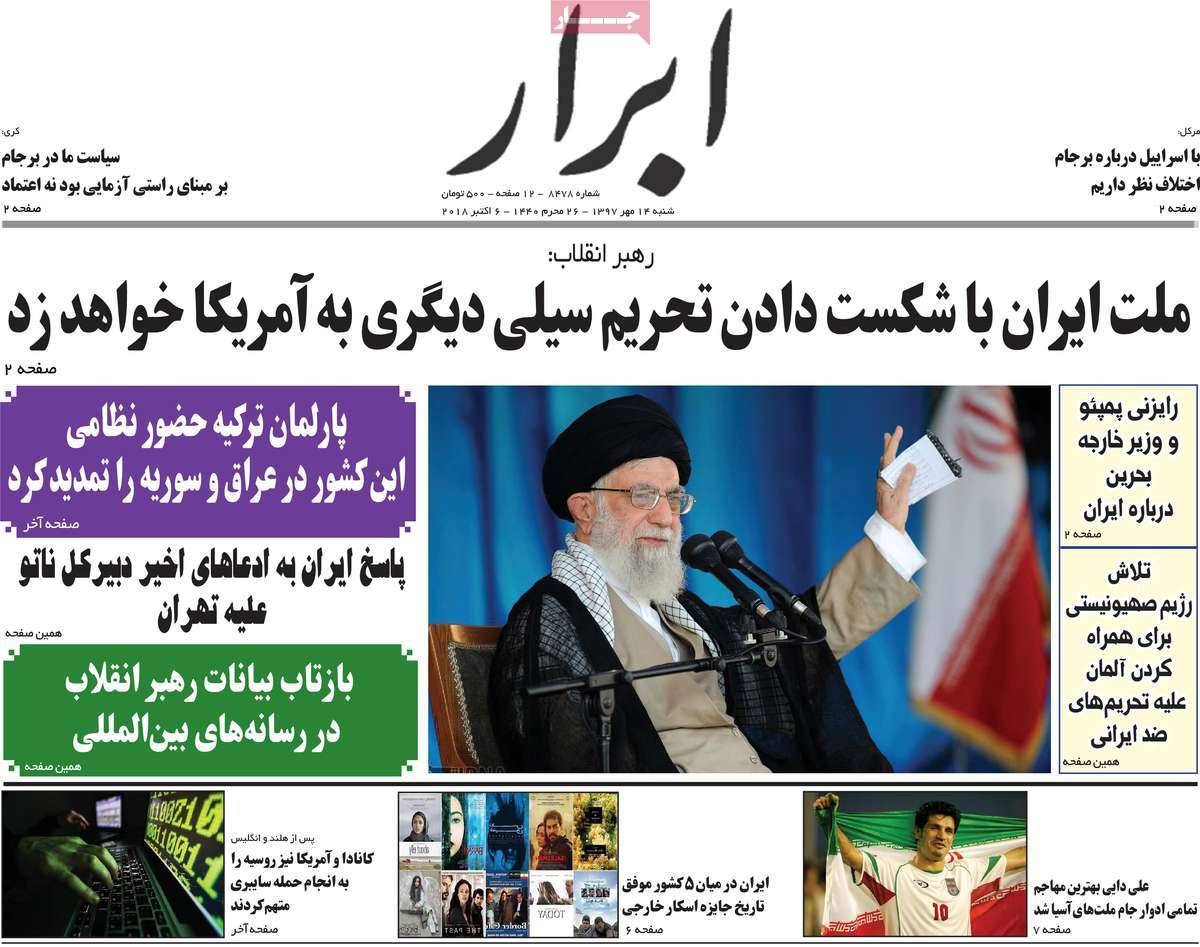 ---
Afkar:
1- Zarif: Iran Condemns Attack on Civilians
2- Netanyahu Wants to Mobilize the World against Iran: MP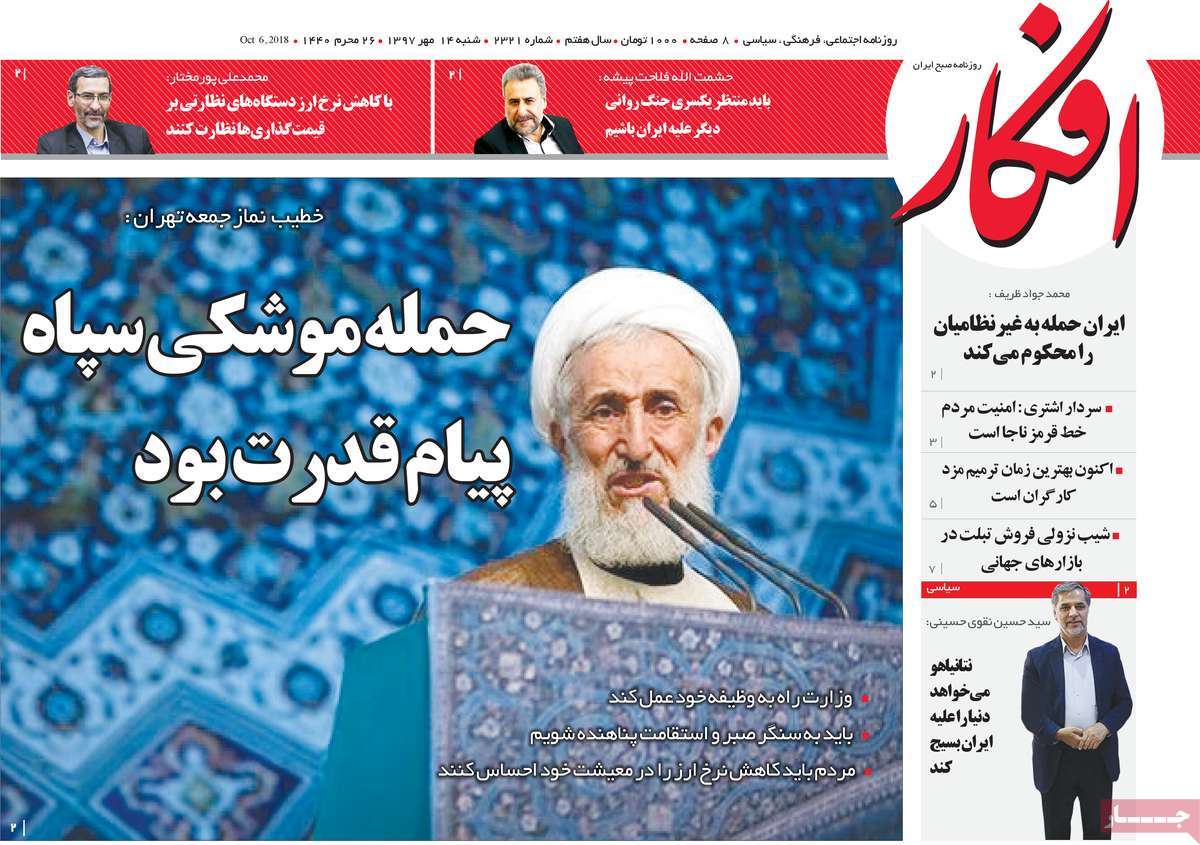 ---
Aftab-e Yazd:
1- Iran Leader: Iranian Nation to Give US another Slap by Defeating Sanctions
2- Conservatives' Questionable Silence over ICJ's Anti-US Ruling
3- A Meeting to Get Back on Speaking Terms: Rouhani Meets Reformist Figures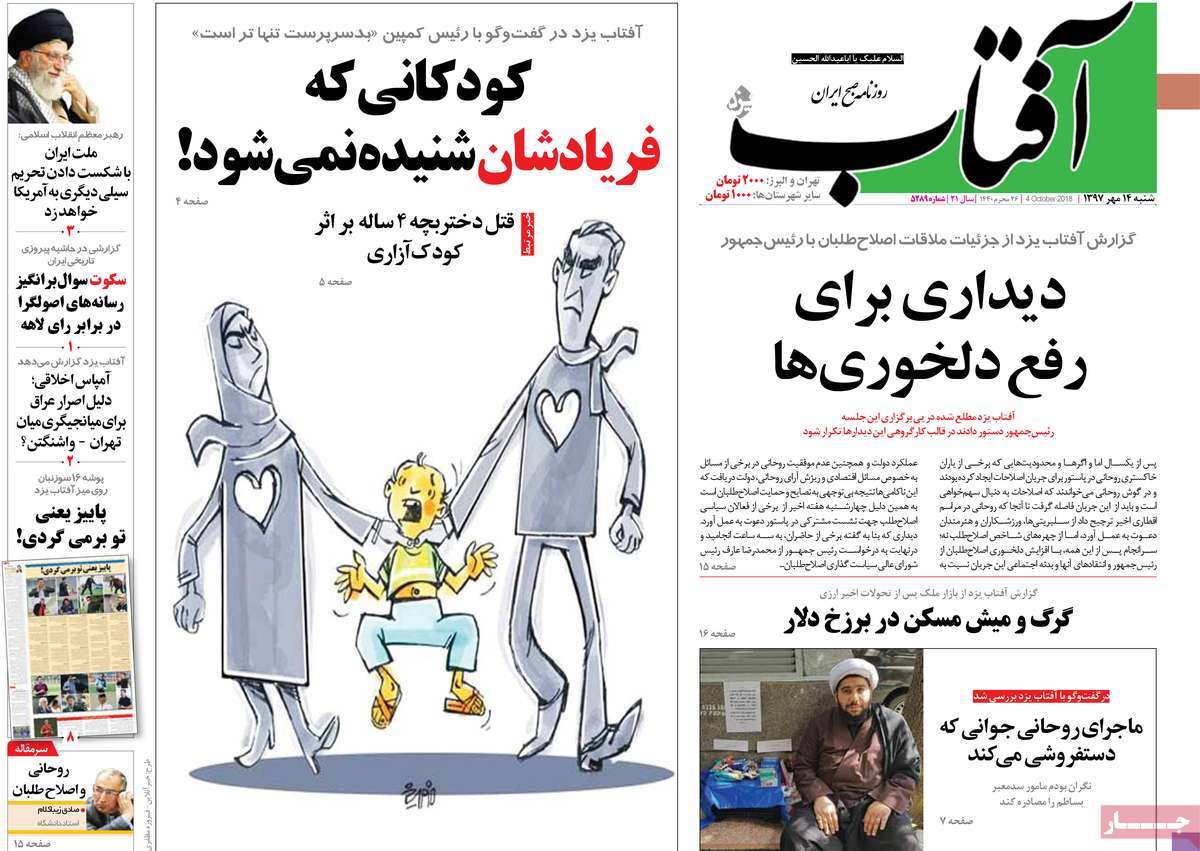 ---
Arman-e Emrooz:
1- Iran Leader: People to Defeat US Sanctions
2- Iran's Tactic: National Currencies to Replace US Dollar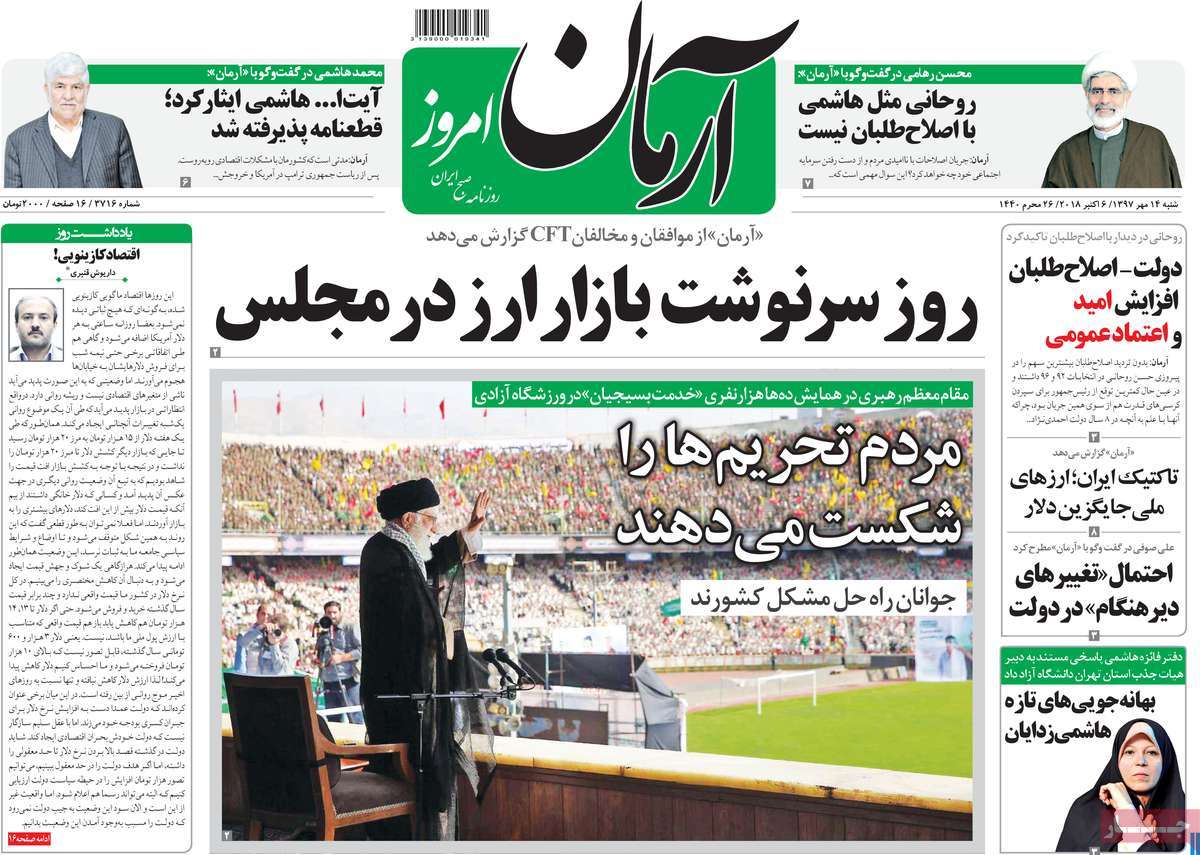 ---
Etemad:
1- Iran Leader Underlines Three Undeniable Facts
Iran's Greatness, Islamic Republic's Might, Nation's Invincibility
2- Continued National Might [Editorial]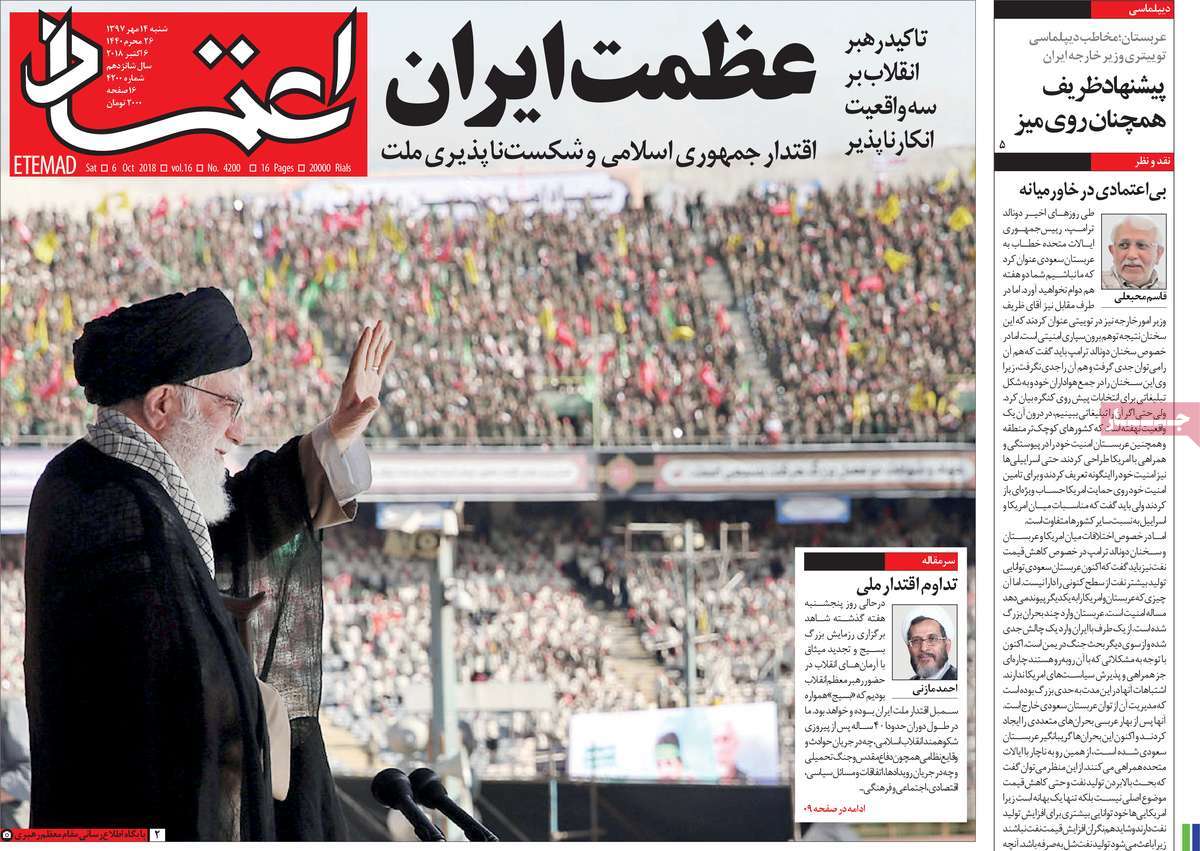 ---
Ettela'at:
1- Iran Leader: Nation, Youths Have Decided Not to Be Humiliated Again
Don't Follow Foreign Powers, Bring Dignity, Honour for Iranian Nation
2- Iran, Russia Resolved to Ditch US Dollar in Bilateral Trade
3- Moscow: Iran Fighting Terrorists in Syria at Damascus' Request
4- Zarif: We Must End US Conceit by Building Strong Region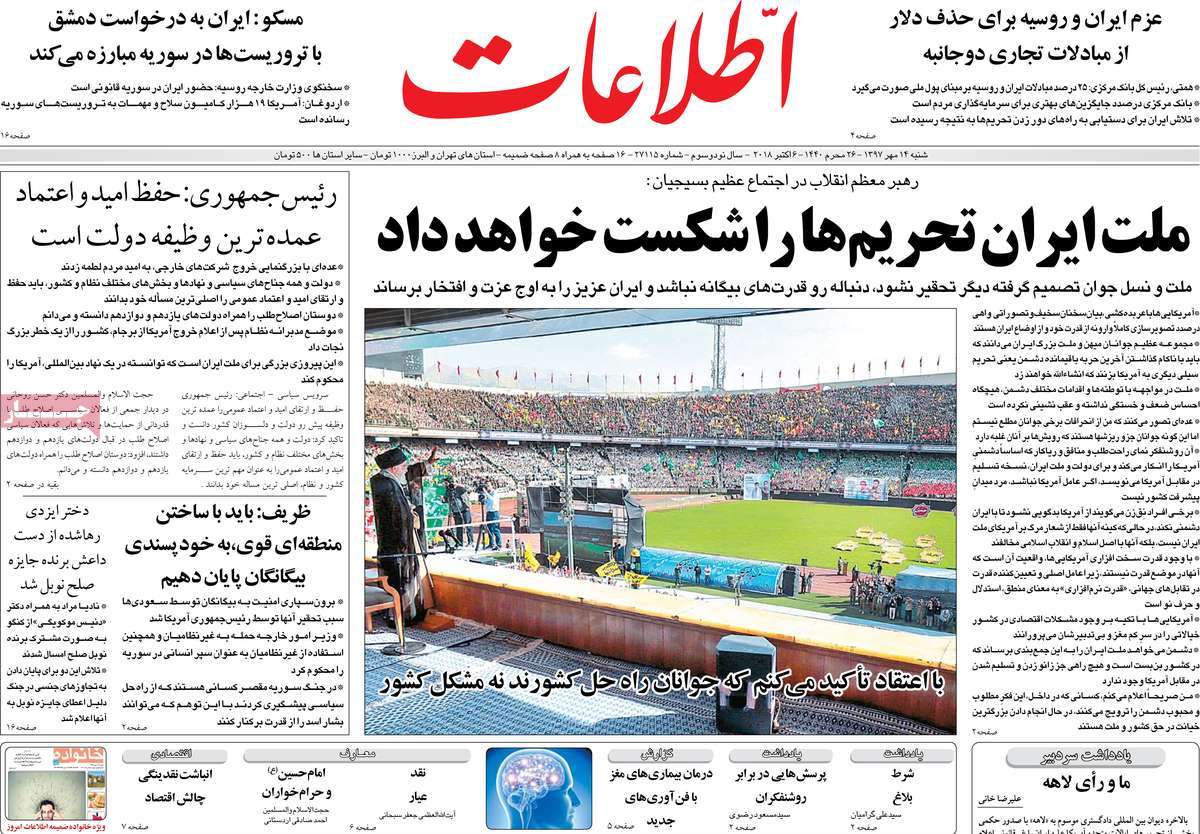 ---
Hamshahri:
1- One Step from Getting Out of FATF's Blacklist
Parliament on Sunday Will Vote against Financial, Monetary Isolation
2- Iraq Starts to Become Moderate, Mediator Country
---
Iran:
1- Government, Reformists Establish Working Group for Further Convergence
---
Javan:
1- Trump Imposes Inflation on the World with His Decision
2- Iran Leader: Young People Are Solution, Not Problem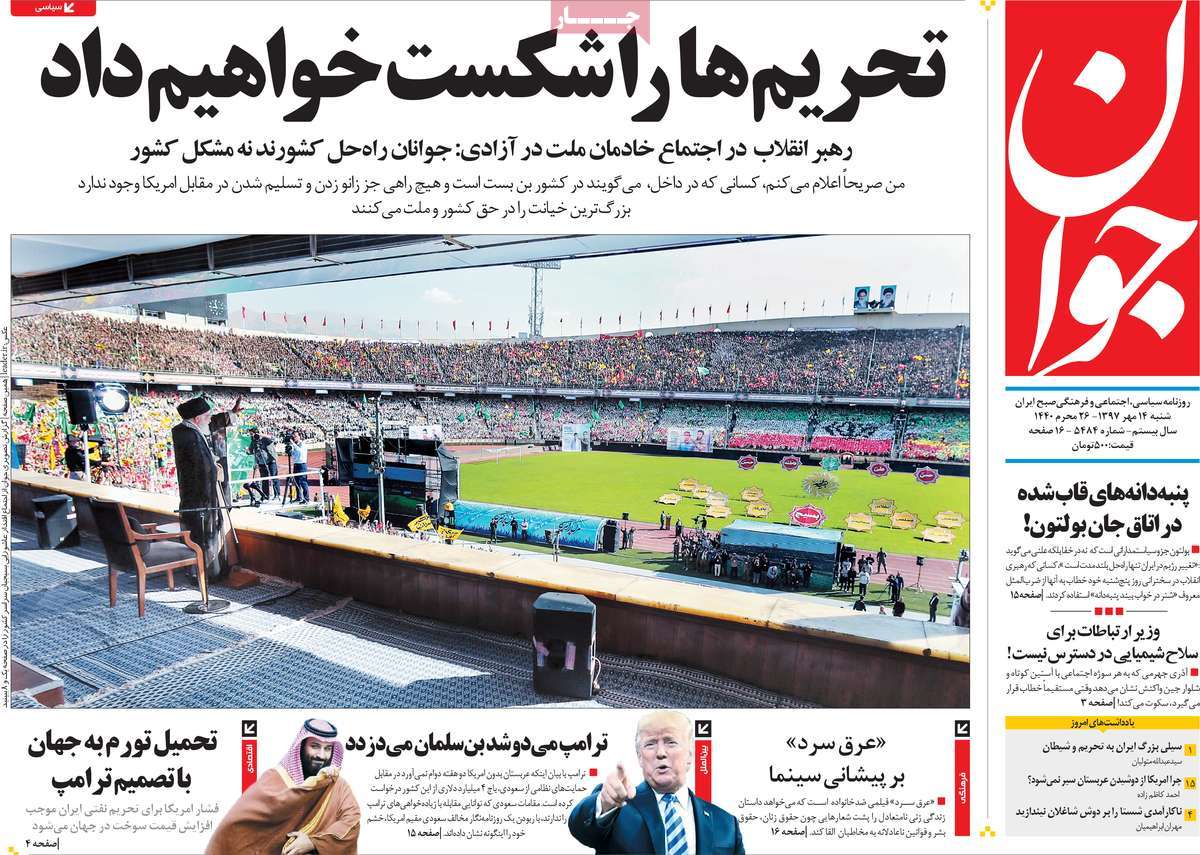 ---
Jomhouri Eslami:
1- Iran Leader: We'll Defeat US in Its Anti-Iran Sanctions
2- Former US Defence Secretary: Threatening Iran Sheer Folly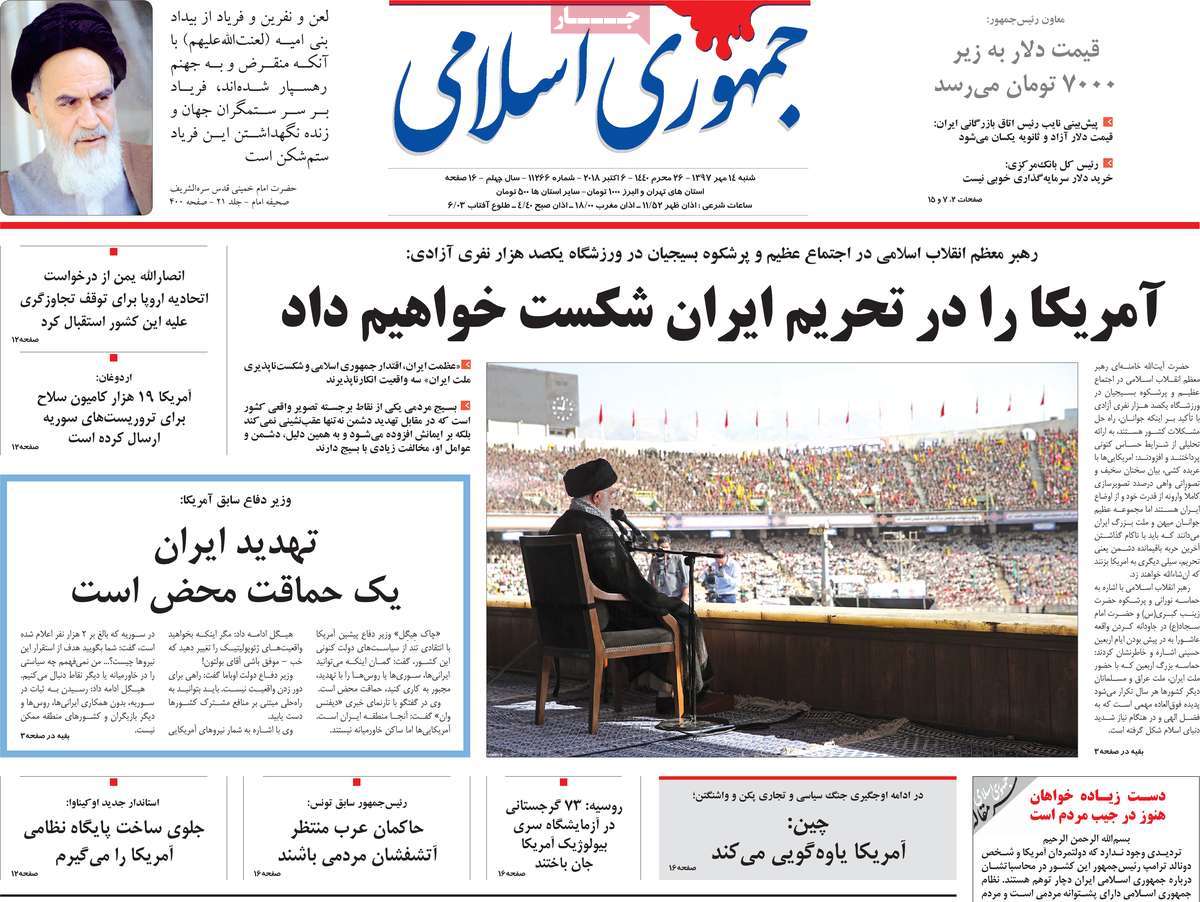 ---
Kayhan:
1- Iran Leader: We'll Overcome Sanctions to Give US another Slap in the Face
2- Parliament Must Remain Vigilant: "Reservation" in CFT Is a Deceit
3- Rise of Workers in Saudi Arabia's Dhahran: Al Saud Forces Open Fire on Protesters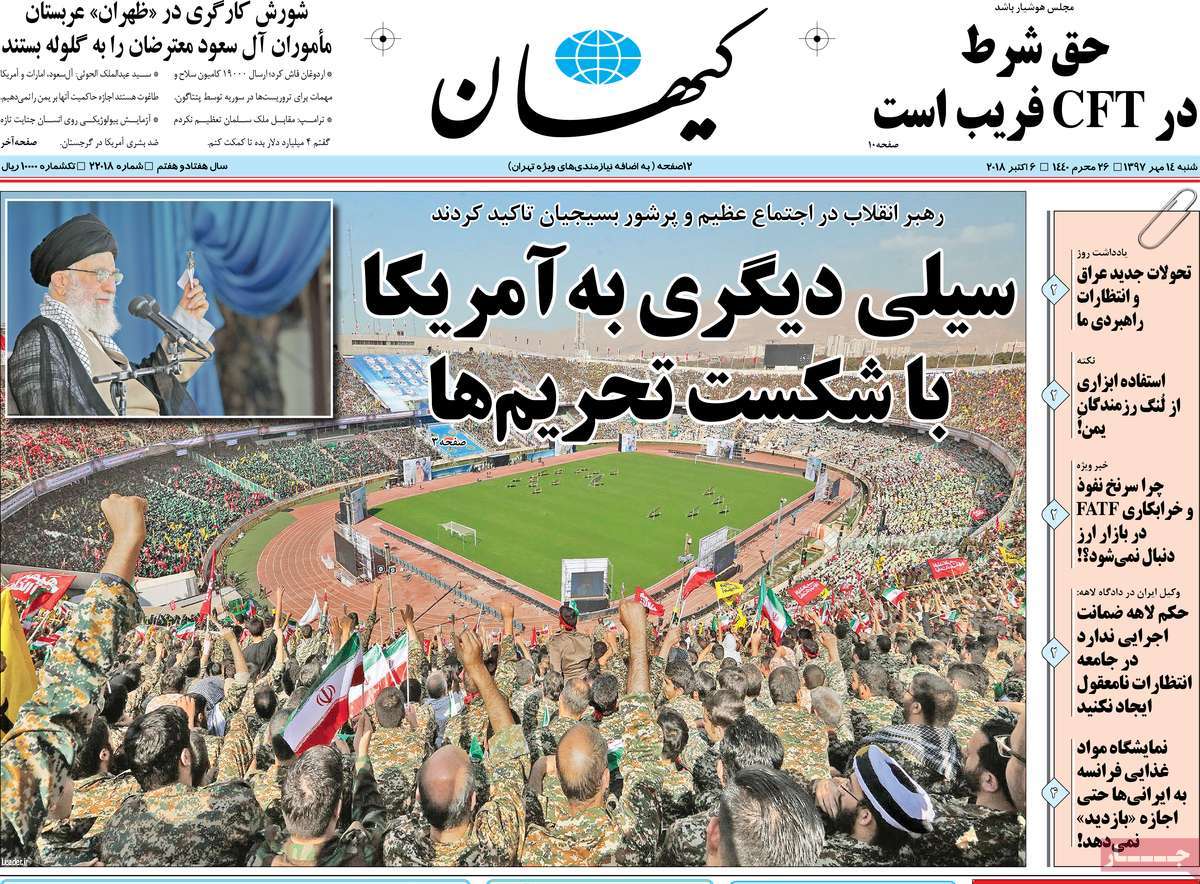 ---
Khorasan:
1- Bloomberg: Oil Price to Force Trump to Back Off from His Iran Policy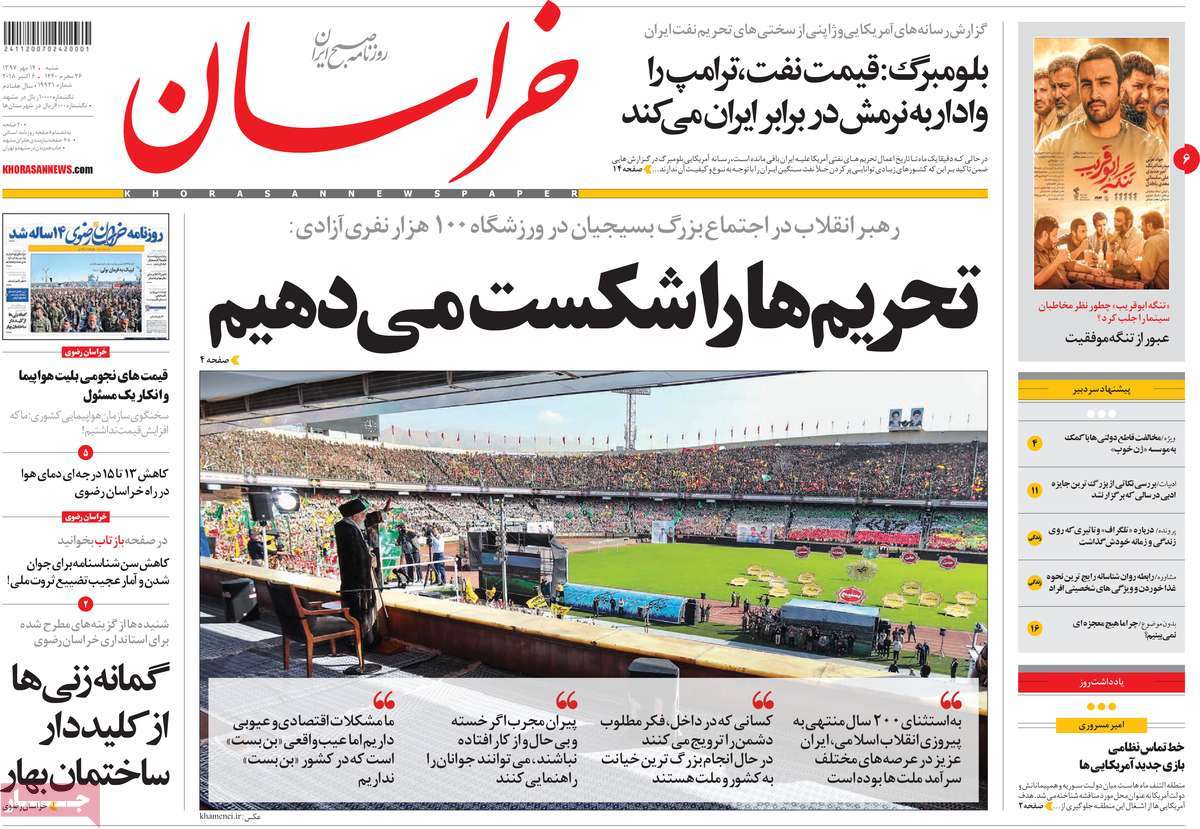 ---
Sazandegi:
1- Return of Technocrats: Barham Salih Elected as Iraqi President
2- Car Dealers Shocked: Decreased Dollar Rates Reduce Price of Foreign Cars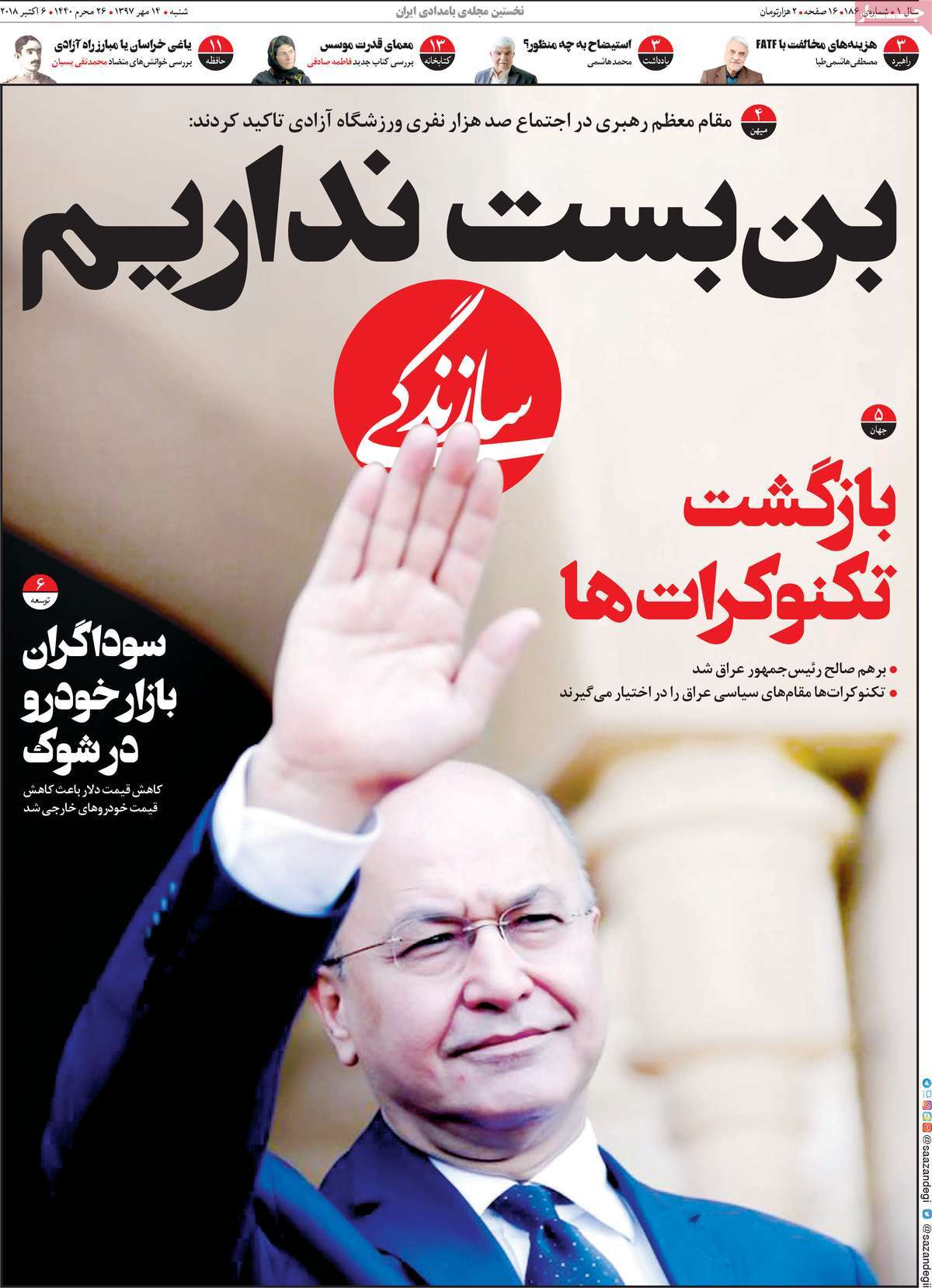 ---
Shahrvand:
1- Iran's Adoption of FATF Standards to Help Stabilise Forex Rates
2- How Iran Won The Hague Battle against US? Details of Historic Legal Case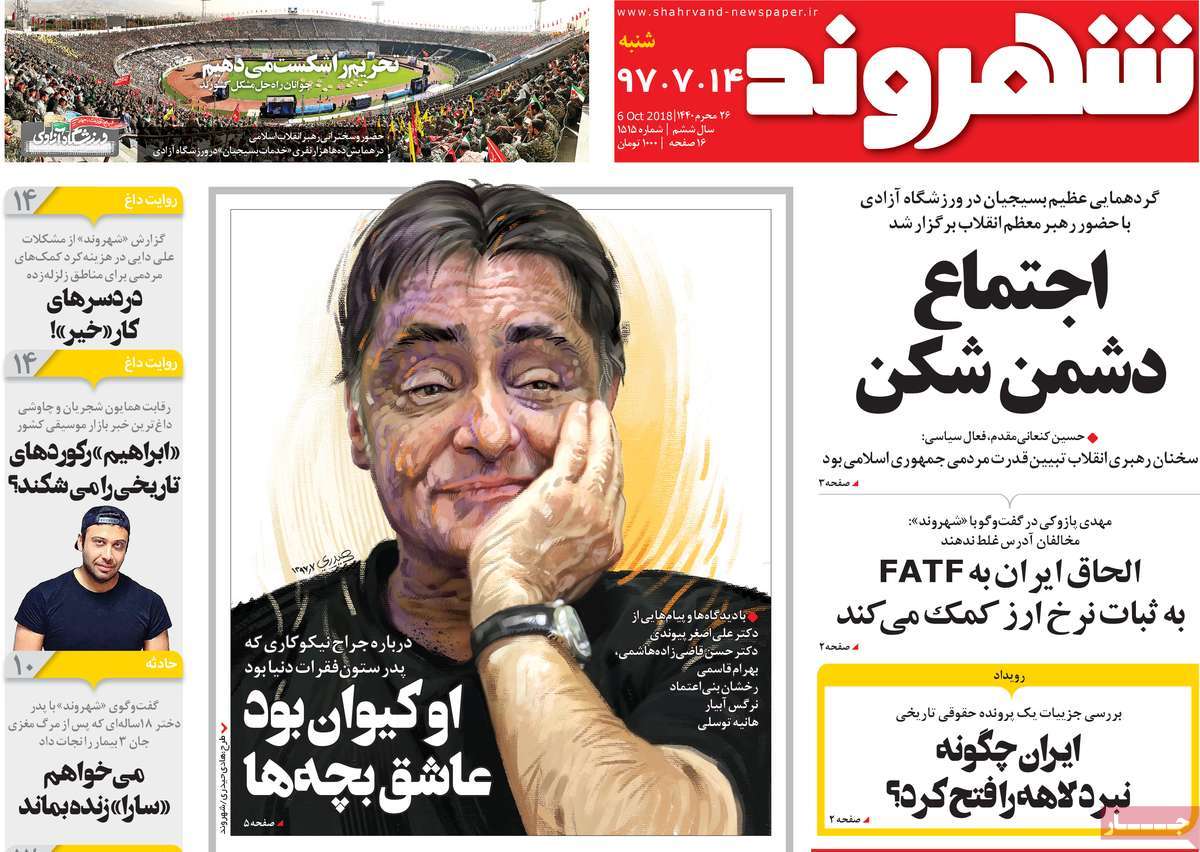 ---
Shargh:
1- Missing Rate of US Dollar
Rouhani's Deputy Says Dollar Rate Must Be below IRR 70,000
2- Nobel Peace Prize Awarded to Two Activists Working against Sexual Violence