The abduction of 11 Iranian border guards and Basij forces by Pakistan-based terrorists was the top story in all papers today.
Also a top story was the meeting between Iranian President Hassan Rouhani and ambassadors of seven countries, during which Rouhani called for expansion of business ties, and urged other states to renounce the US policies.
The alleged murder of Saudi journalist Jamal Khashoggi in the Turkish city of Istanbul also remained a top story today.
The above issues, as well as many more, are highlighted in the following headlines and top stories:
Abrar:
1- Australia PM: We'll Revise Our Policy on Iran Nuclear Deal
2- US State Department Claims to Be Advocate of Iranian People's Rights
3- First Round of Trilateral Talks for North Korea Disarmament
---
Afkar:
1- Rouhani: Private Sector Must Be Pioneer in Establishing Business Ties
2- Joining FATF Not to Resolve Our Problems: Conservative MP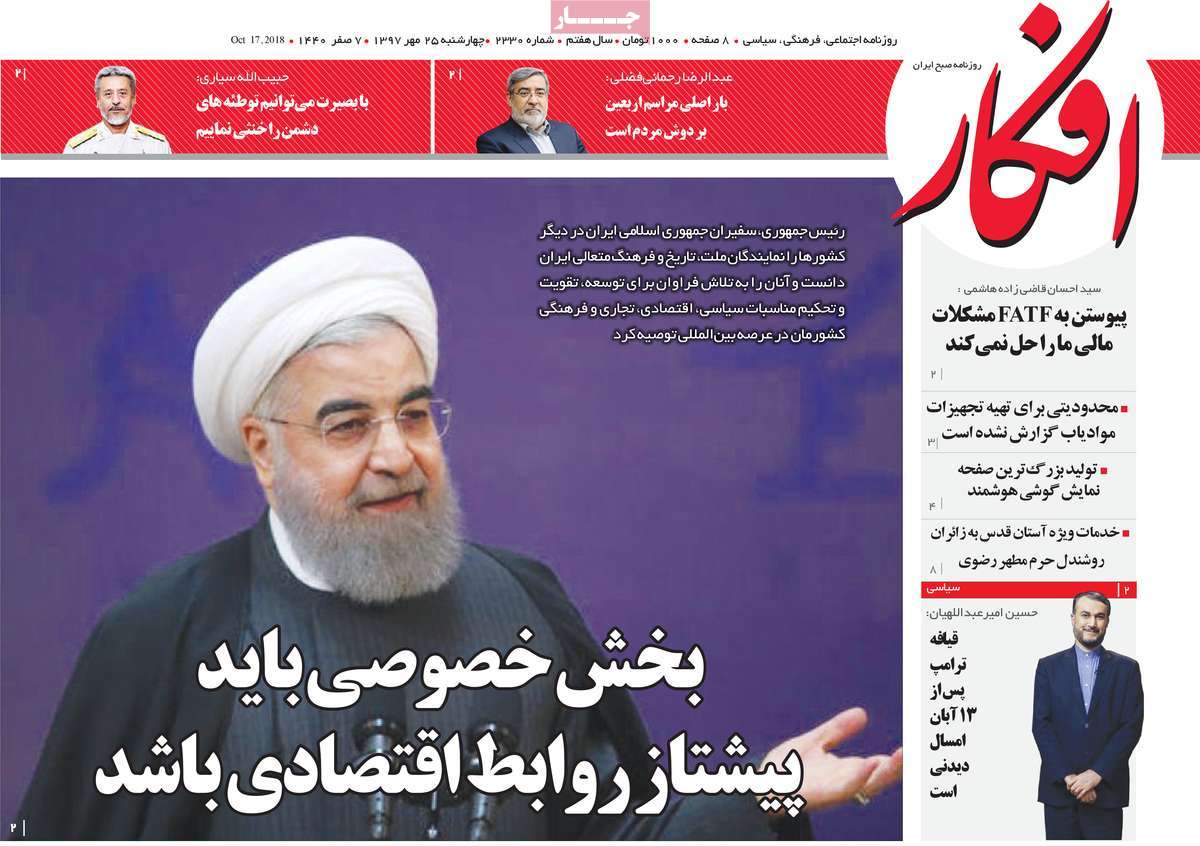 ---
Aftab-e Yazd:
1- New Details of Changes in Government
2- Insiders Involved in Abduction of Iranian Border Guards, Basij Forces
---
Arman-e Emrooz:
1- 14 Iranian Border Guards Abducted: Jaish al-Adl Claims Responsibility
2- Doors of Tehran's Azadi Stadium Opened to Women
---
Ebtekar:
1- Prescription of Washington, Ankara for Riyadh
A Report on US Secretary of State's Visit to Saudi Arabia, Turkey on Khashoggi Case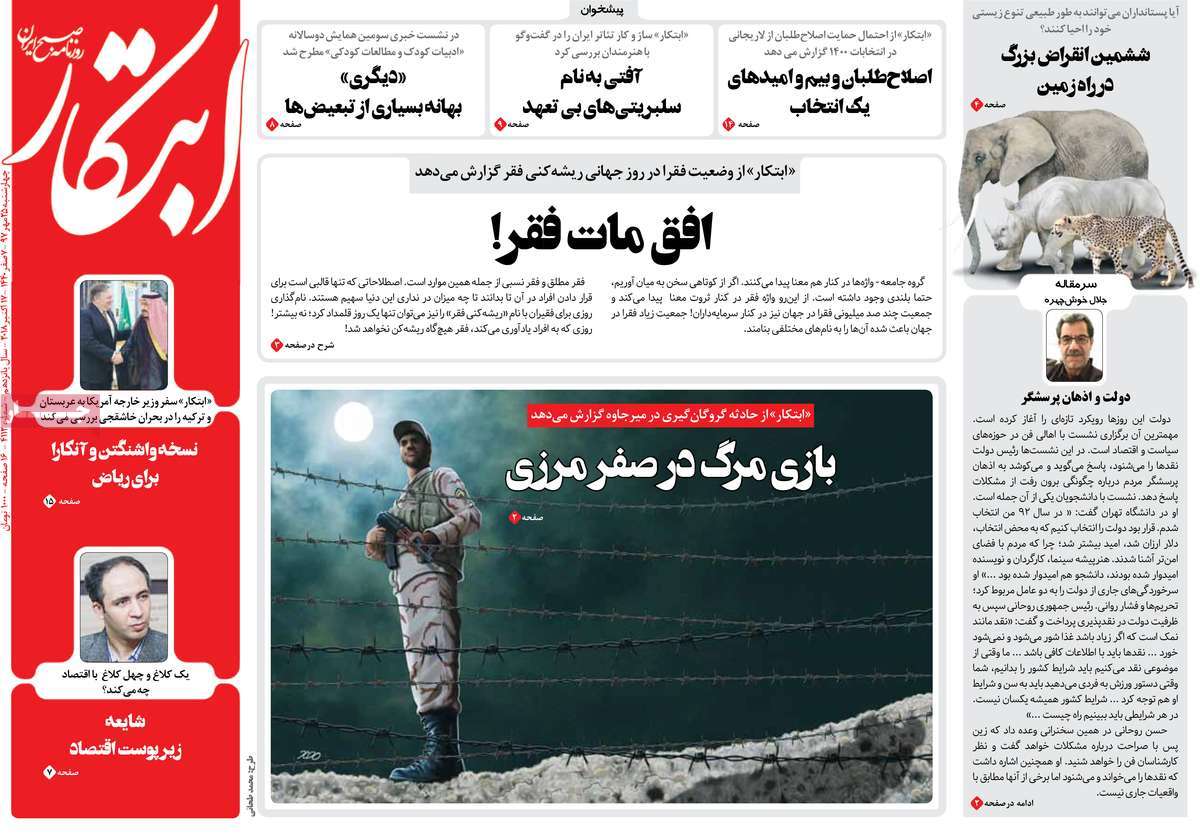 ---
Etemad:
1- Iran, India Accelerate Pace of Partnership
Tehran, New Delhi to Implement Chabahar Project More Rapidly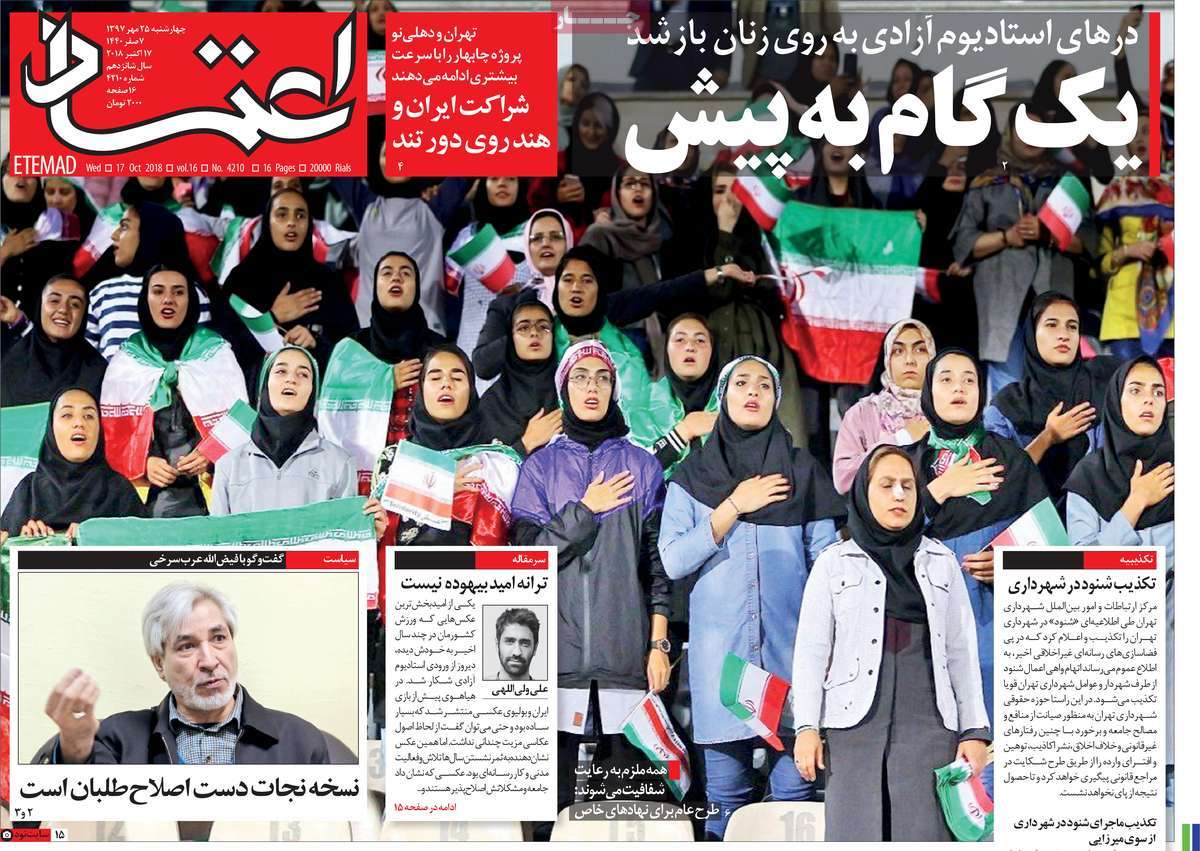 ---
Ettela'at:
1- Turkish Inspectors Find Evidence on Khashoggi's Murder; Saudi Consul Escapes
2- Iranian Newspapers' Joint Editorial Covered by World Media
3- Rouhani Meets Ambassadors of Seven Countries
Diplomacy to Be Reinforced If Countries Reject US' Excessive Demands
---
Hemayat:
1- Rouhani: All Ambassadors Must Focus on Expansion of Business Ties
2- US Scores Own Goal [Editorial]
3- Evidence on Khashoggi's Murder in Saudi Consulate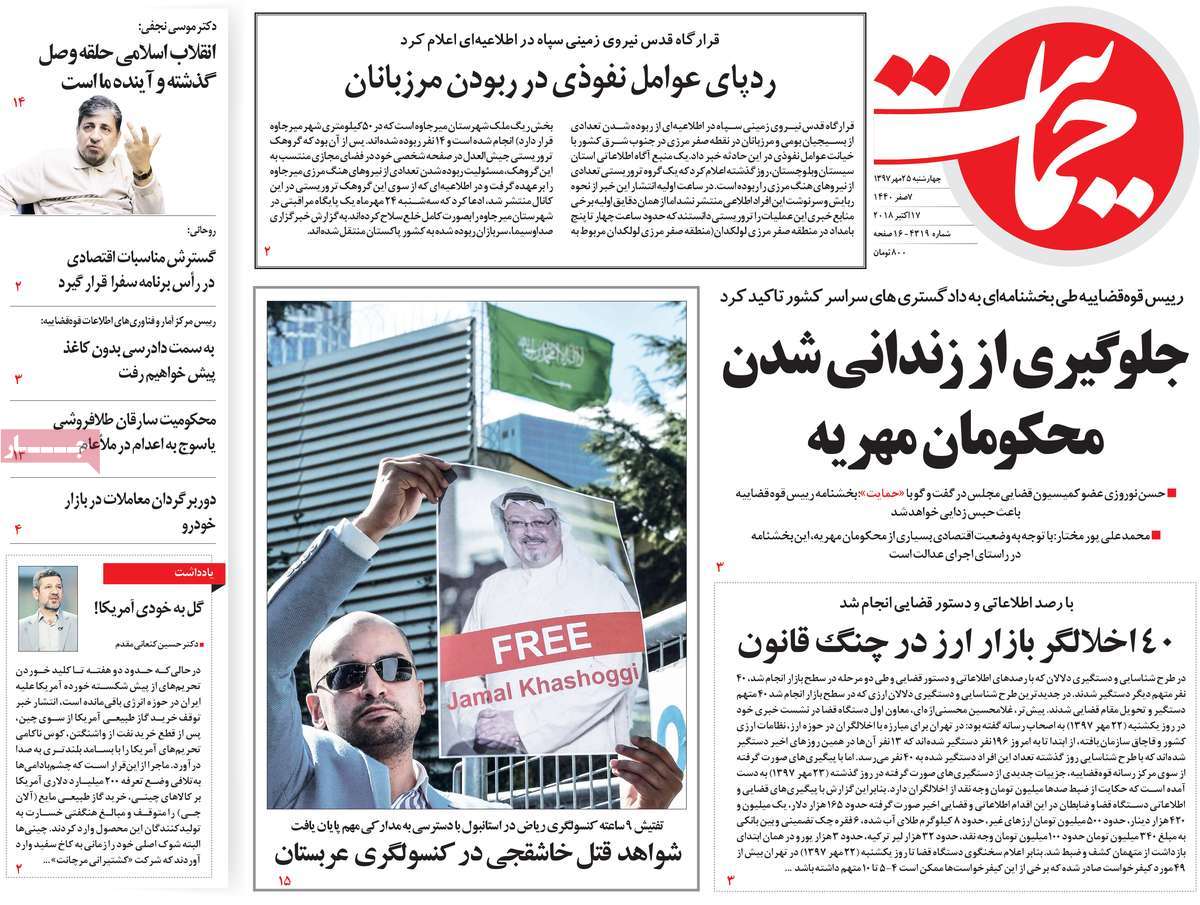 ---
Iran:
1- Ambassador: Japanese Firms to Remain in Iran
2- Limited Number of Women Allowed to Go to Stadium
3- Iranian Border Guards Kidnapped in Morning: Top Sunni Clerics Condemn Abduction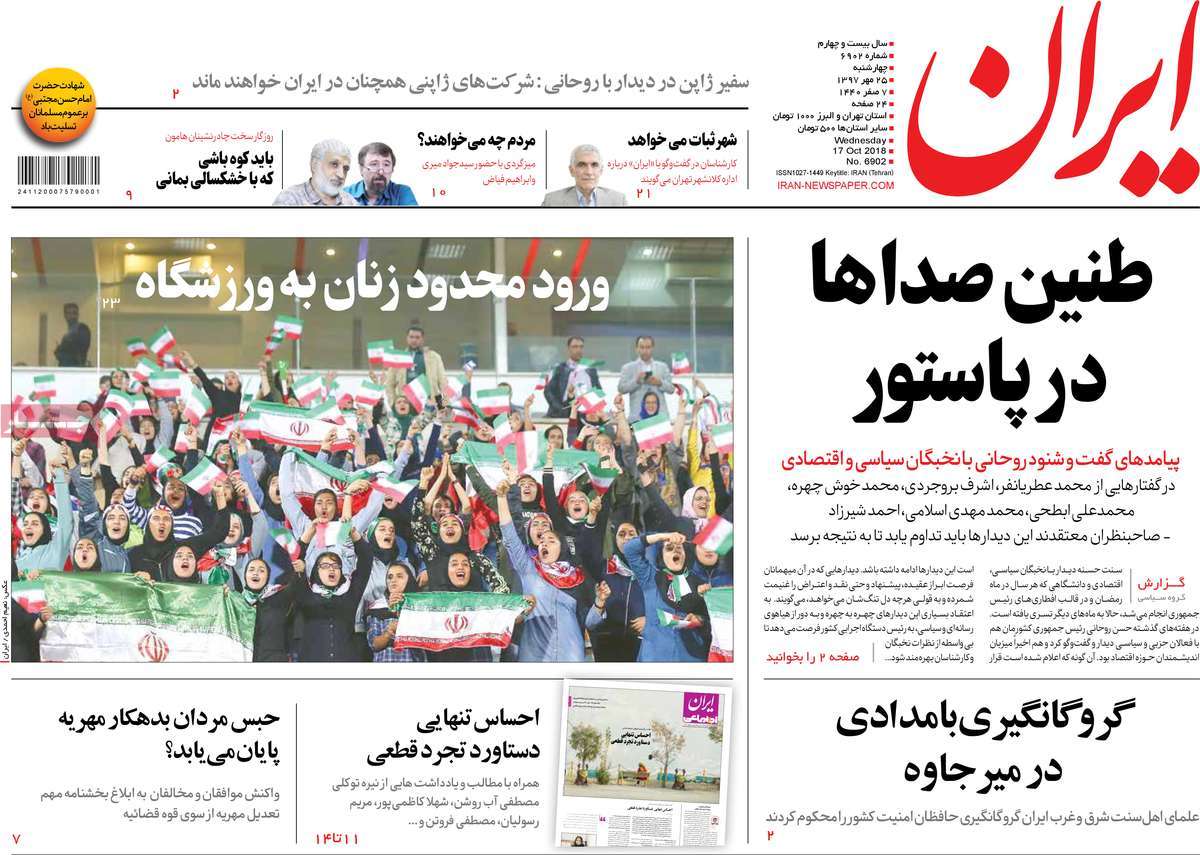 ---
Jame Jam:
1- Main Designer of Ahvaz Terror Attack Killed: IRGC
---
Kayhan:
1- They Want Iran to Put Itself under Sanctions for Working with FATF
2- Trump, Erdogan, Bin Salman Start Bargaining over Khashoggi's Life
3- Suicidal Attack on Israeli Embassy in Turkey with Giant Tractor
4- IRGC Ready to Conduct Joint Operation with Pakistani Army against Terrorists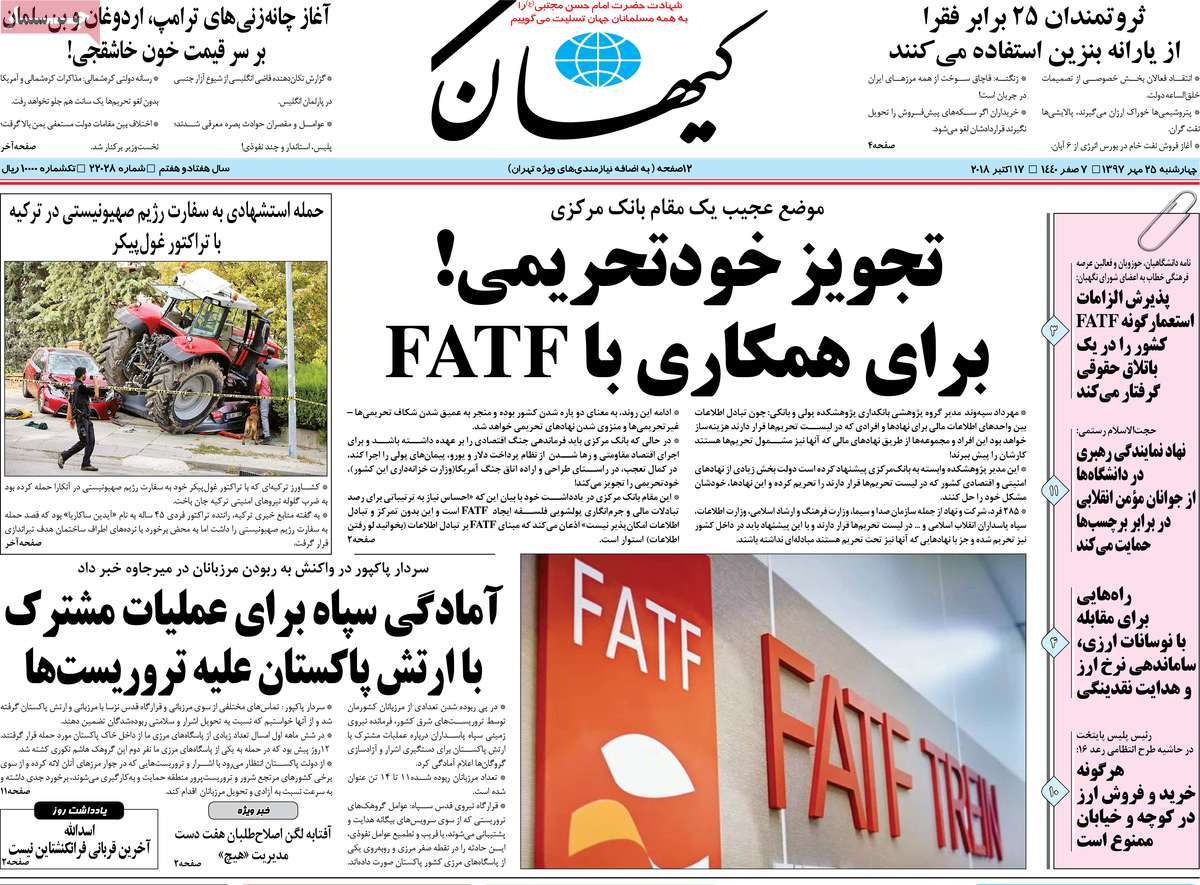 ---
Sazandegi:
1- Scenario of Pinning Blame on Rogue Elements
Saudi Arabia, US Agree on How to Portray Murderers of Khashoggi
---
Shargh:
1- Rouhani: We Shouldn't Let Iran-EU Ties Be Disrupted
2- Iran Sets New Condition for Opening of EU Office in Tehran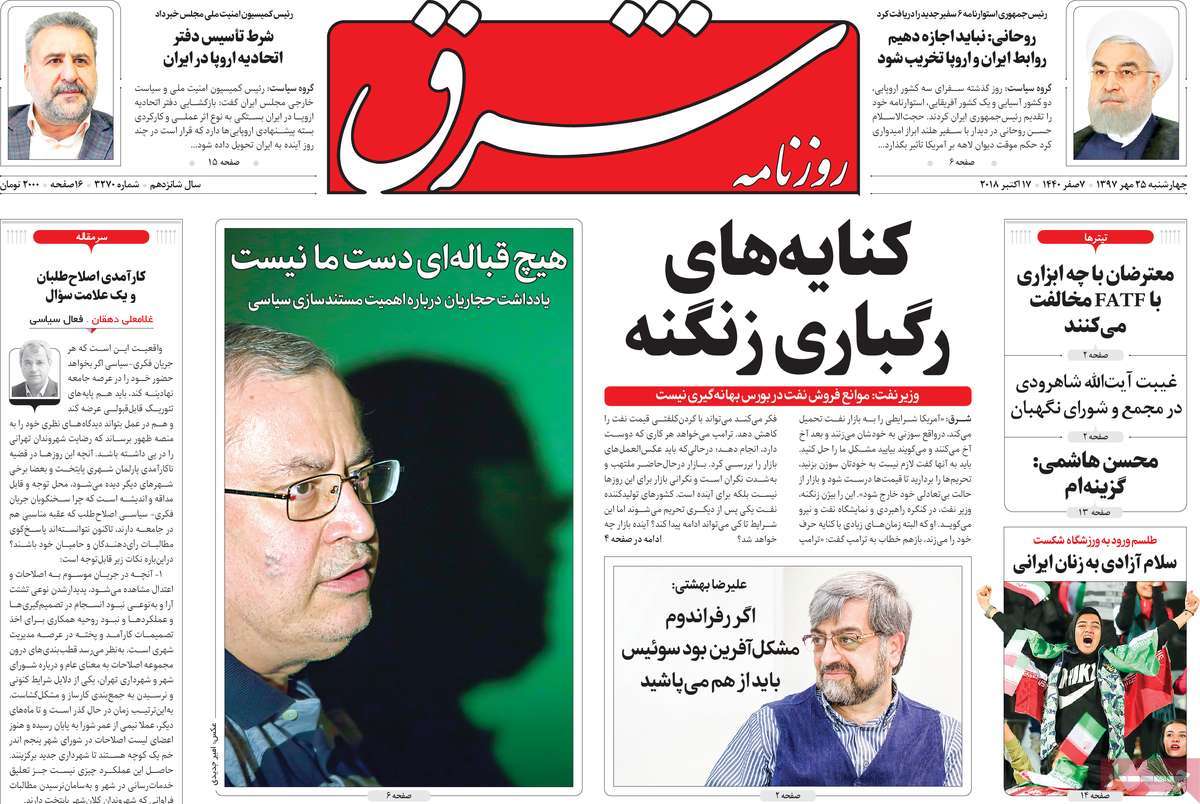 ---
Sobh-e Now:
1- Oil Talks with Moscow One Month after Tehran Deal
2- Deal with Blood: US Trying to Earn Money from Saudi Crime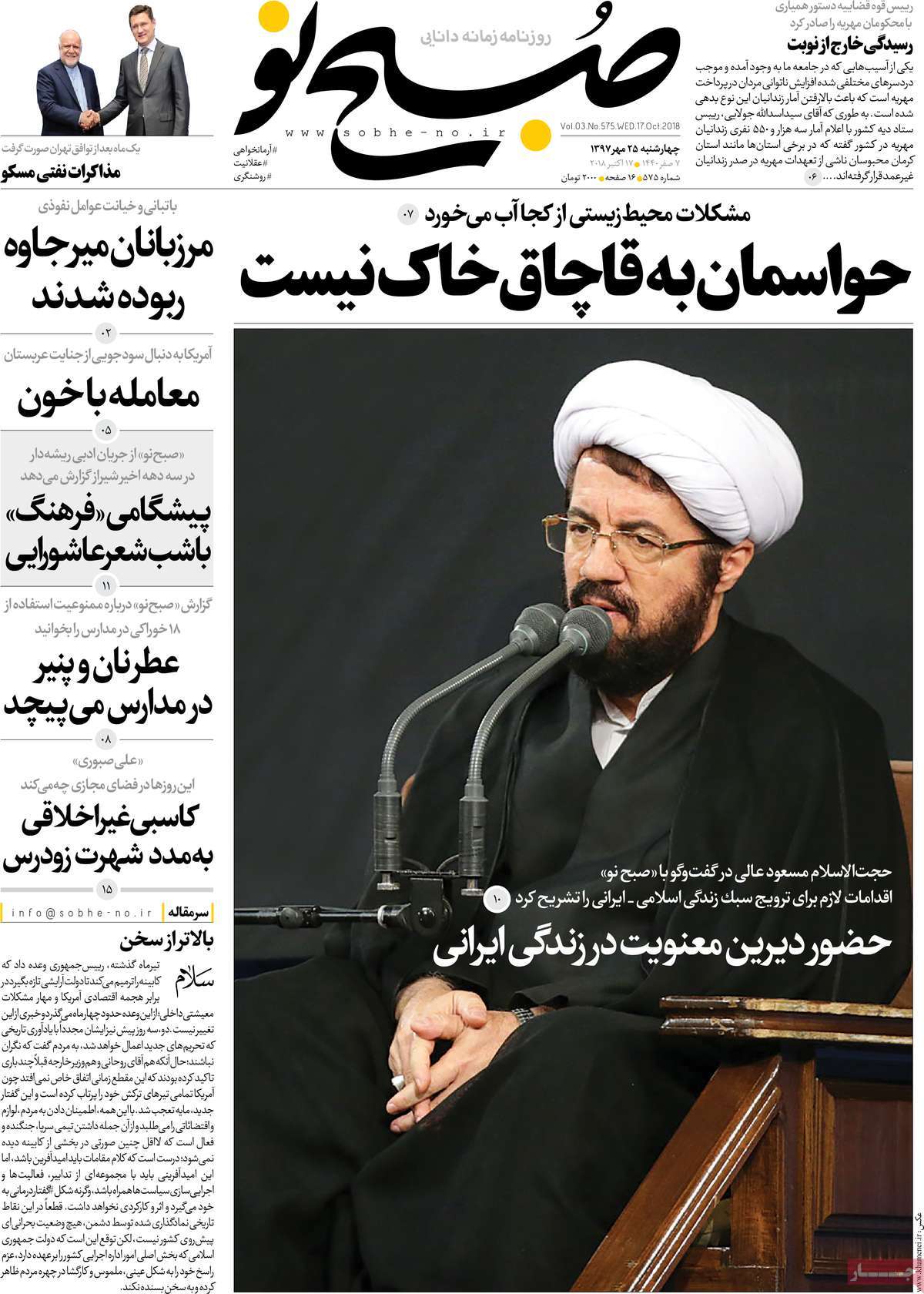 ---
Vatan-e Emrooz:
1- IRGC Aerospace Commander Gives Details of Iranian Missiles' Accuracy
2- Trump Demanding Ransom for Khashoggi's Blood