The top story in all papers today was the alleged murder of Saudi journalist Jamal Khashoggi in the Turkish city of Istanbul, which is blamed on the government of Saudi Arabia.
Also a top story was the success of Iranian athletes in the 2018 Jakarta Asian Para Games, in which the Iranians claimed the third title in final medal ranking.
The above issues, as well as many more, are highlighted in the following headlines and top stories:
Abrar:
1- UN Widely Slammed for Electing Controversial Members to Human Rights Council
2- We're Still Committed to Iran Nuclear Deal: EU Commissioner
3- Trump: Iran Has Changed after US Withdrawal from JCPOA
4- Iran Self-Sufficient in Building Centrifuge
5- Bolton: We'll Adopt Tough Approach to China
---
Afkar:
1- MP: US' Freezing of Iran's Assets Not Legally Justified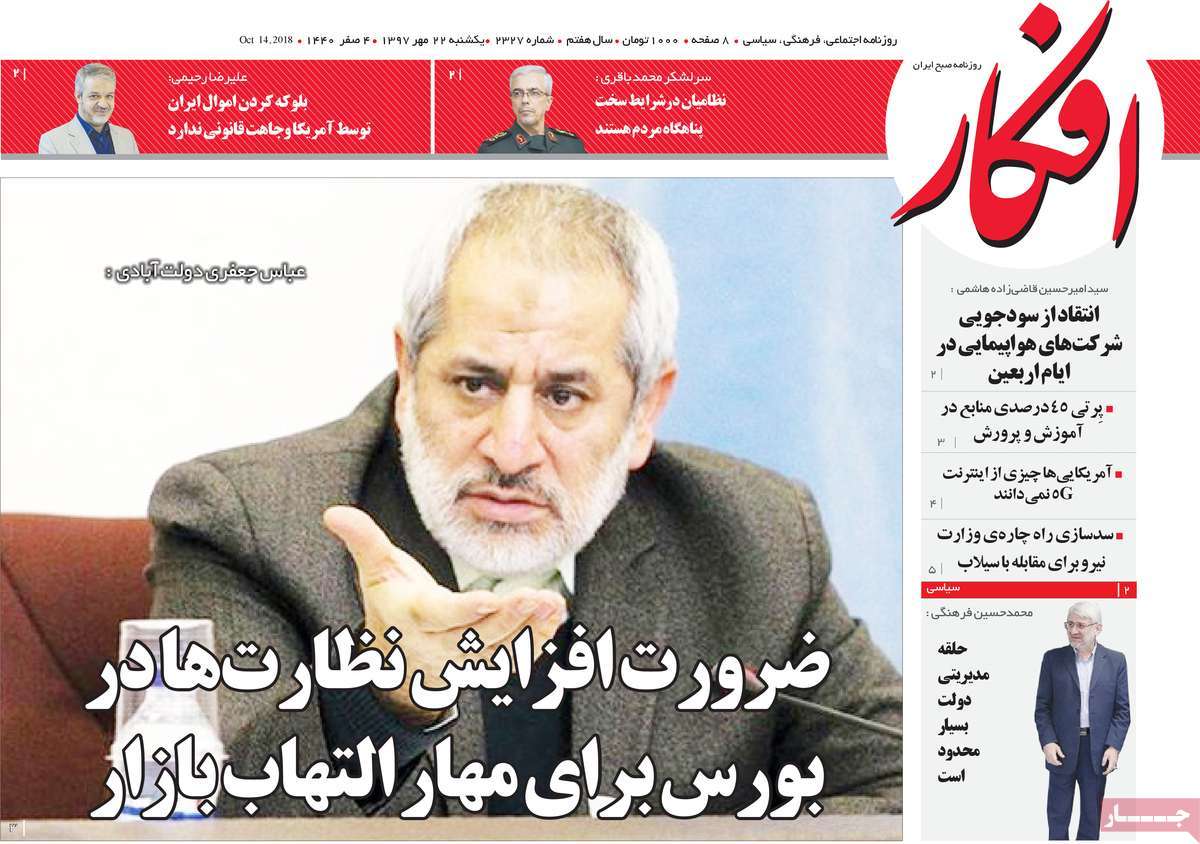 ---
Aftab-e Yazd:
1- Wendy Sherman's Tears in Course of Nuclear Negotiations with Iran
2- Zibakalam: Things to Get Better after November 4 [US Sanctions]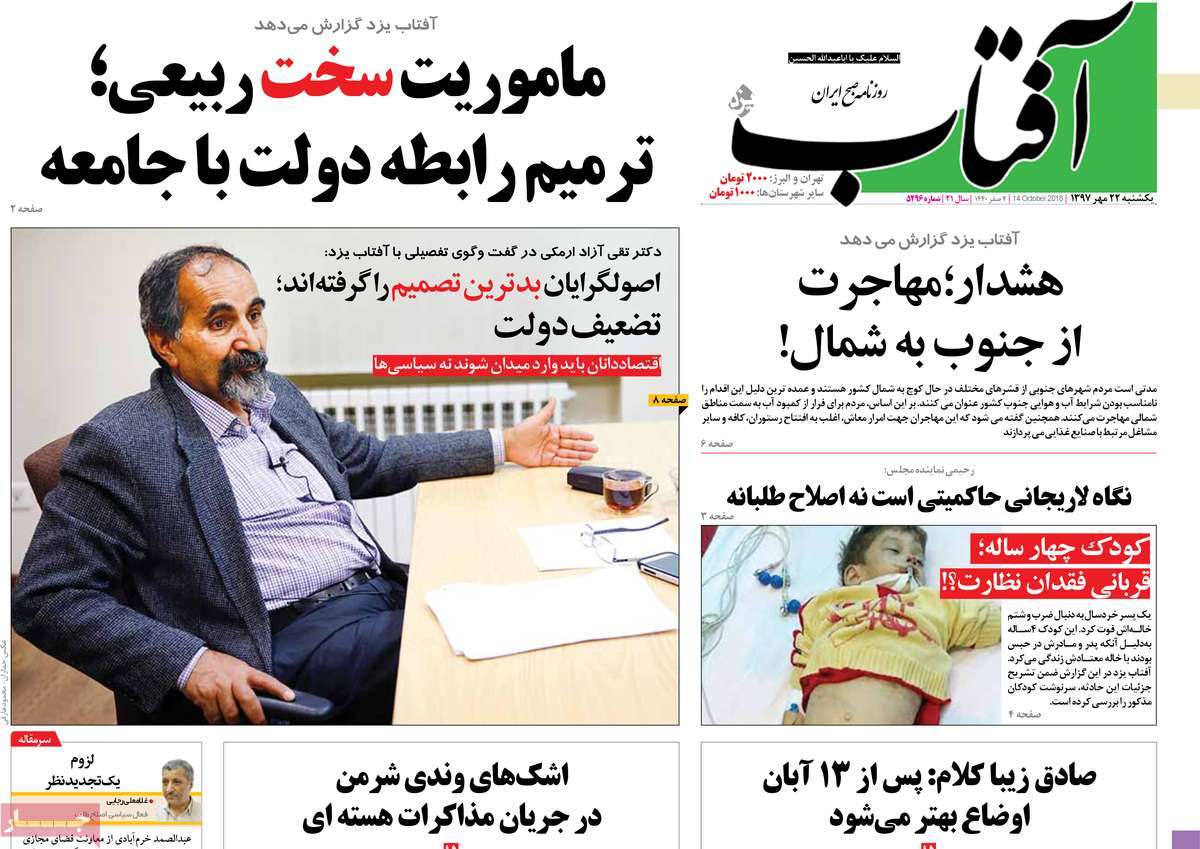 ---
Arman-e Emrooz:
1- Rouhani's Late Appearance at University
2- Iran's Central Bank to Grow Stronger: Lawmaker
3- Iran-EU Ties, One Step Ahead; Senior Lawmaker Says EU Seeks to Open Office in Tehran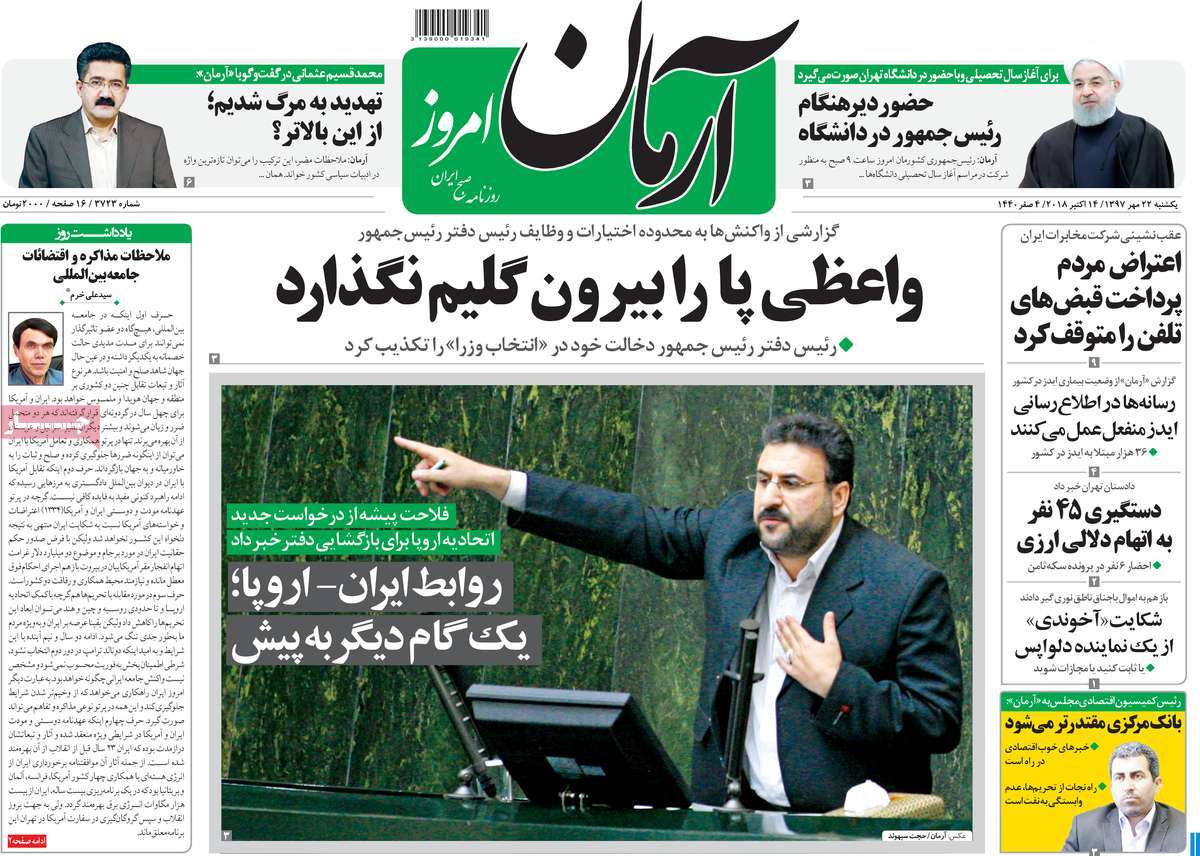 ---
Ebtekar:
1- Iran Breaks Records, Finishes Third in 2018 Asian Para Games
2- Chinese Dragon Sets Fire on Trump's Tariffs
China Breaks Records of Exporting to US despite Trump's Heavy Tariffs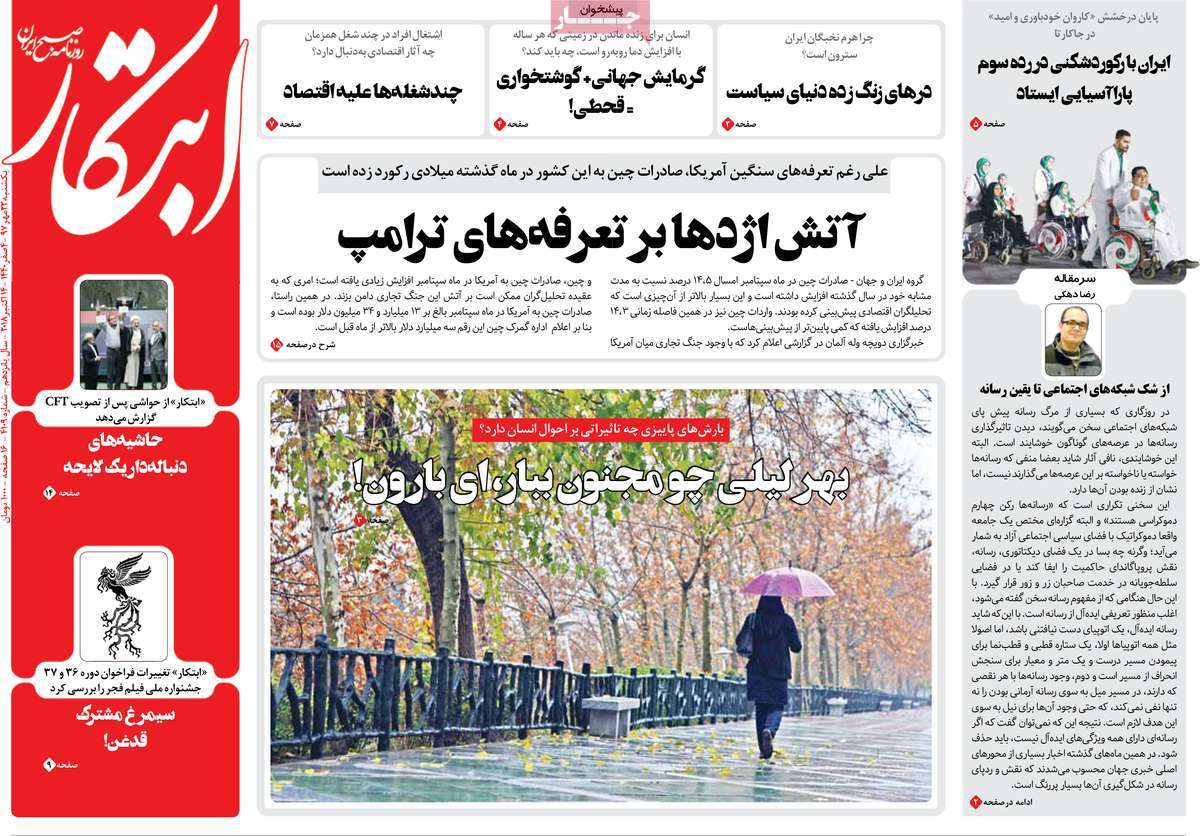 ---
Etemad:
1- Starvation, New Warfare of Bin Salman
UN Urges Saudi-led Coalition to Stop Attacking Yemen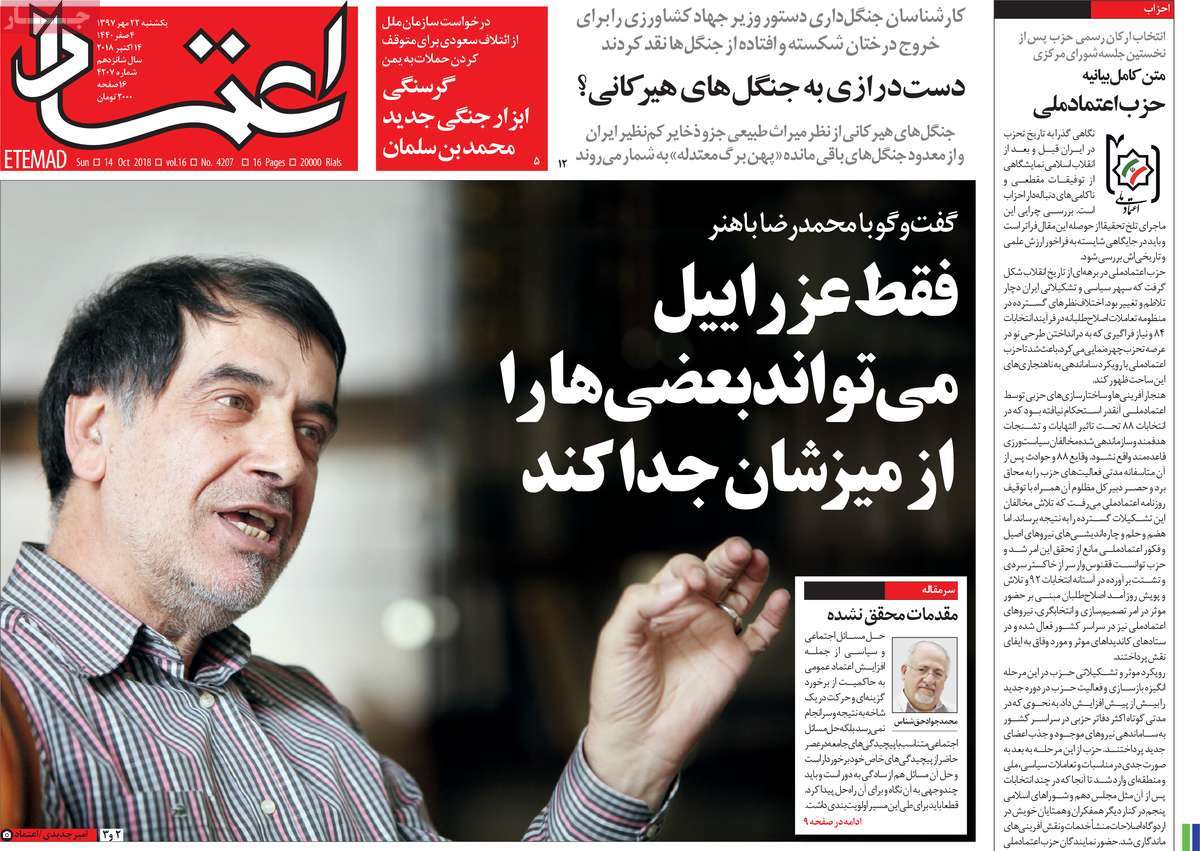 ---
Ettela'at:
1- Record-Breaking Oil Prices Challenge US' Economy
2- Trump Threatens to Severely Punish Saudi Arabia
3- French President Once Again Warns about Consequences of Cancelling JCPOA
4- US Coalition Attacks Syria's Deir ez-Zor with Phosphorus Bombs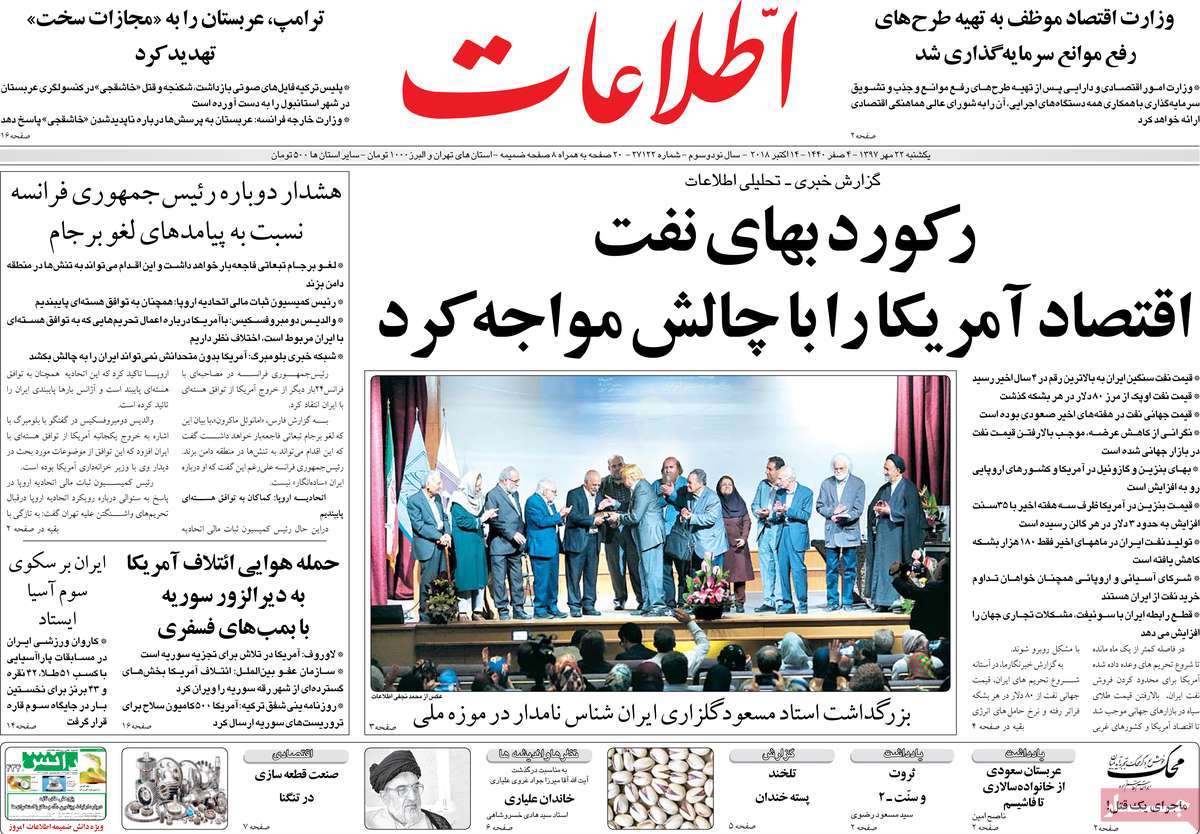 ---
Hemayat:
1- Trump's Narcissism Syndrome: US President Continues Making Anti-Iran Claims
2- Iran Finishes Third in Asia with 136 Medals
3- Milking Saudi Arabia, This Time by London
UK Considering Sanctions against Saudi Officials over Khashoggi's Murder
---
Iran:
1- The Way to Be Paved by FATF
2- Iran Claims Third Title in Medal Ranking of Asian Para Games 2018
---
Jame Jam:
1- And Now a Lamborghini from Tabriz
Interview with Designer of a Copy of Modern Lamborghini Car
2- Europeans Don't Have Much Time: Russia Ambassador to Tehran
3- Queiroz: Iran Leader's Support Made Us More Resolute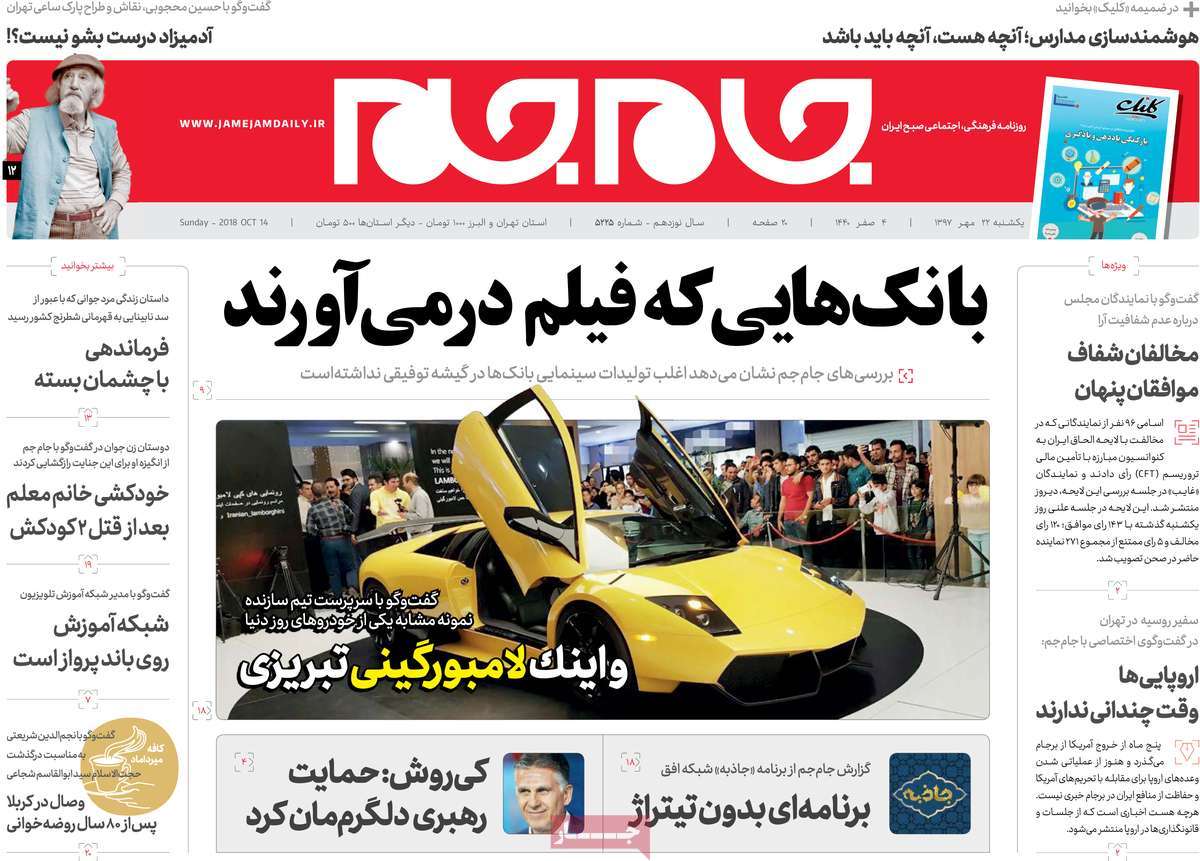 ---
Javan:
1- Entire World Angry with Saudi Arabia: World Pressurizes Saudi over Khashoggi's Murder
---
Kayhan:
1- No Need to Increase Respect for Iranian Passport; Just Provide Security for Our Diplomats!
Oppressed Iranian Diplomat Assadi Has Been Illegally Detained in Europe
2- New Details of the Way Khashoggi Was Murdered, Dismembered with Chainsaw
3- Two Terrorists Killed, Terror Cell Smashed by Intelligence Ministry in Kermanshah
4- Macron: We Have Consensus with US over Iran
---
Sazandegi:
1- Secret US-Turkey Deal: American Pastor Released after 2 Years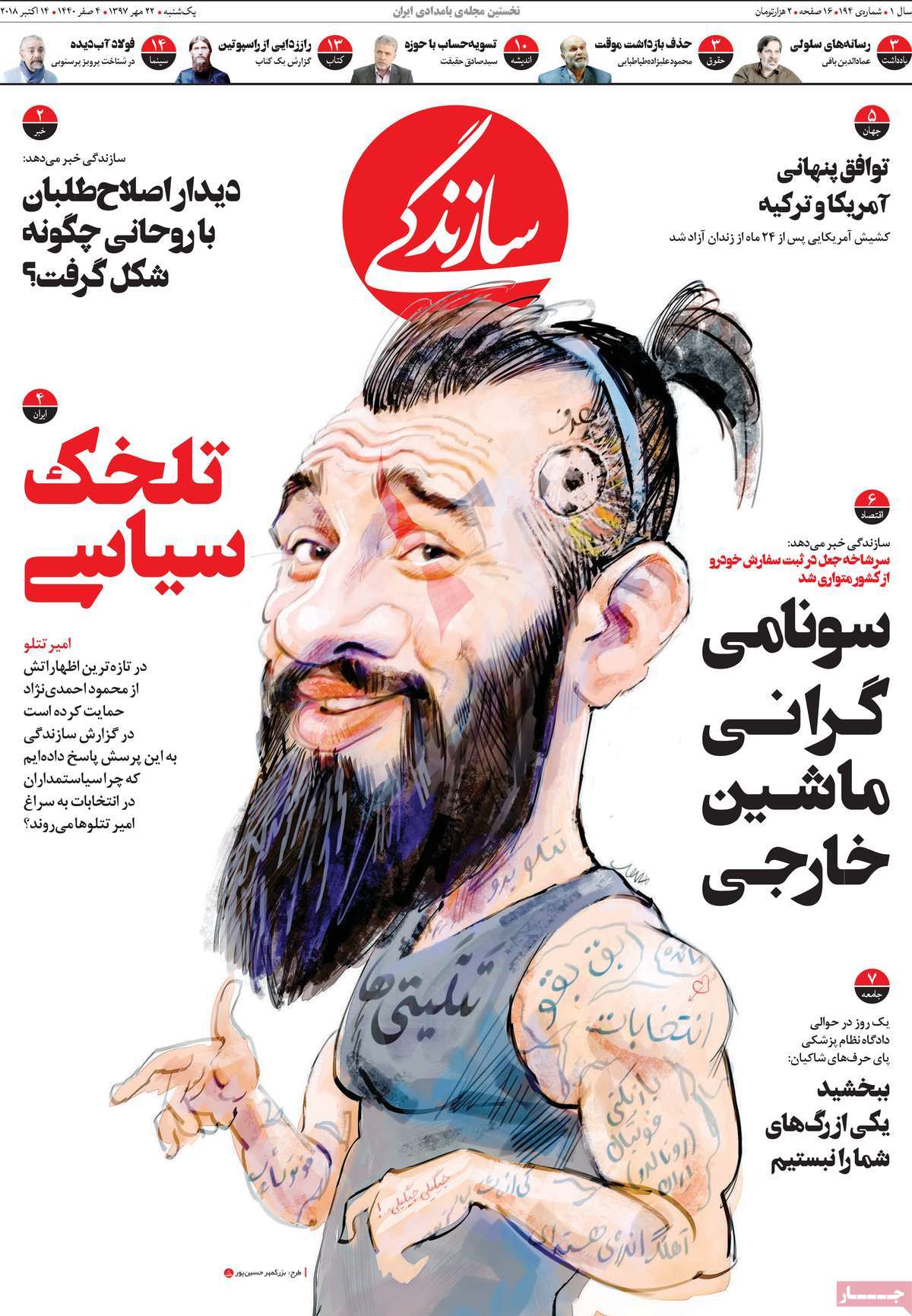 ---
Shargh:
1- Golden Ruling in Iranian Foreign Ministry's Safe
Mastermind of Iran's Lawsuit against US at The Hague Criticizes Silence after Ruling
2- Sherman's Tears in Last Days of Talks with Iran
Iranians Always Say "Just One Thing"
3- Iran's Win-Win Tactic [Editorial]
4- Not Clear Who Ordered Arrested of Iranian Diplomat in Germany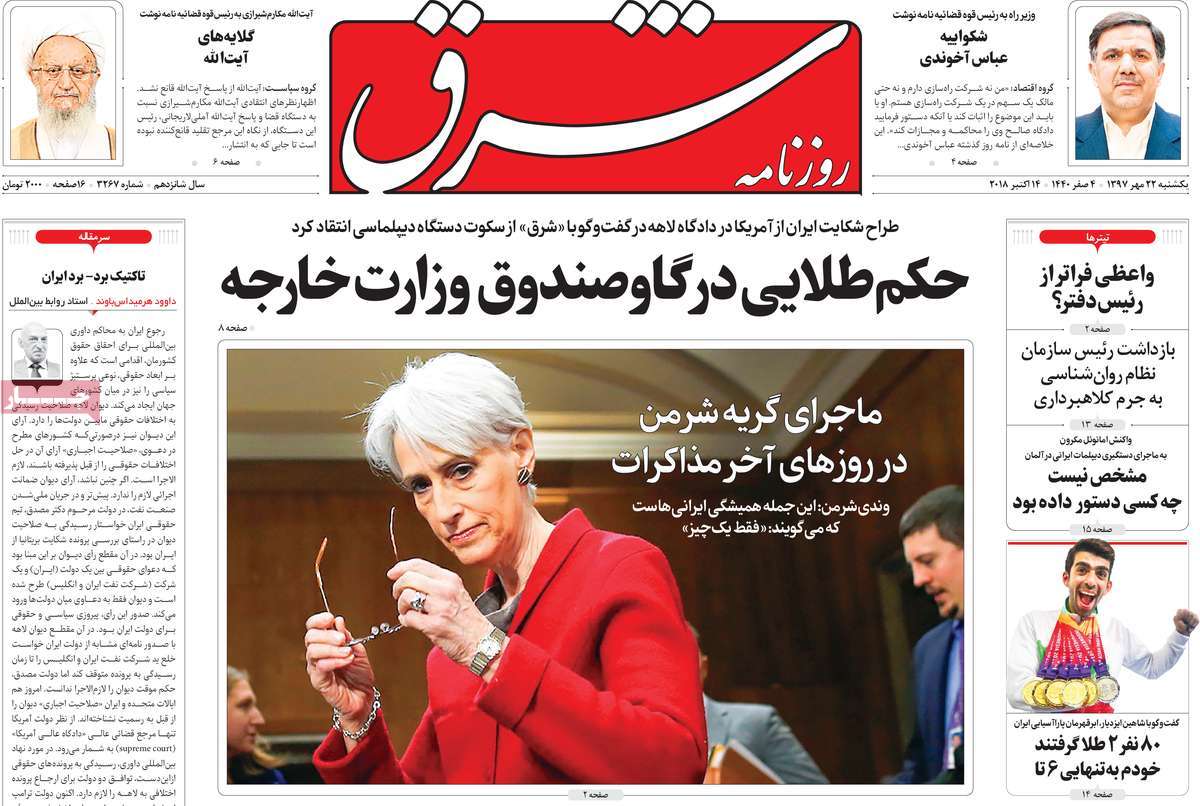 ---
Sobh-e Now:
1- FATF, a JCPOA with Stricter Commitments, Weaker Results
2- Trump's Limitations in Dealing with Saudi Arabia [Editorial]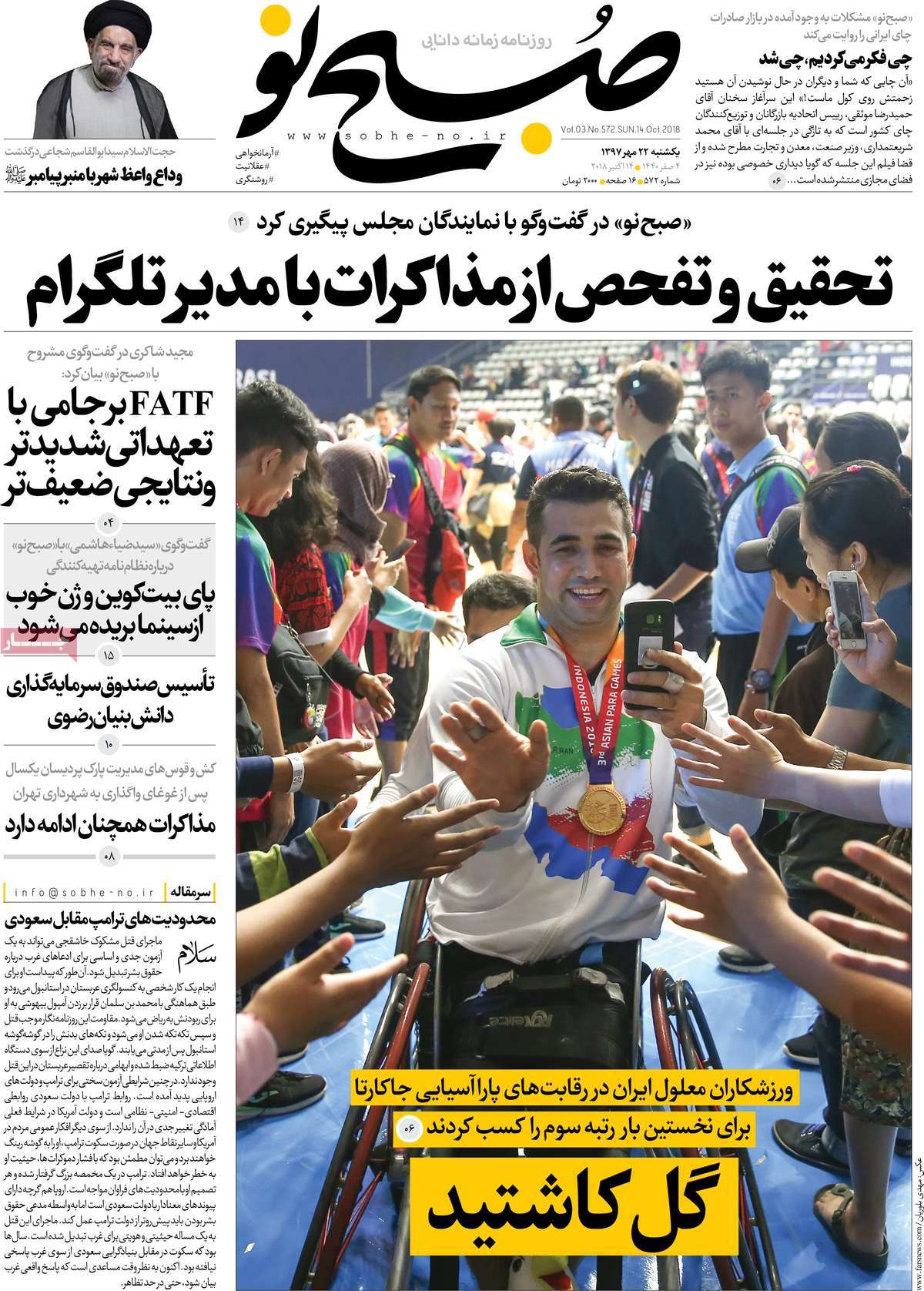 ---
Vatan-e Emrooz:
1- Creation of a Crisis beyond ISIS against Iran, Russia, China
A Review of Afghanistan's Parliamentary Votes, Outcome of Peace Talks with Taliban