Almost all papers today covered the remarks made by Iranian Foreign Minister Mohammad Javad Zarif about the US sanctions and Europe's efforts to save the Iran nuclear deal. The Iranian diplomat made the comments during his visit to the Italian capital of Rome, where he attended the Mediterranean Dialogues Conference (MED).
Reactions to Zarif's controversial comments about 'rampant' money laundering in Iran also remained a top story today.
Several papers also highlighted US President Donald Trump's shocking support for Saudi Arabia despite the murder of dissident journalist Jamal Khashoggi, and his claim that a weakened Saudi Arabia may endanger Israel's existence.
The above issues, as well as many more, are highlighted in the following headlines and top stories:
19 Dey:
1- Zarif to Europeans: Diplomacy Not a Game
I'll Stand Up for Iran's Independence
---
Abrar:
1- IRGC Aerospace Commander: US Bases around Iran within Reach of Our Missiles
2- IRGC Commander: US Now Weaker than 40 Years Ago
3- James Jeffrey: We Ask Russia to Take Iran Out of Syria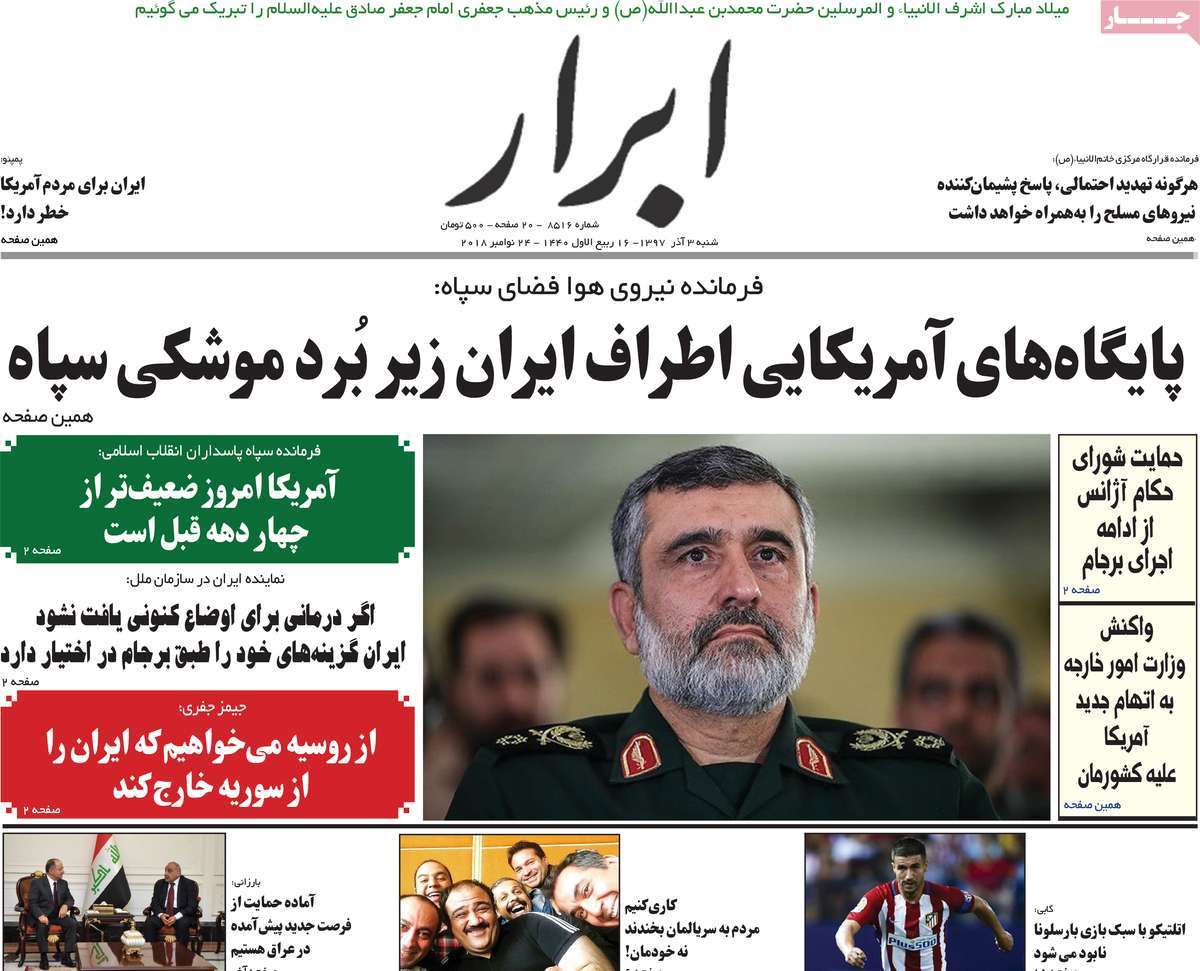 ---
Arman-e Emrooz:
1- Controversy over Zarif's Money Laundering Comments, Test for Political Factions
Continued Reactions to Money Laundering Saga
Politicians in Dilemma of Agreeing or Disagreeing with Zarif's Comments
---
Etemad:
1- Ayatollah Alamolhoda: Zarif Didn't Lie about Money Laundering, but That Doesn't Require FATF
Opposition to FATF Not Equal to Supporting Money Laundering
2- Bloody Friday in Pakistan: Tens of Civilians Killed in Two Terrorist Attacks
3- Money Laundering, Symbol of Corruption [Editorial]
---
Ettela'at:
1- Central Bank Chief: Forex Market Totally under Control
Iranian Economy on Path of Moderation
2- Ankara: No One Supports US' Sanctions on Iran
3- IRGC Chief-Commander: Iranian Nation Winner of Economic War with US
4- Zarif: Europe Must Pay for Global Security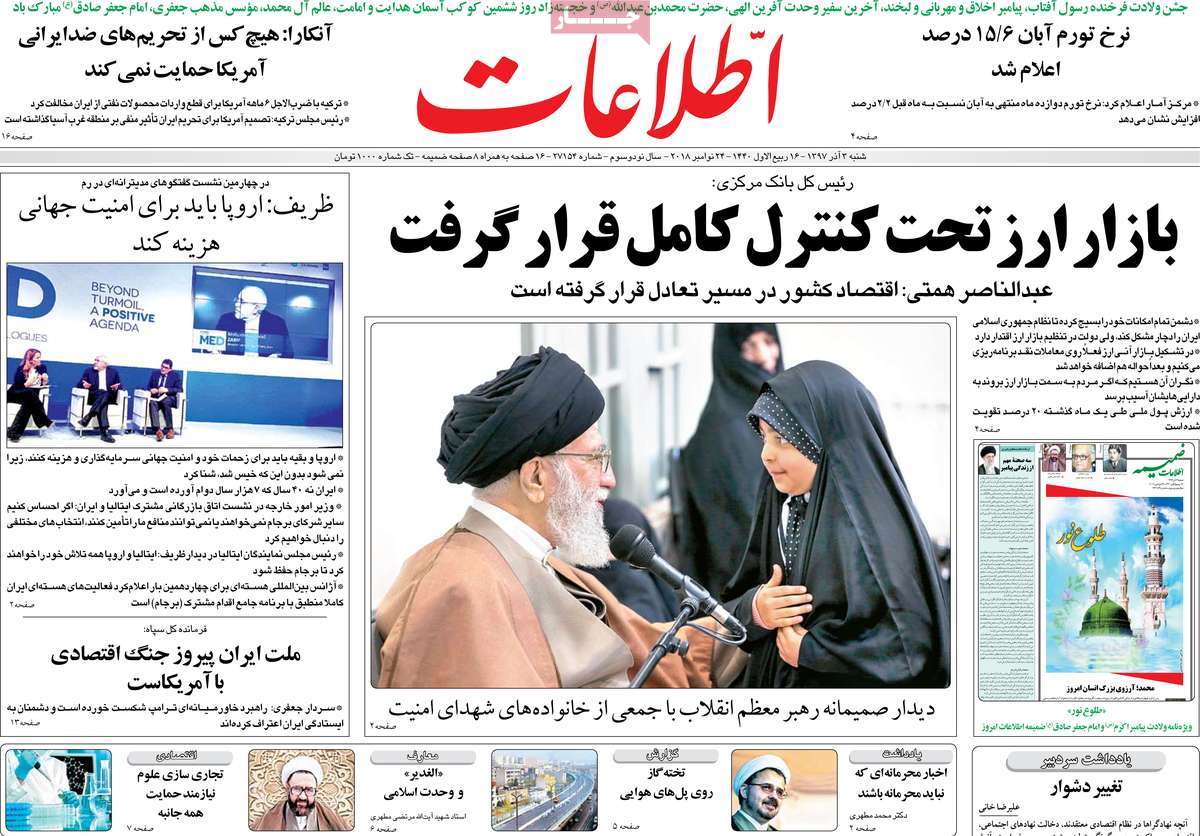 ---
Haft-e Sobh:
1- Facts about Huge Water Resources Allegedly Found in SE Iran
Secrets behind Resources Which Can Supply Iran's Drinking Water for 173 Years!
---
Iran:
1- Private Sector Welcomes Iran-Europe Payment Channel
2- Unity, Precondition for Muslim World's Victory over Problems: Top Sunni, Shiite Clerics
---
Javan:
1- Zarif: We Won't Hold Any More Nuclear Talks with US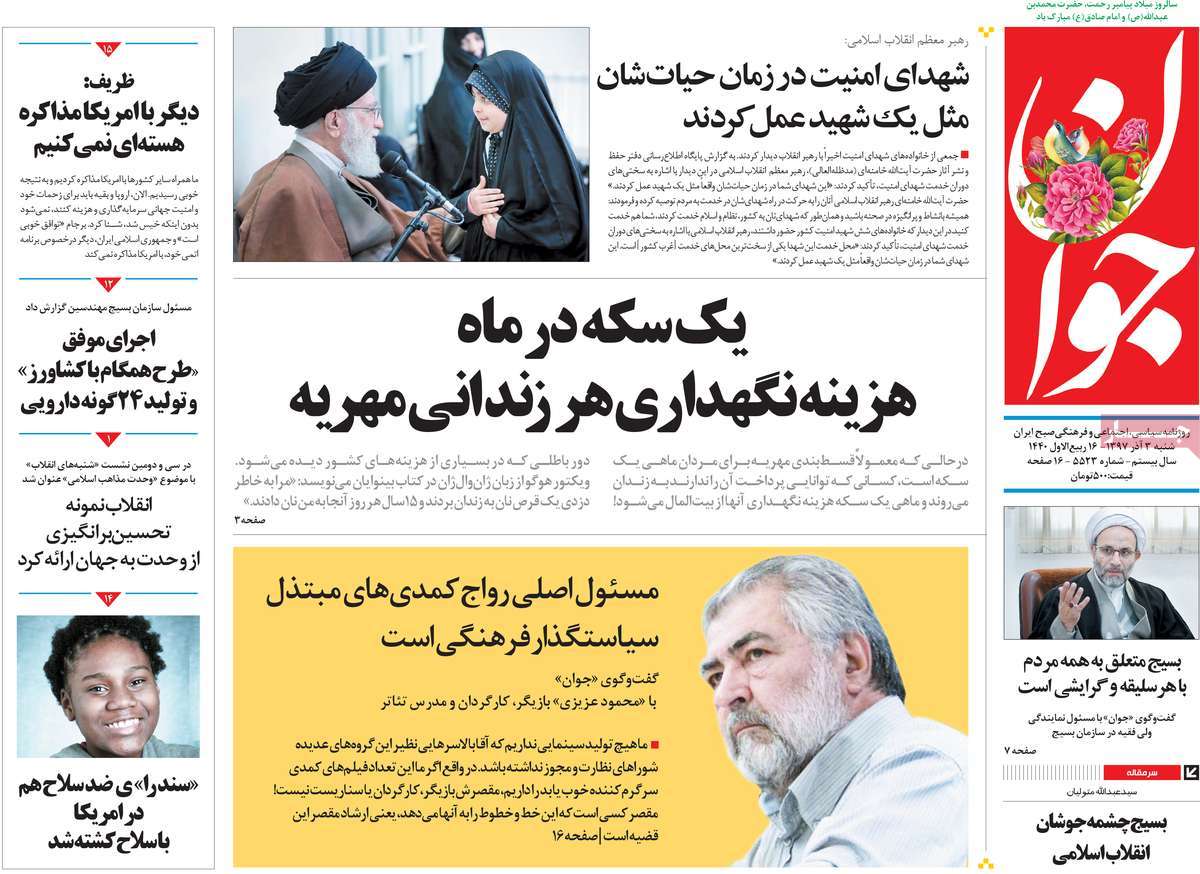 ---
Jomhouri Eslami:
1- Araqchi: Europe Still Determined to Maintain JCPOA
2- Trump: Weakening Saudi Arabia Means Annihilating Israel
3- Al Khalifa to Embrace Killers of Gaza Kids
Netanyahu Will Soon Visit Bahrain
4- Turkey FM: Trump Intentionally Ignoring Khashoggi Case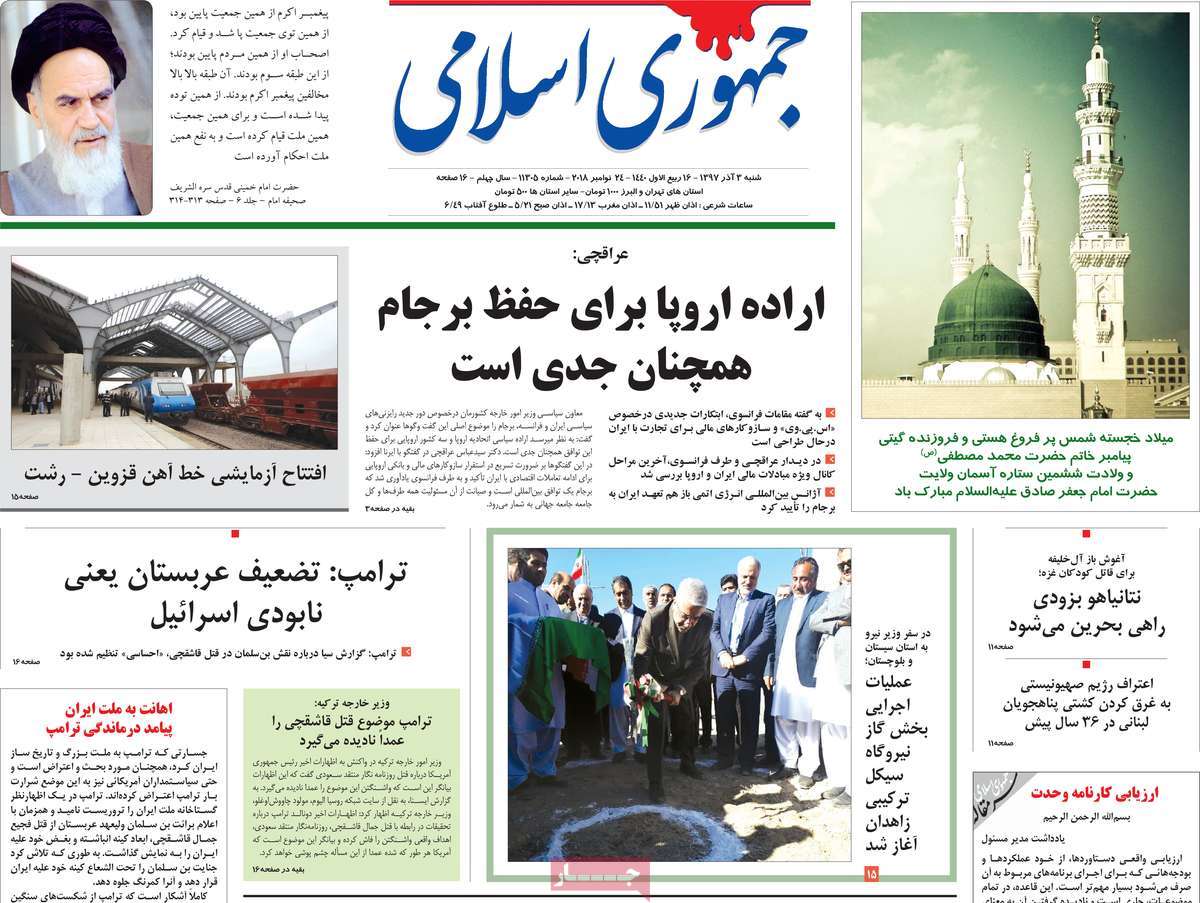 ---
Kayhan:
1- Big Scandal for Arab Reactionaries
Trump: Israel's Existence to Be Endangered If We Stop Supporting Saudis
2- Human Rights Watch: Al Saudi Intentionally Destroying All Food Facilities in Yemen
---
Shargh:
1- Trump against Top US Judge: US Supreme Court New Target of White House Attacks