Abrar:
1.  Iran and France sign confidential deal to develop Azadegan oilfield
2.  Rouhani says major plans under way to develop Yazd Province
3.  Zarif meets Malaysian counterpart in Jakarta
4.  First Japanese PM to visit Iran in 38 years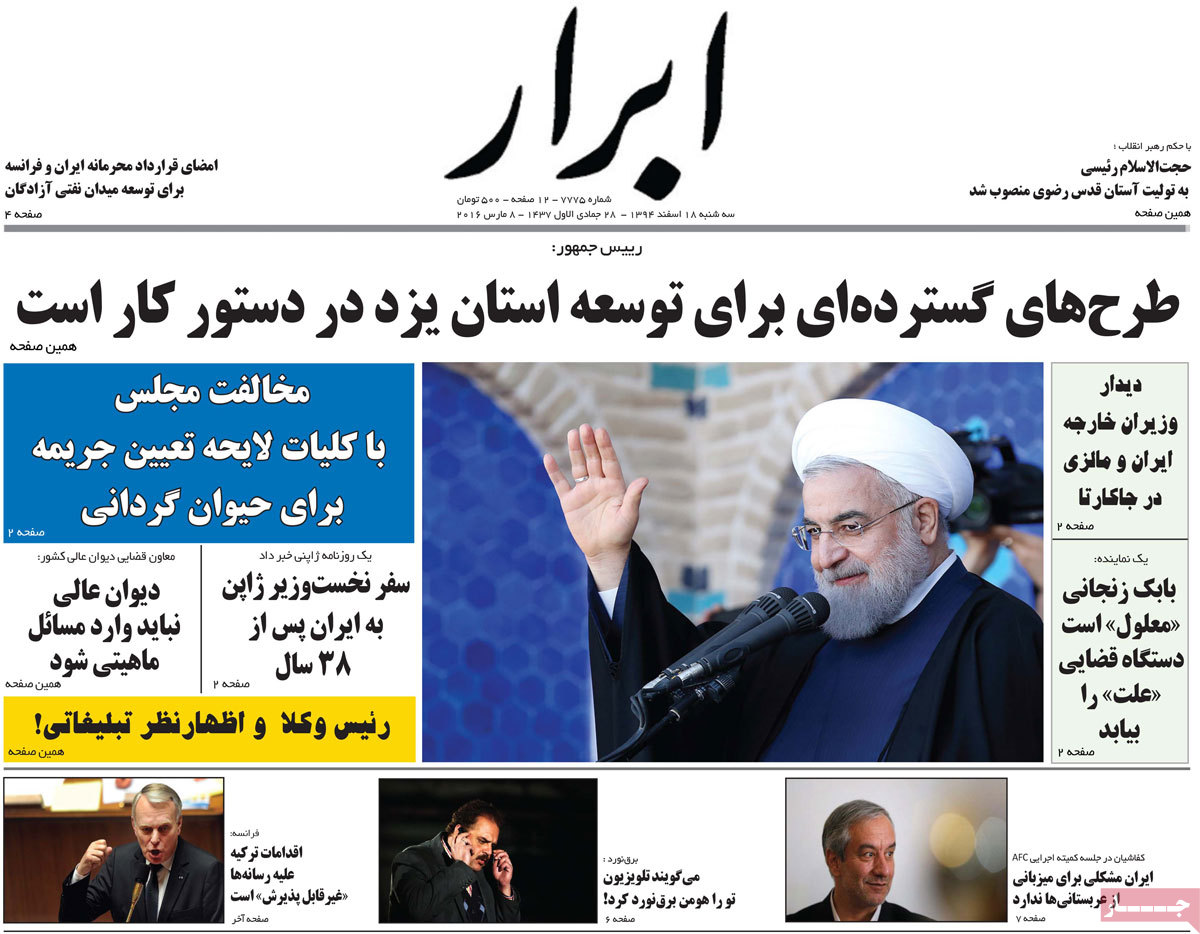 ---
Abrar Eqtesadi:
1.  Iran to link China to Europe by rail
2.  Approved: Iran membership in Asian Infrastructure Investment Bank
3.  13 years needed to complete unfinished projects
4.  First Iranian oil shipment reaches Europe
---
Afkar:
1.  North Korea threatens nuclear strike over US-South Korean exercises
2.  Value of awareness-based freedom of thought: Rafsanjani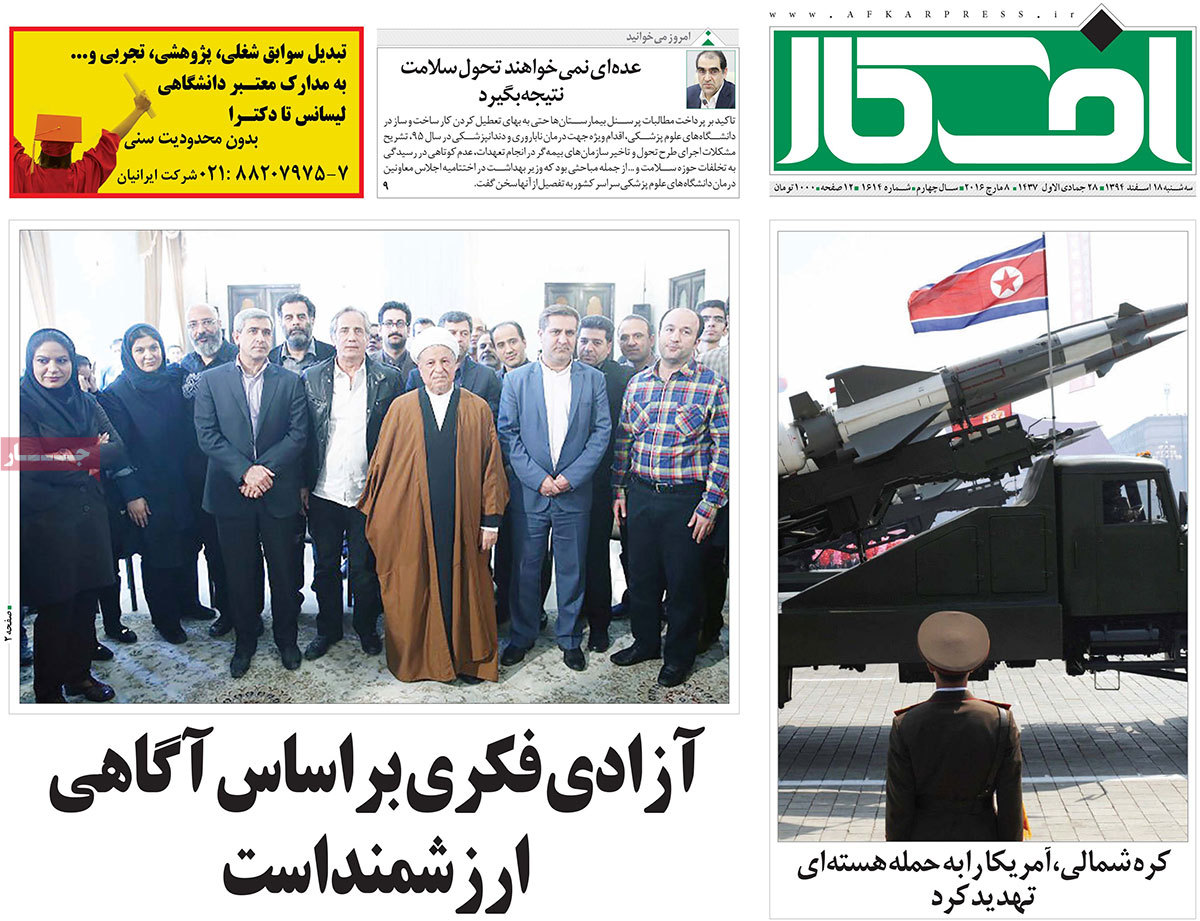 ---
Arman-e Emrouz:
1.  Raeisi named chairman of Astan Qods Razavi
2.  Rouhani: Where is the oil money, then?
Iranian President Hassan Rouhani said this in reaction to a death sentence issued to corporate mogul Babak Zanjani for corruption and money laundering charges.
3.  Iranian engineers heading to Iraq and Afghanistan as housing market remains bearish in Iran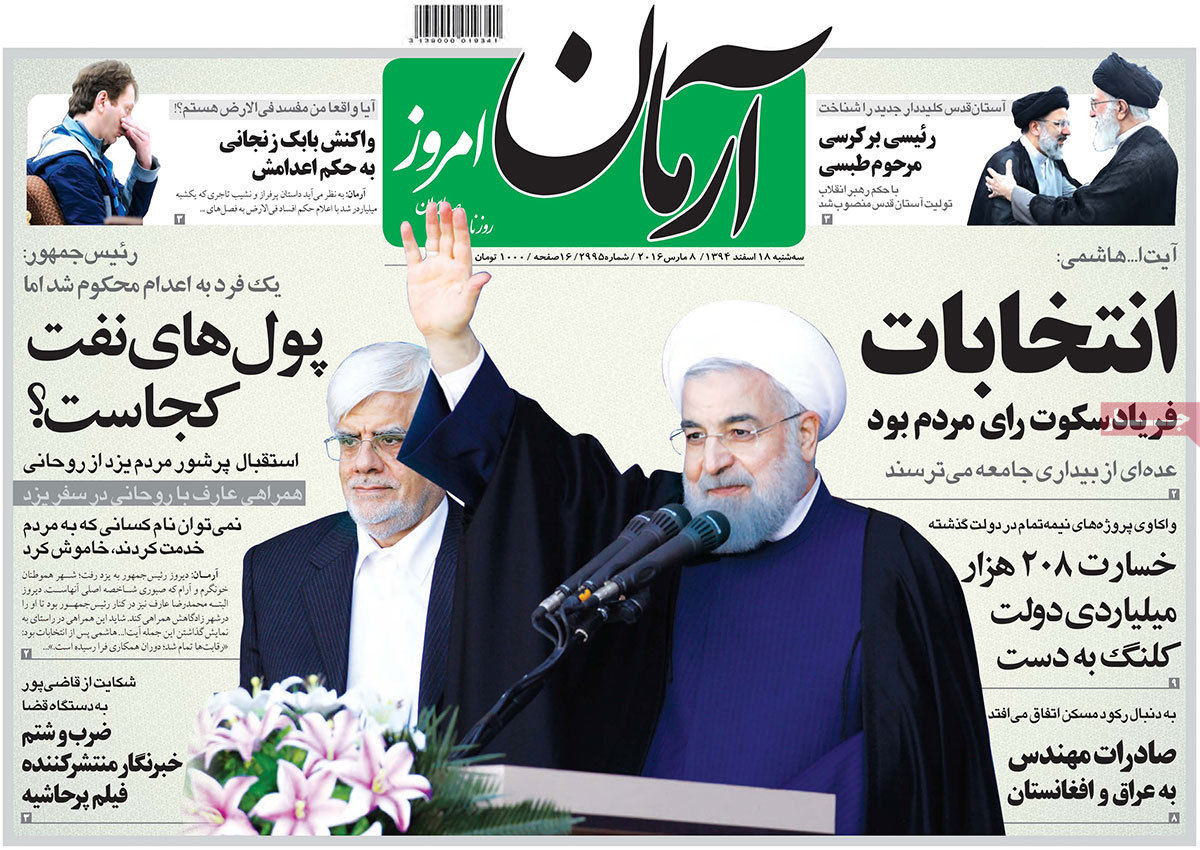 ---
Asrar:
1.  Nation places hope in a better future with improved conditions: Rafsanjani
2.  Serving garment for Raeisi
The Supreme Leader appointed Hujatoleslam Raeisi as head of Astan Qods Razavi, replacing the late Ayatollah Tabasi who passed away on Friday at the age of 80.
3.  Davotoglu: We reached an agreement with Iran over Syria
4.  Biden says military measures offer no solution to Syrian crisis
5.  Iran receives $5bn unfrozen assets in US
6.  Japan PM in Iran after 38 years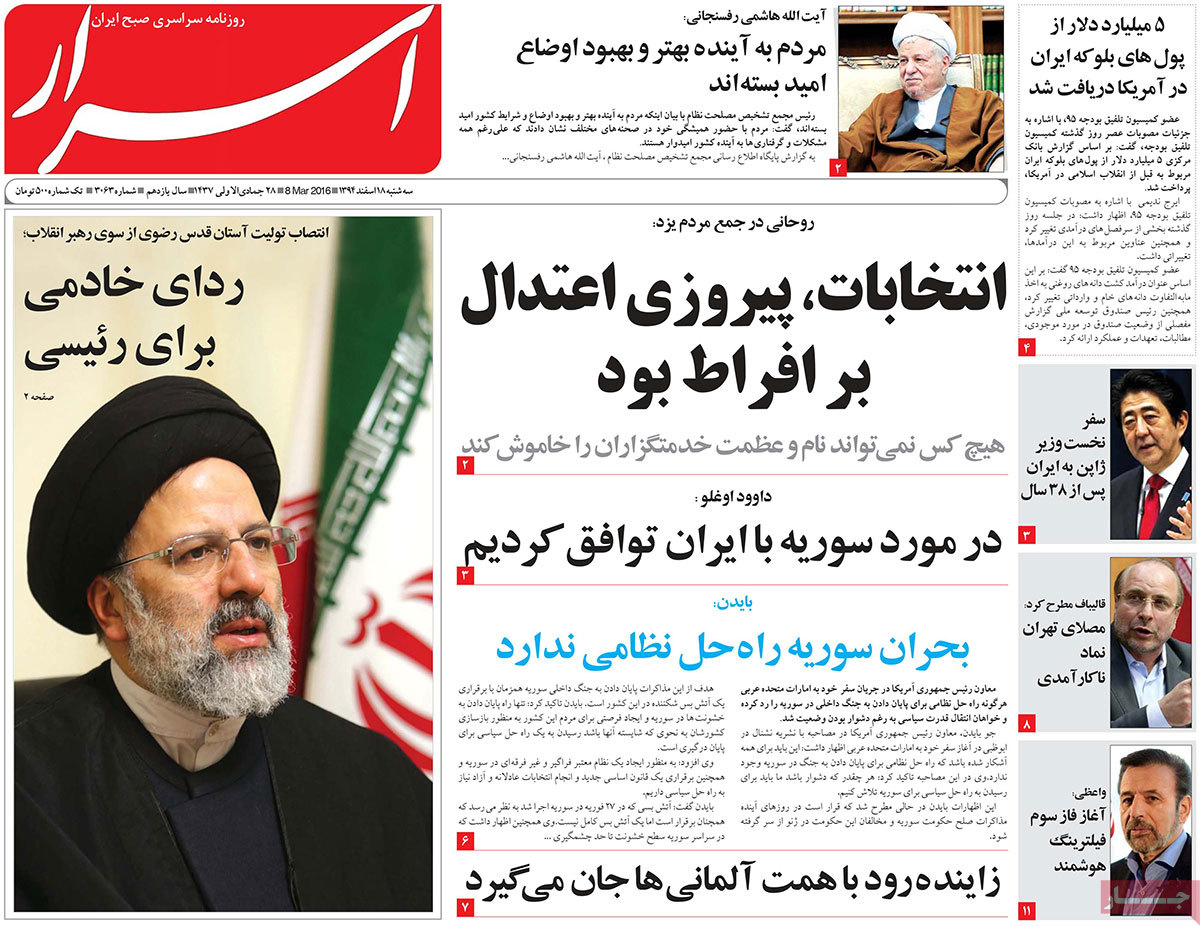 ---
Ettela'at:
1.  Zarif stresses continuing support for Palestine
2.  President Rouhani promises prosperity, economic boom next year
---
Emtiaz:
1.  Nowrouz in Iran is an attraction for foreigners: Expert
2.  No more motorcycle carburettor production in Iran
3.  Iran unveils smart internet filtering system
---
Etemad:
1.  Rouhani visits Yazd with Aref
2.  Etemad releases 288-page yearbook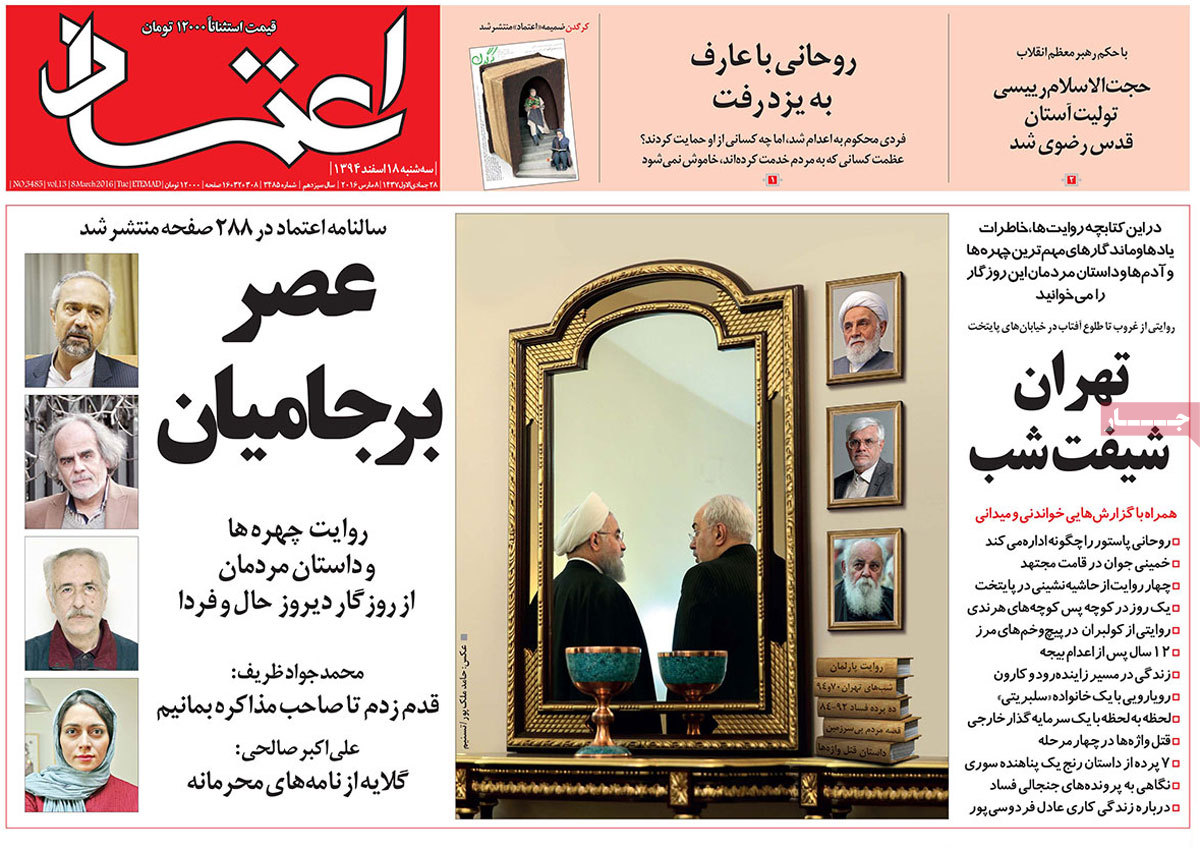 ---
Payam Zaman:
1.  25 Syrian refugees die in Turkish waters
2.  Zarif denounces Muslim nations' closeness to Israel as shameful
3.  Iran Standards Organization supervises IKCO deal with Peugeot
4.  10m Iranians heading for kidney failure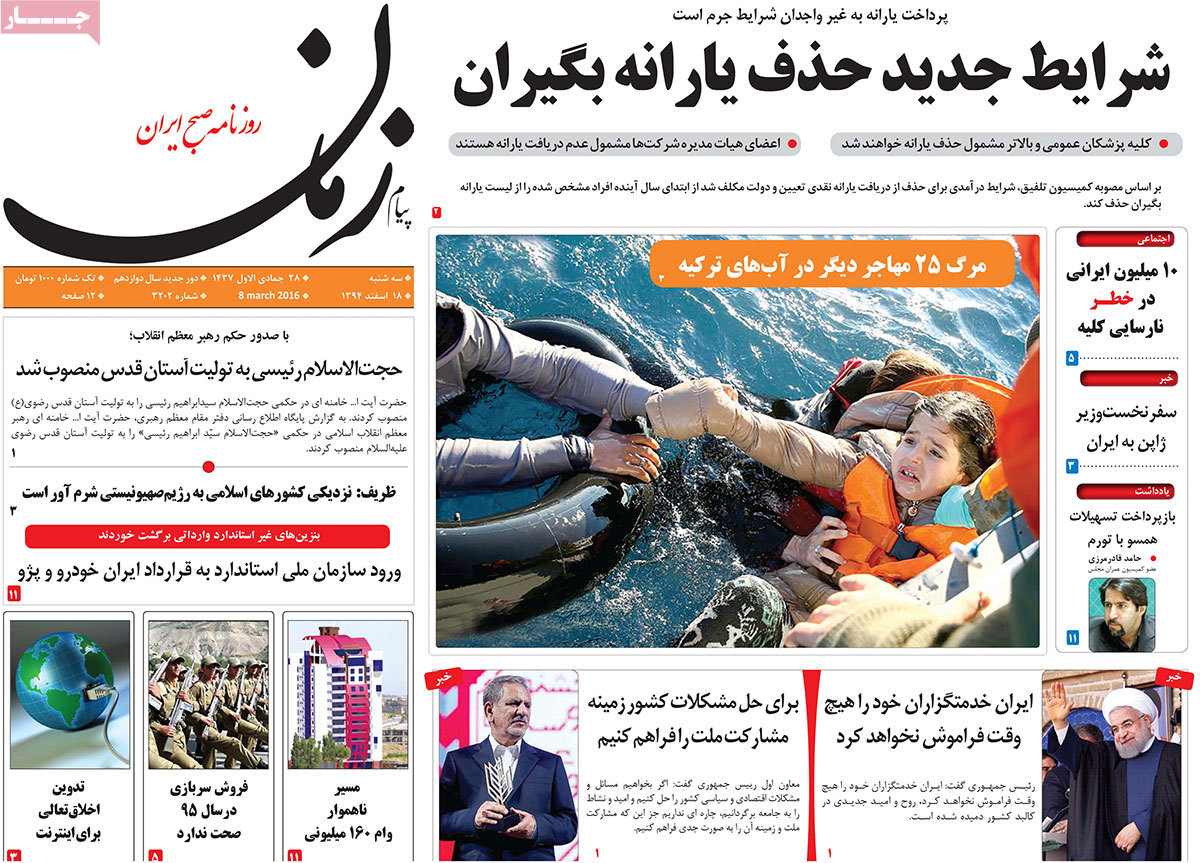 ---
Hemayat:
1.  Iran boosts worker salaries by 15%
2.  Judiciary relentless in fighting corruption: Lawyers
3.  No evidence of diversion in Iran's nuclear program: IAEA
4.  Prosecutors firm on illegal land owners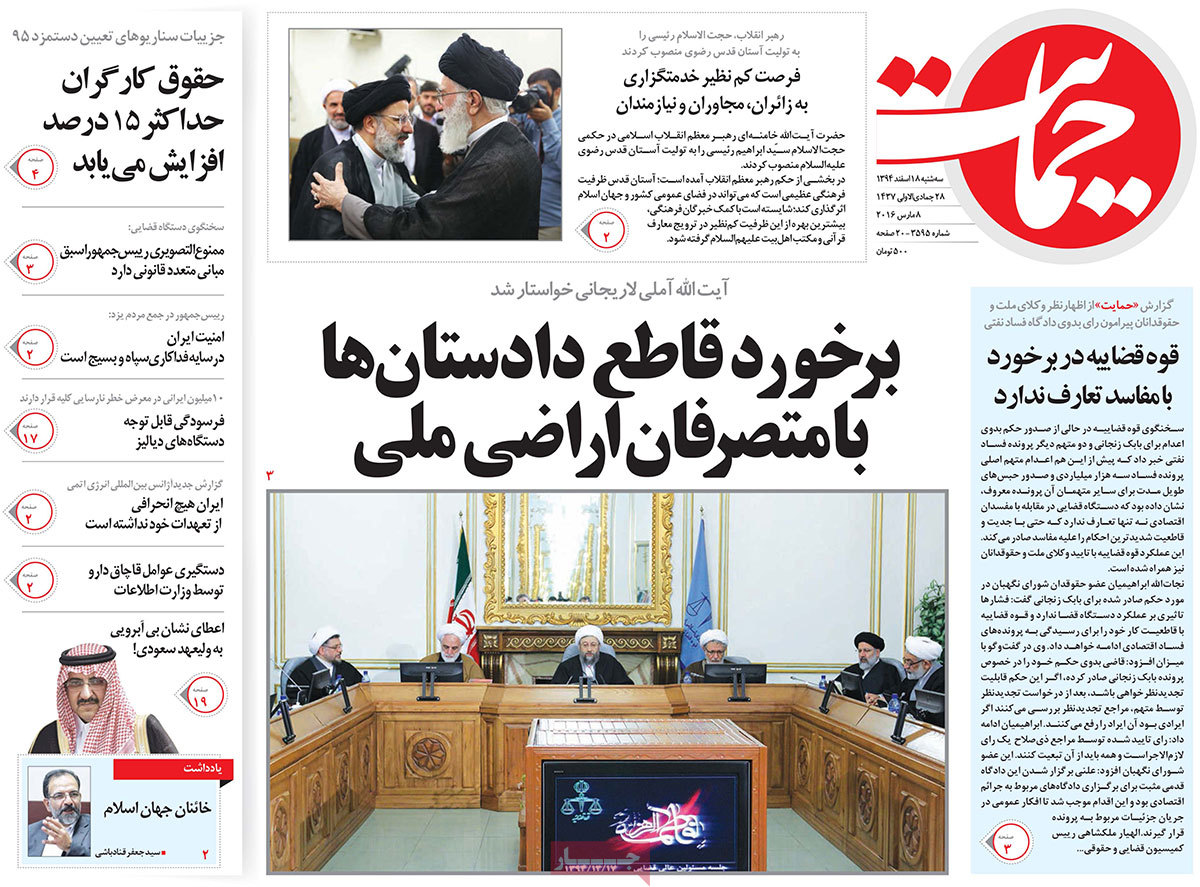 ---
Iran:
1.  Rouhani calls for unity to achieve economic prosperity
---
Jamejam:
1.  Viewpoint: Challenges of the Islamic Co-operation Organization
2.  Instagram blackmails perverts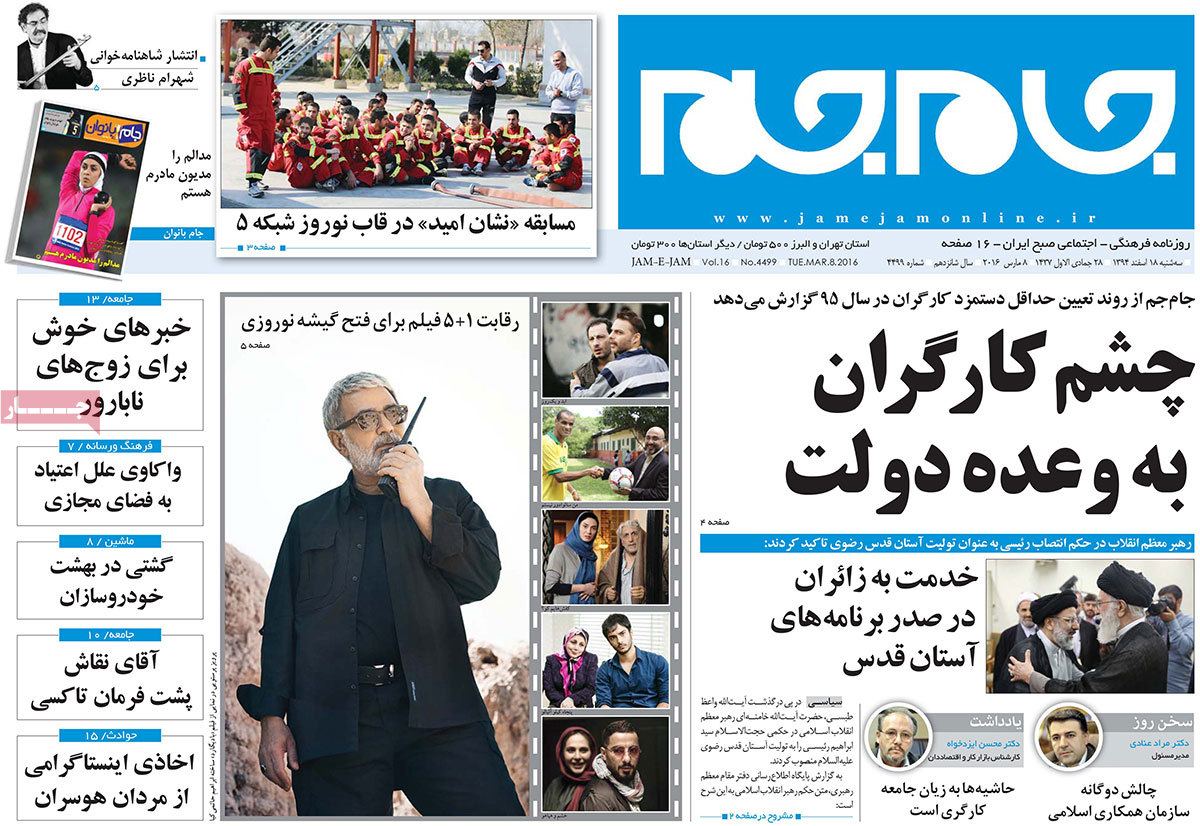 ---
Jomhouri Islami:
1.  Iran commences operations on several infrastructure projects in Yazd Province
2.  Criticisms from the Arab world pour in on Saudi Arabia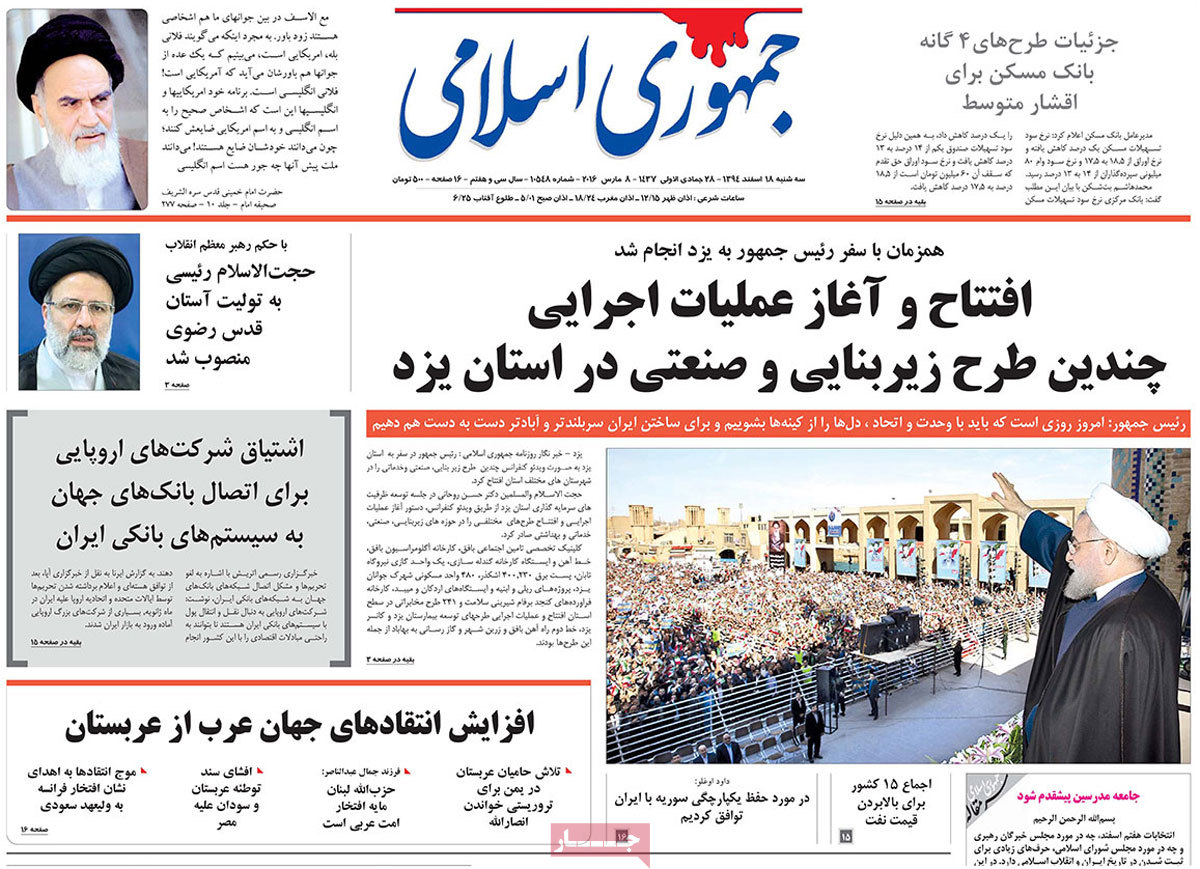 ---
Javan:
1.  $47 censorship: Rouhani talked about running the country at $25/b oil prices, while average oil prices have been $72/b during his office.
2.  US continues studying Feb 26 election in Iran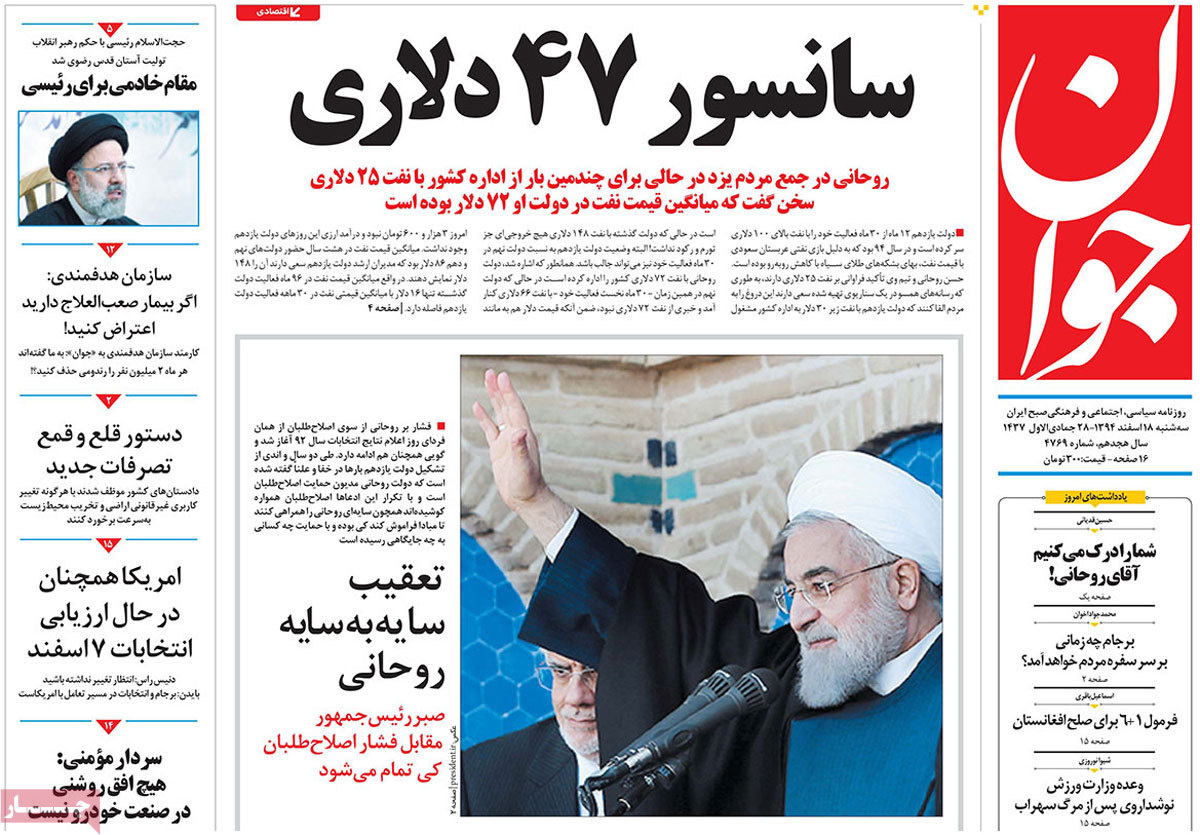 ---
Kaenat:
1.  Iran selects foreign partners based on its interests: Deputy Minister
2.  Iran to see economic boom next year: Rouhani in Yazd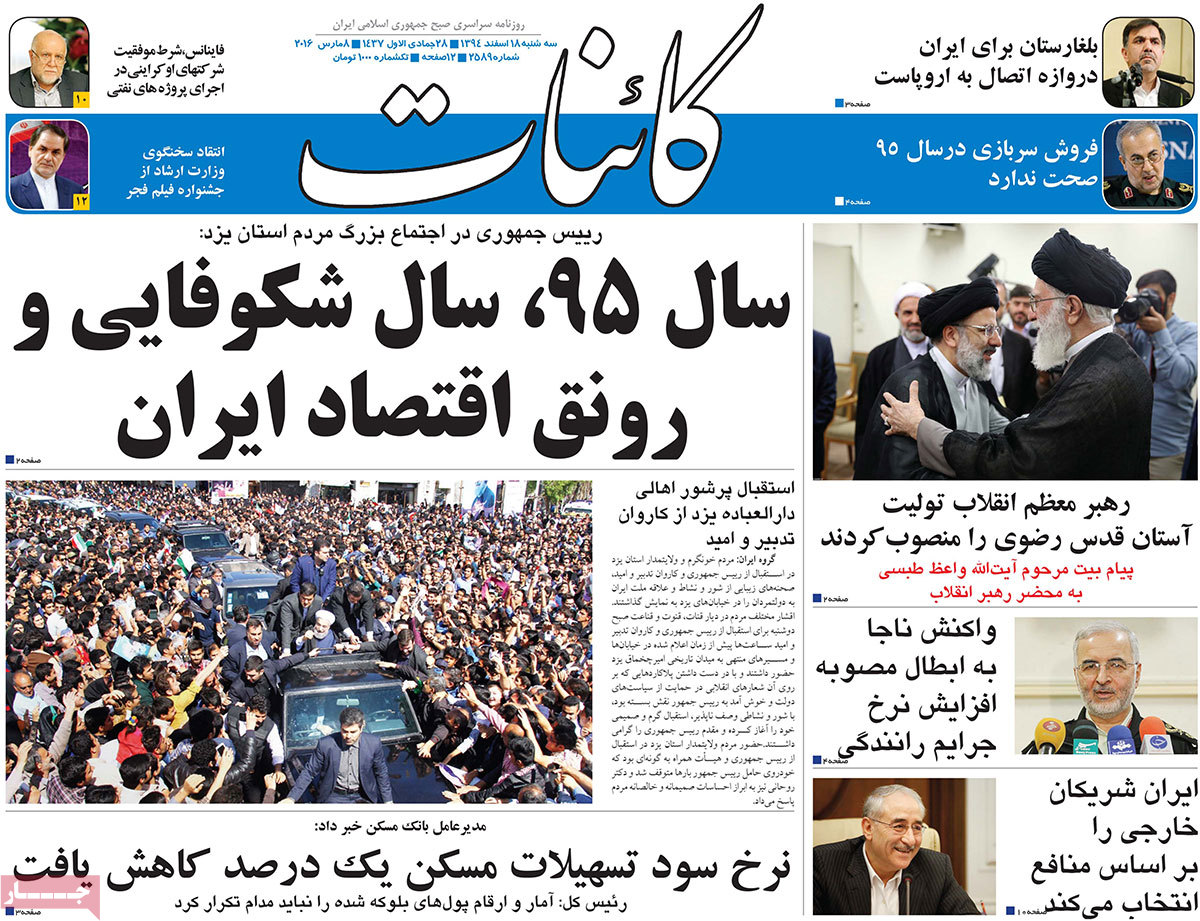 ---
Kayhan:
1.  Hezbollah defends Ummah, House of Saud traitor to the Arab world: Gamal Abdul Nasser's son
2.  Astan Qods appointment for Hujatoleslam Raeisi
3.  World media: Davutoglu's Tehran visit evidence of Turkey's foreign policy U-turn
---
Khorasan:
1.  Shia and Sunni poets gather in Mashhad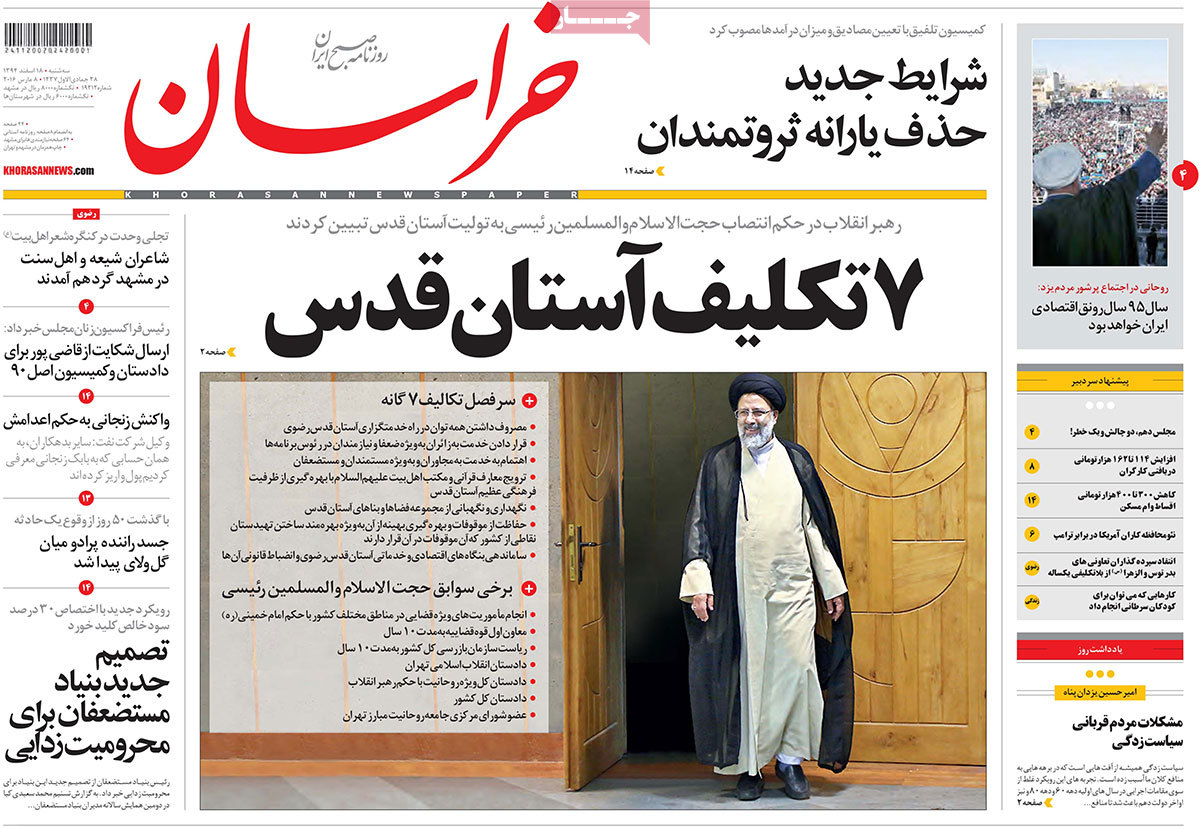 ---
Rah-e Mardom:
1.  Good prospects await Iran's oil industry next year
2.  Pasargad Bank hailed as top knowledge-based organization
3.  All factions were winners in Feb 26 elections: Rouhani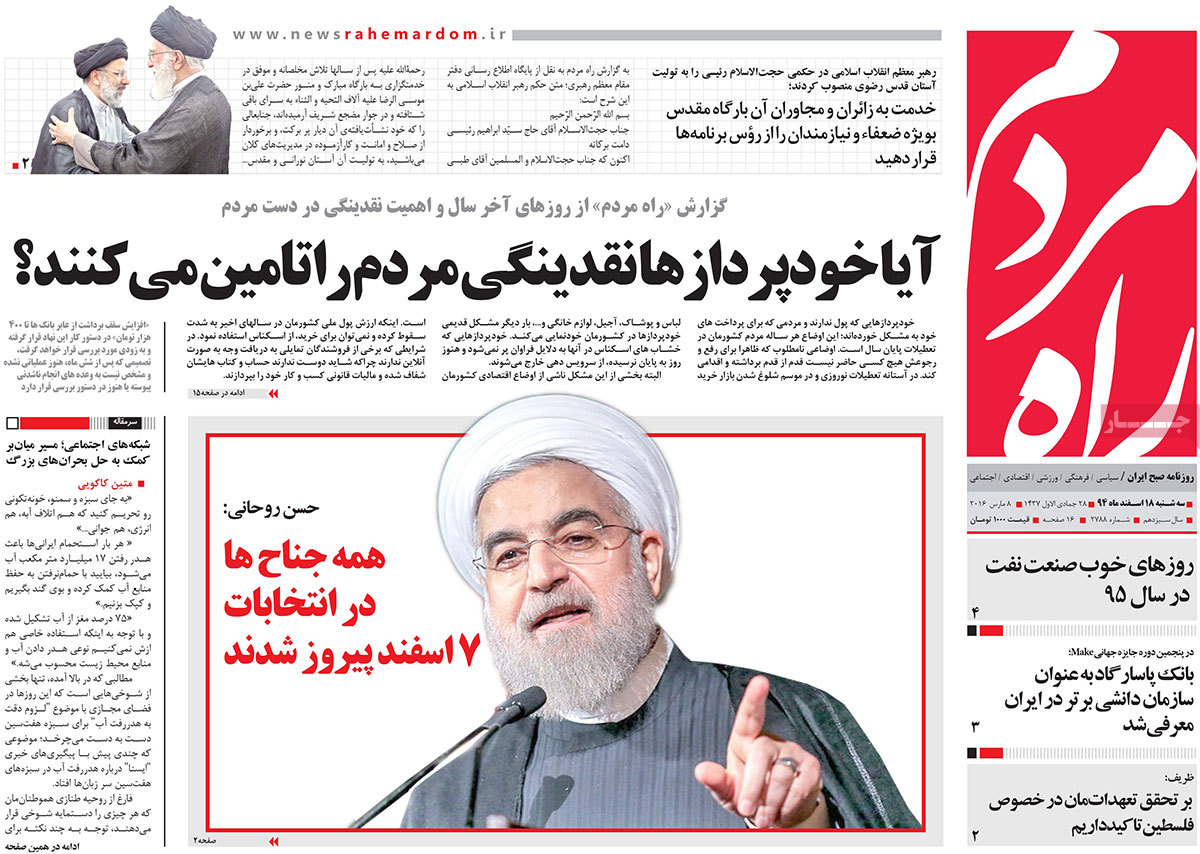 ---
Resalat:
1.  Nasrallah: Riyadh will fall if it stands beside Tel Aviv
2.  Iran to become major power: Cmdr. Salami
3.  Zarif: Iran to keep supporting Palestine
4.  Rouhani: Persian Gulf and Gulf of Oman water supplies on their way for Yazd and Kerman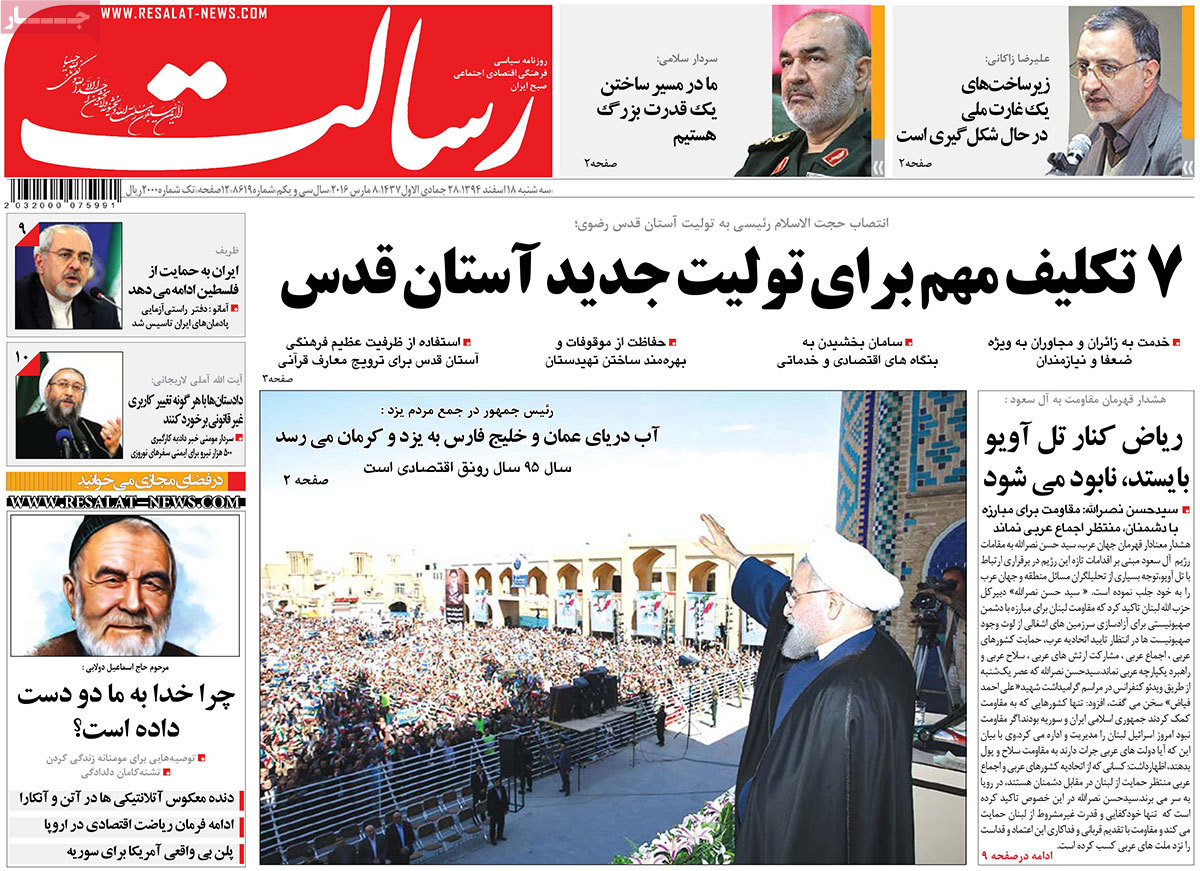 ---
Rooyesh Mellat:
1.  President calls for experts to come forward
2.  No evidence of diversion in Iran's nuclear program: IAEA
3.  Winners and losers in oil price slump
4.  Whey men hate shopping with women: Report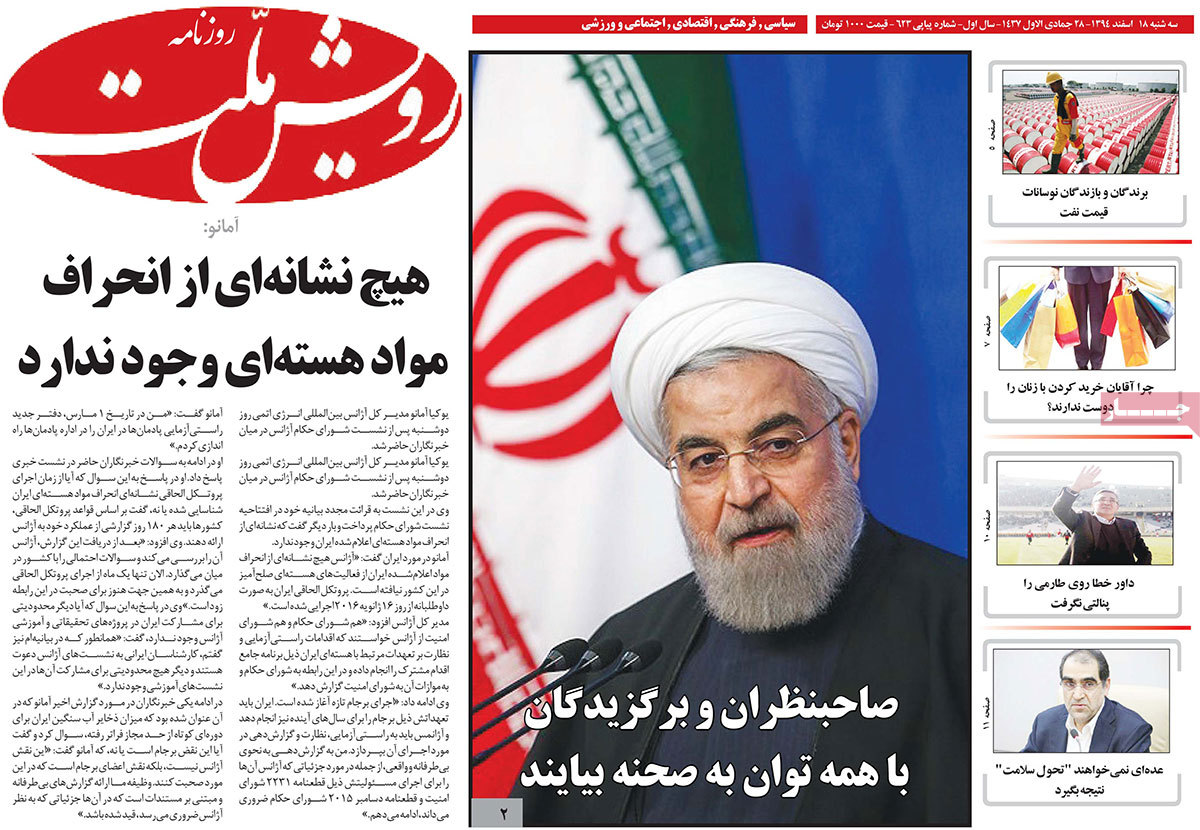 ---
Shargh:
1.  Rouhani: Iran never forgets its helpers
2.  Article: Iran's oil strategy in a post-sanctions environment
---
Saheb Ghalam:
1.  Iran and Bulgaria sign preferential trade deal
2.  Iran to hold first int'l tender on power industry
3.  Iran inks technological co-operation deal with Total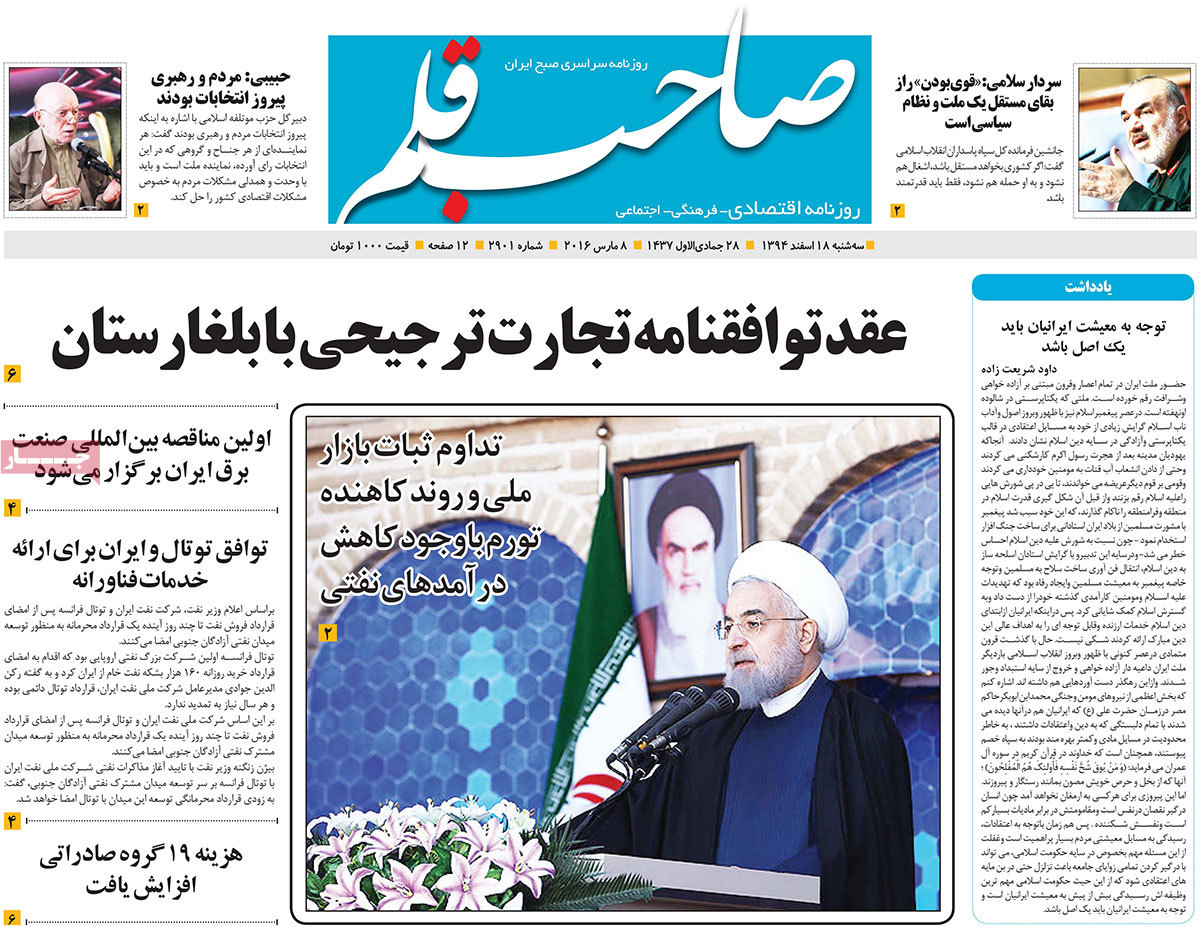 ---
Ghanoon:
1.  Rouhani reacts to death sentence for Zanjani: Where is the oil money, then?
2.  March 8: International Women's Day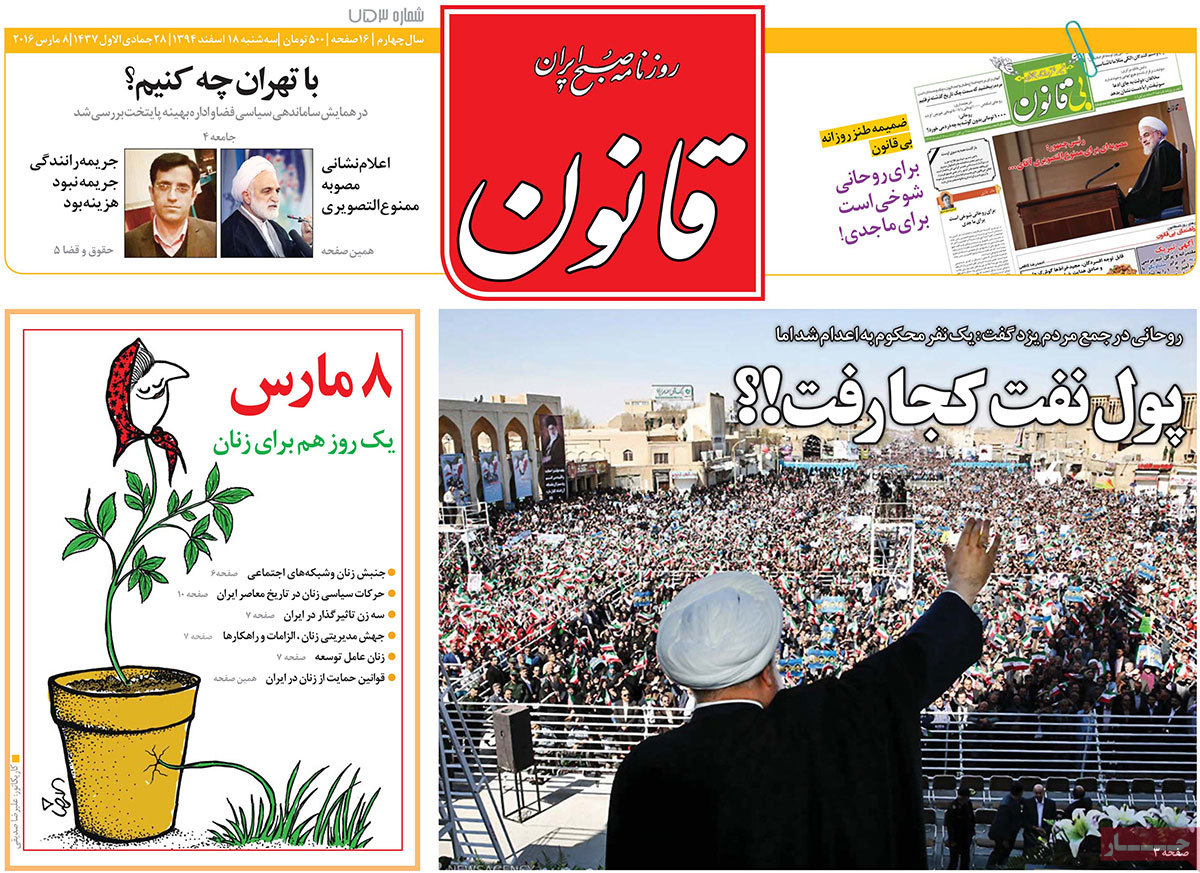 ---
Asia:
1.  US pays $5bn to Iran; UK to pay $4bn
2.  Ahmad Pourfallah receives Leonardo Medal from Italian President