Ettela'at:
1.  Iran 9-month economic growth at 7%
2.  Terrorist blast kills 60 in Iraq's Hillah
3.  Nation chose moderation: Rouhani
4.  Official calls for limiting "admin-archy"
5.  Oil scam culprits sentenced to death
6.  Tehran has 25 times more salons than bookshops
---
Afkar:
1.  Iran safest transit corridor in region: Minister of Roads
2.  Iran calls on US to act more on JCPOA implementation
3.  Enemies target Iranian national interests in regional conflicts
---
Asrar:
1.  Rouhani: Nation responded to hardships with Feb 26 election turnout
2.  Admin has curbed recession: Official
3.  5,000 street kids in Iran
4.  They [foreign enemies] are seeking to bring war to Iranian borders: Mohsen Rezaei
5.  Death sentence for corporate mogul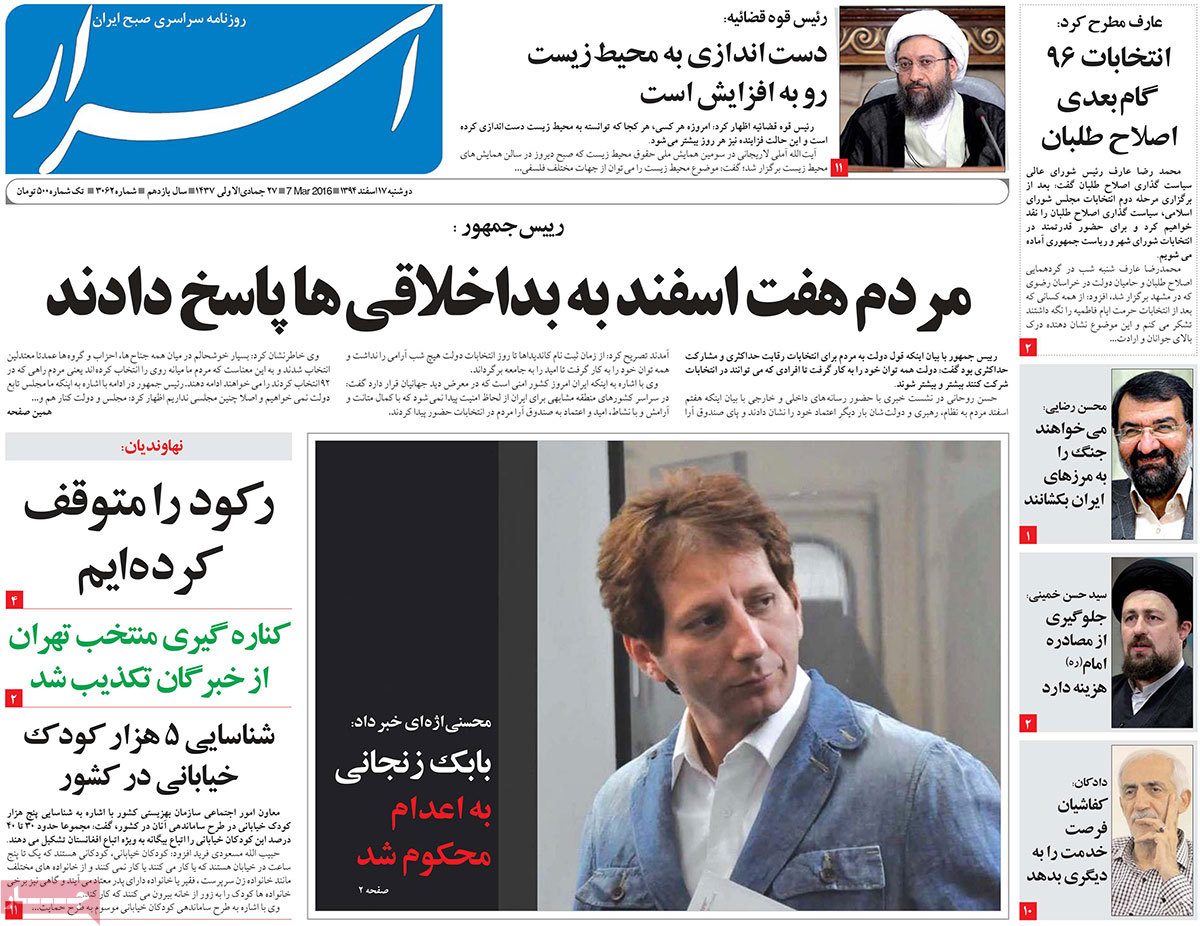 ---
Arman-e Emrouz:
1.  Judiciary Chief rules out hunting as religiously forbidden
2.  DOE chief calls for preventing environmental crimes
3.  Execution for billionaire
4.  Admin seeking to decrease cash handouts: Spokesman
5.  Government offenses under Ahmadinejad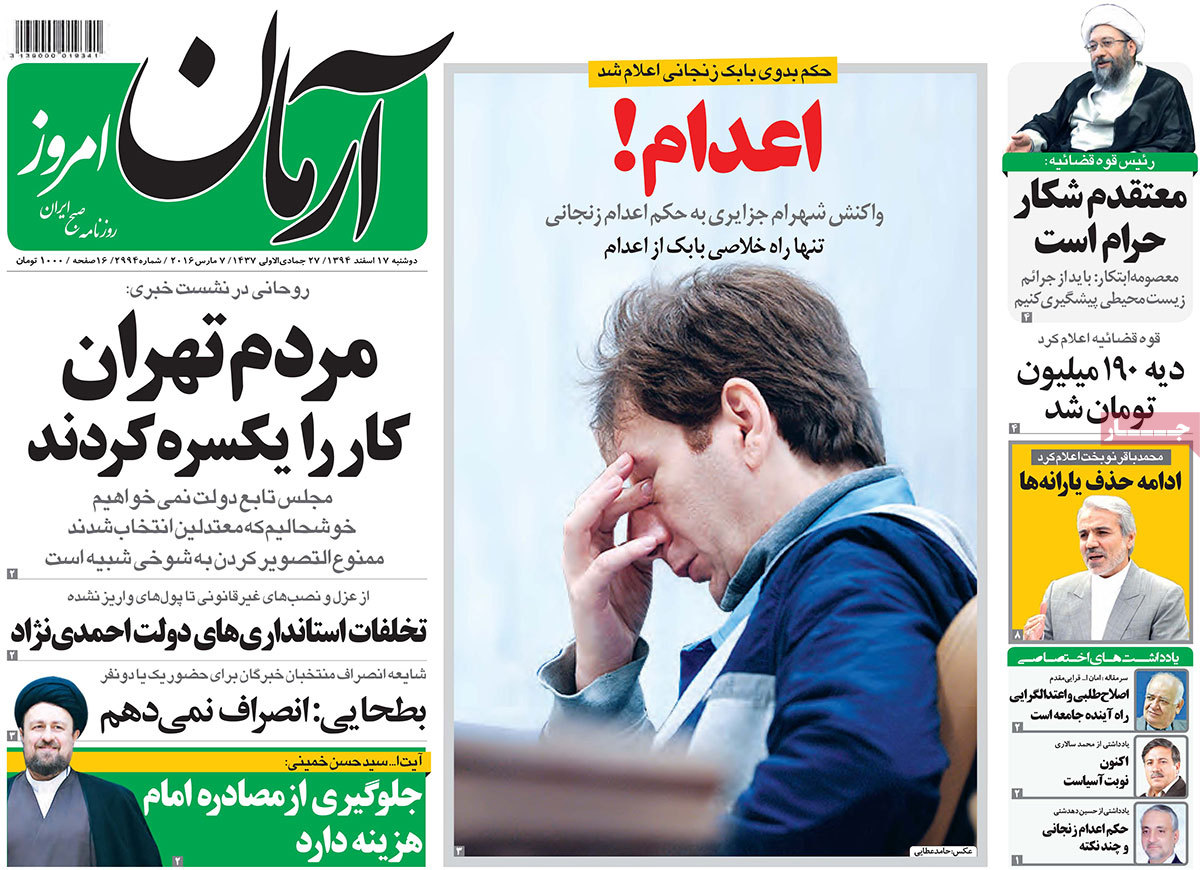 ---
Ebtekar:
1.  Report: Suggestions for 10th Parliament
2.  Hopes high for improved conditions next year
3.  Babak sentenced to death
Iranian Judiciary Spokesman Gholam Hossein Mohseni-Ejei announced on Sunday that the billionaire Babak Zanjani and two accomplices in the oil scam case have been sentenced to death for "corruption on earth".
4.  Around Iran in 13 days – Suggestions from Ebtekar for New Year holidays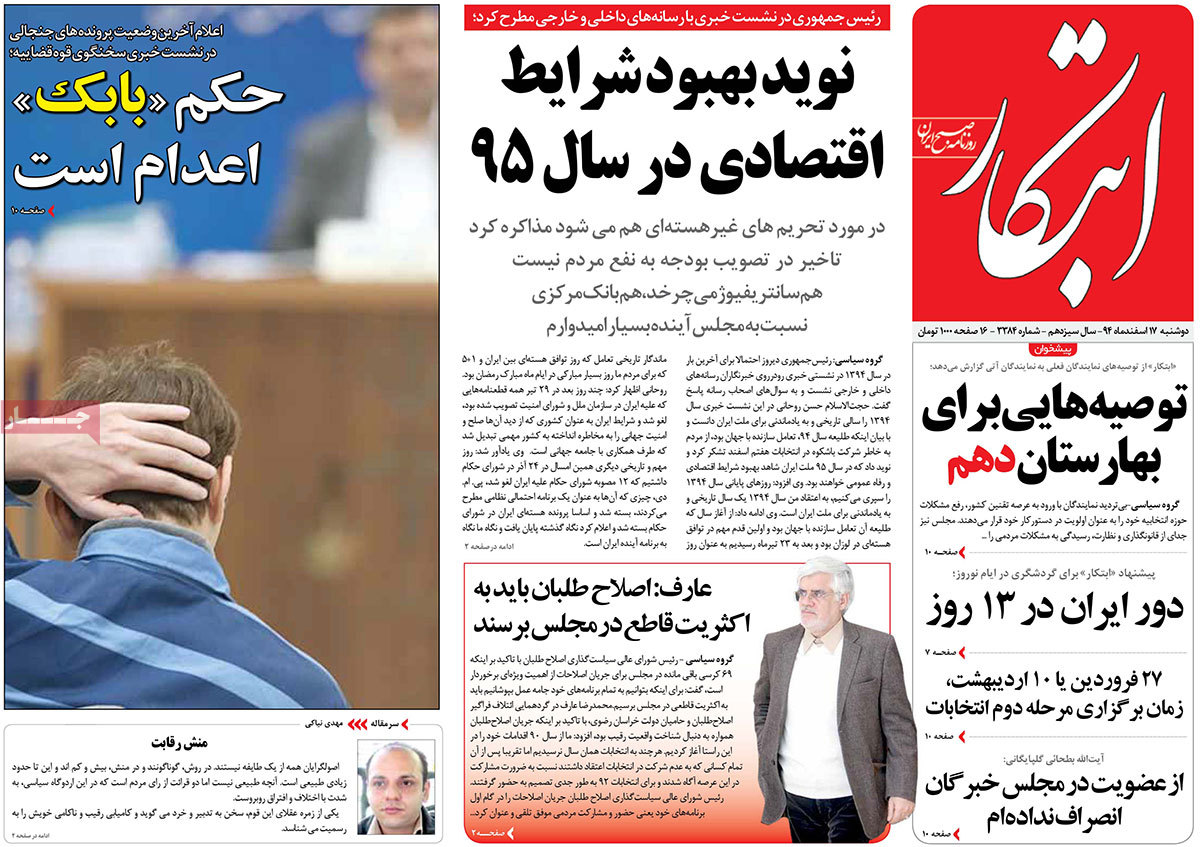 ---
Etemad:
1.  Forbidden words
Addressing his last press conference on Sunday, Iranian President Hassan Rouhani said he was ready to say the unsayable.
2.  Hezbollah chief: Resistance doesn't need Arab armaments
3.  Reformist Aref eyes 40 runoff seats in parliament [to gain majority in parliament]
---
Emtiaz:
1.  Iran gateways not open to imported drugs
2.  Tourism deputy issues ultimatum to over-chargers
---
Iran:
1.  Rouhani: JCPOA II, admin, nation's resolution to develop Iran
2.  Water, environment, pension funds: future challenges for Iran
3.  Punishment no solution for preserving environment
4.  Iran eyes 6% economic growth: Rouhani aide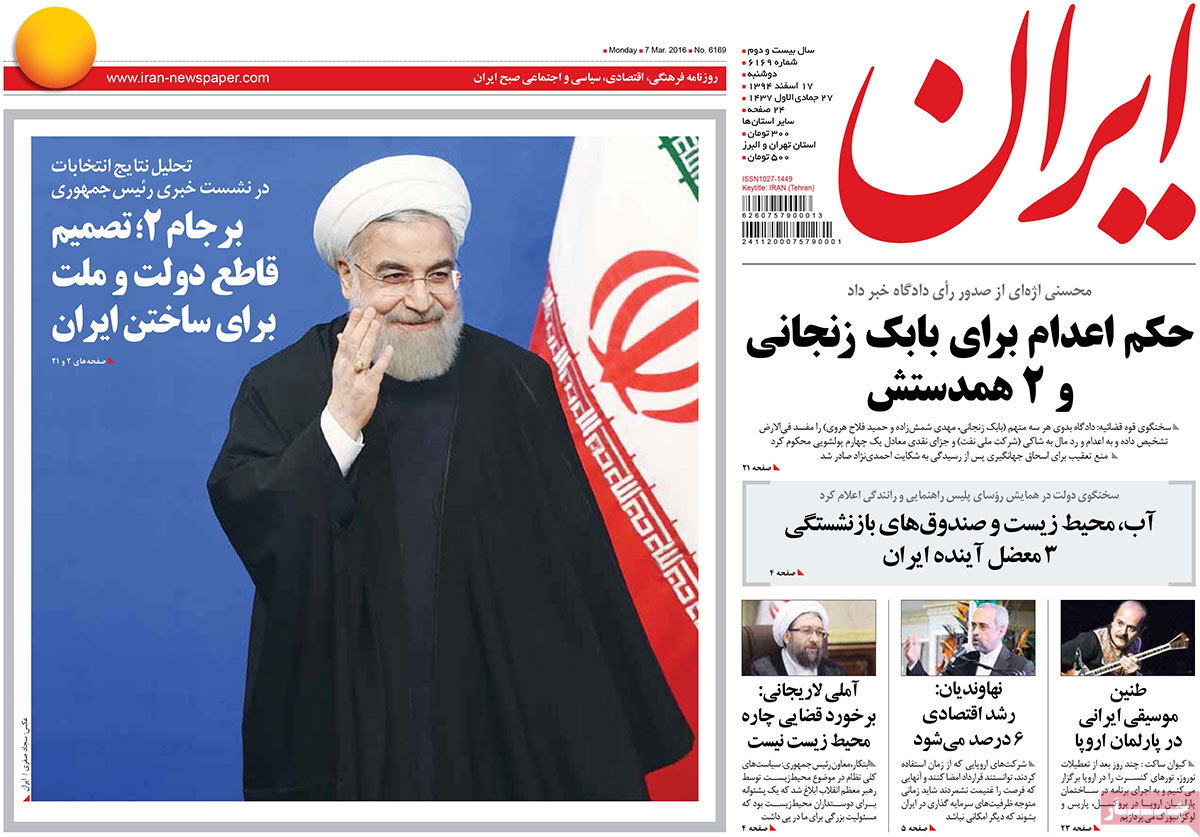 ---
Payam Zaman:
1.  Rouhani says hopeful of next parliament
2.  No decisions for pilgrimage yet
3.  Iran produces 0.3m cars with Iranian brands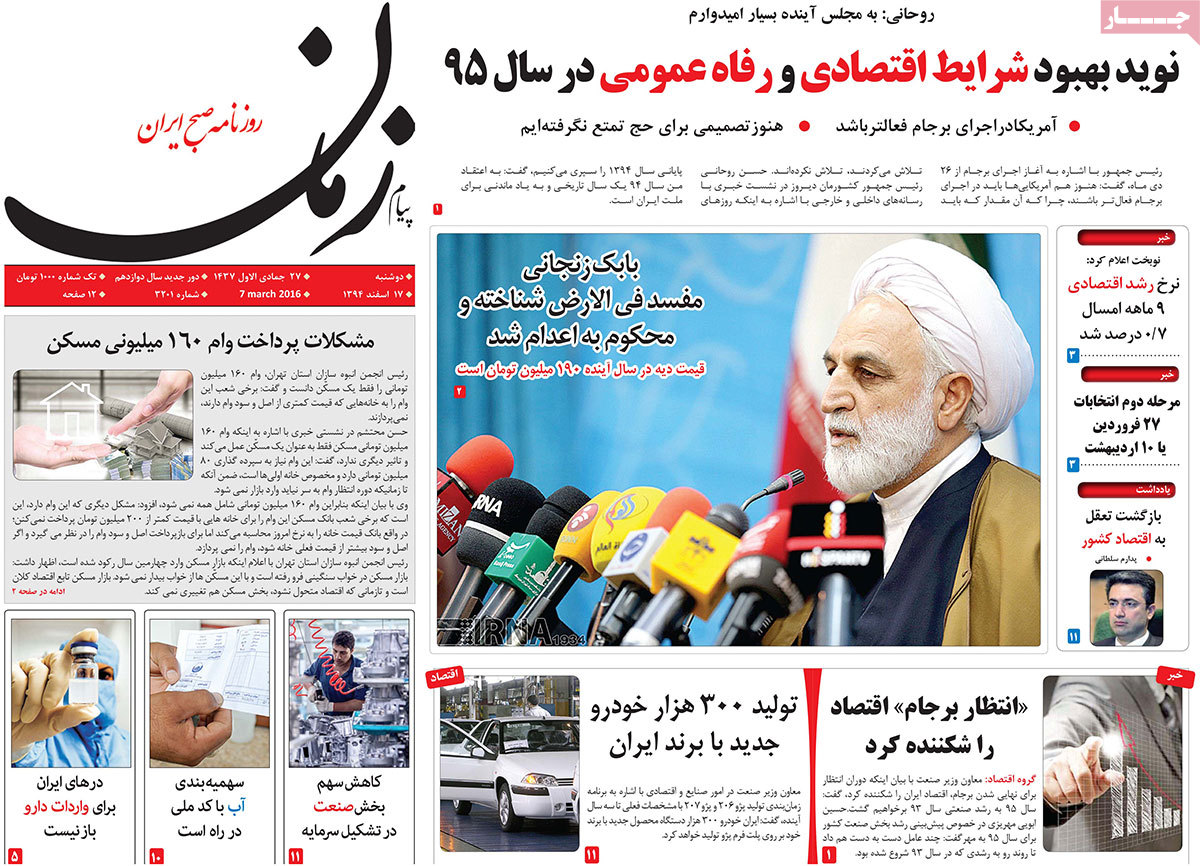 ---
Javan:
1.  Uprising in ISIS capital in Syria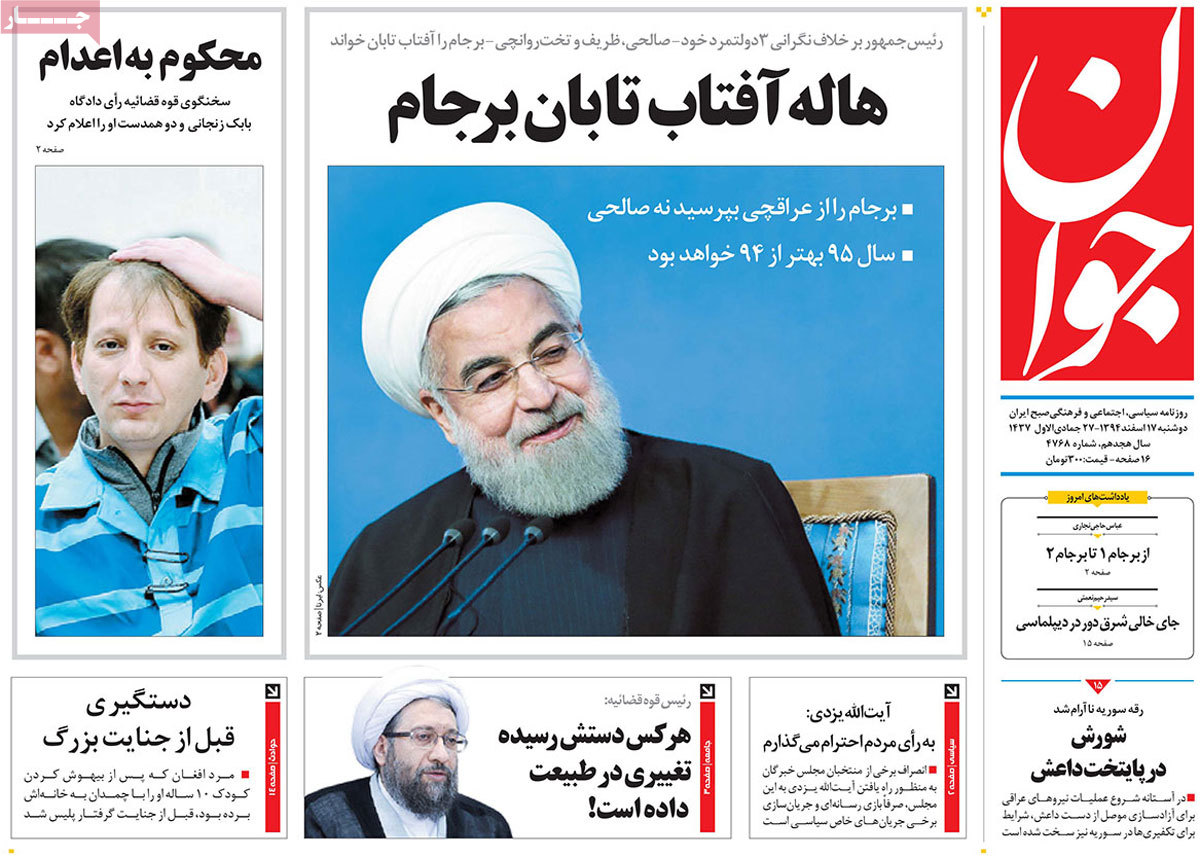 ---
Hosban:
1.  NIDC in talks with Asian, EU firms
2.  Health minister speaks openly to traffic police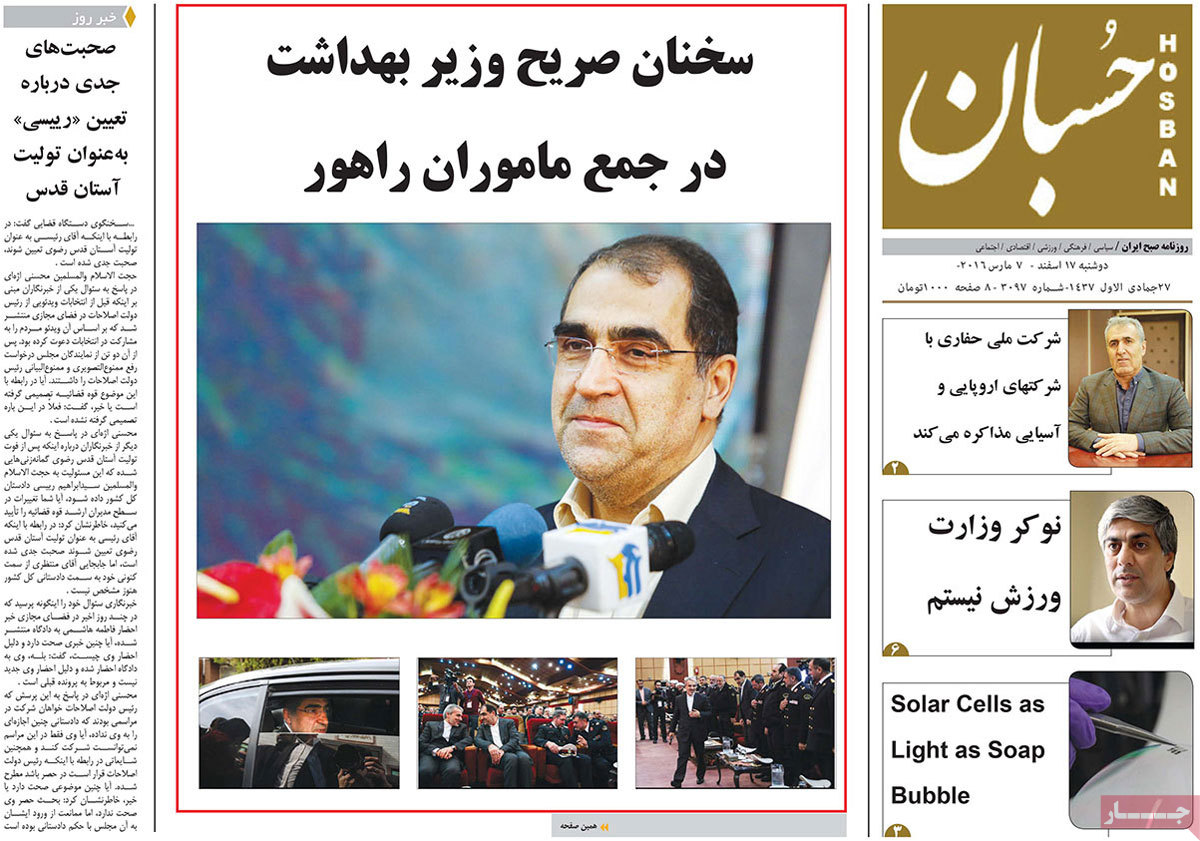 ---
Hemayat:
1.  Judiciary ready to convene courts on environmental crimes
2.  Nasrallah: Without resistance, Lebanon would be Israeli colony
3.  Chinese firm sanctioned for dealing with Iran
4.  Iran closes prison in [northern city of] Amol
---
Khorasan:
1.  1st Iran oil cargo calls at European port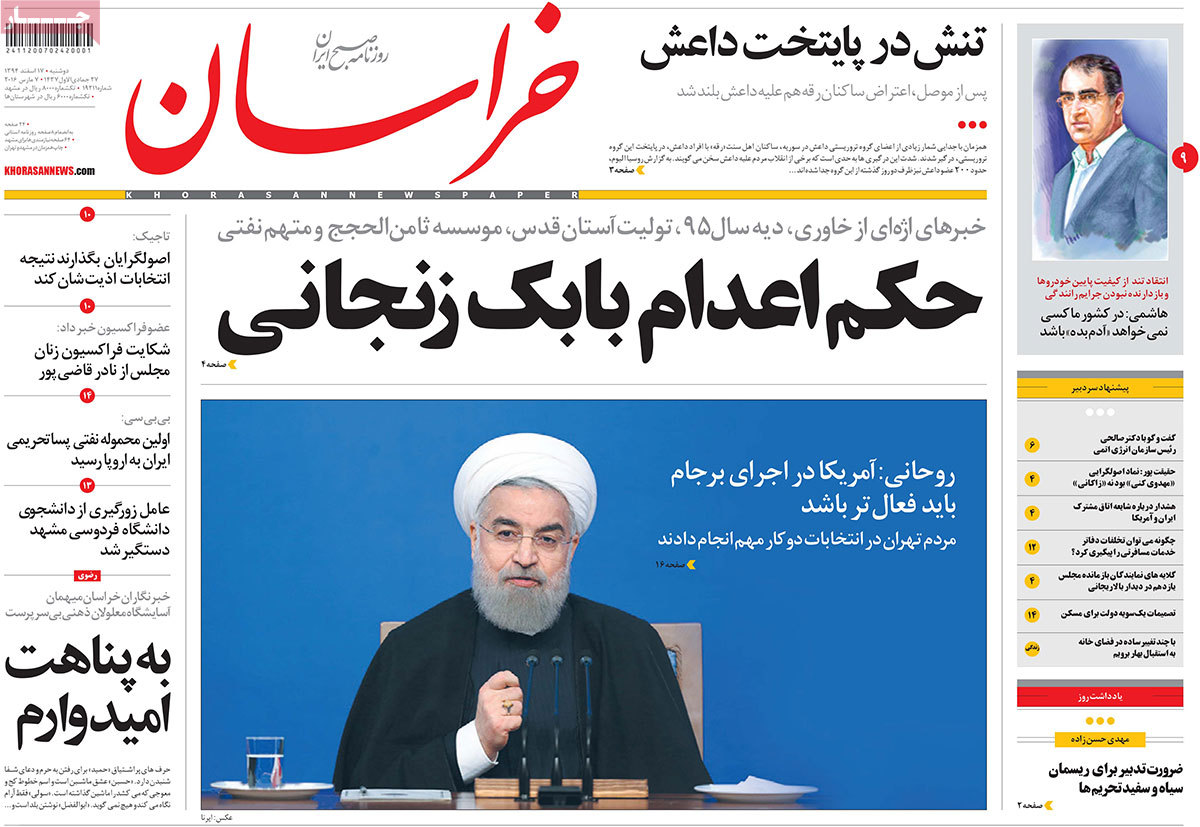 ---
Resalat:
1.  Rouhani: Nation displayed trust in leader, admin [in elections]
2.  Politician calls on admin to retaliate for US failure to fulfill JCPOA promises
3.  Zarif: Hezbollah defends Lebanon against Zionists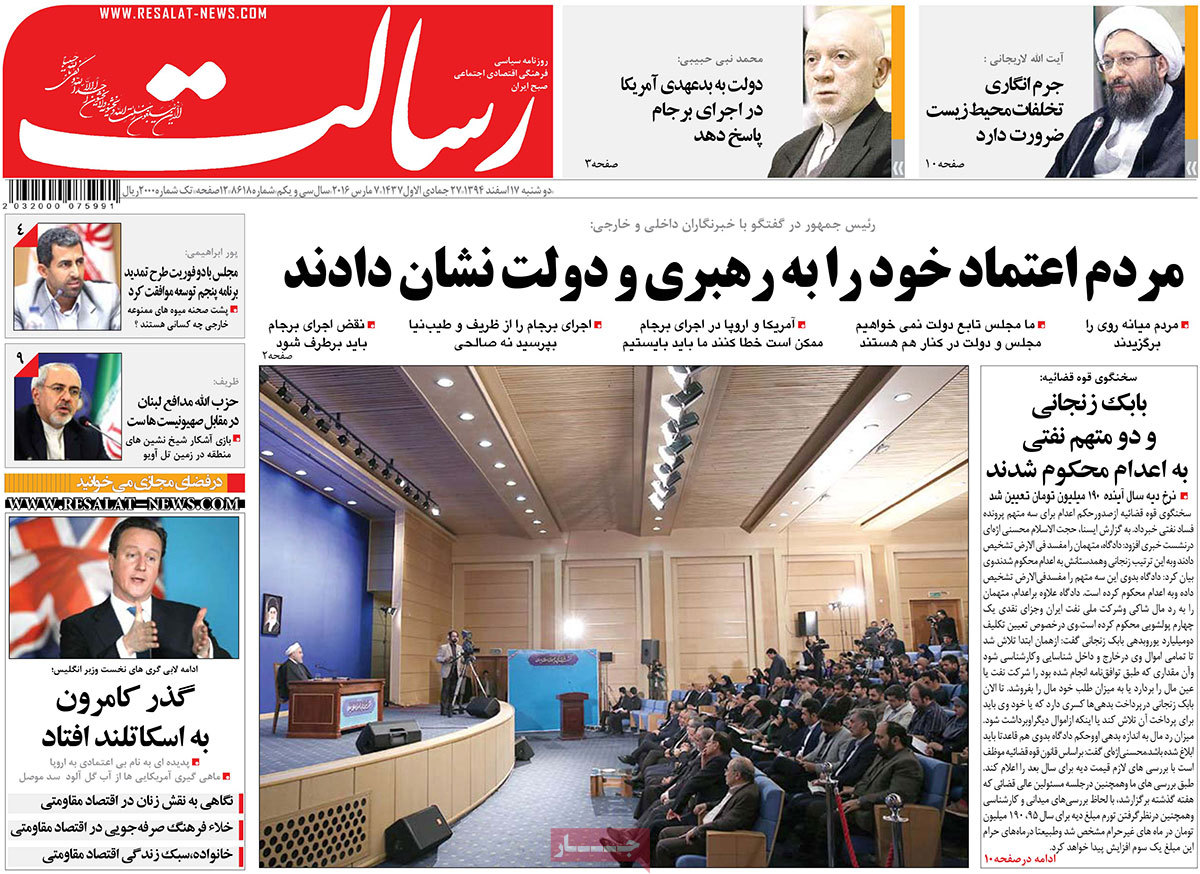 ---
Roozan:
1.  Ayatollah Yazdi: I endorse election outcome
The ayatollah failed to win enough votes in the Feb 26 Assembly of Experts election.
---
Rooyesh Mellat:
1.  Eyes can get cancer
2.  Urmia lake water intake doubles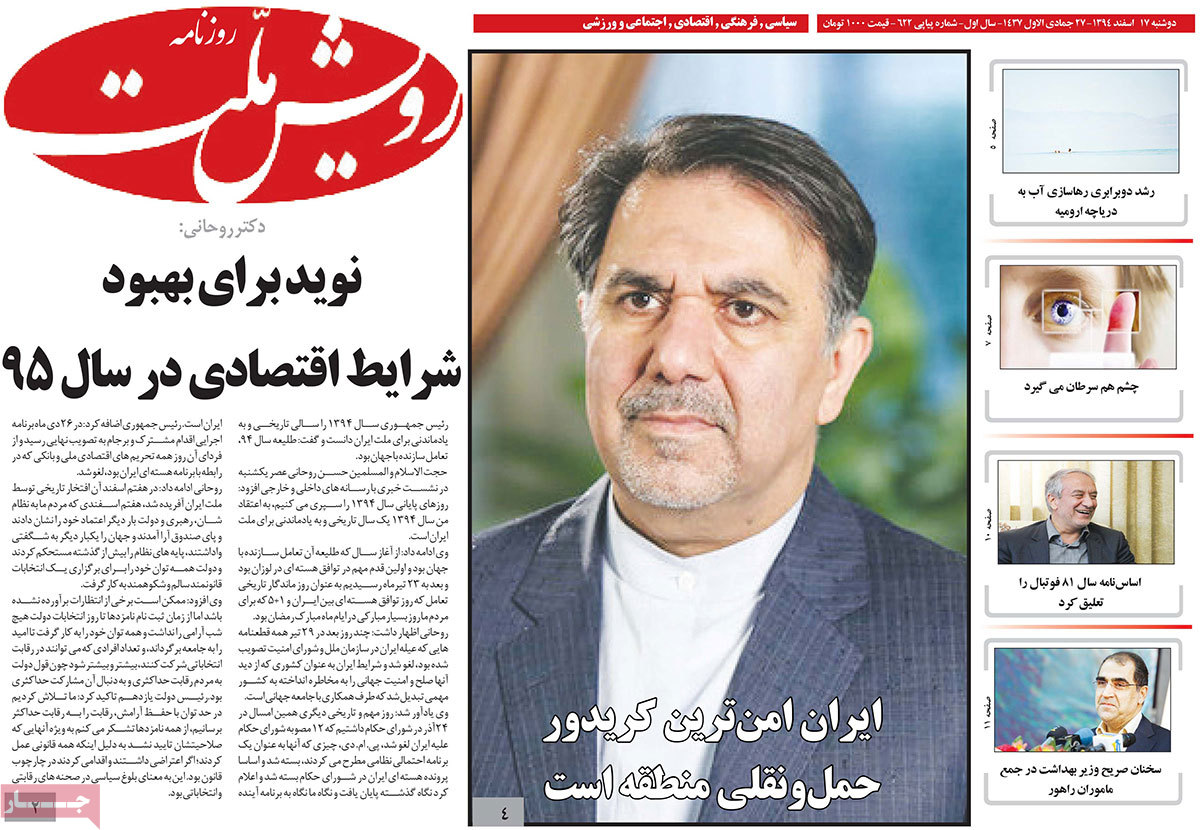 ---
Shargh:
1.  Oil scam culprits sentenced to death; figure behind the case shall not be forgotten
2.  "John Kerry and I understand each other": Zarif
3.  Judiciary spokesman: Reformist president's house arrest not real
---
Shahrvand:
Iran Red Crescent hold major maneuver to prepare for New Year holidays
President upbeat about moderate election wins
---
Saheb Ghalam:
1.  $200bn investments needed for 8% economic growth annually: economist
2.  No rise in water prices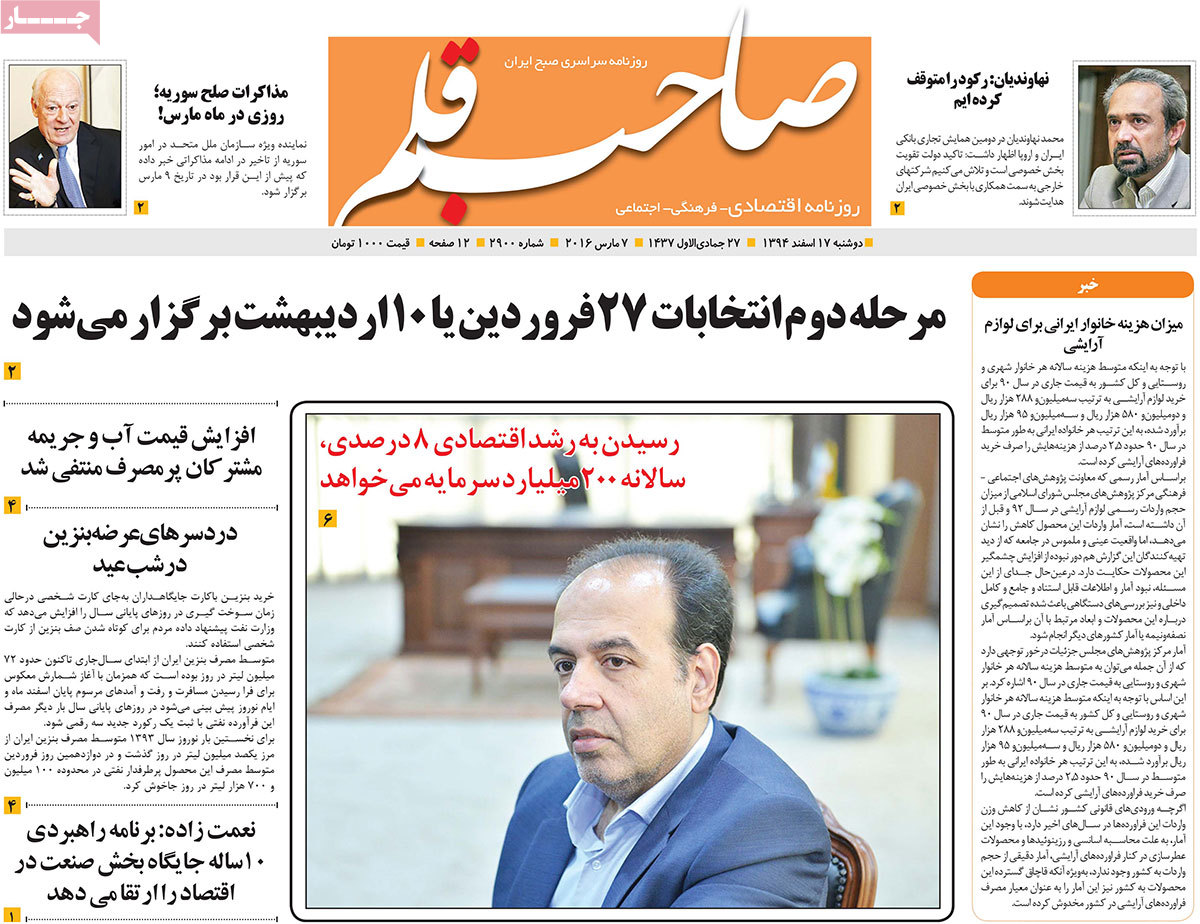 ---
Kaenat:
1.  Forex market stable despite oil shocks: Rouhani aide
2.  Iran plans to build power plants on Persian Gulf coasts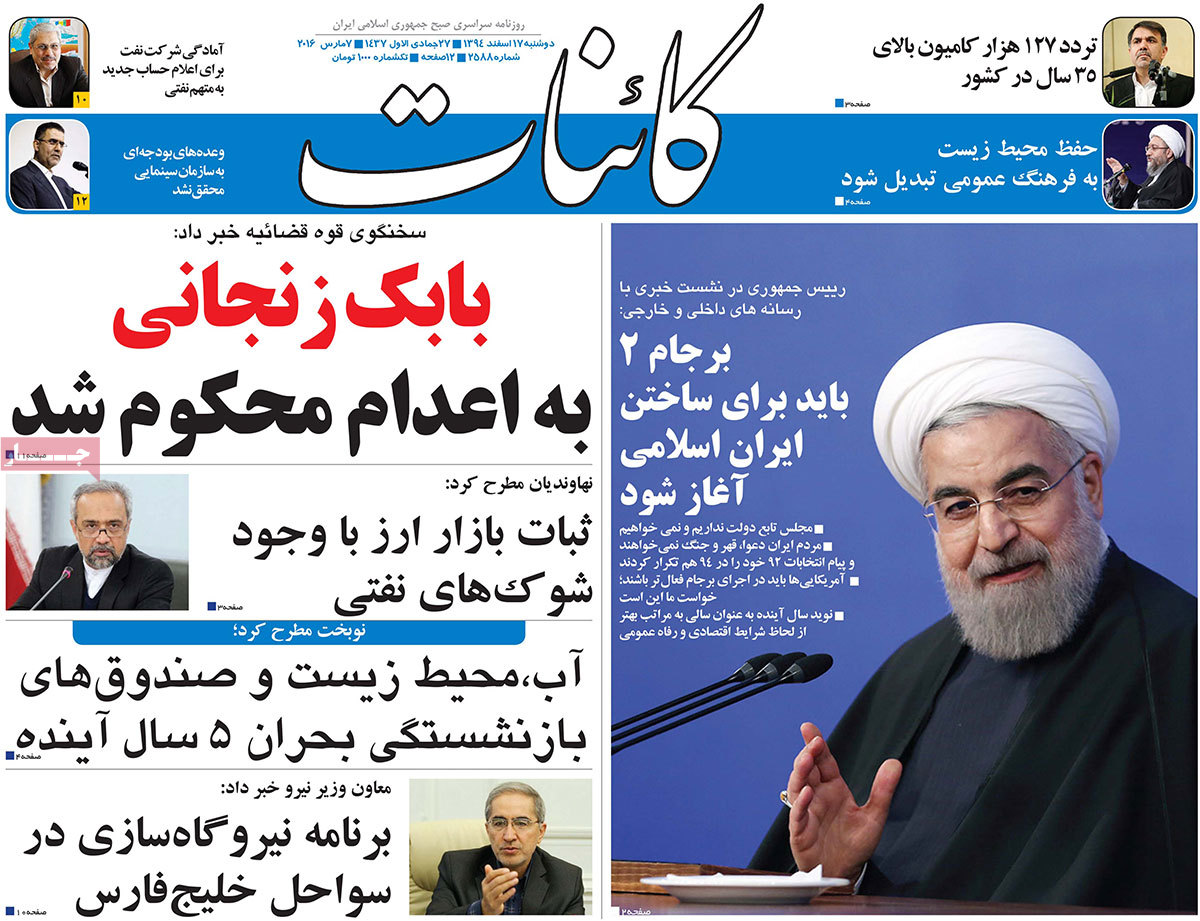 ---
Kayhan:
1.  IRR28,580bn ($9.46bn) of cars imported in 11 months
2.  Resistance beats ISIS, US takes credit: report
---
Asia:
1.  Joint Venture; Iran ready for all kinds of co-operation: Rouhani
2.  Major Turkish holding eyes Iran presence
3.  METRO prepared to open branch in Iran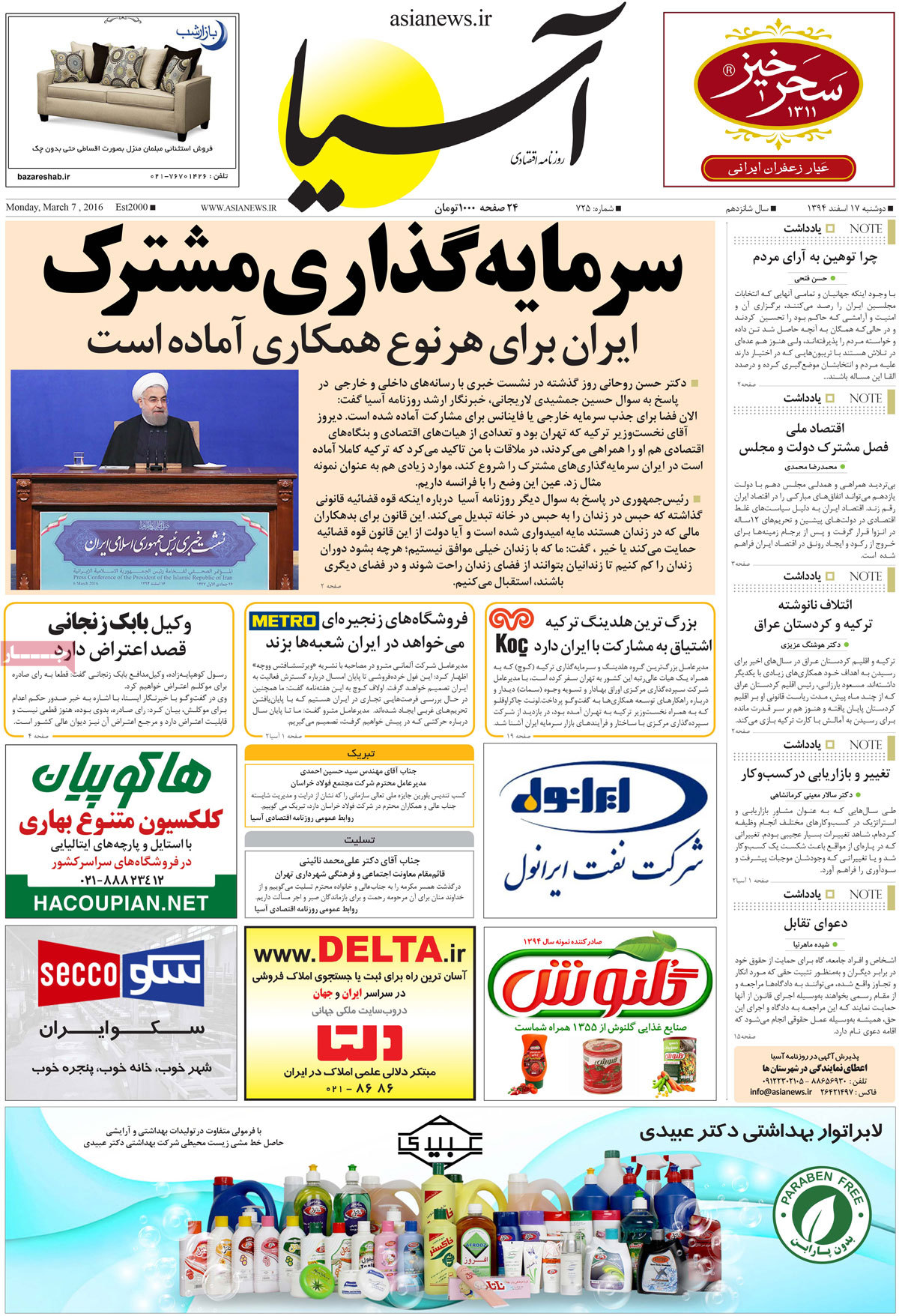 ---
Abrar-e Eqtesadi:
1.  Iran in talks with Russia, China, EU to supply drilling rigs
2.  Economic council seeking to sign deal with Airbus
3.  Iran to sell biggest liquid oil storage terminal
4.  Iran, Germany to revive ties