Abrar:
1.  Armed Syrian rebels take Iraq border crossing point from Daesh [ISIS]
2.  Operation to retake Mosul begins
ISIS bases shelled at entrance of Mosul
3.  Turkey seeking closer relations with Iran
4.  Ex-Brazilian president detained for corruption
5.  Leader attends Ayatollah Tabasi's funeral
6.  EU extends sanctions against North Korea
---
Asrar:
1.  U.N. Envoy: Syrians will determine Assad's fate
2.  Iran and Turkey moving towards reconciliation
3.  30,000 Iraqi forces mount Mosul operation
4.  2,600 drug bands busted in Iran: Commander
---
Arman-e Emrouz:
1.  Ayatollah Vaez Tabasi buried in Mashhad
The Grand Ayatollah, 80, passed away on Friday morning.
2.  Police bust ring of educated smugglers
3.  CBI chief says all Iran banks linked to SWIFT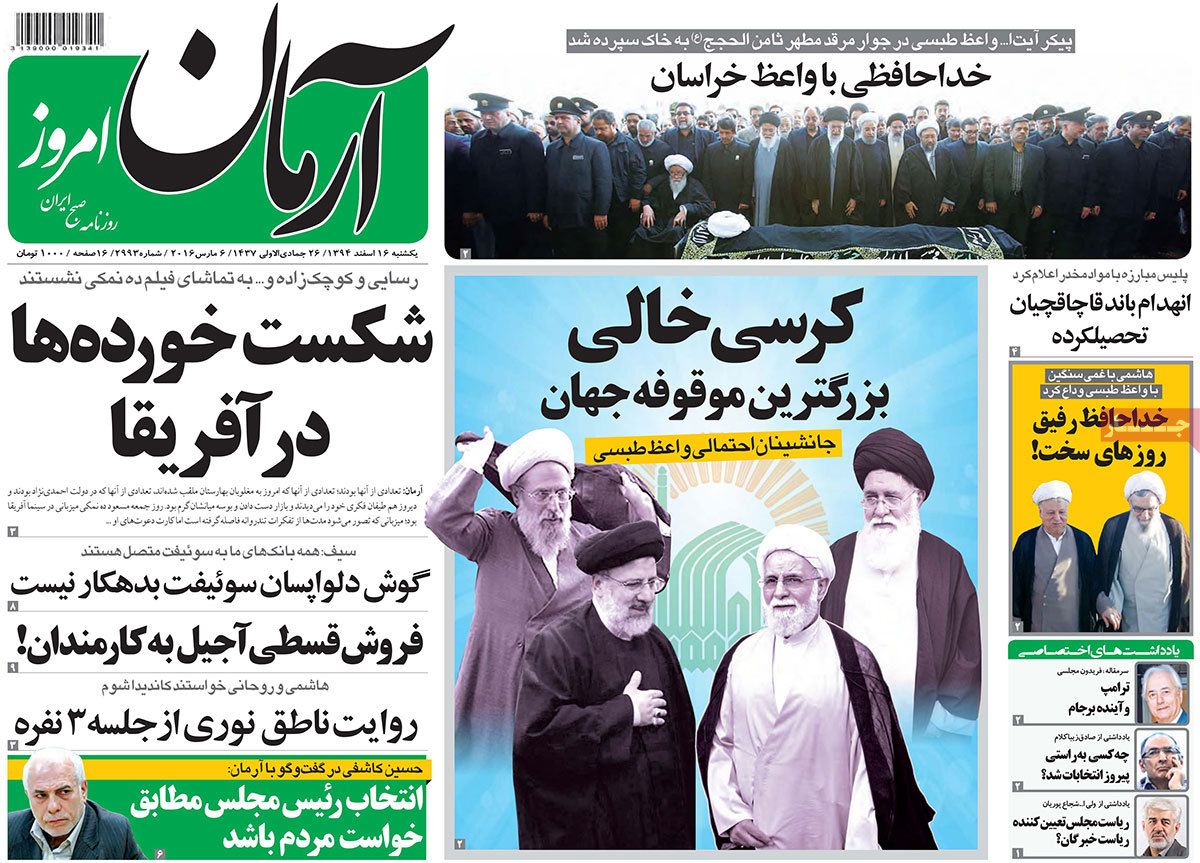 ---
Ebtekar:
1.  Report: People cease to support celebrities in elections
2.  Report: Who loses out with Iranian expulsions from Dubai?
3.  Turkey keen on boosting Iranian ties
4.  Zarif embarks on Asian tour
---
Ettela'at:
1.  Iran welcomes improved EU ties
2.  Sources: Hezbollah and Israel preparing for war
3.  Rouhani: Iran-Turkey ties can stabilize the region
4.  110,000 drug addicts rounded up in cities
These addicts used the drugs openly in urban areas.
---
Etemad:
1.  Turkey aims for $30bn in Iran trade ties
2.  Do not fear Iran, travel here: Message of 2nd Iran-EU trade conference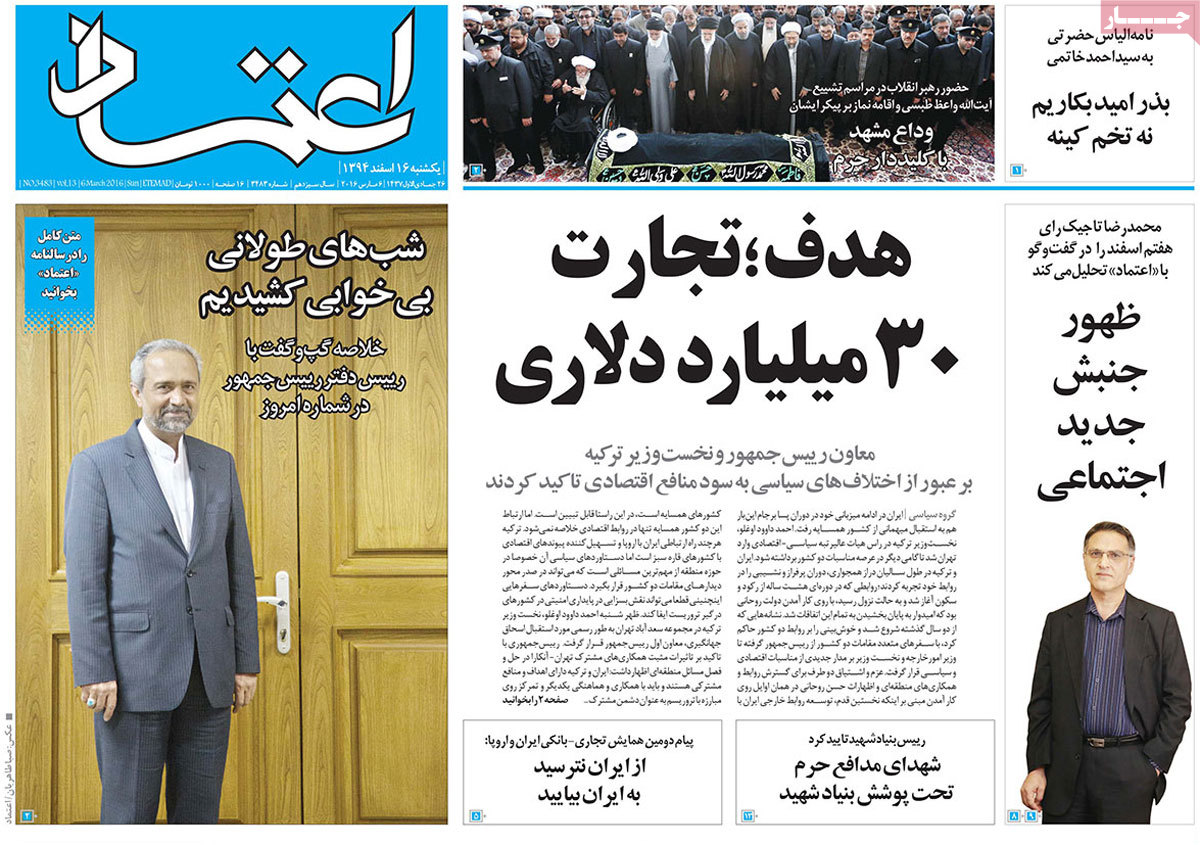 ---
Afkar:
1.  Iran and EU resume goods trade
2.  Davutoglu: Iran's hidden treasure in tourism
3.  Israel's allies blacklist Hezbollah as terrorists: Viewpoint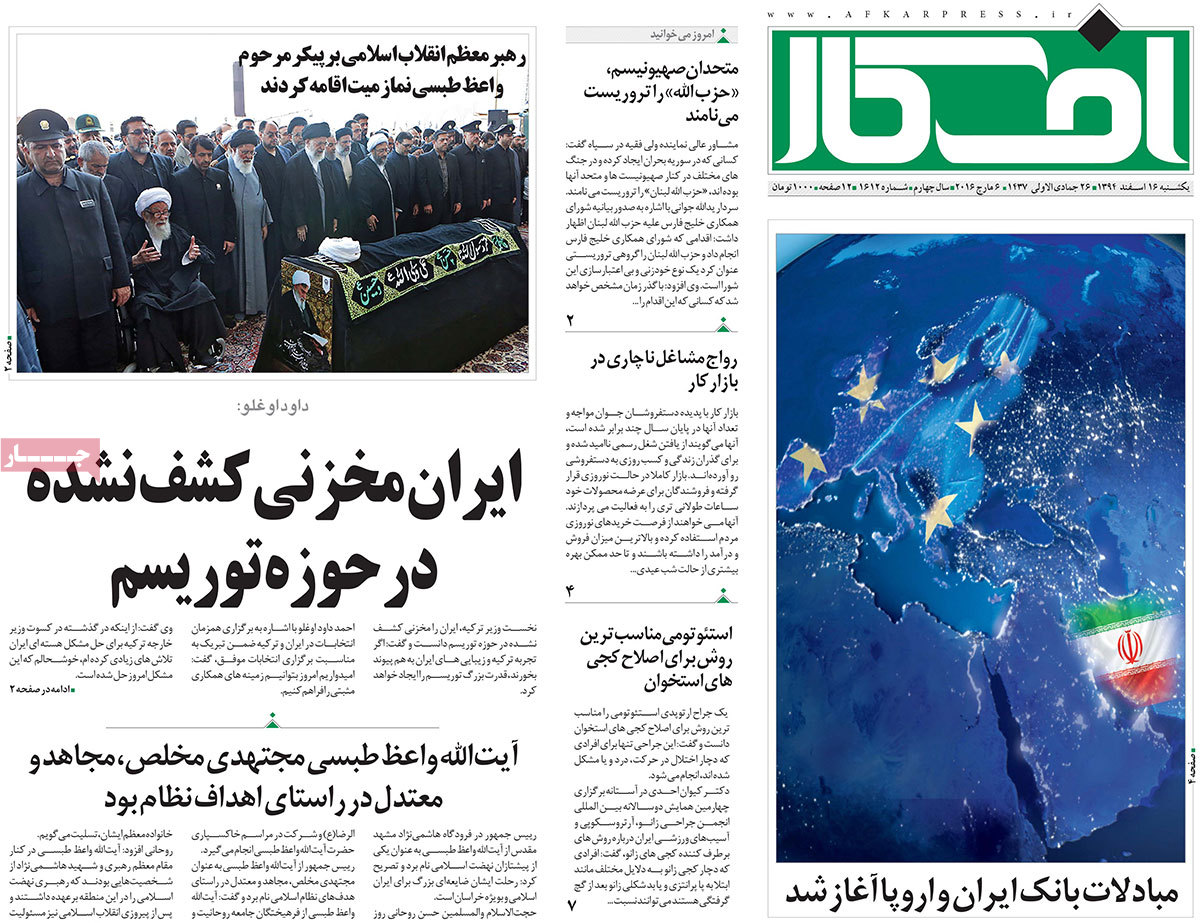 ---
Emtiaz:
1.  CBI aims for 1-digit inflation rate: Chairman
2.  Iran to boost crude oil exports to 2mb/d: Official
3.  Exceptional 7,000-year old graves discovered in southwestern Iran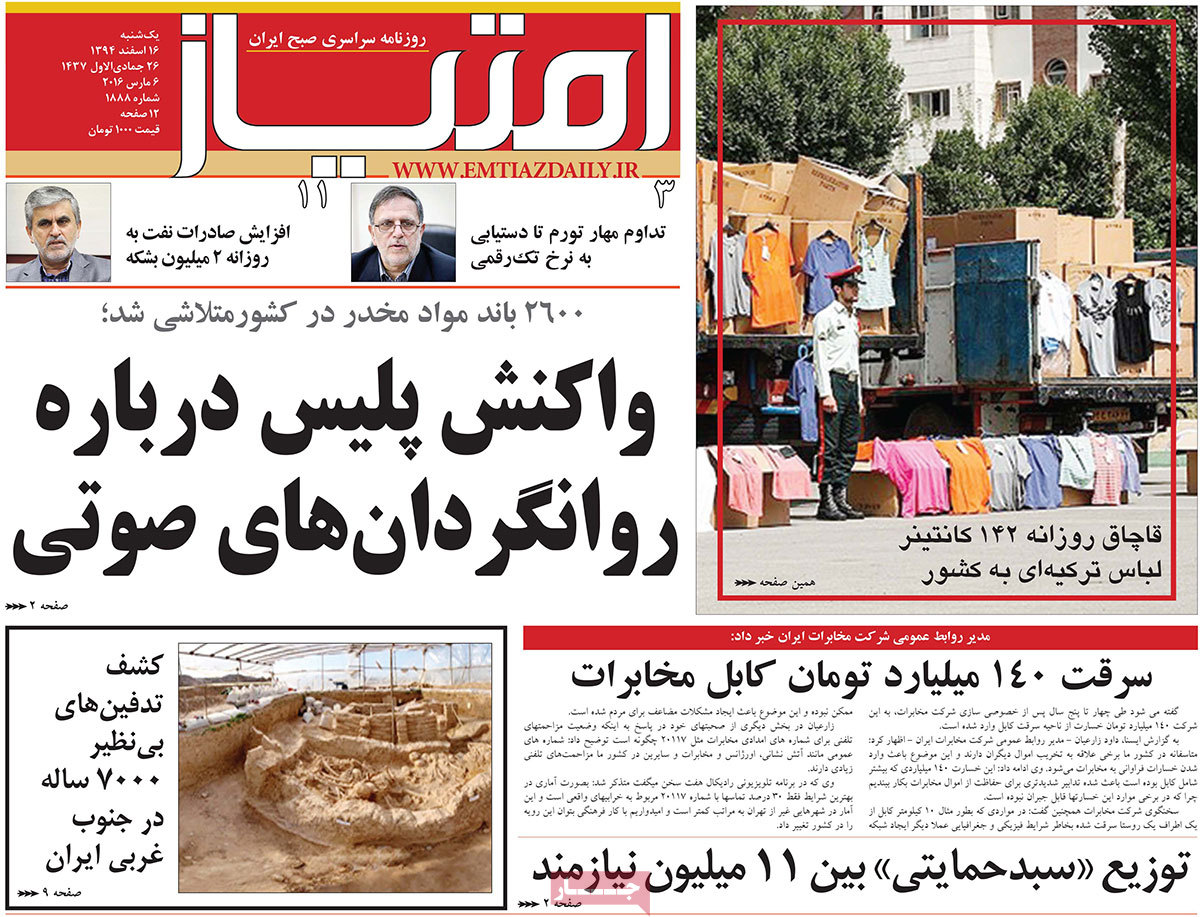 ---
Iran:
1.  Rouhani: Every country's future must be determined by its people
2.  Iran holds special summit to open new chapter in EU relations
3.  Iran Aviation Organization and BA sign co-operation deal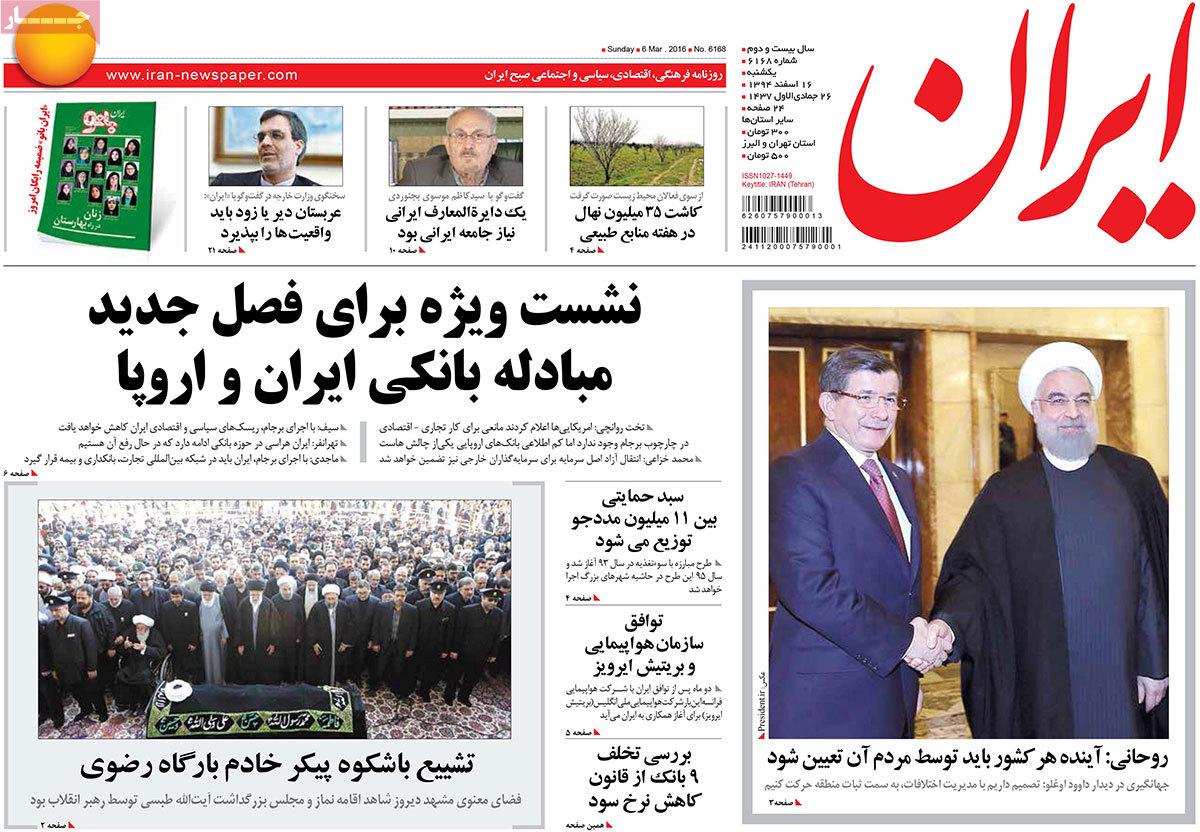 ---
Payam Zaman:
1.  15% rise in workers' salaries
2.  No drug workshops in Iran
3.  Iran and Turkey interested in regional peace, security: VP
---
Jomhouri Eslami:
1.  Iran and Turkey to restore peace and security in region
2.  Ayatollah Tabasi's glorious funeral in Mashhad – Leader attends
3.  Muslims around the world support Hezbollah against Saudi-Israeli plot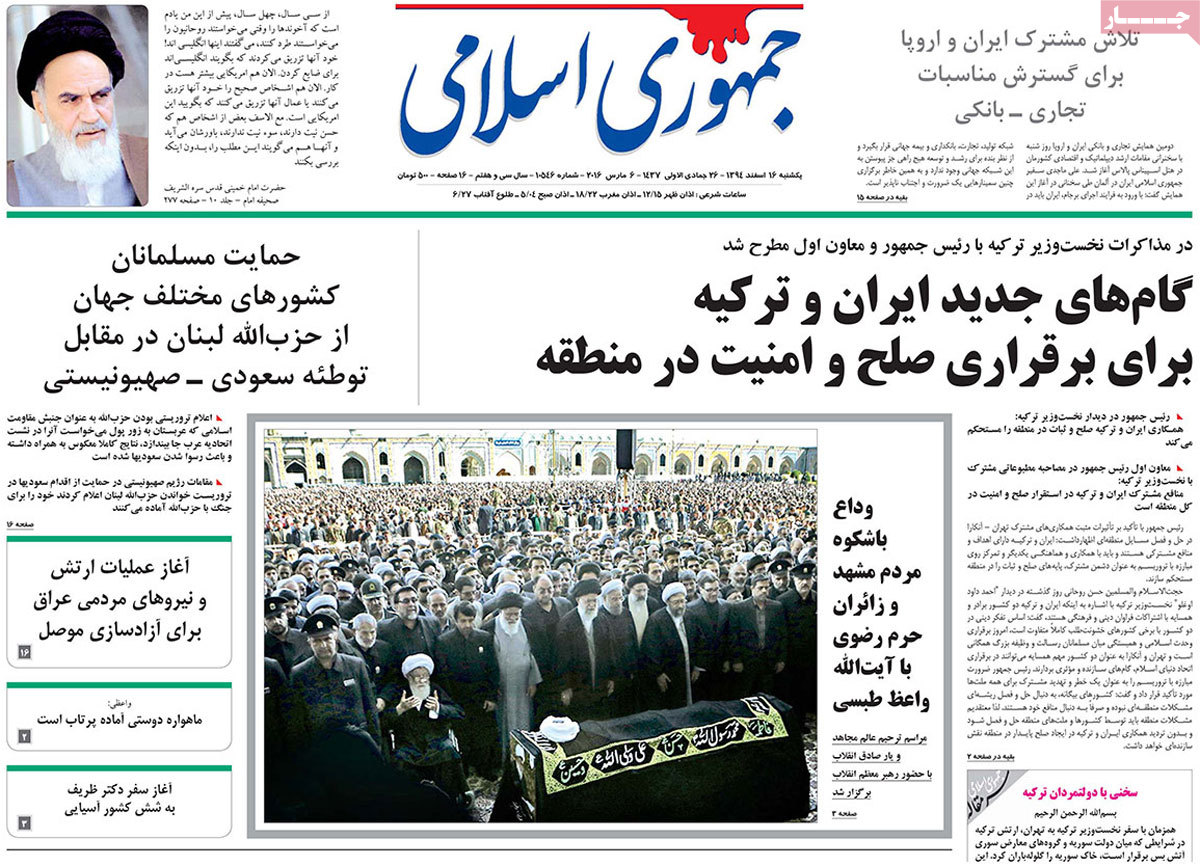 ---
Javan:
1.  SWIFT freed for Iran banks; no links yet
Diplomat: European banks no longer wary [of dealing with Iran]
---
Hemayat:
1.  US sabotages Iran-EU banking relations
2.  30,000 Iraqi forces line up to retake Mosul
3.  VP: Iran and Turkey can ensure regional stability by managing strife
4.  IRGC monitors all Persian Gulf traffic: Commander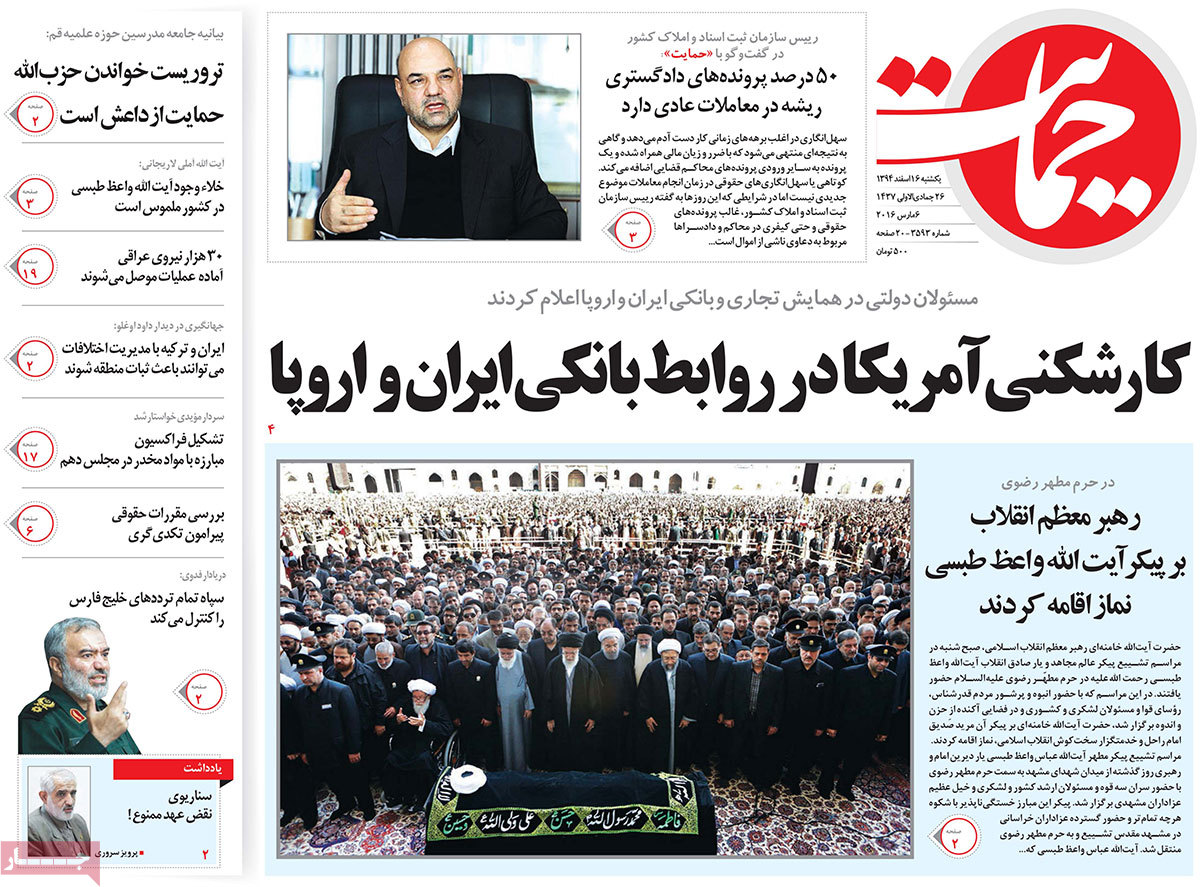 ---
Rah-e Mardom:
1.  Economists differ on government's economic performance: Interviews
2.  European banks keen on restoring ties with Iran
3.  Pasargad Bank hailed as job-creator in Iran
4.  Romania seeking to buy natural gas from Iran
---
Roozan:
1.  Tehran, Ankara; Friendship, rivalry, dispute management
2.  CBI resolved to curb money laundering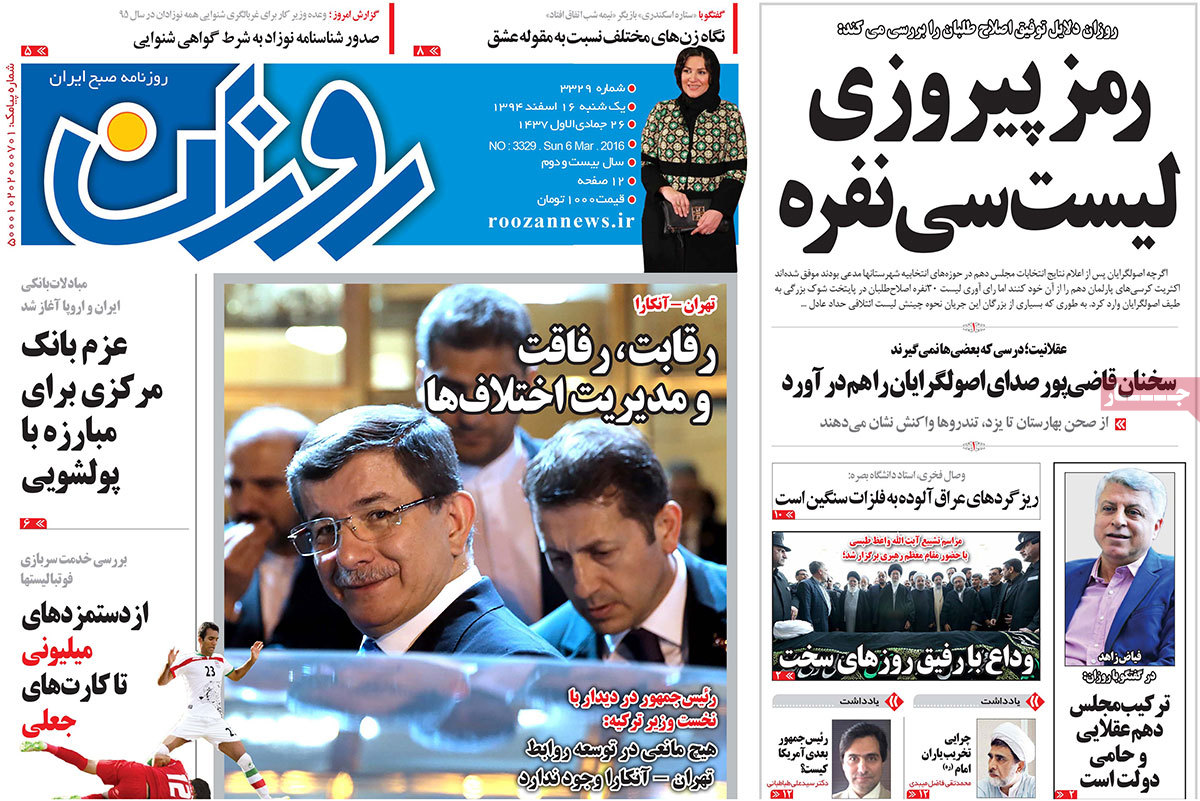 ---
Rooyesh Mellat:
1.  Restoring peace in Iran and Turkey's common interest: VP
2.  Paris opposes parliamentary elections in Syria
---
Shargh:
1.  Iran, Turkey co-op. can bolster regional stability
2.  Leader leads prayers over Ayatollah Tabasi's body in Mashhad
3.  US fears restoration of Iran-EU banking ties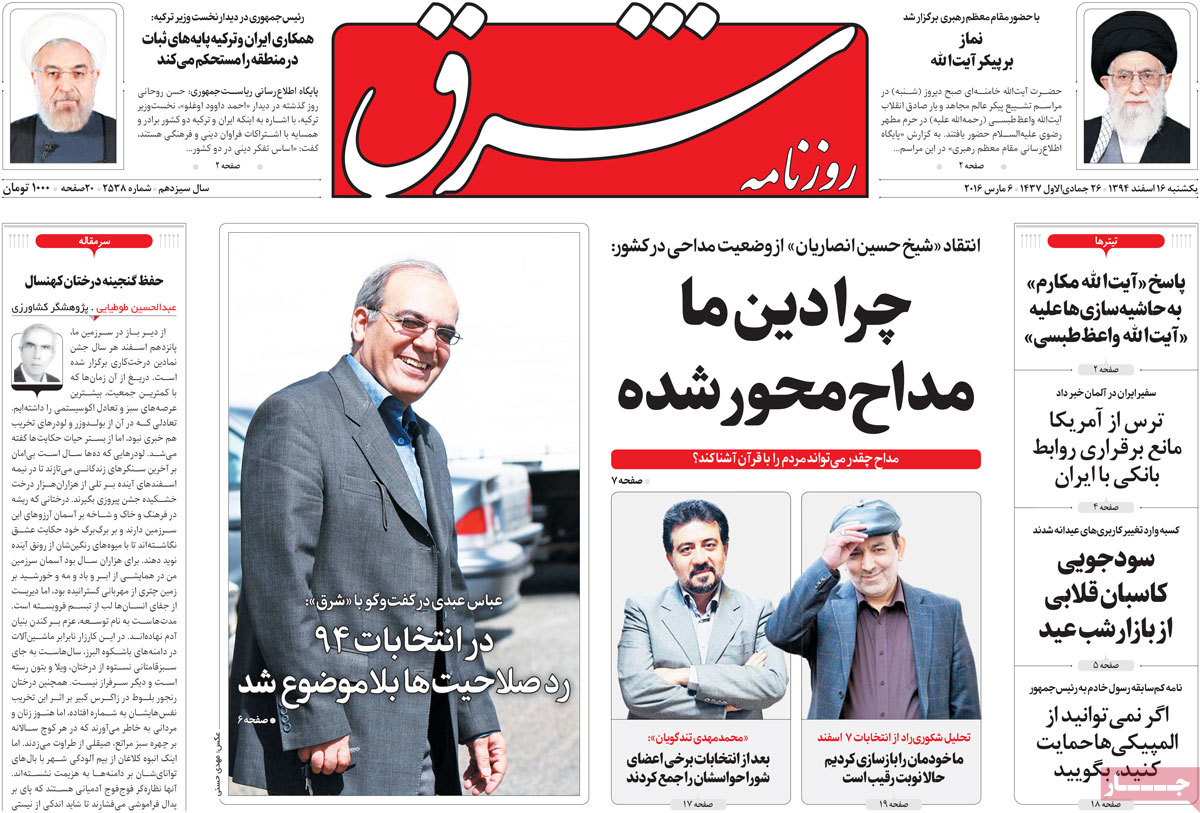 ---
Shahrvand:
1.  Iran launches campaign to counter malnutrition in suburbs
2.  VP's advice to Turkish premier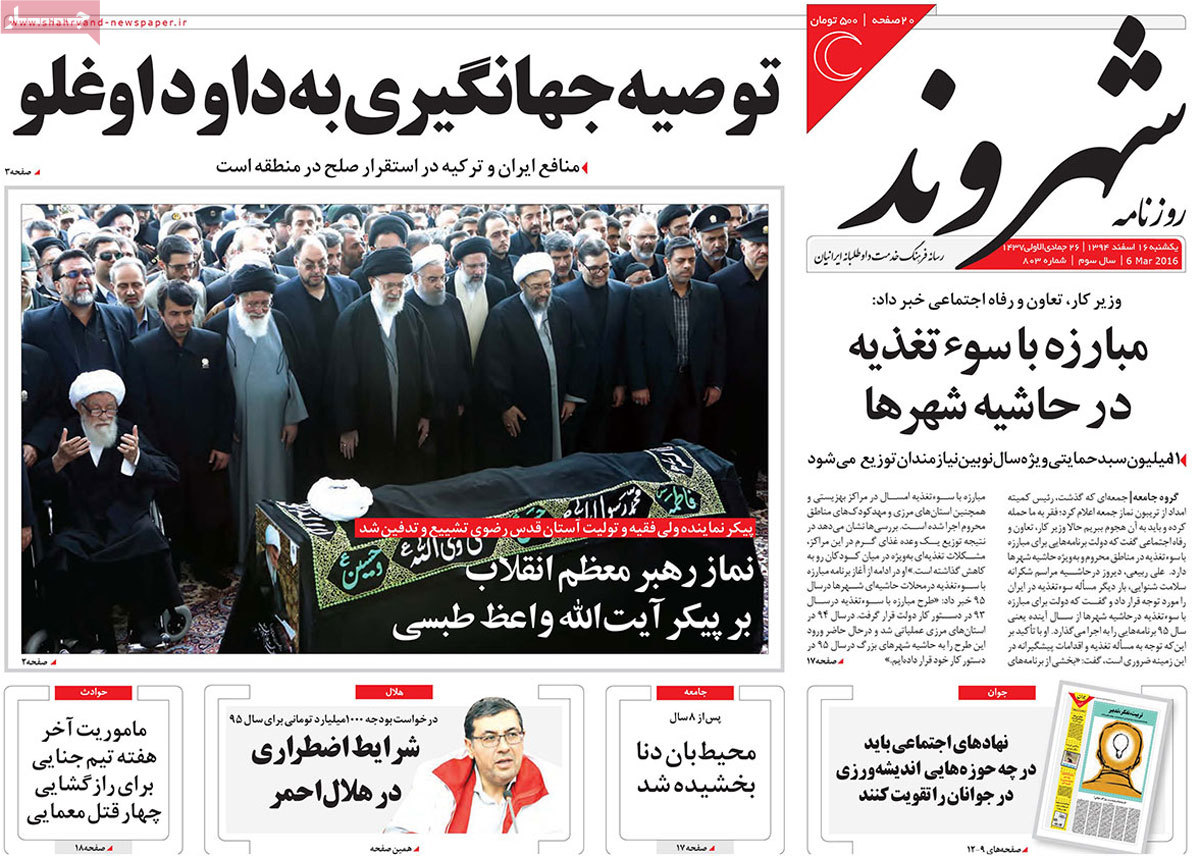 ---
Saheb Ghalam:
1.  Leave allows Boeing to engage in talks with Iran
2.  VP: Iran will work towards $30bn in prospective Tehran-Ankara trade
3.  Iran and Italy jointly produce furniture
4.  Administration prioritizes economic reform
5.  Germany to modernize Iran's solar energy industry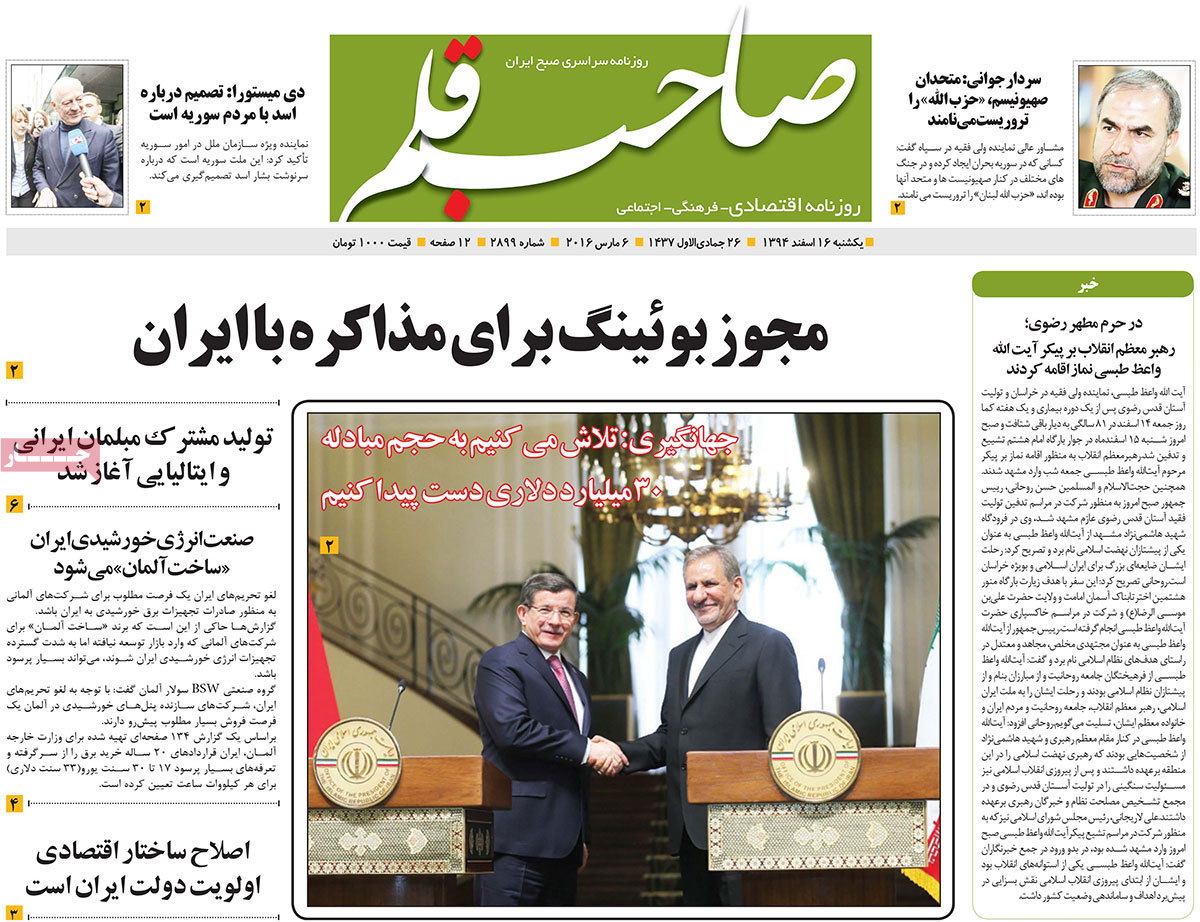 ---
Kayhan:
1.  Iranian businesses still faced with trouble: Magnate
2.  Glorious farewell to staunch Imam, Leader's aide
3.  US is a big Guantanamo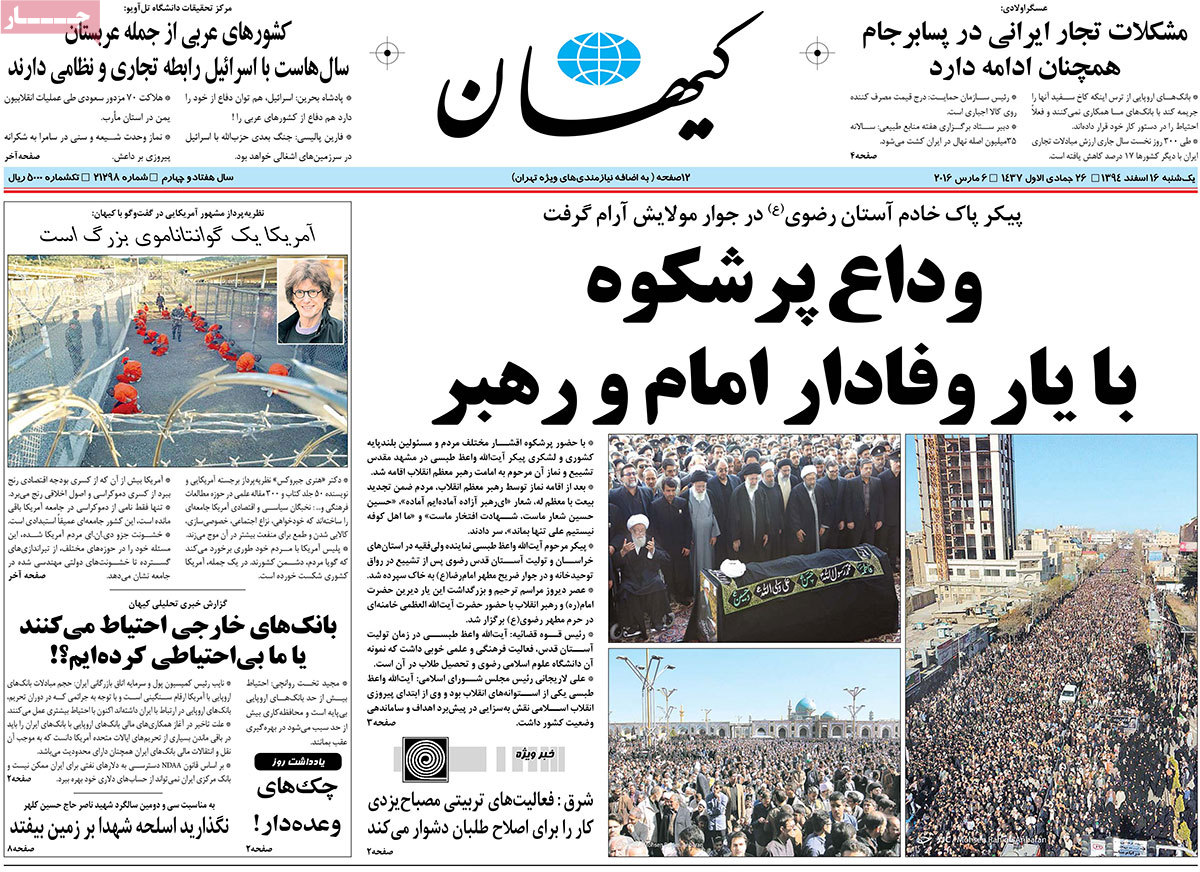 ---
Asia:
1.  Bulgarian business delegation arrives in Tehran on Monday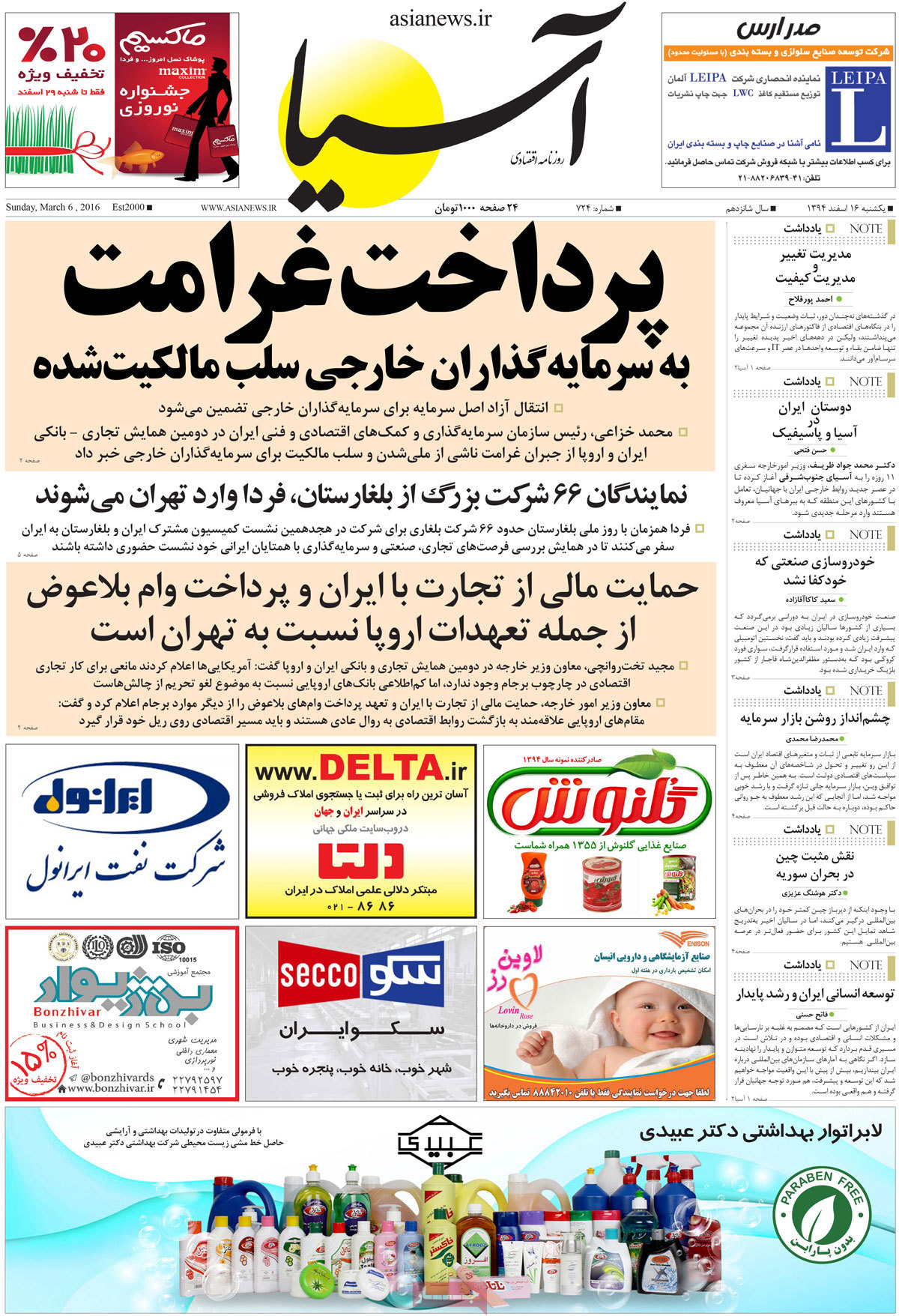 ---
Abrar Eqtesadi:
1.  Pakistan seeks to resume Iranian oil imports
2.  Iranian oil exports to exceed 2mb/d: Official
3.  Iran and Iraq compete to export oil to Turkey