Abrar:
1.  UNSC passes fresh sanctions on N. Korea
2.  Iran slams PGCC statement
3.  Iran to unveil new tank within days
4.  Saudi prince visits France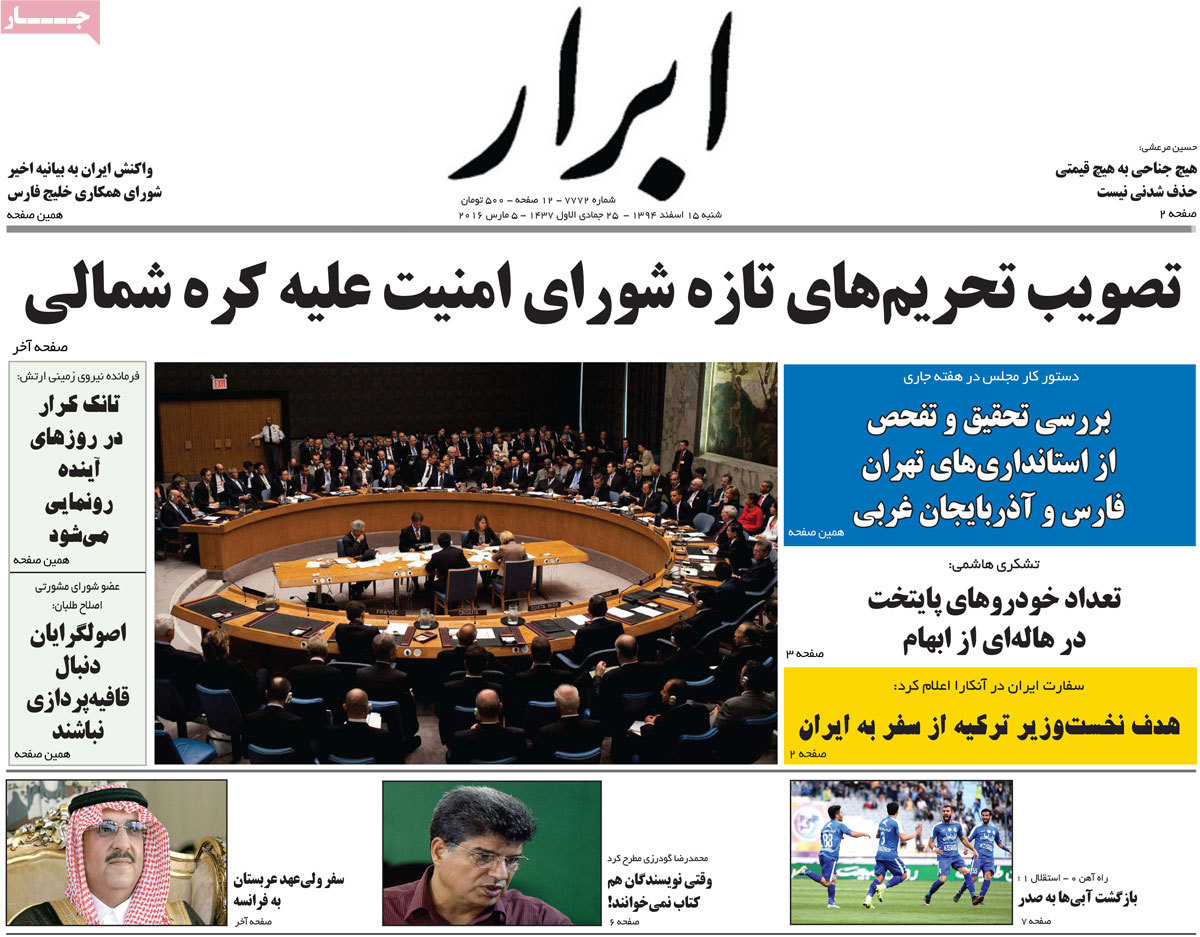 ---
Afkar:
1.  Iran boosts saffron exports to US
2.  Tehran Friday Prayer Imam: Stop adding fuel to fire of discord, sectarianism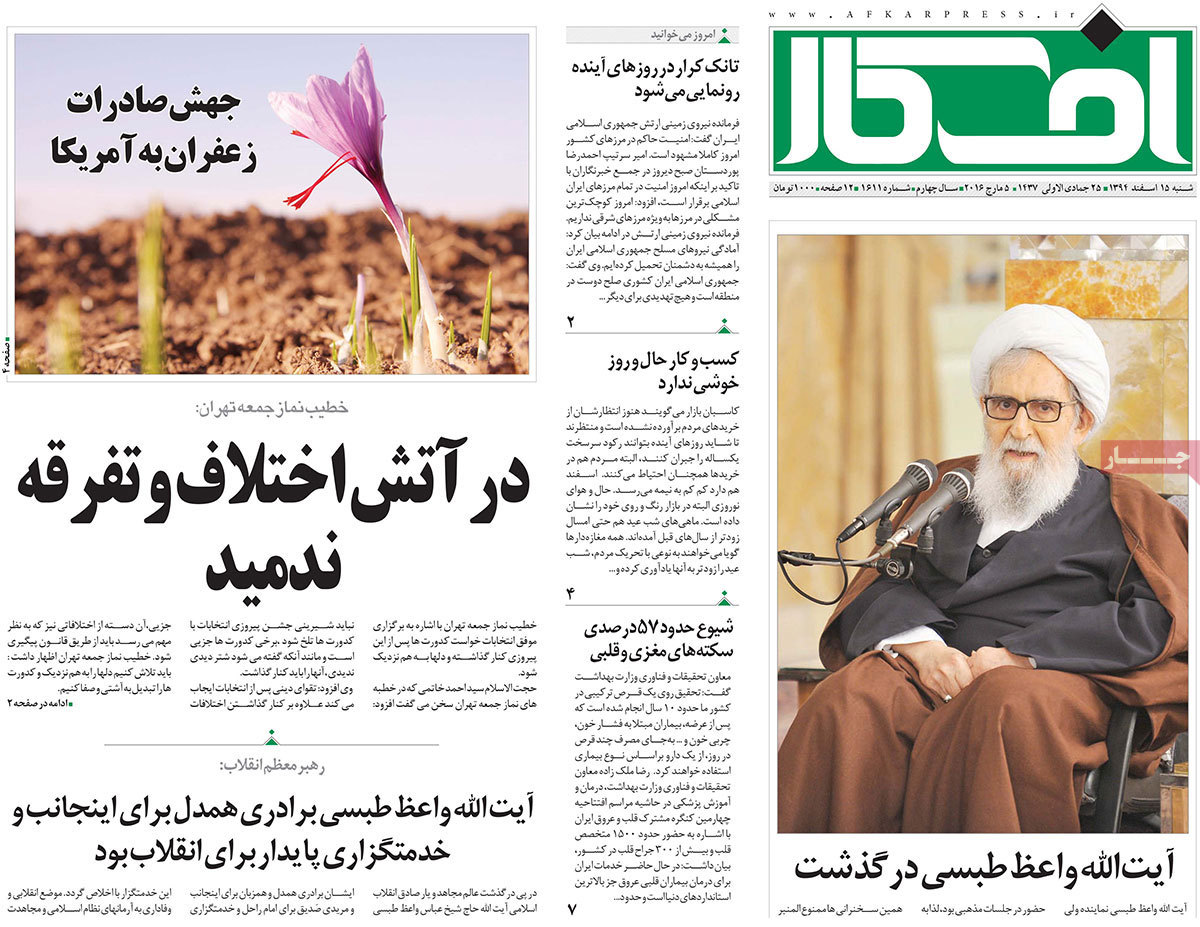 ---
Asrar:
1.  Ayatollah Javadi: Some banks Islamic only in appearance
2.  Ethics, shunning extremism to be sought by 10th parl.: Reformist MP
3.  Saudi embassy attack, adventure rather than revolutionary act: Official
4.  Turkish diplomacy in Tehran
5.  Iran boosts oil exports to Europe
6.  Dissolution of Iraq, Syria, Yemen must be shunned: Iranian official
7.  N. Korea leader announces nuclear threat
---
Arman-e Emrouz:
1.  Grand Ayatollah passes away
Ayatollah Tabasi, chairman of the Astan Qods Razavi, 80, died Friday morning. The leader condoled his demise in an immediate statement, describing the ayatollah an "understanding, sympathetic brother.
2.  FM speaks of 6 years staying at home in interview
Minister of Foreign Affairs Mohammad Javad Zarif said he had to stay home for 6 years under Ahmadinejad.
---
Ettela'at:
1.  Iran launches 7,000km of aerial routes
2.  Leader hails 37 years of honest services by deceased Ayatollah Tabasi
3.  Terrorist armed attack, blast in Istanbul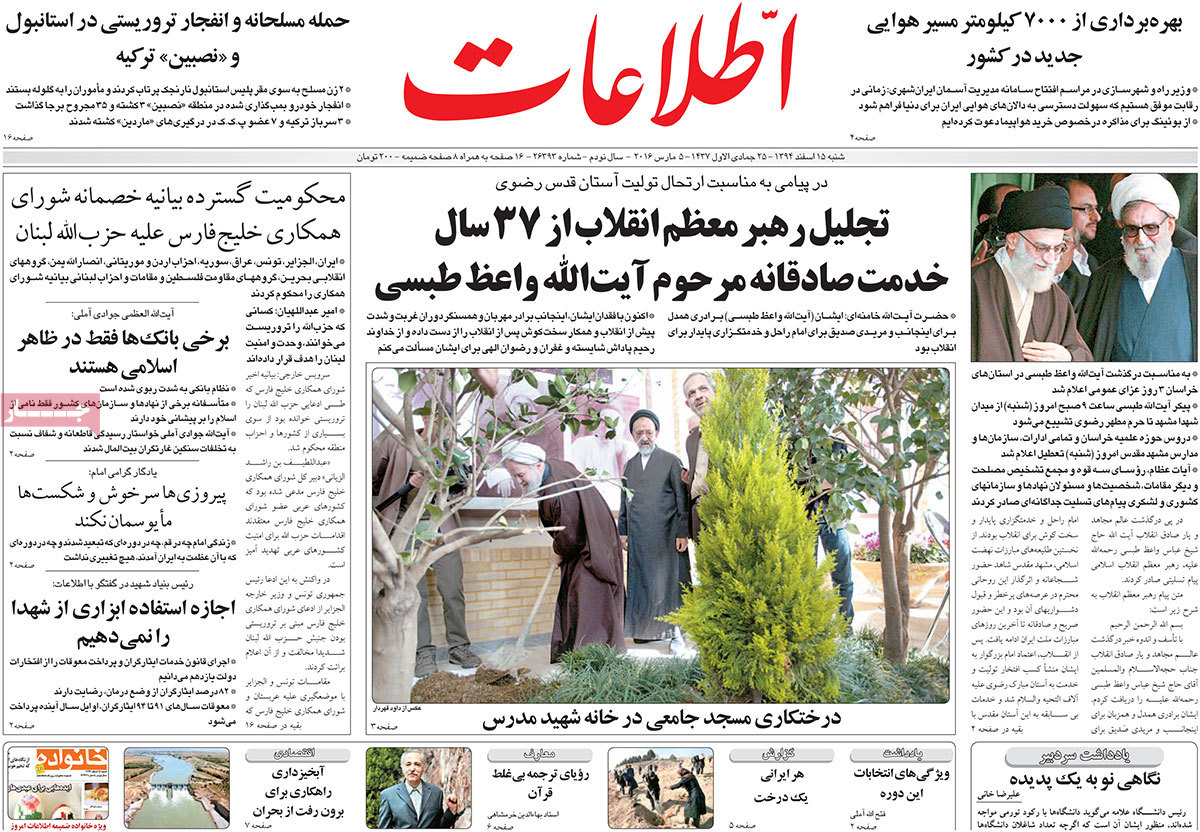 ---
Ebtekar:
1.  Winners of runoff election to determine winning parties in parliament
2.  Turkish PM heads delegation to Tehran
3.  Zarif: Obama told me something bitter
---
Emtiaz:
1.  Number of Tehran cars unclear
2.  Health minister: Number of car accident deaths national disaster
3.  No deals signed with Shell, BP: official
4.  Iran invites Boeing for talks
---
Iran:
1.  Zarif: World regards JCPOA Iranian victory
2.  Boeing coming to Iran for talks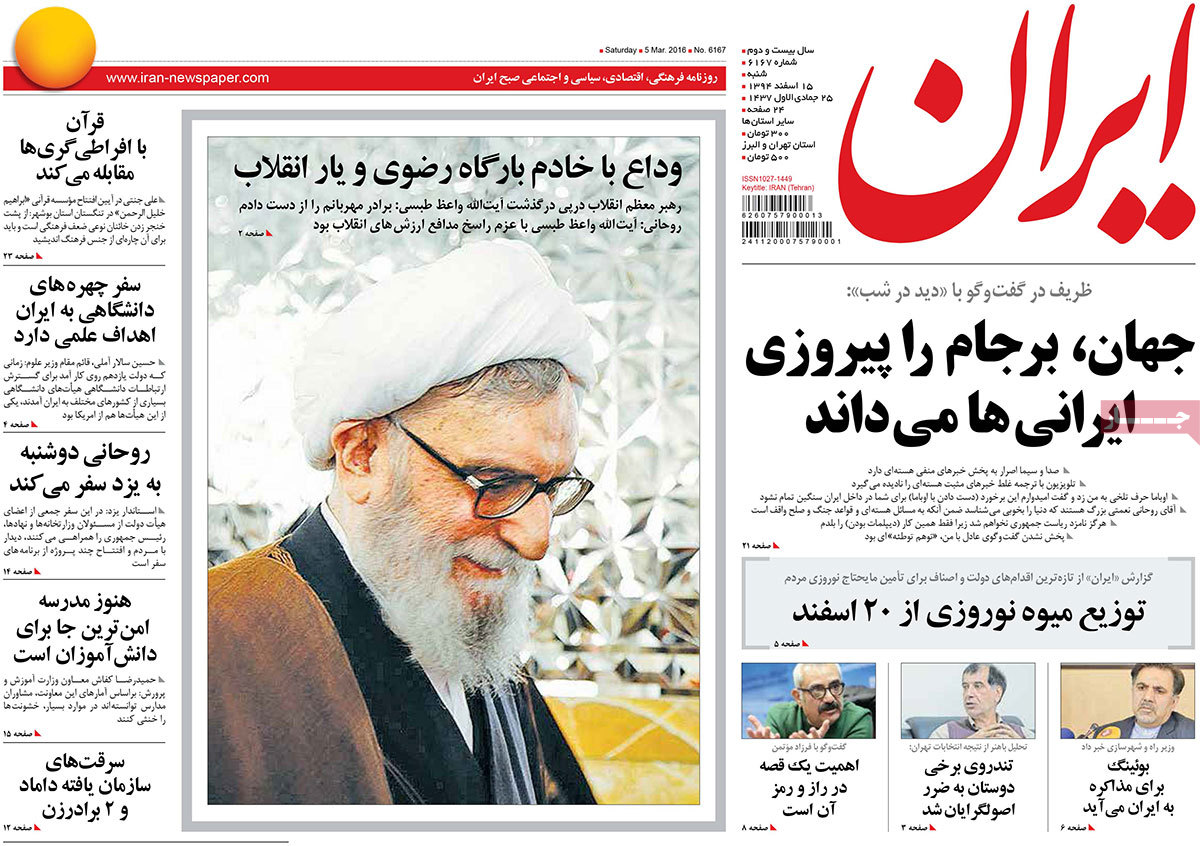 ---
Jamejam:
1.  Viewpoint: Davutoglu's Tehran visit, chance for Tehran-Ankara reconciliation
2.  1,200 Quran memorizes in one village
3.  Lavrov: Syrian truce permanent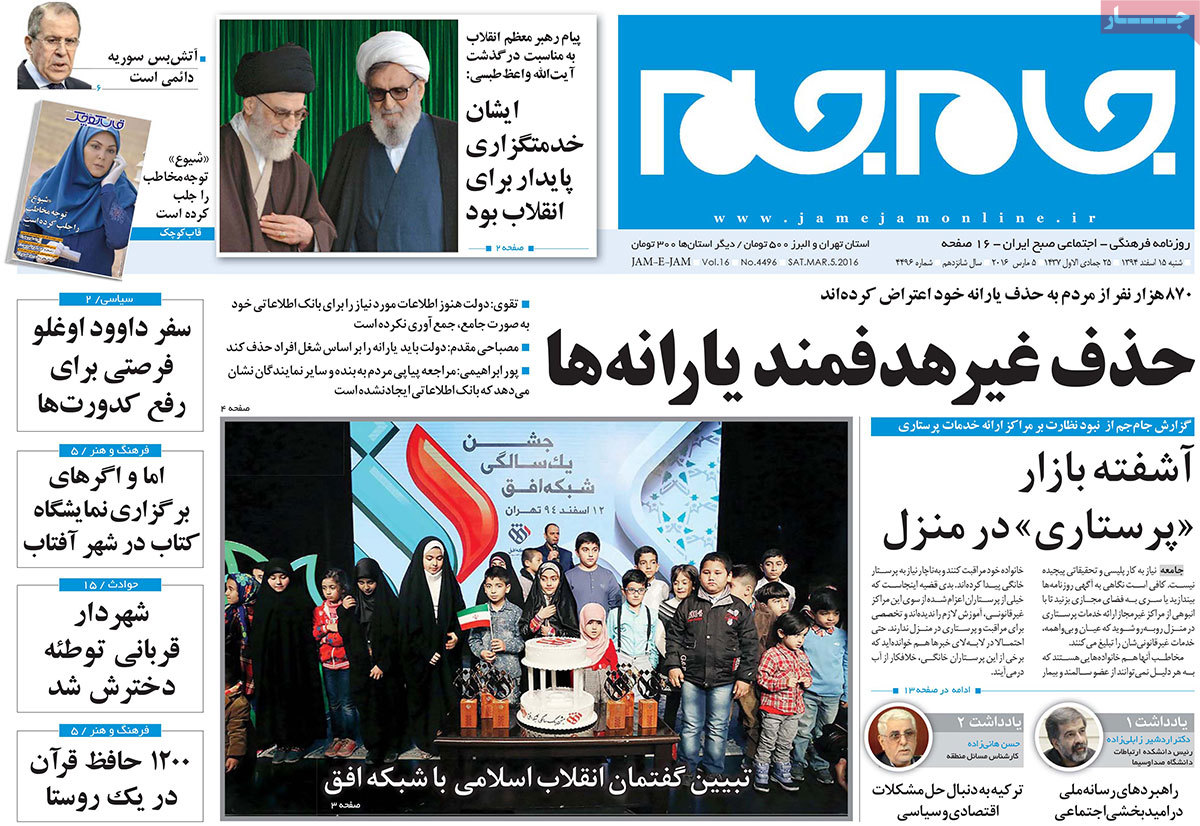 ---
Javan:
1.  IRR1,700m interest on IRR1,600m housing loans
2.  Anti-Israel campaign in 250 world cities, universities
3.  North Korea makes nuclear threat following UN sanctions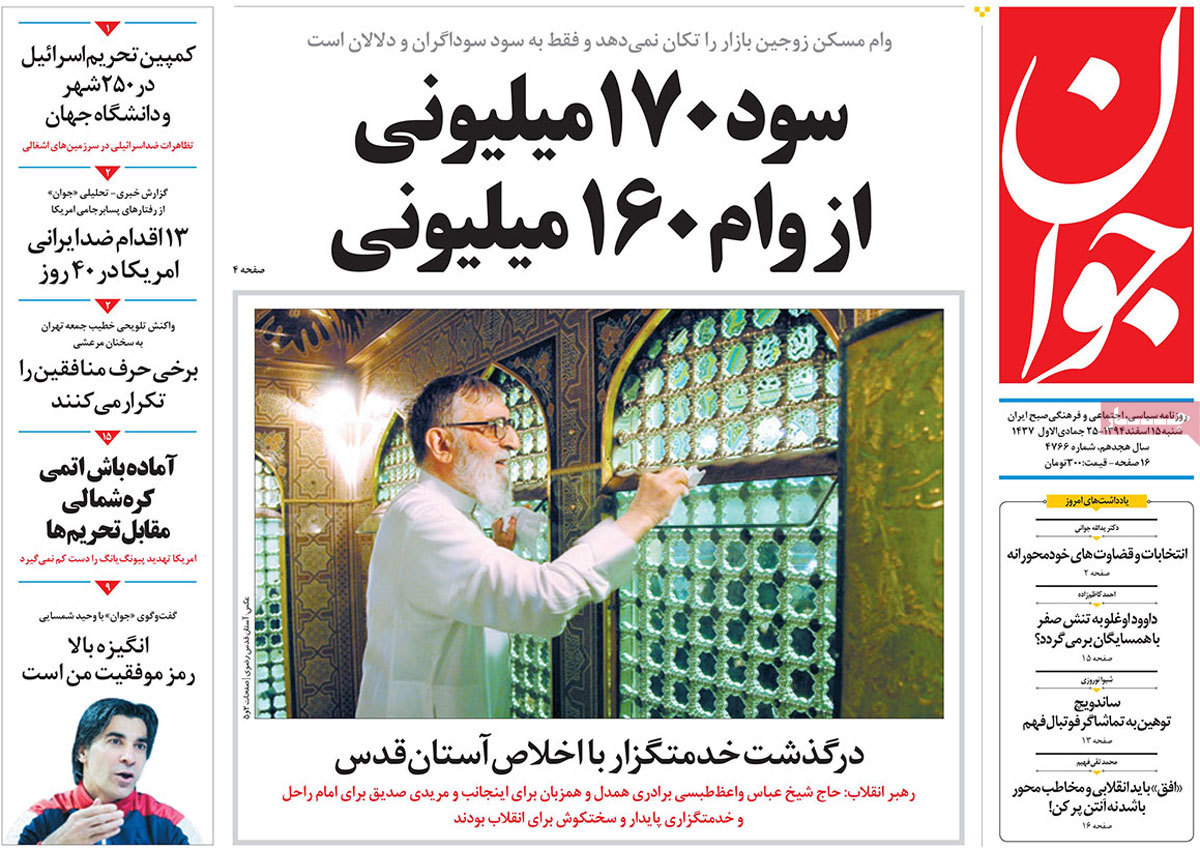 ---
Jomhouri Islami:
1.  Major crude producers meet in Russia to boost prices to $50/b
2.  Riyadh failure to line up Arabs against Hezbollah
3.  UNSC calls for termination of Yemen conflict
4.  Week of anti-Israeli racism in 250 world cities, universities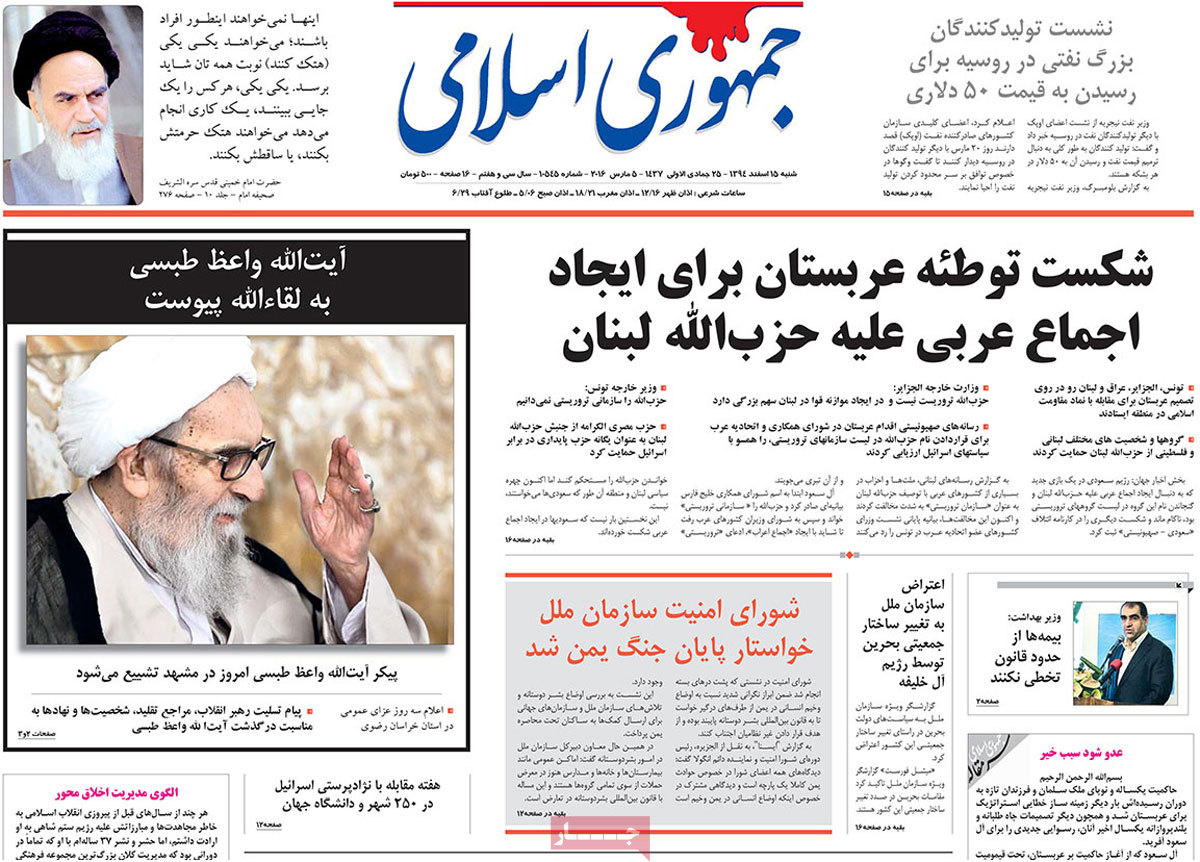 ---
Hemayat:
1.  Judiciary chief hails women qur'anic activities as "great bounty"
2.  PGCC serves Israel: Hezbollah
3.  Iran plans to employ 6,000 judges by 2021
4.  Tehran waste output rises by 25%
5.  202 NGOs serving families of Iranian inmates
6.  DIA chief: Sanctions no barrier for Iran missile program development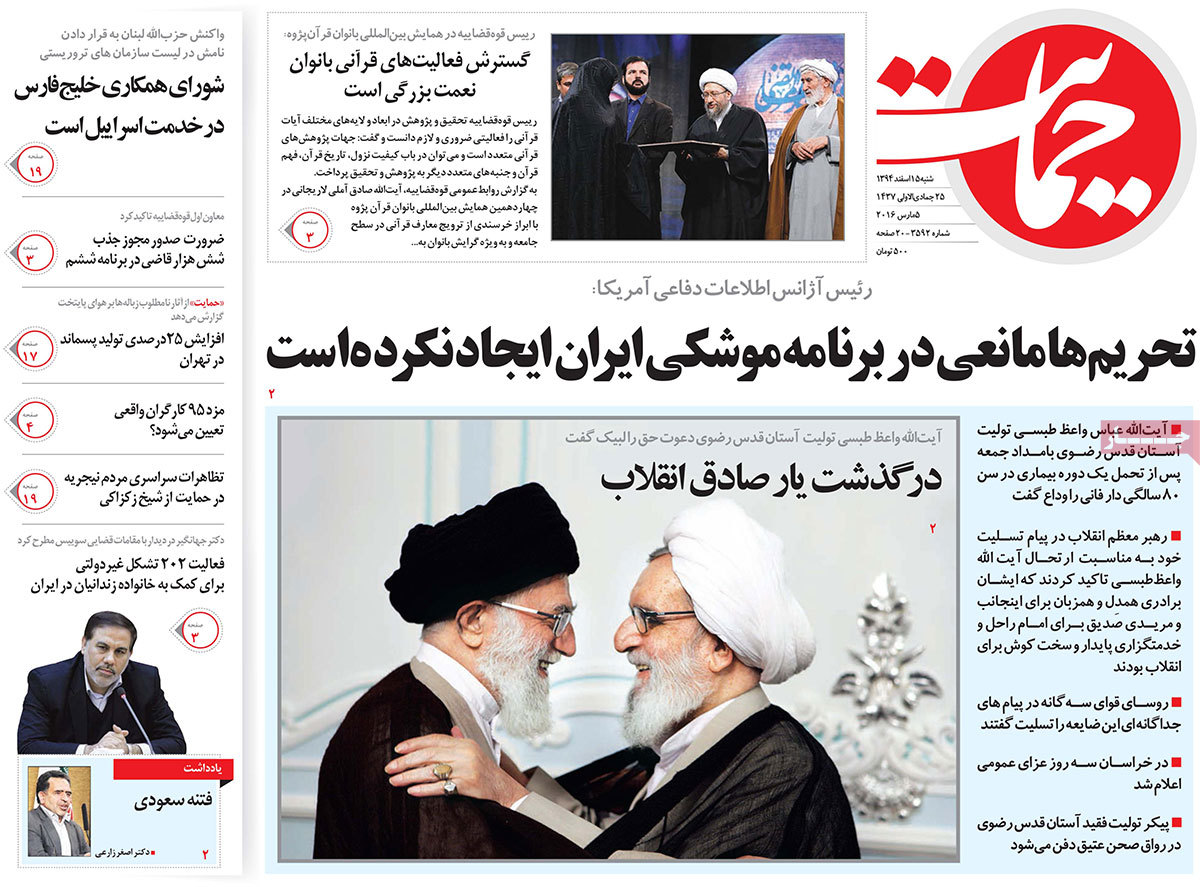 ---
Khorasan:
1.  Republican Party struggles with Trump
2.  Speculations about future Parliament Speaker, board of directors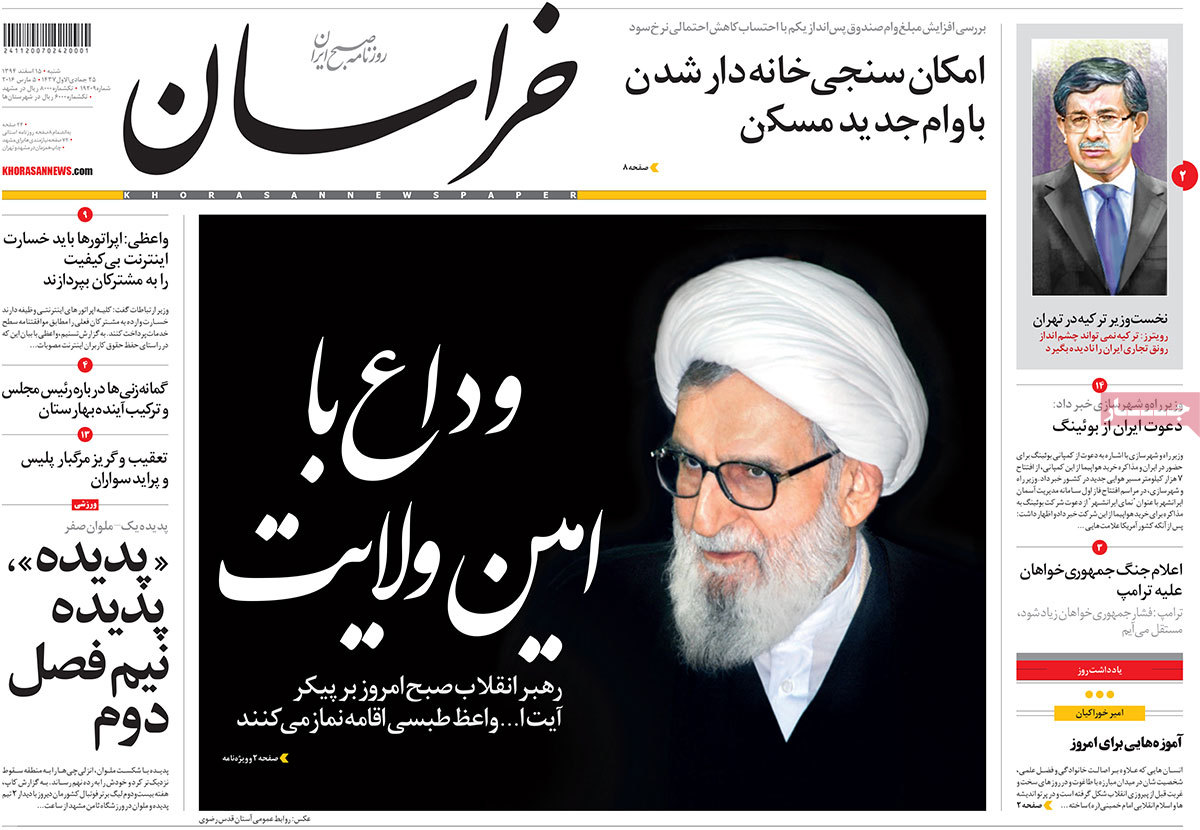 ---
Rah-e Mardom:
1.  Iran plans to boost oil exports to Europe
2.  Health minister travels 1,600km on land to head to desert: Report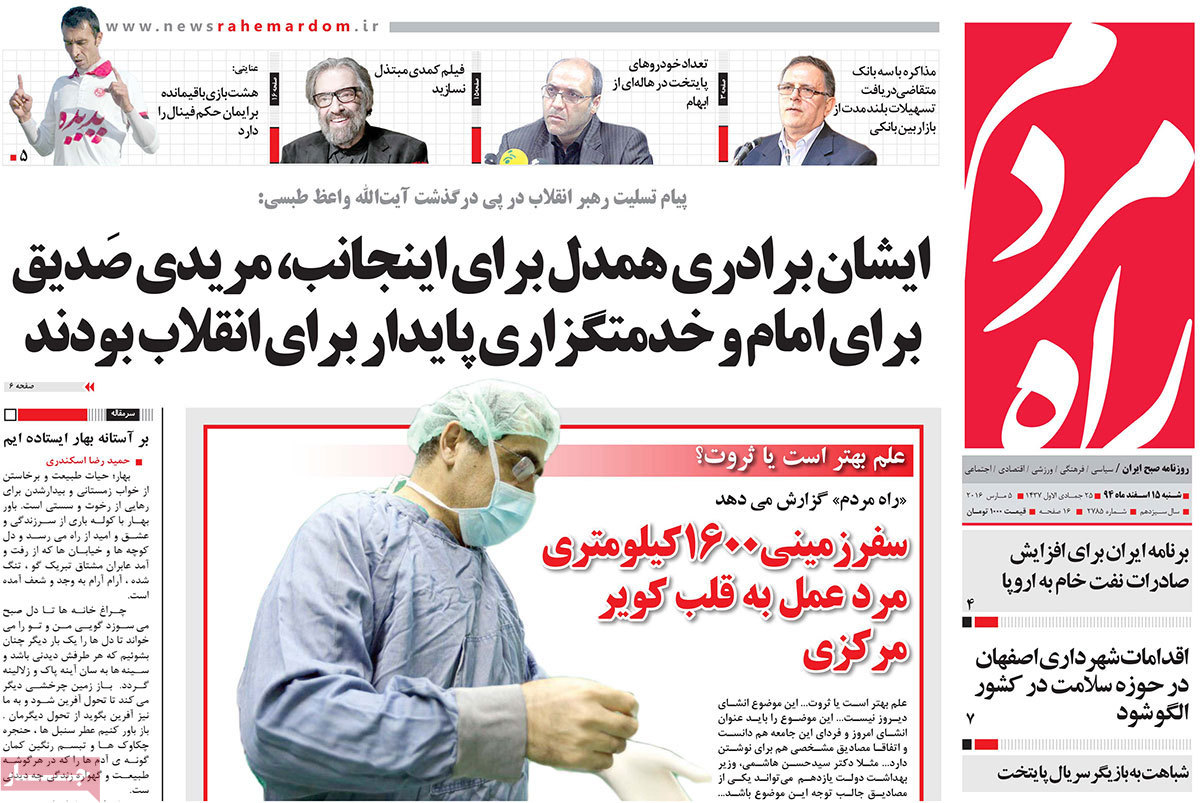 ---
Resalat:
1.  No strategic changes by replaced people in Iran: Friday Prayer Imam
2.  West violates Article 29 of JCPOA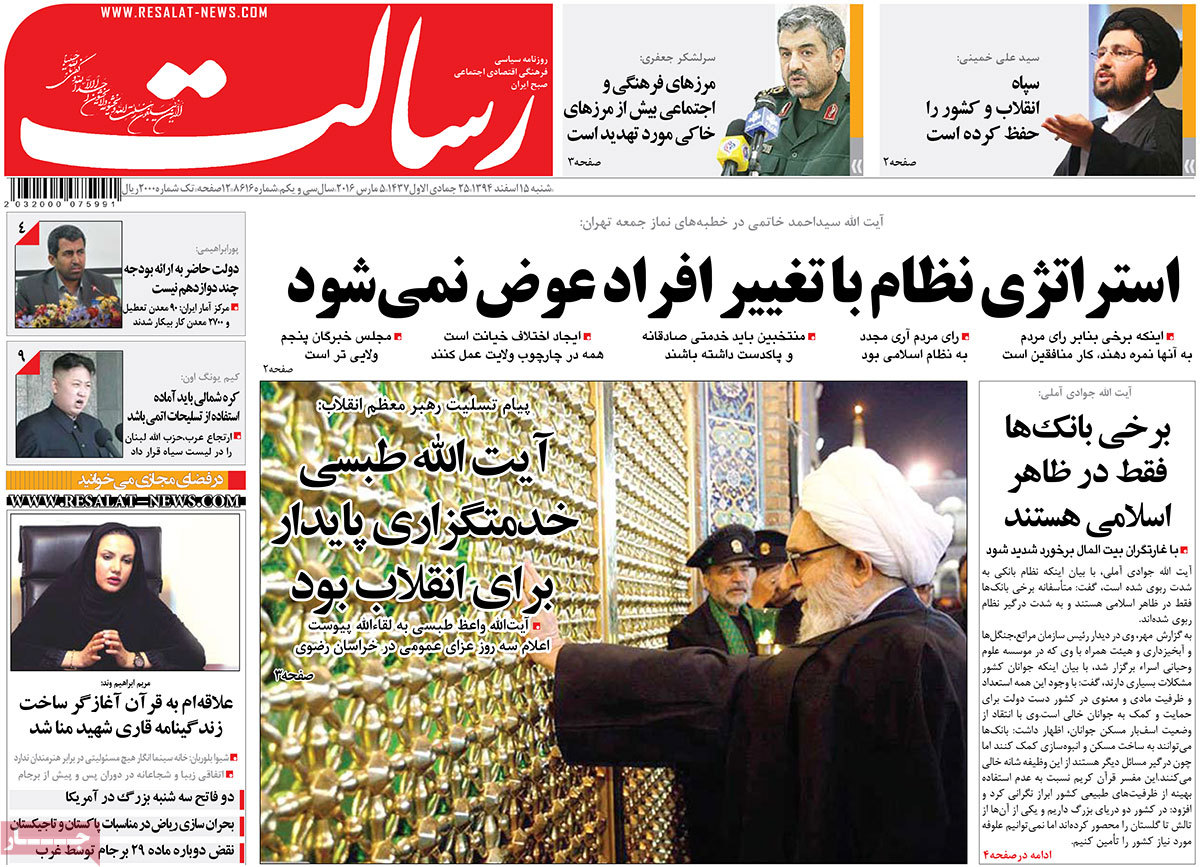 ---
Rooyesh Mellat:
1.  Lavrov: To time limits for Syrian ceasefire
2.  5 dangerous cosmetic brands
---
Sepid:
1.  Iran genetics ranked 5th in the world
2.  Report: 5 challenges, 14 weak points in health reform plan
---
Shargh:
1.  Astan Qods loses custodian
A review of the life of Ayatoolah Vaez Tabsi, 80, who passed away on Friday morning.
---
Sahib Qalam:
1.  Condolences pour in for Ayatollah Tabasi
2.  Iran stores 65,000 tons of fruit for new year holiday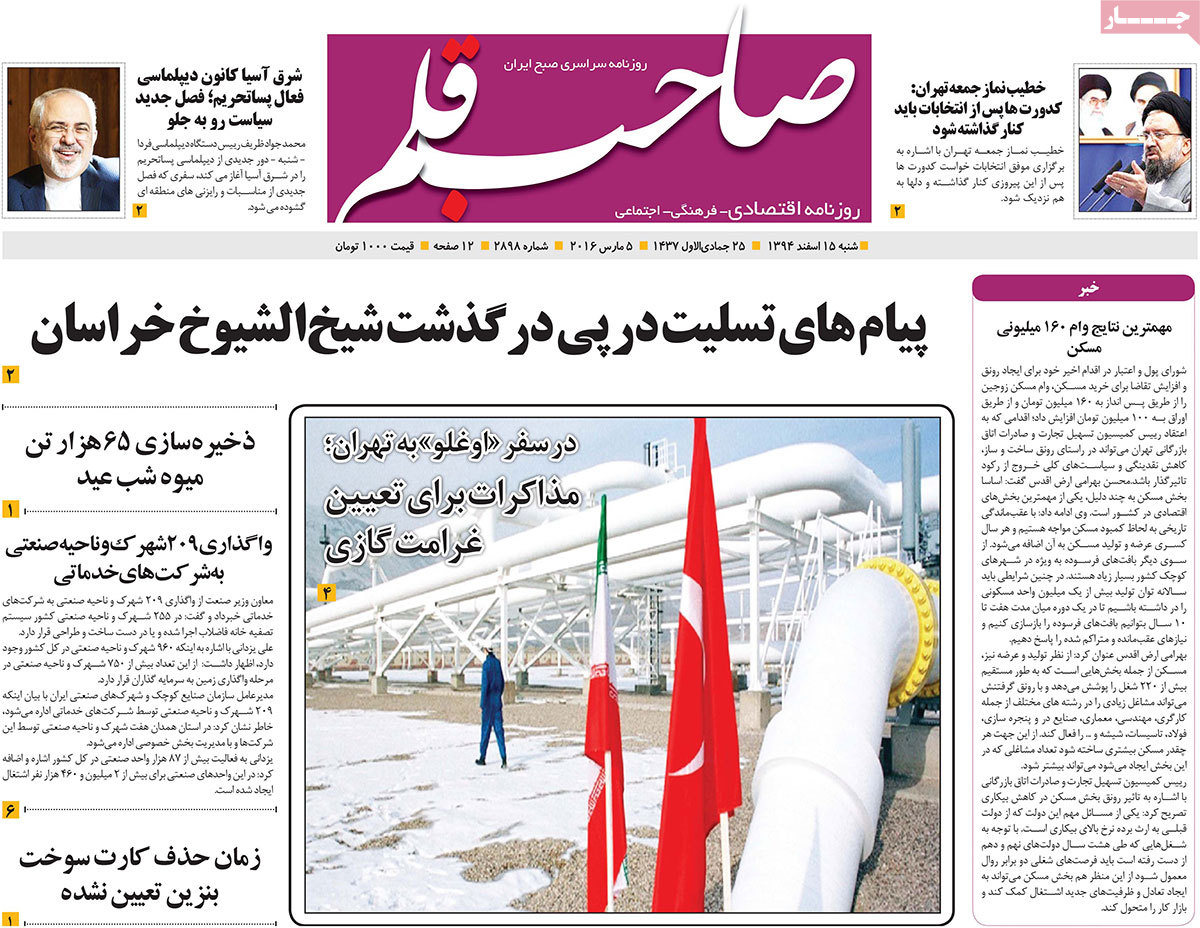 ---
Kayhan:
1.  No wonders if Bibi becomes head of PGCC: Raialyoum
2.  Swift banned for Iran, open for ISIS
---
Hamshahri:
1.  Tehran subway sets new saving records
2.  Turkey seeking reconciliation with Iran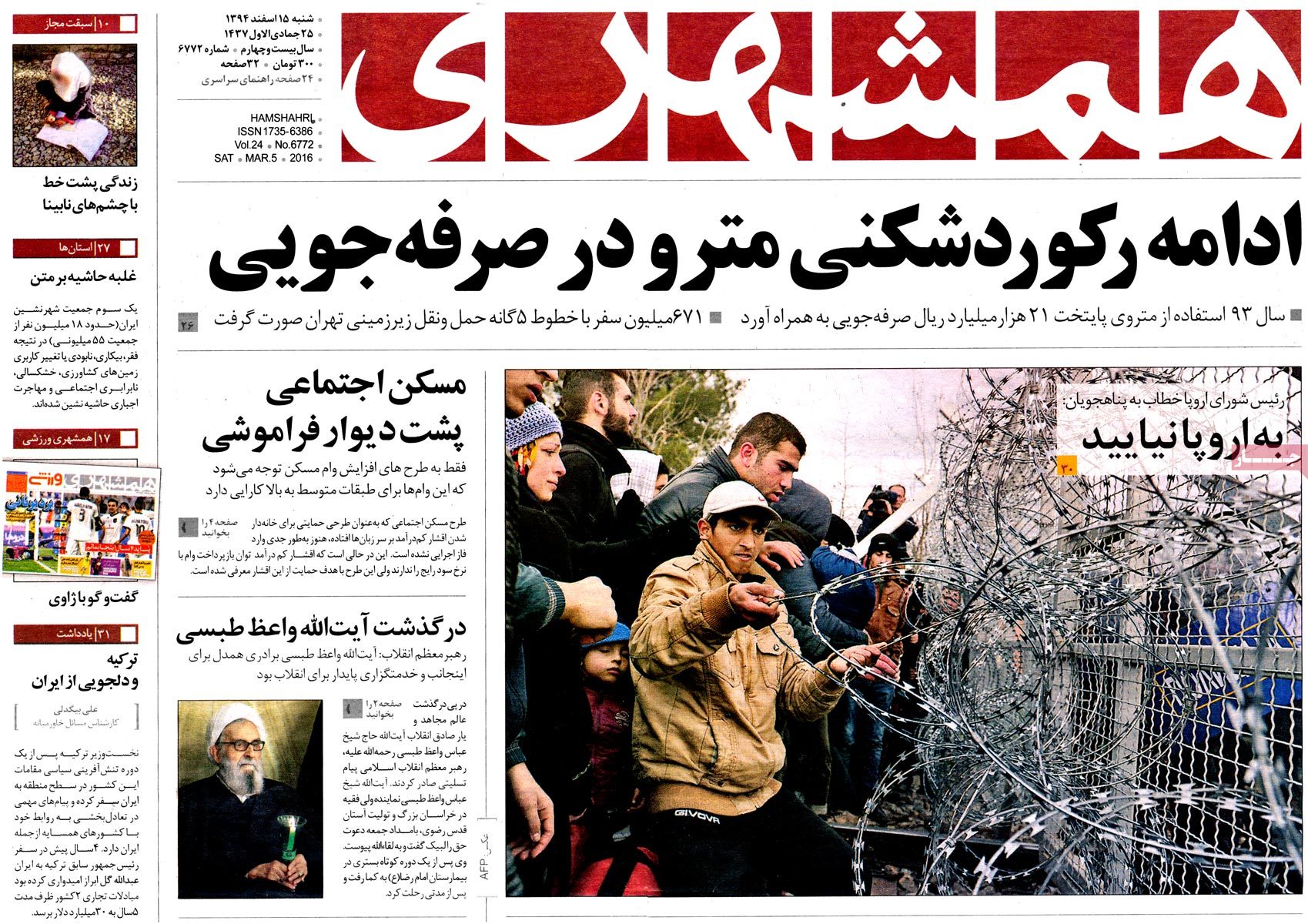 ---
Asia:
1.  German banks opens branch in Iran
2.  Iran invites Boeing for talks
3.  5-star hotel to open branch in Caspian sea coast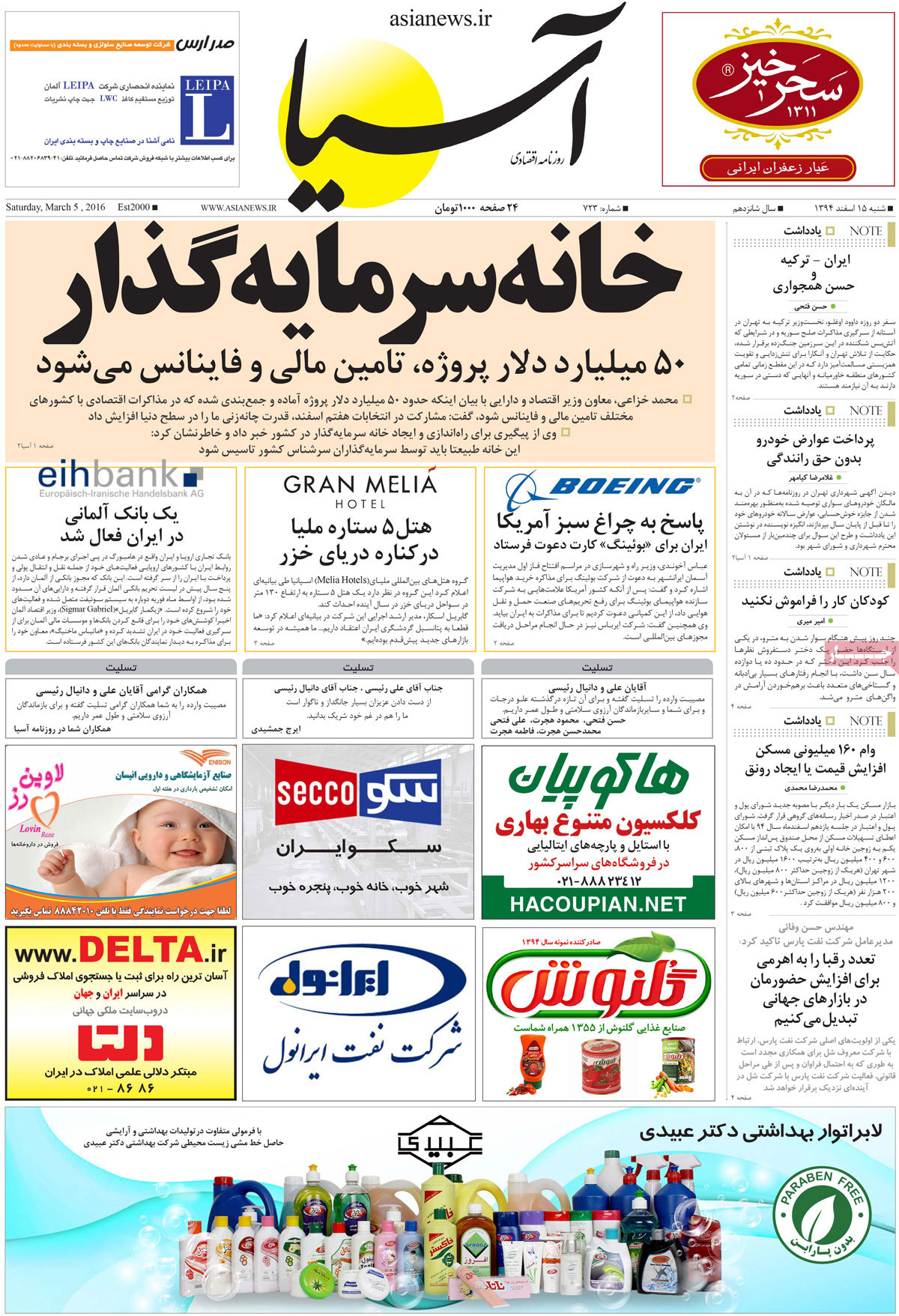 ---
Abrar Eqtesadi:
1.  Romania to buy Iran gas
2.  Iran, EU banks resume cooperation
3.  Tehran-Kabul trade doubles
4.  Dollar at IRR29,9980 in next year national budget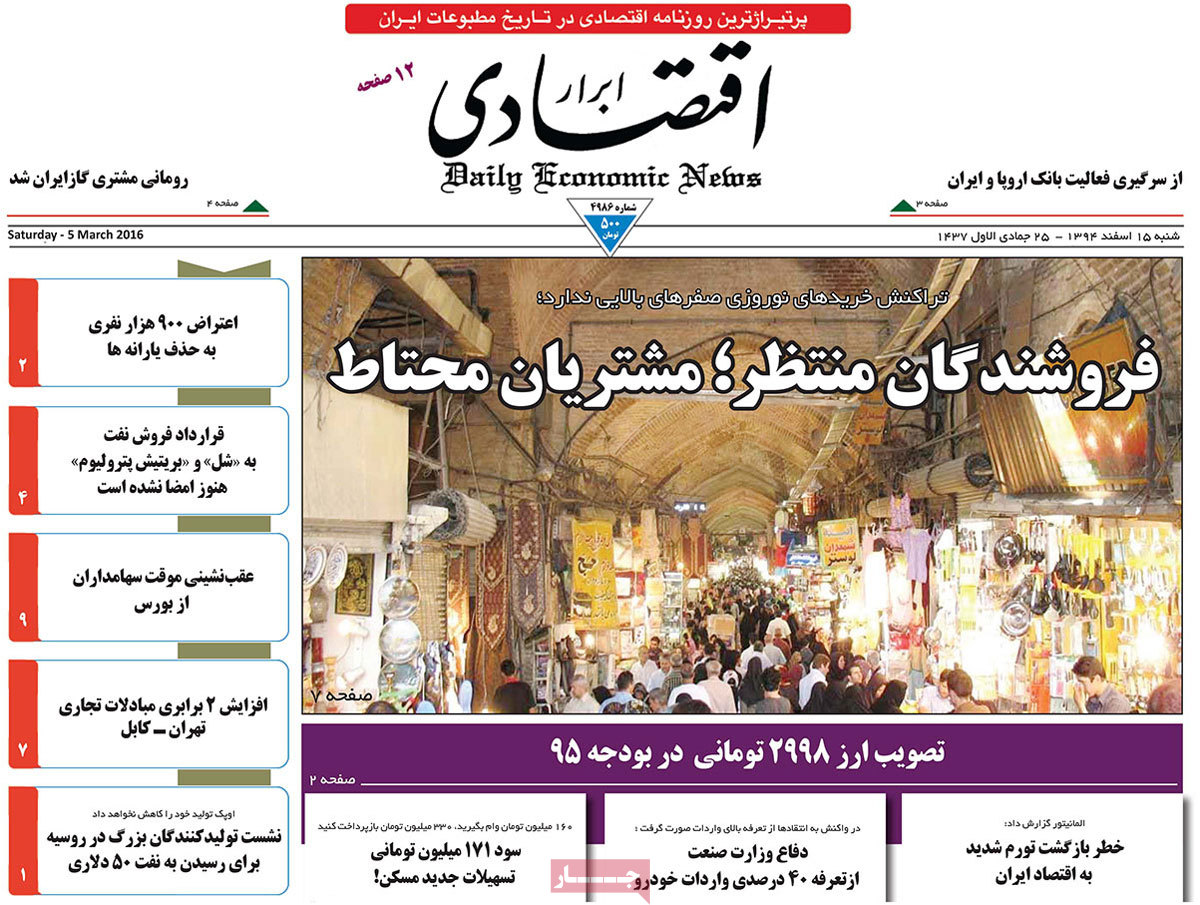 ---
Aftab-e Yazd
1.  Powerful, dignified haj pilgrimage next year: Iran
2.  Imam Khomeini Relief offers advice to foreign countries not finances: Chief