Abrar:
1.  Withdrawal of Russian troops from Syria, positive step to ceasefire: Zarif
2.  Depite certain unfavorable events, country's overall direction is positive: Leader
3.  Australia invited to invest in Iran
4.  MP calls on admin to make final arrangements for Mehr Housing scheme "ASAP"
5.  Obama: US will keep anti-ISIL combat
6.  Implementation of new U.N. sanctions on North Korea going well: U.S. expert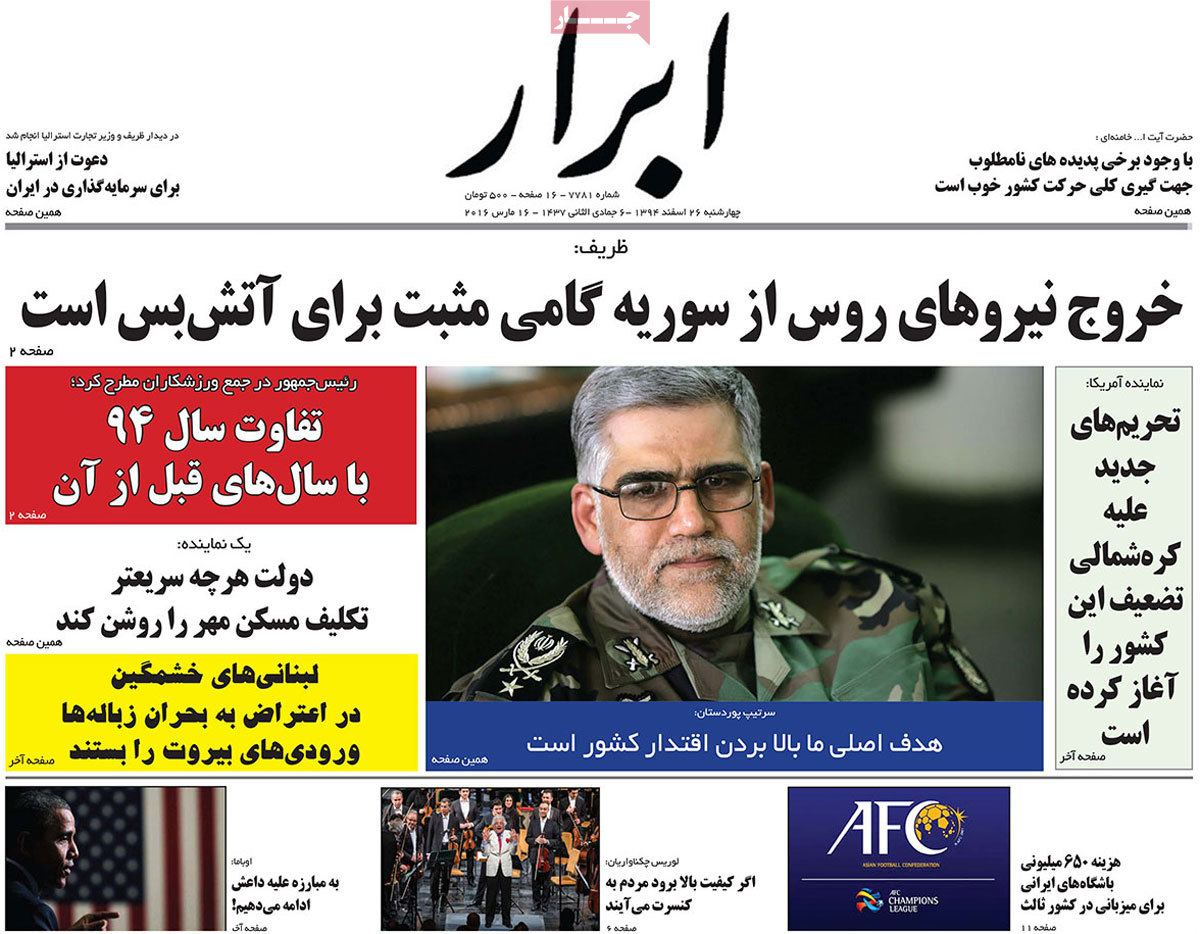 ---
Arman-e Emrouz:
1.  Who will be next parliament speaker: Larijani or Aref?
2.  Tragedy of burnt hands, faces
Dozens of Iranian citizens were wounded in the fire festival which Iranians observe at the last Tuesday of every year. The festival has turned from a gathering of citizens around a bon fire into a cracker fete, injuring dozens every year and even killing a few.
3.  Gasoline price rise, maybe later
4.  Judiciary chief hails nation for election turnout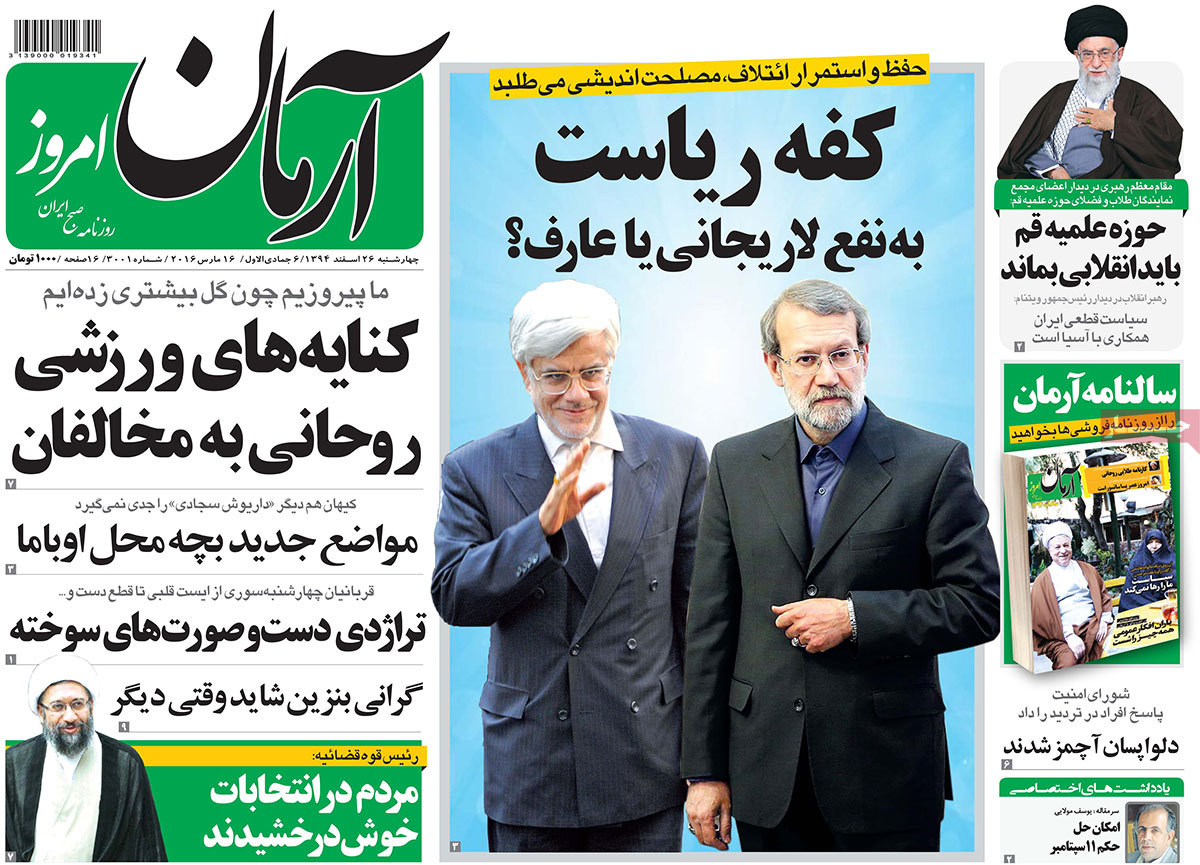 ---
Ebtekar:
1.  Rouhani: We will honor this year for the rest of history
Addressing a gathering with Iranian athletes, Iranian President Hassan Rouhani said the nation's achievements in the current Iranian calendar year which began on March 21 will be never forgotten in history.
2.   Zarif calls for Iran, Saudi Arabia talks over ISIL
3.  Leader praises country's movement
4.  Putin surprises everyone
5.  Rafsanjani: We will proudly initiate human development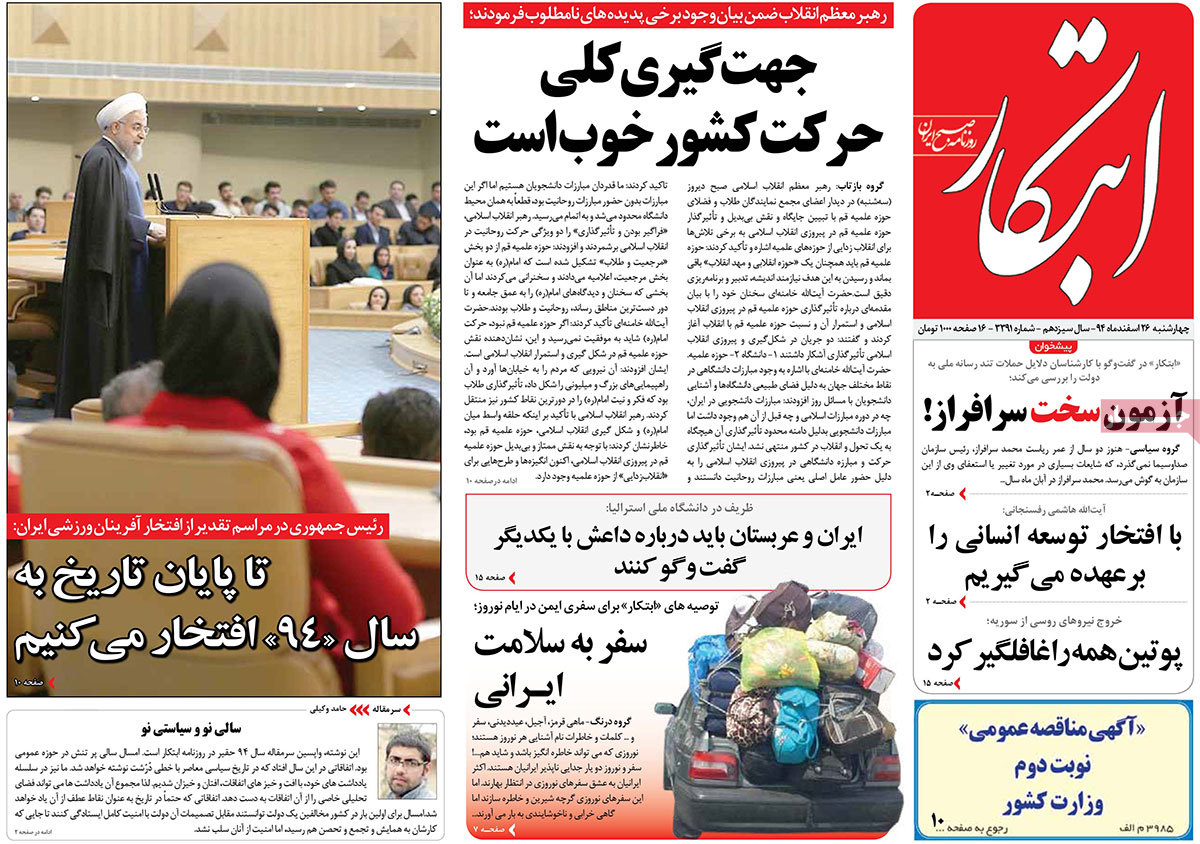 ---
Asrar:
1.  Seminary schools must remain revolutionary: Leader
2.  OPEC: Iran crude oil output hits 3mbd
3.   Recent election displayed nation's political awareness, maturity: Rafsanjani
4.  Veep expects next year to be good for economy
5.  Iran brain drain losses three times more than oil revenues
6.  UN: Iran missile tests no violation of nuclear deal
---
Ettela'at:
1.  Veep says admin will keep supporting subway development
2.  Iran on path to progress: Leader
3.  Savage Saudi attack on Yemeni market kills 107
4.  Vietnamese president meets with Iran Leader
5.  Zarif: Iran, Saudi Arabia must talk on ISIL
---
Etemad:
1.  Zarif's invitation for talks
2.  Russia starts troops withdrawal from Syria
3.  Next year will be better: Rouhani
---
Afkar:
1.  Iran launches 5 new passenger train
2.  Report: Role of motorcyclists in accidents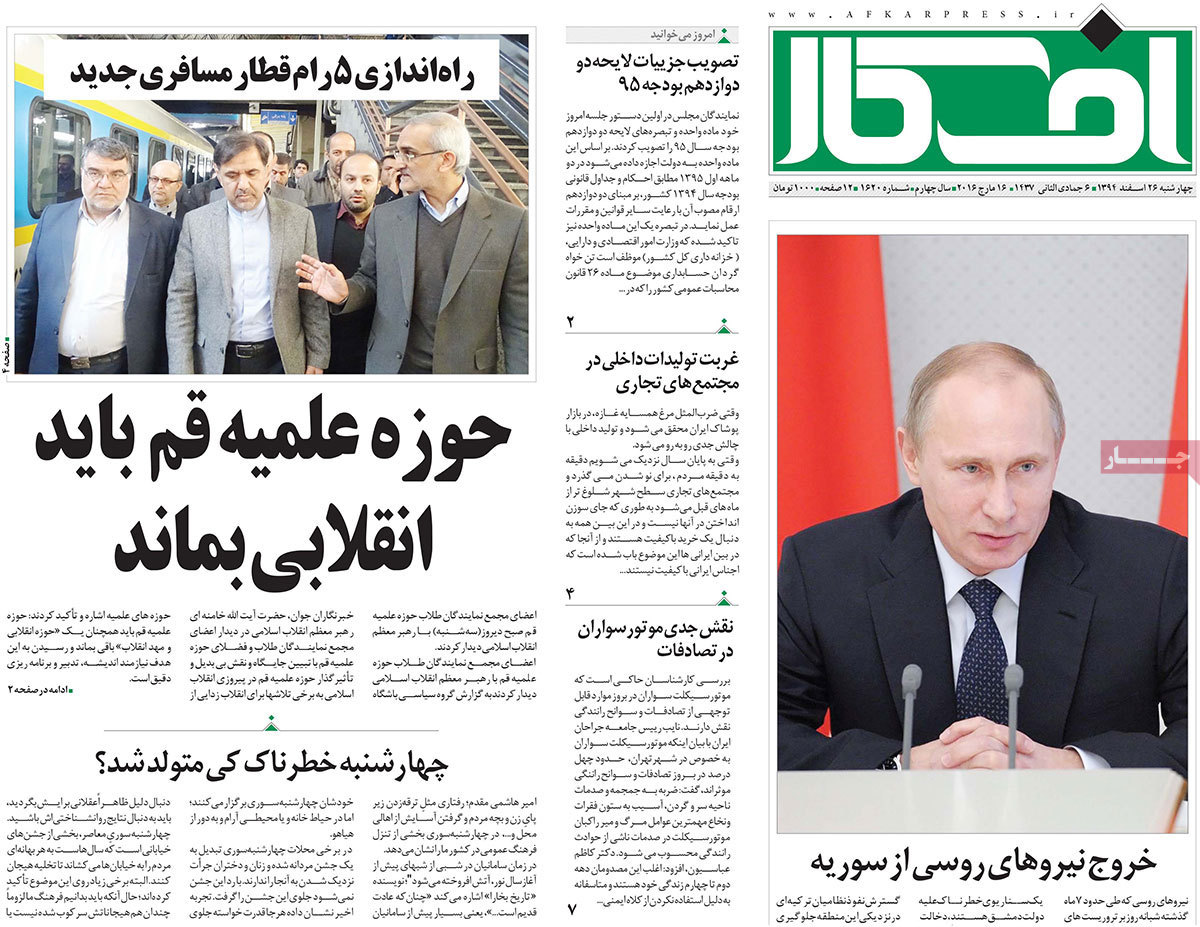 ---
Emtiaz:
1.  Gov't cabinet lifts ban on palm oil imports
2.  Korea signs deal for building 37 trains for Iran
3.  570 state hospitals open during Nowruz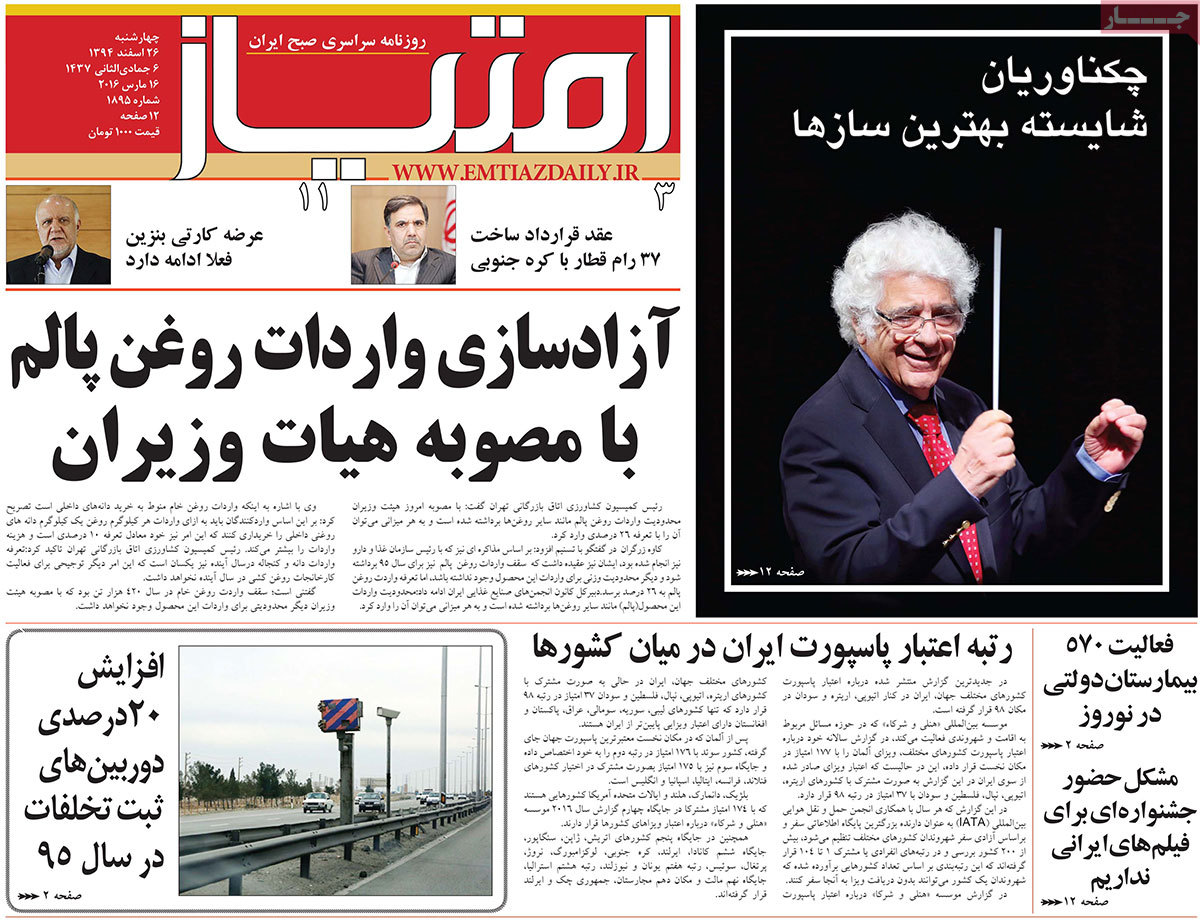 ---
Iran:
1.  Leader: Cooperation with Asia, chief policy of Iran
2.  Year of hope
A review of the current Iranian calendar year which began on March 21 about two landmark events: JCPOA and parliamentary election
3.  1,202 LCs opened since JCPOA implementation: CBI head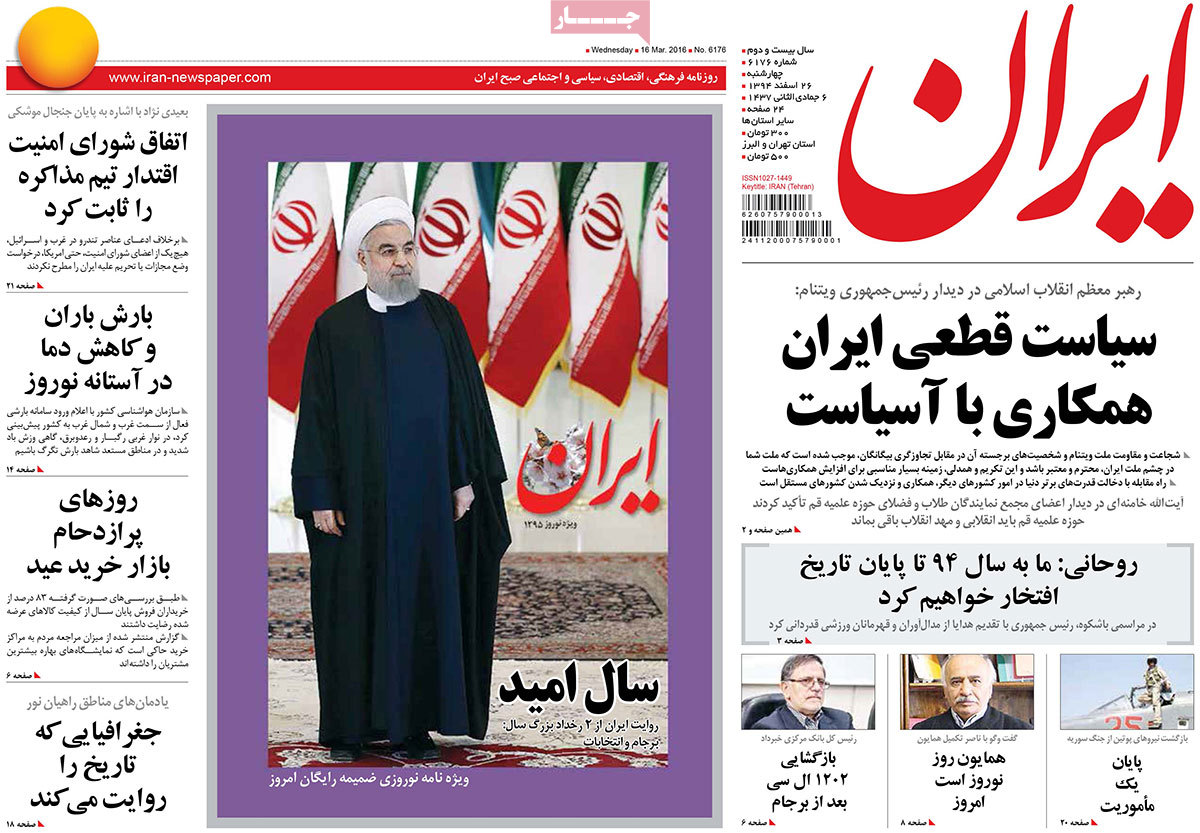 ---
Payam Zaman:
1.  $2.5b foreign investments finalized
2.  Iran internet band reaches 500 gigabits
---
Jomhouri Islami:
1.  CBI: Biggest post-JCPOA Swift order received, carried out
2.  President honors international athletic champions
3.  Tehran launches new subway stations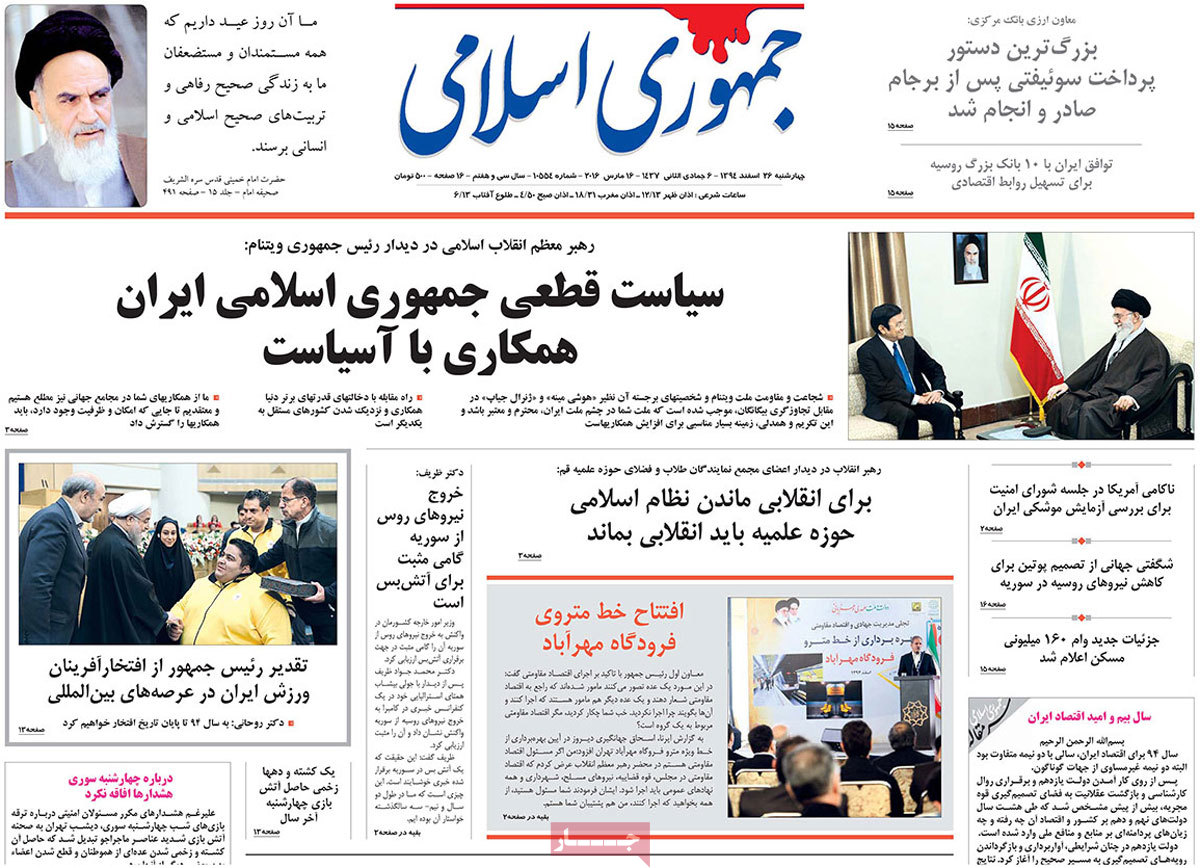 ---
Javan:
1.  Leader: I am alarmed
The leader said he is alarmed about dissolution of revolutionary thinking in seminary schools.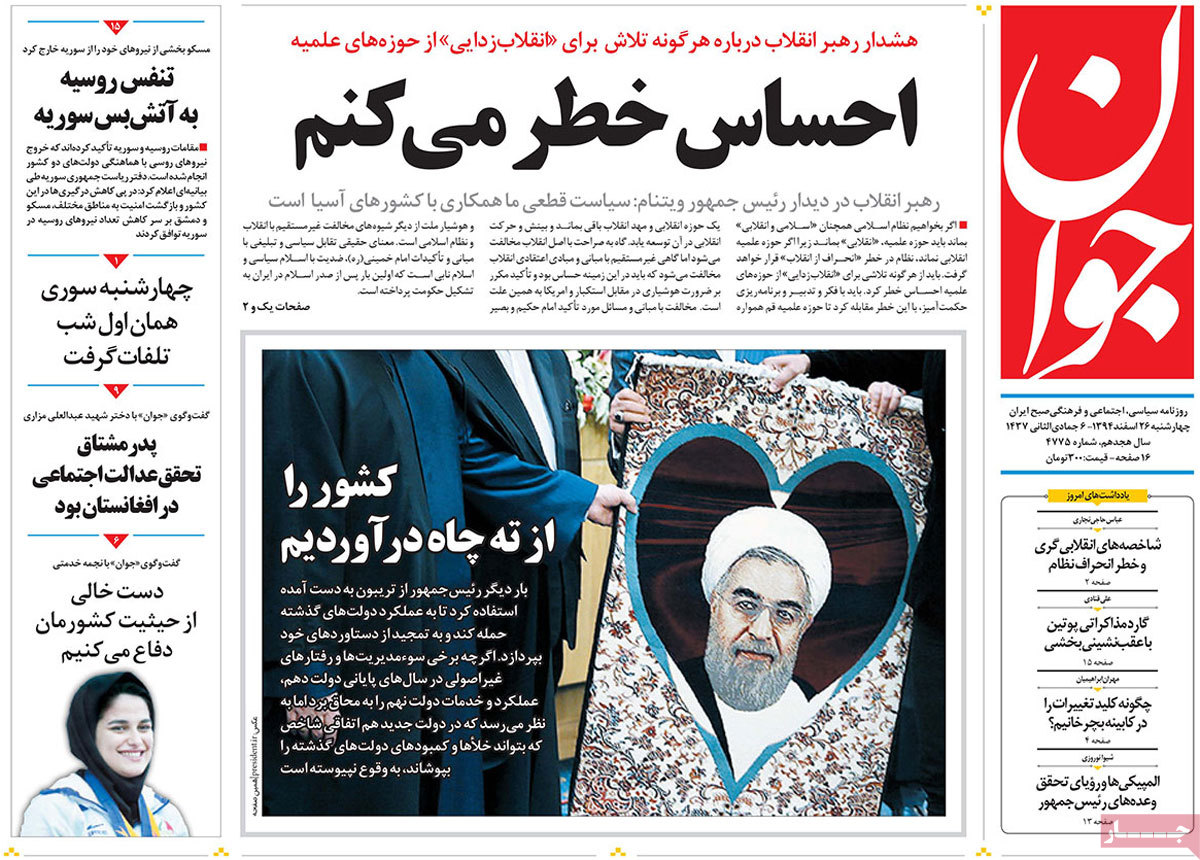 ---
Hemayat:
1.  US anti-Iran move in UNSC frustrated
2.  Tehran mayor: Tehran subway complete in 20 months with guaranteed gov't support
3.  Judiciary chief: Muggers, armed robbers to be treated as Moharib (perpetrators)
---
Khorasan:
1.  Reactions to Russian troops' withdrawal from Syria
2.  I cannot say Iran is our chief ally: Khalid Mash'al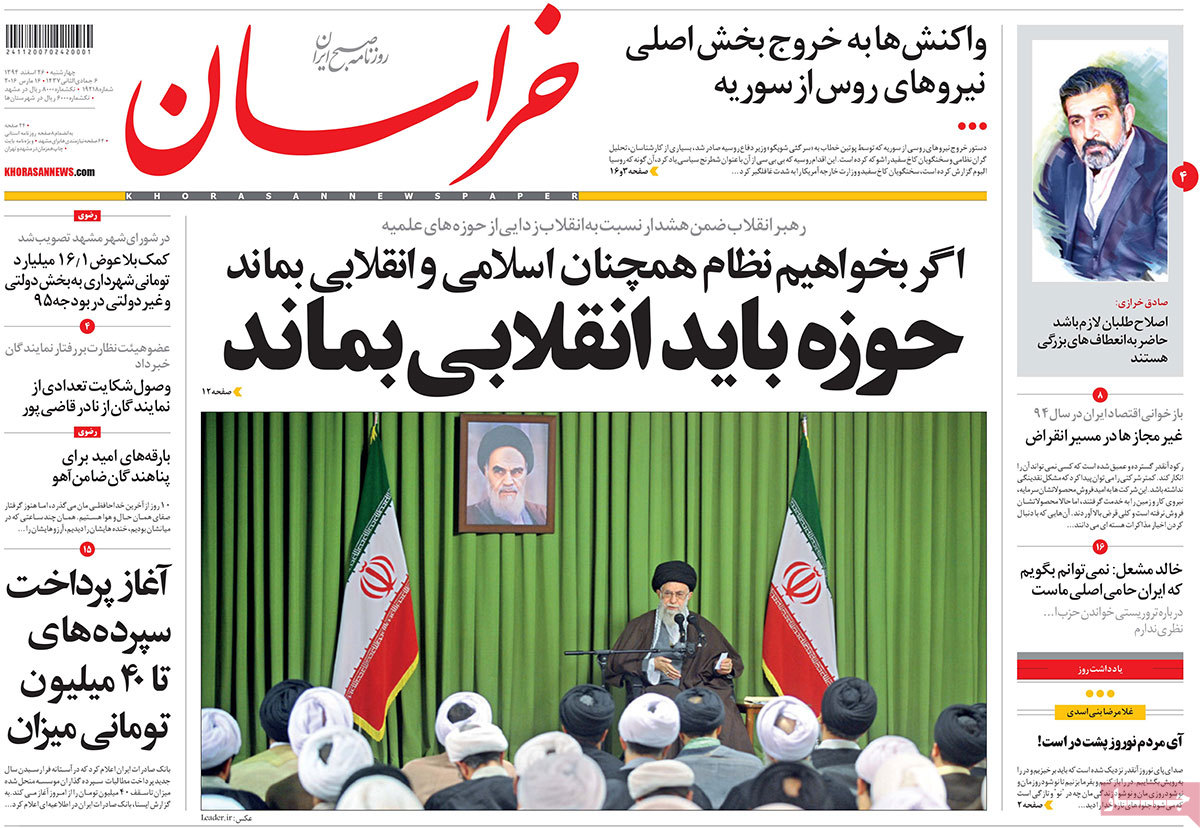 ---
Rah-e Mardom:
1.  Report: Necessity of expanding tourism industry in modern world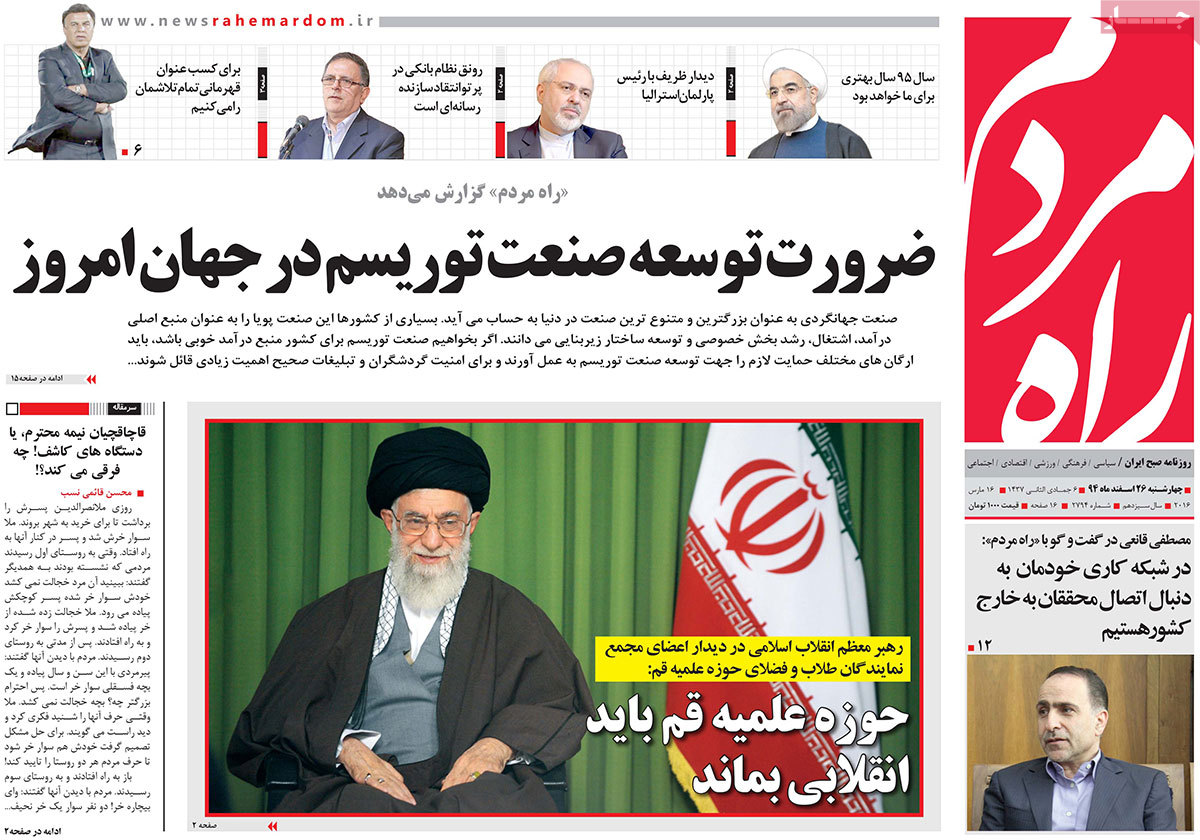 ---
Resalat:
1.  Seminary must remain cradle of revolution: Leader
2.  JCPOA was supposed to play big role in solving problems: Judiciary chief
3.  Enemy's military threats turn into chance: Gen. Jafari
4.  US seeking to dissolve Syria
5.  Zarif: Fate of Syria in hands of its people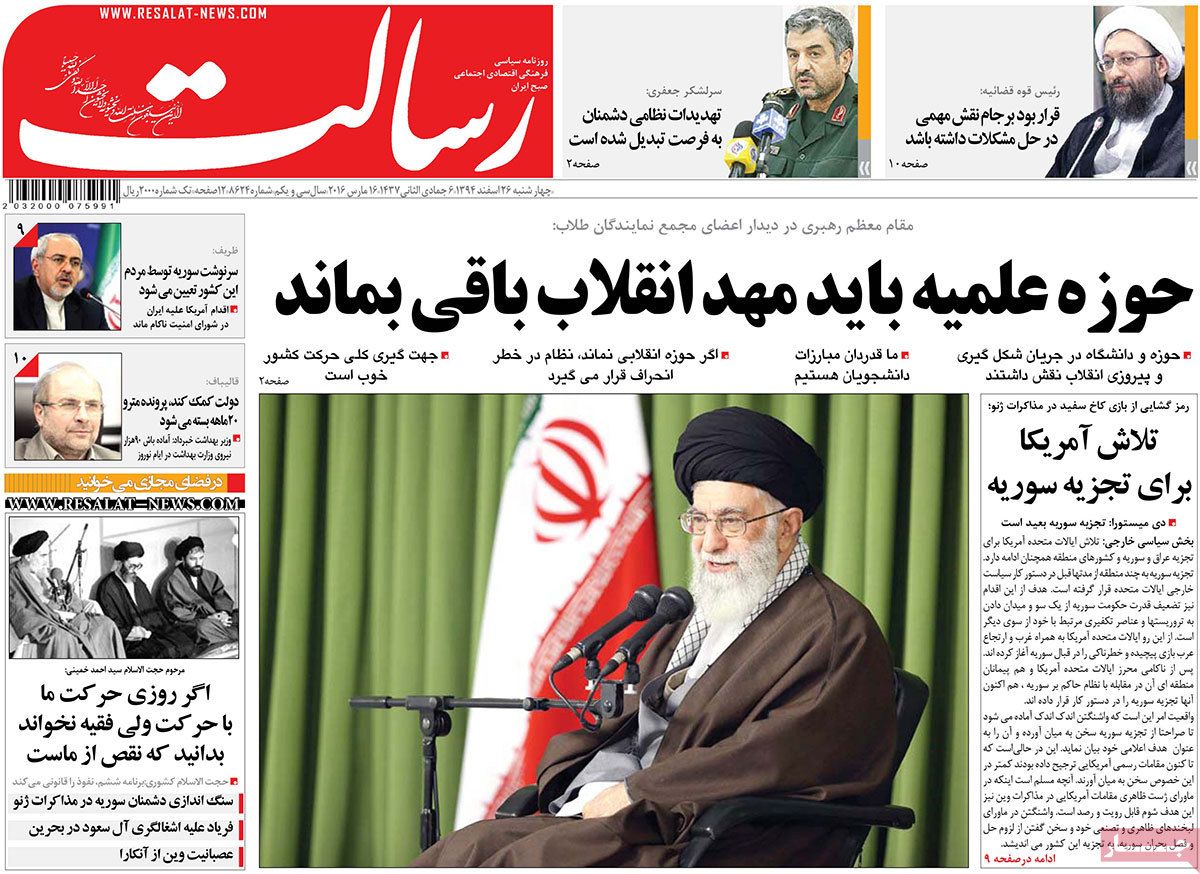 ---
Rooyesh Mellat:
1.  Ali Daei could become AFC chief, member of directors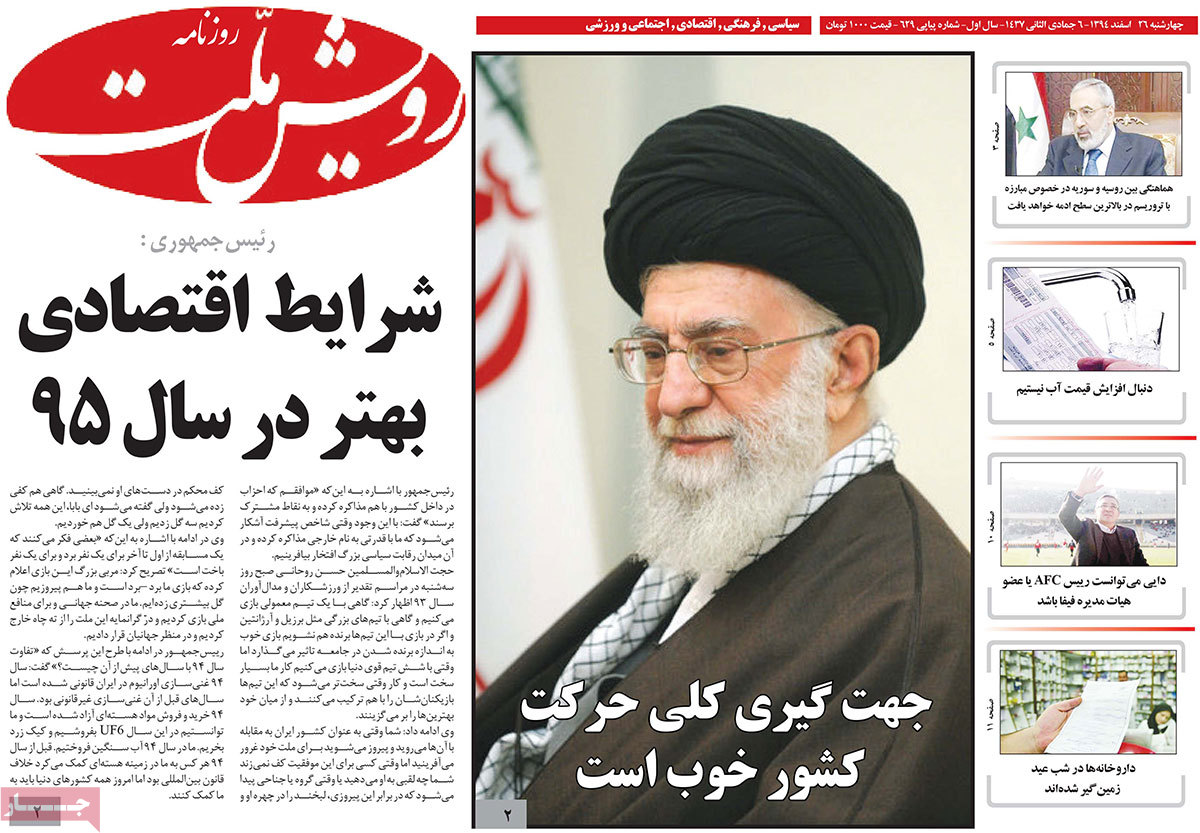 ---
Shargh:
1.  Judiciary chief: Some anti-revolutionaries sought to prevent leader's appointees from winning in elections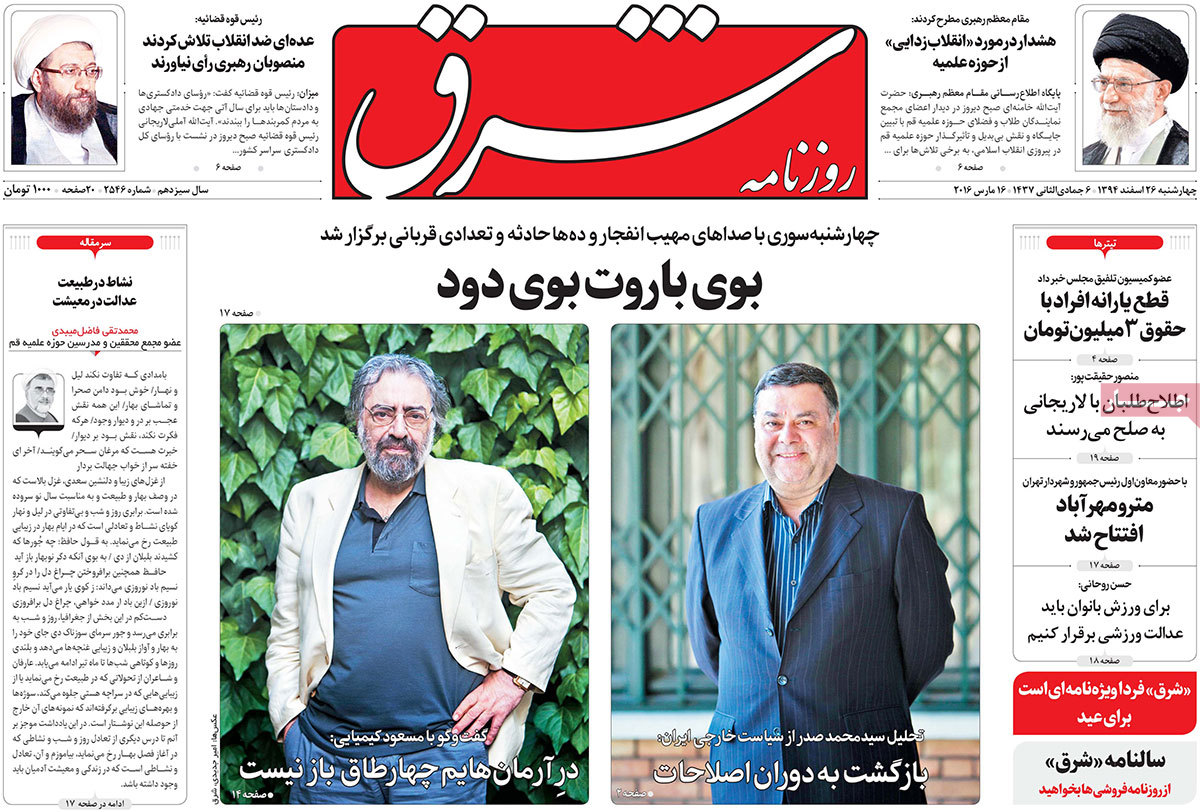 ---
Shahrvand:
1.  Rouhani outlines current year's achievements; "Aren't these achievements?"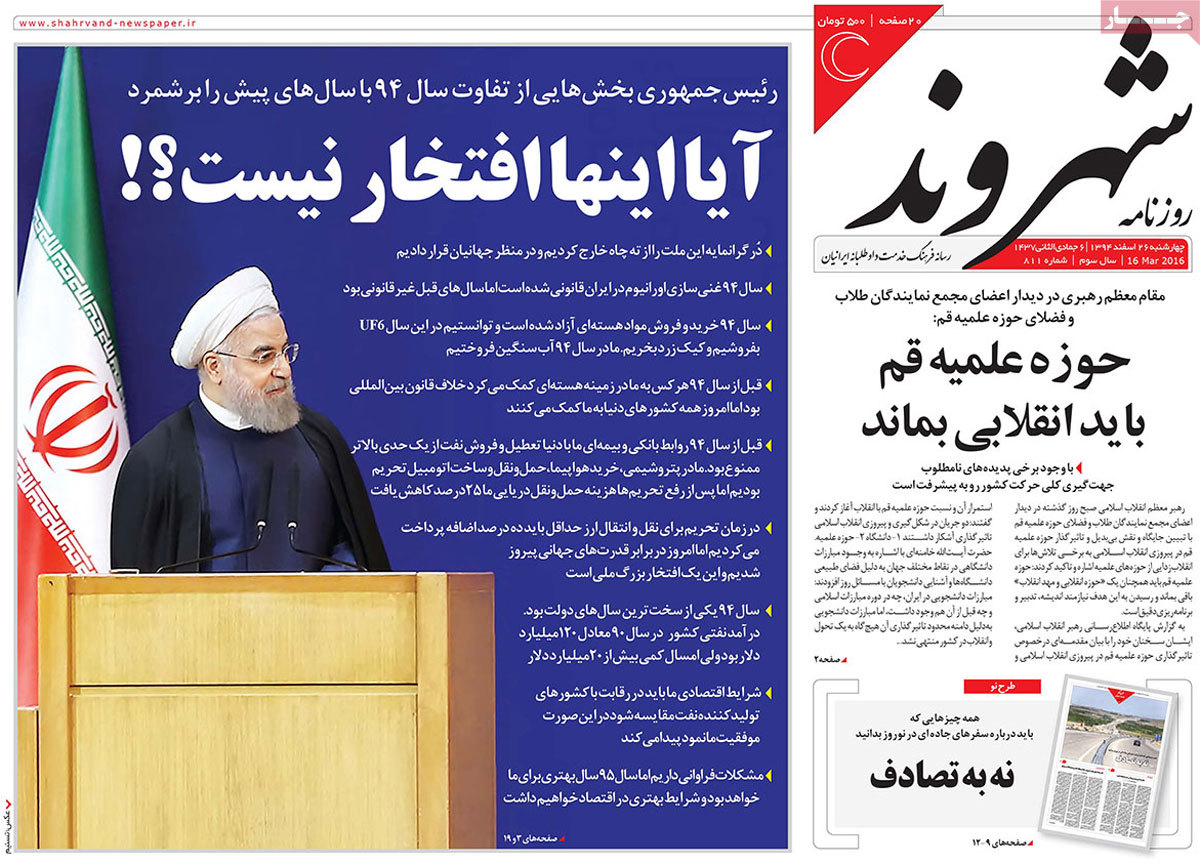 ---
Saheb Ghalam:
1.  Iran reaches agreements with 10 major Russian banks
2.  Iranian Mobarakeh Steel Co. among world's 10 top steel companies
---
Ghanoon:
1.  Putin-less Assad
Why Russia left Syria?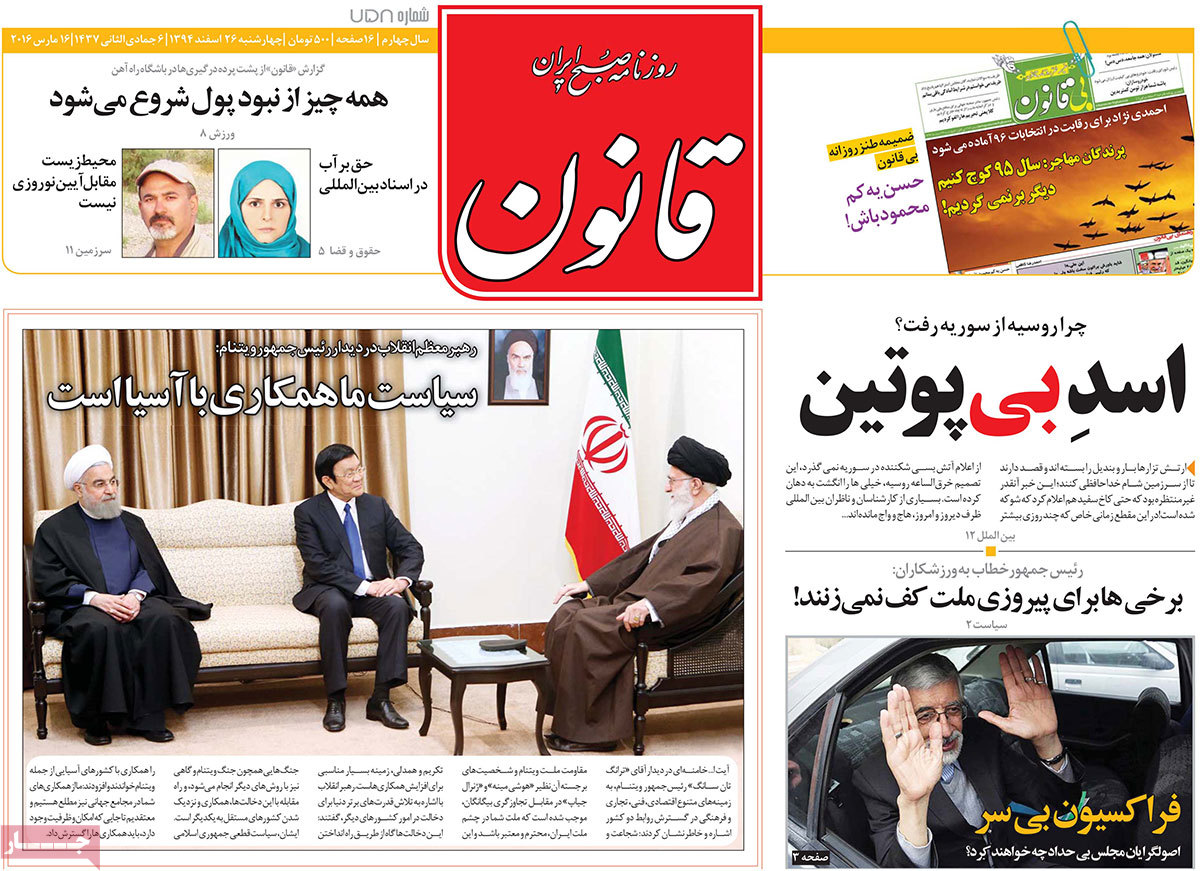 ---
Kayhan:
1.  Moscow: Russia will keep airstrikes against ISIL in Syria
---
Vaghayeh Ettefaghiyeh:
1.  Analysis: Restoration of Iran, Australia ties
The plan of friendship
2.  Rouhani: I am the strictest president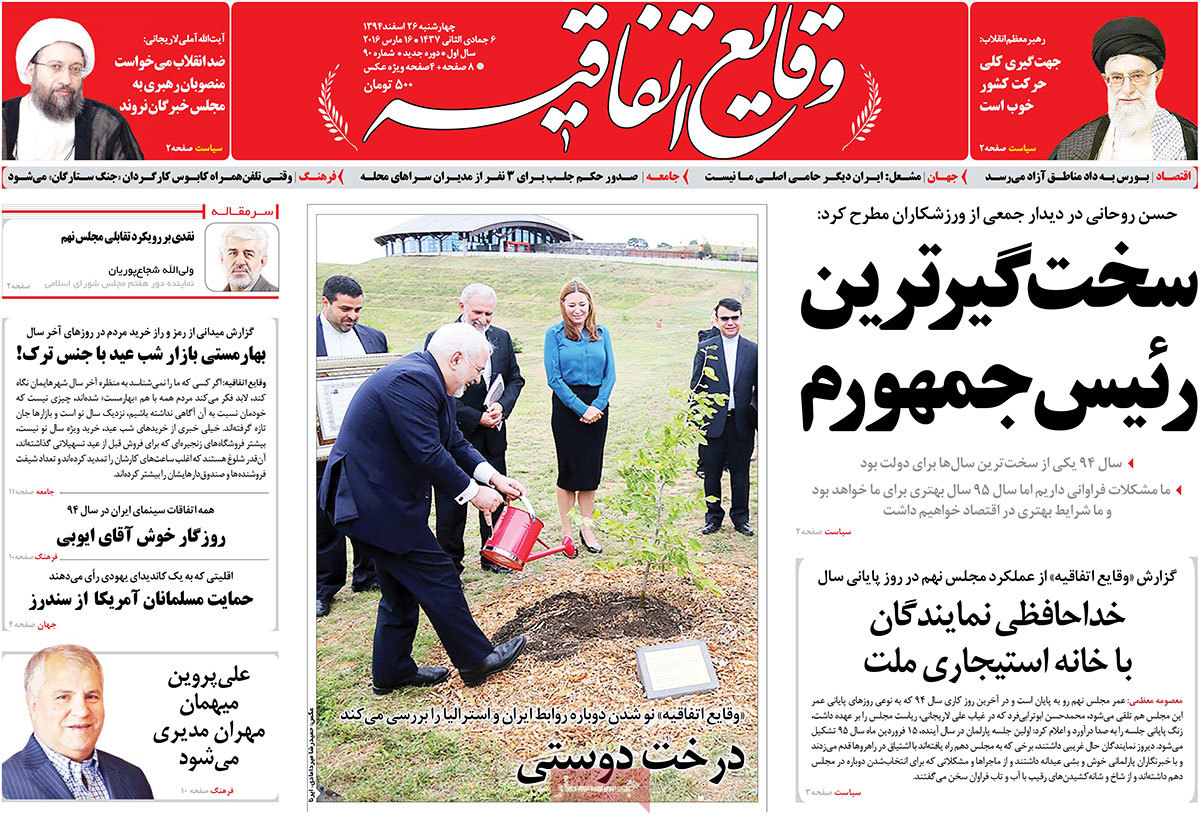 ---
Asia:
1.  $7b of foreign investments earmarked for Iran projects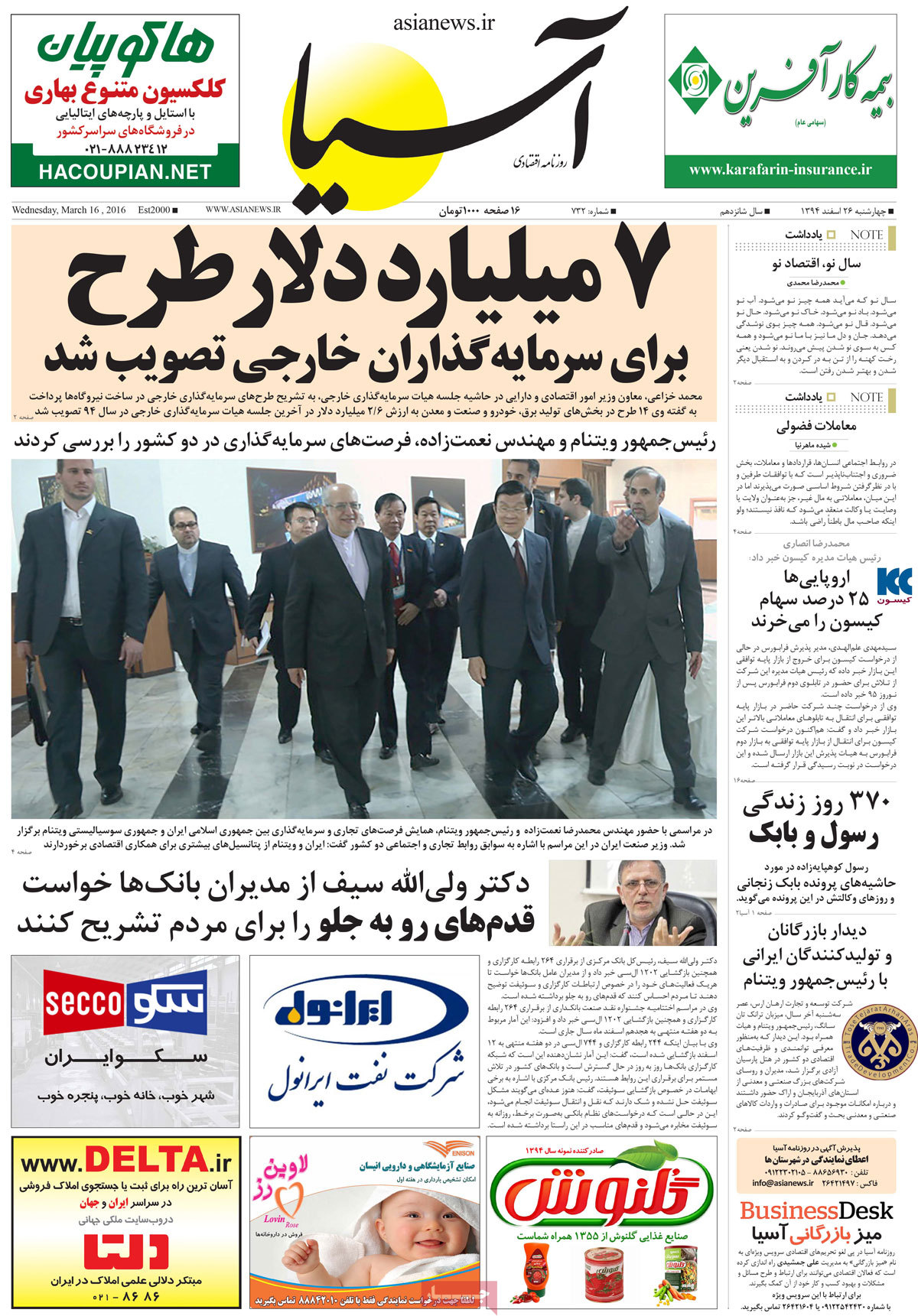 ---
Abrar Eqtesadi:
1.  9-months economic growth rate at 0.7%
2.  Iranair, Lufthansa sign cooperation deal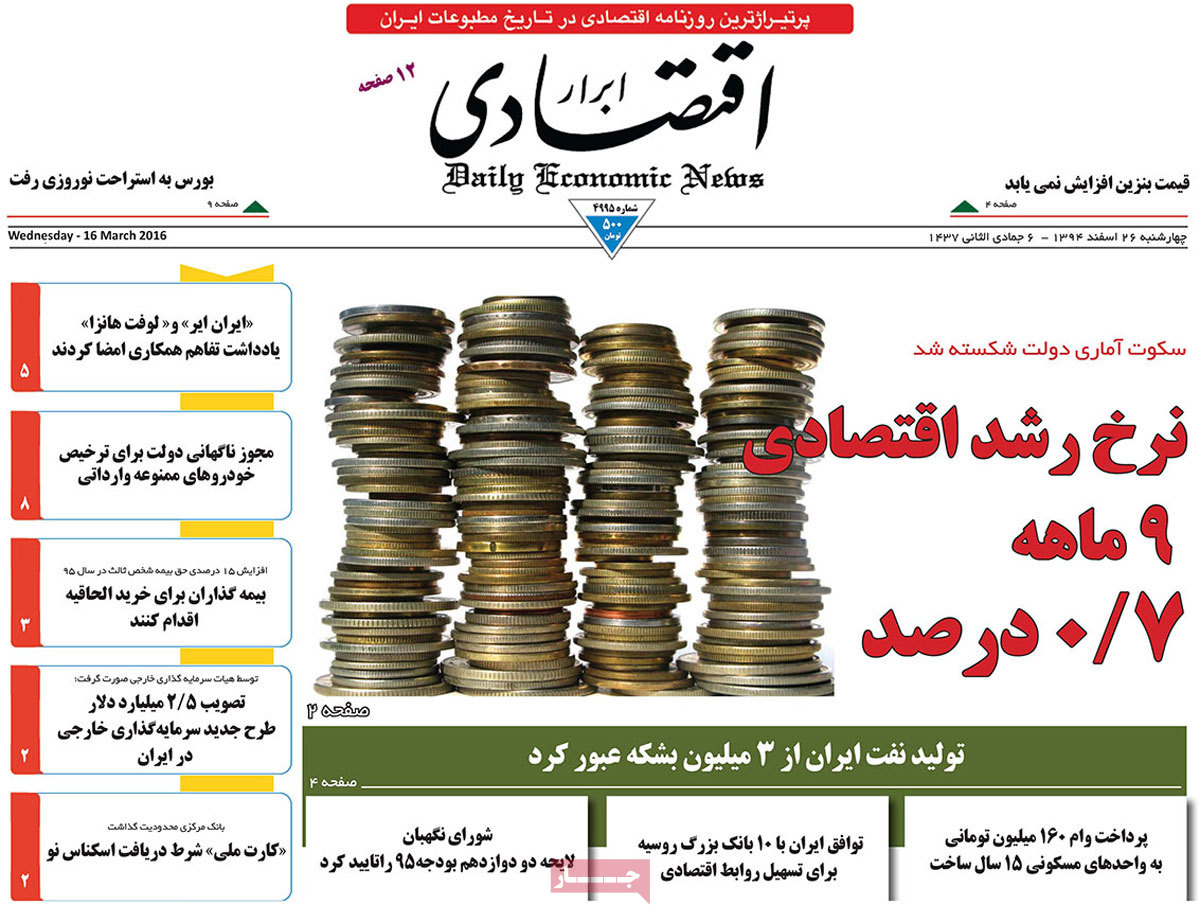 ---
Aftab Yazd:
1.  Bank interest rates may drop to below 10%
2.  Terrorist blast hits German heart