Iranians are preparing for new year celebrations as the next calendar year begins on March 19.
The last Tuesday night is celebrated in Iran by a fire festival which has derailed in the past few decades from a fire festival to a cracker phenomenon in the country in which dozens are killed every year.
Many headlines cautioned their readers about the dangers and accidents caused by the crackers in these days.
Above all, Iranian President Hassan Rouhani's meeting with his Vietnamese counterpart in Tehran, and UNSC's meeting which bore no further sanctions on Iran because of its missile launch took many headlines on Tuesday, March 15.
Here are the top headlines:
Abrar:
EU extends Moscow sanctions
Blast kills 37, injures 125 in Ankara
Mogherini to visit Tehran on April 15
Iran, Vietnam trade to hit $2bn
UNICEF: Syria no place for kids
Australia, Iran FMs to discuss Iran missile tests
France reacts to Iran missile tests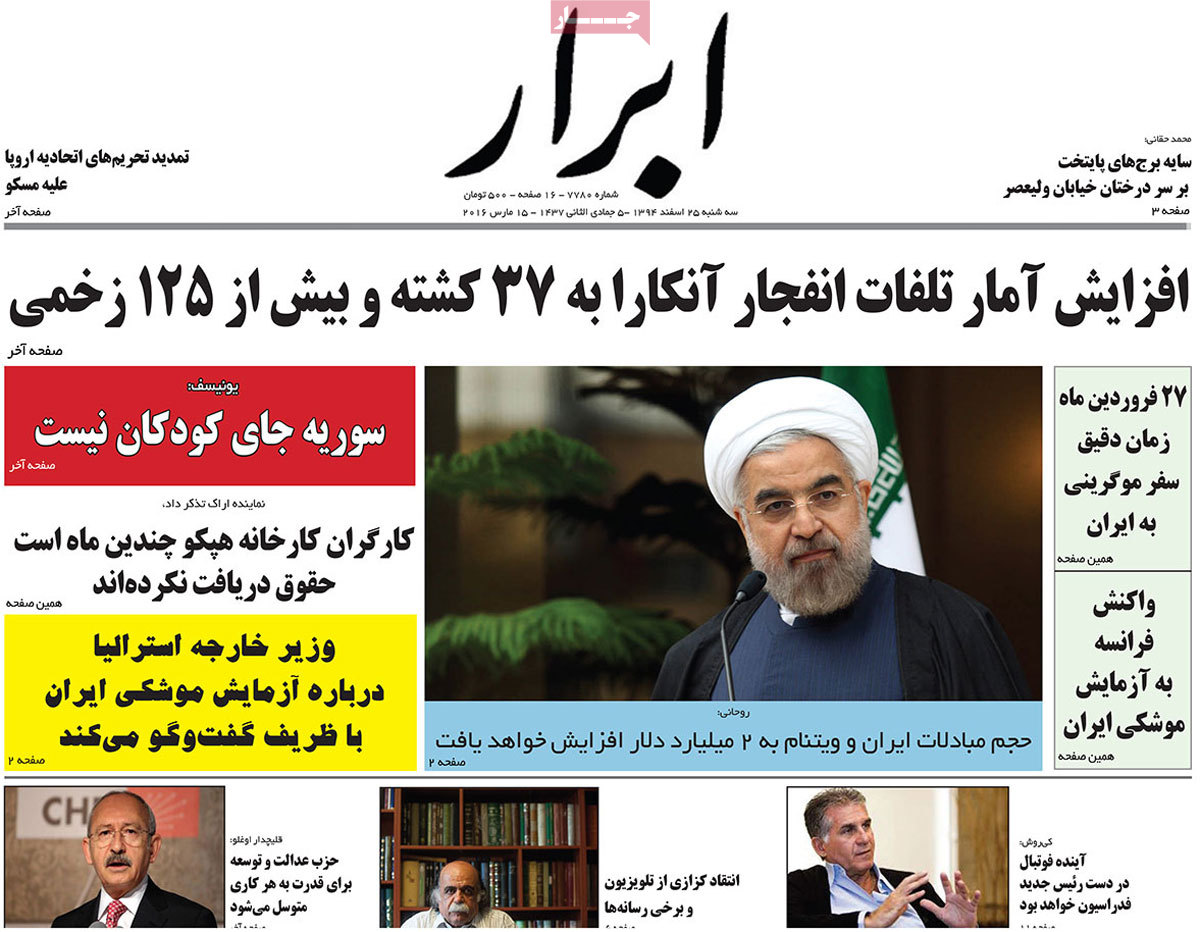 ---
Abrar Eqtesadi:
Iran singled out from oil freeze plan: Russia
Iran boosts price of exported petchems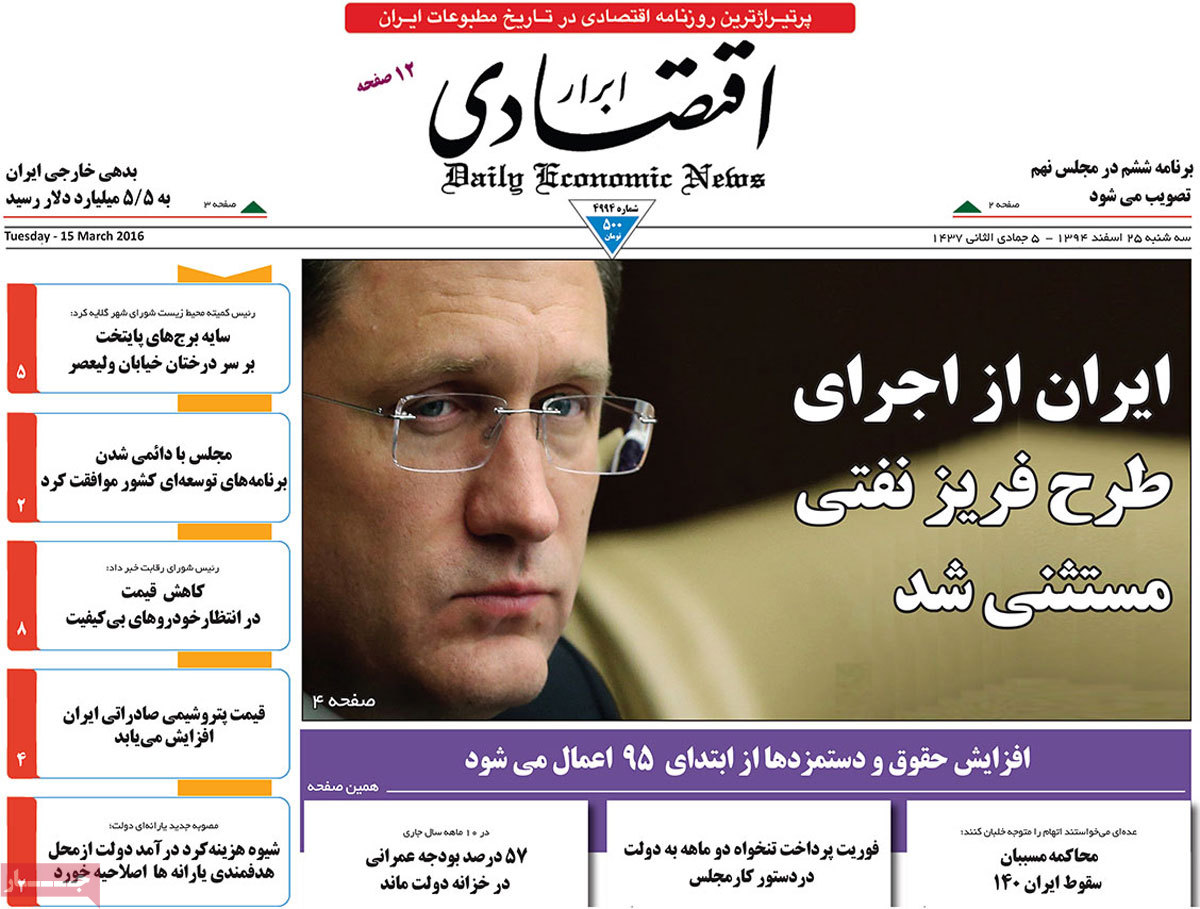 ---
Afkar:
Guardian Council endorse equal blood money for men, women [in car accidents]
Judiciary chief: Cultural impunity, country's chief priority
Iran launches Chabahar-Oman sea lane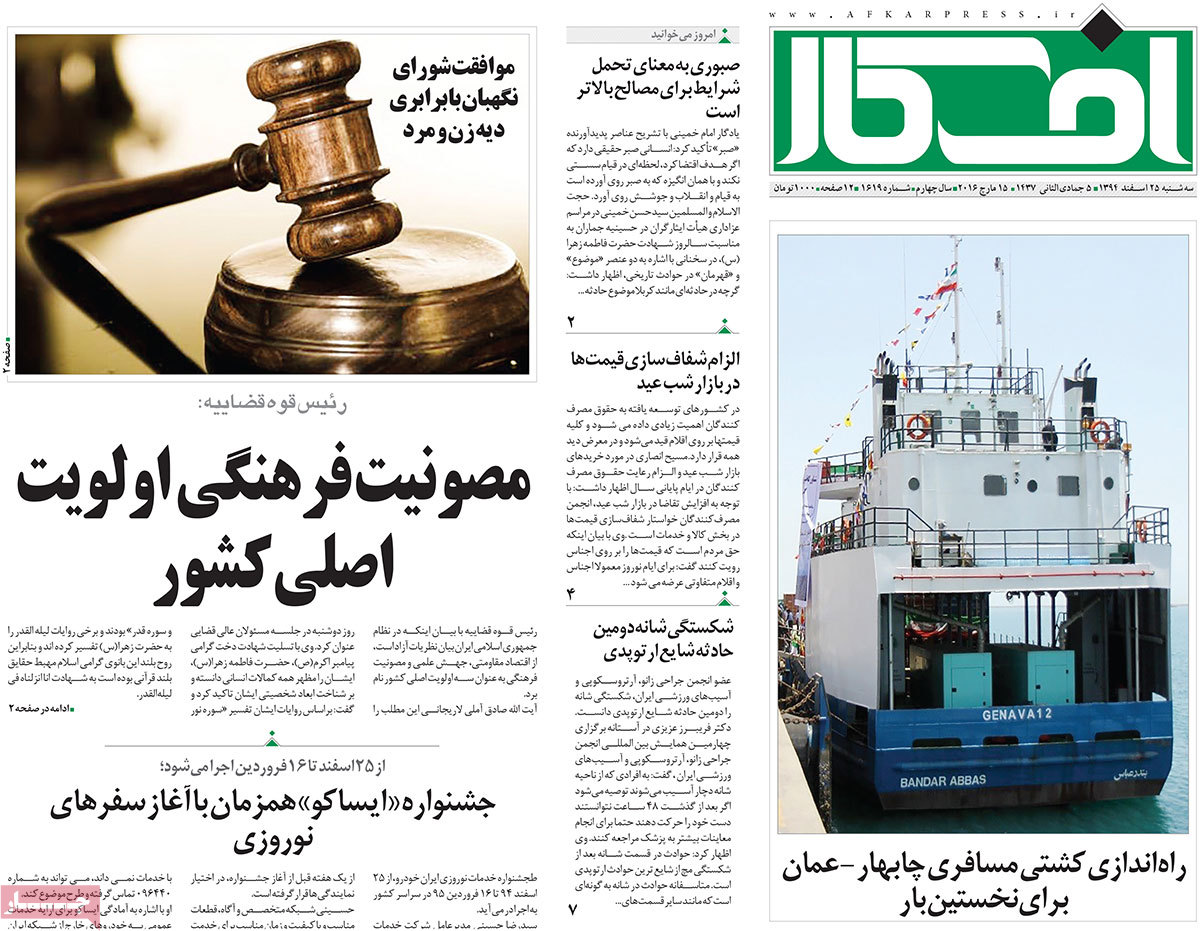 ---
Arman-e Emrouz:
Not everyone can be fooled: Hassan Khomeini
Men, women blood money equal [in Iran]
UN Security Council meets to discuss Iran's missile launch
---
Asrar:
No adventures against anyone in the world: Gen. Soleimani
[Sudanese President] Omar al-Bashir: Saudi security above Sudan security
MP: Men, women blood money equal in car accidents
Iran self-restraint not eternal: Mohsen Rezaei to Riyadh
Iran favors enhanced ties with ASEAN member states: Rouhani
Police seizes over 7t of crackers
Terrorist cells smashed in Western Iran
Iran missile tests no violation of JCPOA: Cmdr.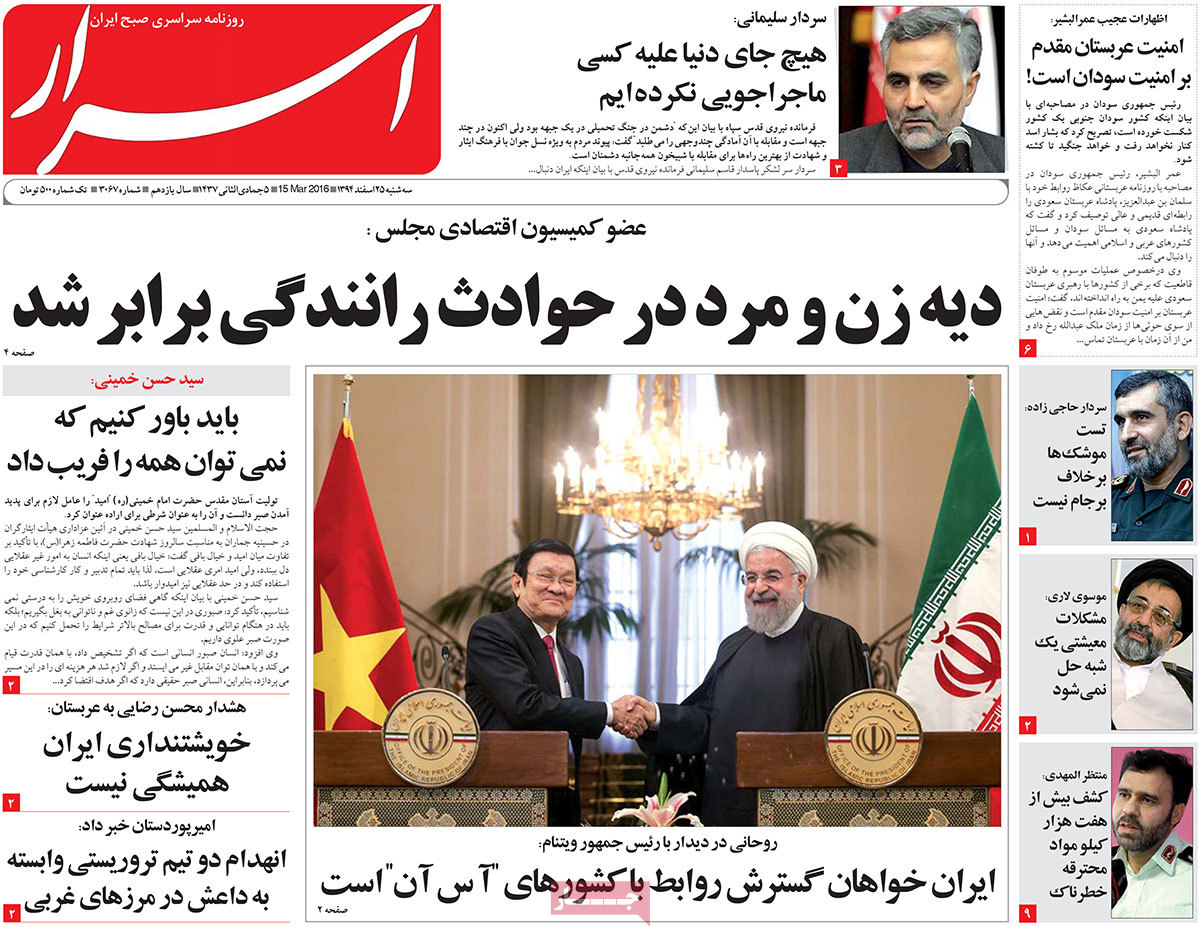 ---
Ebtekar:
Answer is short: No
Russia opposed any sanctions on Iran over missile tests. Russia's envoy to the United Nations Vitaly Churkin said Monday, "The clear and short answer is no."
Guardian Council confirms election results in 50 constituencies
Parliament election runoff on April 30
Deal to buy 118 airbus jets to be finalized in two months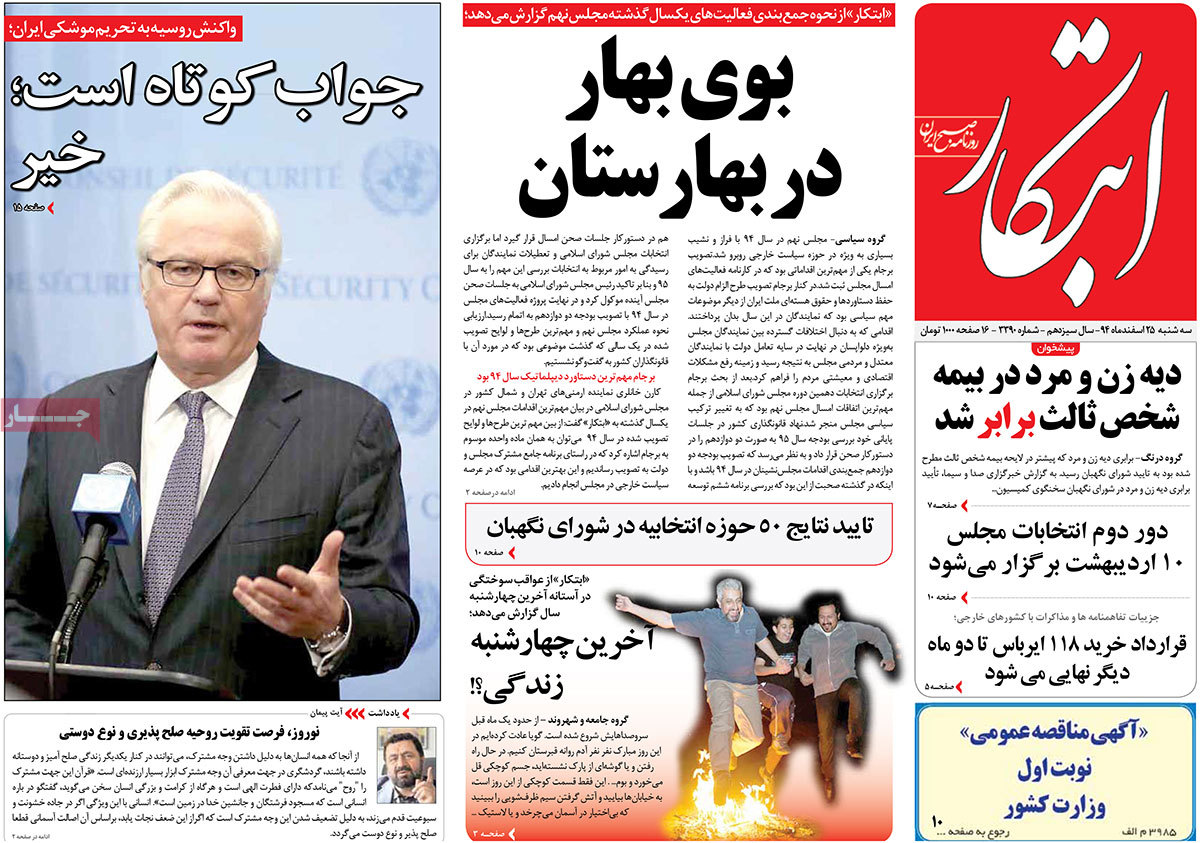 ---
Ettela'at:
Iran to launch first financial free zone
Iran eyes enhanced ties with ASEAN members: Rouhani
Iran, western Asia's most stable country: Zarif
Terrorist blast kills 37, injures 125 in Turkish capital
New York Times: Deliberate oil price slump catches Riyadh
---
Etemad:
No sanctions for missile tests
Russian troops leave Syria
---
Hemayat:
Fear loom Turkey after blast
Anti-Iranian judgment defaced US judiciary system: Iran's Larijani
Judiciary chief: Iran judiciary stands firm in proceeding cases of corruption, "loved ones"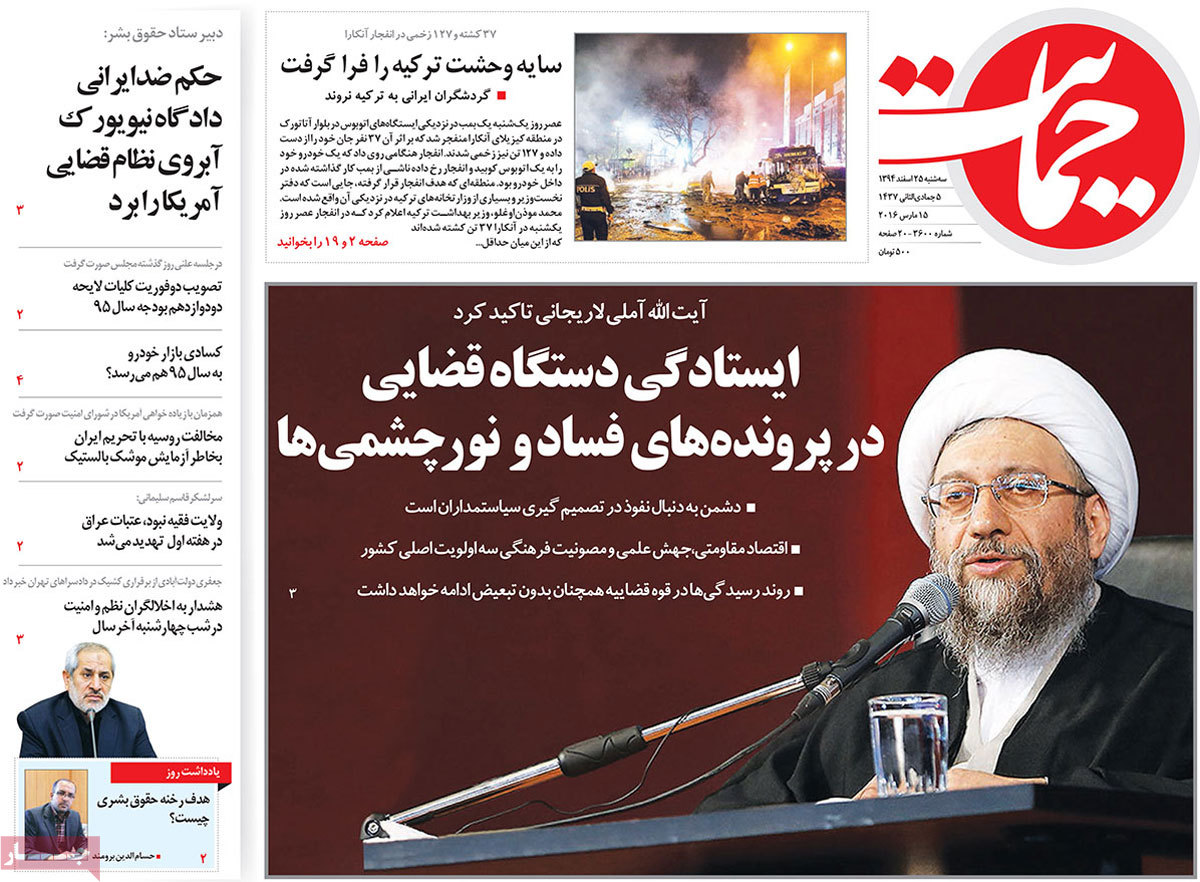 ---
Iran:
Head of tourism organization inaugurates 14 airport projects
Russia to build 1,400mw power plan in Iran
Iran, Vietnam eye $2b trade
Iran-Oman sea lane launched
Iran prepares for arrival of spring
---
Jomhouri Islami:
Iran missile test no violation of UNSC resolution: Zarif
Russia endorses Iran crude oil production growth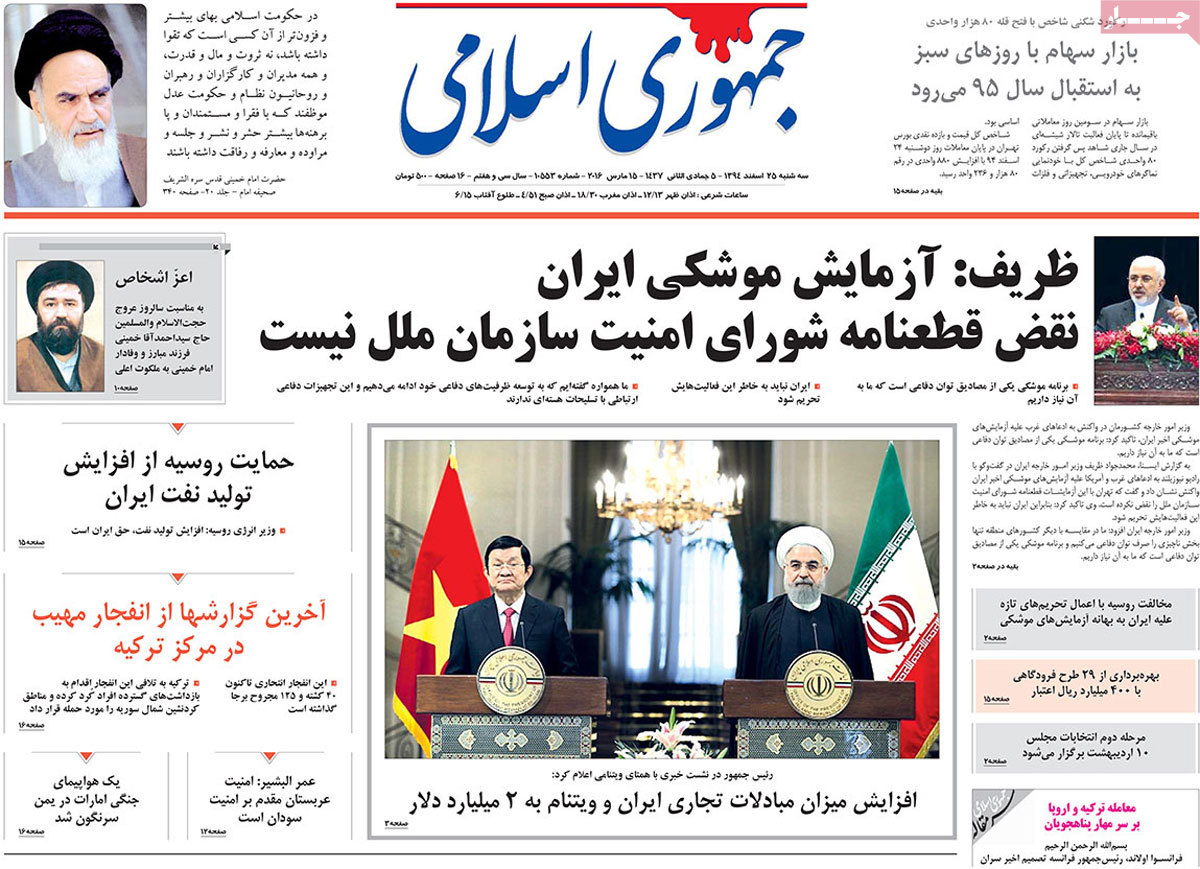 ---
Javan:
We have always been shielding Sunnis by our lives: Gen. Soleimani
Martyr Bakeri's life was all about his belief in rule of jurists (Velayat Faqih): Wife
Stead rise in oil price
Turkey intelligence knew about Ankara blast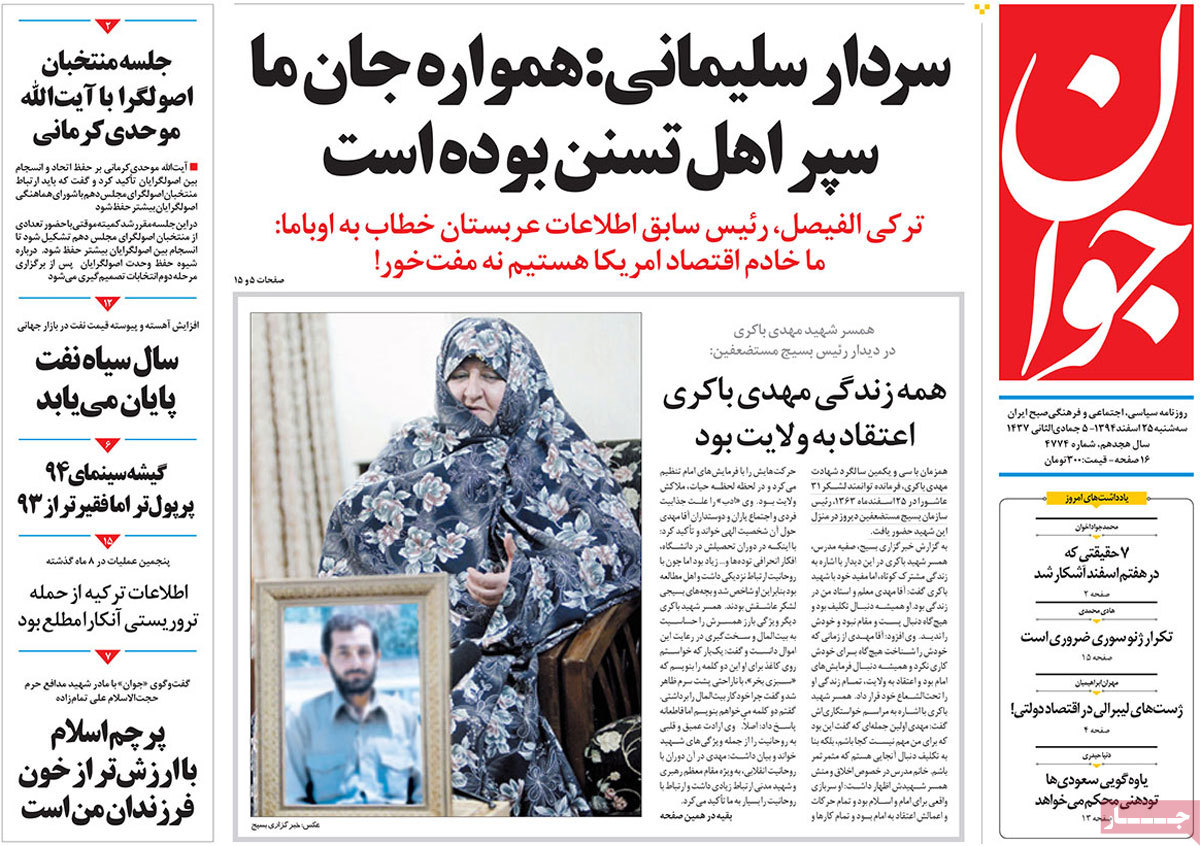 ---
---
Kayhan:
3,500 Saudi forces killed in Yemen war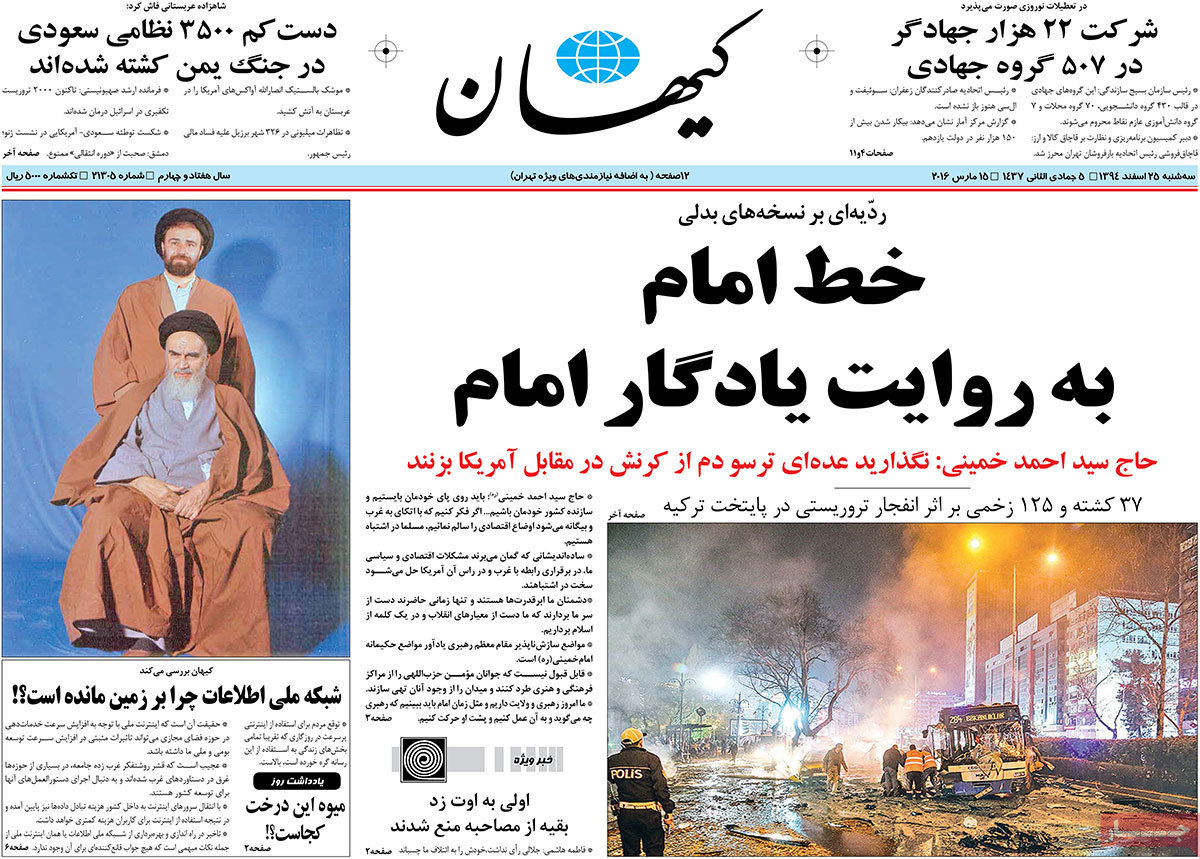 ---
Khorasan:
No sanctions approved in UNSC meeting on Iran missile tests
10 killed, 2,502 injured in Iran fire festival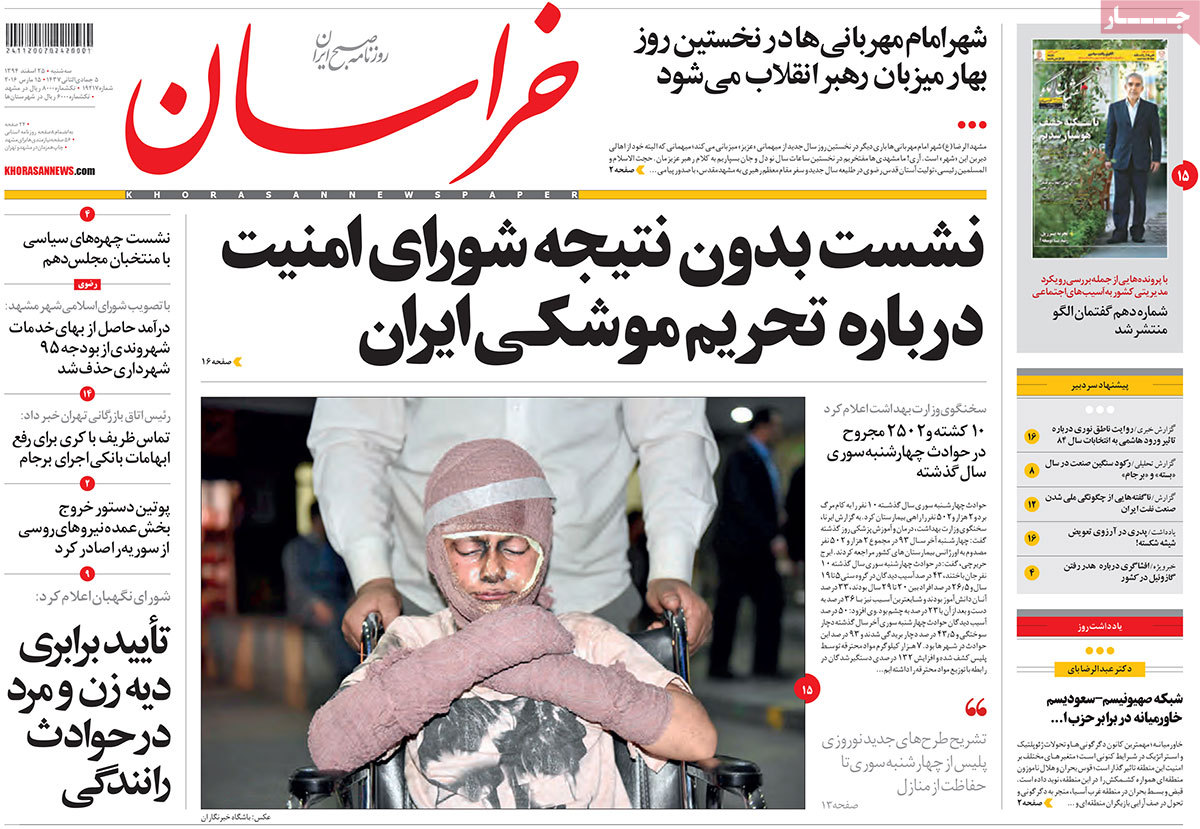 ---
Kaenat:
Iran foreign ministry slams US court's recent anti-Iran judgment
Iran, Russia ready for oil swap
---
Payam Zaman
Judiciary chief: Resistive economy, scientific growth, cultural impunity are three major priorities of country
Car market still hibernating
Zarif reacts to allegations against Iran missile tests
Russia rules out further sanctions on Iran
Air pollution, Tehran's top concern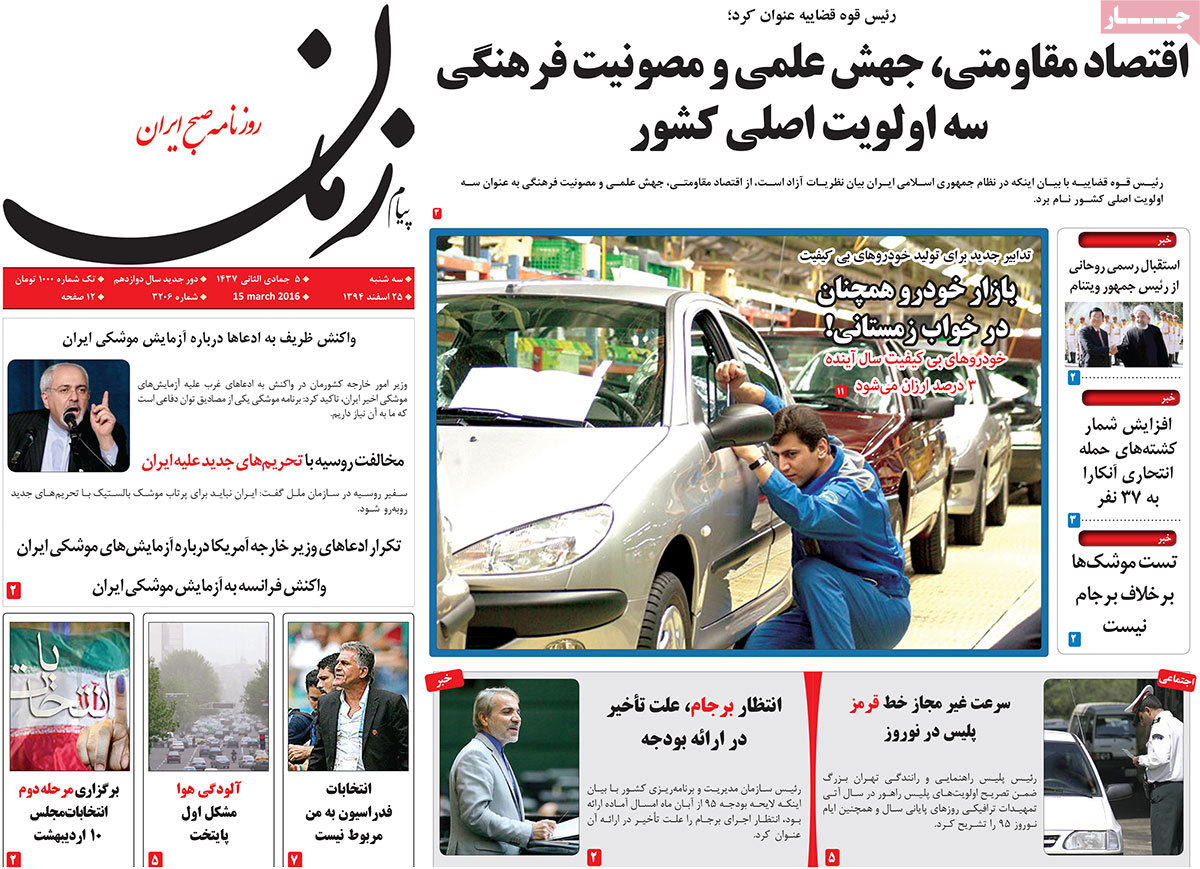 ---
Rah-e Mardom:
Zarif: We have not invaded, nor will invade any country ever
Hackers invade bank accounts
Article: Role of women in society
---
Resalat:
Rule of Islam impossible without Velayat Faqih: Gen. Soleimani
US has violated JCPOA articles, spirit: Mohammad Javad Larijani
Enemy seeks ways to manipulate decision making of politicians: Judiciary chief
Mohsen Rezaei warns Saudis of Iranian self-restraint
---
Rooyesh Mellat:
Iran burning accidents 8 times more than world standards
Iran, Australia ties growing in post-sanctions setting
---
---
Shargh:
UNSC meeting ends without fresh sanctions on Iran
We are not looking for adventures: Gen. Soleimani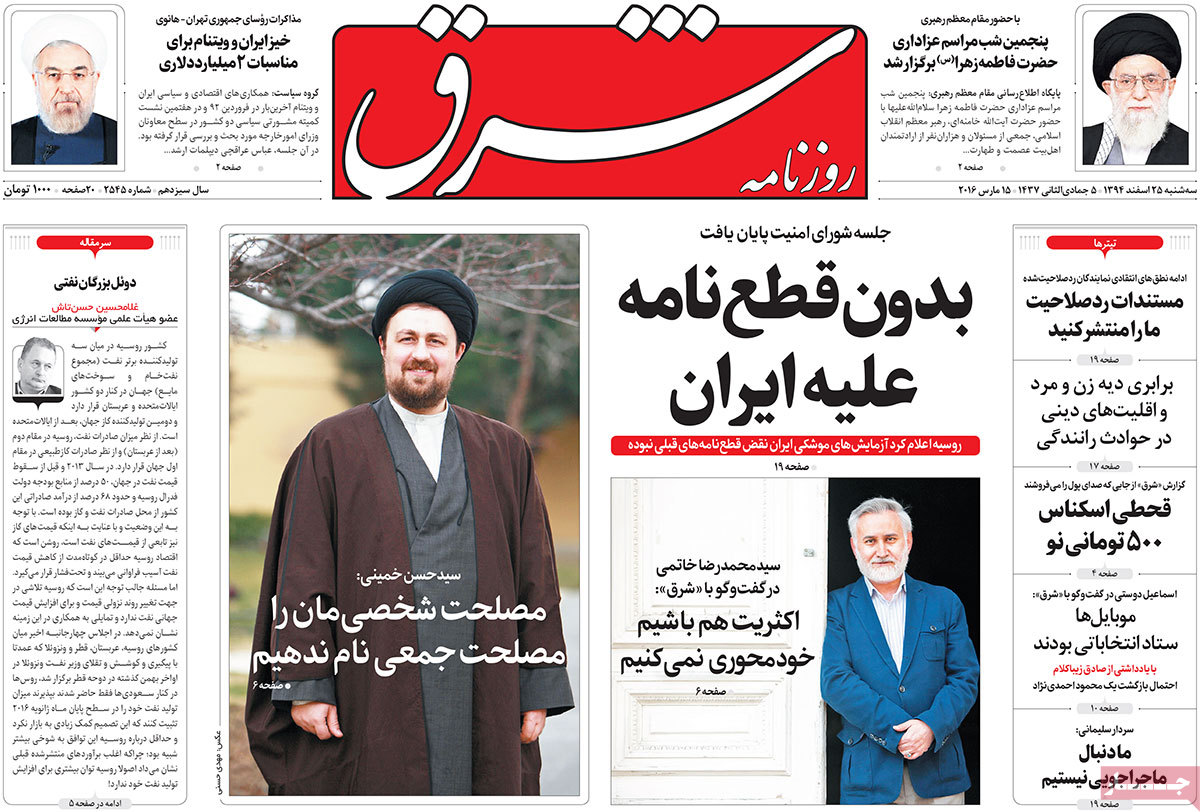 ---
Shahrvand:
Islamic Republic not seeking adventurism: Gen. Soleimani
4,000 ambulances stationed in Iranian roads
---
Saheb Ghalam:
Novak's major oil mission in Iran
Iran foreign debts crosses $5.5bn
Car market bearish
Refinery producing Euro-4 petrol at full capacity
---
Asia:
All foreign deals to be enforced next year