The anniversary of the victory of Iran's 1979 Islamic Revolution will be celebrated on Friday, February 10, in nationwide annual rallies held across Iran. All newspapers today called on the Iranian nation to take part in the rallies and show their solidarity to the US and its new president.
Another top story today was that President Hassan Rouhani will run for presidential election in May, as confirmed by Iranian Health Minister Hassan Qazizadeh Hashemi.
Newspapers also covered the controversial list of Fajr Film Festival's nominees declared by its jury and the decision by many artists, including even some of those nominated, to boycott the festival in protest.
The above issues, as well as many more, are highlighted in the following headlines:
Abrar:
1- Senior Conservative Bahonar: I Think Rouhani Will Receive Less Votes
2- Muslims Should Give Passwords to Their Social Media Accounts If They Want to Obtain US Visa
3- IRGC Commander: Islamic Revolution Will Continue Its Path Strongly and Proudly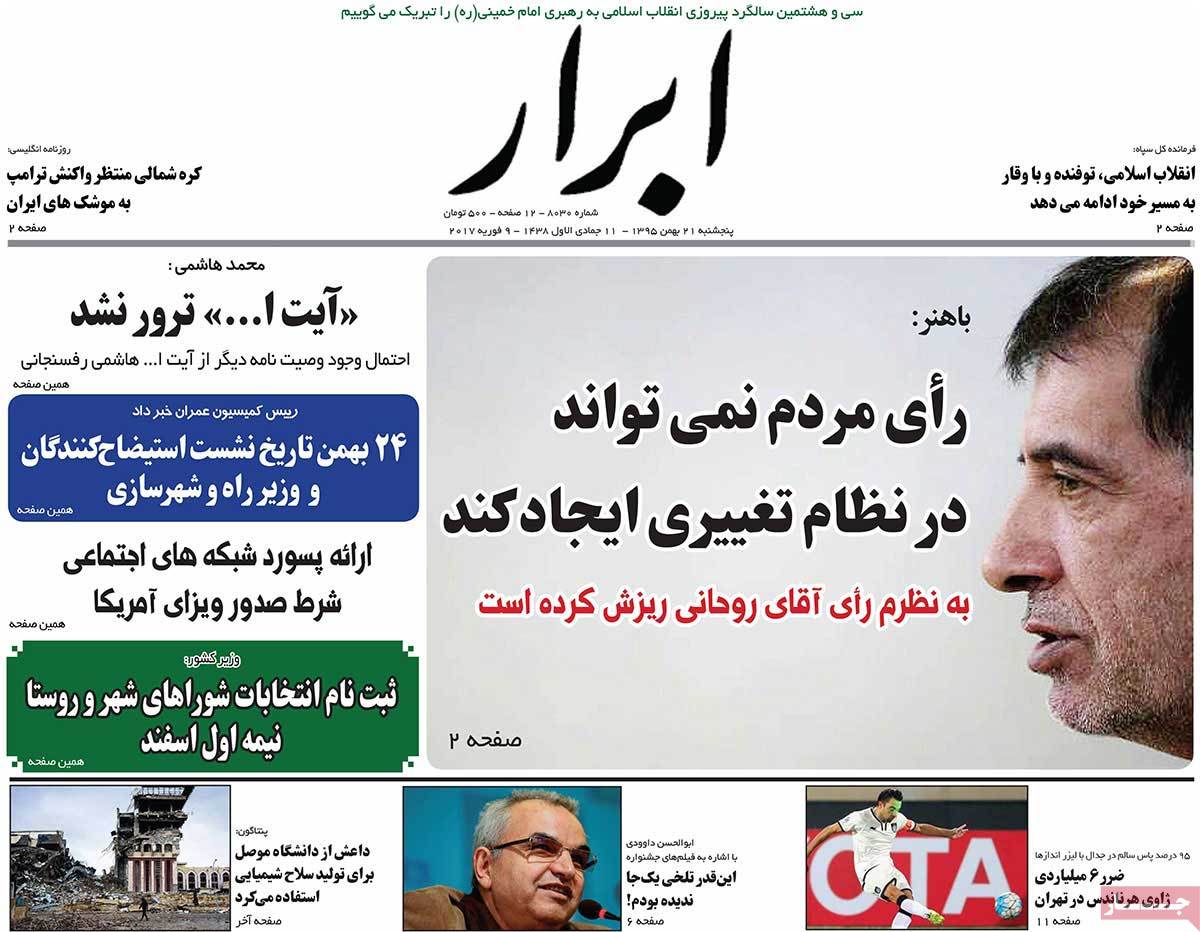 ---
Amin:
1- Opponents of Iran Will Lead Trump's Administration to Defeat
2- Top Chess Players in Tehran: Iran Hosting Most Important Sport Event in Its History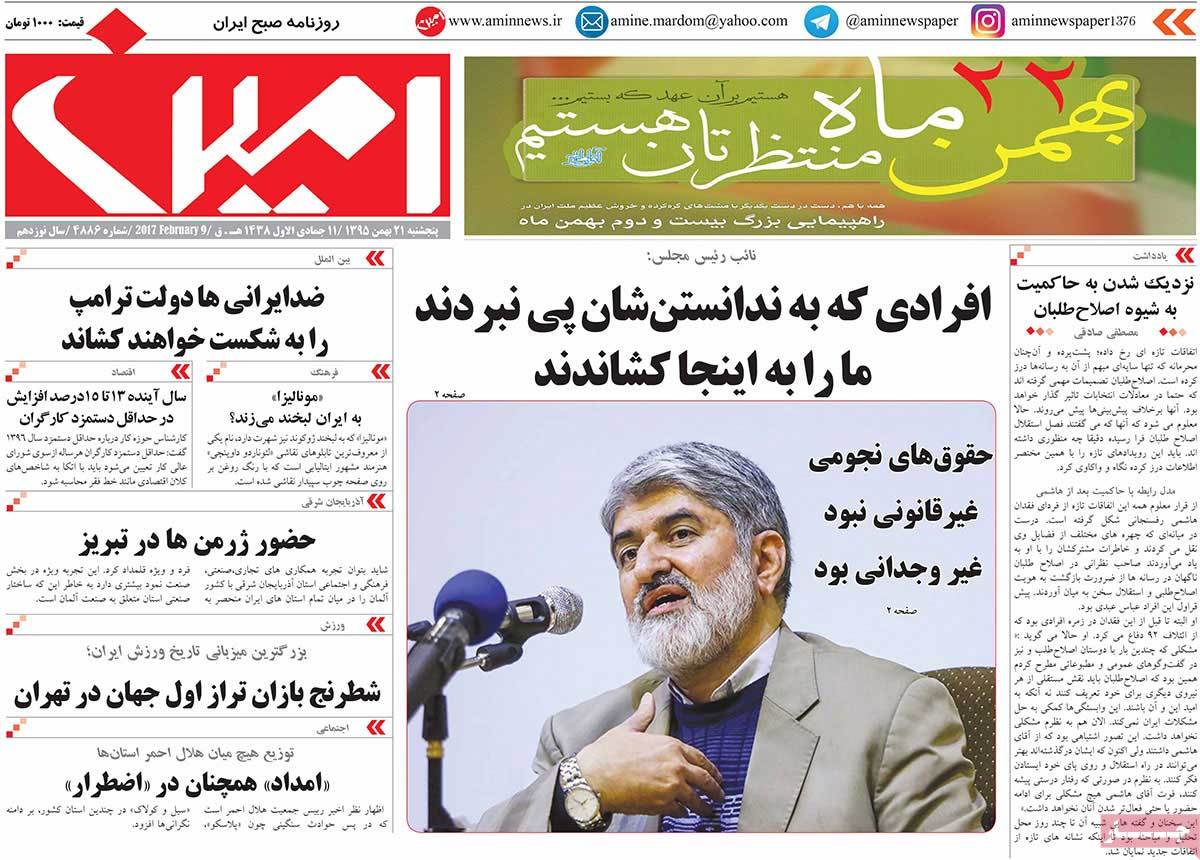 ---
Arman-e Emrooz:
1- Iran's Revolution Didn't Move Based on Arms: Imam Khomeini's Grandson
2- Health Minister: Rouhani Will Run for May Presidential Votes
3- Tomorrow Everyone Will Come: A Call for People's High Turnout in 22 Bahman Rallies
---
Asr-e Rasaneh:
1- Capacity of Iran's Petchem Production Increases by 7.5 Million Tonnes
2- 1.5 Million People Added to Iran's Job Market in Past Year: Labour Minister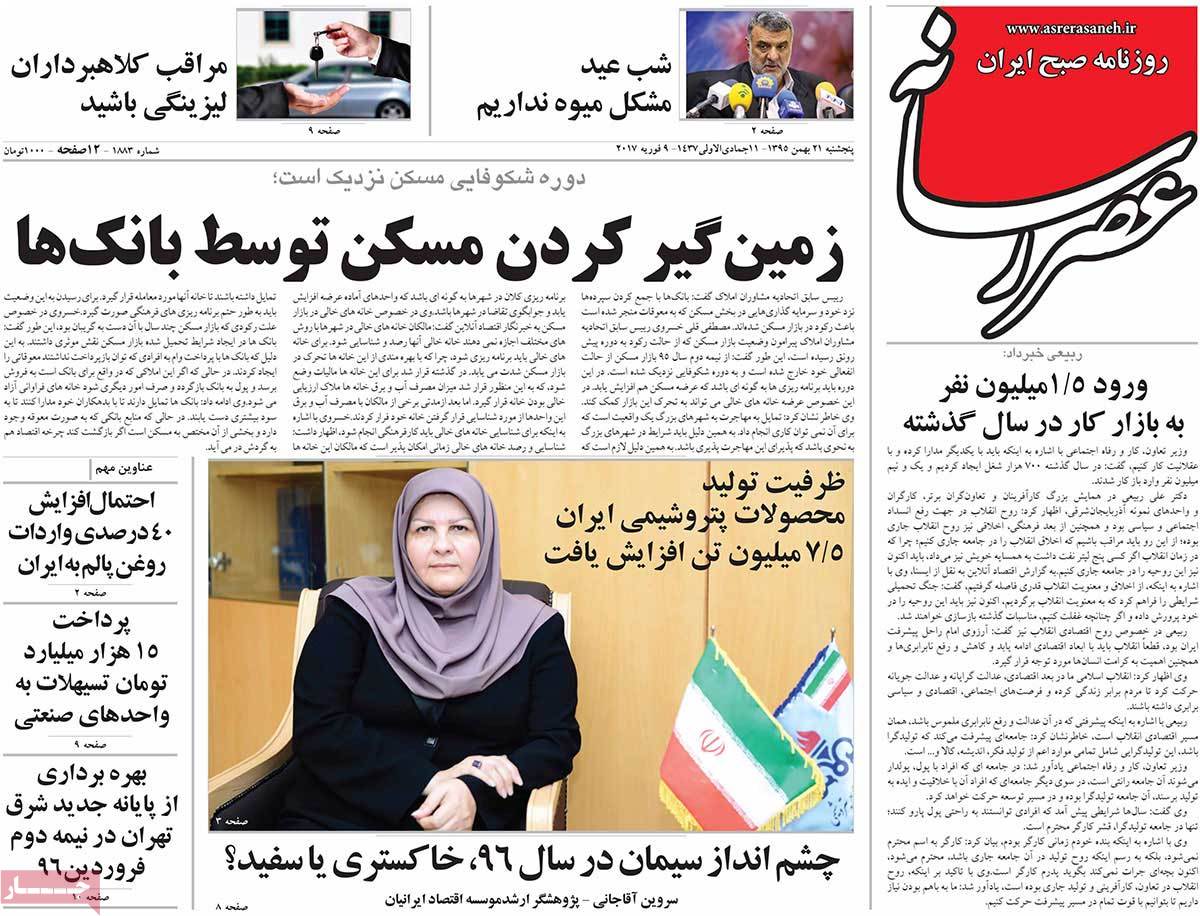 ---
Bahar:
1- Living beside the Rubble: A Report of the Place Where Plasco Building's Debris Are Transferred to in Southern Tehran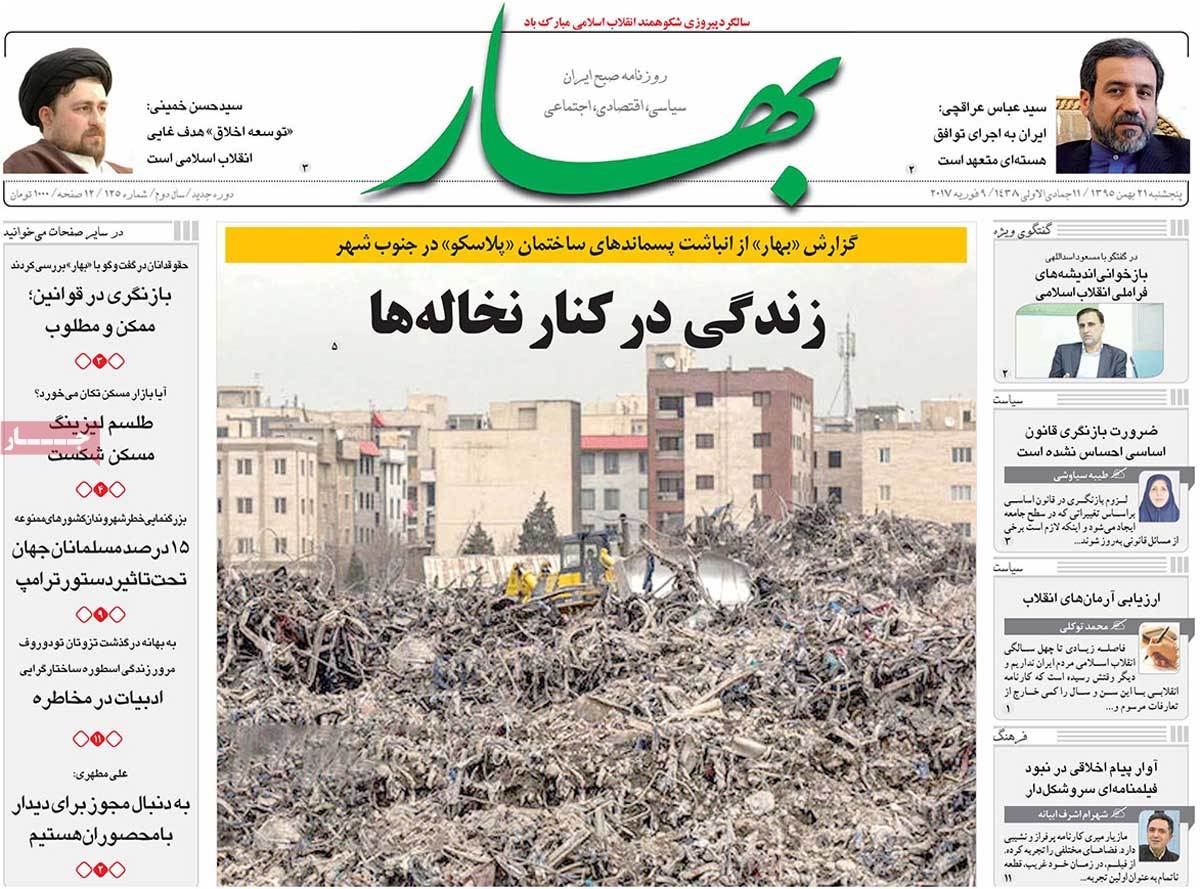 ---
Ebtekar:
1- In a Ruling System Inspired by Imam Ali (AS), the Red Line Is Armed Struggle, Not Criticism: Vice-Speaker of Iran's Parliament
2- Our Ties with Tehran More Important than Those with Washington: Iraqi PM
3- Ethics Gives Peace to the Society: Imam Khomeini's Grandson
4- 22 Bahman Rallies Will Be Held in 5,000 Spots: People Invited to Attend Celebrations of Islamic Revolution's Victory
---
Etemad:
1- Rouhani Decides to Run for Presidential Election
2- One Iran, One Voice: Nation Will Show Its Unity Tomorrow
3- Glory of Independence, Manifestation of Republicanism: A Special Report on 38th Anniversary of Victory of Islamic Revolution
4- Iran's Leader Pardons or Commutes Sentences of 631 Prisoners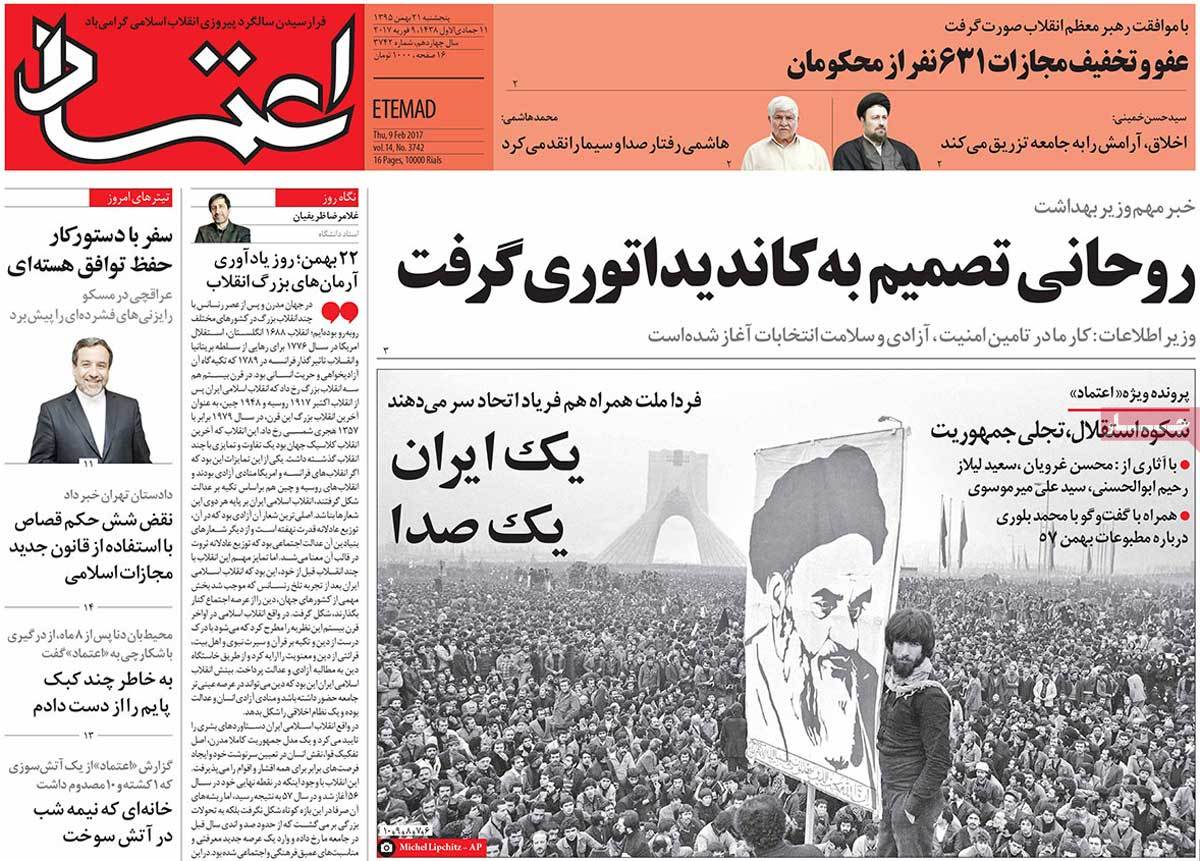 ---
Ettela'at:
1- Iranian Nation's Call for Independence and Justice-Seeking to Be Heard in the World Tomorrow
2- US Power to Unite the World against Its Enemies Decreased: Rouhani
3- 820 Billion Tomans [$215,000] Allocated to Revival of Lake Urmia
4- Saudi Palaces Evacuated across US for Fear of Yemenis' Missile Attacks
5- Ayatollah Khamenei's Comments about 4 Books Unveiled
---
Haft-e Sobh:
1- Good, Ugly, Tough: Controversy over List of Fajr Film Festival's Nominees Makes Culture Minister Form Special Committee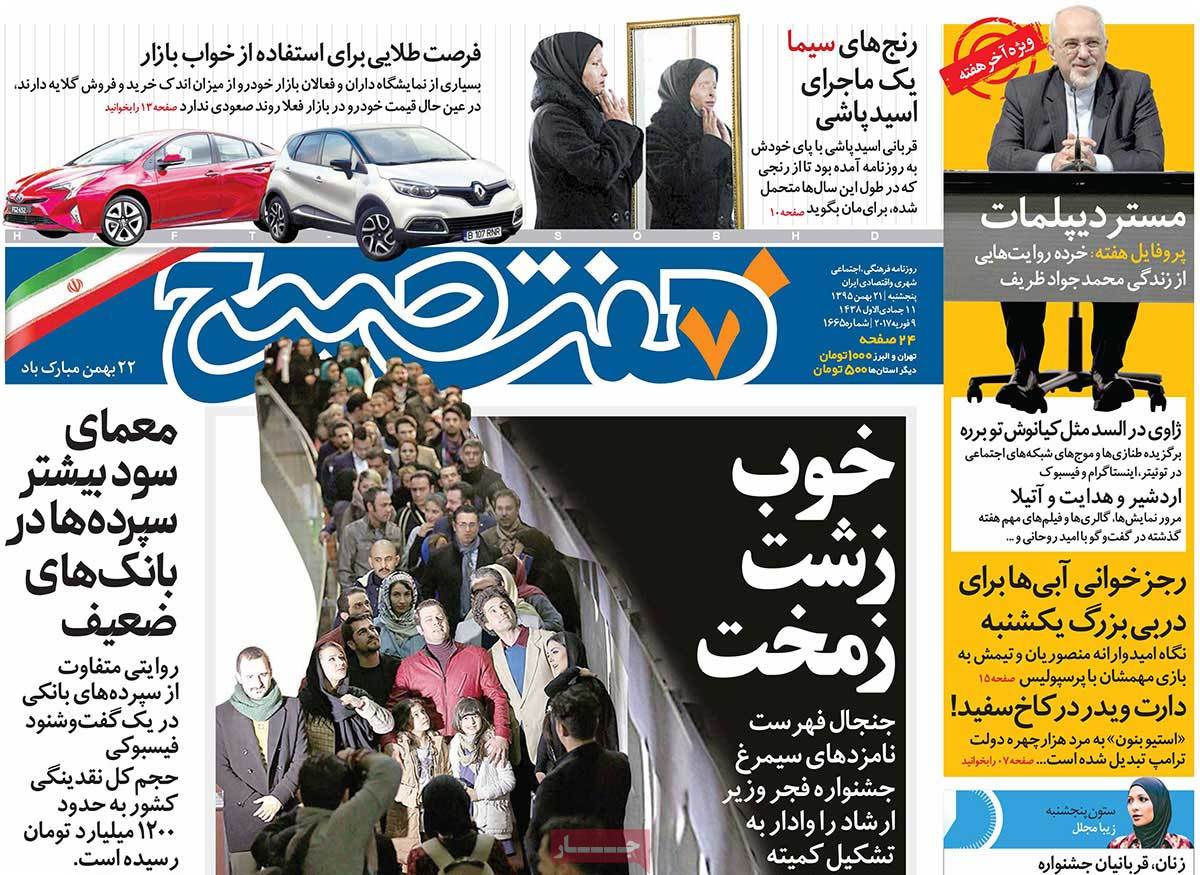 ---
Iran:
1- Call for National Participation: Clerics, Officials, Parties, and Political Figures Invite People to Attend 22 Bahman Rallies
2- 21,000 Inactive Industrial Units Resume Work: Central Bank Governor
3- Iran's Revolution Most Popular One in History: Imam Khomeini's Grandson
---
Jame Jam:
1- Tomorrow, the Day of Solidarity and Might
---
Javan:
1- Don't Try to Scare a 40-Year-Old Revolution Using Threats
2- IRGC Commander: It's Pointless to Threaten Iran
3- Russia Urges US Not to Provoke Iran into Getting out of JCPOA
---
Ka'enat:
1- Rouhani Will Run for Presidency: Health Minister
2- US Secretary of State Should Pick Up the Phone and Call Zarif: Strange Request from Tillerson [Tillerson says in the cartoon: Why should I call? I'm a man of business. I made a fortune thanks to Iraqi Kurdistan's oil. But Iran's oil is under sanctions, isn't it?]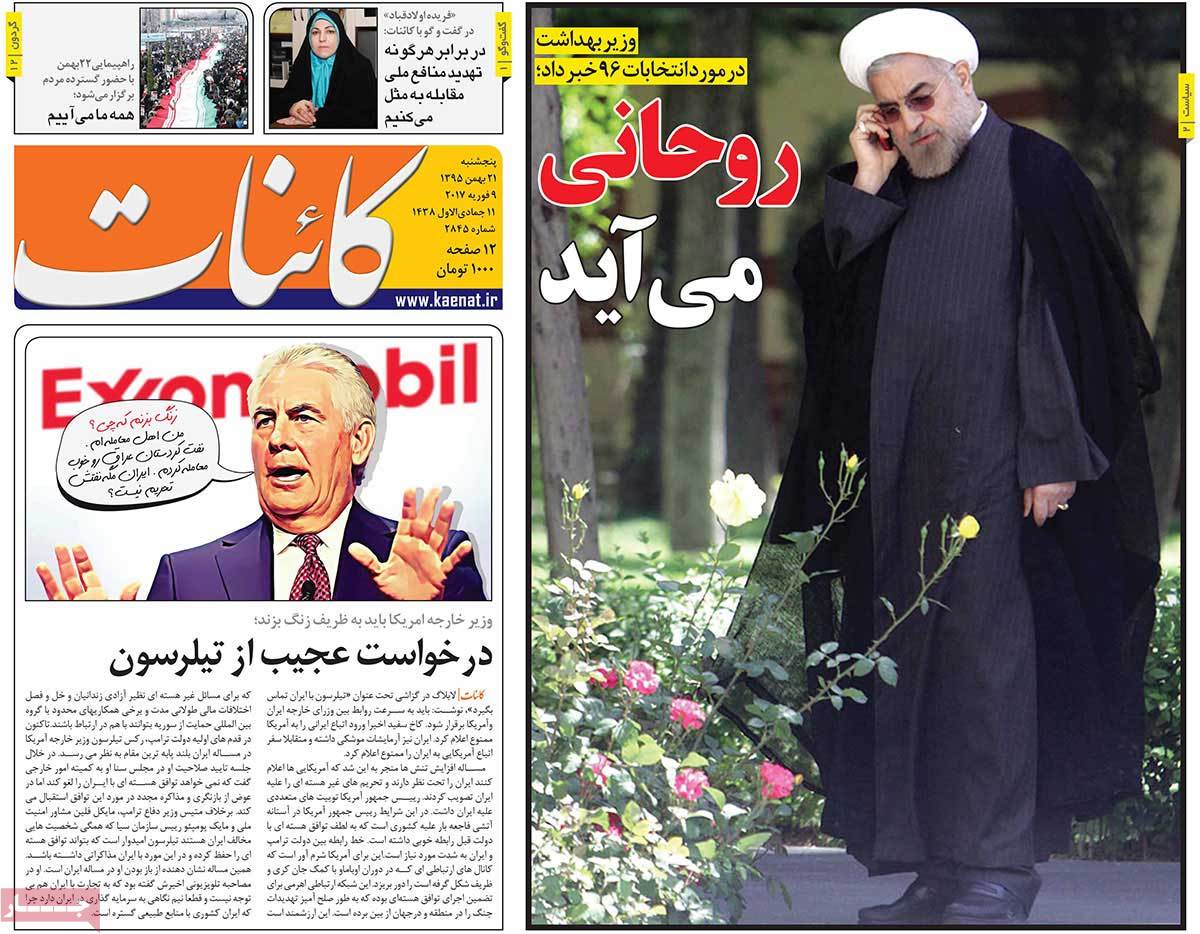 ---
Kayhan:
1- Obama and Trump's Dreams Will Be Crushed Tomorrow
---
Khorasan:
1- Trump Planning to Violate JCPOA by Putting IRGC on Sanctions List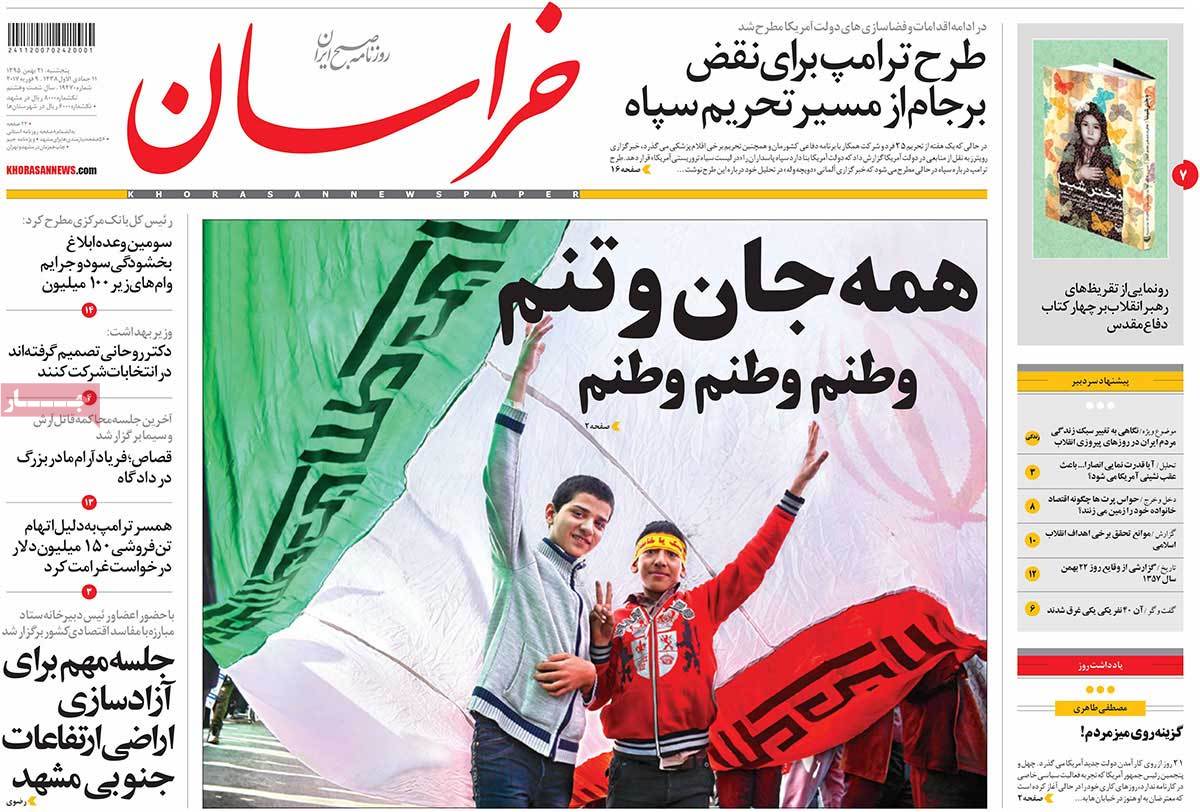 ---
Resalat:
1- Clerics Invite People to Attend 22 Bahman Rallies
2- Islamic Republic Sees US as a Paper Tiger: IRGC Commander
3- Islamic Revolution's Achievement for Women Is the Possibility of Their Presence in the Field
---
Sepid:
1- After JCPOA, Iran Has Exported $60 Million Worth of Medicine and Medial Equipment
2- 400 Motorcycle Ambulances to Help People in Tehran's Traffic
---
Shahrvand:
1- Iran's Response to Trump in 22 Bahman Rallies
2- Six Teenagers' Death Sentence Cancelled: Tehran Prosecutor's Efforts to Prevent Execution of Convicts under 18 Years of Age