The top story today was the remarks made by President Hassan Rouhani during his tripartite meeting with his Russian and Turkish counterparts in the city of Sochi. The withdrawal of US forces from Syria was among the topics highlighted by most papers.
Several papers also covered the Warsaw Summit and resembled it into a circus staged by Washington. Some dailies also said that the Sochi Summit could defeat attempts at Warsaw to give a bad picture of Iran.
Reactions to the Wednesday terrorist attack in Iran's Sistan and Baluchestan province in which 27 border guards were killed was another topic highlighted by Iranian dailies.
The above issues, as well as many more, are highlighted in the following headlines and top stories:
Abrar:
Pompeo Repeats Anti-Iran Claims in Line with US Disruptive Policies
UNSC Condemns Iran's Sistan and Baluchestan Terrorist Attack
We Are Ready to Join SPV: Erdogan
US Moving Special Operations Forces Near Venezuela: Cuba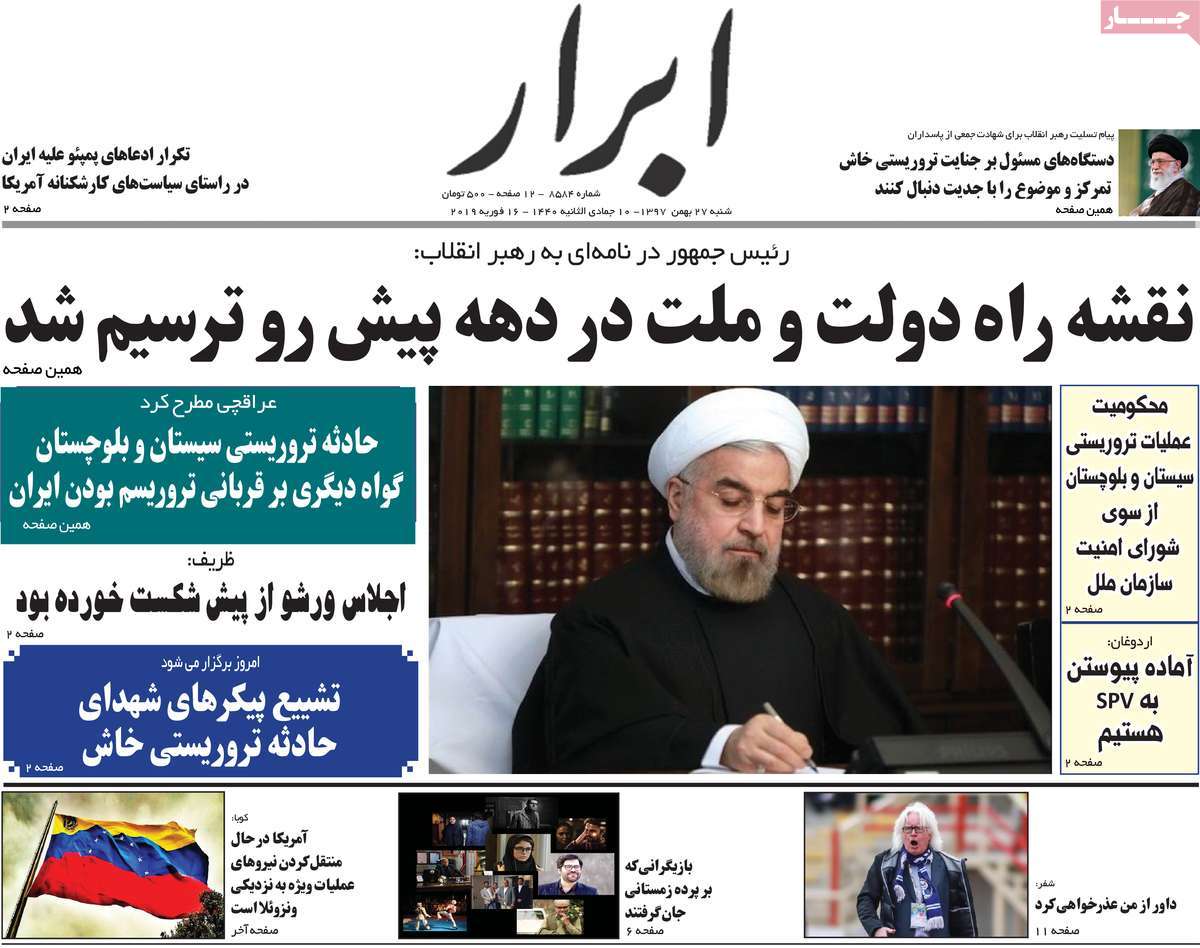 ---
Aftab-e Yazd:
'Pakistan Wants Iran to Pay Border Security Costs'
Warsaw Summit Outcome
Disputes of Chinese Fishermen's Fishing in Southern Waters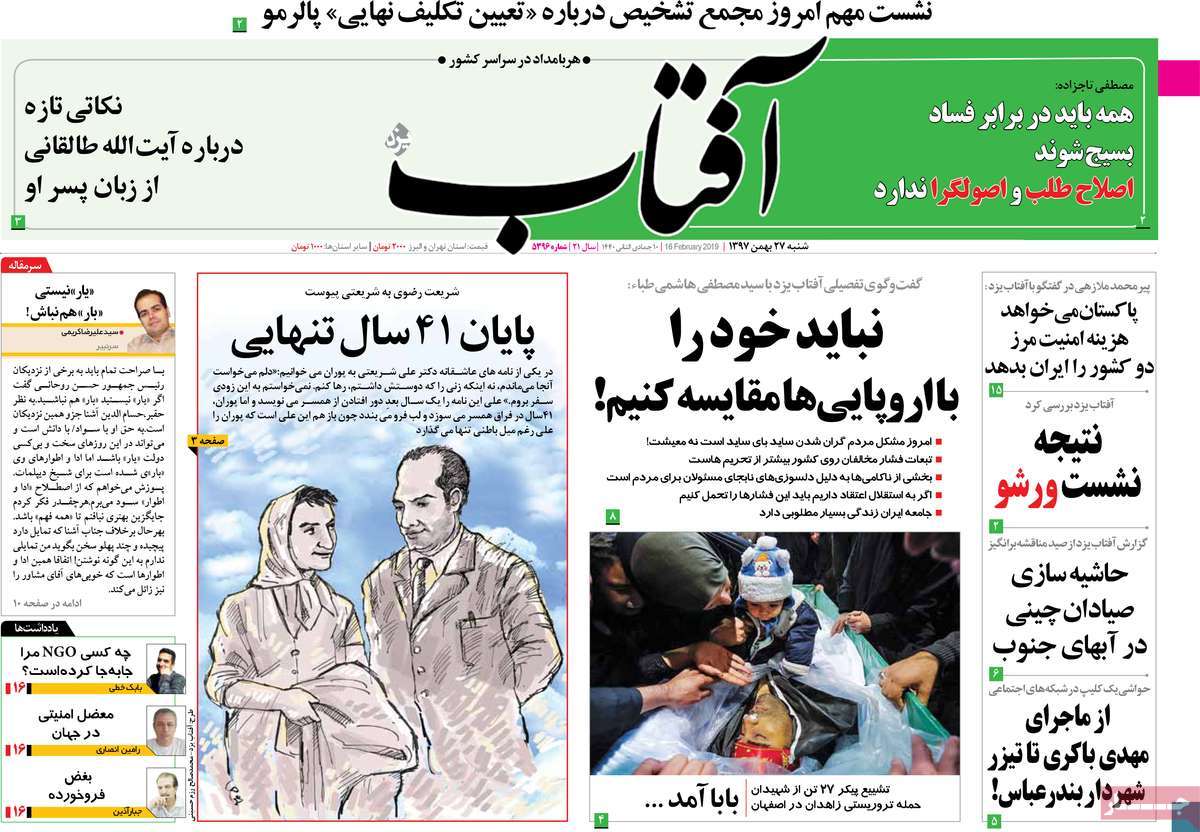 ---
Arman-e Emrouz:
Syria Has One Nation Not Two: Rouhani
Peace Solution Only Through Syrian-Syrian Talks
Zarif, Mogherini Meet in Munich
Iran's Policies, Regional Realities Described: Zarif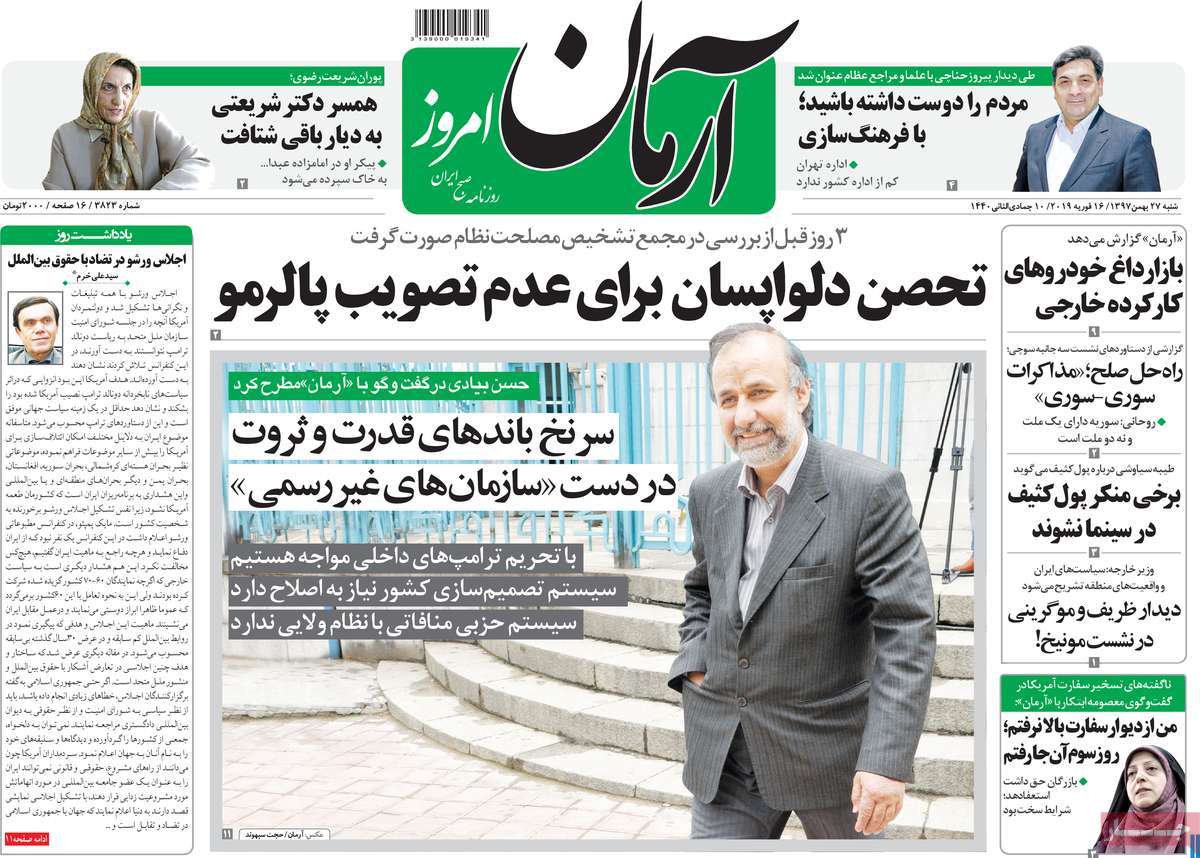 ---
Ebtekar:
Presence of Foreign Forces, Especially US, Should End ASAP: Rouhani in Sochi
Equations of Peace Triangle
A Look at 4th Sochi Summit between Presidents of Iran, Turkey, Russia
---
E'temad:
US, Israeli Gaffes Turn Warsaw Conference into Farce
Celebrating US Withdrawal
Turkish, Iranian, Russian Leaders Study Syria's Future in Sochi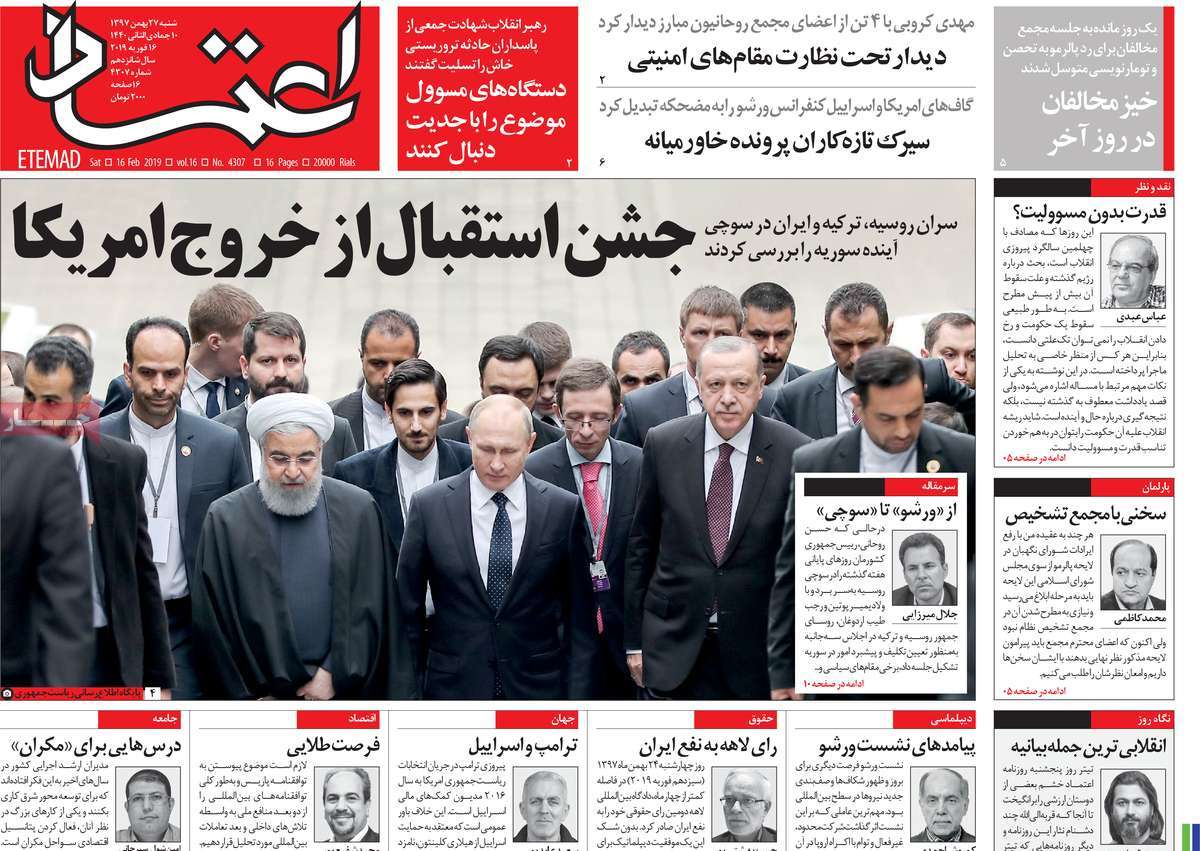 ---
Ettela'at:
Responsible Organisation Must Look Seriously into Sistan & Baluchestan Terror Attack: Leader
44 Killed in Suicide Attack on Indian Troops in Kashmir
Rouhani Sets Forth Proposals to Restore Stability to Syria
---
Iran:
Iran, Russia, Turkey Leaders Agree on Maintaining Syria's Territorial Integrity, Reducing Tensions in Idlib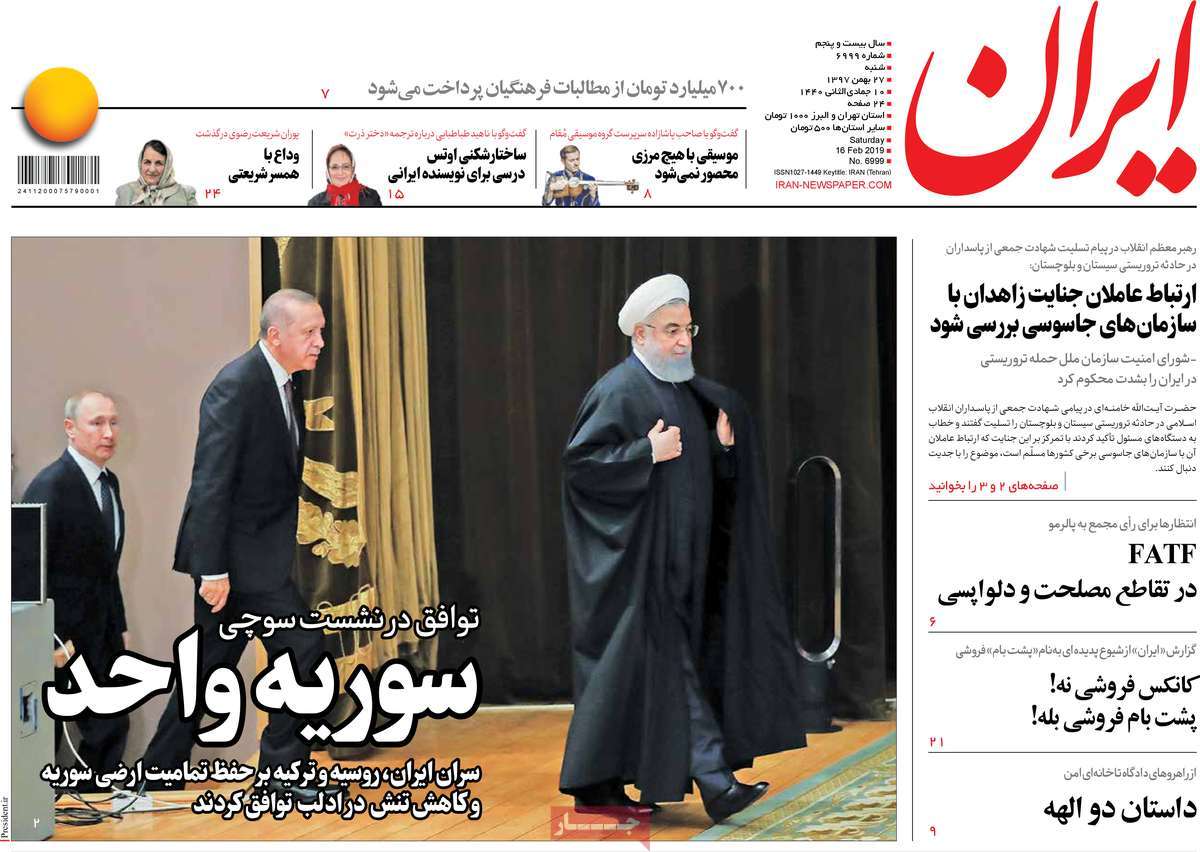 ---
Jomhouri Eslami:
The Hague Orders United States to Pay $2 Billion to Iran
World Condemns Terror Attack in Iran's Sistan & Baluchestan
EU Have Led INSTEX to Create Mechanisms to Break up Our Sanctions: Mike Pence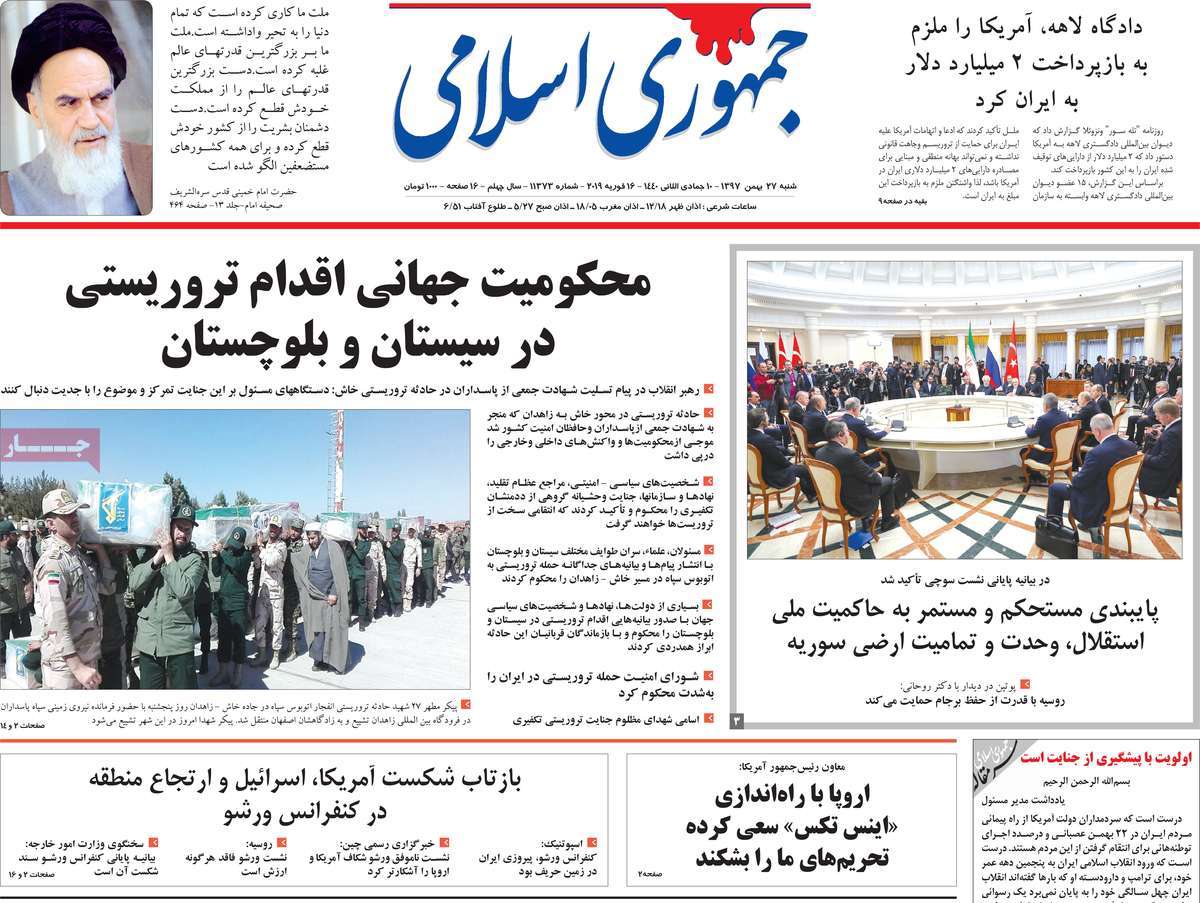 ---
Kayhan:
US Police Shoot Almost 1,000 Dead Every Year: Independent
US, Zionist Regime Cause of Terrorism in Region: Iran, Turkey, Russia Discuss in Sochi
Warsaw Summit Displays US Humiliation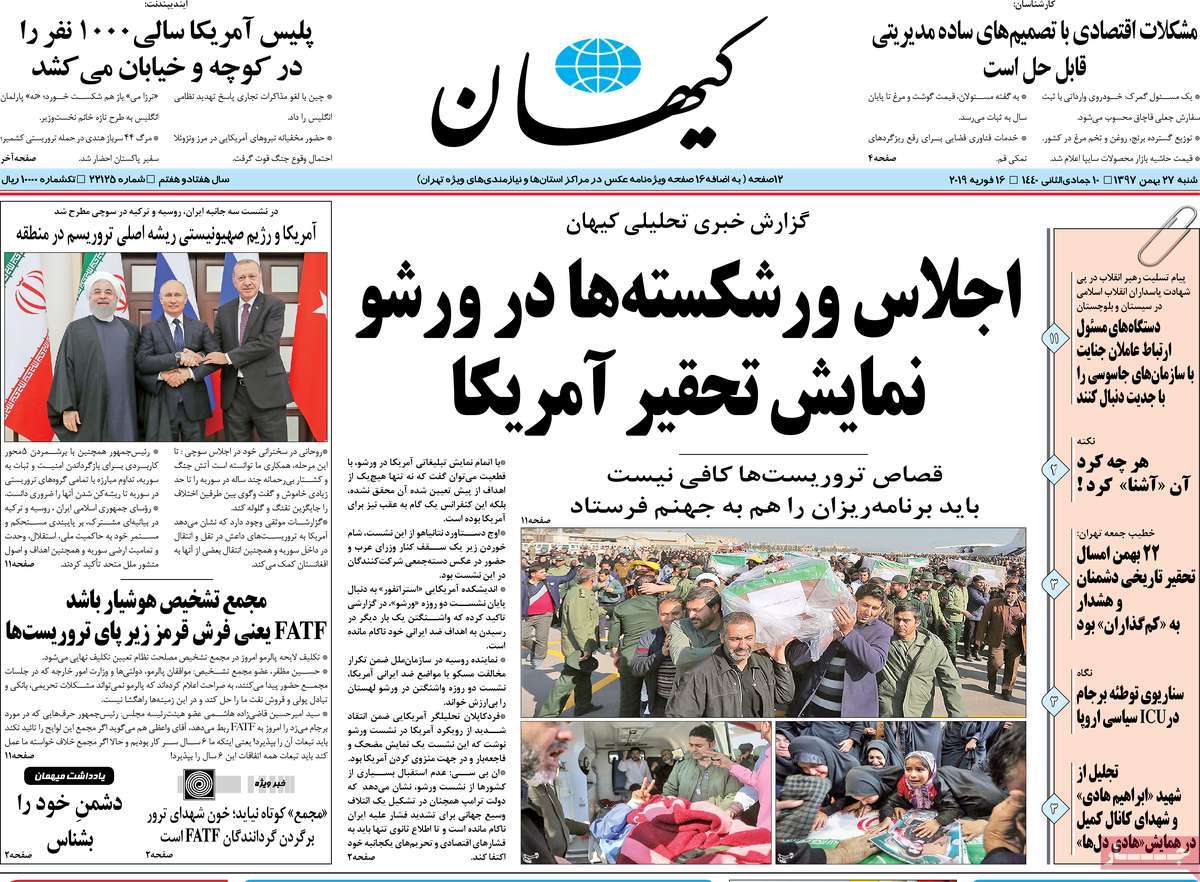 ---
Sazandegi:
Khash in Blood
Terrorist Attack in Khash Kills 27 Iranian Border Guards
Warsaw Defeated by Sochi
Sochi Tripartite Summit Clear Response to Warsaw Players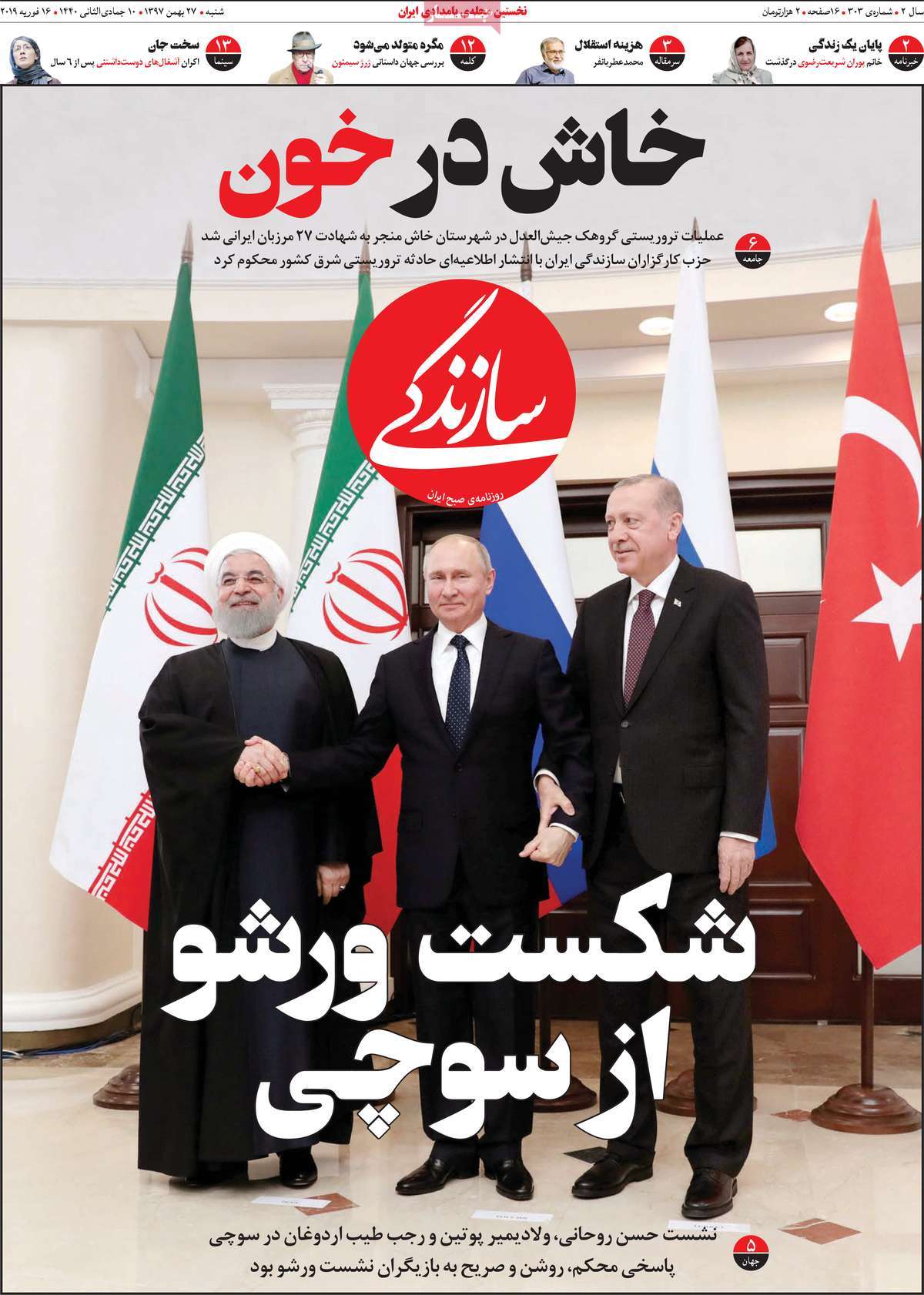 ---
Setareh Sobh:
Palermo Convention Waiting to Be Approved
Iran Expediency Council Looks into Palermo Convention Approval
What Happened at Warsaw Conference?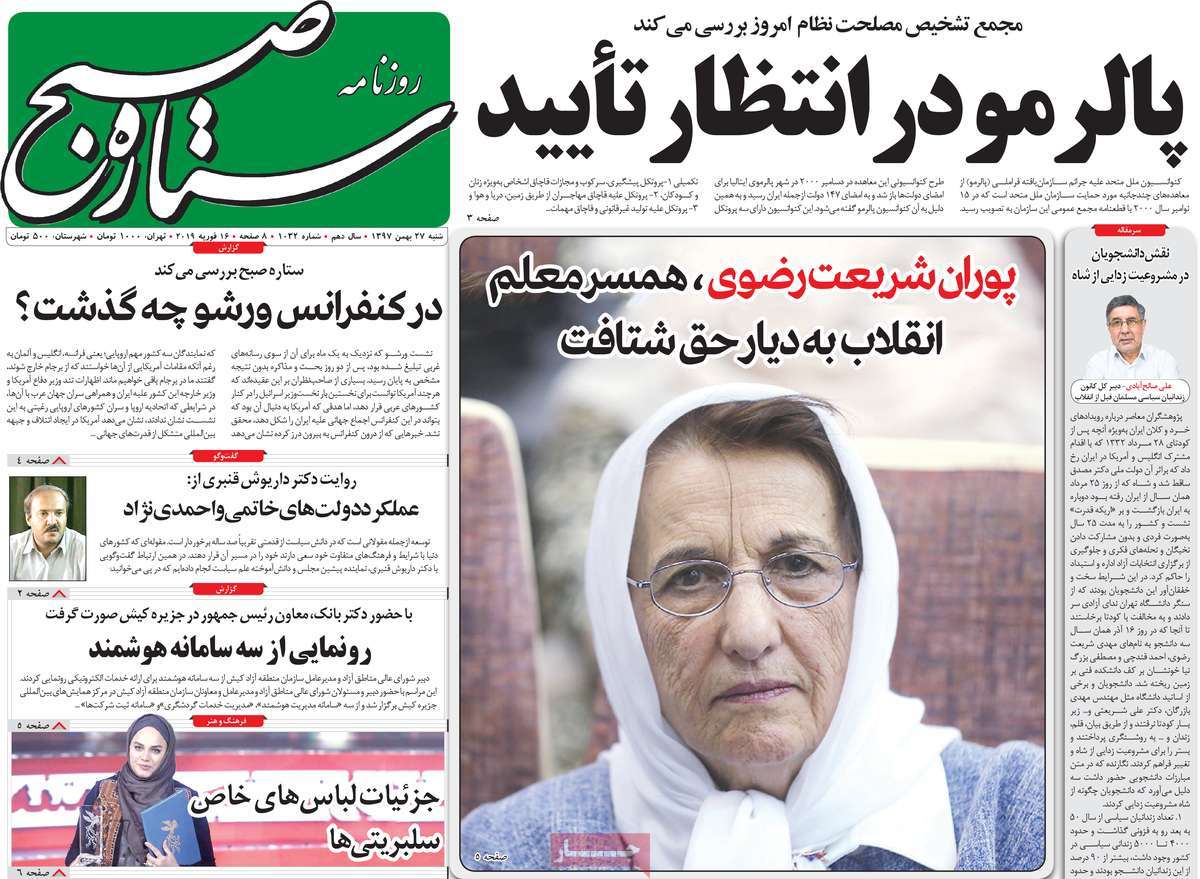 ---
Shargh:
Oil Trade with Euro
Expert Analyses Likelihood of China-India Coop with Iran Through EU Channel
Rouhani Writes Letter to Leader on Roadmap of Coming Decade for Gov't, Nation
Iran Leader Expresses Sympathy over Martyrdom of IRGC Forces
Iran, Russia, Turkey Leaders Confirm Withdrawal of US Forces from Syria