All papers today covered the "strategic and important" statement released by Leader of Iran's Islamic Revolution Ayatollah Seyyed Ali Khamenei, entitled "Second Phase of the Islamic Revolution".
The top story in today's newspapers was an attack by Takiri terrorists on a bus carrying a group of Iranian border guards, which killed 27 and wounded 13 IRGC personnel.
The anti-Iran Warsaw Conference being held by the US in the Polish capital also remained a top story, with many papers highlighting its failure to create a consensus against Iran.
The above issues, as well as many more, are highlighted in the following headlines and top stories:
Abrar:
1- Rouhani's VP for Legal Affairs: FATF Deadline Might Be Extended for Iran
2- Iraqi Kurdistan Government: Iran-KRG Prison Swap Postponed

---
Aftab-e Yazd:
1- Flour Cooperation between Iran, Russia
• After Oil Cooperation, Now They'll Work on Wheat, Flour
• Iran's Economy Closer than Ever to Russians
2- Iran Leader's Important Message to Youths at 40th Revolution Anniv.
3- Failure in Warsaw: Conference Supposed to Be Anti-Iran Not to Bear Any Fruit for US
4- Terrorist Explosion Hits Bus Carrying IRGC Personnel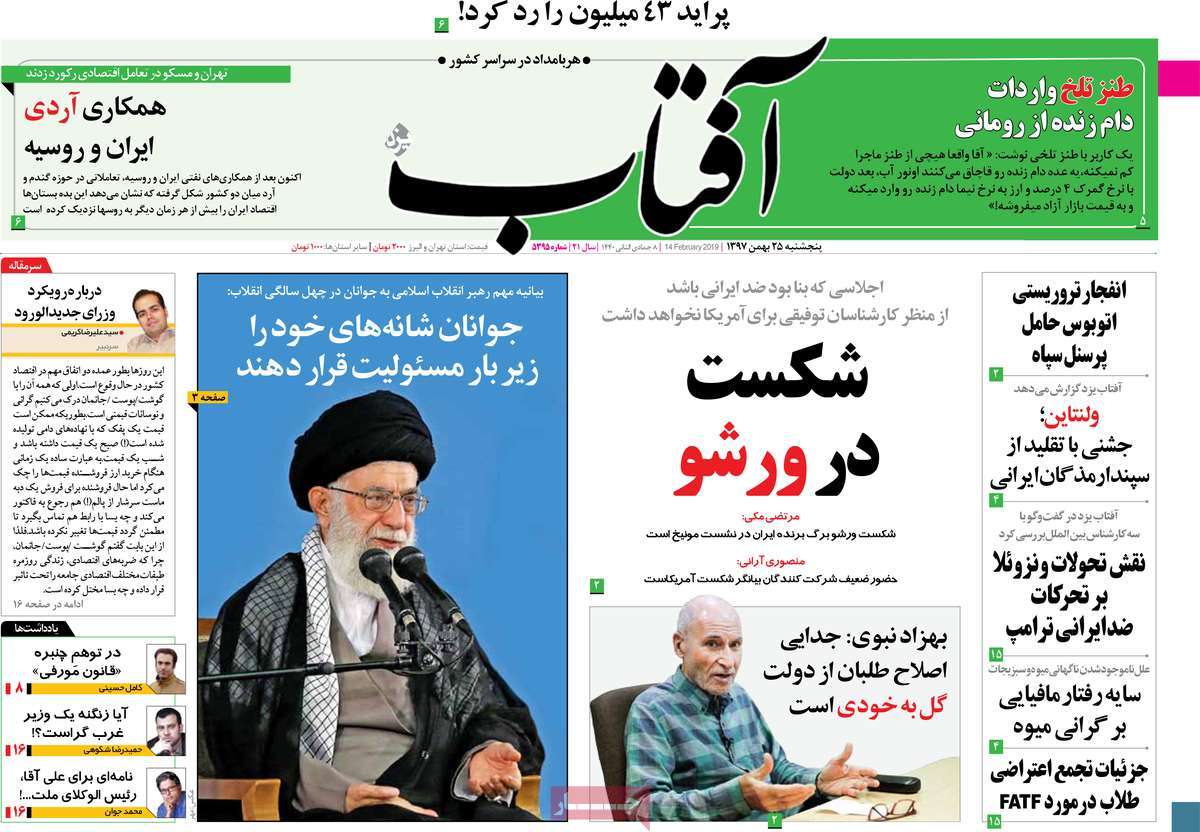 ---
Arman-e Emrooz:
1- Terrorist Attack Hits Bus Carrying IRGC Staff in Zahedan: 27 Killed, 13 Wounded
2- The Hague Votes in Favour of Iran, against US
3- Europe Gives Cold Shoulder to Warsaw Summit
• Mogherini Didn't Attend; Germany, France Sent Low-Ranking Representatives

---
Etemad:
1- More Isolated than Ever: Zarif Says US Conference in Poland Born Dead
2- Rouhani: We're Ready for Dialogue If Iran's Dignity Preserved
3- Iran Leader: Islamic Revolution Always Ready to Correct Its Mistakes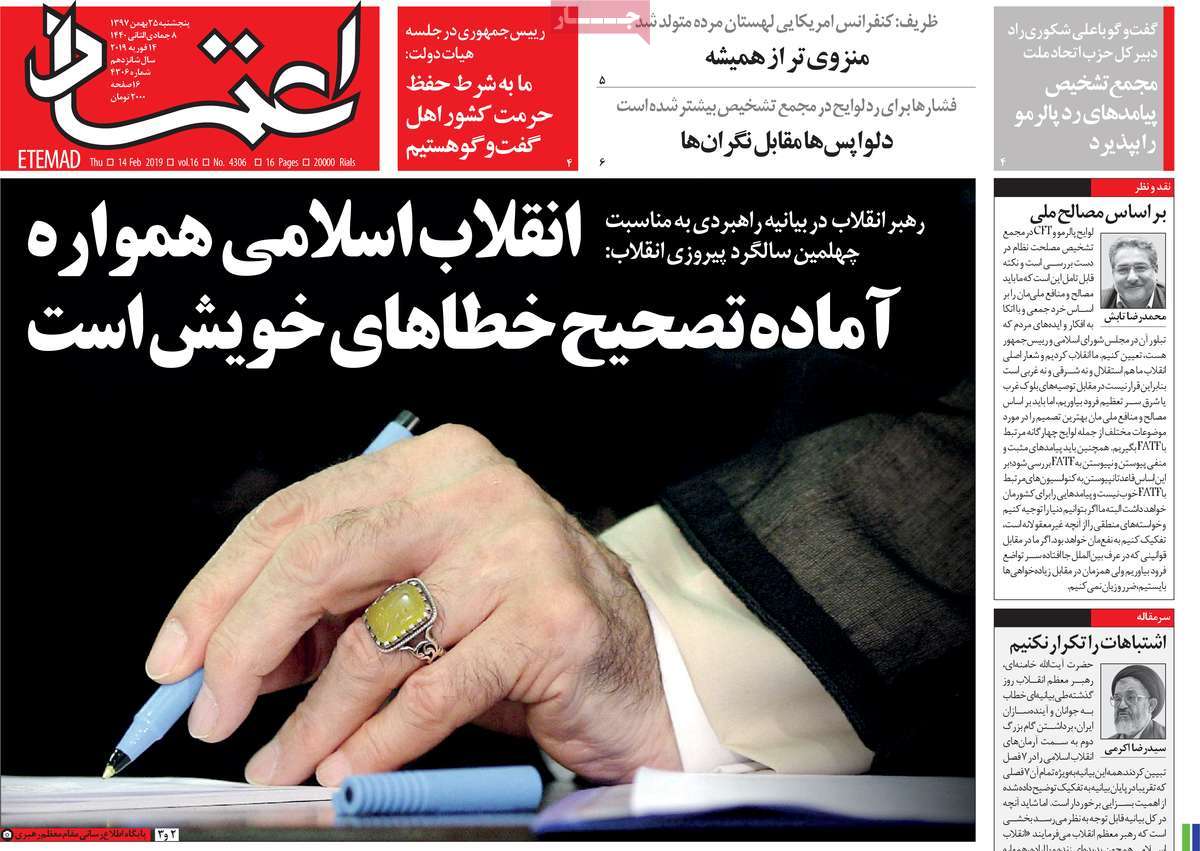 ---
Ettela'at:
1- Iran Leader Calls for Great Jihad to Create Great Islamic Iran
2- Rouhani: We're Interested in Dialogue, but We Don't Accept Pressure, Imposition

---
Haft-e Sobh:
1- Gov't Trying to Decrease Meat Price by Importing 600,000 Sheep
• First Cargo, Including 2,000 Sheep, Arrives from Romania

---
Jomhouri Eslami:
1- We Don't Accept Presence of Any Foreign Base in Iraq: PM
2- No Mention of Iran in Opening of Warsaw Conference
3- Saudi Arabia Blacklisted by Europe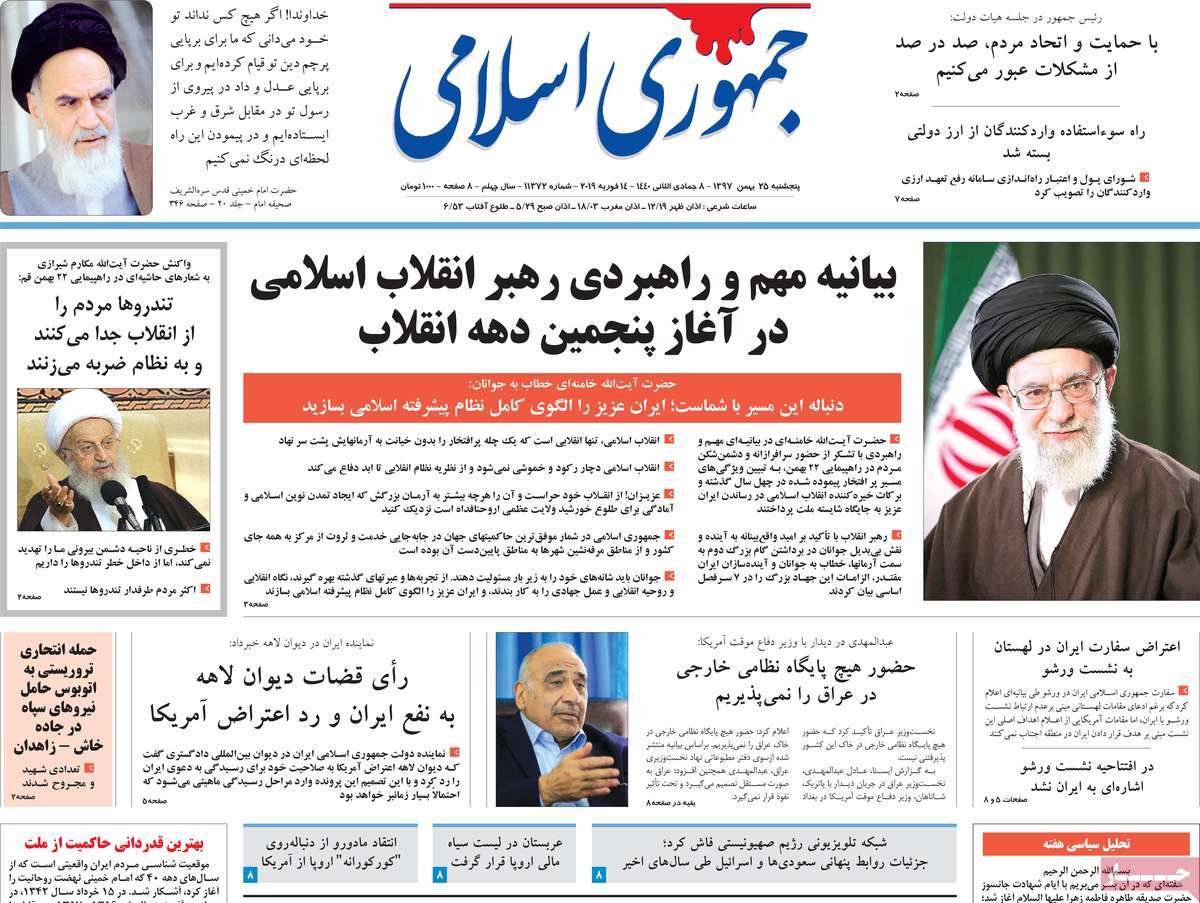 ---
Kayhan:
1- All Solution Inside the Country: Iran Leader
2- Rouhani: We Should All Believe We're in War Conditions
3- Crime in Zahedan-Khash Road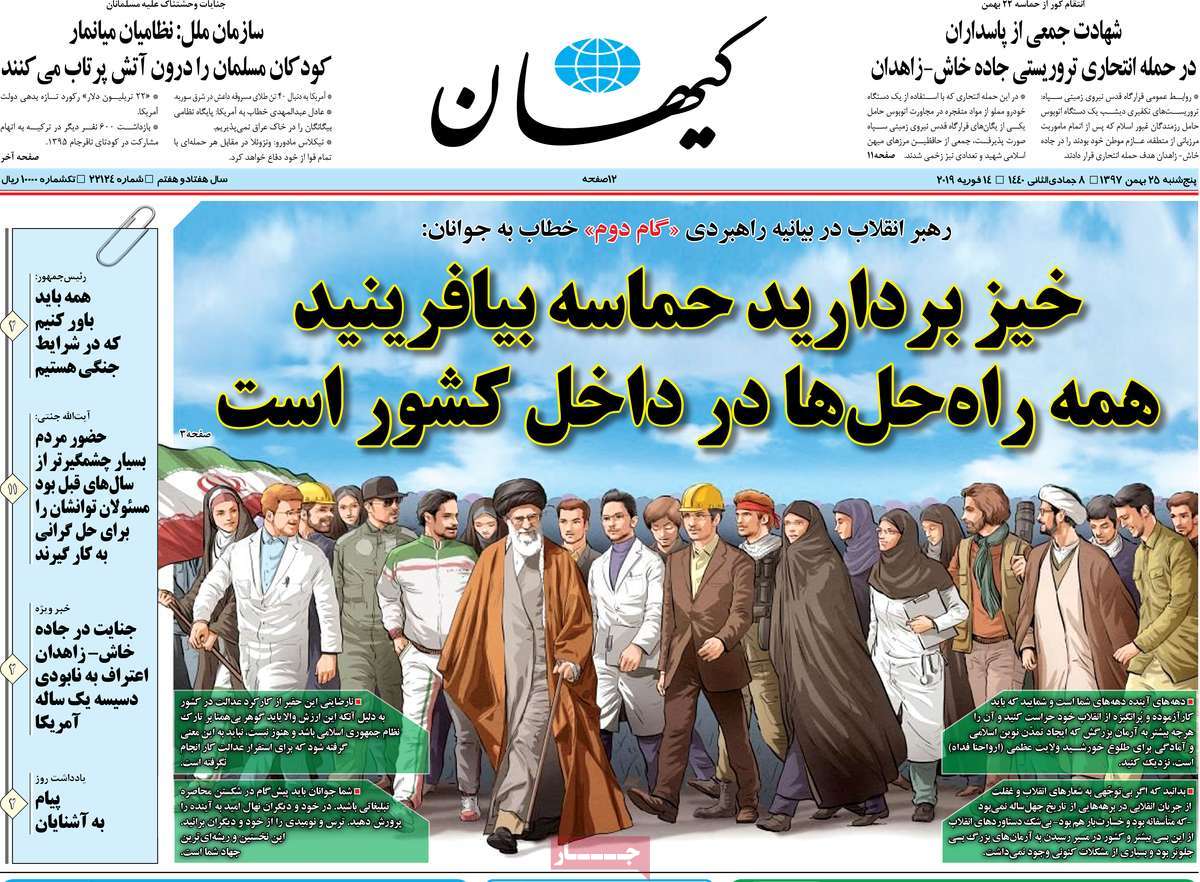 ---
Mardom Salari:
1- US' Appeal Rejected at The Hague
2- Europe Skeptic of Saudi Deals: Riyadh Added to Europe's Black List of Money Laundering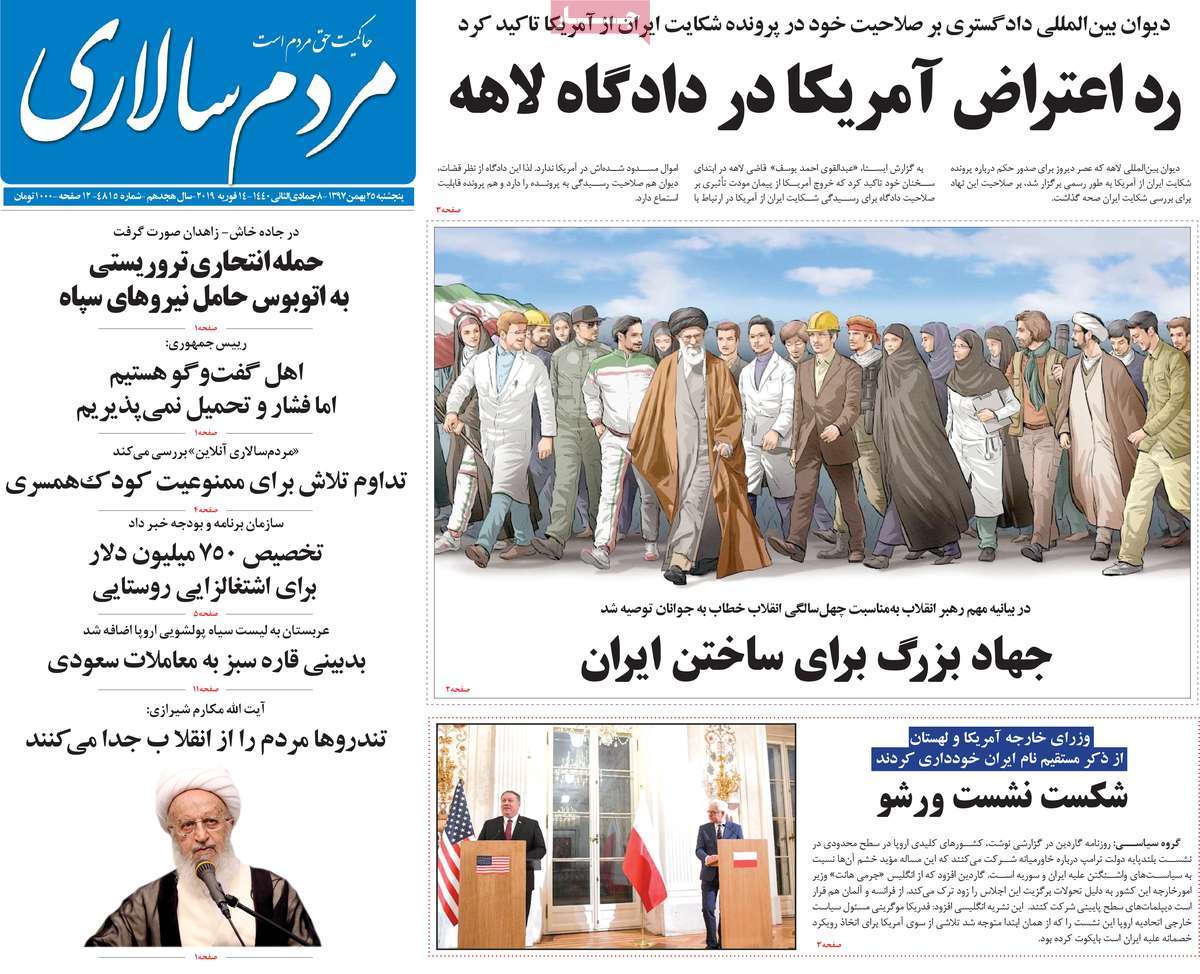 ---
Sazandegi:
1- We Seek Dialogue: Rouhani
2- Munich against Warsaw: US' Effort to Create Anti-Iran Consensus Fails
3- Second Phase of Revolution: Iran Leader Talks to Youths in Major Statement

---
Shargh:
1- Rouhani: We'll Hold Talks with Those Who Maintain Our Dignity
2- Don't Forget Russia's Role; Russian Ambassador Talks of Syria
3- First Verdict in Favour of Iran: ICJ Rejects US' Appeal on Iran Case
4- Islamic Revolution Ready to Correct Its Mistakes: Leader