Almost all newspapers covered the reports about the Student Day [marked on Tuesday] and the conferences and speeches held across the country on this occasion.
Today's papers also covered a meeting between the Leader of the Islamic Revolution Ayatollah Seyyed Ali Khamenei and the families of Iranian martyrs killed in the fight against terrorism.
The US Senate's extension of anti-Iran sanctions (known as ISA) and its consequences also remained a top story today.
The above issues, as well as many more, are highlighted in the following headlines:
19 Dey:
1- Netanyahu: I'm Opposed to JCPOA; Nuclear Deal Paves Iran's Way to Nuclear Program
2- Government Spokesman Predicts 7.7% Economic Growth Rate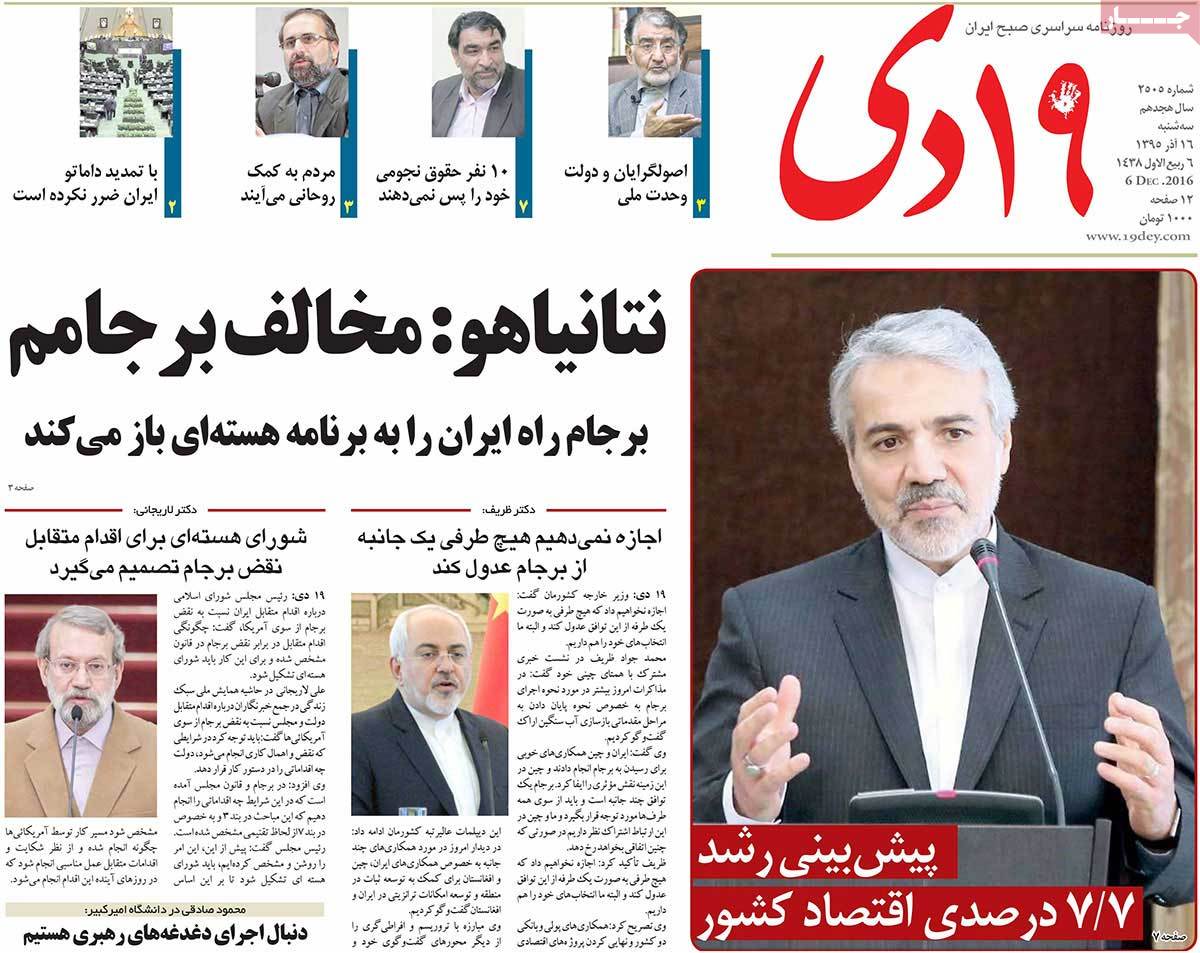 ---
Abrar:
1- We're Happy to See Rouhani Announced US Extension of Sanctions Is Violation of JCPOA: Kayhan's Editor-in-Chief
2- Netanyahu: I'd Like to Discuss Nuclear Deal with Trump
3- Kerry: JCPOA Is a Permanent Deal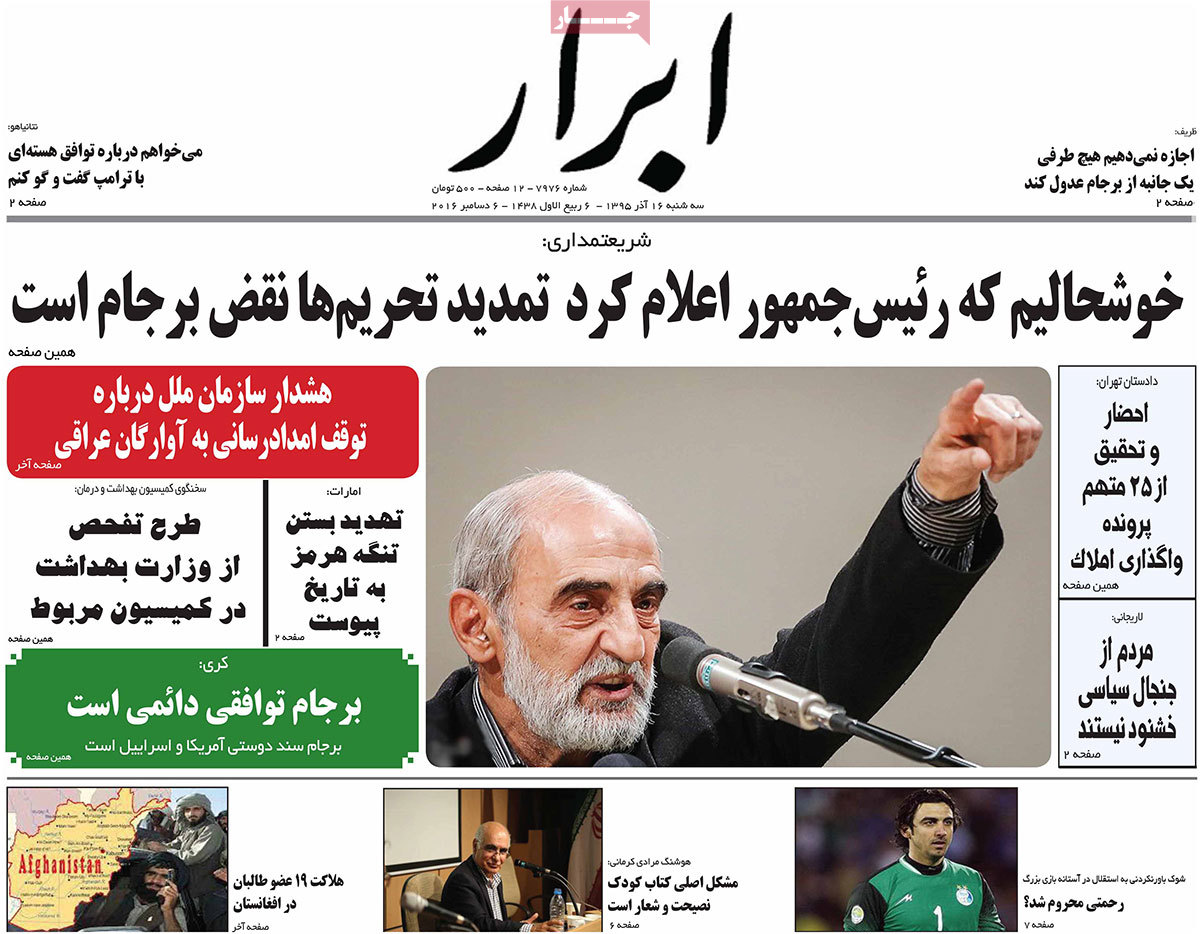 ---
Aftab-e Yazd:
1- Iran, Britain, and the US Competing with Each Other in Fining Driving Offences: 900% Increase in Fines over Past Decade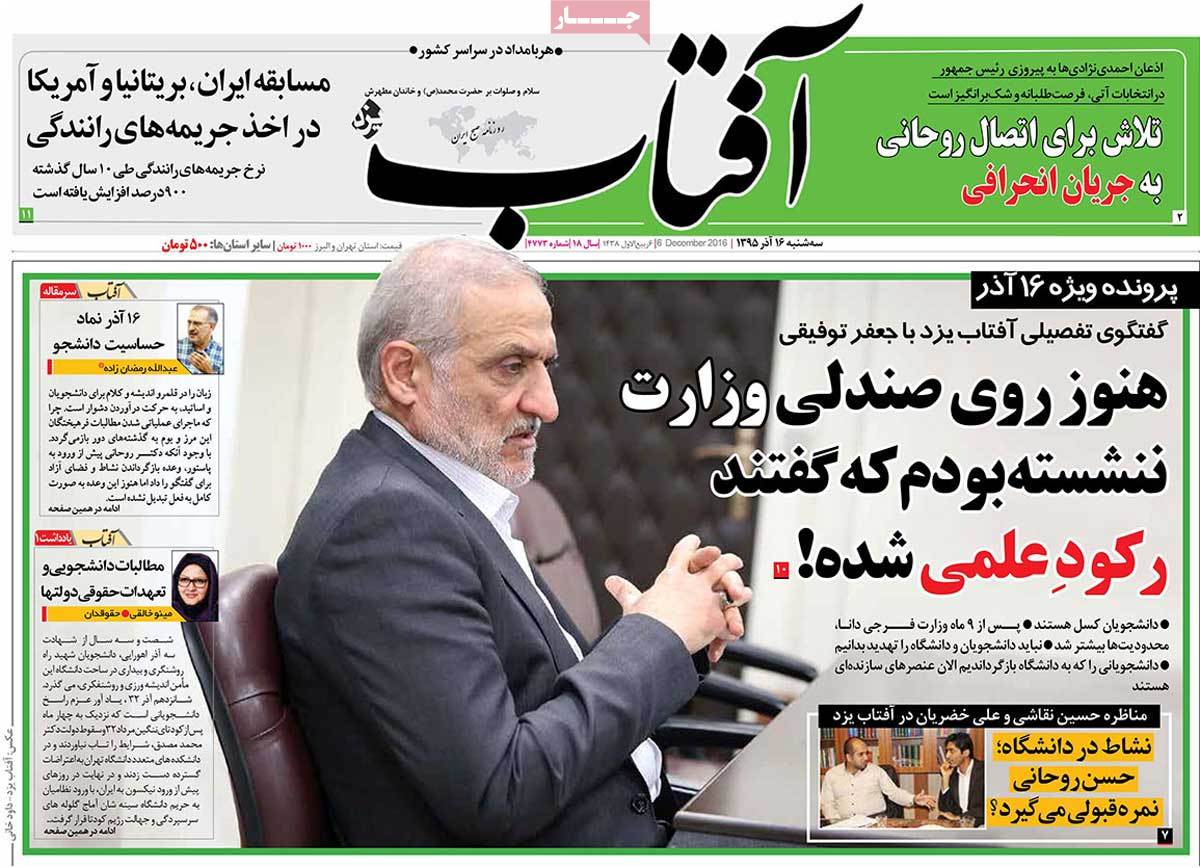 ---
Arman-e Emrooz:
1- Imam Khomeini's Grandson: Freedom of Choice Is a Pillar of Lifestyle
2- The Day When Tribunes Belong to Students [Student Day in Iran]
---
Asrar:
1- Iran and China Underline Full Implementation of Nuclear Deal
2- Moniz: US Won't Violate JCPOA
3- Larijani: We Should Have 5 or 6 Strong Parties in Iran
---
Ebtekar:
1- Babak Zanjani Can Save Himself by Returning the Country's Money: Prosecutor
2- Year of Economic Downturn and Growth: Government Spokesman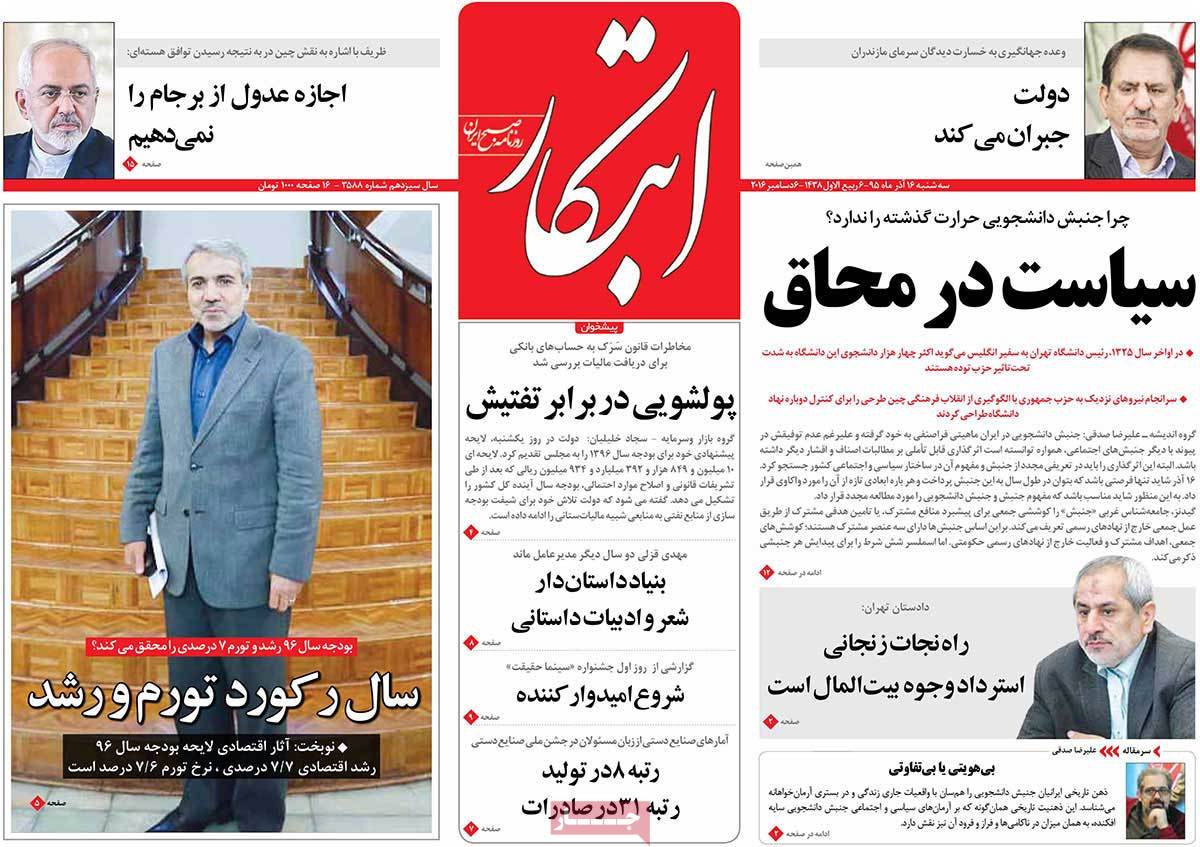 ---
Emtiaz:
1- Indiscriminate Use of Cosmetics in Iran
2- Increase in Budget of Internet Access for Villages in Next Year: ICT Minister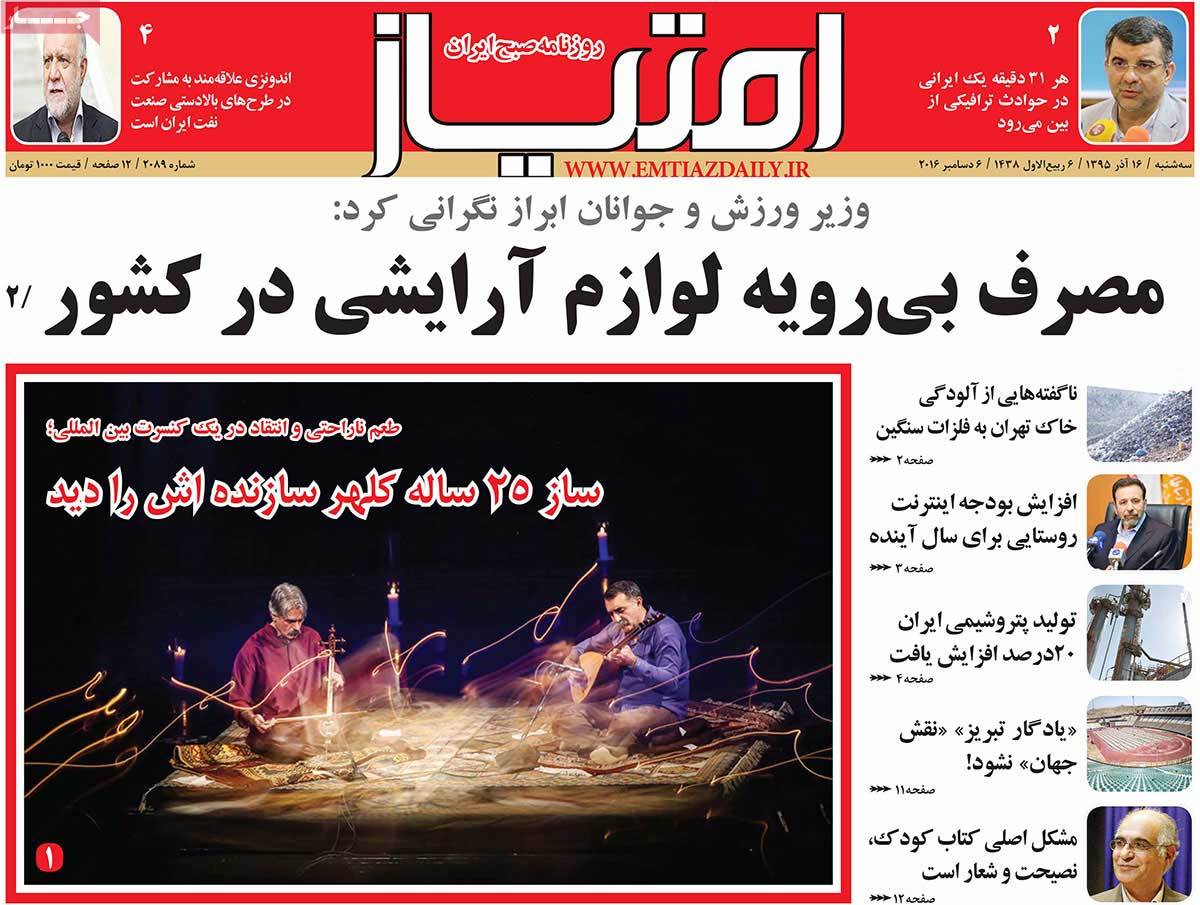 ---
Etemad:
1- Kayhan Editor-in-Chief Shariatmadari in Sharif University of Technology: JCPOA Should Be Taught in Schools as a Disaster
2- Motahari in Kerman University: 20 Minutes Long Enough for Approval of JCPOA in Iran's Parliament
3- Painters Are Happy People: Ebrahim Haqiqi
4- Neither Conservatives, nor Reformists Have Any Other Candidate than Rouhani
---
Ettela'at:
1- Culture Cannot Be Restricted by Establishment: Parliament Speaker
2- Pentagon: Mosul Will Be Liberated before Trump's Inauguration
3- Kerry: Assad Will Be Part of Power Transition in Syria
---
Haft-e Sobh:
1- Fever of Online Taxi Services in Iran: Mobile Apps: Iranian Entrepreneur, the Developer of Mobile Taxi Service Apps and Murderer of Tehran's Traditional Taxi Services
2- $3 Million for Iranian Physicist and His Colleagues: Kamran Vafa Receives Top Physics Award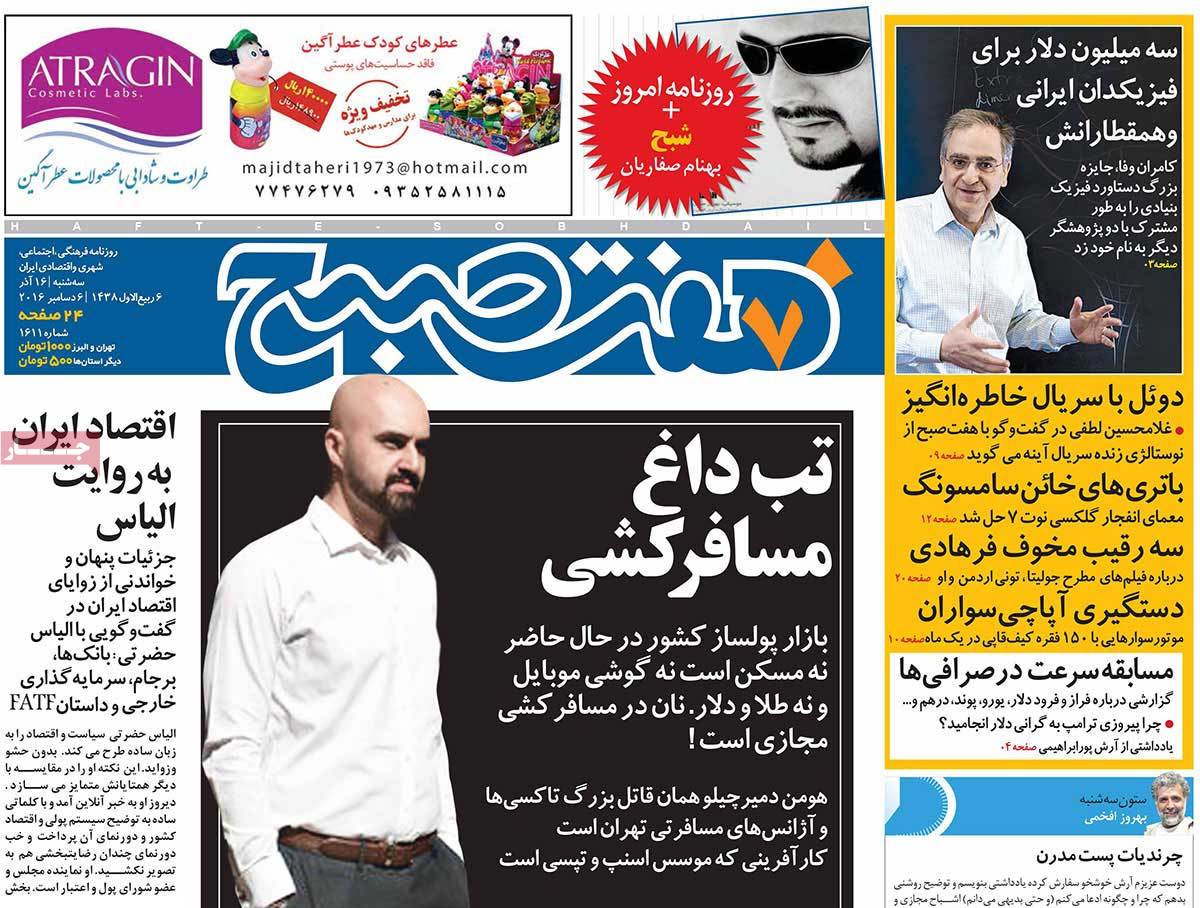 ---
Iran:
1- Hot Day of Universities: Fight against Corruption and Fate of JCPOA Were Key Topics of Student Gatherings in Different Cities
2- China and EU's Support for JCPOA Implementation: US Left Alone in P5+1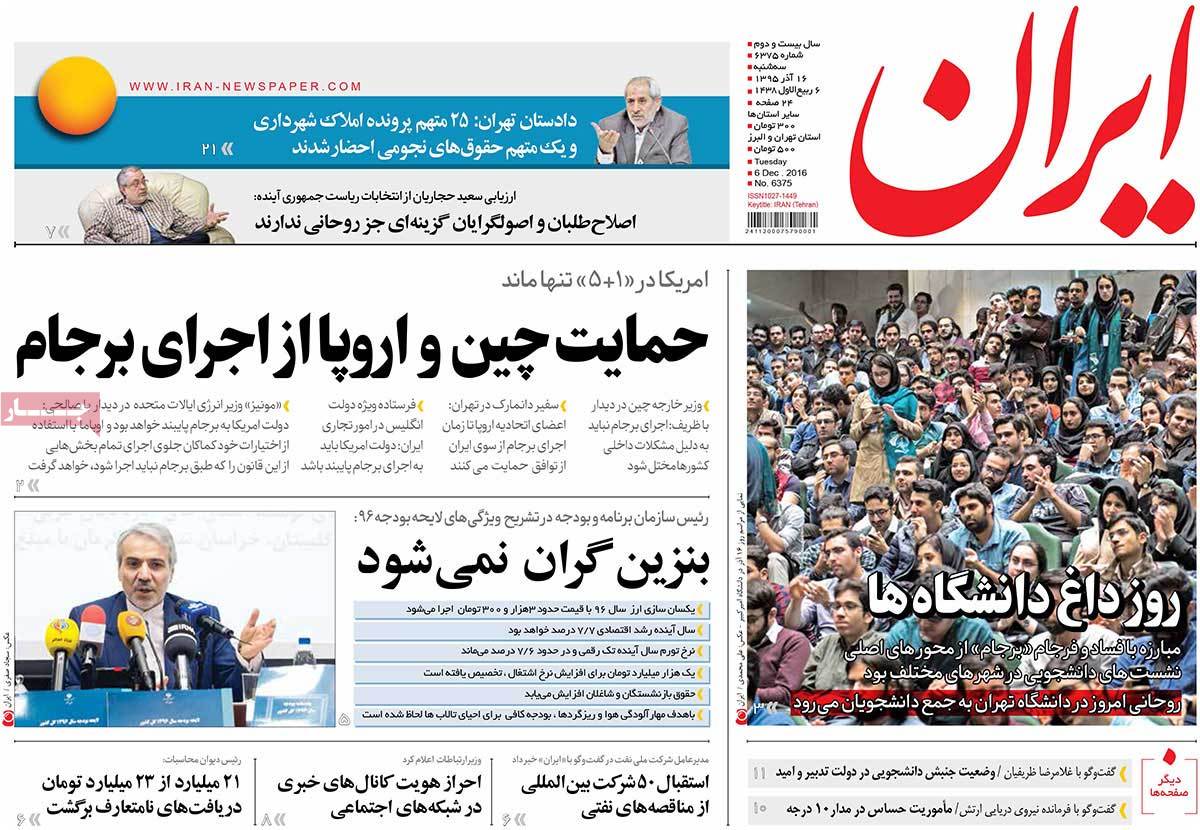 ---
Jame Jam:
1- Consensus for Responding to US Violation of Its Commitments
2- Those Who Received Astronomical Salaries Are Being Summoned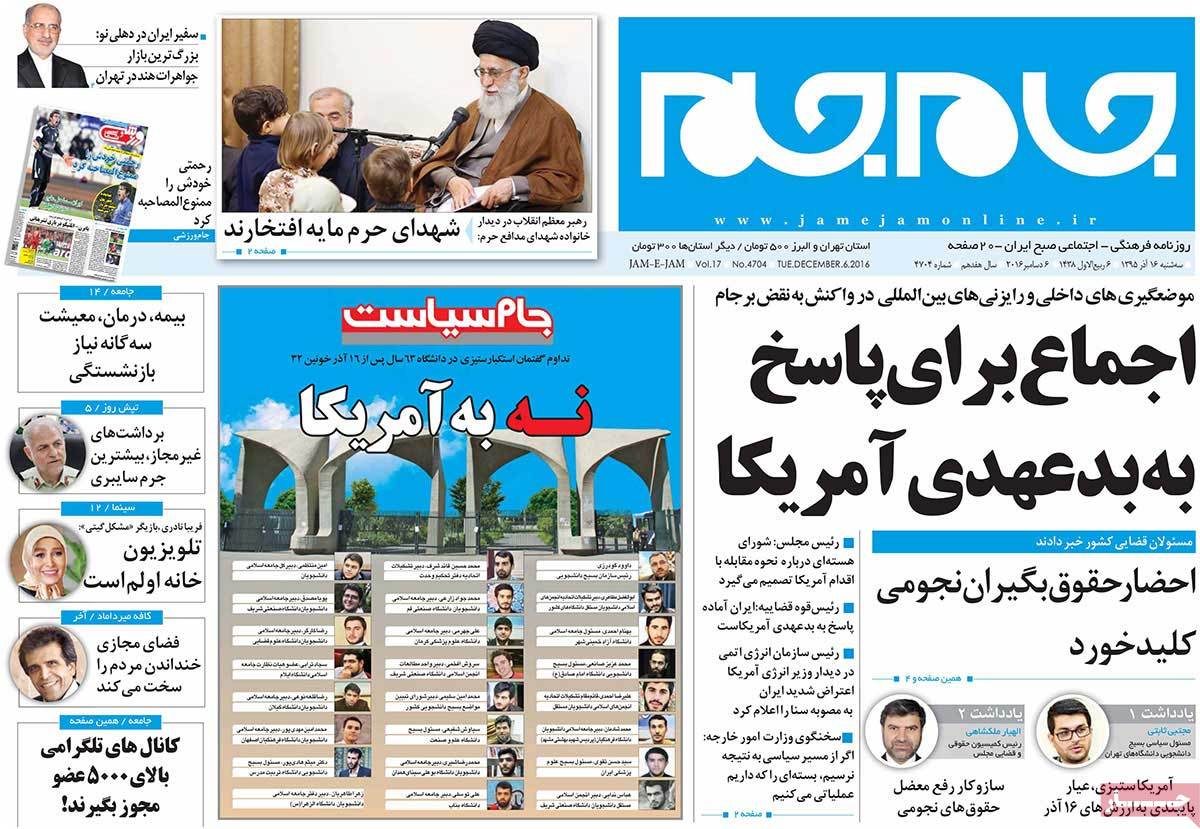 ---
Javan:
1- Today, Our Forces Are over the Heads of Zionist Regime [Israel]: A Report on Ayatollah Khamenei's Meeting with Families of Those Killed in Fight against Terrorism
2- Kerry: Nuclear Deal Is the Document of Our Friendship with Israel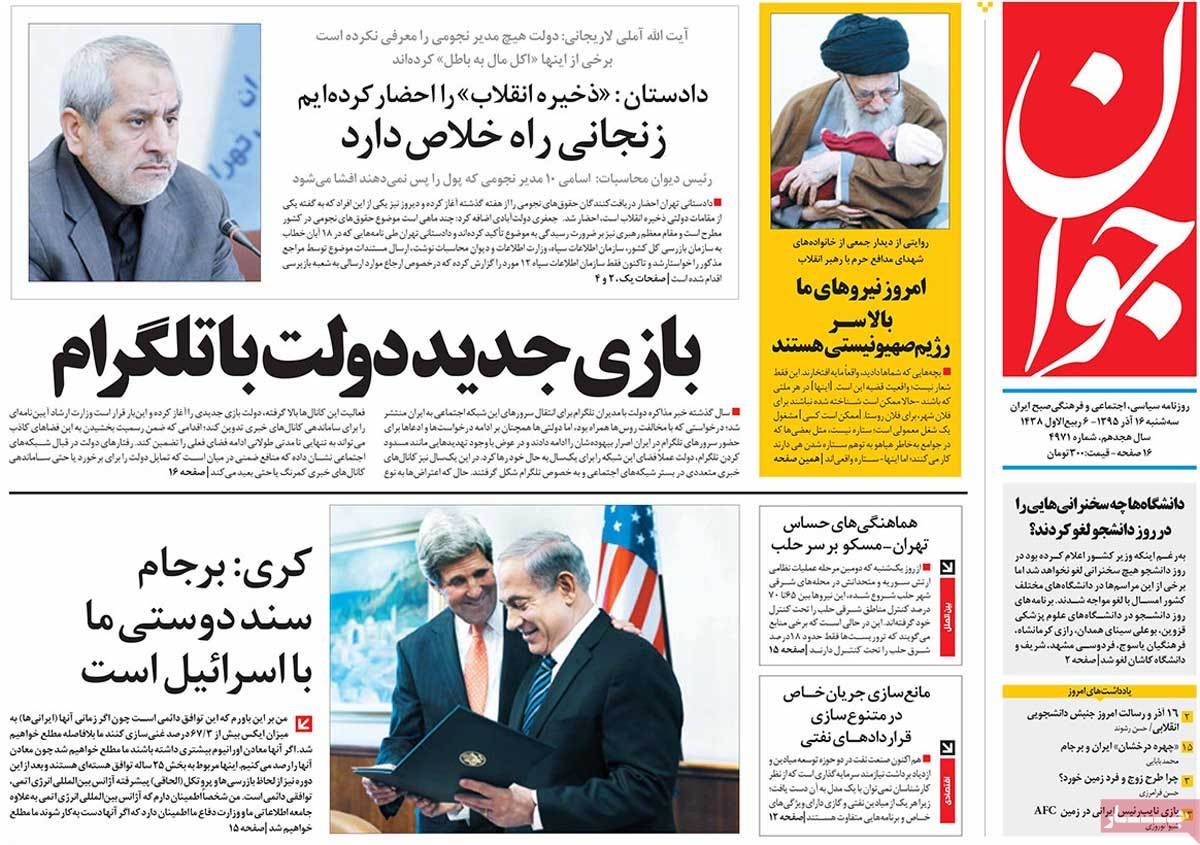 ---
Jomhouri Eslami:
1- Power Ministry Warns of Water Crisis in Iran
2- Chinese FM: JCPOA Shouldn't Be Influenced by Countries' Domestic Affairs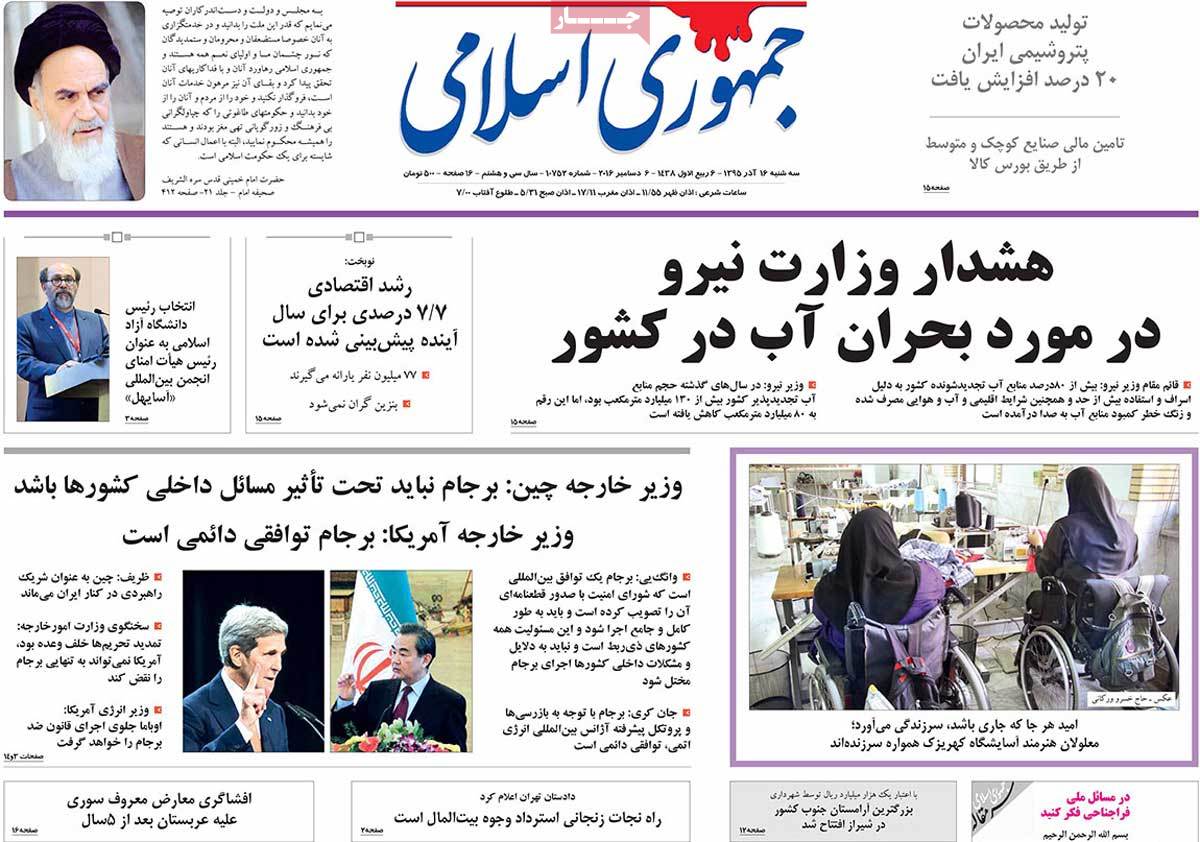 ---
Ka'enat:
1- Three Drops of Blood: A Report about Students' Demands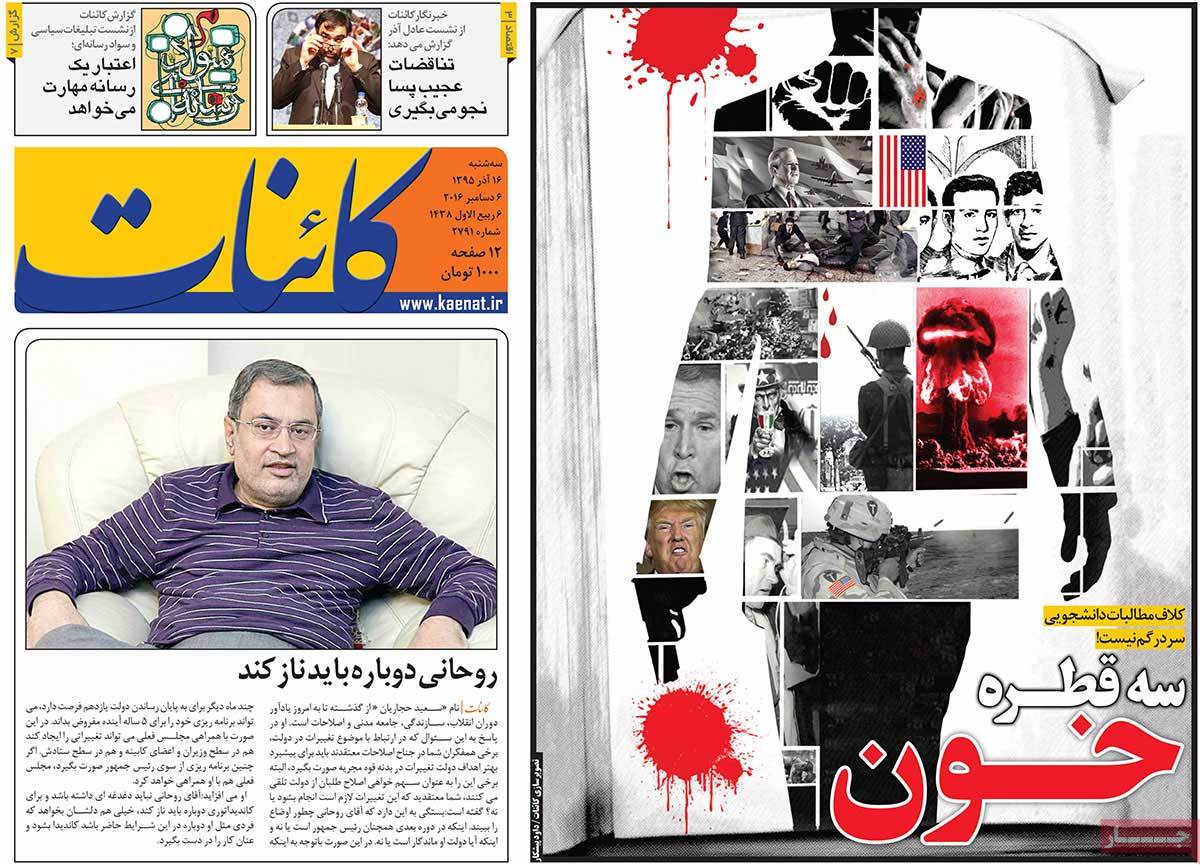 ---
Kayhan:
1- Judiciary Starts Taking Action against Executives Who Received Astronomical Salaries
2- Power Minister: Iran's Water Use Has Crossed Global Red Line
3- Last Breaths of Terrorists in Eastern Aleppo
4- Aboriginals' Resistance Worked: US Administration Backs Off
---
Khorasan:
1- Smiles and Cries in Fatherly Meeting: A Report on Meeting of Martyrs' Families with Ayatollah Khamenei
2- One Iranian Is Killed in Car Accident Every 31 Minutes!
---
Resalat:
1- Enemy Should Be Suppressed inside Its Borders: Leader
2- Young People from around the Country Frequently Write Letters to Me, Asking for Permission to Go Fight in Syria; Their Passion Is Very Important: Leader
3- The Question Is What Benefits JCPOA Has for Iran: Judiciary Chief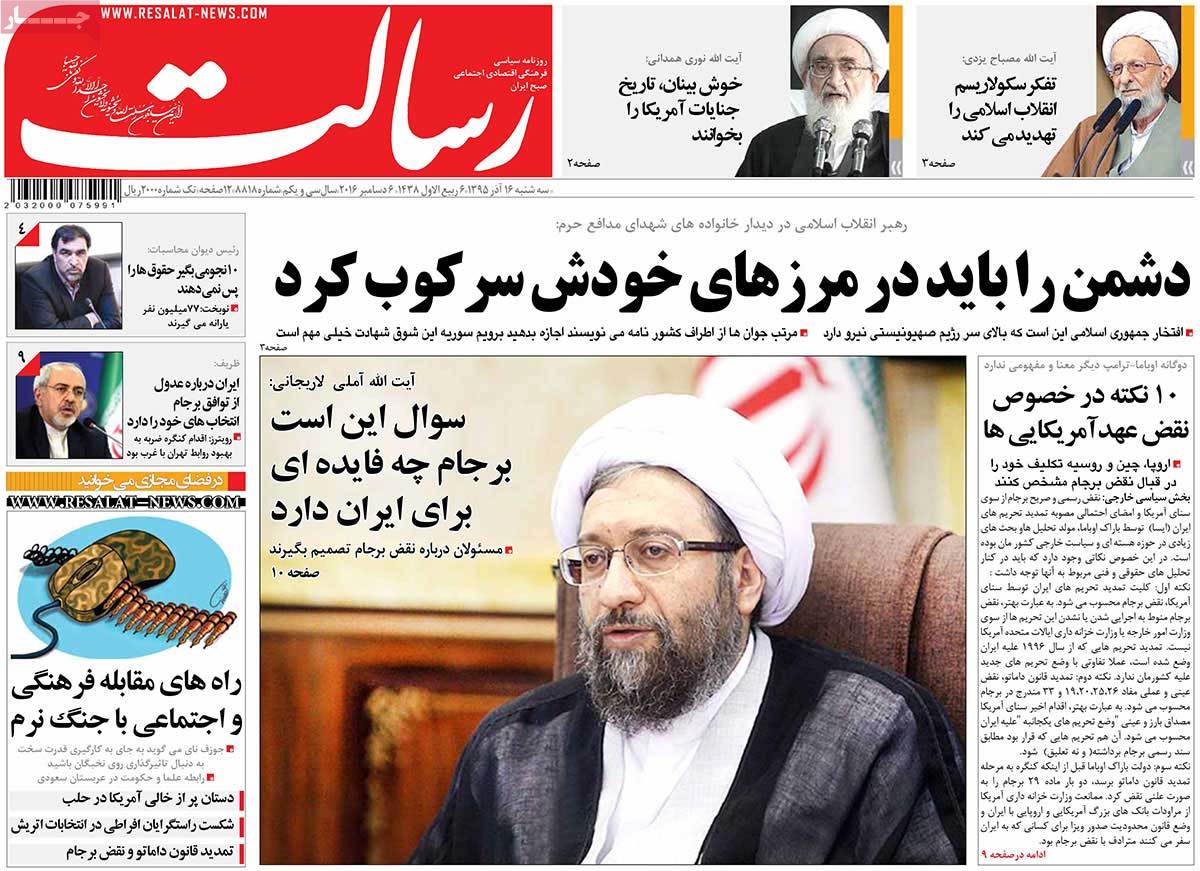 ---
Shahrvand:
1- Complaints of University Students
2- 25 People Who Received Illegal Discounts from Tehran Municipality for Buying Houses Are Summoned: Prosecutor
---
Shargh:
1- Universities' Semi-Open Doors: Political Mobility on Student Day
2- Iran Will Have More Conflicts than Ever with US Republicans