Abrar:
Landmark week for Brazilian president
Administration may tackle general budget deficit using reserve accounts
Iran non-oil exports greater than imports: Rouhani
Defense Ministers of Iran and Azerbaijan discuss Karabakh crisis on phone
Brussels attacks and nuclear security concerns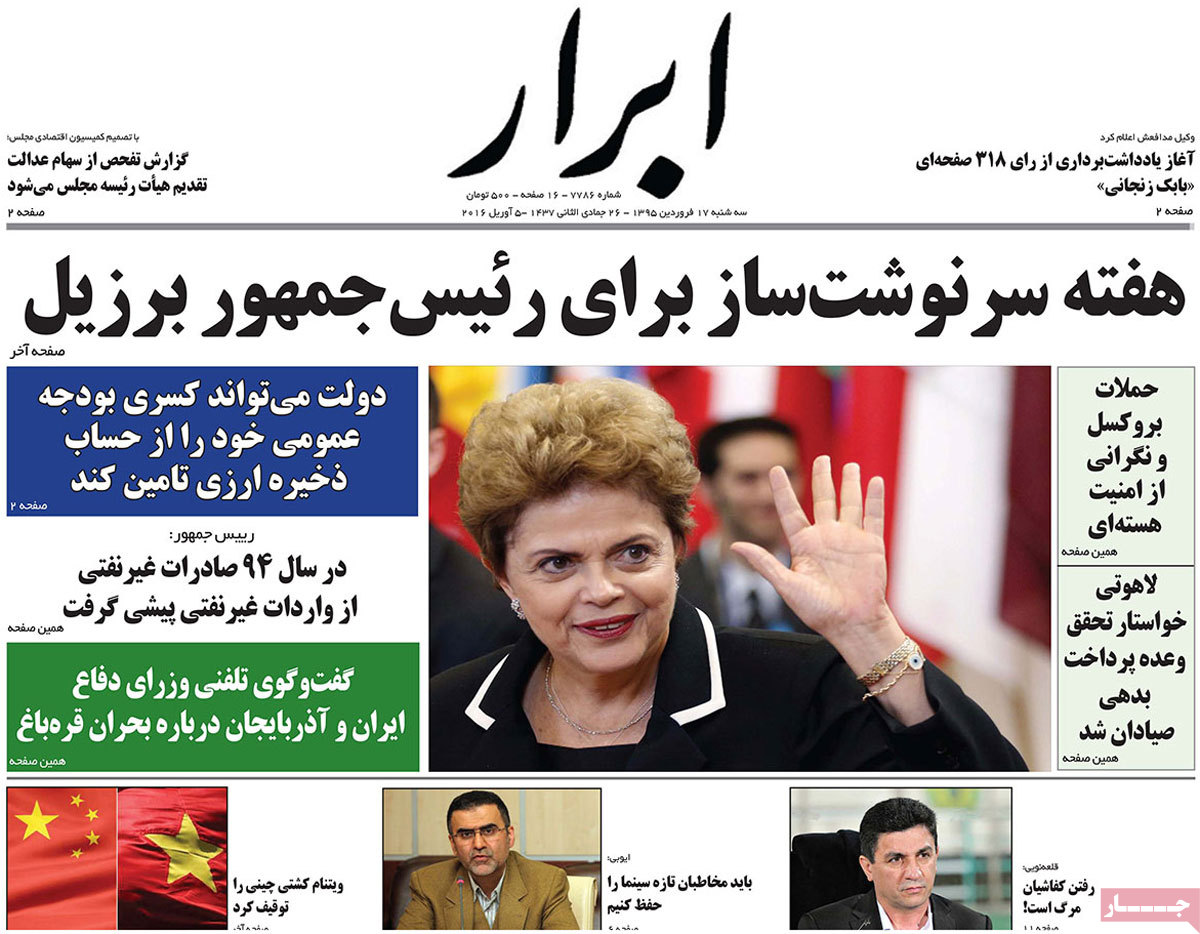 ---
Arman-e Emrouz:
Hashemi, a real reformist: MP Motahari
Black box of Ahmadinejad's return
Ex-vice president indicted
23 suspects in Do-Gonbadan municipal corruption case
No oil exports without nuclear deal: Rouhani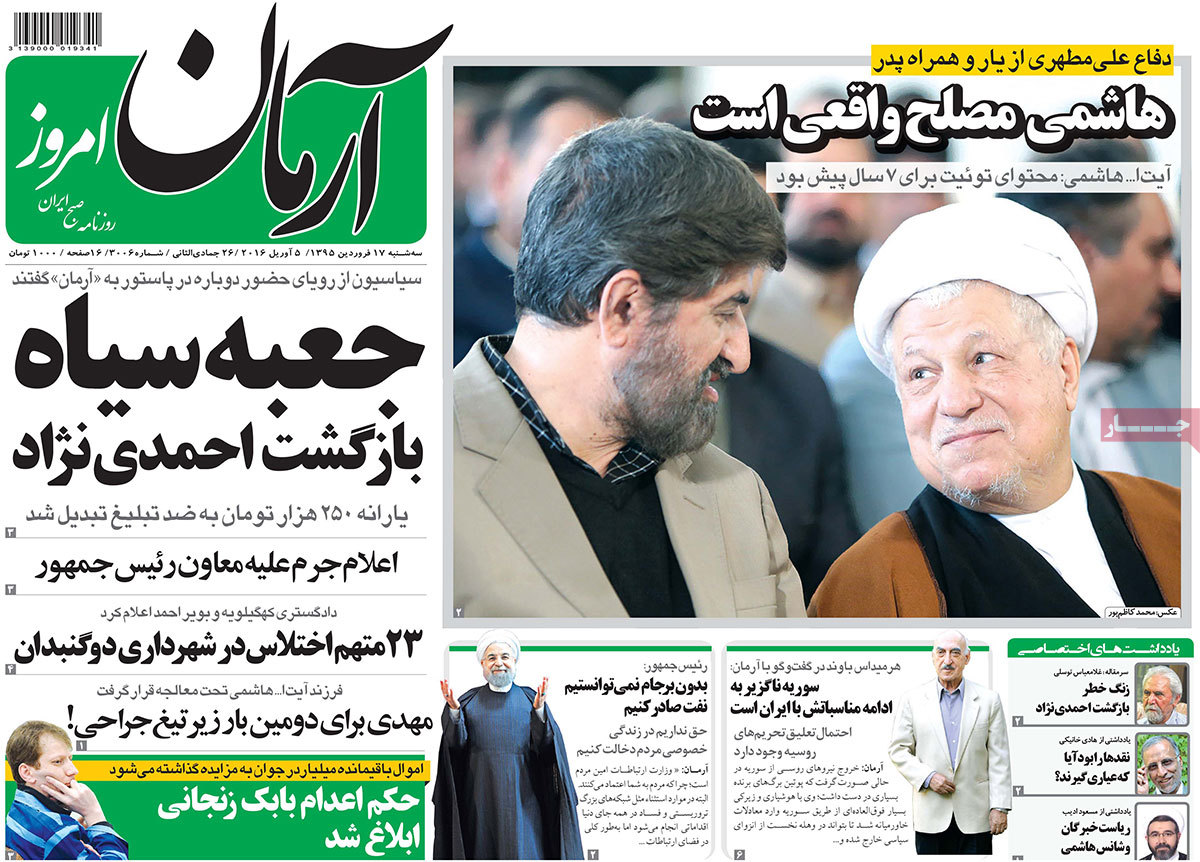 ---
Ebtekar:
The Big Reveal: Panama Papers
An unprecedented global investigation into a massive leak of secret documents from the Panamanian law firm, Mossack Fonseca & Co. opens a virtual Pandora's Box into the shadowy world of offshore companies.
Parliament deliberating resistive budget bill
Hashemi's real approach on Iran's missile strength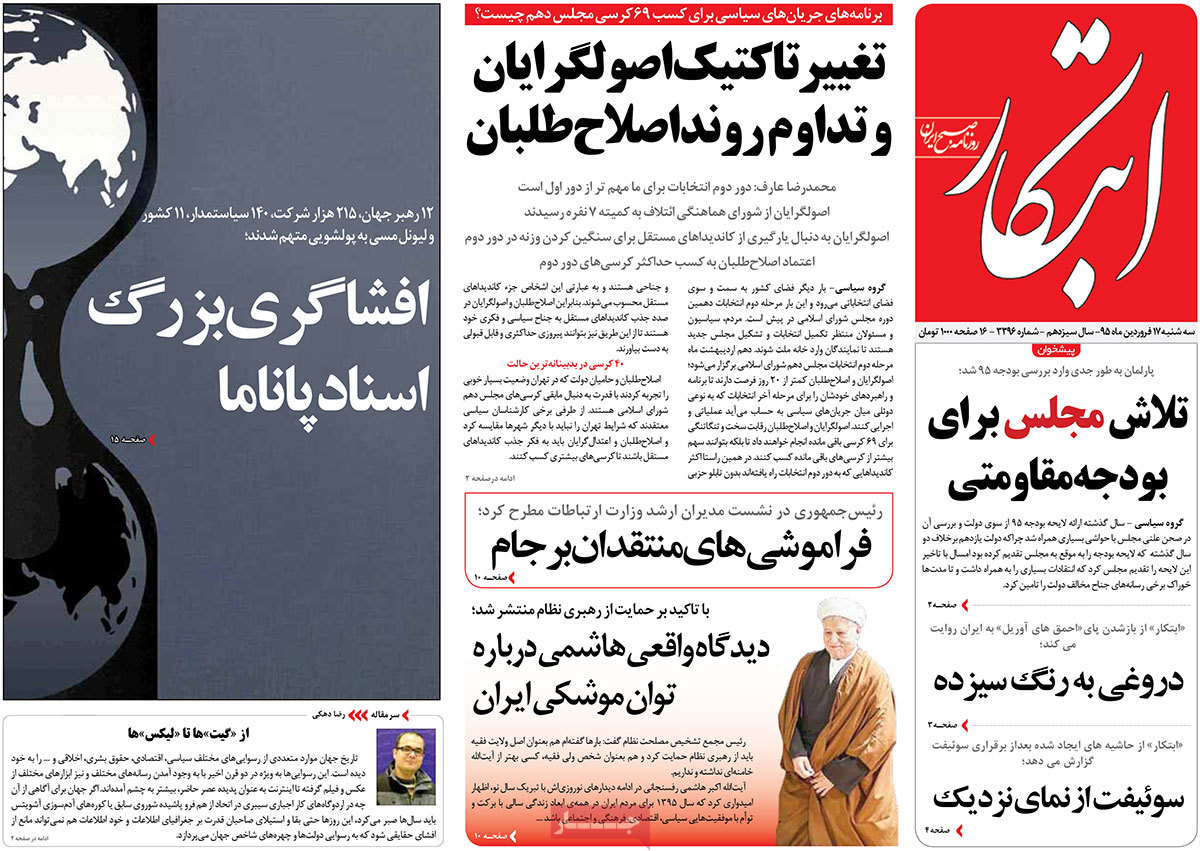 ---
Ettela'at:
Teacher sacrifices his life for students
Government submits 10-article bill to curb violence against women
Idlib air raid kills al-Nusra Front spokesman
Bolstering missile power crucial: Rafsanjani
Iran trade balance positive for first time since Islamic Revolution: Rouhani
Heavy snow grips East Azerbaijan and Ardebil provinces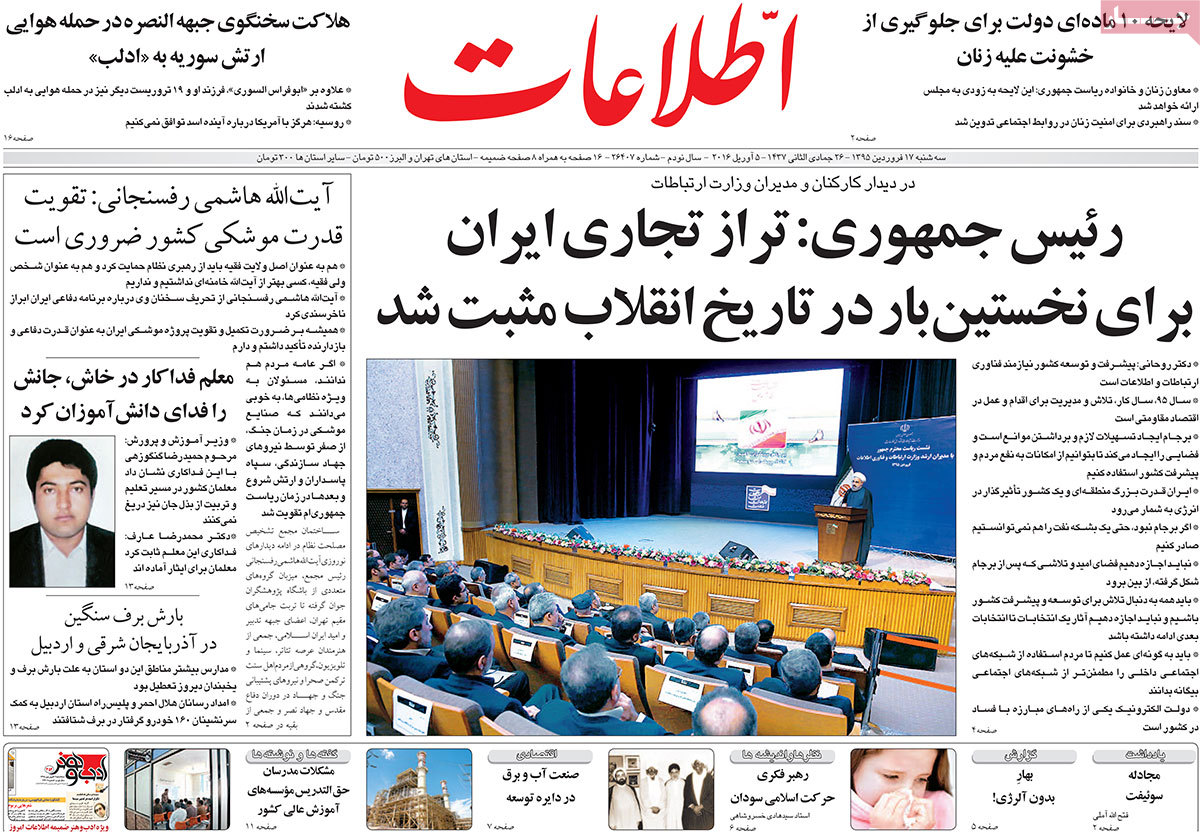 ---
Etemad:
Today's Watergate
The Panama Papers revelation has shaken the world's media, as the leak from the Panamanian law firm, Mossack Fonseca, continues to be investigated. It involves more than 11.5 million documents, nearly 215,000 companies and 14,153 clients of the firm, according to the German newspaper Süddeutsche Zeitung, which obtained the information and shared it with other media outlets and the International Consortium of Investigative Journalists, a nonprofit group.
SWIFT is open [for Iran]
Prohibition of photography for figures, legal: Top judge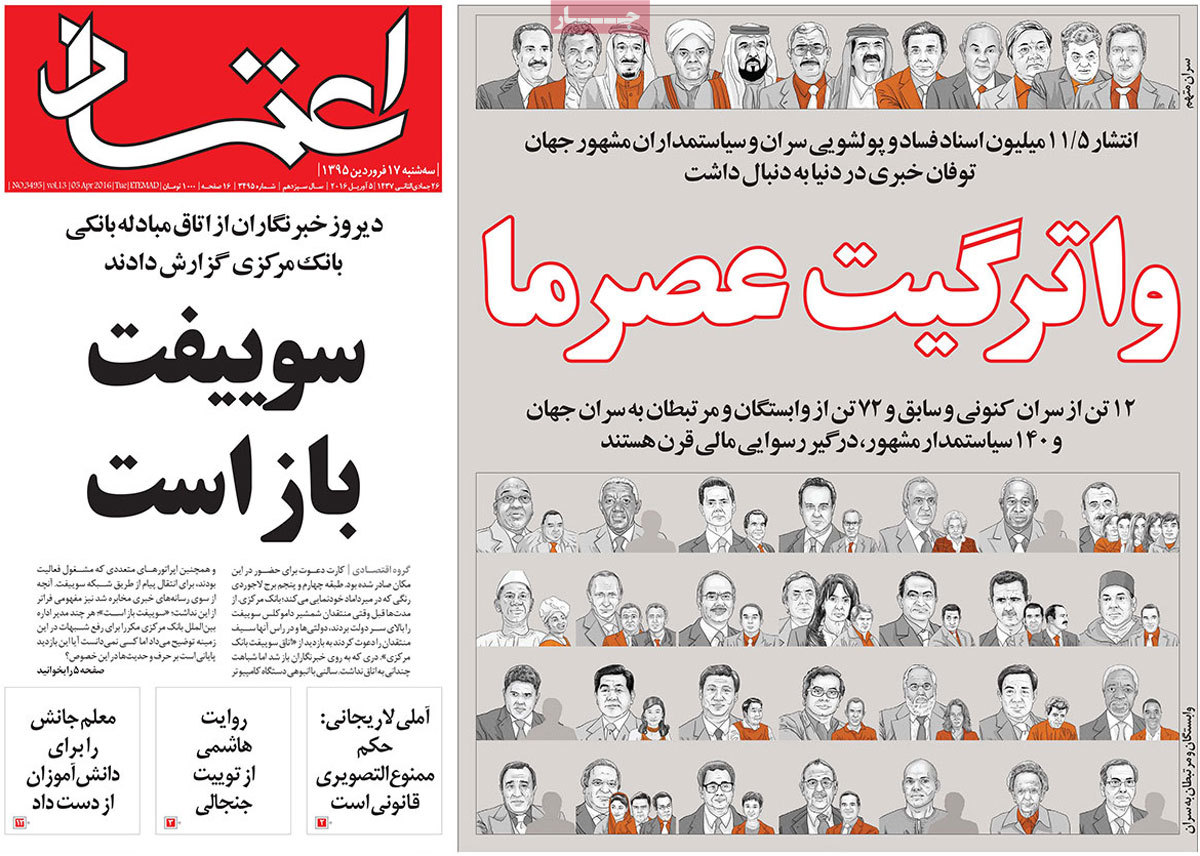 ---
Afkar:
Soureh Mehr doubles cultural output
Not one single oil barrel could be exported without nuclear deal: President Rouhani
For the White House's information: Missile power is a red line for Iran
---
Emtiaz:
Tehran mayor calls for moving railway center outside of capital
Official says smuggled fruits are inadvertently tainted
3,000 homeless addicts arrested in Tehran
Persepolis tops world tourist destinations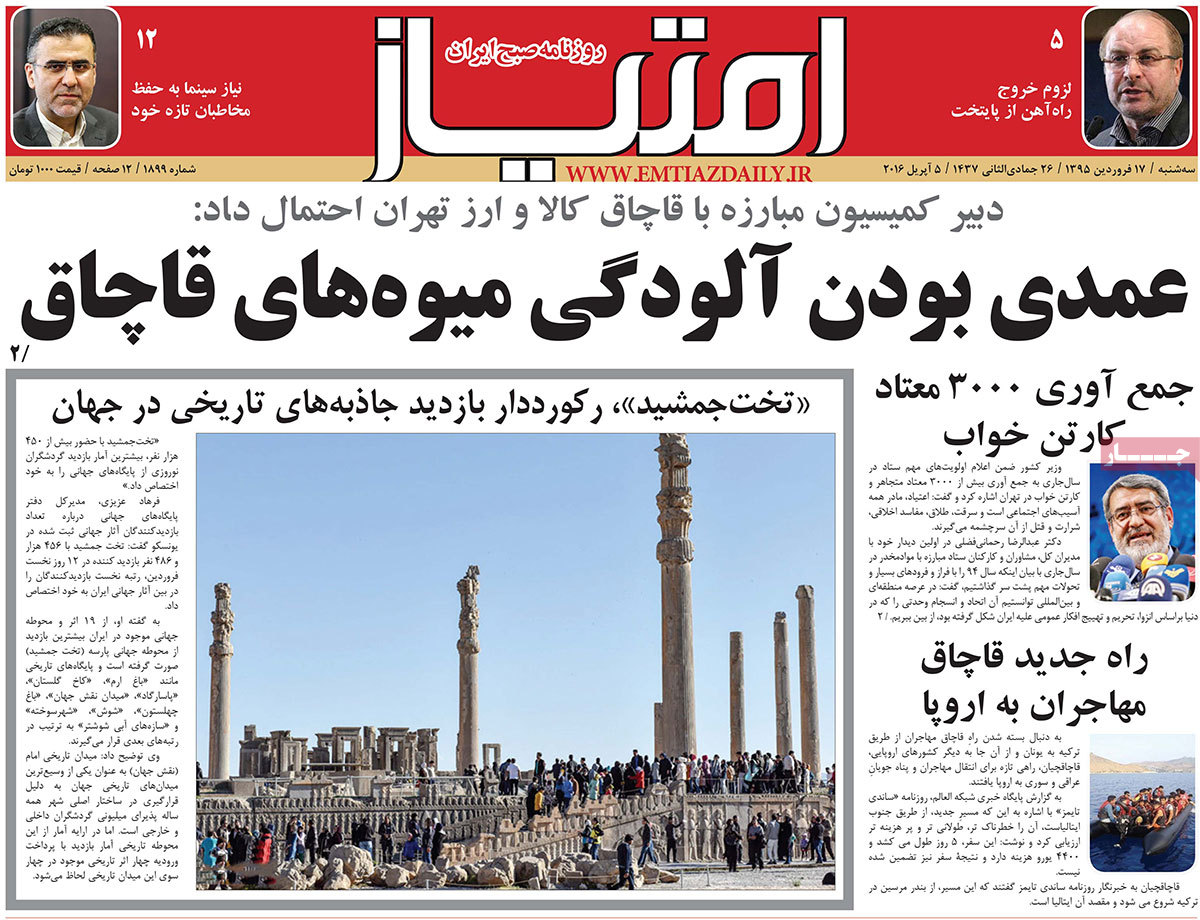 ---
Iran:
Iranian bank ends allegations that SWIFT is not open for Iran banks
It was rumored that the SWIFT international money transfer system was not operational in Iran. To disprove the allegations, the Central Bank of Iran invited reporters to its SWIFT room to let them see how the system is working.
10% drop in Iranian visits to Turkey during Nowruz
Visits to Dubai also fell by 18% during the New Year holidays.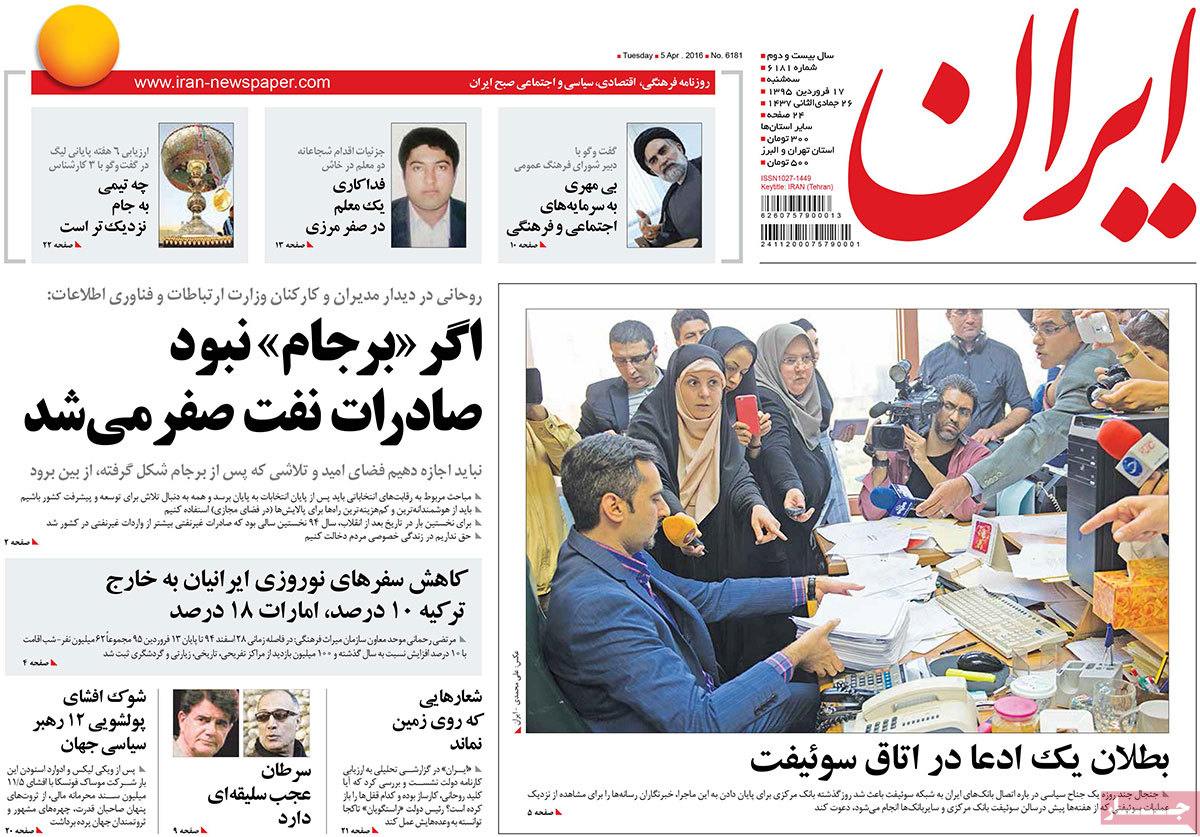 ---
Payam Zaman:
 MPs issue statement in support of Iran's missile program
Italy PM in Tehran on April 12
No freeze in Iran oil exports
SWIFT fully operational for Iran: CBI
Rouhani: No one has any right to violate people's privacy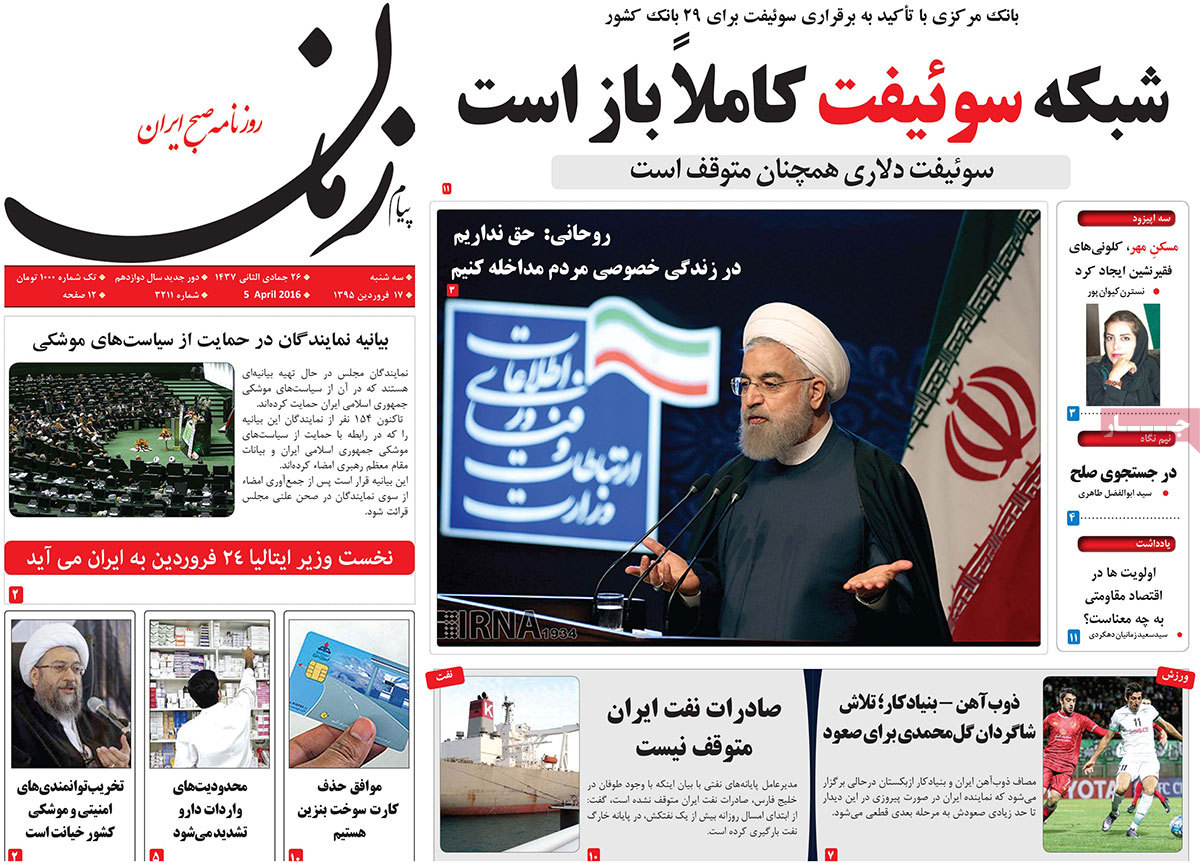 ---
Jamejam:
Turkey, UAE visits no longer in vogue
Education ministry earns IRR130bn during Nowruz
Iran lifts ban on import of luxurious items
Cyberspace addiction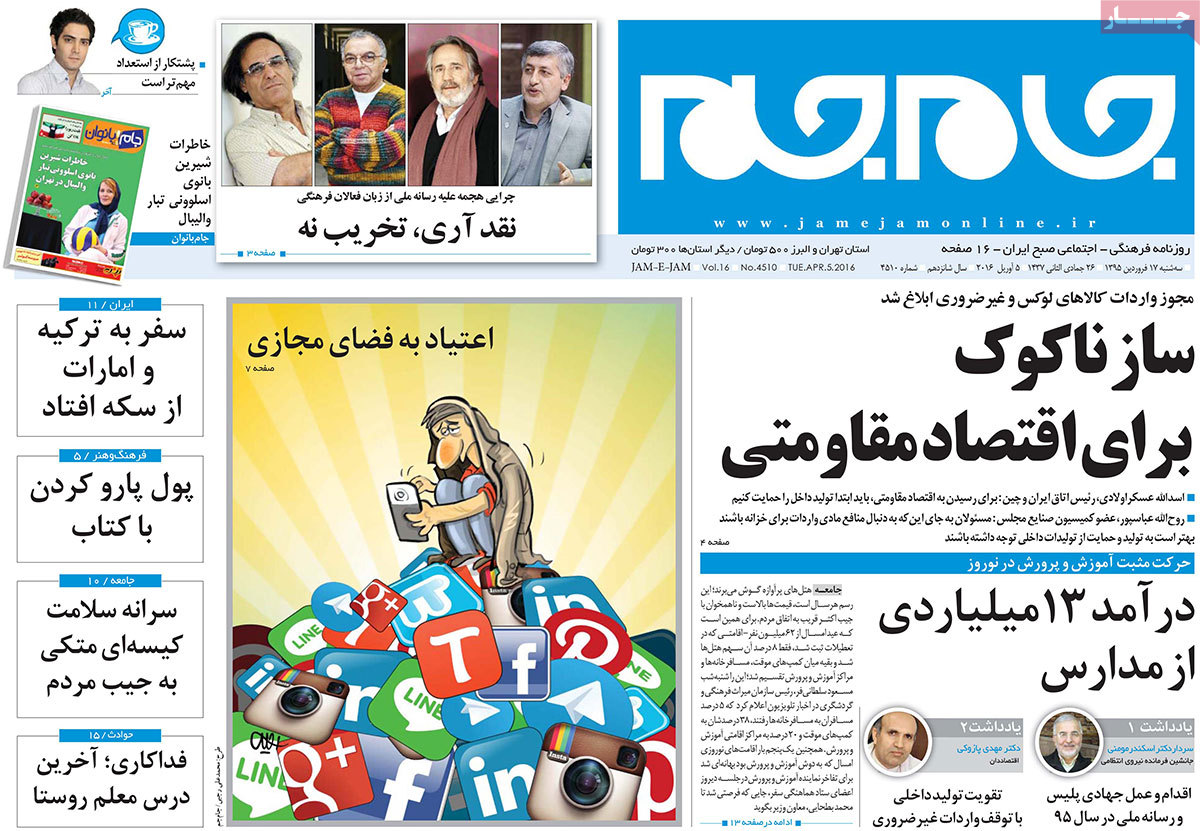 ---
Jomhouri Islami:
European firm to invest $7bn in Iran petrochemical industry
I have and will always stress necessity of bolstering missile power: Rafsanjani
Badr: ISIS to become history by year-end
300 SWIFT links with foreign banks
EU parliament knocks Erdogan
---
Javan:
Swift open, but not functional
2,600GB world corruption shock
Government lifts ban on import of luxurious goods
US road map for realization of the 'spirit of the deal'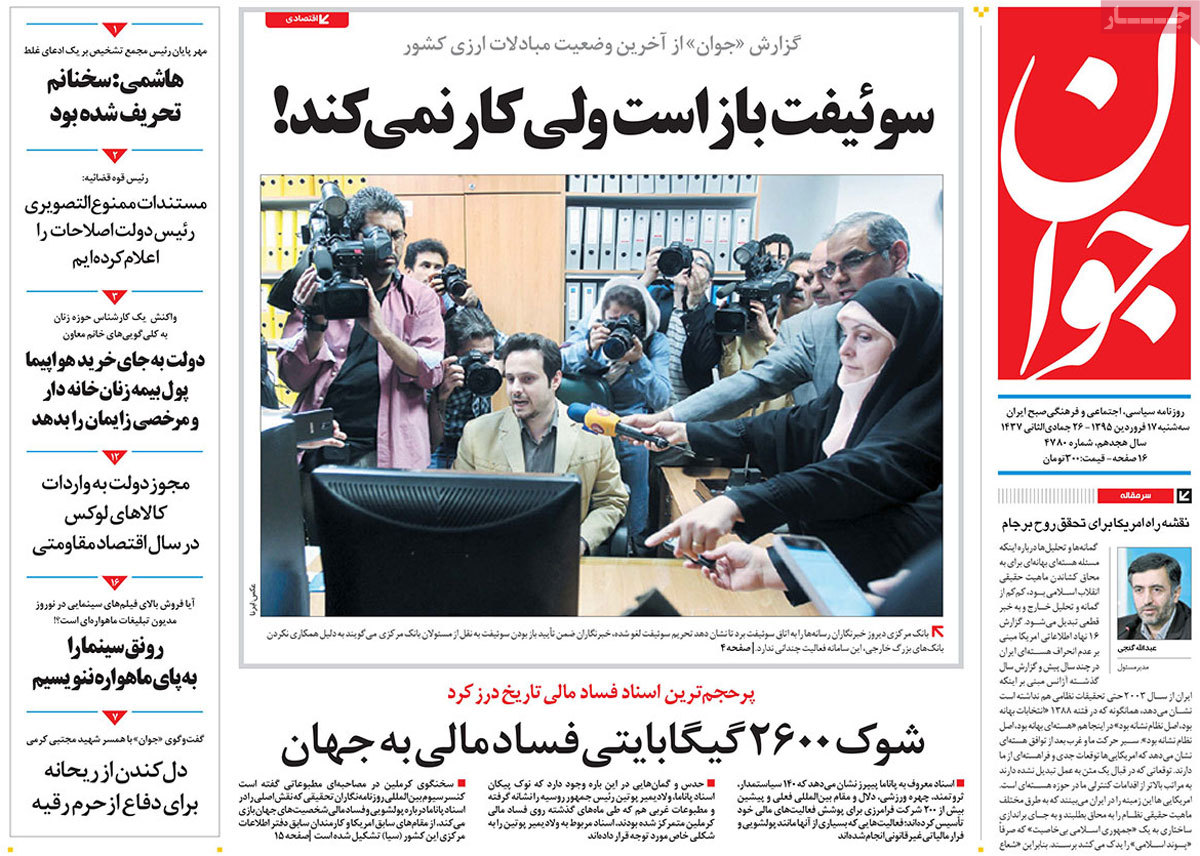 ---
Hemayat:
Weakening missile and security strength is a betrayal: Top judge
Revealed: CIA master-plan for toppling Assad
JCPOA an unbalanced document: Javad Larijani
---
Khorasan:
Corrupt banking managers charged with "corruption on earth"
History's biggest financial corruption revelation
SWIFT up and running
Iran sends commandos to Syria as advisors
---
Rah-e Mardom:
Leader's condolences to General Salami for mother's death
JCPOA paves way for country's progress: Rouhani
$20bn capital trapped in luxury houses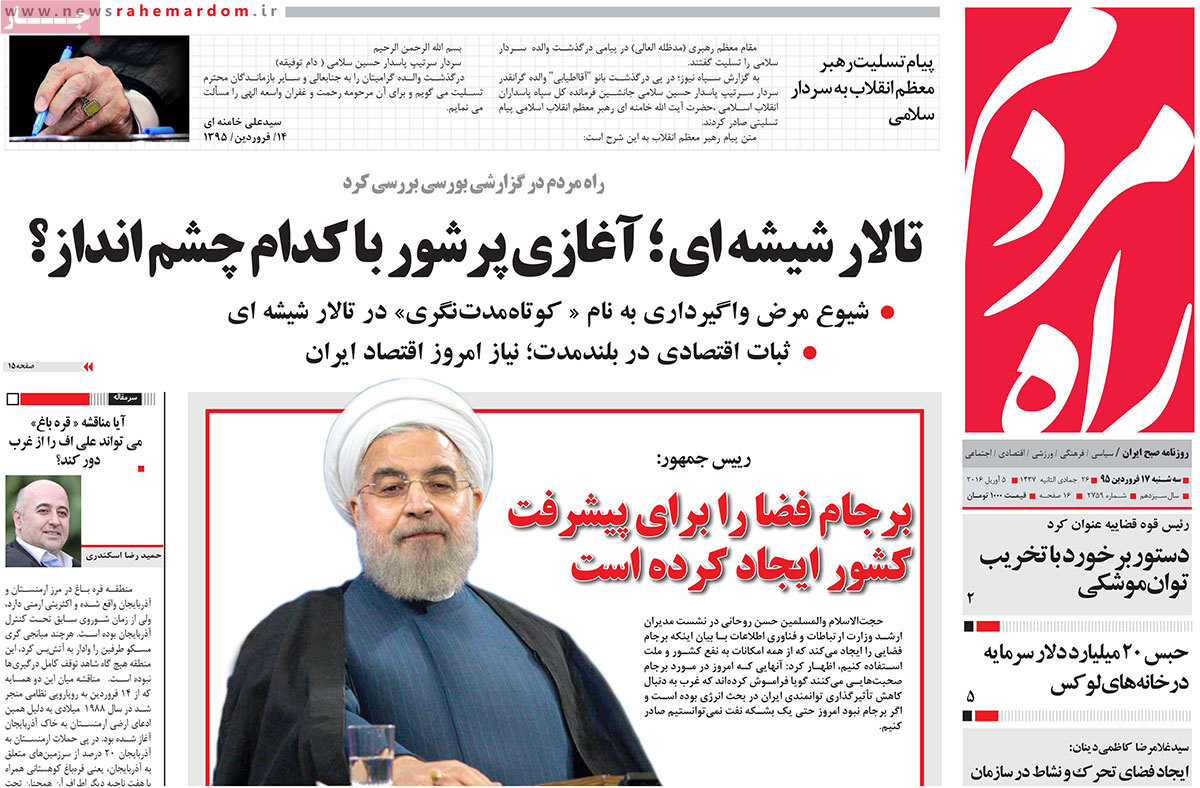 ---
Resalat:
Buying foreign goods causes domestic unemployment
Yahya Ale Eshagh, an economist, decries the purchasing of goods from overseas
Why Iran exceeded commitments in nuclear deal
Rouhani: Year 1395 [started March 20] is the year of management of practice and action in line with resistive economy
No person better than Ayatollah Khamenei: Rafsanjani
Javad Larijani: Montazeri is an example of people like Hashemi who change attitude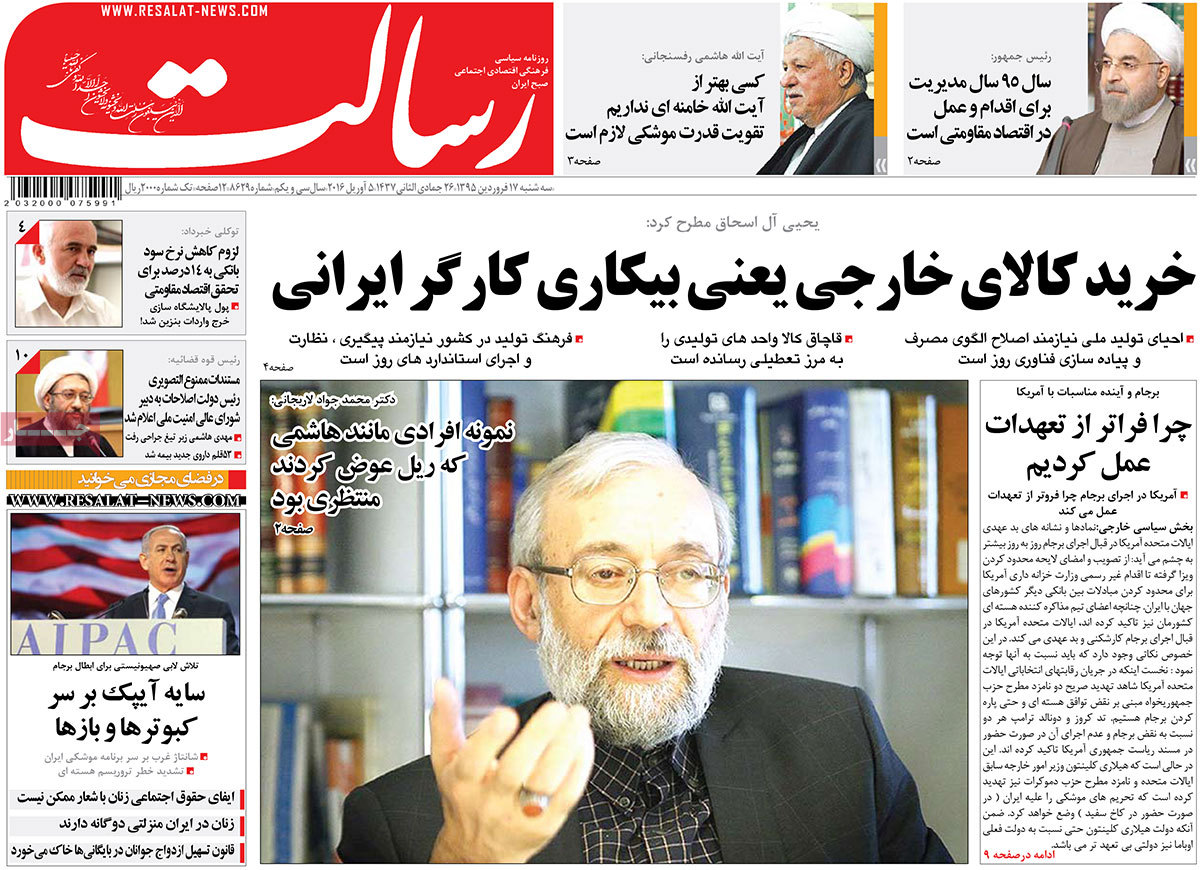 ---
Rooyesh Mellat:
Century's biggest financial scam revealed
Iran trade balance positive for first time last year: Rouhani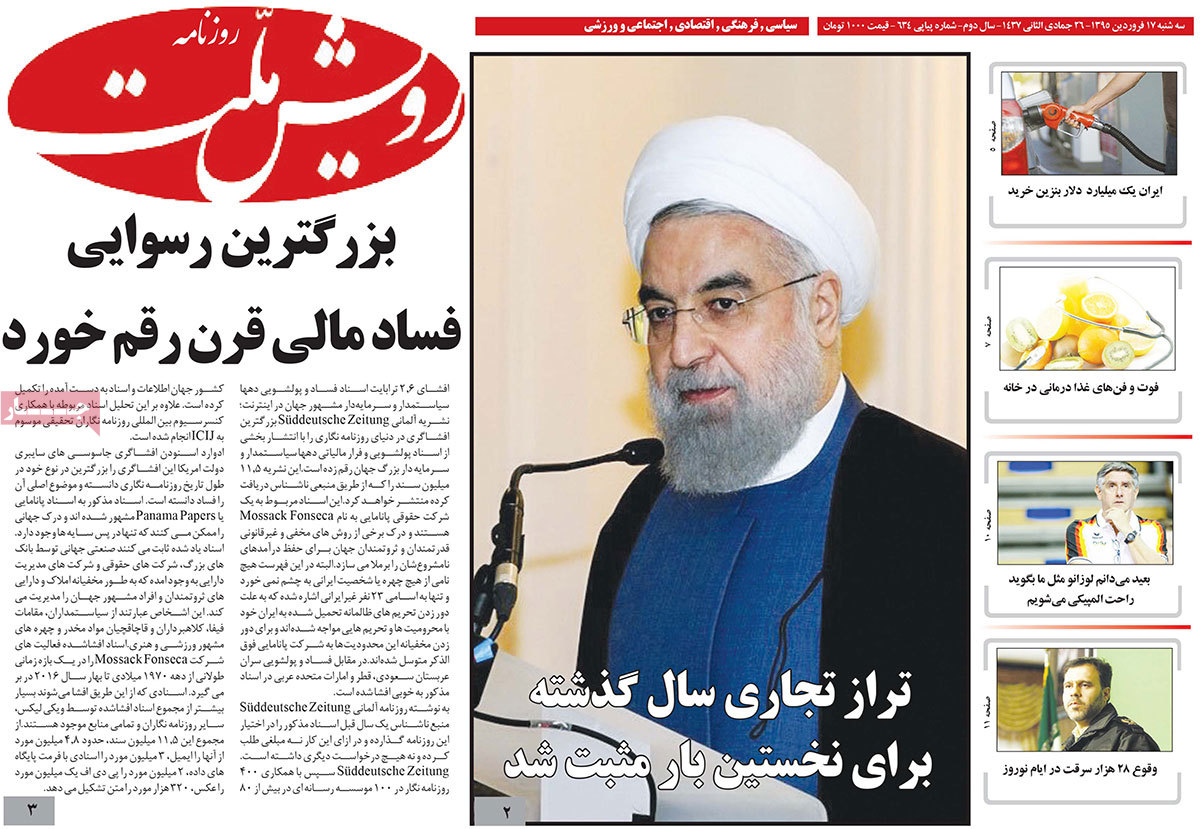 ---
Shargh:
Dirty hands: List of corrupt world leaders released
Iran deploys commandos in Syria
MP Motahari: Establishment endorsed JCPOA with all pros and cons
---
Shahrvand:
Iran dumps 780k tons of tainted foodstuffs
Close shave for 15m Iranians
MPs praise Red Crescent for Nowruz vigilance
---
Sahib Ghalam:
Election runoff determines parliamentary climate: MP
US equations wrong about Iran
Insurance coverage for 53 cancer and special illness drugs
---
Kaenat:
Iran tax earnings meet planned target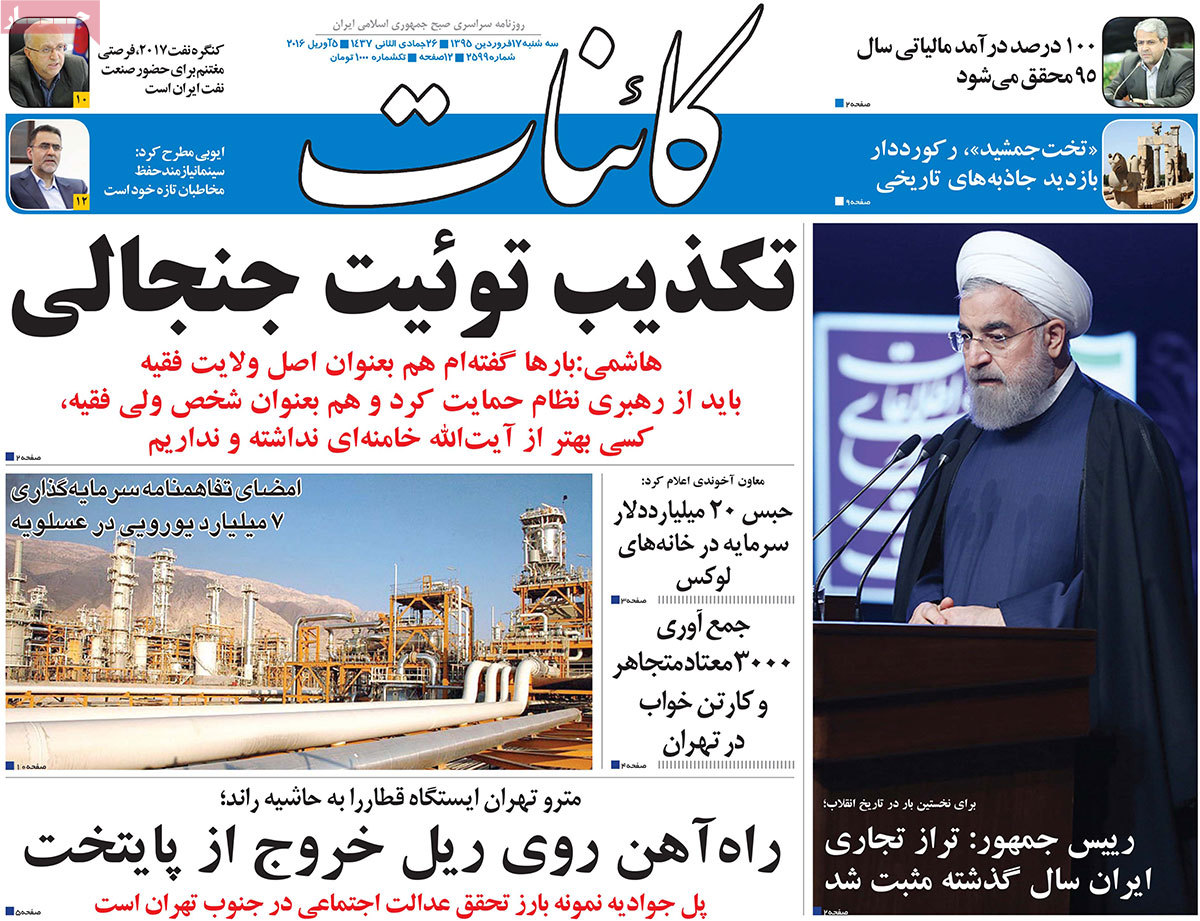 ---
Kayhan:
Banana imports allowed if apples are exported
Biggest lesson in Syria war was that the West cannot be trusted: Assad
CBI: SWIFT up and running
Traders: Banking transactions not possible
Floods kill 75 in Pakistan
Karabakh conflict: lessons and players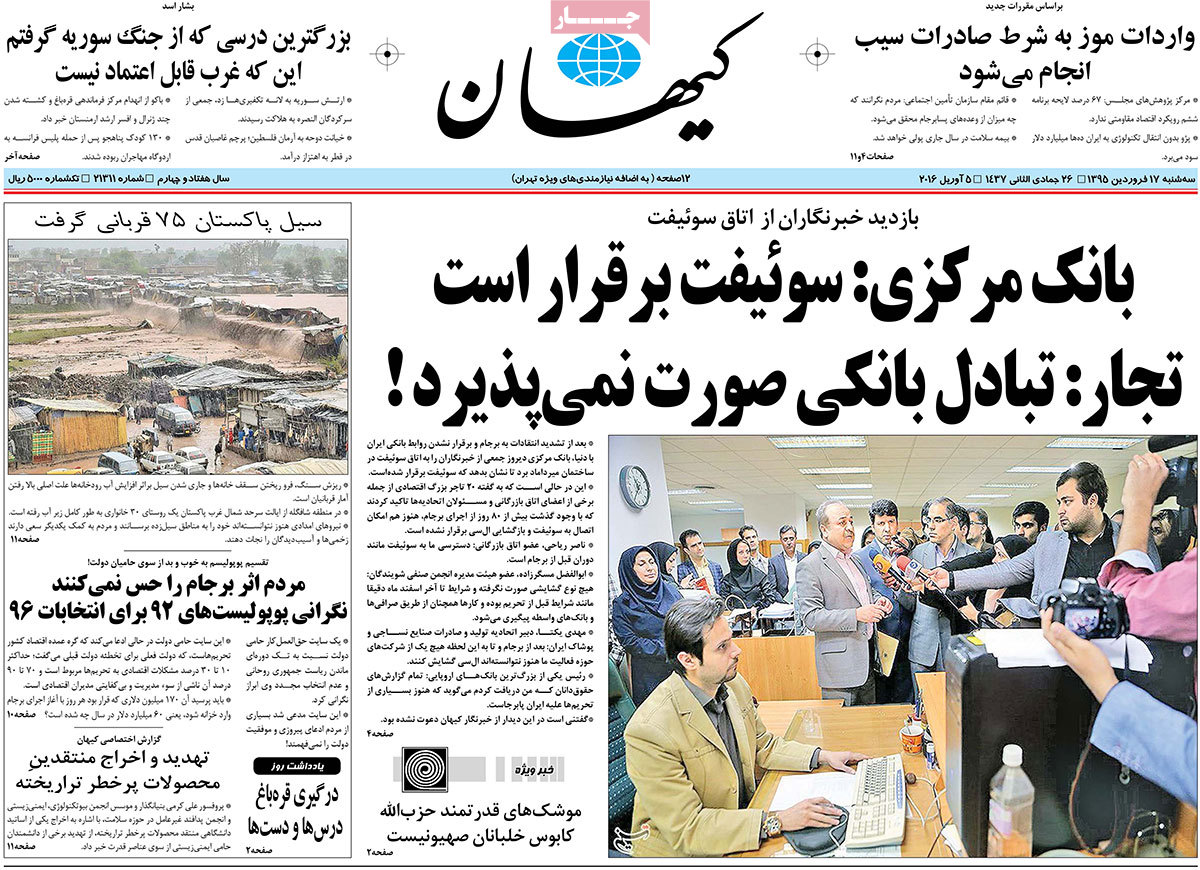 ---
Asia:
Italian banks given green light to reengage with Iranians
Italian PM in Tehran next week
Iran to revise housing taxes
---
Abrar Eqtesadi:
Iran to revoke fuel cards
Iran and Turkey reconsider preferential trade tariffs
Iran to export gas to India through undersea pipeline
Iran eyes 7 steel projects by year-end in March 2017
Ban on selling crude oil to Shell lifted
No dollar-based banking relations