Saturday, April 02, 2016 is the first working day in the new Iranian calendar year 1395 which began on March 20. No paper was published in Iran in the past fortnight as Iranians celebrate the first 13 days of the year as Nowruz and enjoy New Year holidays.
Most of the headlines focused on the leader's speech on the first day of the year in which he underscored the need for materializing policies of the economy of resistance. The Supreme Leader of the Islamic Revolution, Ayatollah Seyyed Ali Khamenei, also slammed the US for not honoring the nuclear deal by which Iran agreed to curb its nuclear program in exchange for removal of US-engineered draconian sanctions.
The administration's firm resolution to revamp the economy and expectations about the economic climate in Iran in the New Year were also considered by most papers on the day.
Here are the top headlines.
Abrar:
Mischiefs being made in sanctions' removal: Parliament Speaker
Today, time for missiles, talks: Leader
Gov't cabinet approves raising penalties for corporate offenses
Former admin's performance cause of principalists' election loss in Tehran: MP
White House says formation of federal gov't run by Assad unlikely in Syria
Libya's national unity government sails into Tripoli
Nation's awareness secures country's future: Rafsanjani
4% drop in Nowruz road accident death toll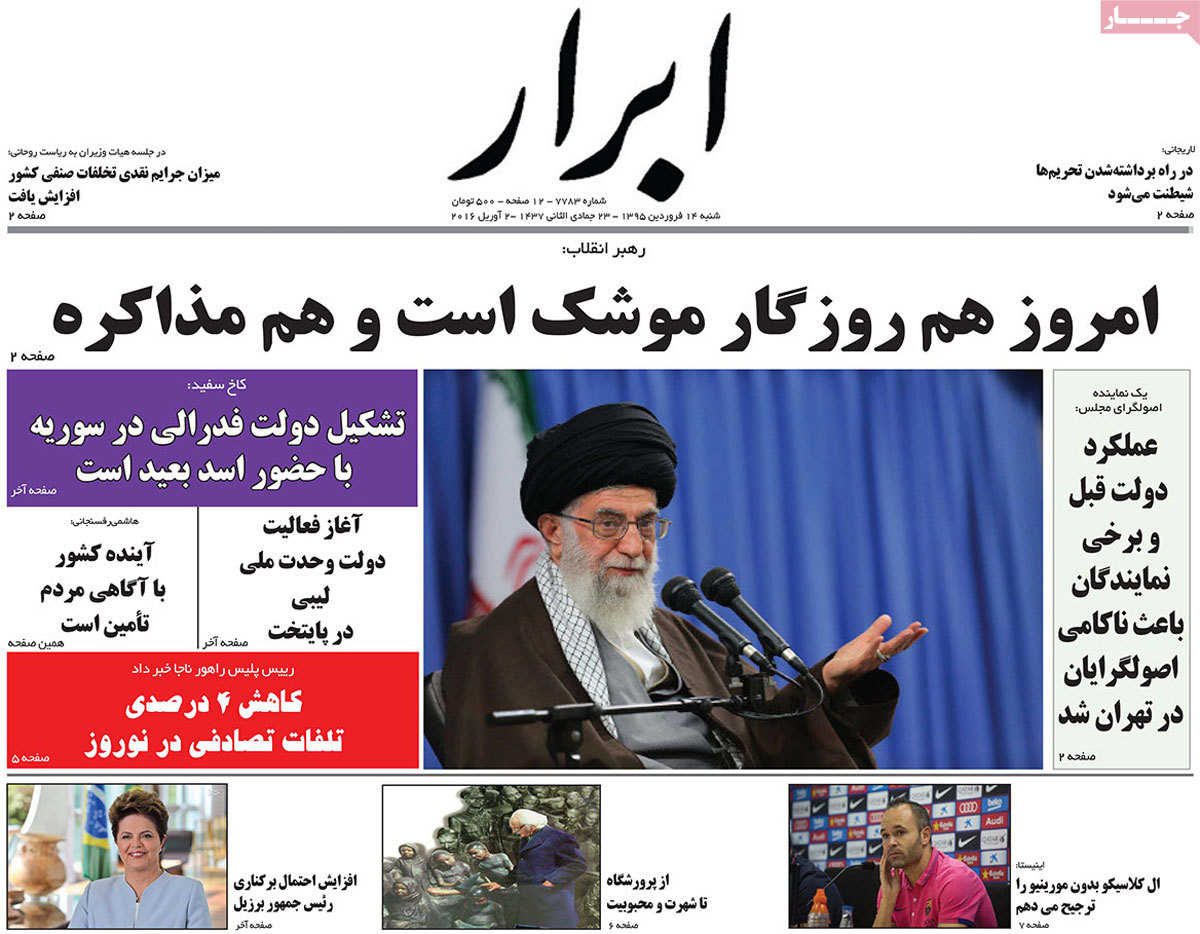 ---
Afkar:
BBC's anti-Iran news hype
Moscow, Washington agree on Syrian solution
Tehran Friday Prayer Imam: Resistive economy means no to surrender, sanctions
N. Korea: US is a nuclear threat
Talks under way with Boeing
---
Amin:
FM: Iran to enhance defense might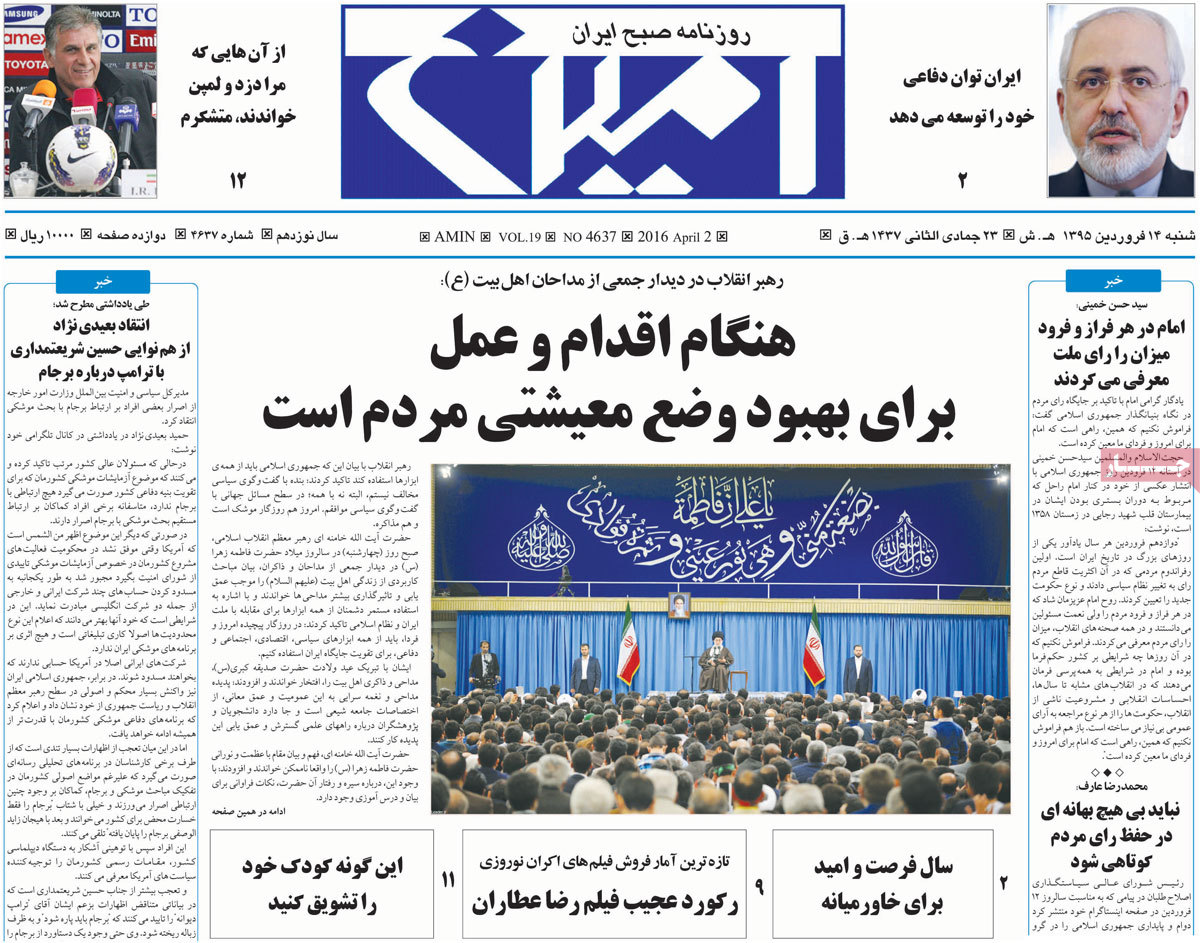 ---
Arman-e Emrouz:
Fighting unemployment, recession possible thru Resistance Economy: Leader
Belgium, Austria awaiting Rouhani visit
Iranian President Hassan Rouhani's visit to the two countries was canceled due to security considerations.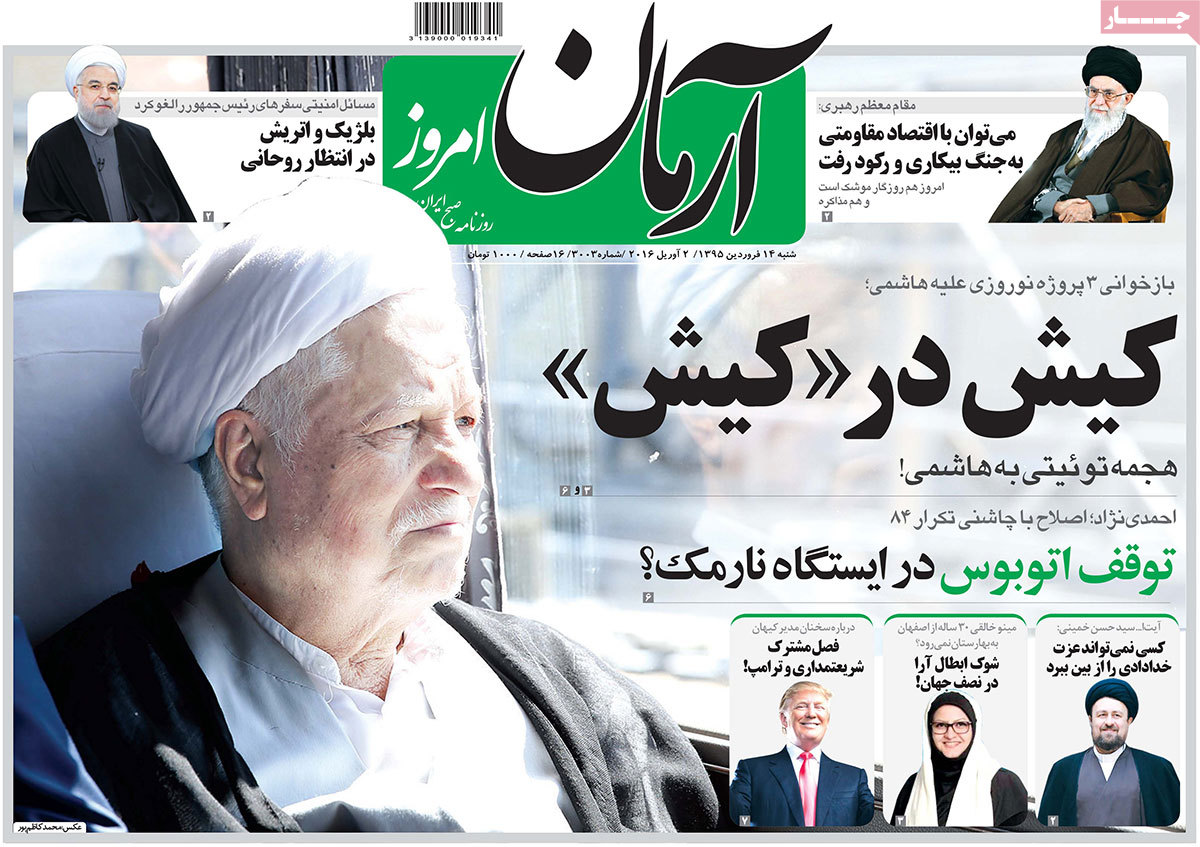 ---
Ebtekar:
Selfies with new face in Tehran
People take pictures with a pink Volkswagen car in the city of Tehran.
About time for practice, action to better nation's livelihood
A viewpoint about the Supreme Leader's naming of the new Iranian calendar year as the year of "Resistive Economy; Practice and Action".
Explosions shake the world
Dozens of terrorist blasts in Turkey, Belgium, Pakistan, Iraq and Afghanistan gripped the world by fear in the past fortnight.
Report studies road accidents during Nowruz: "Unfinished trips"
Hard year for dollar; Report estimates that the New Year will be a difficult year for forex market in Iran.
Sad films get surprising reception in Nowruz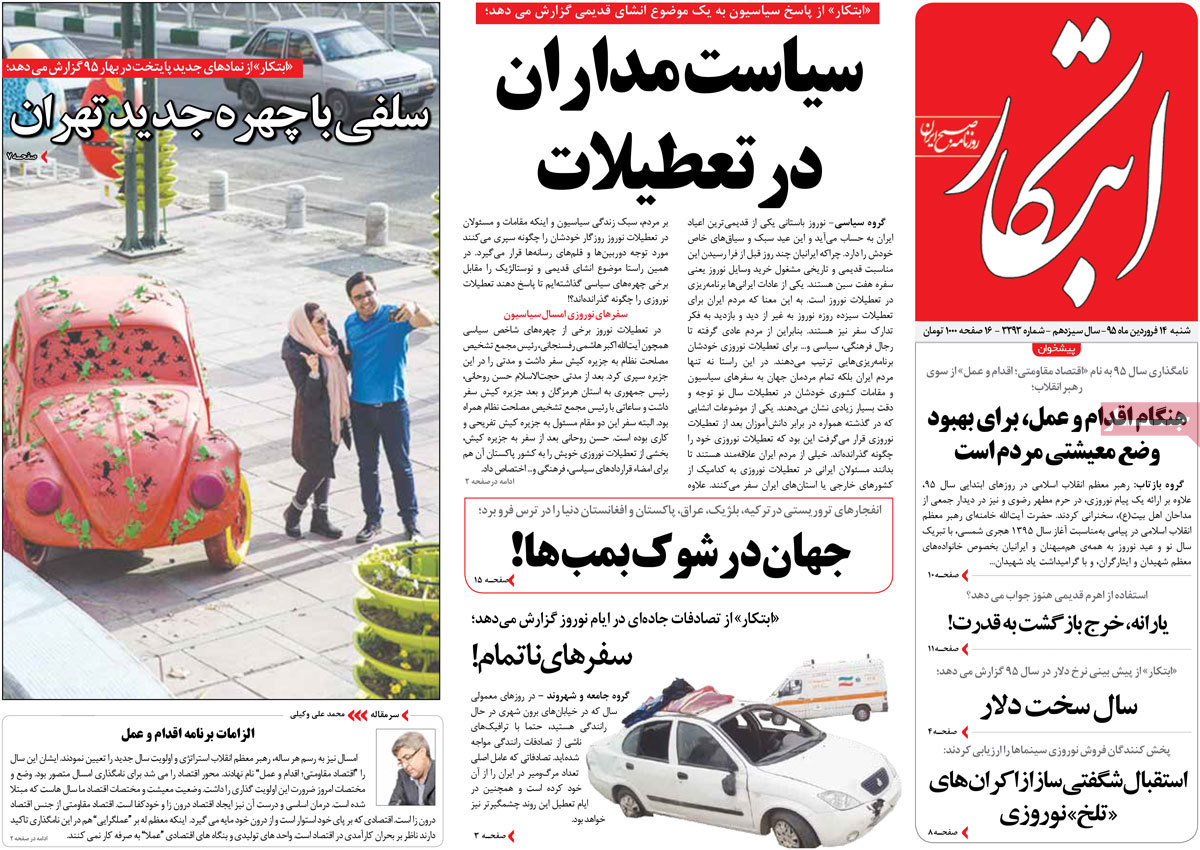 ---
Ettela'at:
Iran inflation rate at 11.6% for last calendar year
Leader calls for practice, action for promoting nation's livelihood, economy
Assad says ready for early presidential election
Rouhani urges nation to close ranks to develop country
Admin plans for realizing economy of resistance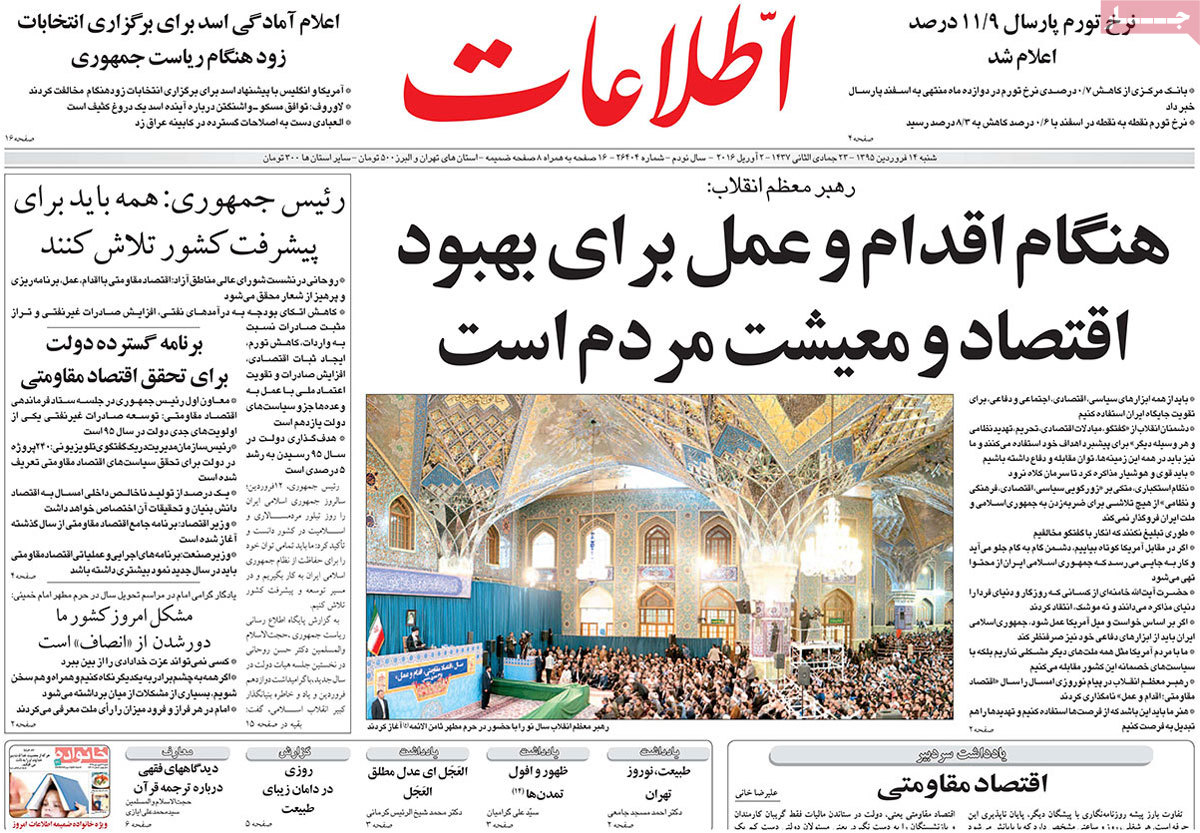 ---
Etemad:
Nowruz news-makers
The paper has highlighted the top news stories of Nowruz which include disqualification of Minu Khaleghi in parliament election after she won majority votes to make way to the parliament, cancer diagnosis of epic traditional singer Mohammad Reza Shajarian, return of top TV personality Reza Rashidpour to TV screens and national football coach Carol Quiroz's farewell to Iran.
Reza Zarrab captured in US for bypassing sanctions
---
Hemayat:
Judiciary ready to support legal investors: Chief
Iran never succumbs to disarmament: Official
Polls confirm nation's satisfaction with judiciary's performance
IRR20,000b losses in Nowruz accidents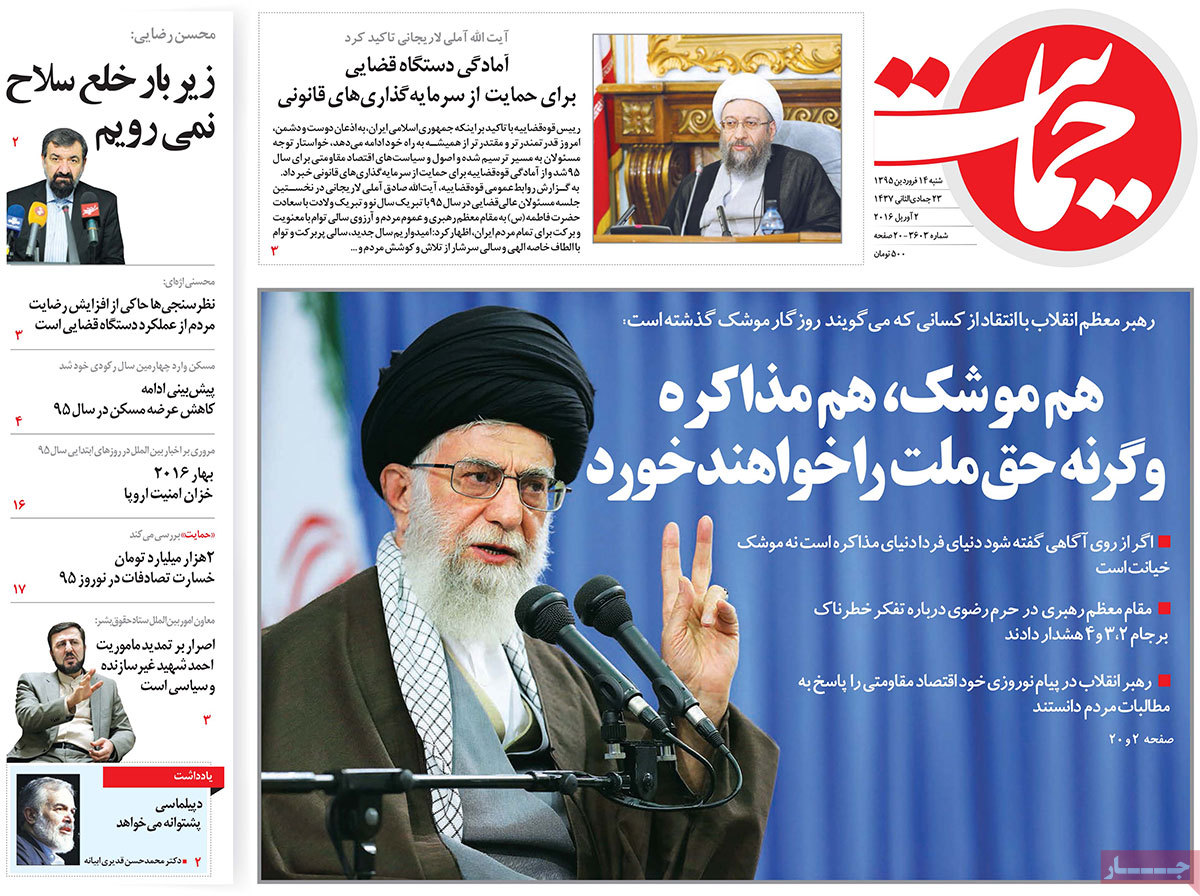 ---
Iran:
Iran, Pakistan ink $5b MoU
Leader offers 10 crucial suggestions for resistive economy
Economists: Admin prepares for resistive economy
Iran's foreign policy busy in Nowruz days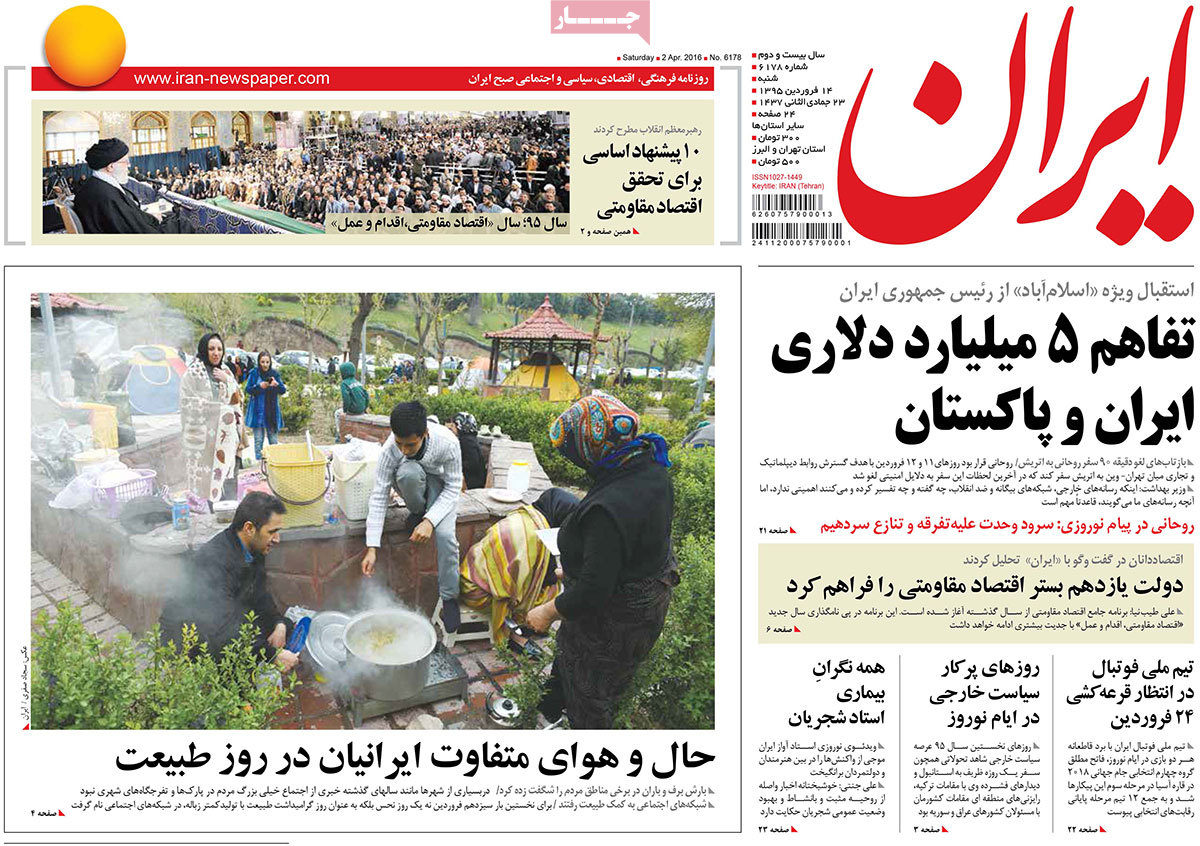 ---
Payam Zaman:
Iran mulls 3 major oil plans in new [calendar] year
Resistive economy means no to surrender, sanctions
Islamic Republic successful sample for nations
Economy minister unfolds details of resistive economy agenda
New CBI report about housing market in Iran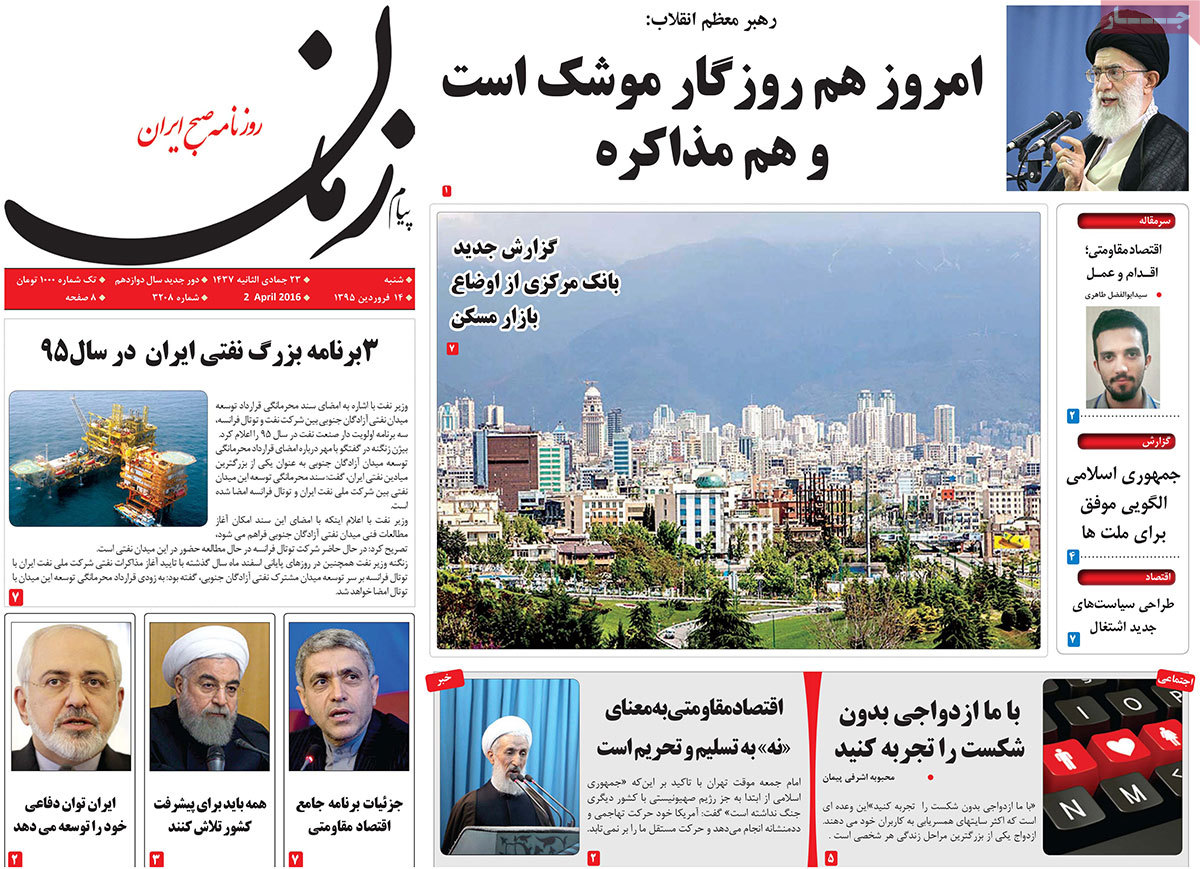 ---
Jamejam:
Time for practice, action: Leader
Reduction in Nowruz accidents, death toll
West's new act of obstruction in Syrian crisis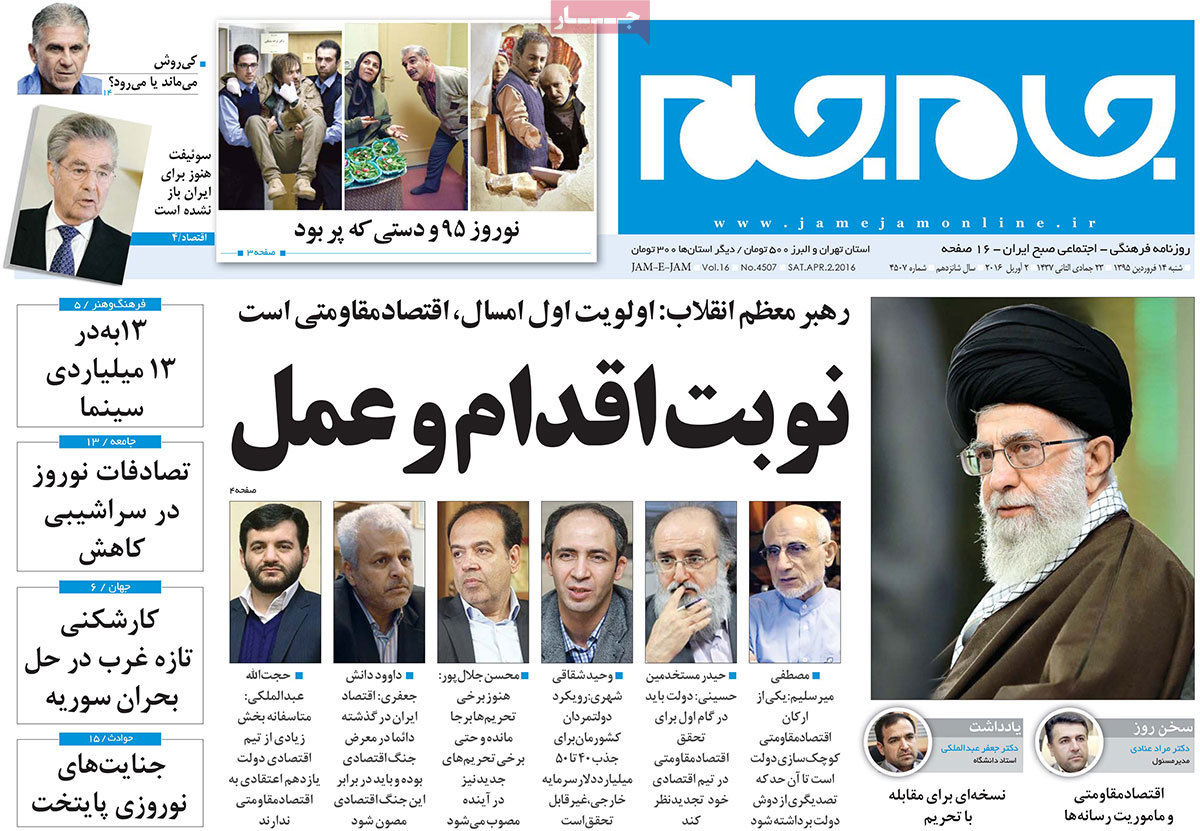 ---
Jomhouri Islami:
Leader offers 10 fundamental proposals for practice and action for resistive economy
Rain, snow grip most Iranian territories
Tunisian president offers full support to Hezbollah
Jordan's King: Turkey transferring terrorists to Europe
Iran, Pakistan sign cooperation docs
Erdogan: Turkey will cooperate with Israel in fight against terrorism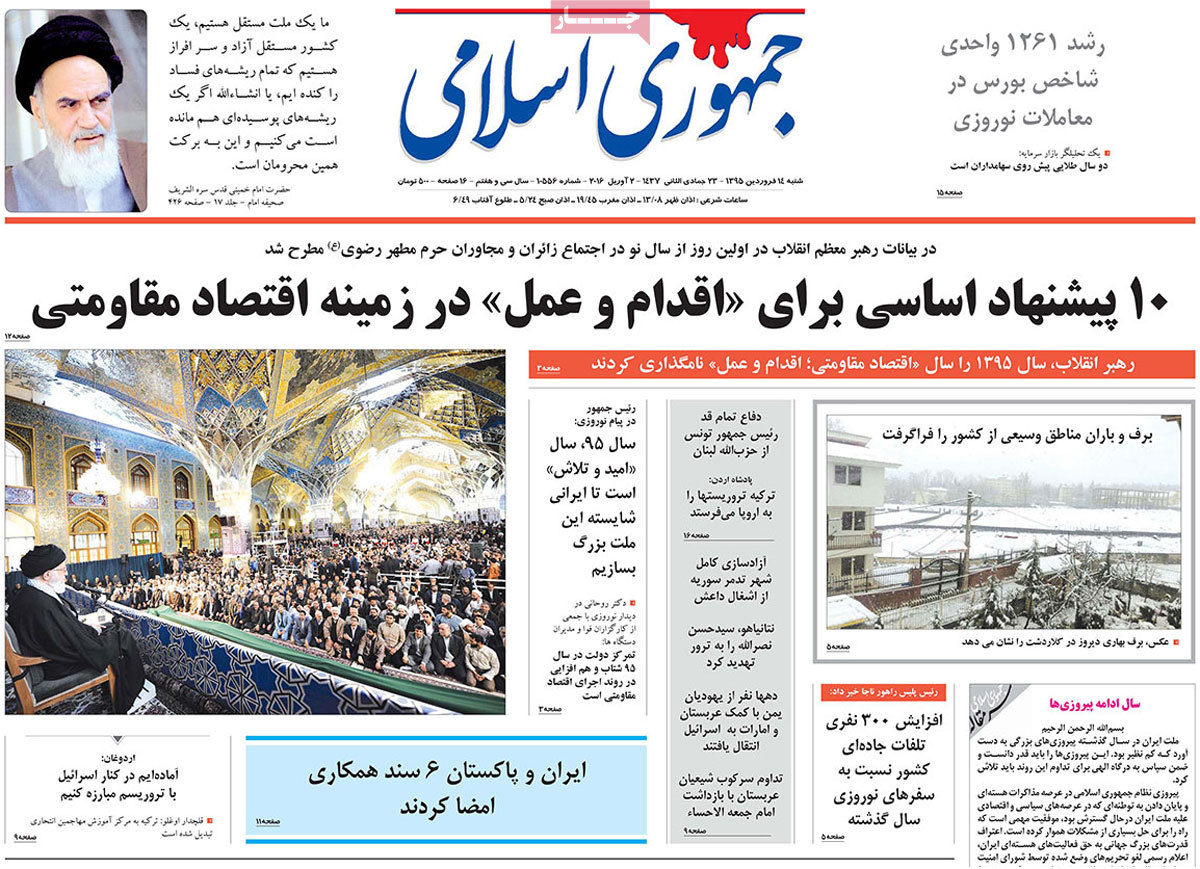 ---
Javan:
Both needed: missiles, talks
"Without defense power, we would have to retreat by every threat," said the leader during his opening speech at the first day of the new Iranian calendar year.
Rain saves nature [on Nature Day]
Alarm goes off for JCPOA violation by US
Cleric: Mortgage banks in fight with us
---
Kayhan:
Leader: JCPOA II, III, IV, US will
Banking system busy with "money vendors"
Assad hails help of Iran, Russia, Hezbollah in freeing historical city of Tadmur
US unleashes new sanctions on Iran
Maryland University poll: JCPOA implementation reduced Iranians' trust in US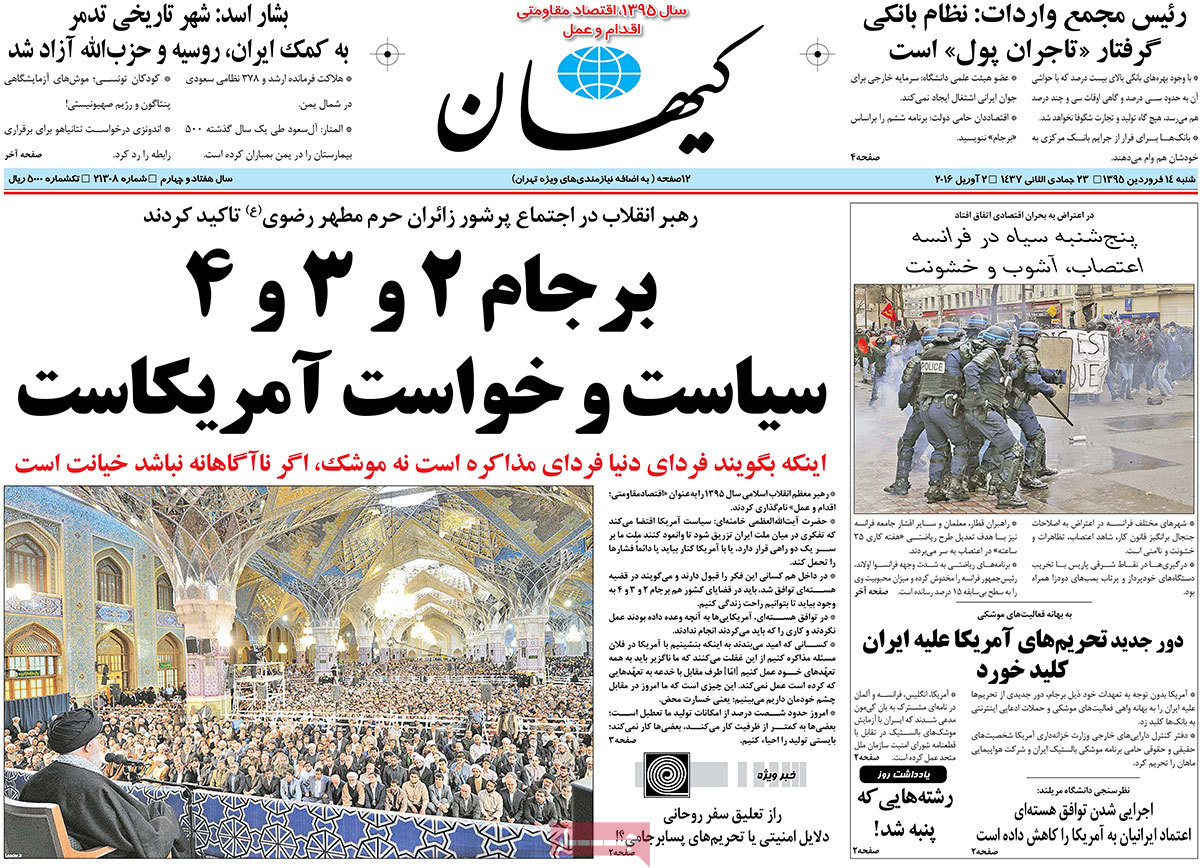 ---
Khorasan:
Ten million visit Khorasan Razavi during Nowruz
Film, Bodyguard, sells IRR20b
---
Rah-e Mardom:
Report: Terrorist attacks in Europe and need for transparency of western stance to uproot such assaults
Red alert for water in 6 major cities
Iran needs no permission, confirmation for enhancing defense might: Commander
Iran's imports from Turkey down 23%
---
Resalat:
If we are not strong, nation's rights will be trampled upon: Leader
Trump, Clinton start open fights
JCPOA candy seems tasty for some: Cleric
Boosting domestic production only solution to solving problems: Parliament speaker
Rouhani says admin will pursue bolstering Iran's defense might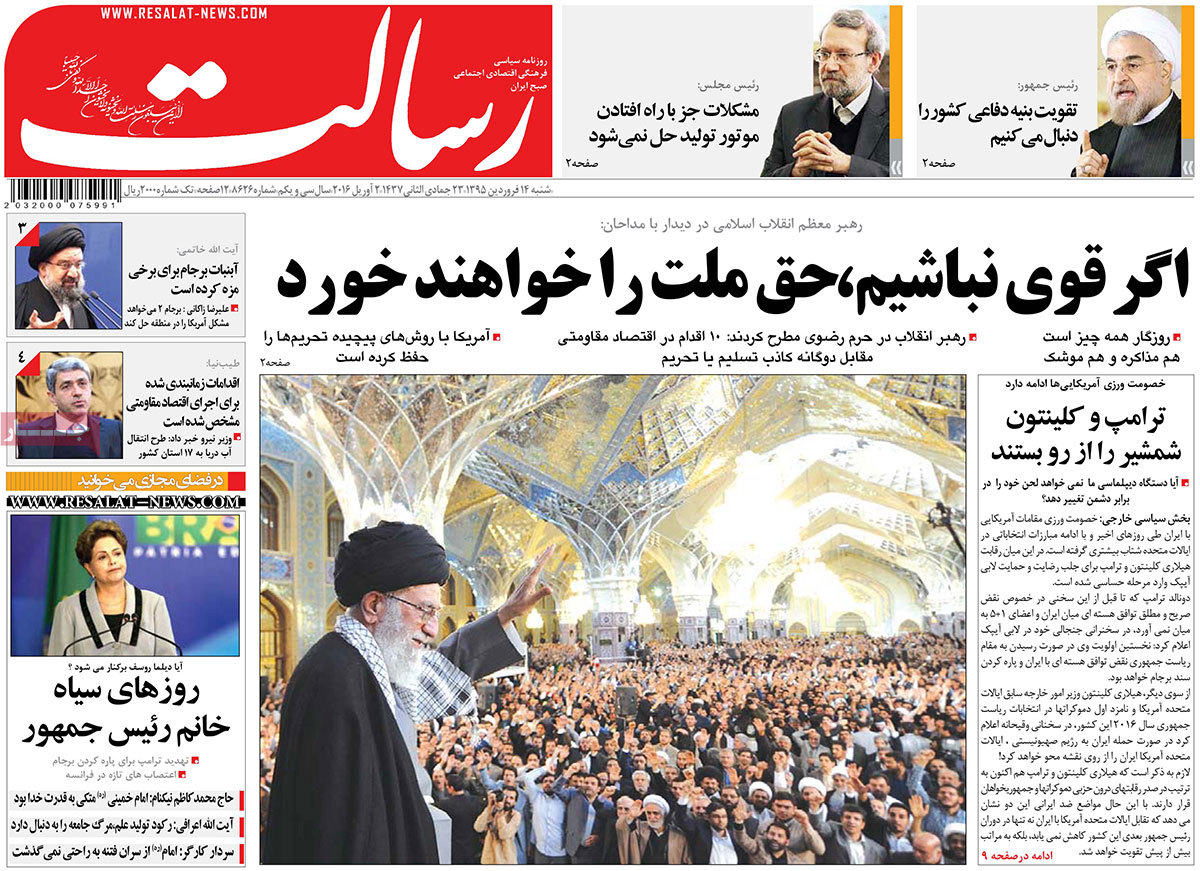 ---
Rooyesh Mellat:
Violation of int'l rights by Saudi Arabia
Fulfilled promises; vows left for injury time
Iran firm in supporting Palestine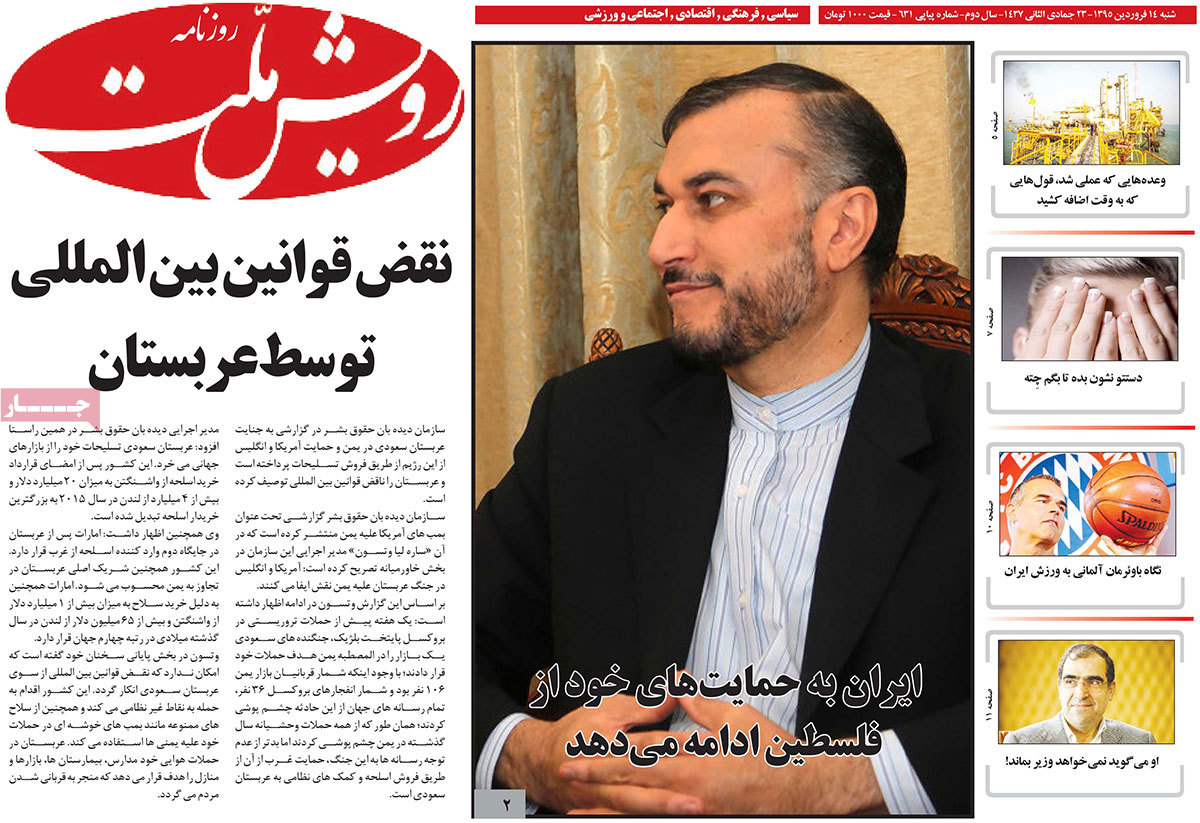 ---
Shargh:
Reza Zarrab [Zanjani's assistant] captured in US
UNSC convenes on Iran's missile tests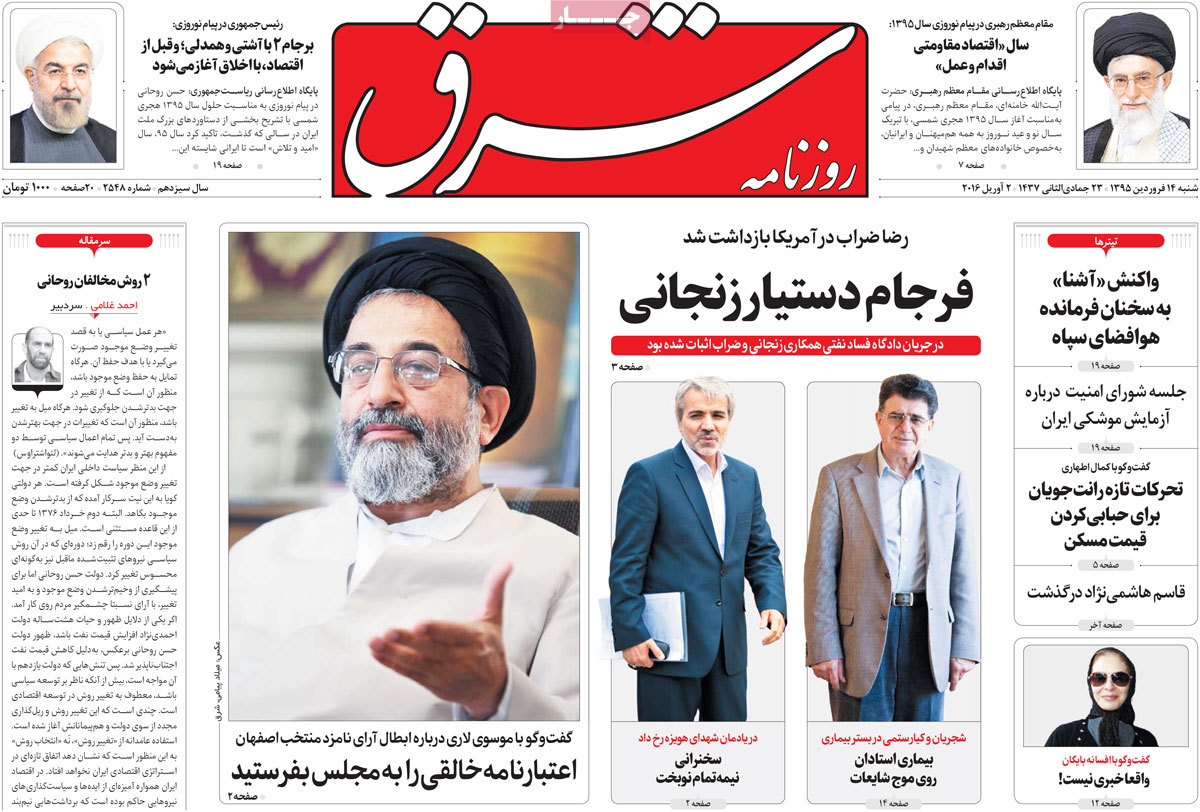 ---
Shahrvand:
US issues permit to ease restrictions on trade with Iran
Nowruz fraught with accidents
---
Mardom Salari:
US: No curbs on missile tests in nuclear deal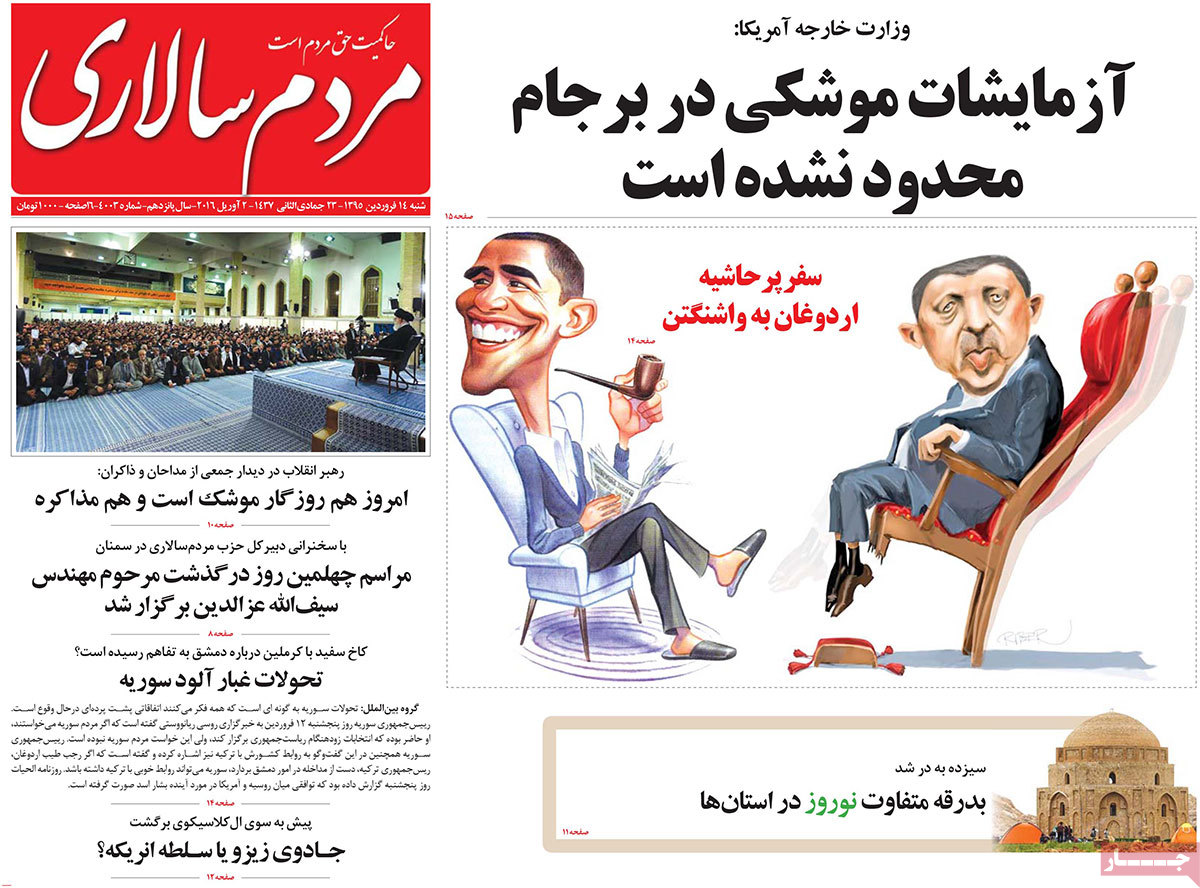 ---
Asia:
Heads of over 50 states miss Tehran, Moscow Nuclear Security Summit
Zaha Hadid, architecture of Tehran's Fereshteh Pasargad, dies
US says fully honors JCPOA context
---
Abrar Eqtesadi:
New US permit to sell planes to Iran
Iran to attend Doha meeting without acceding oil freeze plan
Iran sells 14mb of oil to Europe since JCPOA implementation
Japan to build refinery in Iran