Abrar:
1.  Canadian premier voices readiness to reopen Tehran embassy
2.  Certain countries refrain from repaying Iran: Araghchi
3.  Islamic states call for integrated support for Palestine
4.  There is no sign Iran has violated JCPOA
5.  IRGC conducts missile test
---
Abrar Eqtesadi:
1.  Oil price crosses $40/b
2.  Iran to tap NDFI for $300mln for textile industry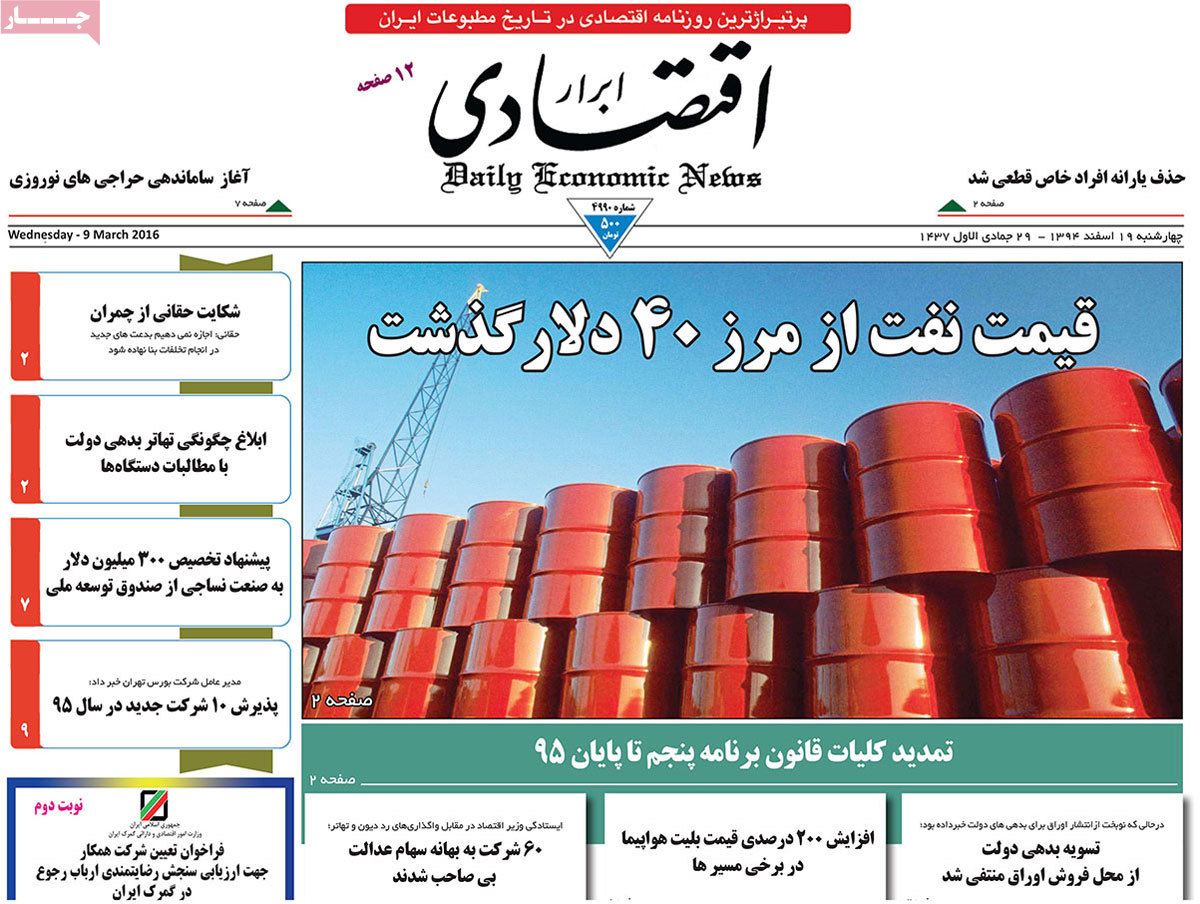 ---
Afkar:
1.  Steel industry giant in Iran [for talks]
2.  Unprecedented safety in Islamic Iran: Intelligence minister
3.  Illegal refugees to return to Turkey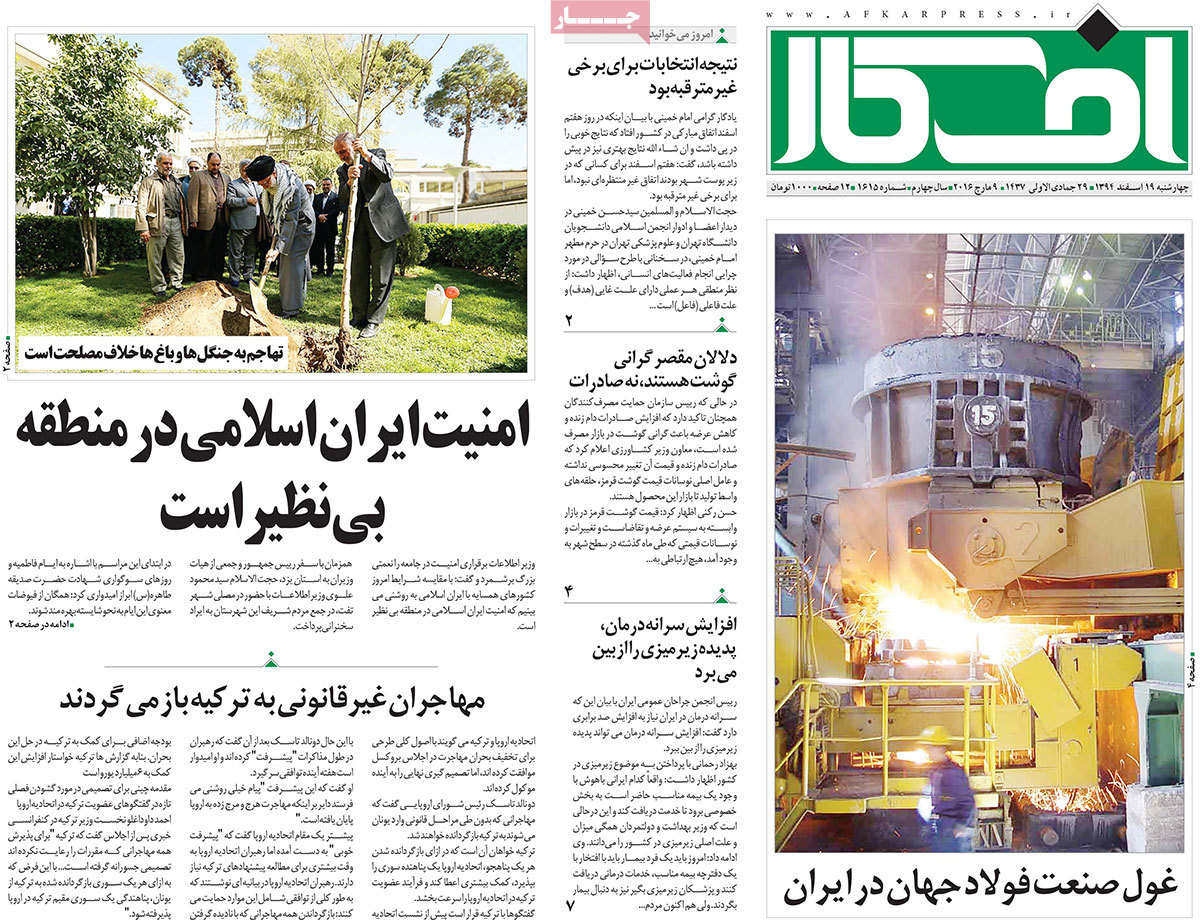 ---
Arman-e Emrouz:
1.  Environment protection duty for all: Leader
2.  Canada show green light to reopen Tehran embassy
3.  Three-month deadline for ending subsidy payments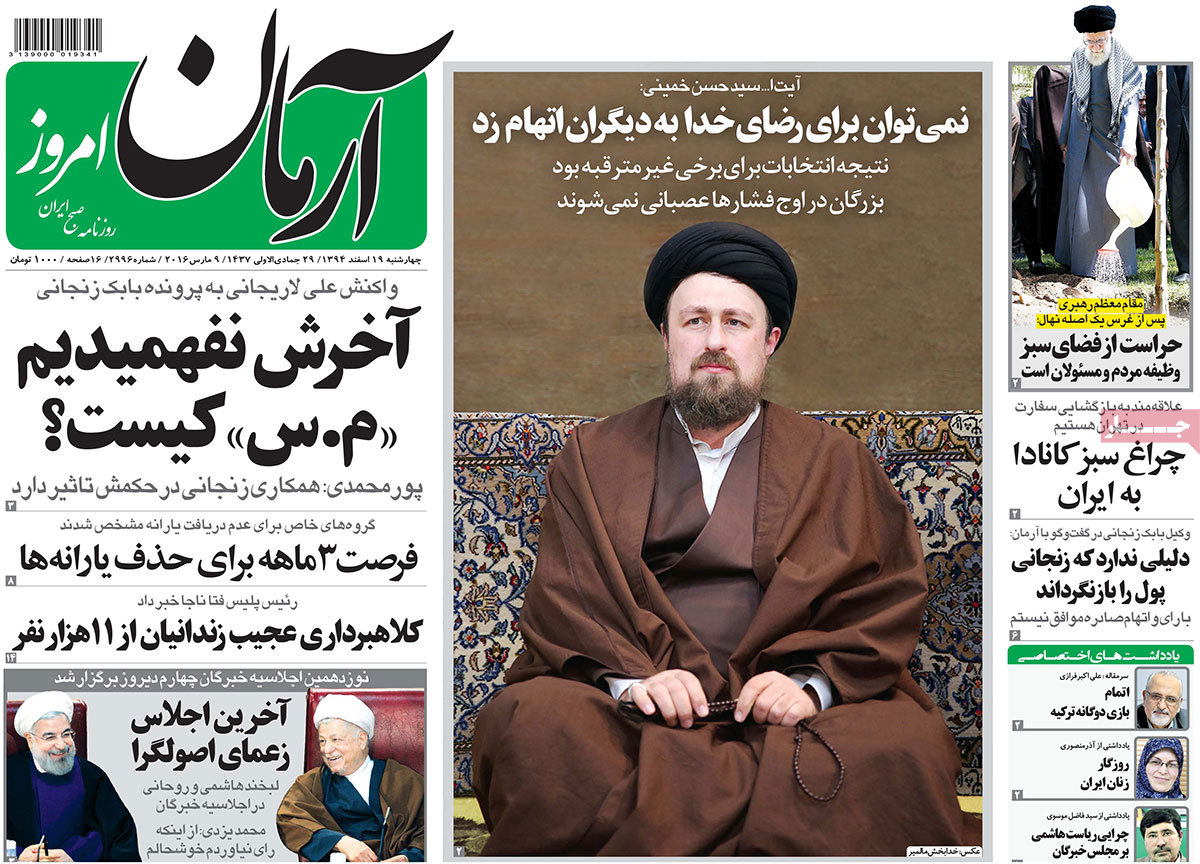 ---
Ebtekar:
1.  Leader forbids destruction of environment
2.  Zarif: Making most out of JCPOA needs refraining from party considerations
3.  Iran, future winner of oil market
4.  Report: 120 years since invention of telephone Beyond Graham Bell dreams
5.  Lack of confidence, biggest challenge in JCPOA implementation: negotiator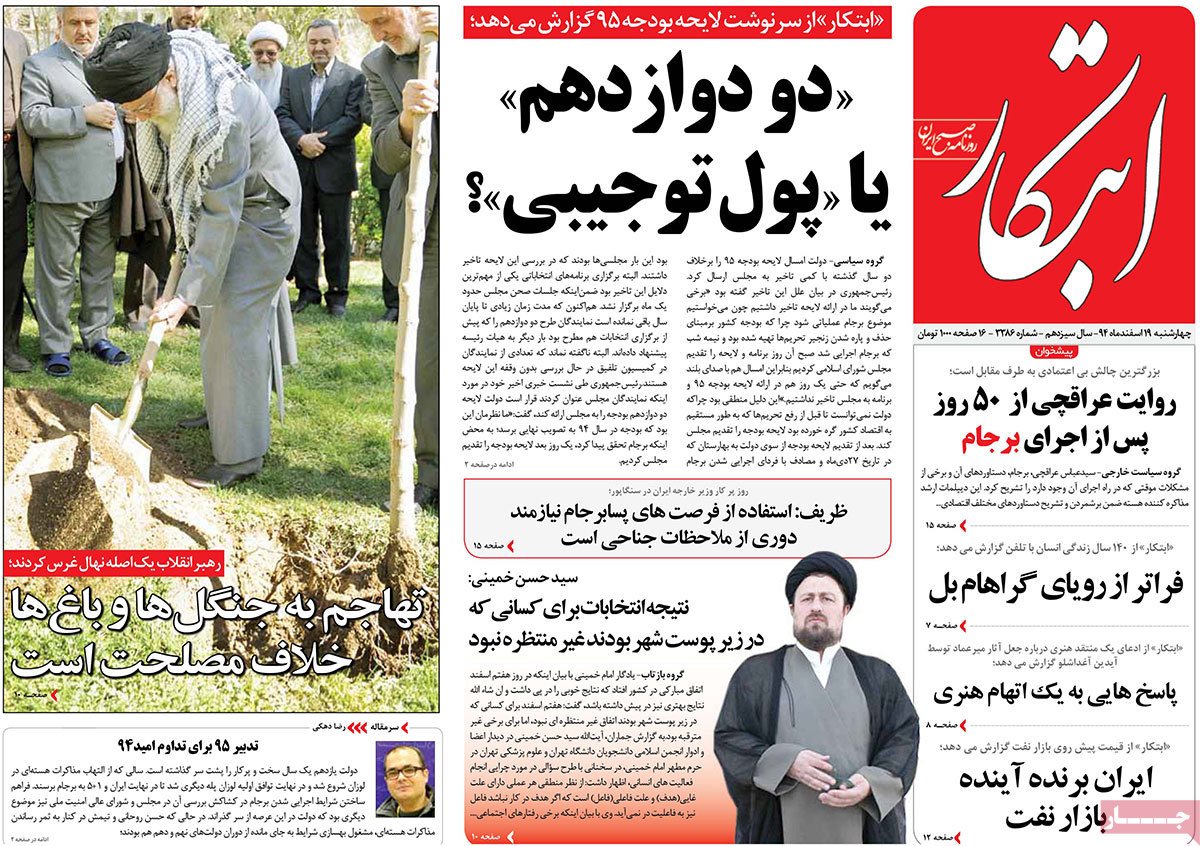 ---
Asrar:
1.  Leader highlights environment preservation as duty of everyone
2.  Zarif: Some [countries] seek security in causing insecurity for others
3.  Election outcome not unexpected for some: Seyyed Hassan Khomeini
4.  Iran poised to torrent of foreign tourists: UNWTO chief
5.  Indictment issued for Saudi Embassy attackers
---
Ettela'at:
1.  IRGC Cmdr: Enemies fearful of IRGC missiles
2.  23 Arab legal bodies undermine Hezbollah blacklisting by PGCC
3.  Hassan Khomeini: One cannot accuse others for God's sake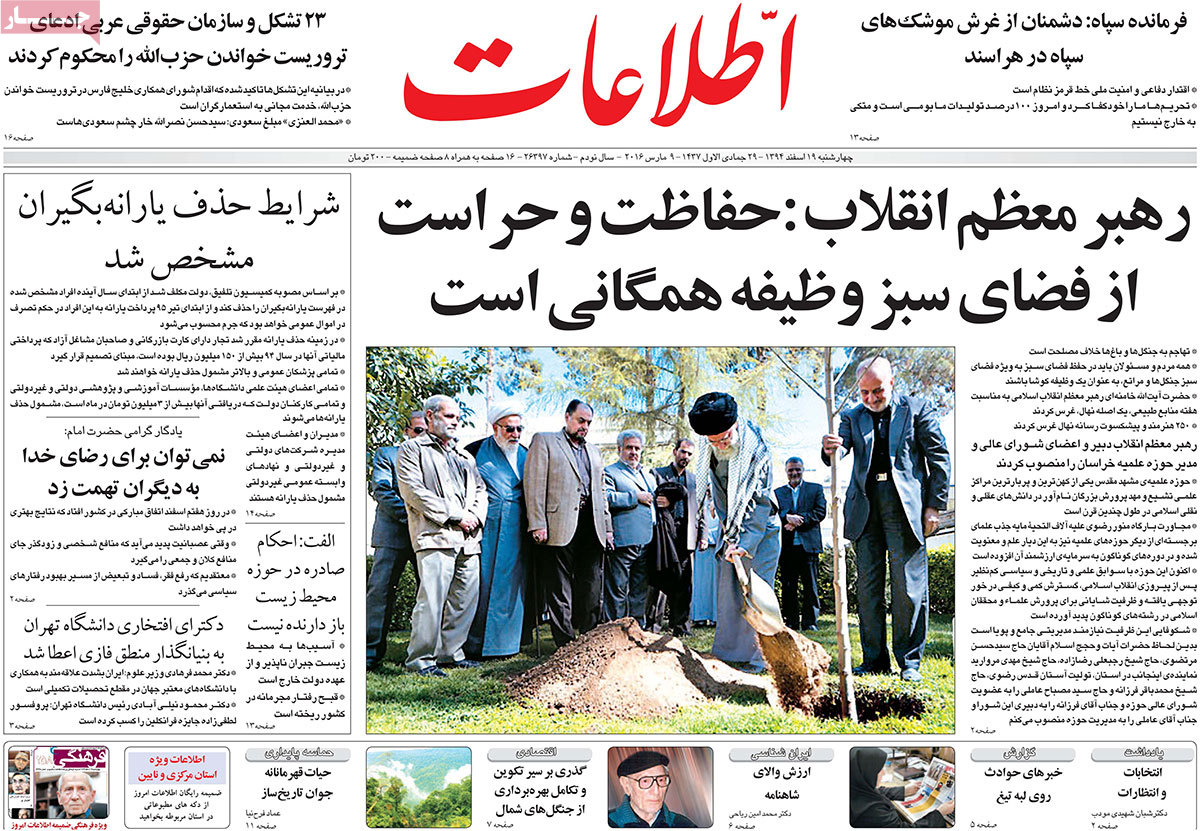 ---
Etemad:
1.  Minister: Iran economy needs second miracle
Iranian minister of economy has said the administration's economic performance in the current Iranian year was like a miracle by the economy needs another miracle to be fully saved.
---
Emtiaz:
1.  Artist Parviz Parastouei honored
2.  Tehran tops list of online crimes [in Iran]
3.  Iran to distribute Euro-4 petrol in most cities: Official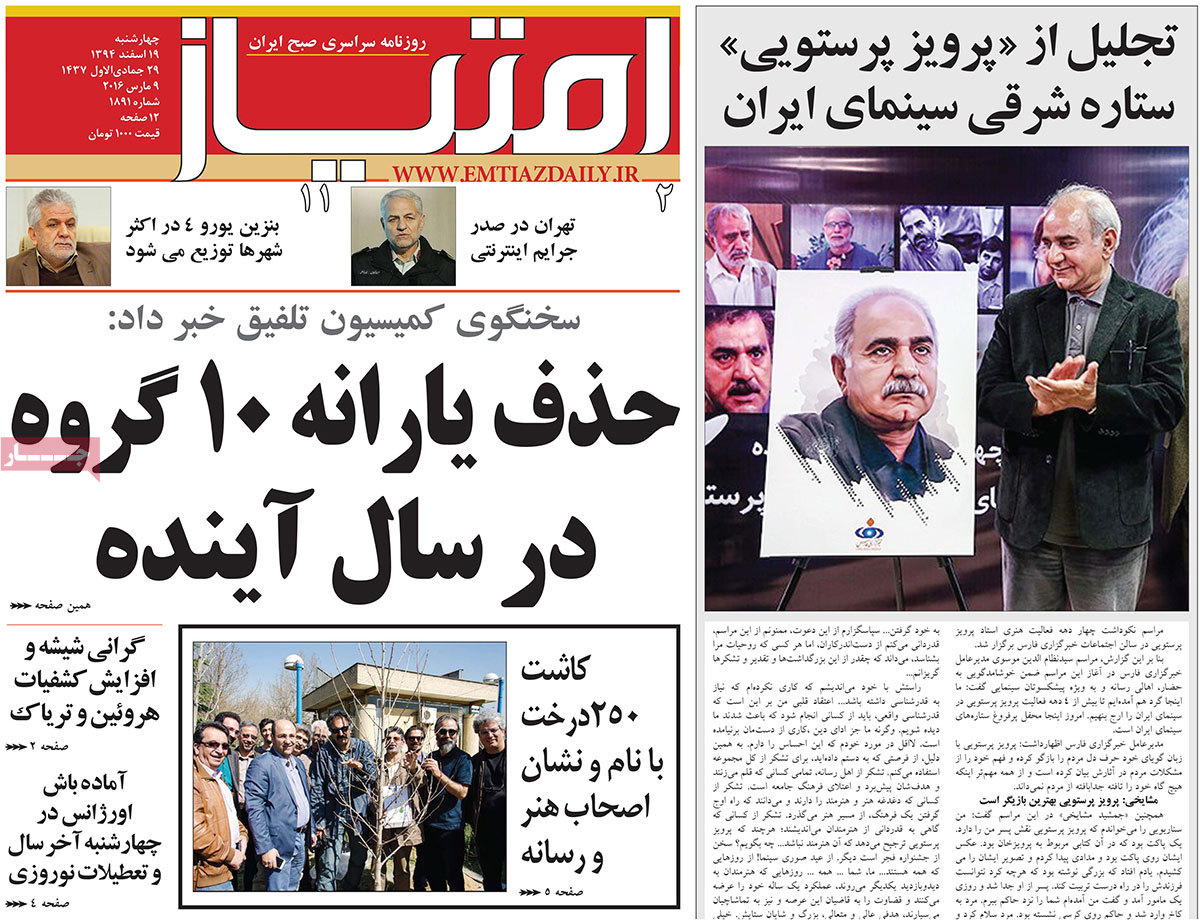 ---
Iran:
1.  Nowruz can bring regional nations together: Expert
2.  Shell repays nearly $2bn debt to Iran
3.  IRGC displays defense power in missile drill
4.  744 LCs open in two weeks
5.  Report tells ISIS seeking to form army of kids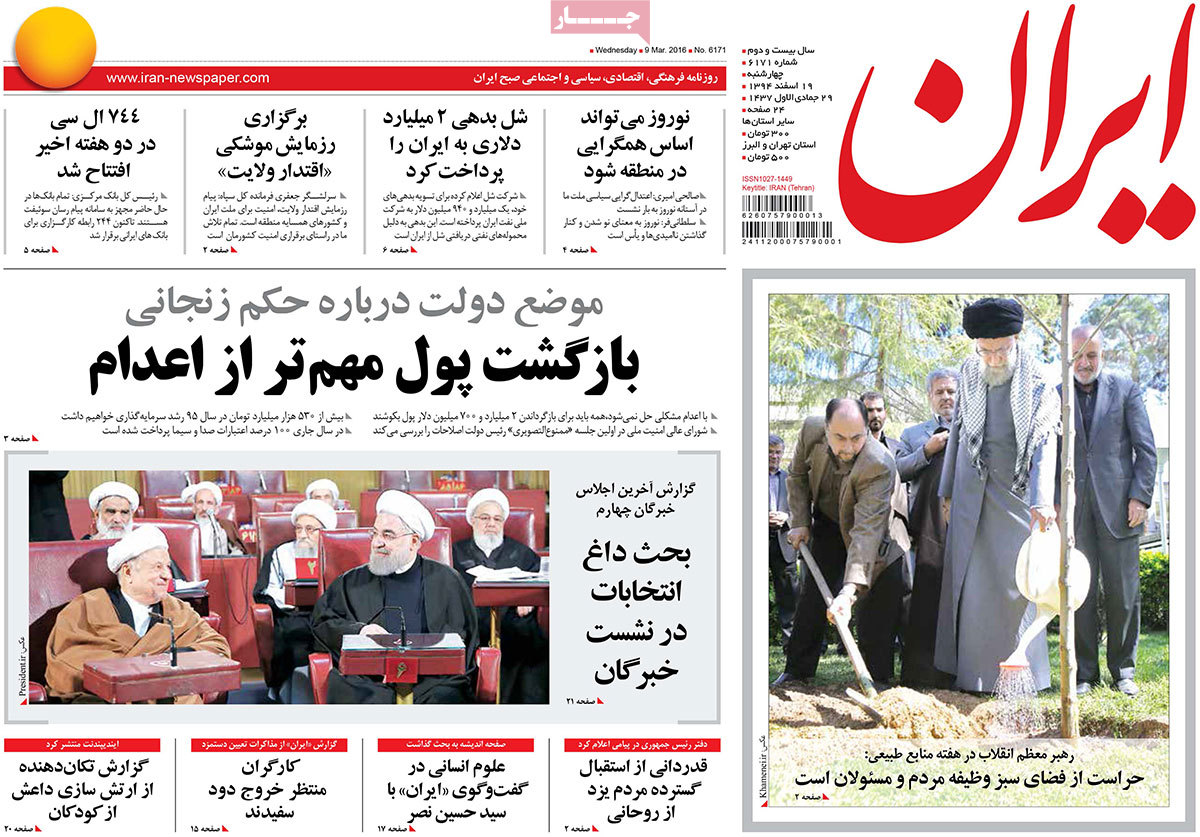 ---
Payama Zaman:
1.  Iran revives hamstrung textile factories
2.  Veep: Admin serious on fighting corruption
3.  IRGC chief: Defense power and nation security are red lines
4.  Parliament speaker calls for finalization of development plan before March 21
---
Hemayat:
1.  Iran to cut cash handouts for the rich by June
2.  Ayatollah Yazdi: Preserving rule of Supreme Jurisconsult most sensitive Assembly of Experts duty
3.  Preserving environment, duty of nation, government: Leader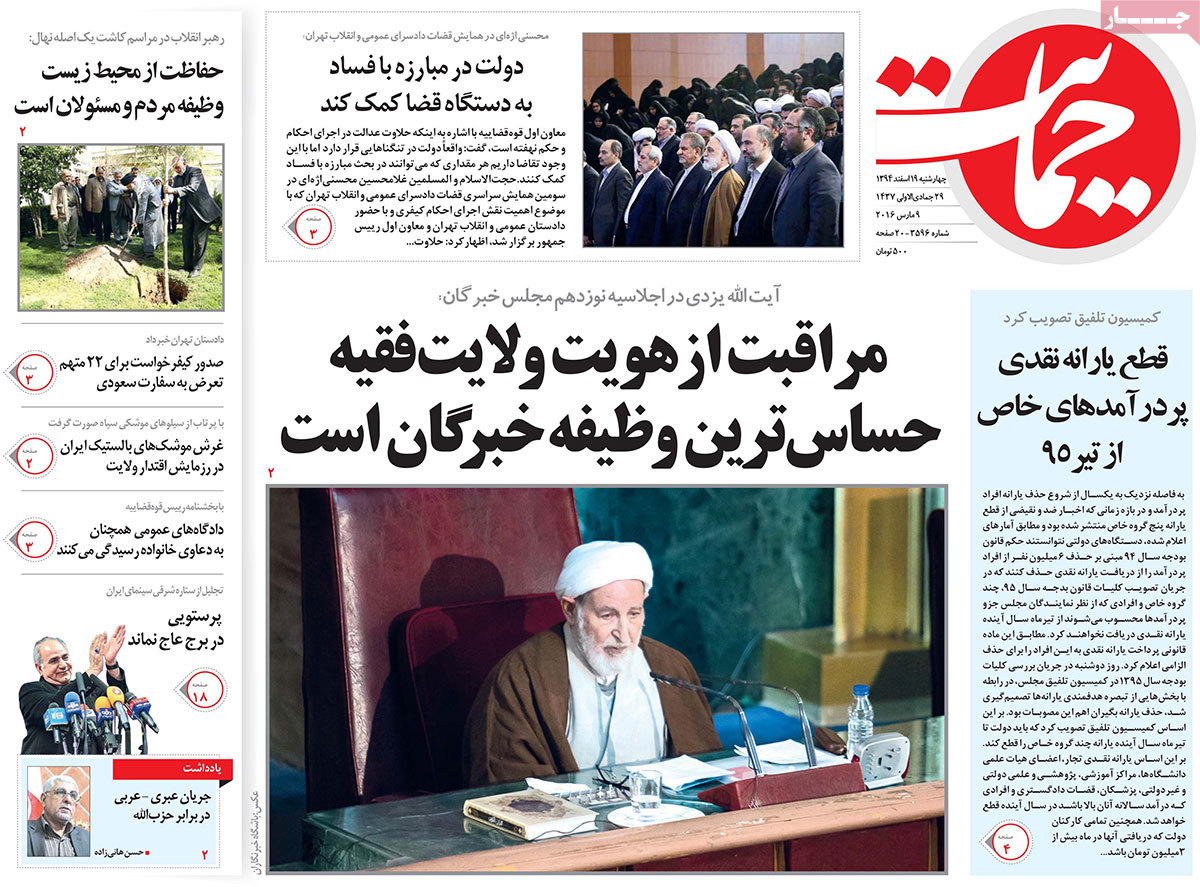 ---
Hosban:
1.  No budget deficit: Spokesman
---
Jamejam:
1.  Iran omits "red carpet" from int'l Fajr film festival
2.  Bibi dumps US visit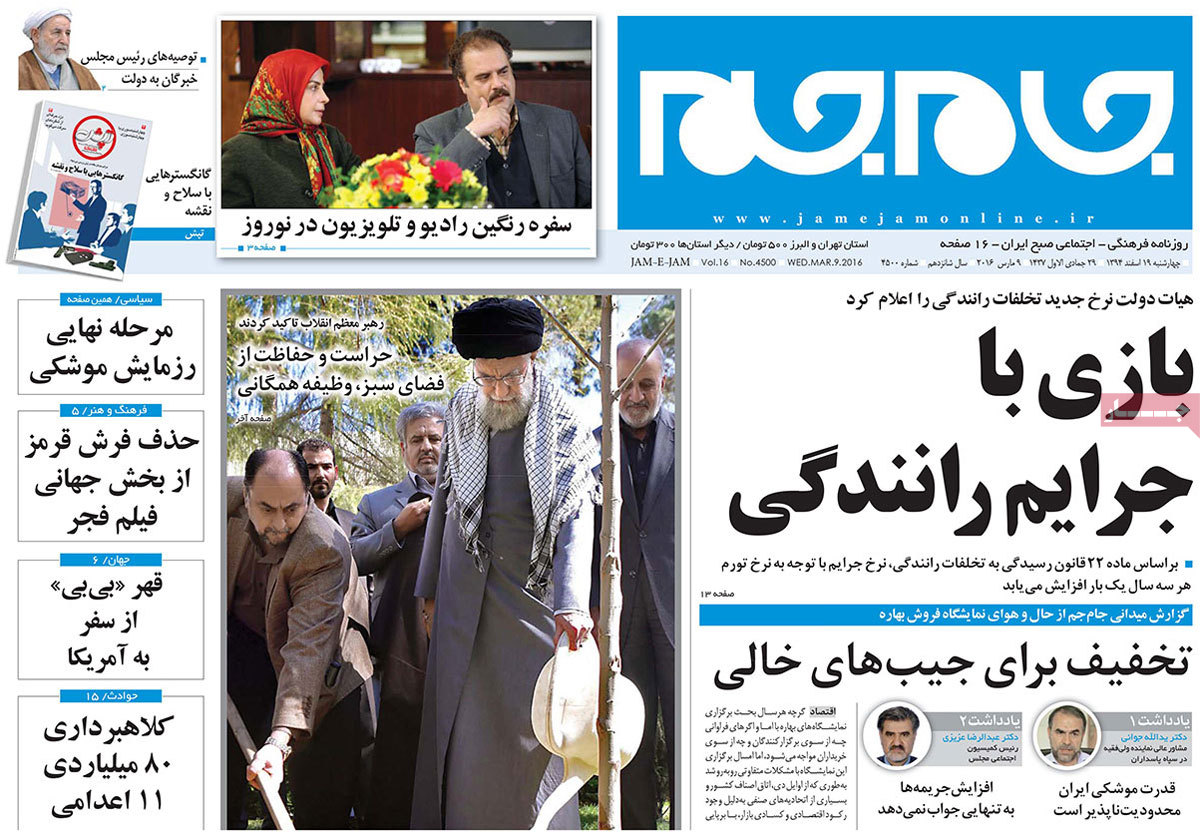 ---
Javan:
1.  Economy minister says sick, tired of corrupt managers
2.  13m addictive tramadol seized in Tehran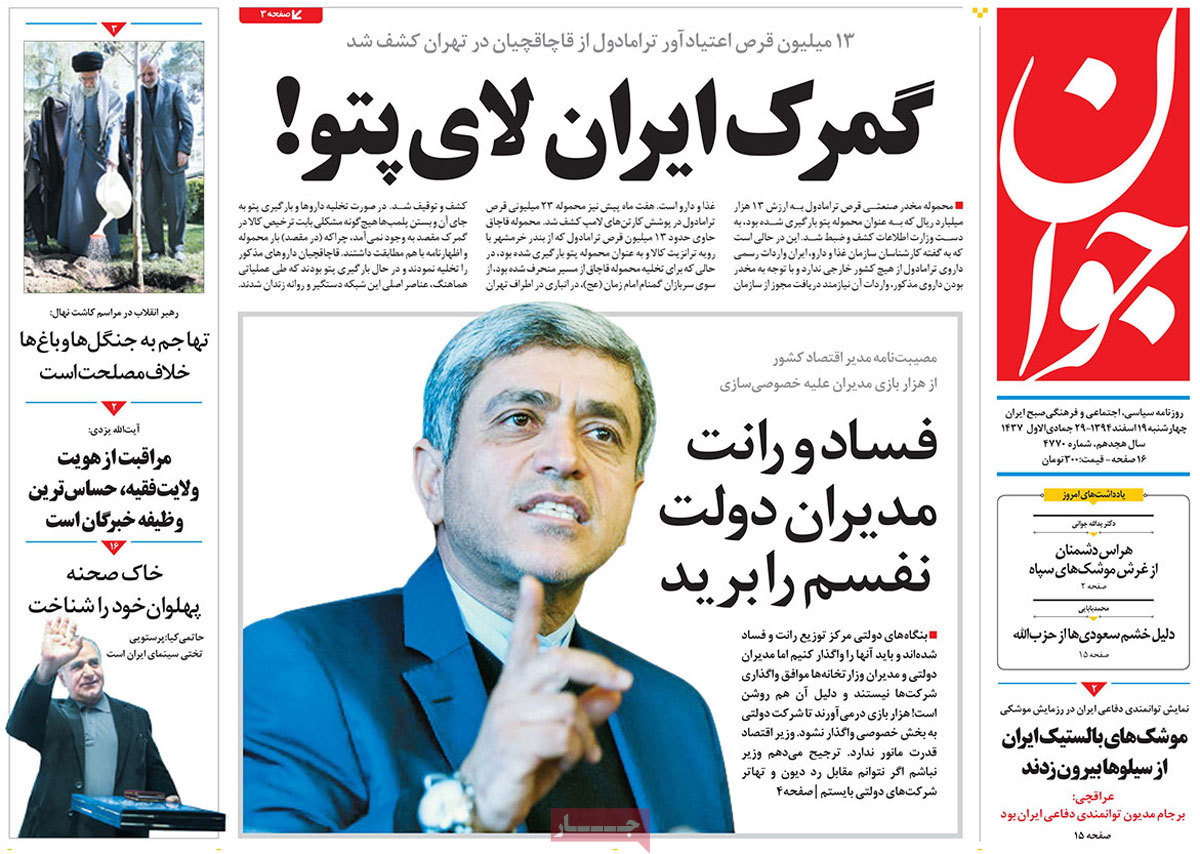 ---
Jomhouri Islami:
1.  IRGC starts last leg of missile drill
2.  JCPOA implementation ended legal bases of sanctions: Araghchi
3.  Assembly of Experts gathers for last time this year
4.  Zarif: ISIS still enjoys suporters in region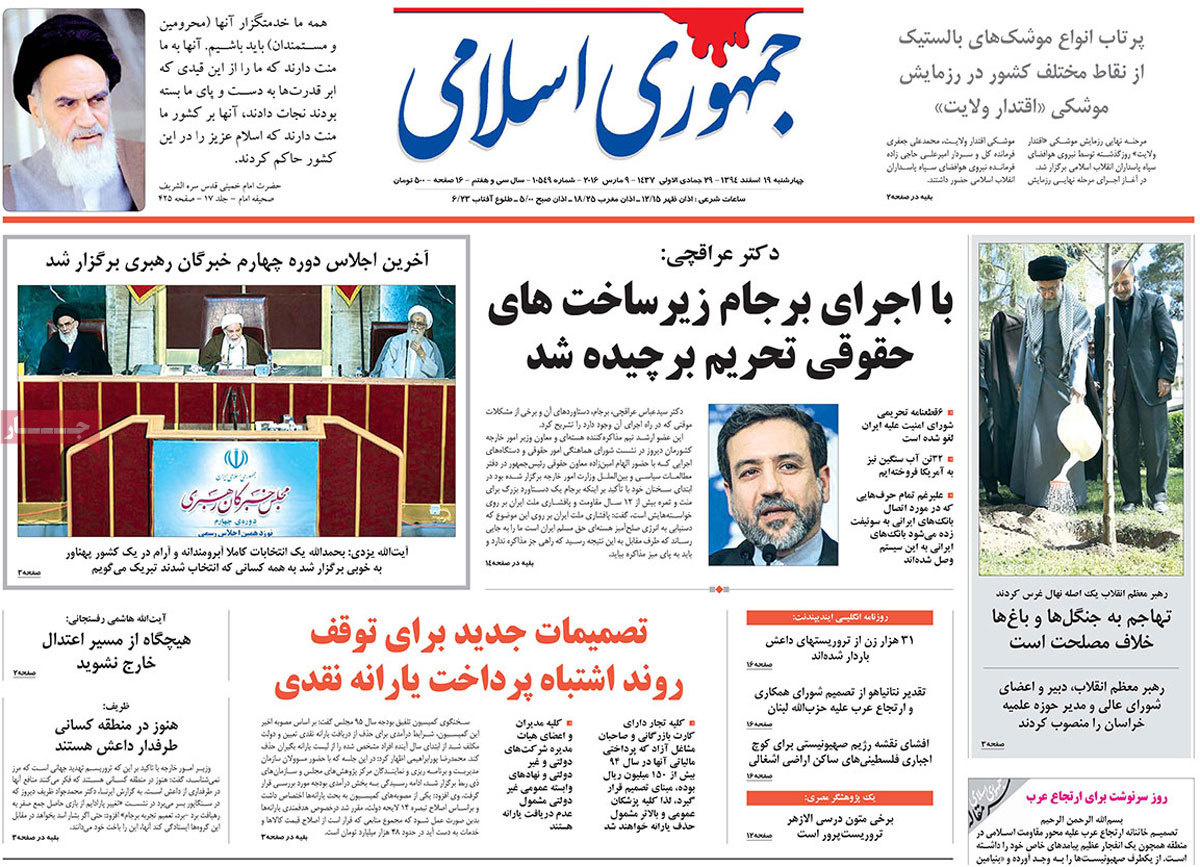 ---
Kayhan:
1.  Seyyed Hassan to remain tick in the eye of Saudi king
2.  Ayatollah Yazdi: Enemy has reneged on promises several times, cannot be trusted
3.  Report: Poverty, social gap souvenir of artificial development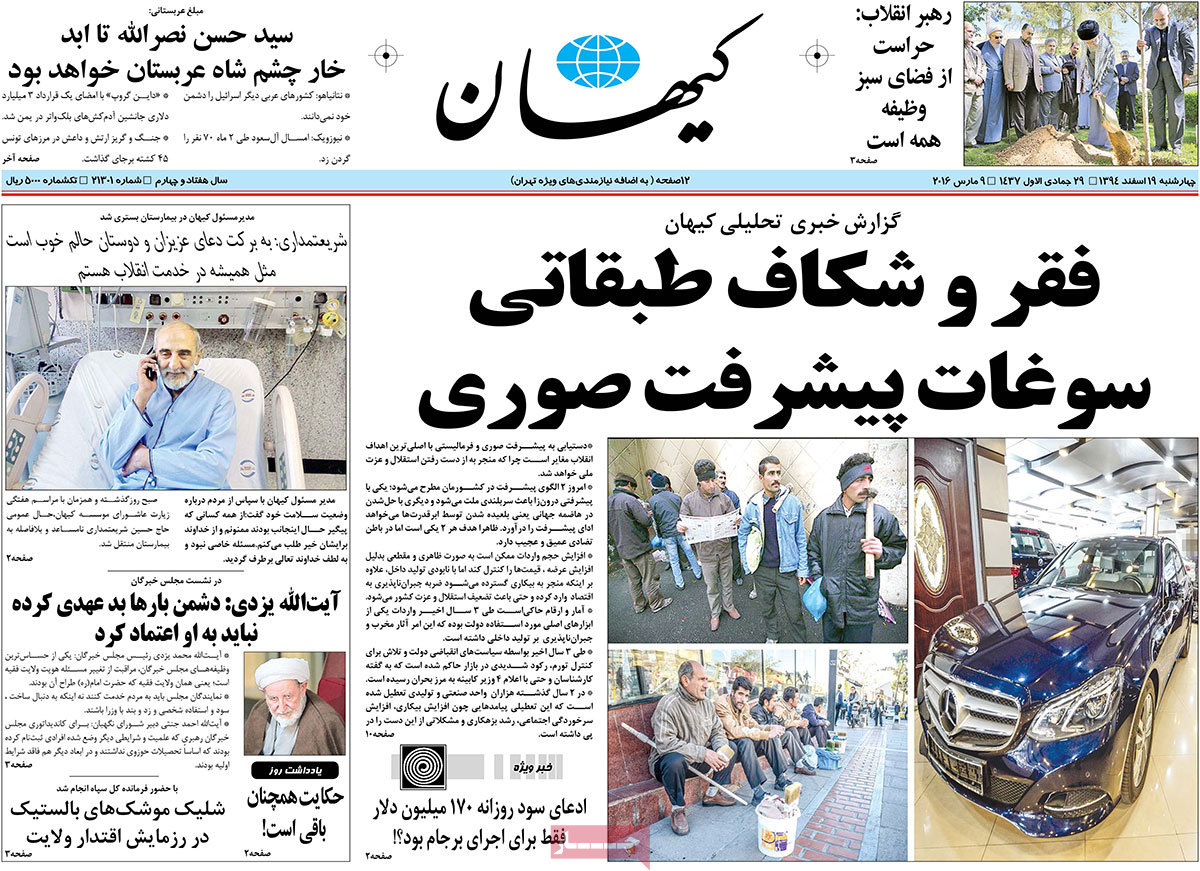 ---
Khorasan:
1.  Economy minister knocks state managers regarding privatization
2.  IRGC ballistic missles shot from within earth
3.  I am blissed by having a burden removed from my shoulders: Ayatollah Yazdi
The ayatollah failed to win enough votes to remain in the Assembly of Experts.
4.  Bibi hails PGCC measure to blacklist Hezbollah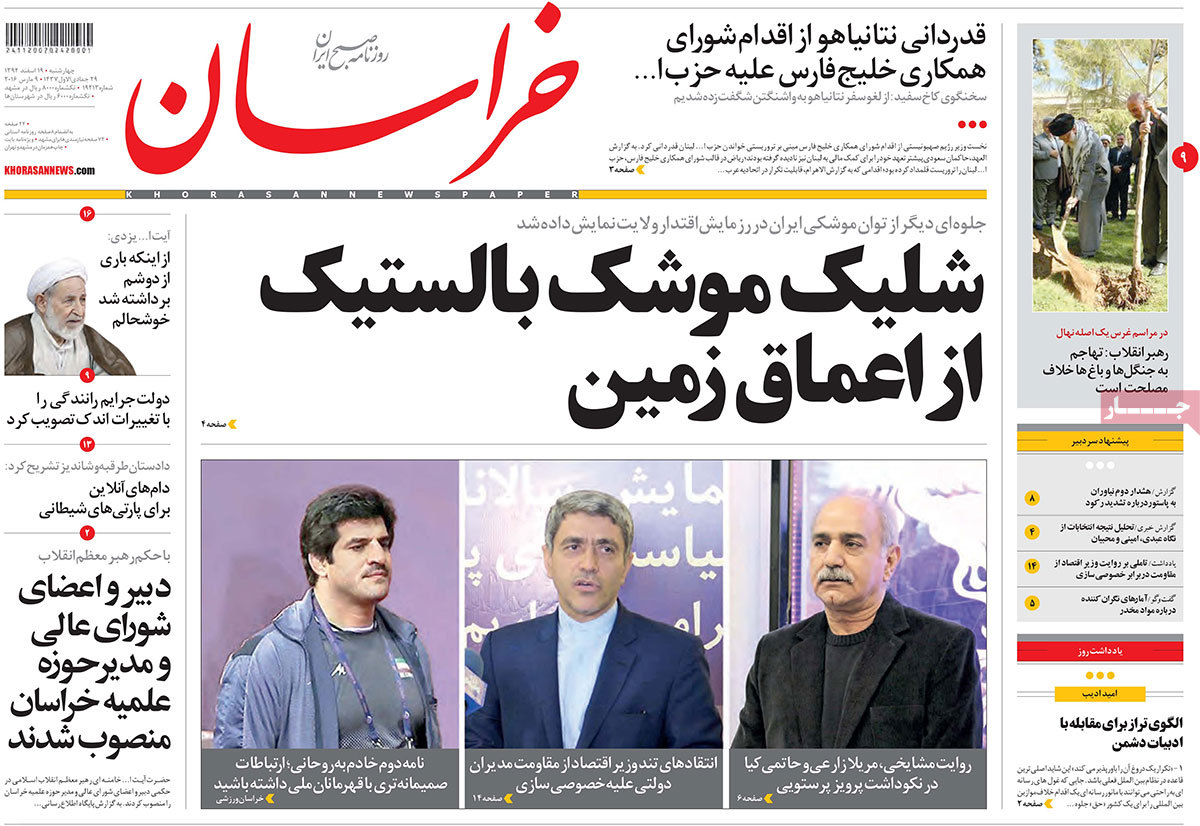 ---
Rah-e Mardom:
1.  Iranian expatriates best bridge for intercultural dialogue: Zarif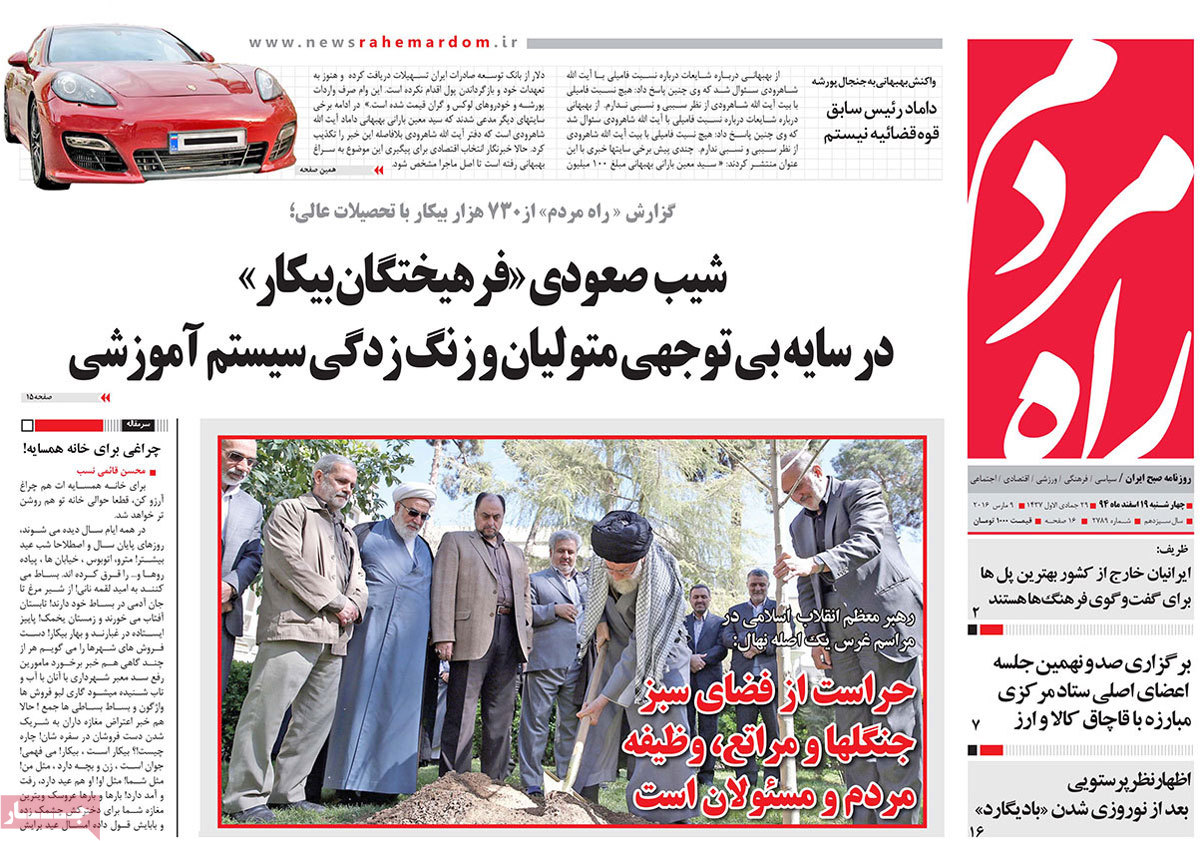 ---
Resalat:
1.  Ayatollah Yazdi warns Rouhani to be fooled by enemy's smile
2.  Cmdr Soleimani bears flag of combat with terrorism: diplomat
3.  Principalists enjoying majority seats in 10th parl.: Bahonar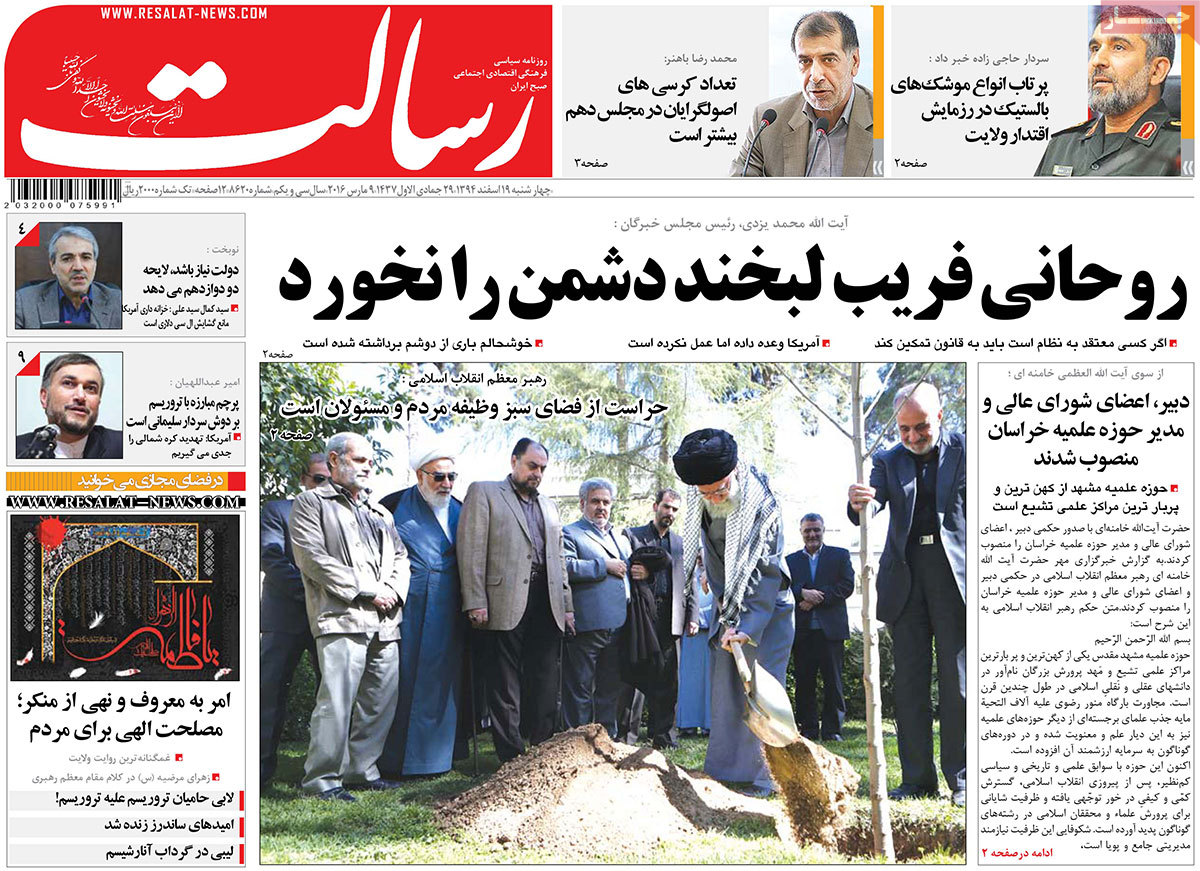 ---
Shargh:
1.  JCPOA, victory for women: Mogherini
2.  Leader: preservation of jungles duty of all nation, officials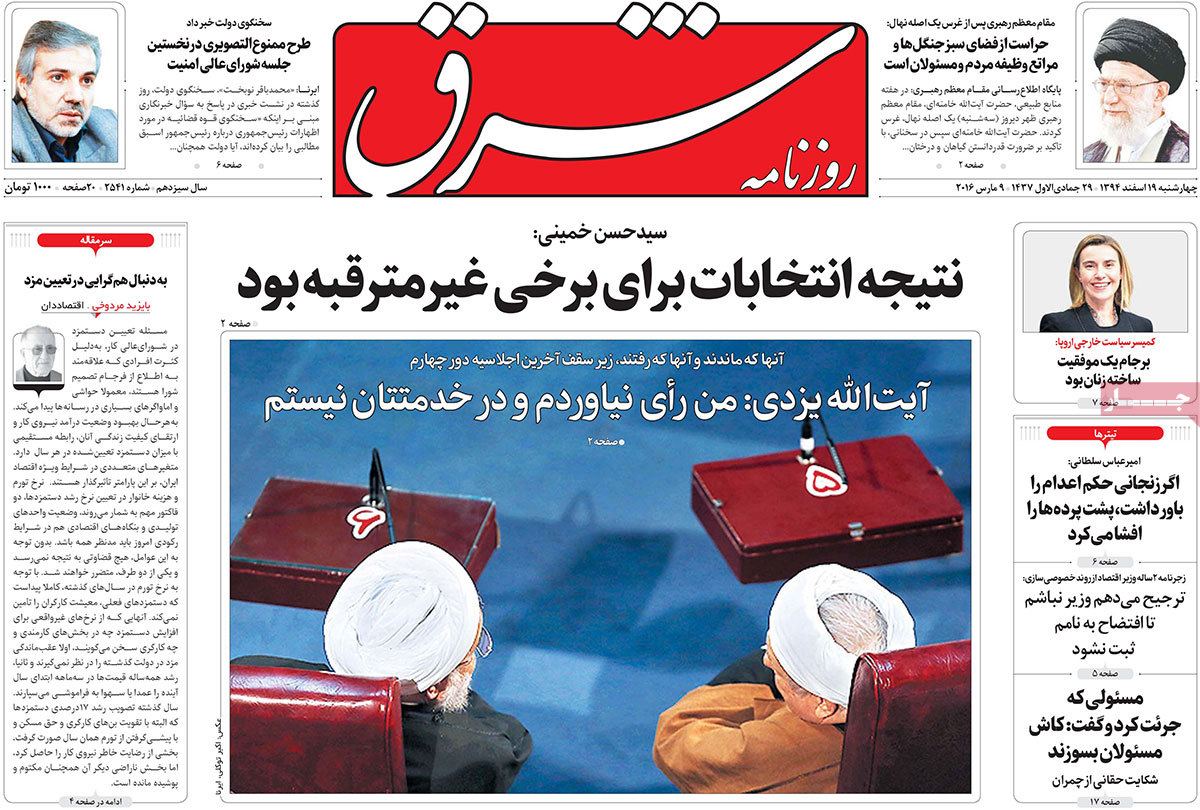 ---
Shahrvand:
1.  $12b, 13t of gold to be paid to Iran
2.  I succumb to the law: Ayatollah Yazdi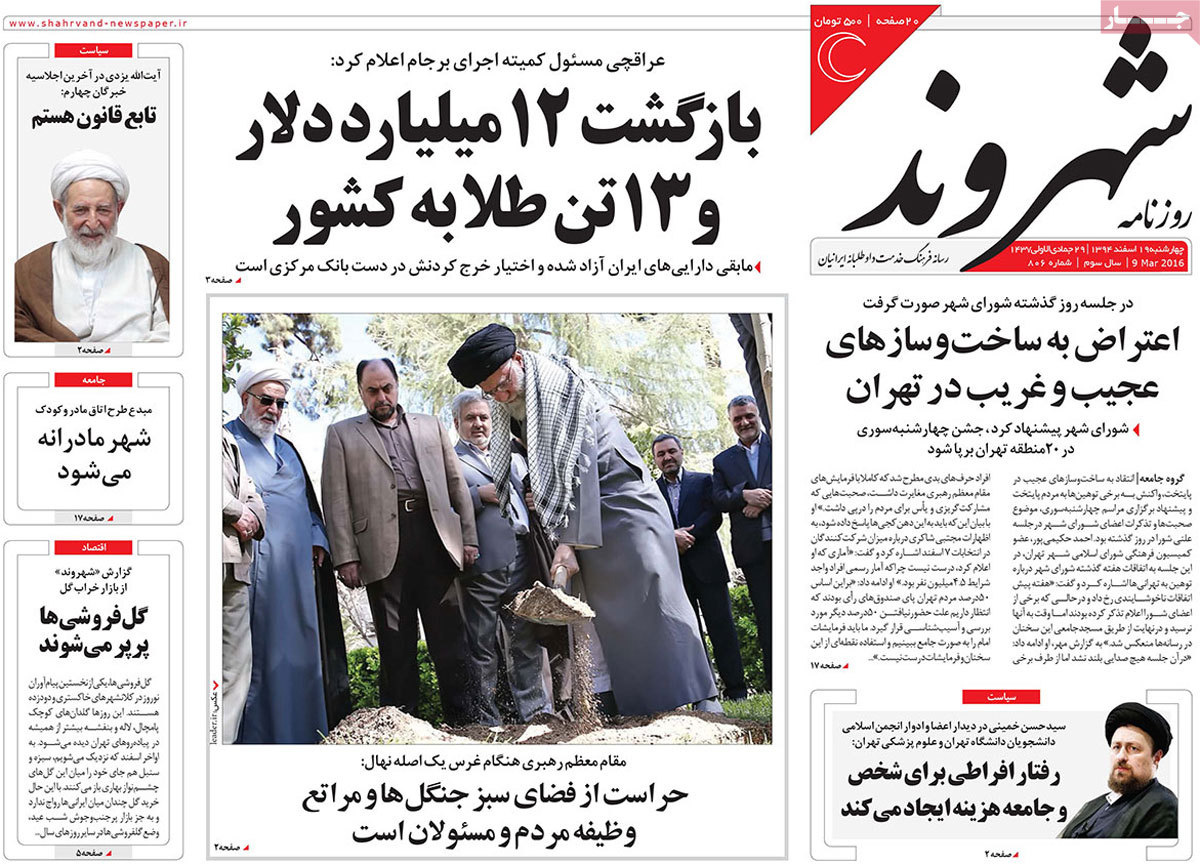 ---
Saheb Ghalam:
1.  Iran foists will on 6 world powers