All newspapers today covered the historic agreement between US President Donald Trump and North Korean Leader Kim Jong-un signed after an unprecedented meeting in Singapore on Tuesday.
Based on the ambiguous deal, North Korea commits itself to denuclearization, and the US, in turn, will halt its joint war games with South Korea, and give security assurances to Pyongyang.
The above issues, as well as many more, are highlighted in the following headlines and top stories:
Afarinesh:
1- Trump Trying to Exaggerate His Deal with North Korea: Analyst
2- Trump: I Didn't Give Concessions as Obama Did
---
Afkar:
1- Document of Agreement between US, North Korea Signed
Trump: We Expect Denuclearization Process to Begin Soon
Kim: World to Witness Major Changes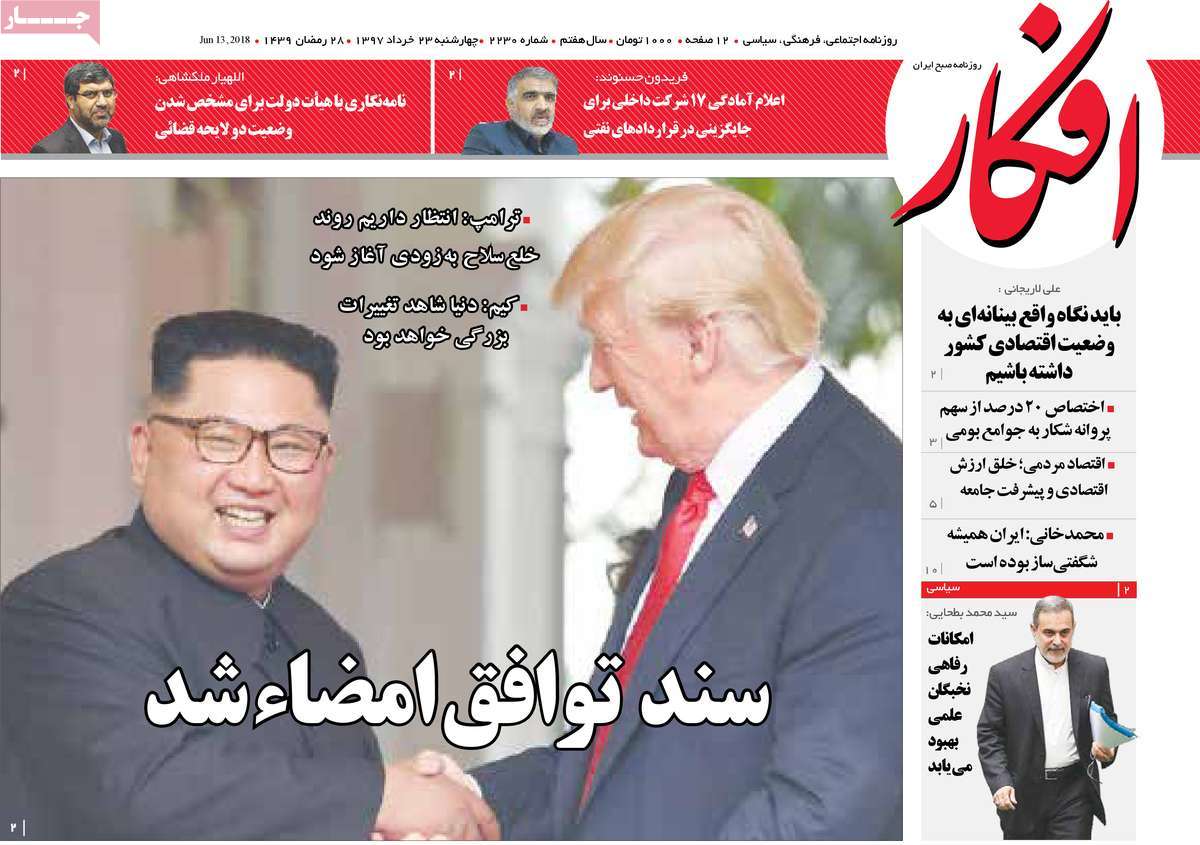 ---
Aftab-e Yazd:
1- Great Gamble
In Face to Face Meeting, Trump and Kim Sign Deal
North Korea Committed to Denuclearization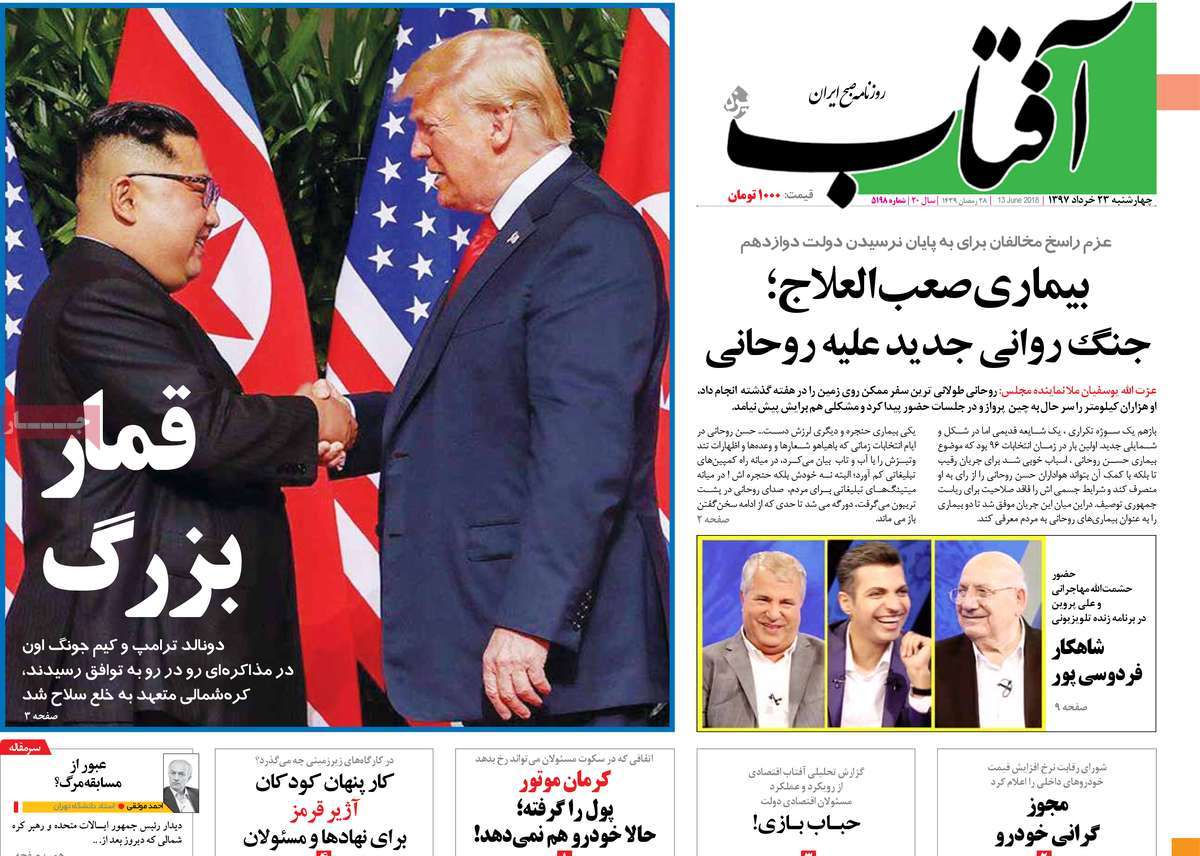 ---
Arman-e Melli:
1- Trump-Kim Deal Ends 7 Decades of Hostility
---
Bahar:
1- Eastern Aftershocks
What Are Achievements of Trump-Kim Deal for World?
---
Besharat-e Now:
1- World Welcomes Historic Meeting with Fear, Hope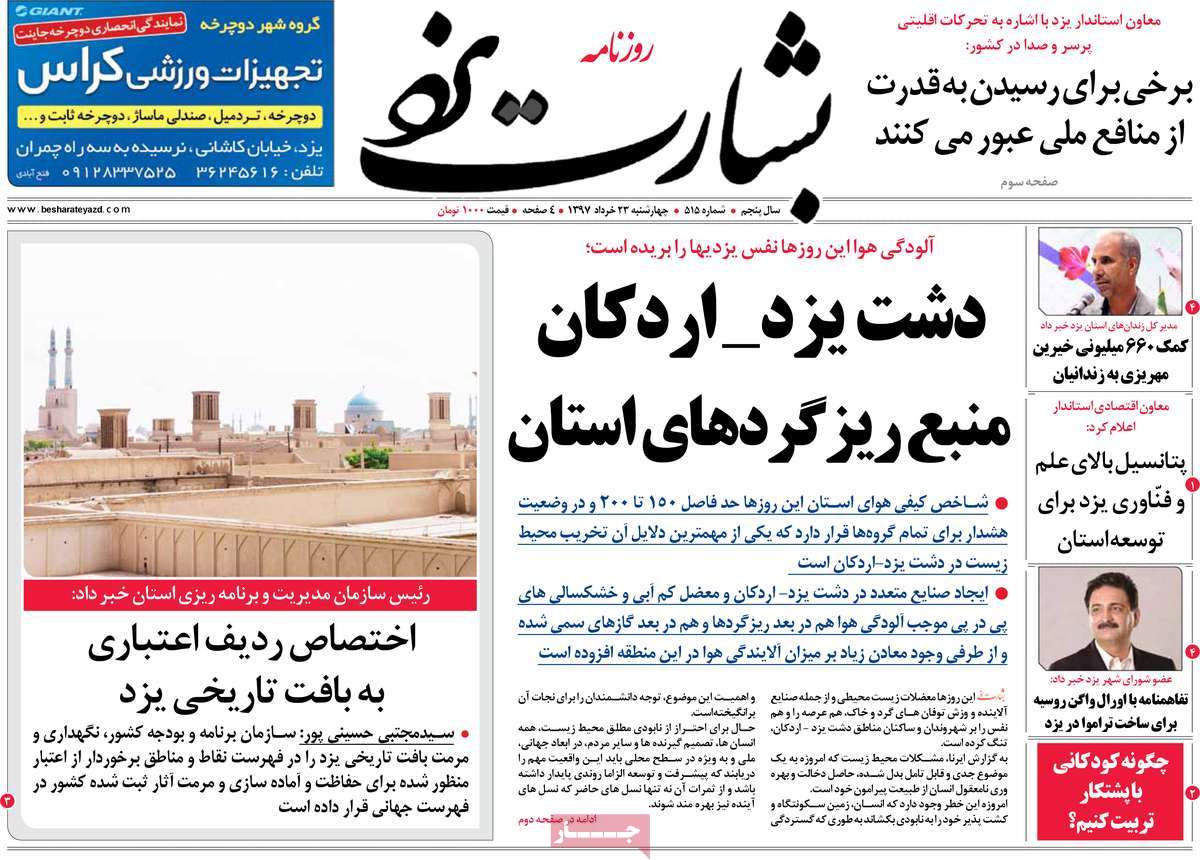 ---
Donya-ye Eqtesad:
1- Deal of Century (Signed) in 38 Minutes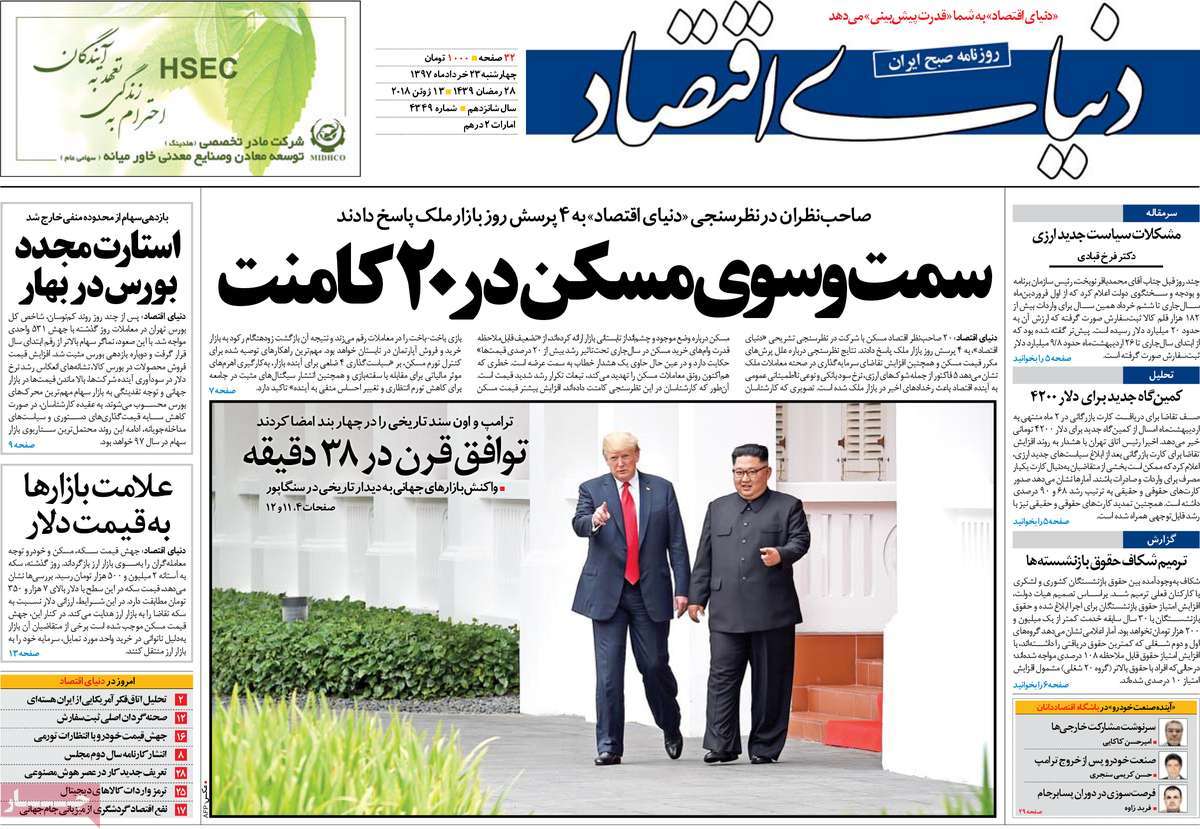 ---
Ebtekar:
1- Old Cowboy, Rocket Boy Hold Meeting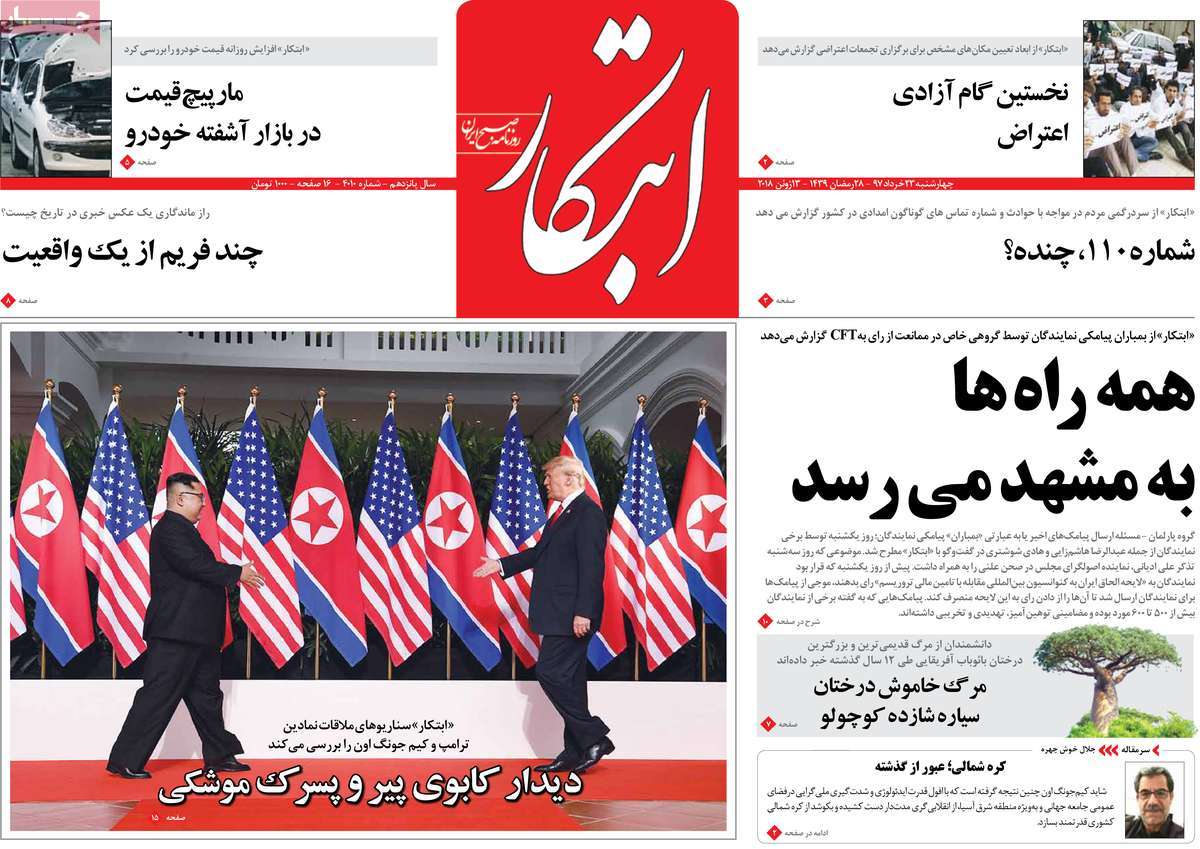 ---
Etemad:
1- Result of Trump-Kim Historic Meeting: Nothing for Now
Alluding to the catchphrase "Almost Nothing" once mentioned by Iran chief banker about the result of Iran Deal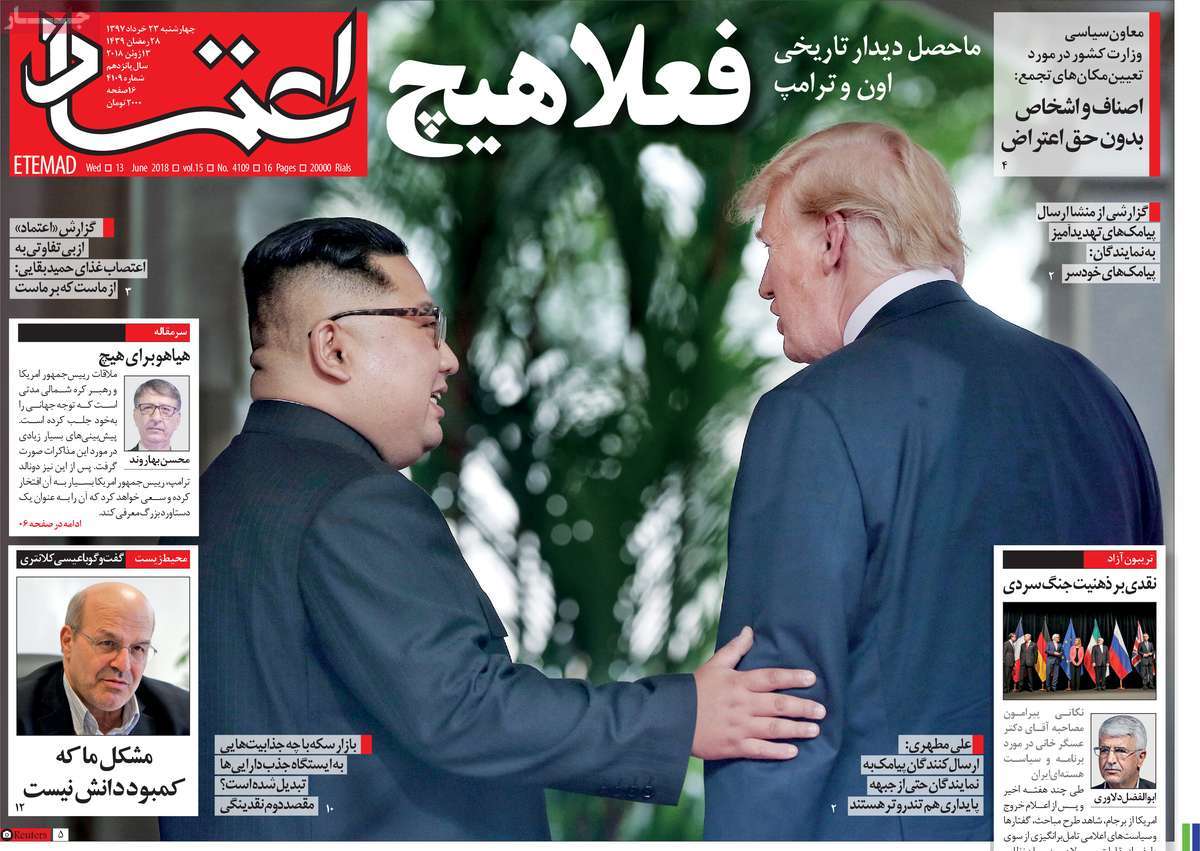 ---
Ettela'at:
1- US Gives Security Assurances to North Korea
---
Haft-e Sobh:
1- Historic Meeting on Persian Carpet
---
Hamdeli:
1- Kim (Finally) Sits and Talks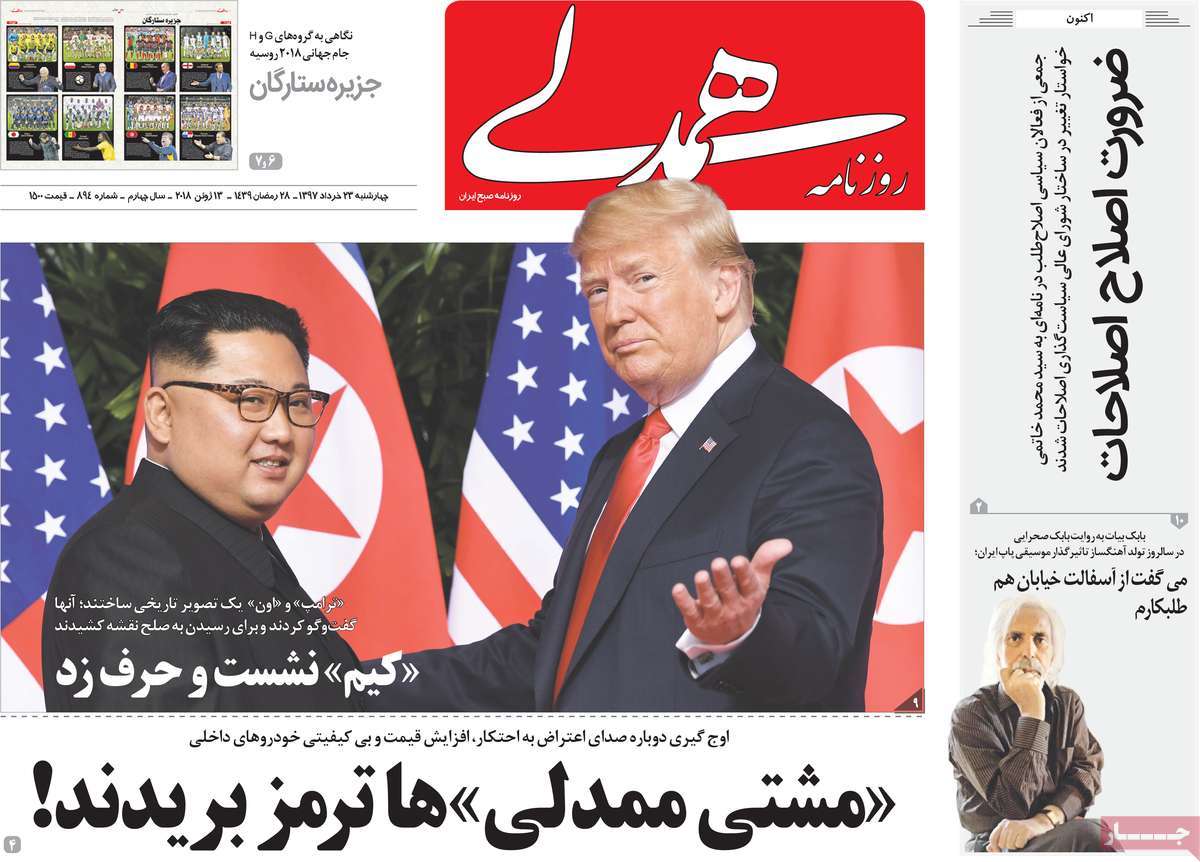 ---
Hamshahri:
1- Take a Nice Picture of Us!
---
Hemayat:
1- A Deal for Show
Trump: I May Scrap the Deal in Six Months
---
Iran:
1- Highlights of a Political Compromise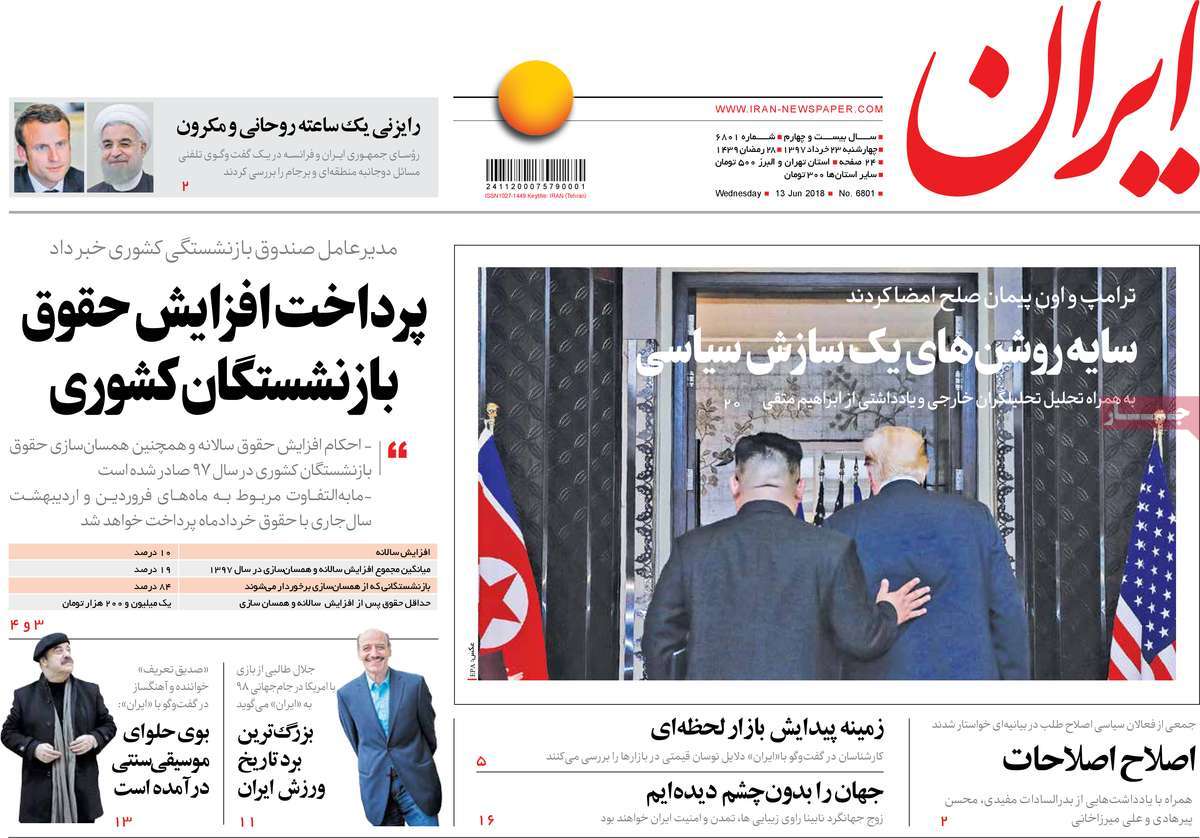 ---
Jahan-e San'at:
1- Beginning of New Era in Peninsula
---
Jame Jam:
1- Celebration of Submission, Sanction
US Trying to Destroy Entire Nuclear Capabilities of N. Korea While Keeping Sanctions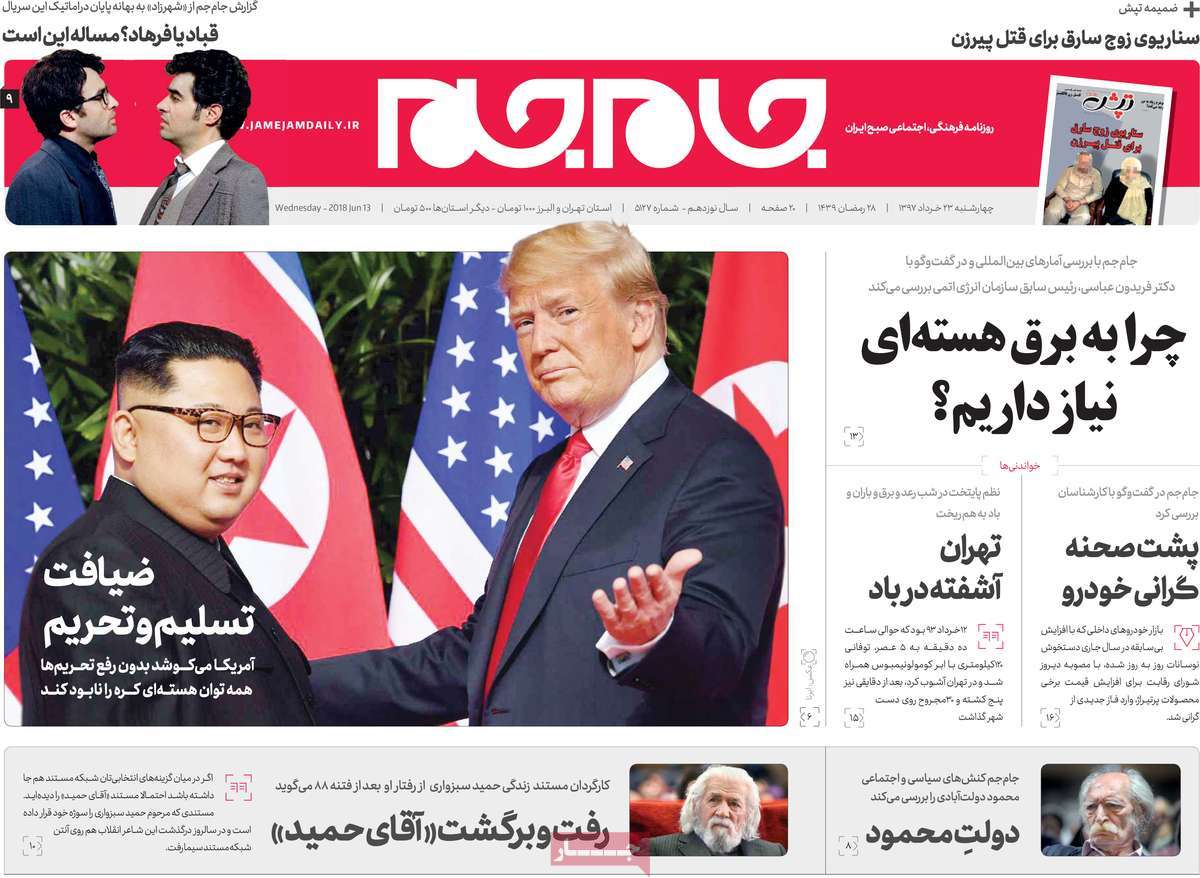 ---
Javan:
1- Another American Signature
---
Jomhouri Eslami:
1- Trump: I Gave No Concession; Sanctions to Remain in Place against N. Korea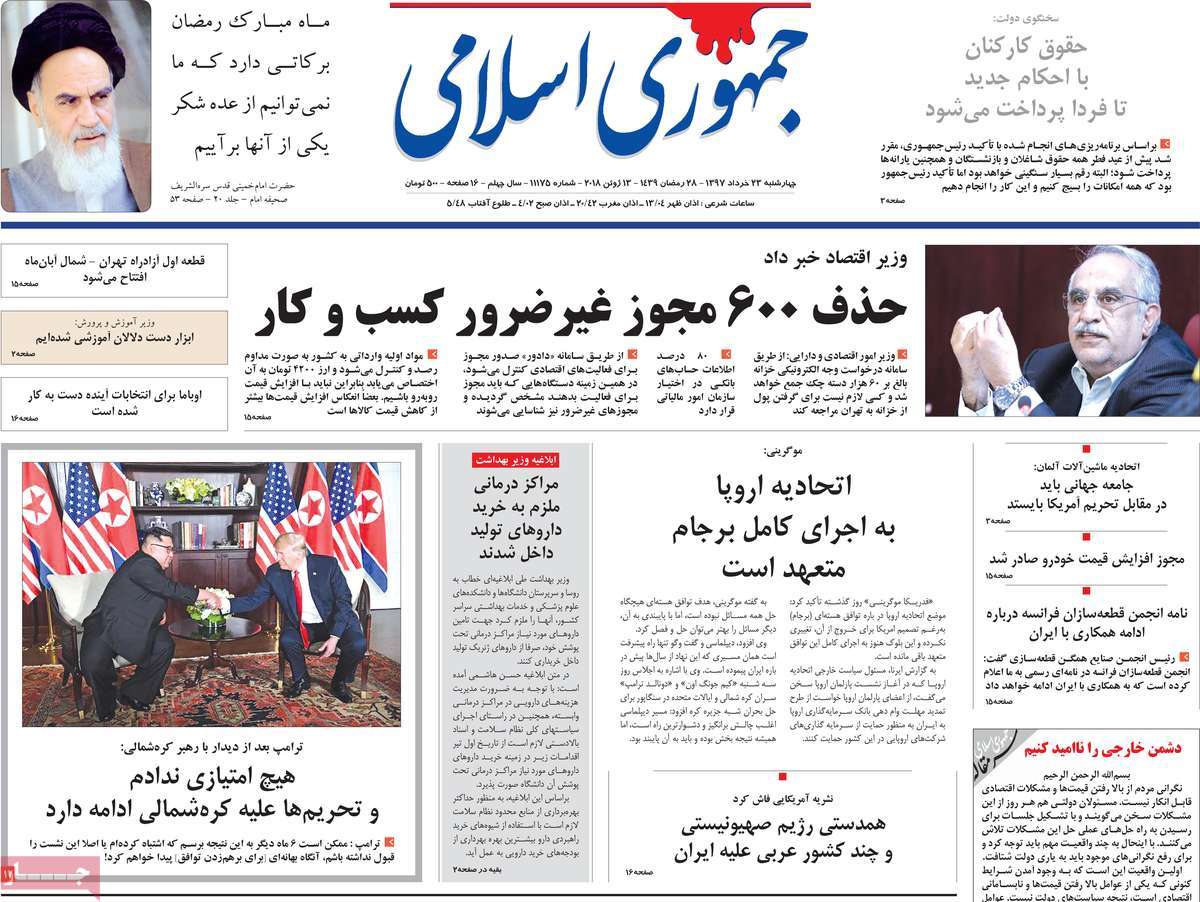 ---
Kayhan:
1- US, North Korea Reach an Agreement for Fifth Time
Trump: I May Change My Mind, Tear Apart Today's Deal with Kim 6 Months Later!
---
Khorasan:
1- Controversial Meeting with Ambiguous Agreement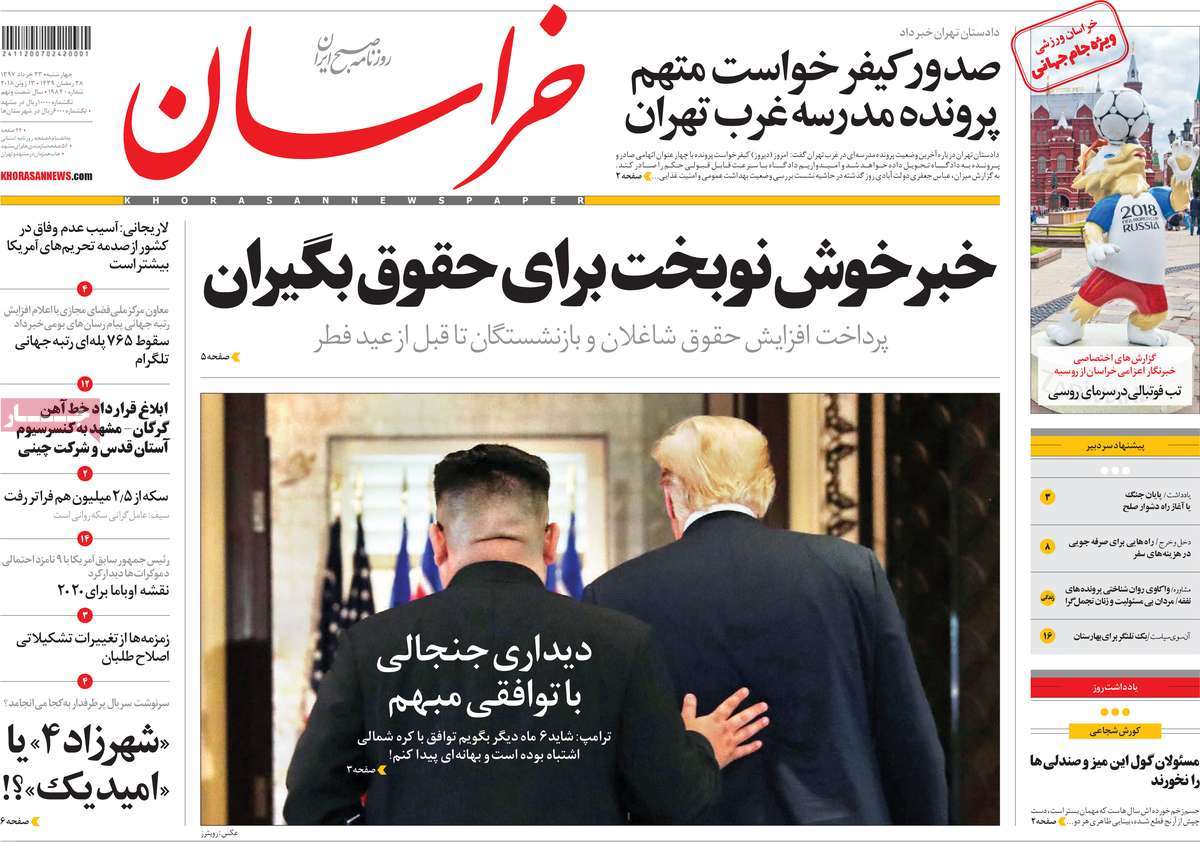 ---
Resalat:
1- Military Drills Stopped, US Troopers to Return Home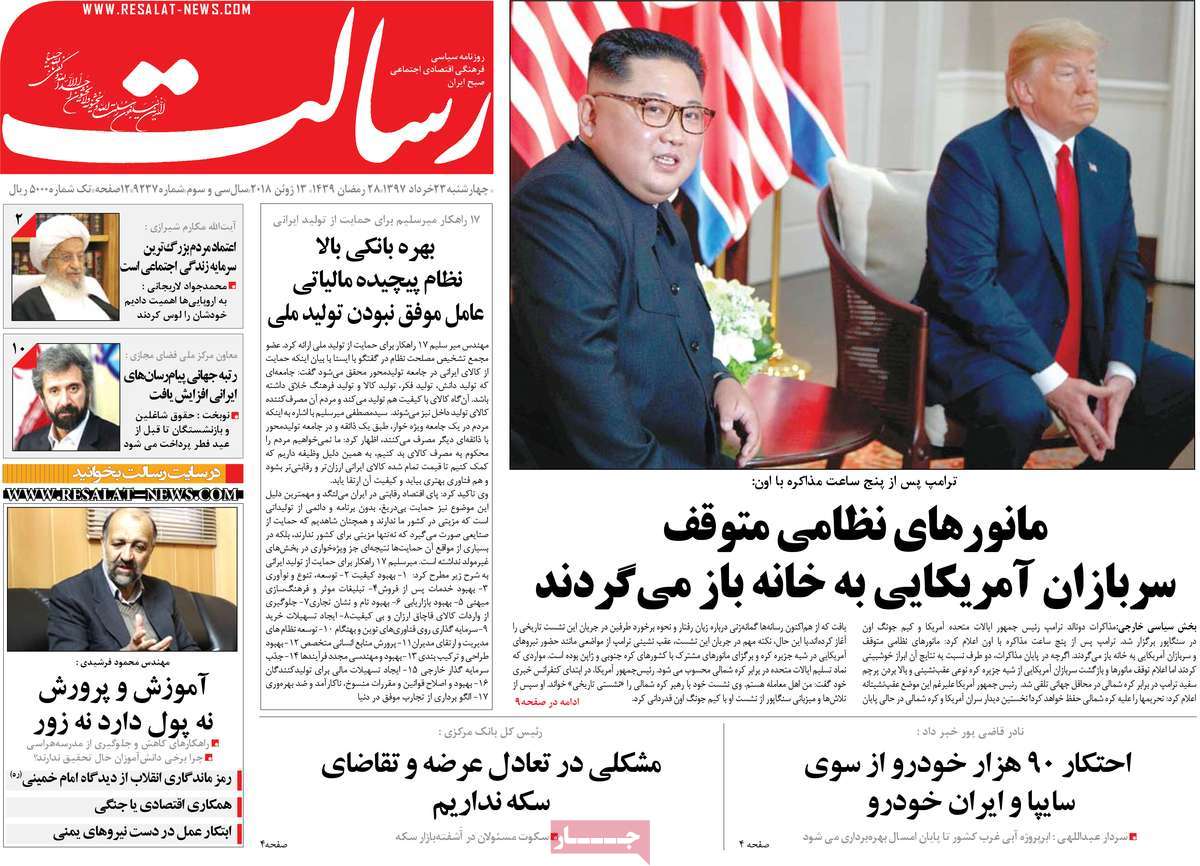 ---
Roozan:
1- Historic Gamble of the Century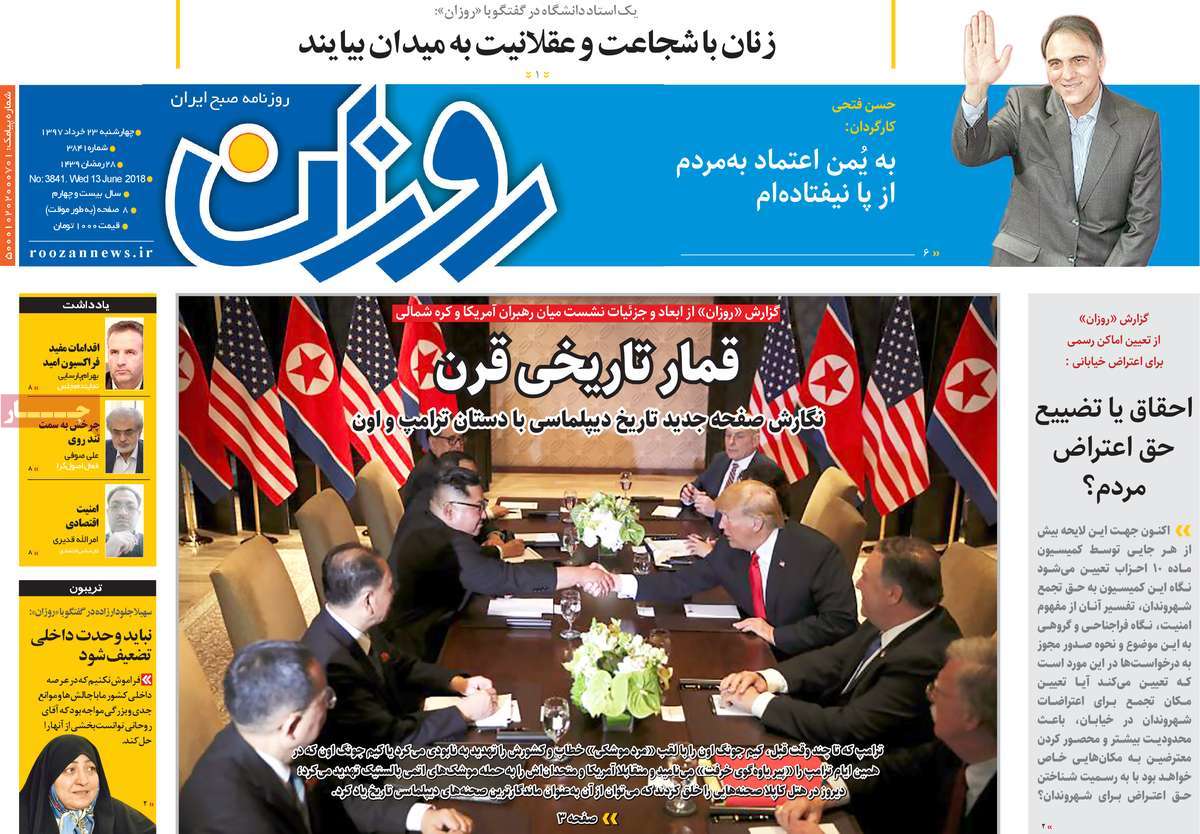 ---
Roozegar-e Ma:
1- Kim-Trump Meeting: Show or Political Transformation?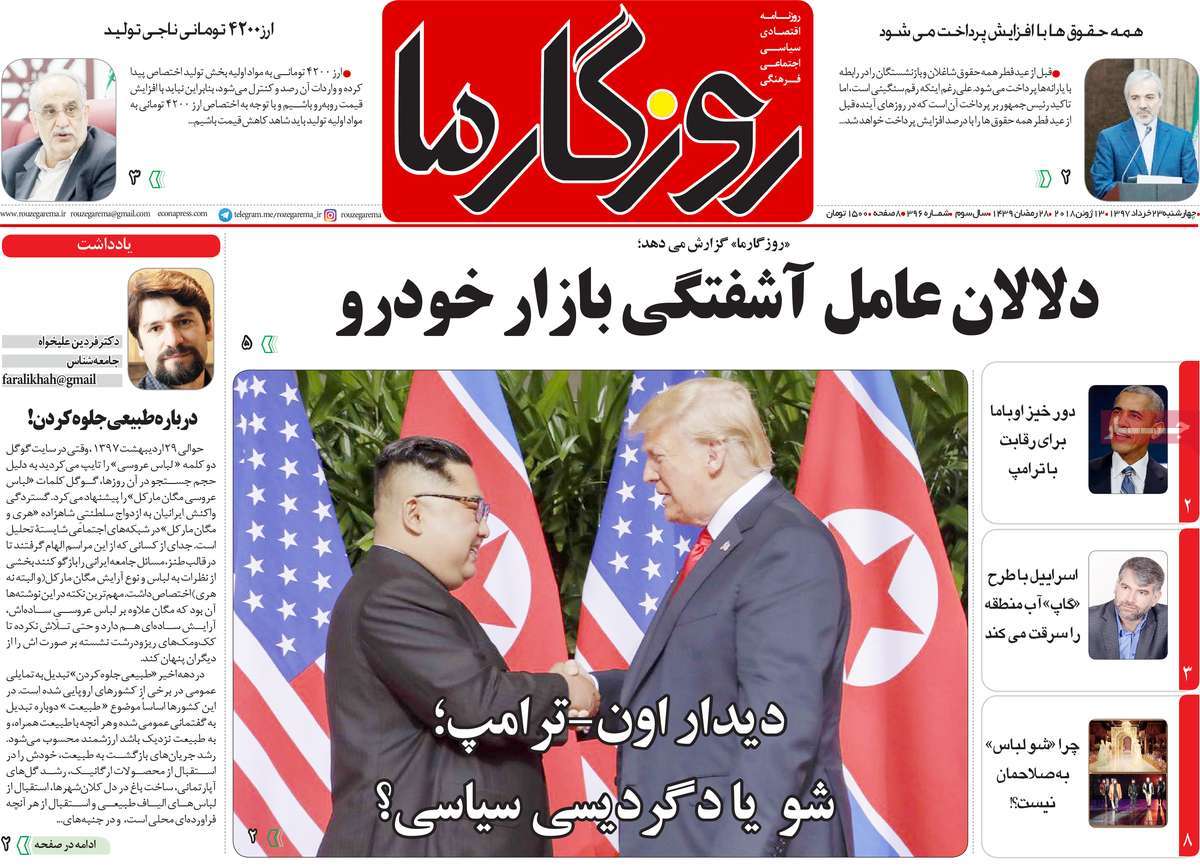 ---
Sazandegi:
1- Change of History in 12 Seconds
World Stunned by Agreement between Leaders of US, N. Korea
---
Shargh:
1- North Korea Finally Shows Flexibility
Trump, Kim Meet in Singapore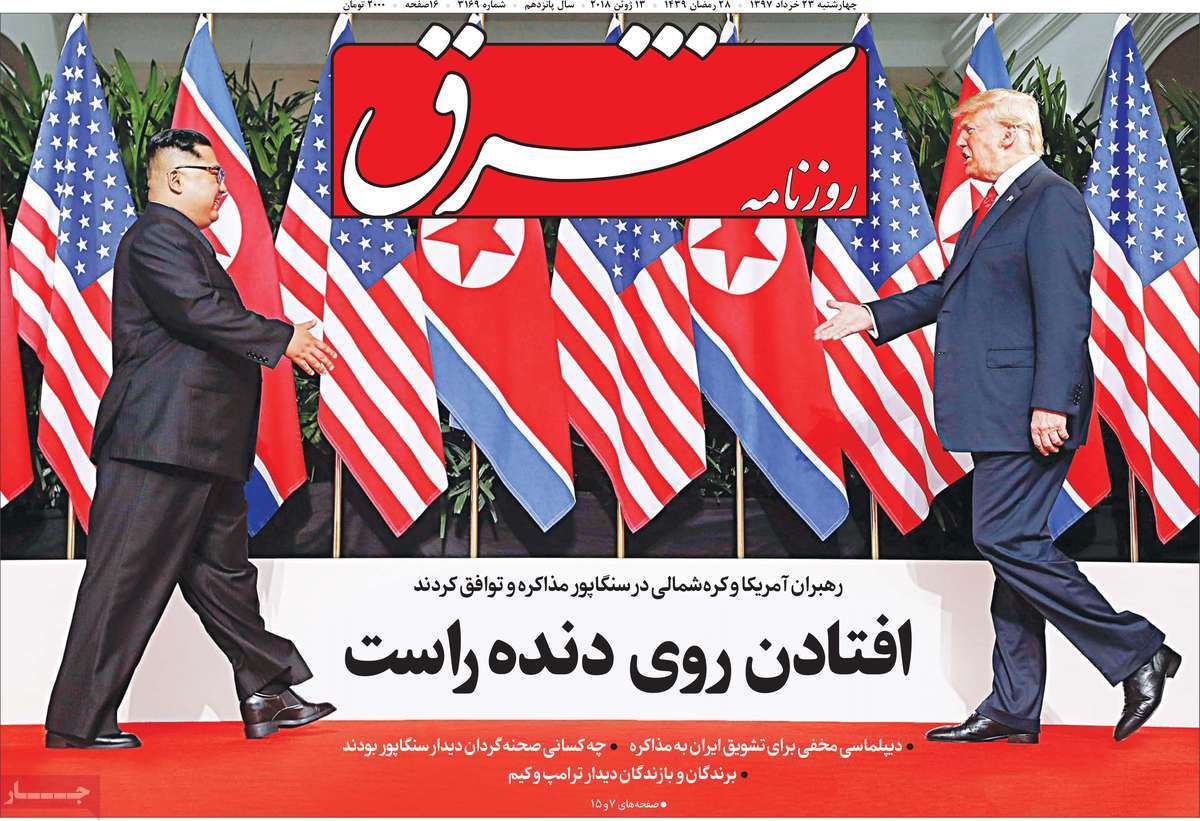 ---
Sobh-e Now:
1- Fat Midget Meets Stupid Gangster
Trump, Kim Used to Call Each Other with Such Names
US, North Korea Sign Deal for Fifth Time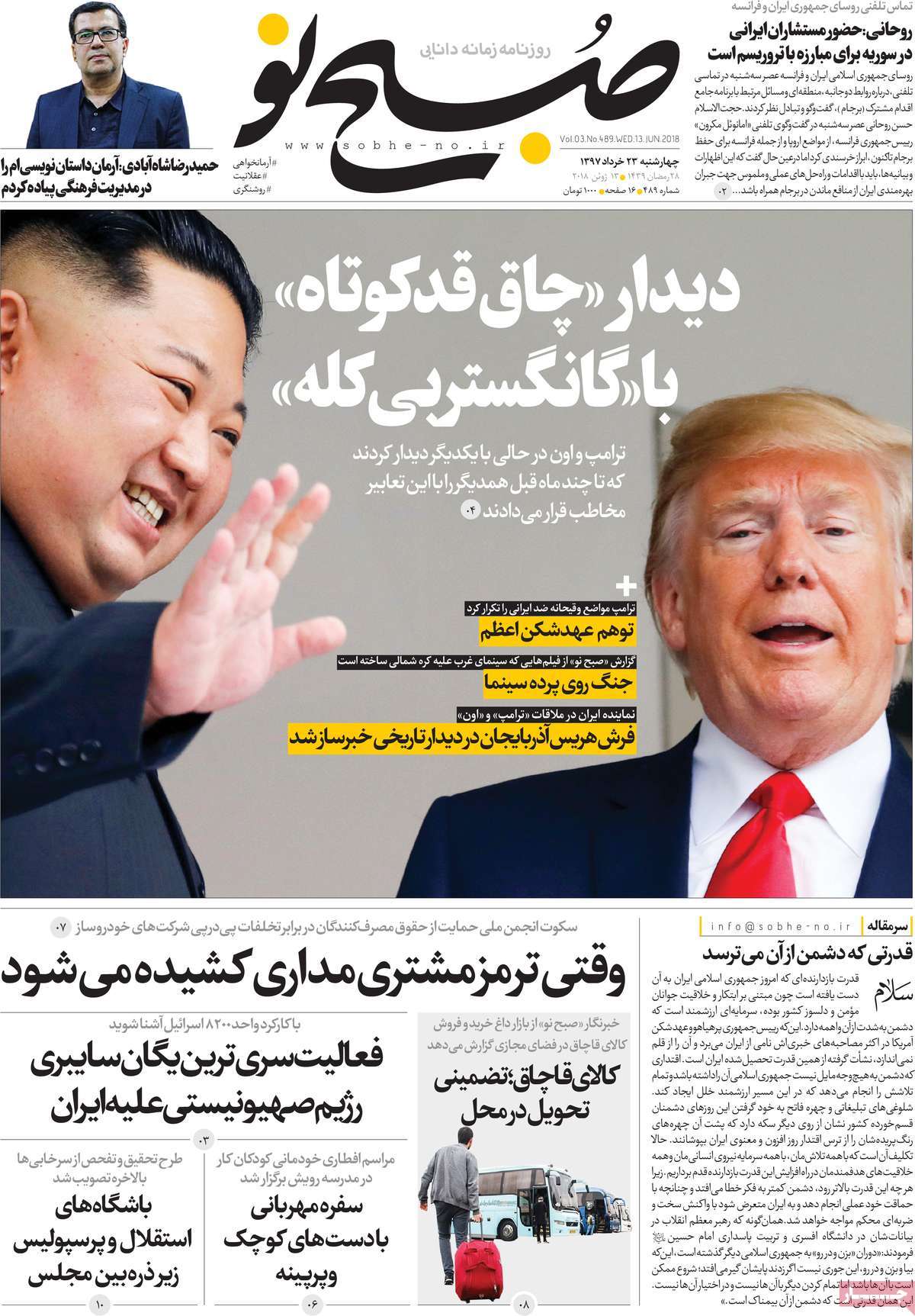 ---
Tejarat:
1- Fears and Hopes of a Meeting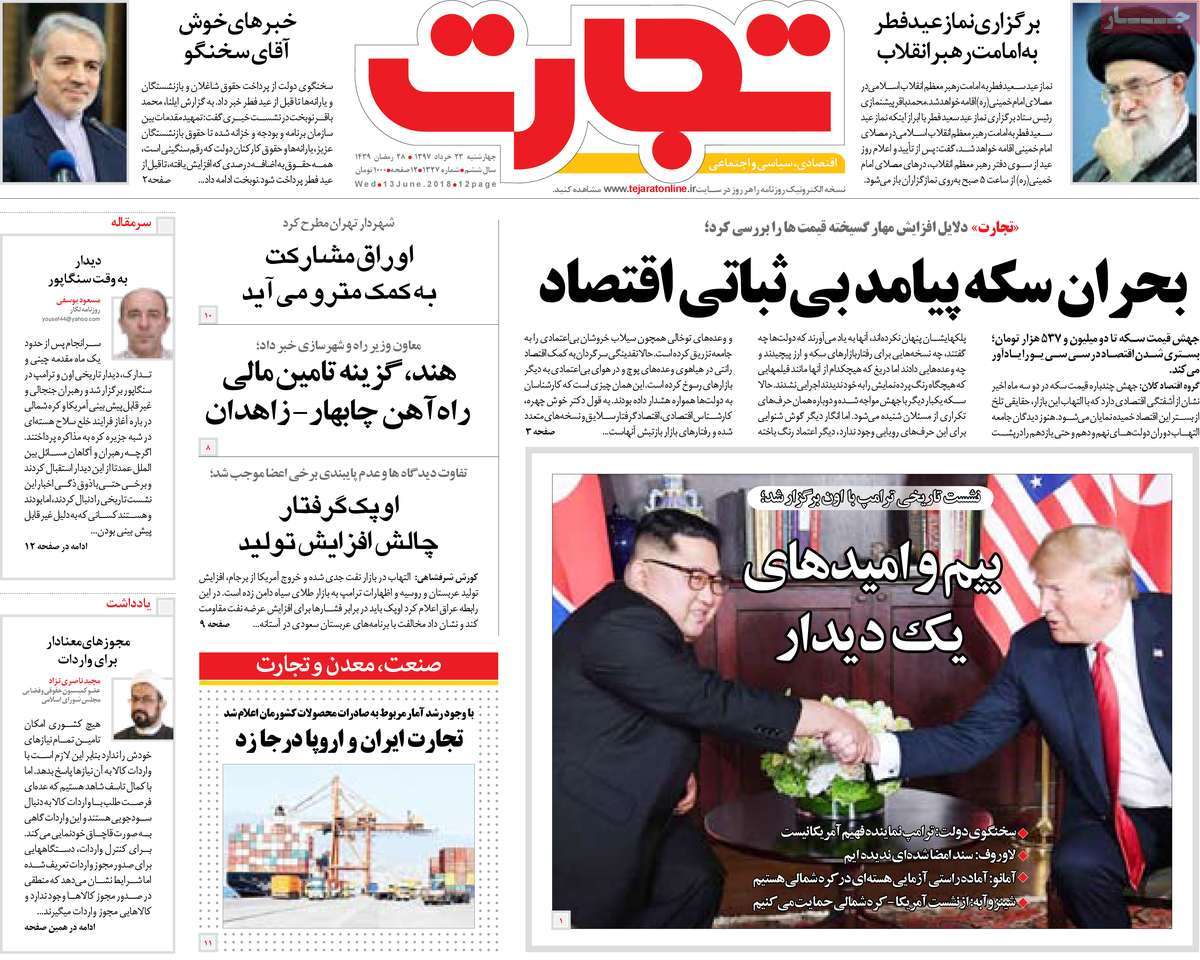 ---
Vatan-e Emrooz:
1- Trump: Sanctions to Remain in Place