The US elections and the election of Donald Trump as the new President of the United States were the main headline in all newspapers today.
Here's the way Iranian papers covered the surprising victory of the GOP candidate on their front pages today:
Abrar:
1- Controversial Billionaire of New York Becomes New Leader of White House
2- Trump: I Prefer My Own Country's Interests to Those of Any Other's
3- Spokesman for Atomic Energy Organization of Iran: We'll Wait and See towards Trump
---
Abrar-e Eqtesadi:
1- Wave of Excitement in Iran's Economy after Trump's Victory
2- Dramatic Fall of Oil Price and Stock Exchange Market
3- Gold Benefited from Trump's Victory
---
Afkar:
1- Trump Strongly Becomes US President
2- No to Clinton Was a Response to USA's Cruel Policies
---
Afsaneh:
1- World and Trumpoline
2- Former Culture Minister: Intelligence and Security Bodies Will Control Trump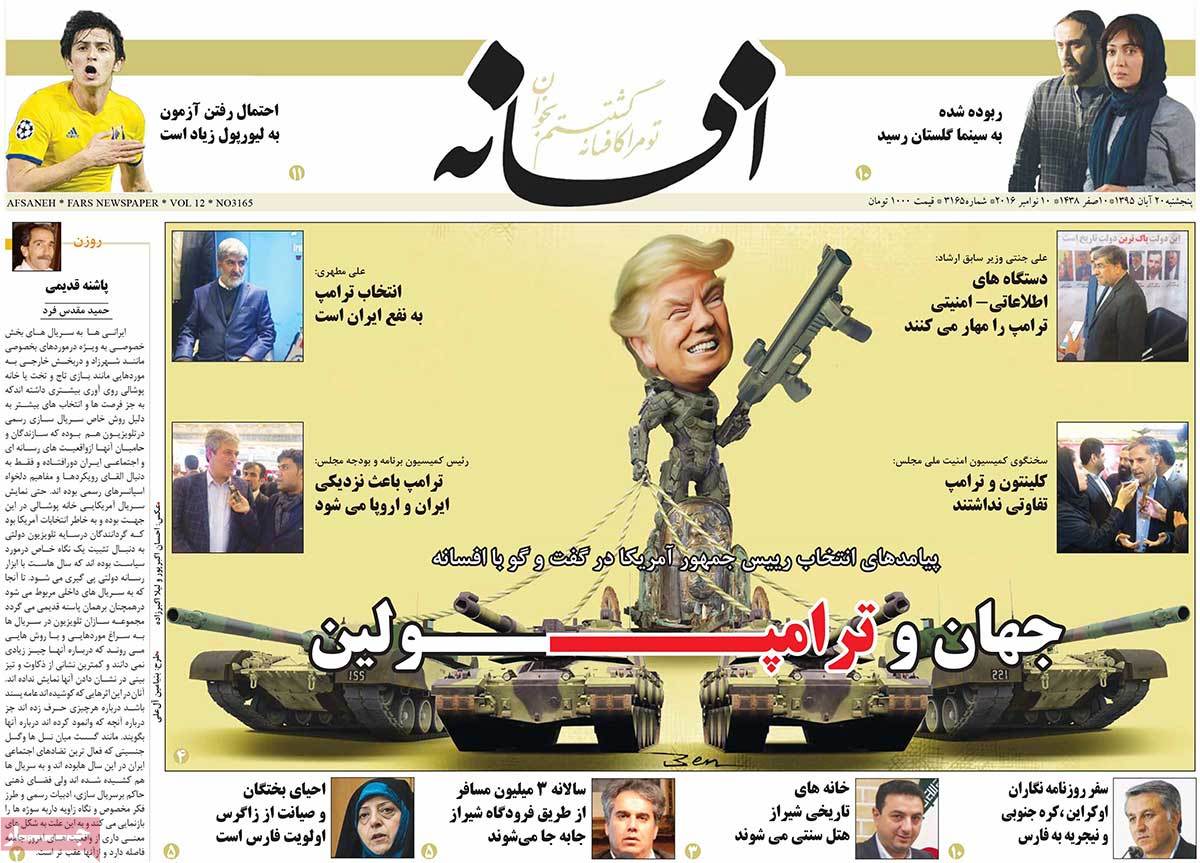 ---
Aftab-e Yazd:
1- Statue of Liberty Bursts in Tears: Despite All Predictions, Trump Defeats Clinton to Become New US President
2- What Will Happen to JCPOA? Why Trump Managed to Defeat Clinton?
3- Iranian Social Media Users Start Joking about Winner and Loser of US Elections
4- People in Tehran Stock Exchange Market Don't Like Trump: Cold Reaction to Results of US Election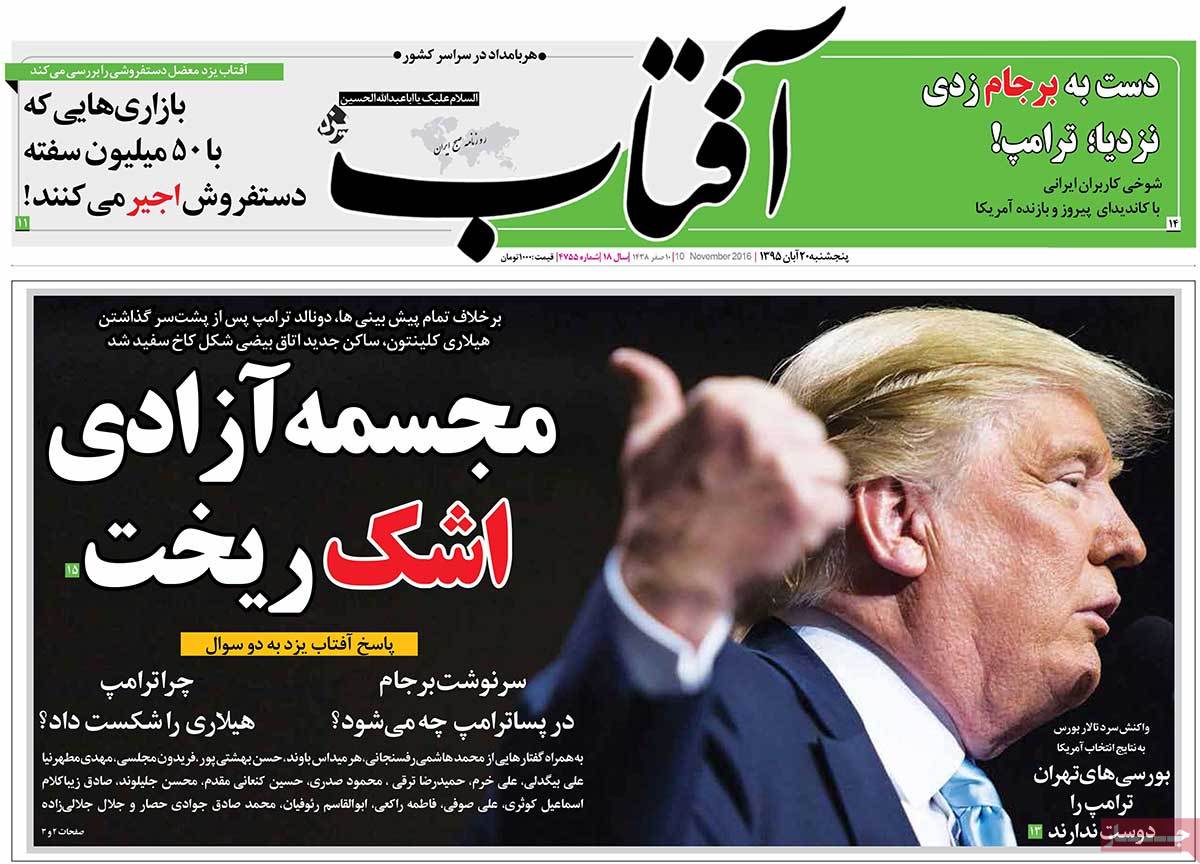 ---
Amin:
1- Trump's Presidency to Benefit Iran: Motahari
2- Eight Reasons for the Big Surprise
3- Post-Trump Era [Editorial]
---
Arman-e Emrooz:
1- Trump's Political Earthquake: Everyone Surprised by Results of US Elections
2- Polls Are in Coma, Trump in the White House
3- Trump: I Look for Common Grounds in the World, Not War and Hostility
4- Is Trump's Victory to Iran's Favour?
5- Rouhani: US Elections Will Not Influence Iran's Policies
6- Trump Will Have to Behave More Wisely
---
Asia:
1- Surprise Victory: Trump Well Understands the Value of Iran and Its Market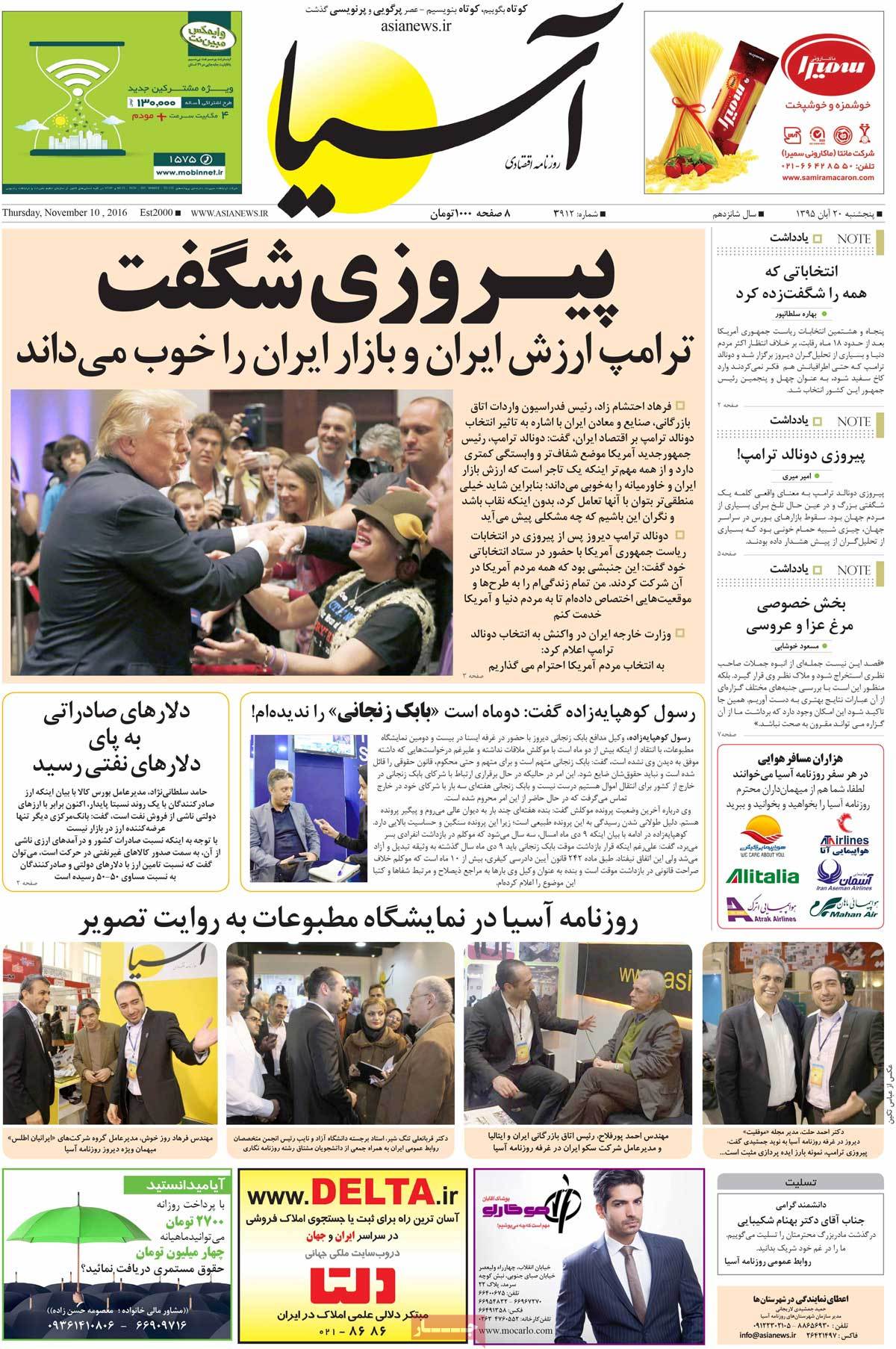 ---
Asr-e Eqtesad:
1- In Addition to the World, Trump Was Also Shocked!
2- JCPOA Is Not USA's Gift that Trump Can Take It Back
---
Asr-e Iranian:
1- US Is Arrogant: Trump Is No Different from Hillary
2- Protests in Some US Cities against Results of Elections
---
Asrar:
1- Zarif: US Is Obliged to Implement JCPOA
2- Unexpected: Trump Becomes 45th President of US
---
Besharat-e Now:
1- The Lonely Billionaire Becomes US President: Trump, the Winner of Most Controversial Elections in US History
2- Trump's Victory Not Dangerous for JCPOA and Plane Purchases
---
Donya-ye Eqtesad:
1- Beginning of Surprise Era?
2- An Analysis of Trump Phenomenon [Editorial]
3- Aftershocks of Trump's Victory in Tehran Stock Exchange Market
---
Ebtekar:
1- Trump Earthquake: World Reacts to American People's Choice
2- Lawmakers' Opinion about
Impact of US Election Results on Regional Developments
3- Bloody Stock Exchange Market in Iran and Asia
4- Trump, the Sinned Child of American Dream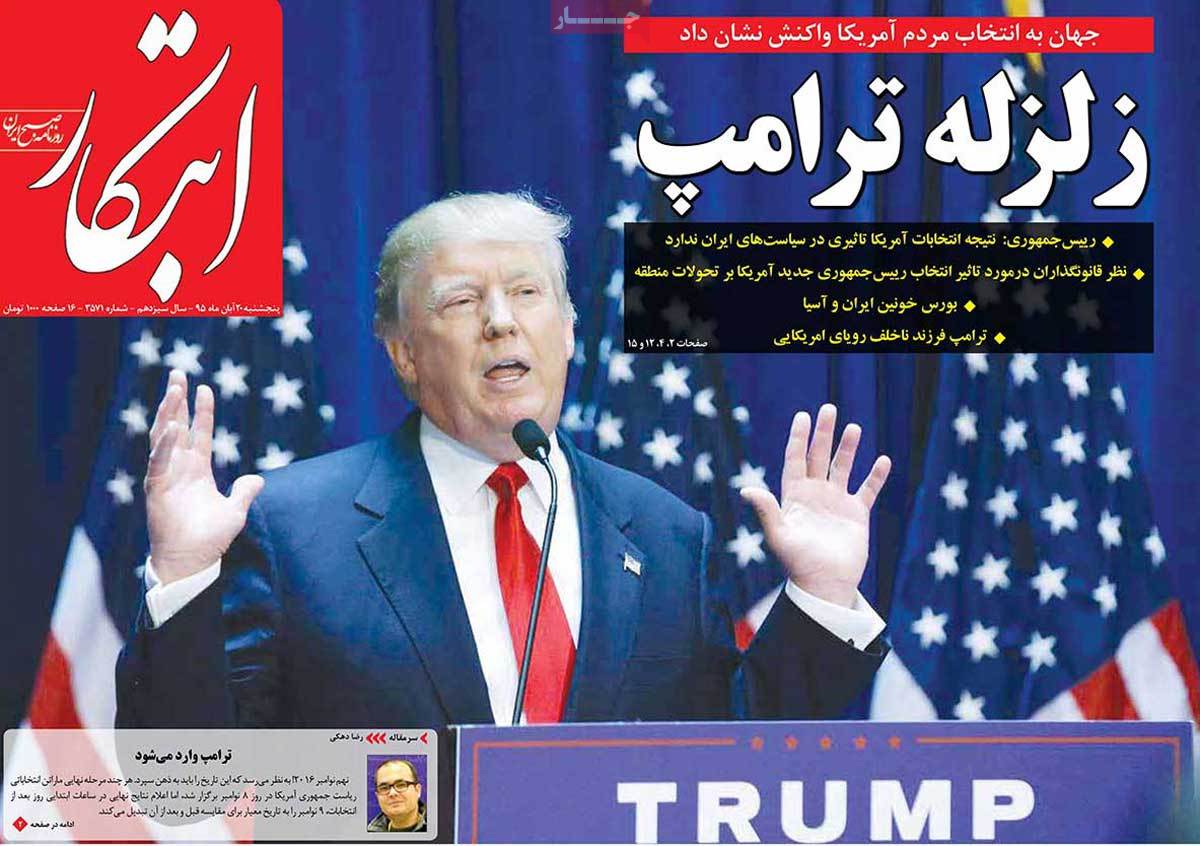 ---
Etemad:
1- World Worried about Trump's America
2- GOP Candidate's Unexpected Victory Creates Surprise: Chaos in Financial Markets, Many People in the World Are Terrified
3- Trump's Victory Is Not the Victory of Republicans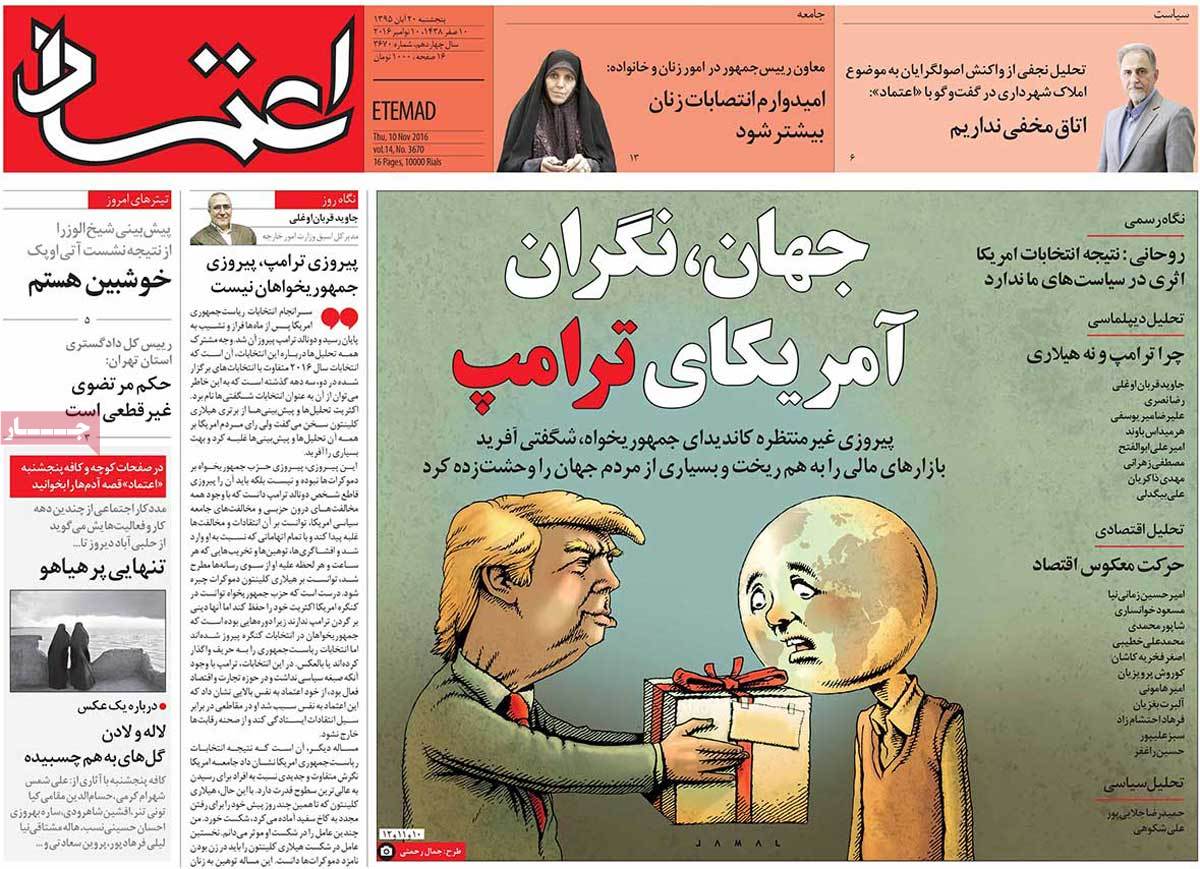 ---
Ettela'at:
1- World's Reaction to Trump's Surprising Election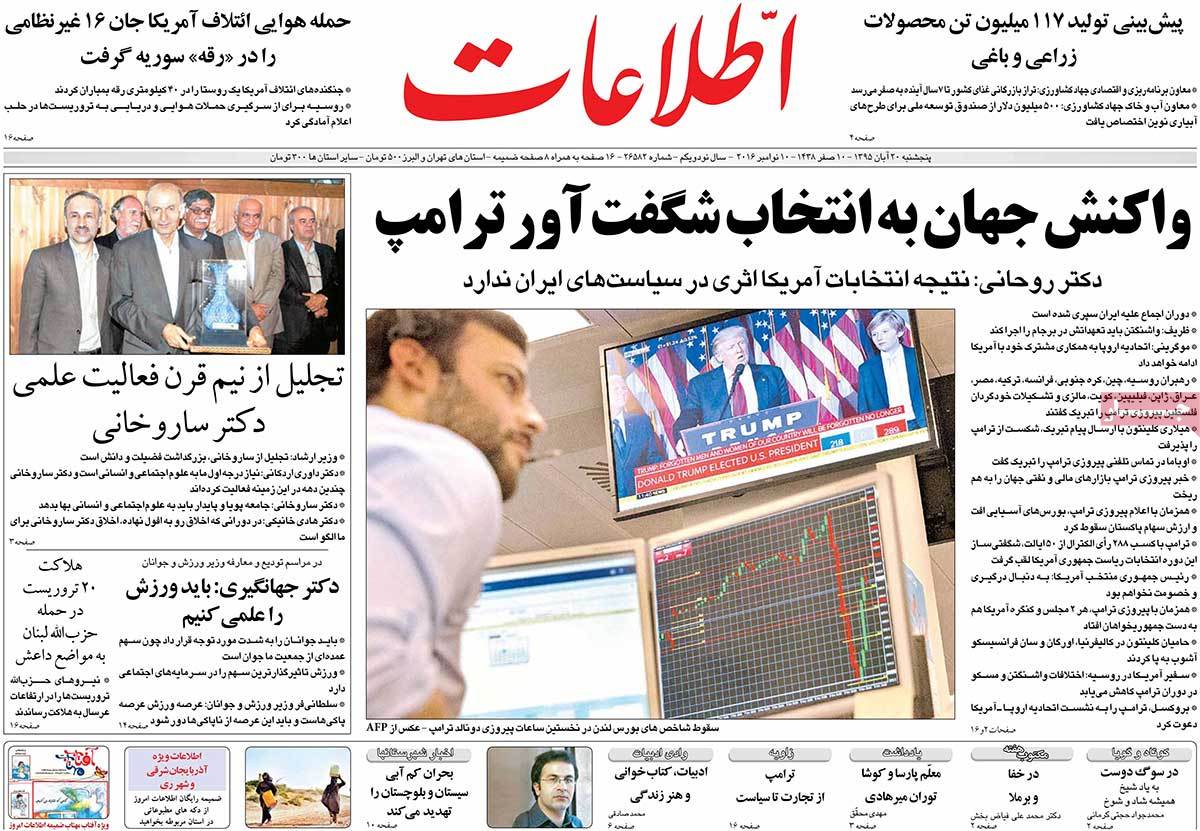 ---
Farhikhtegan:
1- A Man of US People's Type
---
Haft-e Sobh:
1- US Is 'Trumpized'! The Real State Advisor Becomes US President
2- Hollywood, TV Channels, Pop Celebrities, Elites, Newspapers, FBI, and Saudi Arabia Fail to Convince American People
3- Surge of Dollar and Gold; Fall of Stock Exchange Market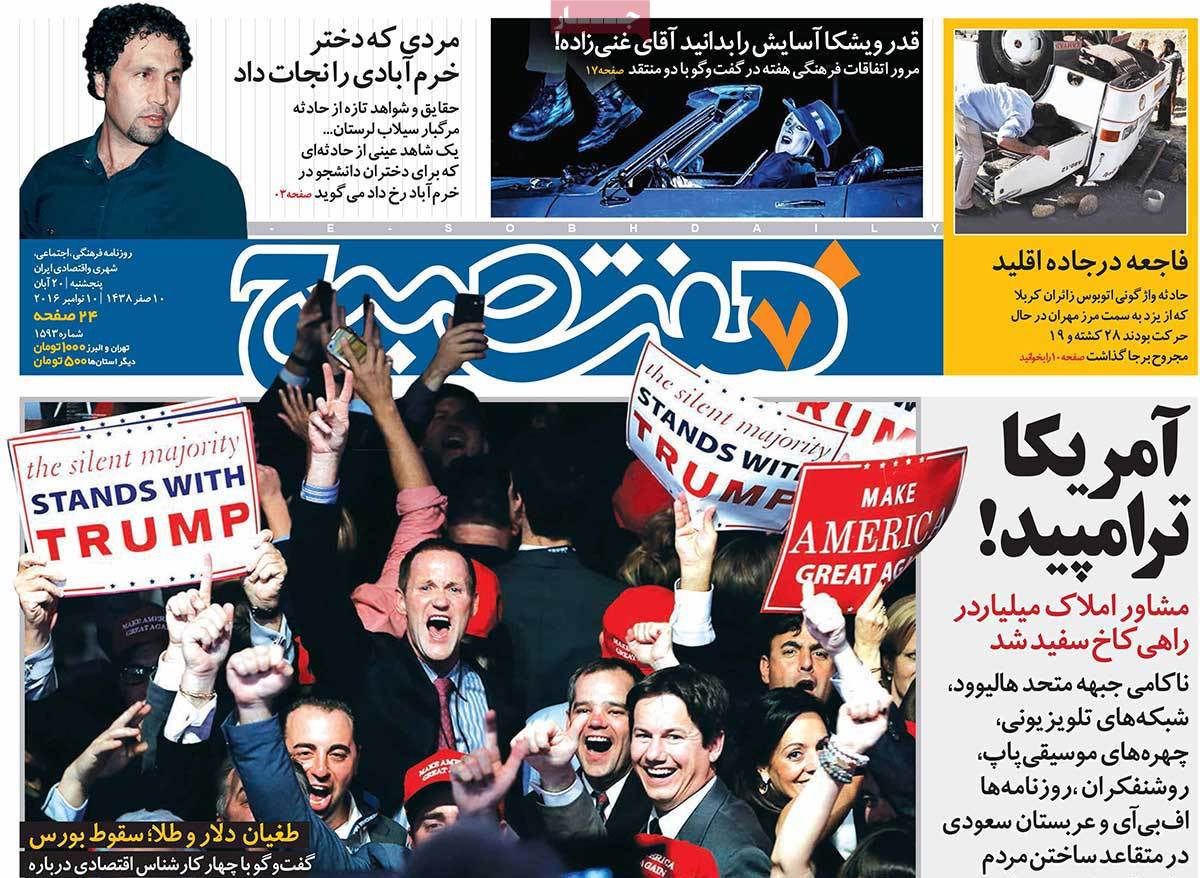 ---
Hamdeli:
1- Conquer of US: Trump, the Bitter Joke that Became Serious for the World
2- Trump's Economic Benefits for Iran
3- American Stars Couldn't Defeat Trump: Failure of Hollywood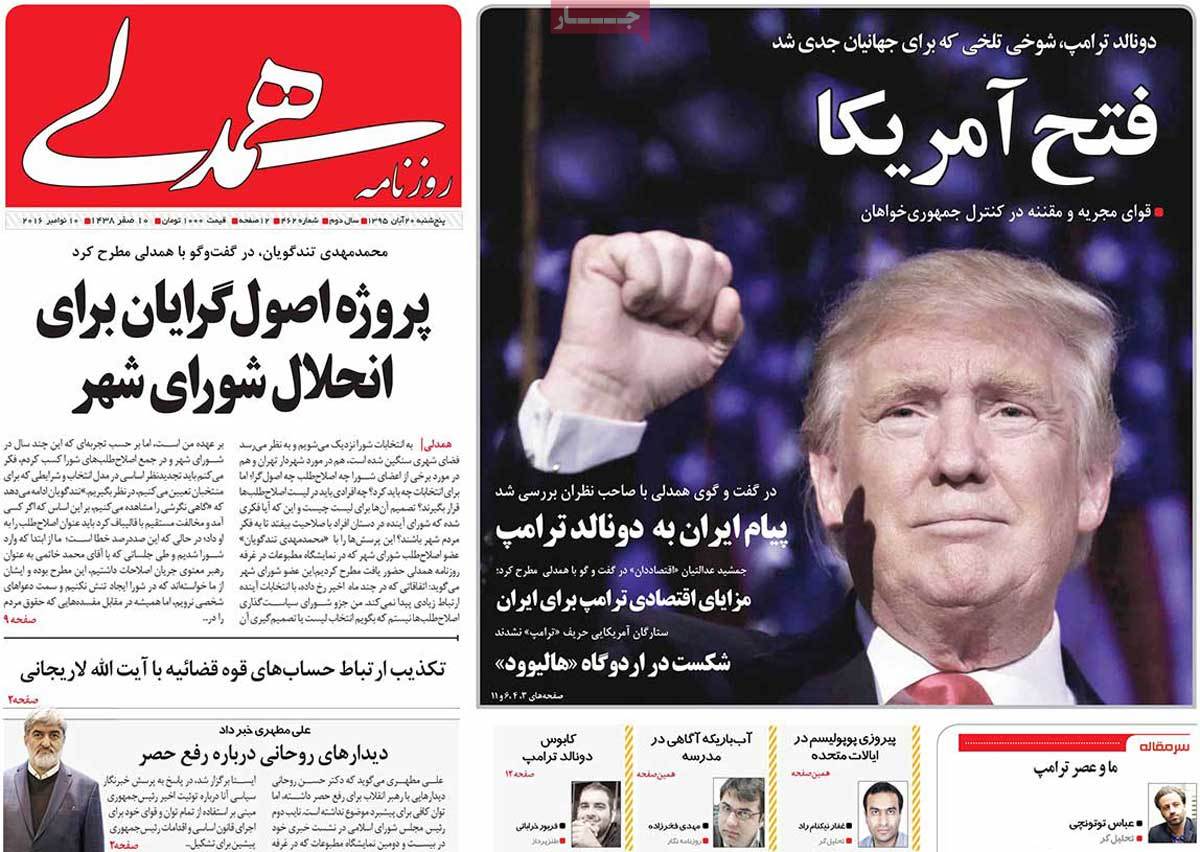 ---
Hamshahri:
1- Americans Once Again Stand against US
2- What Trump Has in Mind about US
3- Iran Is Not Worried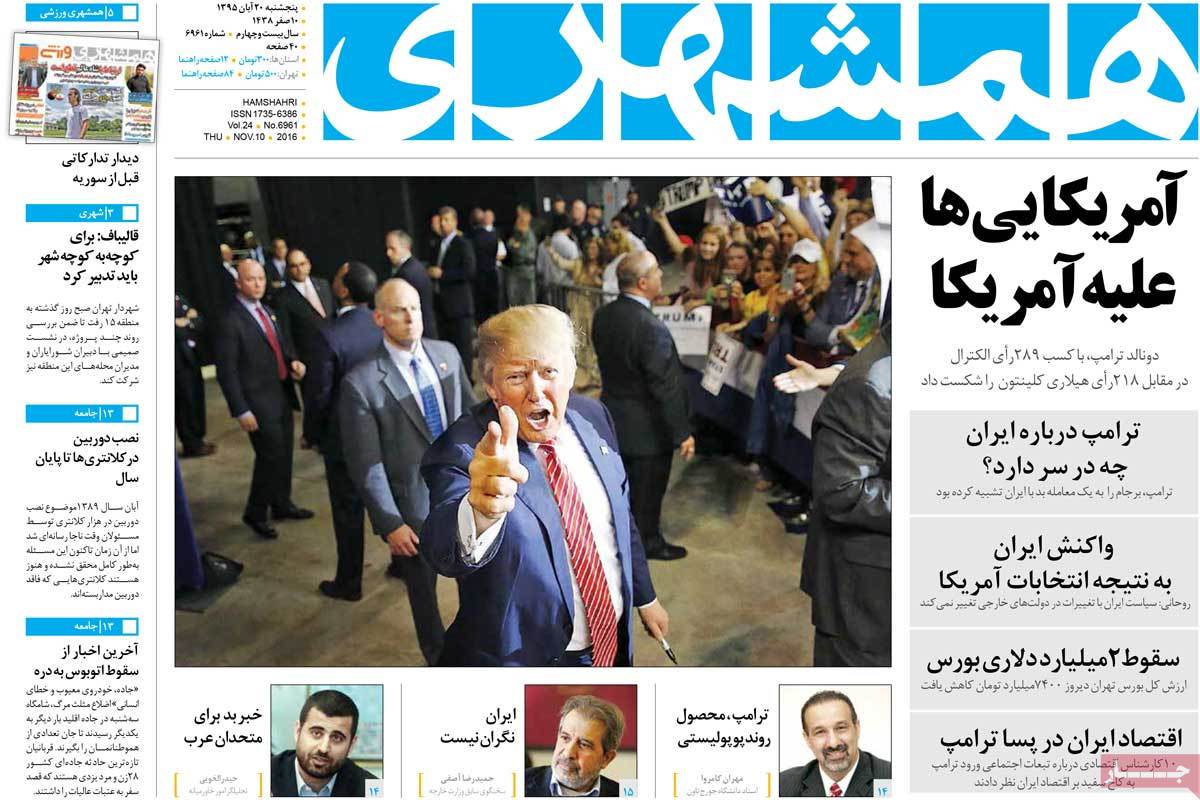 ---
Hemayat:
1- Trump Is Heir to US Ruins
2- US President-Elect: We'll Improve and Compensate for Losses
3- The One Who Supported 2009 Sedition Accepted Results of Elections
4- Results of US Elections Showed Oppressed Protests
---
Iran:
1- World in Surprise: The Businessman Becomes the White House Leader
2- President: Results of US Elections Not to Influence Iran's Policy
3- Political and Economic Aftershocks of Trump's Election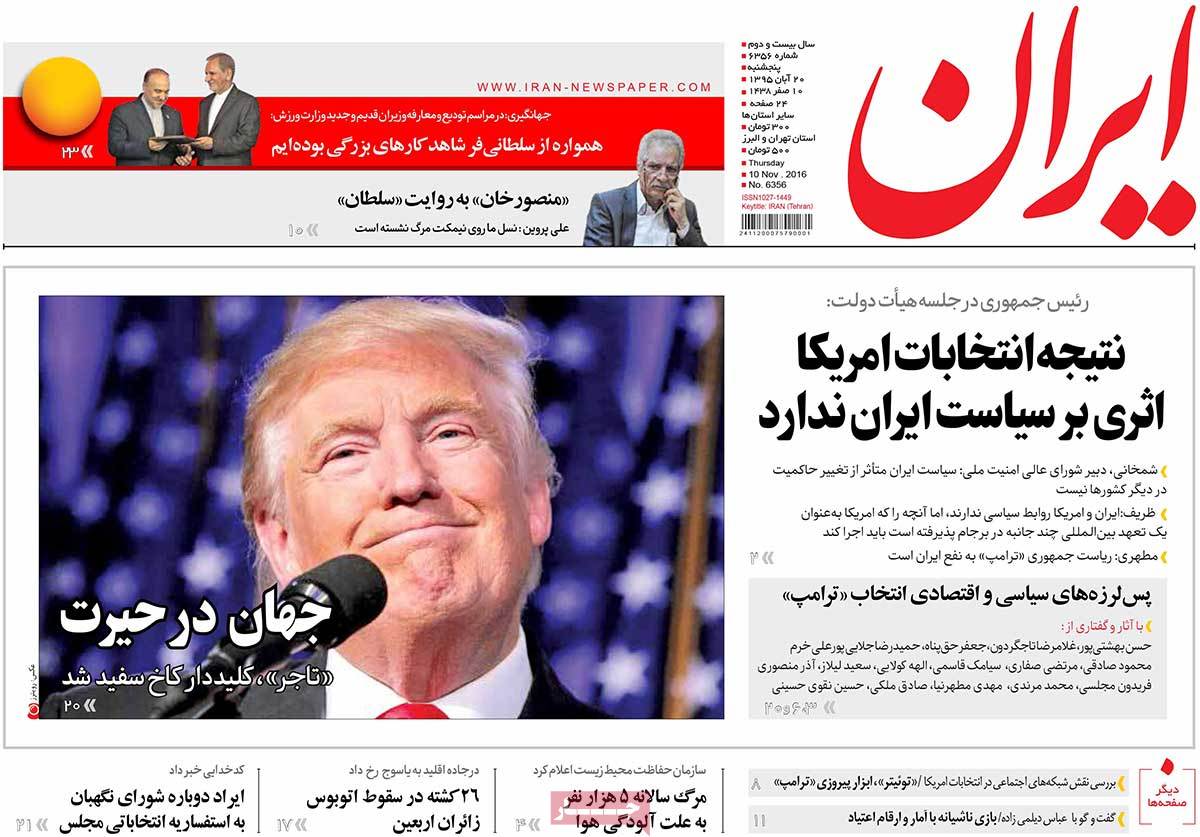 ---
Jahan-e Eqtesad:
1- Victory of Fuss
2- And Now Trump [Op-Ed]
3- Trump, an Emerging Phenomenon for Iran's Economy
---
Jame Jam:
1- Trump Shock
Iranian Officials Say Trump's Election Will Not Affect Iran's Policies
Americans Choose the Symbol of Opposition to the Status Quo to Show Their Dissatisfaction with Poverty, Inequality, and Economic Conditions in US
Unexpected Manifestation of Frustration in US
2- Results of US Elections Pursued in Tehran Press Exhibition: Visitors of the Ongoing Exhibition Curiously Followed Up on the Results of US Presidential Polls
---
Javan:
1- US Riots against US: American People Rose against 'Status Quo' and Voted for Trump, Who Referred to US System as the Most Corrupted One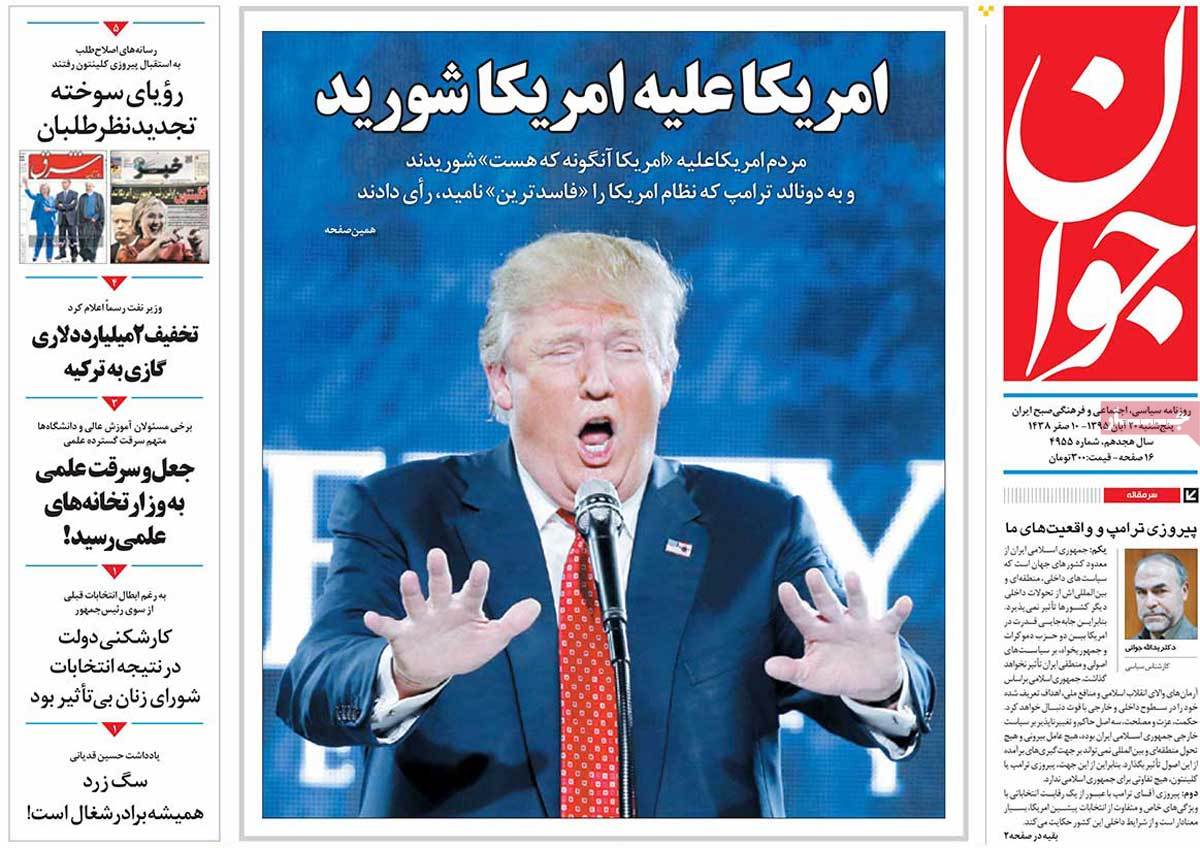 ---
Jomhouri Eslami:
1- World Reaction to Trump's Surprising Victory in US Elections
2- Trump Is a Billionaire and a Major Casino Owner. His Victory Was Not Predicted in Any Poll
3- World Leaders Show Cautious Reaction to Trump's Victory
4- Arab Countries Compete with Each Other in Sending Messages of Congratulations
5- Trump in First Speech after Victory: We'll Have Interaction with Any Country that Gets along with Us
6- Total: Trump's Election Not to Have Any Influence on Our Cooperation with Iran
7- Shock of Trump's Victory on World's Financial Markets
8- Impact of Trump's Election on Iran's Economy
---
Kayhan:
1- Another Achievement for Liberal Democracy: Victory of a Crazy Man over a Liar
2- Riot and Chaos in US States
3- Advocates of Reform Turned Their Wish into News
4- Vice-Speaker of Iran's Parliament: Trump Is More Honest!
5- Rafsanjani: Trump Is Dangerous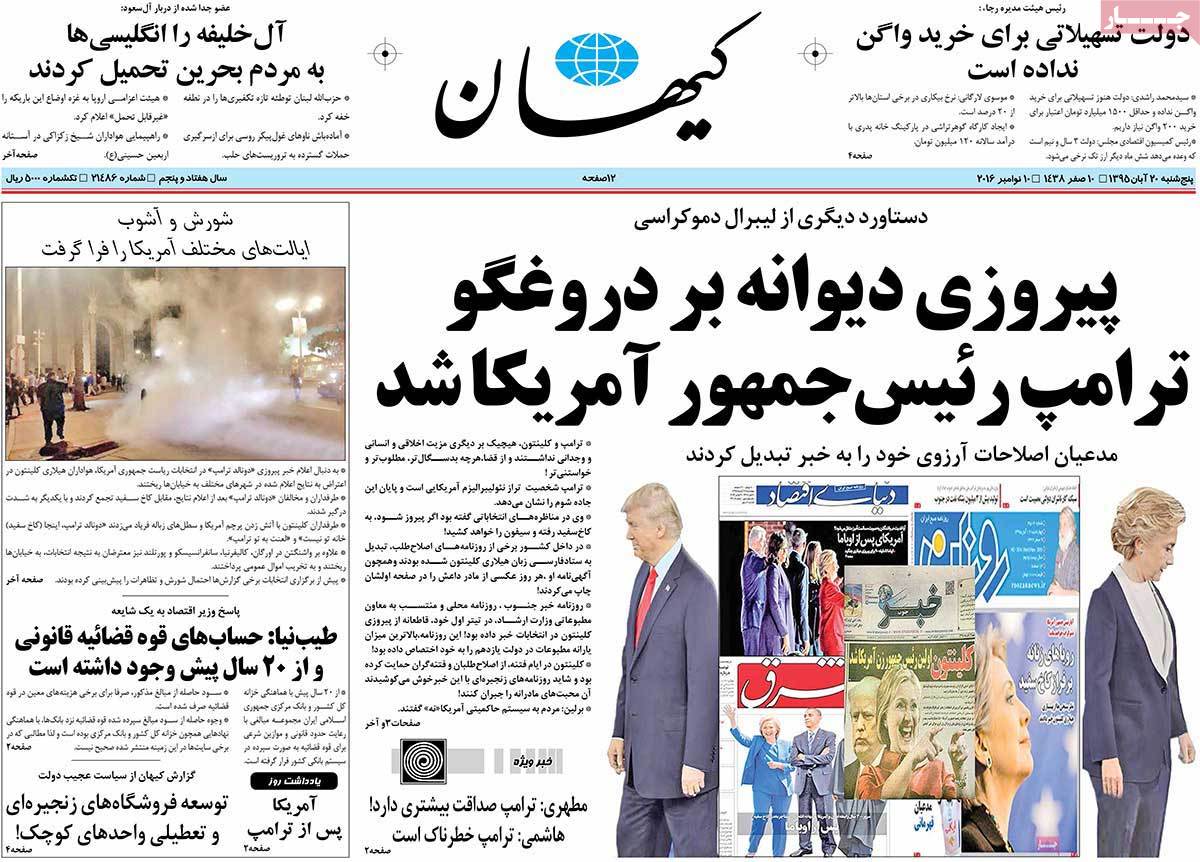 ---
Kelid:
1- Beginning of Doubt, End of Optimism
2- US Elections Will Influence Iran Elections: Advisor to IRGC Commander
3- Successful Predictor of US Elections Once Again Succeeds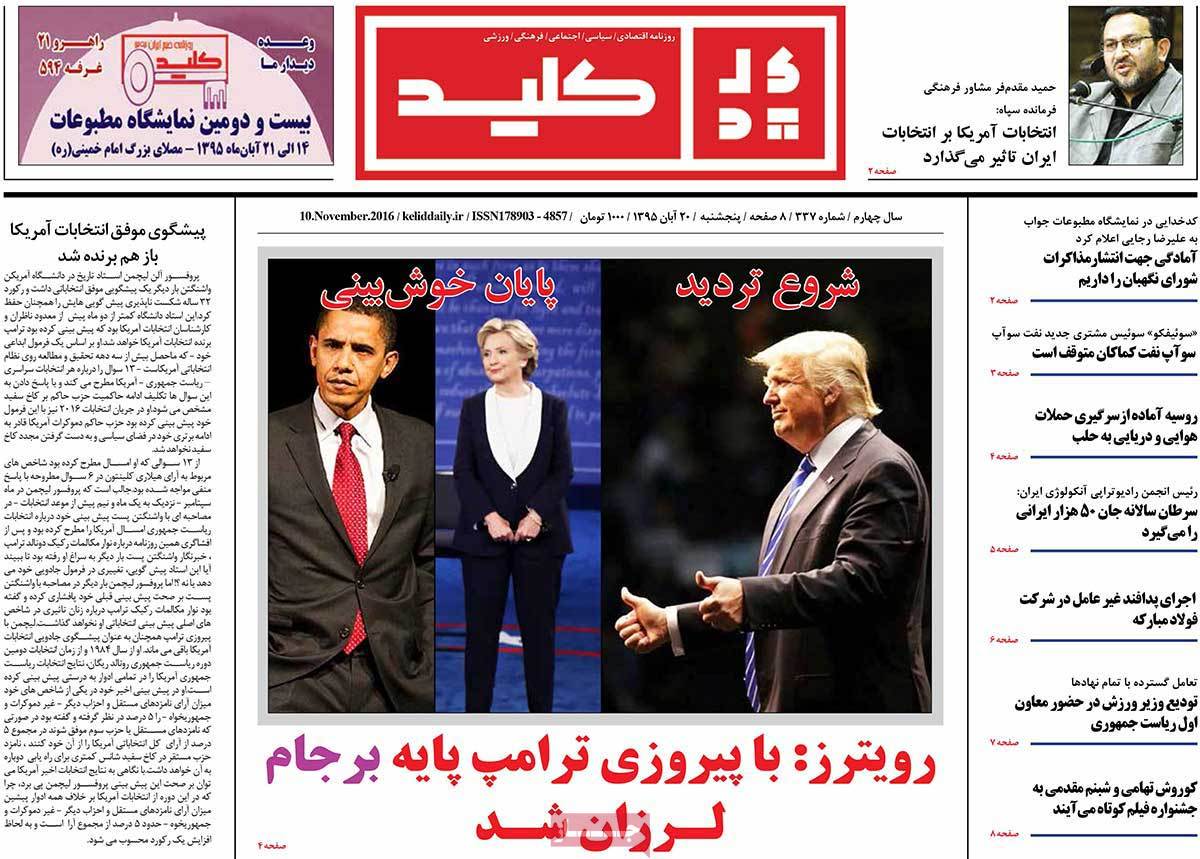 ---
Khorasan:
1- World after Trump: Impact of Trump's Victory in US, Middle East, Europe, and Iran
2- Why Trump Is Possibly Better for Iran?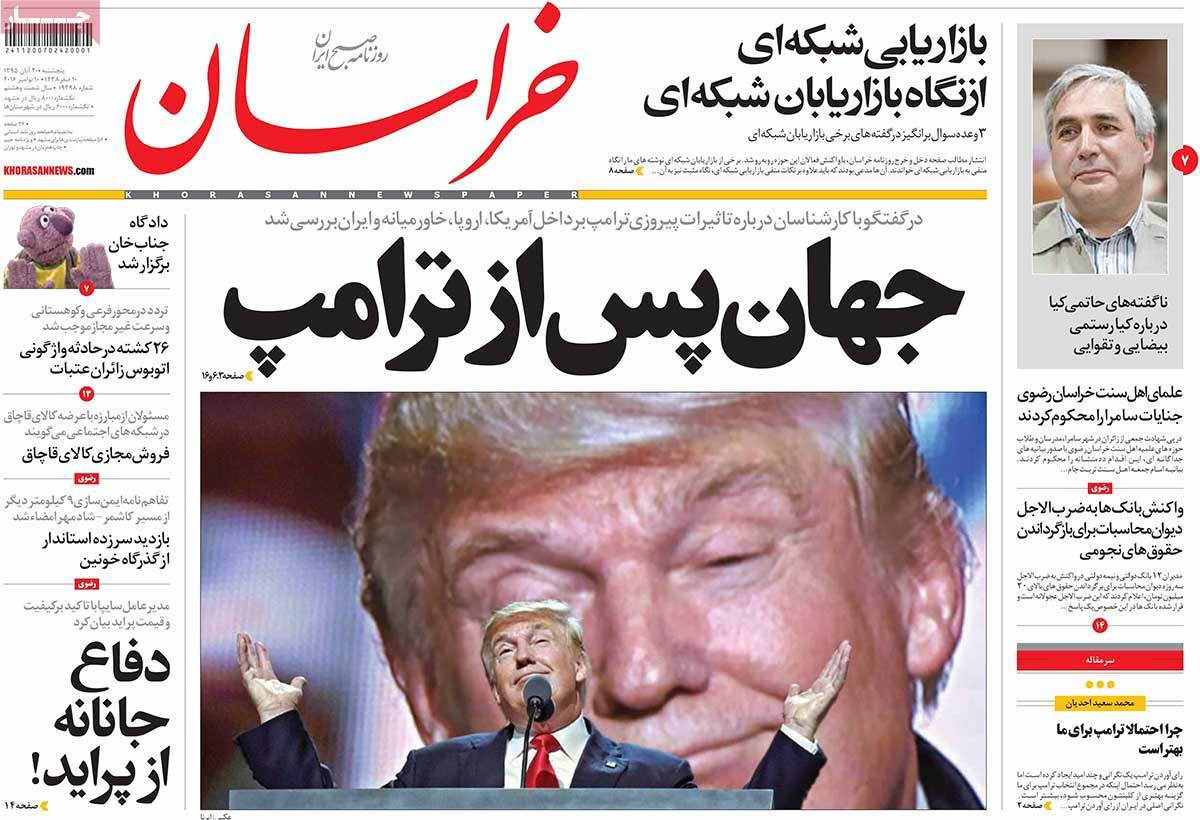 ---
Mardom Salari:
1- Beginning of Trumpist Era: Victory of Trump with Marijuana Flavour
2- Shadow of Trump's Election over Iran's Economy
3- Nothing Special Will Happen in Iran's Ties with US: MP
---
Nasl-e Farda:
1- Global Shock!
2- Obama: Sun Will Shine Tomorrow Once Again
3- Putin Congratulates Trump
---
Noavaran:
1- Foreign Exchange Market Affected by US Elections
2- Sale of US Dollars Stopped Temporarily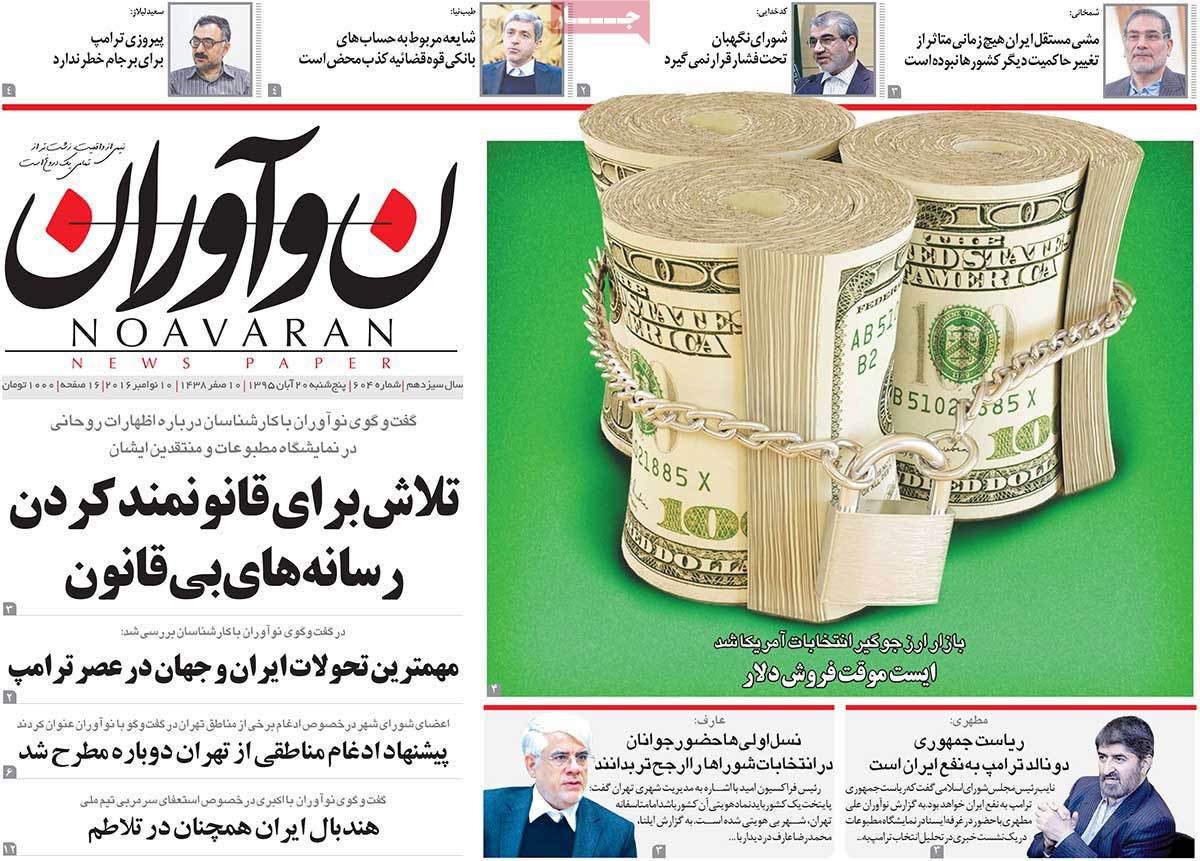 ---
Payam-e Zaman:
1- Rouhani: JCPOA Not Changeable with Decision of One Government
2- Settlement of Domestic Differences in US Will Take a Long Time: Rouhani
---
Quds:
1- Highlights of New White House Tenant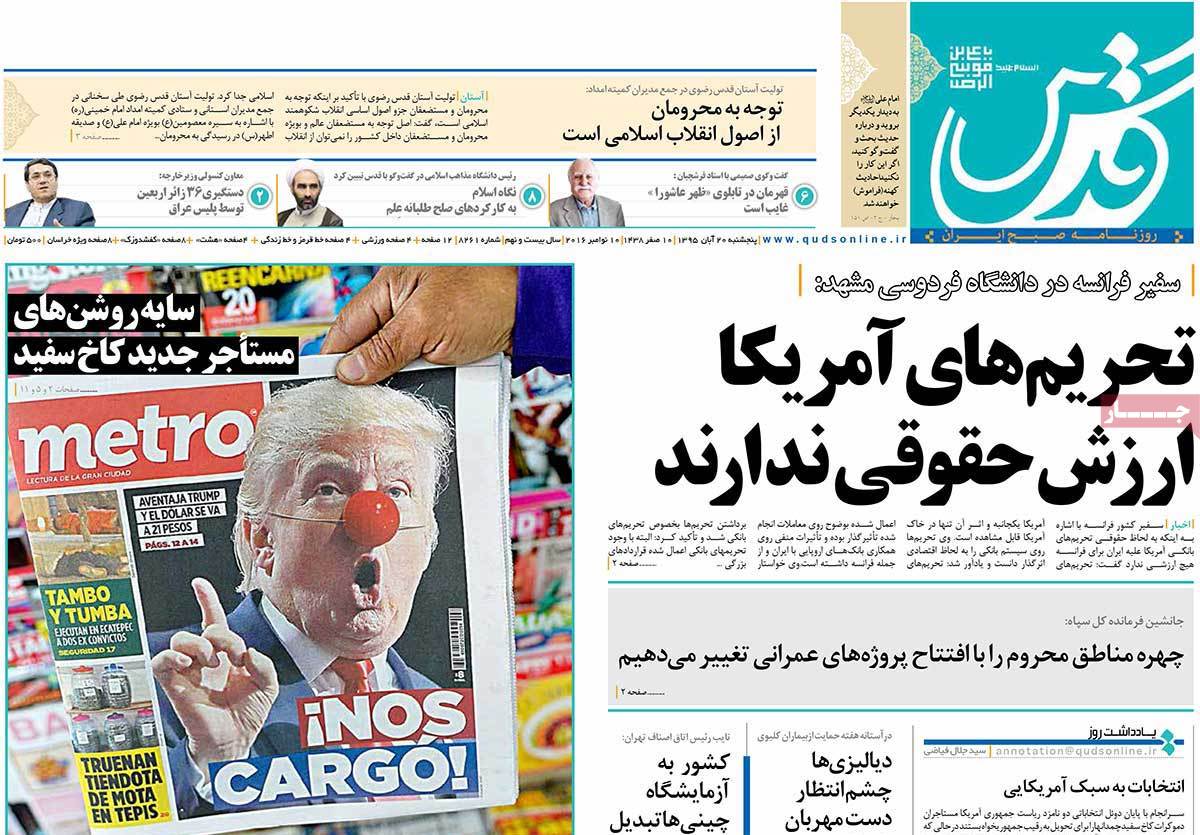 ---
Resalat:
1- Surprise and Political Shock in US: Trump Becomes US President
2- Republicans Take the Lead in Senate and US House
3- USA's Image Will Become Uglier and More Dictator-Like under Trump's Leadership
4- Protest Rallies and Chaos in Some US Cities
5- White Revolution in US: A Face without Any Makeup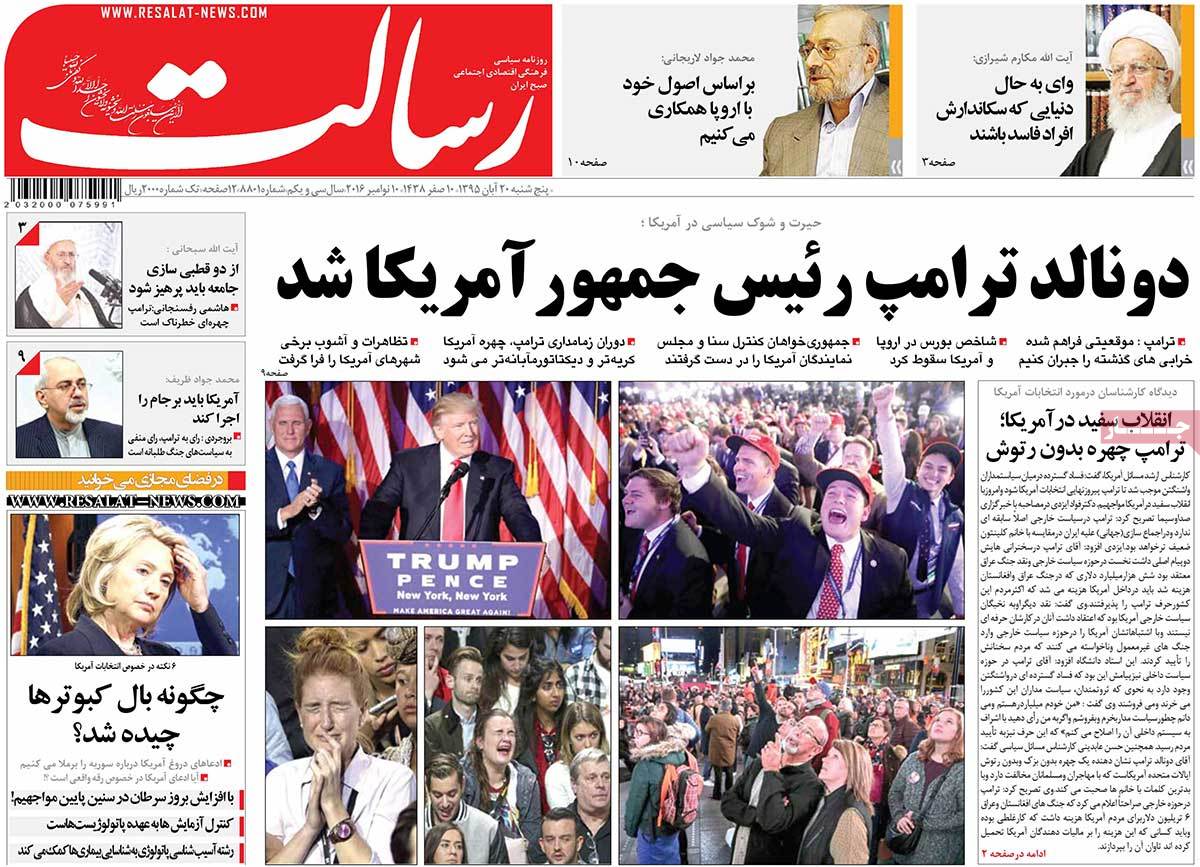 ---
Roozan:
1- White House in Red Condition
2- Fall of Stock Exchange Market Because of Excitement
3- It Won't Be Harmful to Iran Even If Trump Tears Up JCPOA: Analyst
4- Obama Divided US Society to 2 Parts during His Presidency: Expert
---
Saheb Qalam:
1- US Becomes Ahmadinejad-Like at Last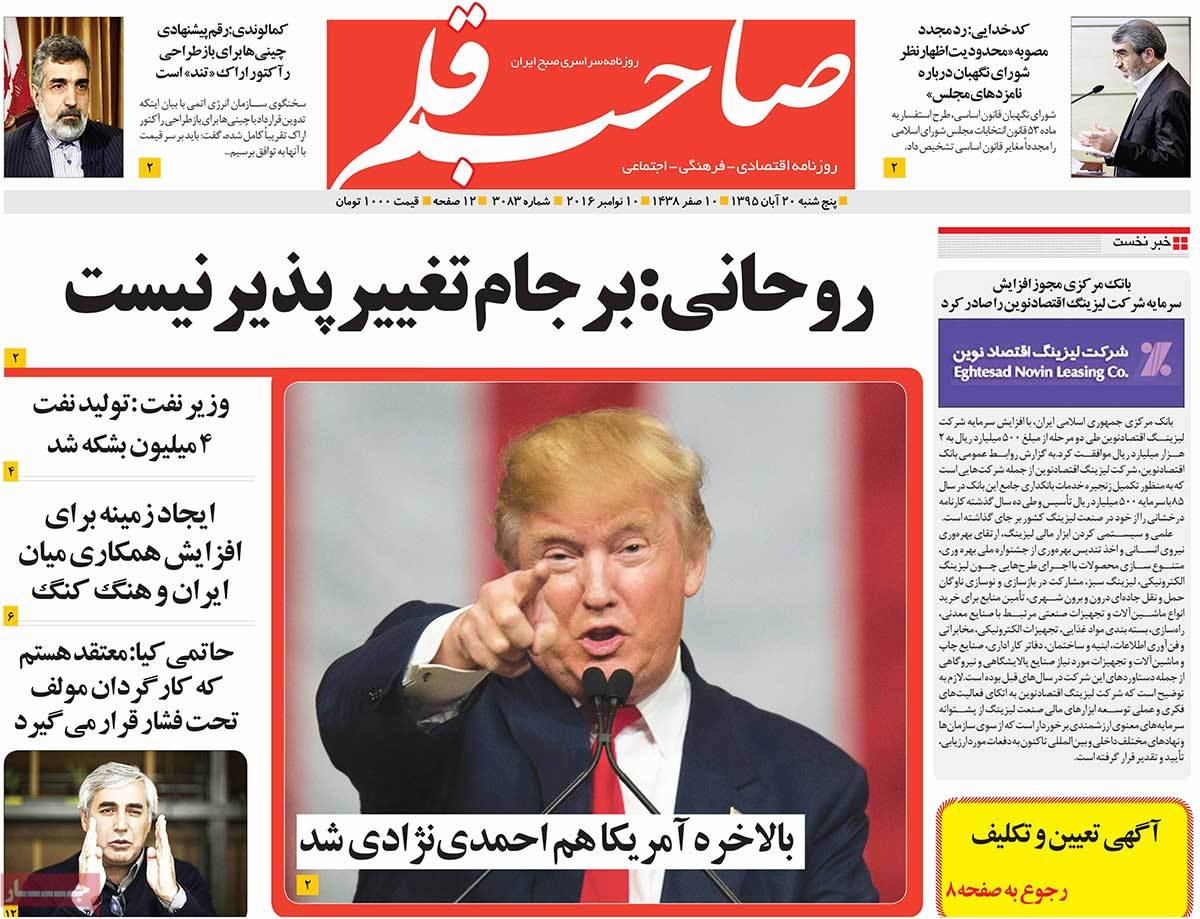 ---
Sayeh:
1- The Man Who Wanted to Be a Sultan!
---
Sedaye Eslahat:
1- Big Surprise: Populist Way of Thinking Wins US Elections
2- Impact of US Polls on Short-Term Investment Market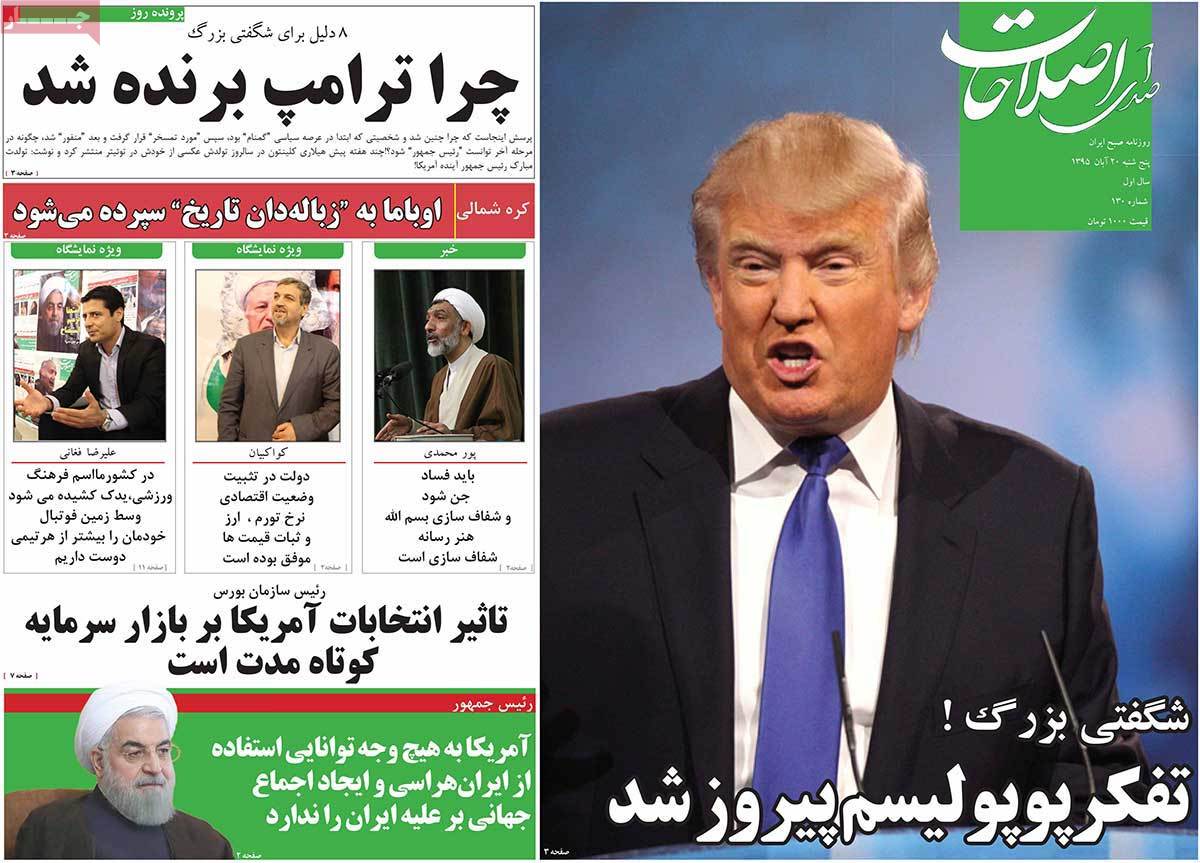 ---
Sepid:
1- The Strange Billionaire Who Became Tenant of White House
2- Smile of Russians, Doubts of Europeans, Happiness of Radicals
3- A Report about Life and Stances of Trump
---
Setareh Sobh:
1- Victory of Wealth and Populism over Experience and Wisdom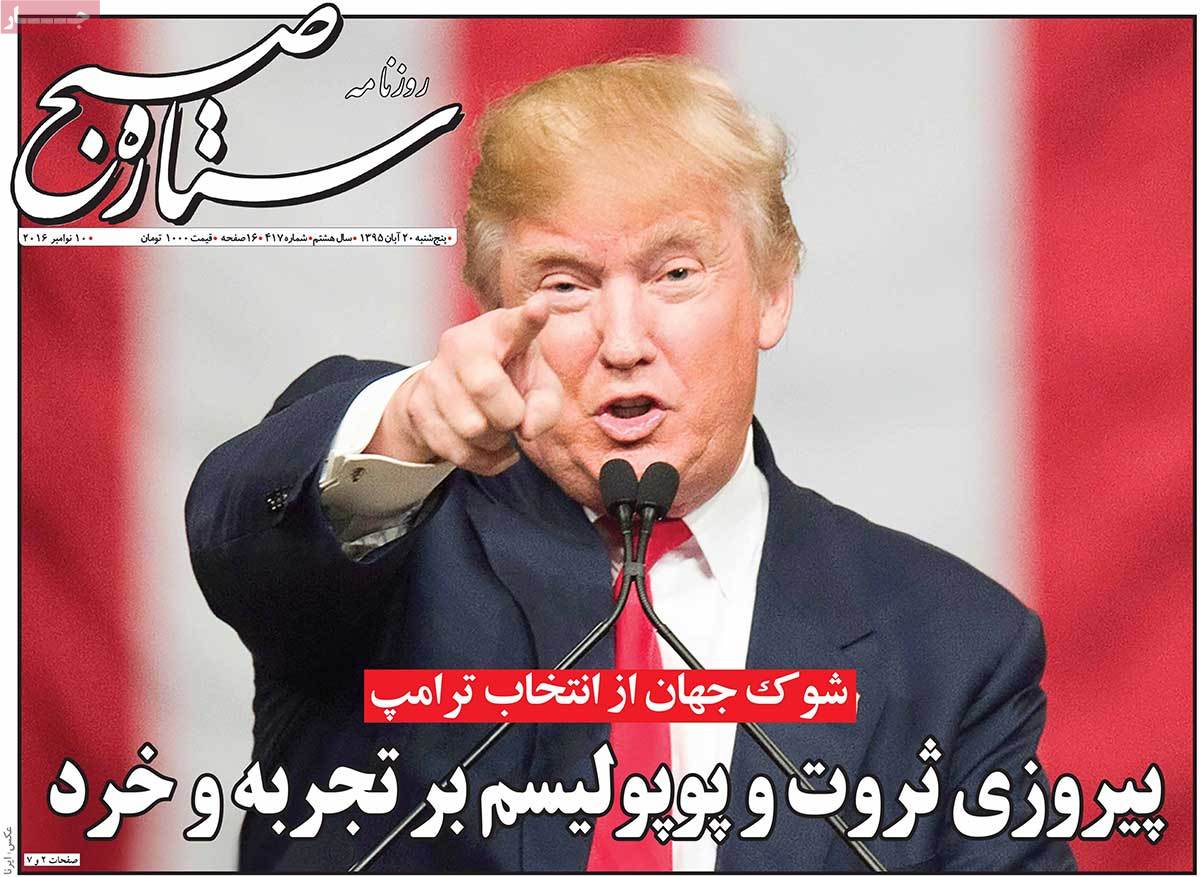 ---
Shahrvand:
1- American Riot
2- Three Points about Trump's Victory
3- Trump Looking for Suppression of Economic Powers Competing with US
4- Small Changes May Occur in Middle East
5- 40 Million Citizens under the Shadow Took Trump to White House
6- US Elections Gave a Good Lesson to US
7- Trump Is Opposed to a New Crisis
8- Republicans in Cabinet and Congress Allied against Iran
9- It's Too Soon to Talk about Trump's Real Policies towards Iran
10- I Don't Think Iran's Problems with US Are Resolved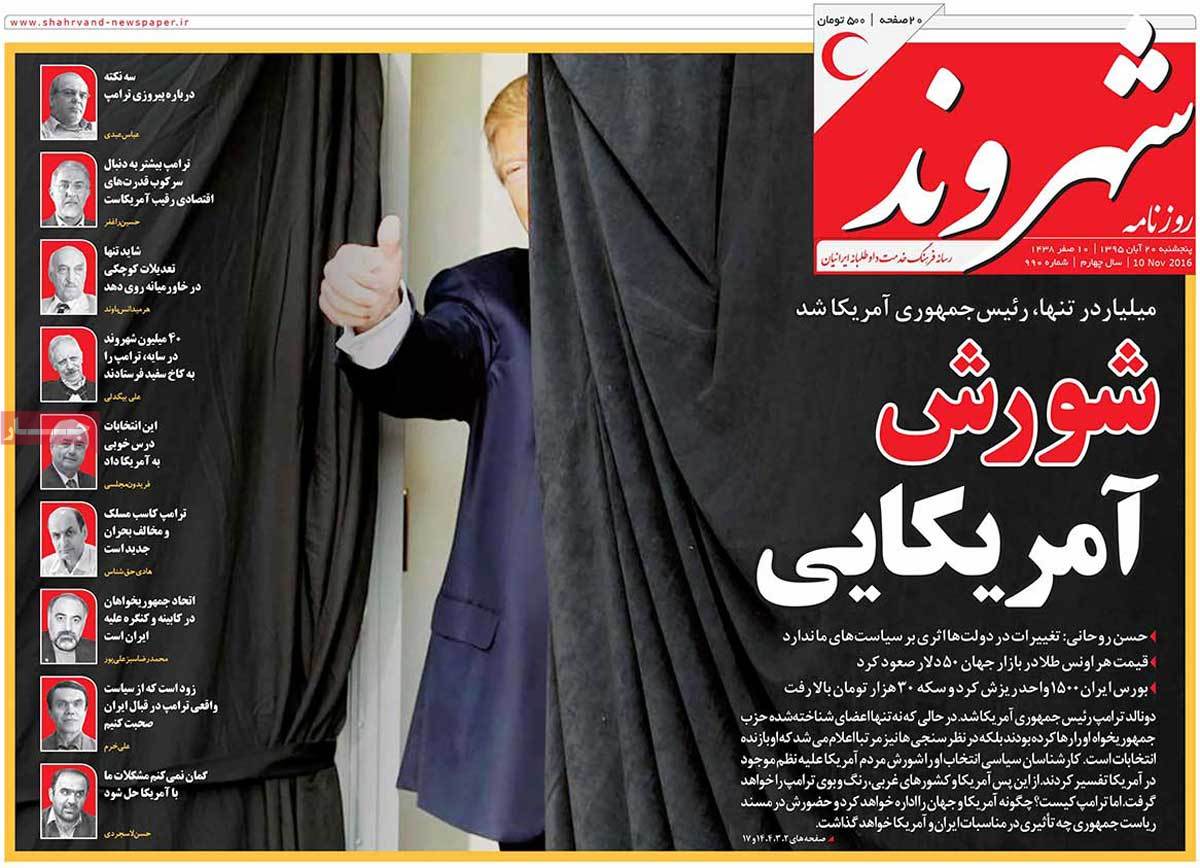 ---
Shakheye Sabz:
1- Super Clown of Crazy People Becomes President of Bullies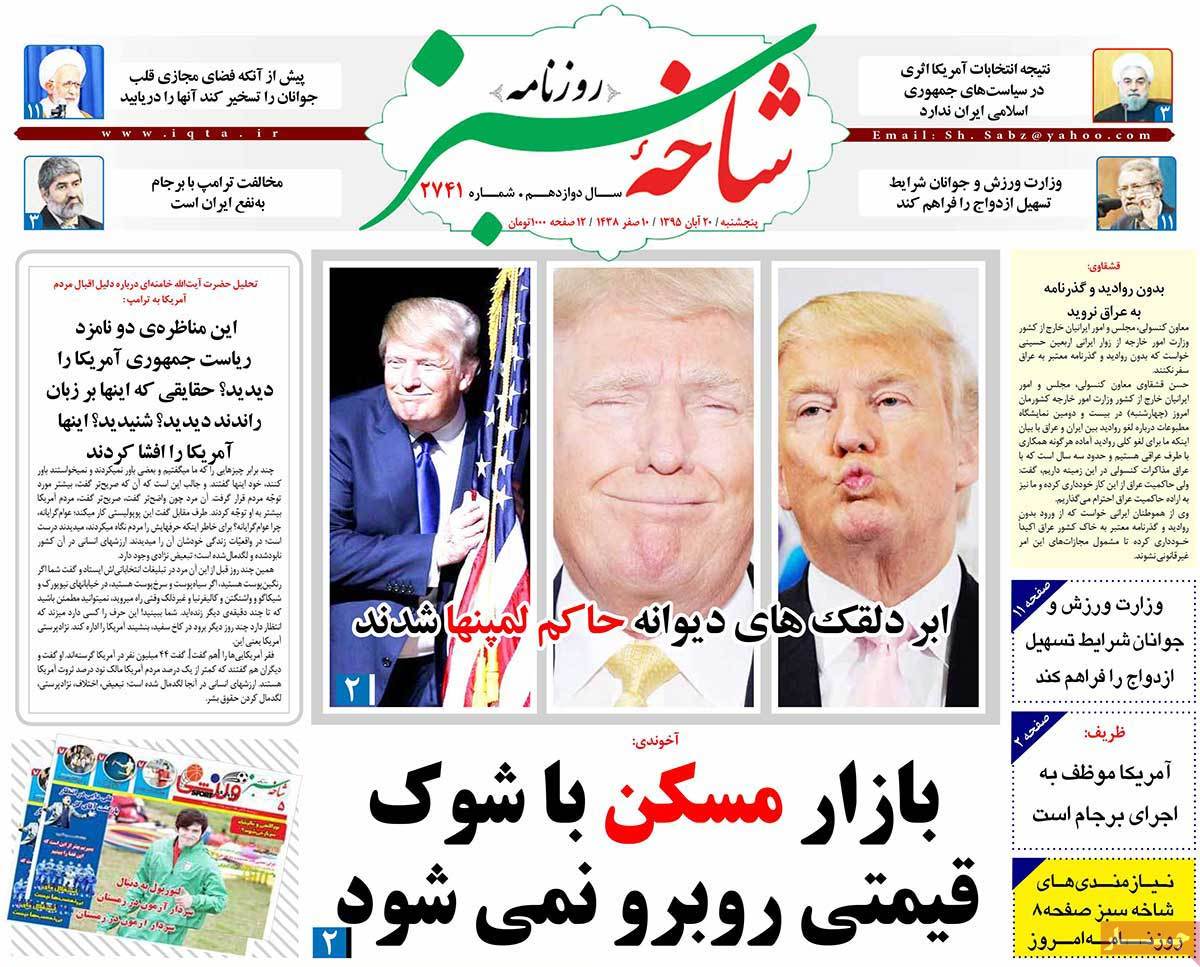 ---
Shargh:
1- Trump's Storm: Republicans Win the Majority in White House, House of Representatives, and Senate
2- US Elections Was the Victory of Angry Masses [Editorial]
---
Siasat-e Rooz:
1- Shock of Trumpism
2- Clinton Fans Pour to Streets in Some Cities for Riot
3- We Can Achieve 100,000 SWO of Enrichment in 18 Months: AEOI Spokesman in Reaction to Trump's Threats
4- Need for Being Cautious in Dealing with an Enemy Who Breaks Its Promises: Int'l Observers' Reaction to White House's New Guest
5- US Elections Sent the Message of Protest among Majority of US Society
6- Trump, the Key to Major Changes in US?
7- Messages of an Election
---
Sobh-e Eqtesad:
1- Americans Accepted the Results of US Elections More Politely than Some Iranians: Cleric
---
Vaghaye Ettefaghieh:
1- Political Tsunami in US
2- Policy of Patience and Waiting
3- Rouhani: Results of US Elections Showed Domestic Instability in US
4- Zarif: Trump Should Understand the Reality of the World
5- Tehran Stock Exchange Market's Index Down by 1,400 Units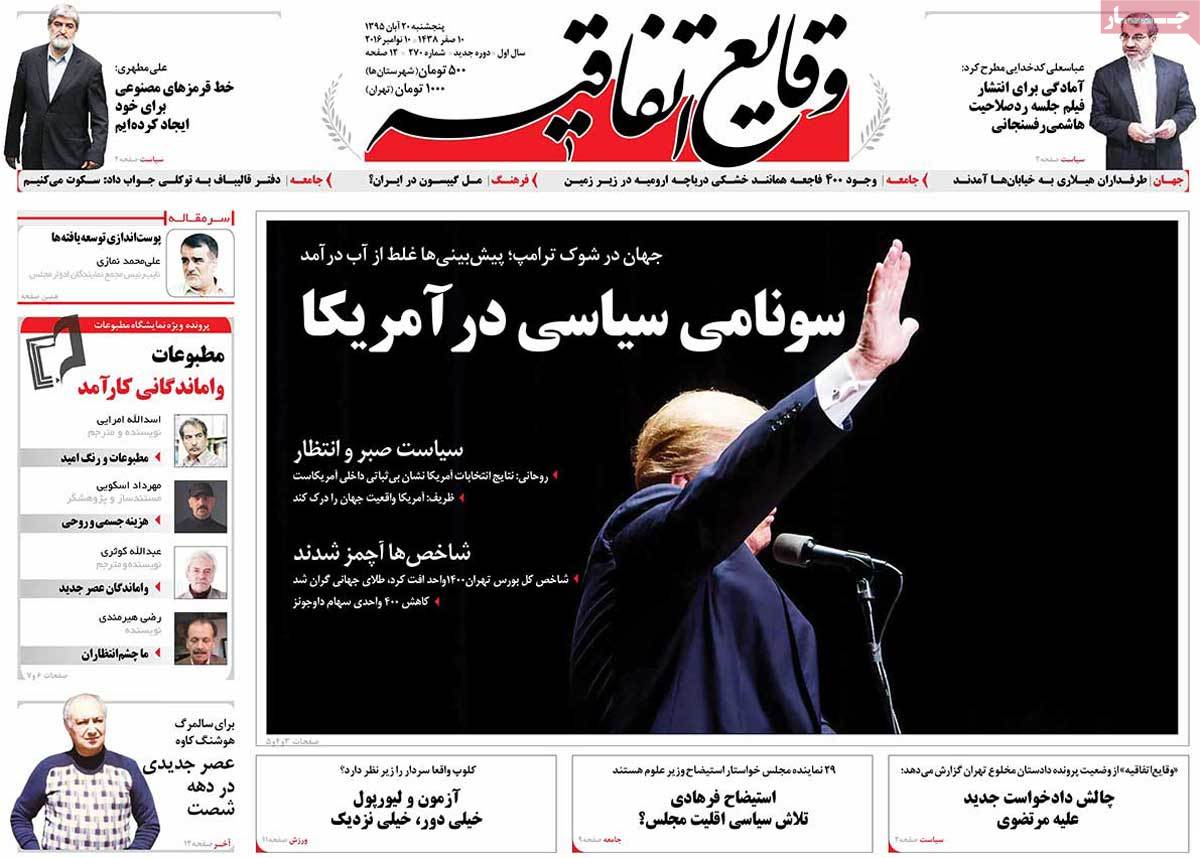 ---
Vatan-e Emrooz:
1- House of Cards: Trump Becomes US President by Joining American People's Protests against Corrupt System of Washington