IFP has taken a look at the front pages of Iranian newspapers on Monday, October 17, and picked headlines from 16 of them. IFP has simply translated the headlines and does not vouch for their accuracy.
Iranian newspapers on Tuesday continued covering the reactions to the US president's anti-Iran comments, especially the EU foreign ministers' statement in support of the nuclear deal between Tehran and world powers. They also discussed Europe's efforts to start negotiations with Iran on non-nuclear issues.
The top story, however, was the Iraqi army's victory in retaking the control of the oil-rich city of Kirkuk and pushing back Kurdish forces from the area. Iranian newspapers hailed the operation and described it as a positive and successful move by the Iraqi central government, which will enhance its stability and security.
The above issues, as well as many more, are highlighted in the following headlines and top stories:
Abrar:
1- Macron: I Asked US President Not to Scrap Nuclear Deal
2- Larijani: Syria Crisis Close to End
3- Tillerson: Endorsement by Israel, Arab Allies Shows What We Did Was Right
4- Turkish Forces' Arrival in Idlib Coordinated with Iran, Russia
5- Mogherini: EU Expected to Support JCPOA Implementation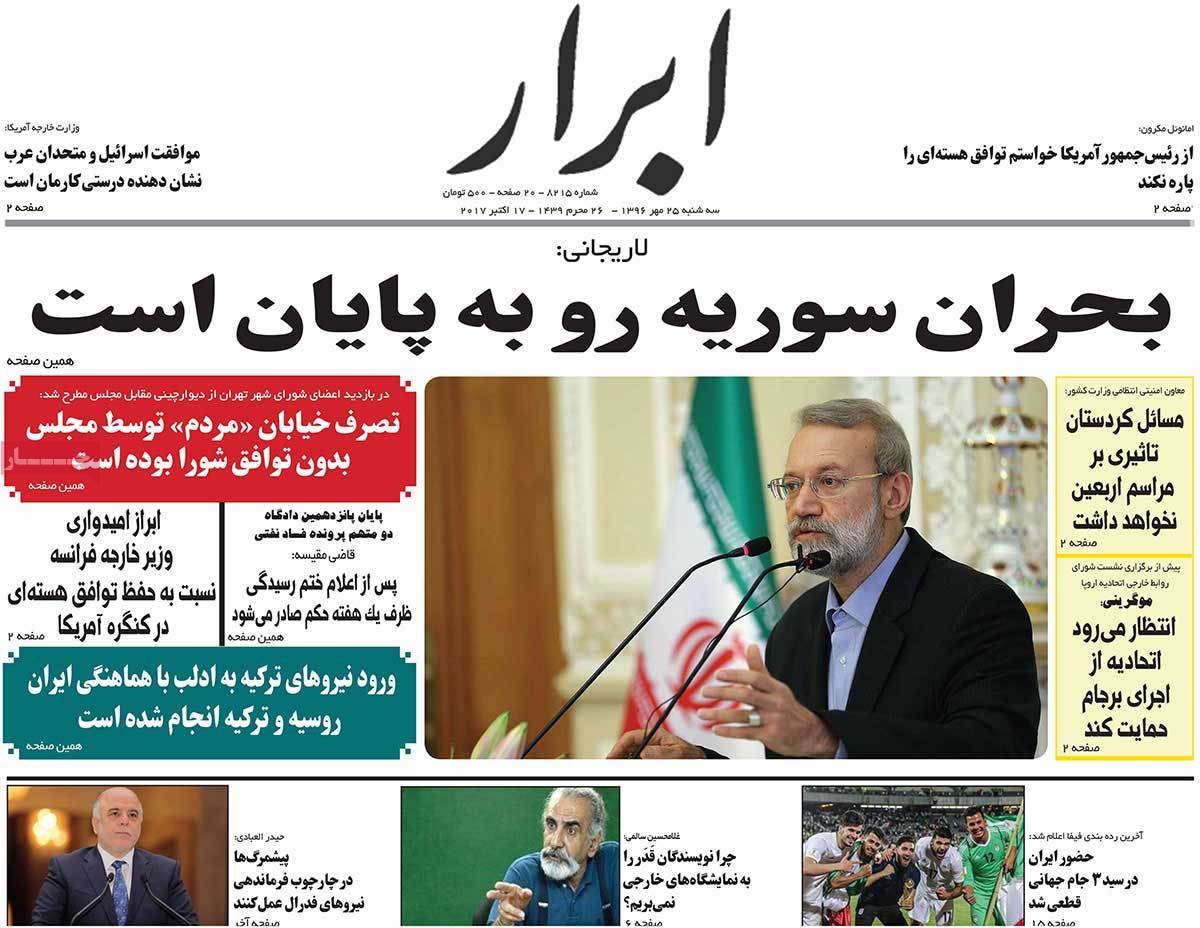 ---
Afkar:
1- Ayatollah Amoli Larijani: JCPOA Experience Shows US Untrustworthy
2- Velayati: We've Built up Defensive Lines Hundreds of Kilometres Outside Iran's Borders
3- IRGC Aerospace Commander: Iran Not to Stop Developing Missiles
---
Aftab-e Yazd:
1- Whatever Tehran Says: EU Declares Explicit Stance on Secondary JCPOA, Any Post-JCPOA Talks
2- Senior Cleric: Trump Good Choice for Running a Zoo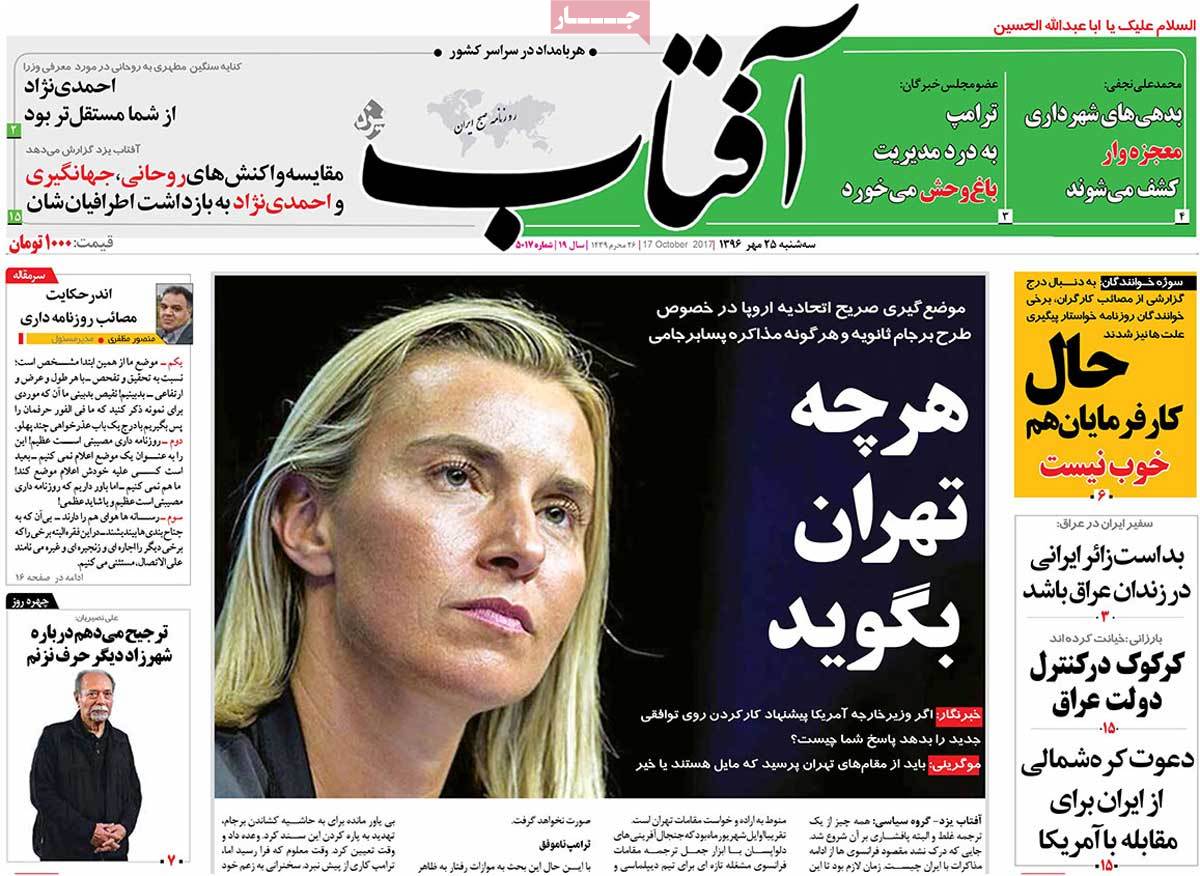 ---
Arman-e Emrooz:
1- Senior Politician: Rouhani Unsuccessful in Economic Fields
2- Europe's Sympathy with Iran Not Enough: Expert
3- Tehran Mayor: No Collusion in Appointments
---
Ebtekar:
1- Zanjani Said I Have Money, but I Won't Give You a Penny: Judge
2- Science Ministry Still without an Option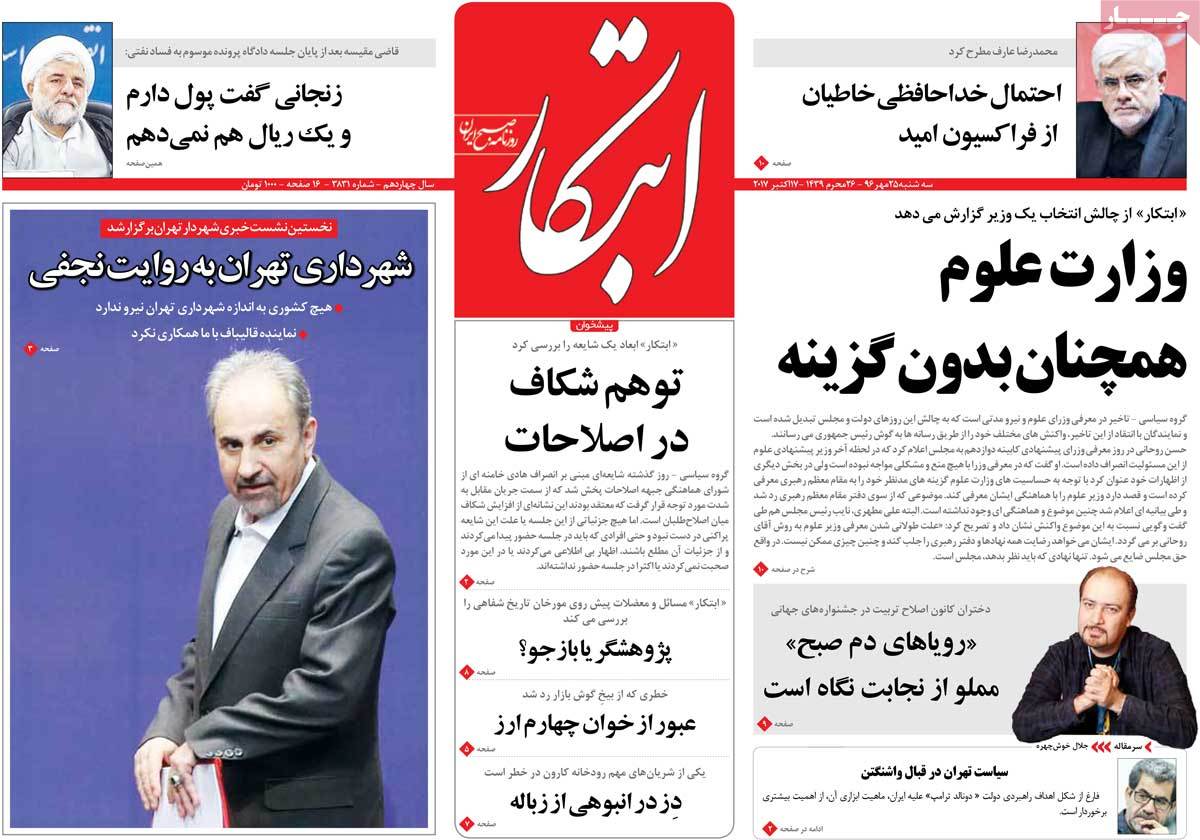 ---
Etemad:
1- Tehran Mayor: I Haven't Colluded with Anyone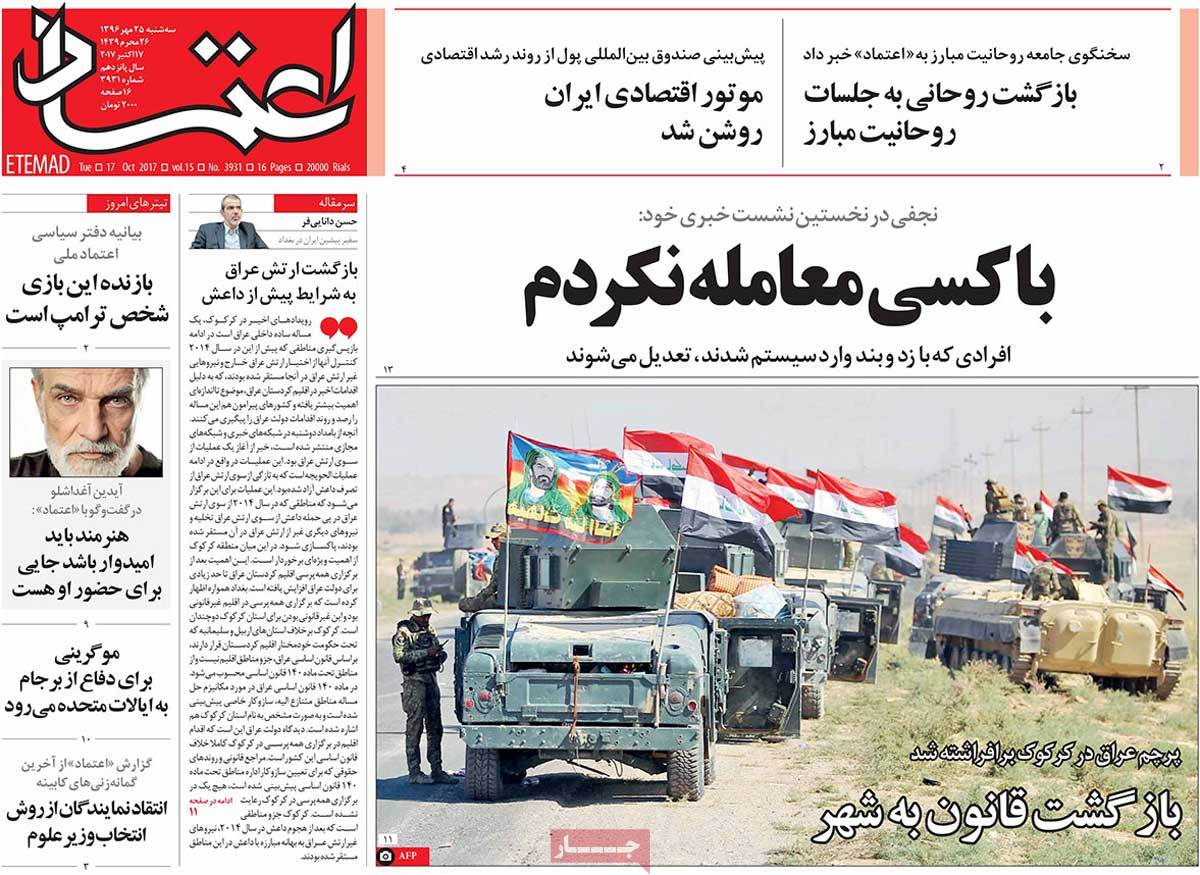 ---
Ettela'at:
1- EU, Africa Express Support for Iran Nuclear Deal
2- Putin Rejects Saudi Arabia's Proposal on Syria
King Salman Says He's OK with Assad Remaining in Power in Case He Cuts Ties with Iran
3- Rouhani: Isolation of US Important Achievement of Islamic Republic
4- Iraqi Army Takes Control of Kirkuk amid Popular Support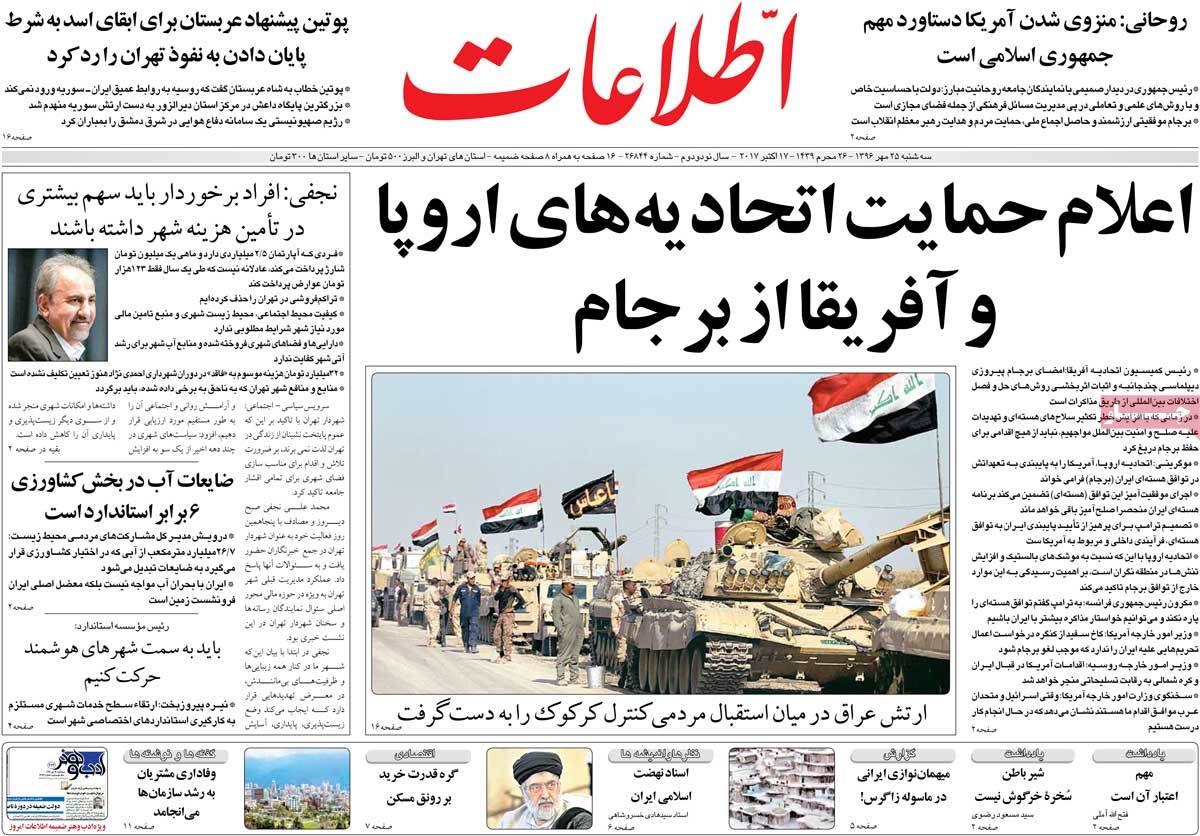 ---
Haft-e Sobh:
1- Kirkuk under Control of Iraq: Oil-Rich City of Northern Iraq Retaken by Central Gov't
---
Iran:
1- EU FMs: JCPOA Key to Maintaining Regional Security
2- Iran First VP: People Paid No Heed to Trump's Remarks
---
Jame Jam:
1- Iraqi Flag Hoisted in Kirkuk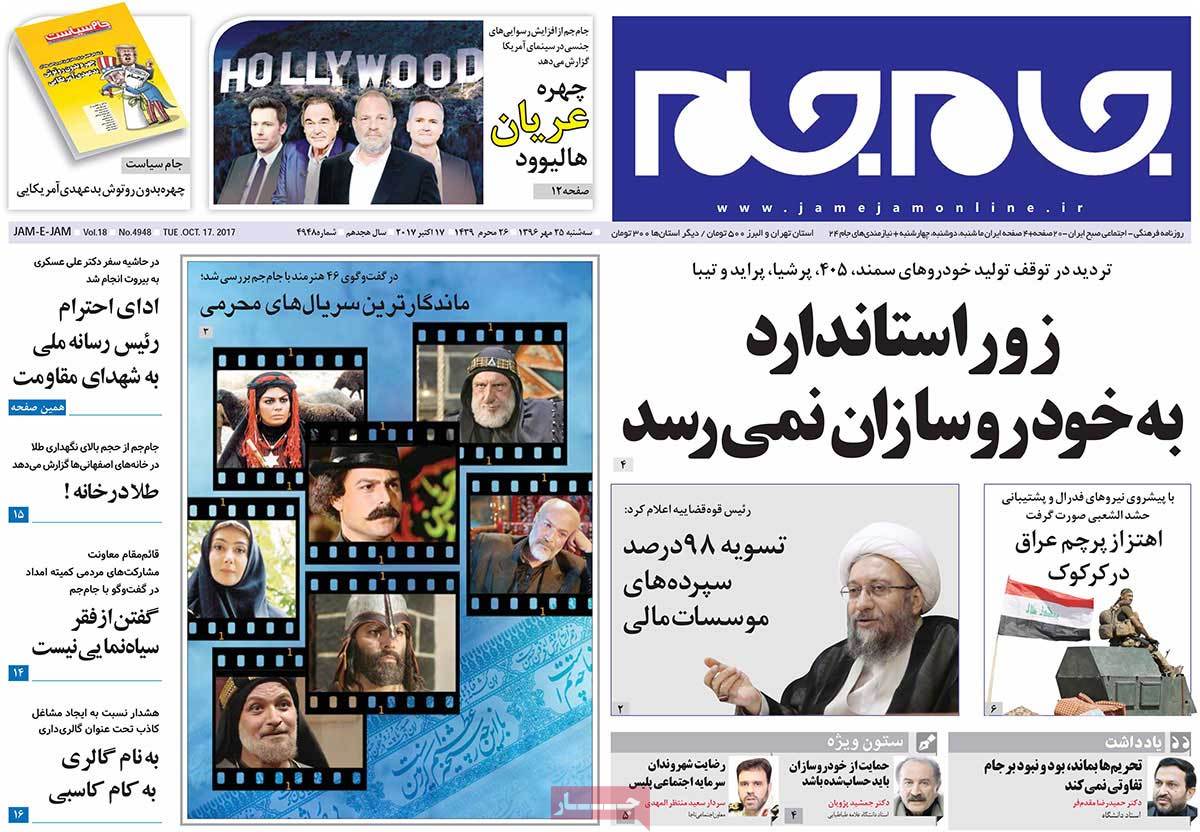 ---
Javan:
1- Managers Catching Fish Using Water Crisis as a Hook
2- Tehran Mayor: IRGC Construction Base Did a Good Job, We'll Continue Cooperation
3- Kirkuk Welcomes Integrated Iraq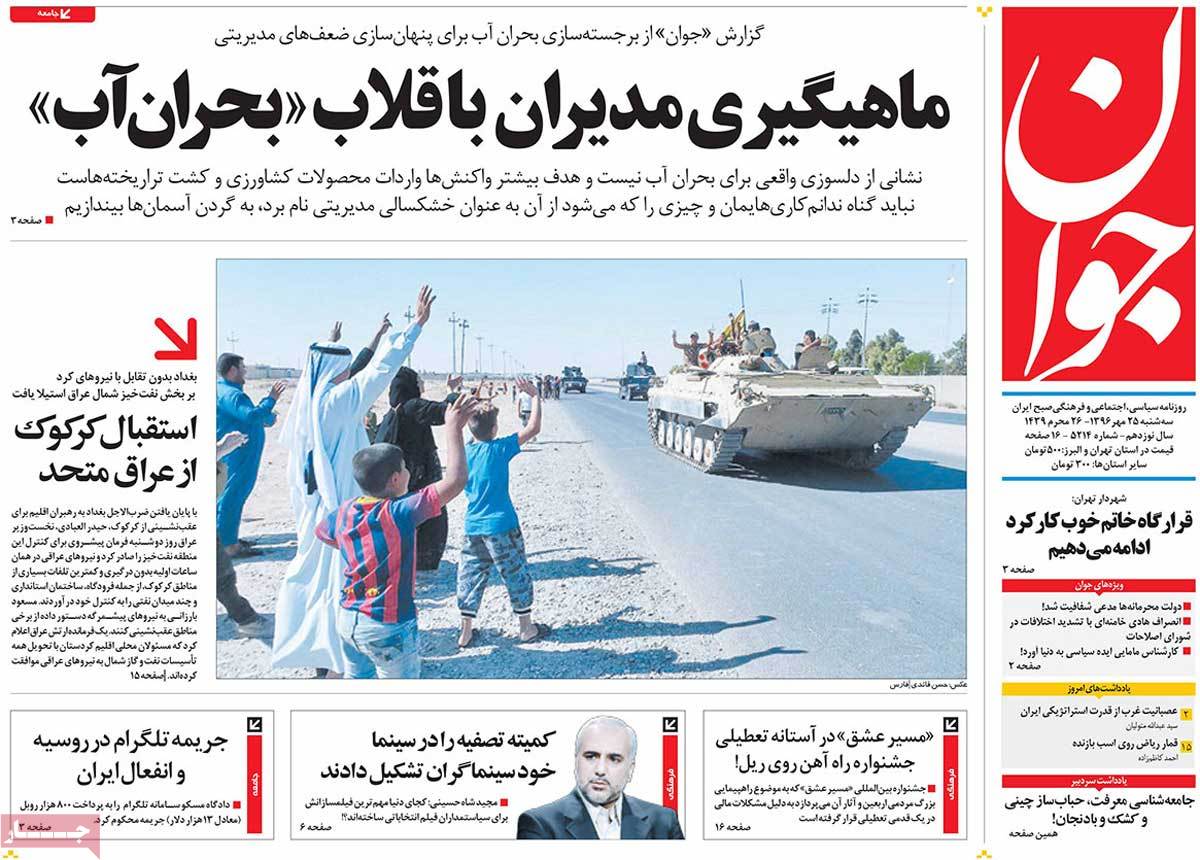 ---
Jomhouri Eslami:
1- EU Voices Strong Support for Iran Nuclear Deal
2- Central Bank Governor: Iran Economy Relatively Immune to Outside Shocks
---
Kayhan:
1- Trump Administration Supports Green Sedition While Intensifying Sanctions
2- Velayati: US, Europe Dividing Labour in Countering Iran on JCPOA
3- 280 Killed, 300 Wounded in Somalia Terror Attack
---
Khorasan:
1- Barzani's Great Defeat in Kirkuk
---
Resalat:
1- Iran First VP: Long Way to Go until Full Implementation of Resilient Economy
2- Central Bank Governor: Iran's Forex Market Totally Calm
3- Russia Warns US against Changing Iran Nuclear Deal
---
Shargh:
1- Tehran Mayor: I've Heard State TV Not Allowed to Show Me
2- Kirkuk, City without Peshmarga
3- Judiciary Chief Praises President's Decisive Stances
4- Mogherini to Visit Washington to Save Iran Nuclear Deal