The top story in all papers today was the remarks made by Iranian Foreign Minister Mohammad Javad Zarif about the need for Iranian officials to decrease pressure on the nation, and avoid taking advantage of people's patience.
Also a top story was the details of Iran's recent penetration into the US' drone system in Iraq, which were outlined by IRGC Aerospace Commander Brigadier General Hajizadeh.
A lawsuit allegedly filed by 2,000 people in Ahvaz against Iranian Minister of Communications and Information Technology Mohammad Javad Azari Jahromi also received great coverage. These people have reportedly sued the minister for refusing to obey certain censorship requests.
The above issues, as well as many more, are highlighted in the following headlines and top stories:
Abrar:
1- Lavrov: Russia, Iran, Turkey Have No Plan for Joint Operation in Syria
2- Israel FM: Iran Still Wants to Destroy Us despite Thaw in Tel Aviv's Ties with Arabs
---
Aftab-e Yazd:
1- Plaintiffs of Two Anti-Iran Cases in US Fighting over Money Earned from Iran Sanctions!
2- Kenya Blocks Account of Iranian Businesspeople!
3- Zarif Changes His Tone, Makes Notable Remarks
* We Can't Deny Our Incompetence, Pin Blame on Hegemonic Powers, Hide behind People's Resistance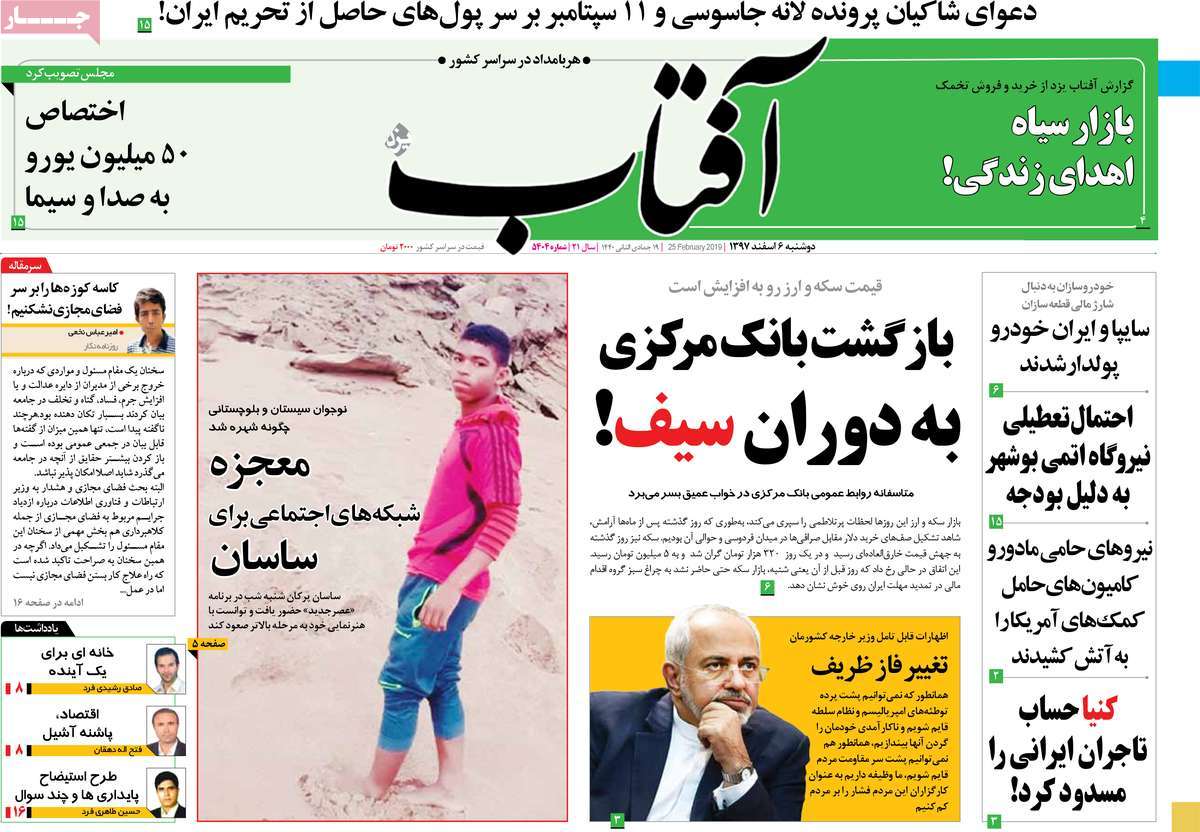 ---
Arman-e Emrooz:
1- Zarif: We Must Decrease Pressure on People
2- Analyst: Trump Needs Clash with Iran for Re-Election
* Trump Afraid of Failing in 2020 Election
3- ICT Minister Should Either Leave Office or Censor What He's Told to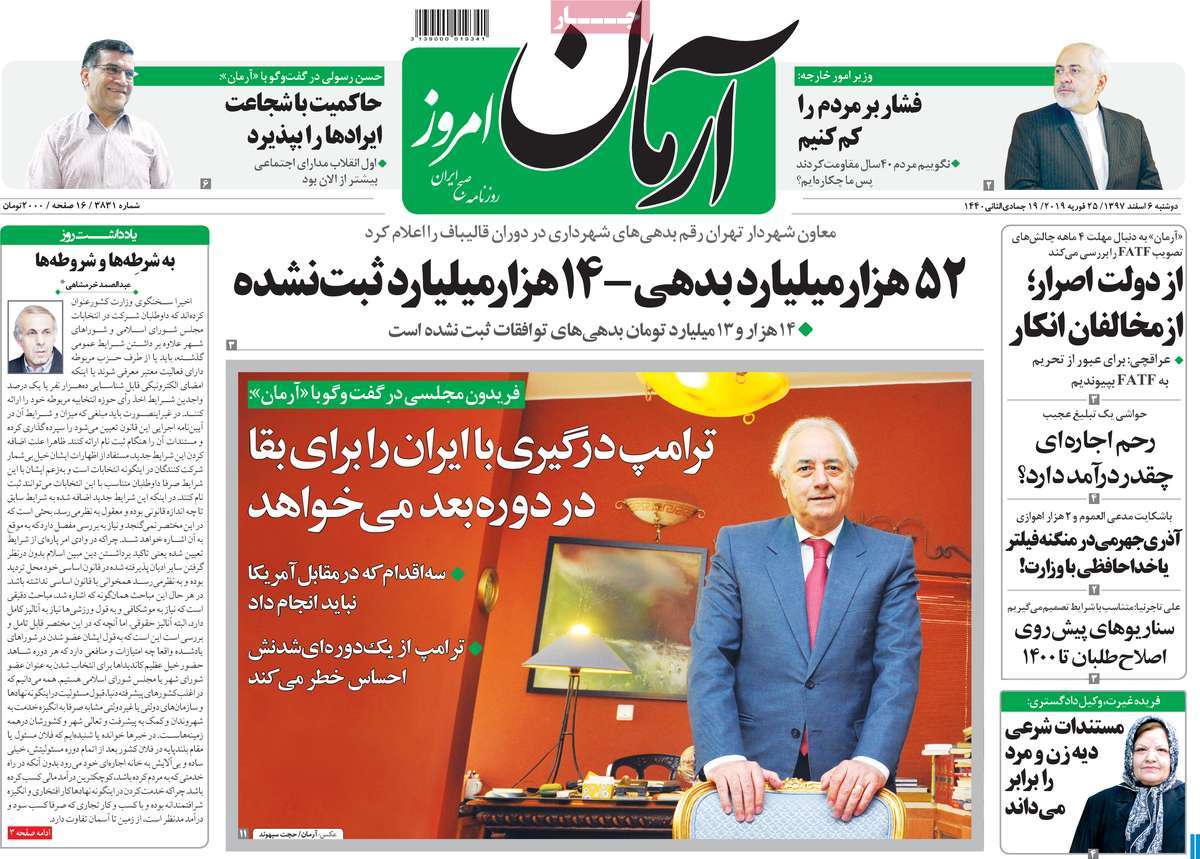 ---
Ebtekar:
1- Final Round of Power Struggle in Venezuela
---
Etemad:
1- Two Kings in One Realm: Saudi King, Crown Prince Make Different Choices in Foreign Policy
2- Power Struggle in Saudi Arabia [Editorial]
3- Zarif: If People Were Supposed to Resist, What's Our Duty?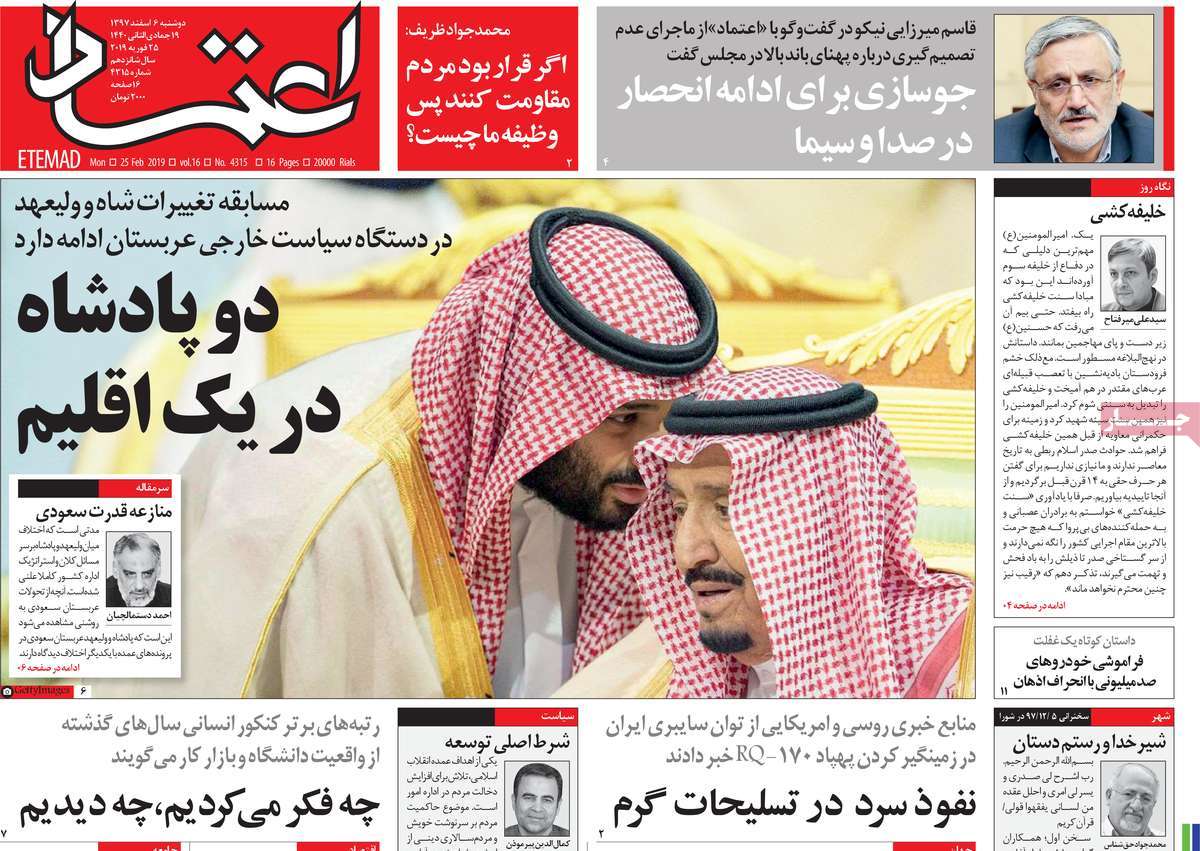 ---
Ettela'at:
1- Zarif: Our Independence Means Being Endogenous, Not Isolated
2- Afghanistan Turned into Global Trade Hub with Iran's Help
3- Prosecutor-General: In Islamic Society, This Level of Corruption Is Very Much
---
Iran:
1- Young Minister under Fire
* Lawsuit Filed against ICT Minister for Refusing to Block Certain Media
2- Reformist Figure Says Both Left-Wingers, Conservatives Must United against Hardliners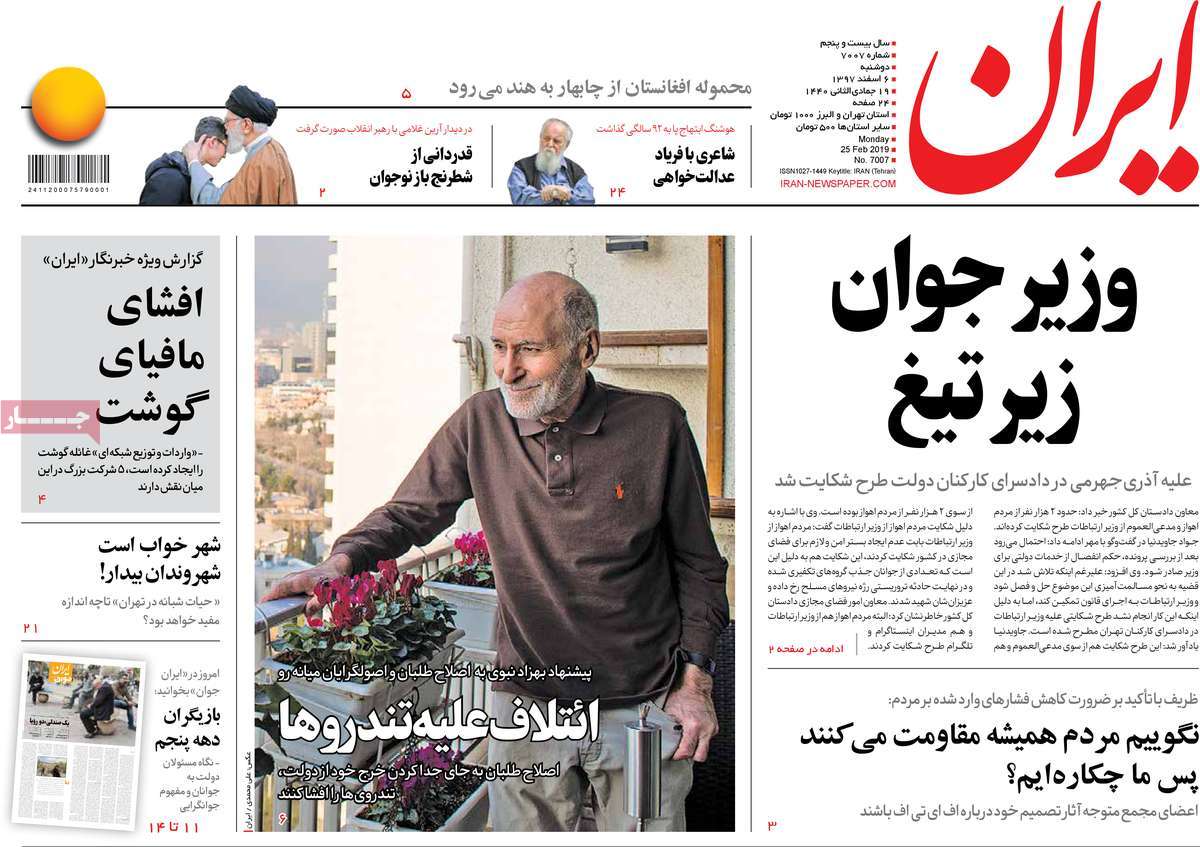 ---
Javan:
1- IRGC Aerospace Commander: Iran Infiltrated into US Command System in Reaction to Their Insolence
2- IRGC General: We Won't Leave Aggressors Unpunished
3- Government Evading Consequences of Adopting FATF!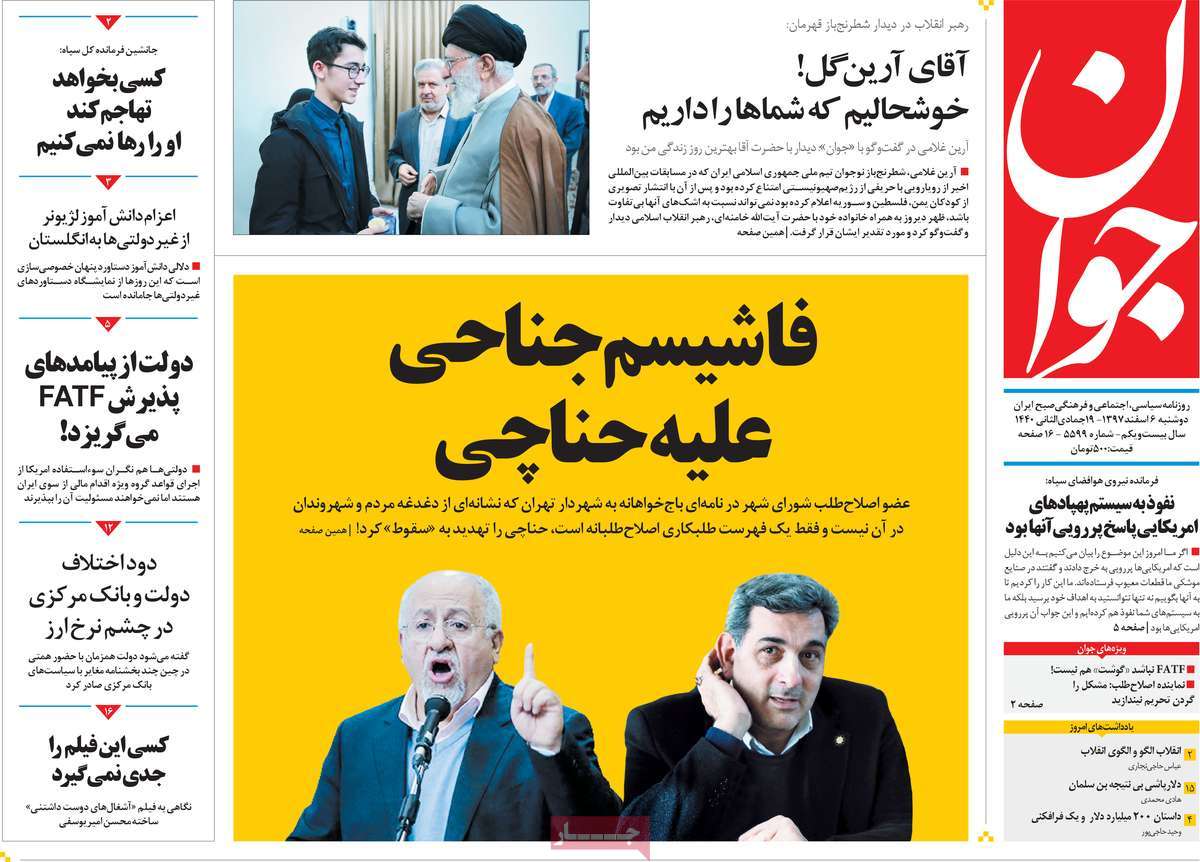 ---
Jomhouri Eslami:
1- Iran FM Warns about Consequences of Not Adopting FATF
2- Venezuelan People Hold Anti-US Rallies in Protest at US Interference
3- US Forces Take Control of 50 Tonnes of Gold Belonging to ISIS
4- Zarif: We Shouldn't Rely on People's Resistance; We Should Do Our Own Duty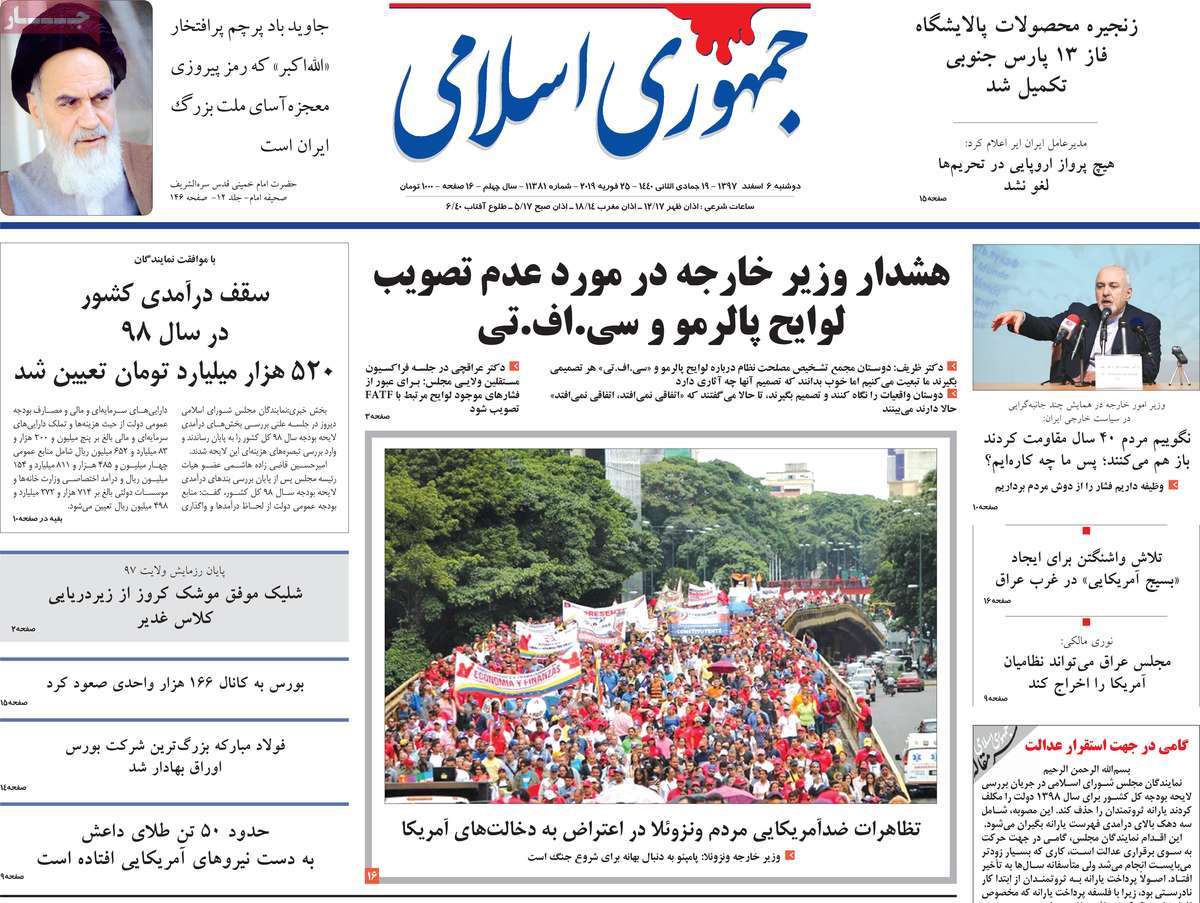 ---
Kayhan:
1- IRGC: "US Infiltration" into Iran's Missile Program Turned into "Iran's Infiltration" into US' Drone System
2- Suspicious Tension in Forex Market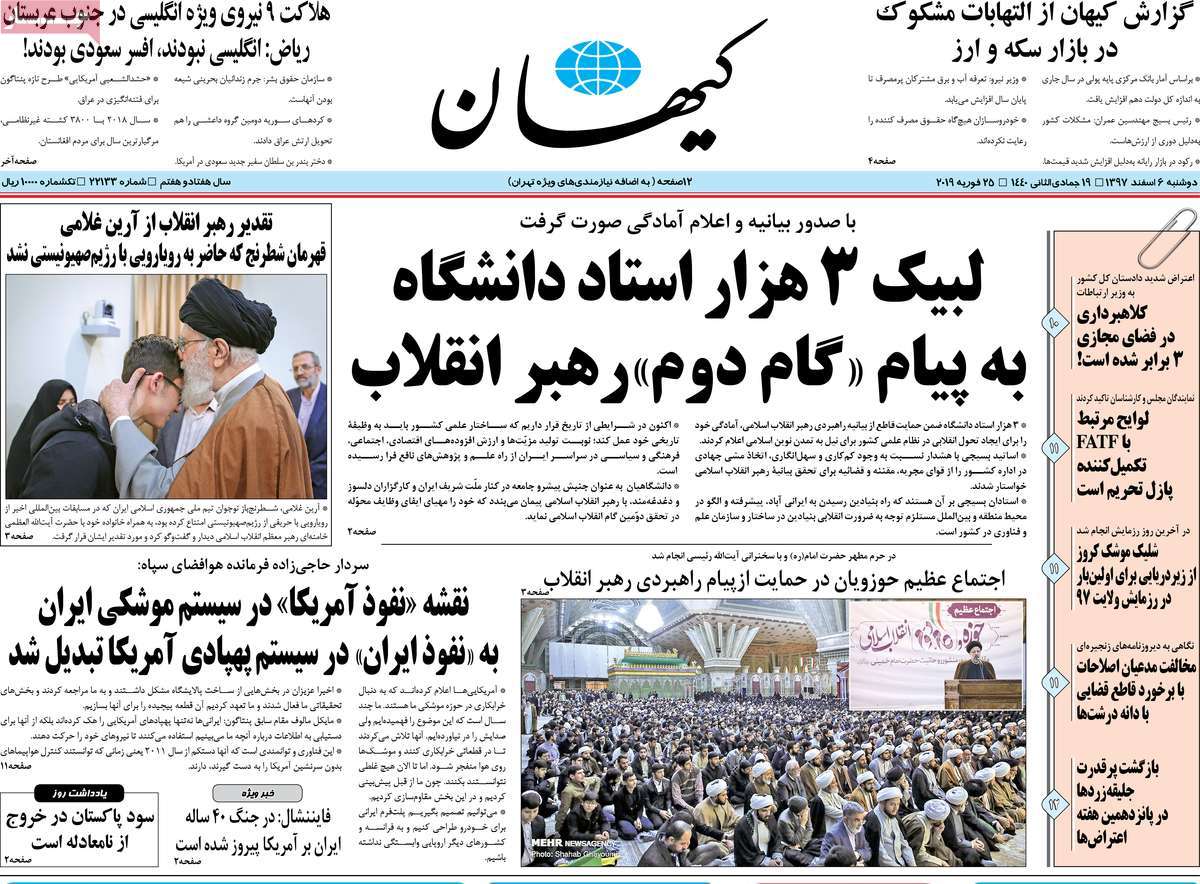 ---
Sazandegi:
1- "Bint" to Replace "Bin"
* Saudi Gov't for First Time Names Woman as Its Ambassador to US
* Reema bint Bandar Replaces Khalid bin Salman
---
Shargh:
1- Araqchi: We Must Join FATF in Order to Evade US Bans
2- Invisible Hand in Forex Market