Iranian papers today widely covered Iranian Foreign Minister Mohammad Javad Zarif's strong defence of the country's missile defence program in an interview following his speech at the Munich Security Conference.
Also a top story was the new semi-heavy submarine, Fateh (Conqueror), unveiled by President Hassan Rouhani on Sunday as Iran's most advanced submarine.
Reactions to the recent attack by the Pakistan-based terrorist group Jaish al-Adl on IRGC forces in south-eastern Iran also remained a top story, with President Rouhani vowing to take revenge.
The above issues, as well as many more, are highlighted in the following headlines and top stories:
Abrar:
1- Rouhani: We'll Never Start Any Aggression in Region
2- Zarif: INSTEX Much Lower than Europe's Commitments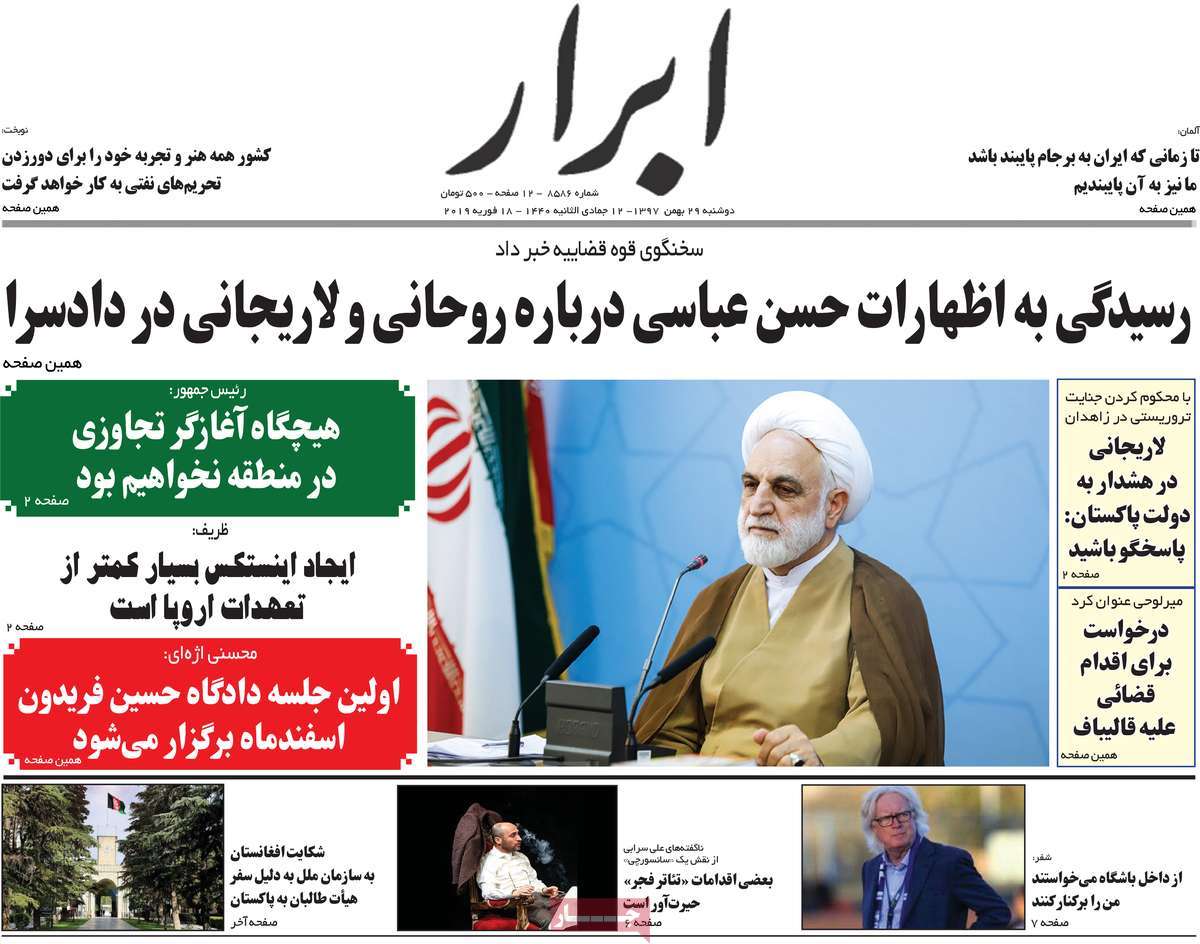 ---
Aftab-e Yazd:
1- Zarif: US to Show More Bullying Behaviours If Europe Fails to Stand against It
2- Hardliners' Failed Attempt to Impeach Rouhani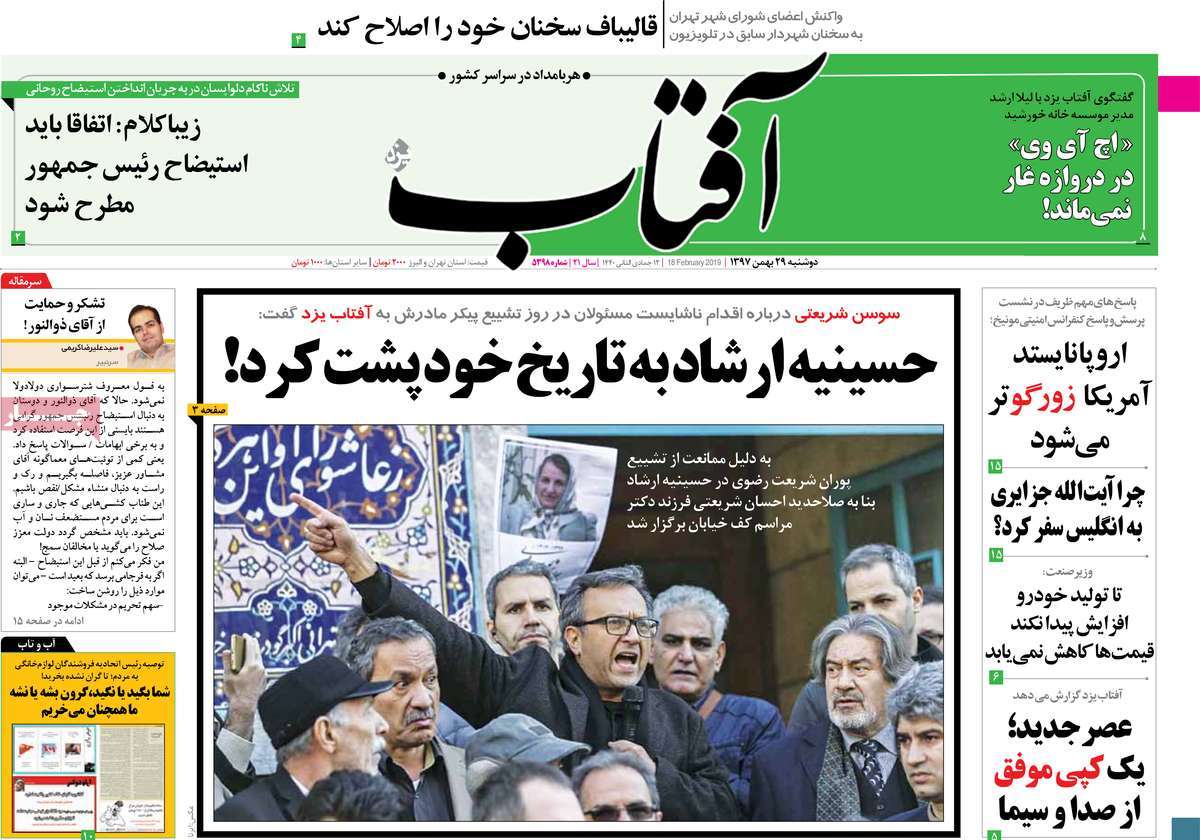 ---
Arman-e Emrooz:
1- We're Facing Online Violence against Girls, Women: Official
2- Iran Turns into Exporter of Petrol, Gasoline
---
Etemad:
1- Defending Iran in Heart of Europe: Zarif's Speech at Munich Security Conference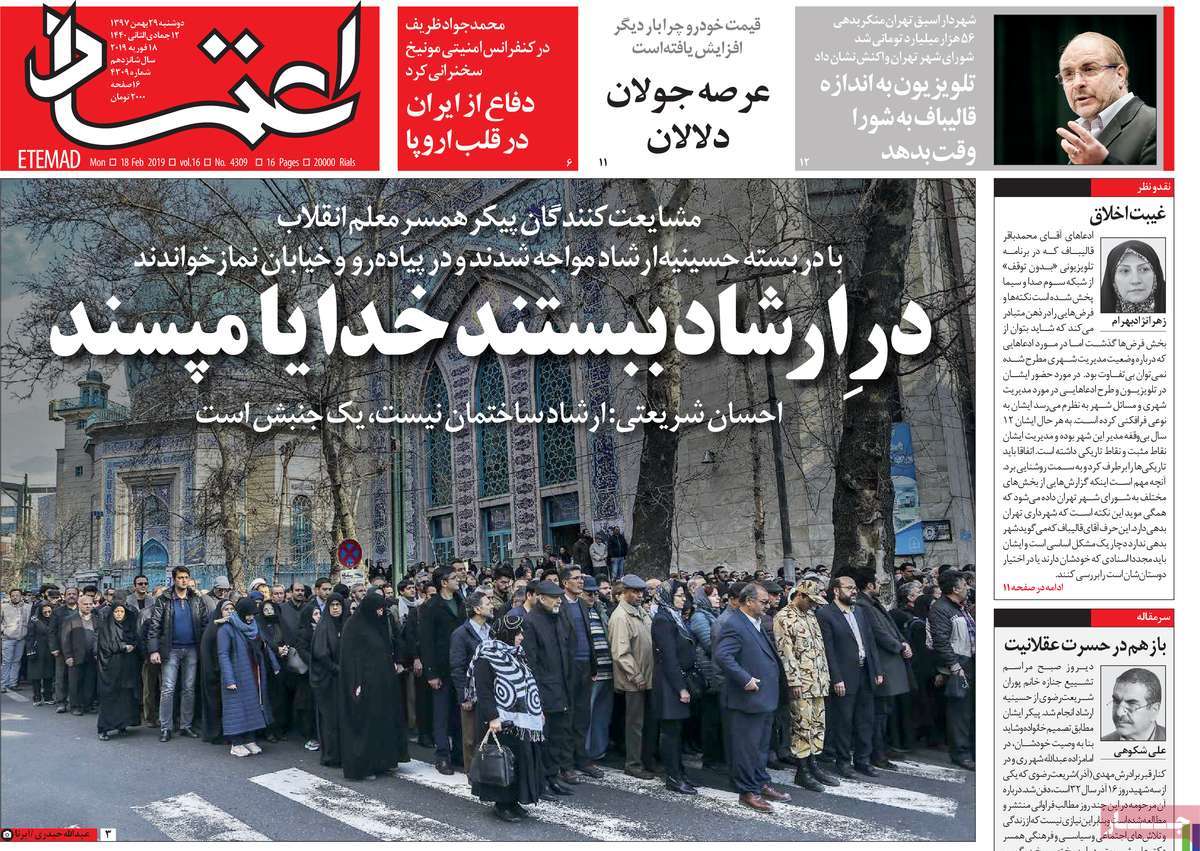 ---
Ettela'at:
1- Rouhani: Iran Has Never Been This Much Powerful
2- Deep Gap between US, Europe in Munich Security Conference
3- Zarif on Iran's Missile Program: Should We Defend Ourselves with Swords If Attacked?
4- Health Ministry Warns about Consequences of U-13 Child Marriage
5- Iran's New Semi-Heavy Submarine, Fateh, Unveiled by President Rouhani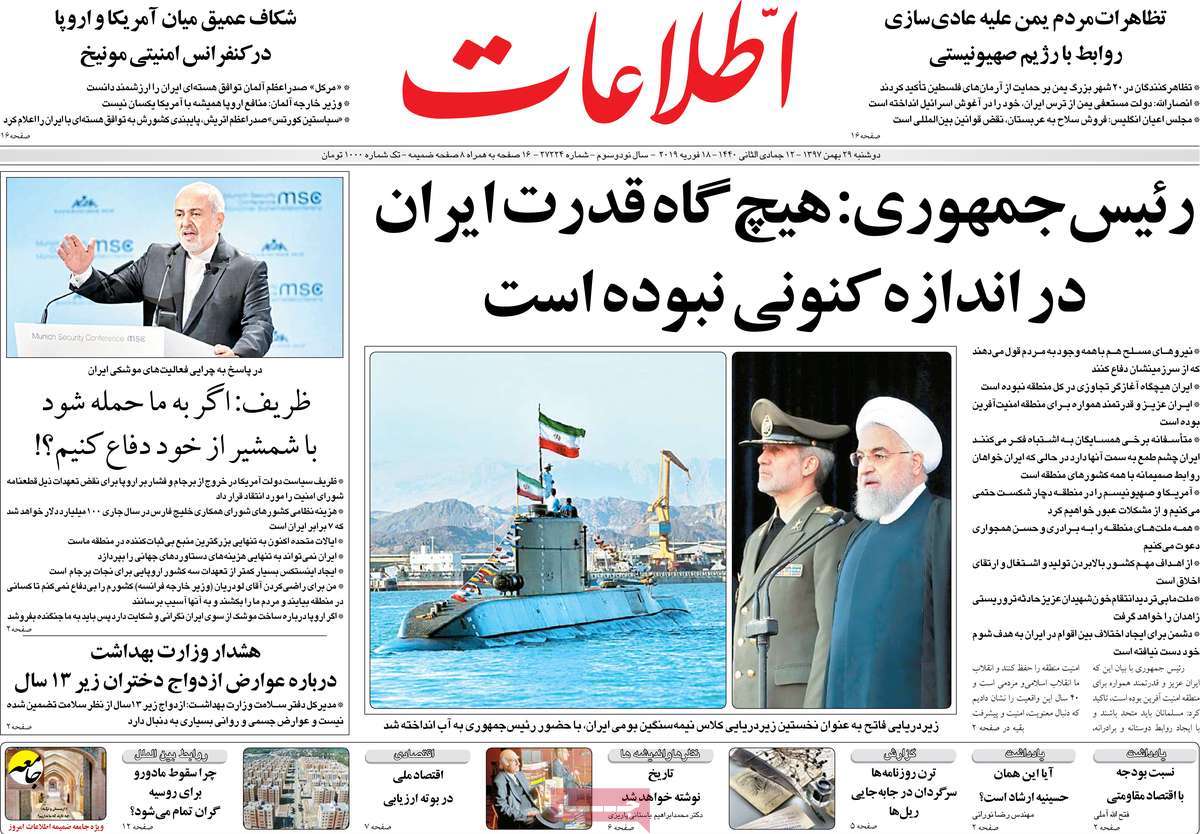 ---
Iran:
1- MPs Approve Plan that Allows Gov't to Give Crude Oil to Those It's Indebted to
2- Conqueror Submarine Unveiled
---
Javan:
1- We'll No Longer Pay Costs of Europe's Security: Zarif
2- Rouhani: We Don't Tolerate Terrorism; We'll Get Revenge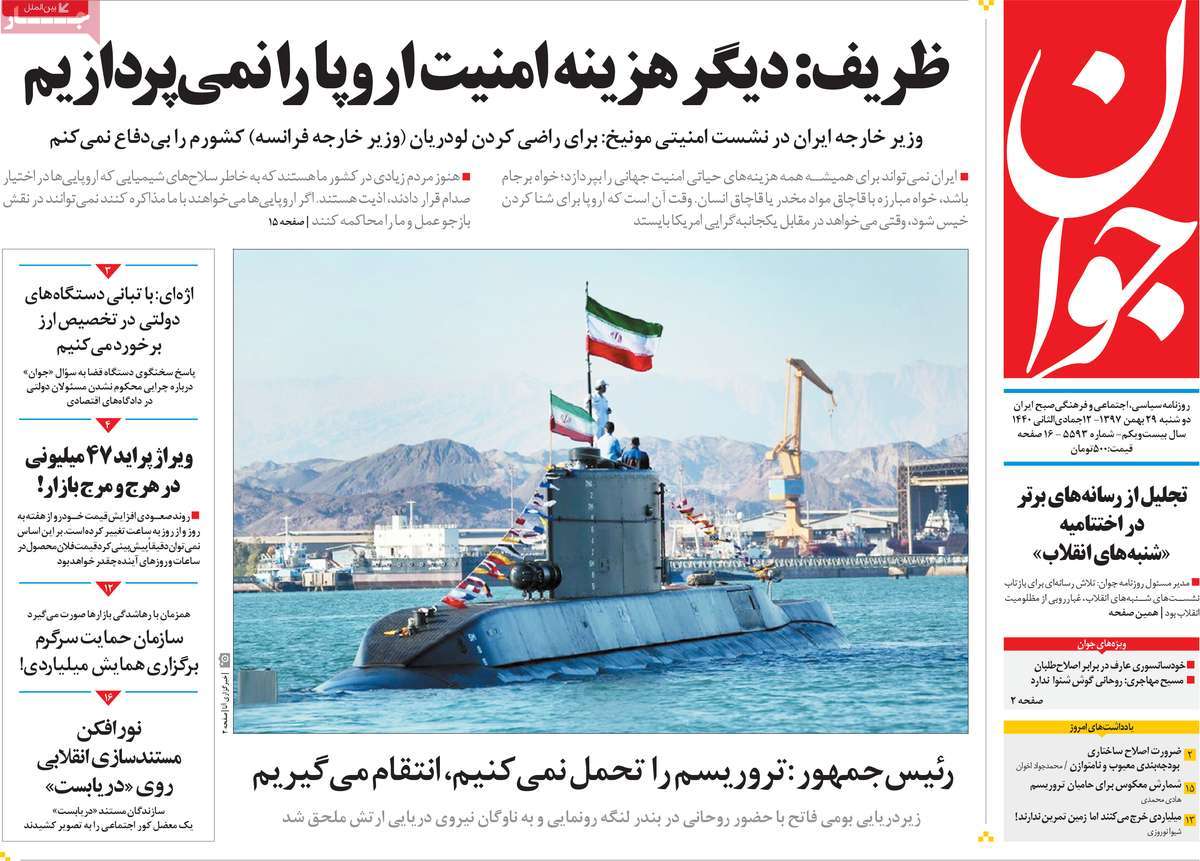 ---
Jomhouri Eslami:
1- Iran Unveils Its Most Advanced Submarine
2- Iran Becomes Exporter of Petrol
3- Zarif at Munich Security Conference: US Must Treat Its Chronic Disease Regarding Iran
---
Kayhan:
1- Zarif Strongly Defends Iran's Missile Power: Should We Defend Ourselves with Swords?
2- There Are Solutions for Controlling Price Hikes: First Step Is to Monitor and Take Serious Action
3- Aftershocks of Trump's Move to Declare National Emergency
* CNN: Situation Is Dangerous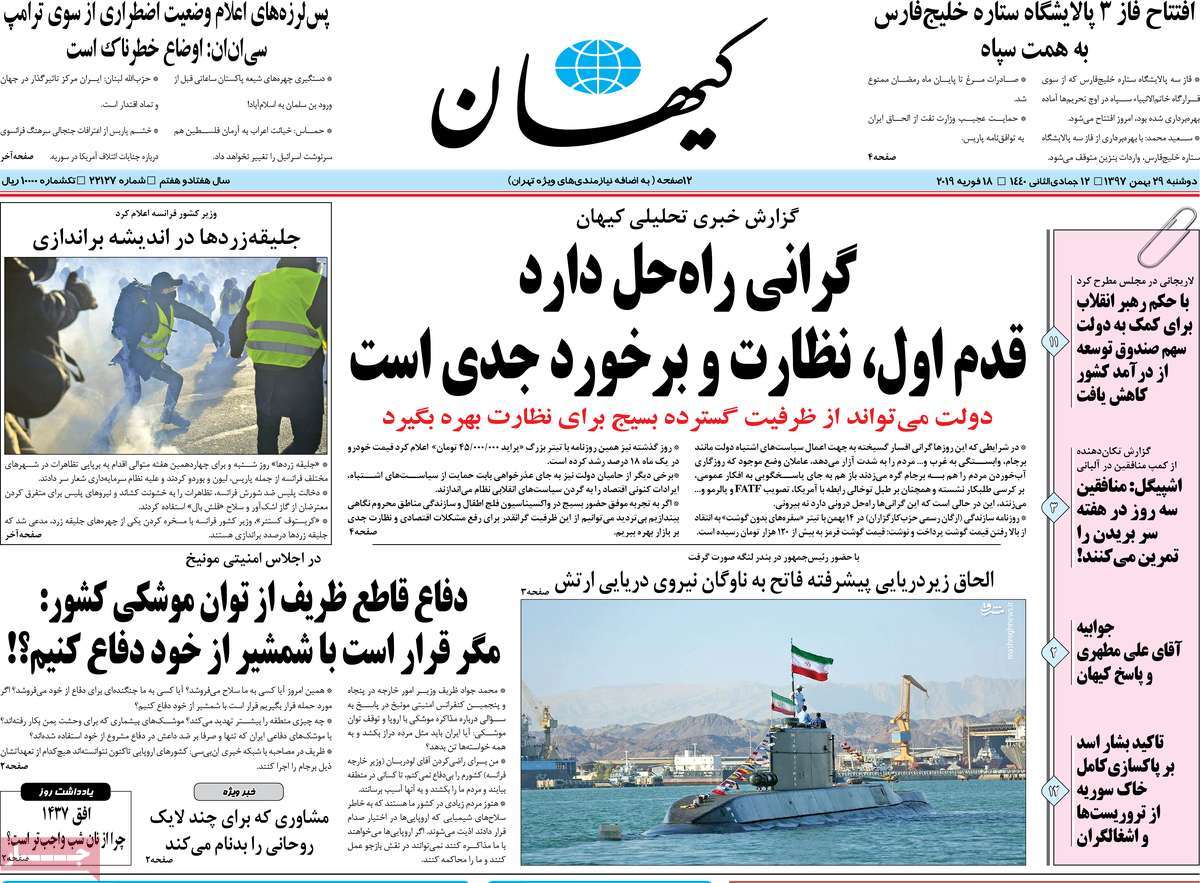 ---
Khorasan:
1- Iran's Missile Defence in Munich
2- Mafia of Chinese Fishing Ships in Iran's Southern Waters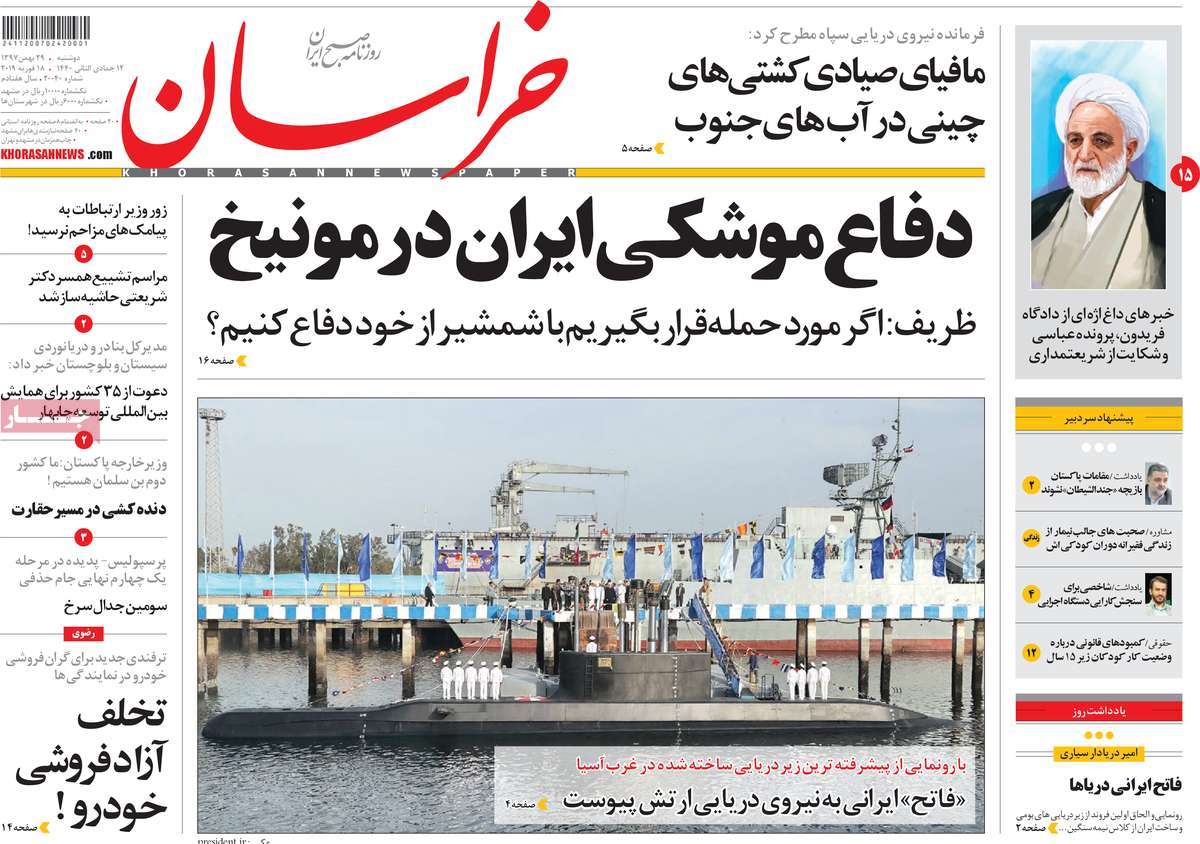 ---
Setareh Sobh:
1- Zarif: We Will Either Survive or Die Together
2- Analyst: Arabs Trying to Decrease Iran's Influence in Syria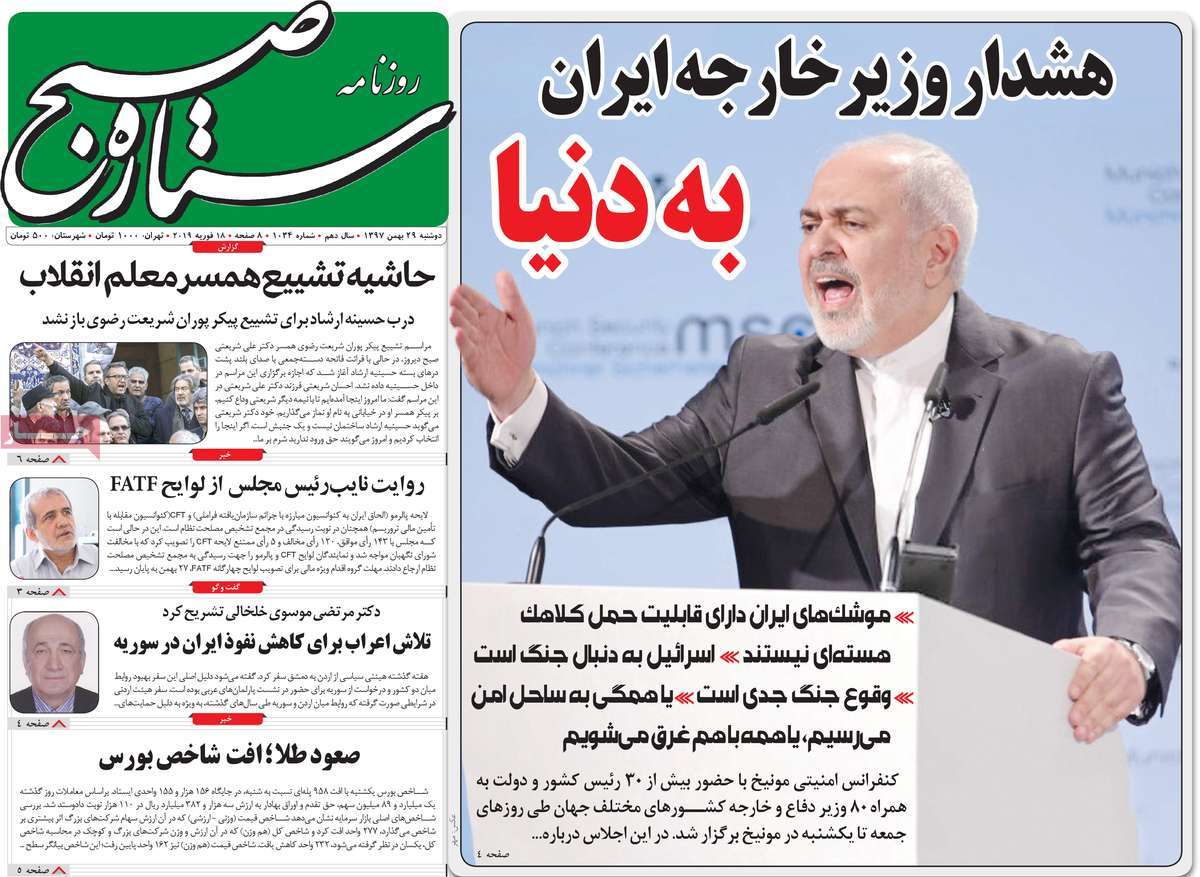 ---
Shargh:
1- Rouhani: Some Regional States Have Chosen Wrong Paths
2- Zarif: I Won't Make My Nation Defenceless In Order to Appease Le Drian