IFP has taken a look at the front pages of Iranian newspapers on Saturday, January 20, and picked headlines from 12 of them. IFP has simply translated the headlines and does not vouch for their accuracy.
Several newspapers today covered a letter by Ismail Haniyah, the head of Hamas political bureau, to the Leader of Iran's Islamic Revolution Ayatollah Seyyed Ali Khamenei, in which the Palestinian figure praised Iran for its stances on Jerusalem al-Quds.
Also a top story was the remarks made by IRGC Quds Force Commander Major General Qassem Soleimani about the recent riots in Iran, where the Iranian flag was set ablaze. General Soleimani said he wished he had been set on fire for 10 times instead of the flag.
A plan by the US Congress to add tougher articles to the Iran nuclear deal also received great coverage today.
The above issues, as well as many more, are highlighted in the following headlines and top stories:
19 Dey:
1- Gen. Soleimani: I Wish They Had Set Me Ablaze Ten Times instead of Iran Flag
2- UN Secretary General: JCPOA Being Threatened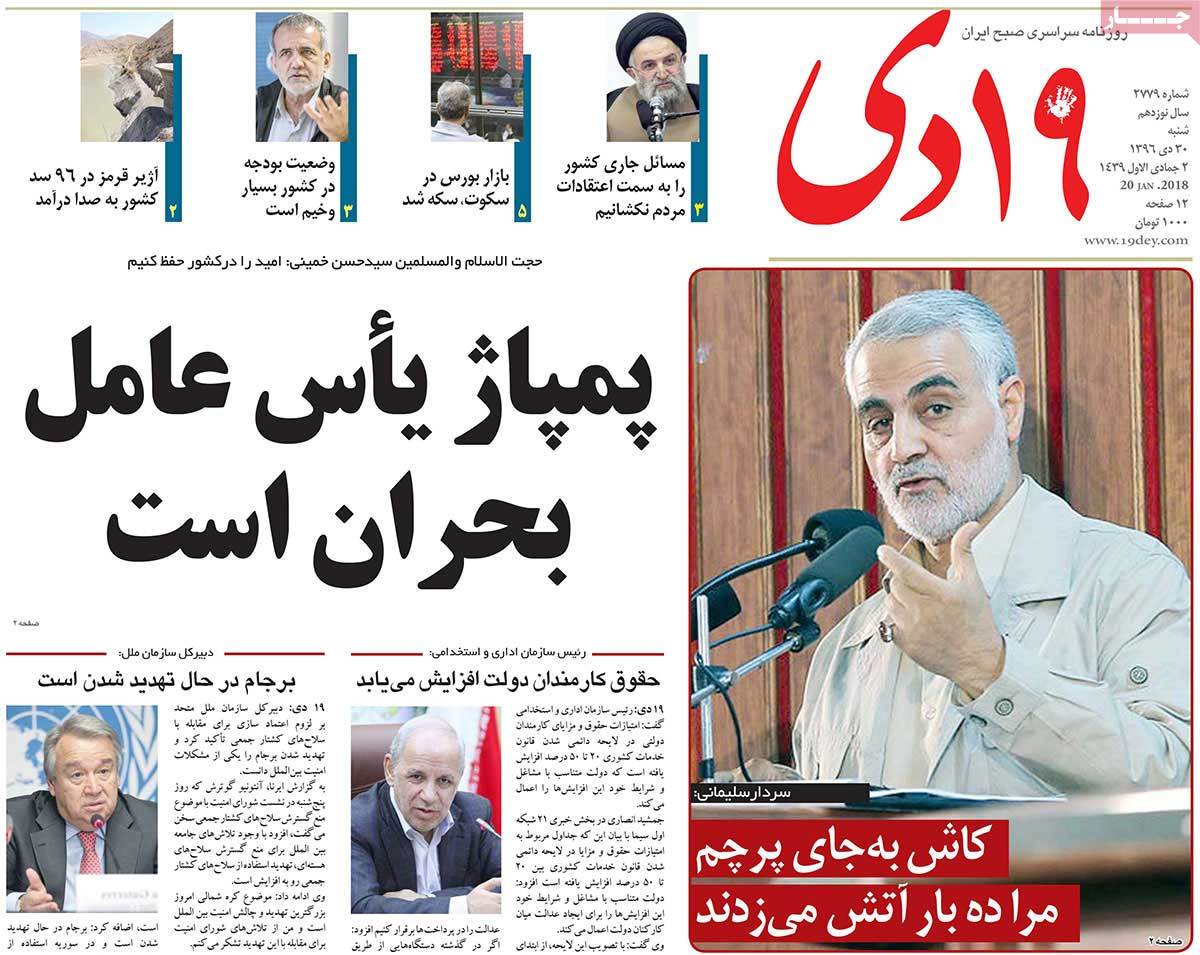 ---
Abrar:
1- Kermanshah Governor: All Families Here Suffering from Unemployment Problem
2- Tillerson: N. Korean Leader Responsible for His People's Suffering
3- Hamas Chief to Iran Leader: Intifada to Thwart Plot of Ending Palestine Issue
4- Haley: US Still Committed to Iran Nuclear Deal
---
Aftab-e Yazd:
1- Mission: Killing Iran Nuclear Deal
US Congress Calls for Addition to Tougher Articles to Iran Deal
Trump's Secretary, Deputy to Visit Europe, Middle East for Consultations
2- Gen. Soleimani: Islamic Establishment's Economic Power to Be Reinforced
---
Arman-e Emrooz:
1- Without Iran Nuclear Deal, We Would Lose $222m Each Day: Top MP
2- Increased Emotional Violence among Women: 60%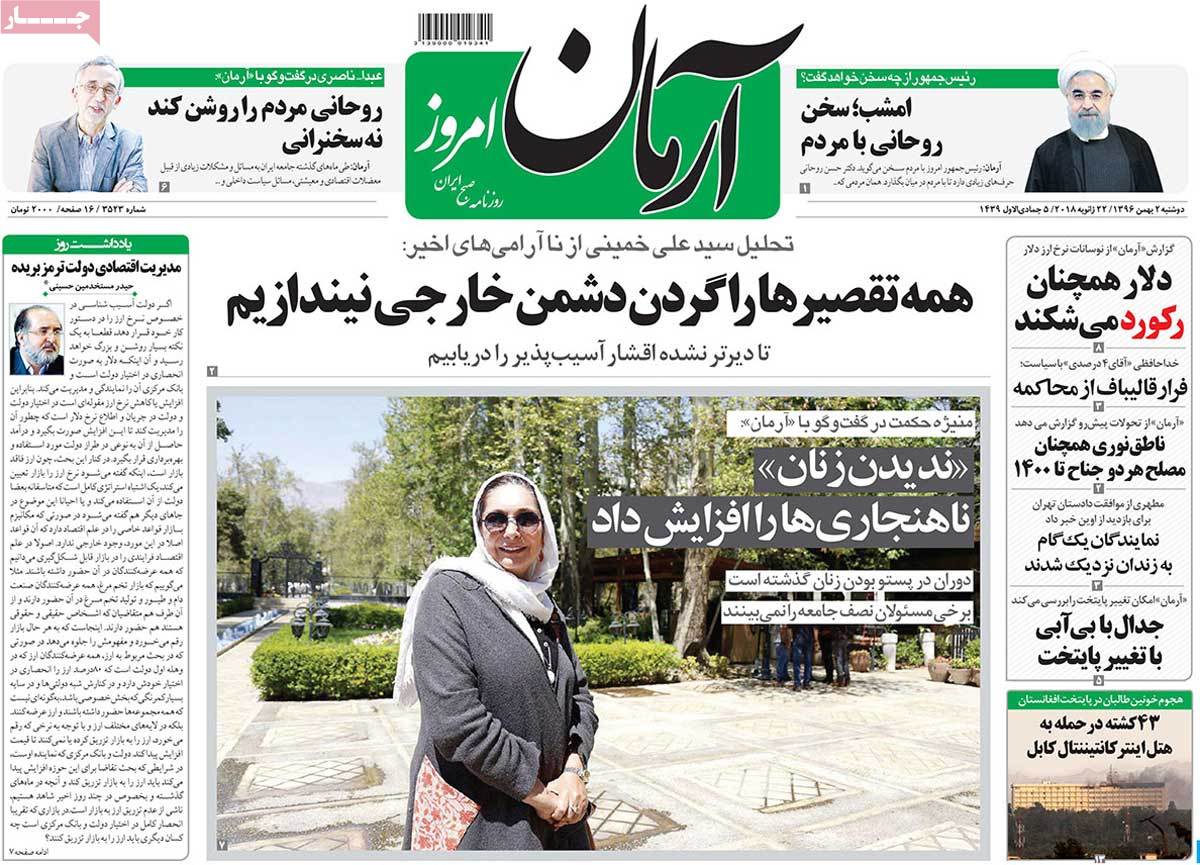 ---
Emtiaz:
1- Environment Chief: Clean Air Regulations to Be Implemented Next Year
2- Number of Part-Time Employees Increased by 560,000 People
5 Million People Working as Part-Time Employees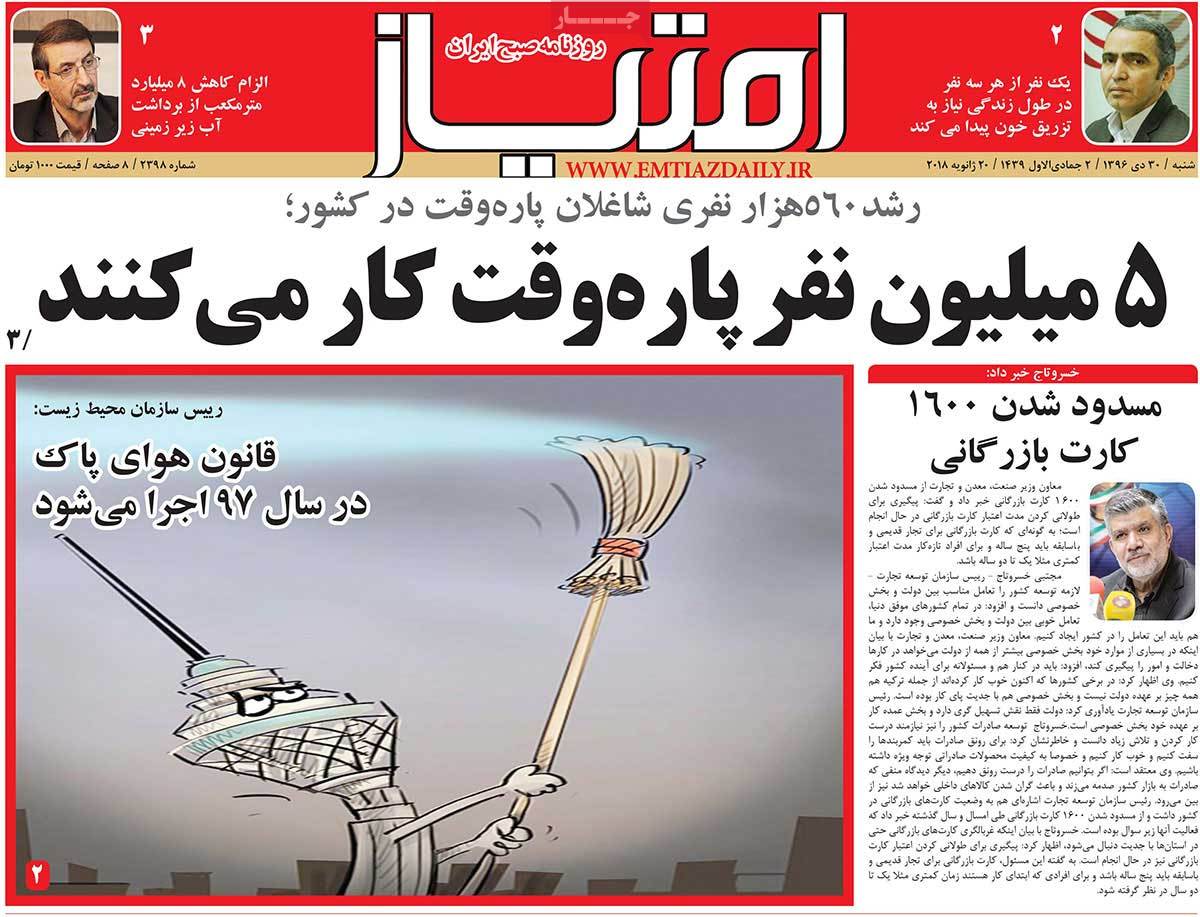 ---
Ettela'at:
1- Gen. Soleimani: Global Plots to Be Foiled If Islamic Establishment Serves People
2- Water Level in 40% of Major Dams in Iran Less than 40% of Their Capacities
3- Nasrallah: We're Standing by Lebanese Army, Gov't against Israel
---
Iran:
1- One Year after Plasco Incident
2- Turkey Starts Artillery Attacks on Syria's Kurds
---
Javan:
1- Haniyah in Letter to Iran Leader: Palestinian Nation Praise Iran's Quds Stances
---
Jomhouri Eslami:
1- UN Security Council Once Again Supports Iran Nuclear Deal
2- Oil Minister: Iran to Receive Sanchi Oil Tanker's Cargo Money
3- Alarming Level of 96 Dams in Iran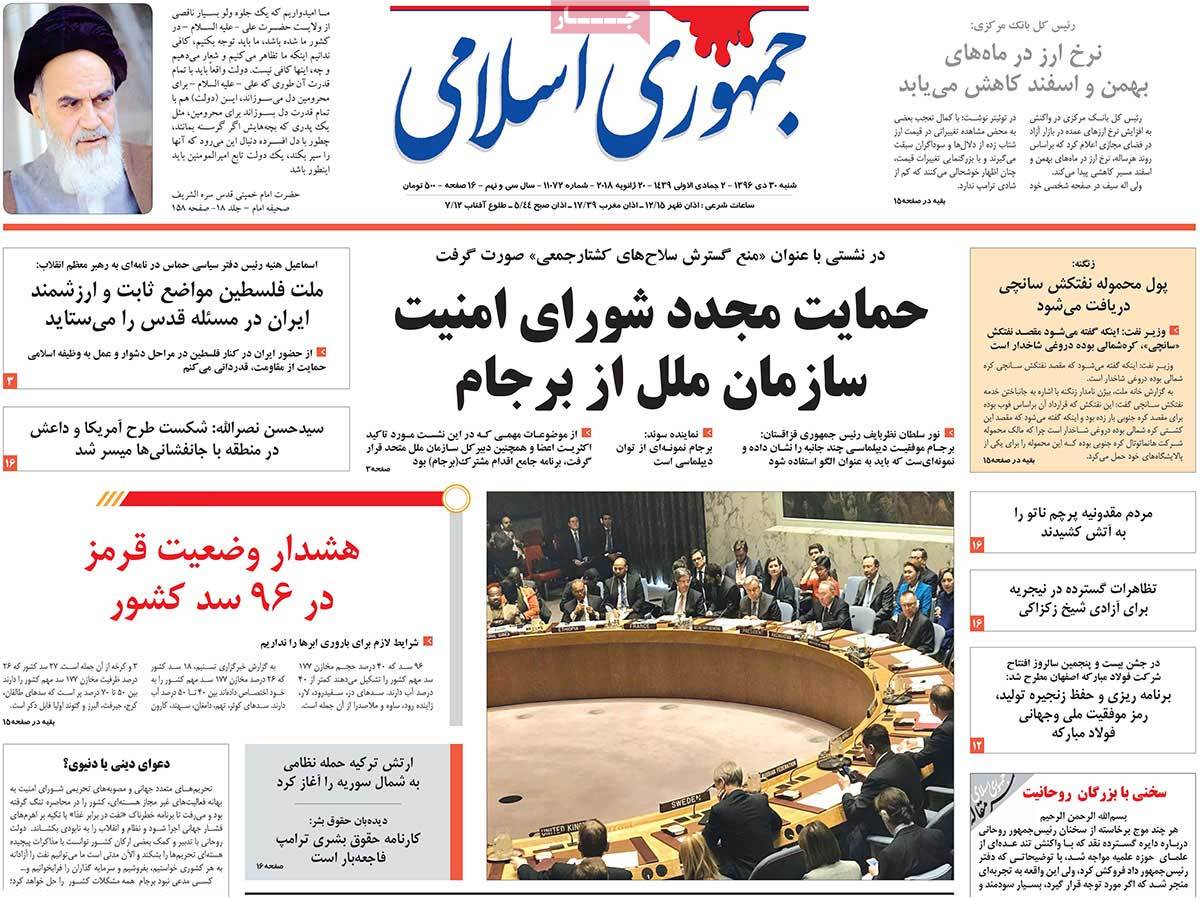 ---
Kayhan:
1- Europe Standing by US in Increasing Anti-Iran Sanctions
US Congress Working on Plan to Unilaterally Change JCPOA Articles
2- General Soleimani: We've Lost Many Soldiers for Iran Flag to Remain Hoisted
---
Resalat:
1- Gen. Soleimani: Iran Strongly Standing against Israel
2- IRGC General Rezaei: Enemy Seeks to Cause New Sedition in Iran
3- Implementation of National Internet Plan Necessary: Official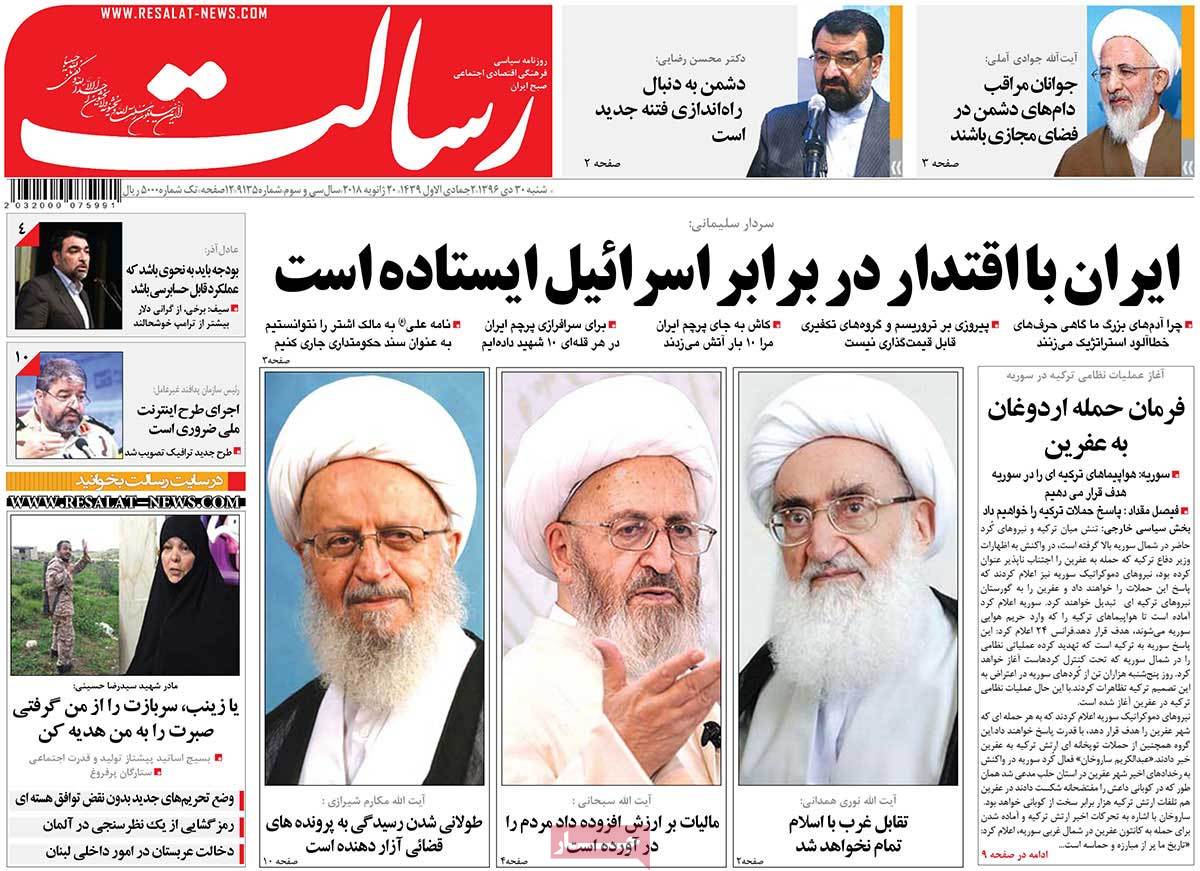 ---
Shargh:
1- Gov't, Parliament's Reactions to Ayatollah Shahroudi's Visit to Germany
He Could Be Treated in Iran