In a statement at the conclusion of celebratory demonstrations in capital Tehran and other cities on Sunday, ralliers reaffirmed commitment to countering the hostile plots, saying the Iranian nation sees the US as its "enemy number one."
Denouncing the US for breaching the Joint Comprehensive Plan of Action (JCPOA) and certain European officials for following the hostile American policies, the statement called on the Iranian officials to take decisive stances in protecting the rights of Iranian people and countering plots, such as sanctions and acts of sabotage.
Demonstrators also renewed allegiance to the Islamic Republic and the religious leadership, voicing support for the country's progress in scientific and military areas, including the missile and defense industries.
People in more than 1,000 cities and towns as well as 4,000 villages attended the Sunday rallies with flags of Iran and banners in support of the Islamic Republic to mark the revolution's 39th victory anniversary, known as Bahman 22nd in Iran.
In capital Tehran, demonstrators marched across different routes to reach the Azadi (Liberty) Square, where President Hassan gave an address.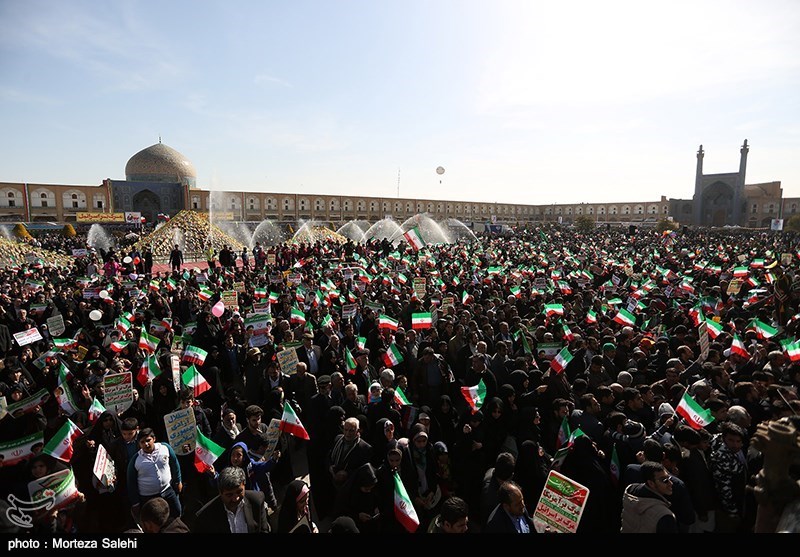 This year, rally organizers in Tehran have put on display the country's latest achievements in the scientific and military spheres, including long-range ballistic missiles.
The crowd of demonstrators in the rallies paid tribute to the late founder of the Islamic Republic, Imam Khomeini, under whose leadership the revolutionary movements triumphed over the despotic regime of Pahlavi on February 11, 1979.
Imam Khomeini had lived many years in exile, in Iraq and France, before returning home and leading a historical revolution that overthrew Pahlavi regime.
The 10-day period from the return of Imam Khomeini until the revolution's victory is celebrated annually in Iran, and is known as the Ten-Day Fajr (Dawn).