Extension of nuclear talks between Iran and P5+1 and communication of the macro-policies of the Sixth Development Plan by the Supreme Leader to the president dominated the front pages of Iranian newspapers on Wednesday.
Ettela'at: The Supreme Leader has communicated the macro-policies of the Sixth Development Plan to the president.
These polices fall into the following categories: Economy, Information Technology and Communications, Social, Defense and Security, Legal and Judicial, Cultural, Science, Technology and Innovation.
---
Abrar: "Denying citizens the right to choose whoever they wish as their attorney amounts to violation of their right to representation," said an attorney at law.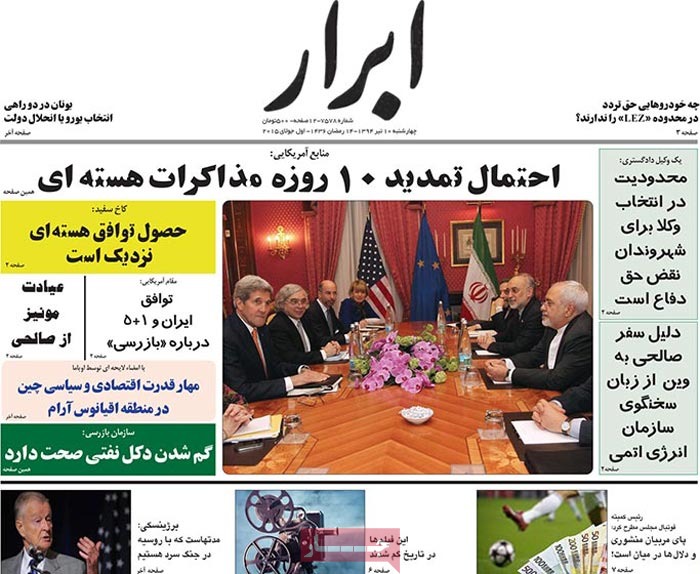 ---
Aftab-e Yazd: The spokesman of the Guardian Council has said that the council won't be indifferent to the conduct of those candidates who received money from [former First Vice-President Mohammad Reza] Rahimi [who is serving time for corruption].
---
Arman-e Emrooz: The inspector general has confirmed reports that $87 million dedicated to purchasing an oil derrick has gone missing [when the previous government was in office].
---
Asrar: "Iran stands ready to eliminate the US dollar from its international transactions," announced the minister of economy and financial affairs.
---
Ebtekar: The macro-policies of the Sixth Development Plan issued by the Supreme Leader prioritize economic diplomacy.
Among other things, these policies call for an average eight percent economic growth, creation of a national information network and formulation of a national strategy to turn up the heat on corruption, measures to boost the country's defense capabilities, promotion of the humanities, and efforts to prop up the family institution and promote women's status in society.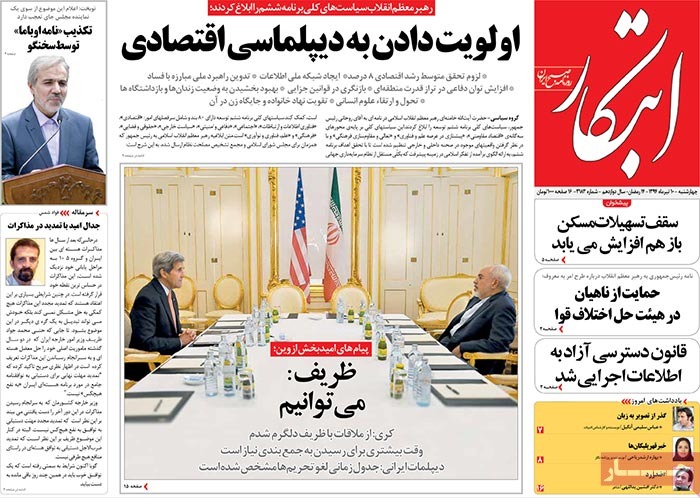 ---
Emtiaz: Police have seized more than 130 tons of smuggled clothing.
Emtiaz: The minister of communications has denied reports that Telegram [a messaging app] has been blocked.
---
Esfahan Emrooz: The law that allows citizens free access to information has taken effect.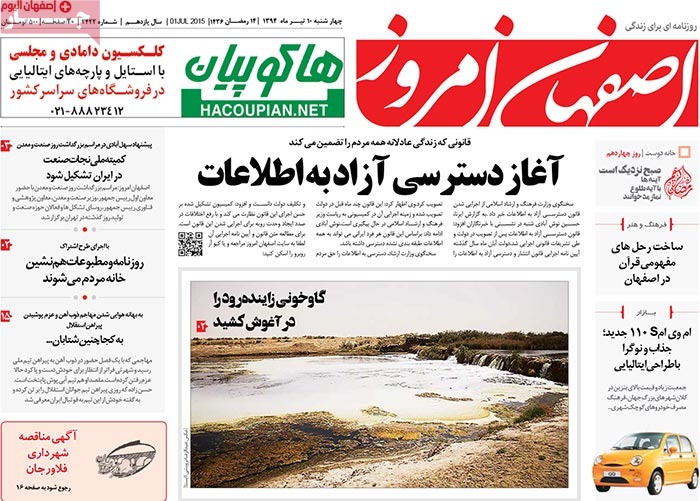 ---
Etemad: "The cash subsidies and the Mehr Housing Project [both initiated by former President Ahmadinejad] took the ax to the economy," said the minister of roads and urban development.
---
Hambastegi: "Government is to spend the cash it earns from the elimination of subsidies [to high-income individuals] on the needy," said the minister of cooperatives, labor and social welfare.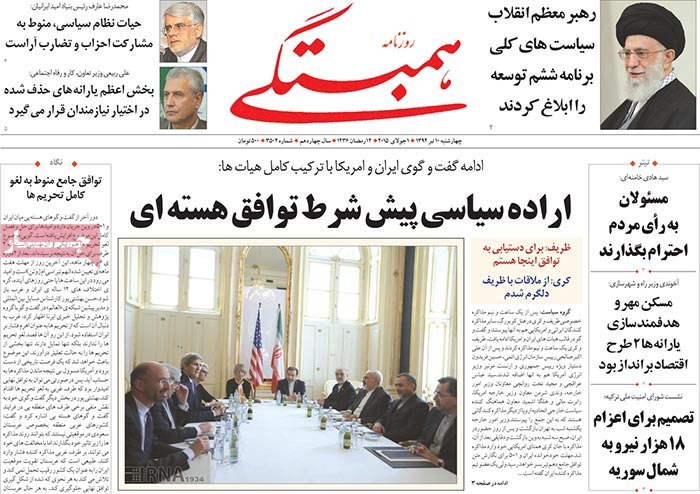 ---
Kayhan: A large number of state managers have resigned to run for parliament.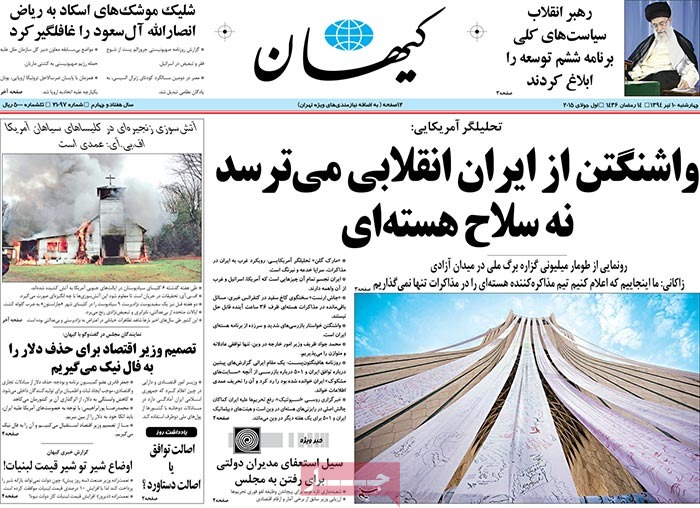 ---
Mardomsalari: The first vice-president has asked the officials of the previous government to answer his question: "What happened to the $700 billion Iran earned in hard currency?"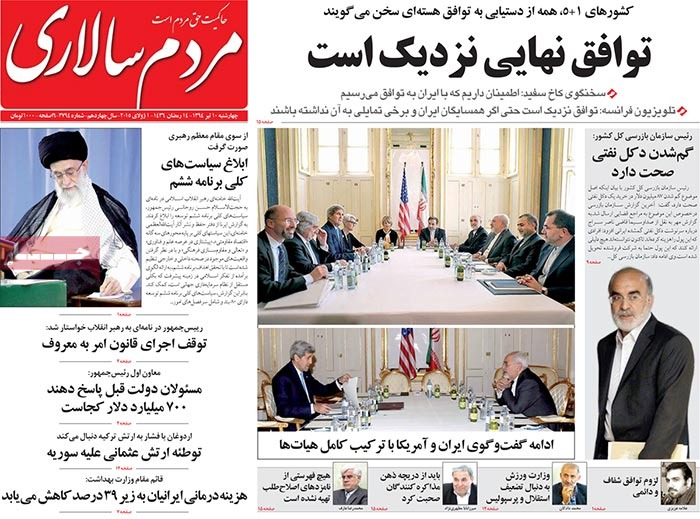 ---
Payam-e Zaman: "The presence of the director of the Atomic Energy Organization of Iran (AEOI) in Vienna is designed to speed up the nuclear talks," said the spokesman of the AEOI.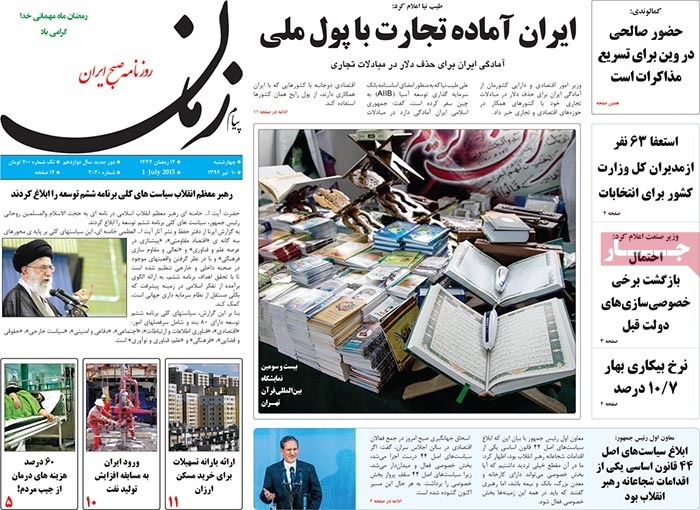 ---
Qods: A national nuclear fact sheet has been unveiled at Tehran's Azadi [Freedom] Square.
---
Rooyesh-e Mellat: The head of the Supreme Administrative Justice Court has said that he will help stop the illegal development project at a historical site in Tehran's Sepah Square.
---
Roozan: Nuclear talks have been extended by one week.