Almost all newspapers today covered the US elections and the distance between the two candidates Hillary Clinton and Donald Trump in different states.
The remarks made by Judiciary Chief Ayatollah Sadeq Amoli Larijani in the Press Exhibition in criticism of President Hassan Rouhani's statements also received great coverage.
Foreign Minister Mohammad Javad Zarif's visit to Lebanon and his meeting with Lebanese officials were also a top story.
The above issues, as well as many more, are highlighted in the following headlines:
Abrar:
1- Creation of Job Opportunities Is Parliament's Main Demand from Government: MP
2- People Should Beware of Some Mafia Networks around Certain Embassies: Foreign Ministry Spokesman
3- Third Man of ISIS Killed in Southern Mosul
---
Abrar-e Eqtesadi:
1- Speculations Begin: Increase in Salaries, Stabilization of Oil Price, and Rise in Dollar Rate in Next Year's Budget
2- New Oil Talks between Iran and British Petroleum
3- Iran and Austria Agree to Open €1bn LC
4- A Consortium Comprised of Iran, France, and China Will Develop 11th Phase of South Pars Gas Field
5- Unemployment Rate in Summer Stands at 12.7%
6- Iran Starts Export of Gasoline to Europe
---
Afkar:
1- Zarif Highlights Continued Trilateral Cooperation between Tehran, Moscow, and Damascus
2- Iran and Europe to Hold Talks in Brussels on Wednesday
---
Aftab-e Yazd:
1- Cairo Moves Closer to Iran: One Step Left; Saudi Arabia Cuts Oil Export to Egypt for Second Month
2- Economic and Social Plans of Trump and Clinton
3- These Embarrassing Selfies [Editorial about the selfies people take in funeral ceremonies or with celebrities hospitalized]
---
Arman-e Emrooz:
1- Secret Think Tanks Working against Ministry of Culture
2- Economic Dissatisfactions Will Directly Influence Rouhani's Votes: Expert
---
Ebtekar:
1- MPs and Statesmen Underline the Need for Presence of Parties, Rather than Individuals, in Elections
2- I Hope the Issue of House Arrest of Opposition Leaders Is Resolved as a Win-Win Game: Aref
3- War and Peace between Development and Environment
---
Etemad:
1- The Day of Revealing Secrets: Former Culture Minister, Former Education Minister, and Former MP Reveal Secrets in Separate Speeches
2- Tehran Surprised by Heavy Evening Rain
3- Judiciary Chief: Some People [alluding to President Rouhani] Call for Freedom of Speech and at the Same Time Urge Prosecution of Newspapers!
4- Trump Won US Elections! [Editorial]
5- 3.3m People Are Totally Unemployed in Iran
6- In Case of Trump's Victory, US Will Be Faced with Racist War: Expert
7- Iran's Fencing Team Becomes World Champion
---
Ettela'at:
1- Iran's Old Education System Should Be Renovated: First VP
2- Clinton Has Relative Lead in Final Hours of US Elections
3- Whoever Becomes US President Will Have to Implement JCPOA: Iranian Spokesman
---
Hemayat:
1- Mr. or Mrs. President? Latest Polls Show Clinton Has the Lead
2- We Don't Recognize People with Dual Nationality: Foreign Ministry Spokesman
3- Iran's Air Defence Systems Respond to Aggressions in Less than a Minute
---
Iran:
1- Zarif, First High-Ranking Guest of Lebanese President Michel Aoun
2- Final Round of Competition between the 'Businessman' and the 'Woman': Which One Will Americans Choose Today: Trump or Clinton?
3- New Culture Minister: We're Here to Help Culture Professionals Feel Security
4- Iran to Export 3m Tons of Wheat within Next 10 Days
---
Jame Jam:
1- Challenges of Science Production in Iran
2- Terrorism Is Not a Good Instrument for Achieving One's Goals: Rouhani
3- Ethical Earthquake in the Land of Yankees
4- Freedom of Speech in Iran Is Rational and Logical: Judiciary Chief
5- Direct Train to Start Operation between Tehran and Iraqi Holy City of Karbala
6- Eight People Die of Drug Addiction Every Day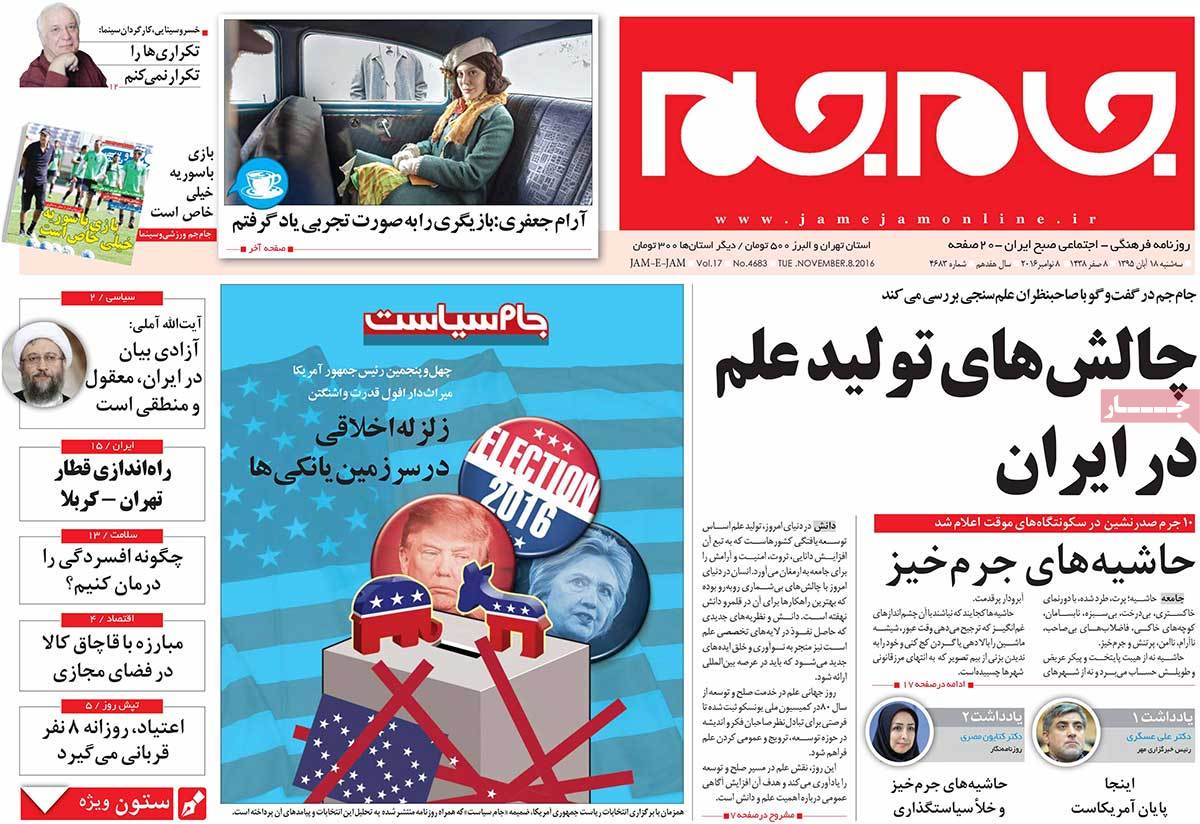 ---
Javan:
1- Most Unreliable Elections in US History
2- Judiciary Chief Harshly Criticizes Rouhani's Remarks: In Private Meetings, You Ask for Shut-Down of Newspapers, But Call for Freedom of Speech in Public?
3- VP for Women Affairs Seeks to Turn Iran into Finland!
---
Jomhouri Eslami:
1- Iran Makes a Deal with a Foreign Company to Lease Purchase of 17 Airbus Planes
2- Government Will Continue Fighting against Corruption without Partisan Considerations: First VP
3- Iran's FM Zarif and Syrian Deputy FM Underline Continuation of Iran-Russia-Syria Cooperation
4- Iraqi Army's Progress Make ISIS Leader Escape from Mosul
---
Kayhan:
1- Competition of Trump and Clinton Will End, But the Disgrace Will Remain for the US
2- Al Saud Has Created a Blood Bath in Yemen Using US and Britain-Made Weapons
3- Those Who Planned Attacks on Iraq and Afghanistan Will Vote for Clinton
---
Rooyesh-e Mellat:
1- Syria in Frontline of Fight against Zionism: Larijani
2- Turkish Fighter Jets Bomb Iraq
---
Roozan:
1- Renovation of Tehran's Ties with Europe; Iranian Spokesman Says EU Resolution Was Unique
2- And Now Here's November 8, the US Elections
3- First IPC (Iran Petroleum Contract) Signed with Foreign Companies
---
Shahrvand:
1- 22,000 Oil Dealers Identified by Iran Oil Ministry
2- Final Round: Bell of US Elections Is Rung
3- Transport Minister: We Don't Have Money for Development!
---
Shargh:
1- 4 am in Tehran Local Time: Fate of Hillary and Trump Will Be Determined
2- Financial Markets in Standby for Trump's Victory
3- Iran and US Will Break Wall of Distrust: Former MP
---
Siasat-e Rooz:
1- White House Waiting for Its 45th Tenant
2- American People: We Should Choose between Bad and Worse
---
Tejarat:
1- Market's Positive Reaction to Possibility of Democrats' Victory
2- Iran Starts Export of Airplane Fuel and Gasoline
3- Tehran Swallowing 30% of Iran's Energy
---
Vatan-e Emrooz:
1- Judiciary Chief's Important Remarks about Rouhani's Pressure for Shut-Down of Newspapers