All Iran newspapers today covered the remarks made by Ayatollah Seyyed Ali Khamenei, the Leader of Iran's Islamic Revolution, in a meeting with Army commanders and personnel.
President Hassan Rouhani's visit to flood-hit areas and his promise to expedite the efforts to help resolve people's problems also received great coverage.
Another top story was the championship of Tehran giant Persepolis FC in Iran Pro League, which was celebrated by over 80,000 spectators in Azadi Stadium in Tehran on Wednesday evening.
Newspapers also highlighted the US move to extend the suspension of nuclear-related anti-Iran sanctions and the statement in which Trump's administration admitted that Iran has remained committed to the nuclear deal.
The above issues, as well as many more, are highlighted in the following headlines and top stories:
Abrar:
1- Trump Extends Suspension of Iran Nuclear-Related Sanctions
2- Iraqi PM: Kurds Have the Right to Have Independent Country, but Now It's Not the Time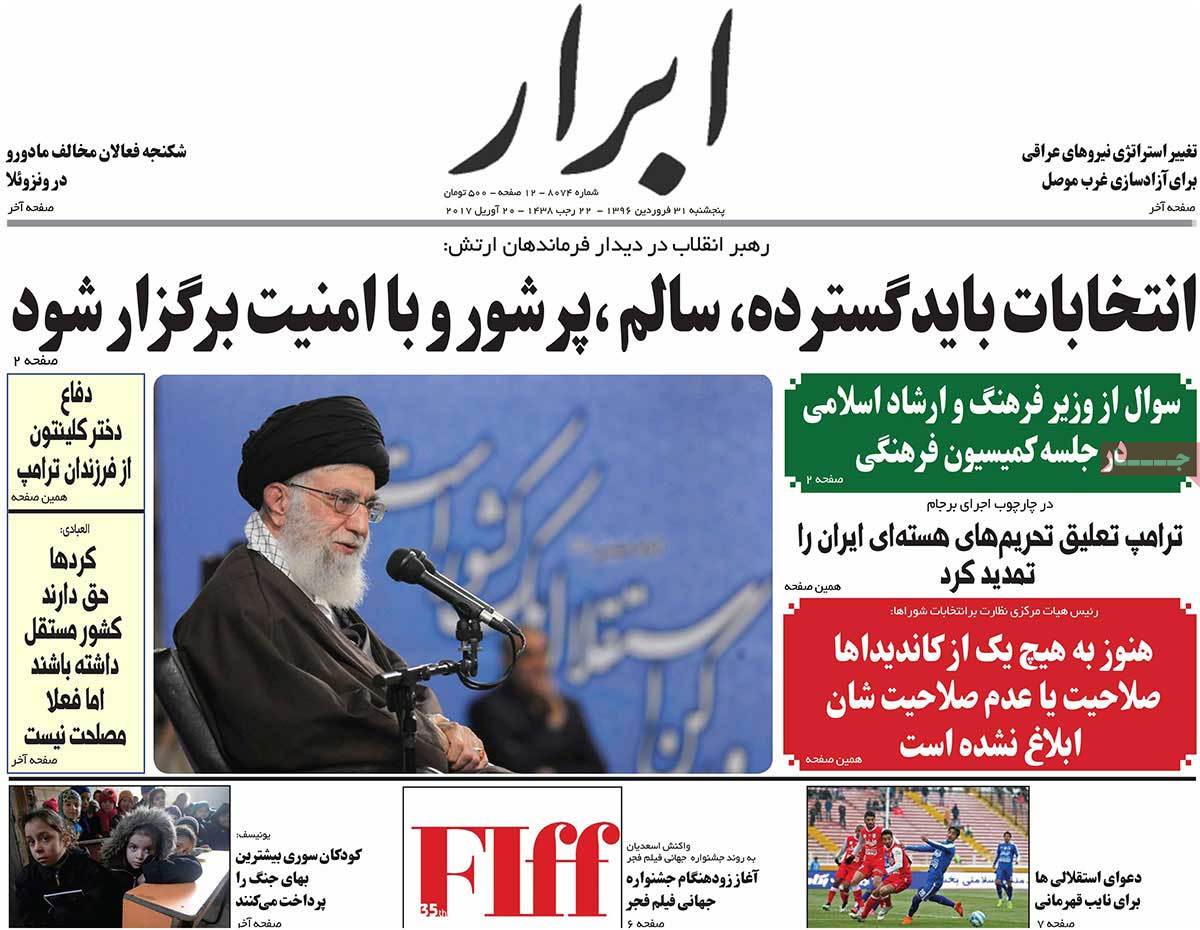 ---
Afkar:
1- Qalibaf Explains Plans for Presidency
Government Should Change for 100%
I'll Increase the Country's Income by 2.5 Times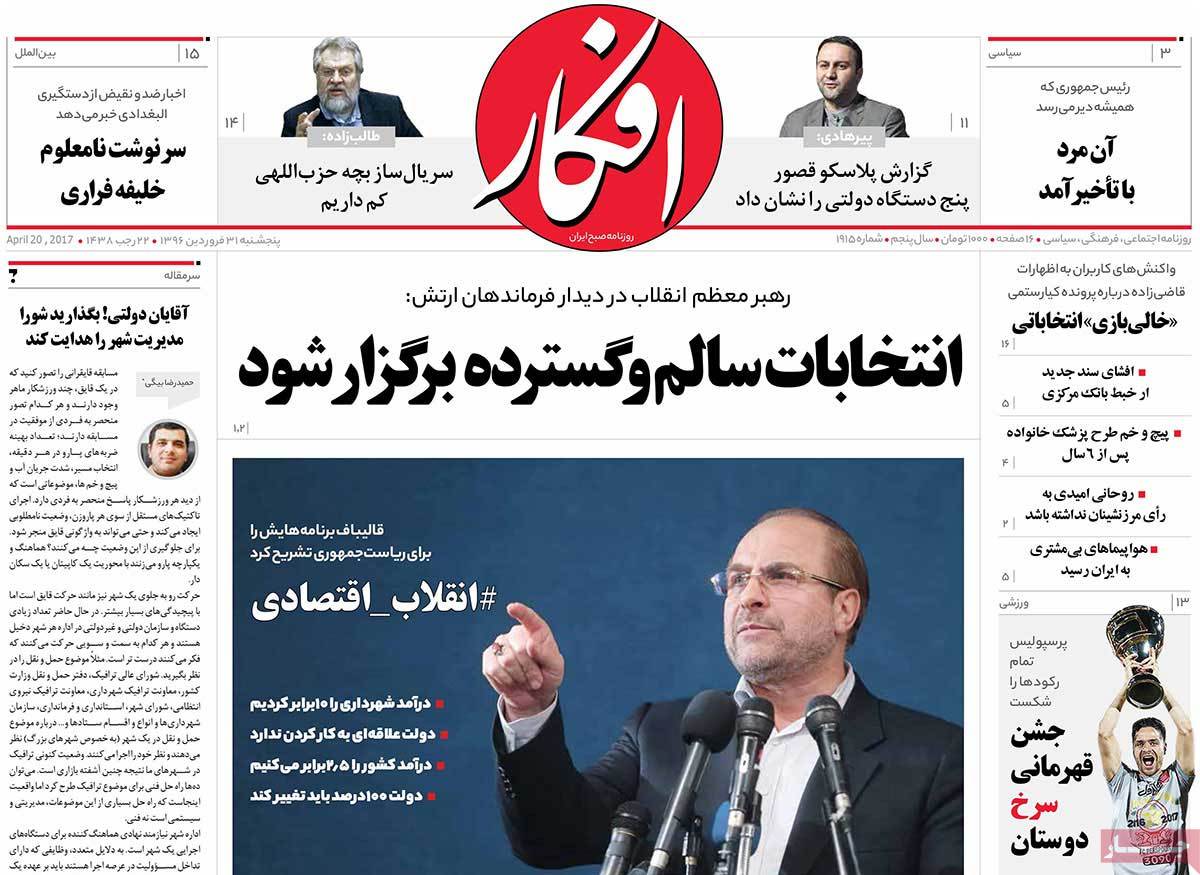 ---
Aftab-e Yazd:
1- Europeans More Reliable than Russians: Analyst
2- Imam Khomeini Didn't Say President Should Be a Man: Female Presidential Candidate
3- Childish Ad Released as Part of Qalibaf's Election Campaign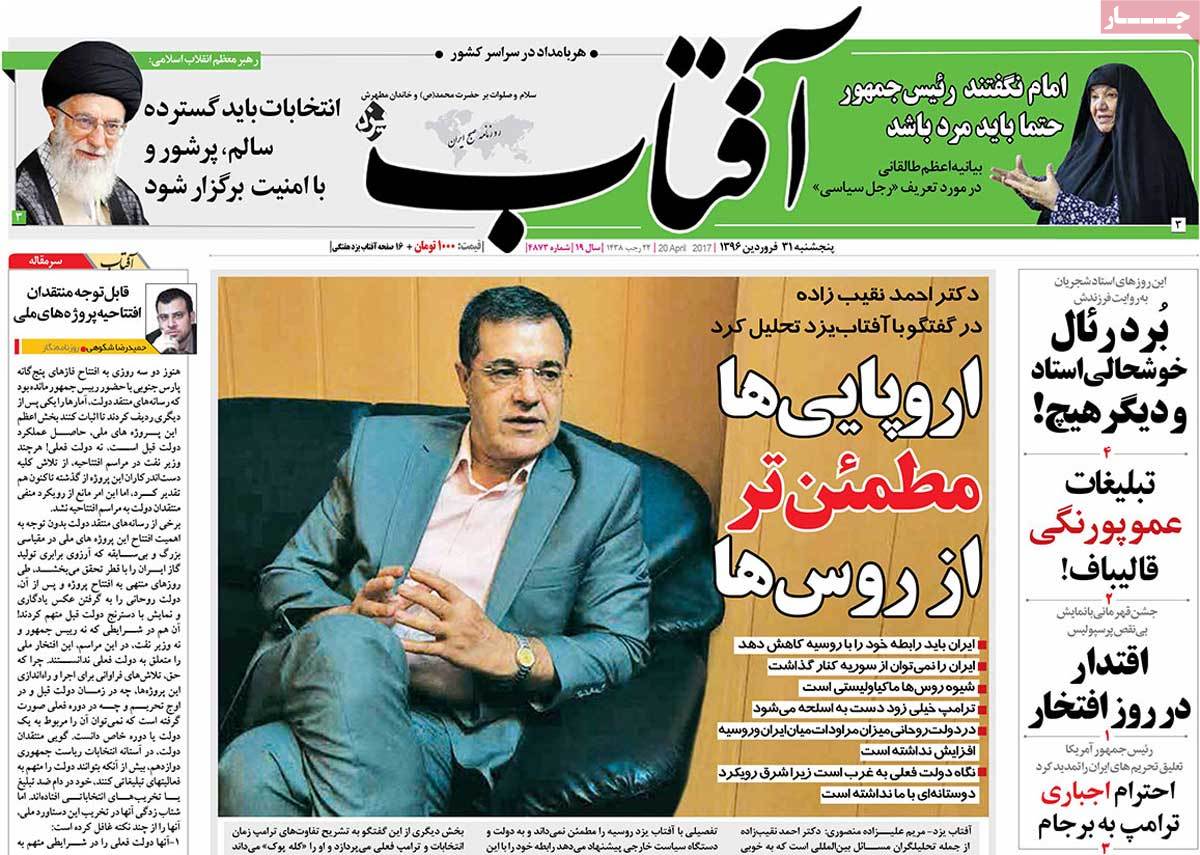 ---
Arman-e Emrooz:
1- Hassan Rouhani Visits Flood-Hit People of Azarbaijan
2- 100,000 in Stadium to Celebratre Persepolis FC's Championship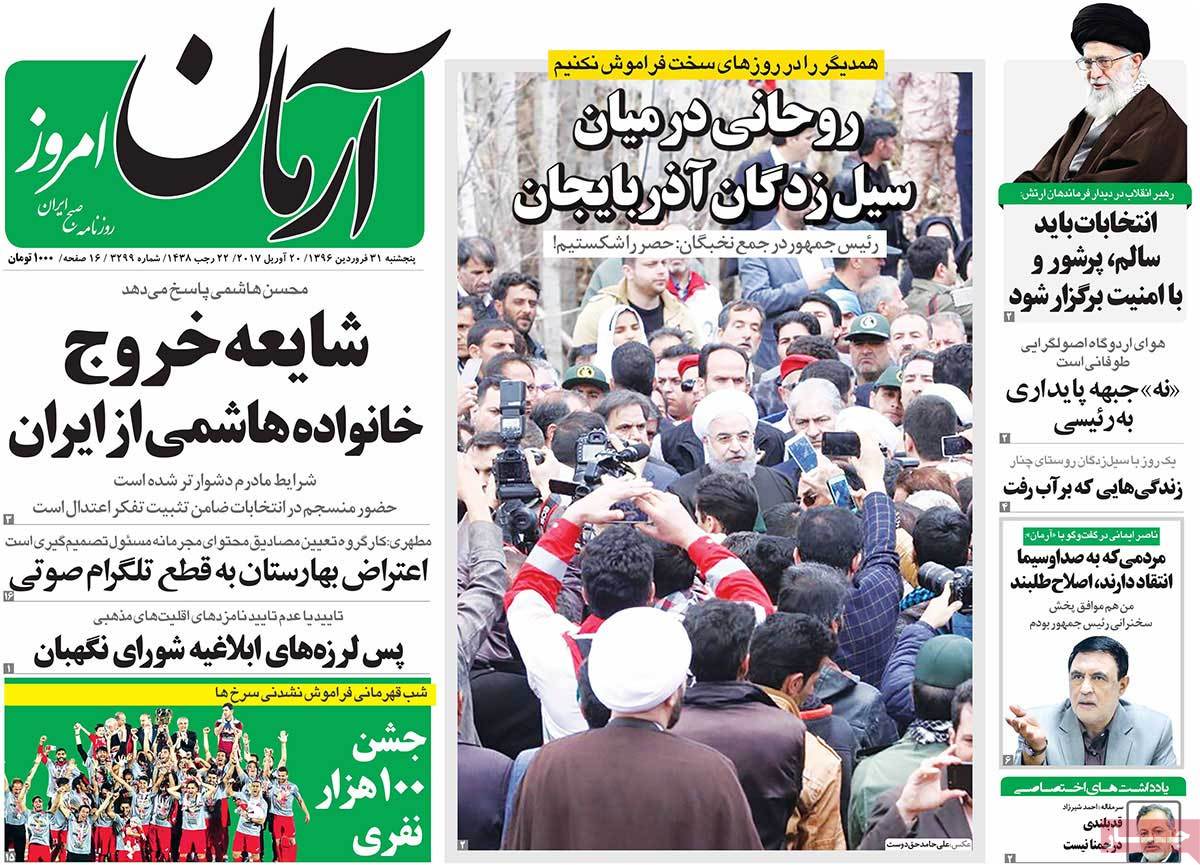 ---
Bahar:
1- Endless Innocence: Main Victims of Syria War
2- Rouhani to Win the Grey Votes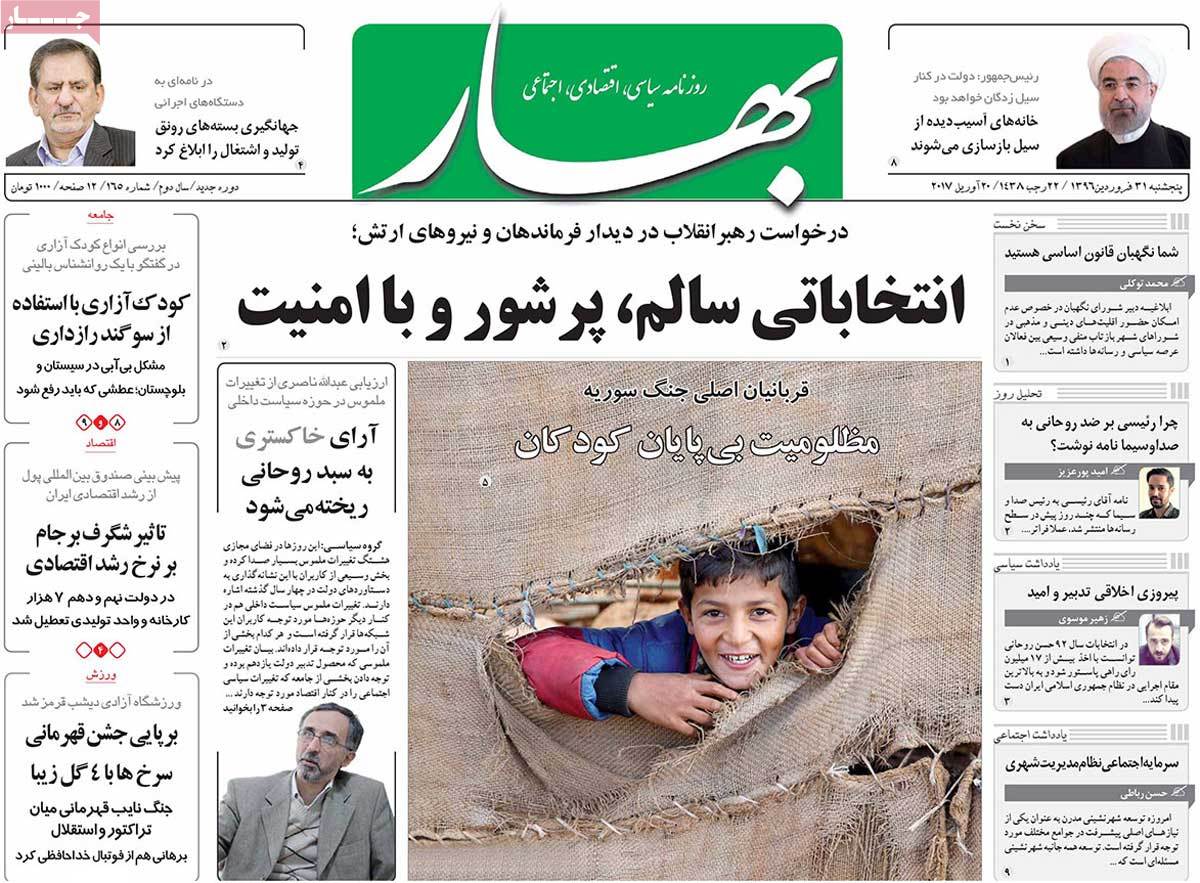 ---
Ebtekar:
1- Trump Gives in to Nuclear Deal: US Underlines Iran's Commitment to JCPOA
2- Rouhani: Gov't to Expedite Resolution of Flood-Hit People's Problems
---
Ettela'at:
1- Iran Leader Calls for Preparation of Grounds for Health, Nationwide Elections
2- Rouhani: We're Wholeheartedly Standing by People in Flood-Hit Provinces
3- 1,000 Forces to Provide Security for Iran Elections
4- Iran Speaker: Deal between Certain Islamic Countries, Israel Embarrassing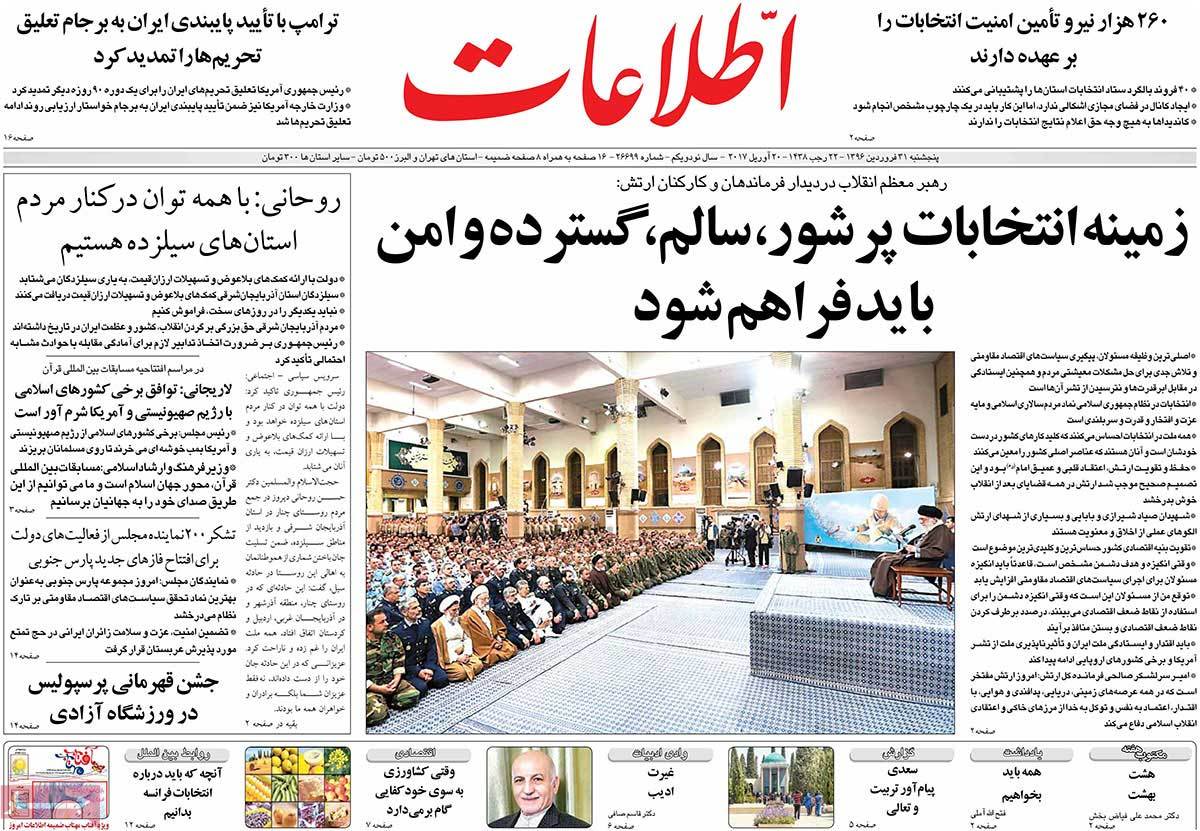 ---
Haft-e Sobh:
1- New Regulations for Carrying Foreign Currencies
Be Careful If You Have over €10,000 in Cash
2- Uninvited Guests in Great Feast of Persepolis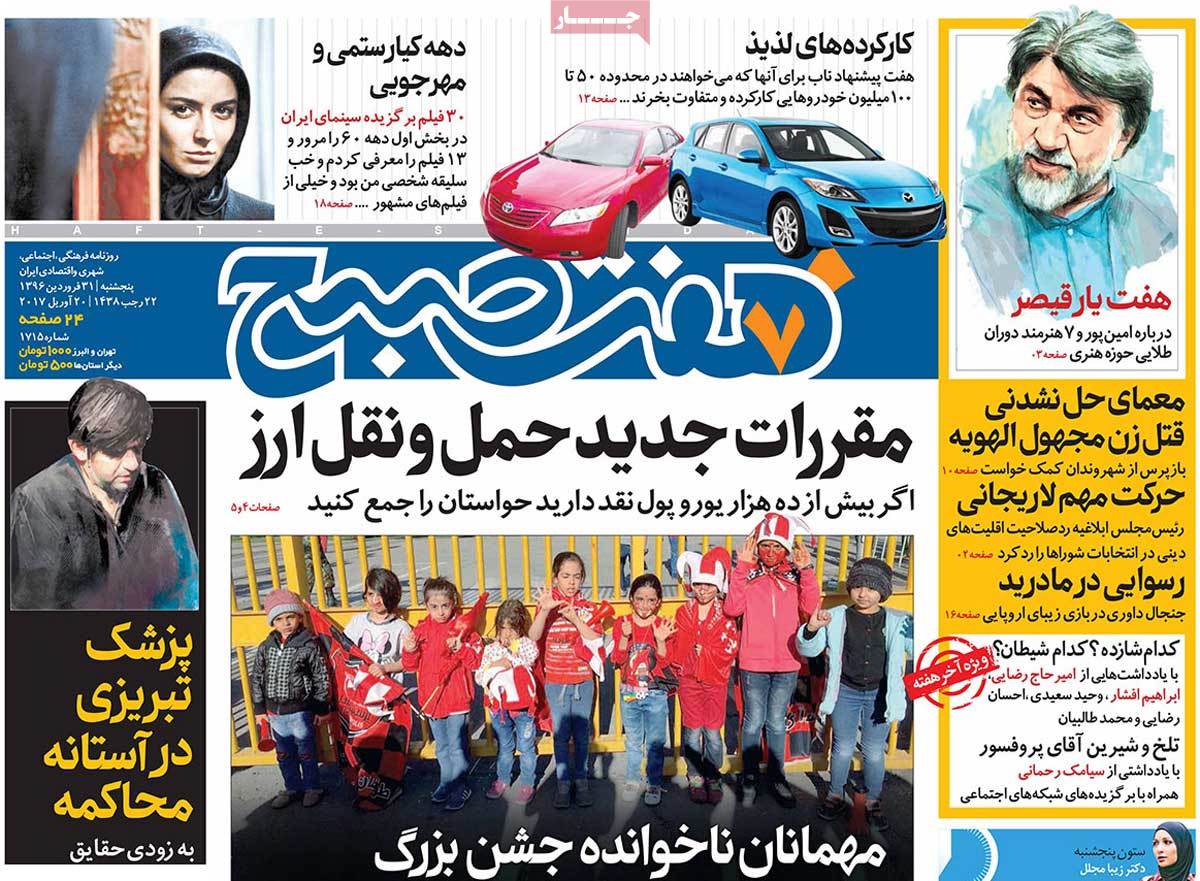 ---
Jame Jam:
1- Iran Leader Calls for Healthy, Fair, and Glorious Elections
2- Decrease in Growth Rate of Social Ills
3- Persepolis FC on Fire in Championship Night
4- US Admits Iran Has Been Committed to Nuclear Deal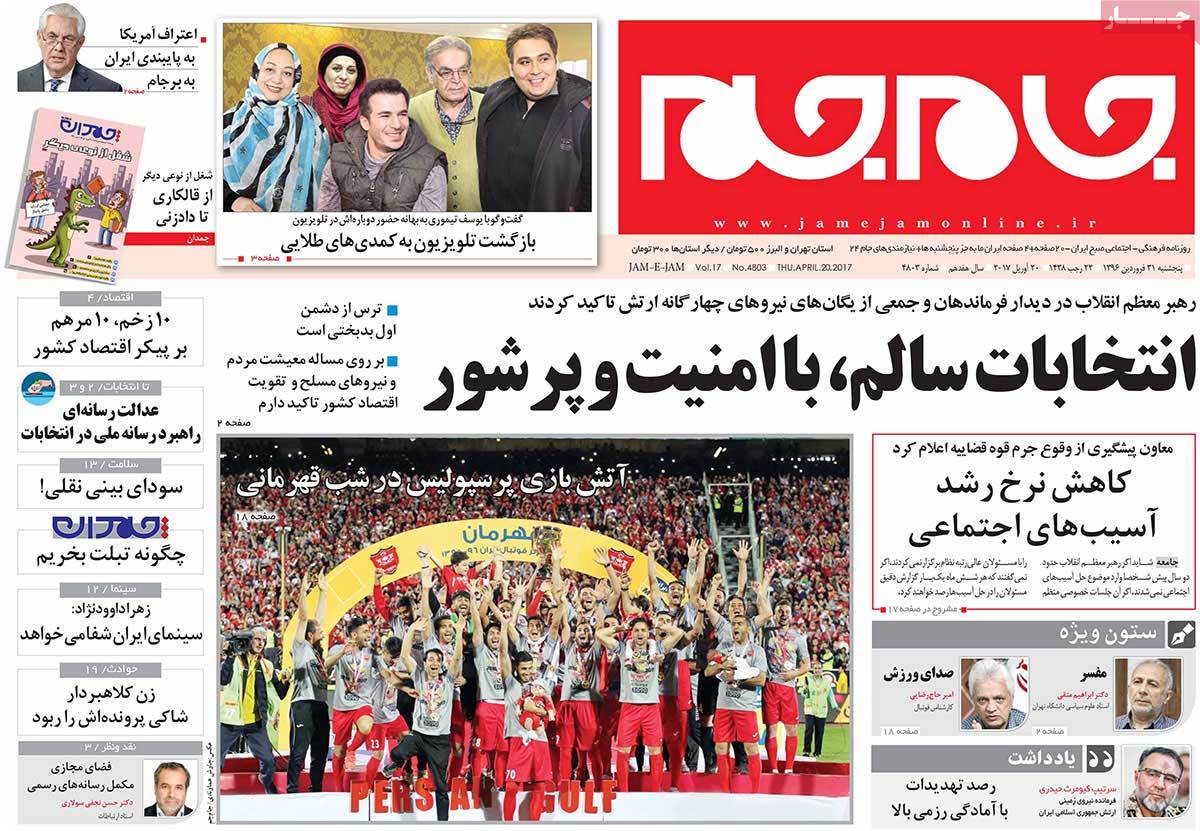 ---
Javan:
1- Election Should Be Held in Healthy, Vibrant, Secure Manner: Leader
2- Trump on Path of Coexistence with Nuclear Deal
3- IRIB's Programs for Election under People's Scrutiny
---
Jomhouri Eslami:
1- 6.5-Time Increase in Value of Europe's Imports from Iran
2- US Secretary of State Admits Iran Has Been Committed to Nuclear Deal
3- Saudi Arabia Confirms Its Chopper Has Crashed in Yemen with 12 Officers on Board
---
Ka'enat:
1- No Unity: Senior Conservatives Have Kept Silent!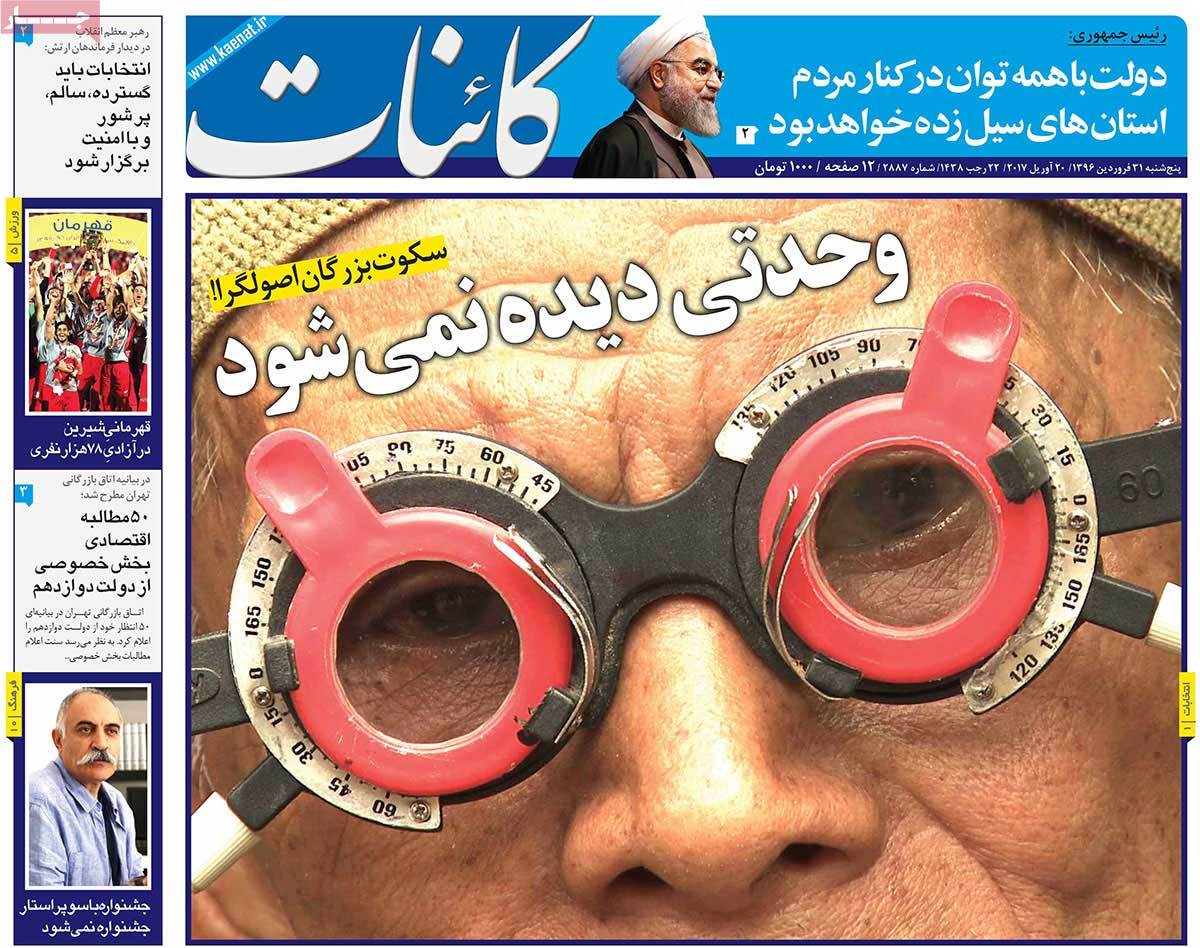 ---
Kayhan:
1- Which One Will Win New War in Korea Peninsula: Trump or Un?
2- US General: Americans Should Remain in Iraq, with or without ISIS!
3- Iran's Employment Rate Down by 11 Ranks
---
Khorasan:
1- Leader: Officials' Main Duty is to Resolve People's Economic Problems
2- Saudi Arabia Gives Guarantee on Security, Dignity of Iranian Pilgrims
3- Trump's Administration Backs off on Nuclear Deal
---
Resalat:
1- Cleric Urges Presidential Hopefuls Not to Give People False Promises
2- Iran Should Be governed by Young, Revolutionary People: Cleric
3- President Should Be Advocate of Fight against Corruption: Raisi
---
Rooyesh-e Mellat:
1- Takfiris, Wahhabis Committing Crimes Using US-Made Weapons: Iran DM
2- Washington's 4-Stage Plan for Syria, Assad
3- Zionists Planning to Reinforce Nusra Front after ISIS Eradication
---
Vatan-e Emrooz:
1- Leader Underlines Issues of Employment, Production, People's Livelihood
2- Jobless People, Ill Government
A Report on Increased Unemployment Rate in Government of Economic Downturn