The top story in all Iranian newspapers today was the visit of Russian President Vladimir Putin to Tehran, which is mainly aimed at expansion of economic relations between Iran and Russia. Putin also plans to meet the Leader of Iran's Islamic Revolution Ayatollah Seyyed Ali Khamenei and attend a trilateral meeting with Iranian and Azeri presidents.
The remarks by IRGC Chief Commander Major General Mohammad Ali Jafari about the range of Iranian missiles, which encompasses all US bases in the region, also received great coverage.
The disqualification of Sepanta Niknam, the Zoroastrian councilor-elect of Yazd, based on a decision by the Guardian Council also remained a top story. Several newspapers continued covering the reactions to the disqualification.
The above issues, as well as many more, are highlighted in the following headlines and top stories:
Abrar:
1- Iraqi PM: Baghdad Wants to End Autonomous Rule of Kurdistan
2- IRGC Chief-Commander: War between Iran, US Not Likely
3- Lavrov: US Measures against Iran Nuclear Deal Worrying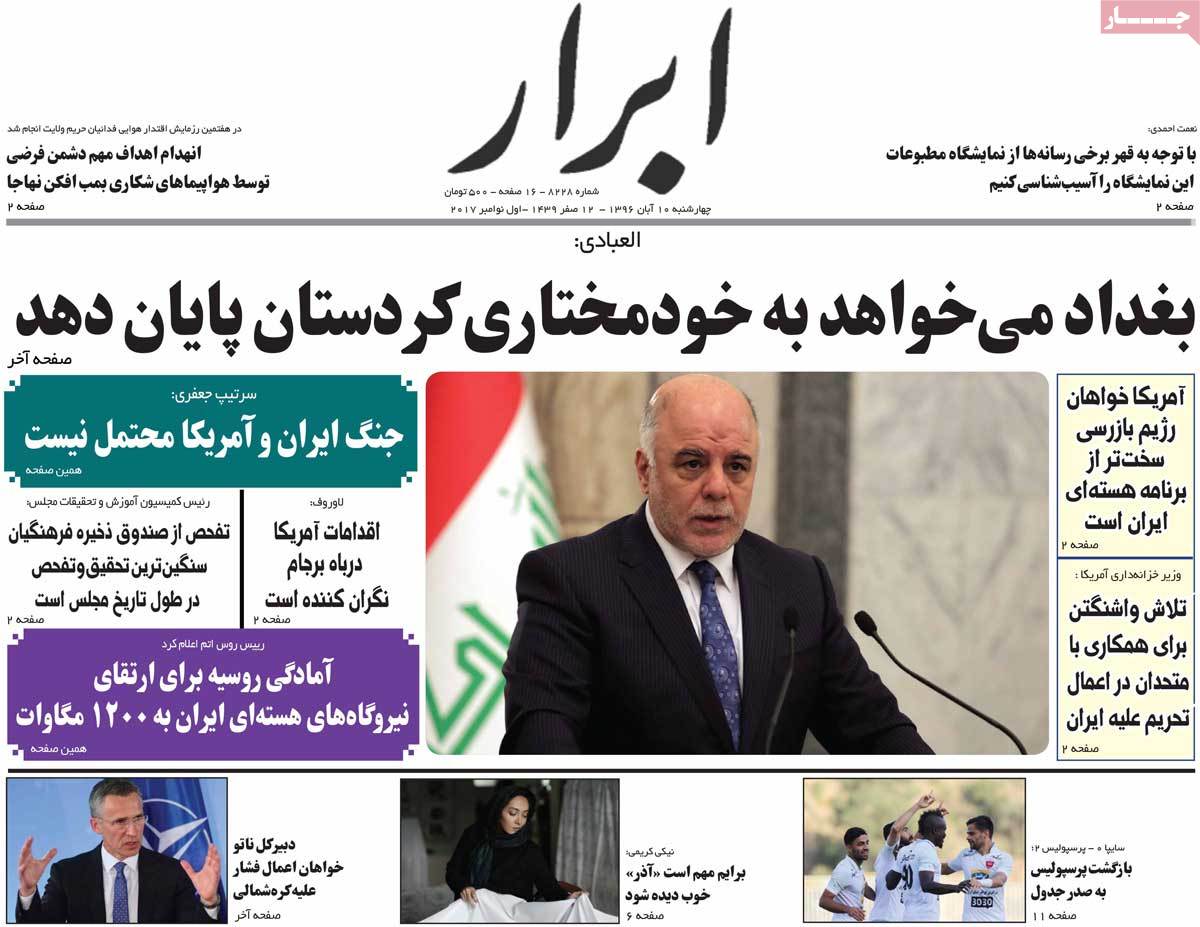 ---
Arman-e Emrooz:
1- Rouhani: Frustration Biggest Cause of Social Ills
2- Construction of 2nd Unit of Bushehr Nuclear Power Plant Kicked Off ahead of Putin's Visit
---
Ebtekar:
1- Zarif: Iran Summit Good Opportunity for Reinforcement of Tehran-Baku-Moscow Convergence
2- Shamkhani: Using the Word 'House Arrest' Not Accurate
3- Gov't Spokesman: We'll Persuade Those Opposed to Women's Presence in Stadiums
---
Ettela'at:
1- Rouhani: Frustrating Young People to Increase Social Ills
2- Gov't Spokesman: Zoroastrian Enjoying Citizens' Rights
---
Haft-e Sobh:
1- Hello Vladimir! Russia's Strong Man Once Again in Tehran
2- Foreign Clothing Brand for First Time Exports Iranian-Made Apparel
---
Iran:
1- First VP: Gov't Defends Independence, Security of University
2- Gov't Spokesman: Rouhani Has Ordered Settlement of Zoroastrian Councilor's Problem
Gov't Resolved to Protect Citizens' Rights
---
Jomhouri Eslami:
1- Over 90 American Nuclear Scientists in Letter to Congress Urge Maintaining JCPOA
2- Shamkhani: We Won't Renegotiate Iran Nuclear Deal under Any Circumstances
3- Larijani Urges Media Not to Become Mouthpiece of US Baloney
4- Iranian Army's Airforce Shows Its Power in Military Drills
---
Kayhan:
1- IRGC Chief-Commander: Americans Already within Range of IRGC Missiles
2- Russia: Washington Not a Threat, We Have Nuclear Dominance over US
3- Economy Minister: Iranians' Bank Accounts Abroad Closed despite Observing FATF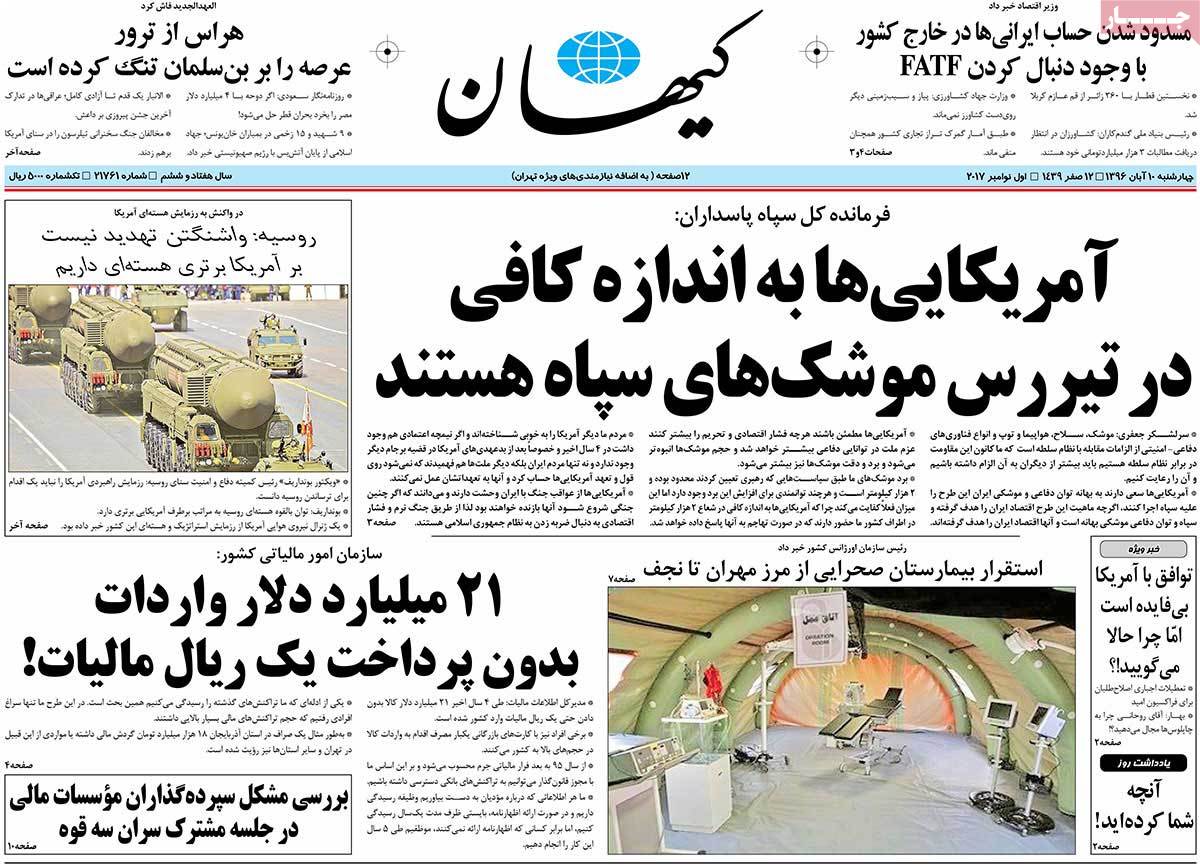 ---
Resalat:
1- IRGC Chief-Commander: We Seek a World Free of Terrorism
IRGC Sanctions Just an Excuse; US Trying to Put Iranian People under Pressure
2- Rouhani: Americans' Statements Mere Propaganda
---
Shargh:
1- Iraqi PM Denies Role of General Soleimani in Recapture of Kirkuk
---
Sobh-e Now:
1- Member of Guardian Council Urges Parliament Speaker to Revise Law of Elections
All Rights of Religious Minorities Should Be Observed: Ayatollah Yazdi