Condemnation by Iranian officials of sexual assault against two Iranian teenage pilgrims in Jeddah, Saudi Arabia dominated the front pages of newspapers on Thursday. Completion of a report on an attack on an MP in the city of Shiraz in March was also on the covers of the dailies.
Abrar: The European Union has re-imposed sanctions on Iran's Tejarat Bank and 32 shipping companies.
Abrar: A report on the Shiraz incident has been sent to the heads of the three branches of government.
In the incident in March assailants on motorbike attacked Tehran MP Ali Motahari who was in the southern city for a planned speech.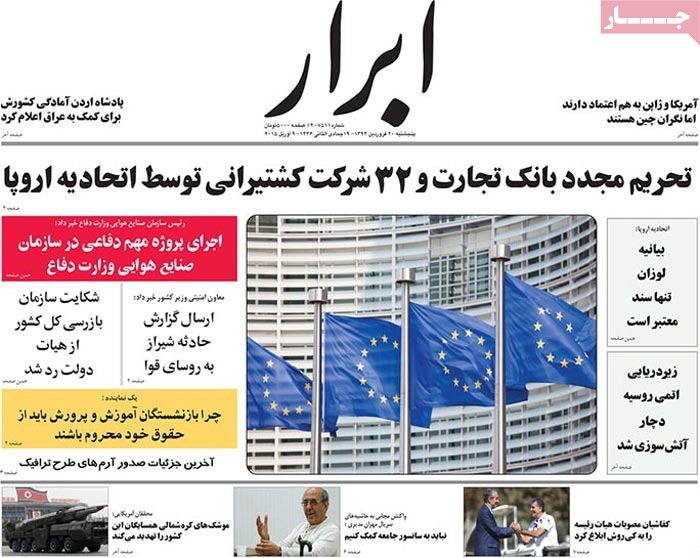 ---
Aftab-e Yazd: The assets of Babak Zanjani [an Iranian billionaire who stands accused of massive corruption] have been located in Tajikistan.
---
Arman-e Emrooz: Saudi Arabia has not allowed a plane carrying Iranian Hajj pilgrims to land on its soil.
In reaction, Iranian MPs have called for the minor Hajj to be put on hold until further notice.
Arman-e Emrooz: Those involved in the Shiraz incident have been arrested.
In the incident Ali Motahari, a principlist MP, was in the southern city in March to deliver a speech when his car was attacked. The speech was called off.
---
Eghtesad-e Pooya: The level of water at Orumiyeh Lake has increased for the first time in 18 years.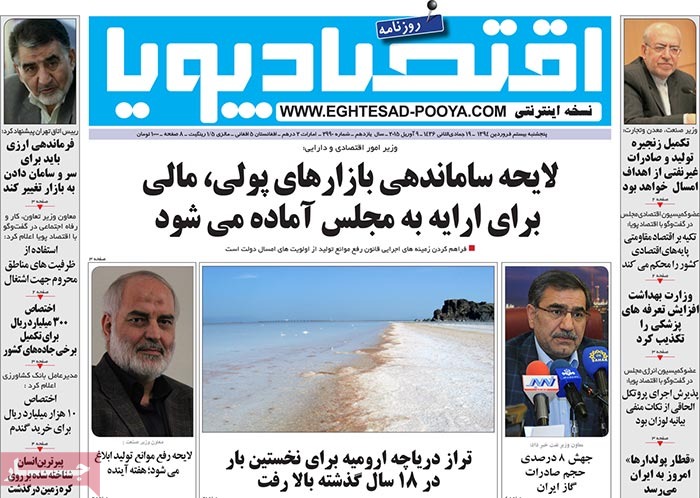 ---
Ettela'at: Iran is to become an official member of the Shanghai Cooperation Organization.
Ettela'at: Executive institutions have been required to cut back on water consumption by 20 percent.
Ettela'at: Pakistan has said that it will decide about joining the Yemen offensive after consultations with Iran and Turkey.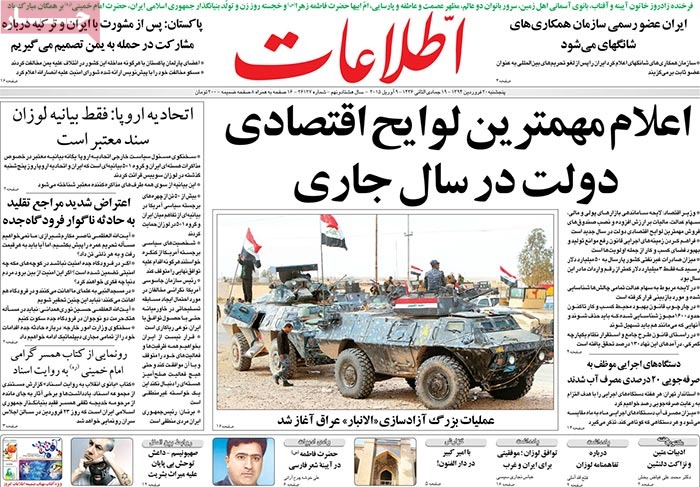 ---
Hemayat: "The flaws and ambiguities of the Lausanne statement should not find their way into the nuclear deal."
Judiciary Chief Ayatollah Sadegh Amoli Larijani made the comment as he supported the Iranian nuclear negotiating team and appreciated its efforts.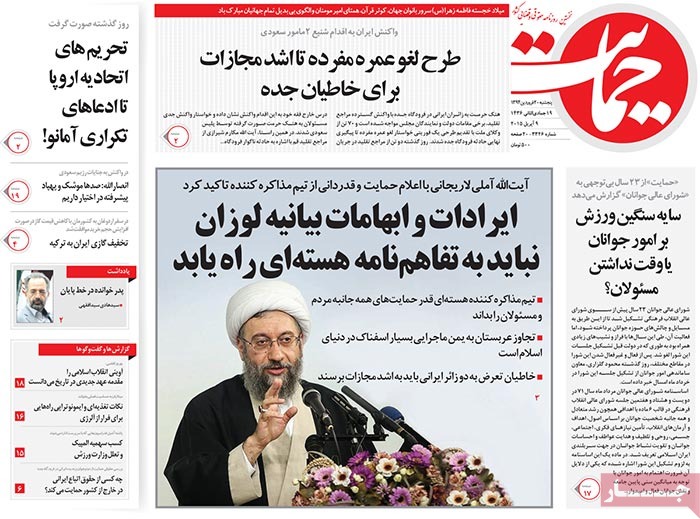 ---
Jamejam: The Central Bank of Iran has said that interest rates won't increase.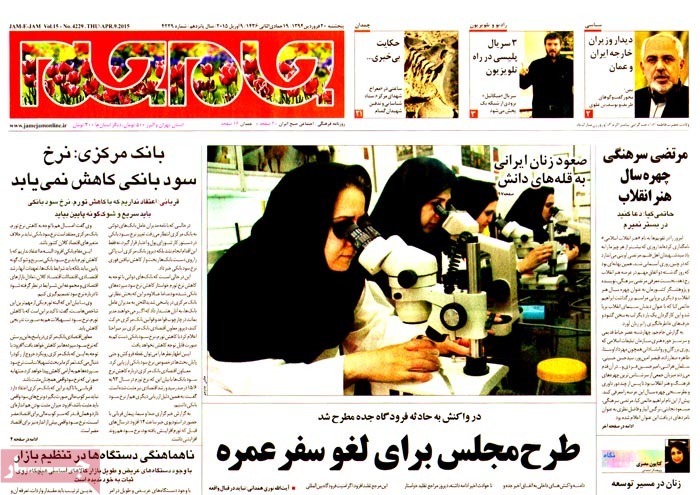 ---
Jomhouri Islami: The nuclear statement of Lausanne continues to draw local and foreign support.
Jomhouri Islami: The sexual assault in Saudi Arabia on two Iranian pilgrims has drawn condemnation from Iranian officials and clergymen.
Senior Shiite clerics, the parliament speaker, the Judiciary chief and MPs have lashed out at the incident at Jeddah airport.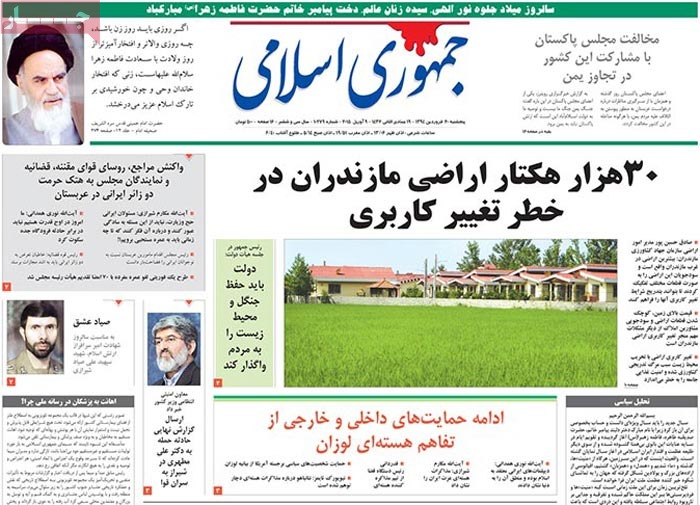 ---
Kayhan: New sanctions are the first achievement of the Lausanne deal!!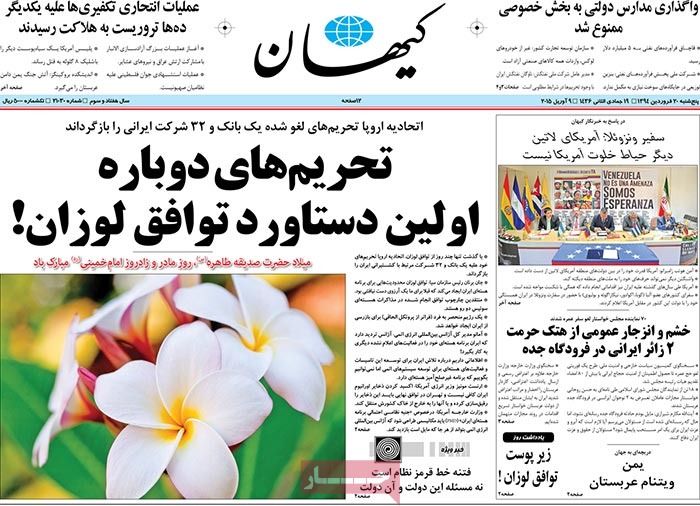 ---
Mardomsalari: The world's largest petrochemical complex is to be built in Iran.
---
Resalat: "An assault on young pilgrims in a country which claims to be [the cradle of] Islamism is shameful."
Parliament Speaker Ali Larijani made the comment in reaction to sexual assaults against two teenage Iranian pilgrims in Saudi Arabia.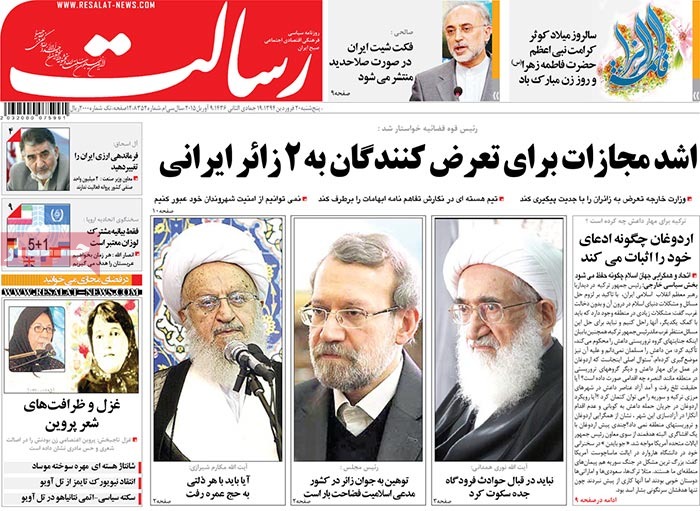 ---
Shahrvand: Al-Nassr from Saudi Arabia were brought to their knees at a packed Azadi Stadium in Tehran.
The capital's Persepolisclub edged the Saudi team 1-0 in Group A of AFC Champions League on Wednesday.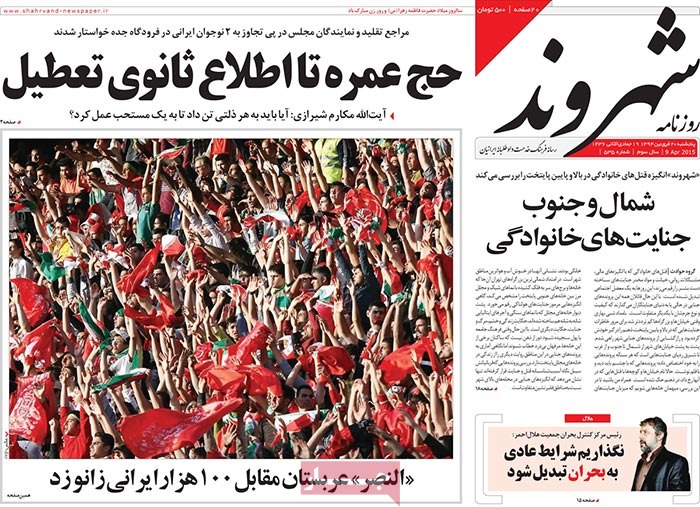 ---
Sharq: Iran is trying to contain the Yemen crisis; Zarif flew to Islamabad from Muscat.